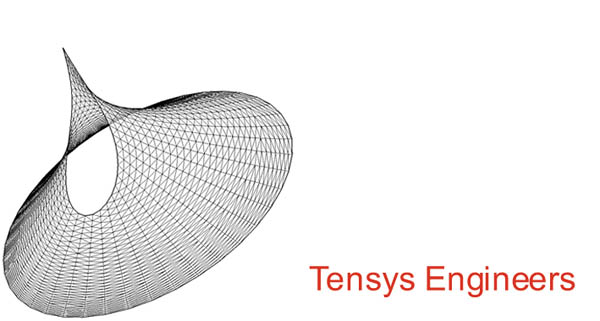 Tensys Engineers provide the full range of engineering and analysis services necessary for the design, fabrication, project management and installation of lightweight tensioned fabric, cable net and facade structures.
Our clients range from consulting structural engineers and architects during the initial design phase of a project to membrane contractors for the production of fabrication and installation information.
The design capability of the Tensys Engineers team is complemented by many years of practical contracting experience. Coupled with the long-established analytical expertise of Tensys Consultants (located in Bath, UK), this qualifies them uniquely to assist in all phases of the development of a project from concept to installation.
The particular tasks that we undertake include:
Concept Form and Design

Shape Finding

Load Analysis

Detail Design of Support Structure in Steel or other Materials

Membrane Patterning Membrane and Steel Fabrication Drawings

Tender Documentation for Fabric Structure

Tender Assessment

Project Management of Fabric Structure Contracts

Supervision and Control of Fabric Structure Contracts on behalf of Client

Inspection and Valuation Reports for New and Existing Structures
From offices in Melbourne, Australia, Tensys Engineers have wide experience of working in the Asian, Middle East and US region.
The range of design and contracting experience offered by Tensys Engineers as an independent consultancy is unique, and is now available for projects worldwide.
Tensys Engineers Pty Ltd
7/340 Gore Street
Fitzroy 3065
Australia
T: +61 (0) 3 9416 0066
F: +61 (0) 3 9416 3766
E: This email address is being protected from spambots. You need JavaScript enabled to view it.
Website: www.tensys.com
Project Articles on this website: (Last updated 2 November 2023)
Peter Lim wins ING-IABSE Award

Peter Lim honoured as a Life Member of LSAA

Tensys wins ASI Award

Engineering for 60 Margaret St Project
Contribution to Metricon Stadium - Carrara
Engineering for roof of Skilled Stadium, Robina, Qld.
Wintergarden Art Facade - LSAA 2013 Design Awards - Award of Excellence
Listen Out Festival - LSAA 2013 Design Awards - Award of Excellence
M Pavilion 2021 Sun Shade (2022)