Small Fabric Structures: Typically these may be of a plan area of 250 square metres or less. They are often used as shade structures or as signature items at entrances to larger buildings.
Other applications include the provision for a shaded area in playgrounds, school yards, car dealerships and as internal sculptures.
They may be made from coated fabrics as a water-proof barrier or of open fabric such as knitted shade cloth.
The following articles are in random order:
Mpowerdome Entry Structure
Entrant: UFS Australasia Pty Ltd
Client: Mpowerdome
Architect: Small Quinton Coleman Architects
Structural Engineer: Wade Consulting Group
Builder: UFS
Fabricator(s): Fabric Shelter Systems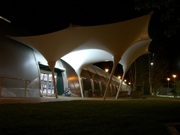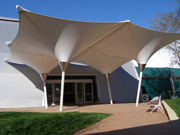 Elements Wine Bar
Entrant: Structurflex Ltd - Turn-key Contractor
Location: KCPL District - Kansas City Missouri USA
Client: The Cordish Group
Architect: 360 Architects
Struct. Eng.: Wade Design Engineers & Wayne Rendely PE
Builder: Structurflex
Fabricator: Structurflex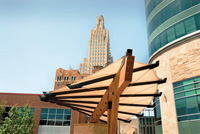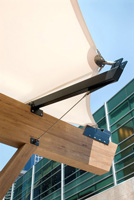 Central Westgate Sky Walk
Entrant: GeoMetal Limited (Design & Engineering)
Location: Nonthaburi, Thailand. Completed: 24 August 2015
Client: Central Pattana Public Company Limited
Team: Pasalandscape Company Limited, Fastech Company Limited, Project Planing Public Company Limited, Power Line Engineering Public Company Limited, Fastech Company Limited
First concept was a waving, curved surface, using a rigid 3D curved steel arches as supporting structures.
Engineering works also included form-finding, structural analysis, CFD analysis, detailing design, Installation method.
The fabric area was 191 sqm, the weight of steel 7.41 tons and the type of fabric used was 702T2
LSAA 2013 High Commendation
South Hedland Town Centre
Entrant: MakMax Australia
Category: 5 ID Number: 4304

Location: Colebatch Way, South Hedland, WA

Client: UDLA and Landcorp

Completion Date: October 2011
Credits:
Architect: Advance Timber Concept & University of WA

Structural Engineer: Scott Smally Partnership

Builder: Ertech Pty Ltd

Fabricator: MakMax Australia
---
Judges Comments:

"A lot of effort for a small structure, should become iconic."
"Good to see a combination of timber frame and lightweight fabric, although the structure seems less than graceful."
---
APPLICATION OF PROJECT:
Fabric cladding to wooden frame, roofing structure.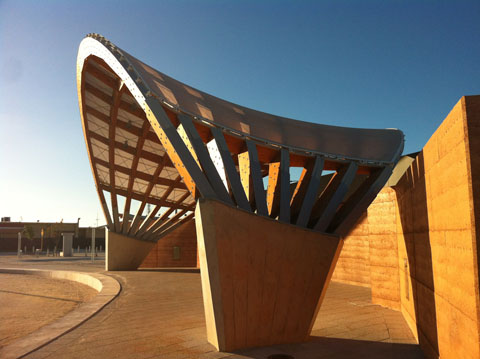 Read more: South Hedland Town Centre - LSAA High Commendation
LSAA 2013 Award of Excellence
Listen Out Festival Temporary Tensile Canopy
Entrant: Tensys Engineers Pty Ltd
Category: 6 ID Number: 6512

Location: Royal Botanical Gardens, Melbourne

Client: Listen Out Festival, Melbourne 2013

Completion Date: 2013
Credits:
Architect: Tim Schork MADA, Monash University

Structural Engineer: Tensys Engineers

Others: Callum Morton (MAP)

Builder: Monash Art Design & Architecture (MADA)

Fabricator: MADA
Judges Comments:
"Beautifully resolved on all levels."
"An innovative, imaginative and thoroughly engaging project. So right for purpose - a canopy under which to shelter in a park while listening to music. Great colour. Joyful work that captures the spirit and essence of lightweight construction."
---
APPLICATION OF PROJECT:
Temporary structure for the Listen Out Music Festival at the Royal Botanical Gardens in Melbourne.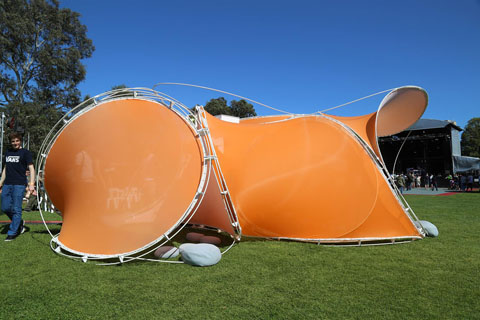 PROJECT DESCRIPTION:
Experimental work exploring the different tensile anticlastic forms. This structure is an end result of conceptual and digital studies carried out by MADA students of a cloud. The functional brief was to provide a temporary shading structure for the patrons of the festival covering a 5m x 5m footprint.
Jirrawun Arts Centre
Entrant: UFS Australasia Pty Ltd
Client: Jirrawun Arts Pty ltd
Architect: Bruce Henderson Architects
Structural Engineer: Craft Projects
Specialist Consultant(s): UFS
Fabricator(s): Fabric Shelter Systems, DMG Engineering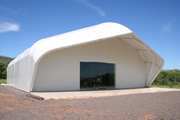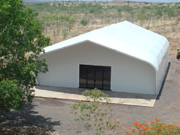 Perth Children's Hospital
LSAA 2016 Design Award Entry by Fabritecture (Designer and Installer)
Location: Subiaco, WA. Completed: July 30 2015
Client: John Holland Group
Team: JCY Architects, Greenup Design International, Fabritecture, Textile Fabrication Services, Fabritecture
APPLICATION OF PROJECT:
Highly interactive artistic and architectural shade canopies, featuring intricately designed complex steel geometry and custom fabric patterns to work with the exciting environment of the children's playground.

PROJECT DESCRIPTION:
The Perth Children's Hospital project involved the design and construction of an intricate structural shade solution as an addition to an outdoor children's play area for the hospital. The project was part of a redevelopment initiative to replace the existing Princess Margaret Hospital facility.
The new Perth Children's Hospital intends to host local and internationally recognised organisations for paediatrician, clinical research and tertiary learning.
Orion Springfield
Entrant: Architectural Sails
Client The Mirvac Group
Architect: Rice Daubney
Structural Engineer: Wade Consulting Group
Builder: Mirvac Constructions (Qld) P/L
Fabricator(s): Architectural Sails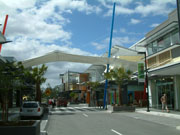 Flemington Racecourse
Entrant: Taiyo Membrane Corp
Client: Victoria Racing Club
Architect: Taiyo Membrane Corporation
Structural Engineer: Xiang Du (TMC)
Fabricator(s): Taiyo Membrane Corp
Canteen Canopy Extension
SEMF Pty Ltd (Architect / Engineer)
Location: Ringwood, Victoria. Completed: 31 July 2016
Client: Aquinas College
Team: SEMF, SEMF, Walsh Industries (Steel), Horizon Sailmakers (Membrane & cables)