Small Fabric Structures: Typically these may be of a plan area of 250 square metres or less. They are often used as shade structures or as signature items at entrances to larger buildings.
Other applications include the provision for a shaded area in playgrounds, school yards, car dealerships and as internal sculptures.
They may be made from coated fabrics as a water-proof barrier or of open fabric such as knitted shade cloth.
The following articles are in random order:
SKIPPS SHADE STRUCTURE - St Kilda, Victoria
APPLICATION OF PROJECT:
To provide a retractable shade structure to an existing exposed school quadrangle courtyard that offered flexibility to a highly utilized space. Without detracting from the existing heritage school built in 1873 and working with a 1970's addition, the project needed to remain respectful of the surrounds whilst providing a vibrant new design proposition and considered functionality. The brief was to provide shade and weather protection to a large external quadrangle, central to major school operations, assemblies, concerts, play area and general shelter.
PROJECT DESCRIPTION:
Carefully inserted into the existing courtyard, the new structure engages with the existing conditions on a number of levels. Spatially the area is now framed and defined yet remains light and open. The sense of space is not compromised yet is enhanced by a flexible shelter that can retract back to a simple steel butterfly shaped frame almost as if it has gently landed in the quadrangle.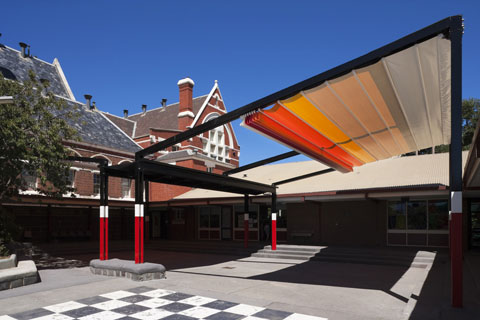 Trailfinders Australian Garden - Chelsea Flower Show
PROJECT DESCRIPTION
MakMax's client, Flemings Nurseries exhibits annually at the Royal Horticultural Society's Chelsea Flower Show, one of the world most prestigious social and horticultural events. Fleming's often win awards for their unique exhibition stands. MakMax was engaged to bring an architect's design to life in the form of a unique temporary structure for Fleming's entry at the 2011 RHS Chelsea Flower Show.
DESIGN / FABRICATION / INSTALLATION BRIEF
Our client, Flemings Nurseries, engaged architect, Ian Barker to design their most recent stand. The architect's inspiration included themes of colonization and the discovery of Australia. Natural shapes and light play a large part in the design brief. The importance of the horticultural theme in the discovery of Australia is through botanist Sir Joseph Banks who along with Captain Cook first documented the unique native flora of Australia. MakMax was engaged to bring this idea to life through the architect's vision.
Although the concept was the work of the architect, some of the technical details of manufacture were not conceptualized until MakMax engineers began looking at the design from a practical point of view. Being a self supporting structure we had a fair amount of control over the manufacture and fixing details of the project.
Pou Manawa - Auckland International Airport
PROJECT DESCRIPTION
Pou Manawa (Maori name for the Tree) is the heart of the new retail centre at Auckland International Airport, it stands proud where people gather, coming and going from their journeys around the world.
Fabric Structure Systems were approached with a brief to develop the significant sculptural piece for the Auckland International Airport's retail departures area.
Pou Manawa takes the form of a sculptural tree, crafted from SEFAR® Architecture fabric & tensioned into place, creating a continuous light translucent surface, which is rear projected to bring the Tree to life, with various natural & traditional Maori themes.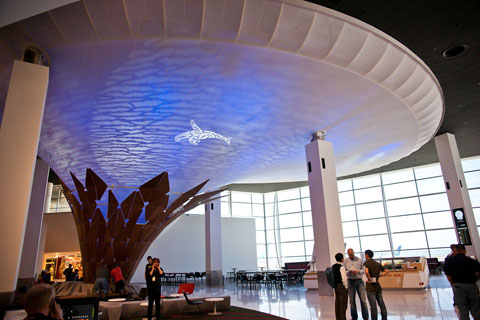 Canteen Canopy Extension
SEMF Pty Ltd (Architect / Engineer)
Location: Ringwood, Victoria. Completed: 31 July 2016
Client: Aquinas College
Team: SEMF, SEMF, Walsh Industries (Steel), Horizon Sailmakers (Membrane & cables)
'I Dips Me Lid' (NGV Architectural Commission)
John Wardle Architects (Architect / Designer)
Location: National Gallery of Victoria, Melbourne. Completed: 15 September 2015
Client: National Gallery of Victoria
Team: Matthew van Kooy, John Bahoric, Electrolight (lighting), 3D Structural Solutions (Shop Drawings), Light Project, Engineering Directions
Northern Busways Park & Ride Terminals
Entrant: Structurflex Ltd
Client: North Shore Council
Architect: Opus
Structural Engineer: Compusoft Engineering Auckland
Builder: Works Infrastructure
Fabricator(s): Structurflex Ltd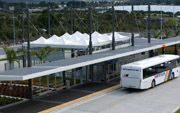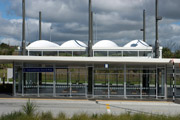 DESIGN BRIEF
The architect's requirements were:
To create a space that retained a sense of daylight.

To provide a unique roof as a landmark for the bus stations.

To provide a number of connected canopies that gave a cloud effect.

To provide a means of hiding the florescent lighting and components within the "clouds".
STRUCTURAL SYSTEMS
A series of I beams were used supported on 6 columns joining the two sides of the building.
These beams have a duel purpose on the top side acting as both structural member and gutter.
Underneath the area within the beam is used to conceal the lighting components and fixing cleats.
Elements Wine Bar
Entrant: Structurflex Ltd - Turn-key Contractor
Location: KCPL District - Kansas City Missouri USA
Client: The Cordish Group
Architect: 360 Architects
Struct. Eng.: Wade Design Engineers & Wayne Rendely PE
Builder: Structurflex
Fabricator: Structurflex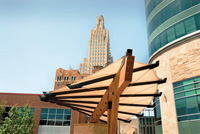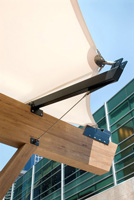 Cockburn Town Square
Entrant: Fabritecture
Category: 1 ID Number: 1301

Location: Cockburn Town Centre, SA

Client: Phase 3 Landscapes

Completion Date: February 2013
Credits:
Structural Engineer: ADG

Builder: Fabritecture

Fabricator: Fabritecture

Installer: Fabritecture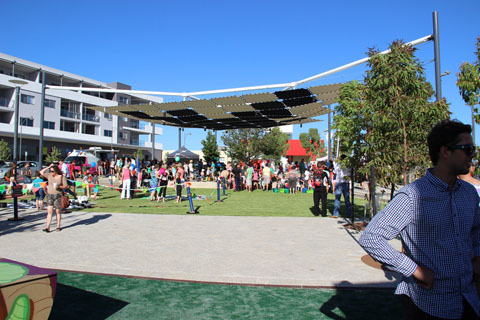 Fabritecture delivered the design and installation of a customized fabric structure that echoed the vibrant community tapestry of Cockburn in Western Australia.
In line with the project brief, Fabritecture utilised the design inspiration of a multi faceted community and its lifestyle needs.
The finished fabric structure provides an iconic and unique landmark - a welcome addition to the tapestry of community life.
Jirrawun Arts Centre
Entrant: UFS Australasia Pty Ltd
Client: Jirrawun Arts Pty ltd
Architect: Bruce Henderson Architects
Structural Engineer: Craft Projects
Specialist Consultant(s): UFS
Fabricator(s): Fabric Shelter Systems, DMG Engineering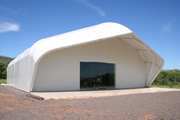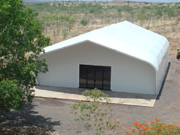 LSAA 2013 Award of Excellence
Listen Out Festival Temporary Tensile Canopy
Entrant: Tensys Engineers Pty Ltd
Category: 6 ID Number: 6512

Location: Royal Botanical Gardens, Melbourne

Client: Listen Out Festival, Melbourne 2013

Completion Date: 2013
Credits:
Architect: Tim Schork MADA, Monash University

Structural Engineer: Tensys Engineers

Others: Callum Morton (MAP)

Builder: Monash Art Design & Architecture (MADA)

Fabricator: MADA
Judges Comments:
"Beautifully resolved on all levels."
"An innovative, imaginative and thoroughly engaging project. So right for purpose - a canopy under which to shelter in a park while listening to music. Great colour. Joyful work that captures the spirit and essence of lightweight construction."
---
APPLICATION OF PROJECT:
Temporary structure for the Listen Out Music Festival at the Royal Botanical Gardens in Melbourne.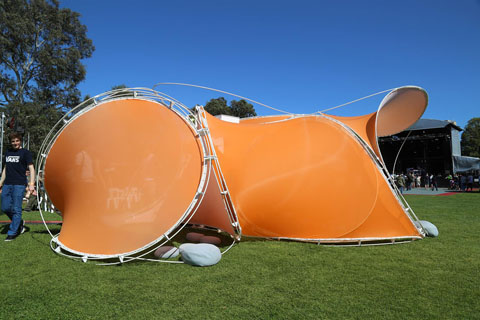 PROJECT DESCRIPTION:
Experimental work exploring the different tensile anticlastic forms. This structure is an end result of conceptual and digital studies carried out by MADA students of a cloud. The functional brief was to provide a temporary shading structure for the patrons of the festival covering a 5m x 5m footprint.