Small Fabric Structures: Typically these may be of a plan area of 250 square metres or less. They are often used as shade structures or as signature items at entrances to larger buildings.
Other applications include the provision for a shaded area in playgrounds, school yards, car dealerships and as internal sculptures.
They may be made from coated fabrics as a water-proof barrier or of open fabric such as knitted shade cloth. Some examples are: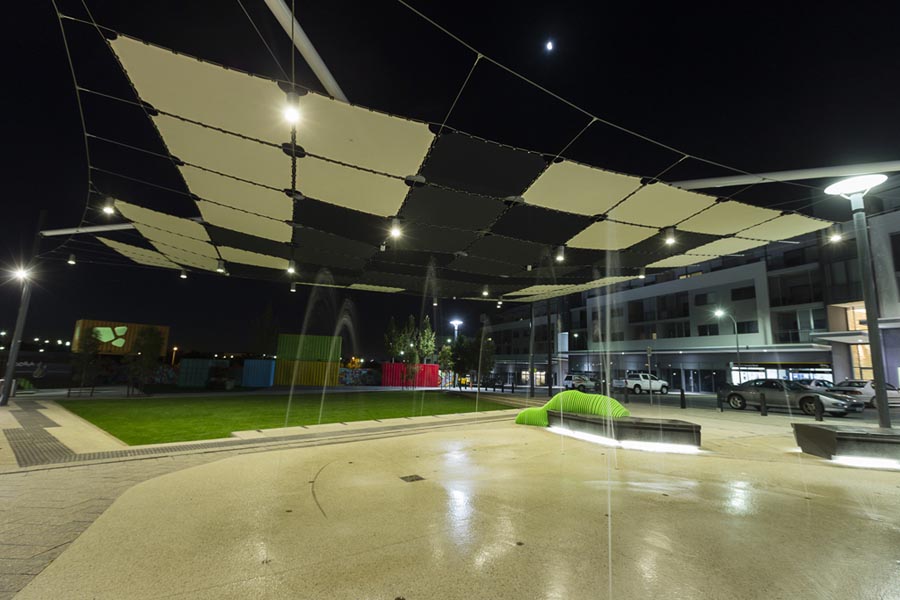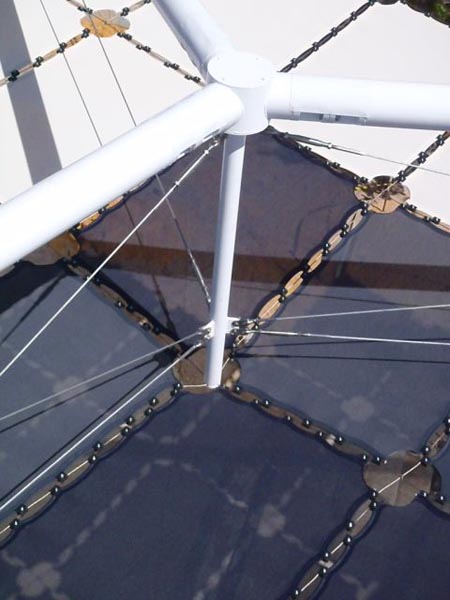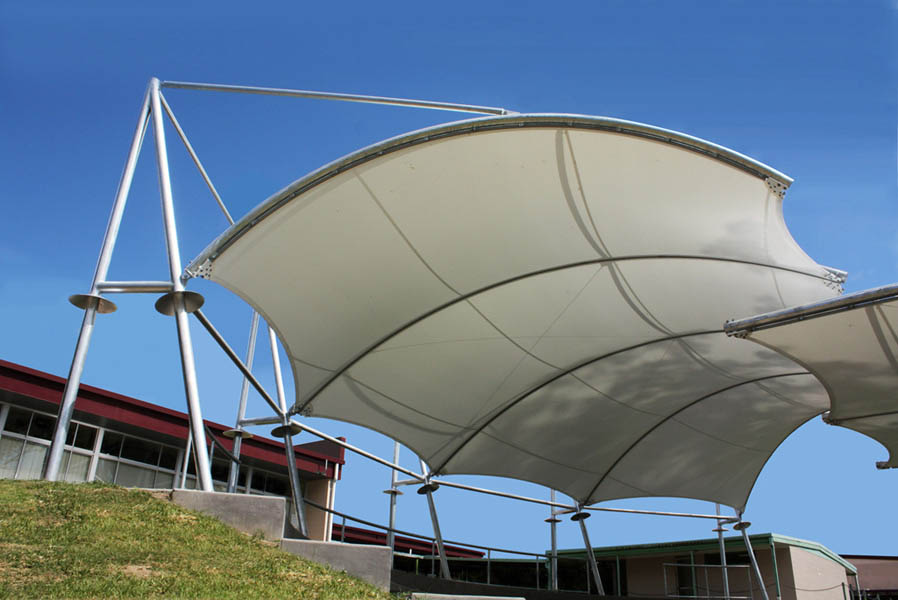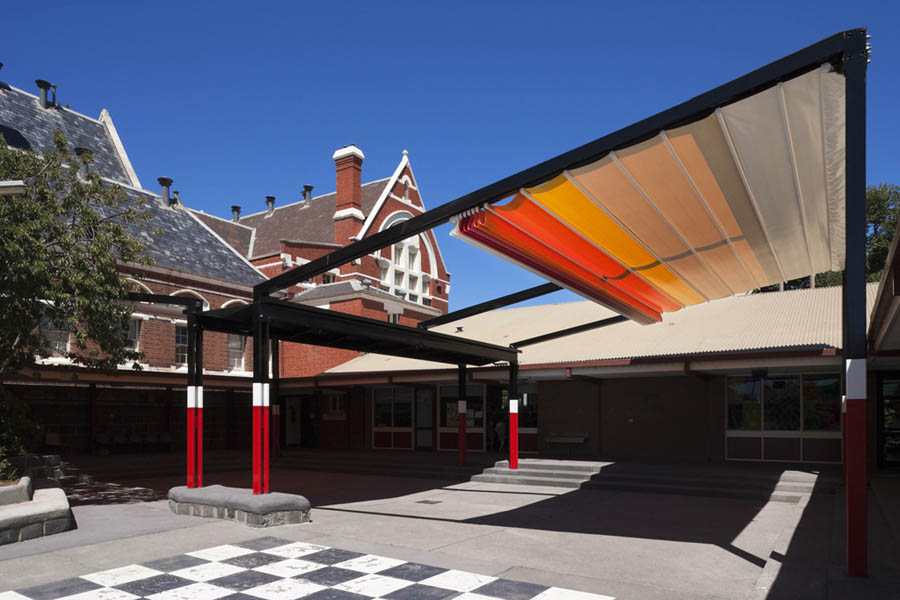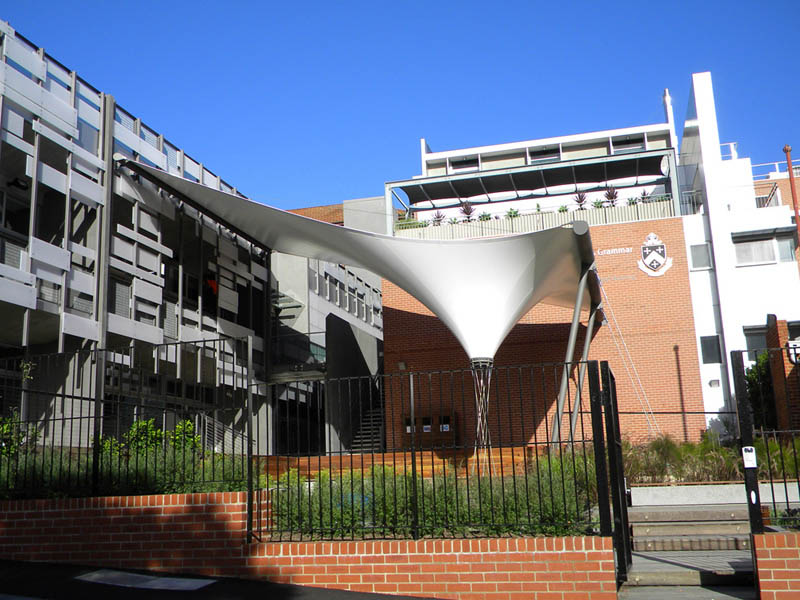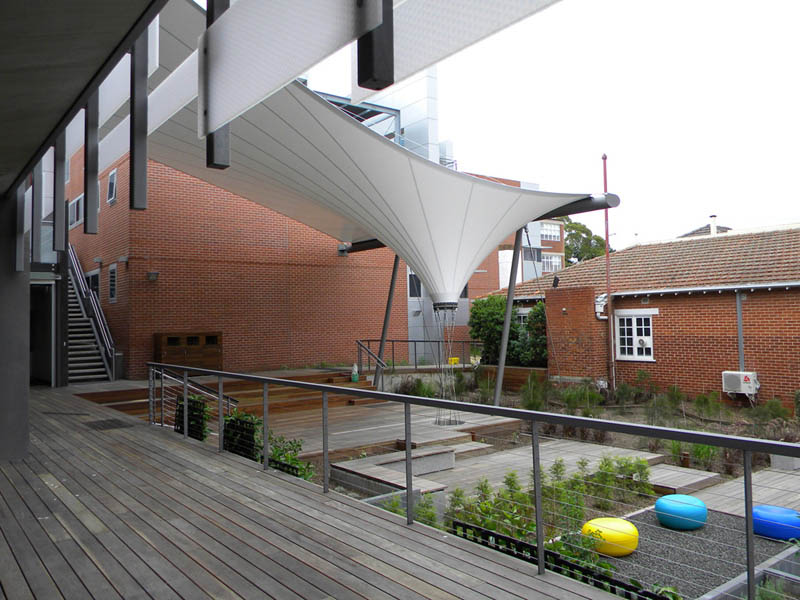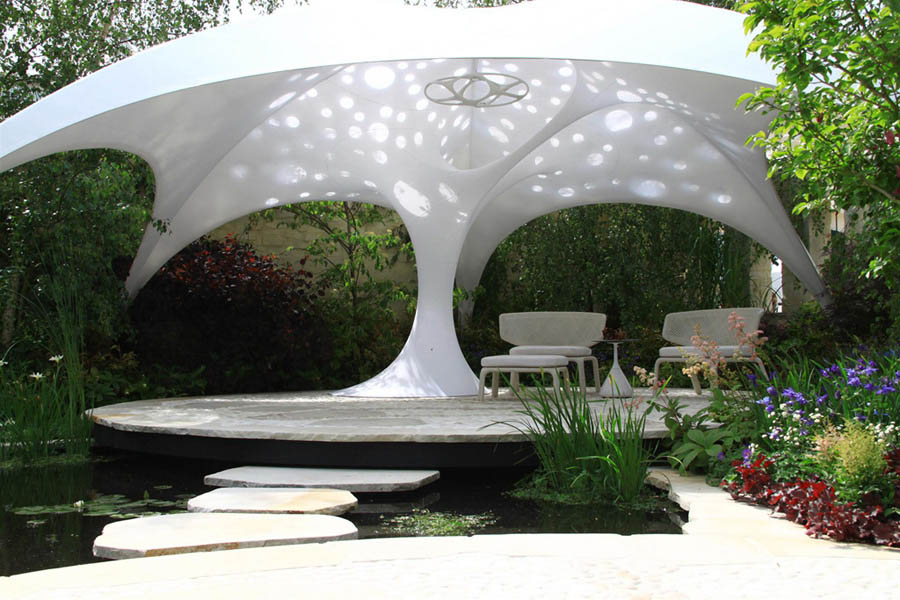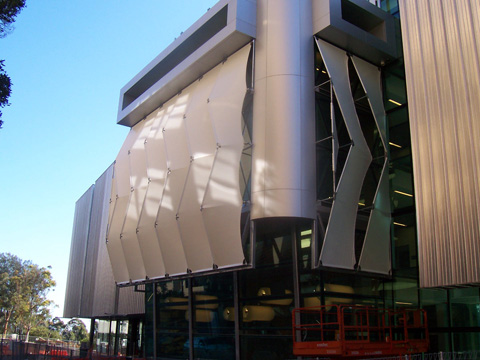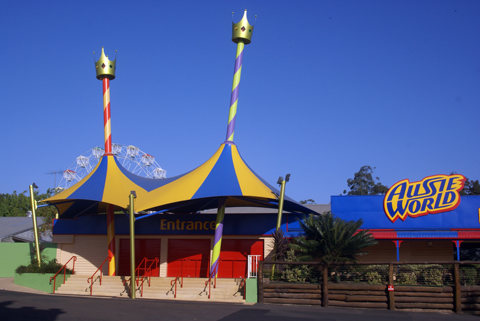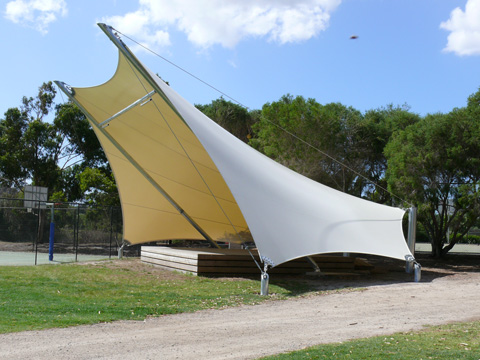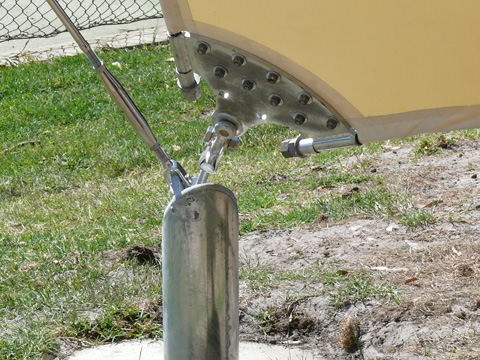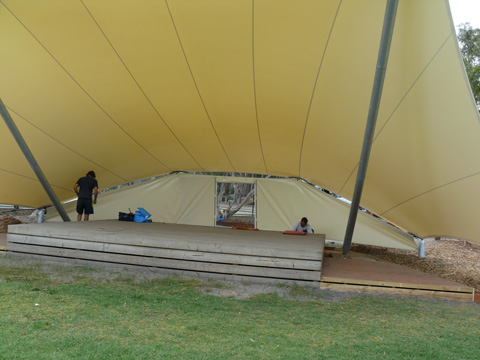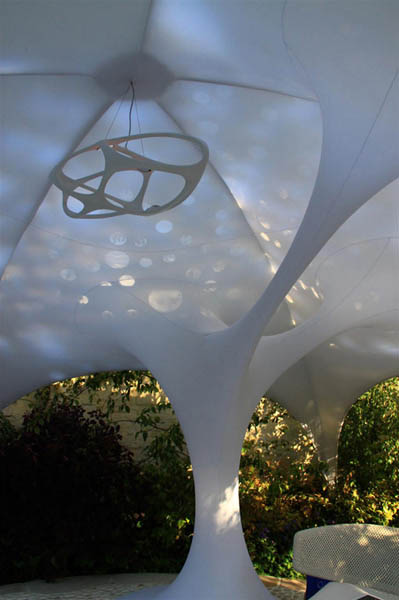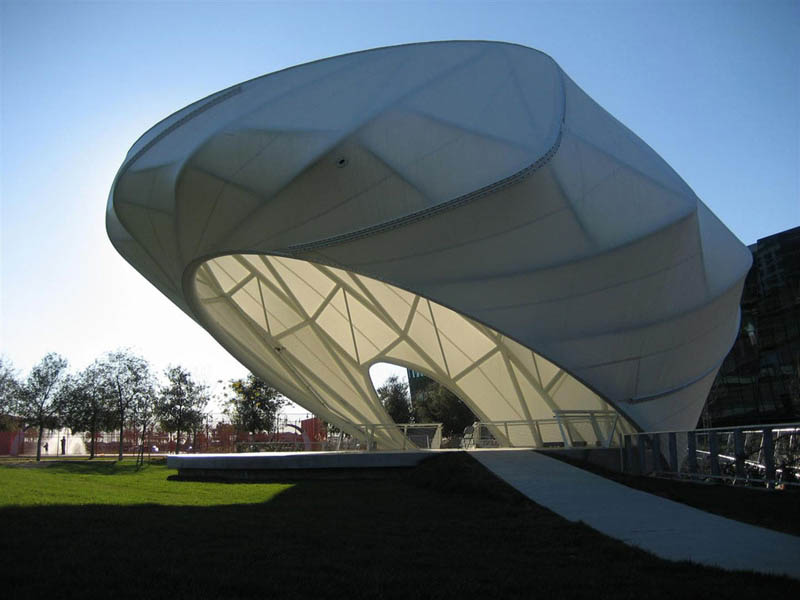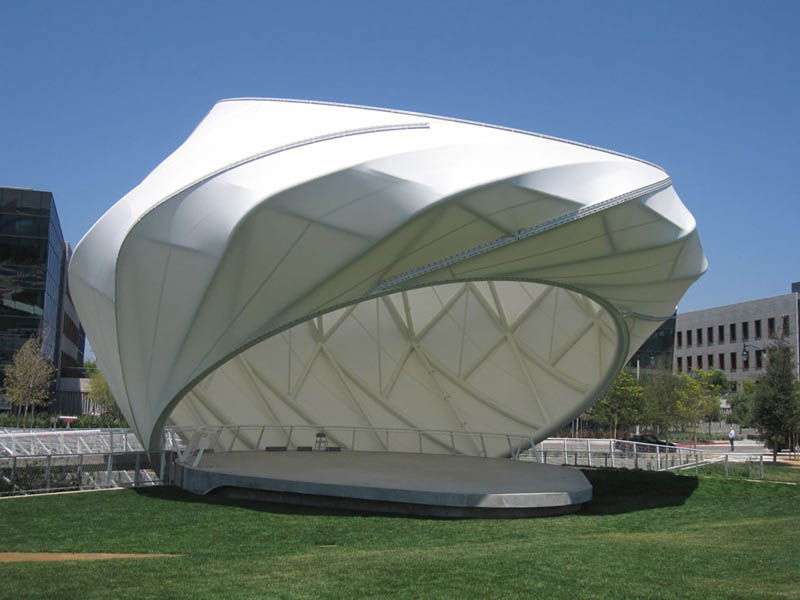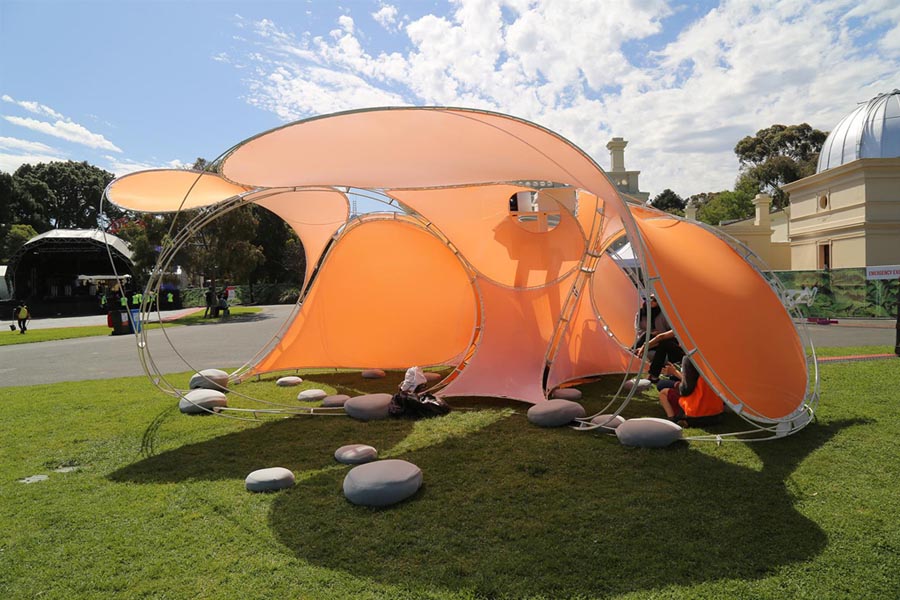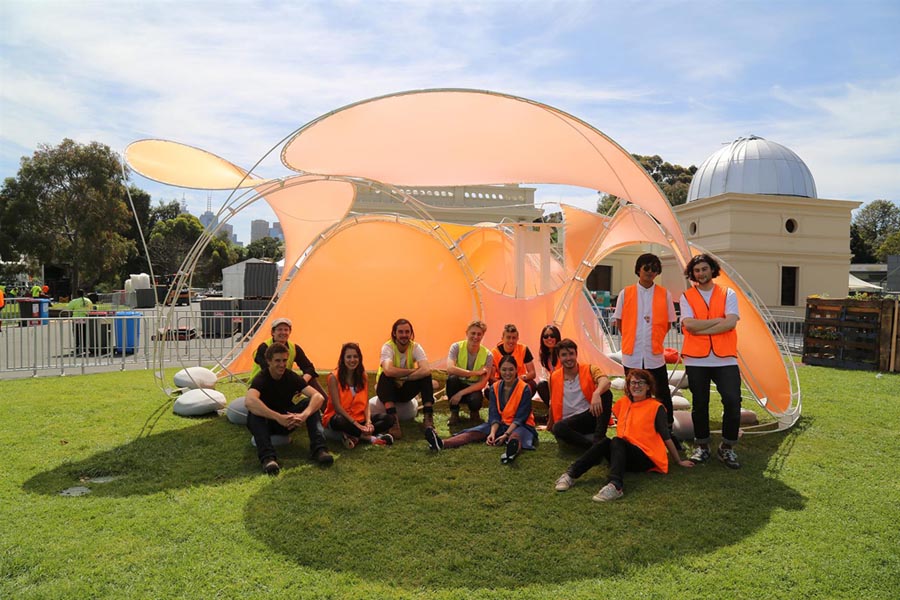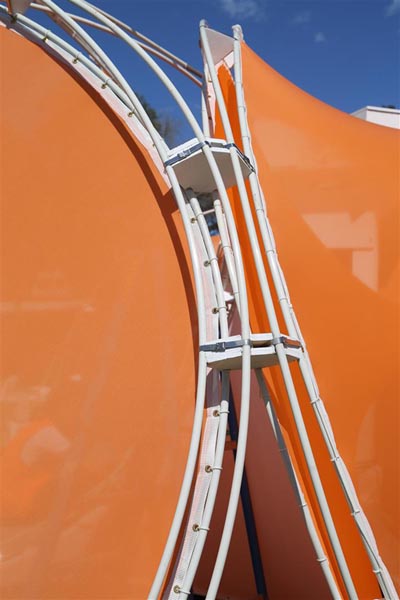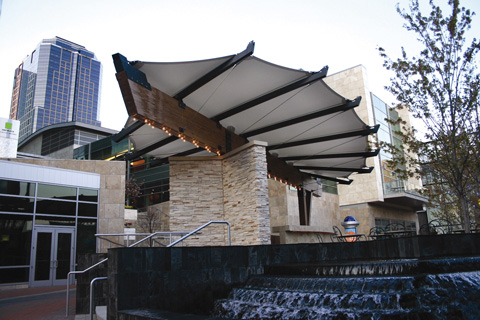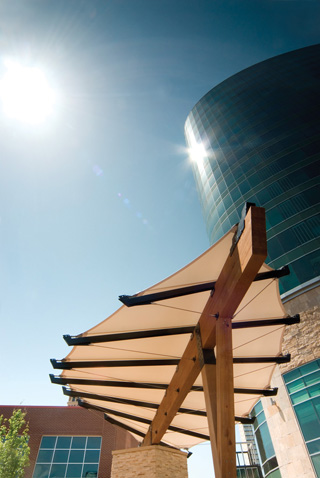 The following articles are in random order:
60 Margaret Street
Credits - Entered by MakMax
Category: Tension structures - (coated fabrics) less than 500sqm
Client: W. Eggerking & Co Pty Ltd
Engineer: Tensys, Peter Lim
Fabric: Hiraoka 212-II SAC
Date completed: 21 February 2012
Address: 60 Margaret Street, Sydney NSW 2000
Size: 600sqm
Steel Supplier: Steelman
Fabric Supplier: Hiraoka Australia
Installer: Sydrig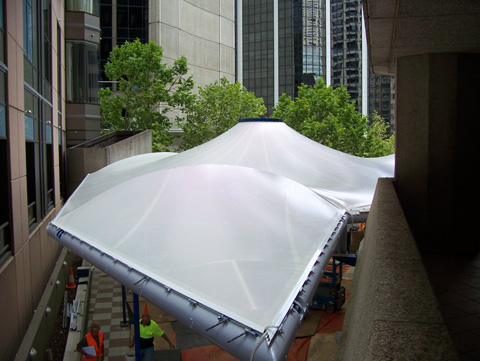 Jirrawun Arts Centre
Entrant: UFS Australasia Pty Ltd
Client: Jirrawun Arts Pty ltd
Architect: Bruce Henderson Architects
Structural Engineer: Craft Projects
Specialist Consultant(s): UFS
Fabricator(s): Fabric Shelter Systems, DMG Engineering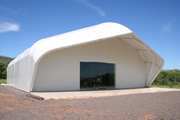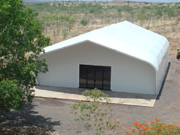 Central Westgate Sky Walk
Entrant: GeoMetal Limited (Design & Engineering)
Location: Nonthaburi, Thailand. Completed: 24 August 2015
Client: Central Pattana Public Company Limited
Team: Pasalandscape Company Limited, Fastech Company Limited, Project Planing Public Company Limited, Power Line Engineering Public Company Limited, Fastech Company Limited
First concept was a waving, curved surface, using a rigid 3D curved steel arches as supporting structures.
Engineering works also included form-finding, structural analysis, CFD analysis, detailing design, Installation method.
The fabric area was 191 sqm, the weight of steel 7.41 tons and the type of fabric used was 702T2
SKIPPS SHADE STRUCTURE - St Kilda, Victoria
APPLICATION OF PROJECT:
To provide a retractable shade structure to an existing exposed school quadrangle courtyard that offered flexibility to a highly utilized space. Without detracting from the existing heritage school built in 1873 and working with a 1970's addition, the project needed to remain respectful of the surrounds whilst providing a vibrant new design proposition and considered functionality. The brief was to provide shade and weather protection to a large external quadrangle, central to major school operations, assemblies, concerts, play area and general shelter.
PROJECT DESCRIPTION:
Carefully inserted into the existing courtyard, the new structure engages with the existing conditions on a number of levels. Spatially the area is now framed and defined yet remains light and open. The sense of space is not compromised yet is enhanced by a flexible shelter that can retract back to a simple steel butterfly shaped frame almost as if it has gently landed in the quadrangle.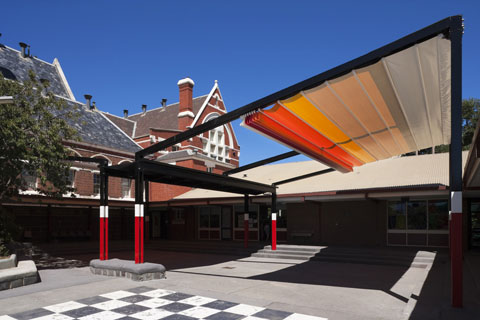 Aussie World Entrance Canopy
Entrant: Light Weight Structures Advisory Service - Engineering Fabrication Installation
Location: Bruce Highway - Palmview
Client: Aussie World Theme Park
Struct. Eng.: Trevor Scott & Jeremy Hunter
Specialist: LTWSAS
Builder: Aussie World Project Management
Fabricator: Made 4 Shade (Maroochydore)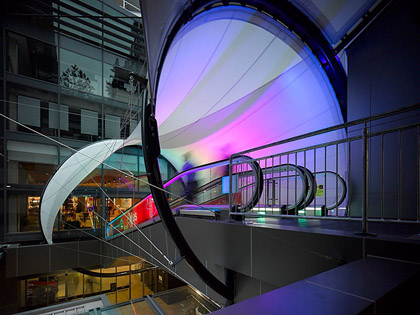 Award of Excellence, LSAA 2018 Design Awards Cat 1 Small Structures
Application of Project
Retail Development Travelator Canopy
Project Description
As part of Ryde Shopping Centre upgrade with a new major first floor supermarket tenant, a new travelator was installed linking two existing structures; the main shopping centre and the shopping centre car park.
The canopy protects the travelator users from adverse weather.
The canopy is stretched between two large steel rings attached to the building facades and provides an interesting screen for coloured LED projections.