Small Fabric Structures: Typically these may be of a plan area of 250 square metres or less. They are often used as shade structures or as signature items at entrances to larger buildings.
Other applications include the provision for a shaded area in playgrounds, school yards, car dealerships and as internal sculptures.
They may be made from coated fabrics as a water-proof barrier or of open fabric such as knitted shade cloth.
The following articles are in random order:
Canteen Canopy Extension
SEMF Pty Ltd (Architect / Engineer)
Location: Ringwood, Victoria. Completed: 31 July 2016
Client: Aquinas College
Team: SEMF, SEMF, Walsh Industries (Steel), Horizon Sailmakers (Membrane & cables)
Flemington Racecourse
Entrant: Taiyo Membrane Corp
Client: Victoria Racing Club
Architect: Taiyo Membrane Corporation
Structural Engineer: Xiang Du (TMC)
Fabricator(s): Taiyo Membrane Corp
Mary McKillop College Amphitheatre
Shade And Membrane Structures Australia (Design / Project Management / Install)
Completed: May 8 2014
Client: James Trowse Constructions
Team: Opus Architecture, Osborn Lane, James Trowse Constructions, Shadecom
Jirrawun Arts Centre
Entrant: UFS Australasia Pty Ltd
Client: Jirrawun Arts Pty ltd
Architect: Bruce Henderson Architects
Structural Engineer: Craft Projects
Specialist Consultant(s): UFS
Fabricator(s): Fabric Shelter Systems, DMG Engineering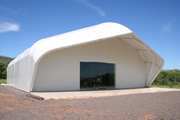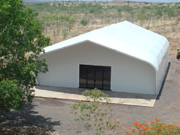 Central Westgate Sky Walk
Entrant: GeoMetal Limited (Design & Engineering)
Location: Nonthaburi, Thailand. Completed: 24 August 2015
Client: Central Pattana Public Company Limited
Team: Pasalandscape Company Limited, Fastech Company Limited, Project Planing Public Company Limited, Power Line Engineering Public Company Limited, Fastech Company Limited
First concept was a waving, curved surface, using a rigid 3D curved steel arches as supporting structures.
Engineering works also included form-finding, structural analysis, CFD analysis, detailing design, Installation method.
The fabric area was 191 sqm, the weight of steel 7.41 tons and the type of fabric used was 702T2
Mpowerdome Entry Structure
Entrant: UFS Australasia Pty Ltd
Client: Mpowerdome
Architect: Small Quinton Coleman Architects
Structural Engineer: Wade Consulting Group
Builder: UFS
Fabricator(s): Fabric Shelter Systems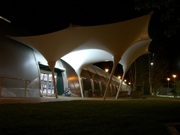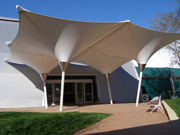 Trailfinders Australian Garden - Chelsea Flower Show
PROJECT DESCRIPTION
MakMax's client, Flemings Nurseries exhibits annually at the Royal Horticultural Society's Chelsea Flower Show, one of the world most prestigious social and horticultural events. Fleming's often win awards for their unique exhibition stands. MakMax was engaged to bring an architect's design to life in the form of a unique temporary structure for Fleming's entry at the 2011 RHS Chelsea Flower Show.
DESIGN / FABRICATION / INSTALLATION BRIEF
Our client, Flemings Nurseries, engaged architect, Ian Barker to design their most recent stand. The architect's inspiration included themes of colonization and the discovery of Australia. Natural shapes and light play a large part in the design brief. The importance of the horticultural theme in the discovery of Australia is through botanist Sir Joseph Banks who along with Captain Cook first documented the unique native flora of Australia. MakMax was engaged to bring this idea to life through the architect's vision.
Although the concept was the work of the architect, some of the technical details of manufacture were not conceptualized until MakMax engineers began looking at the design from a practical point of view. Being a self supporting structure we had a fair amount of control over the manufacture and fixing details of the project.
Melbourne Girls Grammar School Cover to Communal Deck
PROJECT DESCRIPTION
Inverted conic covering a communal deck for year 5 & 6 girls at Melbourne Girls Grammar
The structural form is an asymmetric inverted conic, with what is basically a rectangular upper perimeter. In plan the area covered is small, about 12.5m by 11m, and the height varies from 3m at the bale ring to 5.5m at the lower edge to 9m at the highest edge
The conical form is asymmetrical about all axes. The bale ring has been set close to one corner so that the inverted conical shape is accentuated by being well away from the adjoining buildings to which it is attached, and so that the stormwater drainage through the bale ring has minimal interference with use of the deck on wet days.
The function of the structure is to provide critical protection of the school students from the elements during breaks in their school day, creating an outdoor leisure environment that mixes native plants with modern aesthetic material technology. It provides a space where the children can relax and briefly escape the physical confines of school. Even whilst raining, the children can retreat to this area and have their senses stimulated by the rain drumming on the tensioned fabric whilst the water is collected and pushed along the highly strung cables, creating a cylinder of rushing water. Classes can be held on the tiered decking during most weather conditions.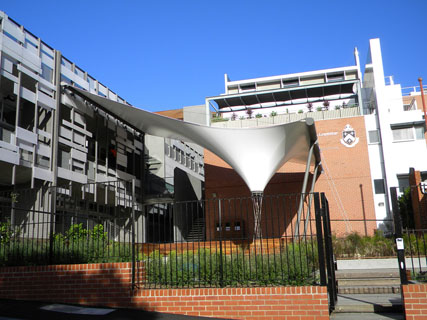 Read more: Melbourne Girls Grammar School Cover to Communal Deck
SKIPPS SHADE STRUCTURE - St Kilda, Victoria
APPLICATION OF PROJECT:
To provide a retractable shade structure to an existing exposed school quadrangle courtyard that offered flexibility to a highly utilized space. Without detracting from the existing heritage school built in 1873 and working with a 1970's addition, the project needed to remain respectful of the surrounds whilst providing a vibrant new design proposition and considered functionality. The brief was to provide shade and weather protection to a large external quadrangle, central to major school operations, assemblies, concerts, play area and general shelter.
PROJECT DESCRIPTION:
Carefully inserted into the existing courtyard, the new structure engages with the existing conditions on a number of levels. Spatially the area is now framed and defined yet remains light and open. The sense of space is not compromised yet is enhanced by a flexible shelter that can retract back to a simple steel butterfly shaped frame almost as if it has gently landed in the quadrangle.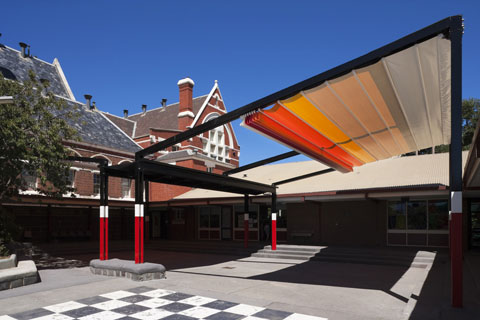 John Power Stand - Eagle Farm, Brisbane
PROJECT DESCRIPTION
Eagle Farm Racecourse is an iconic Brisbane building, hosting race days twice weekly and accommodating hoards of racegoers every year. The main stand named John Power Stand was erected in the early 1900s. Since then the structure has aged leaving an unsightly concrete ceiling viewable from the main observation area.
MakMax was engaged to supply a permeable ceiling structure to cover the concrete from view while allowing access for inspection purposes. This structure also needed to eliminate nesting areas for birds under the old roof. MakMax engineers used the perimeter or building as well as the support columns to sustain the fabric, although the outcome is much different to look at the principals of the structure is not unlike many conic structures.
The addition of this fabric ceiling gives John Power Stand a much needed facelift. Our client Watpac Speciality Services is very pleased with the result.