Small Fabric Structures: Typically these may be of a plan area of 250 square metres or less. They are often used as shade structures or as signature items at entrances to larger buildings.
Other applications include the provision for a shaded area in playgrounds, school yards, car dealerships and as internal sculptures.
They may be made from coated fabrics as a water-proof barrier or of open fabric such as knitted shade cloth. Some examples are: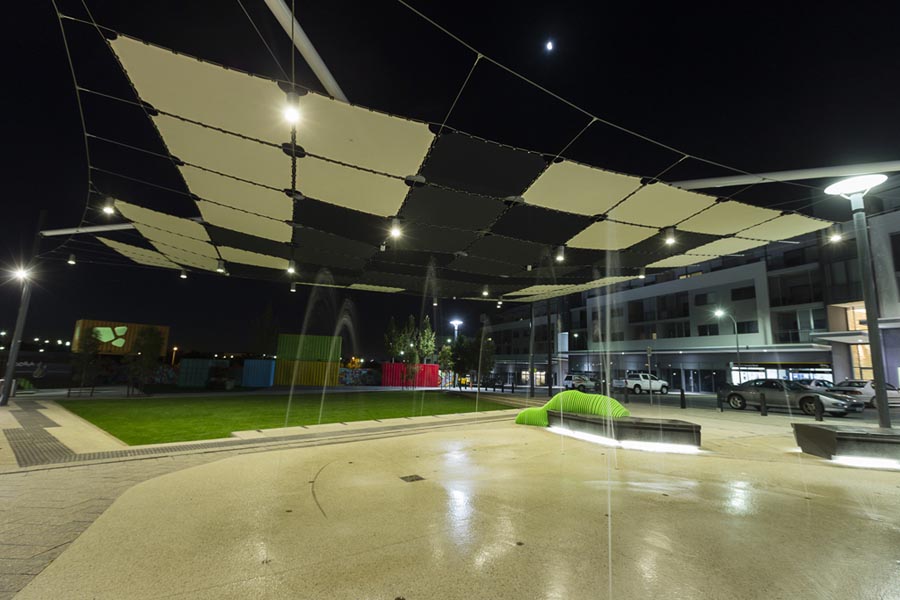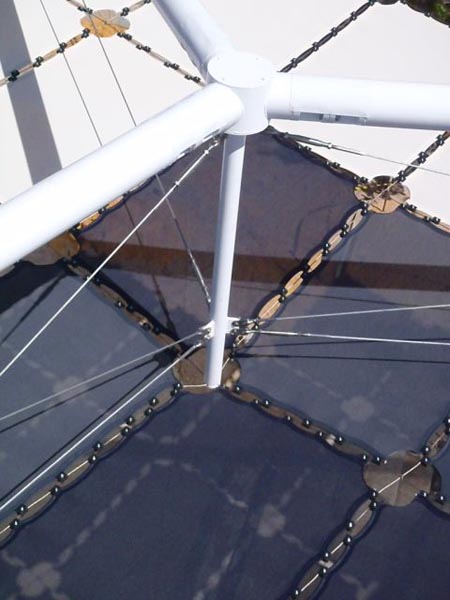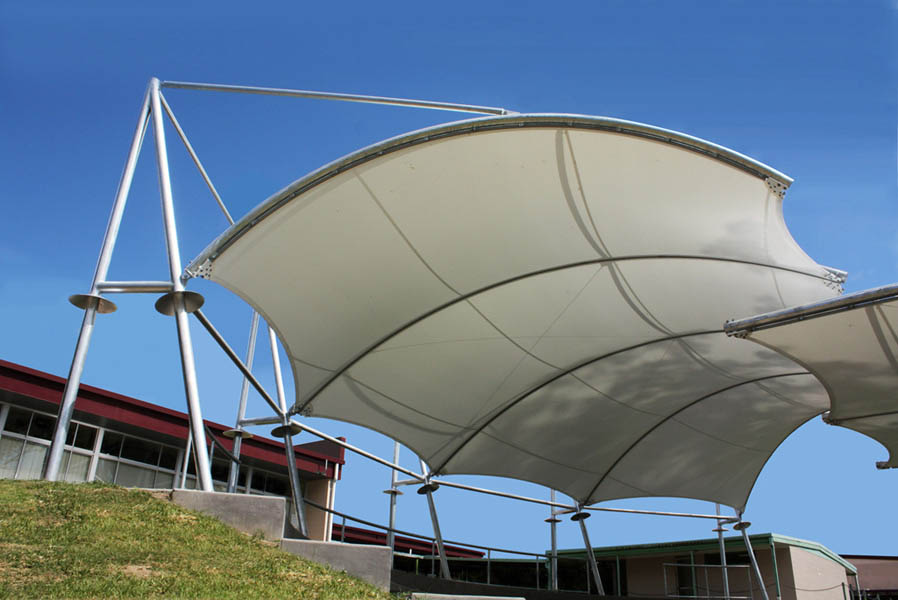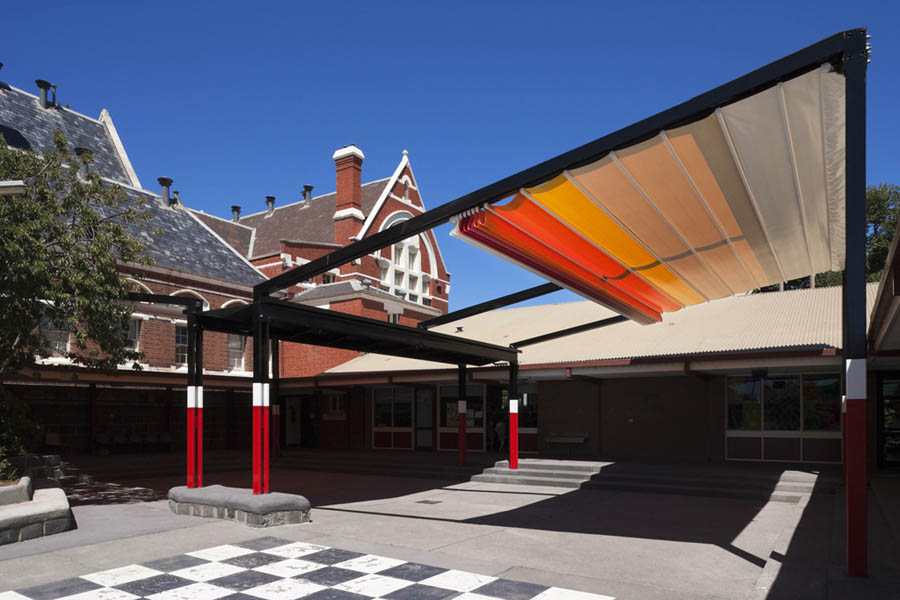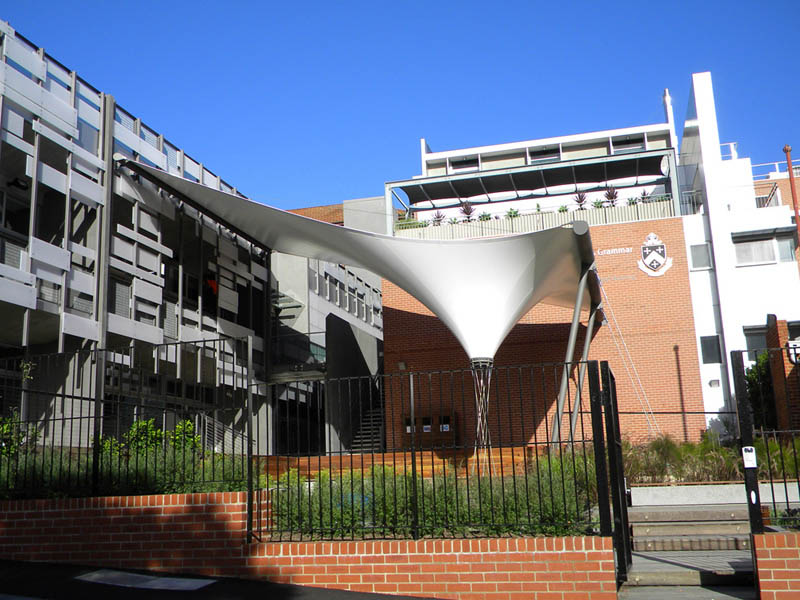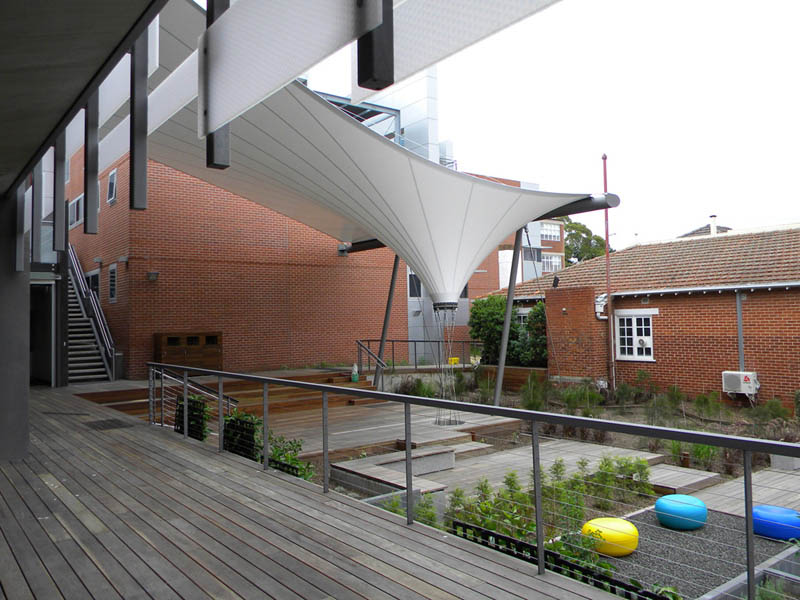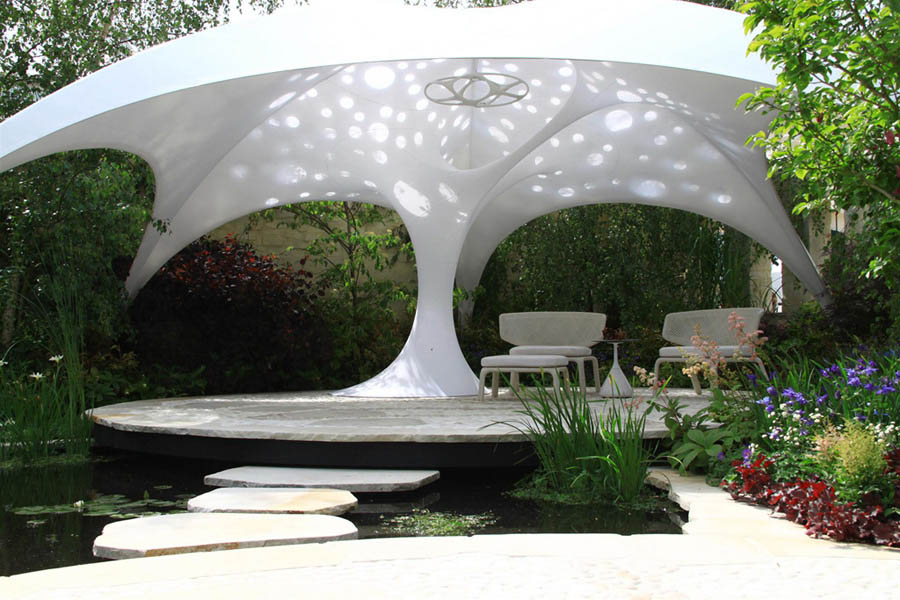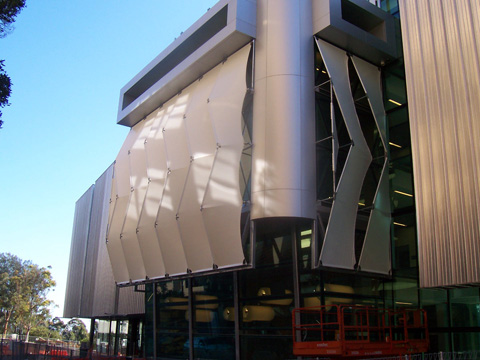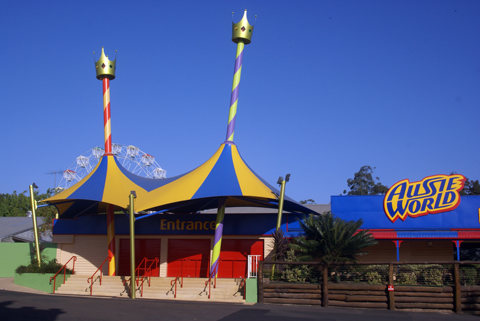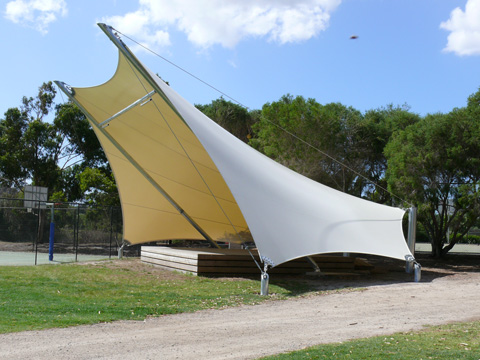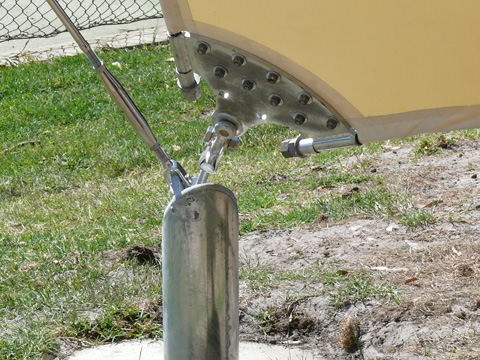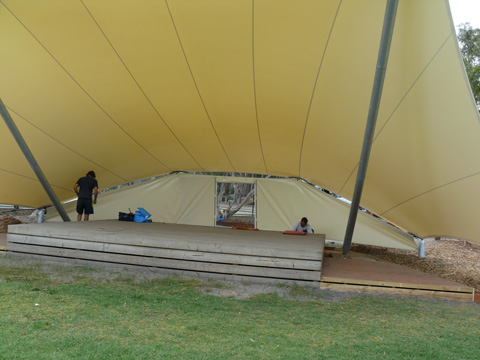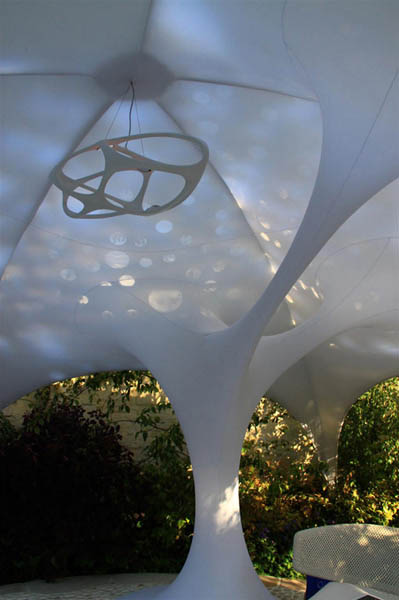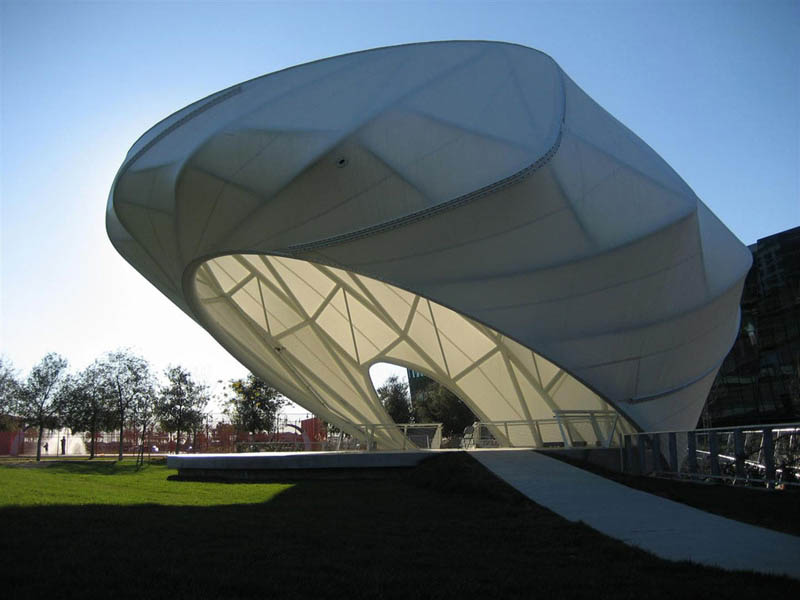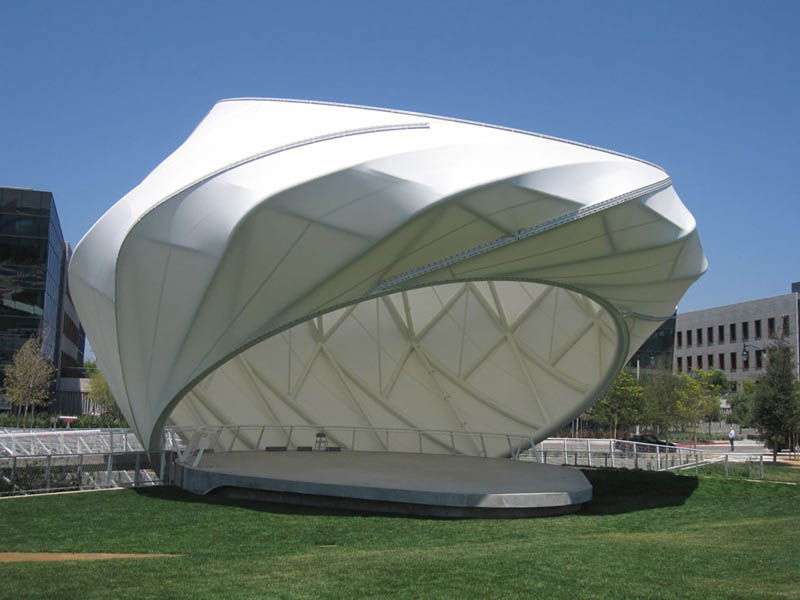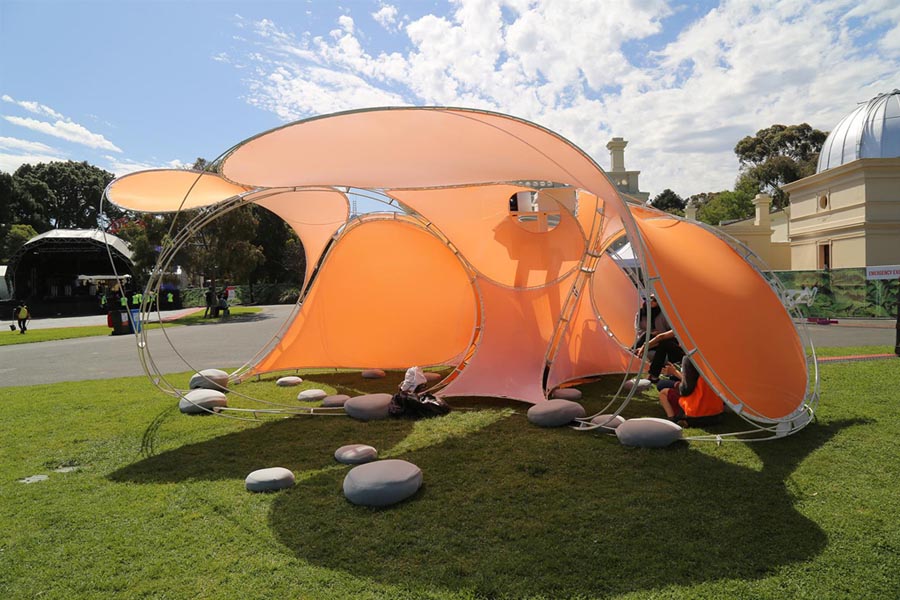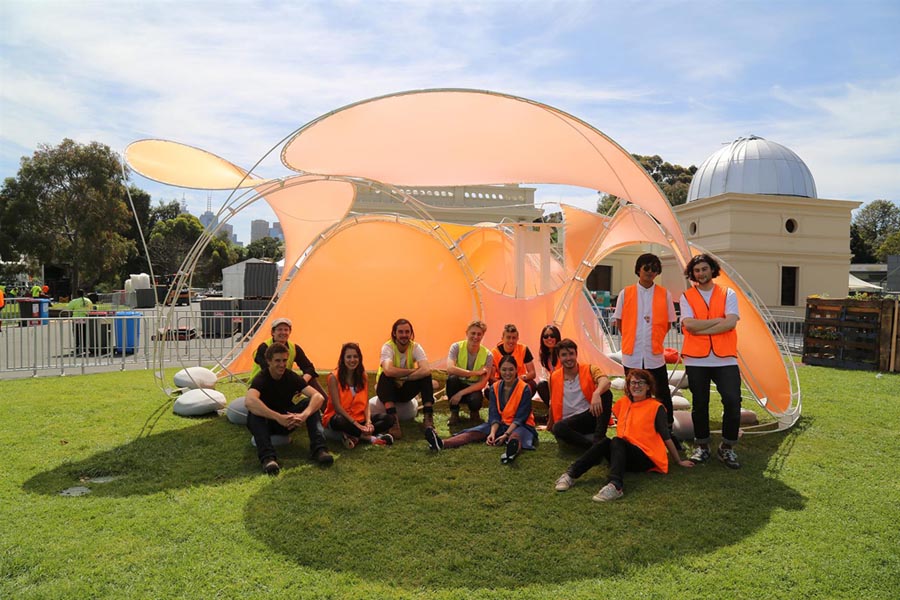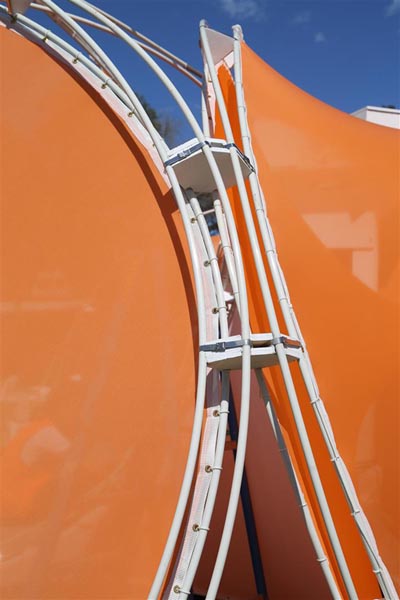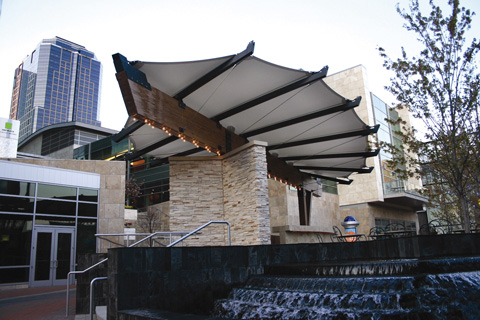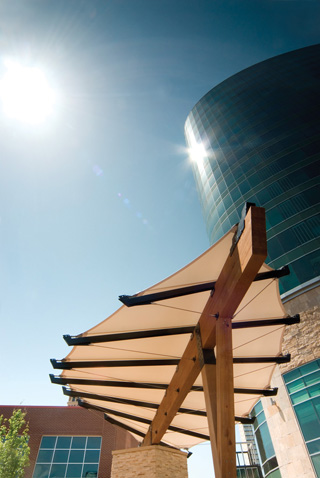 The following articles are in random order:
LSAA 2013 Award of Excellence
Listen Out Festival Temporary Tensile Canopy
Entrant: Tensys Engineers Pty Ltd
Category: 6 ID Number: 6512

Location: Royal Botanical Gardens, Melbourne

Client: Listen Out Festival, Melbourne 2013

Completion Date: 2013
Credits:
Architect: Tim Schork MADA, Monash University

Structural Engineer: Tensys Engineers

Others: Callum Morton (MAP)

Builder: Monash Art Design & Architecture (MADA)

Fabricator: MADA
Judges Comments:
"Beautifully resolved on all levels."
"An innovative, imaginative and thoroughly engaging project. So right for purpose - a canopy under which to shelter in a park while listening to music. Great colour. Joyful work that captures the spirit and essence of lightweight construction."
APPLICATION OF PROJECT:
Temporary structure for the Listen Out Music Festival at the Royal Botanical Gardens in Melbourne.
PROJECT DESCRIPTION:
Experimental work exploring the different tensile anticlastic forms. This structure is an end result of conceptual and digital studies carried out by MADA students of a cloud. The functional brief was to provide a temporary shading structure for the patrons of the festival covering a 5m x 5m footprint.
Perth Children's Hospital
LSAA 2016 Design Award Entry by Fabritecture (Designer and Installer)
Location: Subiaco, WA. Completed: July 30 2015
Client: John Holland Group
Team: JCY Architects, Greenup Design International, Fabritecture, Textile Fabrication Services, Fabritecture
APPLICATION OF PROJECT:
Highly interactive artistic and architectural shade canopies, featuring intricately designed complex steel geometry and custom fabric patterns to work with the exciting environment of the children's playground.

PROJECT DESCRIPTION:
The Perth Children's Hospital project involved the design and construction of an intricate structural shade solution as an addition to an outdoor children's play area for the hospital. The project was part of a redevelopment initiative to replace the existing Princess Margaret Hospital facility.
The new Perth Children's Hospital intends to host local and internationally recognised organisations for paediatrician, clinical research and tertiary learning.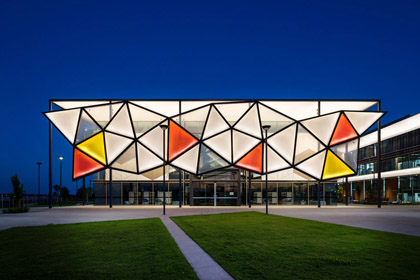 Commendation at LSAA 2018 Design Awards
PROJECT DESCRIPTION:
In late 2017, the new Oran Park Library & Community Resource Centre underwent an AUD$13.8million development. Part of the works was a design & construction contract for a lightweight architectural ETFE façade at the front of the library. The façade faces the Western sun, providing an effective solar barrier from the heat, and adding a striking aesthetic to the building.
The façade features a series of triangular 2-layer ETFE cushions, alternating in colour and direction, in red, yellow, white and translucent foil with a standard frit pattern print.
The development plan for the Community Centre had a specification for an artwork requirement, so the client was after a functional façade that also satisfied the criteria of structural artwork. A structure such as the Oran Park ETFE façade is considered a piece of architectural artwork as it includes elements of creativity amid the constraints of a functional piece of engineering.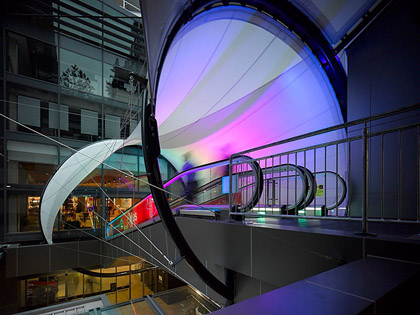 Award of Excellence, LSAA 2018 Design Awards Cat 1 Small Structures
Application of Project
Retail Development Travelator Canopy
Project Description
As part of Ryde Shopping Centre upgrade with a new major first floor supermarket tenant, a new travelator was installed linking two existing structures; the main shopping centre and the shopping centre car park.
The canopy protects the travelator users from adverse weather.
The canopy is stretched between two large steel rings attached to the building facades and provides an interesting screen for coloured LED projections.
Melbourne Girls Grammar School Cover to Communal Deck
PROJECT DESCRIPTION
Inverted conic covering a communal deck for year 5 & 6 girls at Melbourne Girls Grammar
The structural form is an asymmetric inverted conic, with what is basically a rectangular upper perimeter. In plan the area covered is small, about 12.5m by 11m, and the height varies from 3m at the bale ring to 5.5m at the lower edge to 9m at the highest edge
The conical form is asymmetrical about all axes. The bale ring has been set close to one corner so that the inverted conical shape is accentuated by being well away from the adjoining buildings to which it is attached, and so that the stormwater drainage through the bale ring has minimal interference with use of the deck on wet days.
The function of the structure is to provide critical protection of the school students from the elements during breaks in their school day, creating an outdoor leisure environment that mixes native plants with modern aesthetic material technology. It provides a space where the children can relax and briefly escape the physical confines of school. Even whilst raining, the children can retreat to this area and have their senses stimulated by the rain drumming on the tensioned fabric whilst the water is collected and pushed along the highly strung cables, creating a cylinder of rushing water. Classes can be held on the tiered decking during most weather conditions.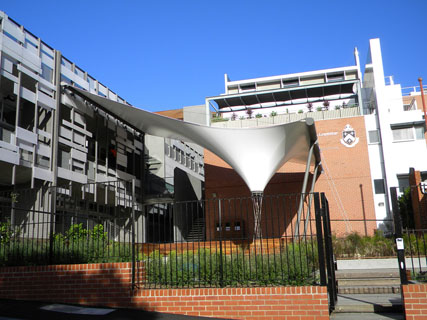 Read more: Melbourne Girls Grammar School Cover to Communal Deck
Shop With Me Mobile Pop Up
Tensys Engineers Pty Ltd (Engineer)
Location: Chicago / New York / Dallas / Las Vegas / San Jose. Completed: 2014
Client: with me. com