Lightweight geometric forms filling an internal space generally with no applied environmental loads - from wind, rain or snow - but usually a small amount of prestress.
Entry Paradise Pavilion
Entrant: Taiyo Membrane Corp
Client: Chris Bosse
Architect: Taiyo Membrane Corp & Chris Bosse
Structural Engineer: Xiang Du (TMC)
Fabricator(s): Taiyo Membrane Corp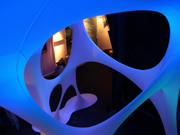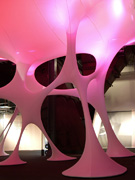 The RAIA Bar
Entrant: MakMax Australia – Designer
Location: Melbourne Convention & Exhibition Centre – Melbourne
Client: The Australian Institute of Architects
Architect: LAVA
Struct. Eng.: MakMax Australia
Others: MakMax (Installation)
Fabricator: MakMax Australia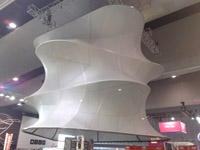 Very lightweight highly curved forms may be used to create exciting geometric forms to fill a void.
There will be no external environmental loads from wind, rain or snow but a small degree of prestress and accurate patterning are required.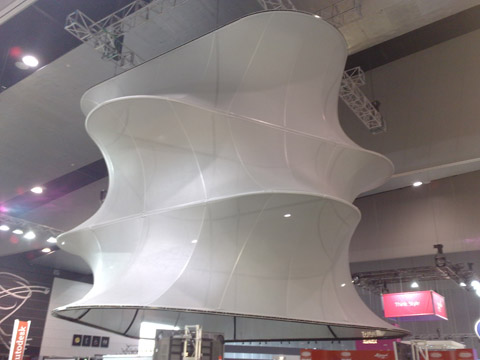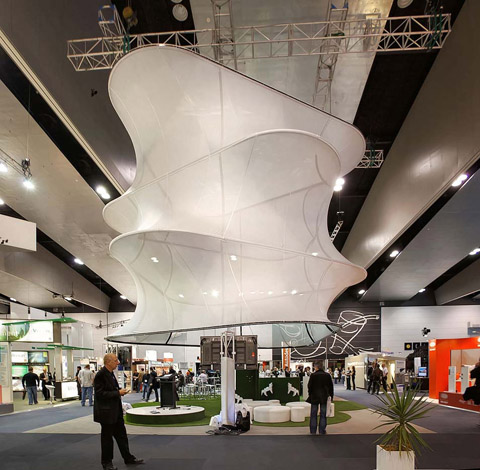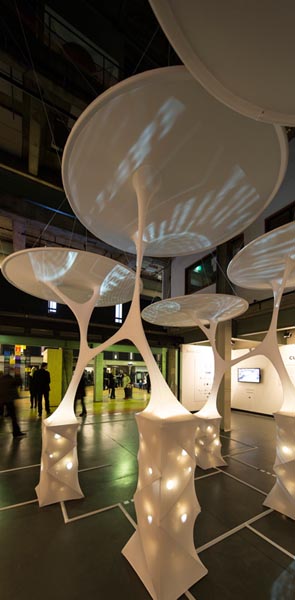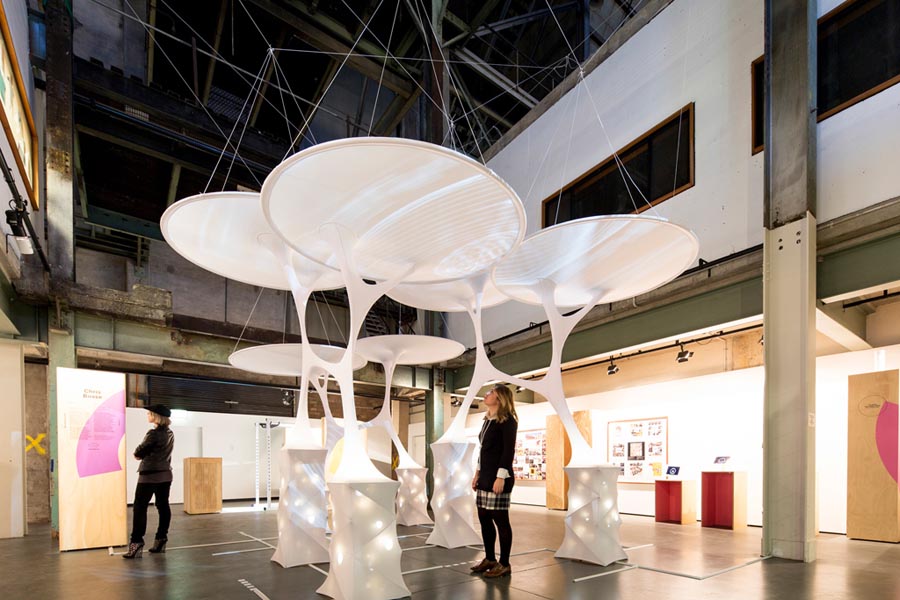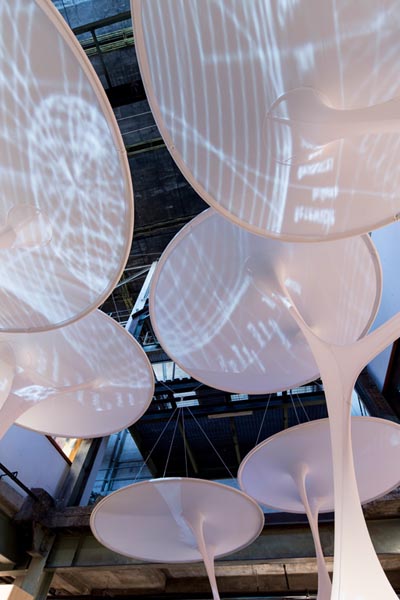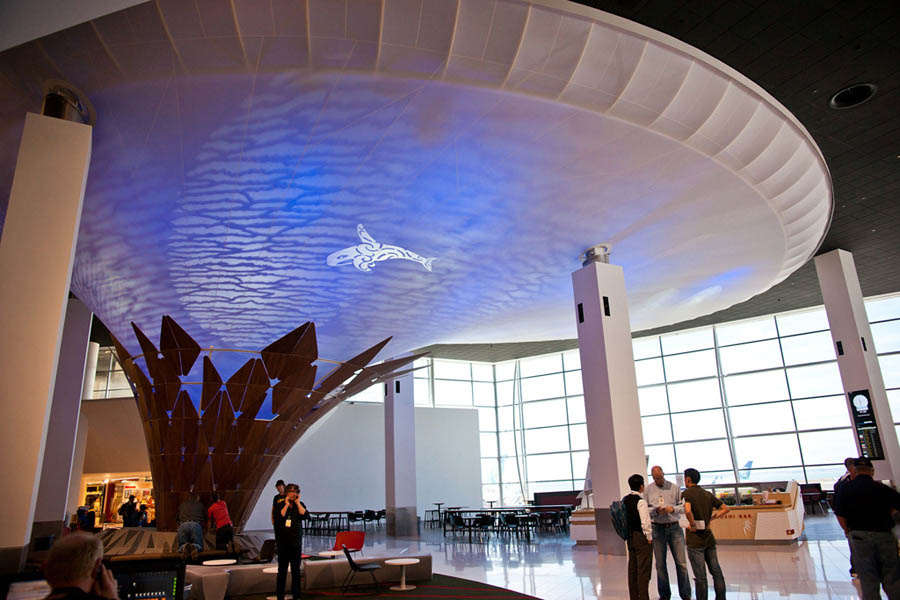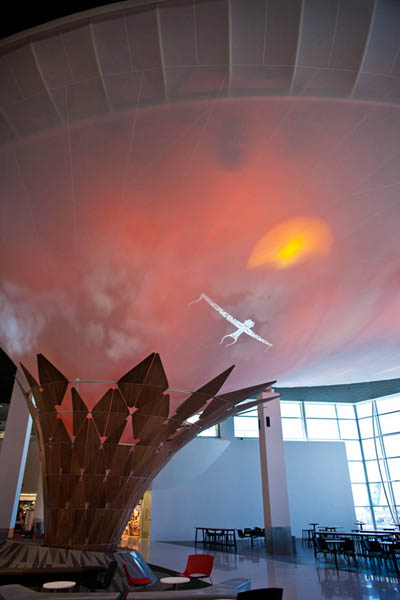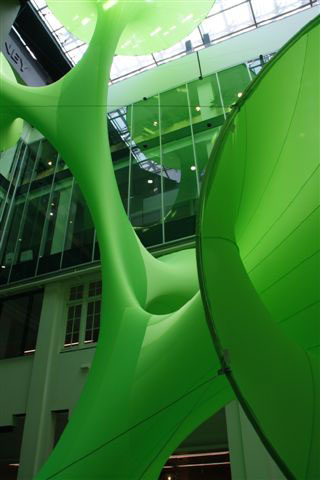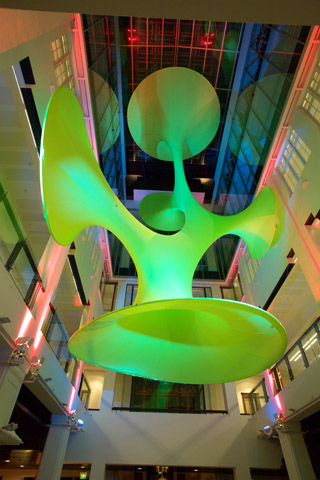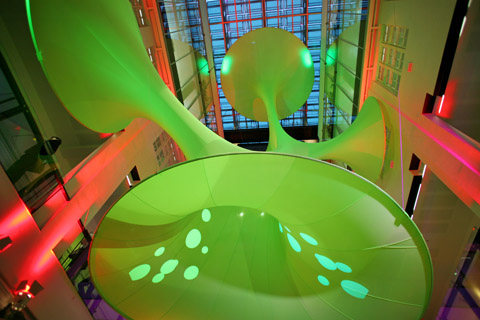 Moet & Chandon
Entrant: Taiyo Membrane Corp (MakMax)
Client: Moet & Chandon Australia
Architect: Chris Bosse (PTW)
Structural Engineer: Xiang Du (TMC)
Fabricator(s): Taiyo Membrane Corp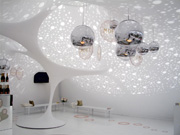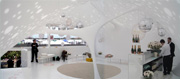 Tweed Regional Aquatic Centre - Suspended Ceiling

Entrant: UFS Australasia Pty Ltd - Designer / Fabricator
Location: Murwillumbah - Northern NSW
Client: Multispan Australia Pty Ltd
Struct. Eng.: Ferrari Proprietary System
Builder: Universal Fabric Structures / Ozrig
Fabricator: Fabric Shelter Systems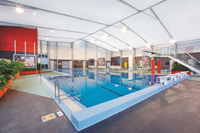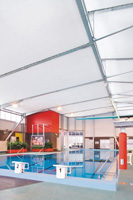 Australian Catholic University Artwork & Fall Arrest Netting
Tensys Engineers Pty Ltd (Engineer)
Location: Fitzroy, Victoria. Completed: 2015
Client: Australian Catholic University
Team: Amy Watson (Artist), Tensys Engineers, Turner & Townsend Thinc (Proj Man.), Shape Australia, Ronstan
This project was entered in the 2013 LSAA Design Awards
Entrant: LAVA
Category: 1 ID Number: 1567
Location: Casula Powerhouse, Casula NSW
Client: Object Gallery
Completion Date: July 2013
Credits:
Architect: Chris Bosse
Structural Engineer: Büro für Leichtbau (Germany)
Fabricator: Fabric Shelters Workshop (NZ)
Steelwork: GKR Interiors (Australia)
APPLICATION OF PROJECT:
Cloud City: An urban ecosystem is a sculptural rendition of Chris Bosse's vision of a future city - a soaring, stretched membrane cloud anchored to the 'city' on the gallery floor by high-rise towers that have been re-skinned and revitalised. A series of large circular forms, doubly curved, is made of stretchy lycra.
The installation is part of a nation-wide exhibition by 12 Australian designers that explores the potential of design in our lives and generates ideas that could 'change the way we inhabit the world'.
Tower House Netting
Tensys Engineers Pty Ltd (Engineer)
Location: Fitzroy, Victoria. Completed: 2014
Client: Philip & Sophia Ross
Team: Áustin Maynard Architects, Maurice Farrugia & Assoc, Tensys – net design & details, Oxley Nets (net) McDonald Marine (ropes), Overend Constructions Pty Ltd