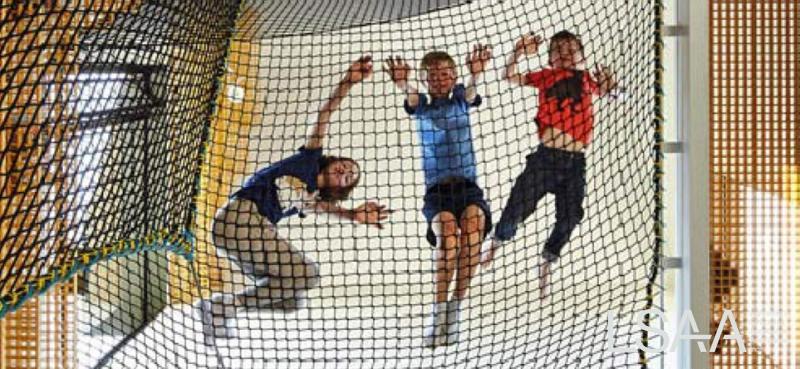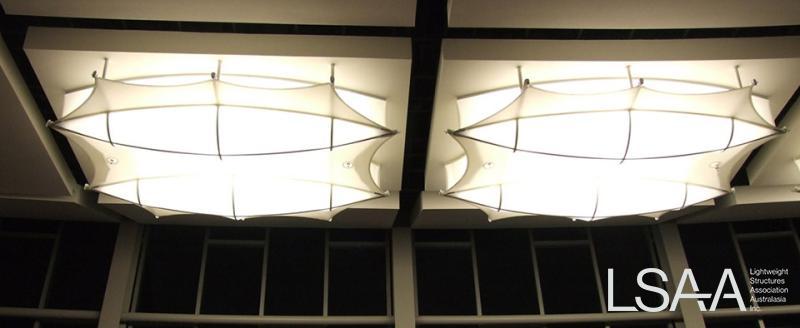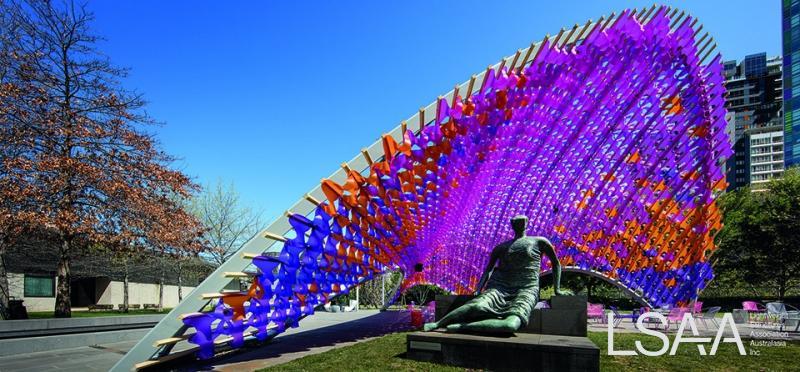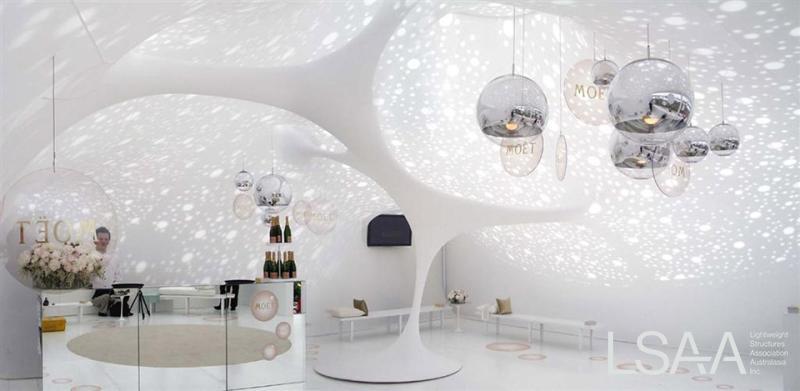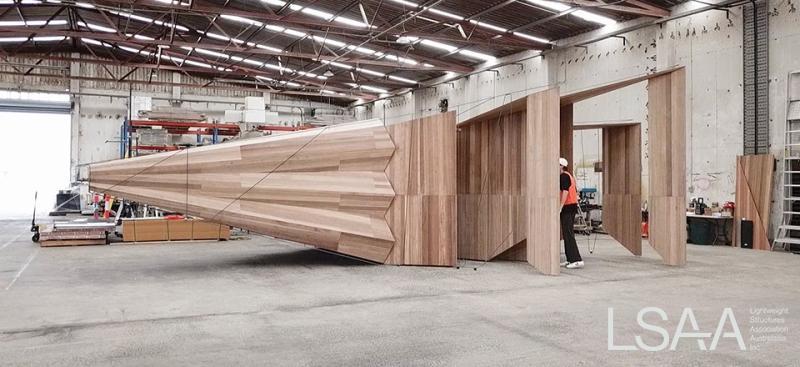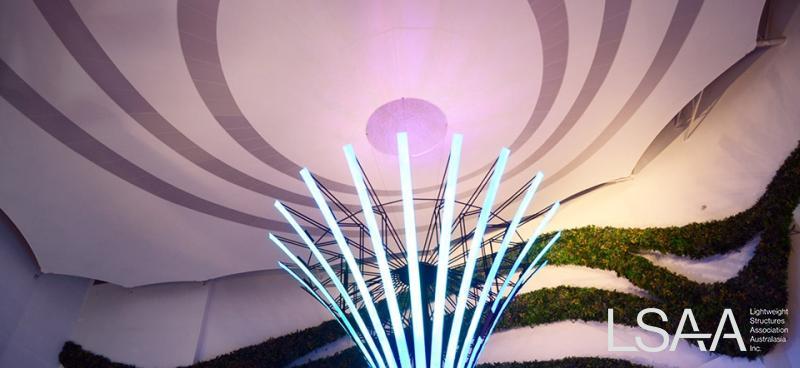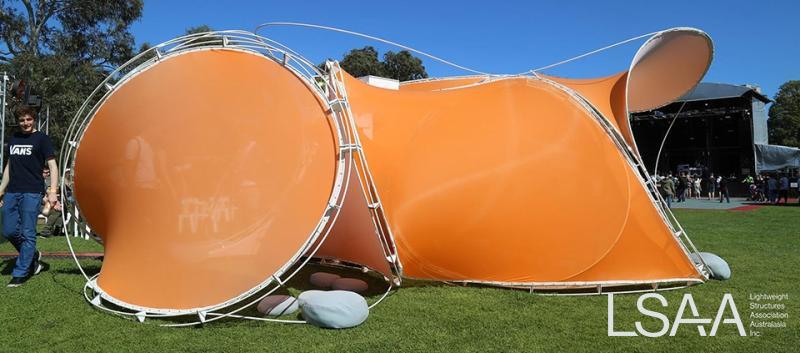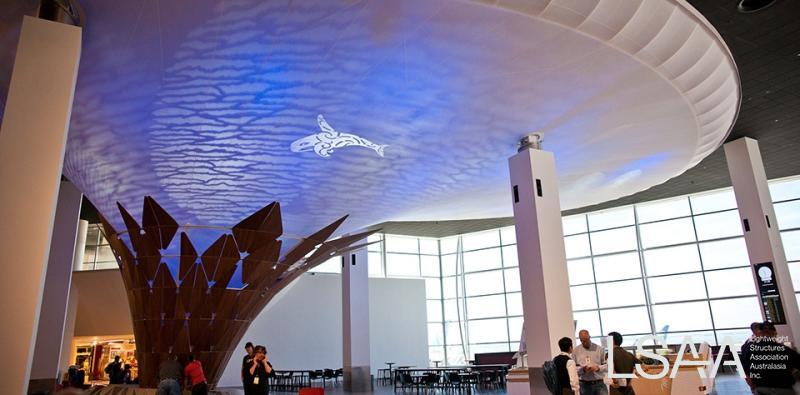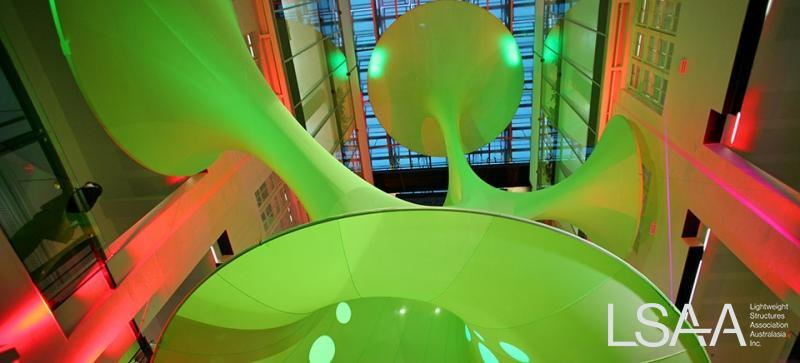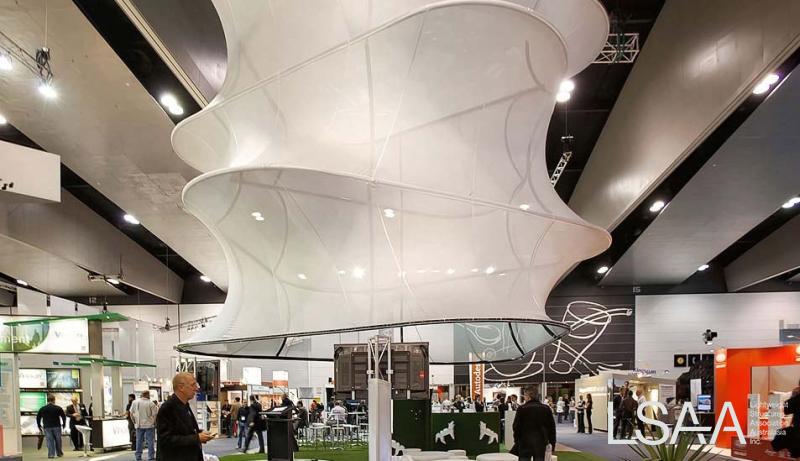 Lightweight geometric forms filling an internal space generally with no applied environmental loads - from wind, rain or snow - but usually a small amount of prestress.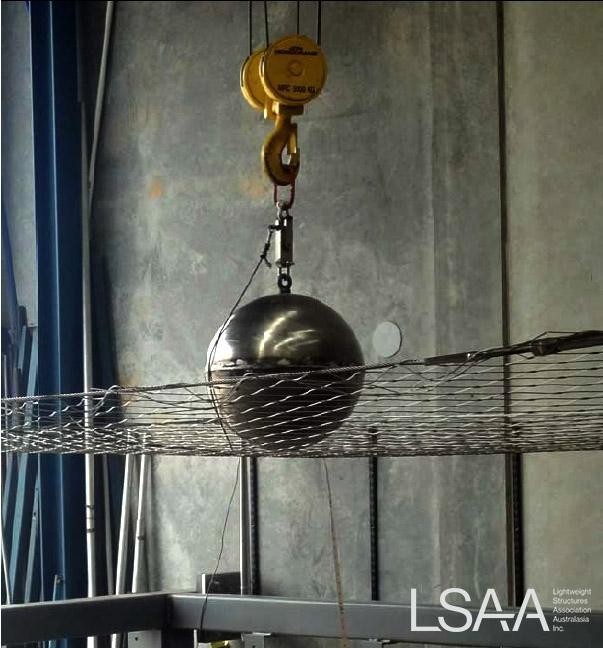 Project entered in the LSAA 2016 Design Awards (Cat 7, 0416)
Australian Catholic University Artwork & Fall Arrest Netting
Entrant: Tensys Engineers Pty Ltd (Engineer)
Location: Fitzroy, Victoria. Completed: 2015 Client: Australian Catholic University
Team: Amy Watson (Artist), Tensys Engineers, Turner & Townsend Thinc (Proj Man.), Shape Australia, Ronstan
Application
The implementation of form and function. The artwork is the form with the fall arrest netting being the function.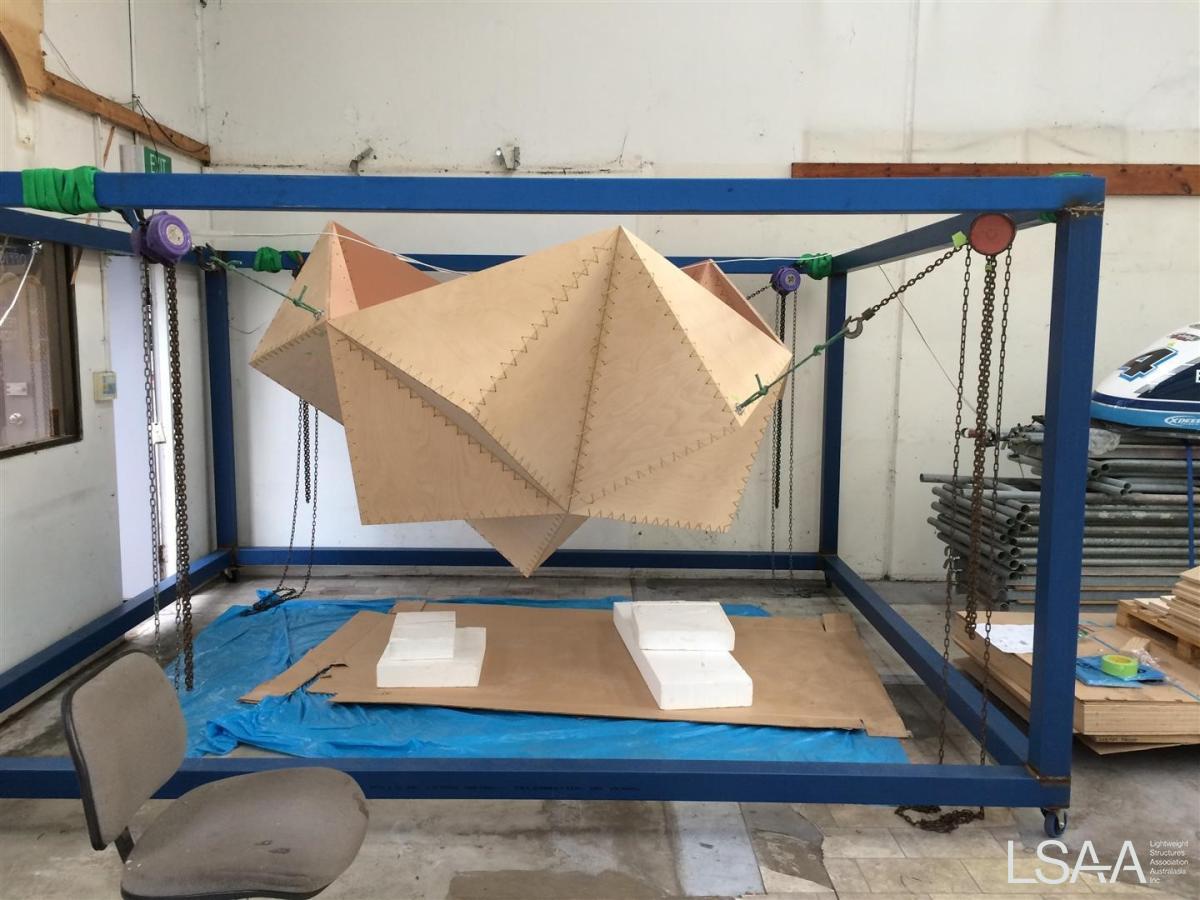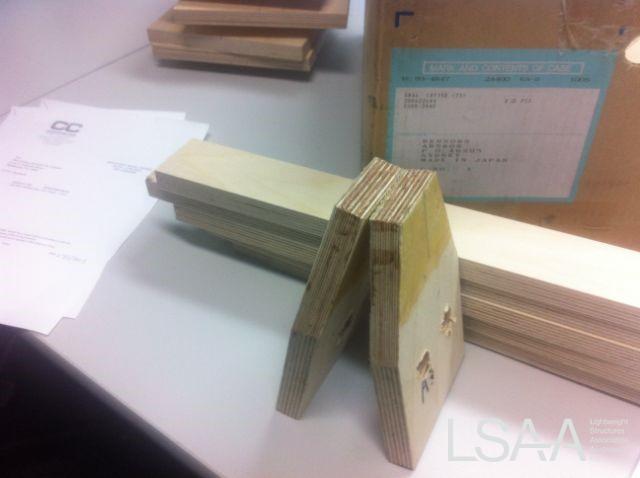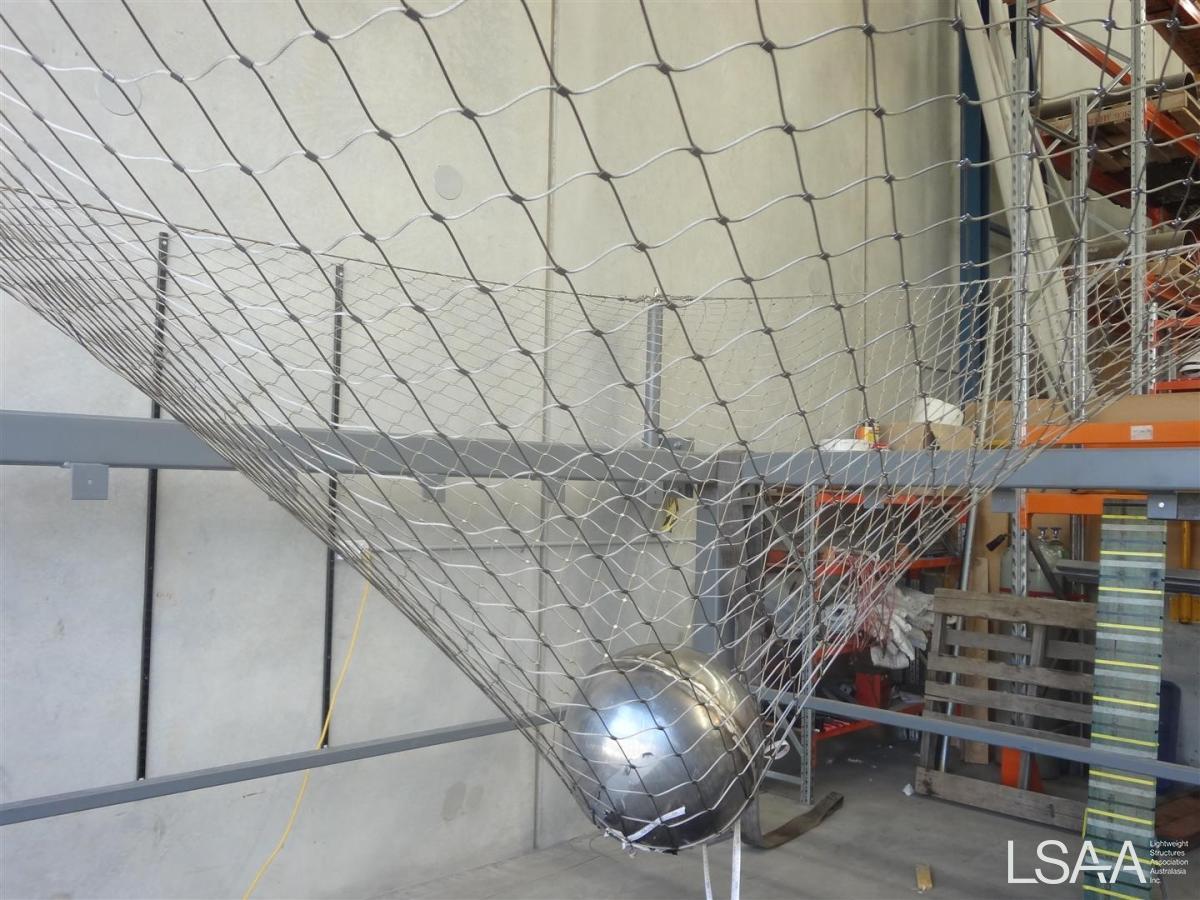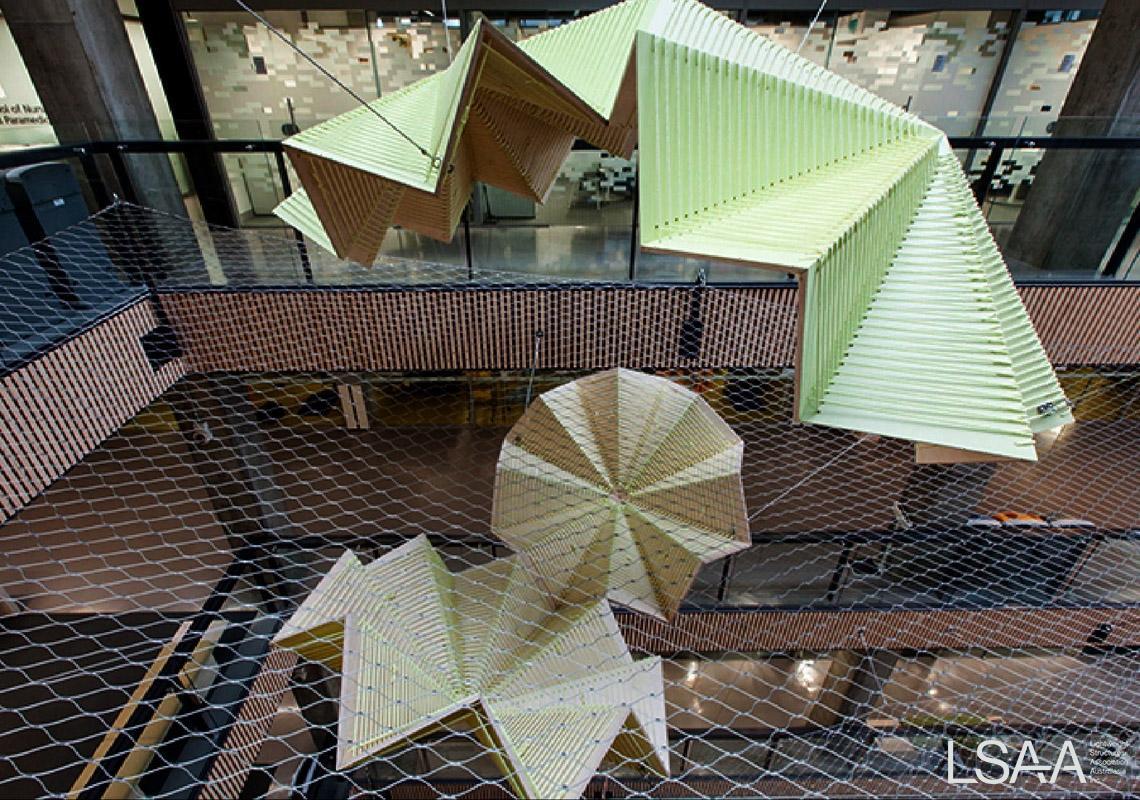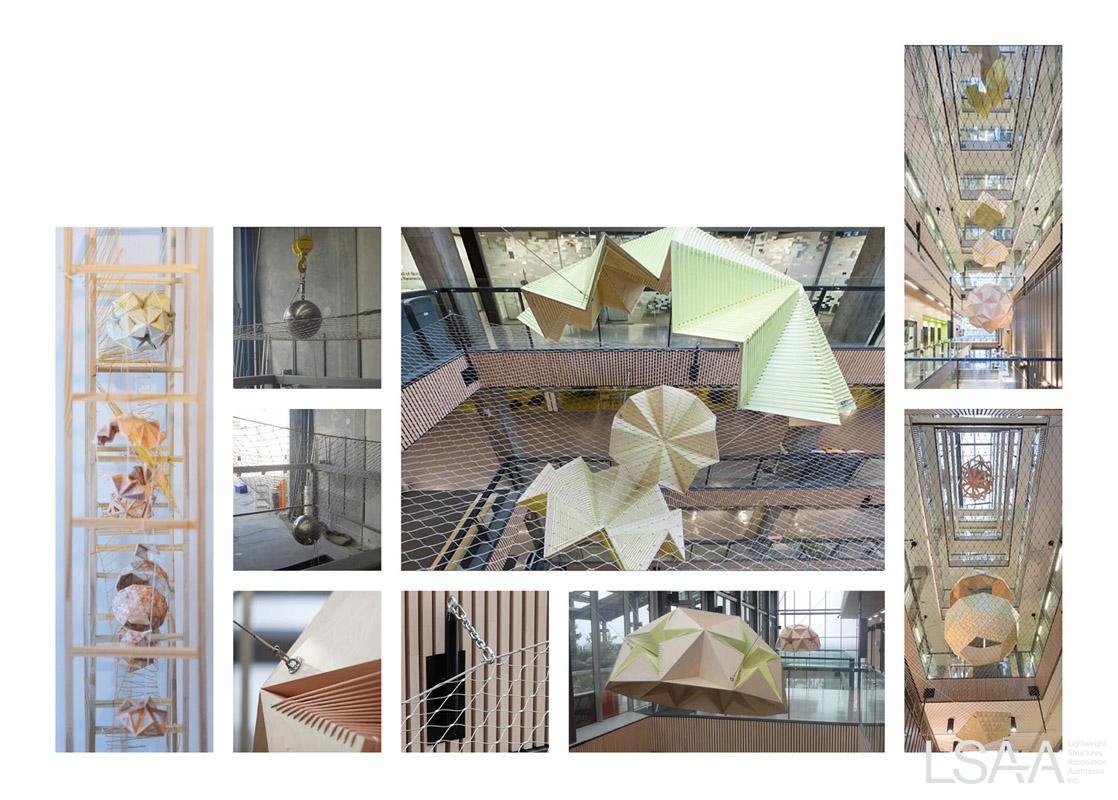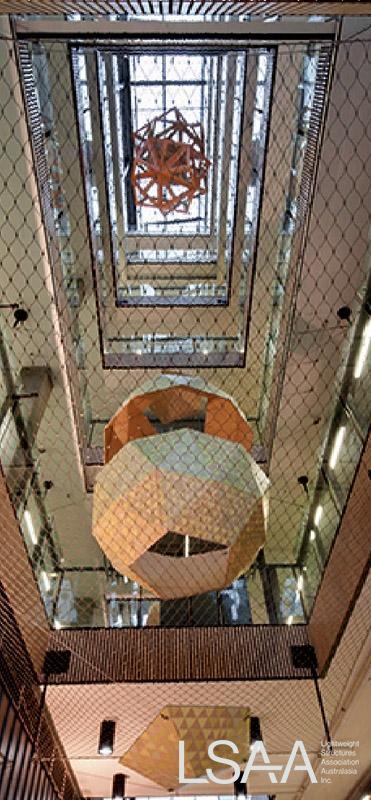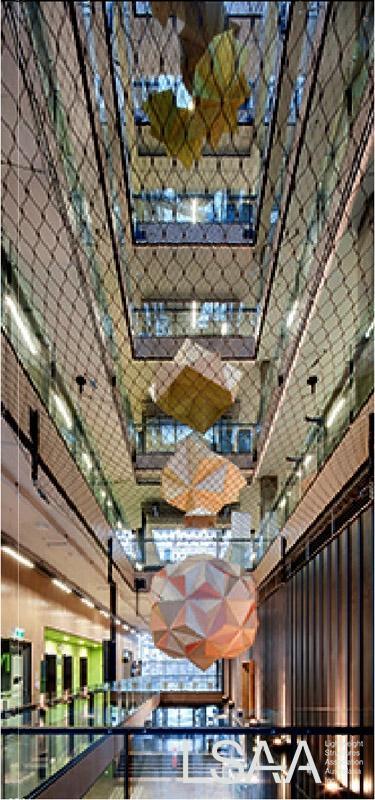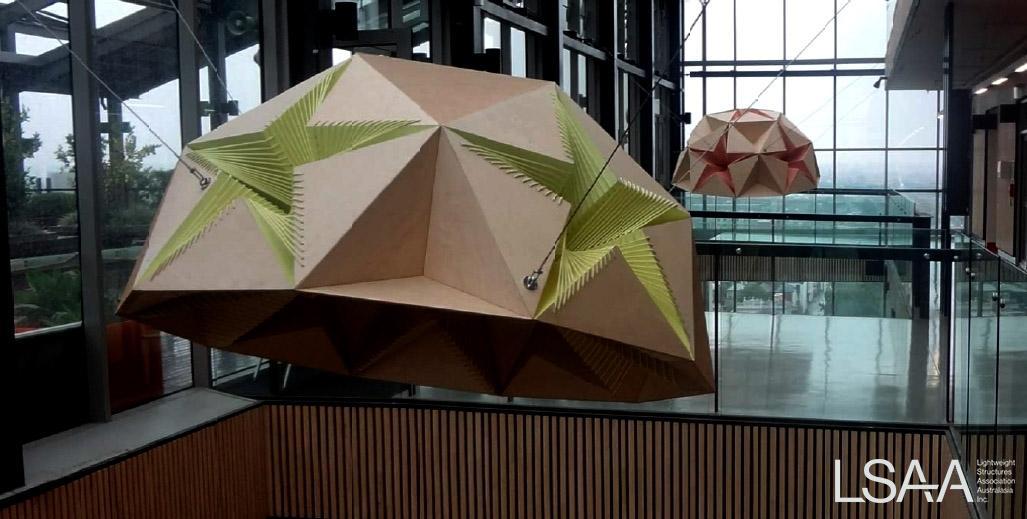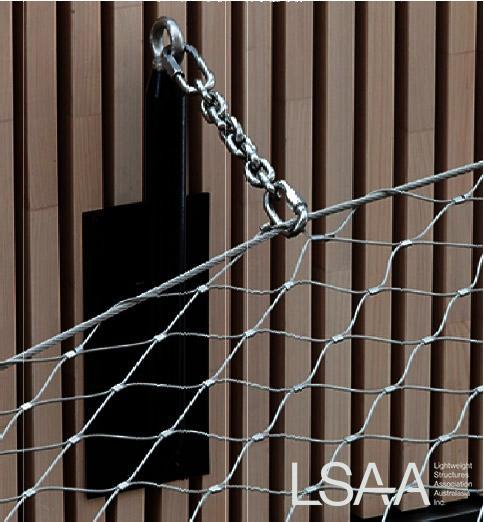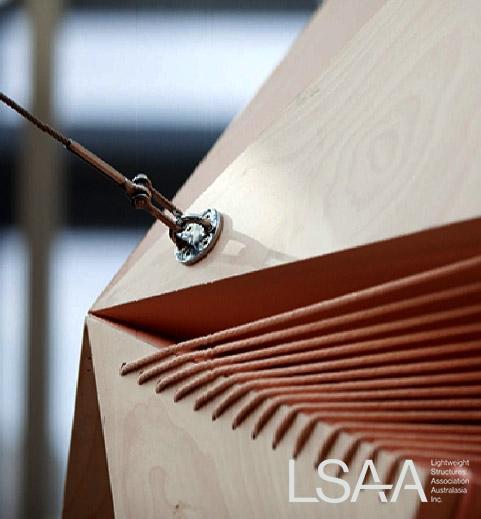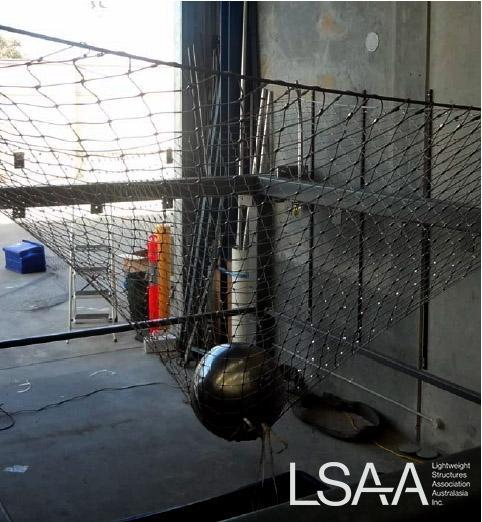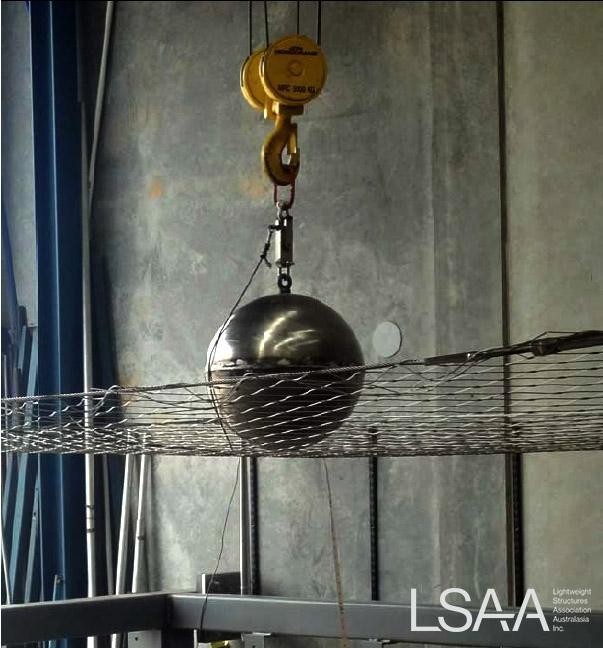 Tower House Netting
Entrant: Tensys Engineers Pty Ltd (Engineer)
Location: Fitzroy, Victoria. Completed: 2014 Client: Philip & Sophia Ross
Team: Áustin Maynard Architects, Maurice Farrugia & Assoc, Tensys – net design & details, Oxley Nets (net) McDonald Marine (ropes), Overend Constructions Pty Ltd
Project entered in the LSAA 2016 Design Awards (Internal & Sculptures, #407)
Application: The use of a tensile net to create a mezzanine level floor that is fun and functional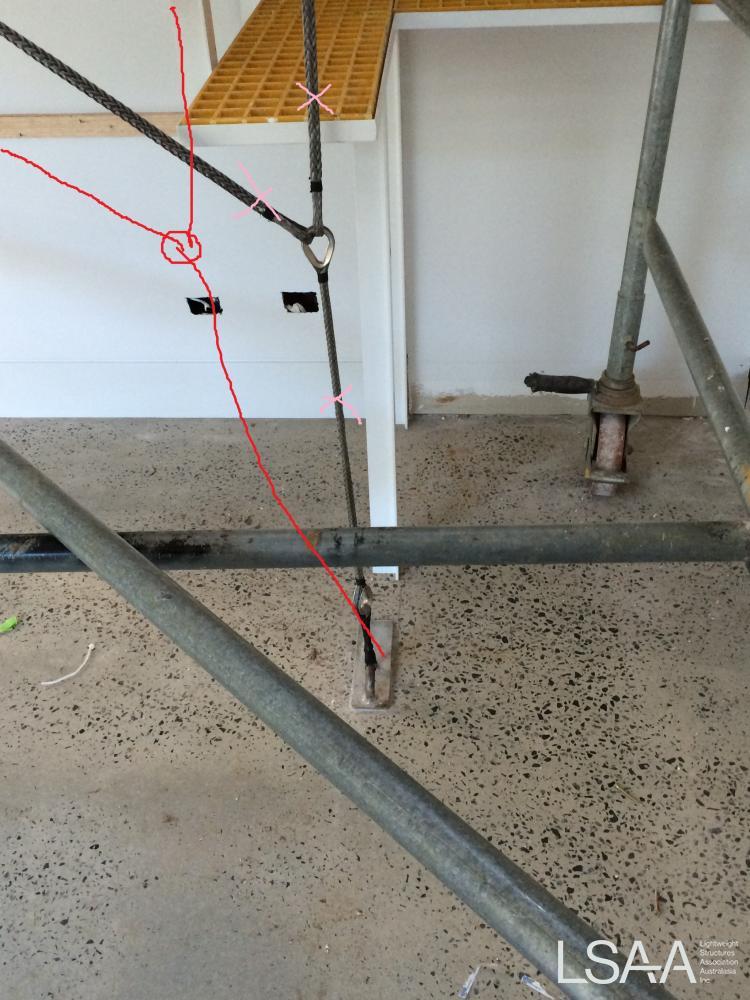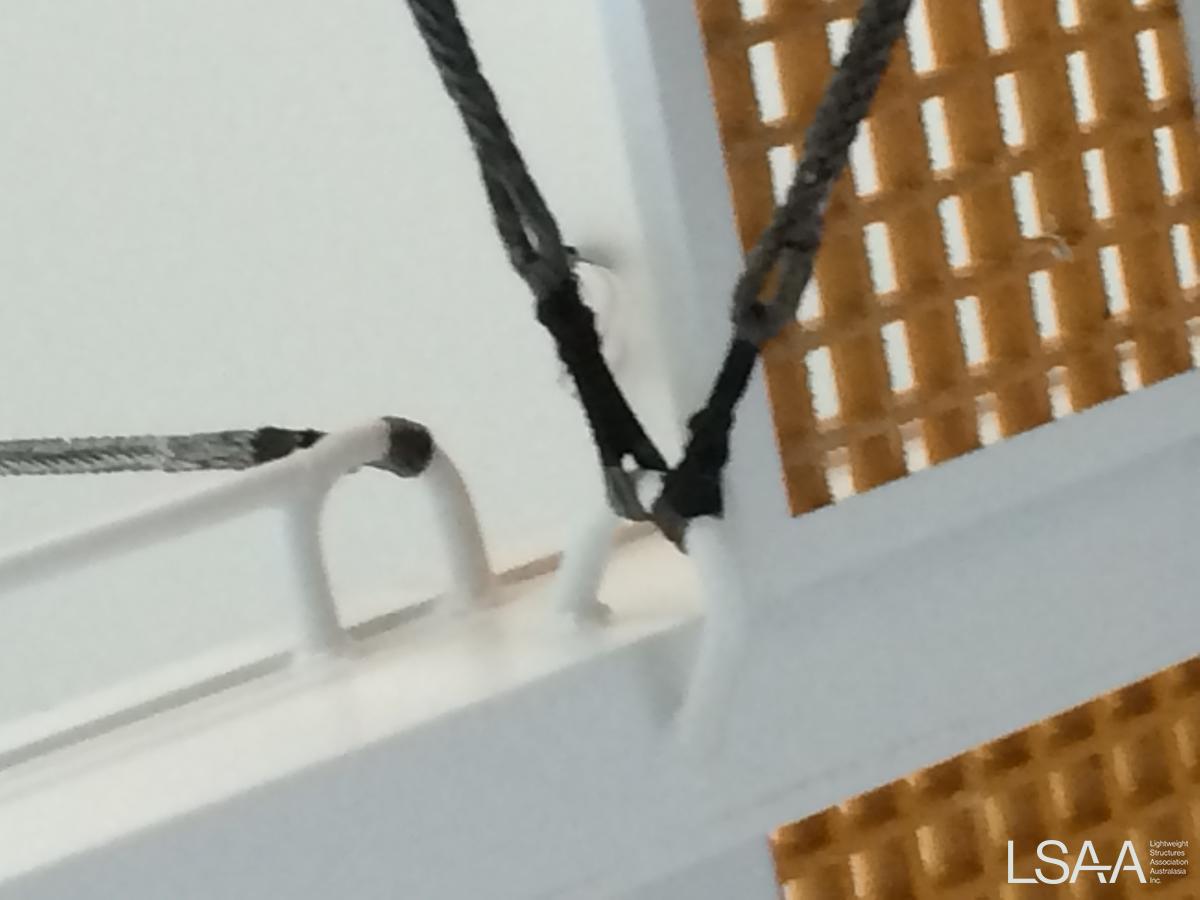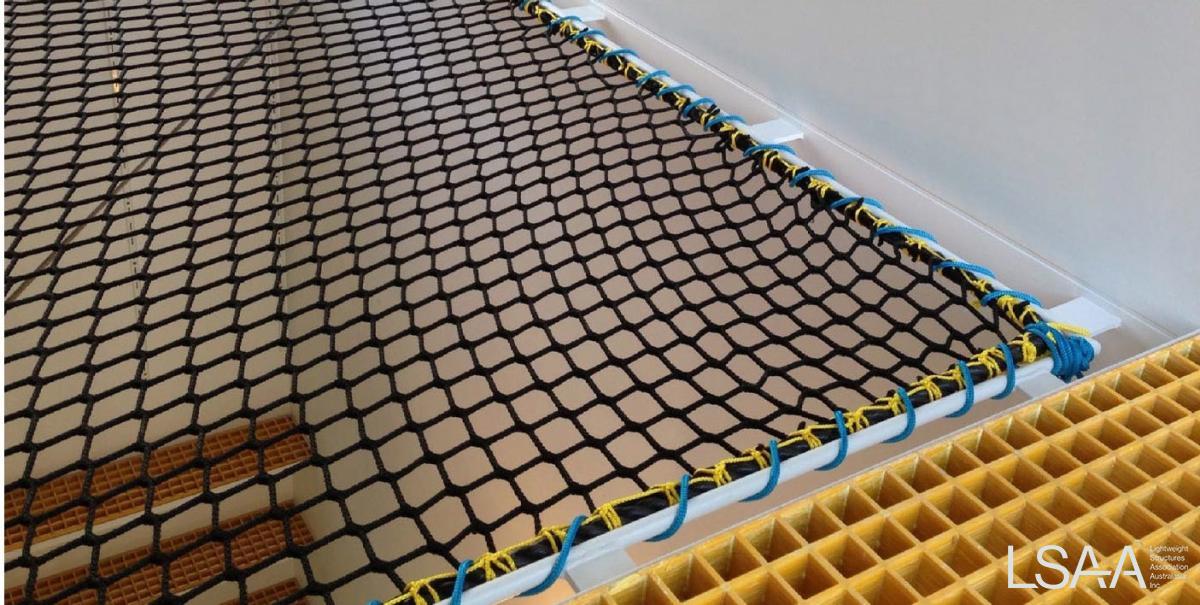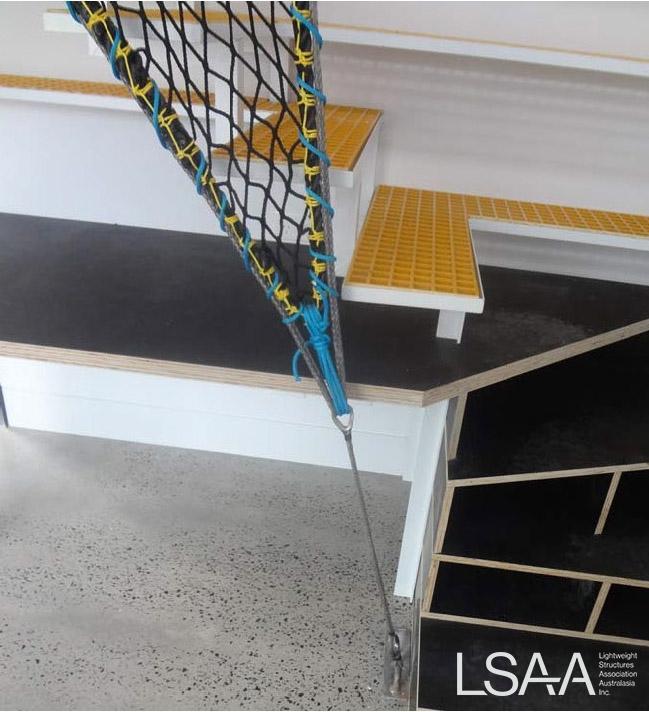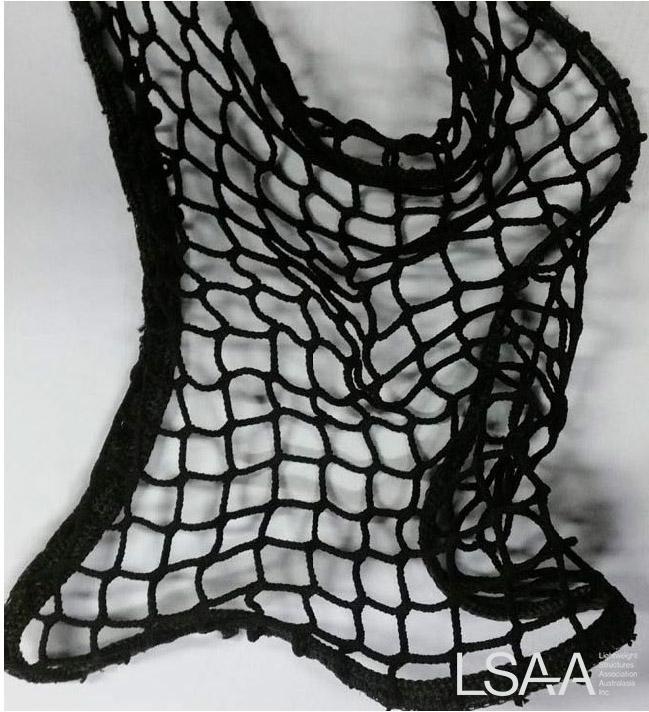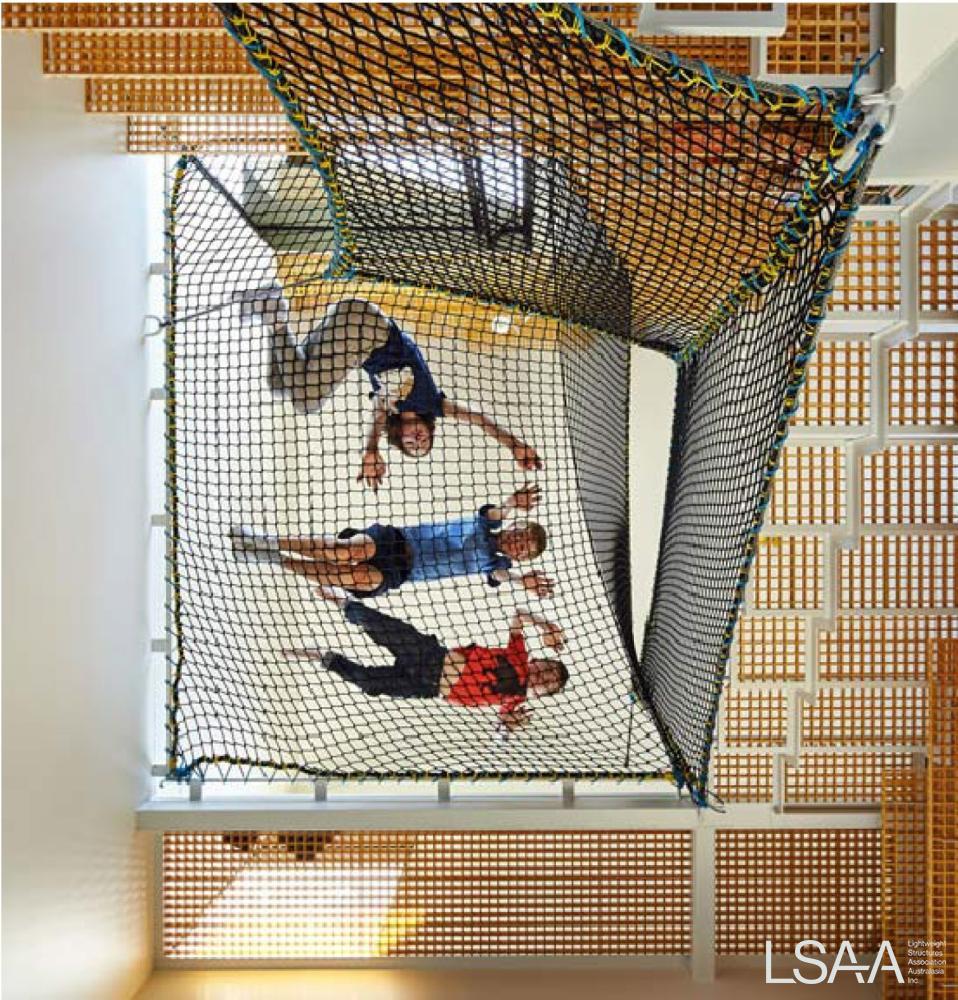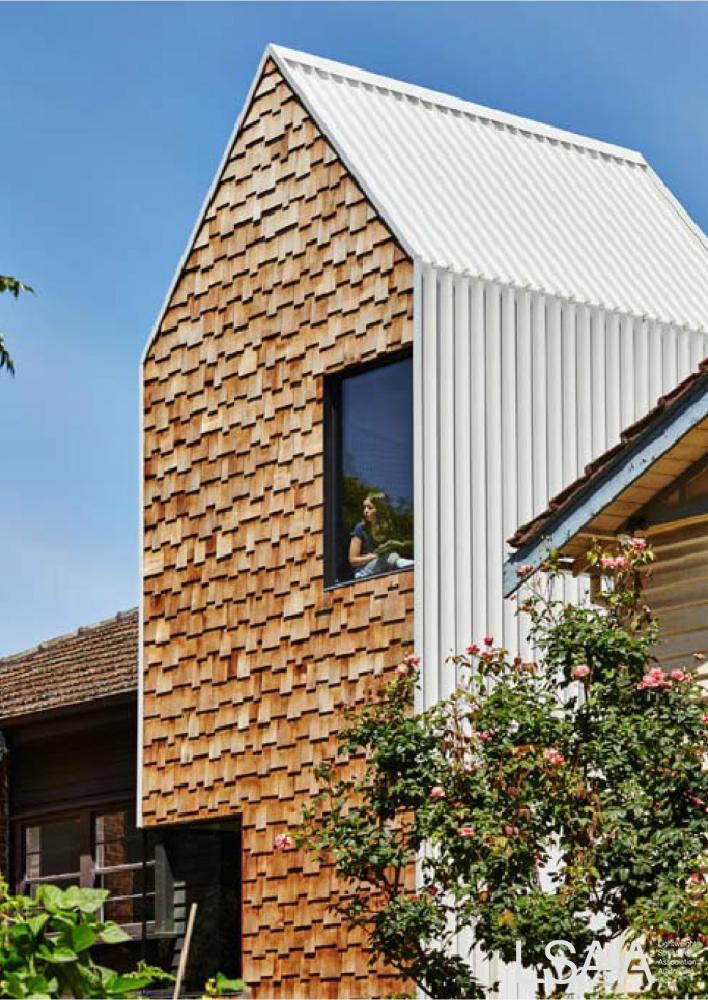 Very lightweight highly curved forms may be used to create exciting geometric forms to fill a void.
There will be no external environmental loads from wind, rain or snow but a small degree of prestress and accurate patterning are required.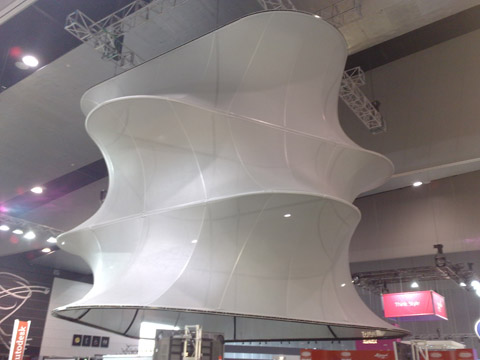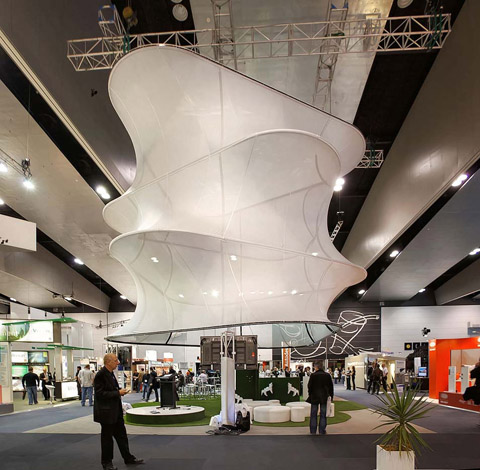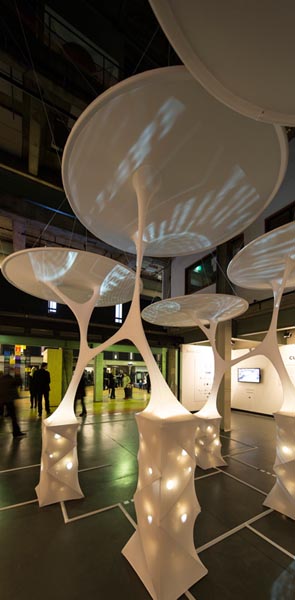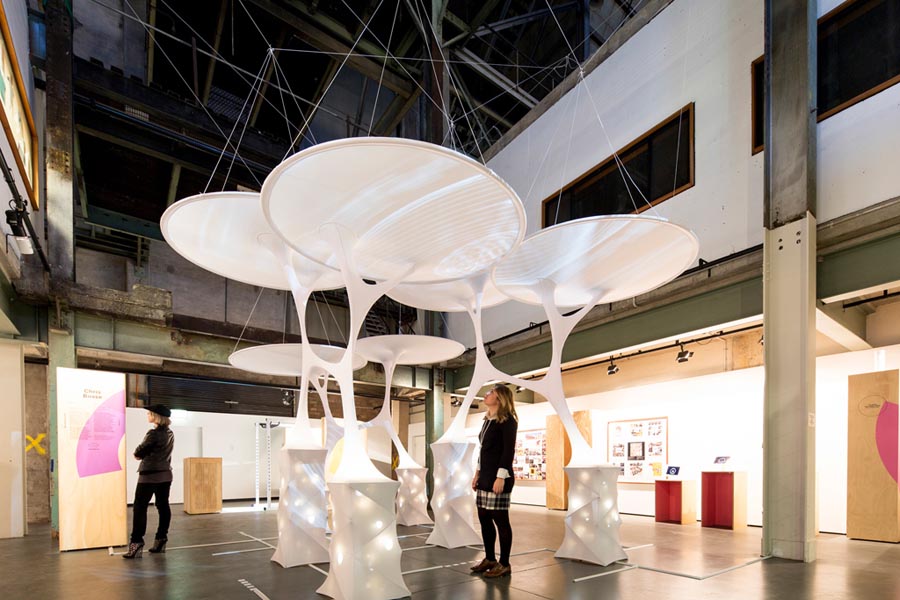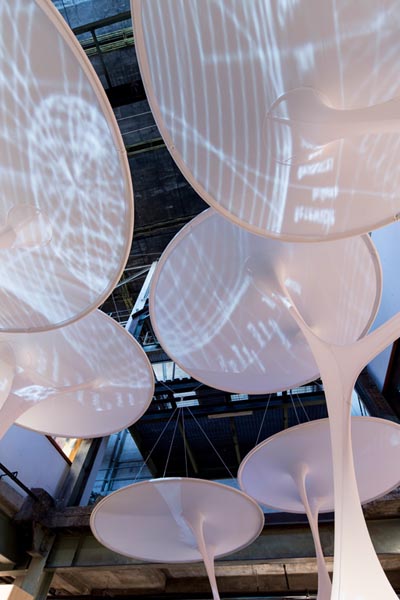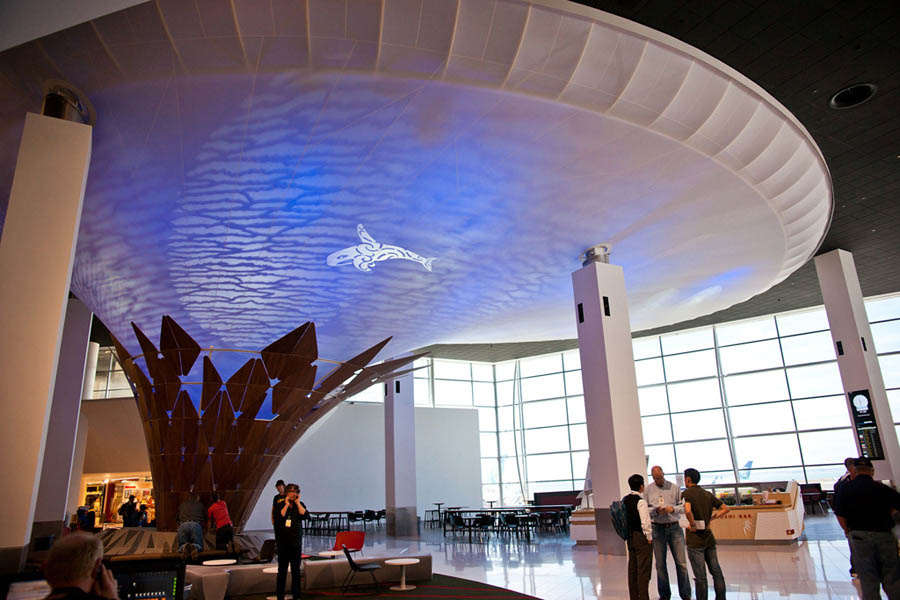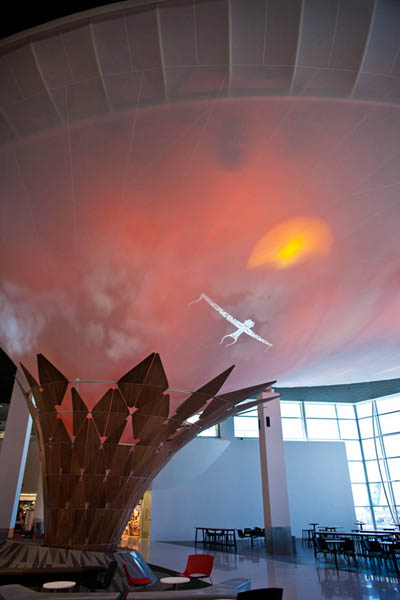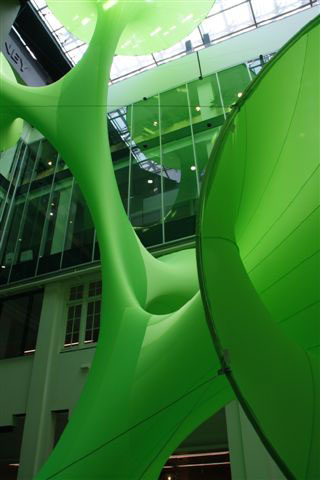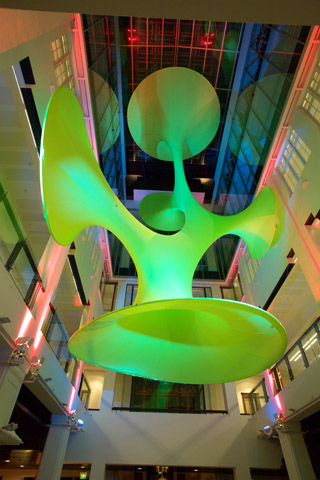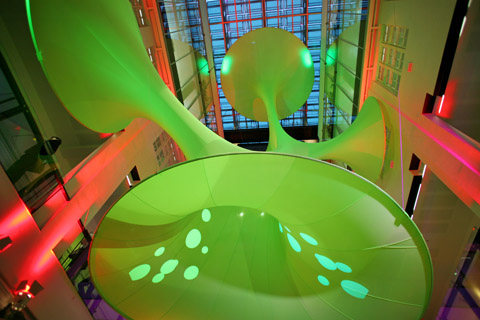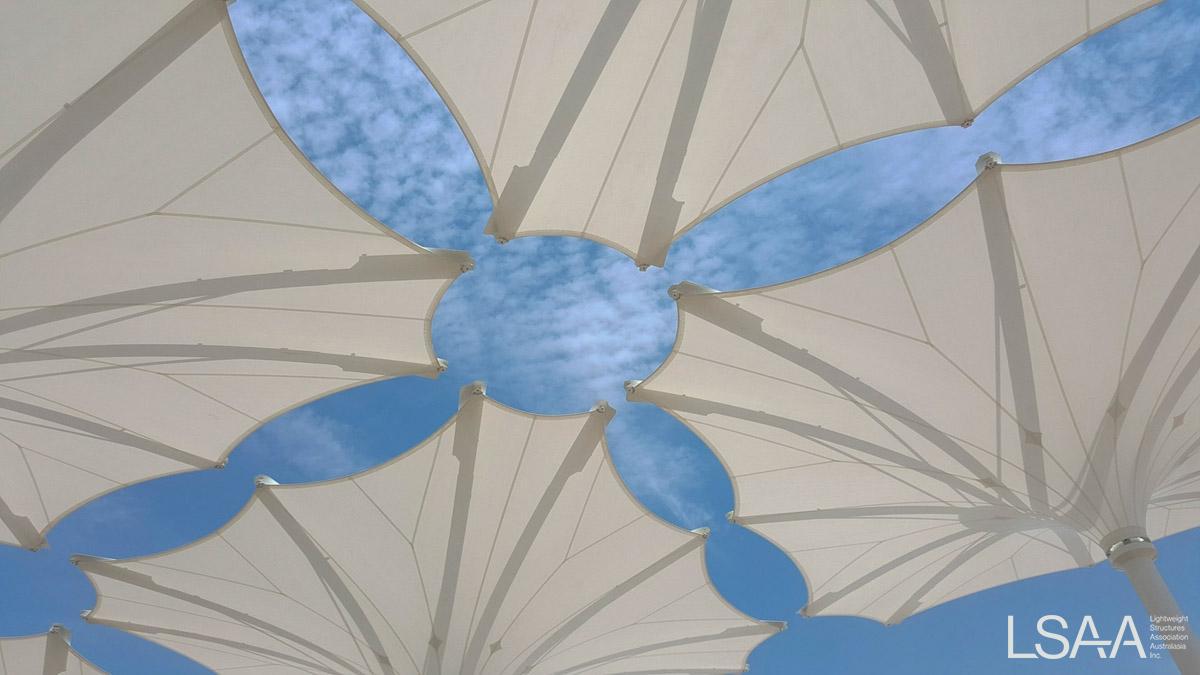 Project entered in the LSAA 2016 Design Awards (Cat 7, 4772)
Tarek Automated Retractable Umbrellas
Entrant: MakMax Australia (Engineer, Fabricator, Installer)
Location: Al Sadd Doho, Qatar. Completed: February 2016 Client: Taiyo Middle East
Team: Peter Kamols, Robert McDonald, Mike Lester MakMax Australia
Application Shade structures for an Educational Facility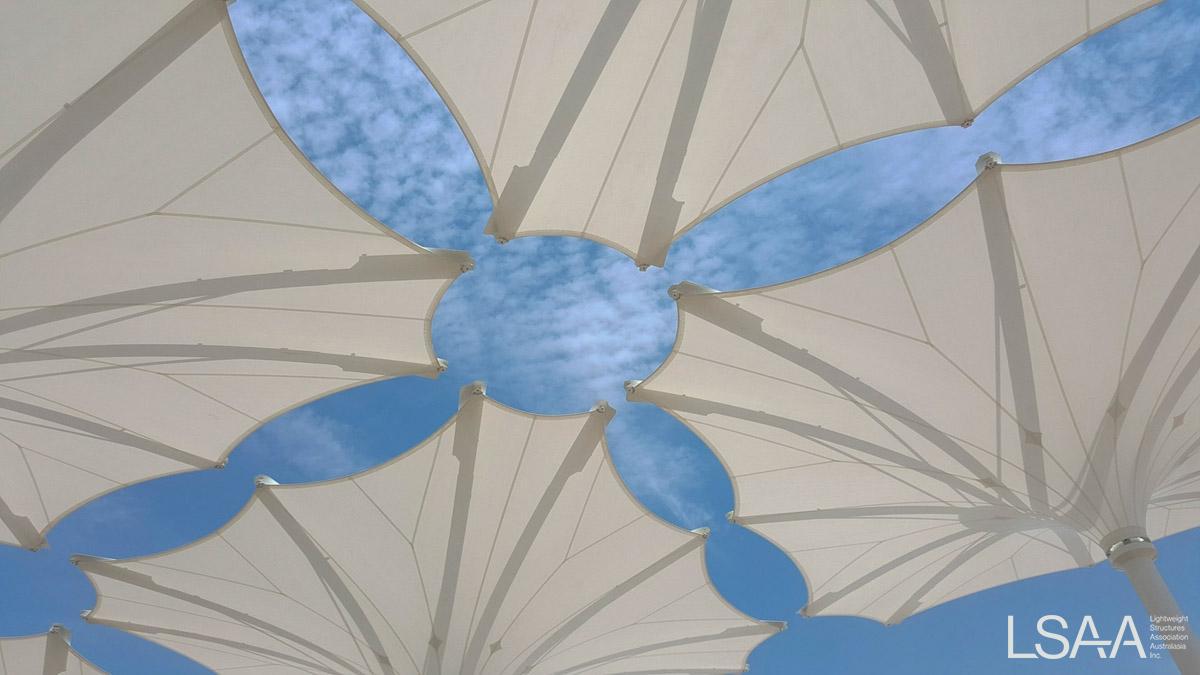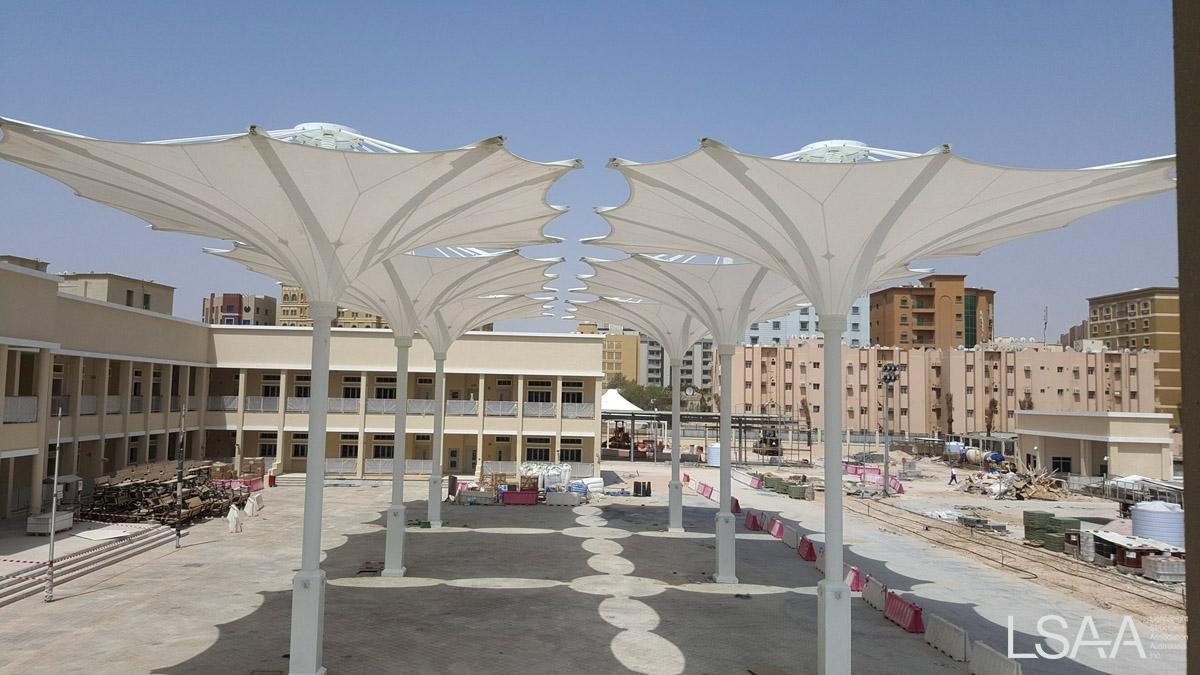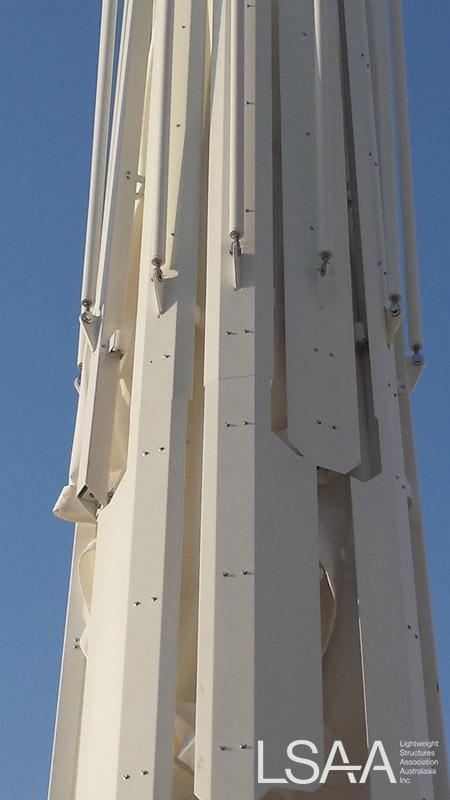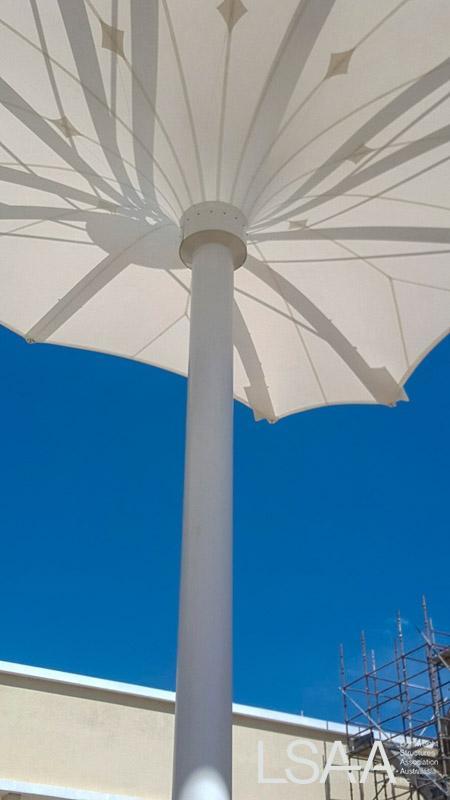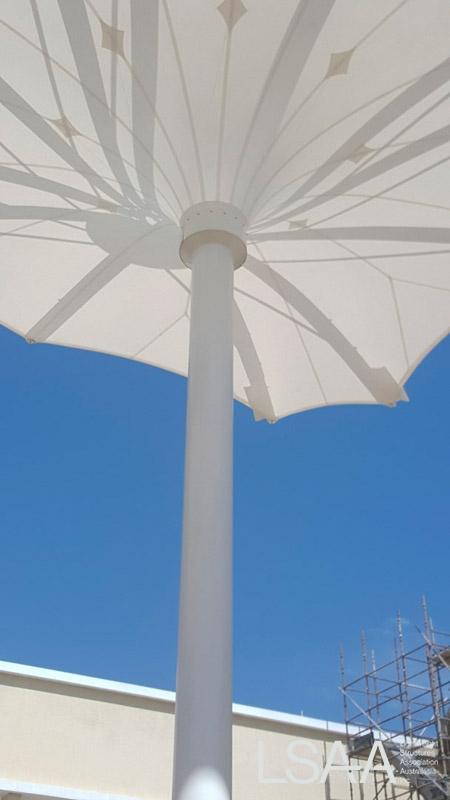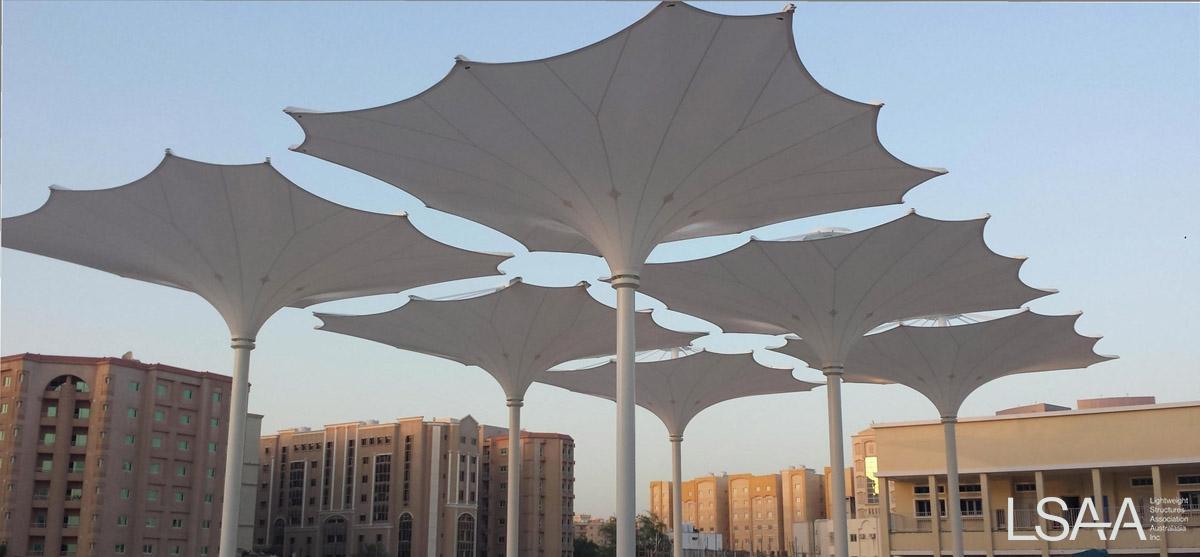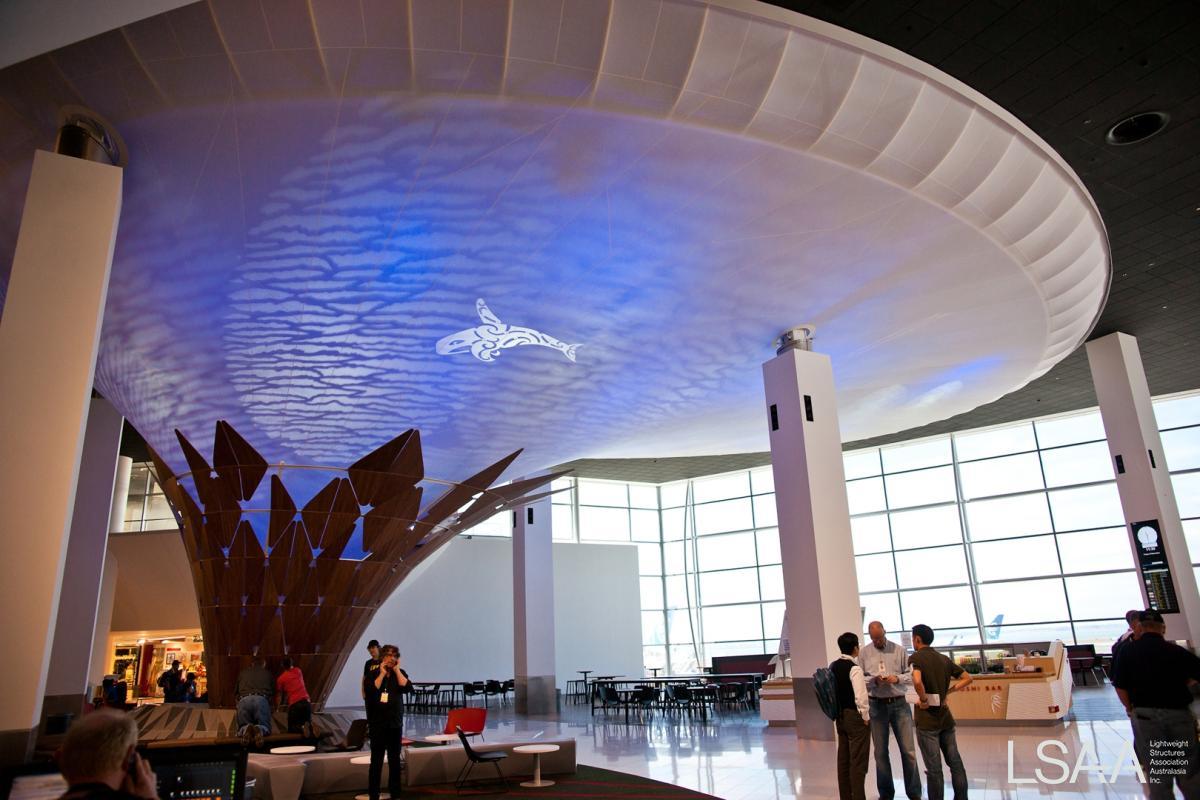 LSAA 2011 Design Award Entry (Cat 7, 7321) Pou Manawa - Auckland International Airport
PROJECT DESCRIPTION
Pou Manawa (Maori name for the Tree) is the heart of the new retail centre at Auckland International Airport, it stands proud where people gather, coming and going from their journeys around the world.
Fabric Structure Systems were approached with a brief to develop the significant sculptural piece for the Auckland International Airport's retail departures area.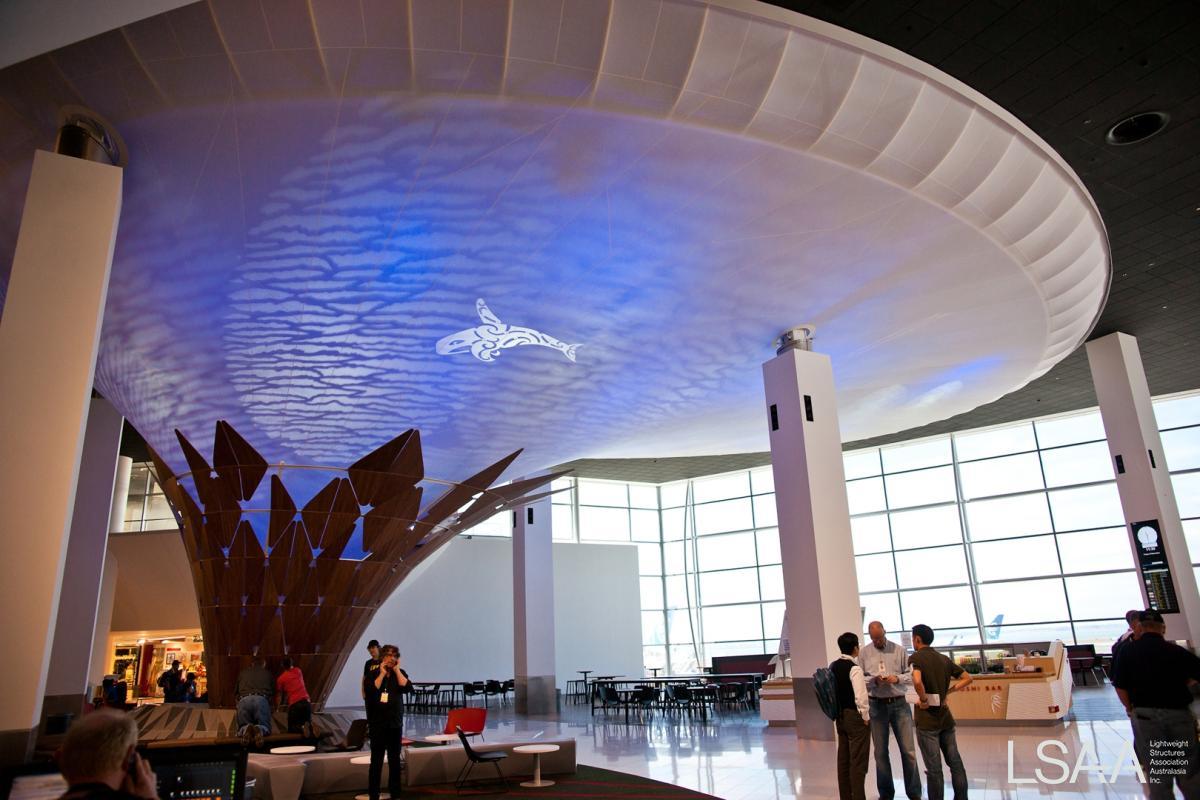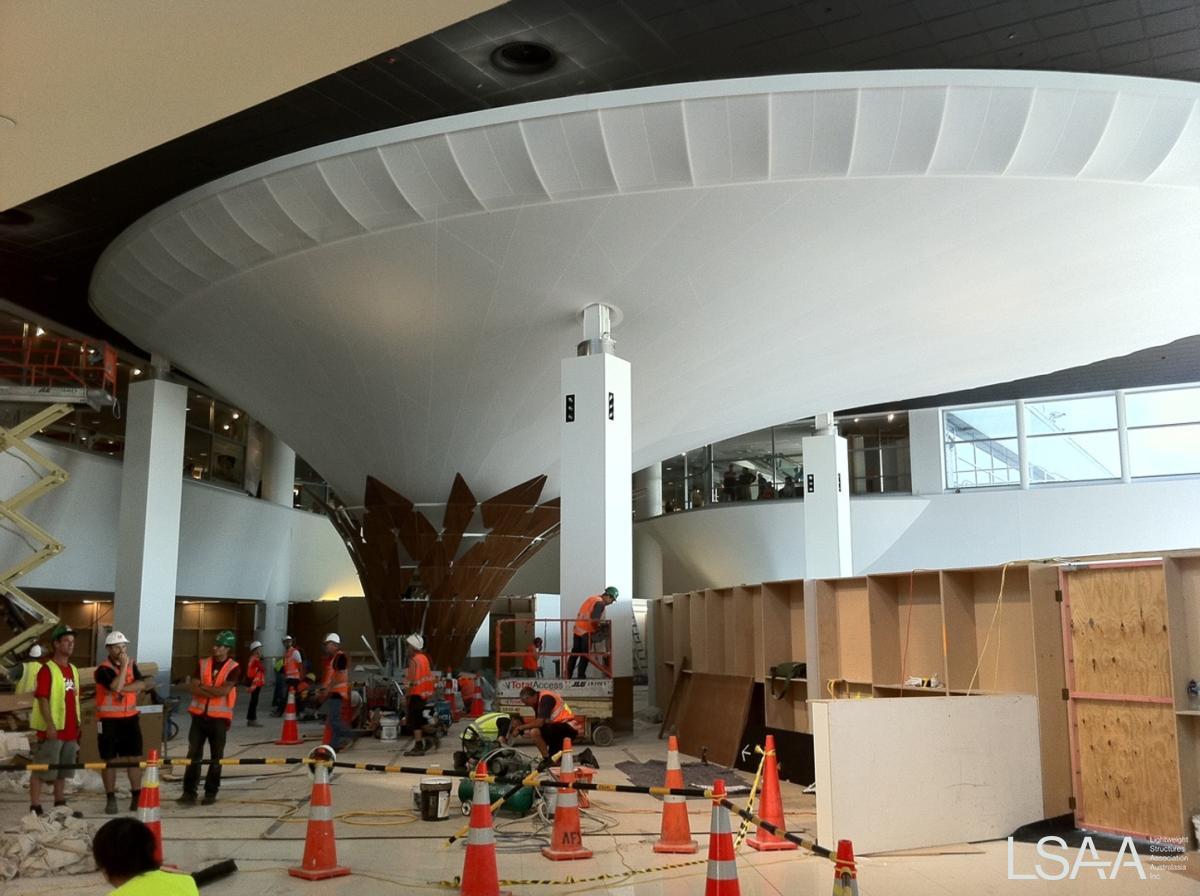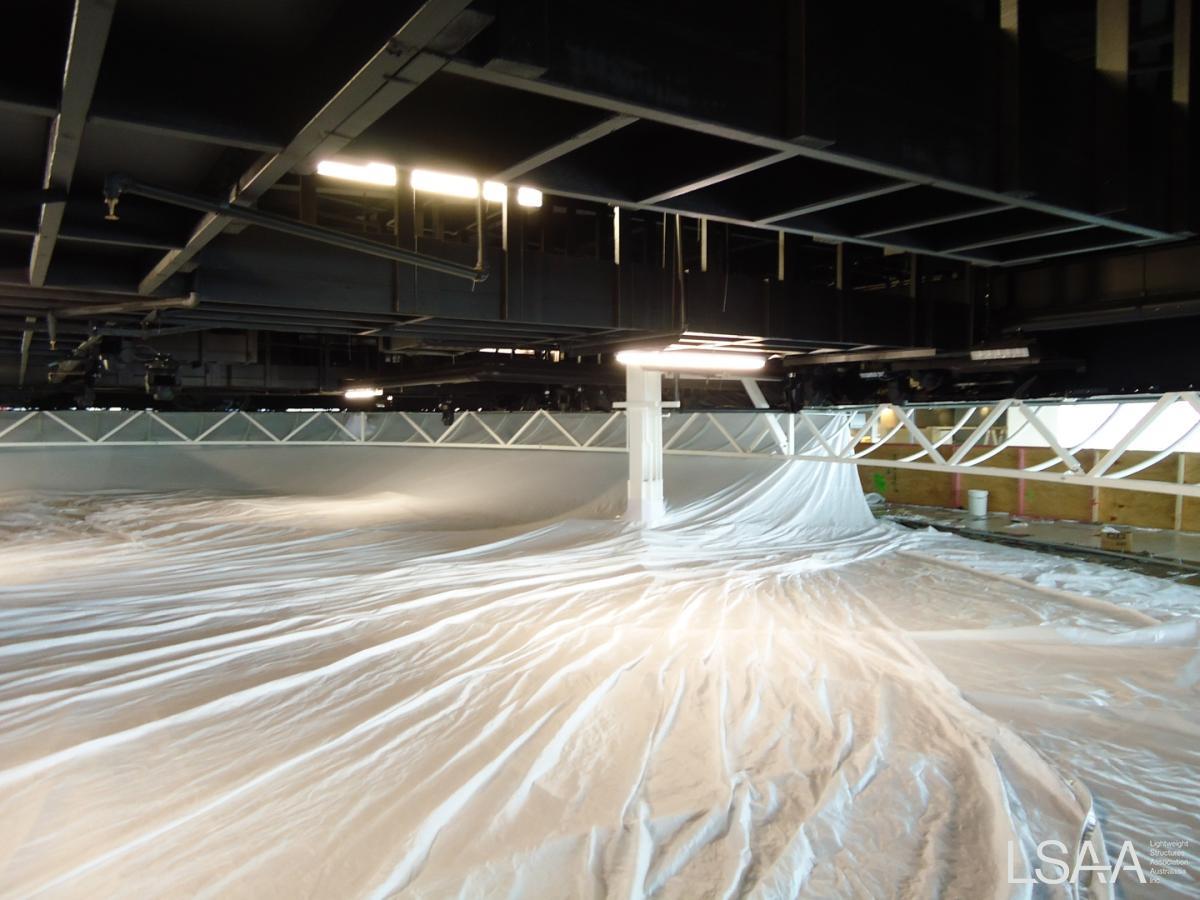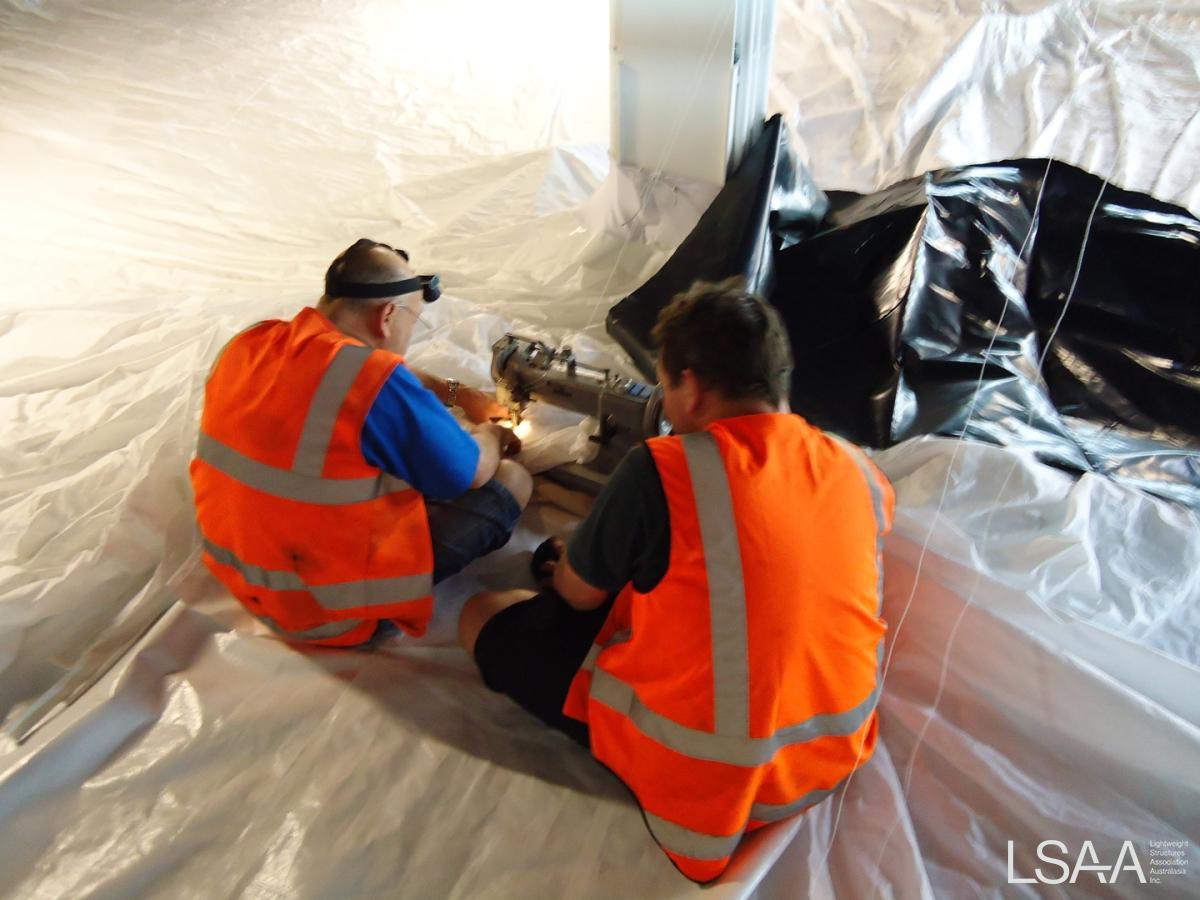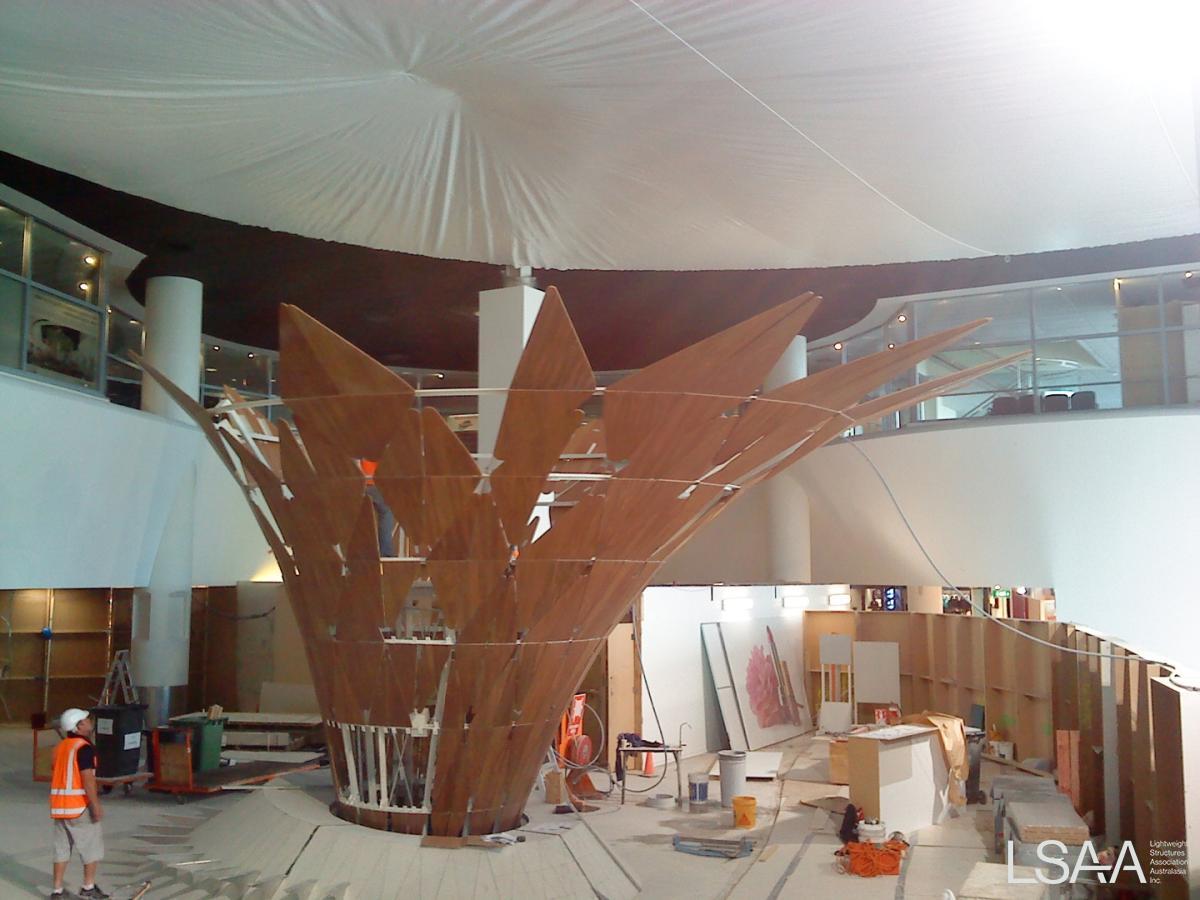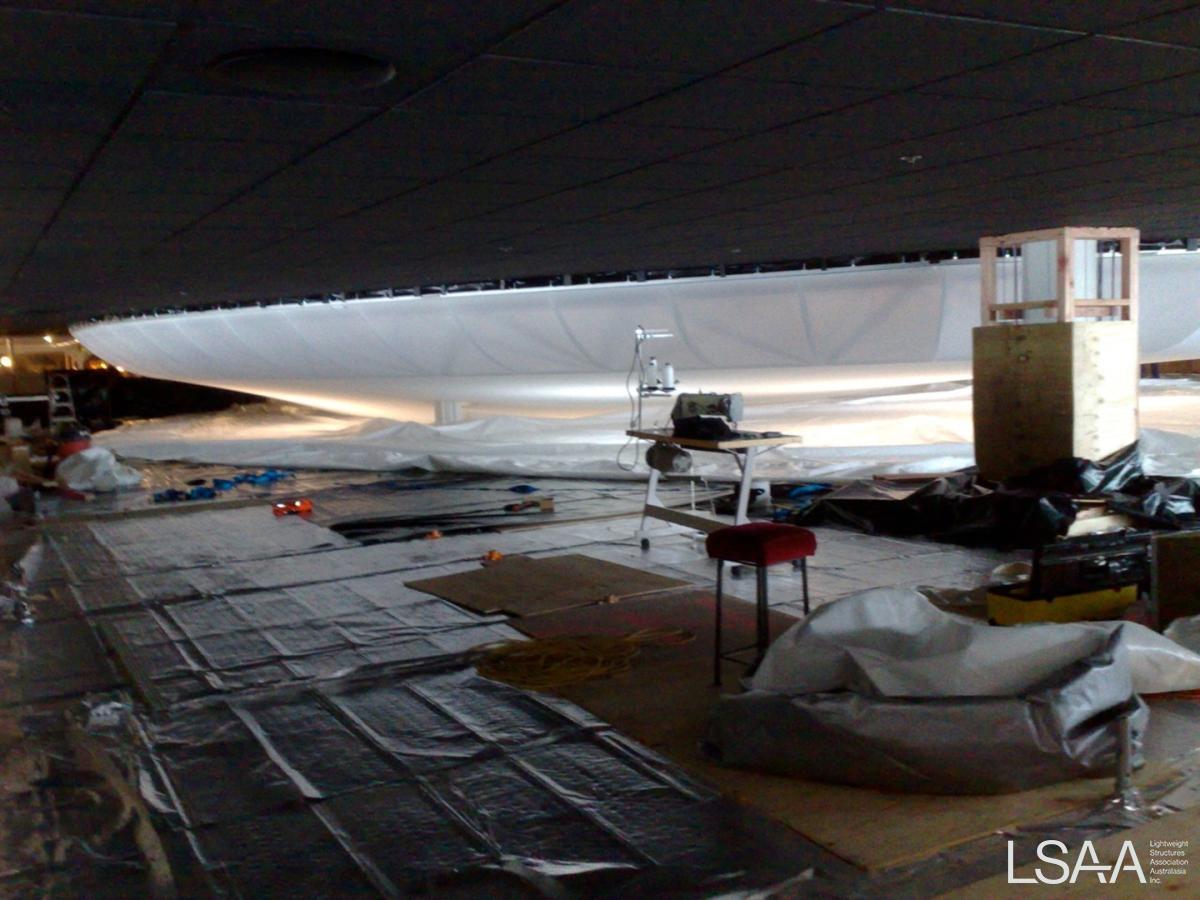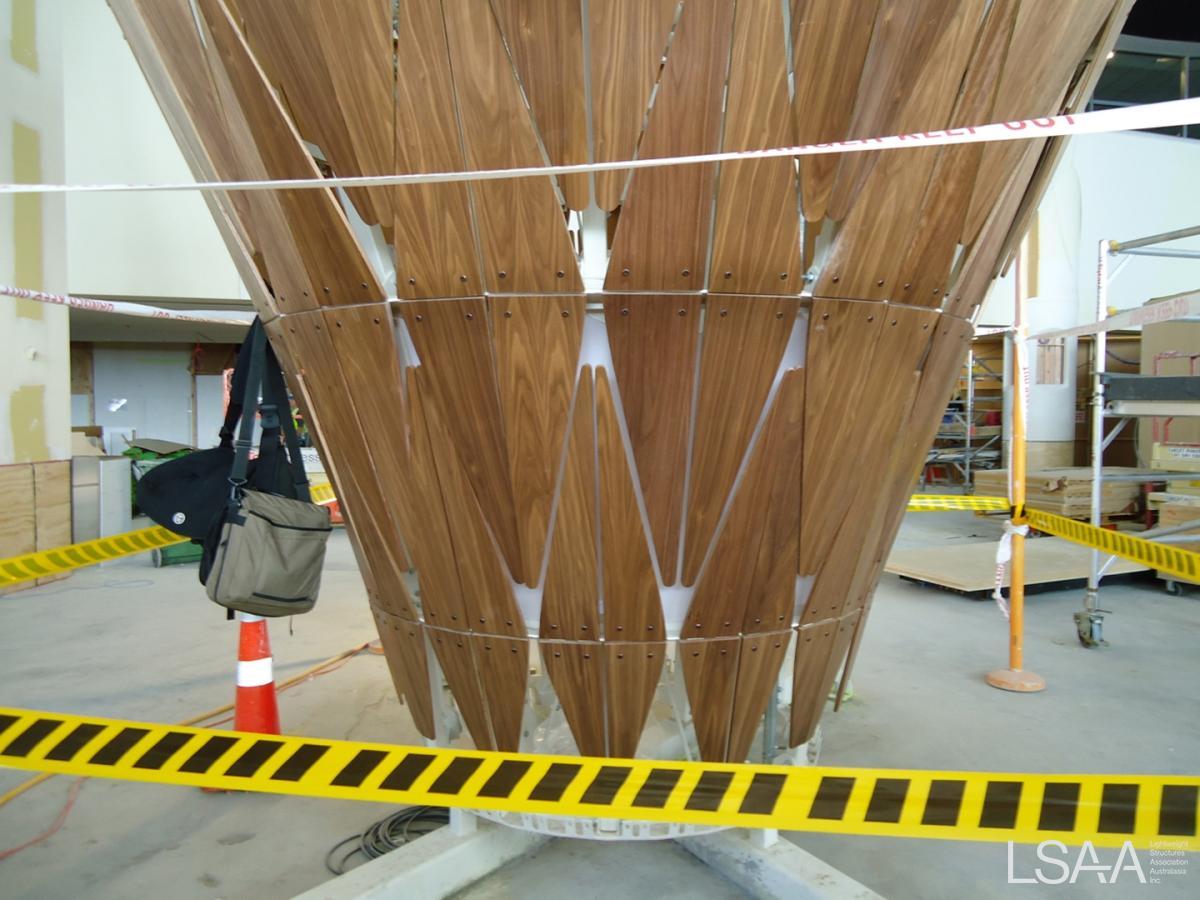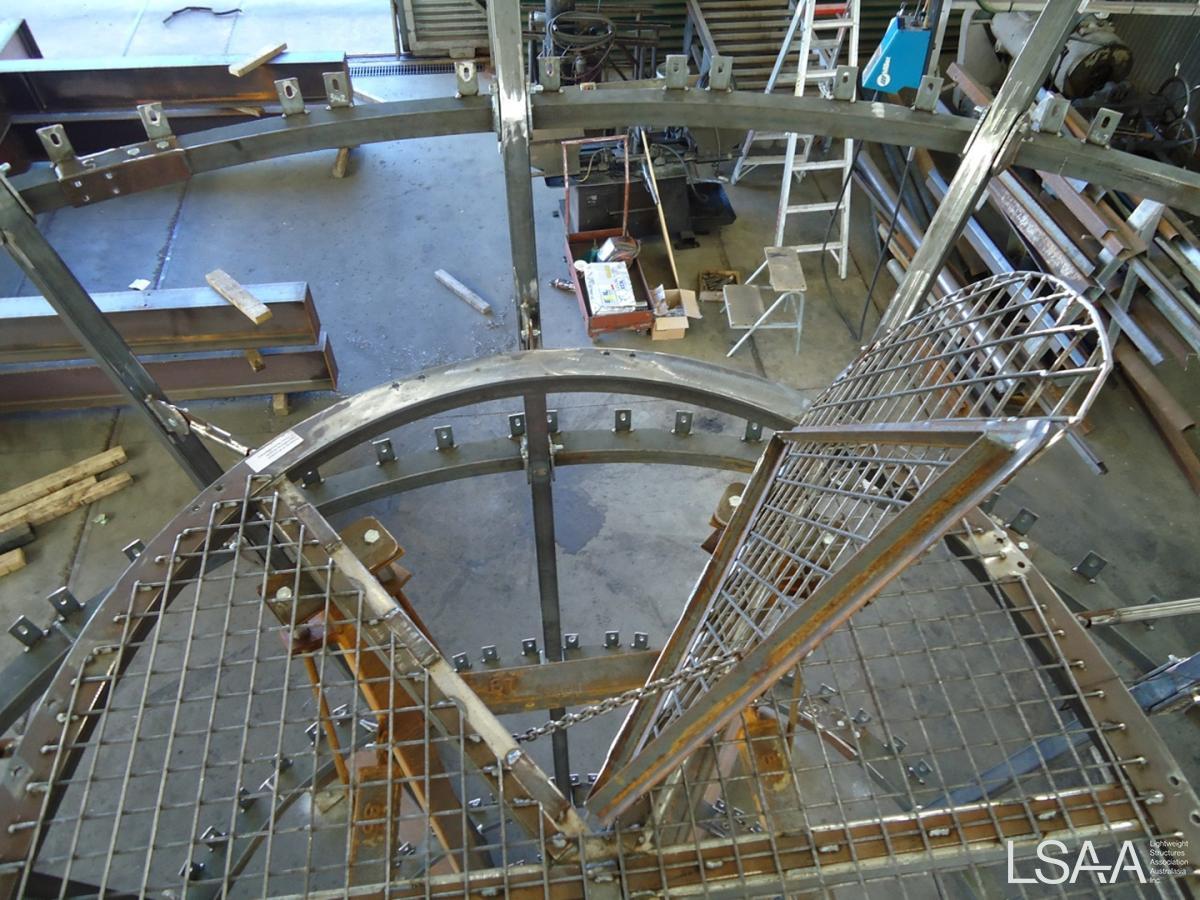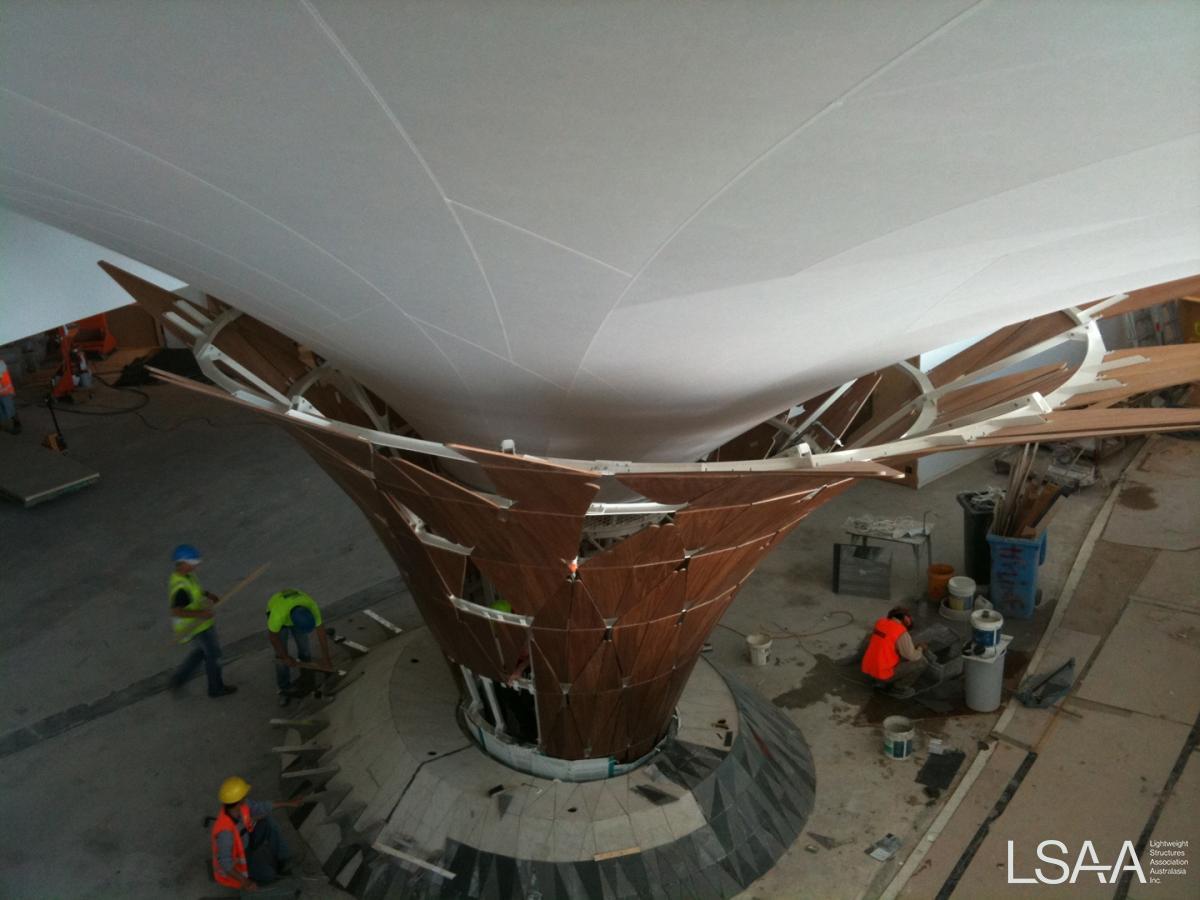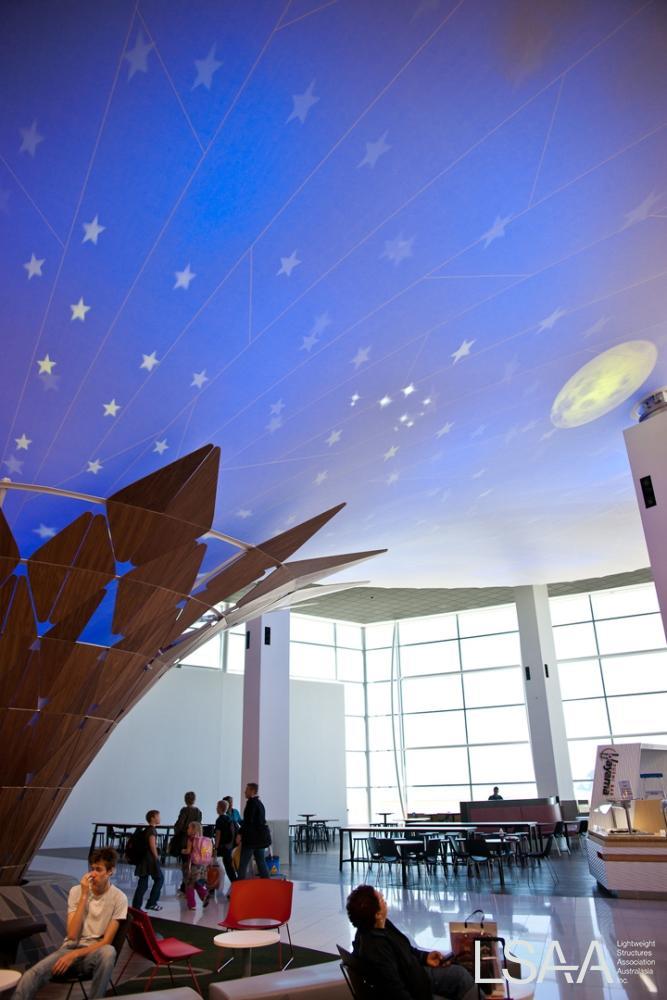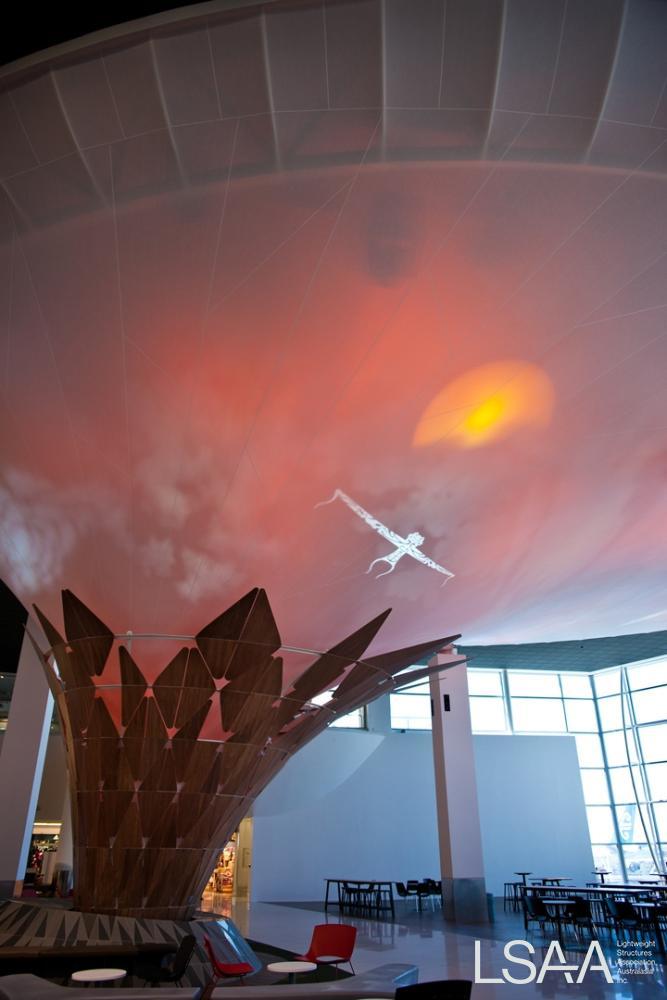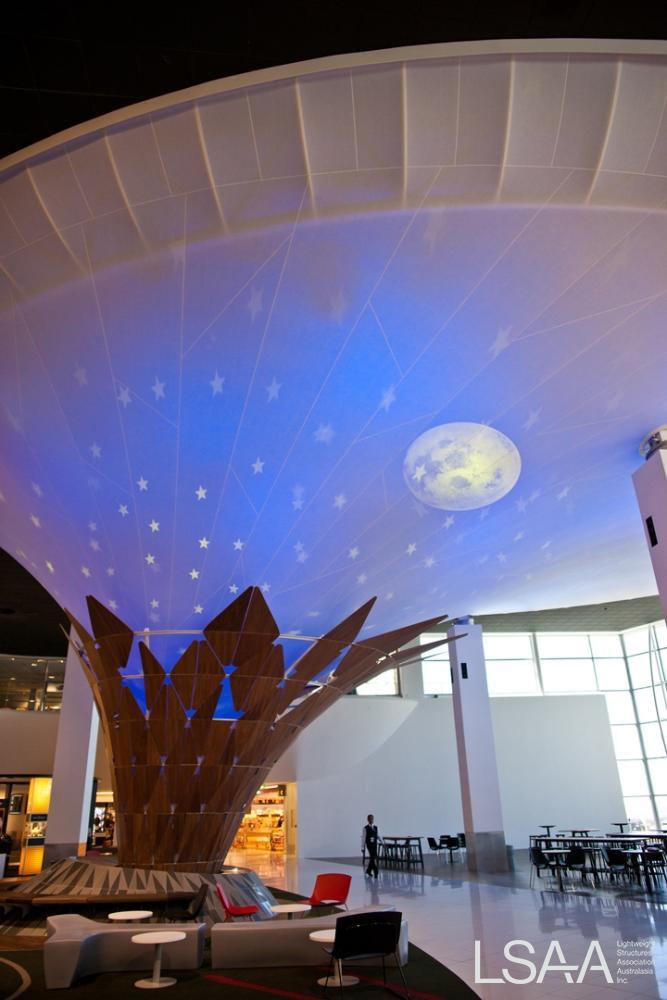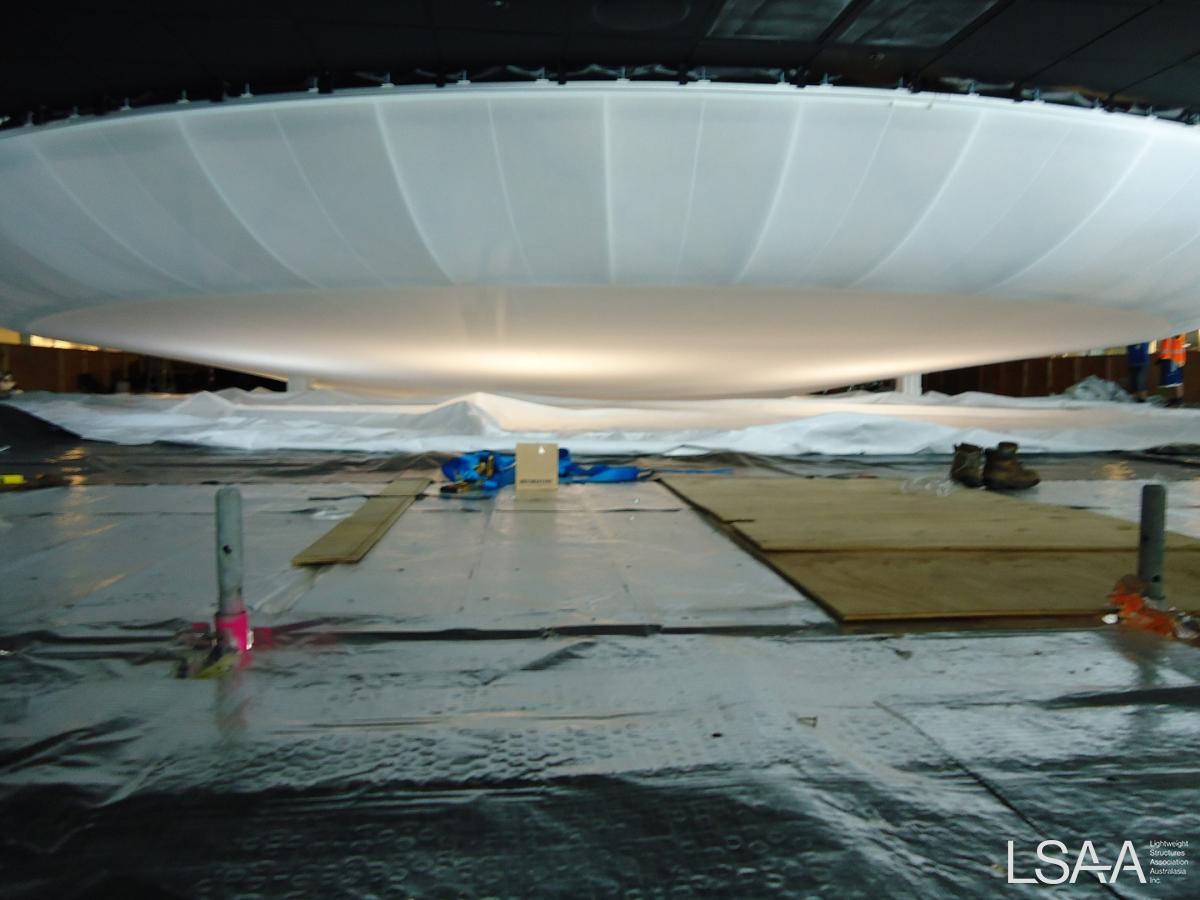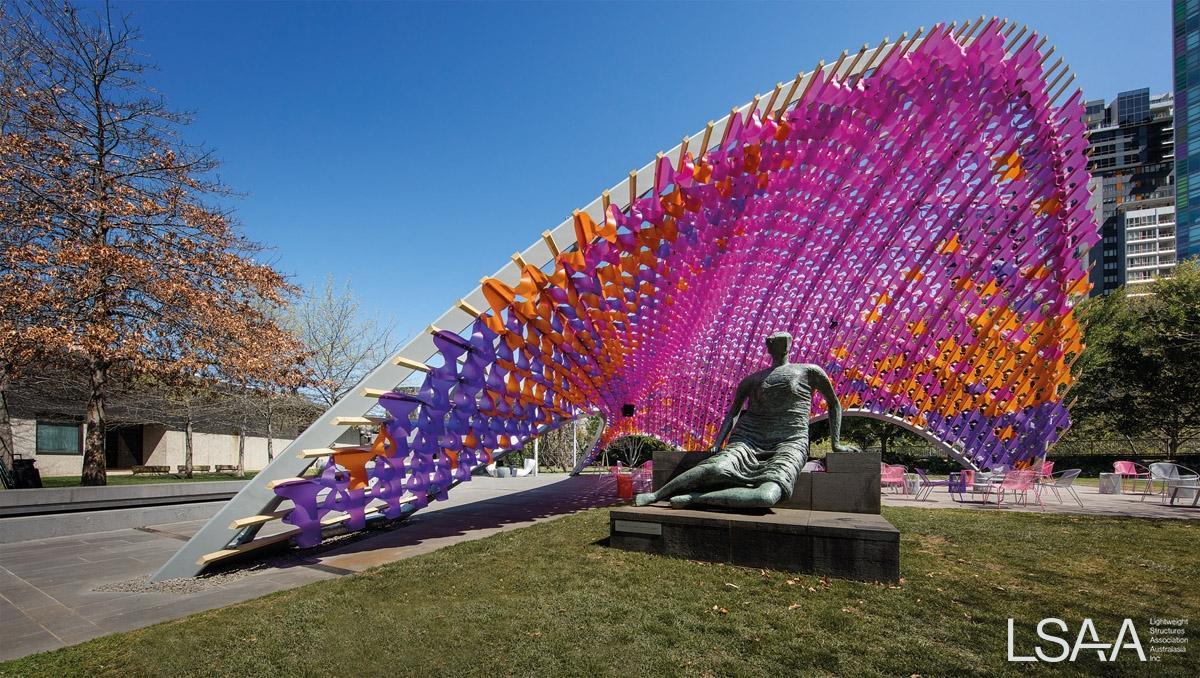 Entered in the LSAA 2016 Design Awards (Cat 6, 6425)
Entrant: John Wardle Architects (Architect / Designer)
Location: National Gallery of Victoria, Melbourne. Completed: 15 September 2015
Client: National Gallery of Victoria
Team: Matthew van Kooy, John Bahoric, Electrolight (lighting), 3D Structural Solutions (Shop Drawings), Light Project, Engineering Directions
Application
This outdoor installation is a steel structure with a canopy of brightly coloured polypropylene 'blossoms'. It was a site for performance, retreat and reflection in the garden of the Gallery over Spring and Summer 2015/16. The grid shell structure spans 21 meters and stands 7.5 meters tall, the shading system involves 1650 die cut, hand folded pink, purple and orange polypropylene shade elements and utilized 6600 eyelets and 3300 laser cut cleats. The installation gave the gallery the chance to extend its offering and provide a buffer between the formal gallery and the outdoor spaces.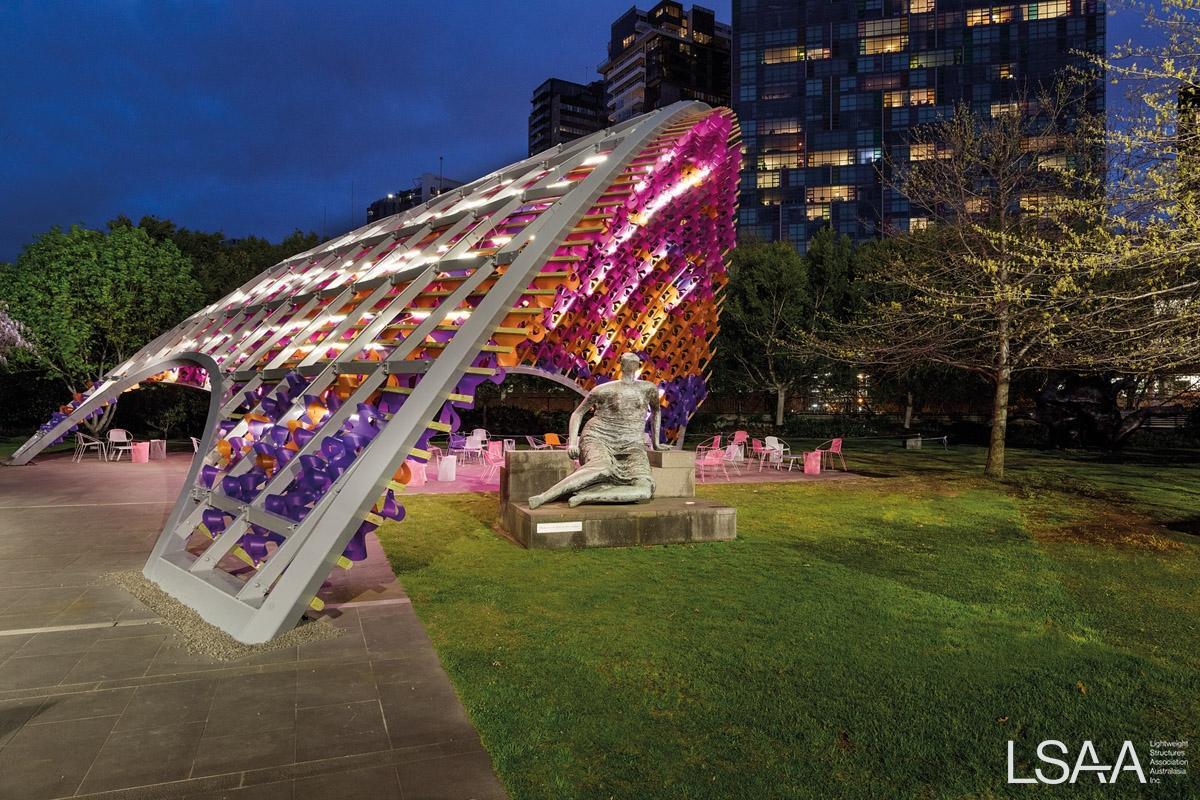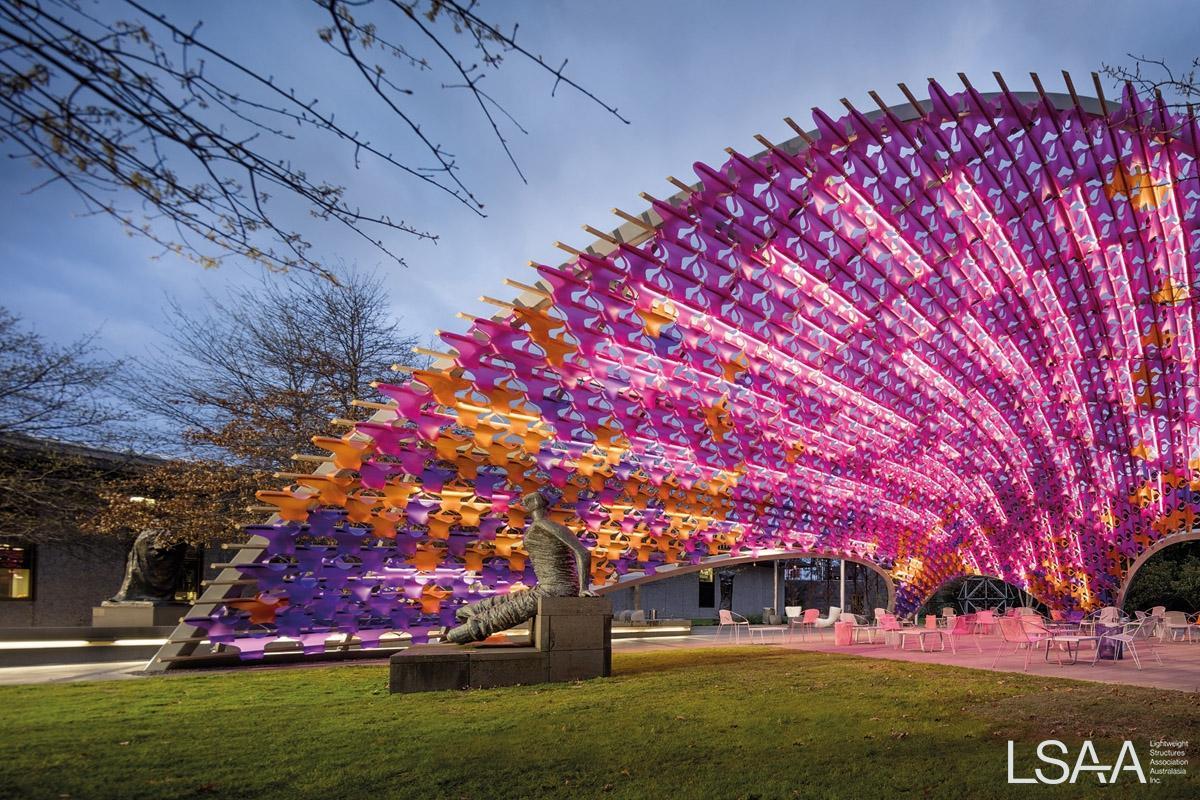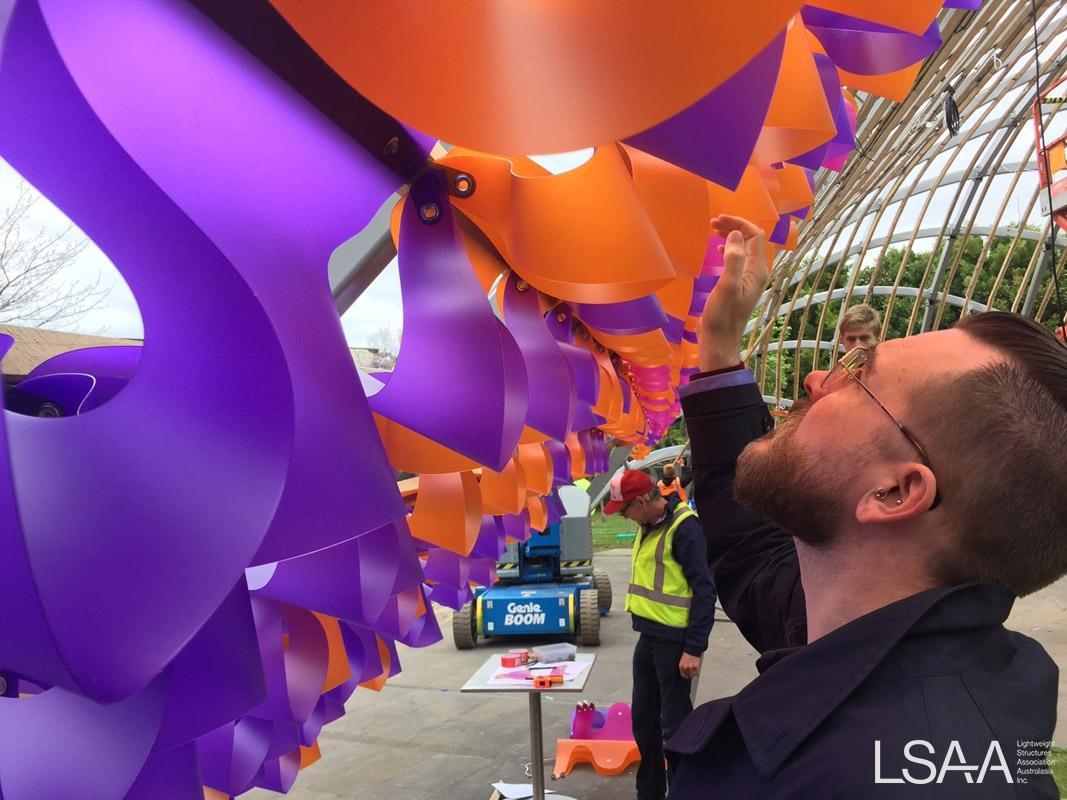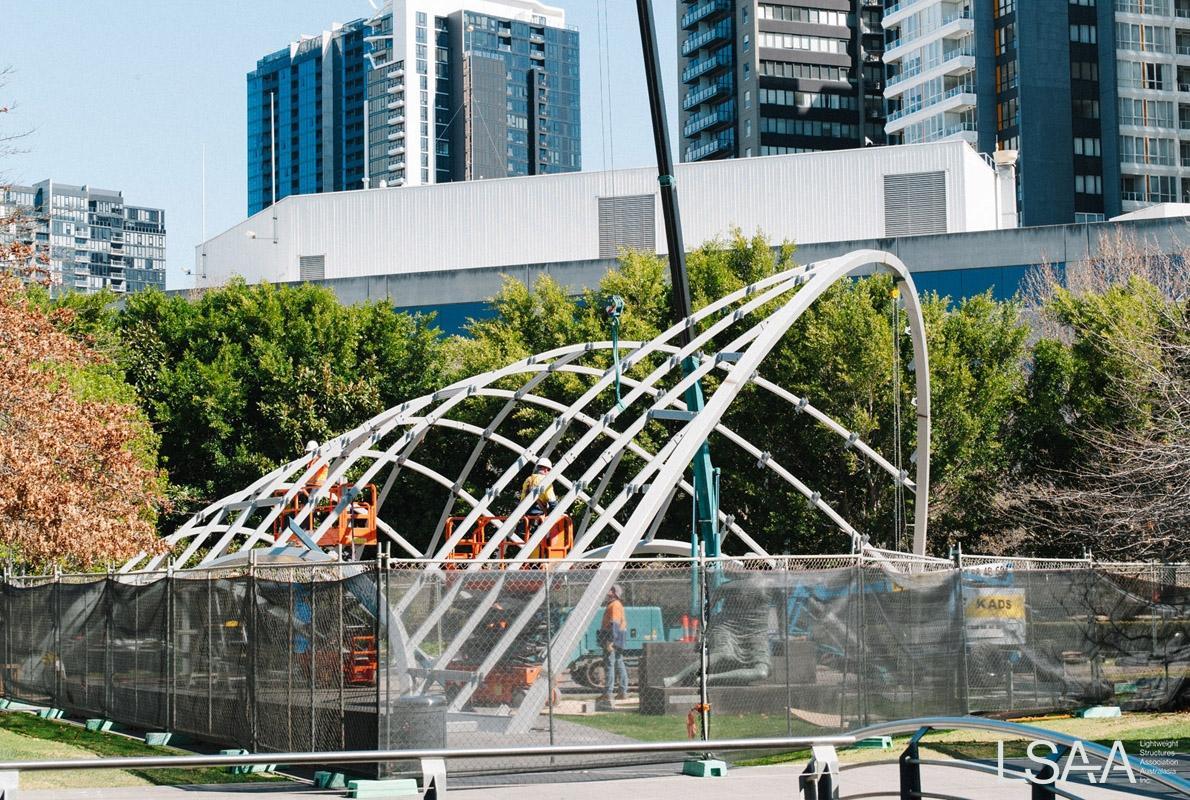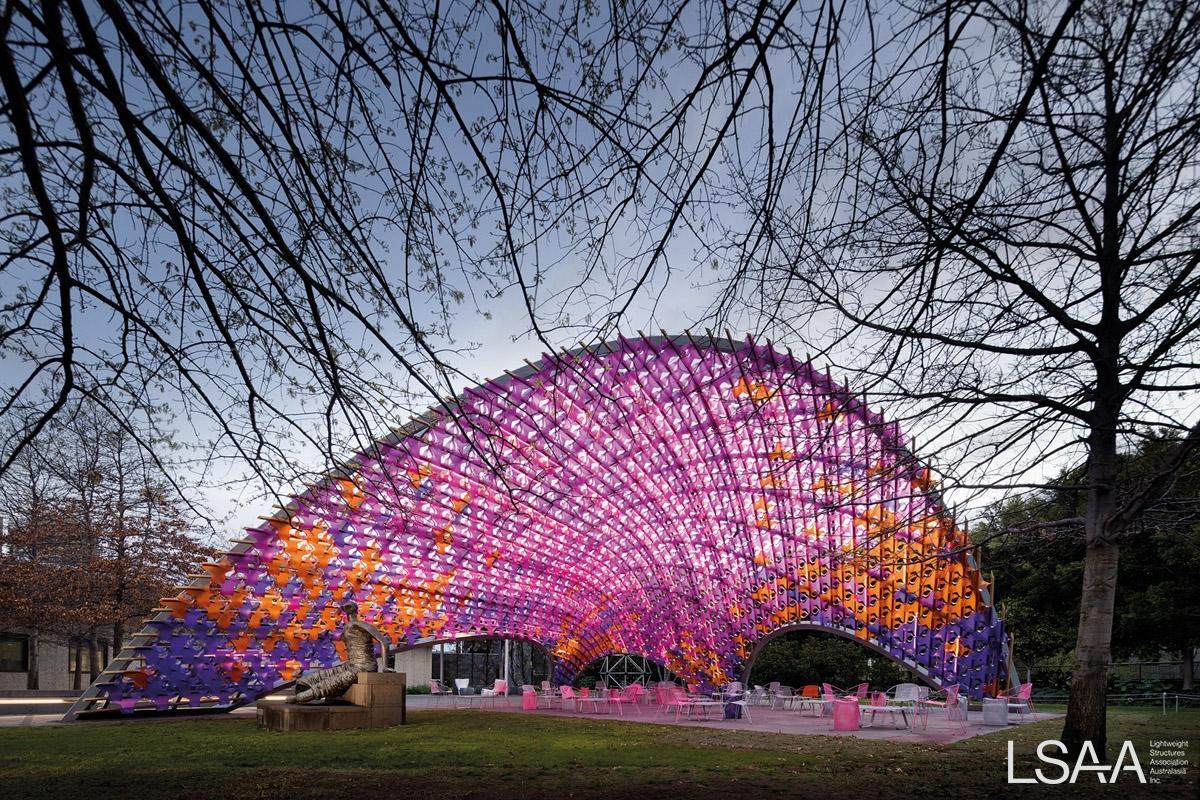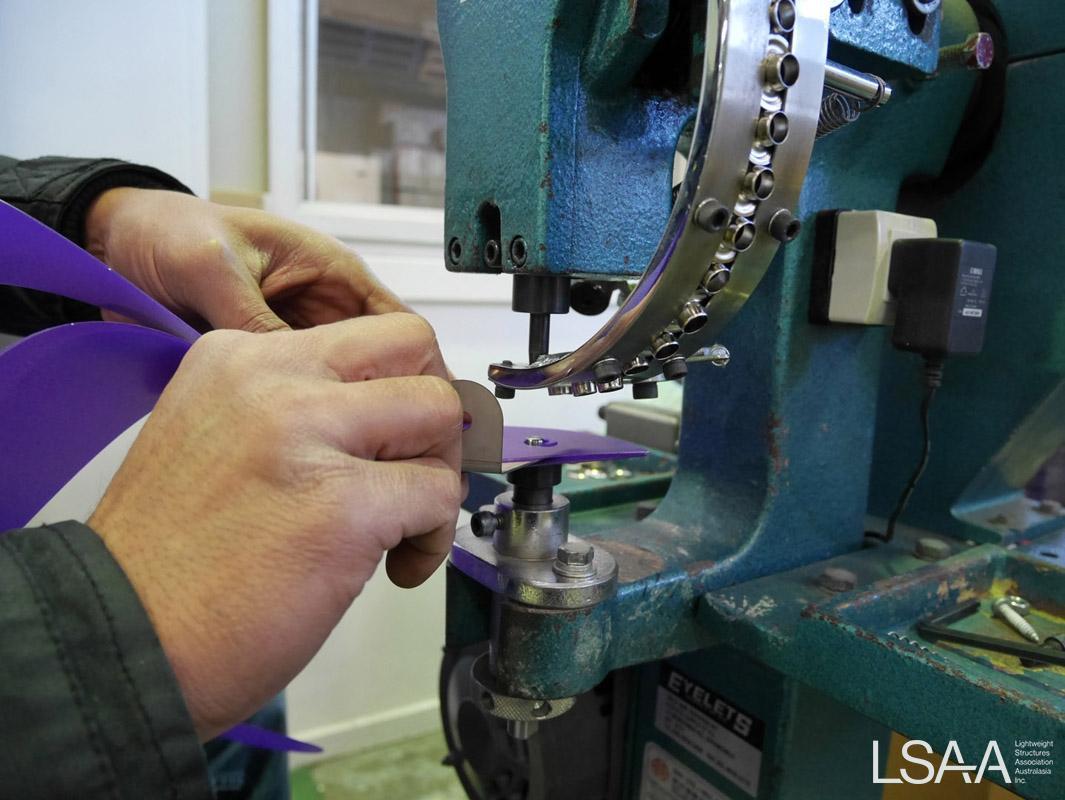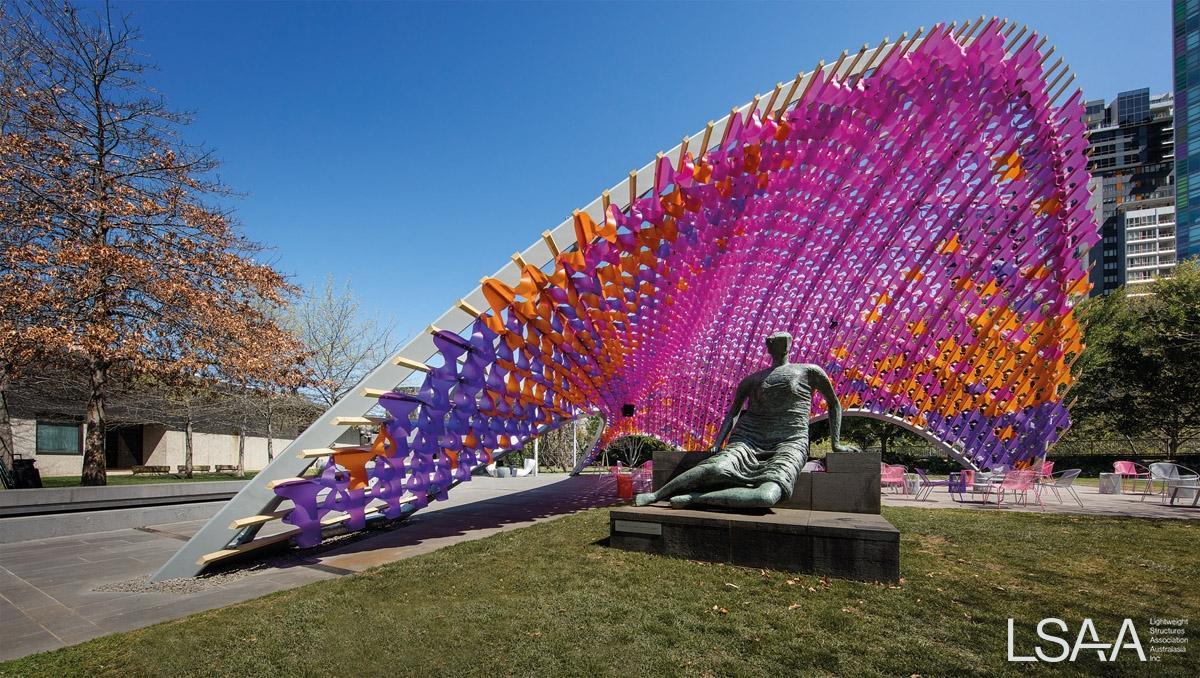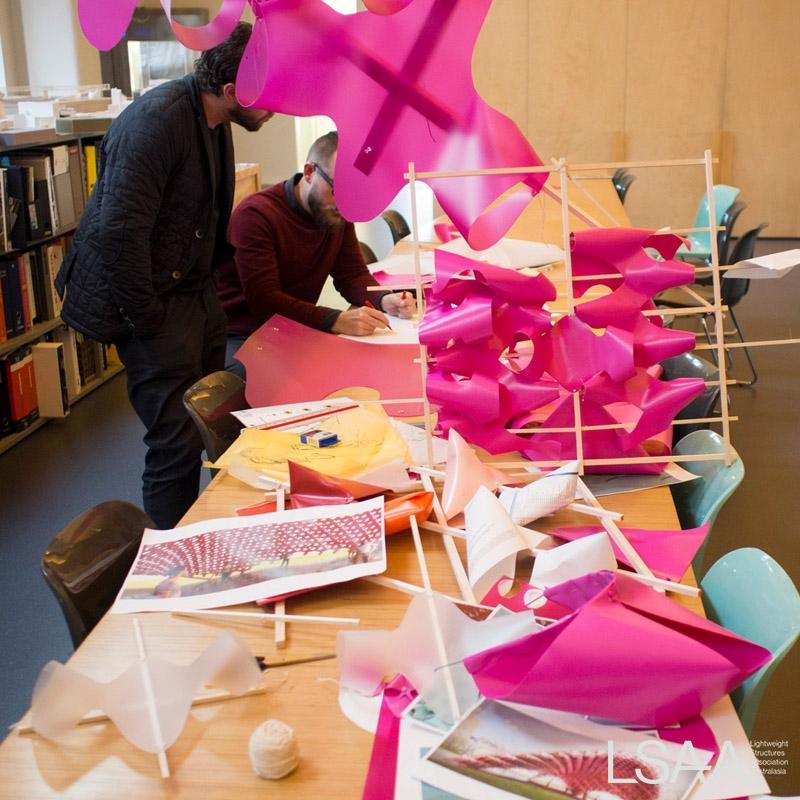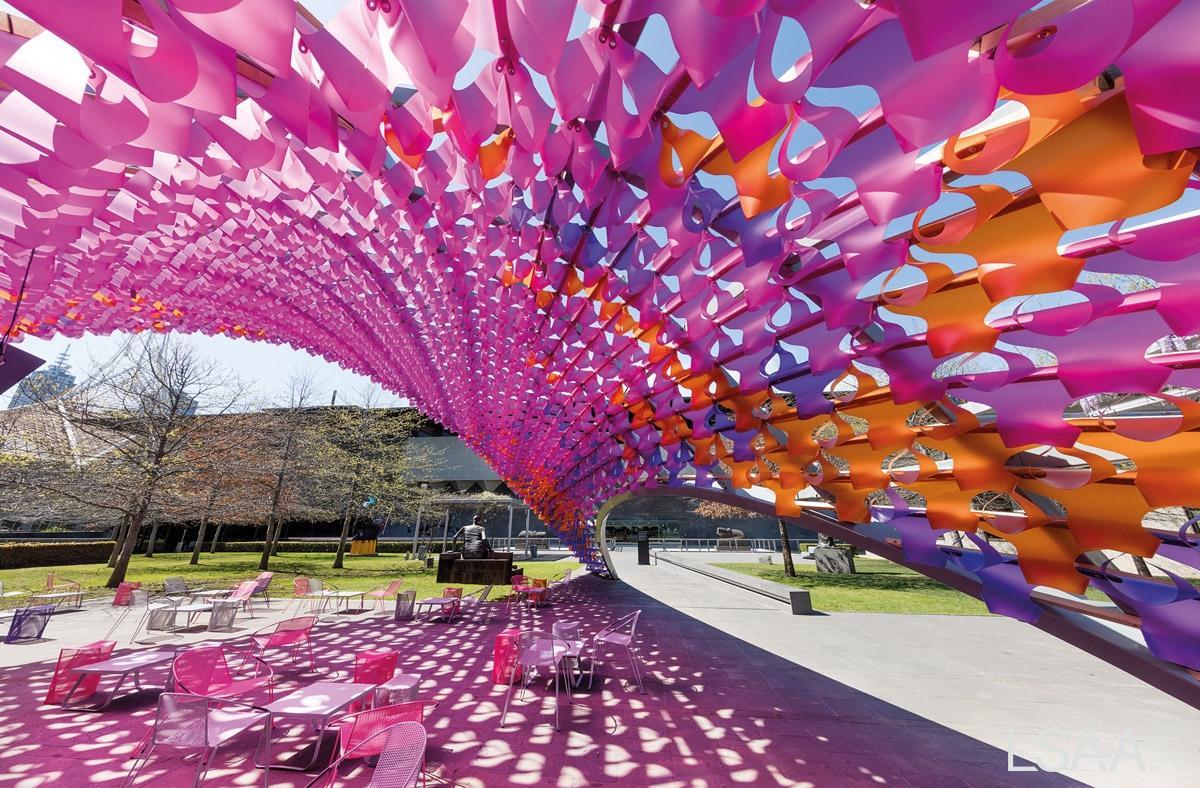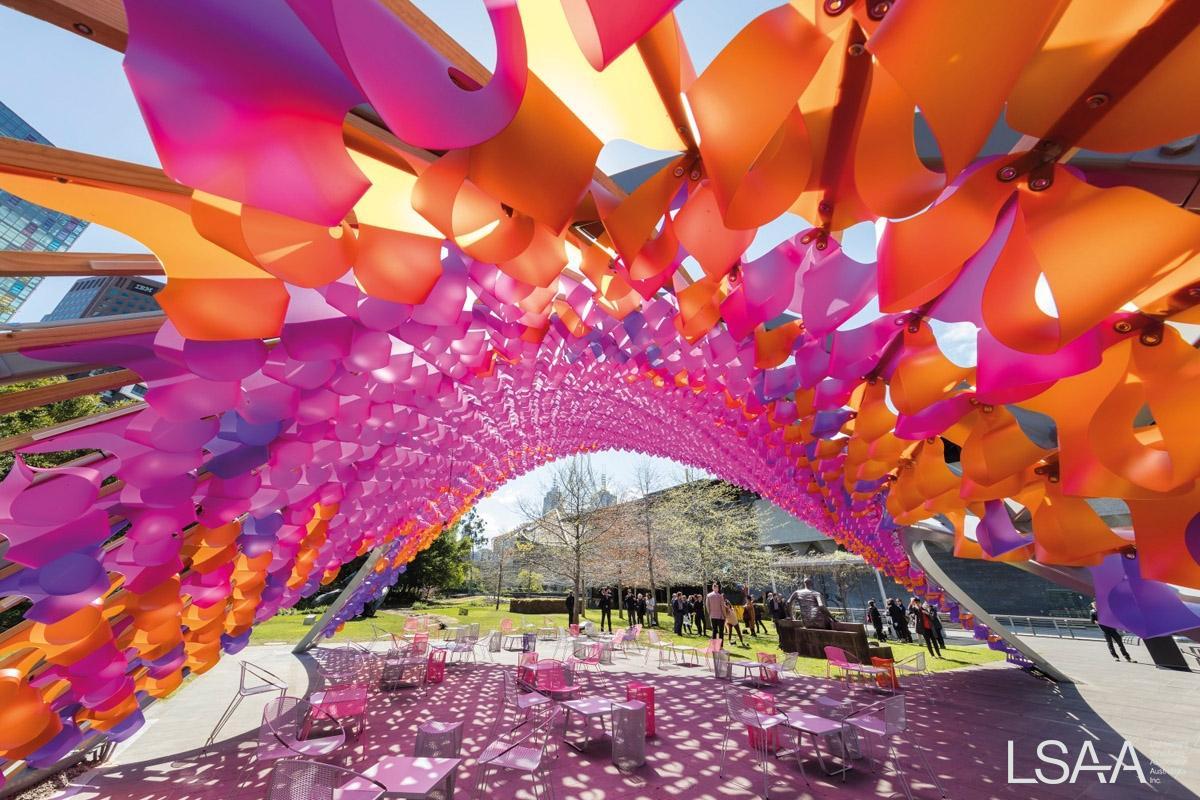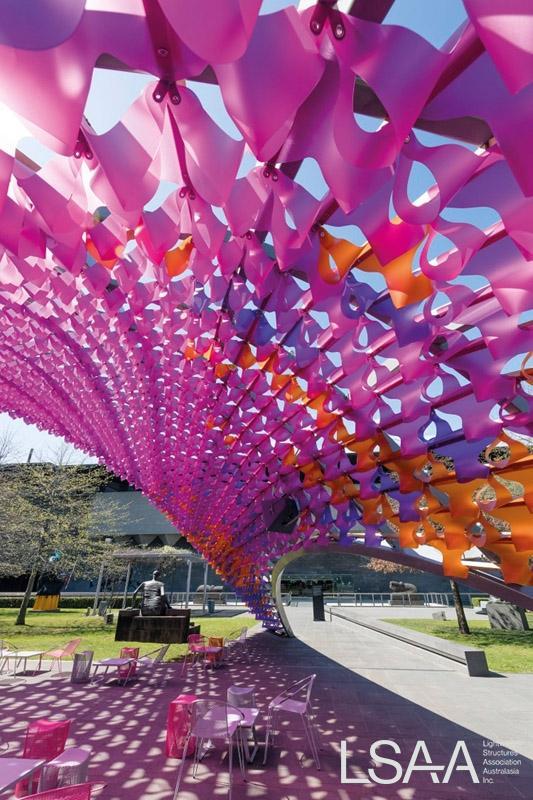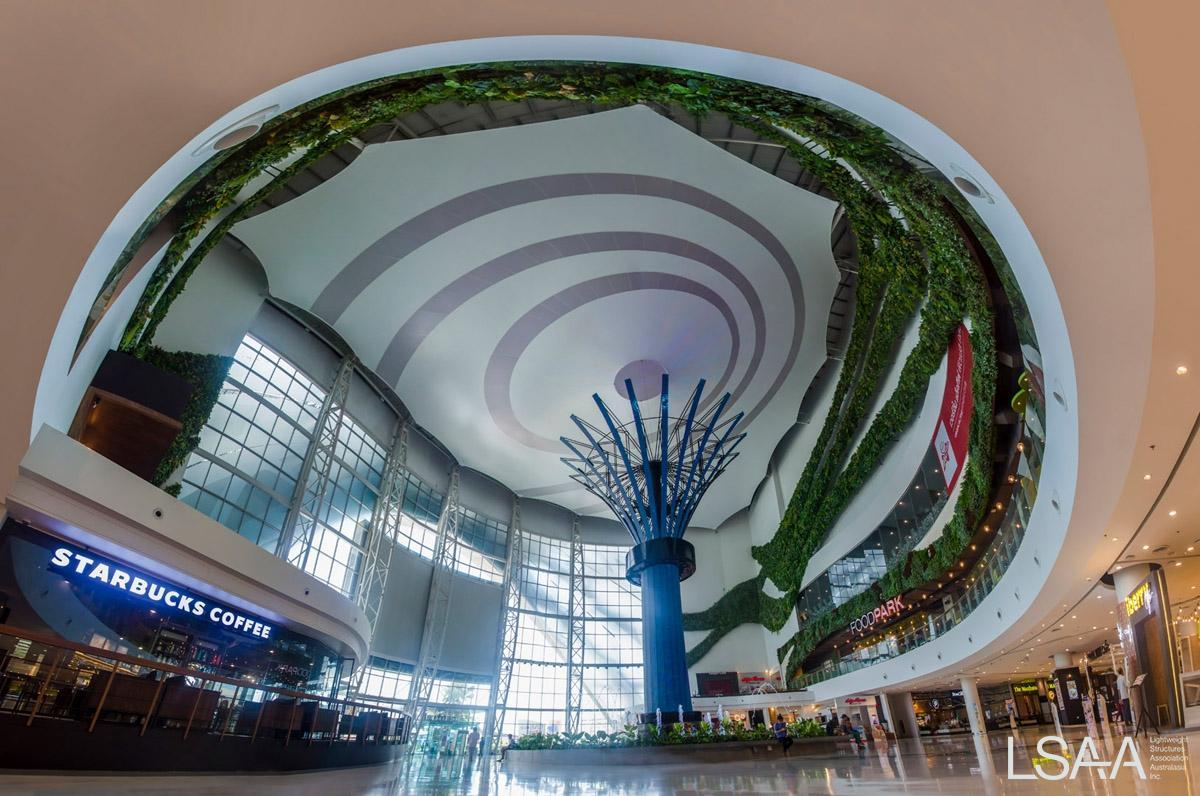 Project Entered in the LSAA 2016 Design Awards (Internal Structures, #74)
Entrant: GeoMetal Limited (Design & Engineering)
Location: Nonthaburi, Thailand. Completed: 24 August 2014 Client: Central Pattana Public Company Limited
Team: MAAR, Fastech Company Limited, Project Planing Public Company Limited, Power Line Engineering Public Company Limited
Application: A ceiling for a Shopping Mall in Thailand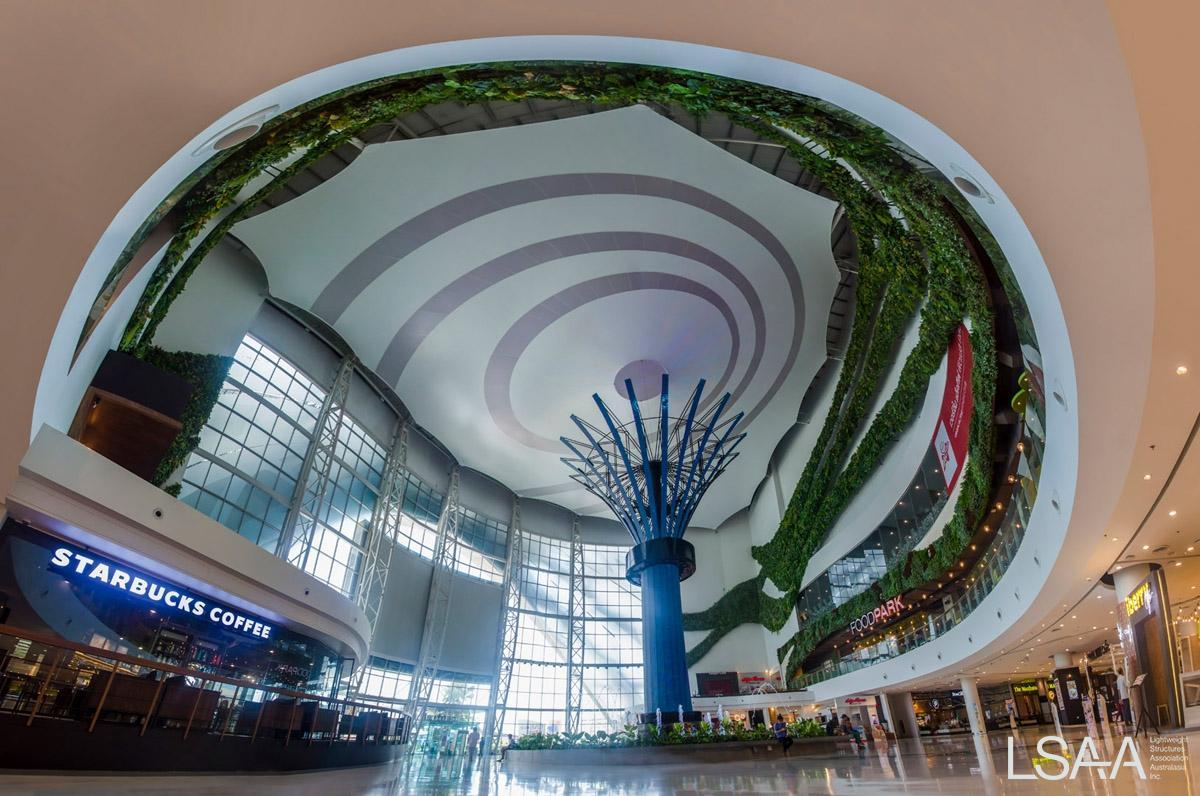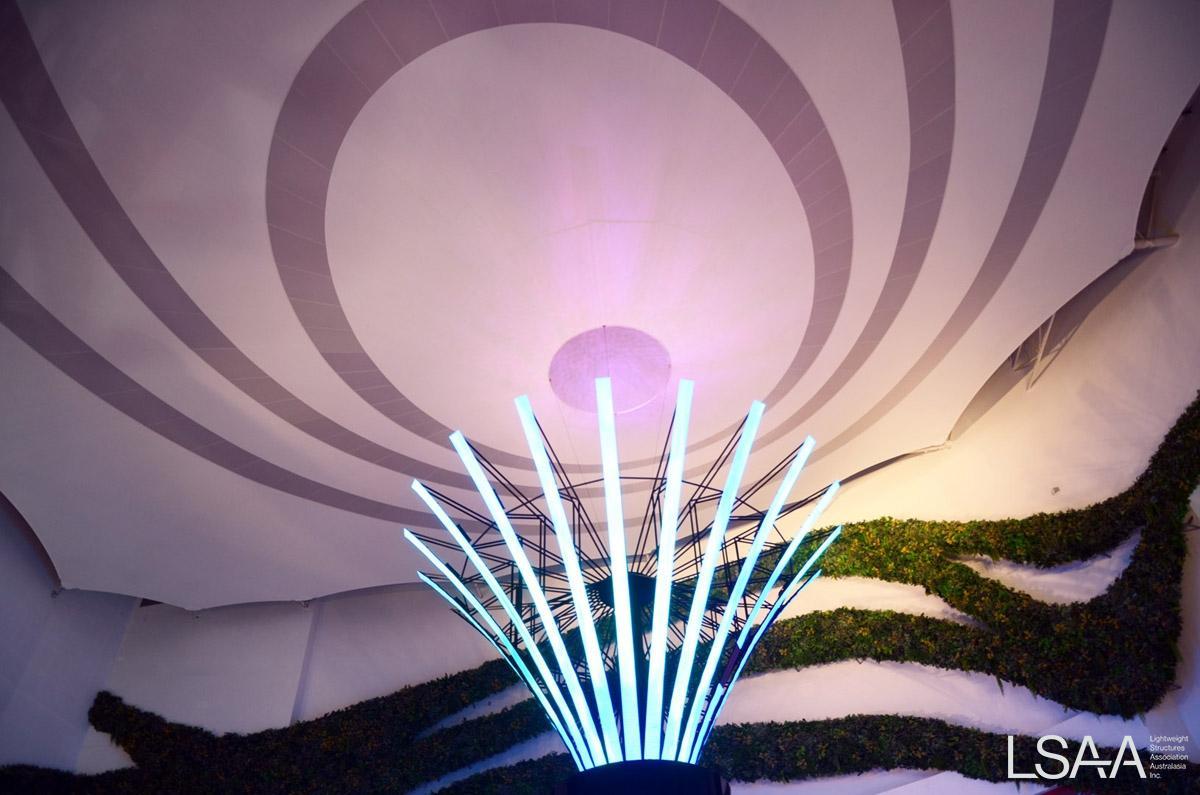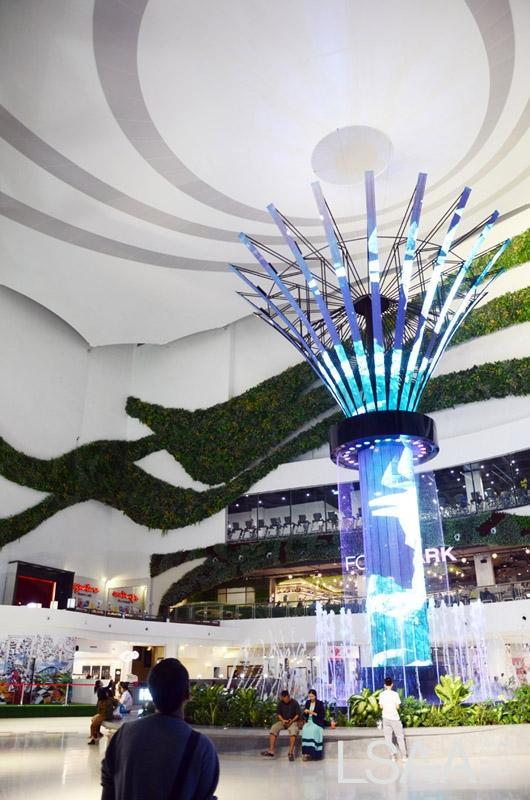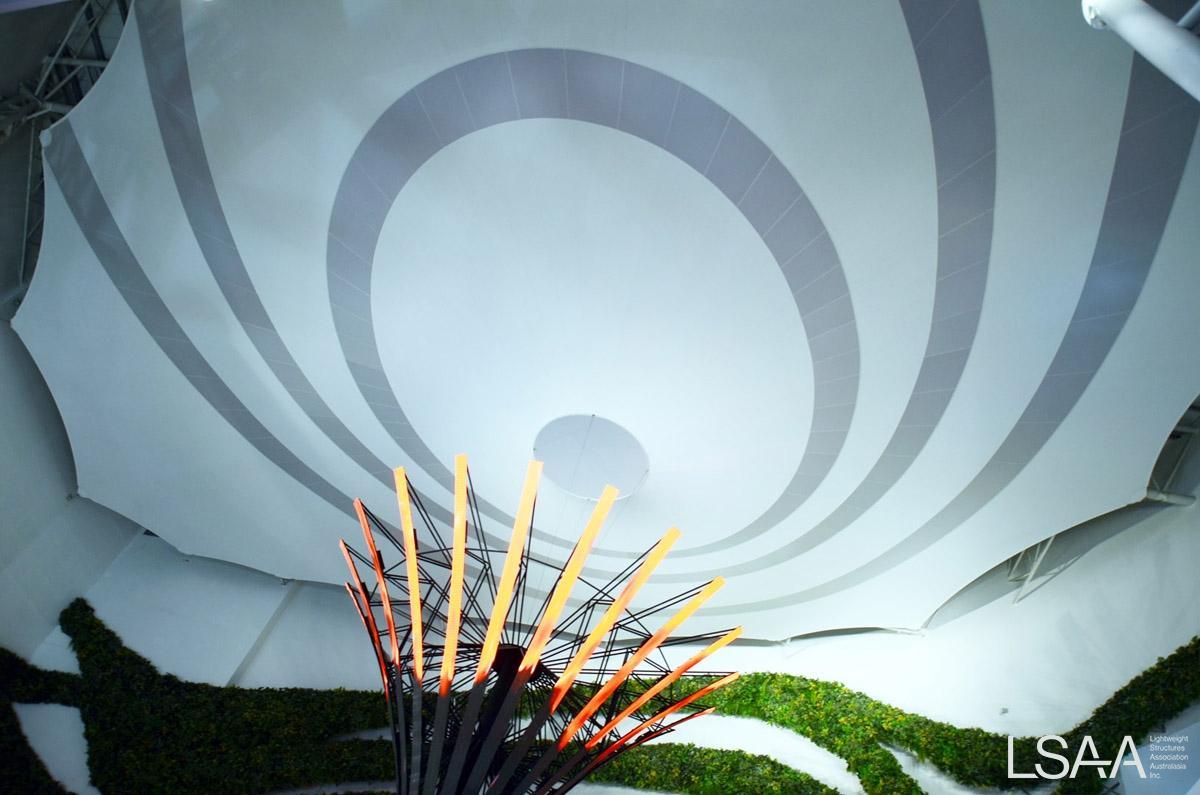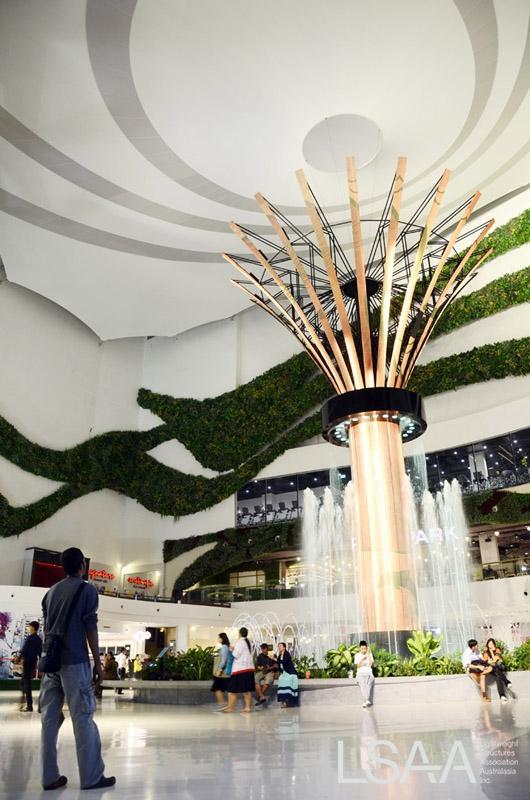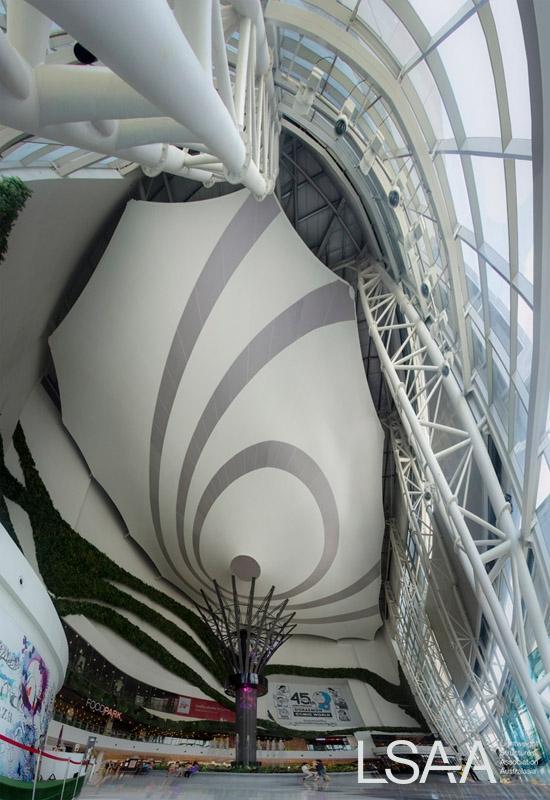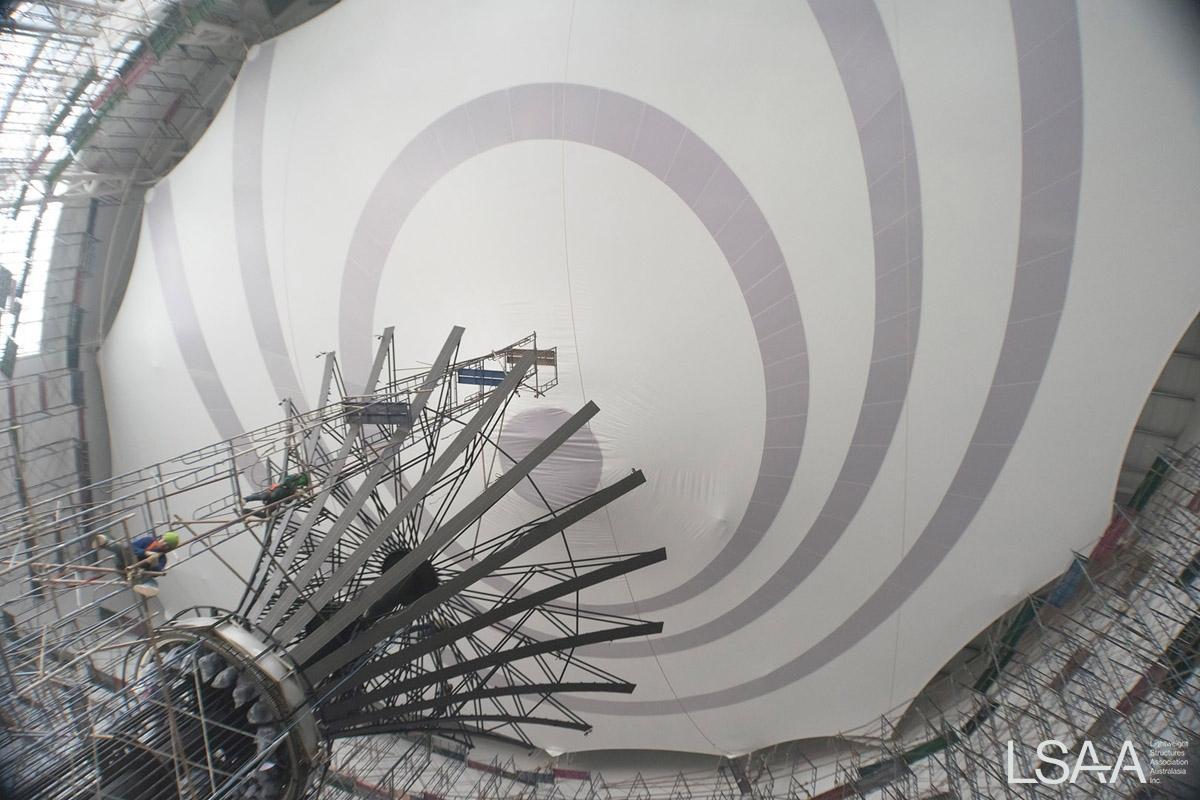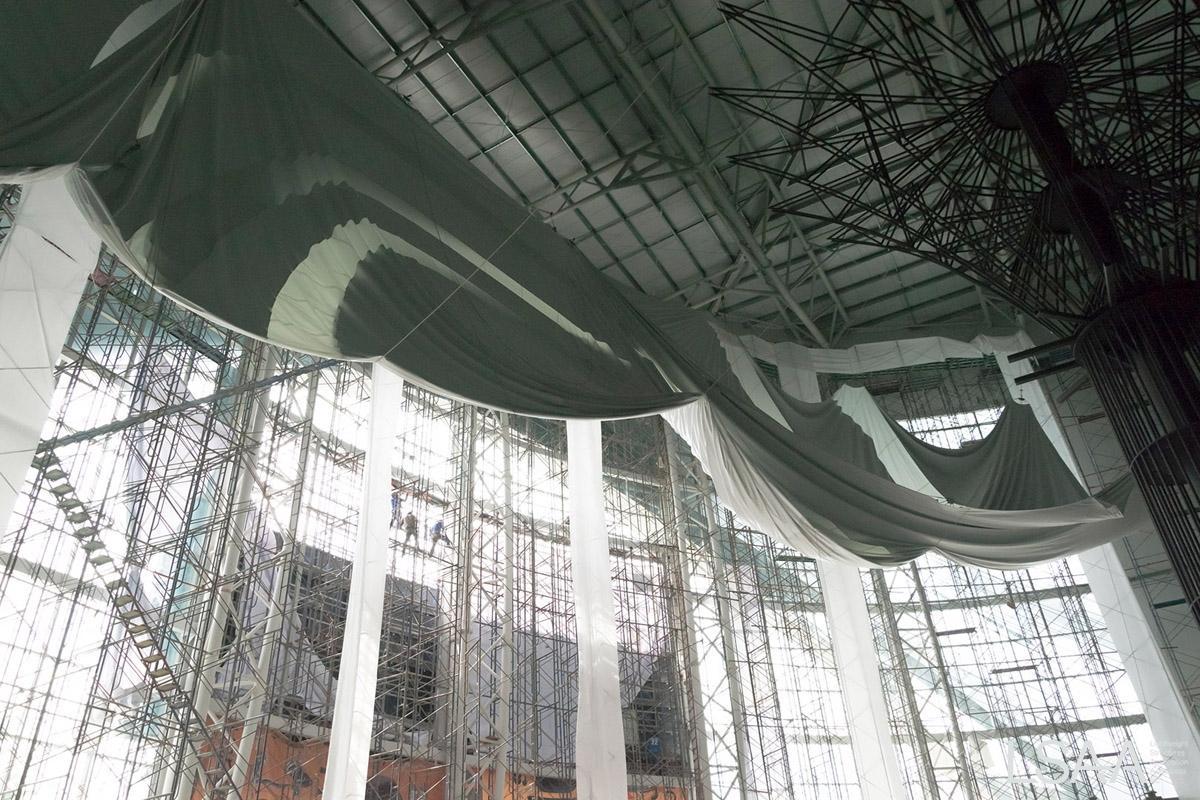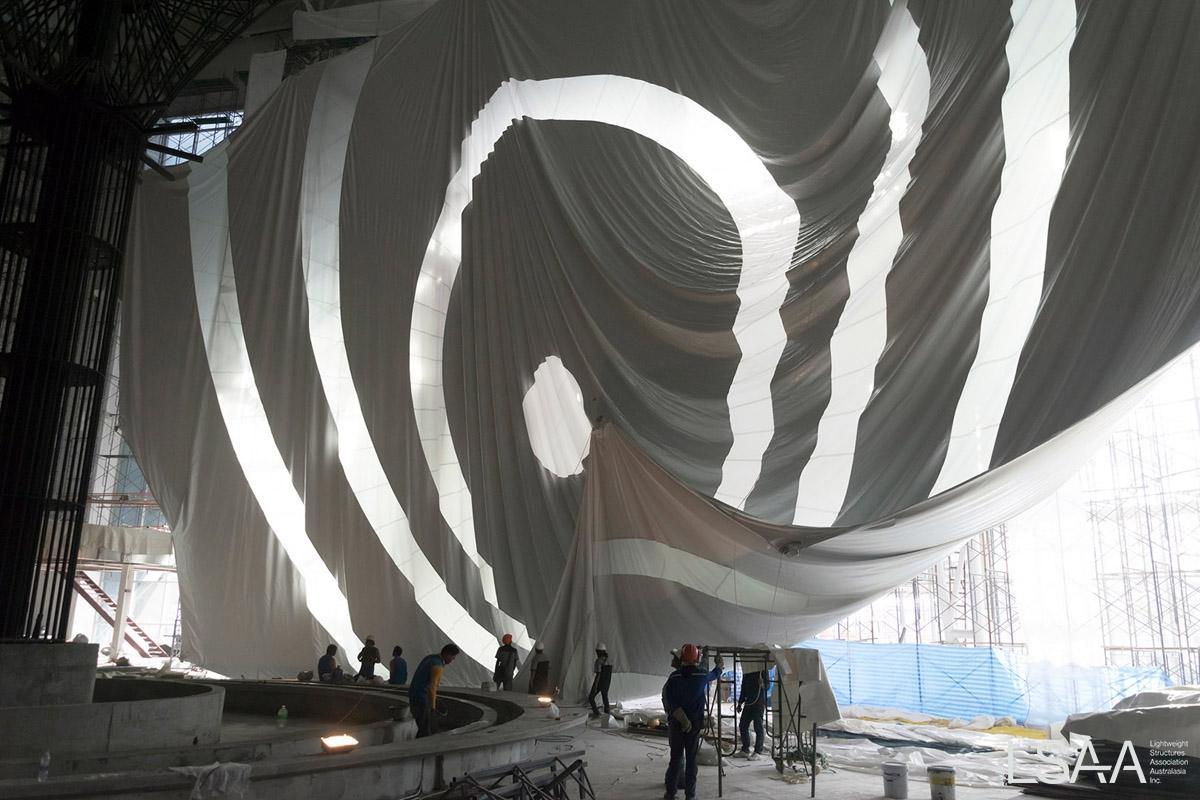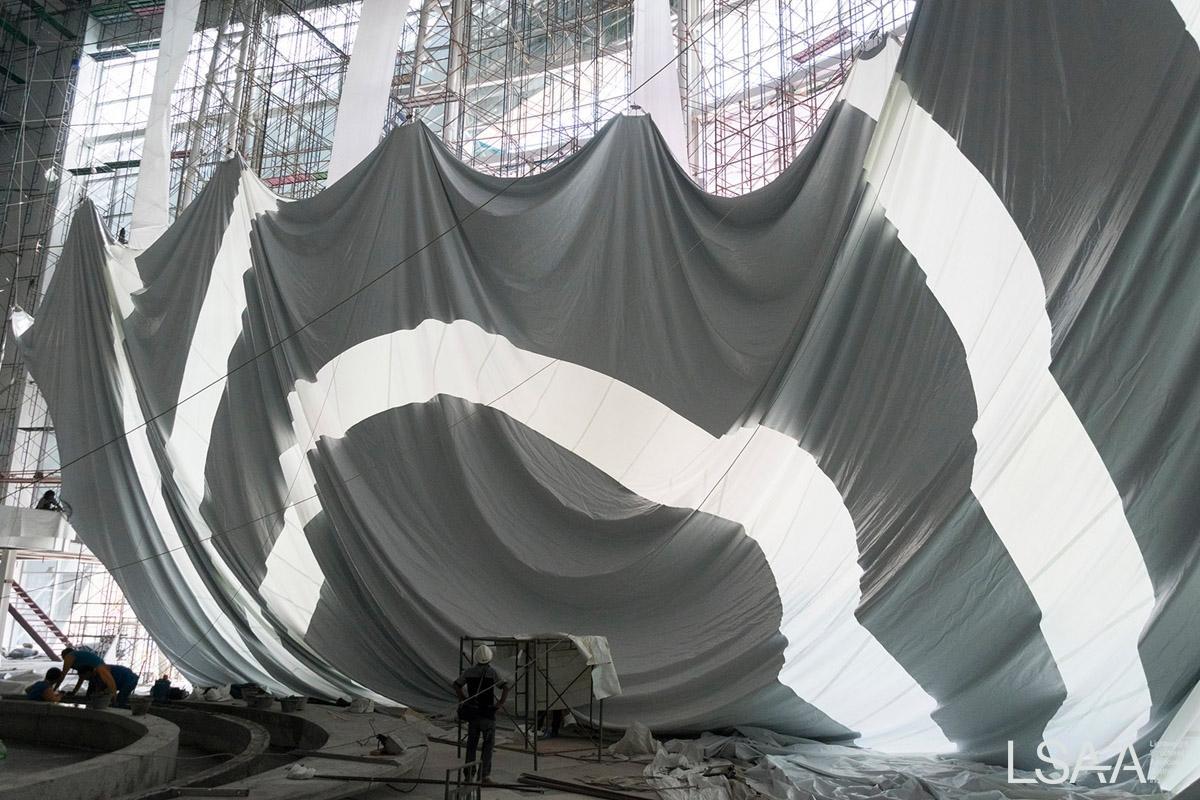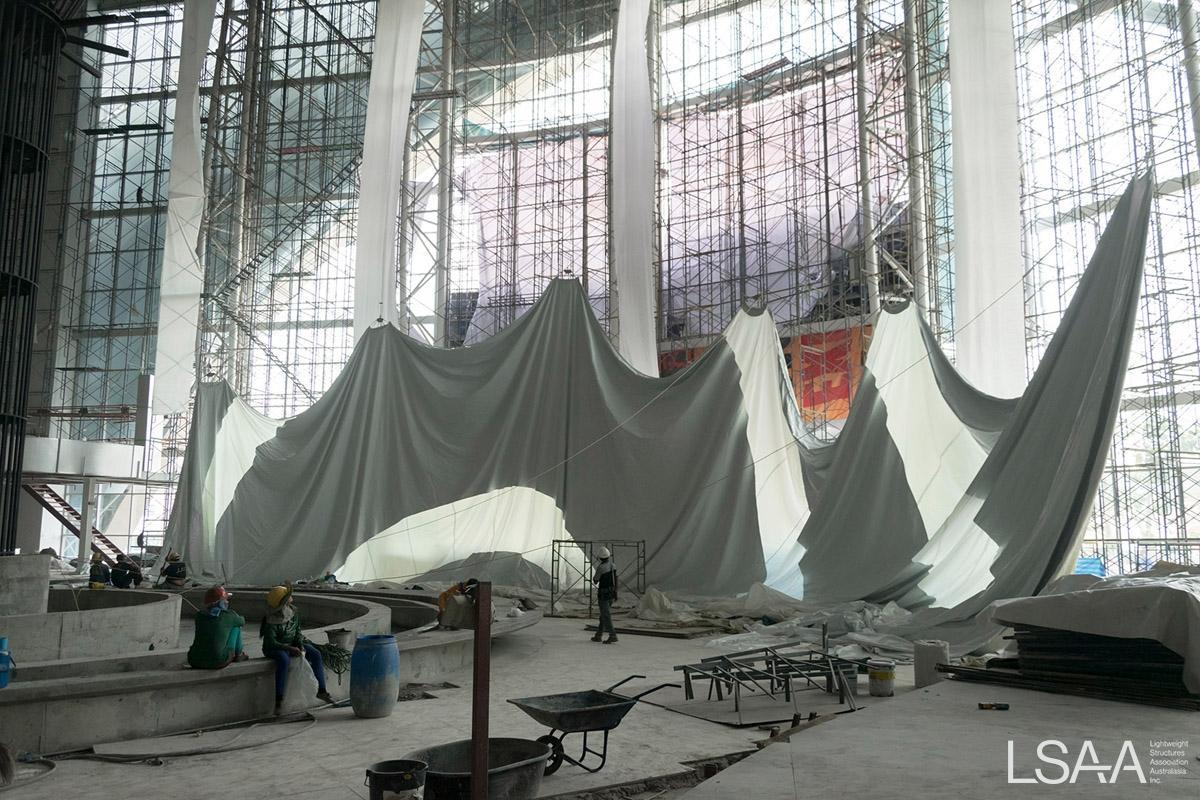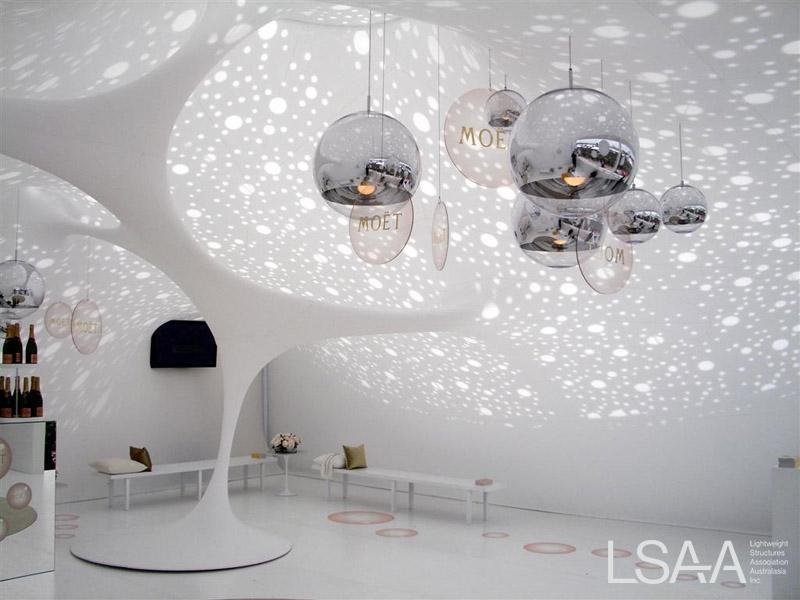 Entered in the LSAA 2007 Design Awards (4001) Category Internal and Sculptures
Entrant: Taiyo Membrane Corp (MakMax)
Client: Moet & Chandon Australia Architect: Chris Bosse (PTW)
Structural Engineer: Xiang Du (TMC) Fabricator(s): Taiyo Membrane Corp
Application and Function:
The marquee was for Melbourne Cup 2005, Australia's biggest annual horse racing event. It was created
to transform a marquee to a striking, atmospheric event space inspired by the formation and structure of champagne bubbles of Moet & Chandon.