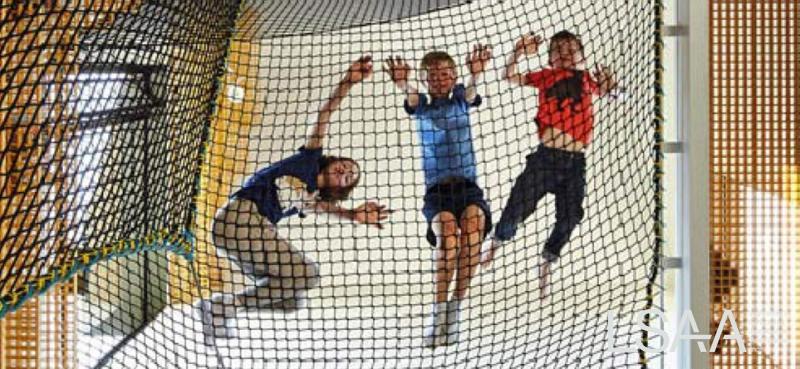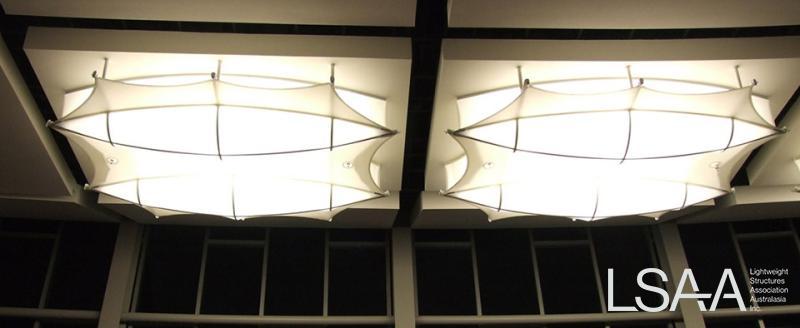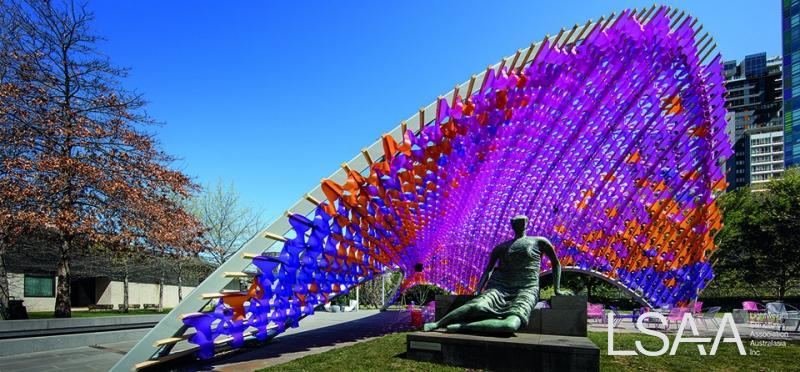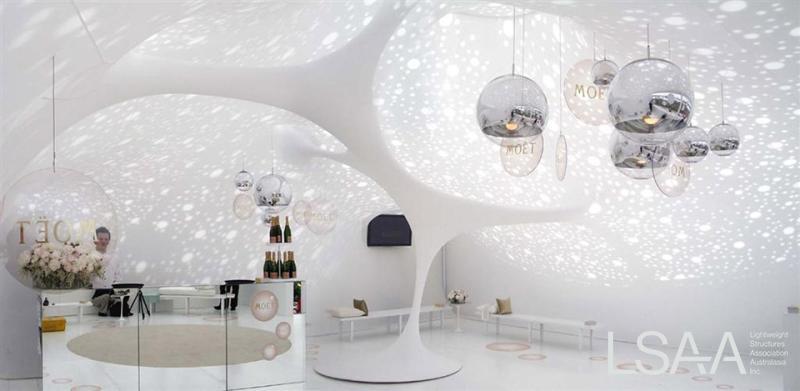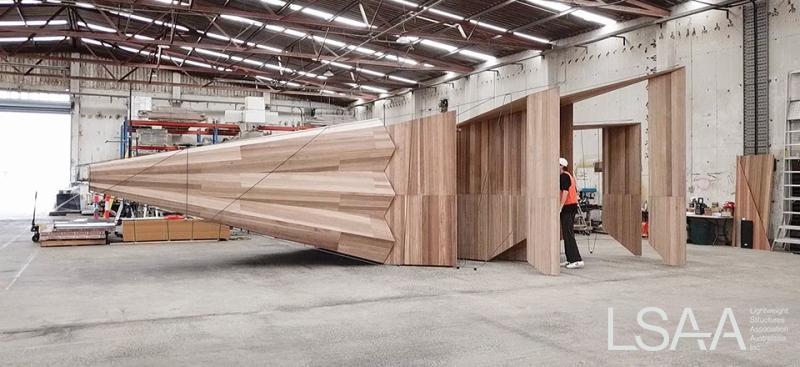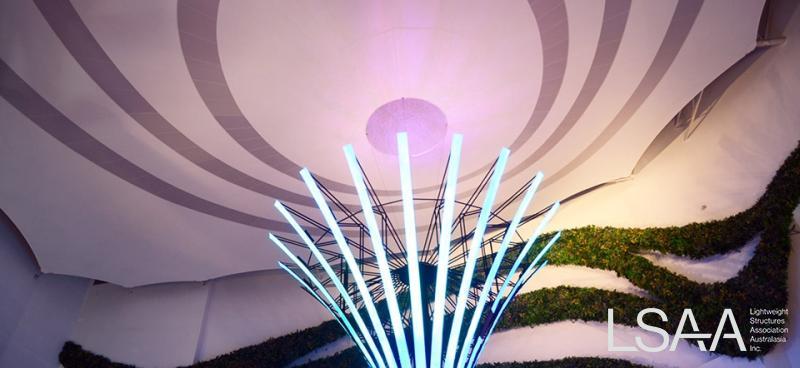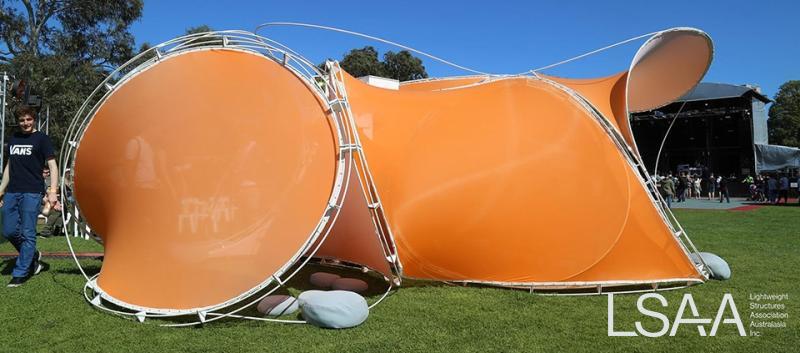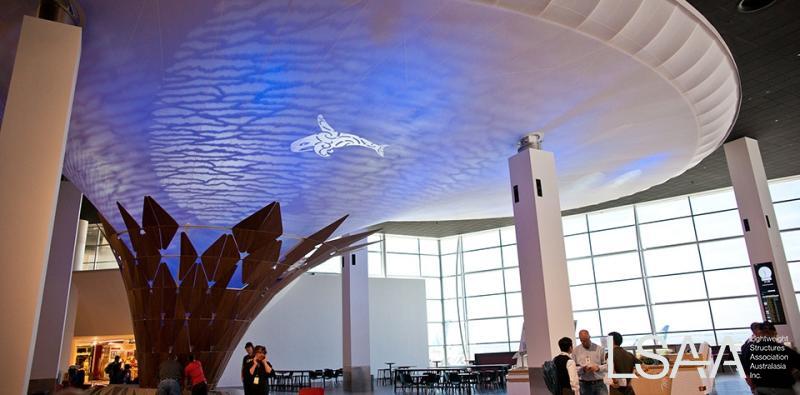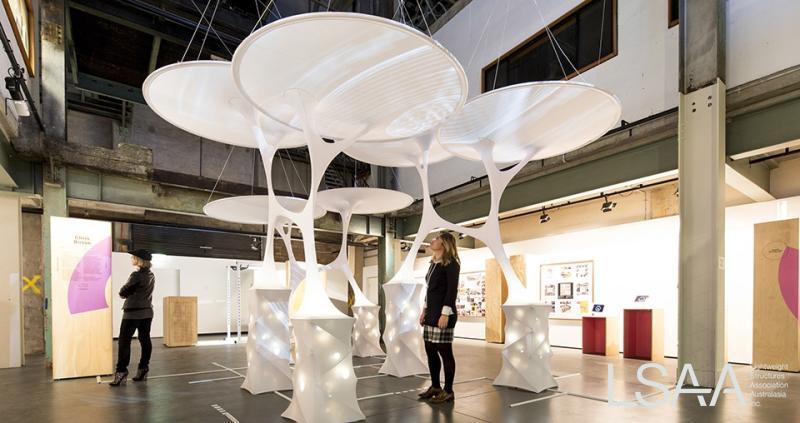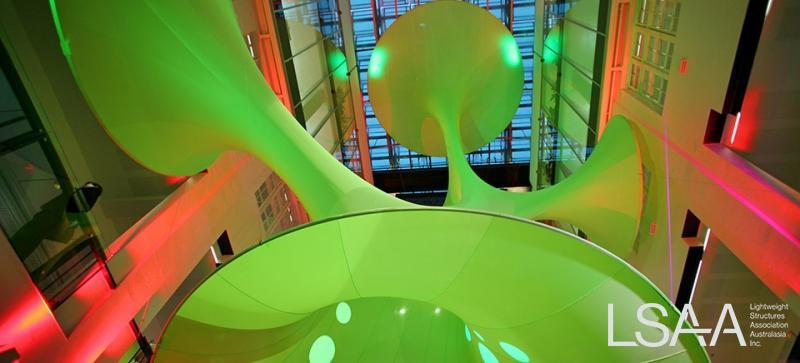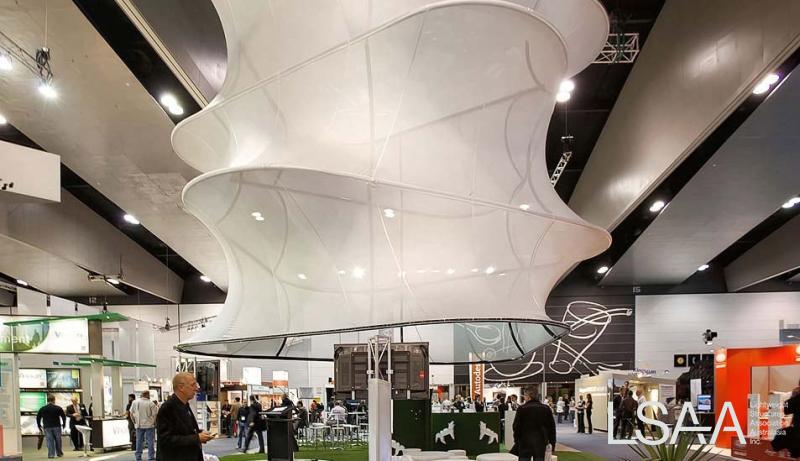 Lightweight geometric forms filling an internal space generally with no applied environmental loads - from wind, rain or snow - but usually a small amount of prestress.
This project was entered in the 2013 LSAA Design Awards
Entrant: LAVA
Category: 1 ID Number: 1567
Location: Casula Powerhouse, Casula NSW
Client: Object Gallery
Completion Date: July 2013
Credits:
Architect: Chris Bosse
Structural Engineer: Büro für Leichtbau (Germany)
Fabricator: Fabric Shelters Workshop (NZ)
Steelwork: GKR Interiors (Australia)
APPLICATION OF PROJECT:
Cloud City: An urban ecosystem is a sculptural rendition of Chris Bosse's vision of a future city - a soaring, stretched membrane cloud anchored to the 'city' on the gallery floor by high-rise towers that have been re-skinned and revitalised. A series of large circular forms, doubly curved, is made of stretchy lycra.
The installation is part of a nation-wide exhibition by 12 Australian designers that explores the potential of design in our lives and generates ideas that could 'change the way we inhabit the world'.
Green Void
Entrant: MakMax Australia – Designer
Location: 31 Alfred Street - Sydney NSW 2000
Client: City of Sydney
Architect: LAVA (Laboratory of Visionary Architecture)
Struct. Eng.: MakMax Australia
Others: MakMax (Installation)
Fabricator: MakMax Australia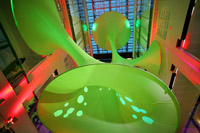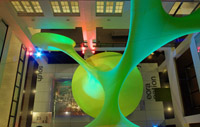 LSAA 2013 Award of Excellence
Listen Out Festival Temporary Tensile Canopy
Entrant: Tensys Engineers Pty Ltd
Category: 6 ID Number: 6512

Location: Royal Botanical Gardens, Melbourne

Client: Listen Out Festival, Melbourne 2013

Completion Date: 2013
Credits:
Architect: Tim Schork MADA, Monash University

Structural Engineer: Tensys Engineers

Others: Callum Morton (MAP)

Builder: Monash Art Design & Architecture (MADA)

Fabricator: MADA
Judges Comments:
"Beautifully resolved on all levels."
"An innovative, imaginative and thoroughly engaging project. So right for purpose - a canopy under which to shelter in a park while listening to music. Great colour. Joyful work that captures the spirit and essence of lightweight construction."
APPLICATION OF PROJECT:
Temporary structure for the Listen Out Music Festival at the Royal Botanical Gardens in Melbourne.
PROJECT DESCRIPTION:
Experimental work exploring the different tensile anticlastic forms. This structure is an end result of conceptual and digital studies carried out by MADA students of a cloud. The functional brief was to provide a temporary shading structure for the patrons of the festival covering a 5m x 5m footprint.
Snow Globe Xmas Pavilion
Aurecon (Engineer)
Location: IFC Shopping Mall, Hong Kong. Completed: November 2014
Client: Elite Showcase Ltd, Hong Kong
Team: Elenberg Fraser, Aurecon, Eliye Showcase Ltd, Hong Kong
Tower House Netting
Tensys Engineers Pty Ltd (Engineer)
Location: Fitzroy, Victoria. Completed: 2014
Client: Philip & Sophia Ross
Team: Áustin Maynard Architects, Maurice Farrugia & Assoc, Tensys – net design & details, Oxley Nets (net) McDonald Marine (ropes), Overend Constructions Pty Ltd
Vector Arena Atrium Lights
Entrant: Structurflex Ltd
Client: Vector Arena
Architect: Peddle Thorpe Architects
Structural Engineer: Compusoft Engineering Auckland
Fabricator(s): Structurflex Ltd
Australian Catholic University Artwork & Fall Arrest Netting
Tensys Engineers Pty Ltd (Engineer)
Location: Fitzroy, Victoria. Completed: 2015
Client: Australian Catholic University
Team: Amy Watson (Artist), Tensys Engineers, Turner & Townsend Thinc (Proj Man.), Shape Australia, Ronstan
'I Dips Me Lid' (NGV Architectural Commission)
John Wardle Architects (Architect / Designer)
Location: National Gallery of Victoria, Melbourne. Completed: 15 September 2015
Client: National Gallery of Victoria
Team: Matthew van Kooy, John Bahoric, Electrolight (lighting), 3D Structural Solutions (Shop Drawings), Light Project, Engineering Directions
Details have not been entered, some images can be viewed below: