In terms of our LSAA Design Awards, a Medium sized Fabric Structure, or tensioned membrane structure) would have a surface area of between 250 and 1000 sqm.
Note that many "Large" fabric structures may be made from individual fabric panels of 250-1000 sqm.
Again, a large Mall covering might comprise multiple conical structures of 250-1000 sqm.
The following articles are in random order:
Hornsby Aquatic Seating Covered Areas
Shade And Membrane Structures Australia (Design / Project Management / Install)
Location: Hornsby, NSW. Completed: April 30 2014
Client: ADCO Constructions / Hornsby City Council
Team: Peter Hunt Architects, Larry Shyu Global Membrane Design, ADCO Constructions, Shadecom / Fabric Solutions
Great Southern Oceans
Entrant: Architectural Sails
Client Zoological Parks Board of New South Wales
Architect: Jackson Teece Architects
Structural Engineer: Hughes Trueman (Concept Design)
Specialist Consultant(s): Wade Consulting Group, Meinhardt
Builder:
Fabricator(s): Architectural Sails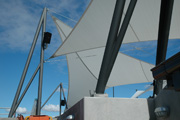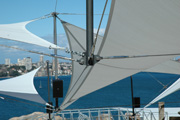 Elizabeth Quay
Fabritecture (Designer and Installer)
Location: The Esplanade. Completed: August 20 2015
Client: Leightons
Team: ARM Architects, Maffeis Engineering, Fabritecture, Seele, Fabritecture
Jakarta ETFE Canopy
Fabritecture (Designer and Installer)
Location: Jakarta, Indonesia. Completed: June 2015
Client: Leightons Asia
Team: Denton Corker Marshall, Maffeis Engineering, Fabritecture, Seele Covertex
Al Raheeb Kindergarten Fujairah, UAE
Entrant: Structurflex Ltd
Client: Dubai Municipality
Structural Engineer: Wade Consulting Group
Builder: Mazroui General Contracting
Fabricator(s): Structurflex Ltd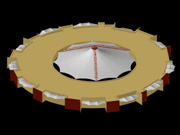 Pacific Fair Porte Cochere
Fabritecture (Designer and Installer)
Location: Broadbeach, QLD. Completed: Feb 29 2016
Client: Scentre Group (Westfield)
Team: Scentre Group (Westfield), Wade Design, Fabritecture, Textile Fabrication Services, Fabritecture
Hamilton Lake - Verandah Cafe
Entrant: Structurflex Ltd - Engineering Fabrication Installation
Location: Hamilton Lake Domain
Client: Hamilton City Council
Architect: 360 Architects
Struct. Eng.: Compusoft Engineering
Builder: Foster Construction
Fabricator: Structurflex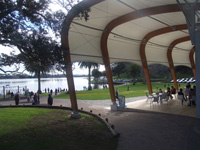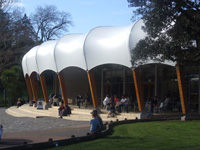 The LSAA Design Awards have traditionally had a category called Medium Structures which have a roof surface area between 250 and 1000 square metres.
Fabric or membrane structures of this size are often of one geometric form such as a conical structure with a central bale ring attached to a mast or tied down. The perimeter could be a series of edge cables, trusses or beams. If multiple units are used they the final structure may fall into the "large" category.
Other forms could be panels with internal diagonal arches, crossed arches, barrel vaults with intermediate valley cables.
Here are a few examples: