In terms of our LSAA Design Awards, a Medium sized Fabric Structure, or tensioned membrane structure) would have a surface area of between 250 and 1000 sqm.
Note that many "Large" fabric structures may be made from individual fabric panels of 250-1000 sqm.
Again, a large Mall covering might comprise multiple conical structures of 250-1000 sqm.
The following articles are in random order:
Sydney Aquarium Dugong's at Mermaid Lagoon

Entrant: UFS Australasia Pty Ltd - Designer / Fabricator
Location: Sydney Aquarium - Darling Harbour Sydney
Client: Sydney Attractions Group
Struct. Eng.: Wade Consulting
Builder: Universal Fabric Structures / Ozrig
Fabricator: Fabric Shelter Systems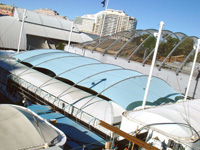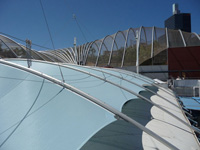 Mildura Riverfront Performance Venue
Entrant: Oasis Tension Structures (Australia) Pty Ltd
Location: Hugh King Boulevard - Mildura VIC
Client: City of Mildura Council
Architect: Jackson Architecture (Melbourne)
Struct. Eng.: Aurecon (Melbourne)
Specialist: Tensys Engineering (Australia) Pty Ltd
Others: A. Nobles & Sons (Australia) Pty Ltd
Builder: King Construction Pty Ltd
Fabricator: Atkins Fabrication (Australia) Pty Ltd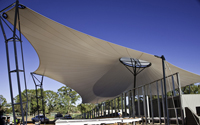 Hamilton Lake - Verandah Cafe
Entrant: Structurflex Ltd - Engineering Fabrication Installation
Location: Hamilton Lake Domain
Client: Hamilton City Council
Architect: 360 Architects
Struct. Eng.: Compusoft Engineering
Builder: Foster Construction
Fabricator: Structurflex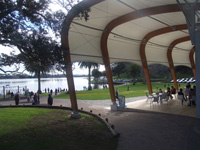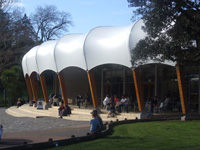 Hornsby Aquatic Seating Covered Areas
Shade And Membrane Structures Australia (Design / Project Management / Install)
Location: Hornsby, NSW. Completed: April 30 2014
Client: ADCO Constructions / Hornsby City Council
Team: Peter Hunt Architects, Larry Shyu Global Membrane Design, ADCO Constructions, Shadecom / Fabric Solutions
The LSAA Design Awards have traditionally had a category called Medium Structures which have a roof surface area between 250 and 1000 square metres.
Fabric or membrane structures of this size are often of one geometric form such as a conical structure with a central bale ring attached to a mast or tied down. The perimeter could be a series of edge cables, trusses or beams. If multiple units are used they the final structure may fall into the "large" category.
Other forms could be panels with internal diagonal arches, crossed arches, barrel vaults with intermediate valley cables.
Here are a few examples: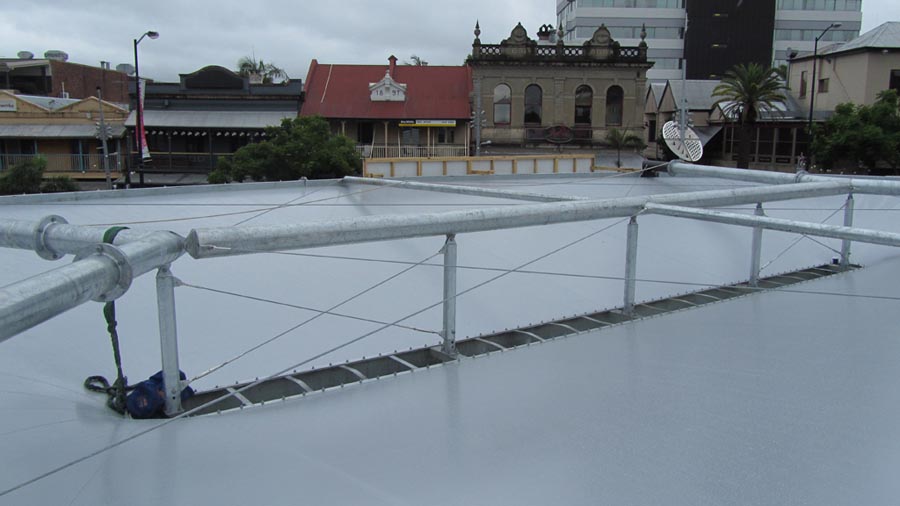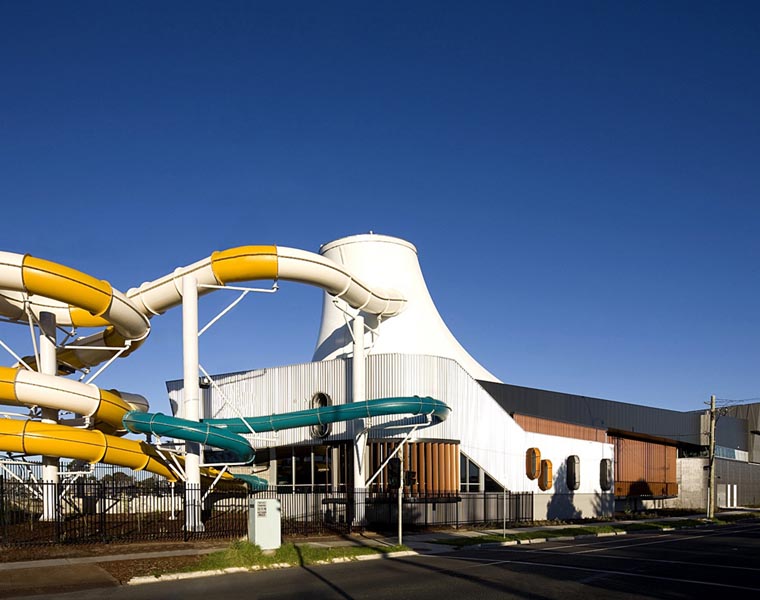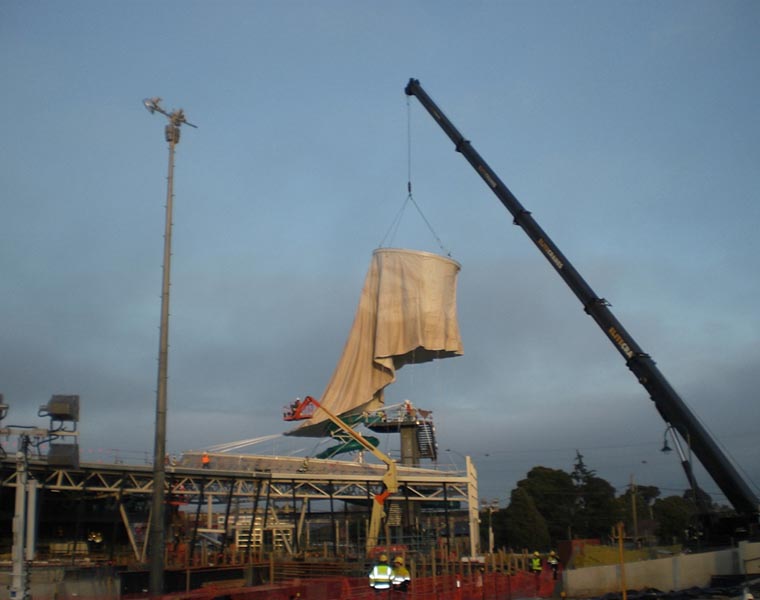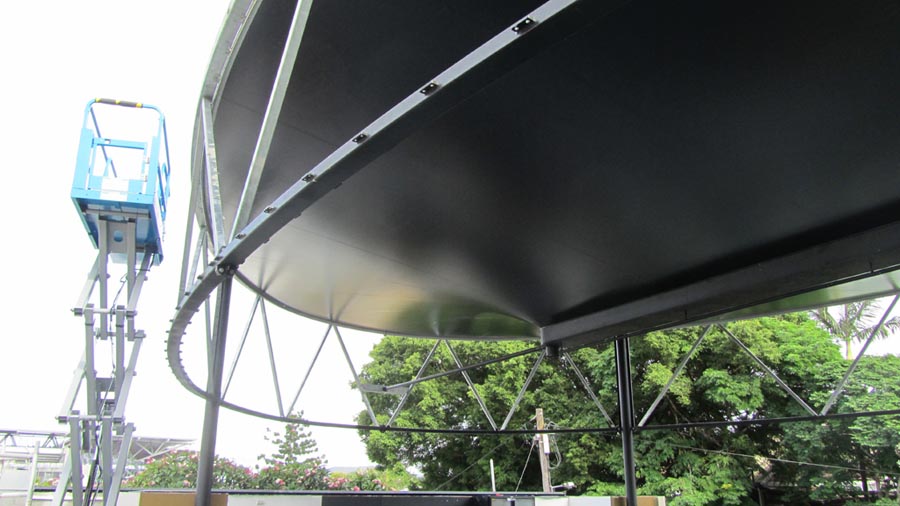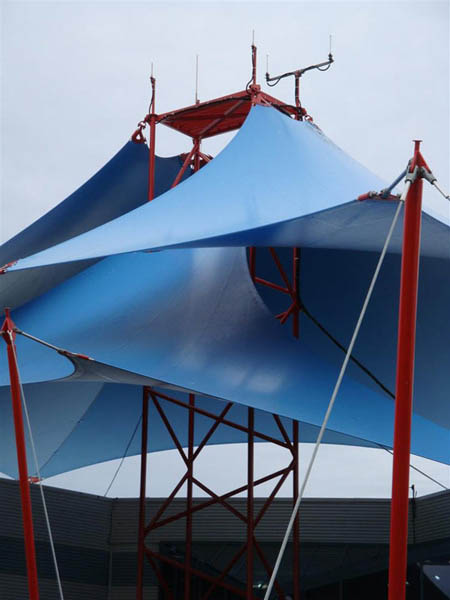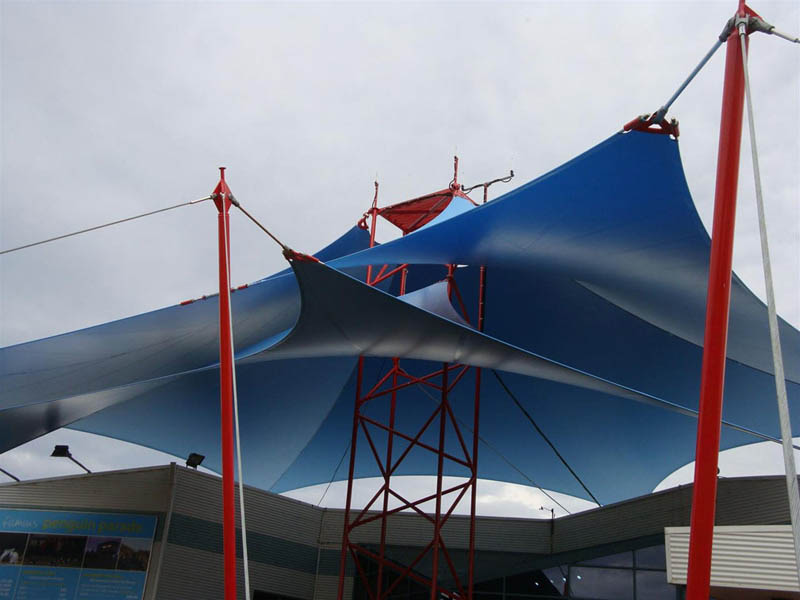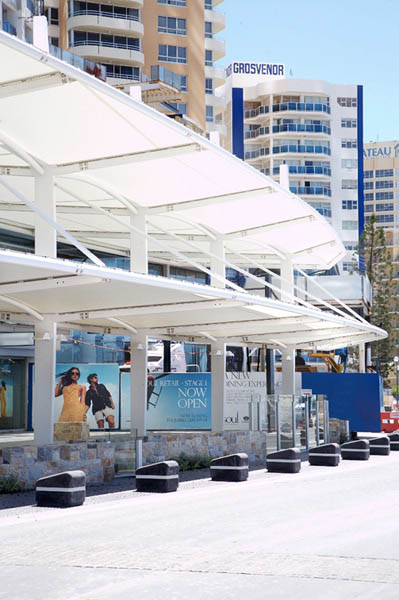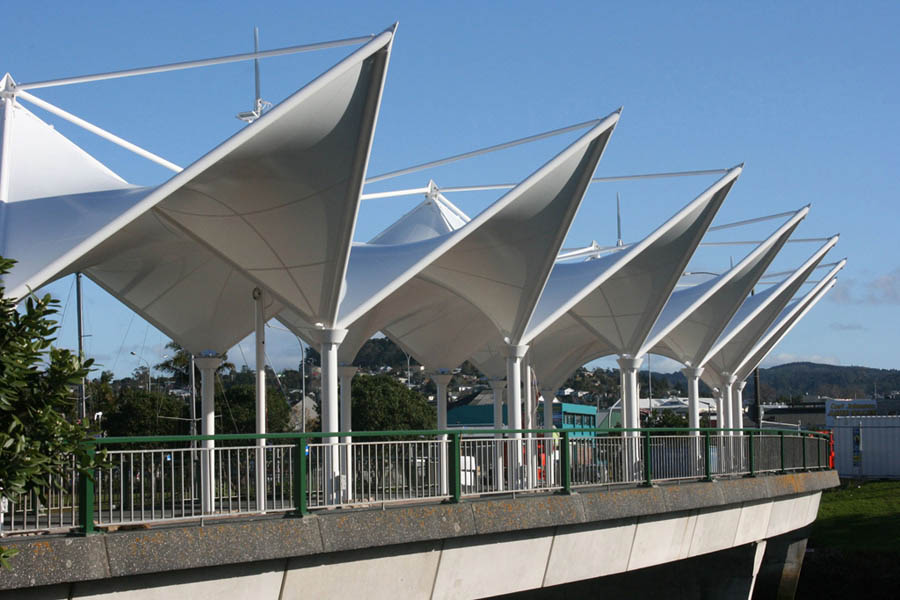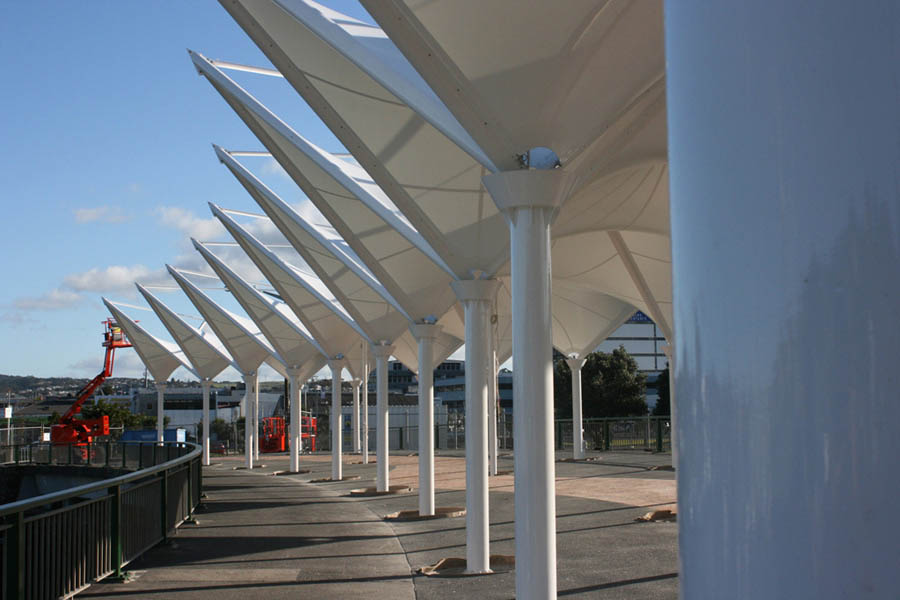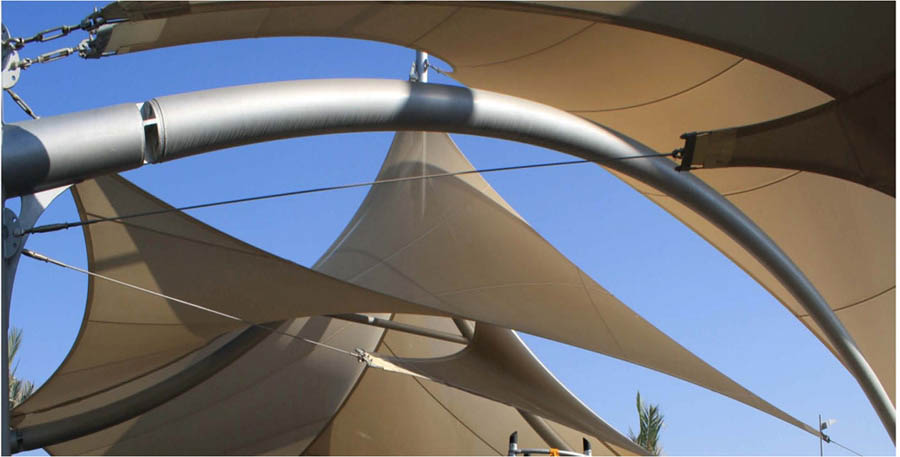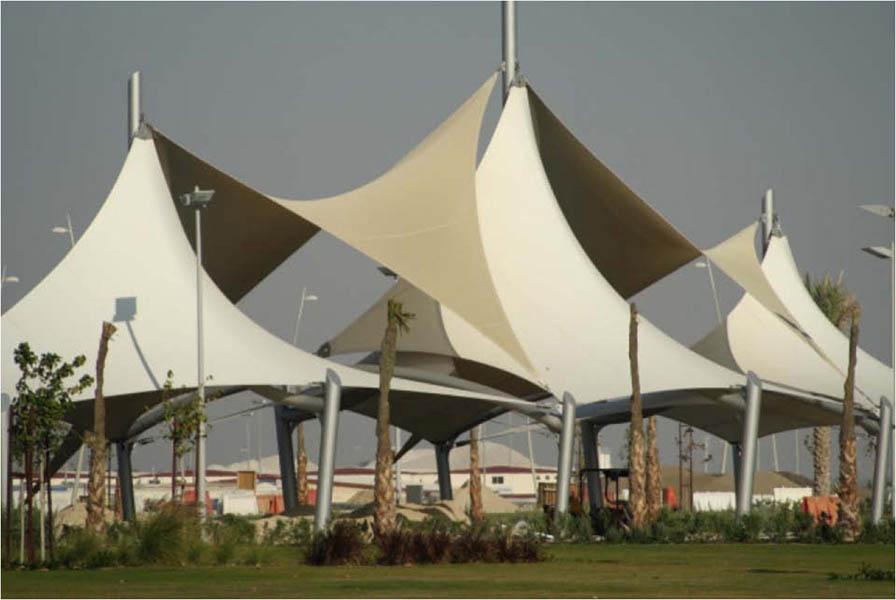 Southern Plaza Bar - Carrara, Qld
APPLICATION OF PROJECT: Self supporting pavilion
PROJECT DESCRIPTION
Close to completing the tensile membrane roof at Metricon Stadium, our client engaged MakMax to cover a smaller outdoor area. This project was a simple solution to shade and weather protection with a twist. Considerations for maximum ground space and design constraints made this project far more interesting.
Our brief for this project outlined a need for a large covered area for common use. Specifics included limited space for footings and design considerations to match the structure's surroundings. The structure also needed to compliment the design of the stadium roof, MakMax engineers and architects Populous came up with a simple looking yet highly complex shape.
MakMax engineers designed a canopy that is circular in plan, however, from the side the undulating shape of the membrane edge is highly curved to mimic the stadium roof design. Creating a structure with these elements presented a unique geometric difficulty. MakMax engineers designed the outer ring of the structure to ensure minimal fabrication costs and to minimize the need for double roiling of steel members. The stability of this structure is found within the compression ring at the height of the conic shape as well as in the raking columns.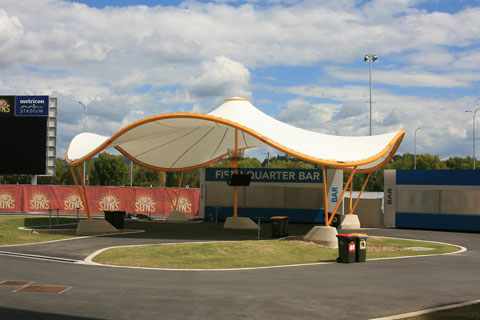 Isa Royal Military College Grand Stand Shade

Entrant: Light Weight Structures Advisory Service - Engineering Fabrication Installation
Location: Isa Royal Military College - Kingdom of Bahrain
Client: Alasco Group & Al Alaa Shade Company
Struct. Eng.: Trevor Scott & Jeremy Hunter
Specialist: LTWSAS
Builder & Fabricator: Al Alaa Shade Company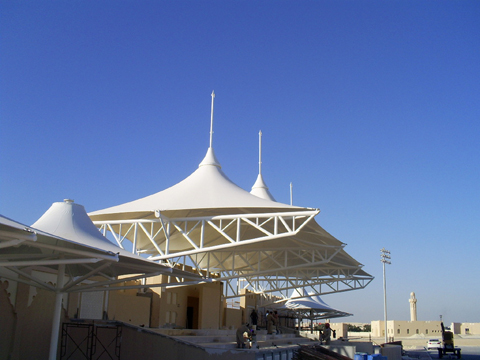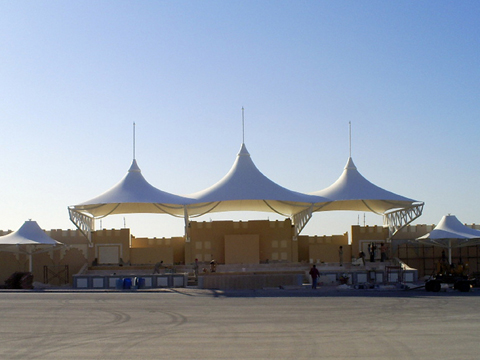 The following Medium Structure Projects were entered into the 2018 LSAA Design Awards in Category 2

Category 2 "Medium Structures"
2107 Carousel Shade Structures.