In terms of our LSAA Design Awards, a Medium sized Fabric Structure, or tensioned membrane structure) would have a surface area of between 250 and 1000 sqm.
Fabric or membrane structures of this size are often of one geometric form such as a conical structure with a central bale ring attached to a mast or tied down. The perimeter could be a series of edge cables, trusses or beams. If multiple units are used they the final structure may fall into the "large" category.
Other forms could be panels with internal diagonal arches, crossed arches, barrel vaults with intermediate valley cables.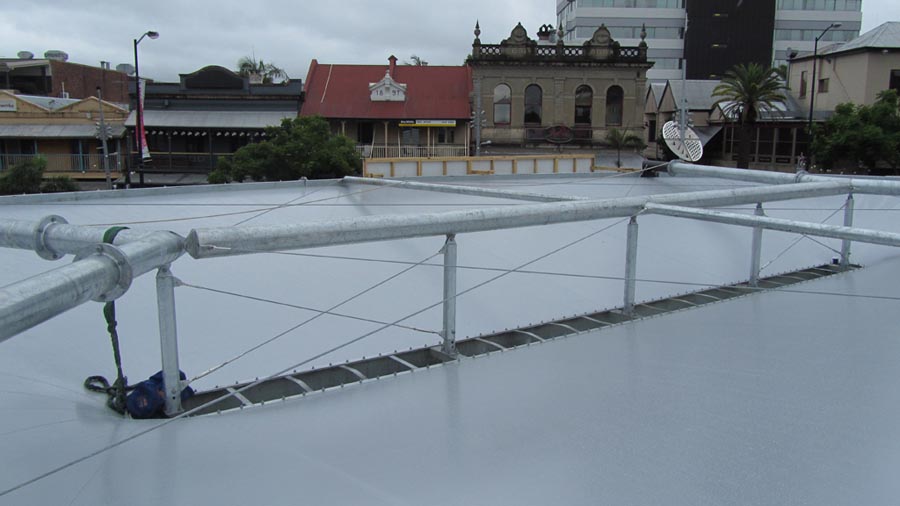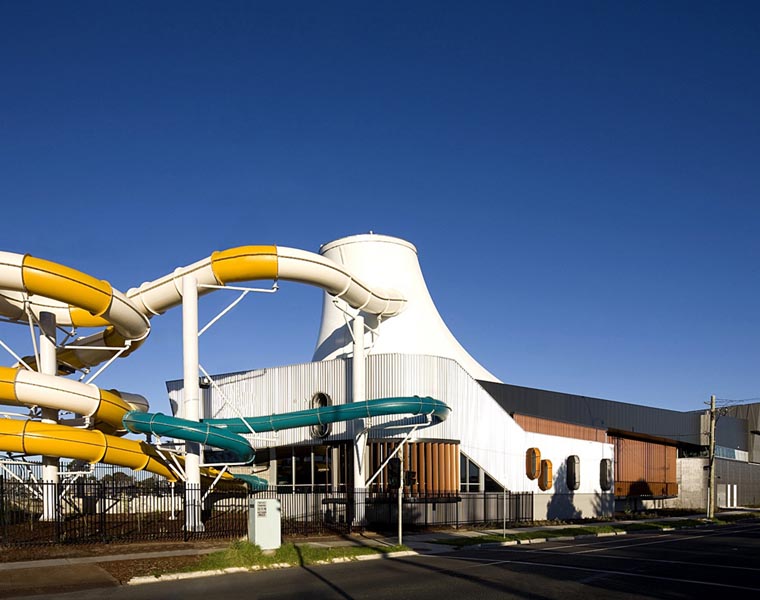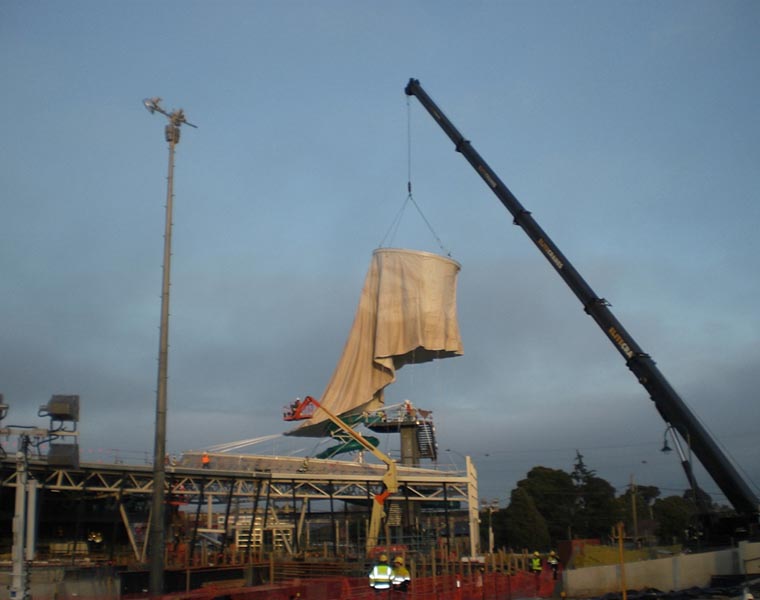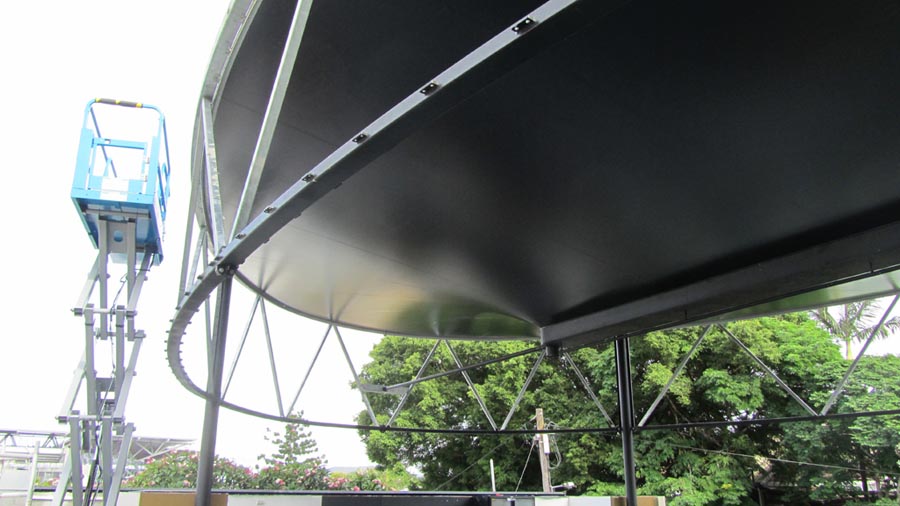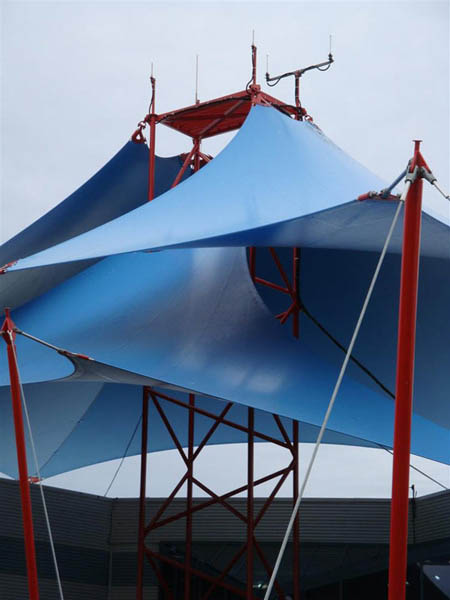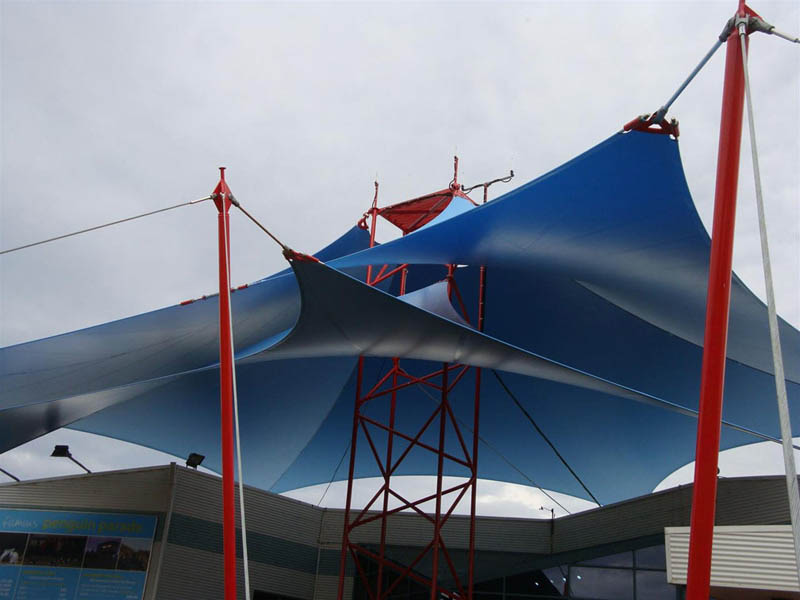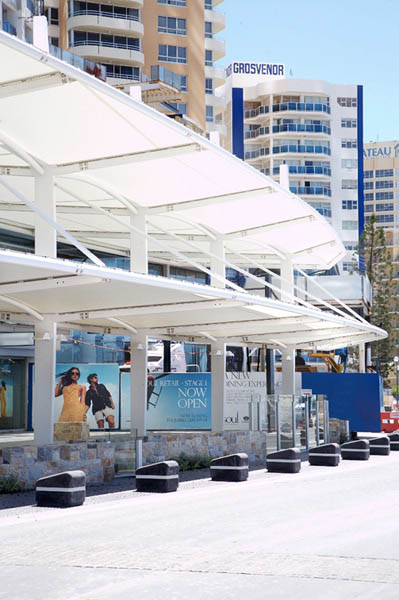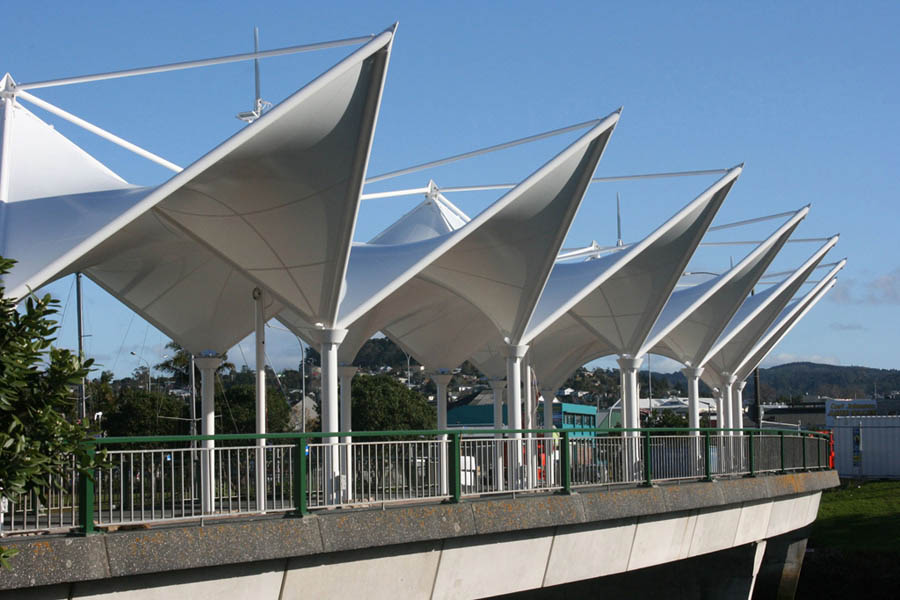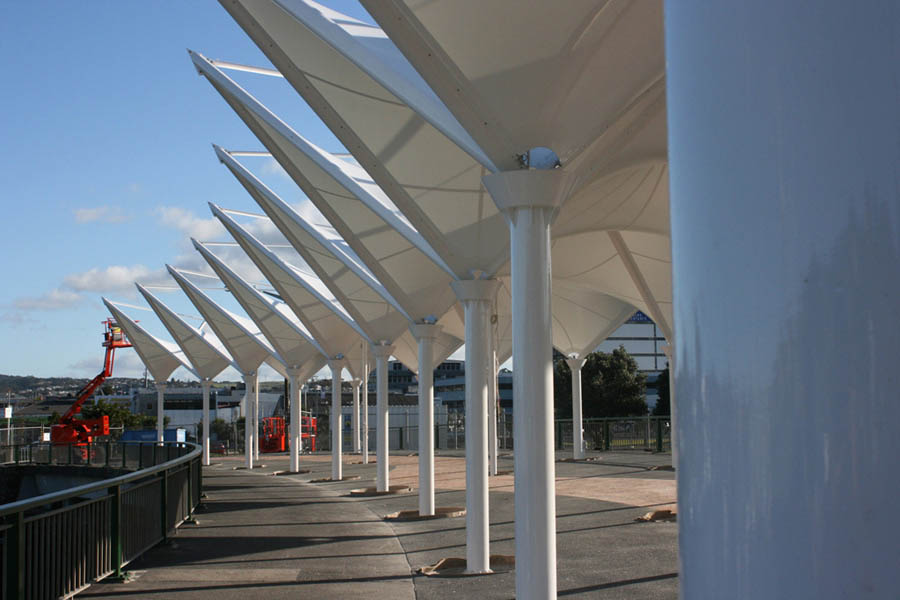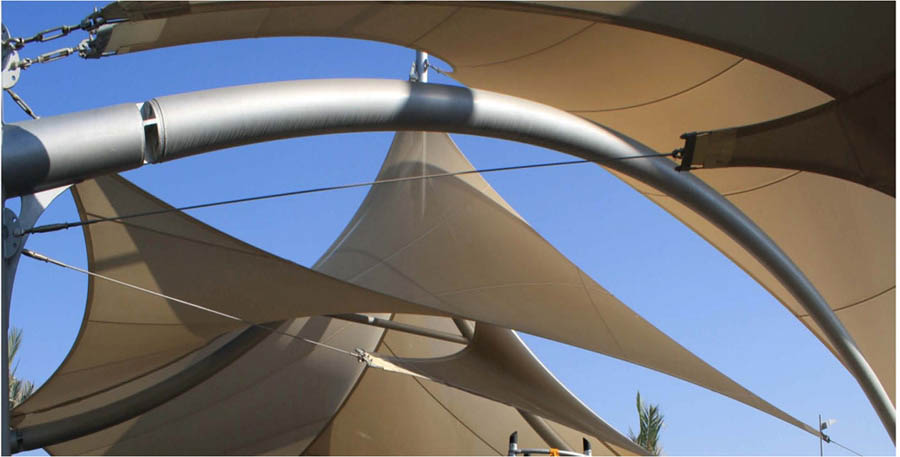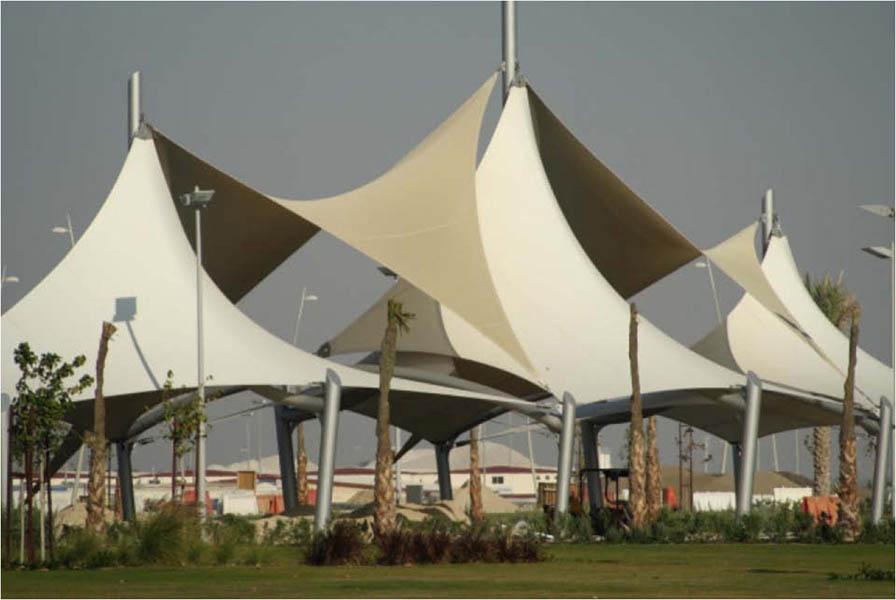 The following articles are in random order:
LSAA 2013 Design Awards - High Commendation
Glen Eira Aquatic Centre Insulated Tension Canopy
Entrant: Oasis Tension Structures
Category: 2 ID Number: 2926

Location: East Boundary Rd, East Bentleigh

Client: Glen Eira City Council

Completion Date: December 2011
Credits:
Architect: Mantric Architecture

Structural Engineer: Cardno Victoria Pty Ltd

Specialists: Tensys Engineers

Builder: Hansen Yuncken Pty Ltd

Fabricator: Atkins Fabrication Pty Ltd

Installer: Oasis Tension Structures
---
Judges Comments:
"Advances the technology in insulated membranes"
"Rather idiosyncratic form which answers a functional challenge, has a bit of fun, and provides some identity to a facility not short of disparate elements"
APPLICATION OF PROJECT: To encapsulate two vertically inter-twined waterslides, stairwell and support tower with a fully insulated tension structure.
PROJECT DESCRIPTION:
This is an insulated conic tension structure. A truncated, highly curved eccentric cone on an inclined elliptical ring beam, best describes the geometric definition of this structure. The architectural intent was to create a temperature controlled environment within a chlorinated water activity space and thereby satisfy ecologically sustainable development guidelines.
Yas Island - Gateway Park, Abu Dhabi
PROJECT DESCRIPTION
In total three structures with a combined coverage of 1930m2. The project consisted of two identical shade cloth structures comprising of eight Monotech HDPE 370 shade sails, 806m2 in plan area. The third structure of similar design comprised of six main sails of Fibertop PTFE and two hypar decorative sails in Monotech HDPE 370, 318m2 in plan area. The requirement for the project was an Iconic Design providing Solar Shading to shelter play equipment and BBQ facilities.
DESIGN / FABRICATION / INSTALLATION BRIEF
The client wanted to create an architectural centerpiece for this landscape area of YAS Island. The client's architects wanted to move away from the formality of the existing urban design scheme and create an eye-catching architectural feature in a natural landscape setting. The project site was part of extensive landscaping within the YAS Island development located near Abu Dhabi in the United Arab Emirates.

Dubai Outlet Mall - Entrance Dome
Entrant: Structurflex Ltd
Client: Emirates Engineering Services
Architect: ARENCO
Structural Engineer: Wade Consulting Group
Fabricator(s): Structurflex Ltd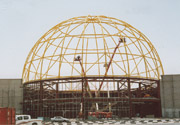 Isa Royal Military College Grand Stand Shade

Entrant: Light Weight Structures Advisory Service - Engineering Fabrication Installation
Location: Isa Royal Military College - Kingdom of Bahrain
Client: Alasco Group & Al Alaa Shade Company
Struct. Eng.: Trevor Scott & Jeremy Hunter
Specialist: LTWSAS
Builder & Fabricator: Al Alaa Shade Company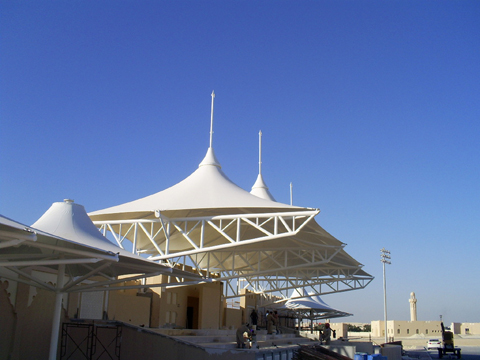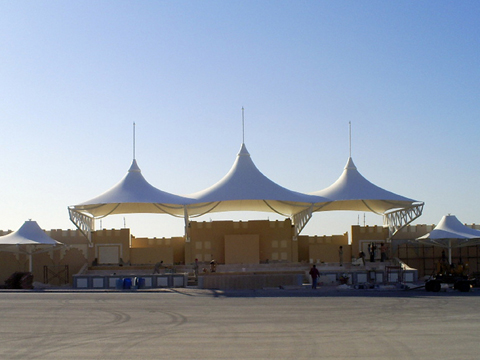 St Joseph's College Netball Court
Structureflex (Designer / Engineer)
Location: Echuca, Victoria. Completed: January 2015
Client: St Joseph's Catholic College
Team: Y2 Architects, Steve Huppert, John Killmister (Cert. Eng), Shade Living Pty Ltd, Fabric Solutions (membrane), Thornton Engineering (steel)
Aquinas College Forum Structure
Entrant: Tattersall Engineering
Client: Aquinas College / J A Dodd
Architect: Designinc Adelaide (Geof Naim)
Structural Engineer: Tattersall Engineering (See SEMF 2015)
Specialist Consultant(s): Wade Consultants
Builder: Tecraft Pty Ltd
Fabricator(s): Horizon Sailmakers / C E Bartlett, Riband (Steel)
A Noble & Son (Cables)