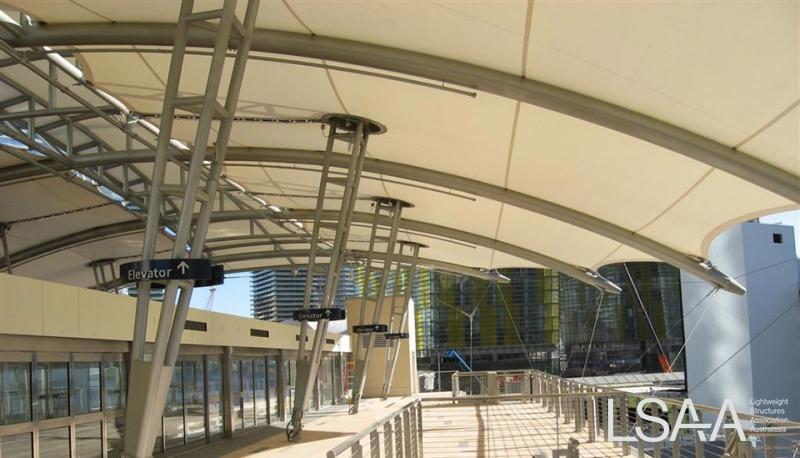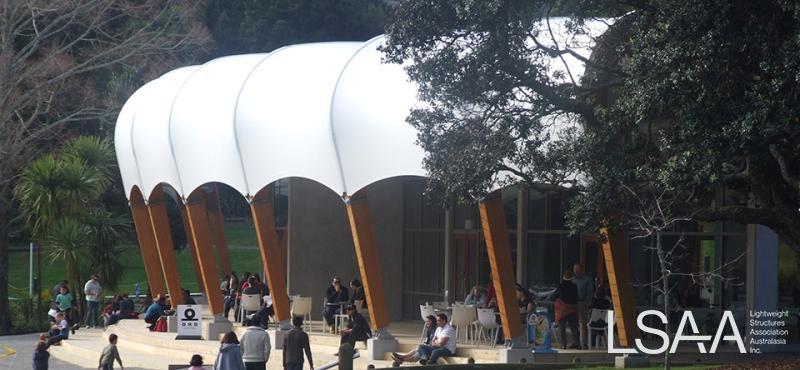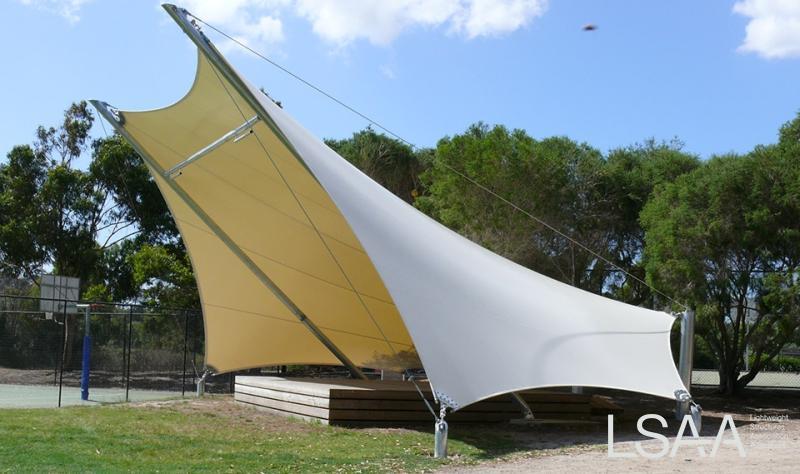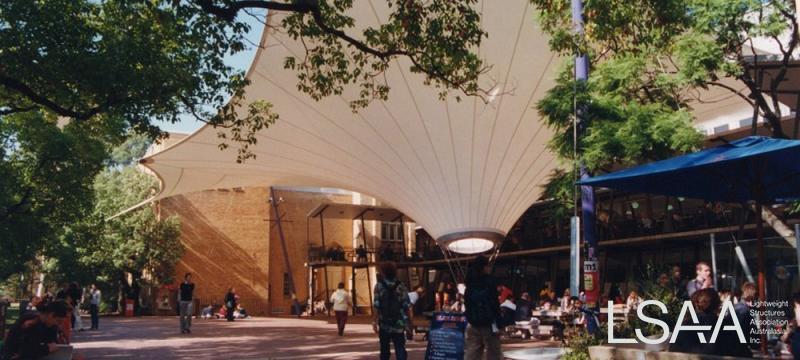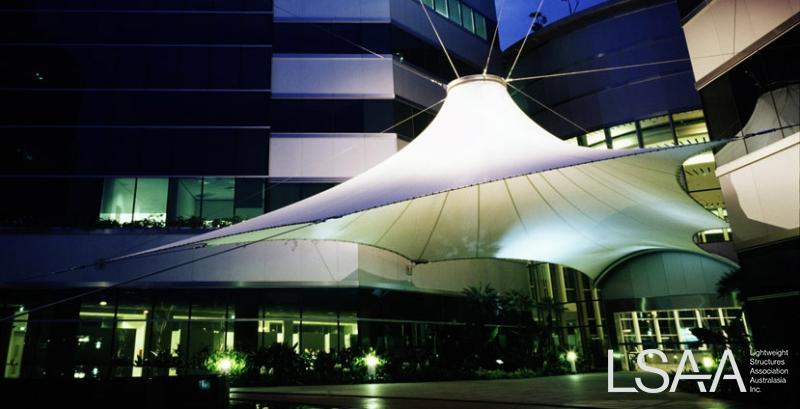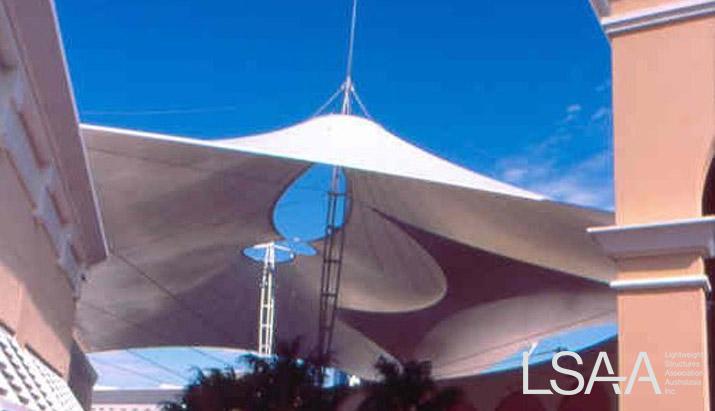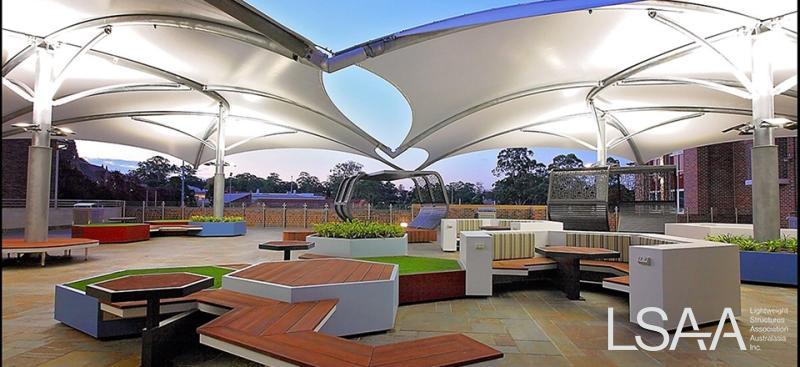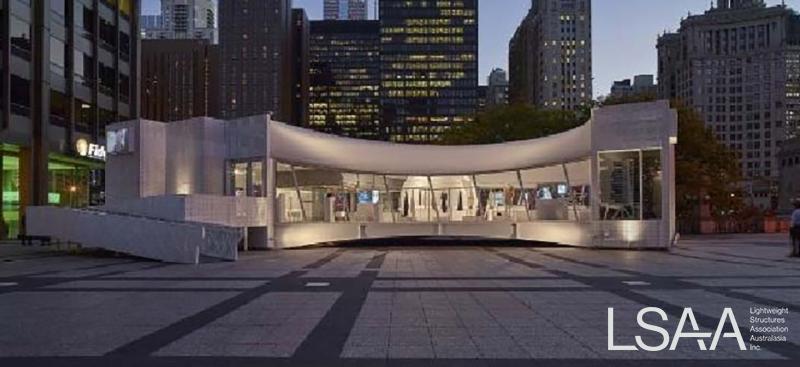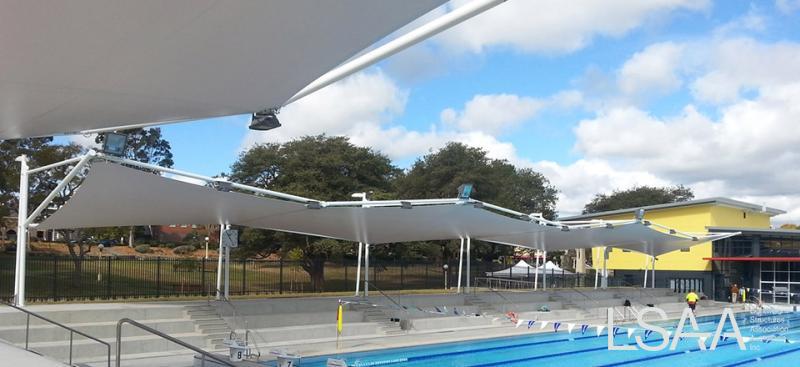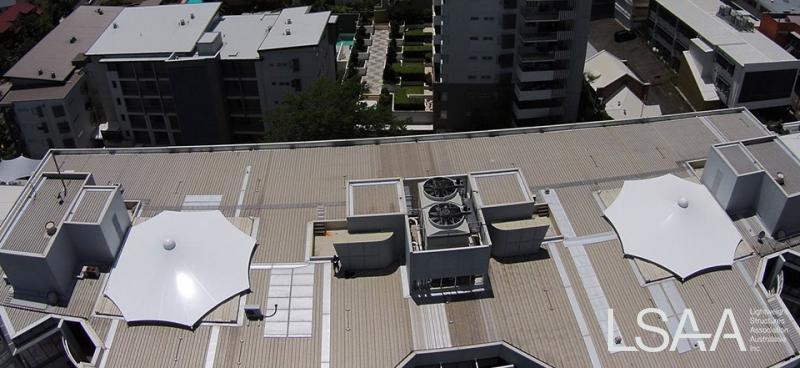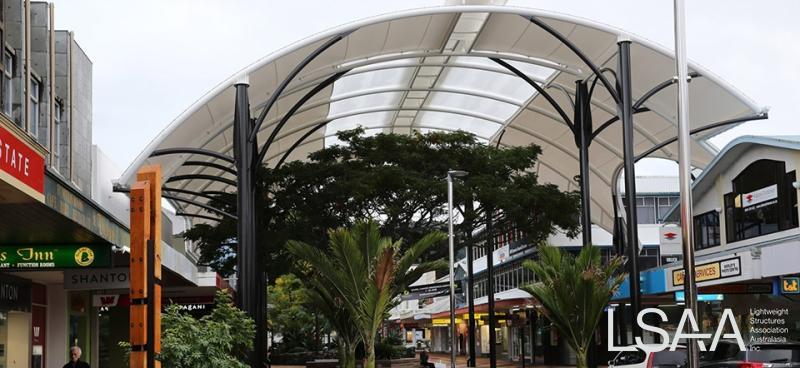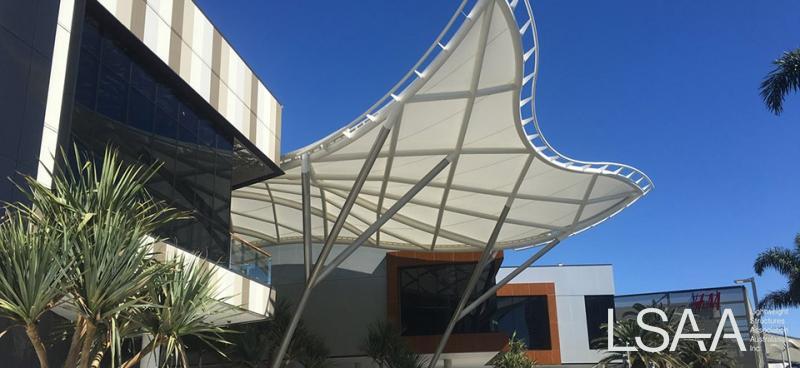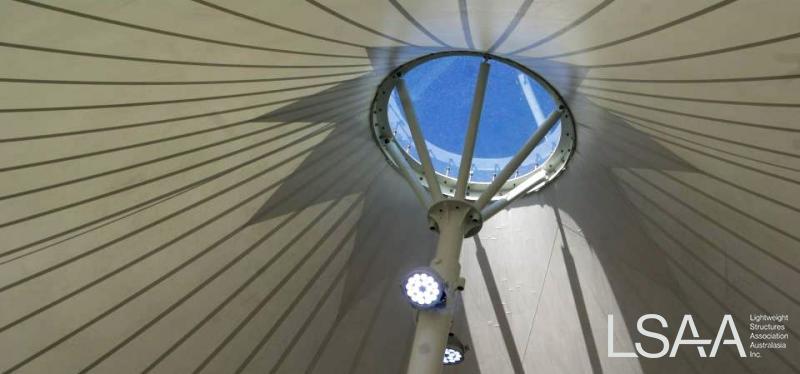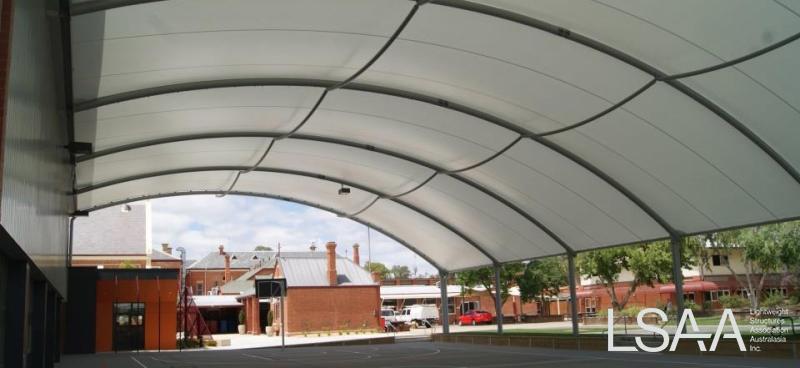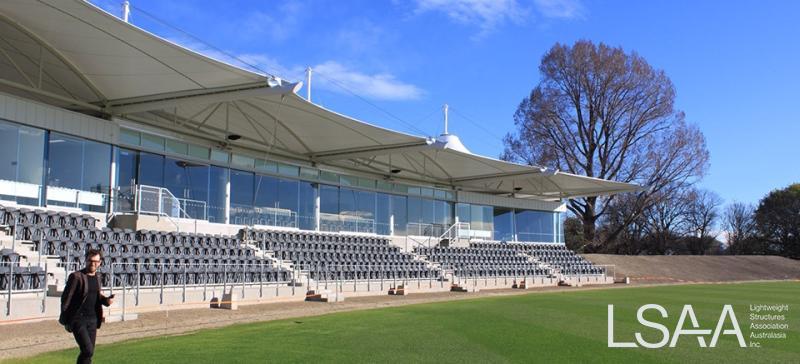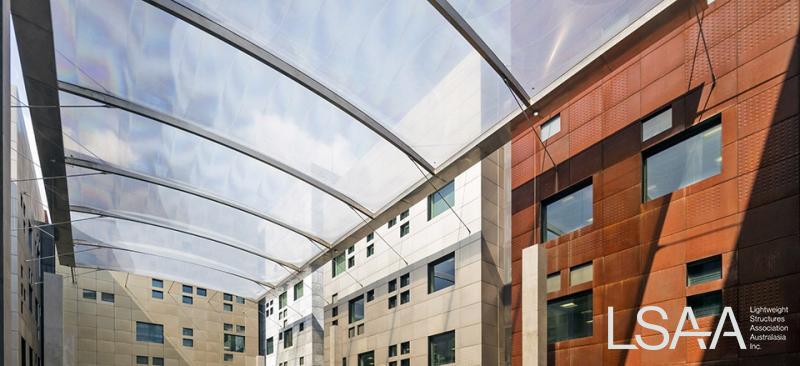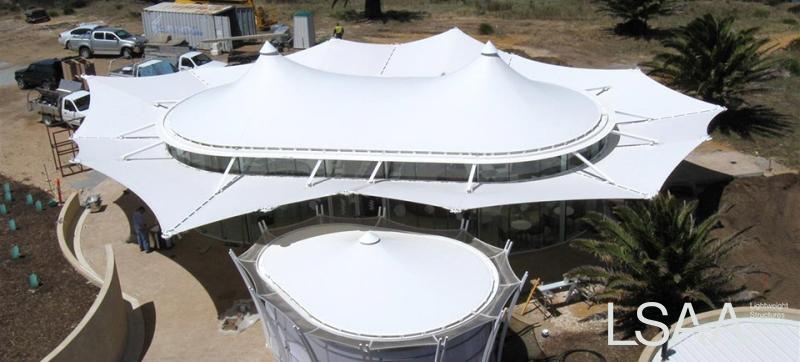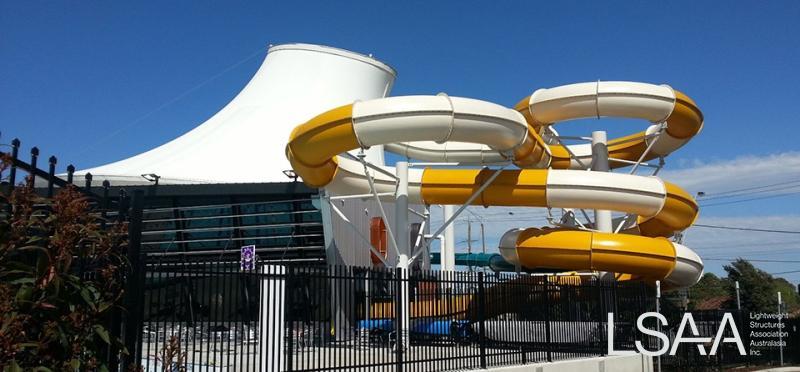 In terms of our LSAA Design Awards, a Medium sized Fabric Structure, or tensioned membrane structure) would have a surface area of between 250 and 1000 sqm.
Fabric or membrane structures of this size are often of one geometric form such as a conical structure with a central bale ring attached to a mast or tied down. The perimeter could be a series of edge cables, trusses or beams. If multiple units are used they the final structure may fall into the "large" category.
Other forms could be panels with internal diagonal arches, crossed arches, barrel vaults with intermediate valley cables.
The following articles are in random order:
CityCentre Automated People Mover
Entrant: Tensys Engineers Pty Ltd
Location: Las Vegas, USA
Client: MGM CityCentre.
Architect: Gensler
Struct. Eng.: Bouquet Structural Engineers, USA
Specialist: Tensys Engineers
Others: Fabritec Structures, USA
Builder: Clark Thor Construction Group, USA
Fabricator: Atkins Fabrication (Australia) Pty Ltd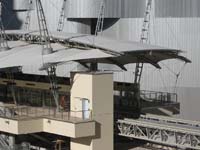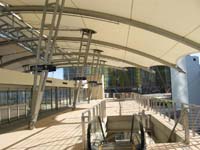 The following Medium Structure Projects were entered into the 2018 LSAA Design Awards in Category 2

Category 2 "Medium Structures"
2107 Carousel Shade Structures.

Mildura Riverfront Performance Venue
Entrant: Oasis Tension Structures (Australia) Pty Ltd
Location: Hugh King Boulevard - Mildura VIC
Client: City of Mildura Council
Architect: Jackson Architecture (Melbourne)
Struct. Eng.: Aurecon (Melbourne)
Specialist: Tensys Engineering (Australia) Pty Ltd
Others: A. Nobles & Sons (Australia) Pty Ltd
Builder: King Construction Pty Ltd
Fabricator: Atkins Fabrication (Australia) Pty Ltd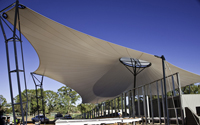 Entrant: Fabritecture
Category: 2 ID Number: 2301

Location: Brisbane

Client: AGS Construction

Completion Date: February 2012
Credits:
Architect: Teo Cavallo Architects

Structural Engineer: ADG

Fabricator: Fabritecture

Installer: Fabritecture
PROJECT DESCRIPTION:
Halo was designed to take full advantage of Brisbane's wonderful weather offering a sophisticated, open-air lounge environment. In the trendy suburb of Paddington on the West Side of Brisbane is the Caxton Street Precinct famous for its entertainment venues and bustling nightlife.
Hamilton Lake - Verandah Cafe
Entrant: Structurflex Ltd - Engineering Fabrication Installation
Location: Hamilton Lake Domain
Client: Hamilton City Council
Architect: 360 Architects
Struct. Eng.: Compusoft Engineering
Builder: Foster Construction
Fabricator: Structurflex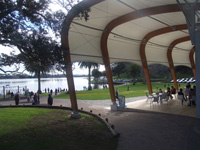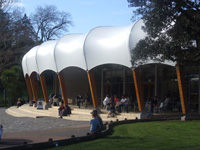 Soul Surfers Paradise, Australia
APPLICATION OF PROJECT:
Hospitality and Recreation: The tensile fabric structures provide shade canopies for the patrons of the alfresco dining areas as well as creating an aesthetic focal point to the front of the apartment building at Soul, Surfers Paradise.
PROJECT DESCRIPTION
Two tensile canopy structures were created as part of the $850 million beachfront Soul development project in Surfers Paradise. The multi‐level PTFE membrane structures covering the outdoor dining areas were designed to follow the radial lines of the adjacent building and walkways while seamlessly integrating with the surrounding buildings.
The design requirements were:
• Offer weather protection for patrons
• To maintain ocean views from all levels of surrounding buildings
• Create an architectural feature to attract attention to the area
• Materials and design to allow for minimal maintenance and cleaning
The tensile shade canopies utilise the full benefit of Soul's alfresco dining areas, highlighting and capturing the ocean views and enhancing the beauty of the surrounding natural environment. The result is a striking architectural landmark that attracts attention to the Soul development.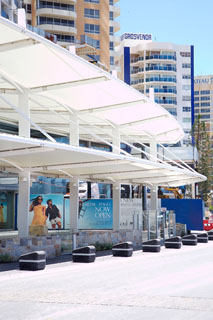 Aquinas College Forum Structure
Entrant: Tattersall Engineering
Client: Aquinas College / J A Dodd
Architect: Designinc Adelaide (Geof Naim)
Structural Engineer: Tattersall Engineering (See SEMF 2015)
Specialist Consultant(s): Wade Consultants
Builder: Tecraft Pty Ltd
Fabricator(s): Horizon Sailmakers / C E Bartlett, Riband (Steel)
A Noble & Son (Cables)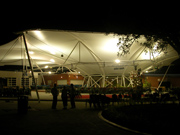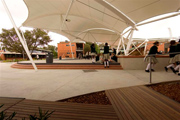 Sydney Aquarium Dugong's at Mermaid Lagoon

Entrant: UFS Australasia Pty Ltd - Designer / Fabricator
Location: Sydney Aquarium - Darling Harbour Sydney
Client: Sydney Attractions Group
Struct. Eng.: Wade Consulting
Builder: Universal Fabric Structures / Ozrig
Fabricator: Fabric Shelter Systems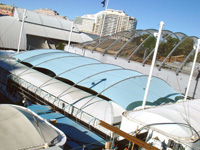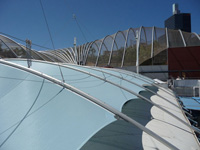 Great Southern Oceans
Entrant: Architectural Sails
Client Zoological Parks Board of New South Wales
Architect: Jackson Teece Architects
Structural Engineer: Hughes Trueman (Concept Design)
Specialist Consultant(s): Wade Consulting Group, Meinhardt
Builder:
Fabricator(s): Architectural Sails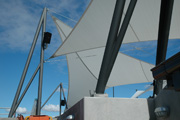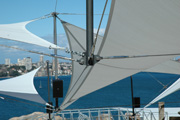 St Joseph's College Netball Court
Structureflex (Designer / Engineer)
Location: Echuca, Victoria. Completed: January 2015
Client: St Joseph's Catholic College
Team: Y2 Architects, Steve Huppert, John Killmister (Cert. Eng), Shade Living Pty Ltd, Fabric Solutions (membrane), Thornton Engineering (steel)
Hagley Oval - Cricket Pavilion
Fabric Structure Systems (Designer / Fabricator / Installer)
Location: Christchurch, New Zealand. Completed: October 2014
Client: Cantebury Cricket Association
Team: Athfield Architects, Wade Design Engineers Ltd, Southbase, Fabric Structure Systems
Pacific Fair Porte Cochere
Fabritecture (Designer and Installer)
Location: Broadbeach, QLD. Completed: Feb 29 2016
Client: Scentre Group (Westfield)
Team: Scentre Group (Westfield), Wade Design, Fabritecture, Textile Fabrication Services, Fabritecture