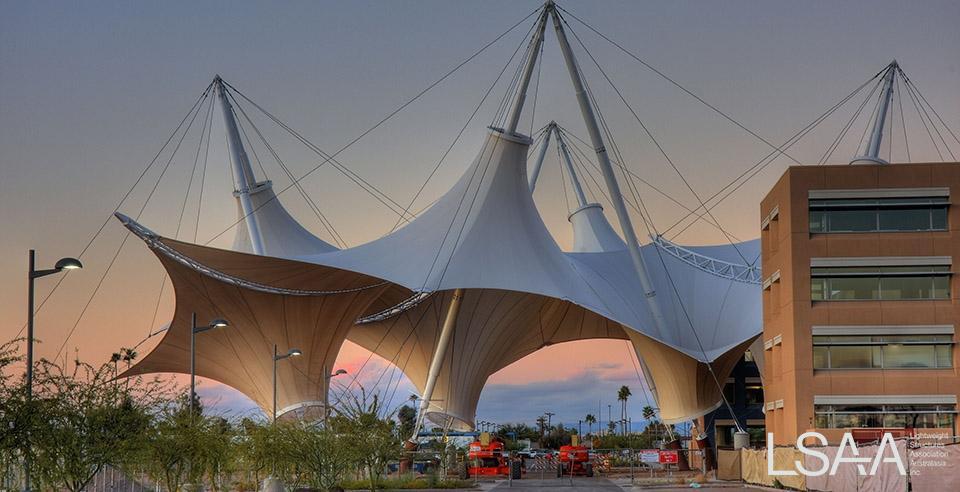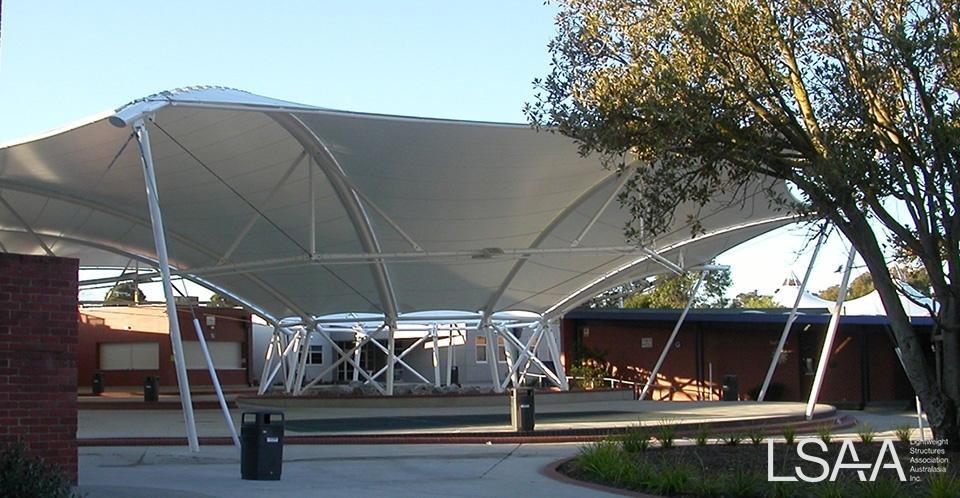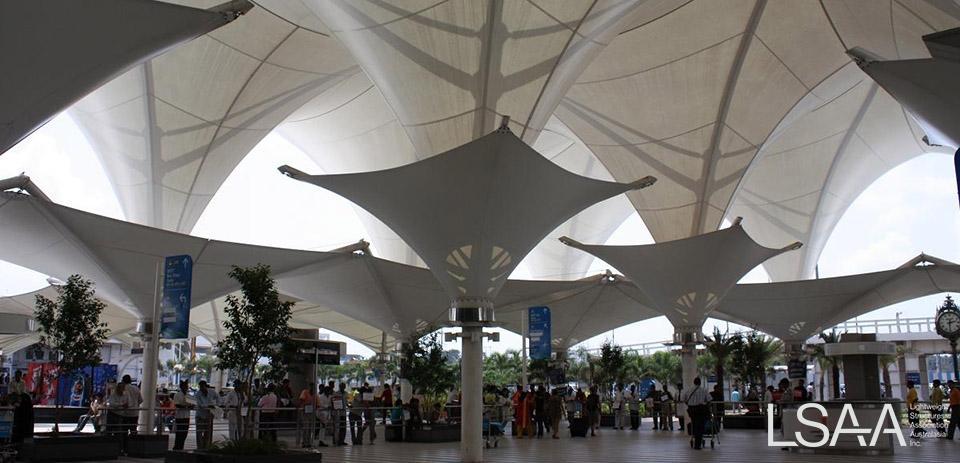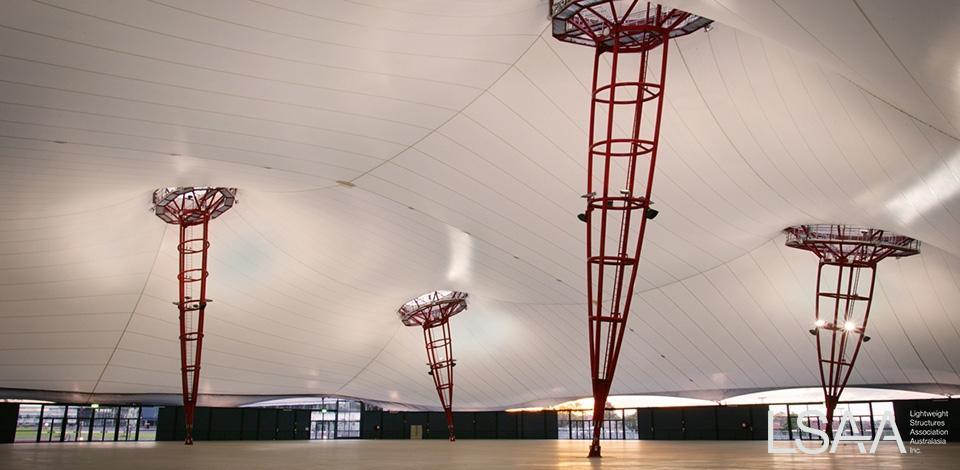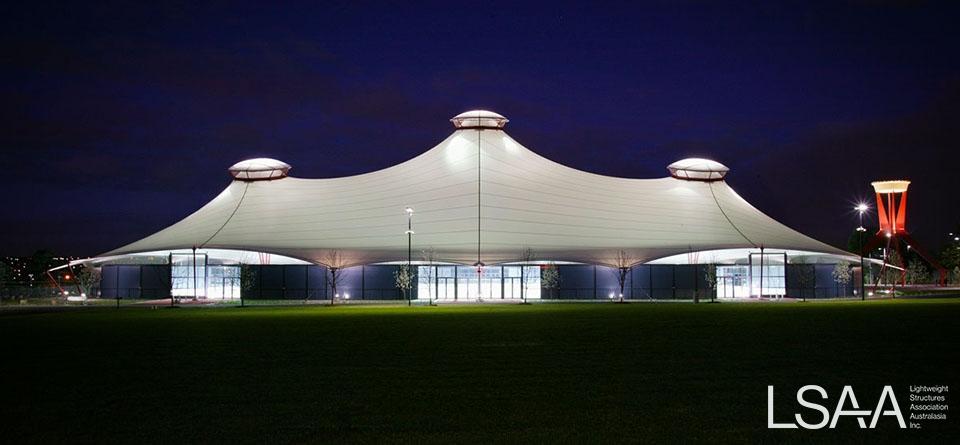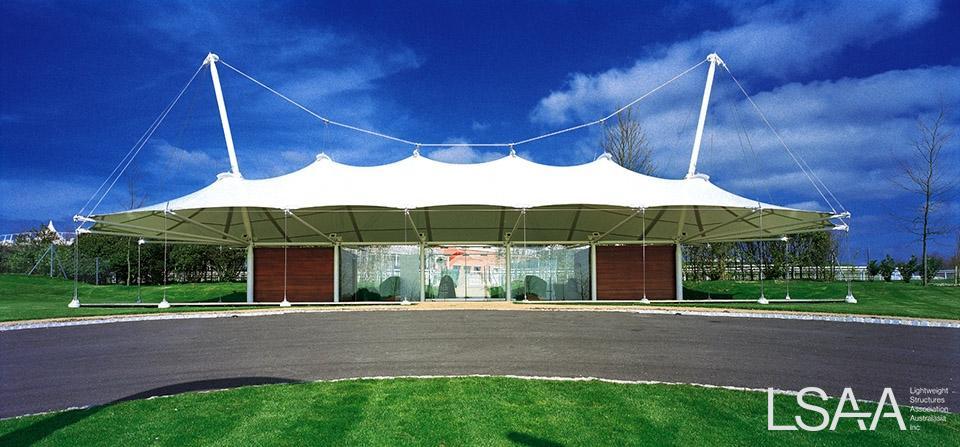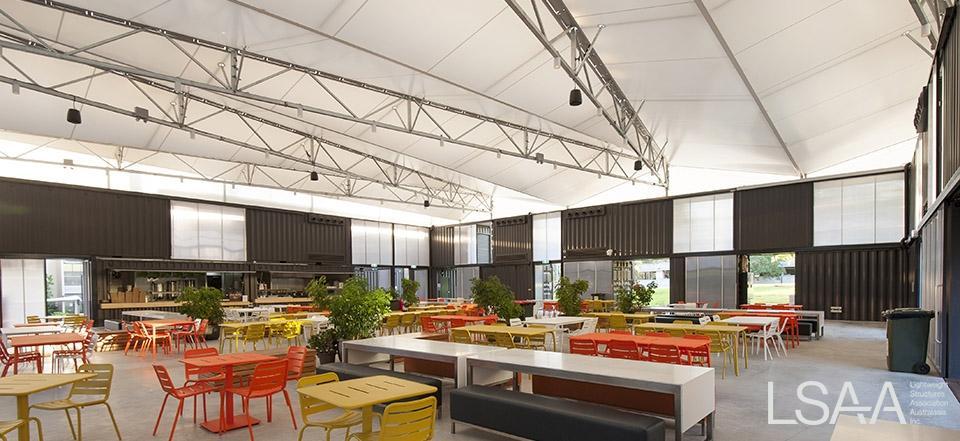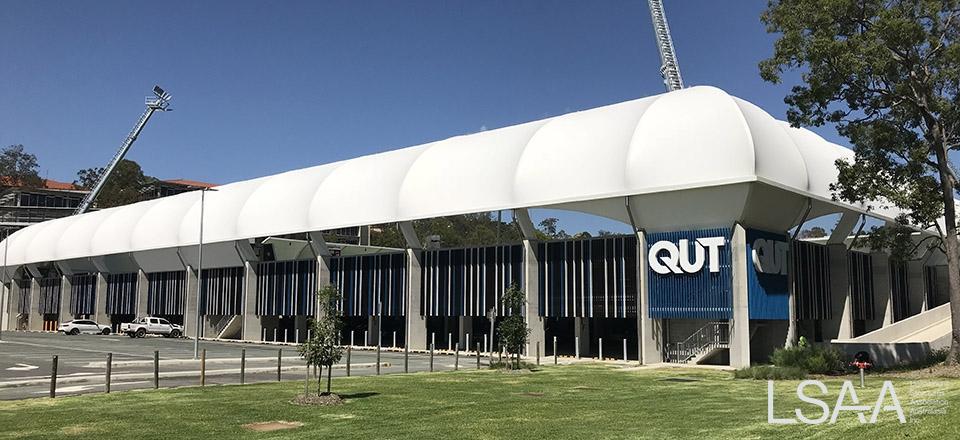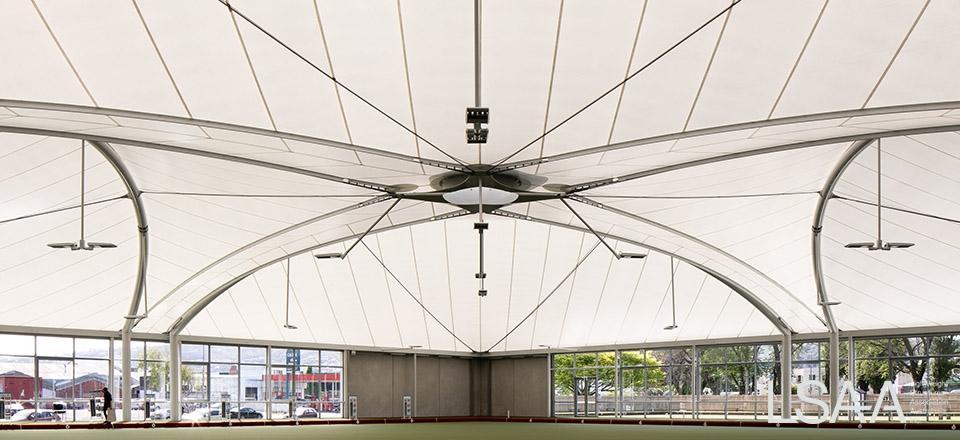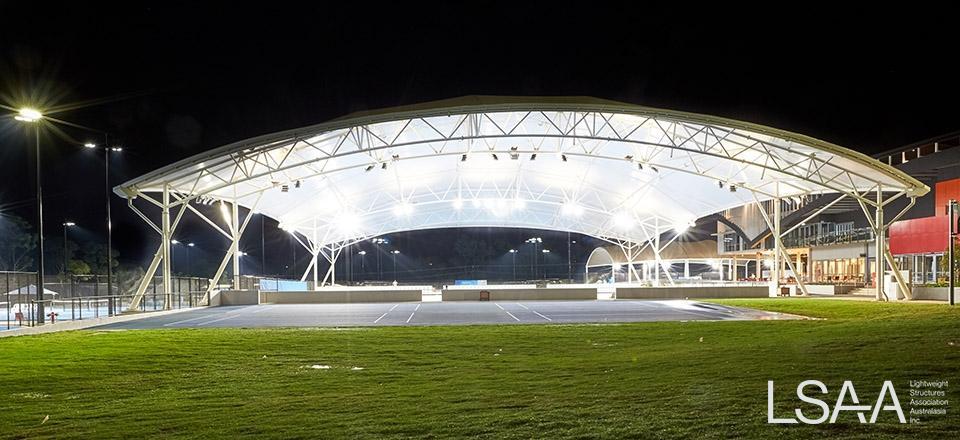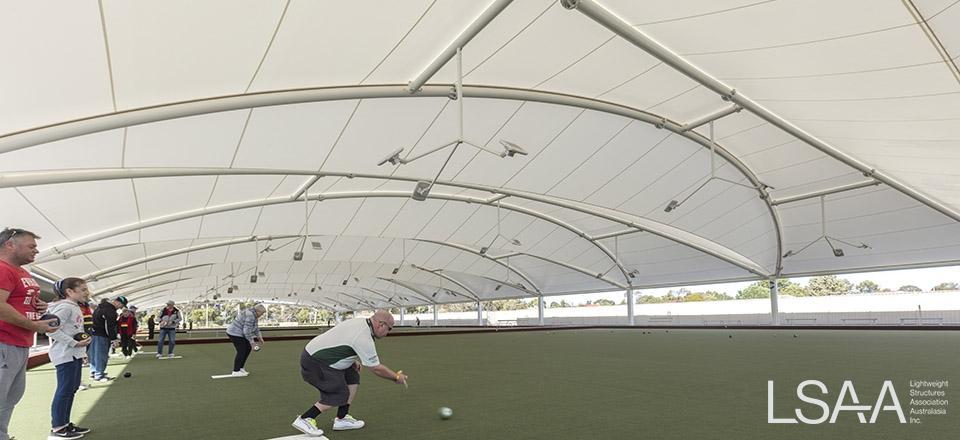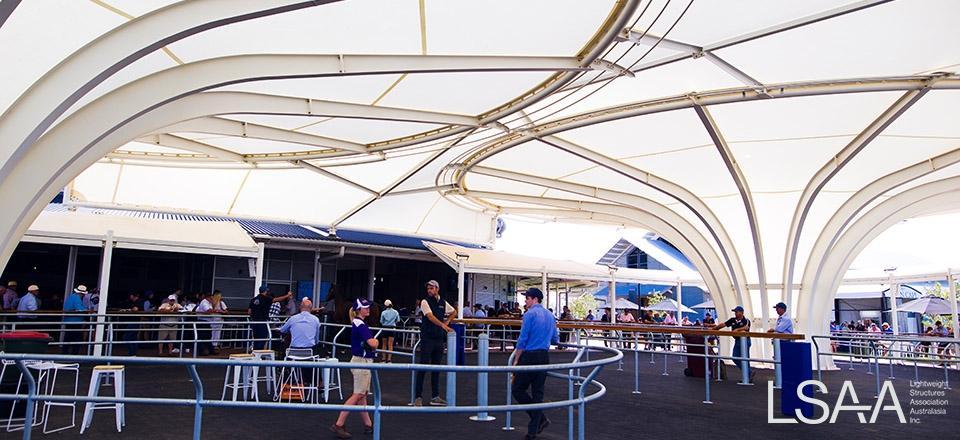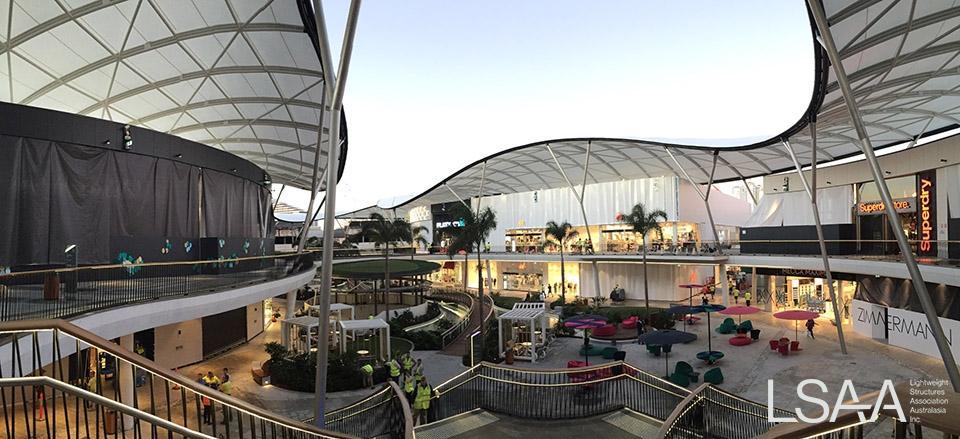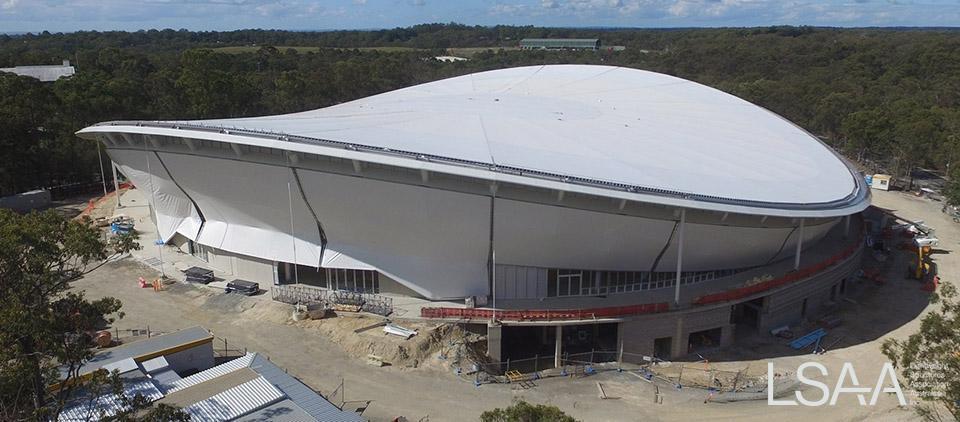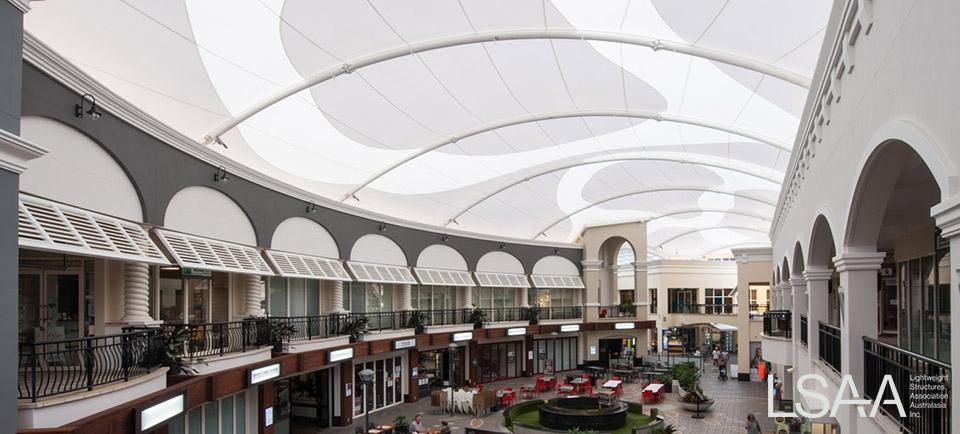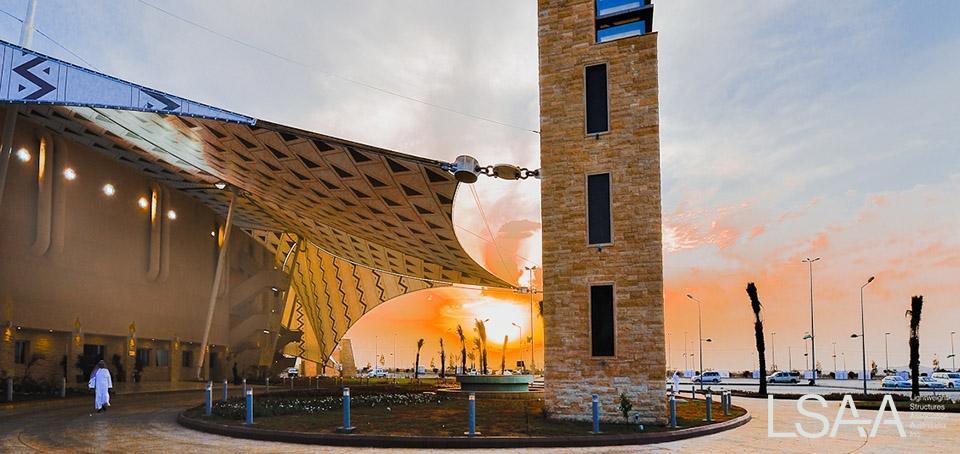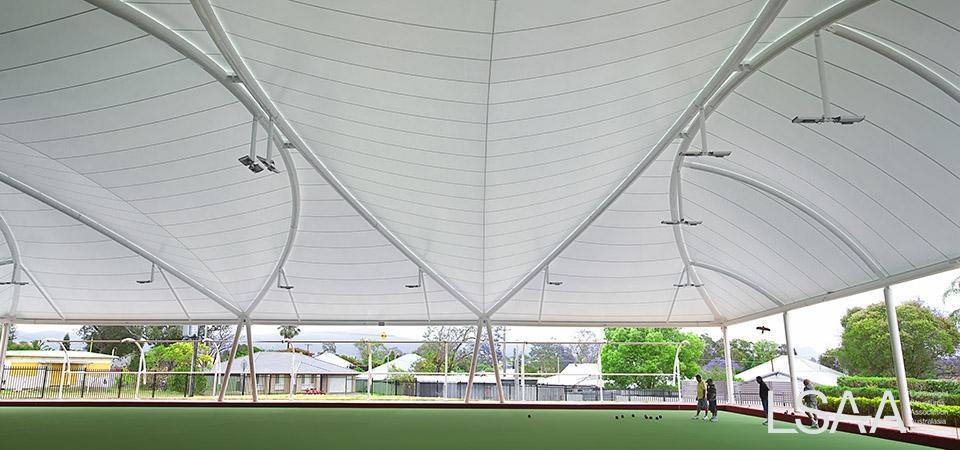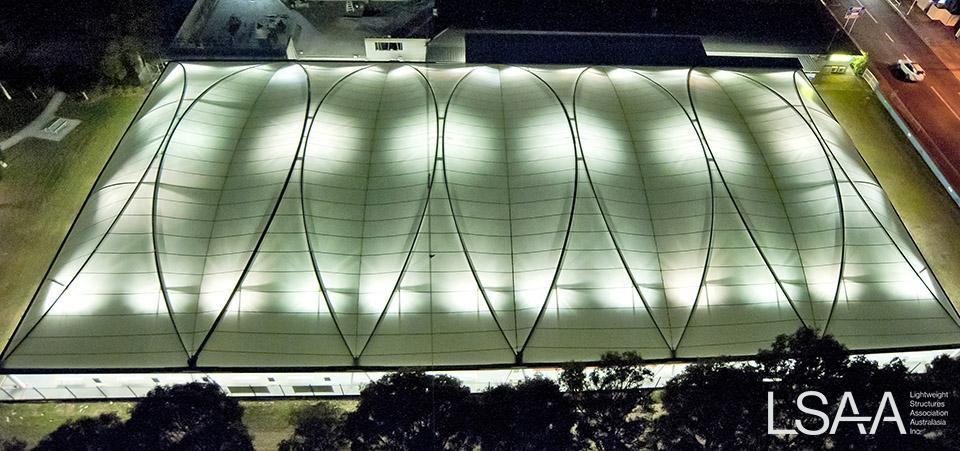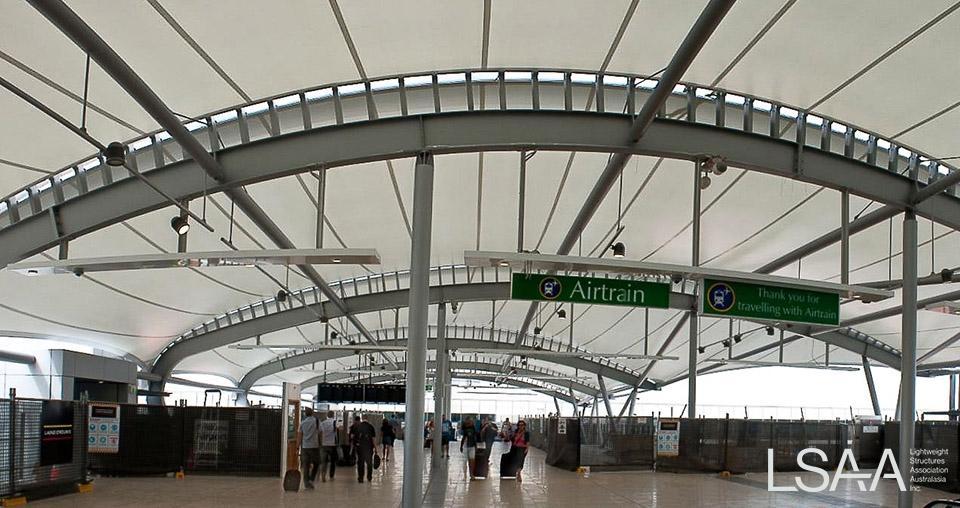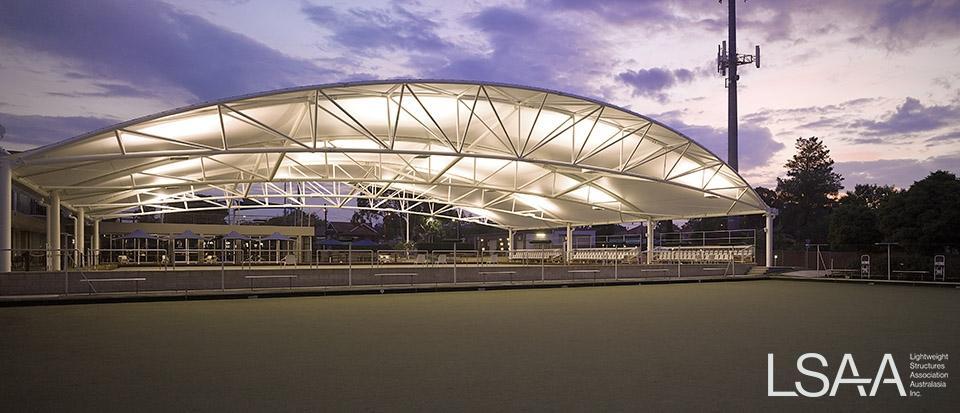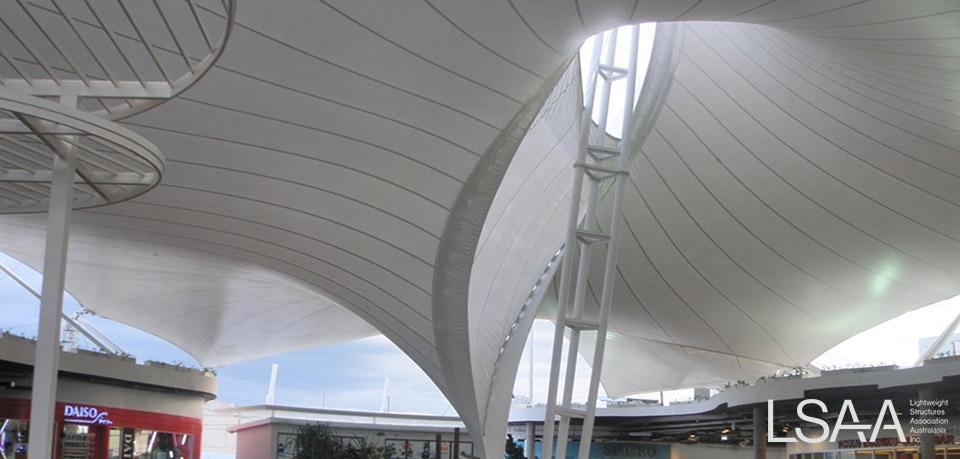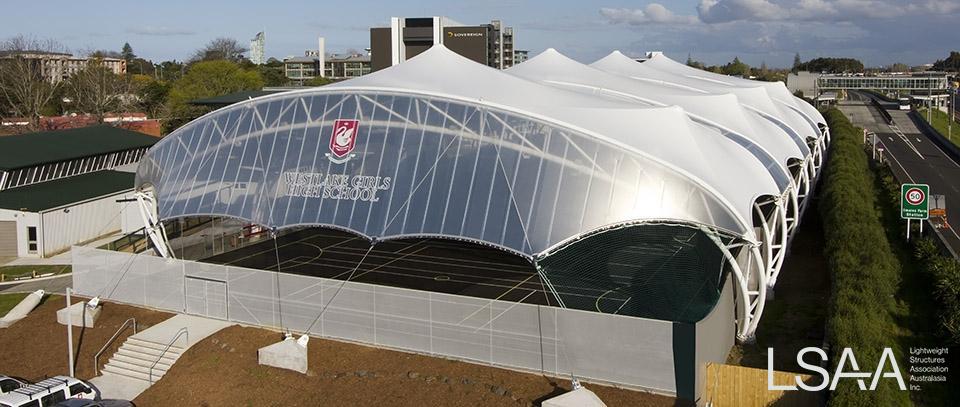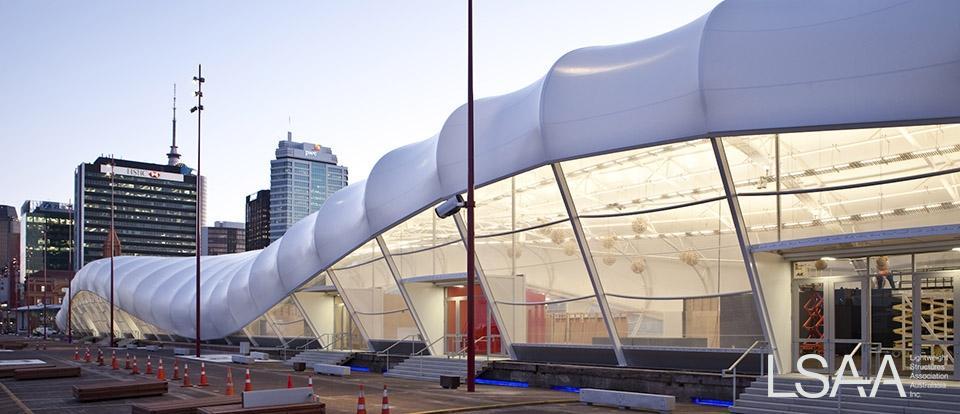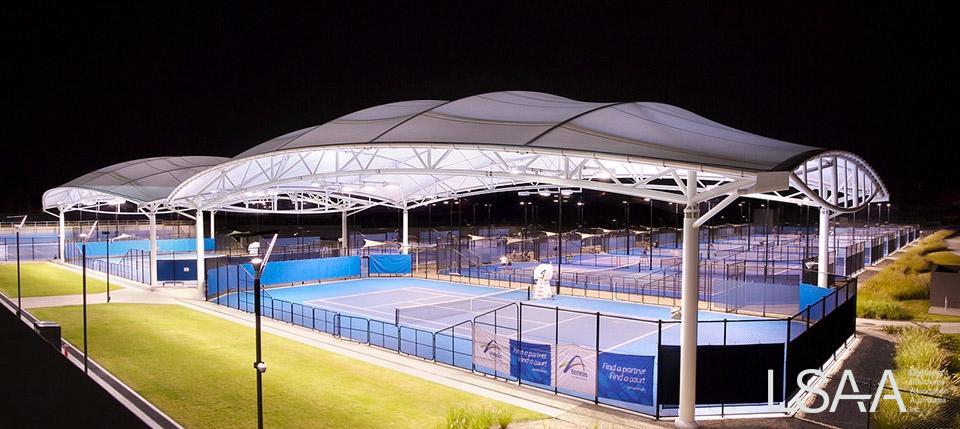 Large fabric structures have generally been thought of as those that have a fabric surface area greater than 1000 square metres. These structures may be described as single surfaces or panels in the form of one of the classic hypars, barrel vaults, cones, panels with single or crossing arches - or a combination.
Larger fabric structures can also be made from several modules or panels of similar forms to build up a substantial sized structure. The multiple panels might be arranged in a linear layout, or in a circular or oval pattern commonly found in stadia roofs. The boundaries are defined structurally and geometrically by straight or curved elements such as arches, edge beams and cables. The prestress forces from adjacent panels often counterbalance and the more efficient structures have a larger degree of symmetry and continuity such as a complete "bicycle wheel" for the roof a major sports stadium. Stadiums are grouped in a separate menu item.
The following articles are in random order: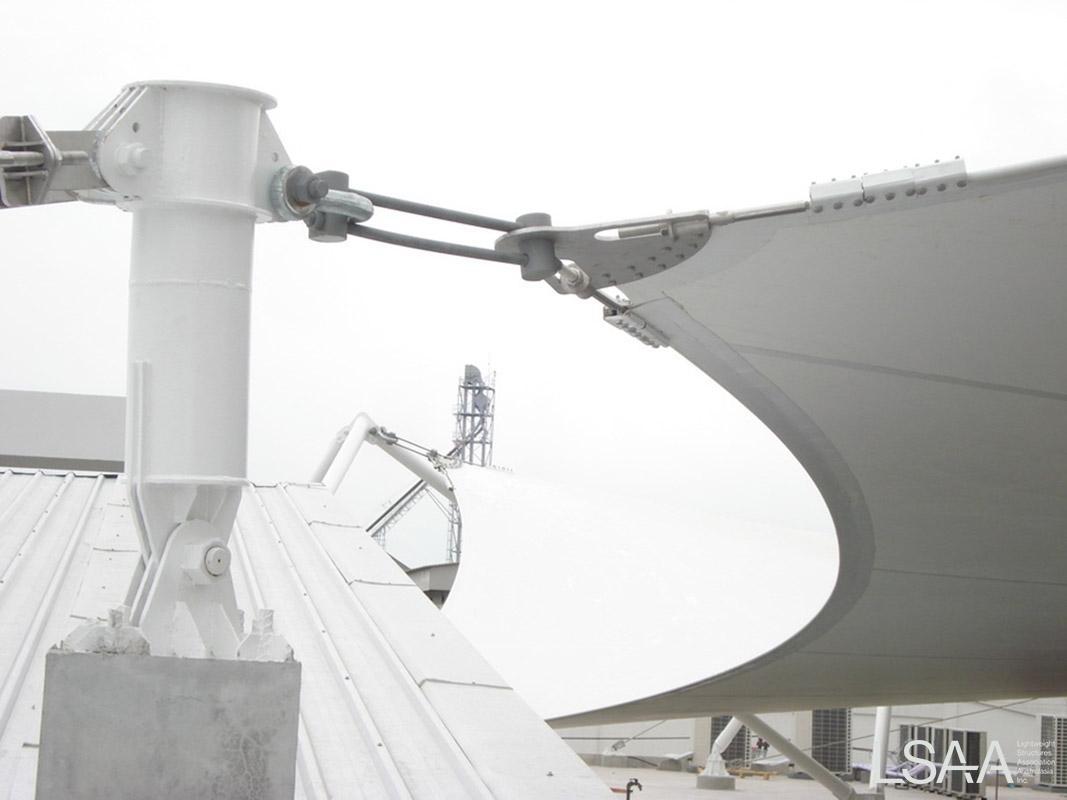 LSAA Design Awards 2013 High Commendation (Cat 4, 4166)
Project: Porto Chino
Entrant: Geometal Limited
Location: Samut Sakhon, Thailand

Client: D Land Group Co., Ltd

Completion Date: July 2012
Judges Comments:
"Contemporary structures have departed this dramatic curved shape tensiles, a nice return to Otto era."
"Seems an imaginative and successful answer to the challenge of unifying a shopping centre in need of some focus. The geometry of the main roof form adds interest to what could have been merely a pragmatic solution."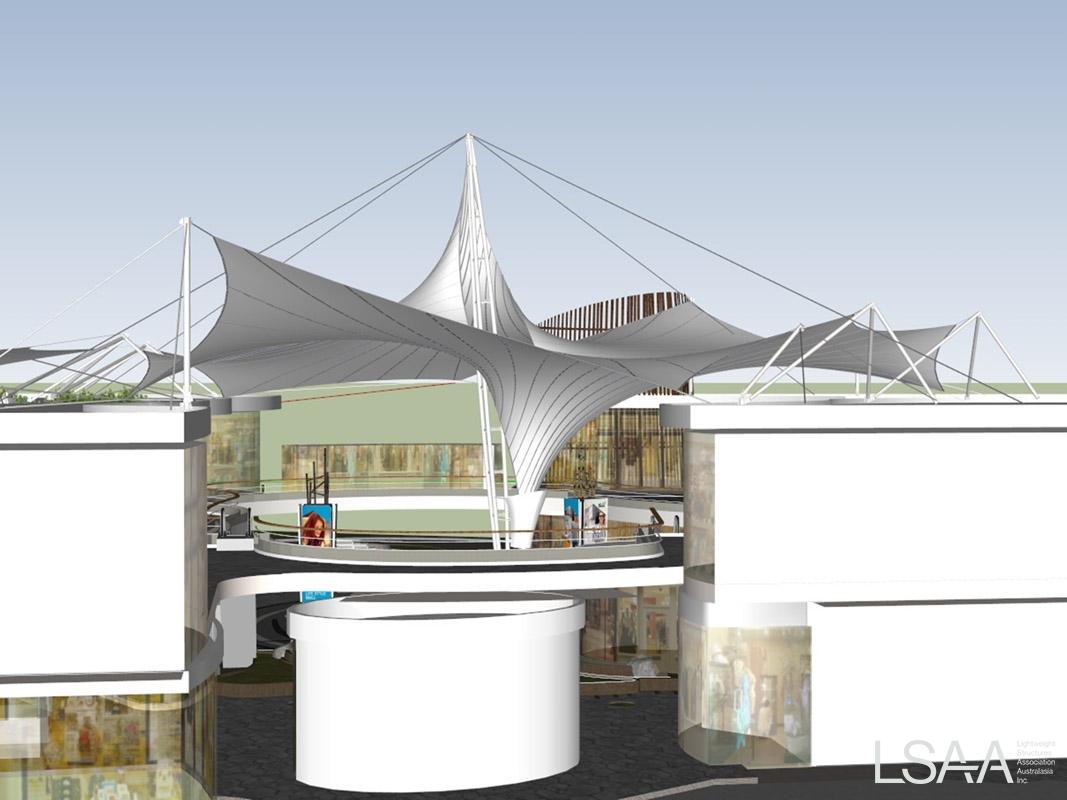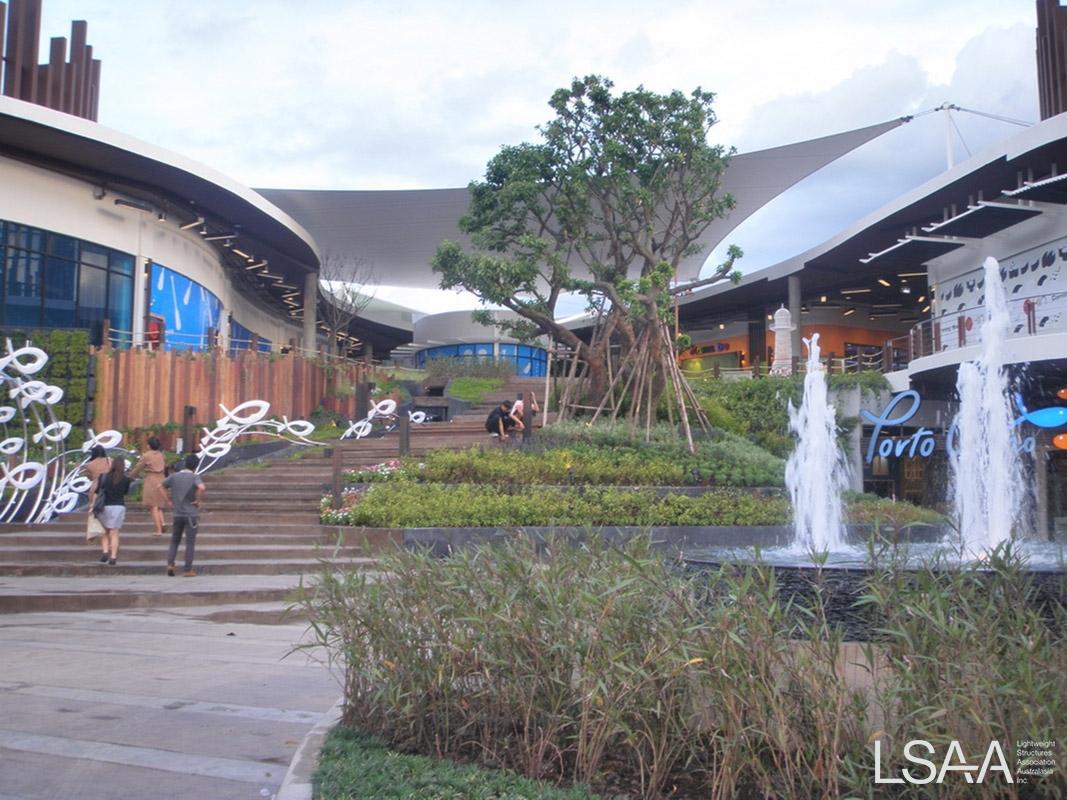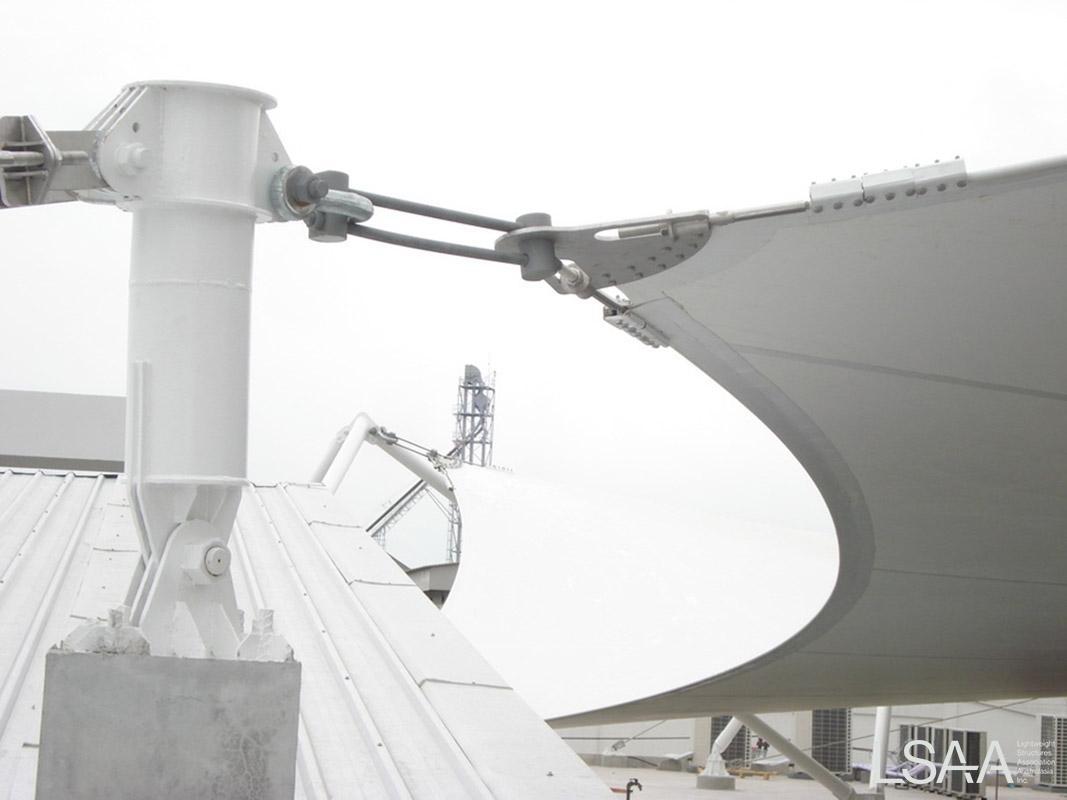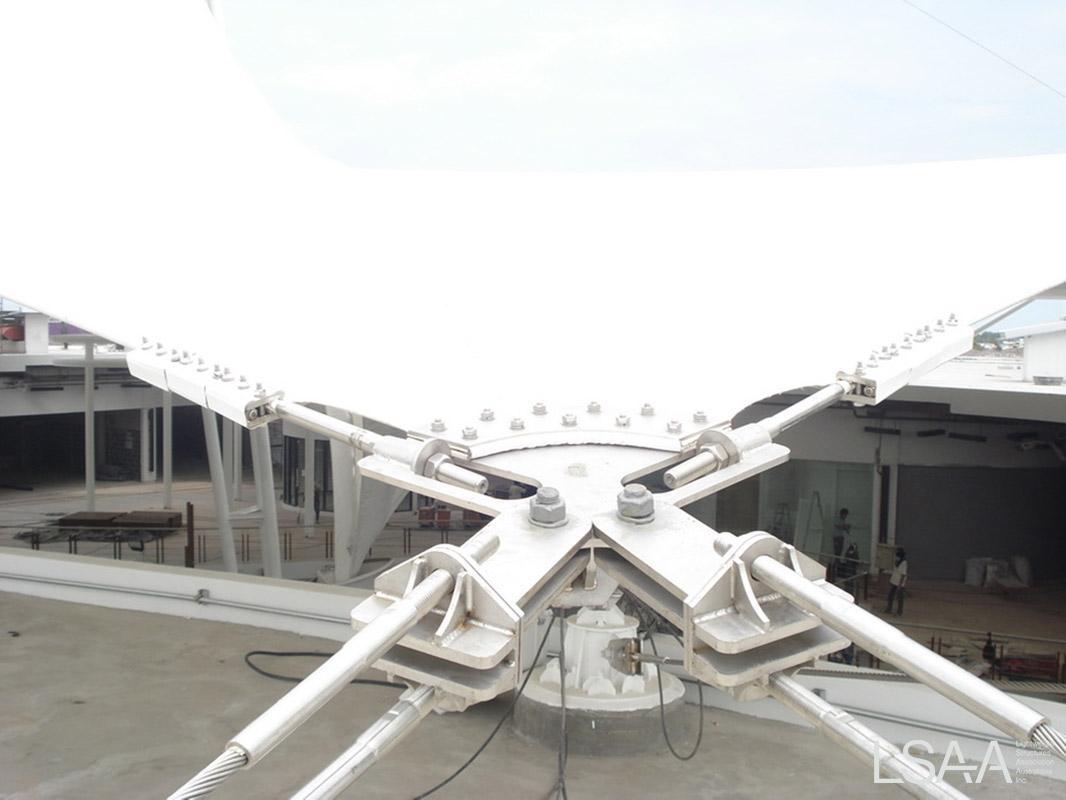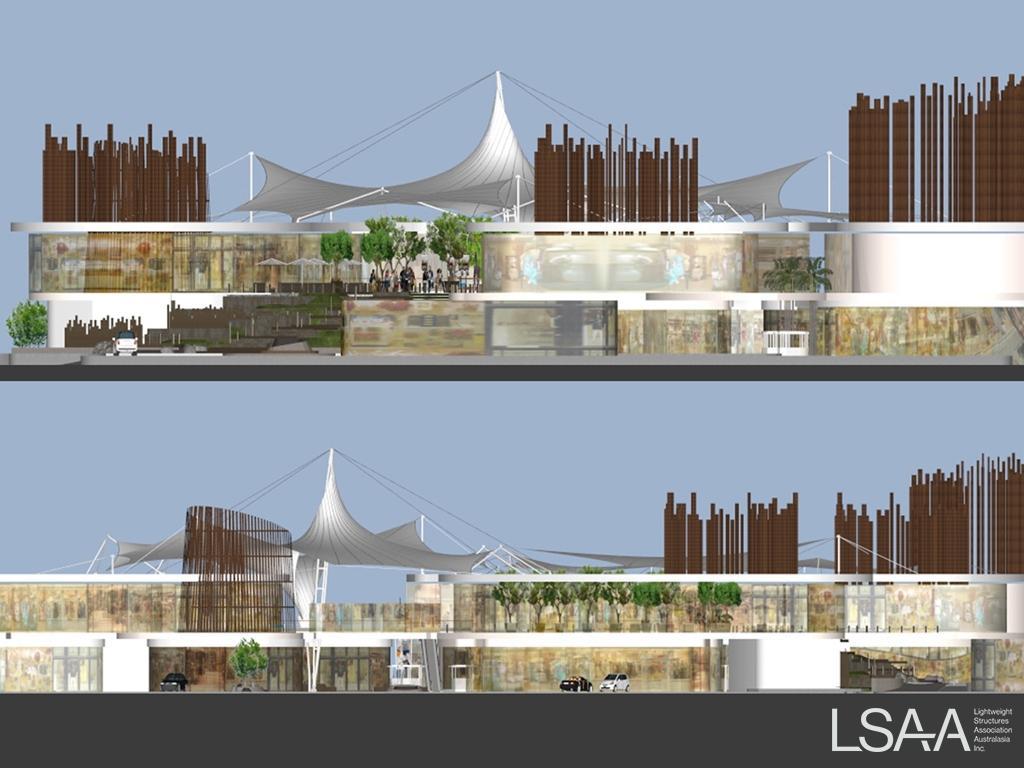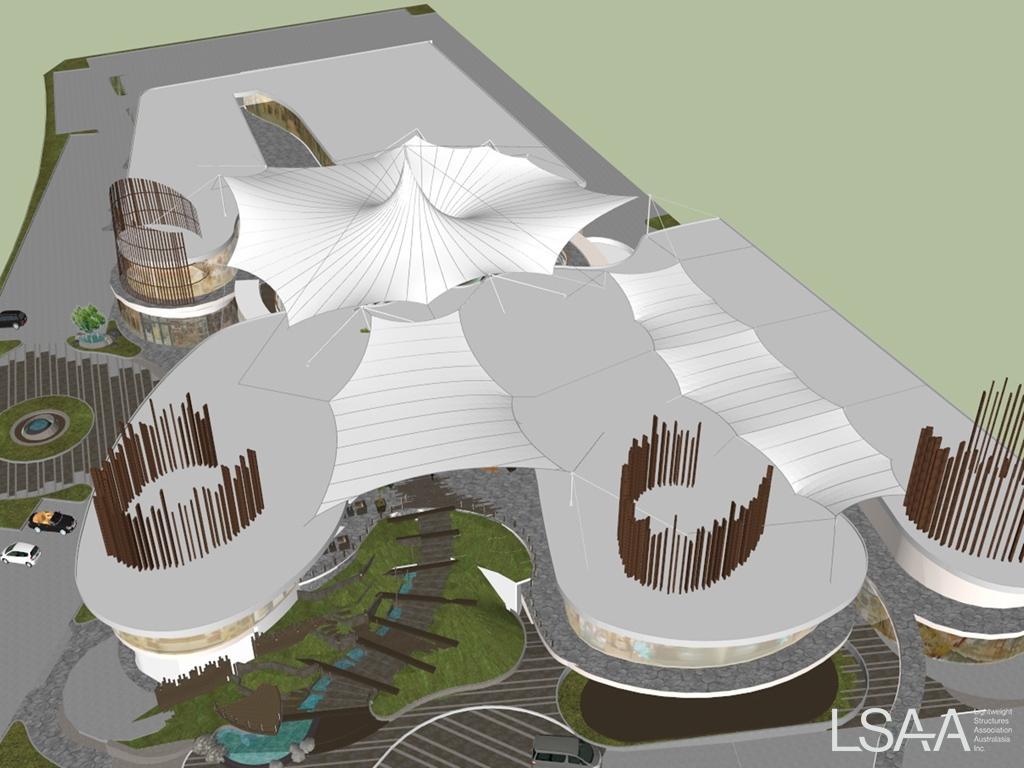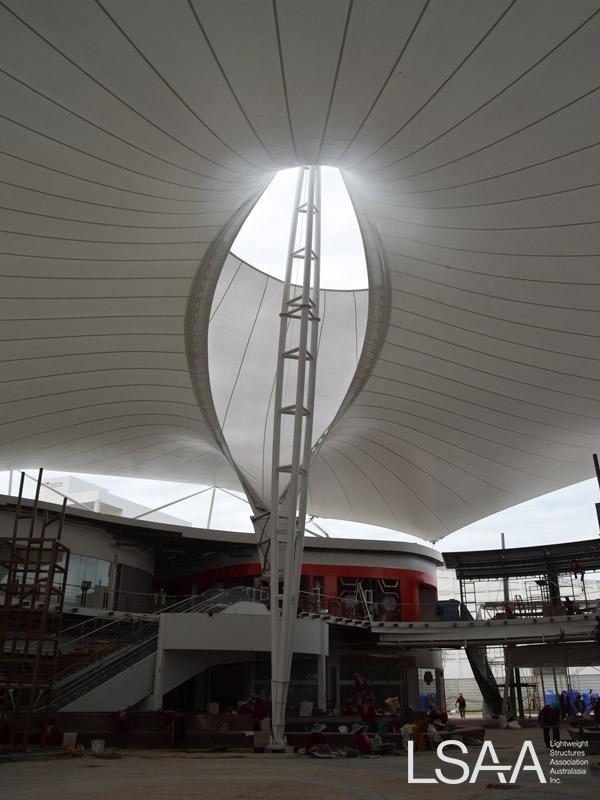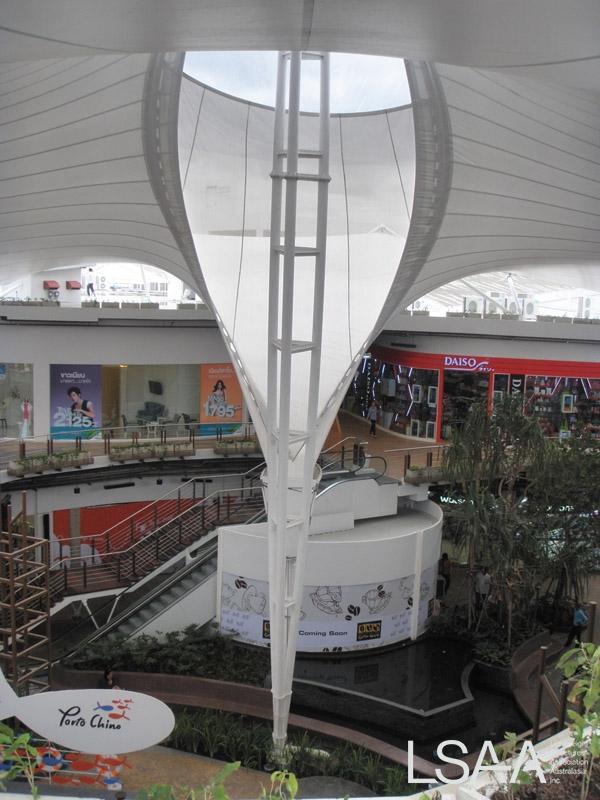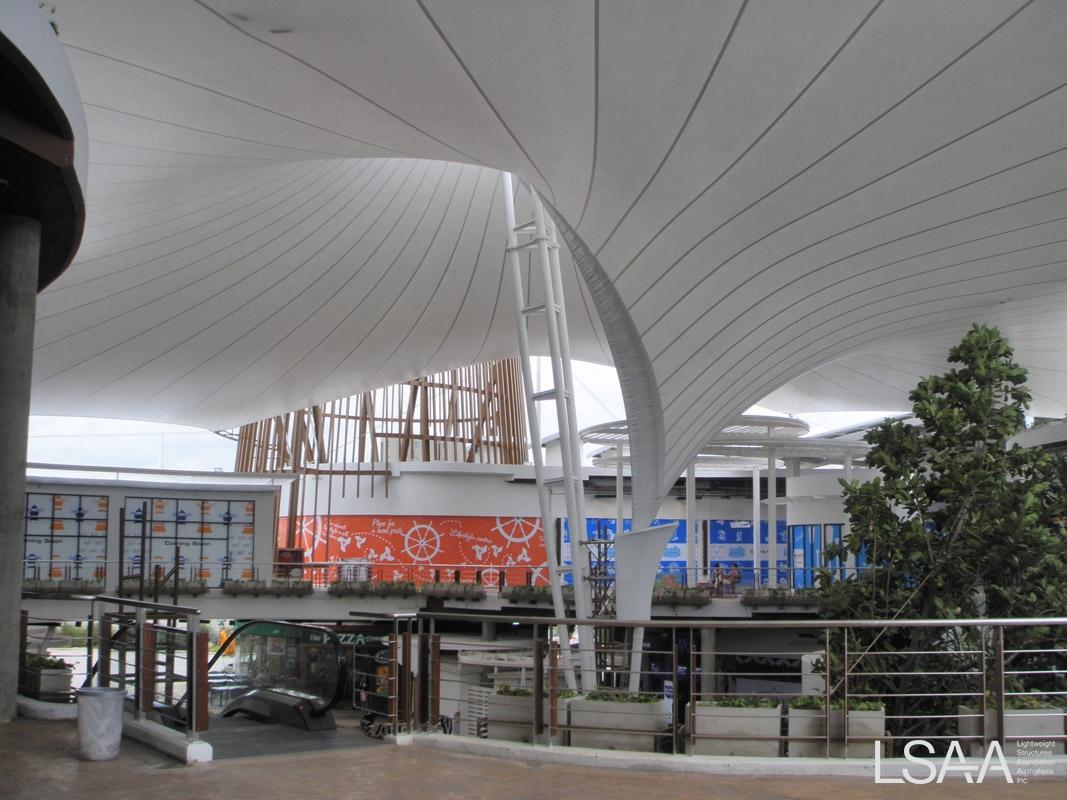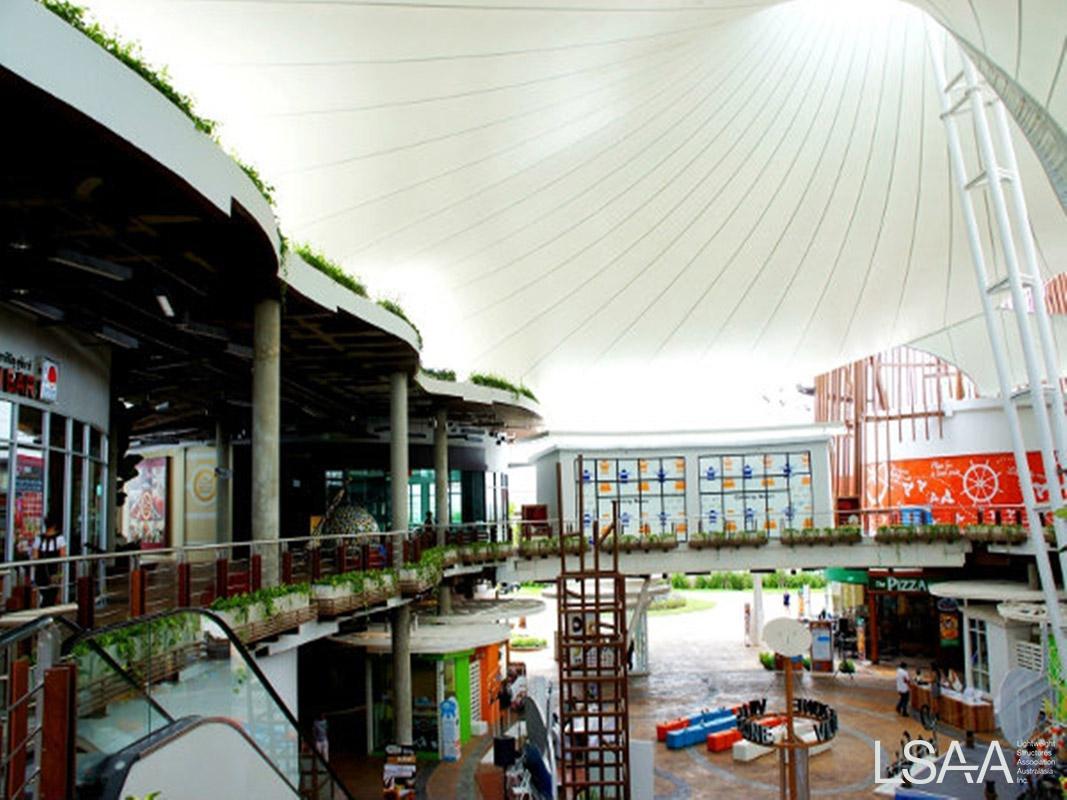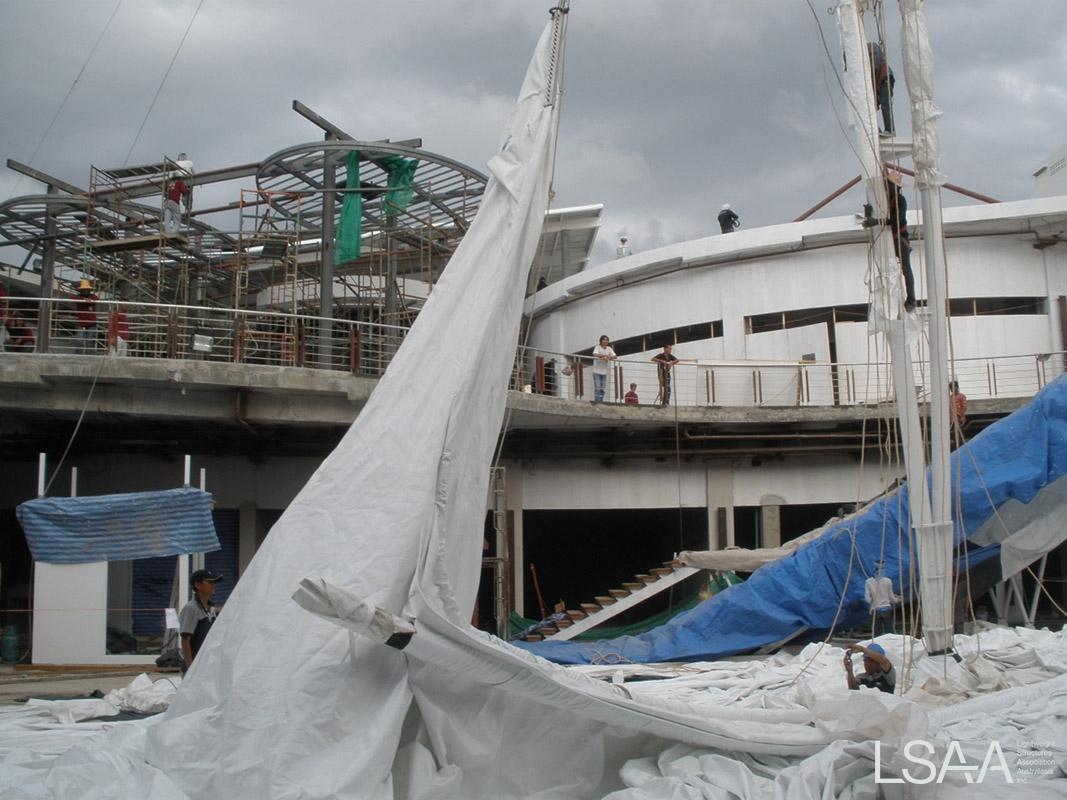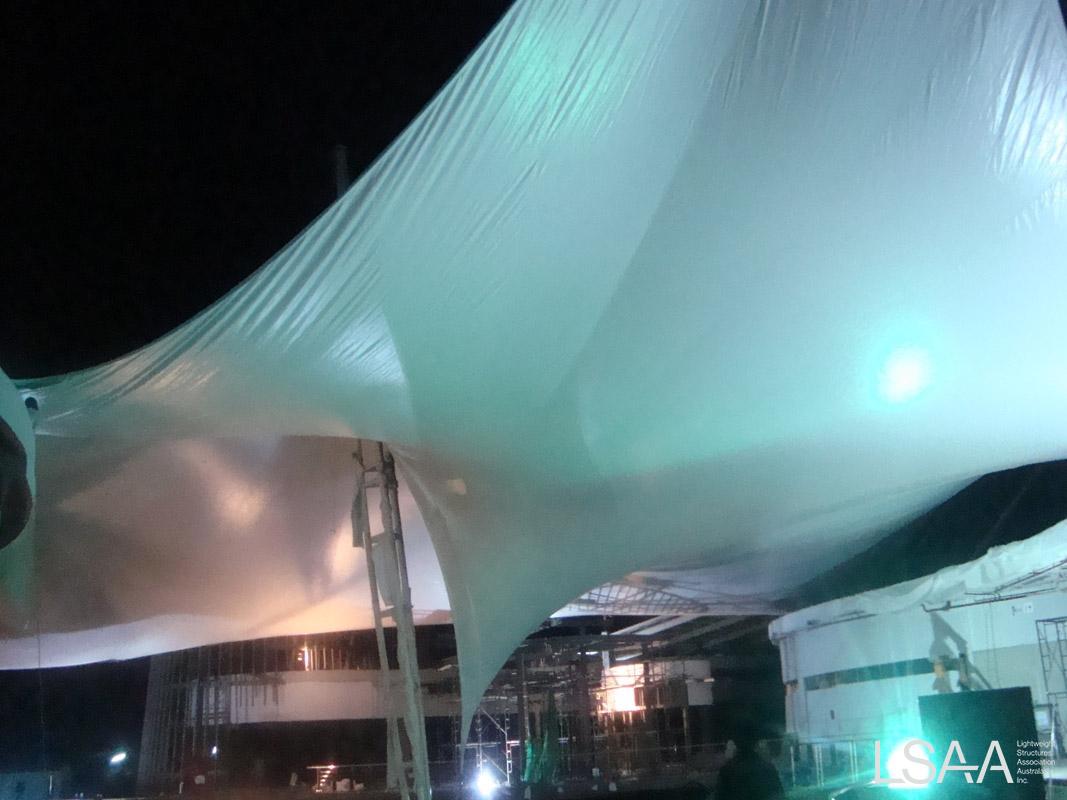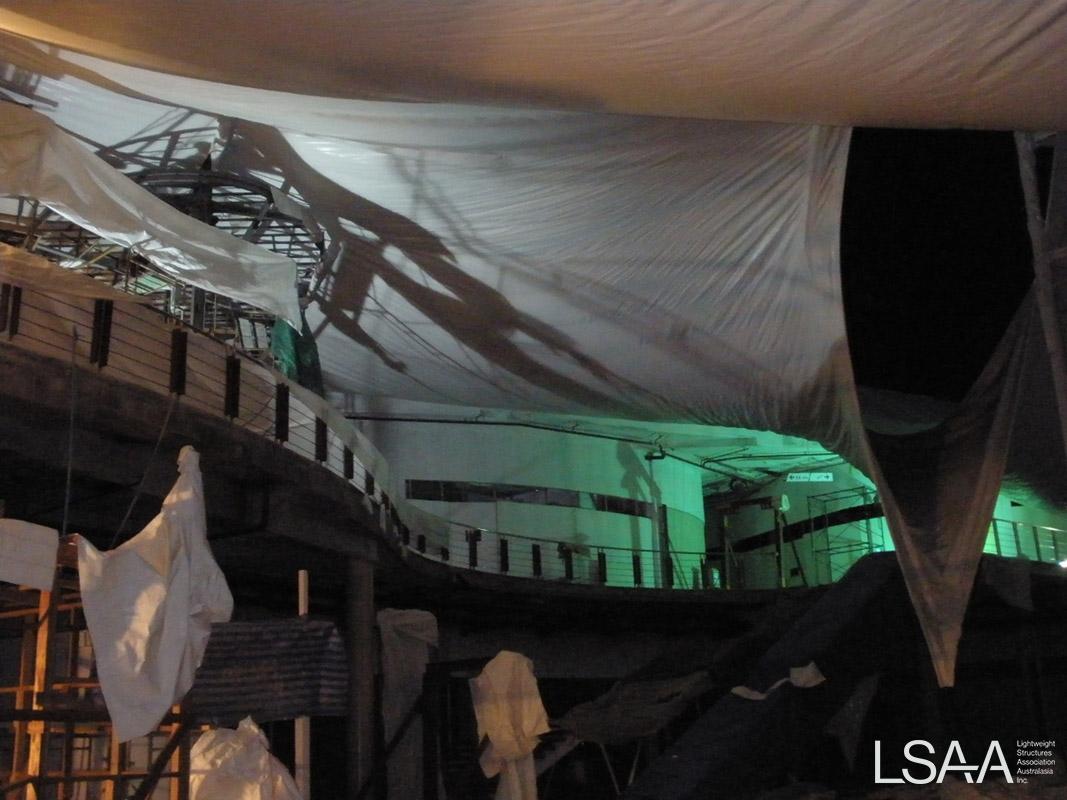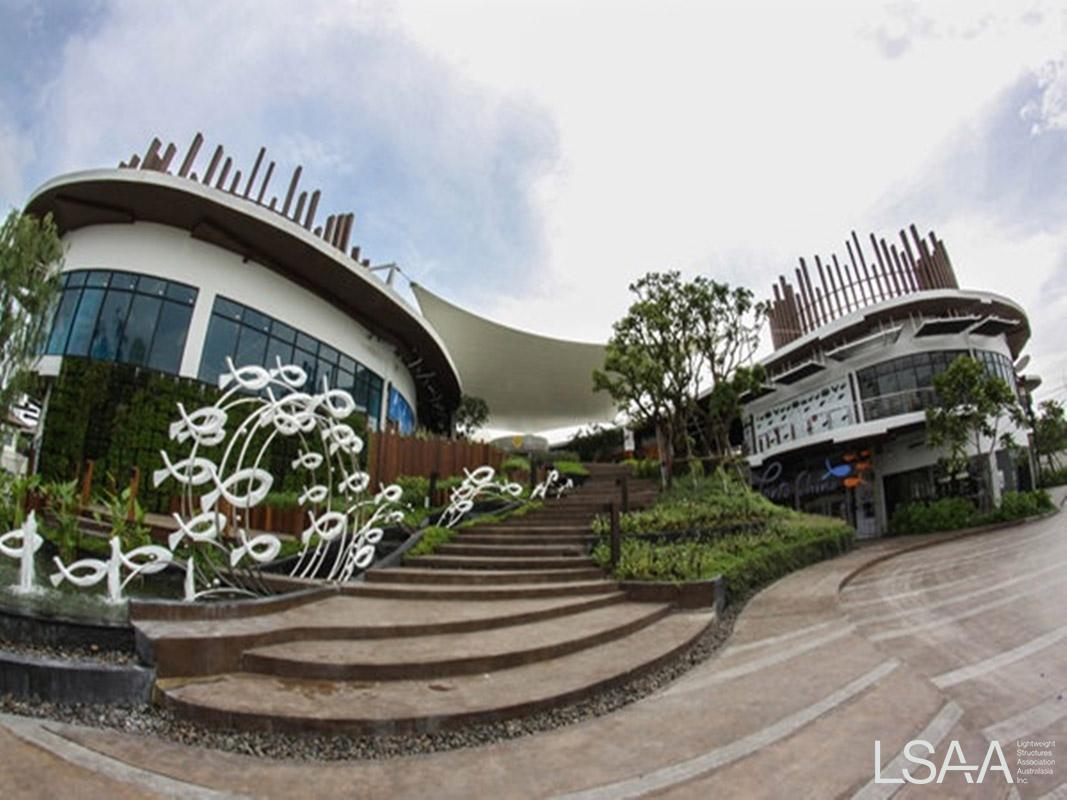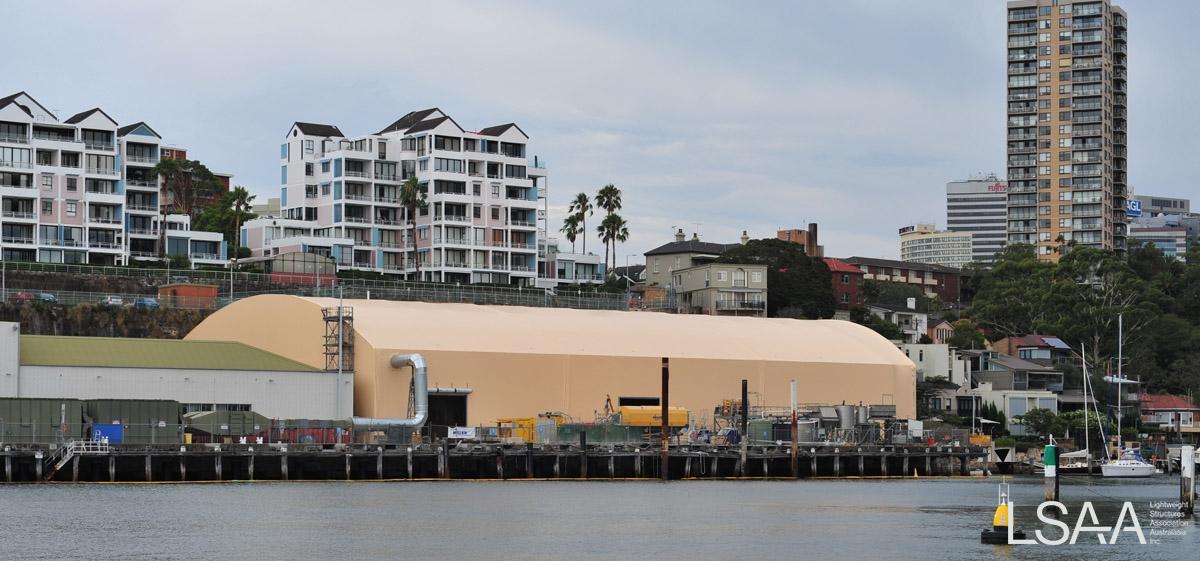 The project was entered in the 2013 LSAA Design Awards (Large Structures, #3301)
Entrant: Global Fabric Structures (UFS)
Location: Sydney
Client: Thiess Australia
Completion Date: December 2012
PROJECT DESCRIPTION:
The former HMAS Platypus site is nestled below the suburb of Neutral Bay, Sydney Australia on a quiet harbour inlet.
This site has been an integral part of the history of Sydney Harbour since the early 1800's. A gasworks, a workshop for servicing torpedoes and a base for Australian Submarines have a left a contaminated industrial site that is excavated out of sandstone and spread over several levels.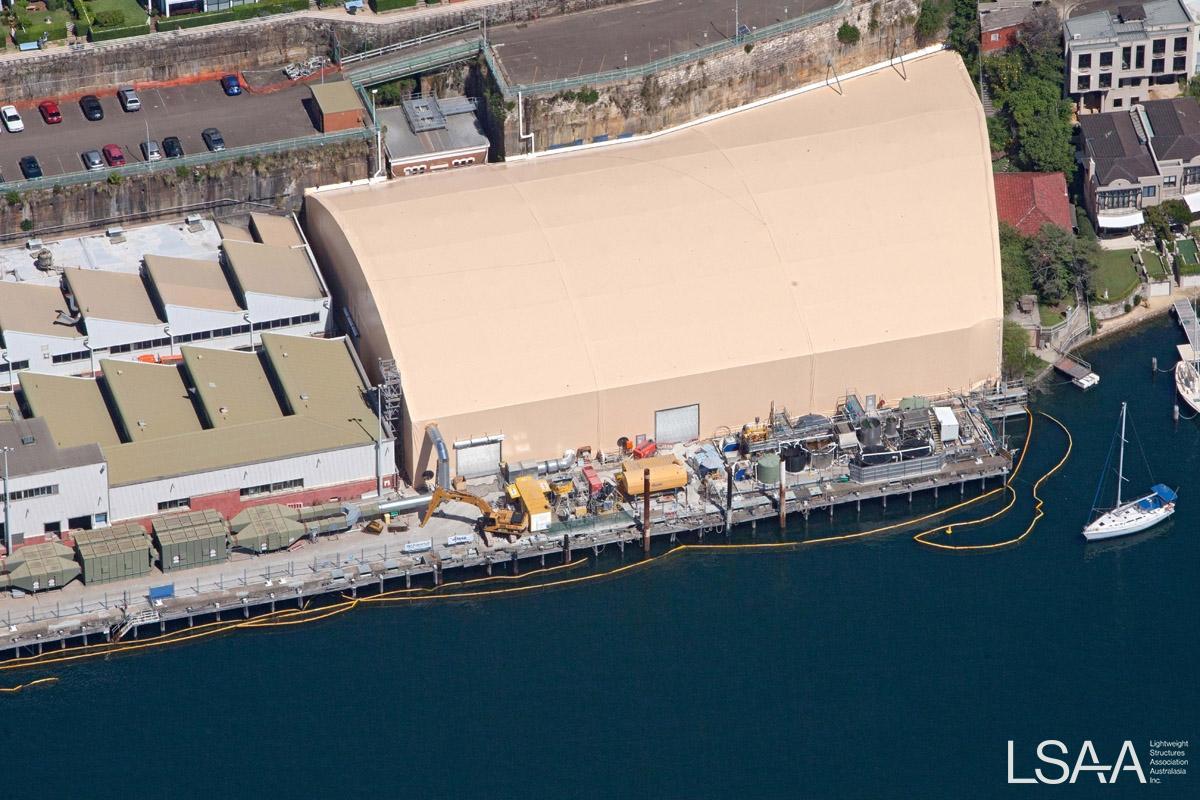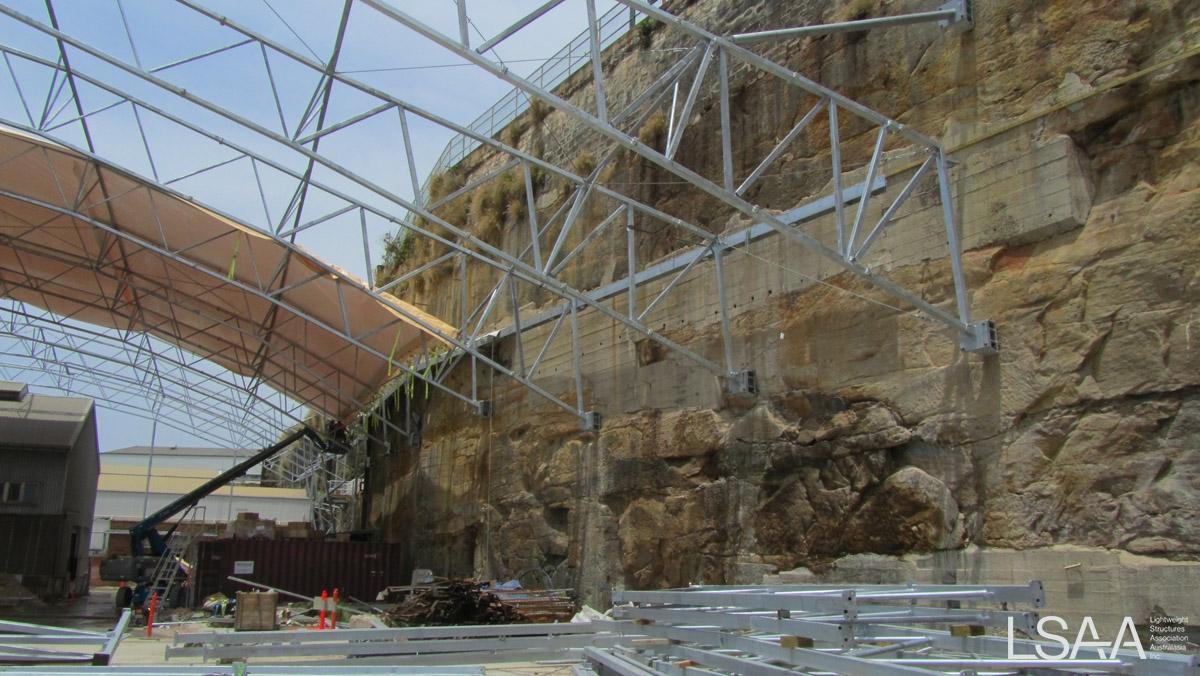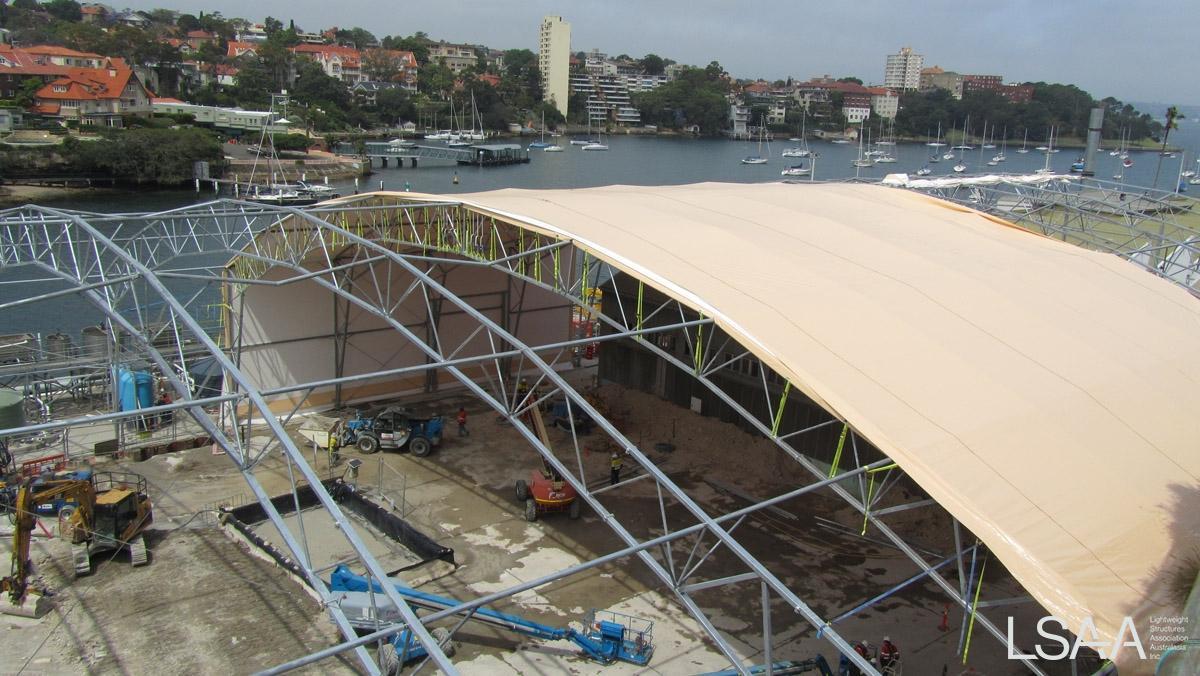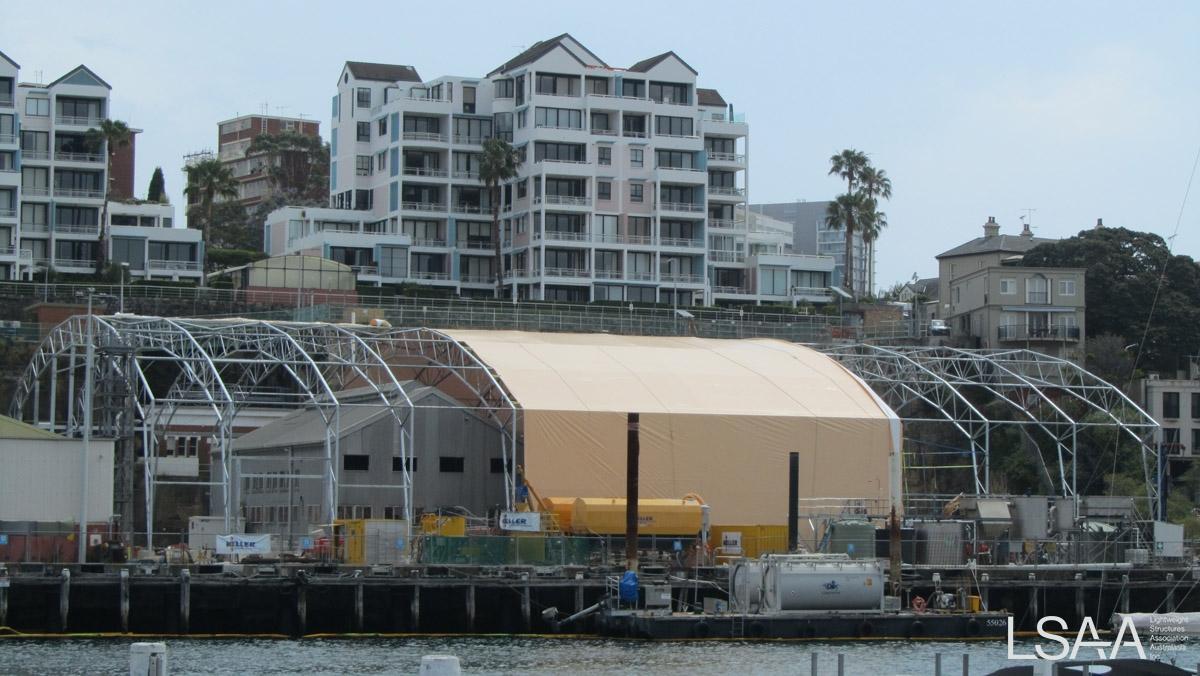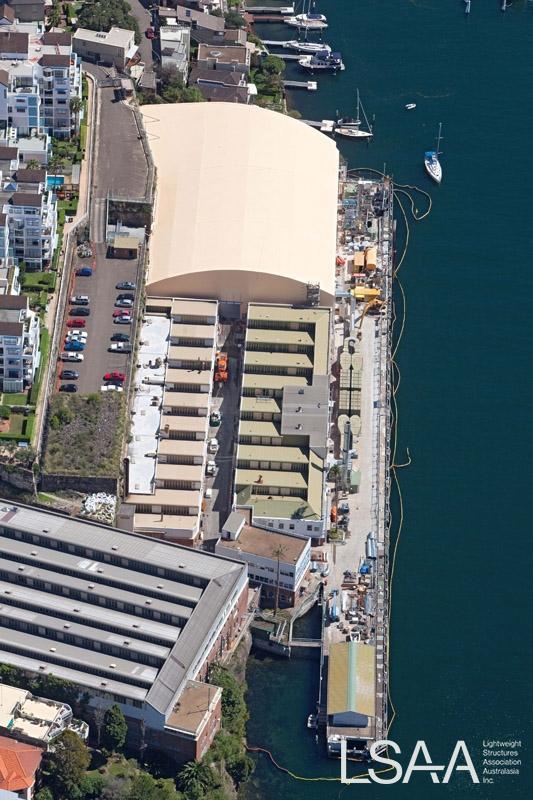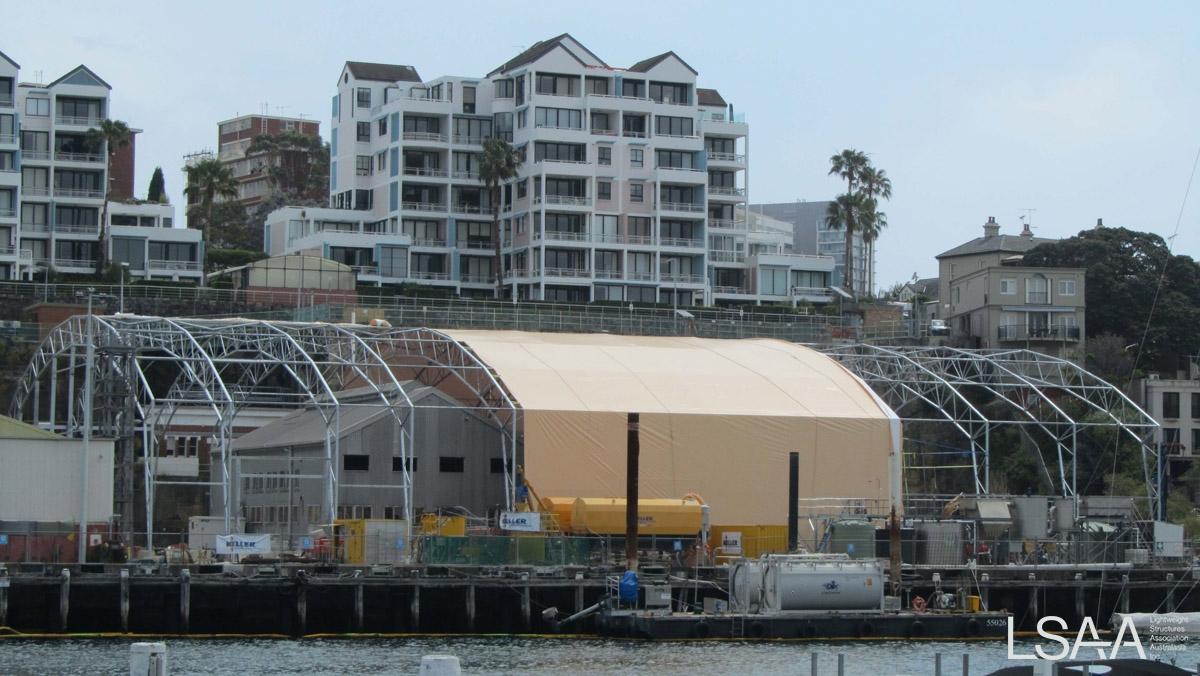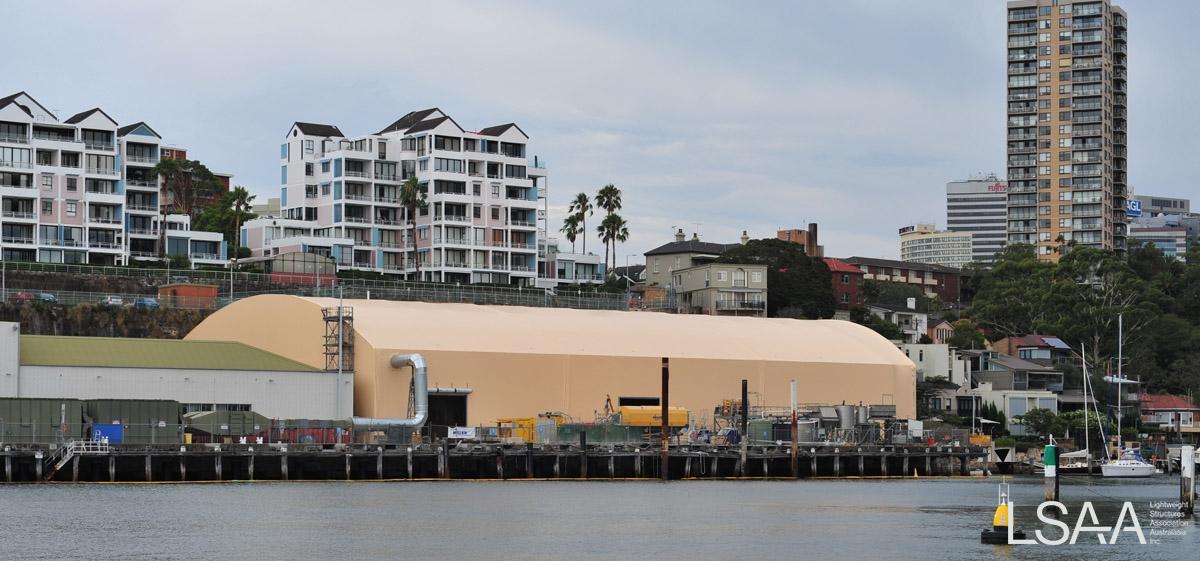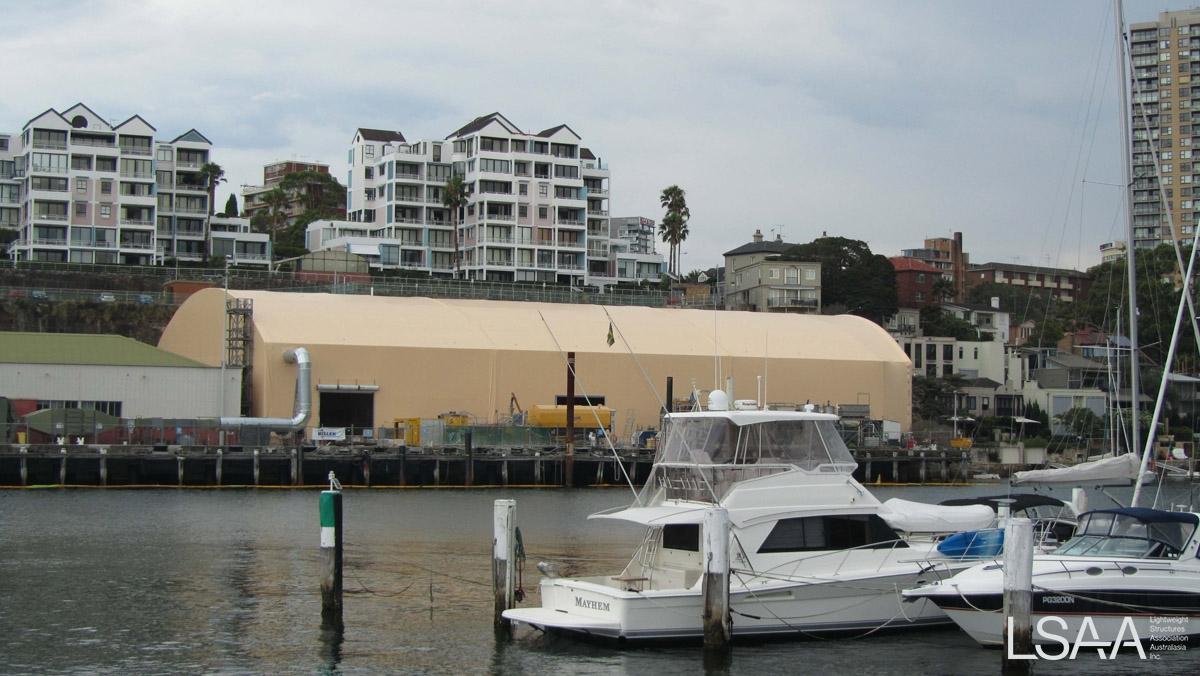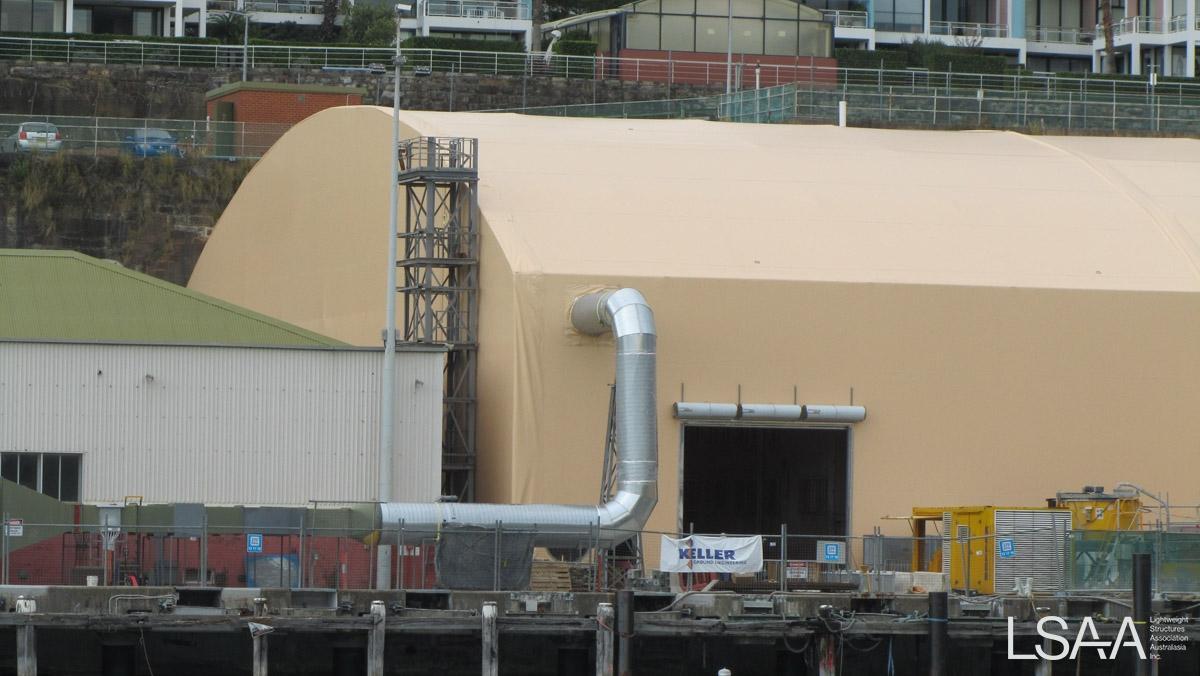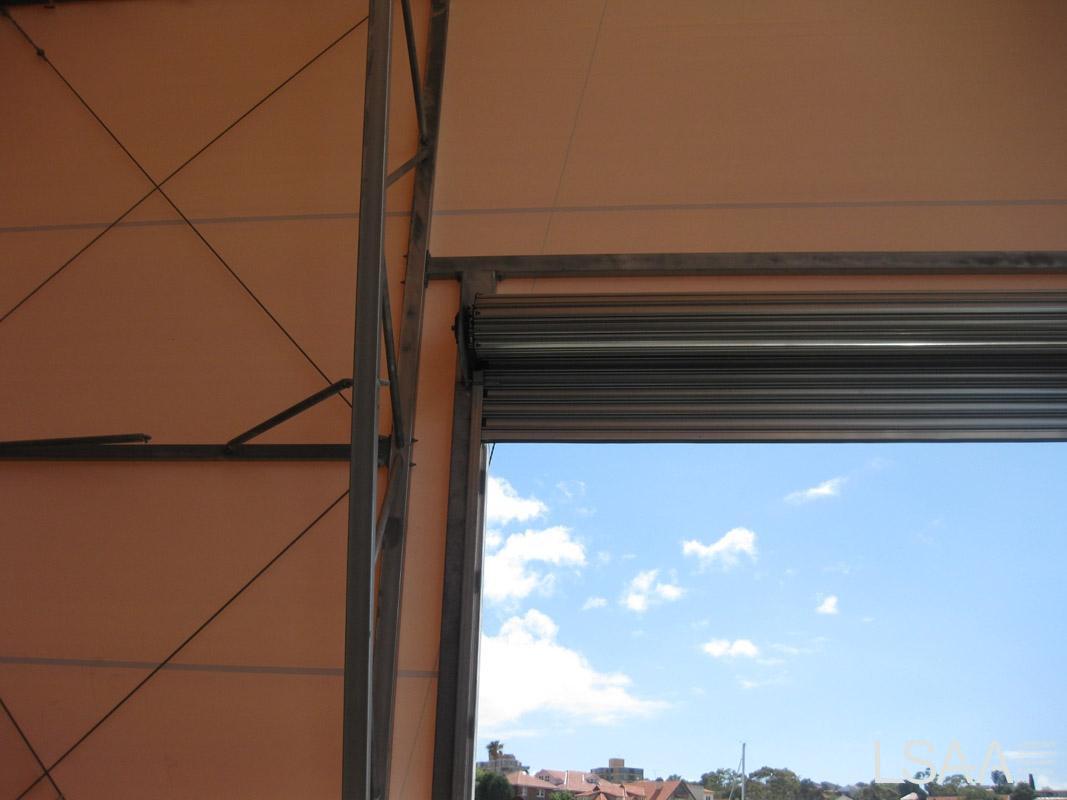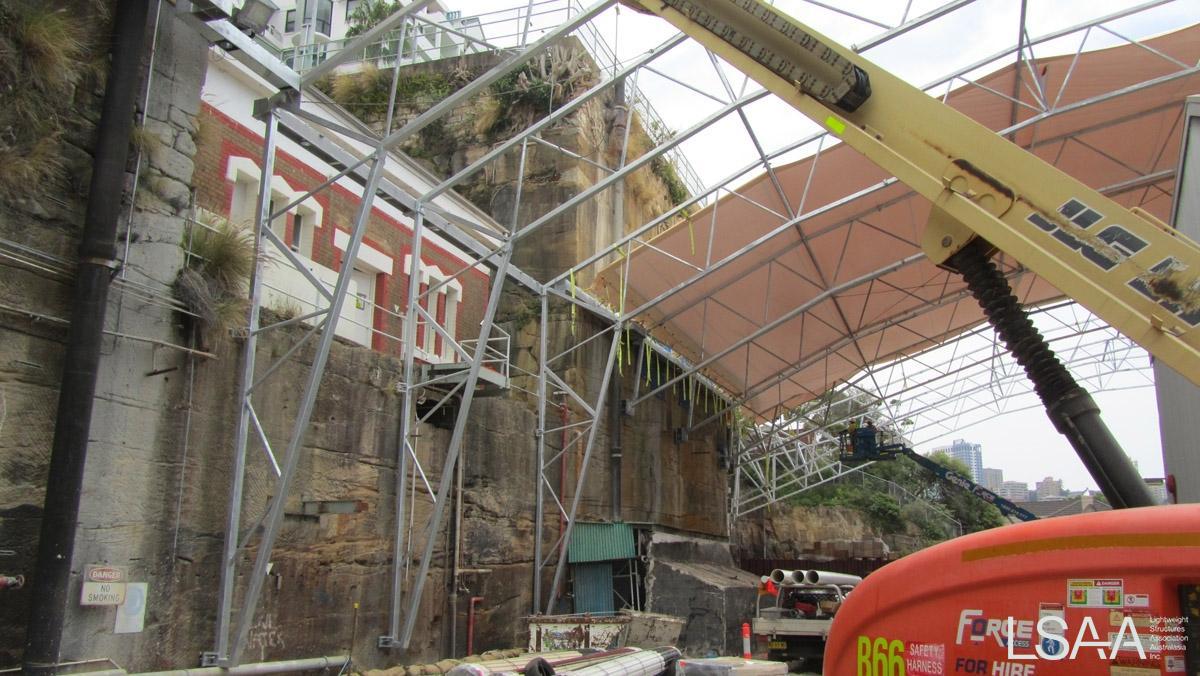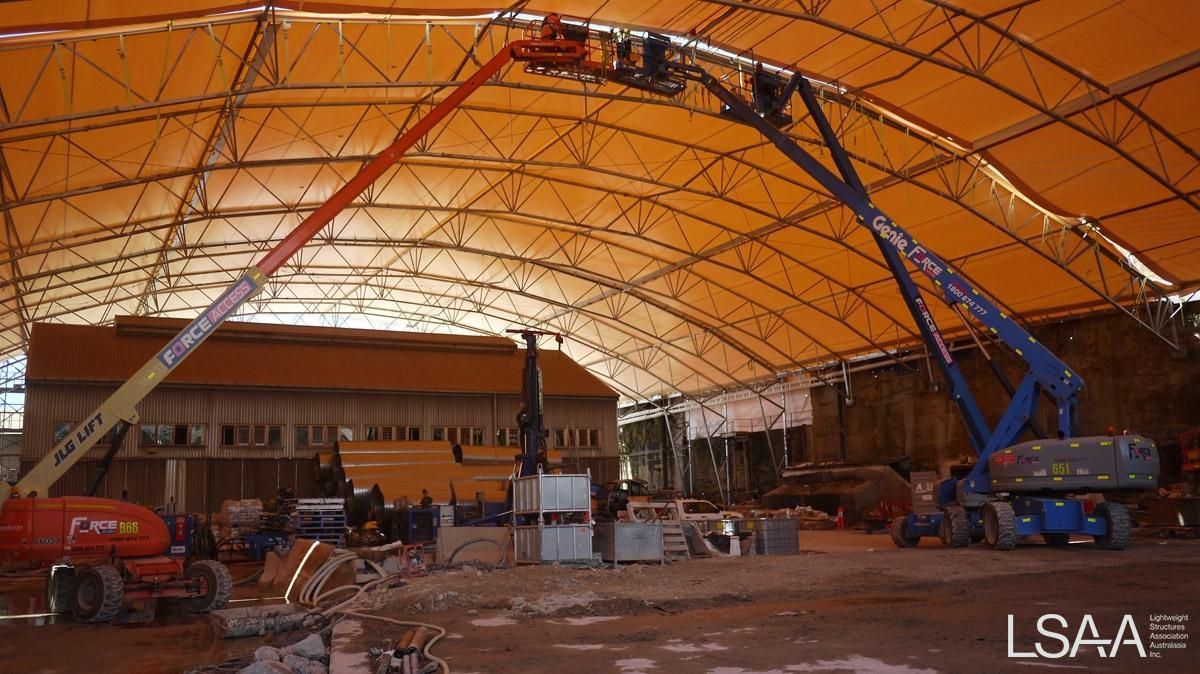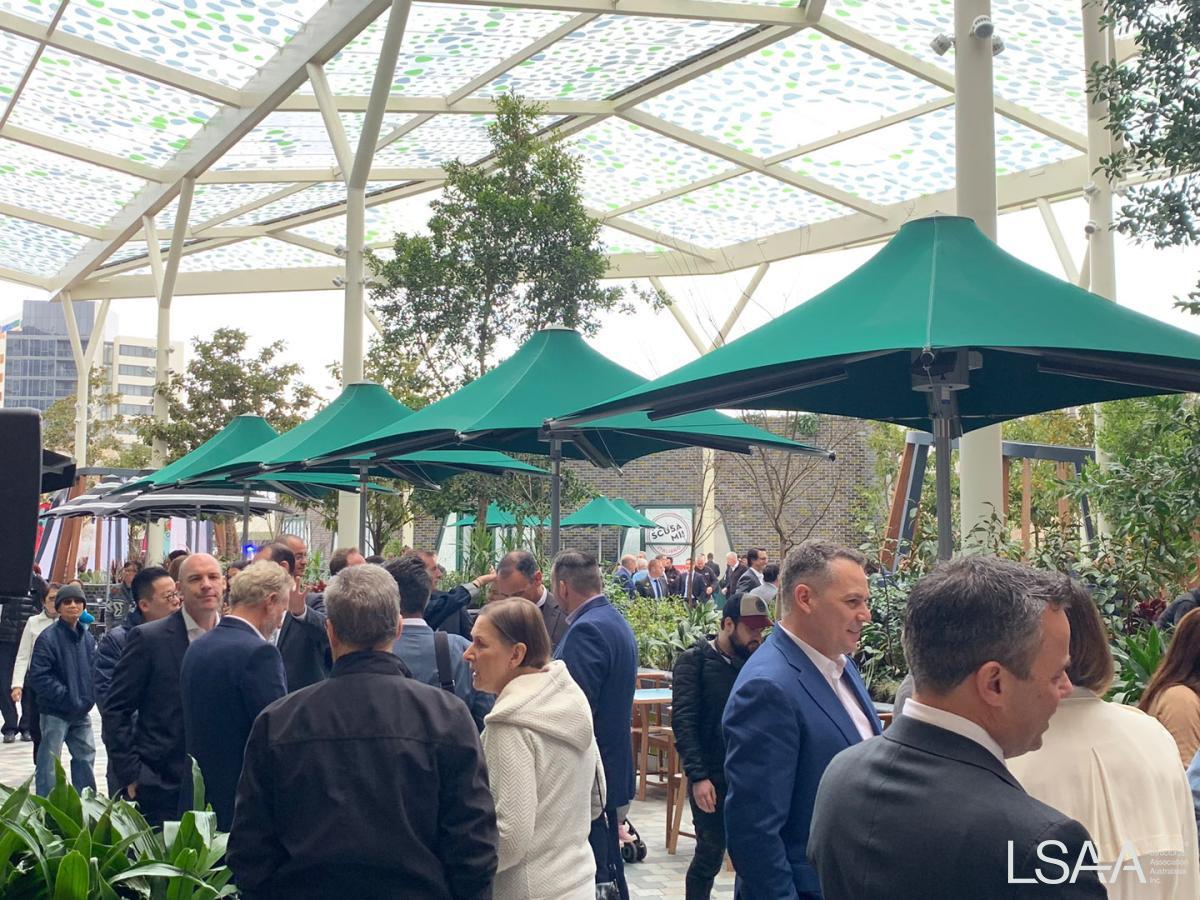 APPLICATION OF PROJECT
Retail alfresco dining roof

PROJECT DESCRIPTION
The Glen ETFE entry canopy was designed to cover the outdoor food court area as part of the shopping centre's AUD$490 million redevelopment in East Melbourne.

Fabritecture completed the design & construction of a steel and single-skin ETFE clad canopy to provide protection for patrons from the wind & rain in the outdoor dining precinct. The client also desired an aesthetic feature roof with custom artwork printed into the ETFE that would be synonymous with the culture of the surrounding area and that would enhance the overall look and feel of the Centre.
Read more: The Glen Shopping Centre, Glen Waverley (2021 DA Entry)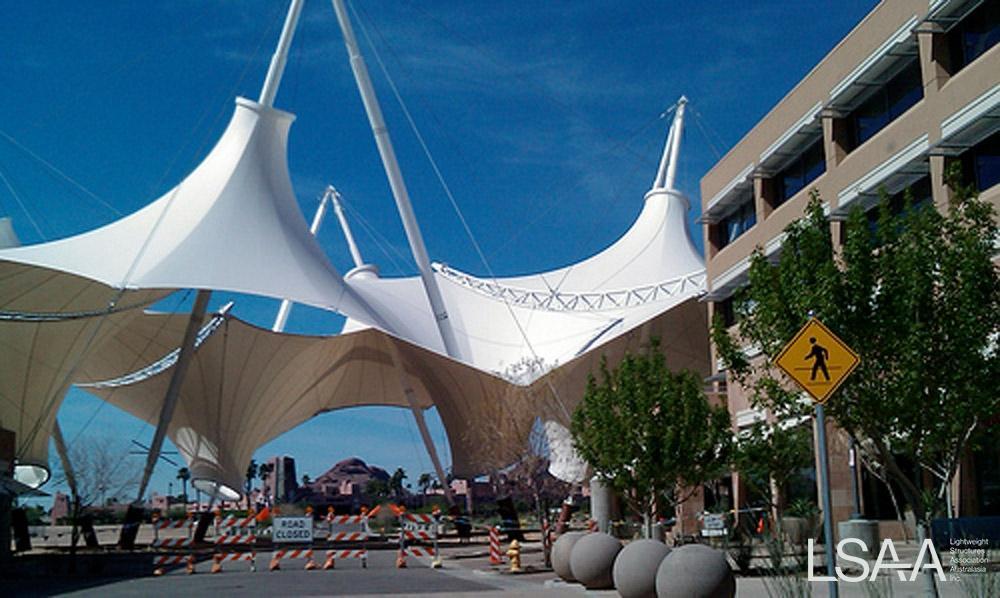 LSAA 2009 Design Award Entry (#3958): ASU – Skysong
Entrant: Atkins Fabrication (Aust) Pty Ltd – Fabricator
Location: Arizona State University – USA
Client: USA Shade & Fabric Structures Inc.
Struct. Eng.: Wade Engineering
Fabricator: Atkins Fabrication (Australia) Pty Ltd
This project was entered in the LSAA 2009 Design Awards, Category 3.
No further details have been entered for this project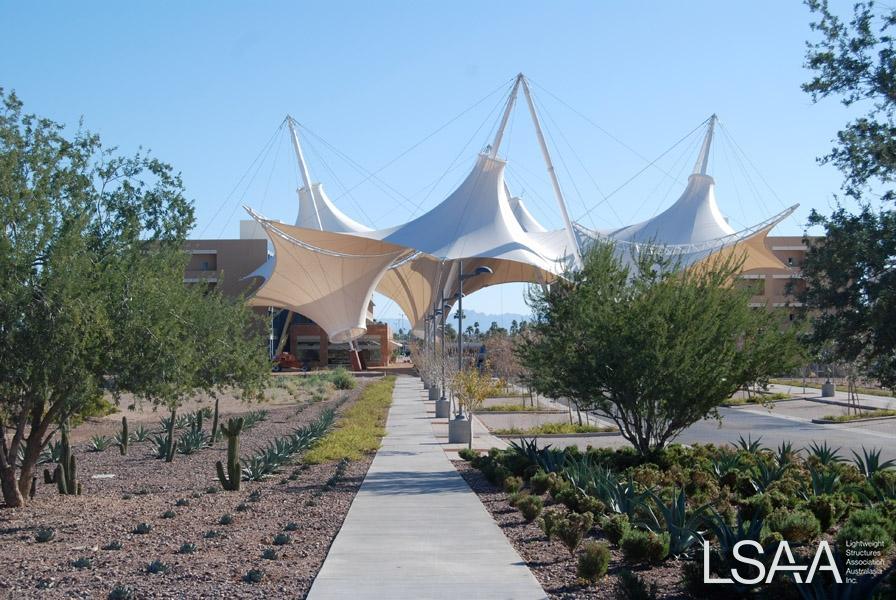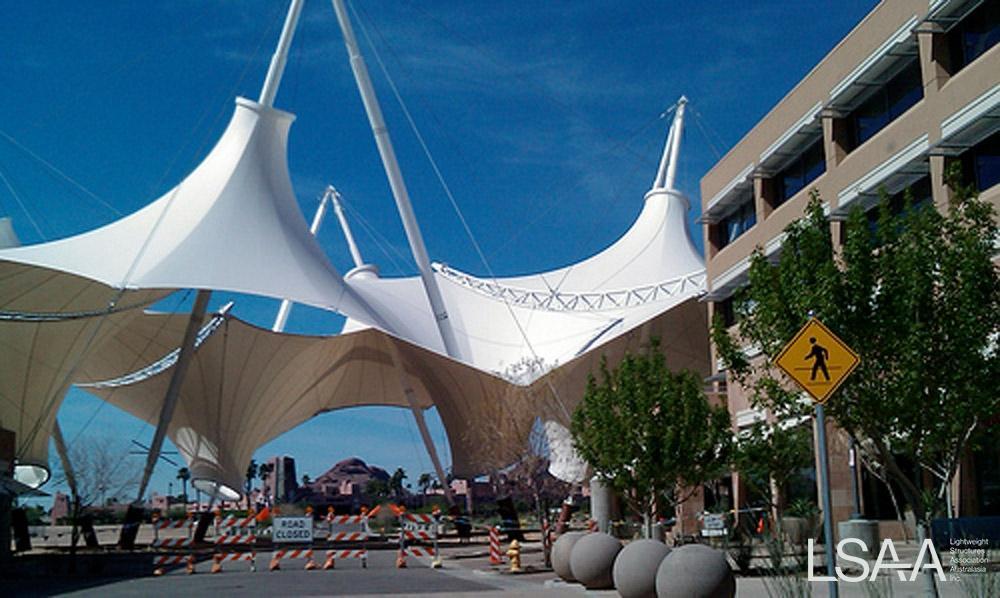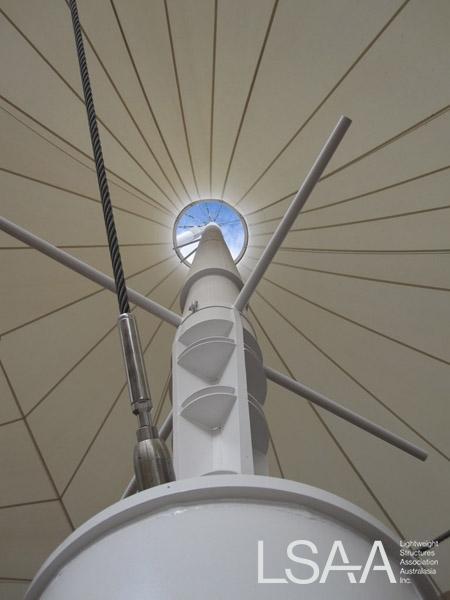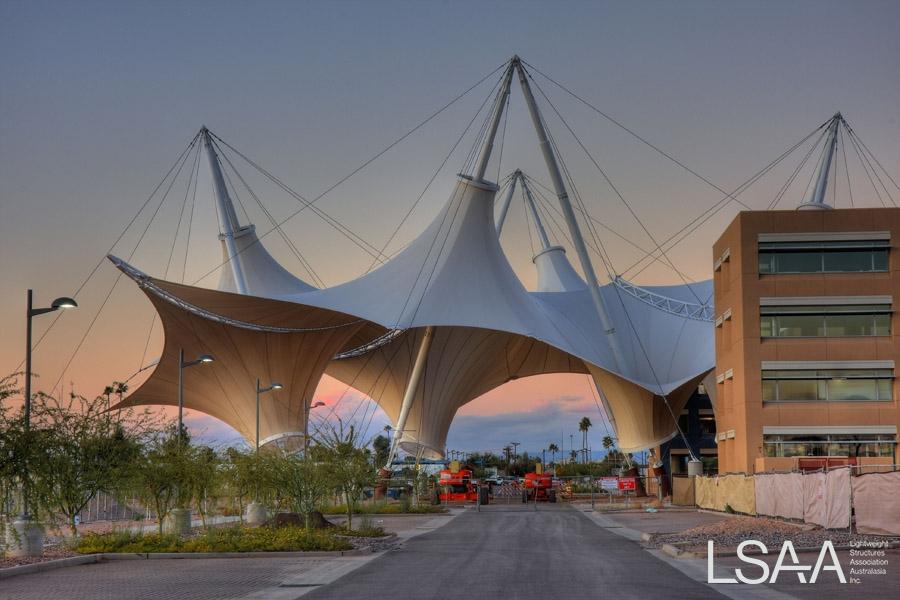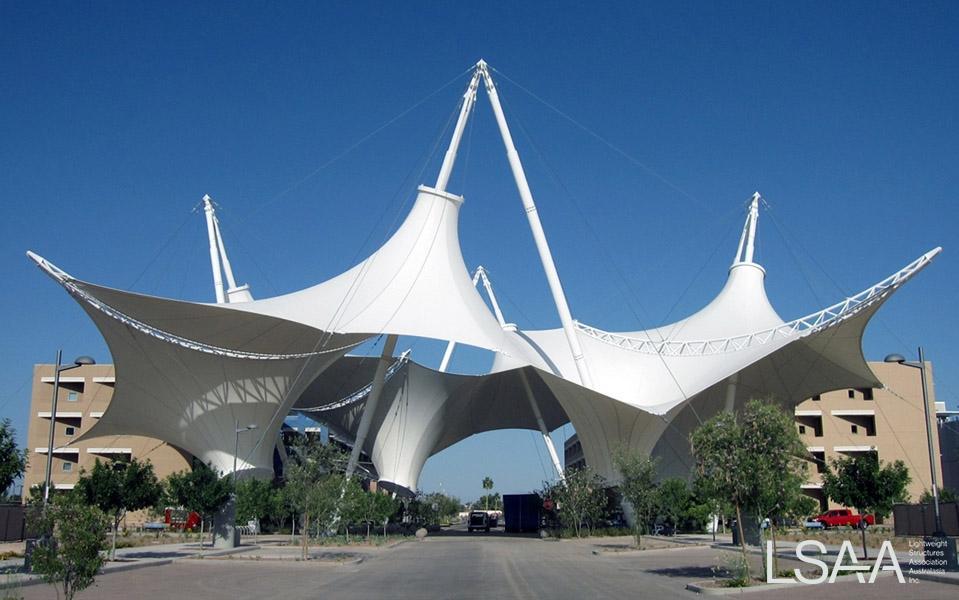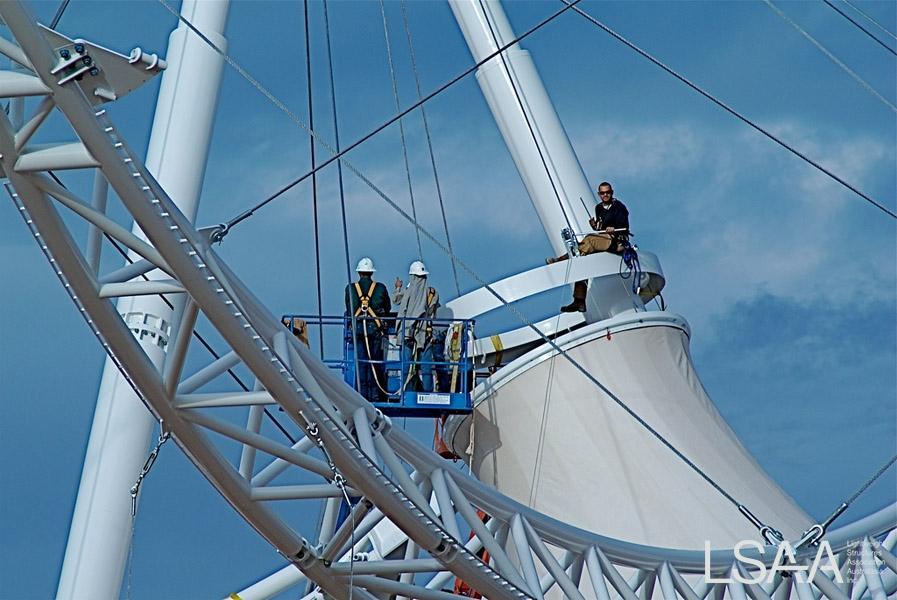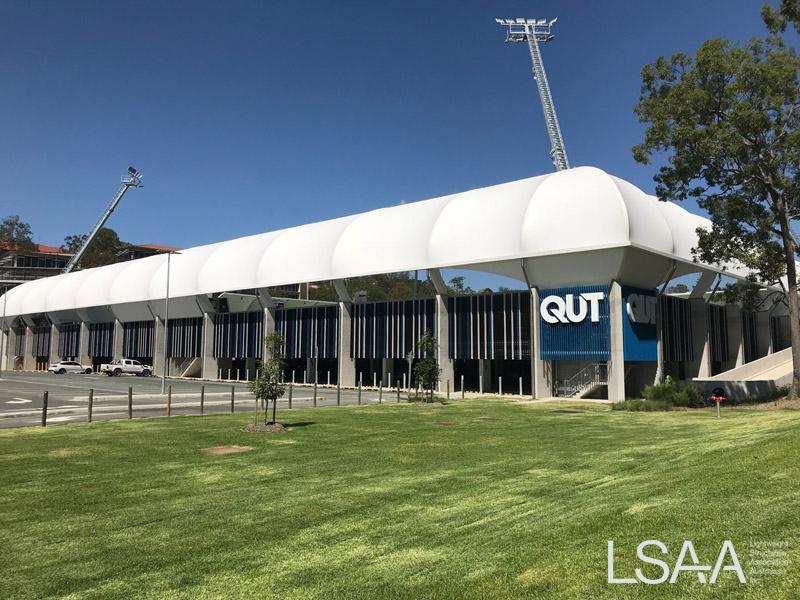 Application: Sports stadium on top of a multi-level car park
This project was entered in the LSAA 2018 Design Awards (Cat 4 Large Fabric Structures, #4066)
PROJECT DESCRIPTION:
The Queensland University of Technology (QUT) Sportsfield Car Park project was part of the construction of a $27 million multi-story car park at the QUT Kelvin Grove campus in Brisbane. The roof-level is home to a FIFA accredited sports field, developed as part of the long-term expansion plans for the University.
The Queensland University of Technology (QUT) Sportsfield Car Park features a FIFA-accredited sports field on the roof of the AUD$27 million multi-level car park. This unique project included the design and construction of the steel, PTFE fabric membrane, fall arrest mesh, static line and score board.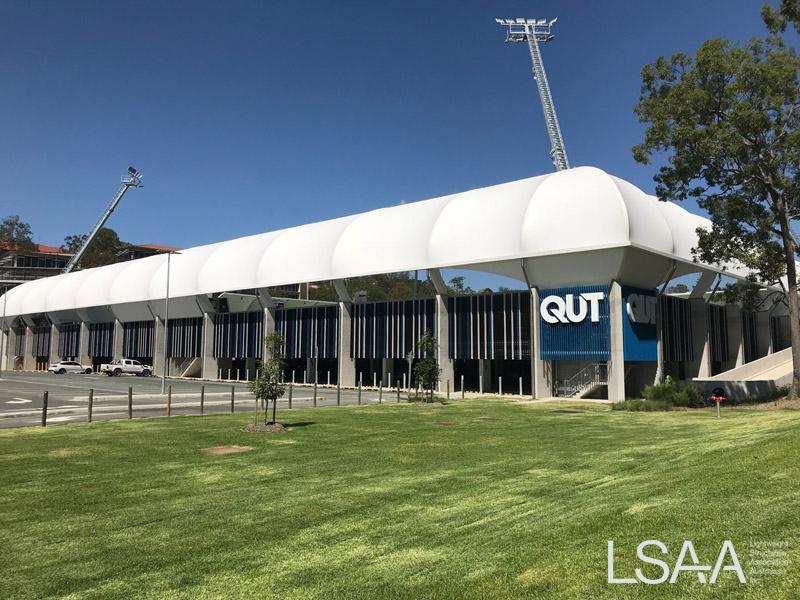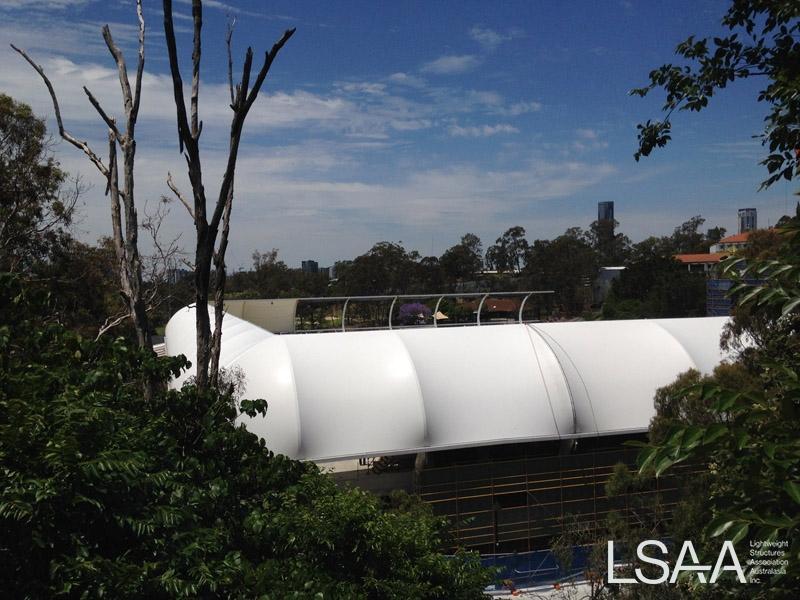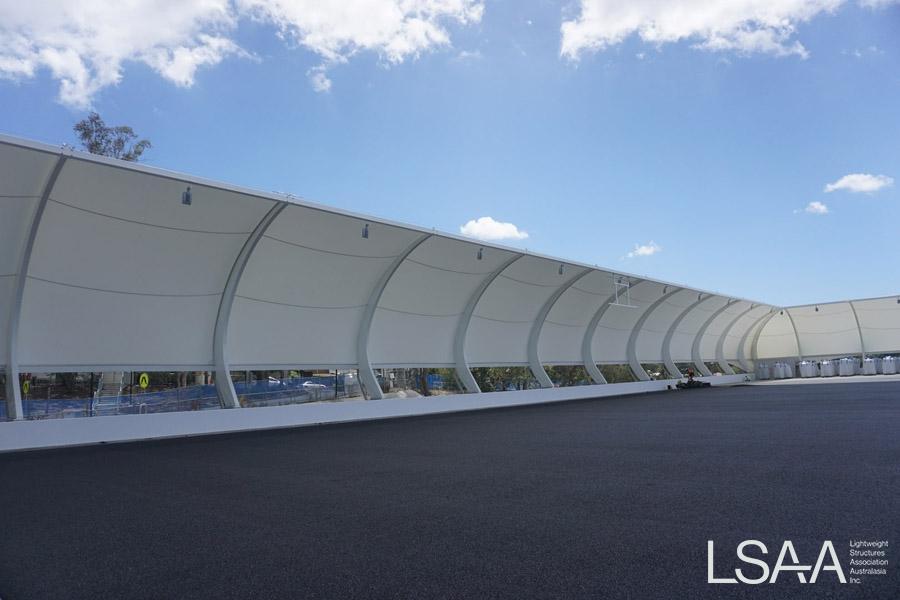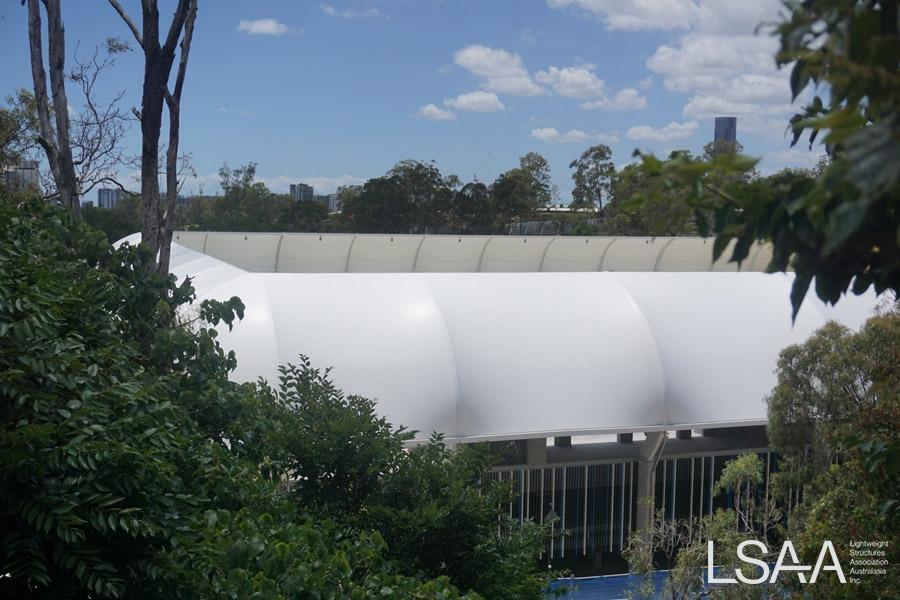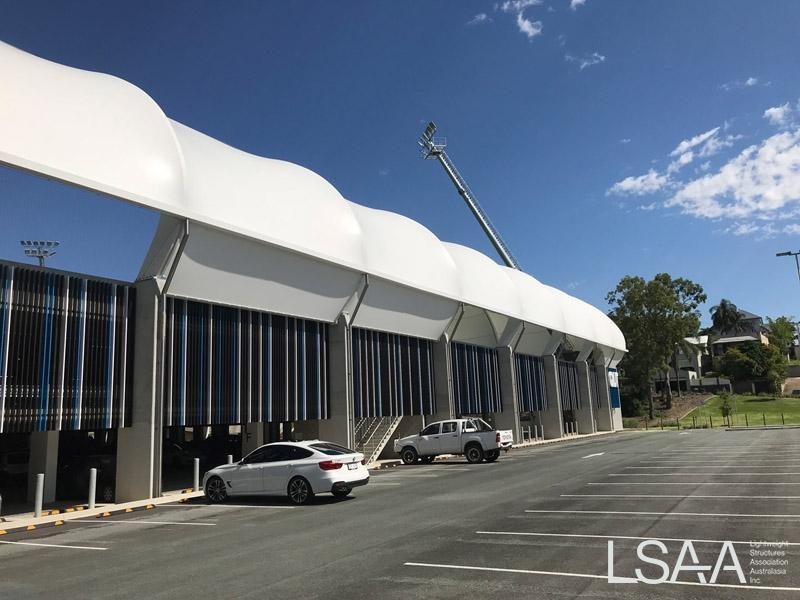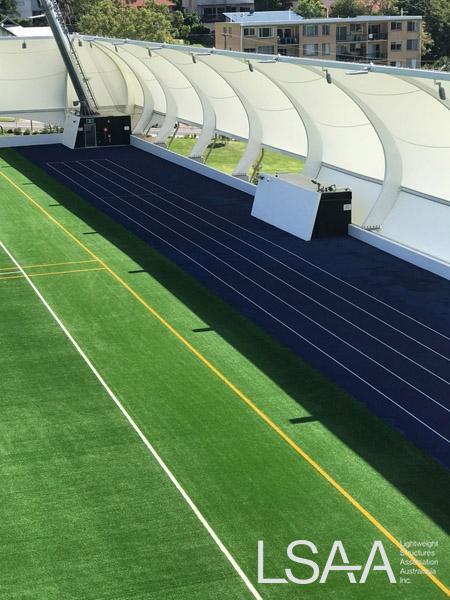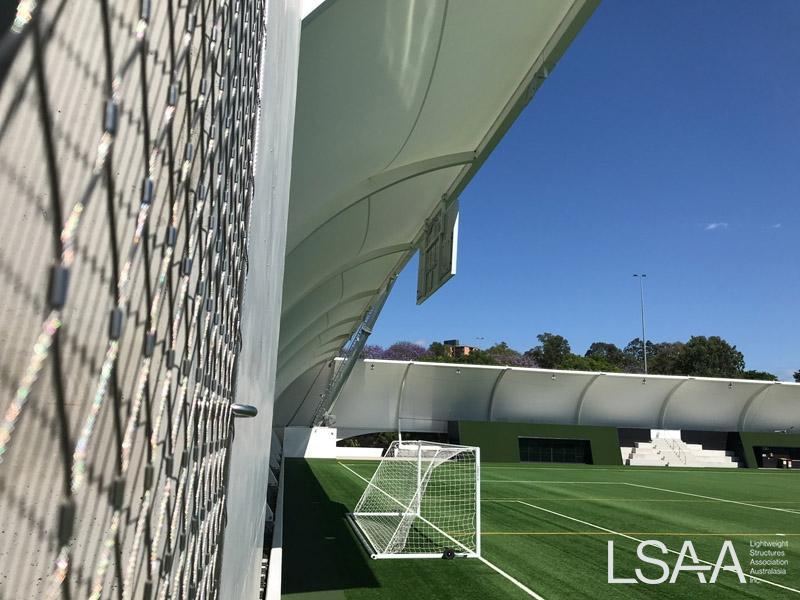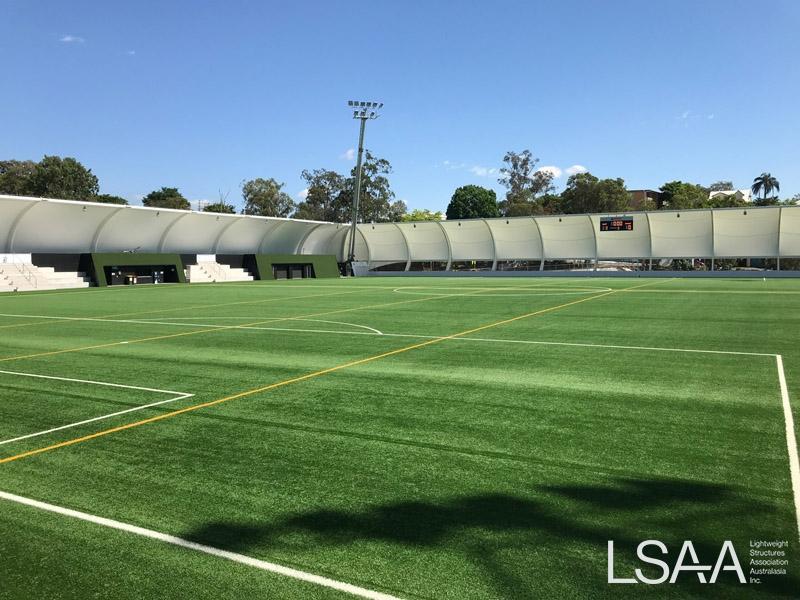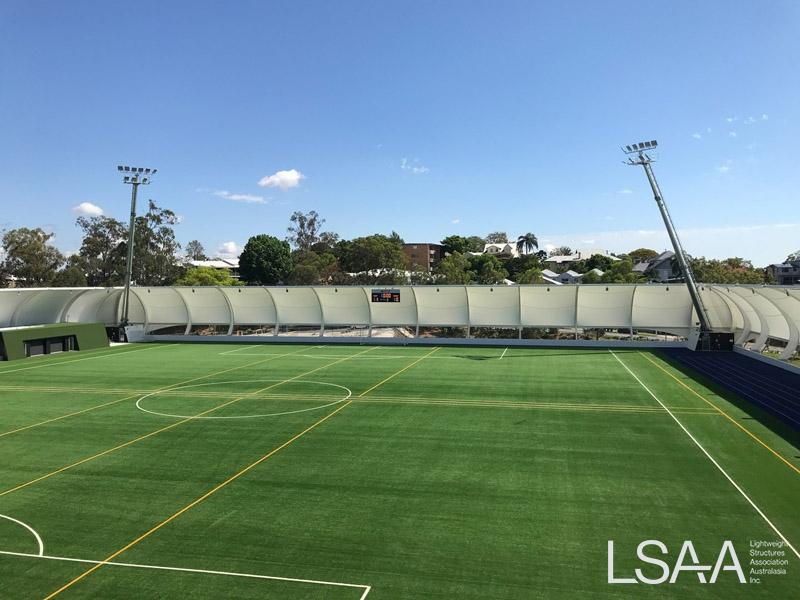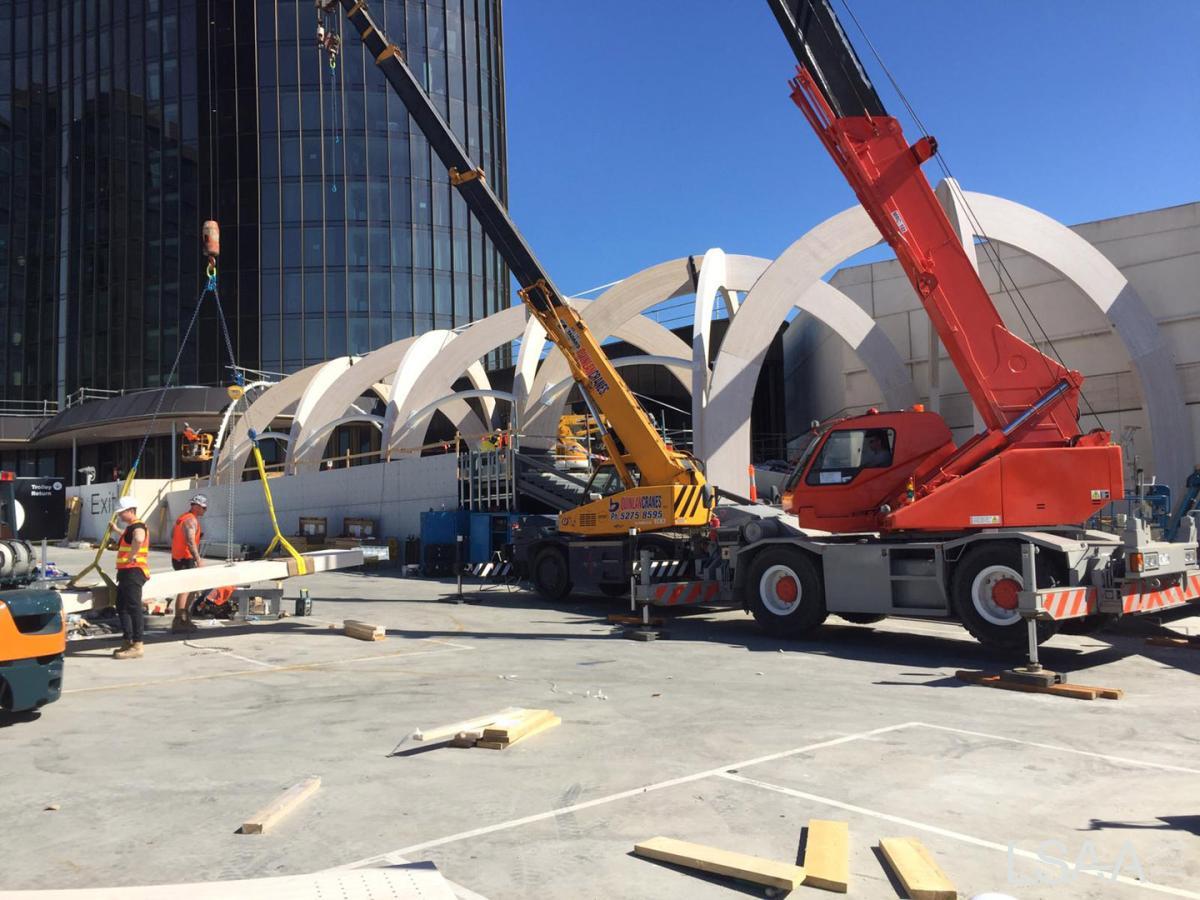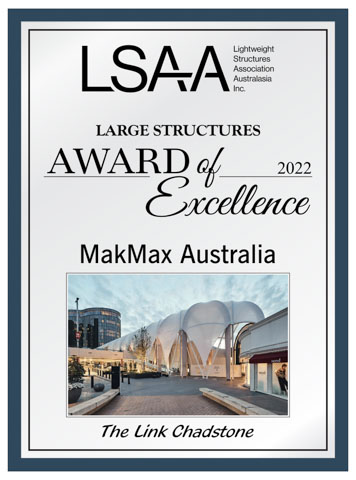 APPLICATION OF PROJECT:
The Link Chadstone is a covered walkway between Chadstone shopping Centre and Hotel Chadstone Melbourne.
PROJECT DESCRIPTION:
The Link walkway in Chadstone is a visually stunning fabric-over-glulam structure that provides easy covered access for patrons between the Chadstone Shopping Centre and Hotel Chadstone Melbourne.
Commissioned by leading Australian real estate investment trust Vicinity Centres, and completed in October 2019, The Link is a 100m arched walkway that soars up to 15m above the pedestrian zone and is covered with 1750m2 of high-translucency THV-coated PTFE fabric.
Designed to blur the lines between the retail, commercial and leisure zones of Chadstone's high-end fashion shopping precinct with the newly opened Hotel Chadstone Melbourne, MGallery by Sofitel, The Link transforms part of a multi-level car park into a luxurious, cathedral-like promenade for shoppers and hotel guests.
DESIGN / FABRICATION / INSTALLATION BRIEF
The designing architect's vision of The Link was to complement Chadstone Shopping Centre's existing vaulted glass roof with an iconic light and airy structure created with glulam timber arches, covered with a semi-translucent tensile fabric membrane.
As the membrane contractors, the design and engineering challenge we faced on The Link was to deliver a premium tensile membrane finish to complement the projects' luxury look and feel. With the aim to link the new 5-star Hotel Chadstone to the Chadstone Shopping Precinct – the membrane finish had to embrace the high-end, luxurious aesthetic of the project.
Read more: The Link Covered Walkway, Chadstone, VIC (2021 DA Entry)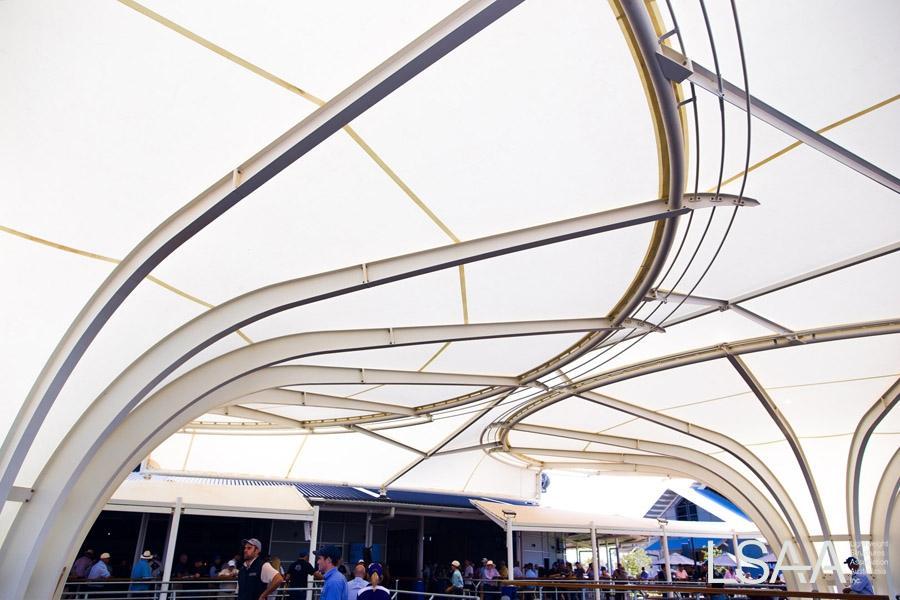 Commendation LSAA 2018 Design Awards Large Structures (Cat 4, 4433)
Application: Large canopies with a fabric surface area over 2800m2 to cover multiple areas at the Inglis Selling Centre Warwick Farm Racecourse
PROJECT DESCRIPTION:
The project was the design, fabrication and installation of multiple decorative and functional canopies for the Inglis Selling Centre at Warwick Farm Racecourse. With an overall Chukoh FGT800 PTFE fabric area of approximately 3060m2, the project covered multiple areas and structure types - "Trees" to cover the horse parade ring; a shelter canopy for the patron walkway for the pre-parade ring; a canopy for the wedding pavilion, and awnings for the hotel.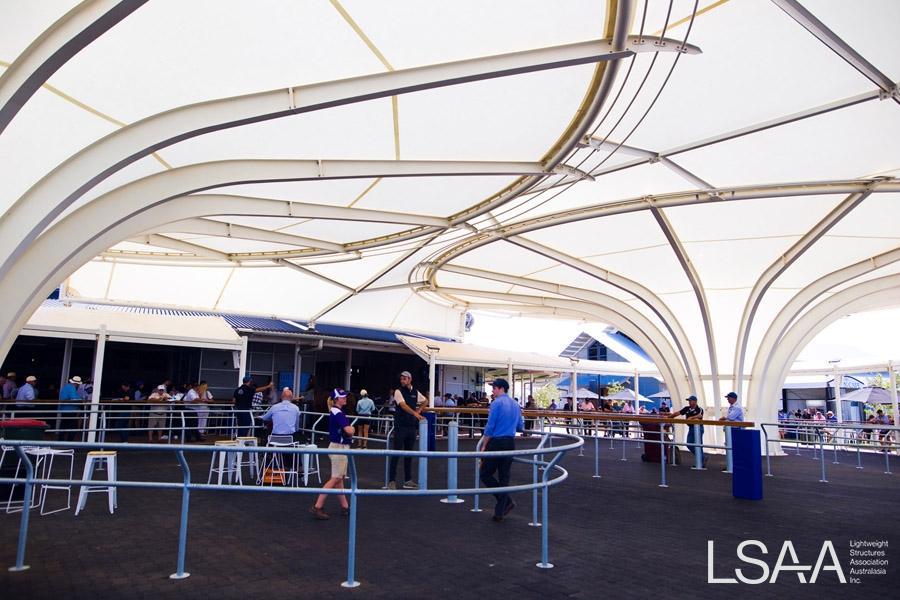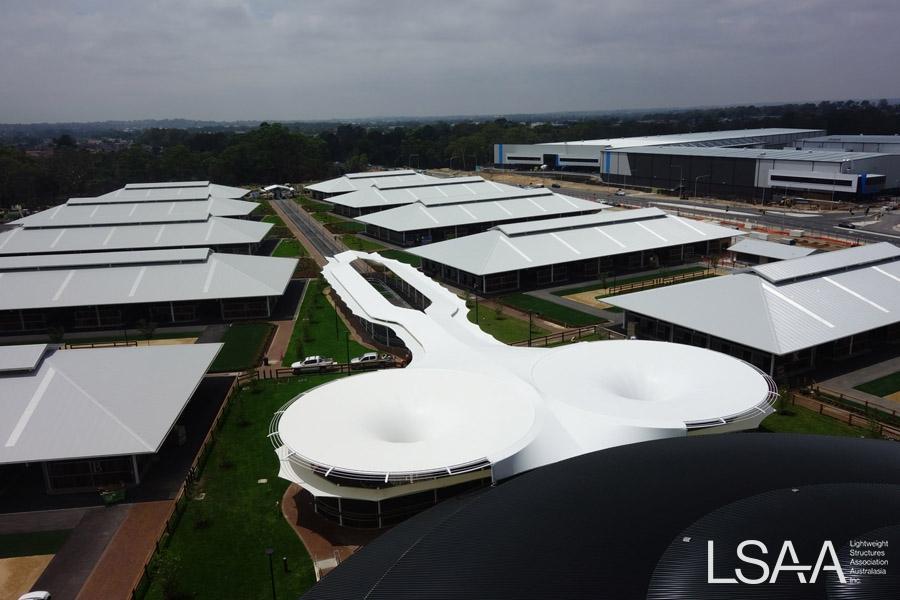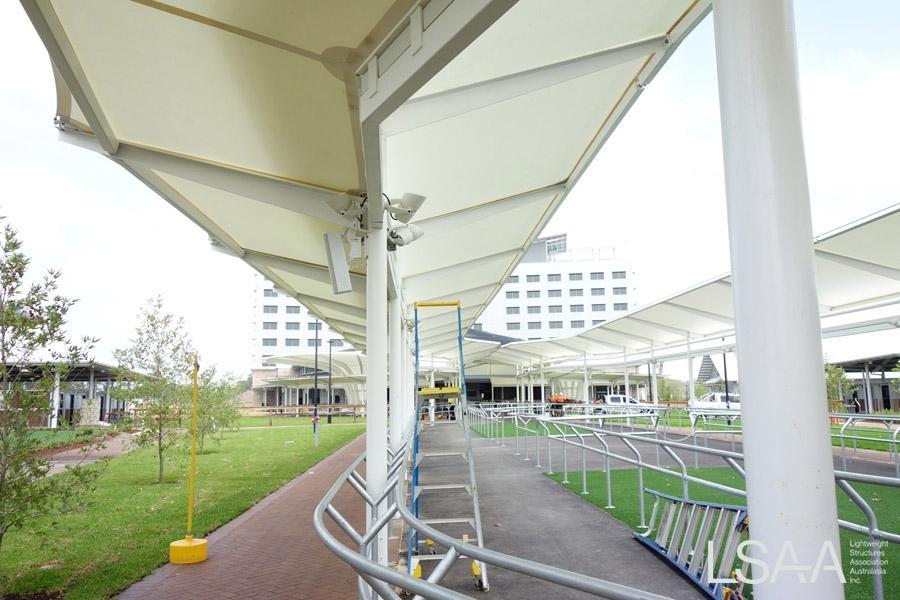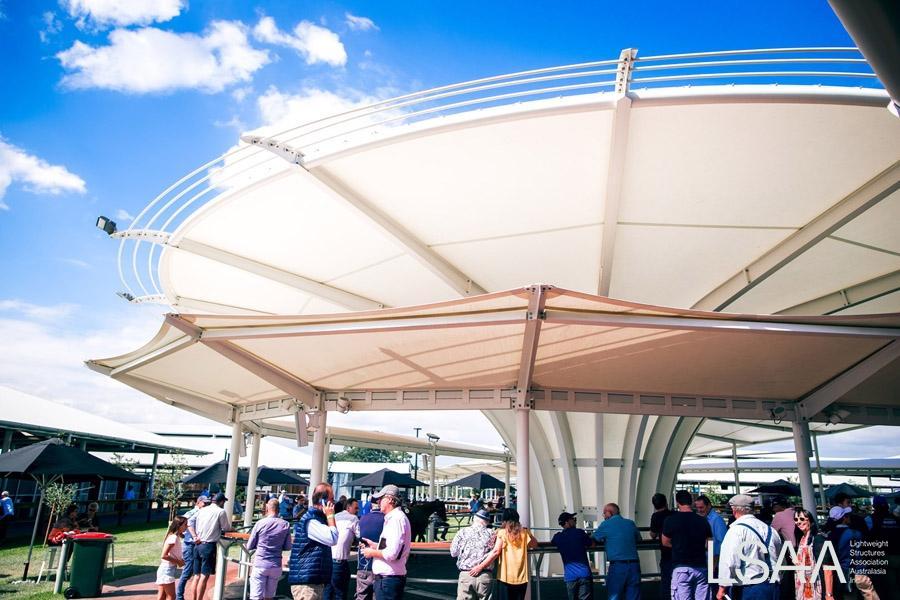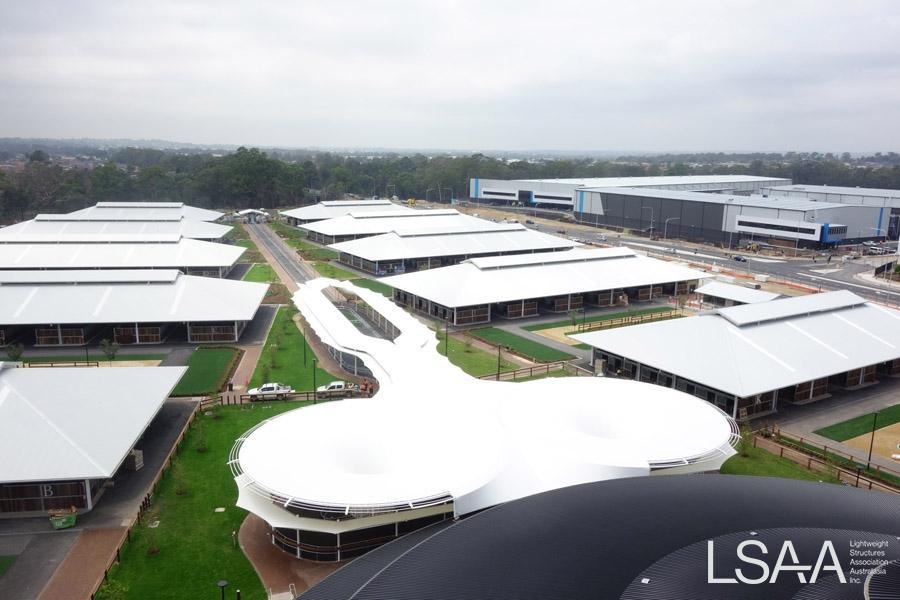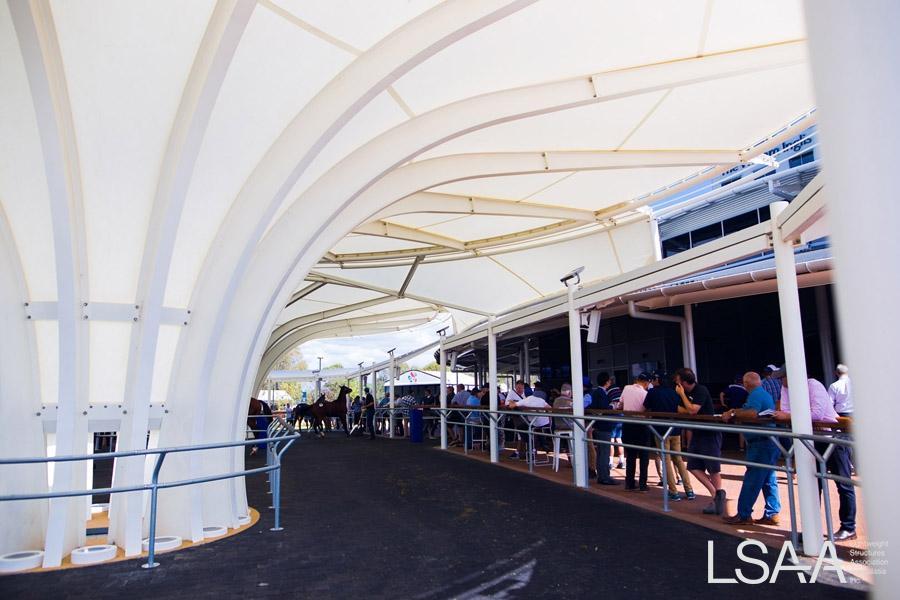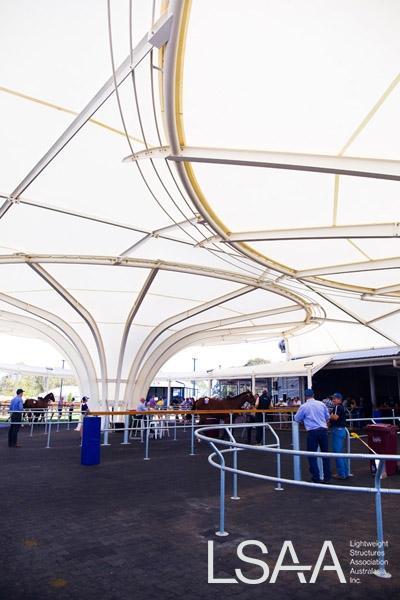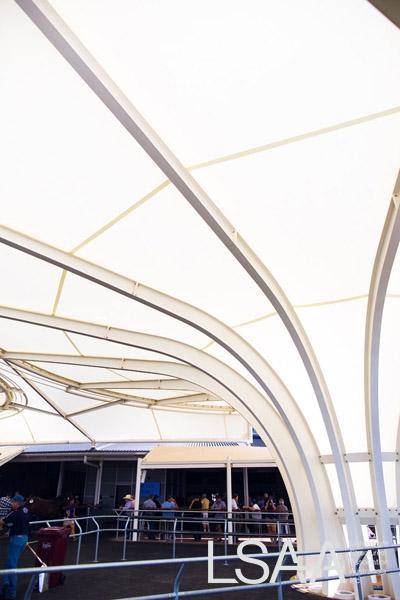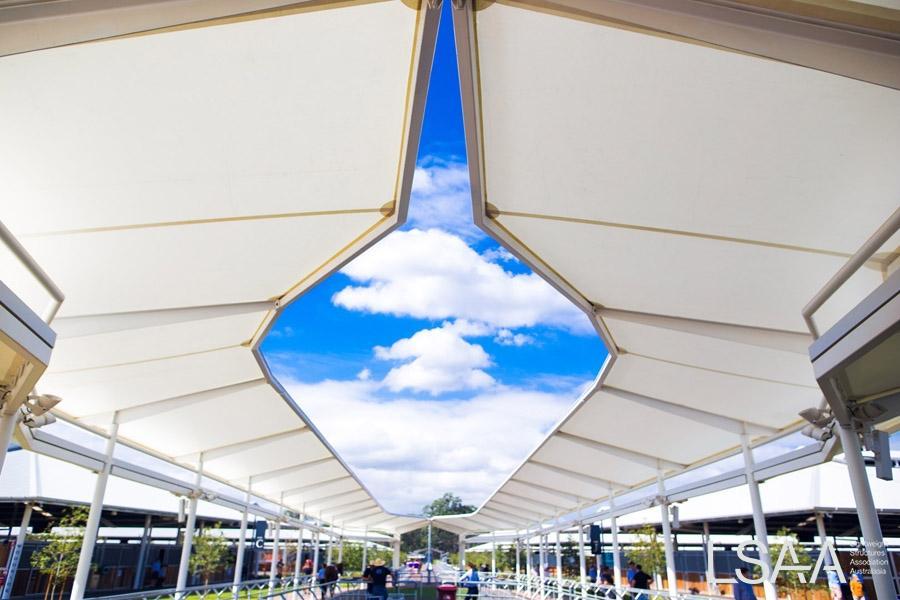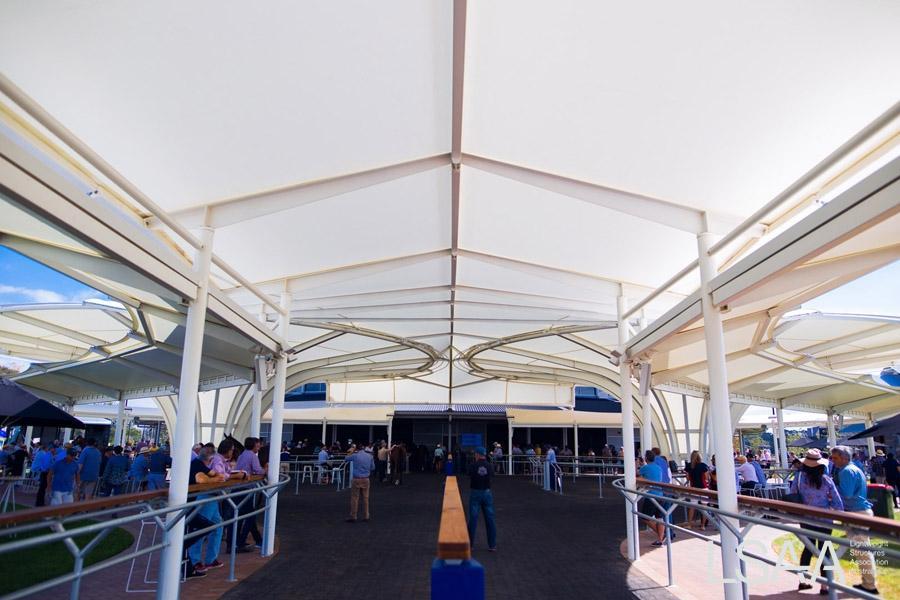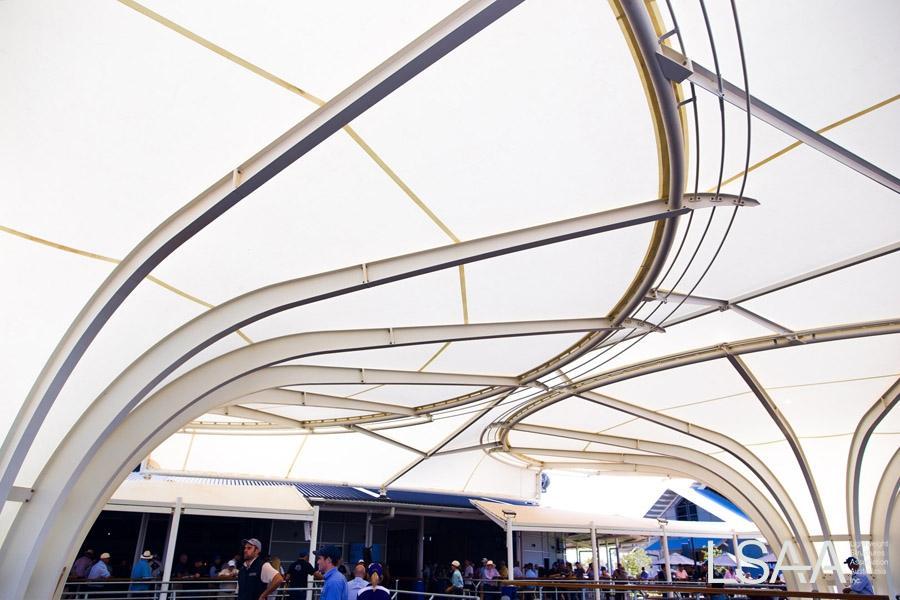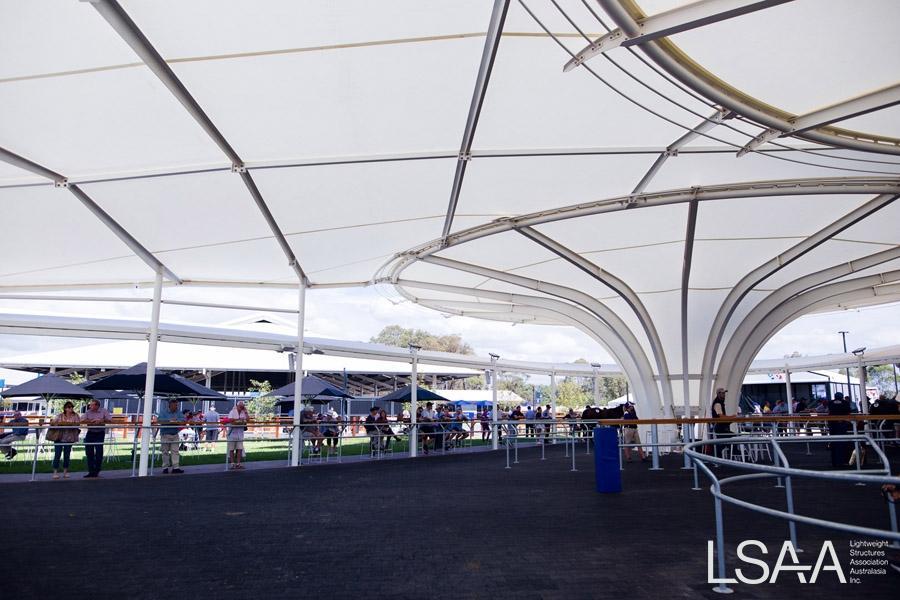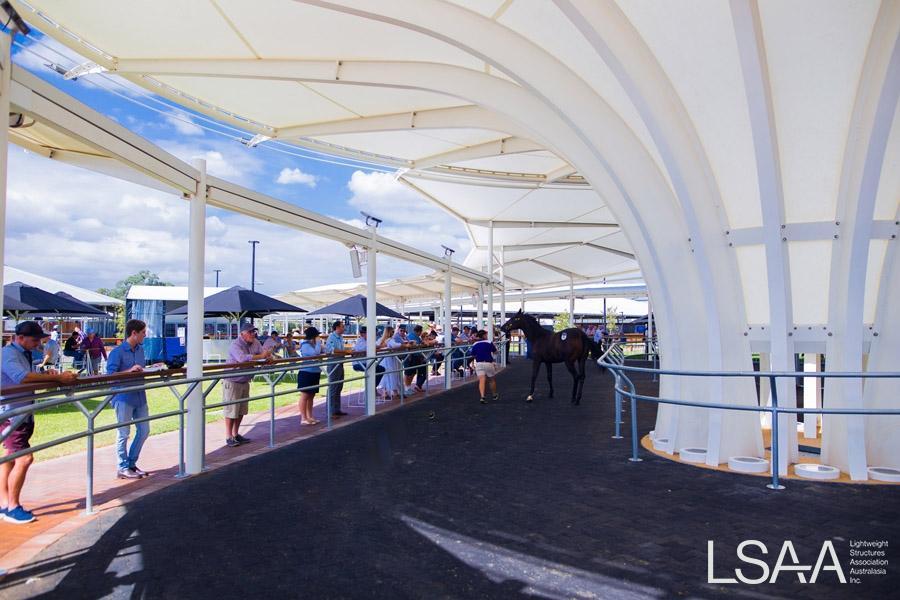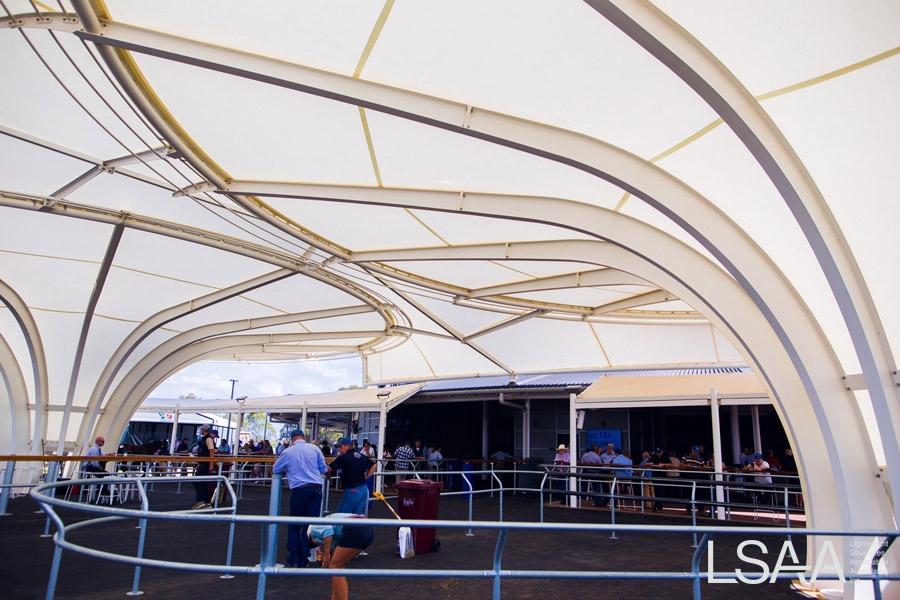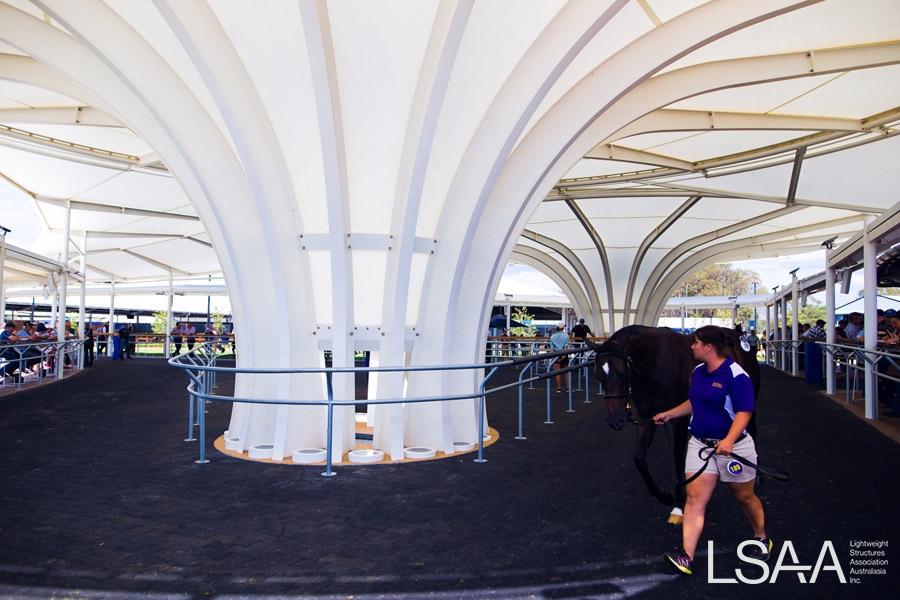 Read more: Inglis Selling Centre Fabric Roofs at Warwick Farm Racecourse (2018)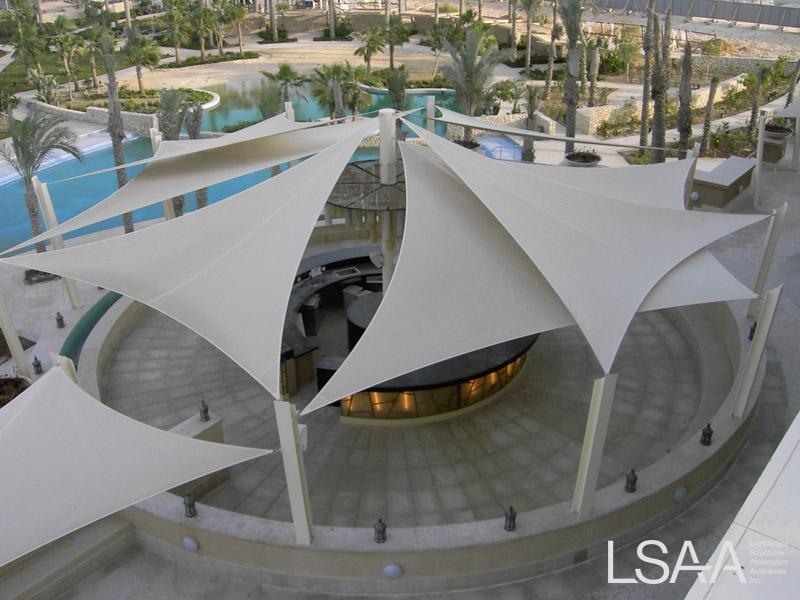 LSAA 2011 Design Award Entry (3185)
APPLICATION OF PROJECT:
Shading systems: The Marassi beach Clubhouse, resort villas, and spas required a large range of shading systems.
PROJECT DESCRIPTION
Marassi is a Mediterranean‐styled resort development sprawling across 1,544 acres of pristine waterfront. Situated along the magical shores of Sidi Abdul Rahman bay, the resort is close to Alexandria and a few miles away from the historic city of El Alamein.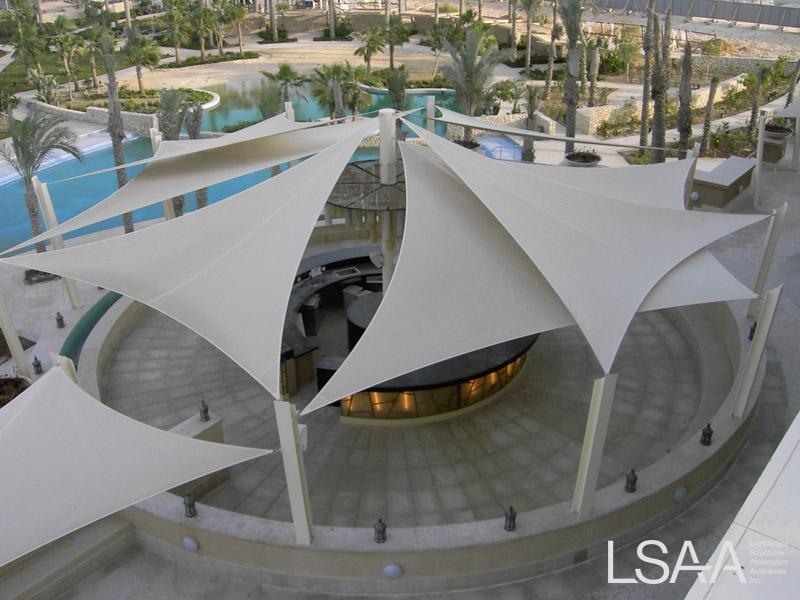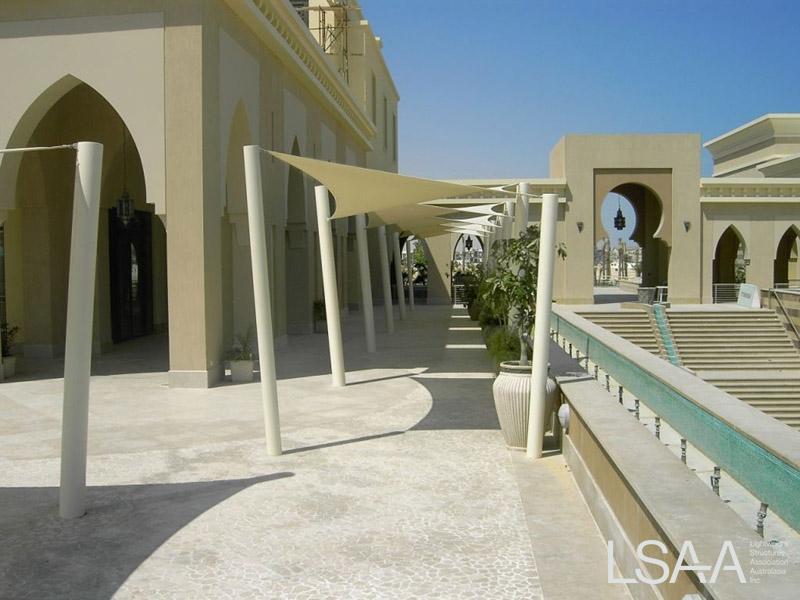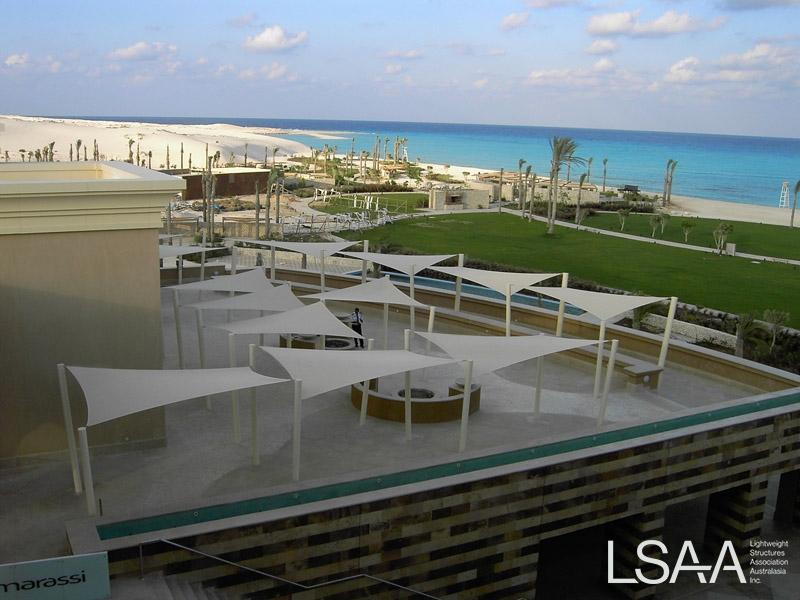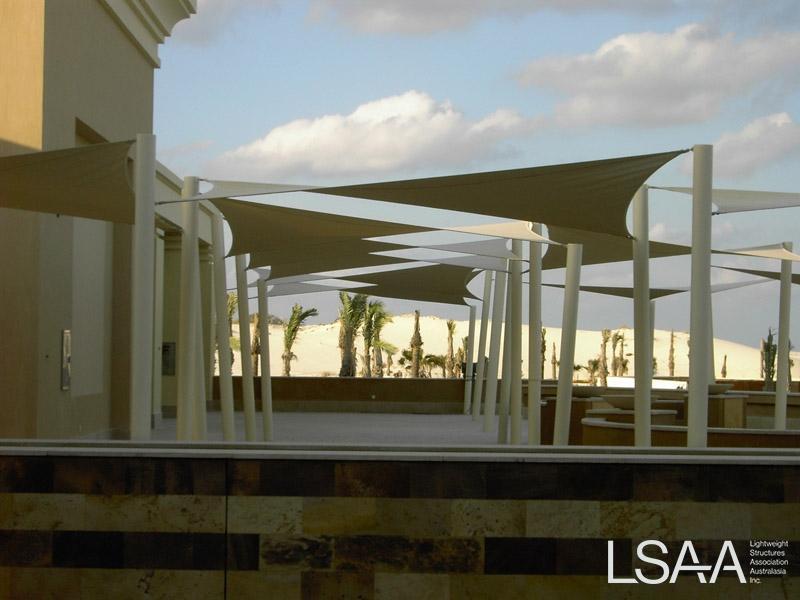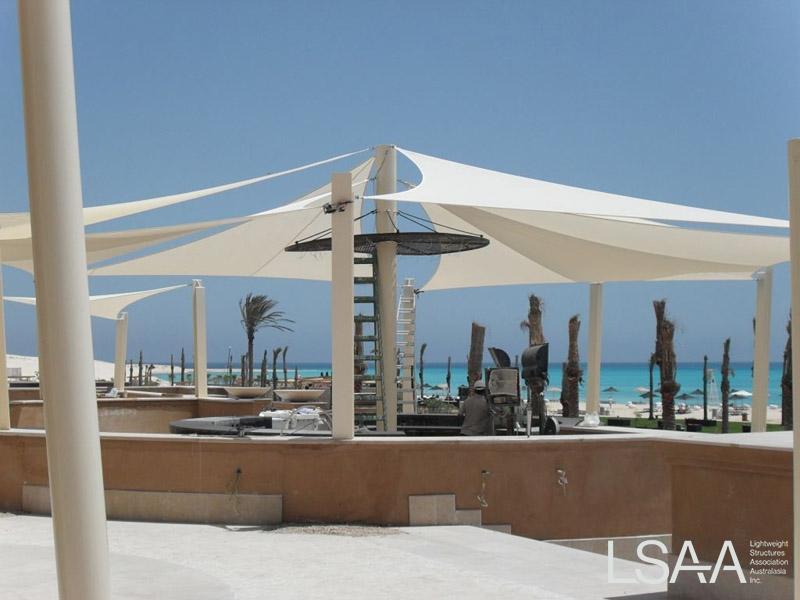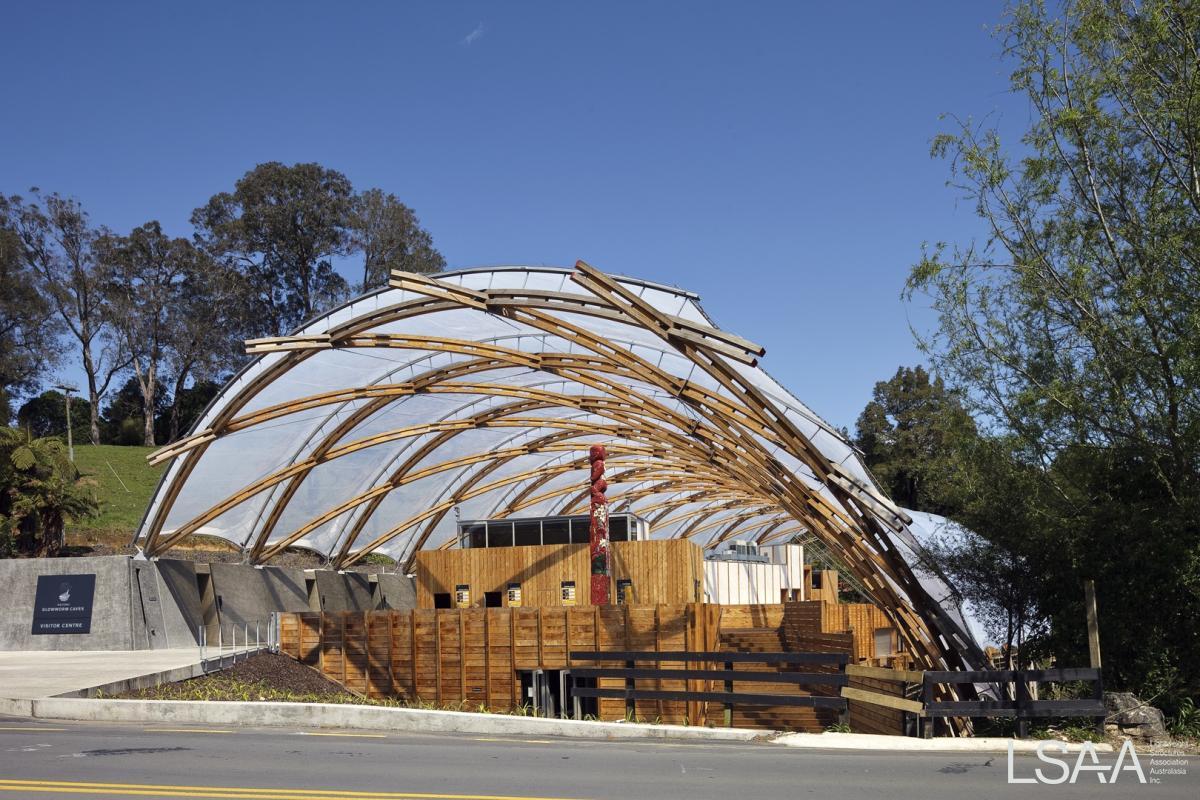 Entered into the LSAA 2011 Awards (Cat 4, 4610)
PROJECT DESCRIPTION
Sheltered below an innovative woven timber canopy, new amenities for visitors to the Waitomo Caves includes tourist gathering areas, 250-seat dining, retail, seminar and exhibition areas as well as a café and theatre for Tourism Holdings Ltd (Fig.1). (Note: These Figures / drawings are not available)
The cave entrance is accessed from the car park on the upper path while a lower path returns the visitors back alongside the stream exit (Fig. 2). Between these paths the amenities were accommodated within a simple base structure that extended the contours of the land (Fig. 3). The form of the base is distinguished and separate from the curved geometry of the overhead canopy.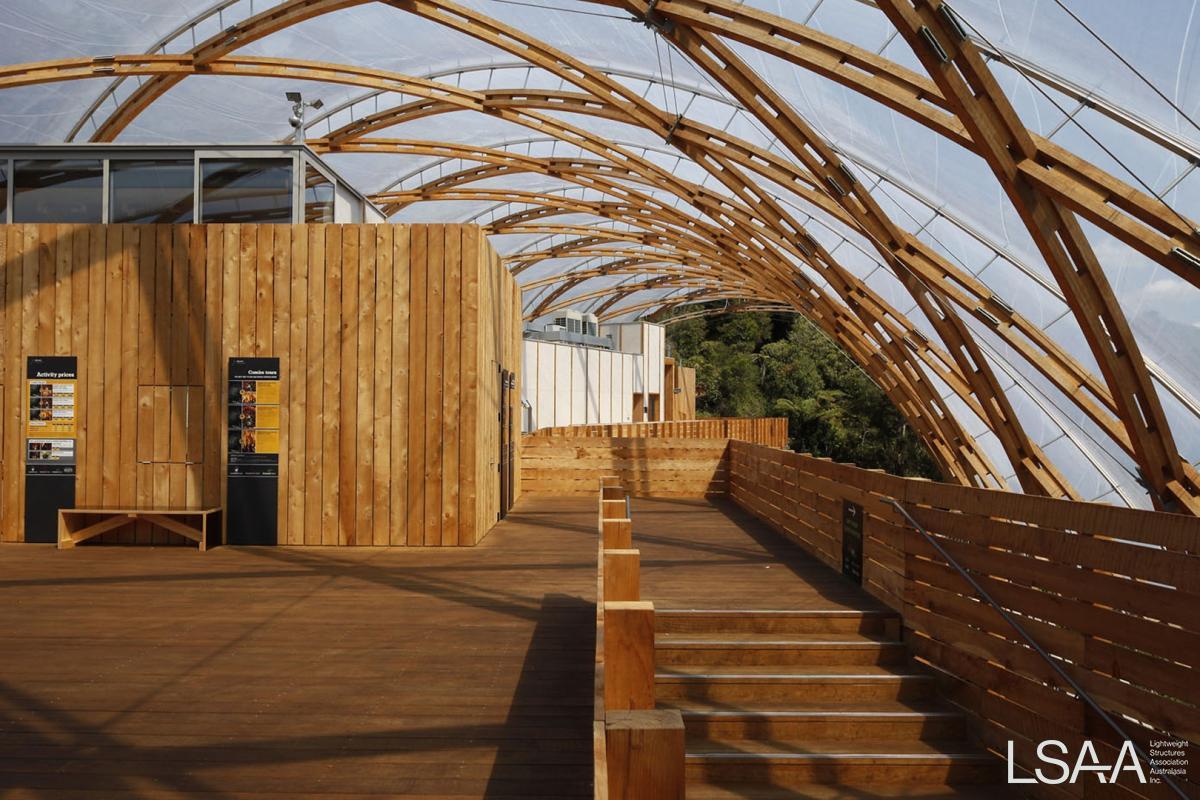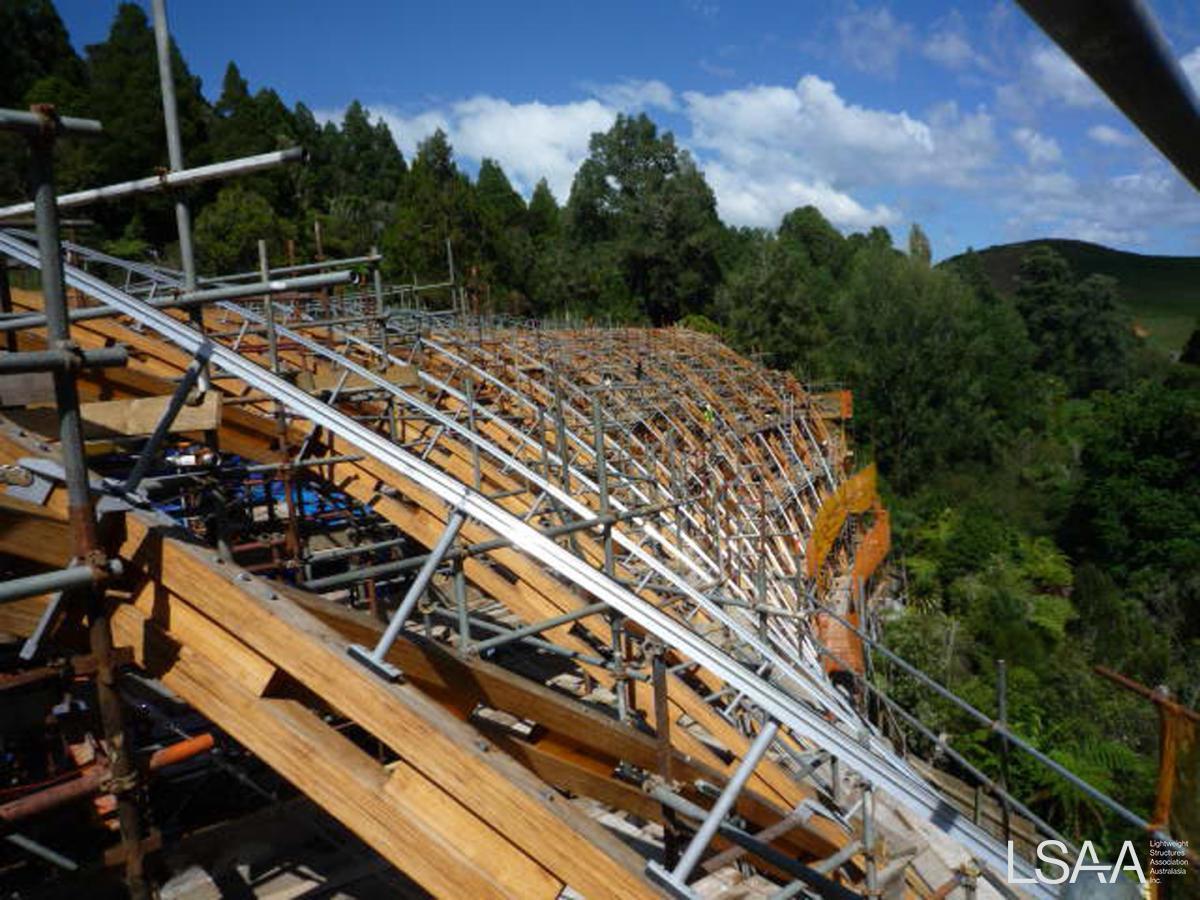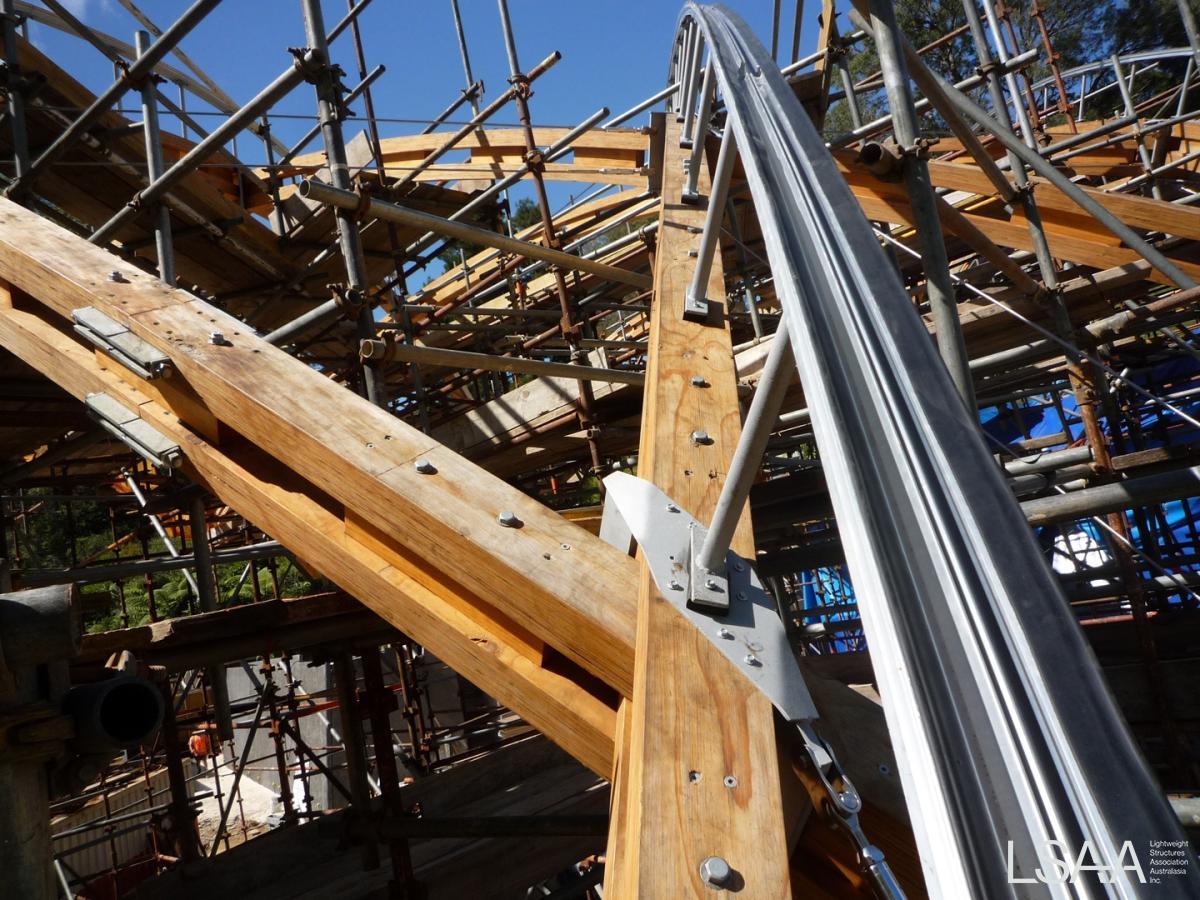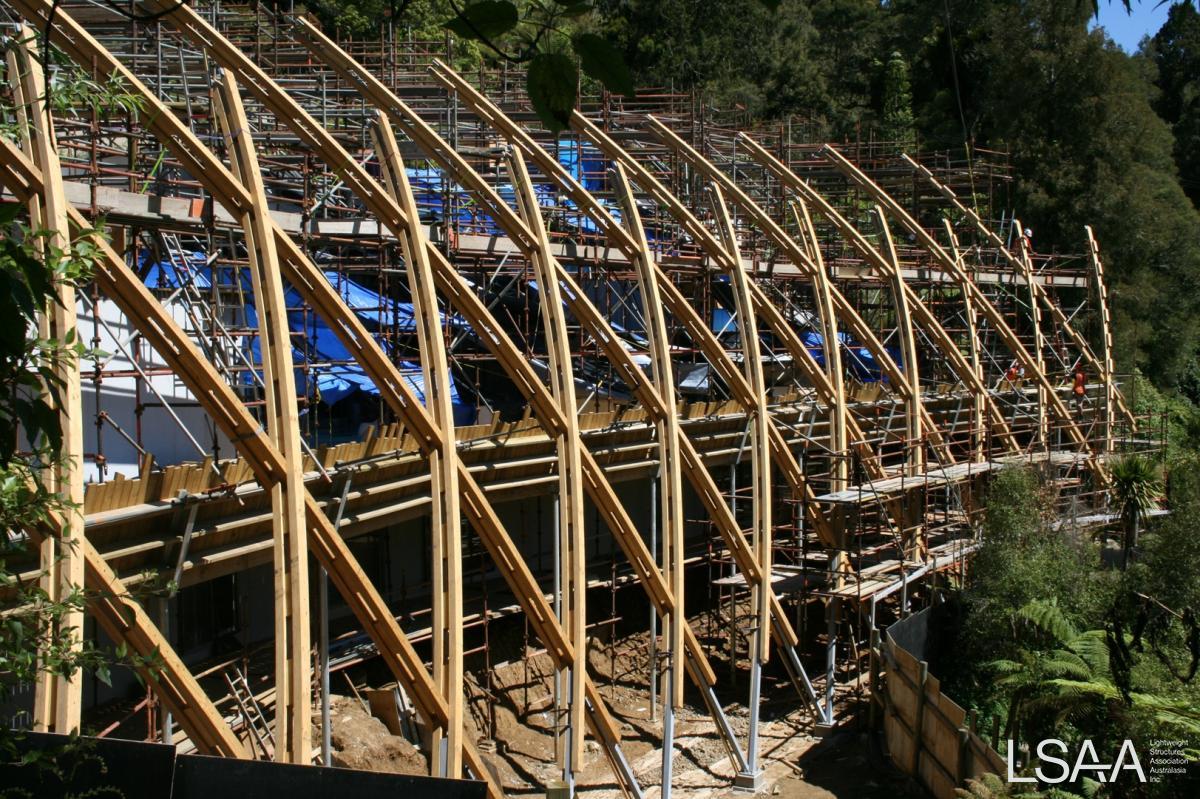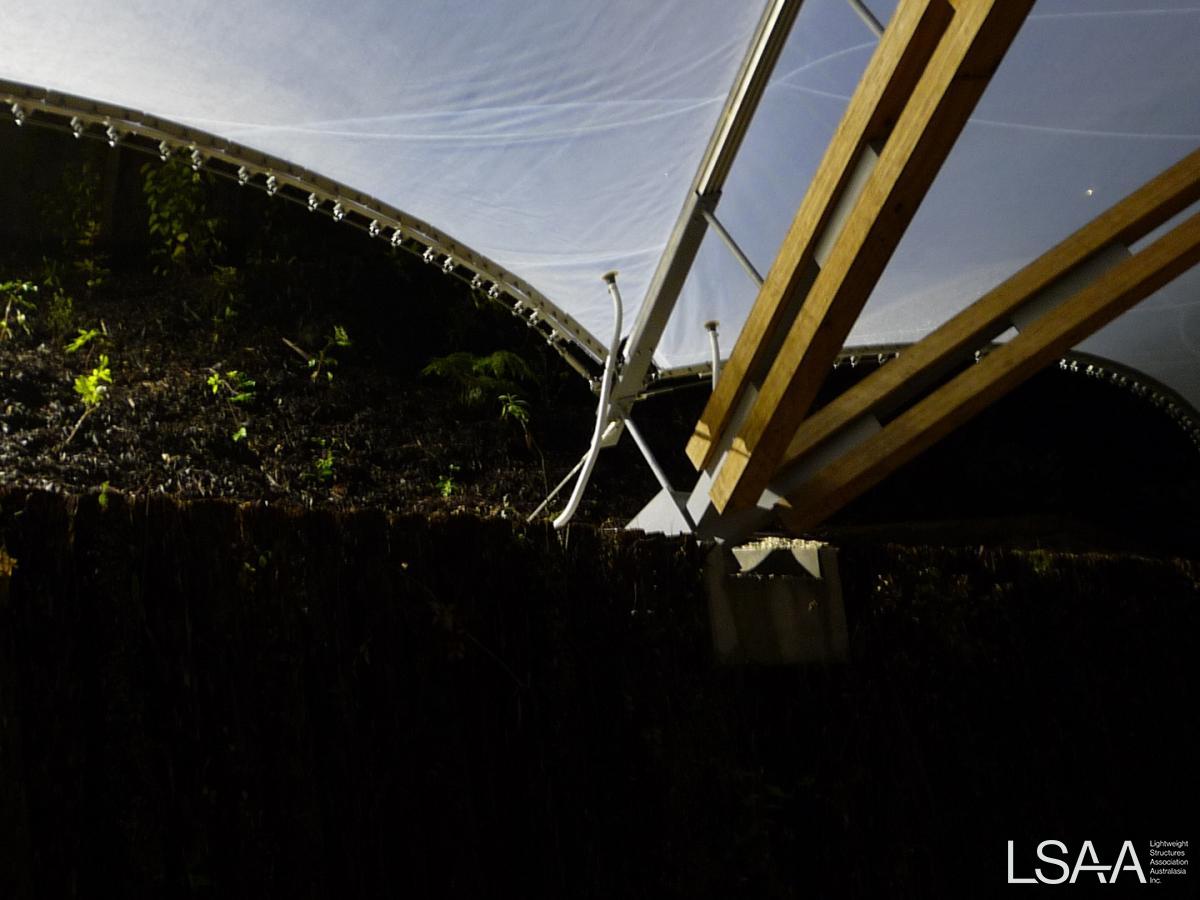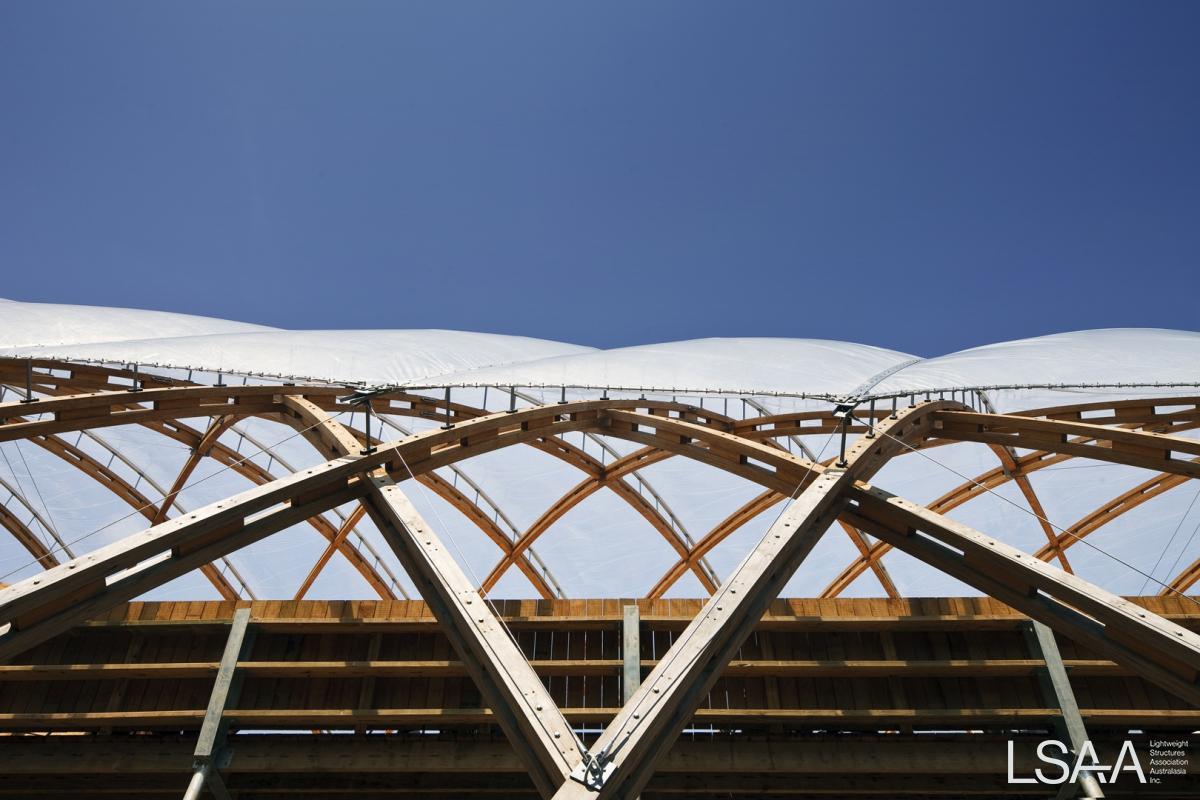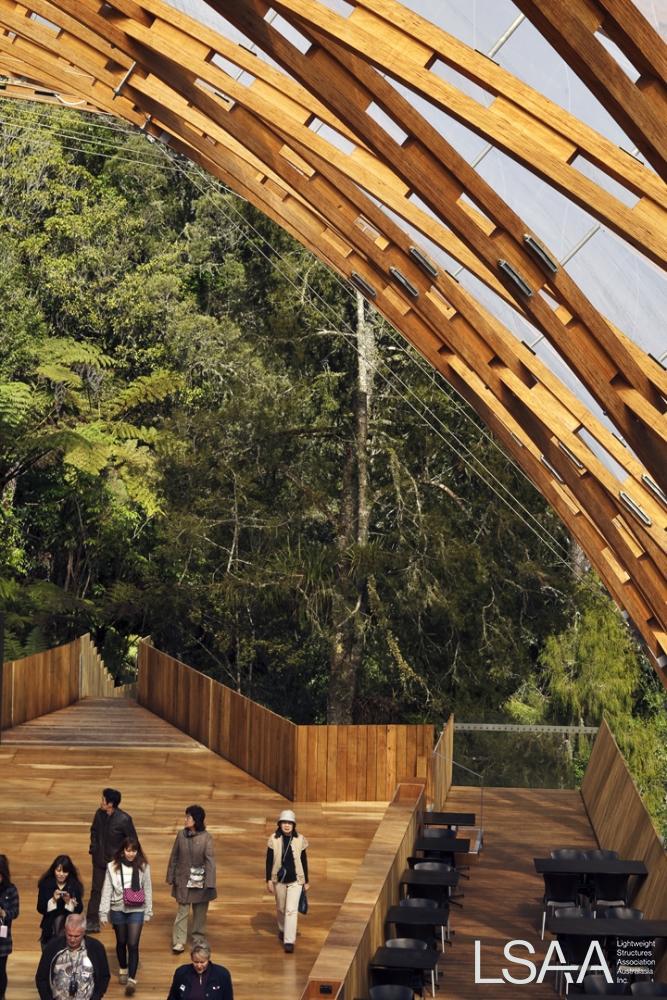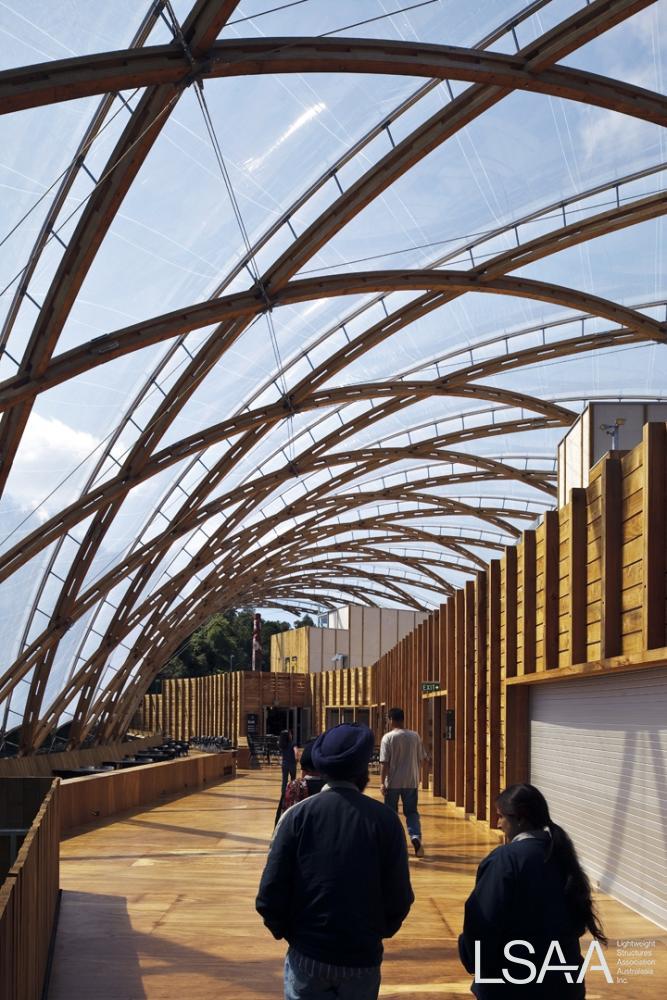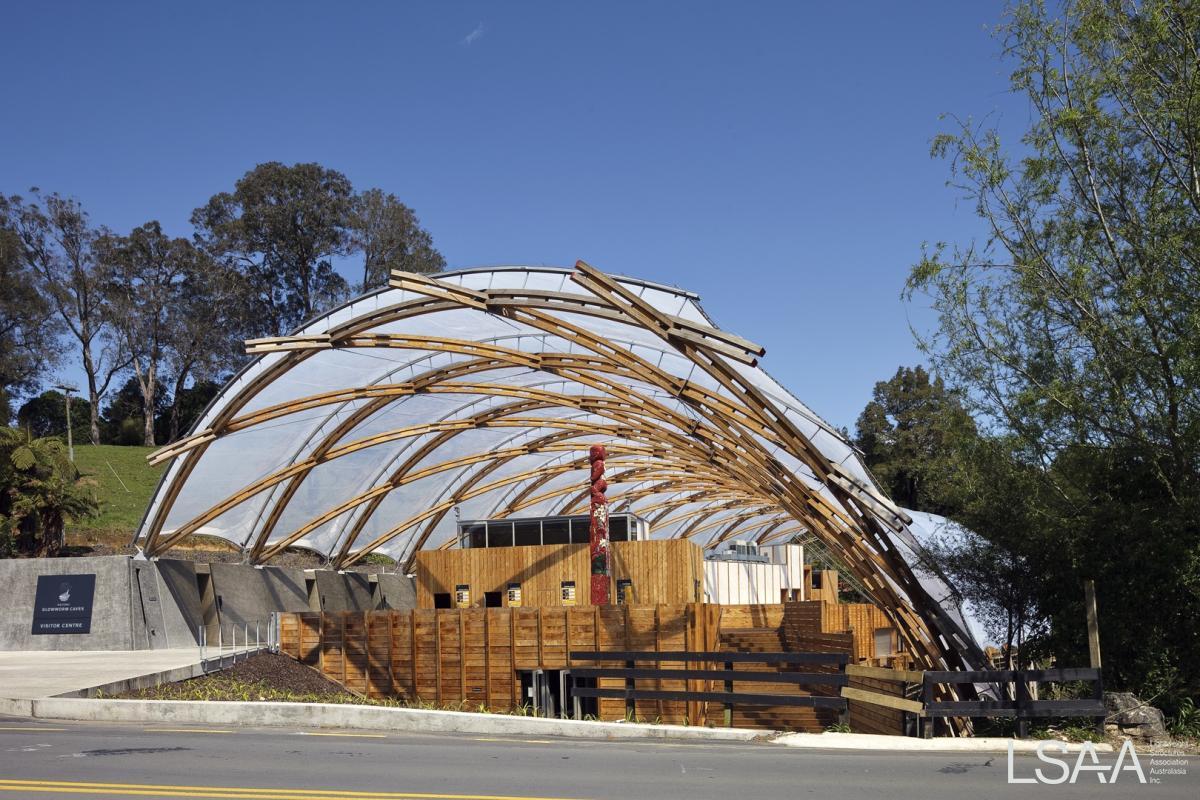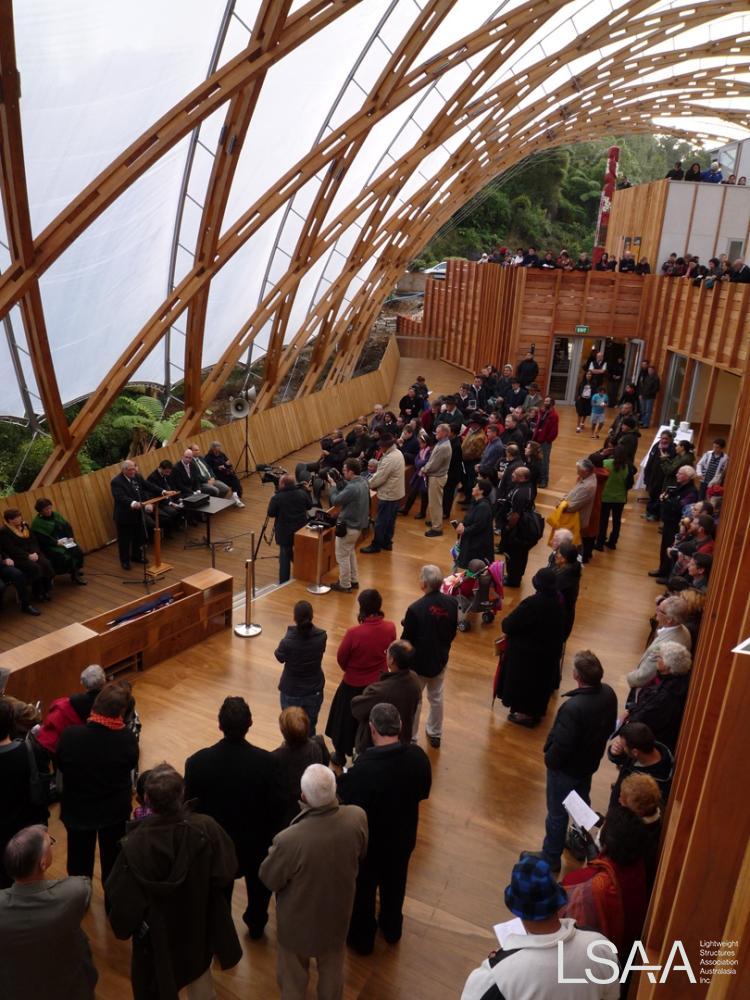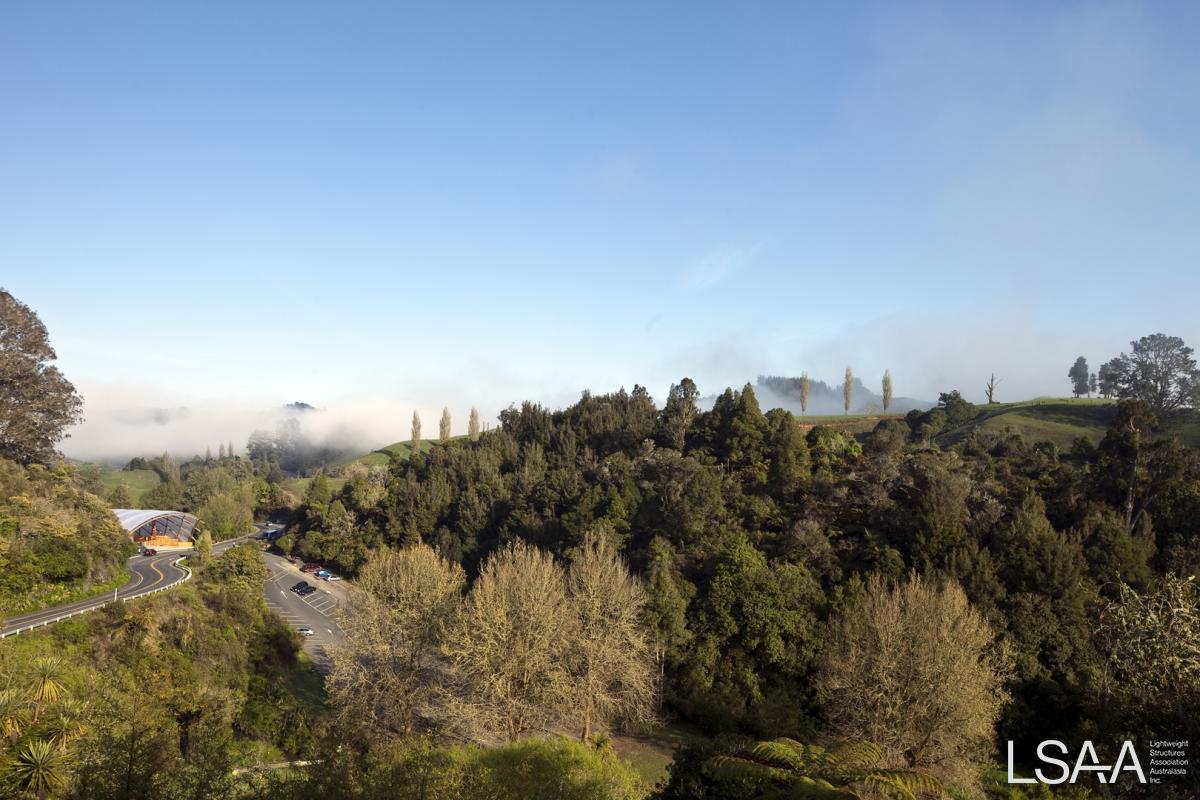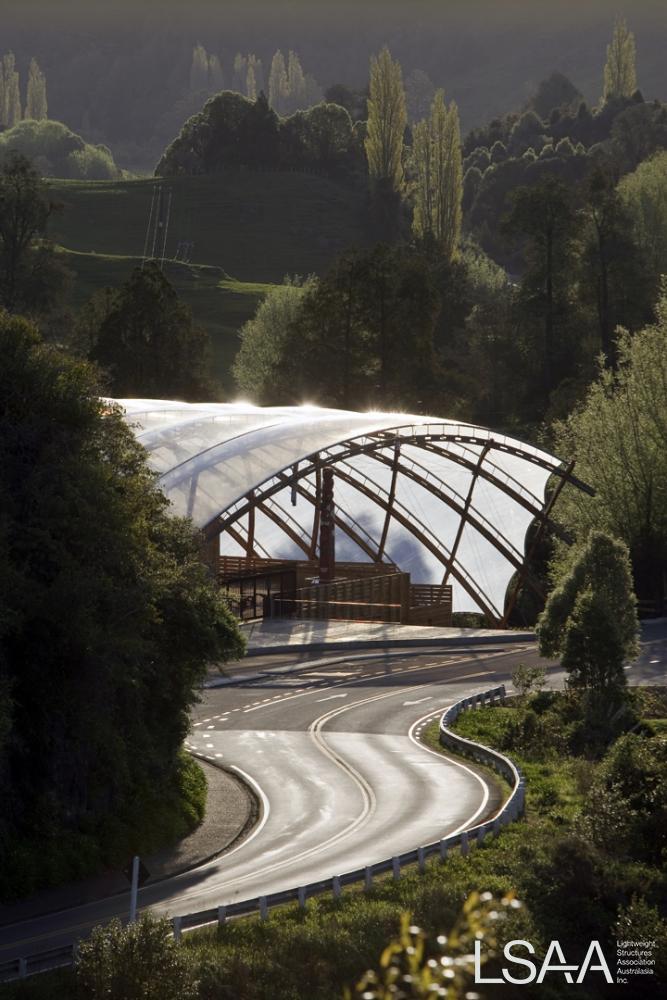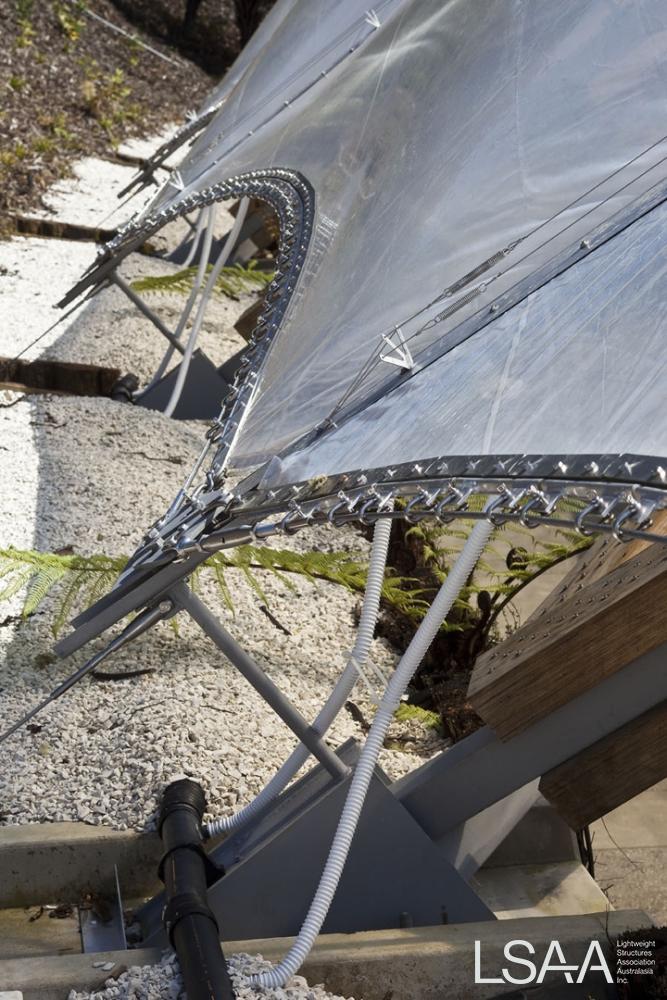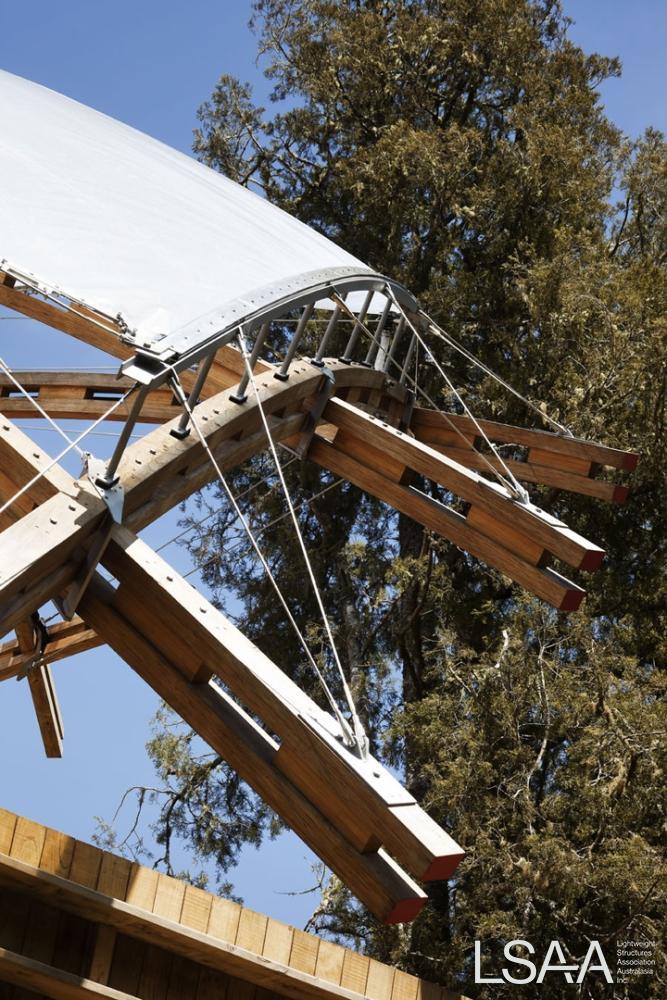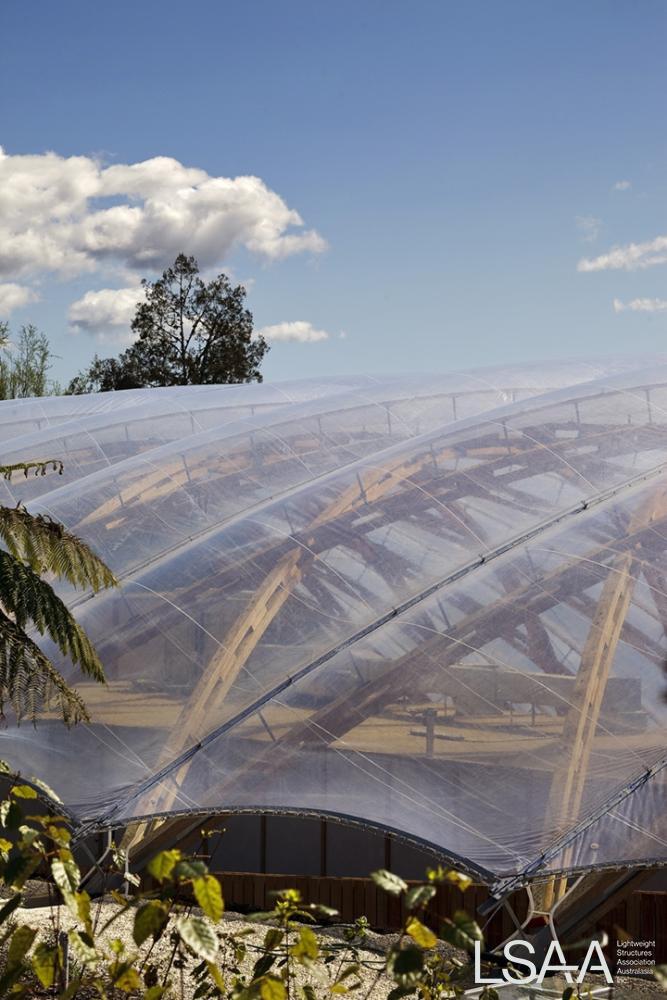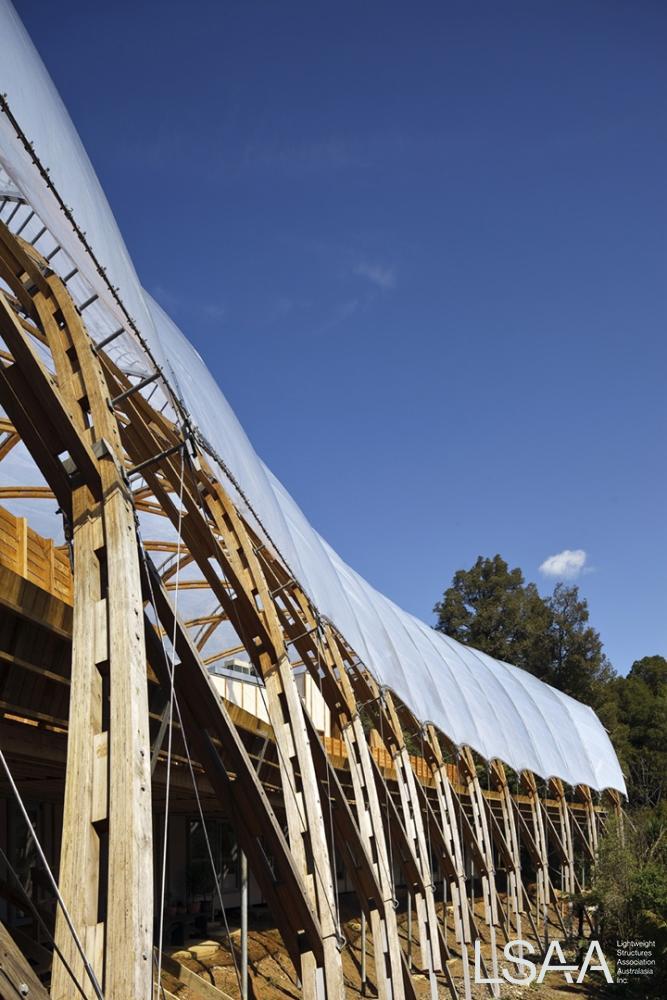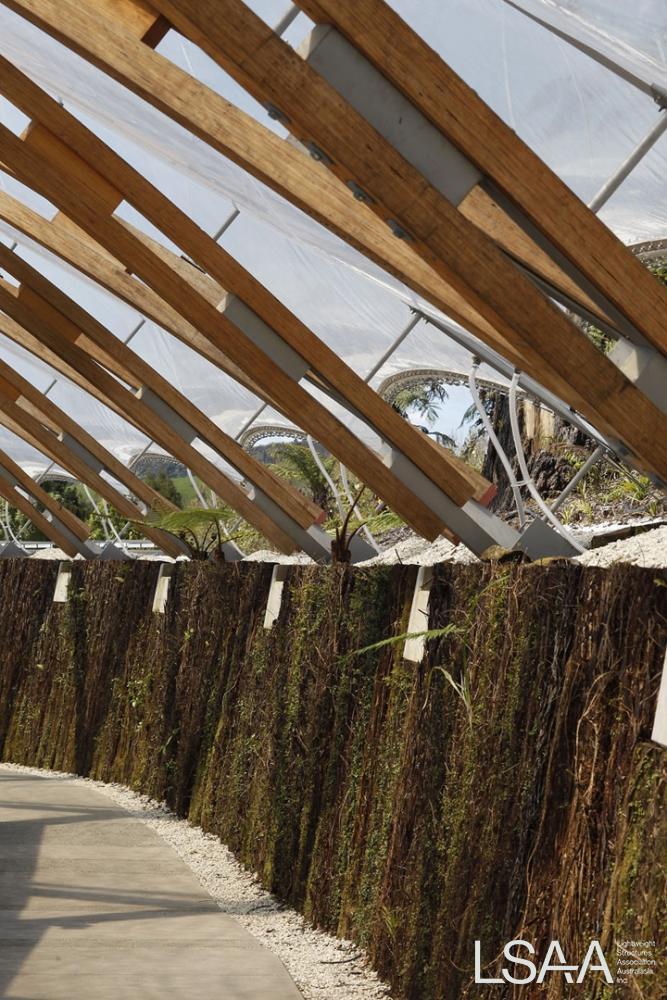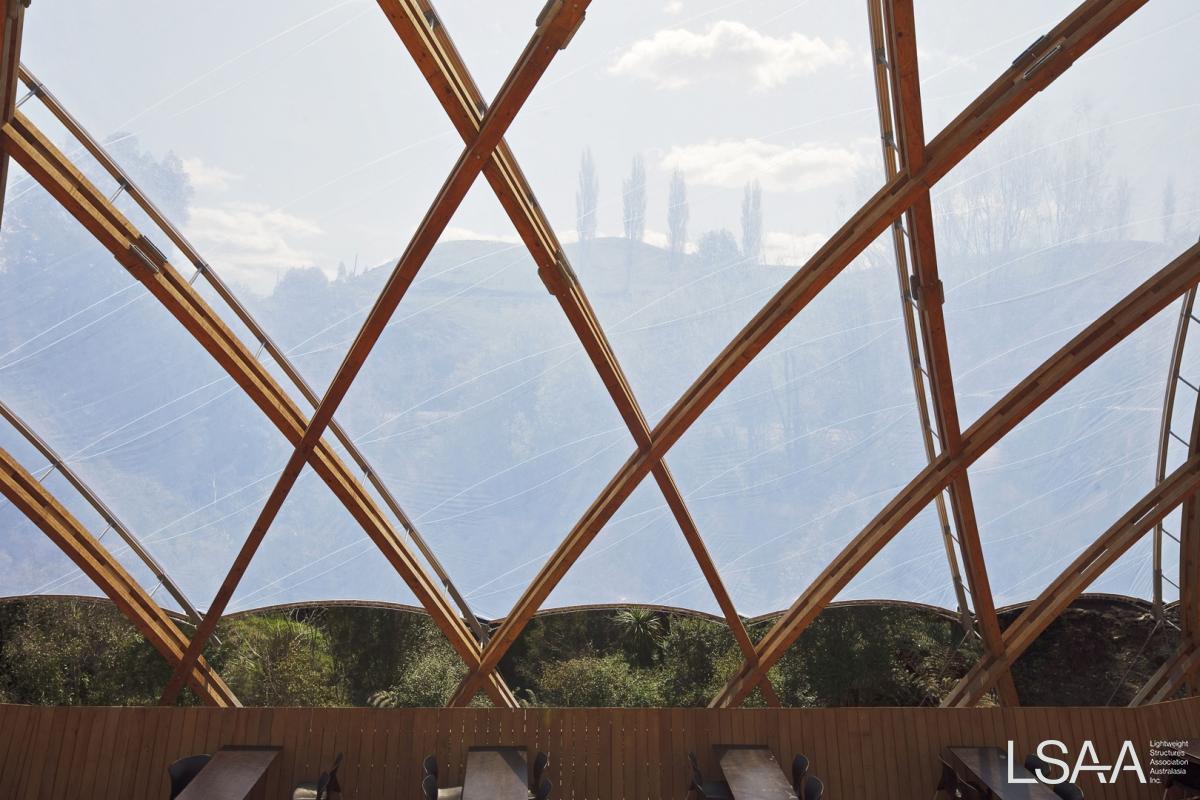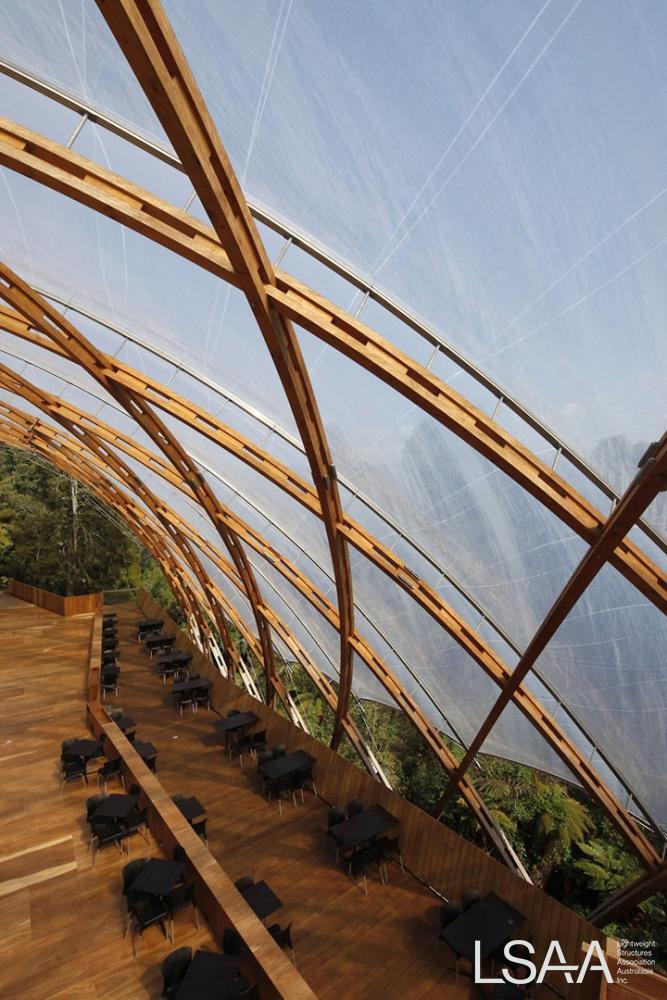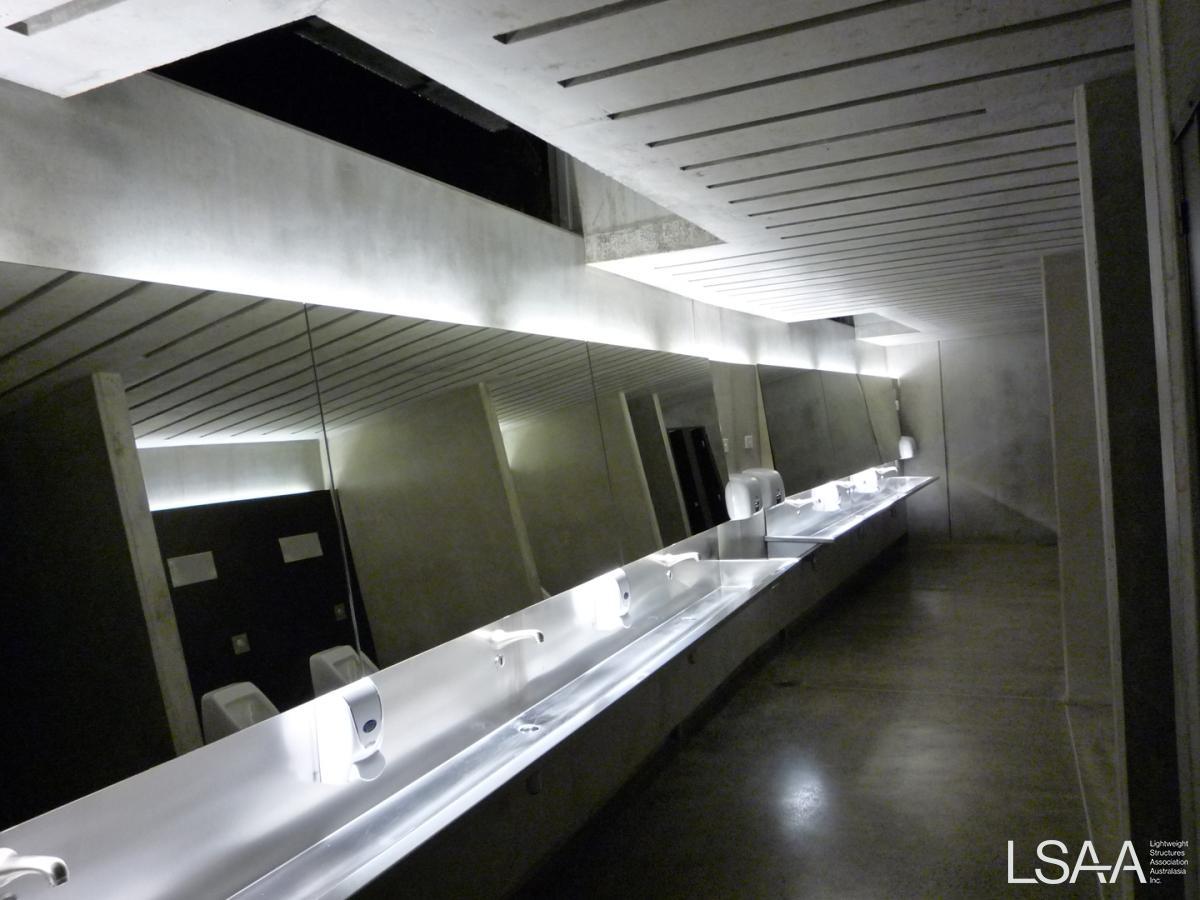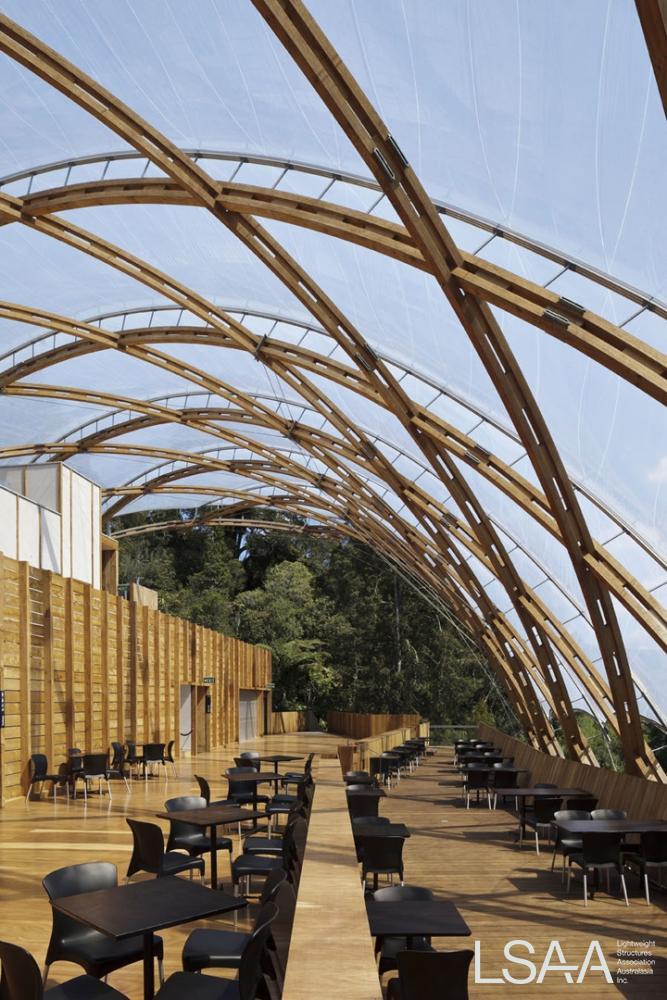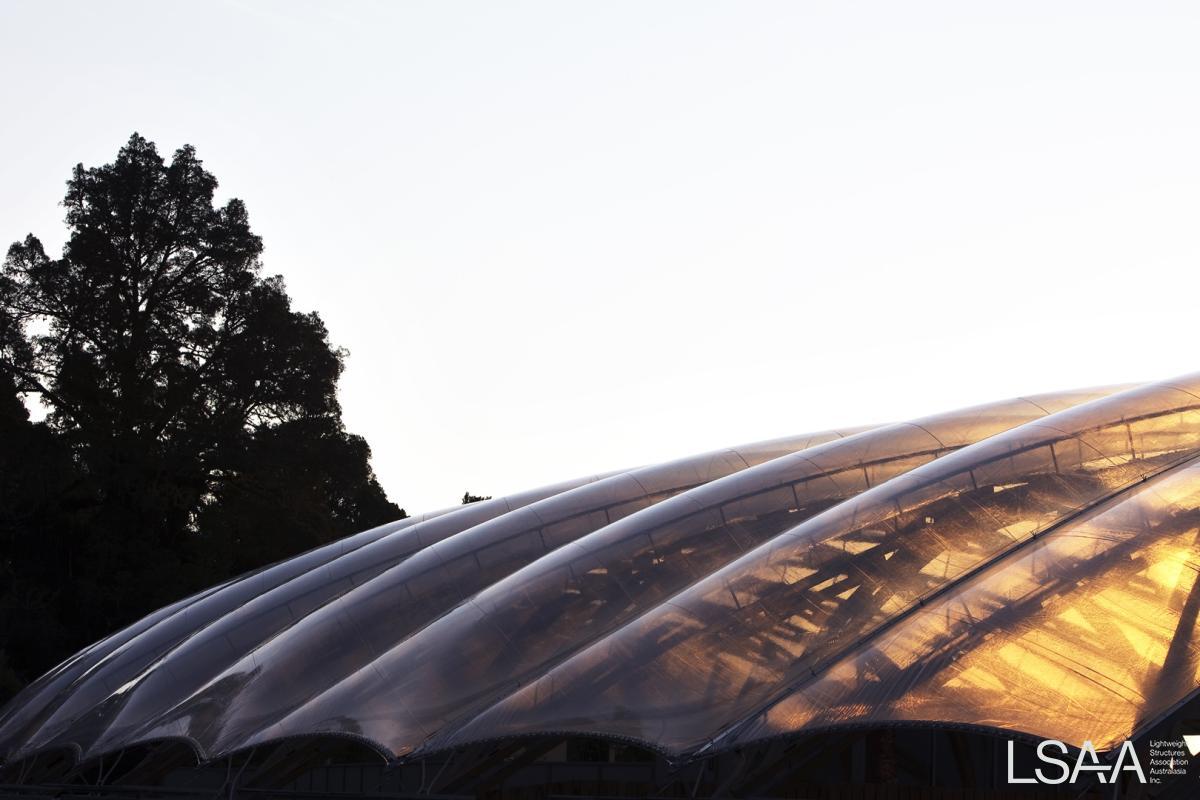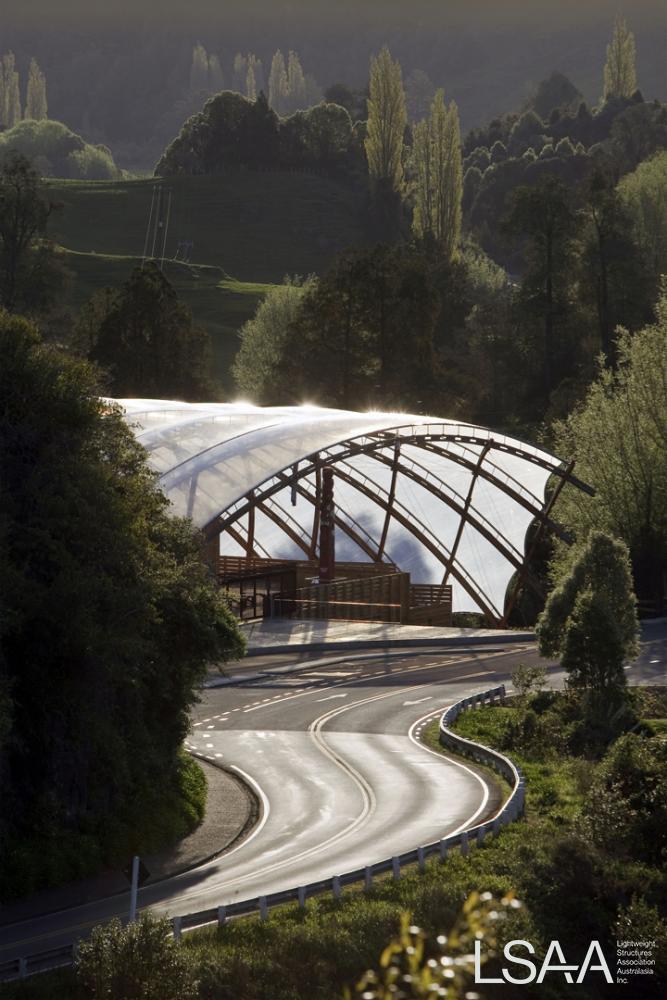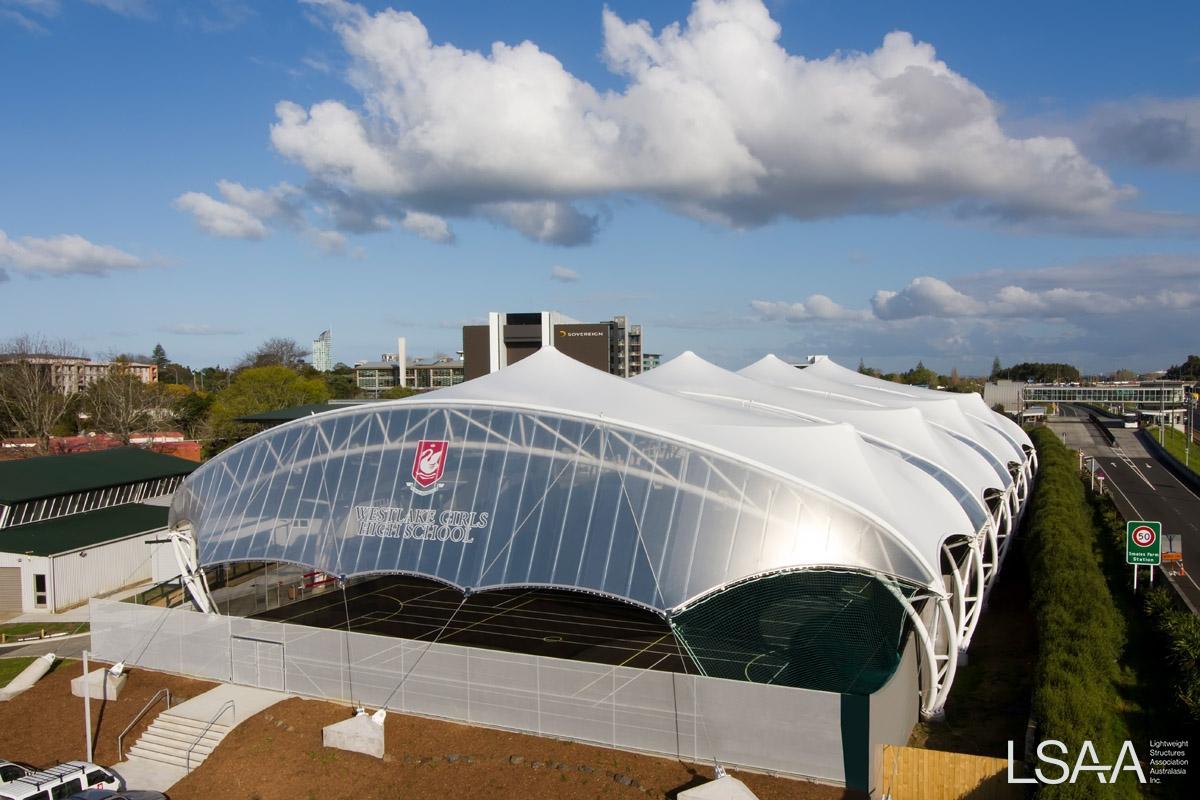 LSAA Design Awards 2013 High Commendation
Entrant:Structurflex Limited
Category: 4 ID Number: 4101

Location: Auckland, NZ

Client: Westlake Girls High School

Completion Date: May 2012
Judges Comments:
"Well executed variant of a "Standard" structure for sports."
"A tough site by the side of a motorway. Fine integration of structure and membrane to make the most of the potential of lightweight materials. A generous span provides uncluttered space; a sense of levity throughout."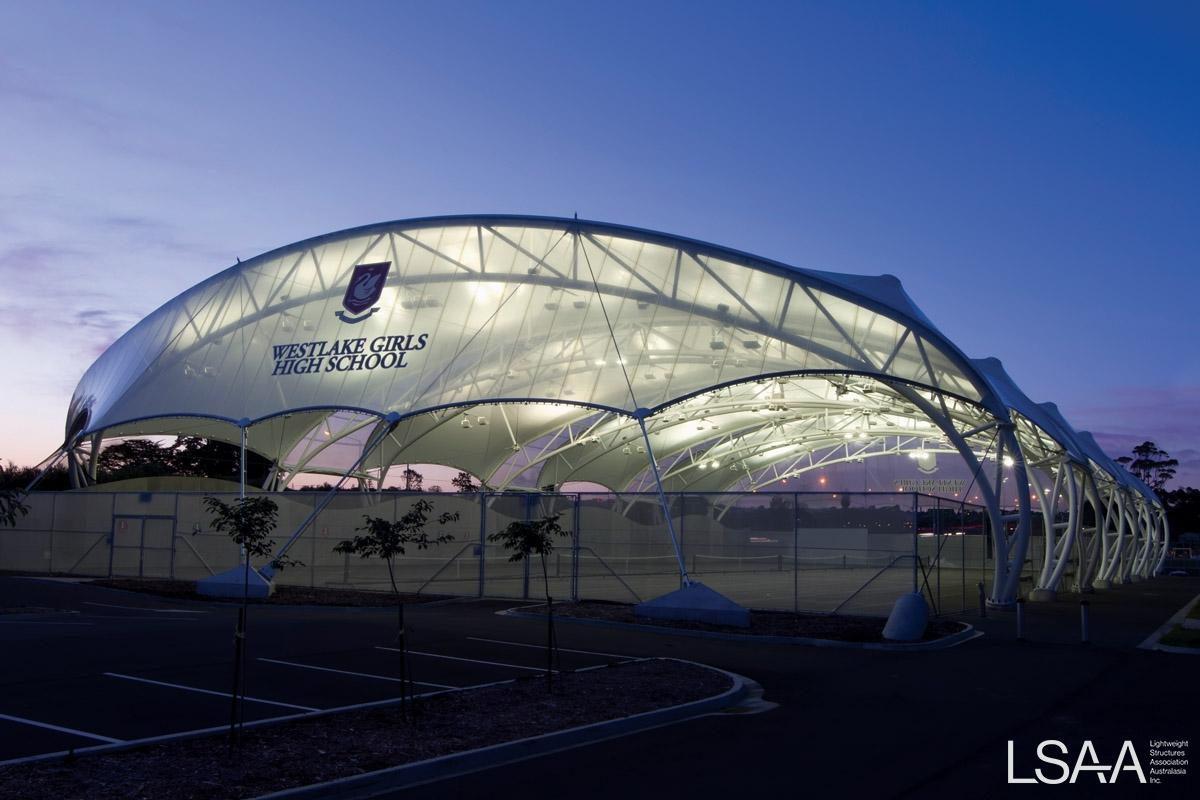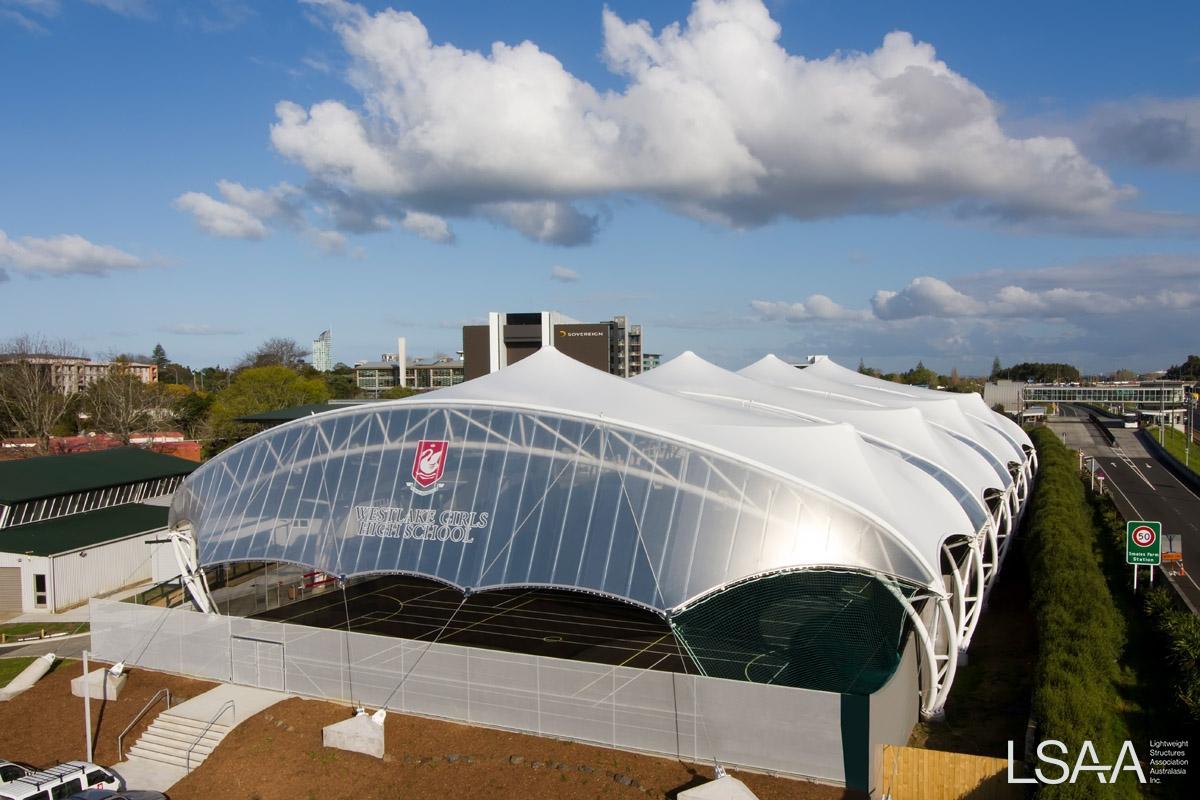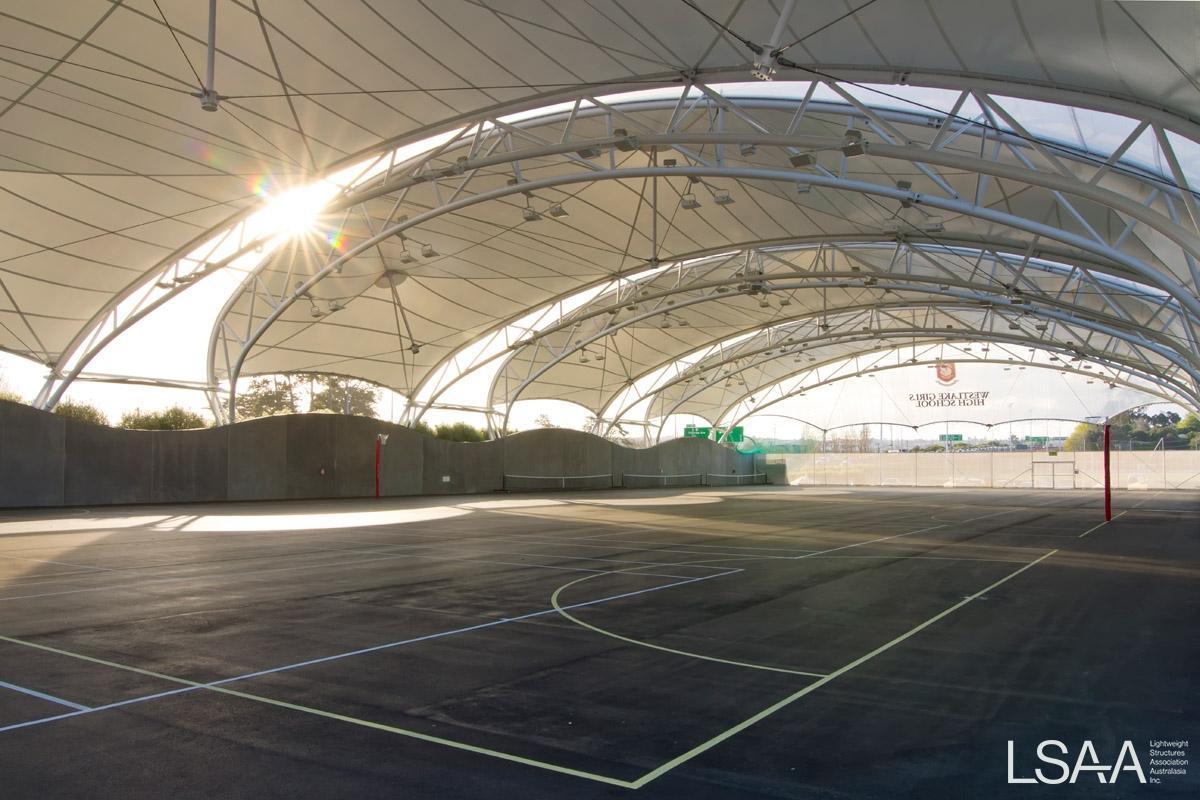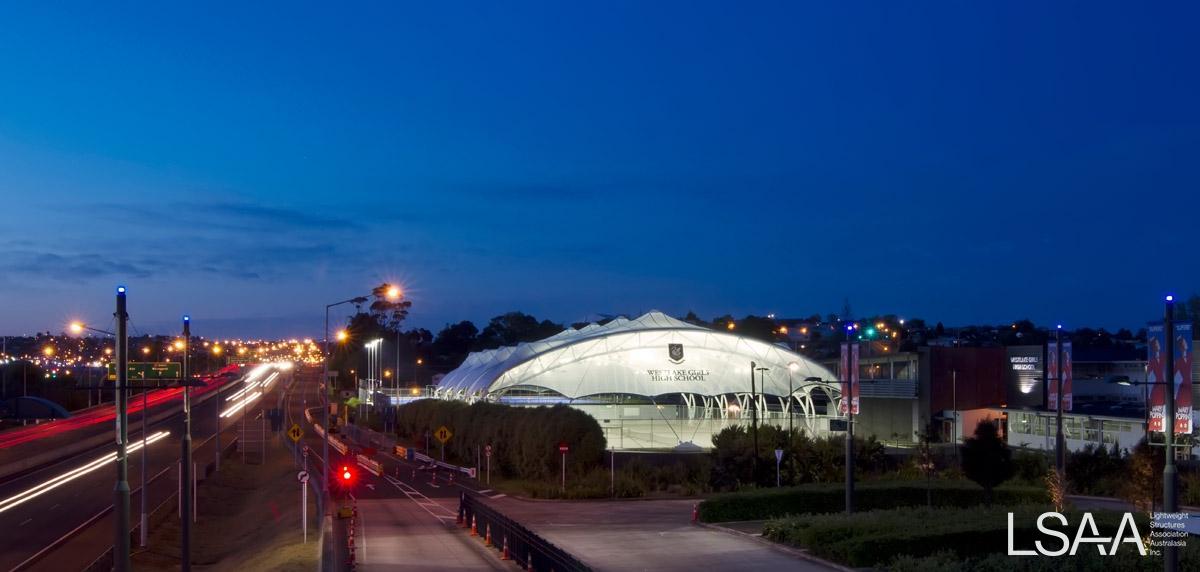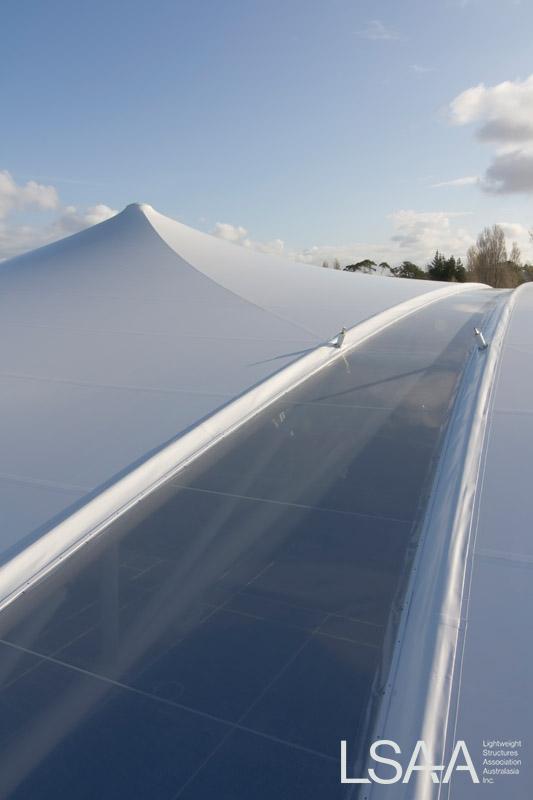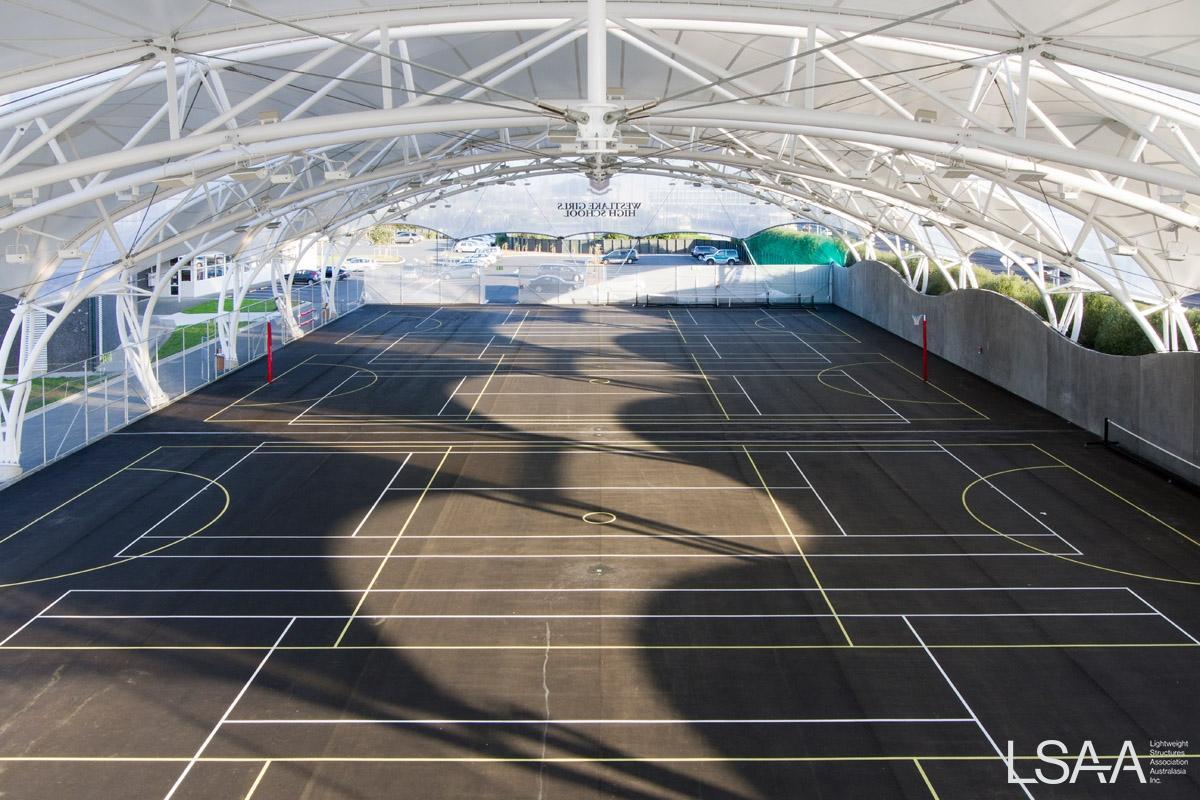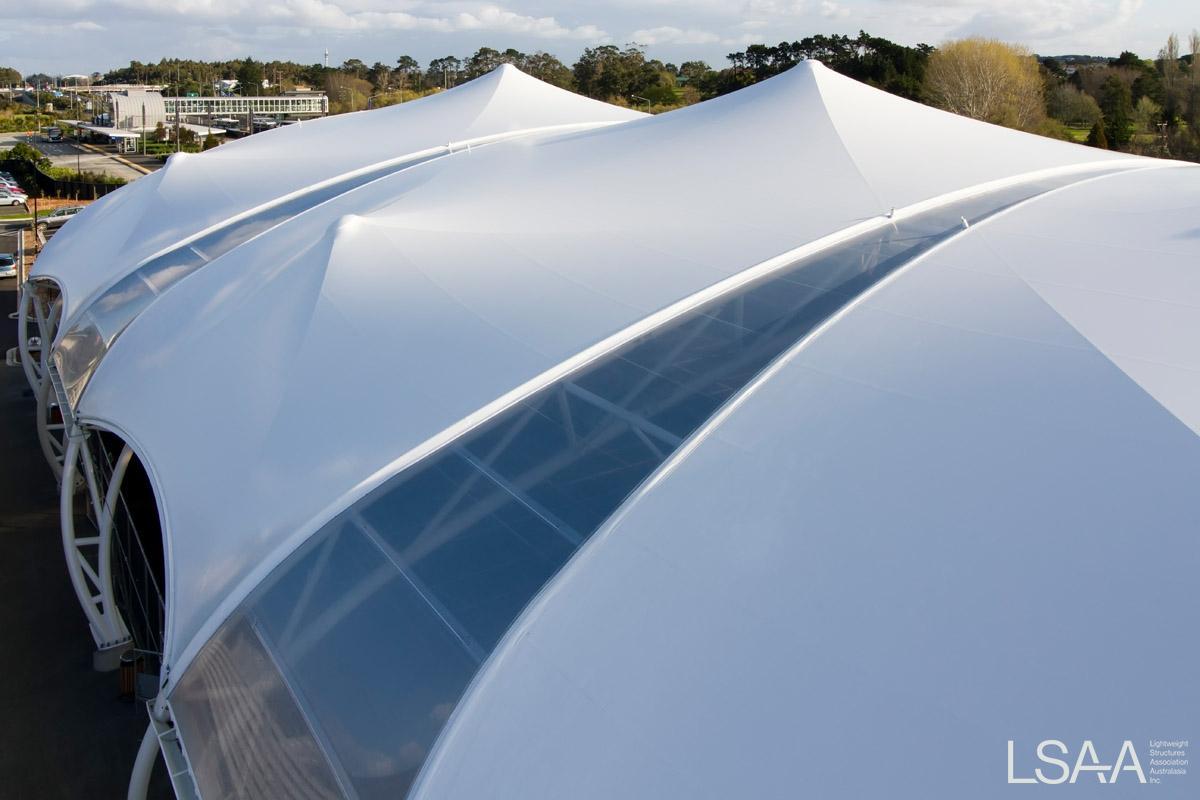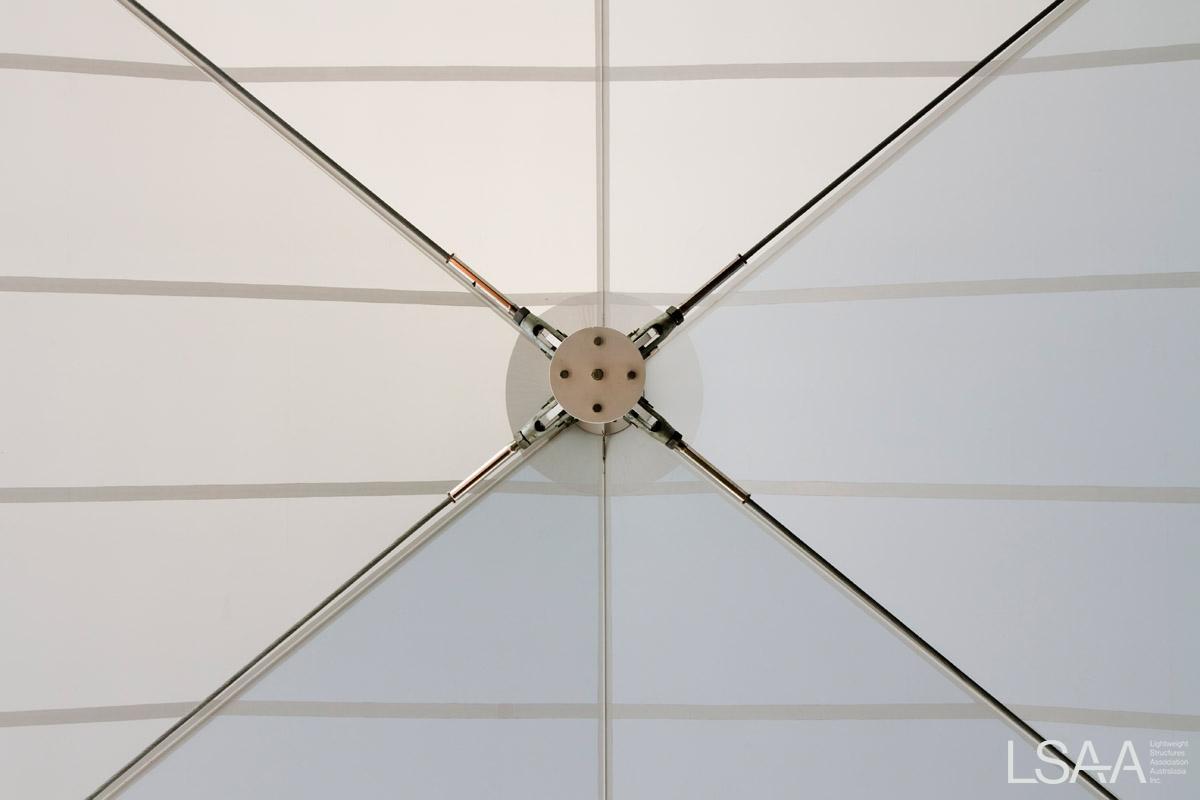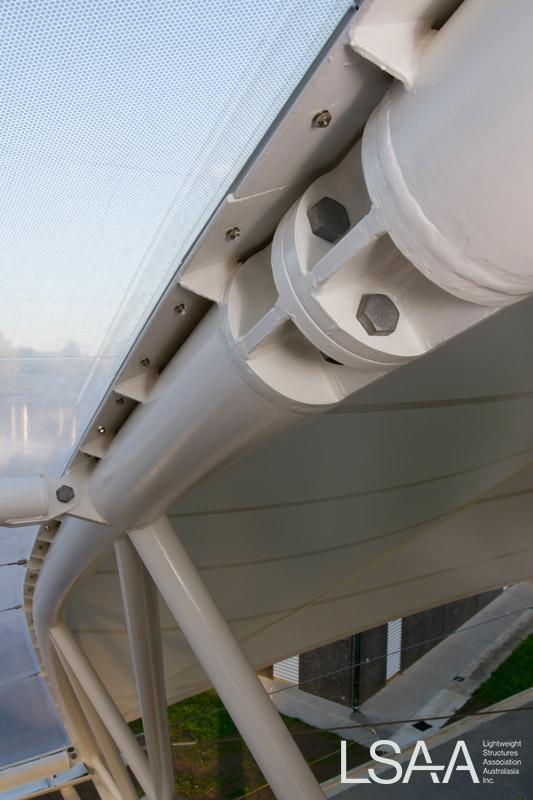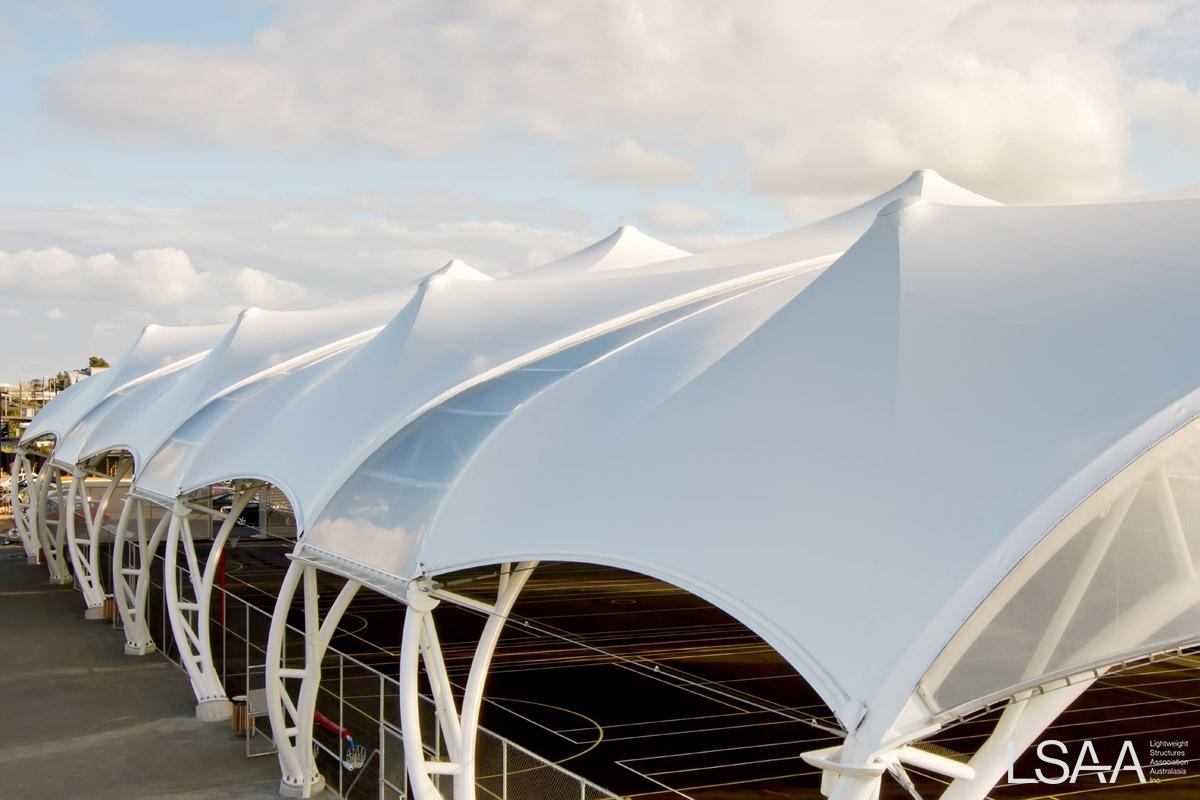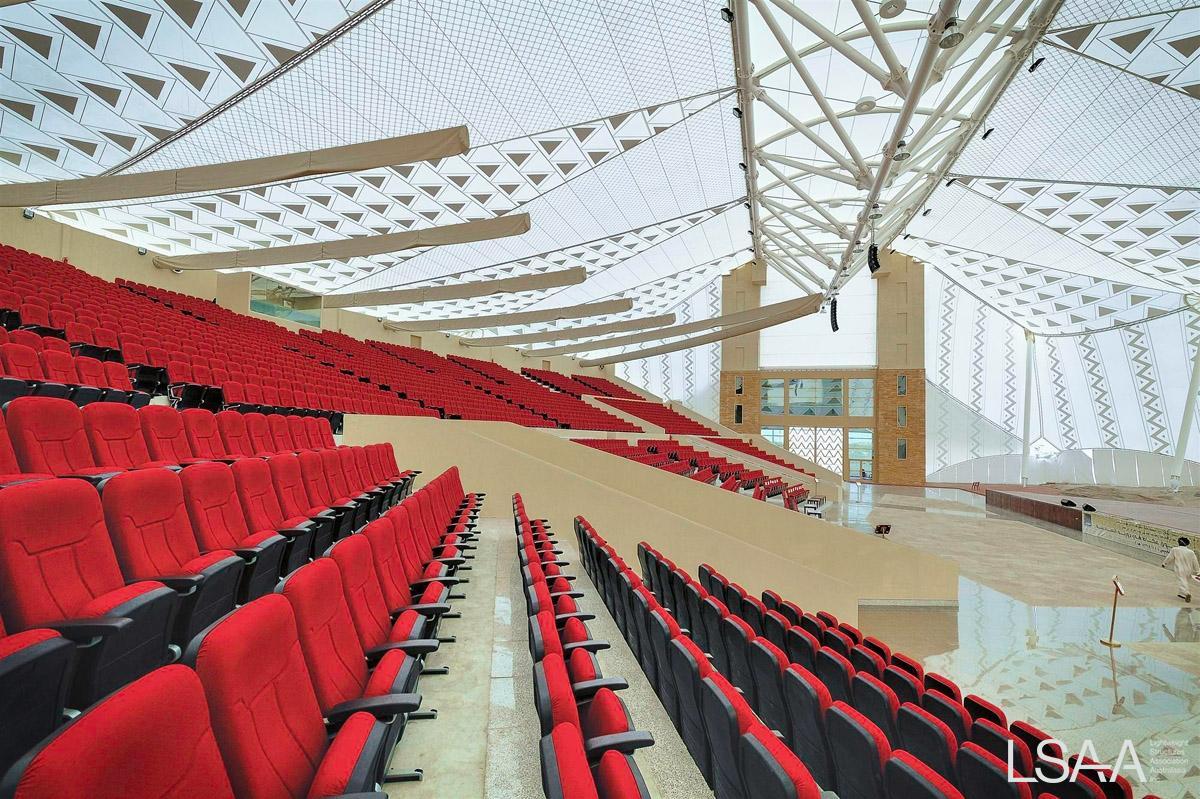 LSAA Design Awards 2013 Award of Excellence (Cat 6, ID 4303)
Souk Okaz Public Theatre
Entrant: MakMax Australia
Location: Taif City, Kingdom of Audi Arabia

Client: Taif City

Completion Date: March 2013
Judges Comments:
"Well integrated and designed perfectly for its place."
"This looks to be very successful integration of lightweight elements with solid architecture. There's no sense that the roof has been conceived independently of the rest of the theatre. Lovely tent-like effect; very effective use of pattern on the 'fly sheet'."
PROJECT DESCRIPTION: Decorative roof, culturally significant
The purpose of Souk Okaz Public Theatre was to deliver both a functional public space for cultural activities and evocative ambience reminiscent of the ancient pre-Islamic era of a bustling Bedouin market place.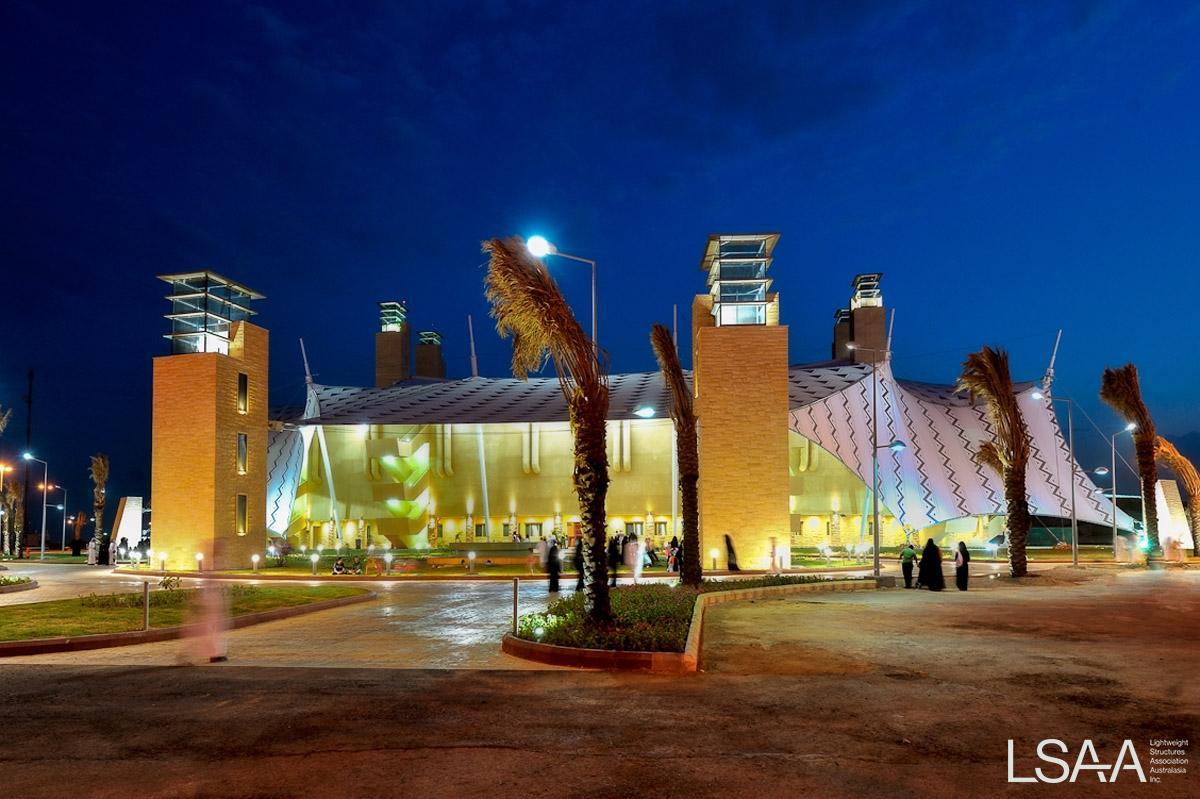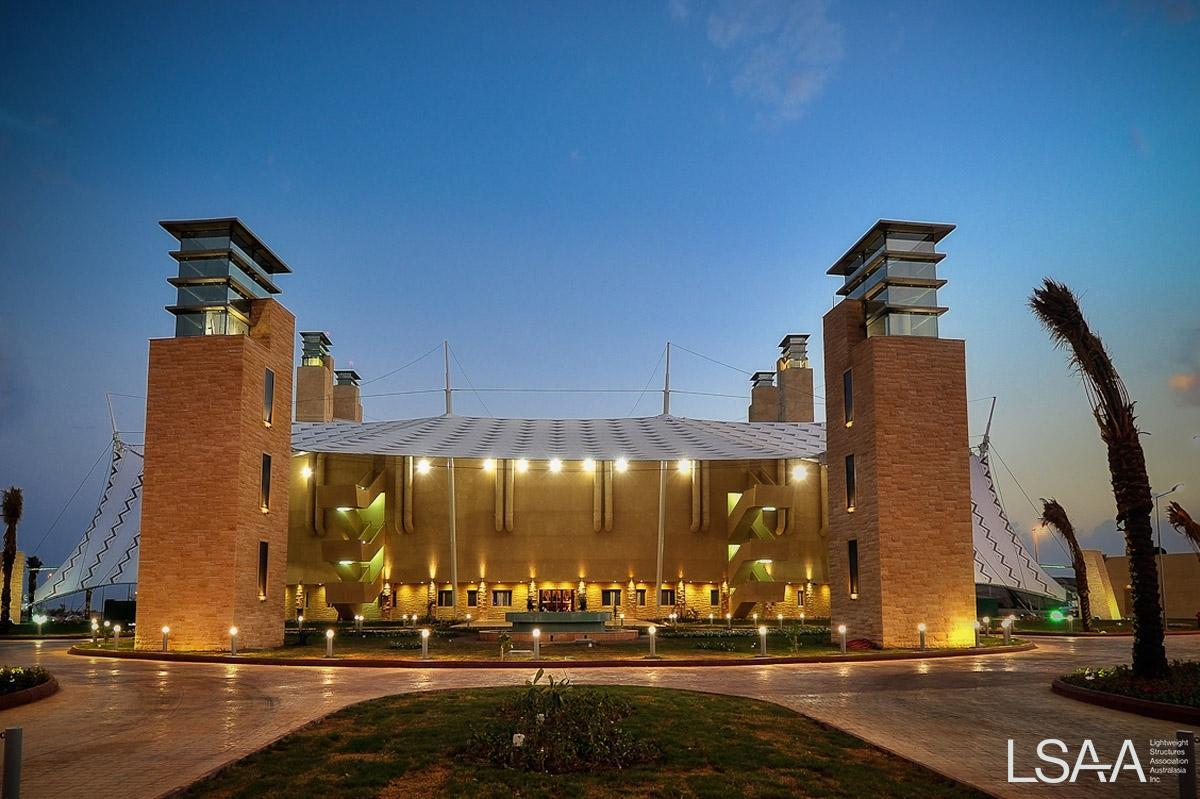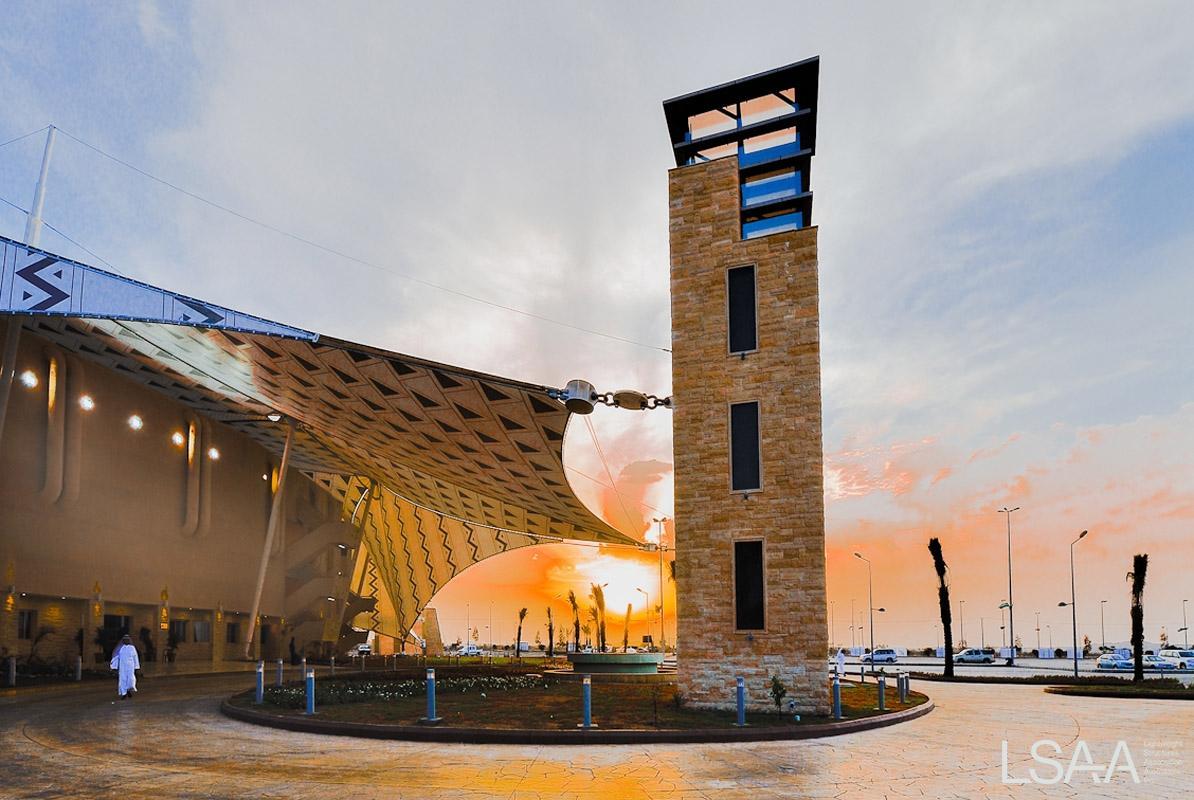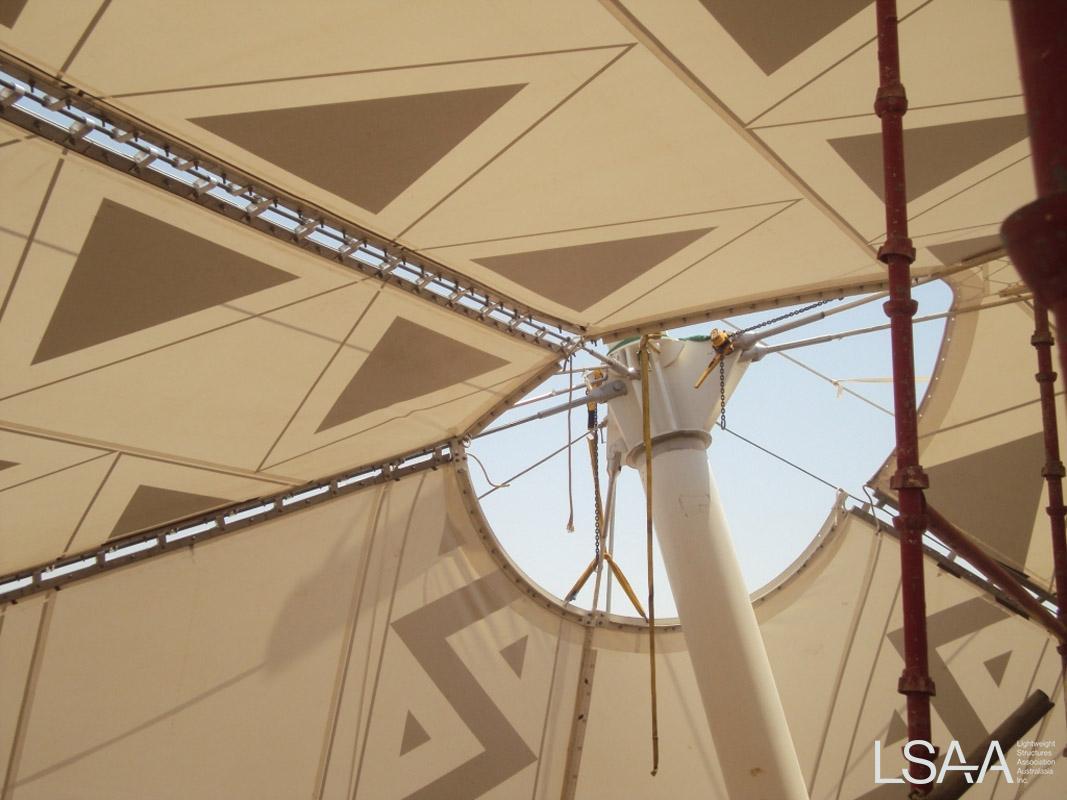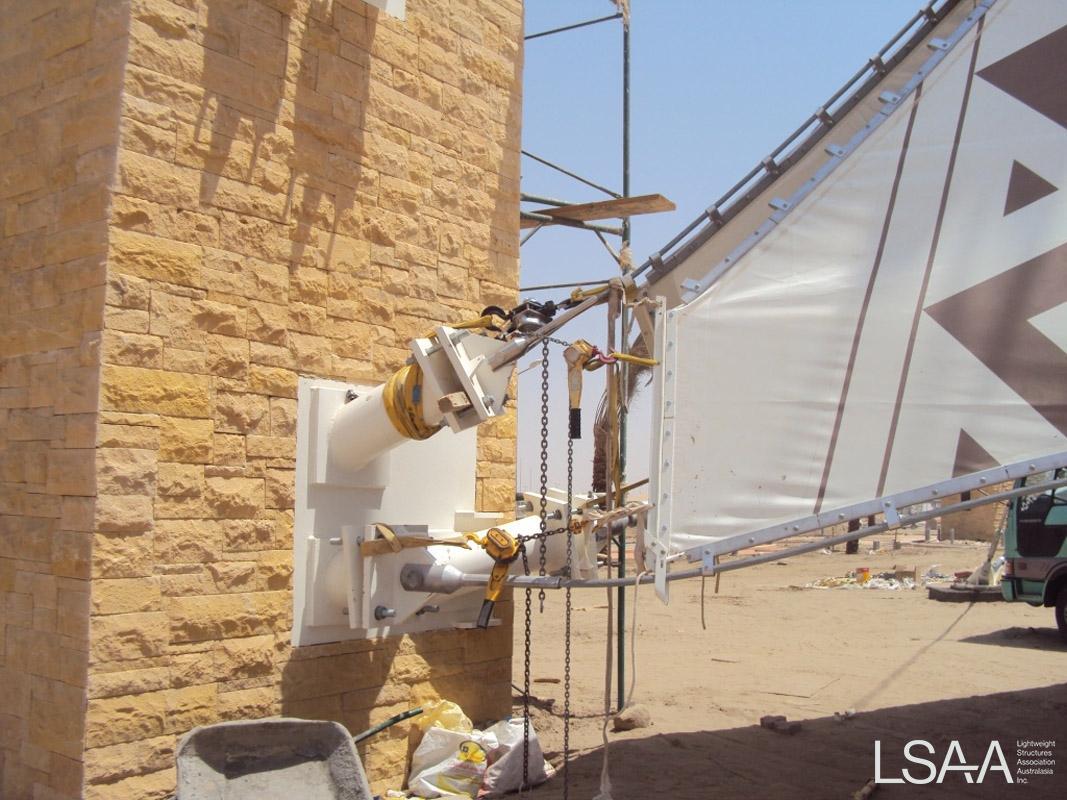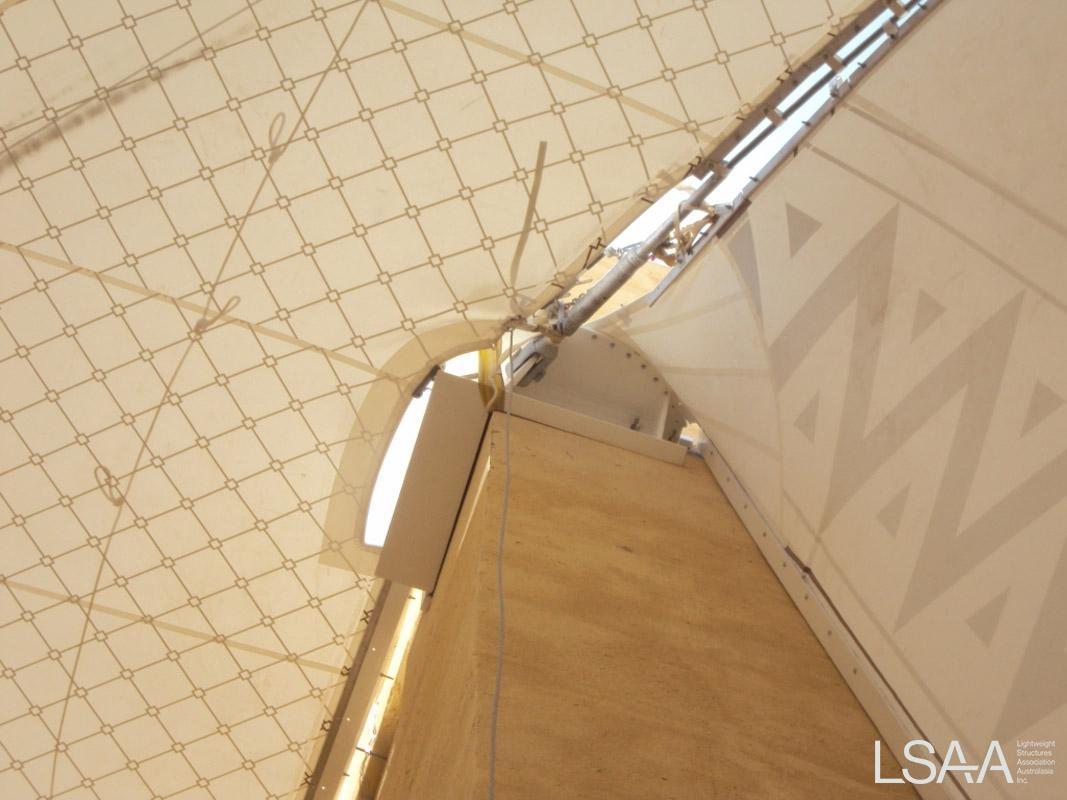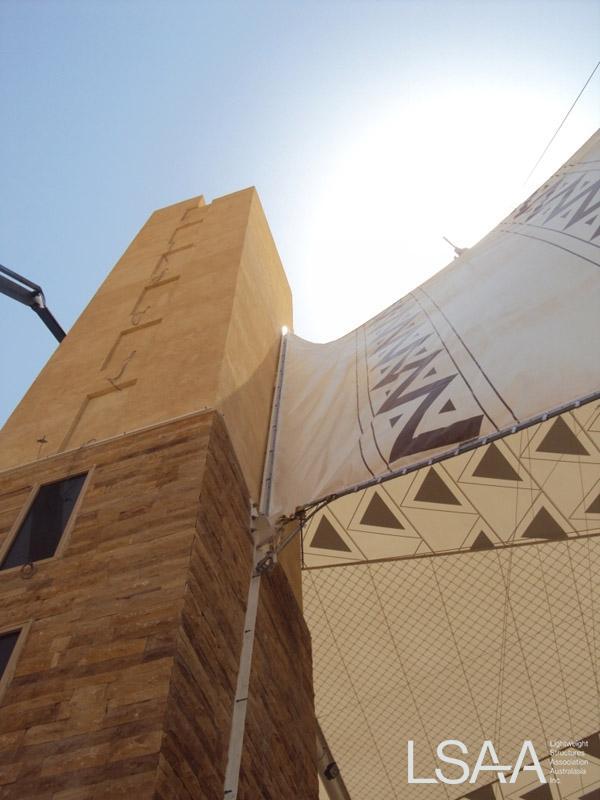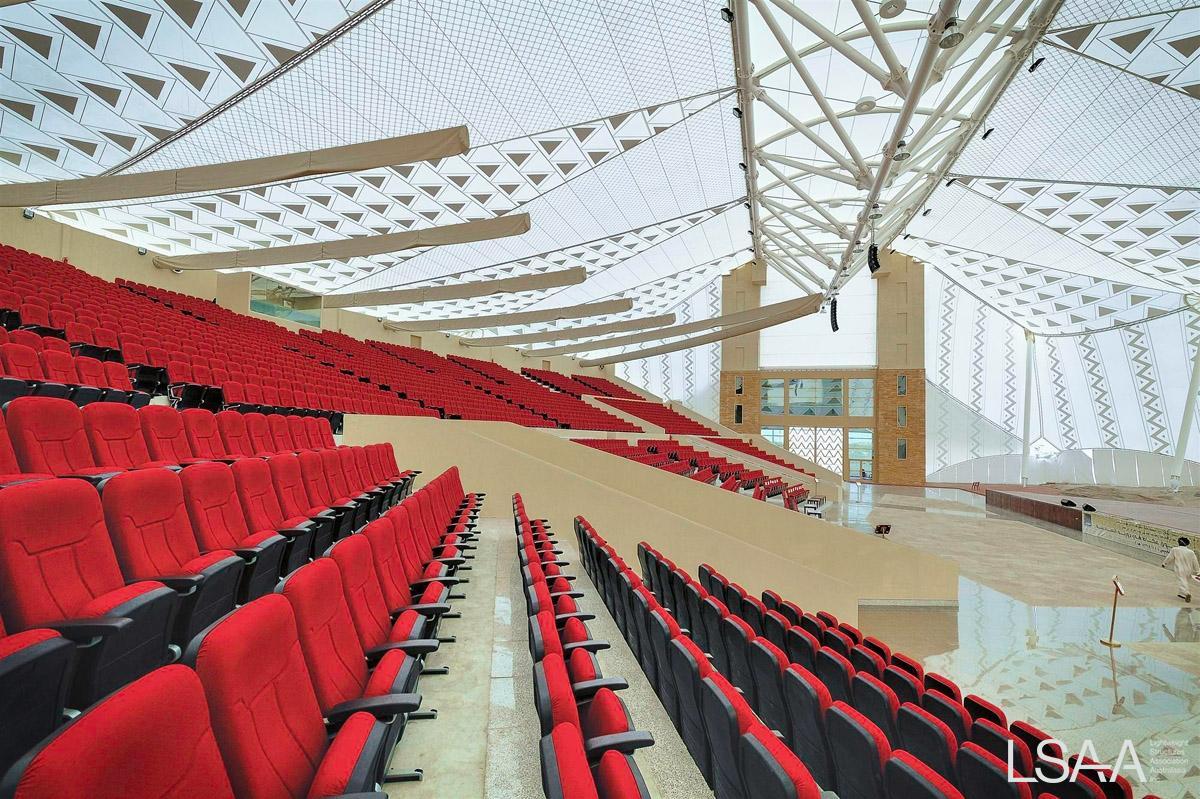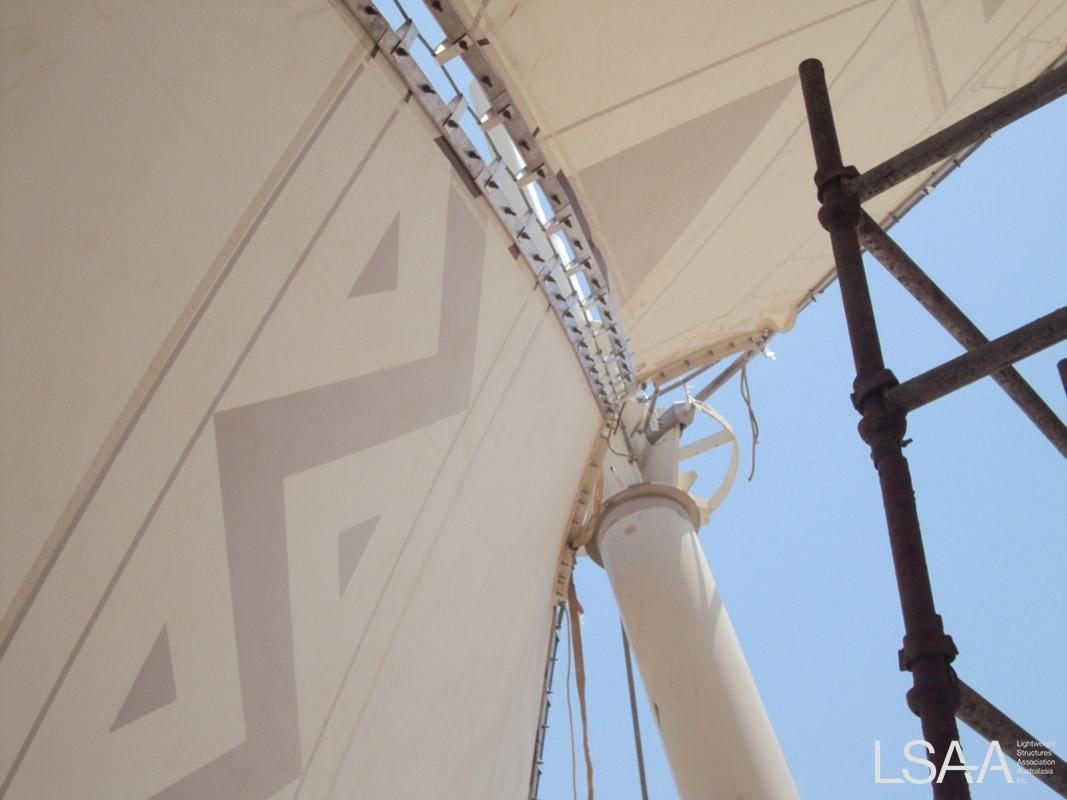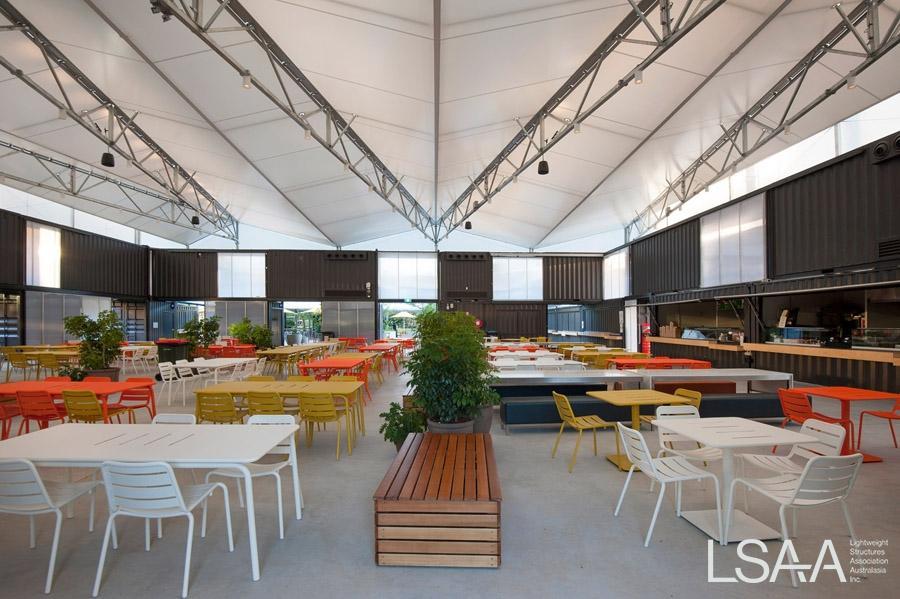 Application: Container-mounted architectural structures for university dining hall.
This project was entered in the LSAA 2018 Design Awards (Cat 4, 4001)
PROJECT DESCRIPTION:
The Macquarie University Campus Common project comprised of the design & construction of a series of 11 container-mounted architectural awnings to cover a new temporary dining area for students. The design involved 6 market structures, 1 larger 30m x 30m 'main' structure, and 4 awning structures. The main structure was required to have an internal environmental control system for temperature regulation inside.
The intention of the temporary solution meant that the design allows for the structures to be easily dismantled and relocated in 5 years.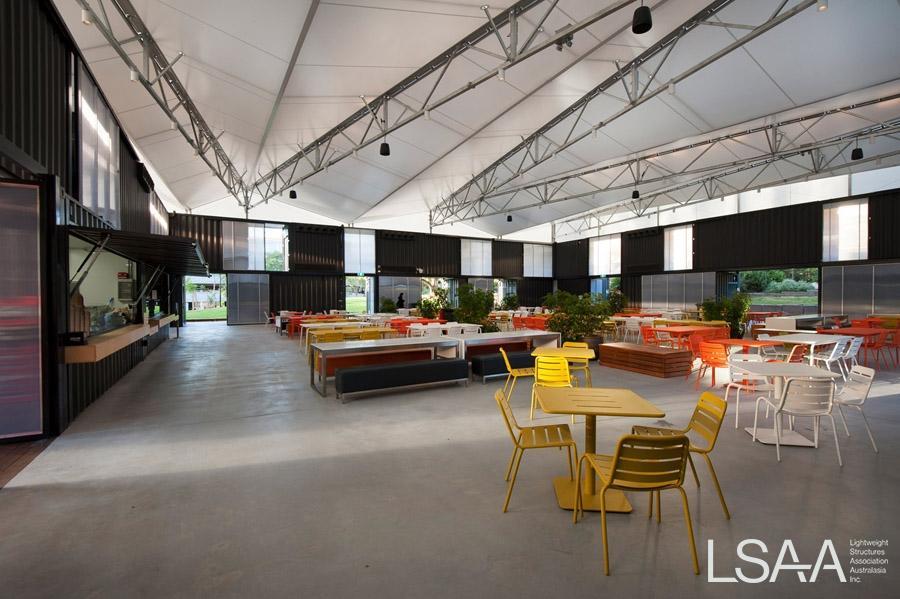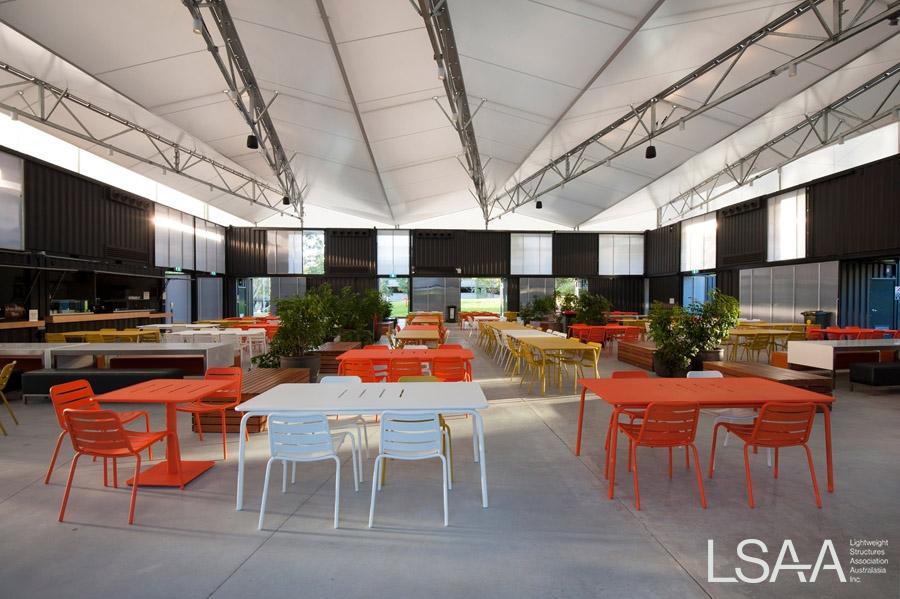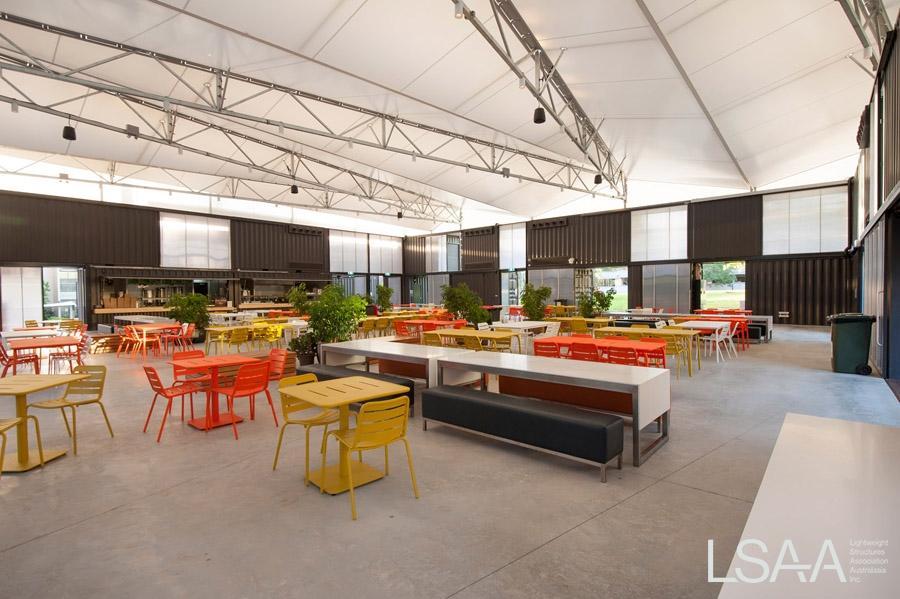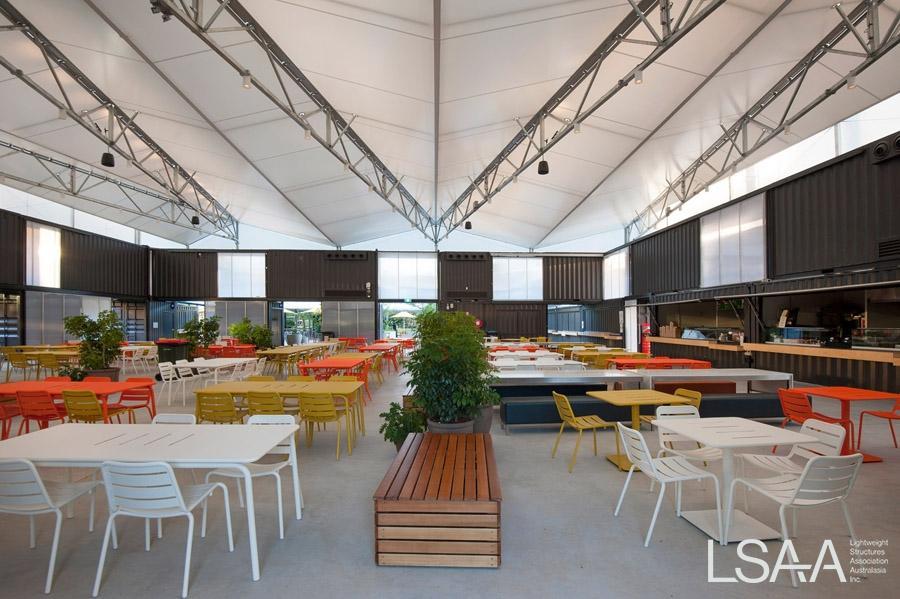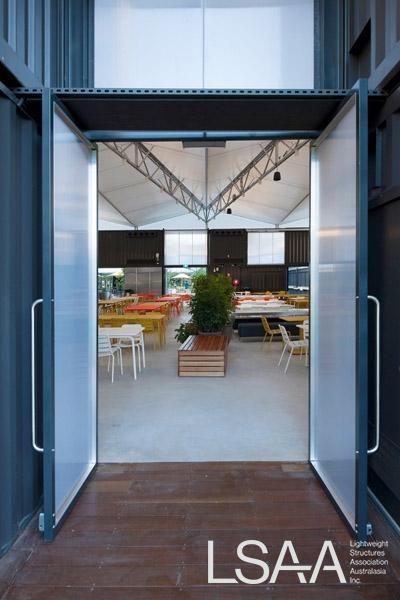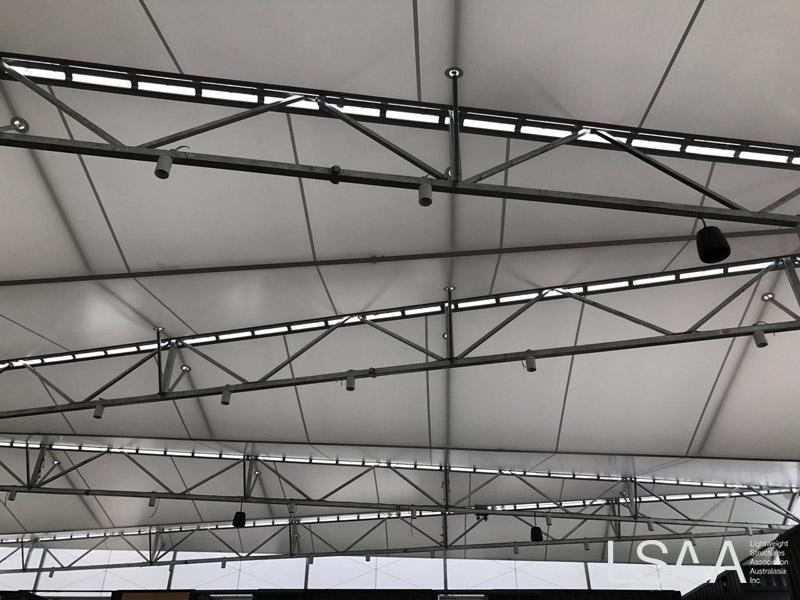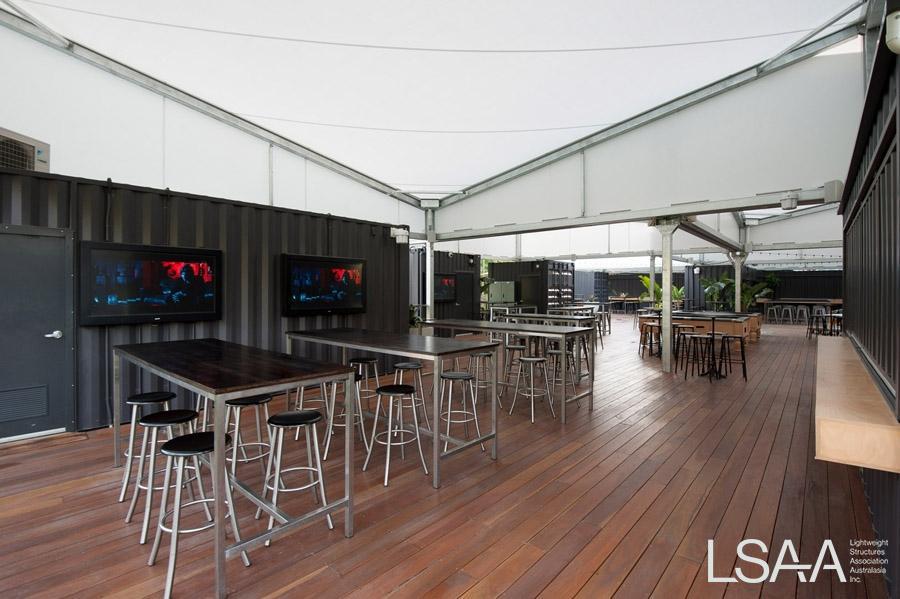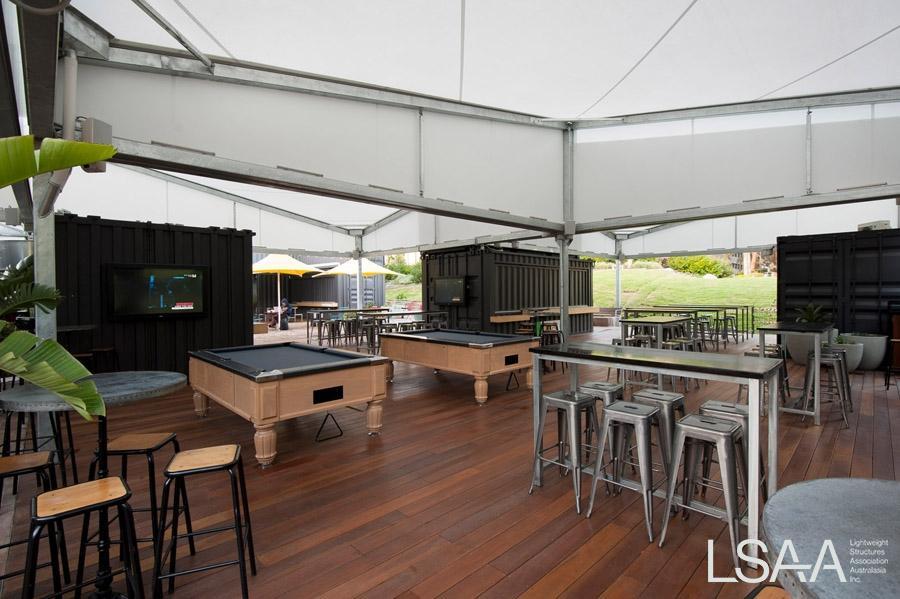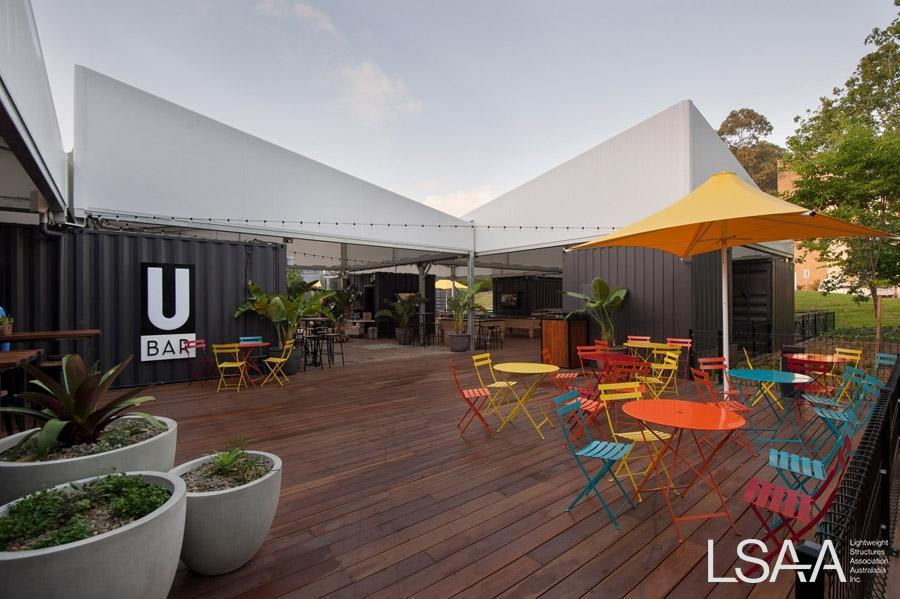 Photo Credit: Michael Anderson, Paramount Studios
Read more: Macquarie University Campus Dining Room Project (2018)