These structures may be described as single surfaces or panels in the form of one of the classic hypars, barrel vaults, cones, panels with single or crossing arches - or a combination.
Larger fabric structures can also be made from several modules or panels of similar forms to build up a substantial sized structure. The multiple panels might be arranged in a linear layout, or in a circular or oval pattern commonly found in stadia roofs.
The LSAA has a Design Award Category for Large Structures which has been defined as being greater than 1000 sqm.
The following articles are in random order:
Clarke Quay Redevelopment - Singapore
Entrant: Tensys
Client: Capital and Commercial Ltd
Architect: SMC Alsops & RSP Architects
Structural Engineer: Tensys
Specialist Consultant(s): Arup (Environmental)
Builder: Kajima Overseas Asia Pte Ltd
Fabricator(s): Skyspan (Asia) Pvt Ltd – Riverside/Bluebell
canopies HIghtex GmbH – Street/Angel Canopies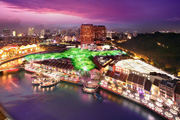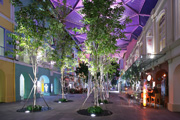 Rio Tinto Stadium

Entrant: Structurflex Ltd - Engineering Fabrication Installation
Location: Sandy - Salt Lake City Utah USA
Client: Salt Lake County - Utah & Real Salt Lake
Architect: Rossetti Architects
Struct. Eng.: Wade Design Engineers & Wayne Rendely PE
Builder: Turner Construction
Fabricator: Structurflex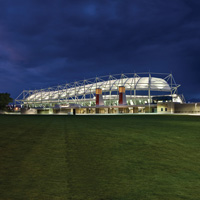 Pacific Fair Resort Roof
Fabritecture (Designer and Installer)
Location: The Esplanade. Completed:
Client: Scentre Group (Westfield)
Team: Scentre Group (Westfield), Wade Design, Textile Fabrication Services, Fabritecture
Marassi Beach Resort, Egypt
APPLICATION OF PROJECT:
Shading systems: The Marassi beach Clubhouse, resort villas, and spas required a large range of shading systems.
PROJECT DESCRIPTION
Marassi is a Mediterranean‐styled resort development sprawling across 1,544 acres of pristine waterfront. Situated along the magical shores of Sidi Abdul Rahman bay, the resort is close to Alexandria and a few miles away from the historic city of El Alamein.
The Marassi beach Clubhouse, resort villas, and spas required a large range of shading systems. The main circular bar area was covered using a multi‐layered shade sail system with one central connection post. Selected outdoor seating areas were also shaded using a series of smaller hypar‐shade sails grouped into multiple rectangular configurations. The finished design incorporates a total of 66 posts, 2 diamond shaped sails, 4 triangular sails and 21 rectangular hypar sails.
Greenslopes Private Hospital Car Park Canopies

Entrant: Architectural Sails (Qld) Pty Ltd - Contractor
Location: Lot 108 Nicholson St - Greenslopes Qld 4120
Client: Ramsey Health Care
Architect: Phillips Smith Conwell Architects Pty Ltd
Struct. Eng.: Bligh Tanner & Wade Design Engineers
Others: Ozrig Pty Ltd (Installation)
Builder: John Holland Pty Ltd
Fabricator: Ruffles Engineering & Atkins Fabrication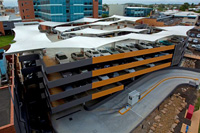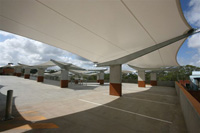 Nelson Mandela Bay Multipurpose Stadium

Entrant: MakMax Australia - Designer
Location: Prince Alfred Park - North End Lake - Port Elizabeth South Africa
Client: Nelson Mandela Metropolitan Municipality
Architect: GMP Architects
Struct. Eng.: MakMax Australia
Others: MakMax (Installation)
Builder: Grinaker / Interbeton JV
Fabricator: MakMax Australia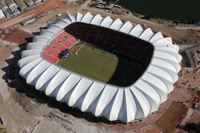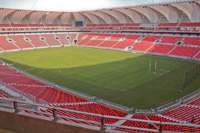 LSAA Design Awards 2013 High Commendation
Mooloolaba Bowls Club
Entrant: Light Weight Structures
Category: 4 ID Number: 4351

Location: Mooloolaba

Client: Mooloolaba Bowls Club

Completion Date: November 2011
Credits:
Structural Engineer: Jeremy Hunter

Specialists: Trevor Scott Building Designer

Builder: Light Weight Structures

Fabricator: Stanfast

Installer: Light Weight Structures
---
Judges Comments:
"An elegant project - the best of the bowling club offerings. As well as taking care of core business, the structure lends some design distinction to a town not oversupplied with architectural gems."
APPLICATION OF PROJECT:
The project covered two bowling greens each measuring 1240 sqmts for a total undercover area of the tensile structure 3253 sqmts. Fabric roofing was the superior choice of roofing material over metal roofing, as fabric offers translucency of natural light during daylight hours and with the use of energy efficient up lights an aesthetically favorable backlit effect at night with the added benefit of shadow free reflected lighting to the bowling arena.
The structural design features leaning arches and valley cables spanning the width of the structure forming a Ridge and Valley canopy. The ends of structure are curved/closed encapsulating artificial nighttime light within the roof canopy minimizing the nighttime light spillage and annoyance to neighboring properties.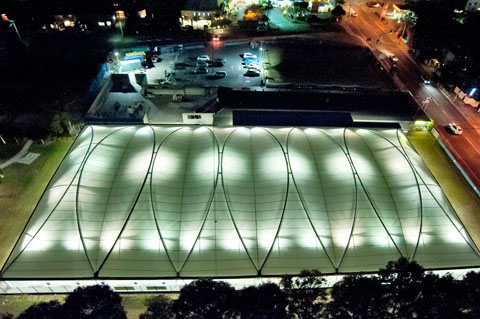 The Farm - Anish Kapoor
Entrant: Structurflex Ltd - Engineering Fabrication Installation
Location: Kaipara Harbour
Client: Keystone Trust
Architect: Noel Lane Architects
Struct. Eng.: Structure Design & Compusoft Engineering
Builder: Grayson Engineering
Fabricator: Structurflex