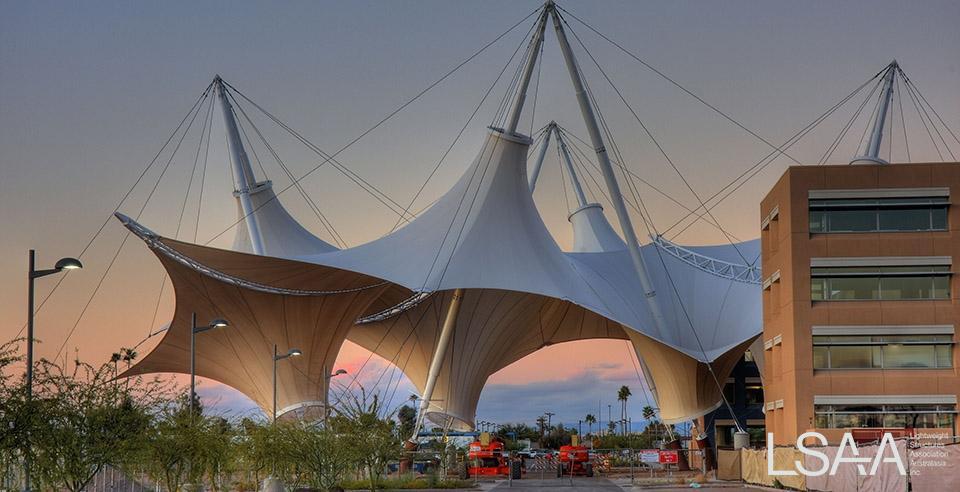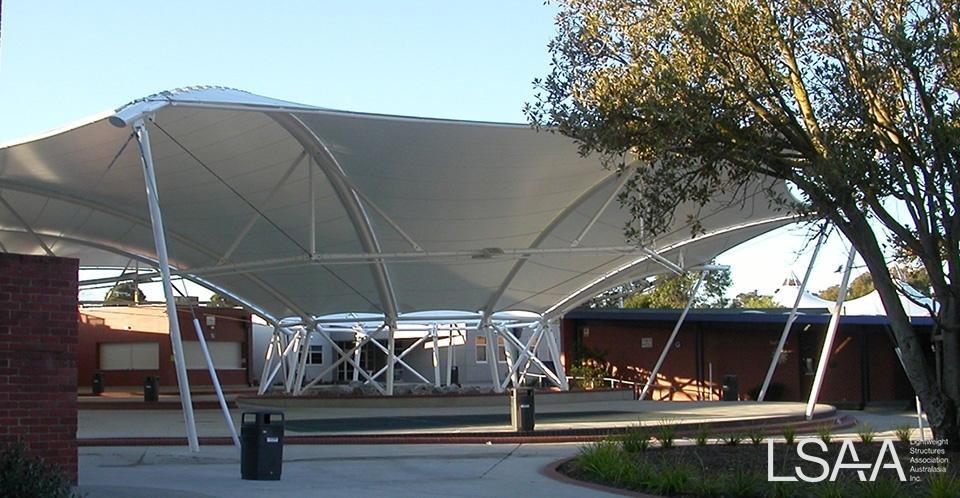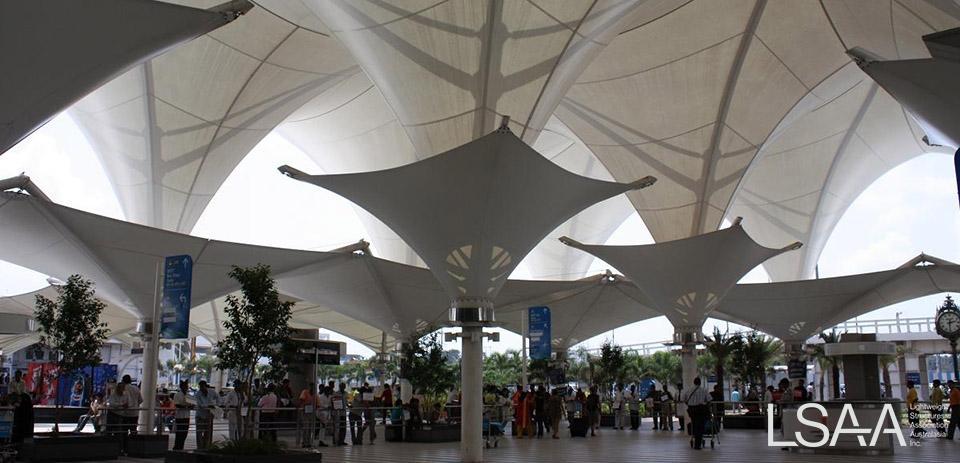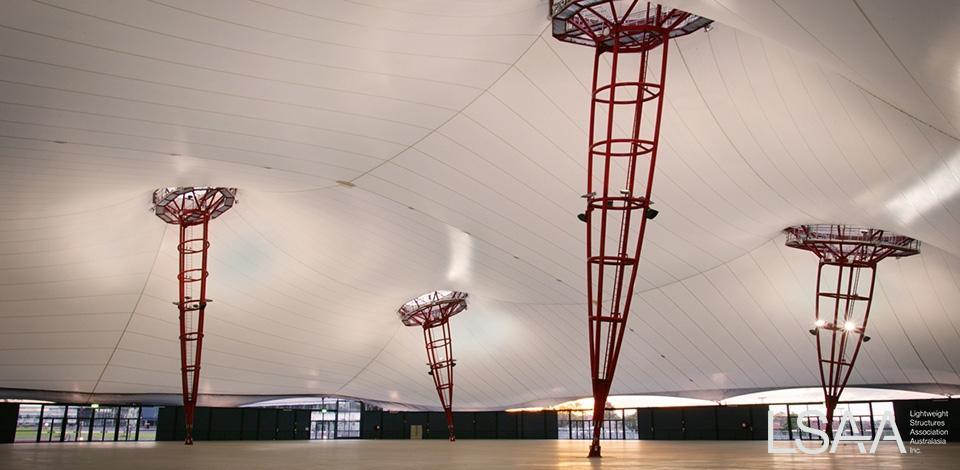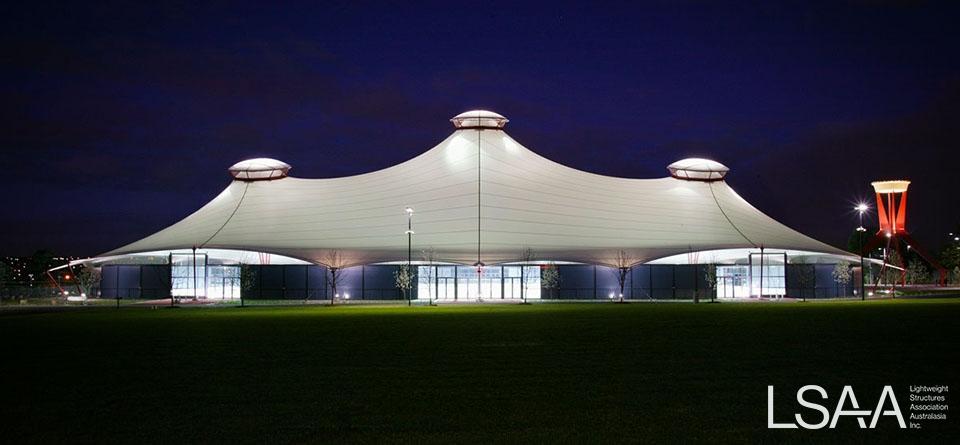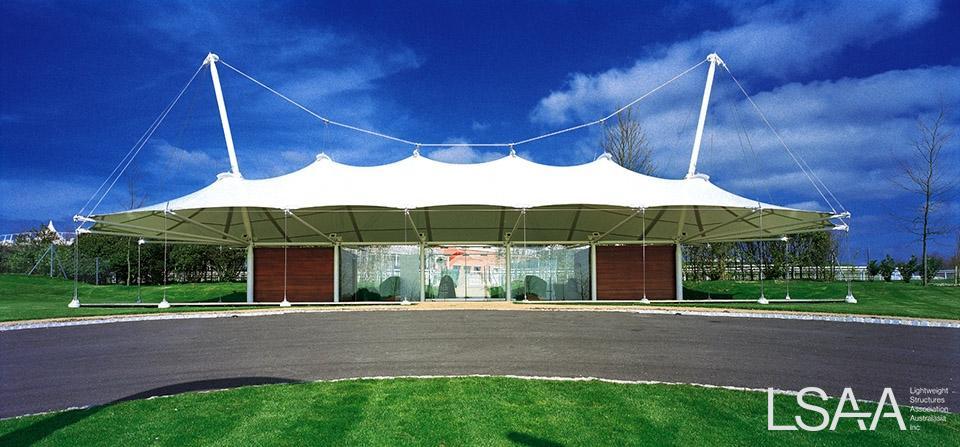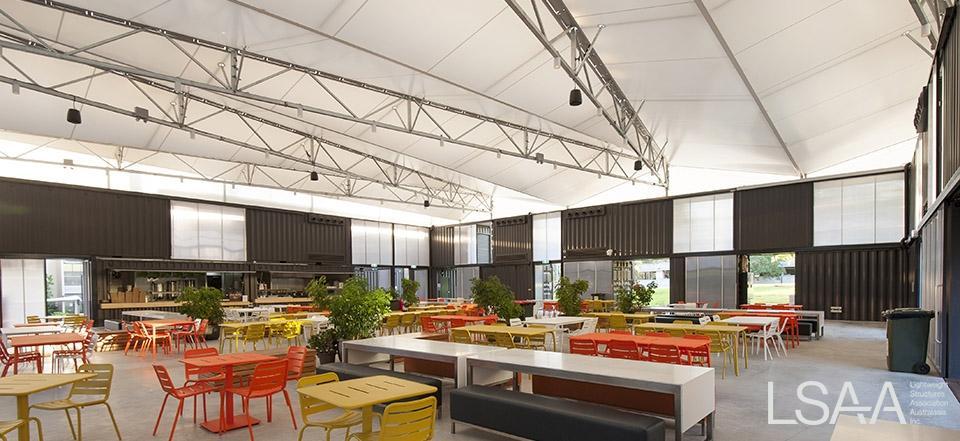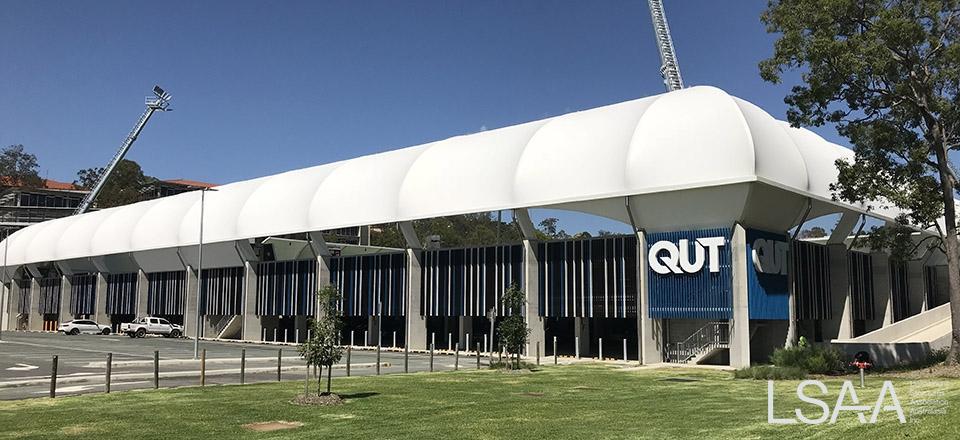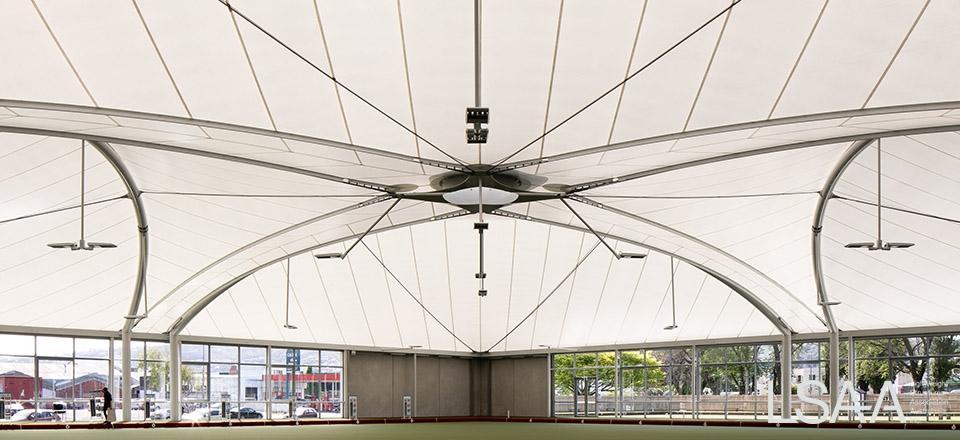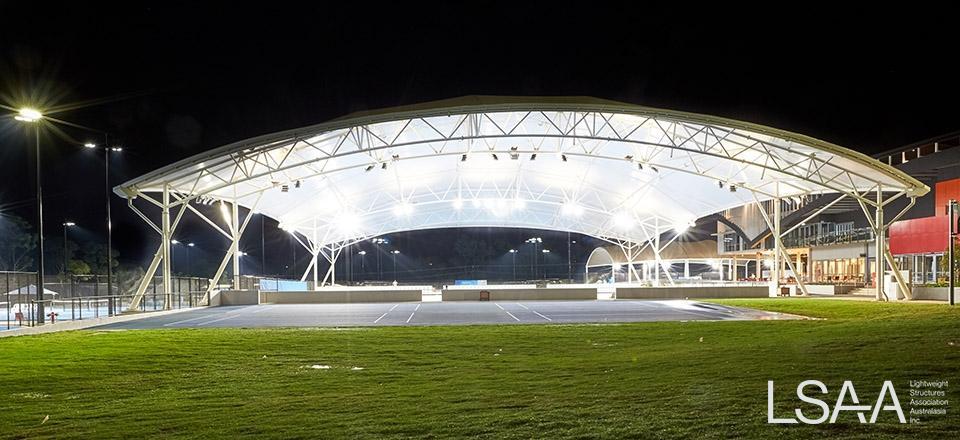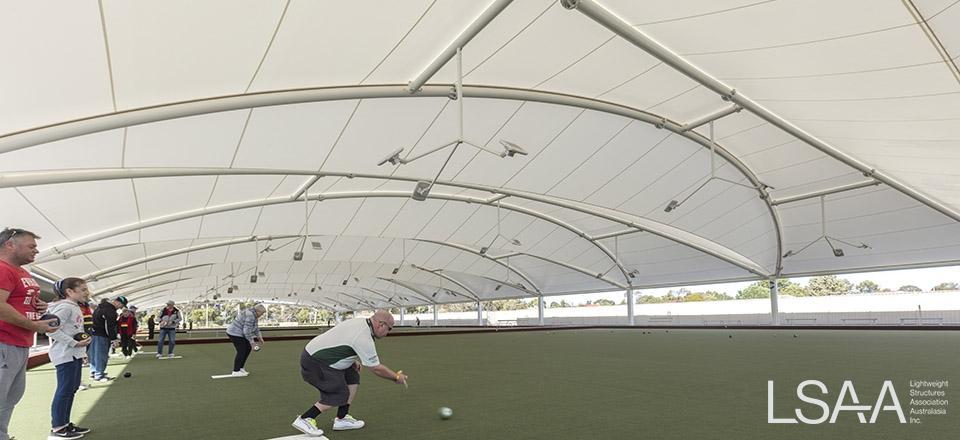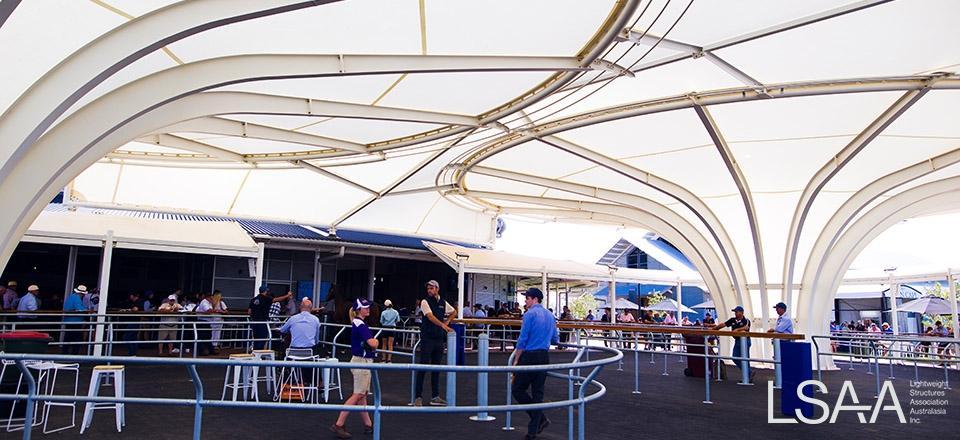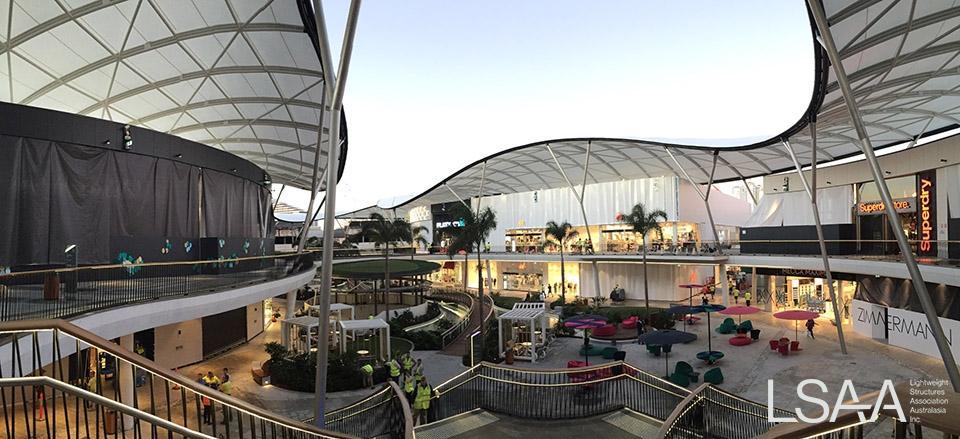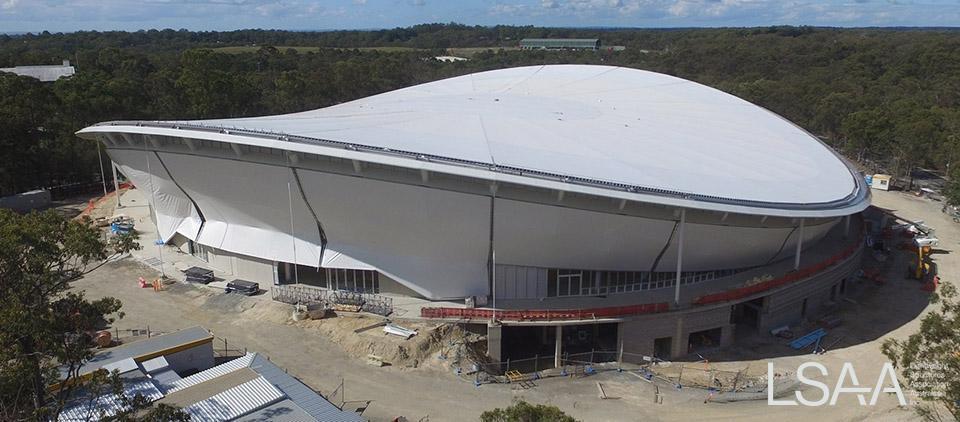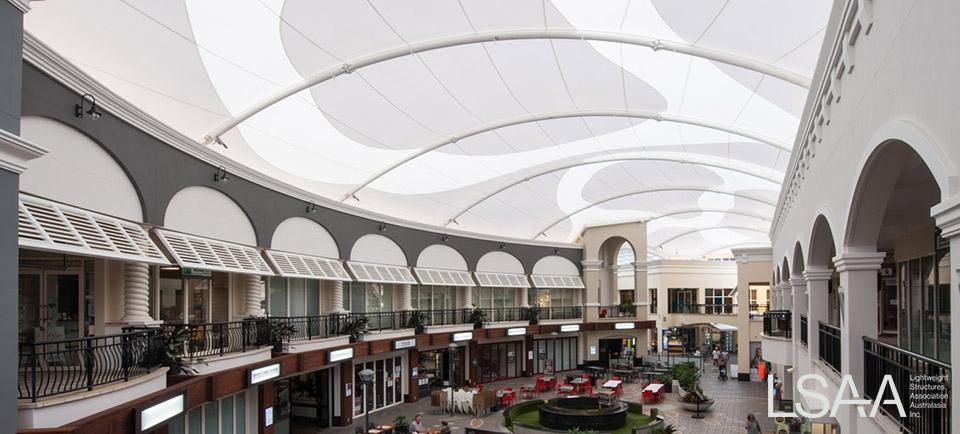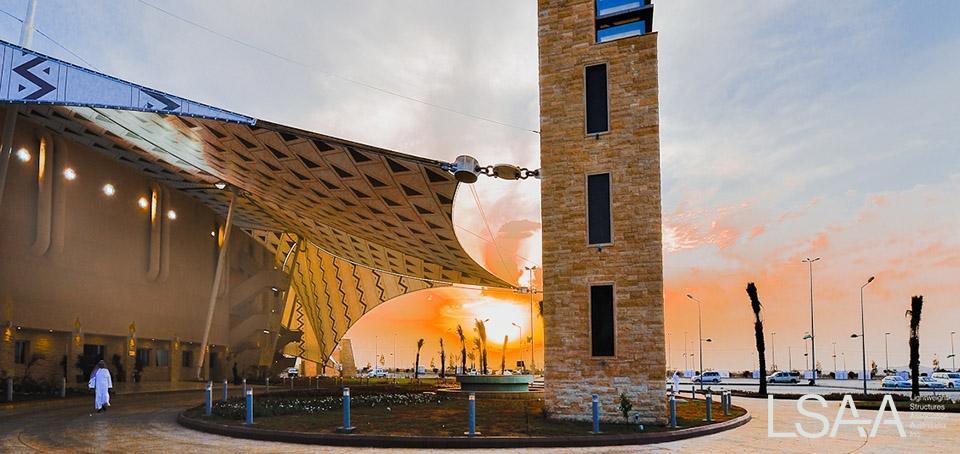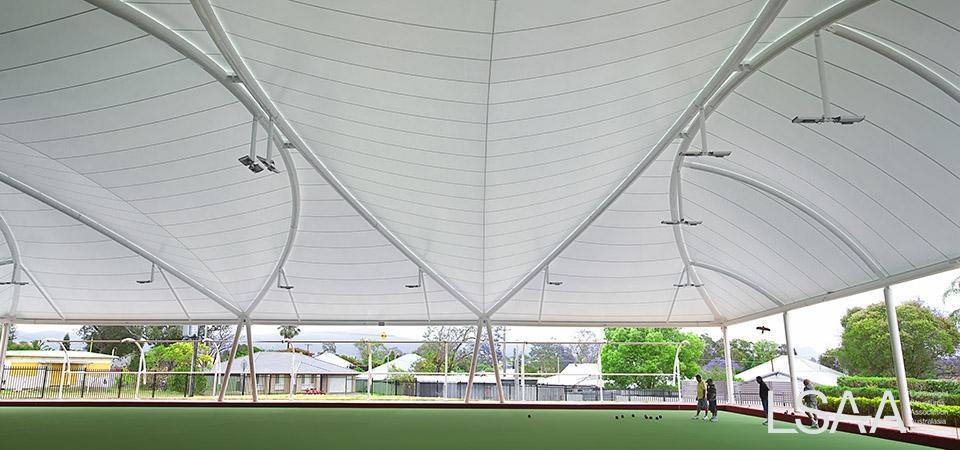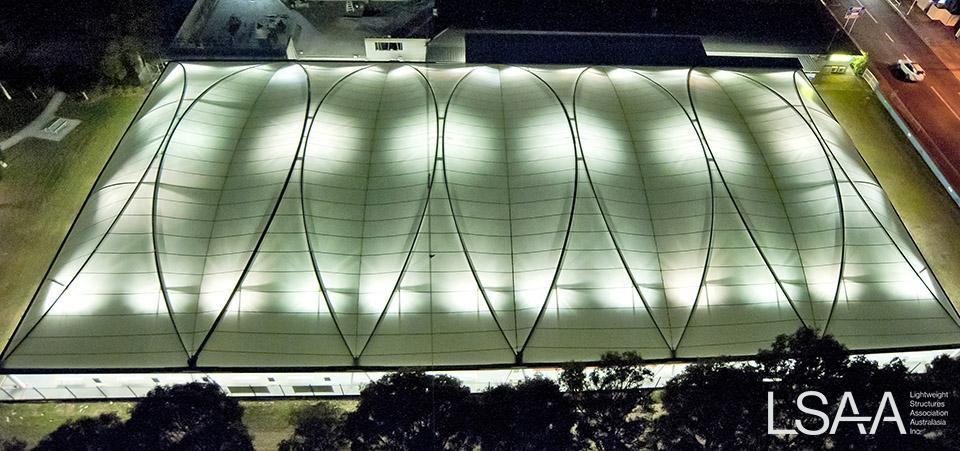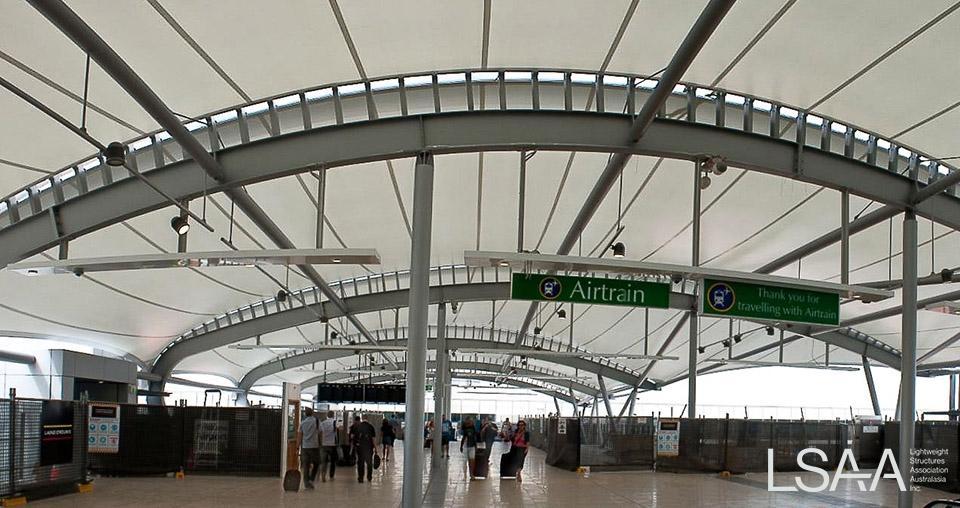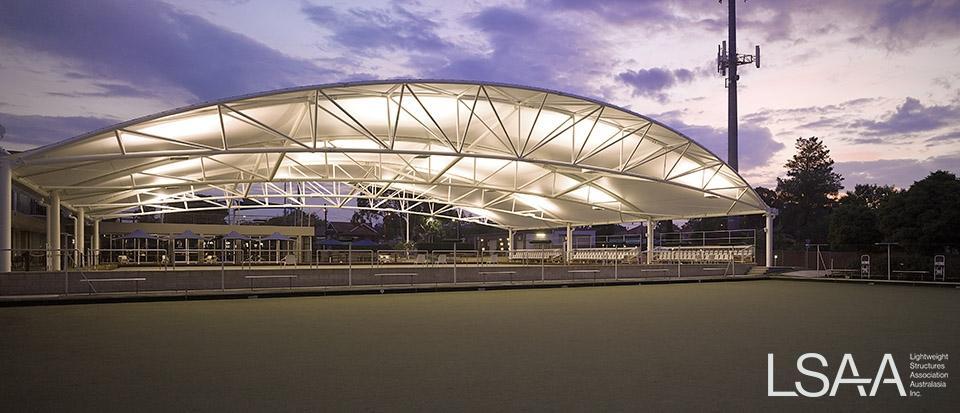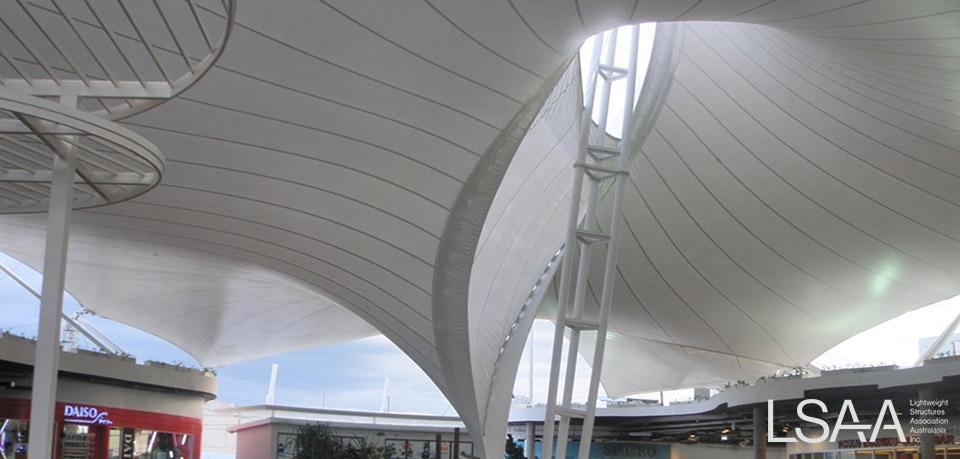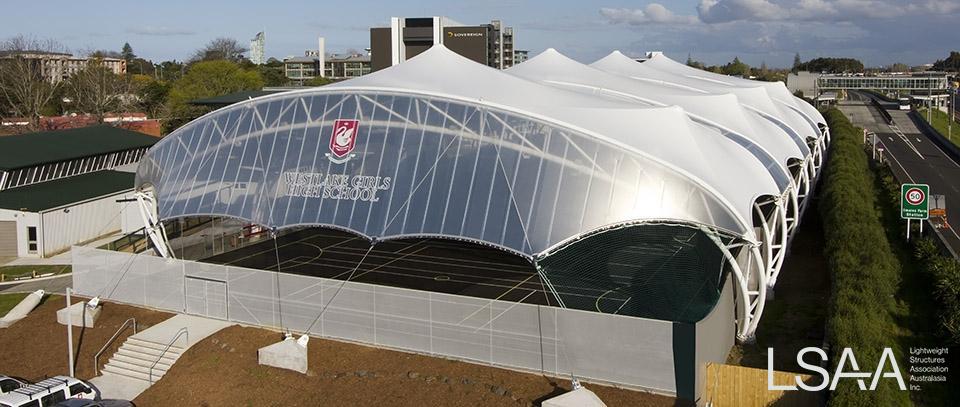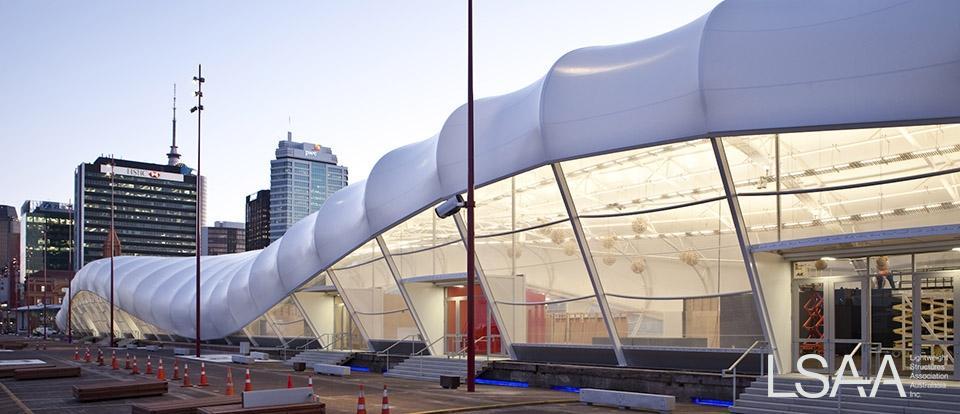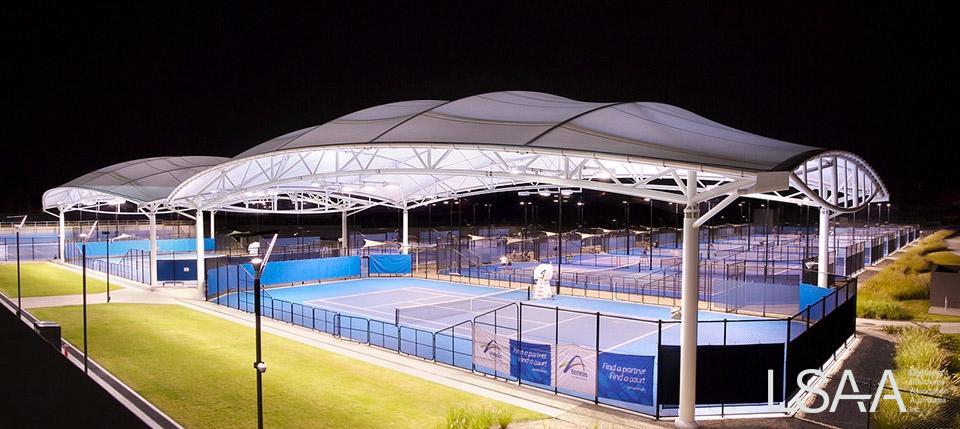 Large fabric structures have generally been thought of as those that have a fabric surface area greater than 1000 square metres. These structures may be described as single surfaces or panels in the form of one of the classic hypars, barrel vaults, cones, panels with single or crossing arches - or a combination.
Larger fabric structures can also be made from several modules or panels of similar forms to build up a substantial sized structure. The multiple panels might be arranged in a linear layout, or in a circular or oval pattern commonly found in stadia roofs. The boundaries are defined structurally and geometrically by straight or curved elements such as arches, edge beams and cables. The prestress forces from adjacent panels often counterbalance and the more efficient structures have a larger degree of symmetry and continuity such as a complete "bicycle wheel" for the roof a major sports stadium. Stadiums are grouped in a separate menu item.
The following articles are in random order: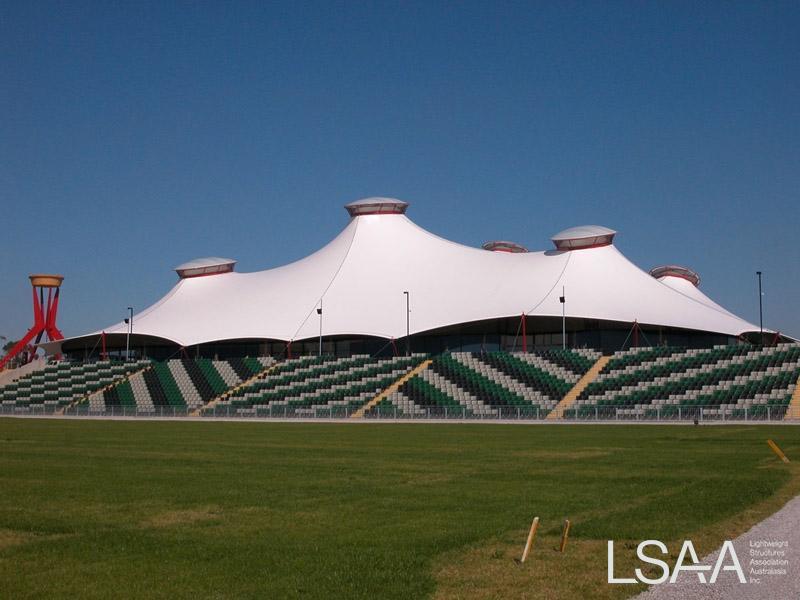 Entered into the LSAA Design Awards 2007 (Large Structures, 3195)
Entrant: Oasis Tension Structures
Client: Multiplex Constructions (Vic) Pty Ltd
Architect: Darryl Jackson Pty Ltd
Structural Engineer: Tensys
Specialist Consultant(s): Drafting Steel One
Builder: Oasis Tension Structures (Australia) Pty Ltd
Fabricator(s): Atkins Fabrications Pty Ltd Structurflex NZ,
Geelong Fabrications, Ronstan
Aside from the images below, no other details have been entered for this project.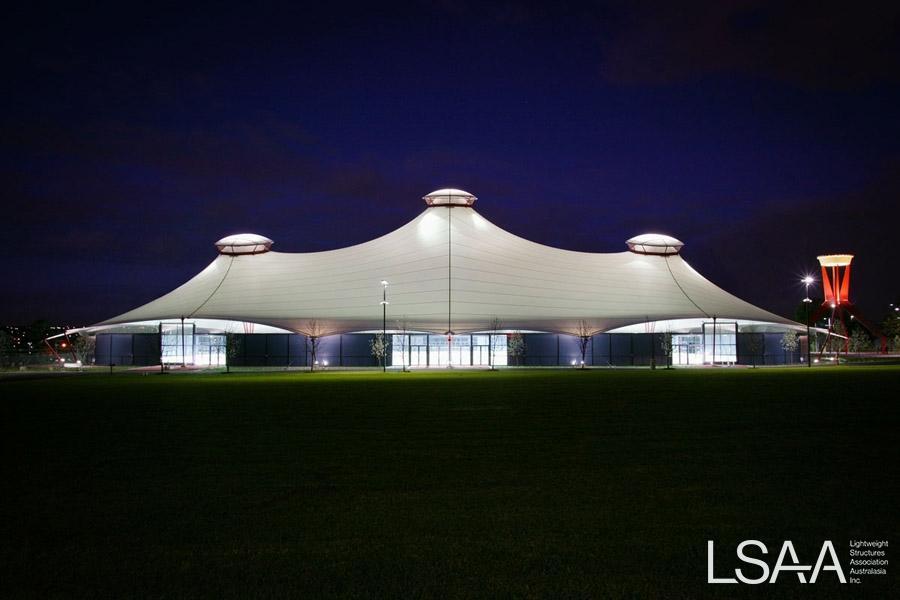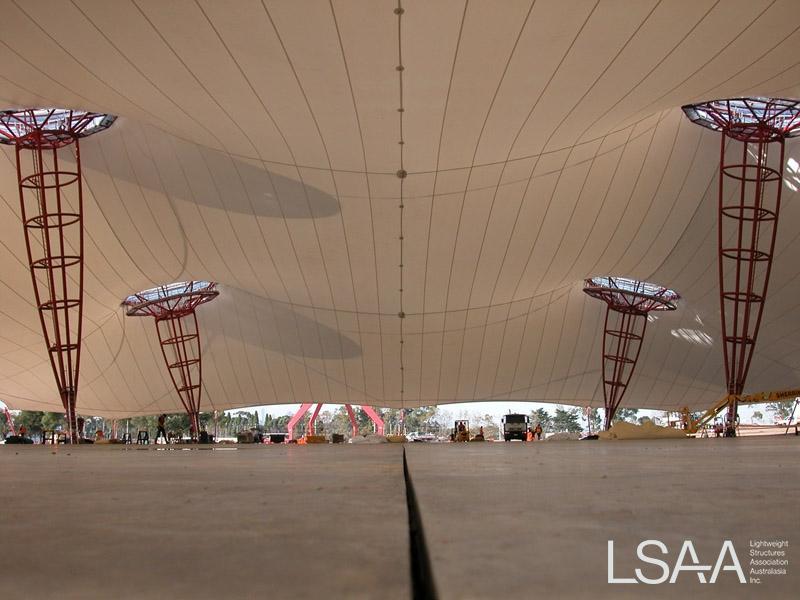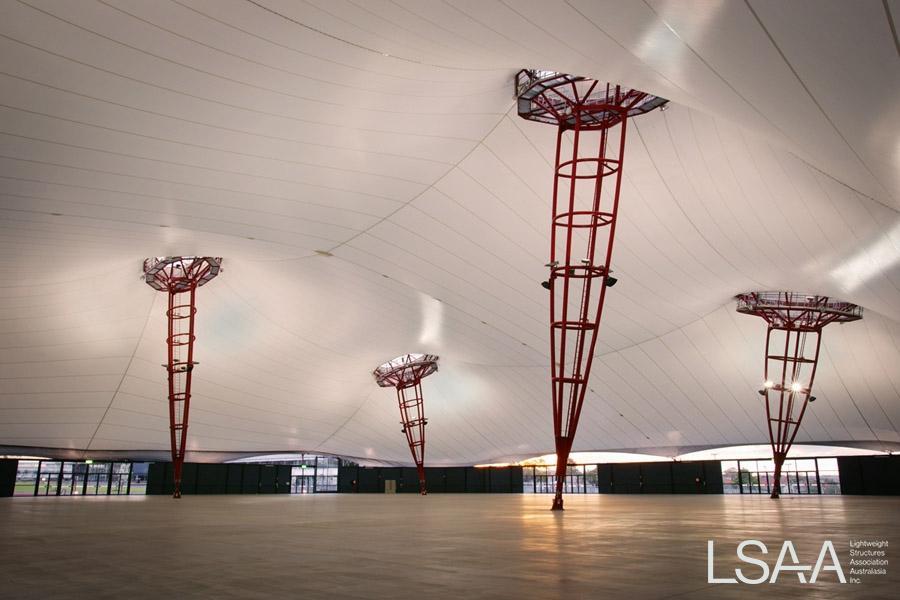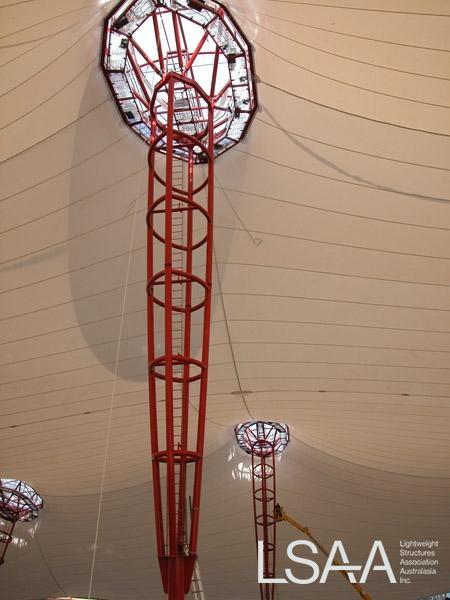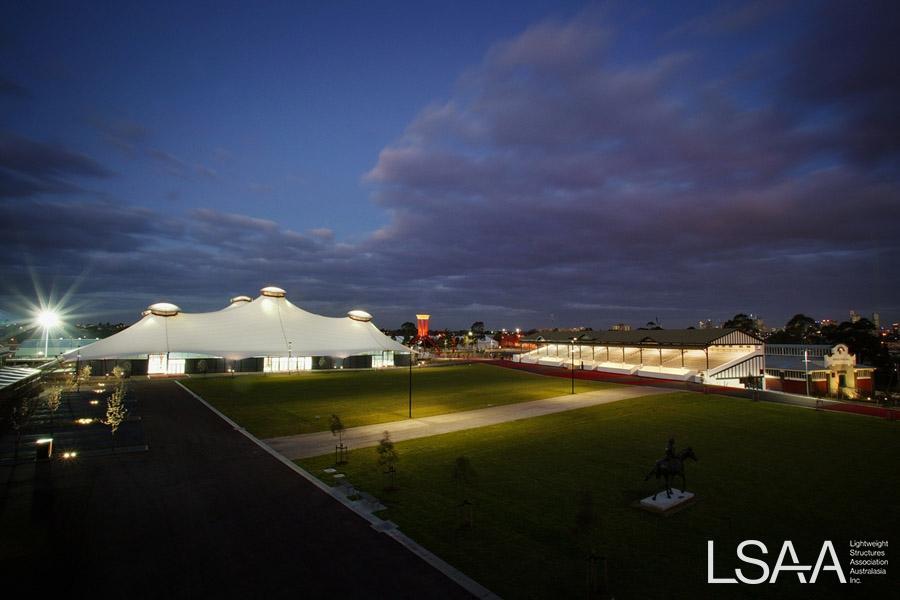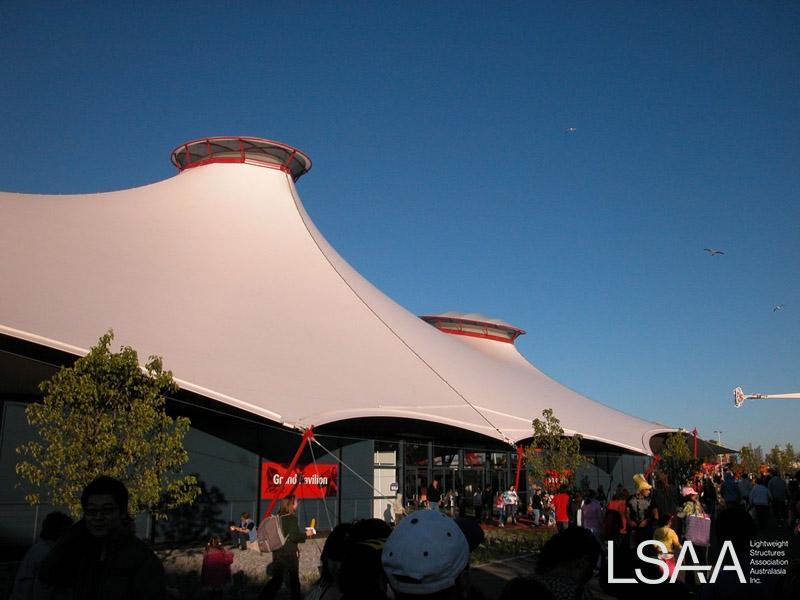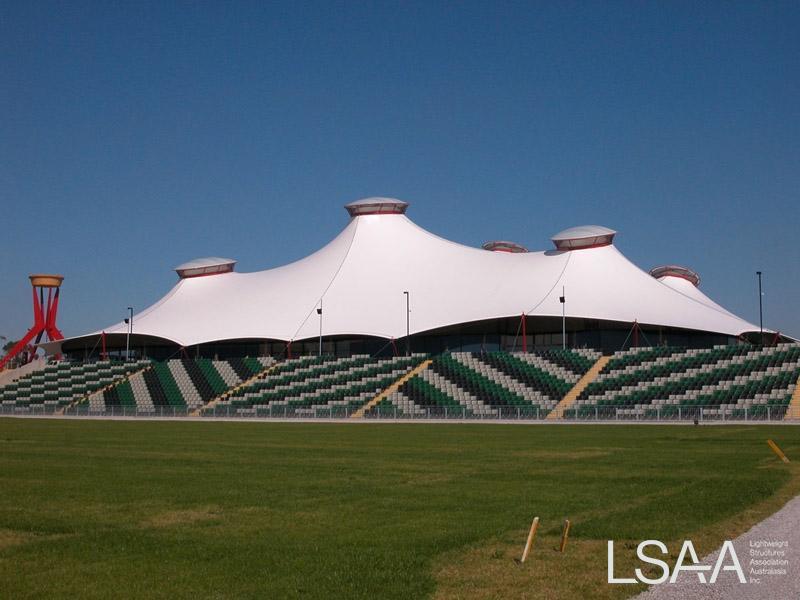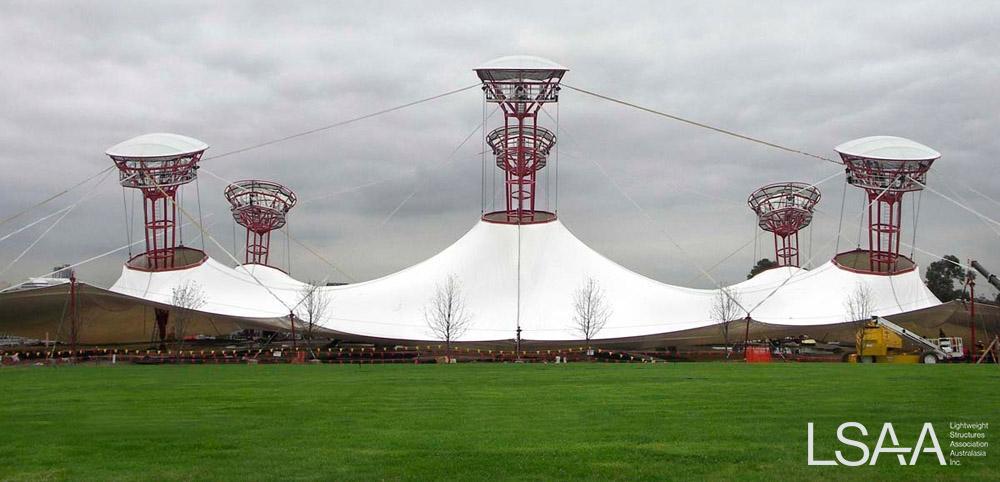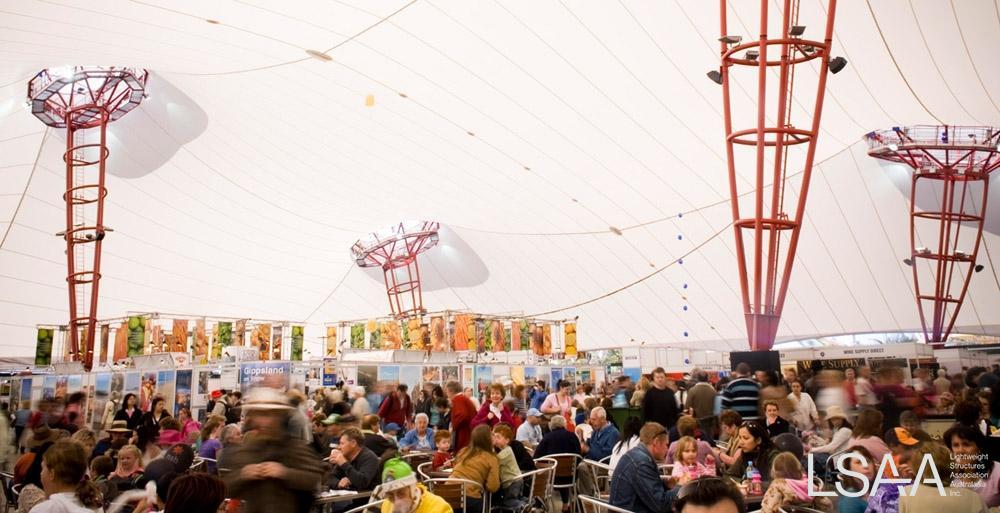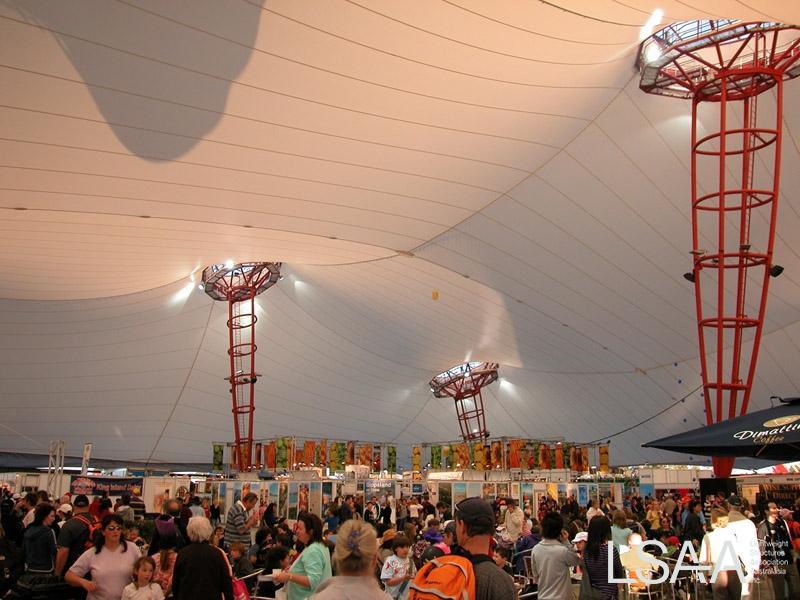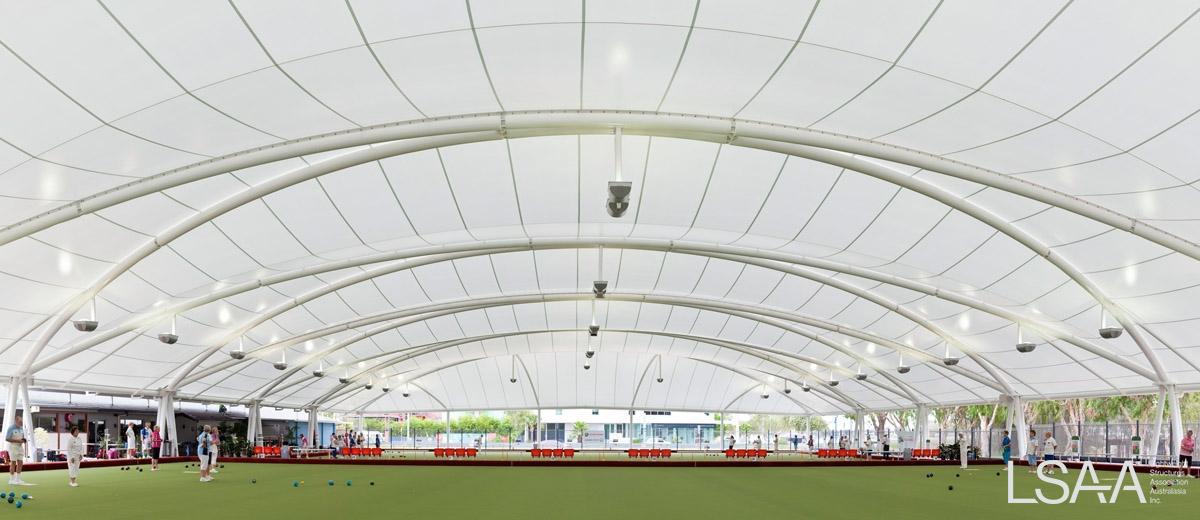 LSAA Design Awards 2013 High Commendation (Large Structures, 4351)
Entrant: Light Weight Structures
Location: Mooloolaba

Client: Mooloolaba Bowls Club

Completion Date: November 2011
Judges Comments:
"An elegant project - the best of the bowling club offerings. As well as taking care of core business, the structure lends some design distinction to a town not oversupplied with architectural gems."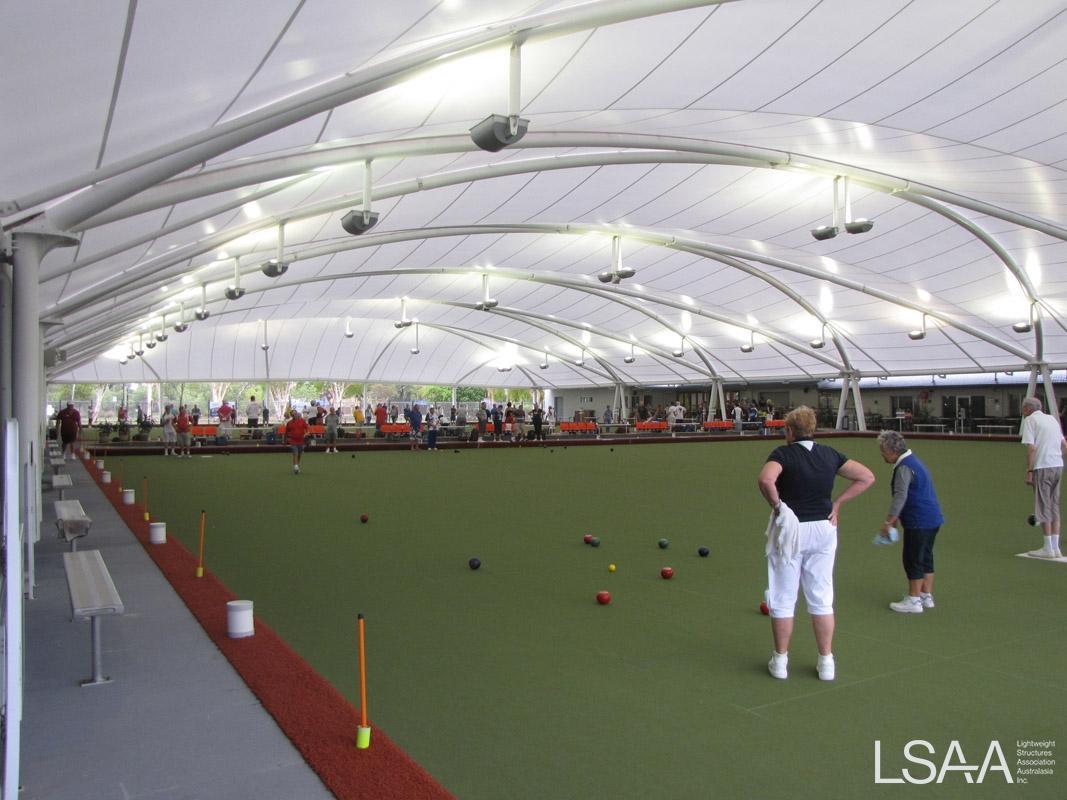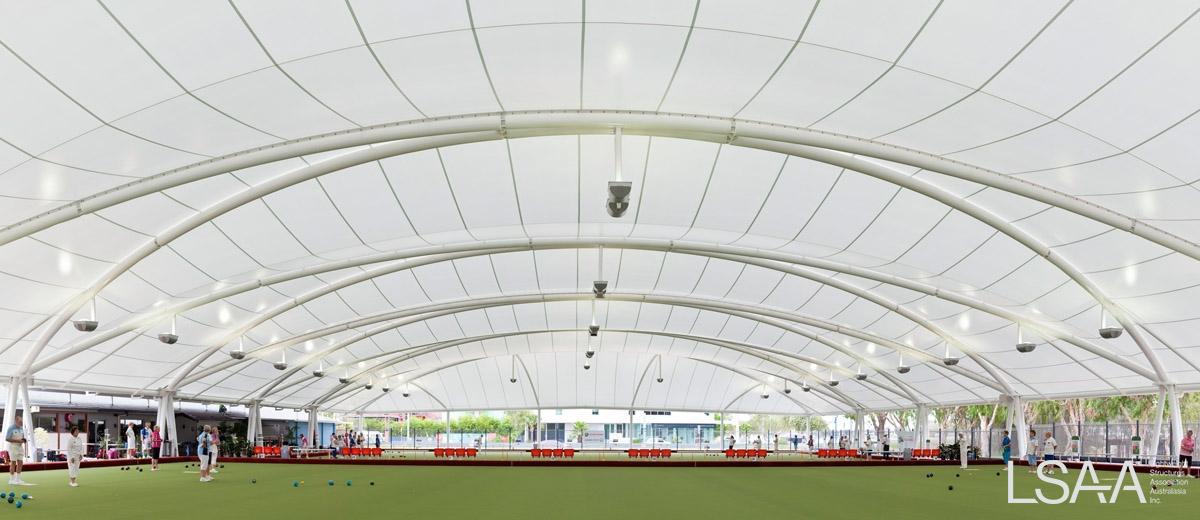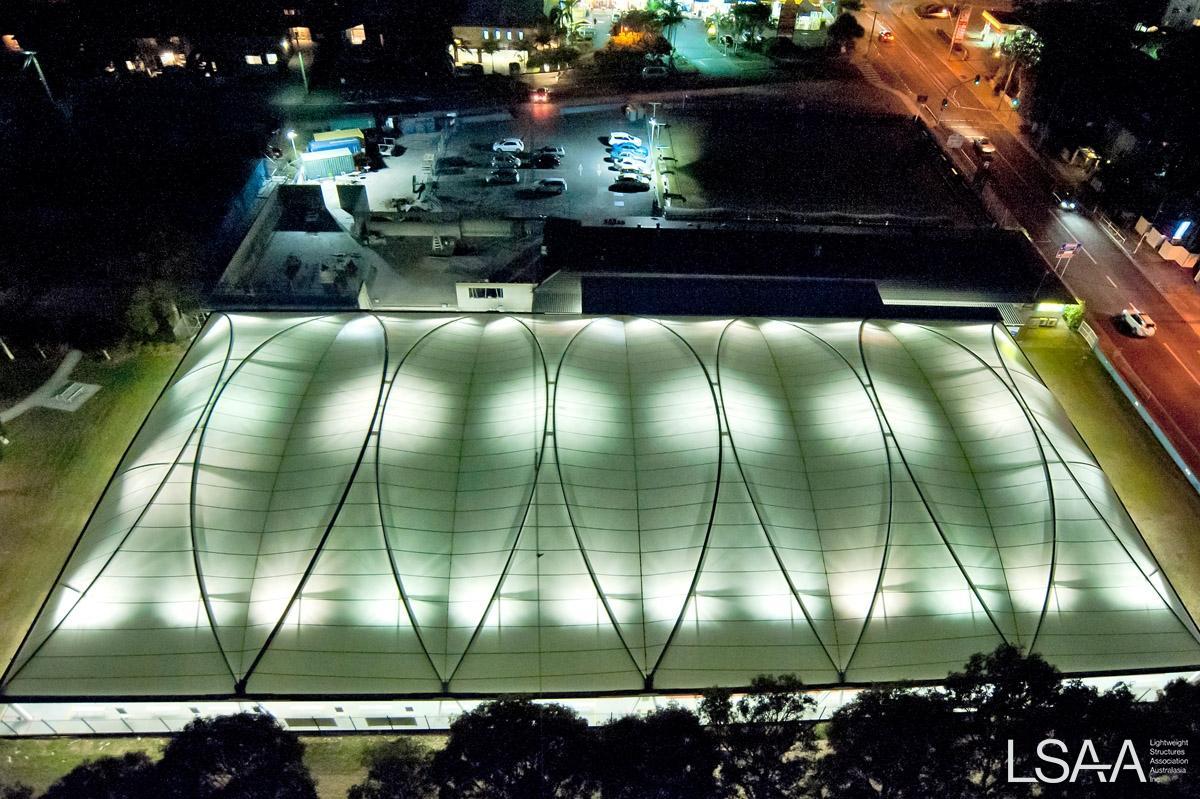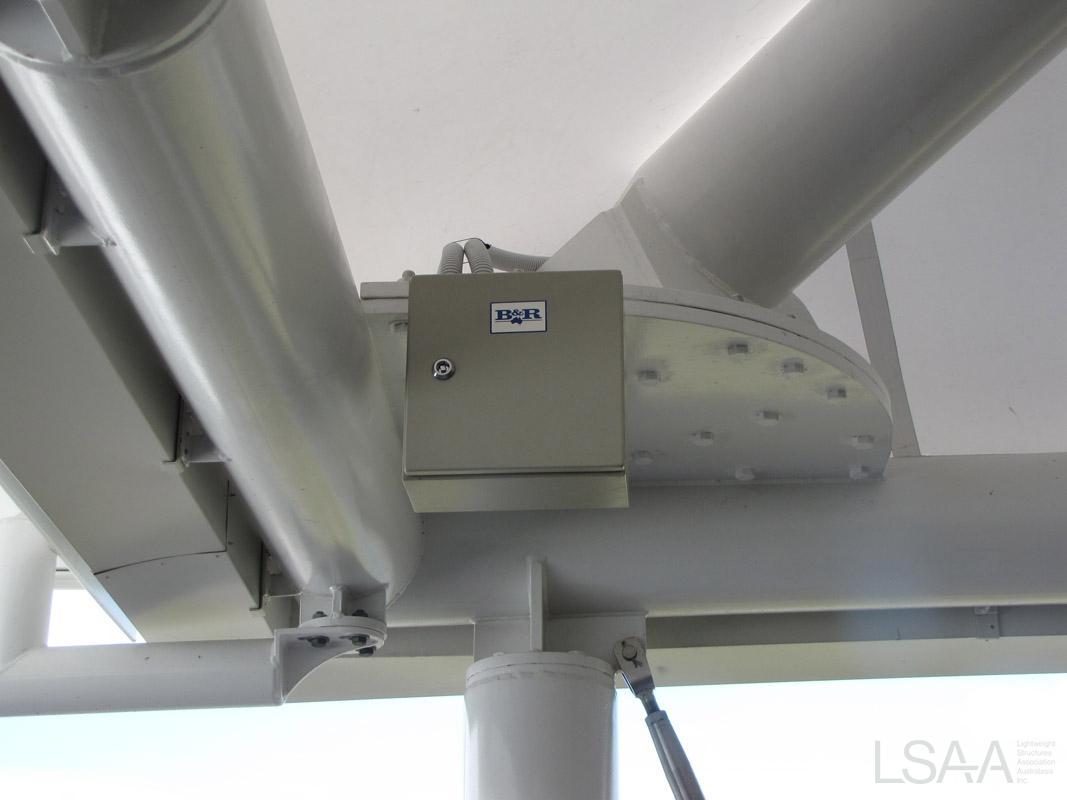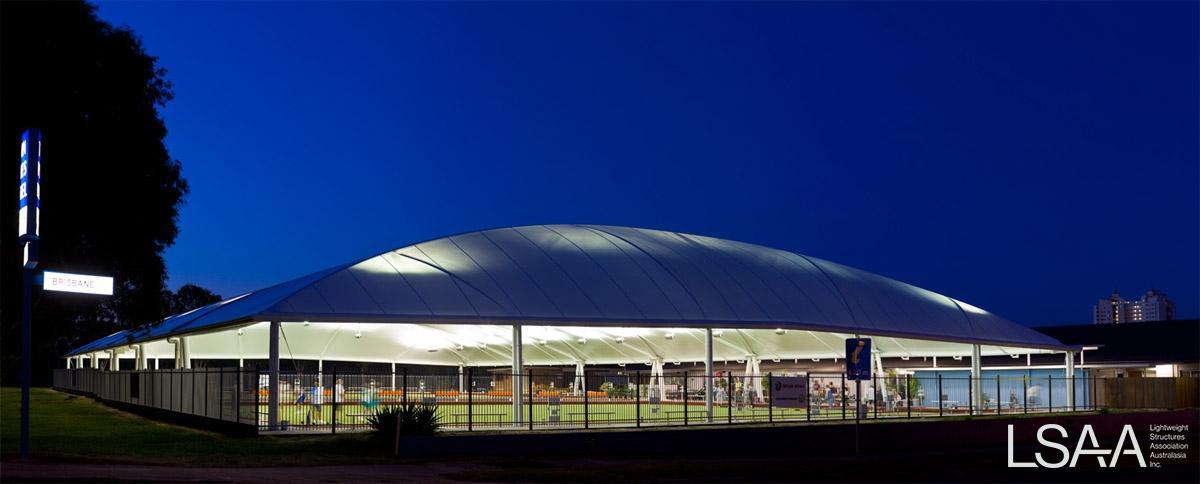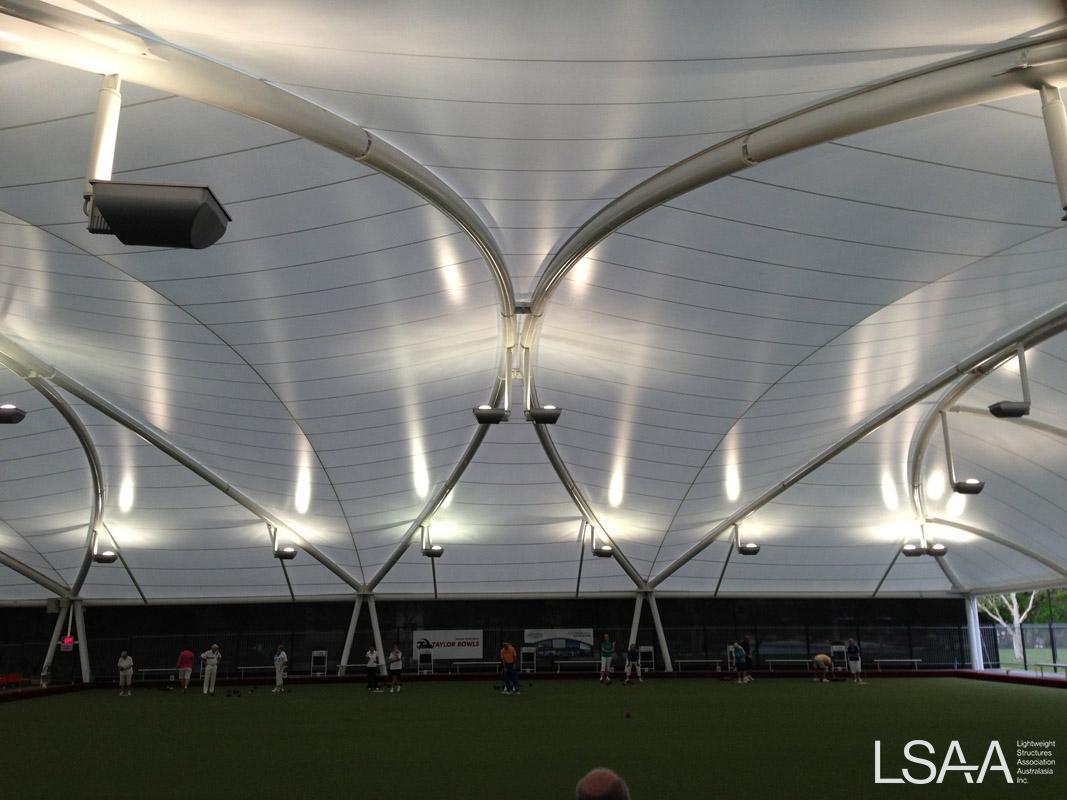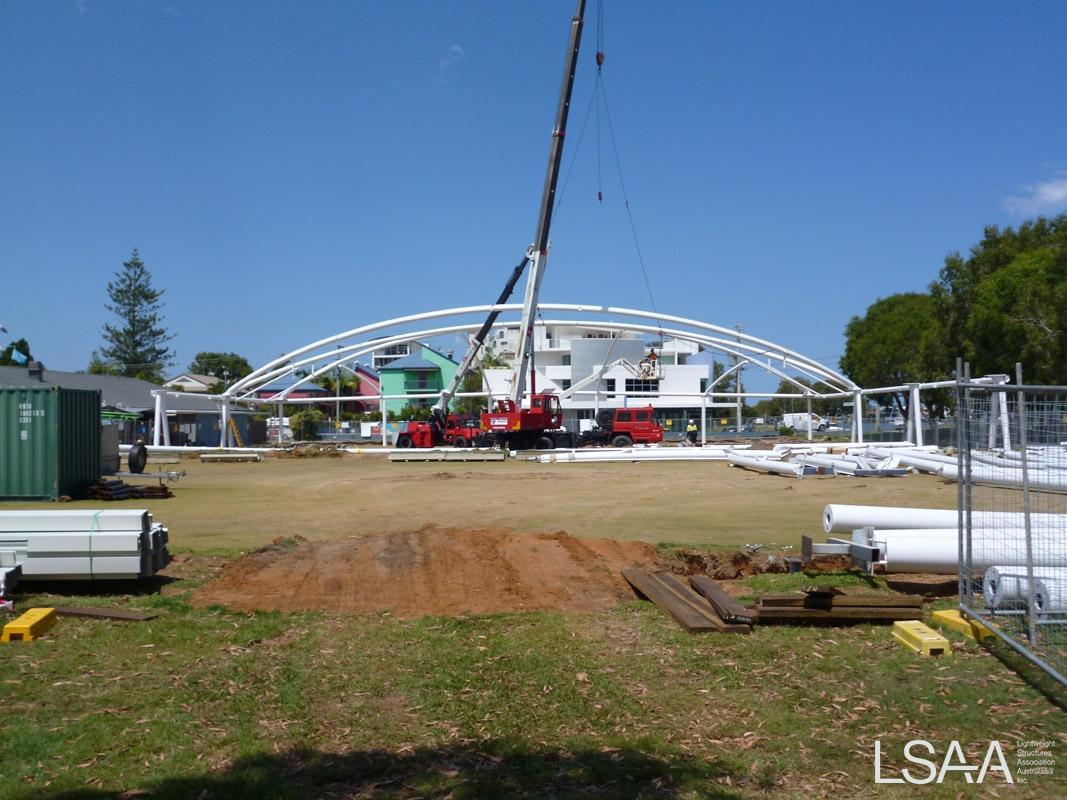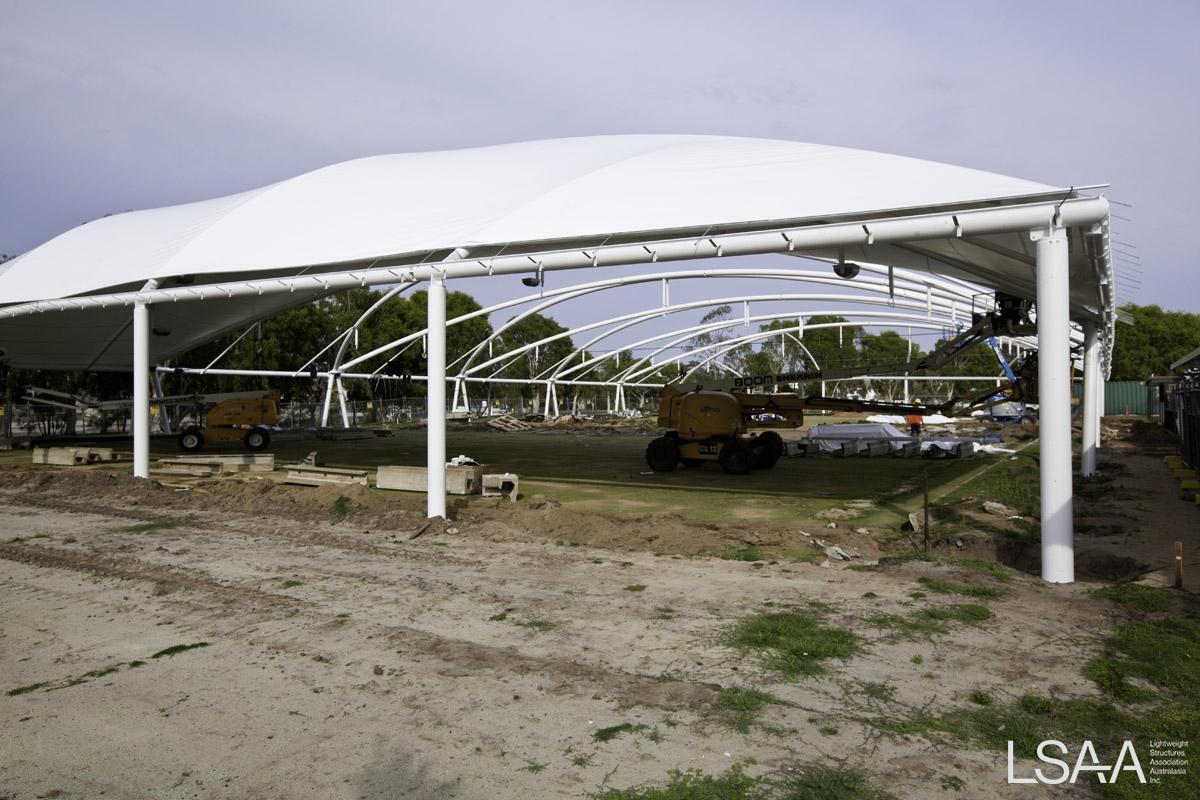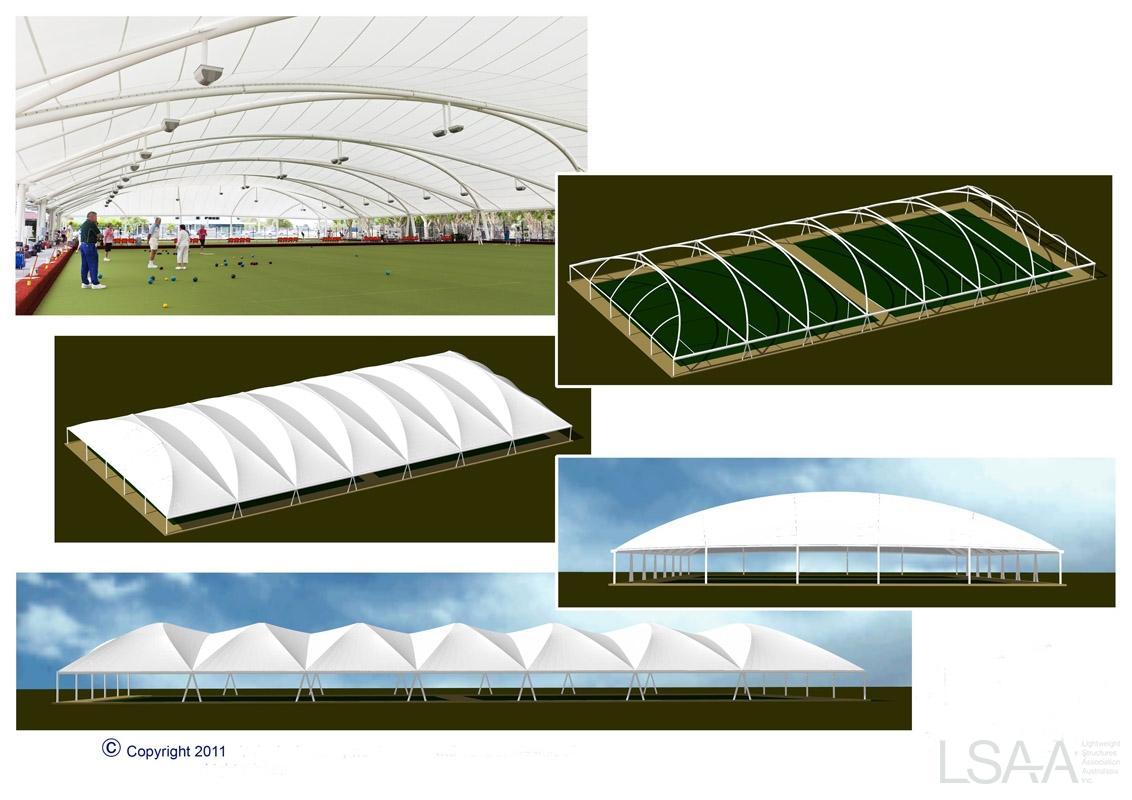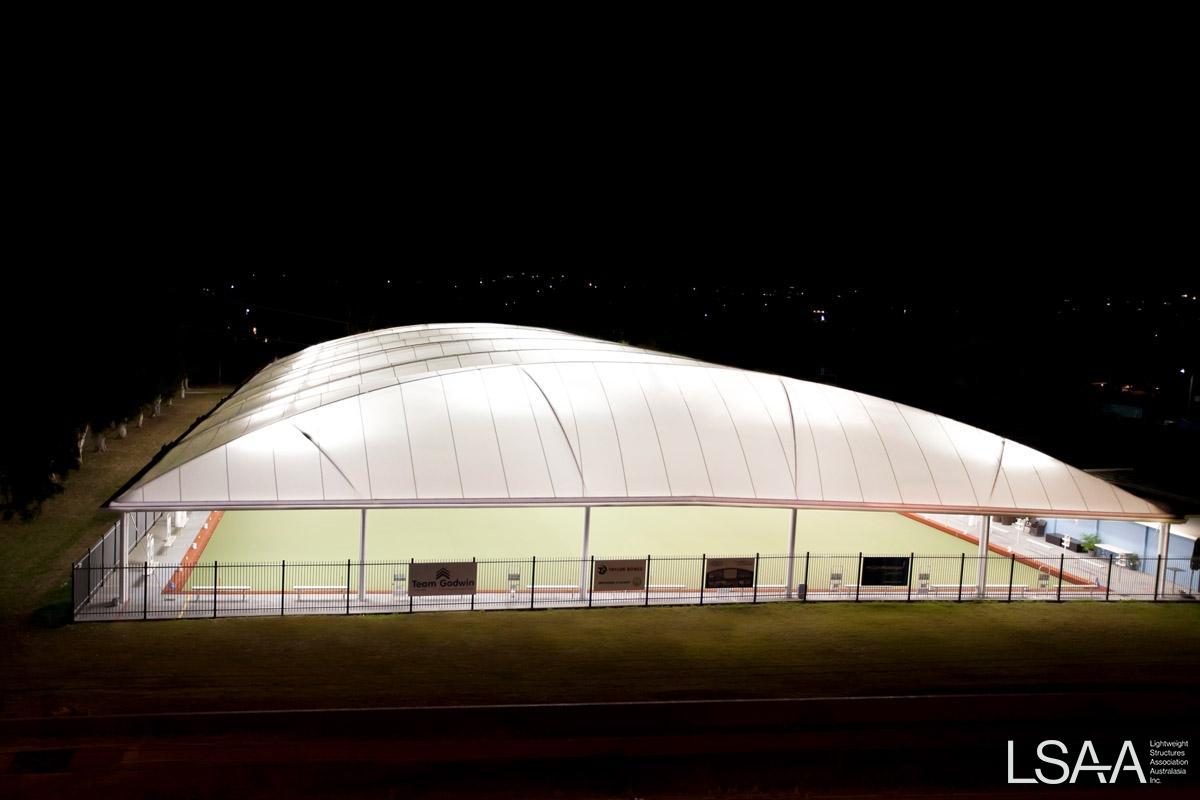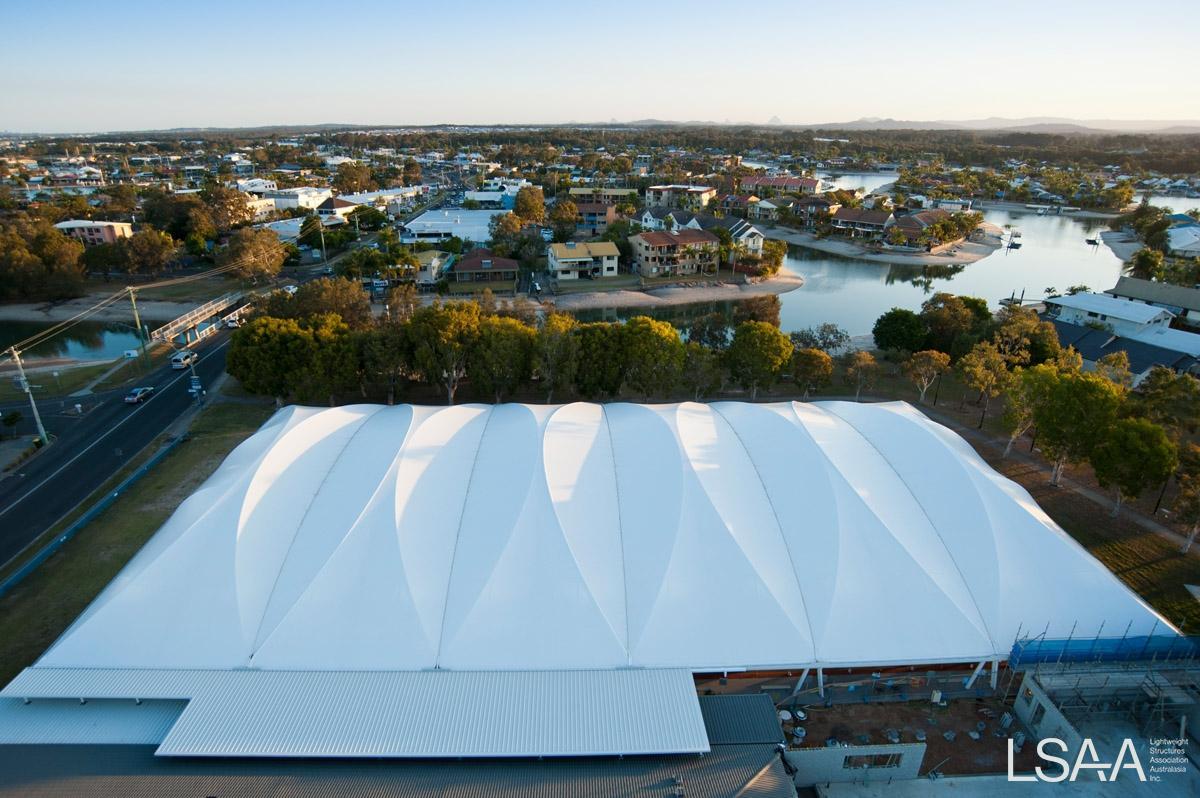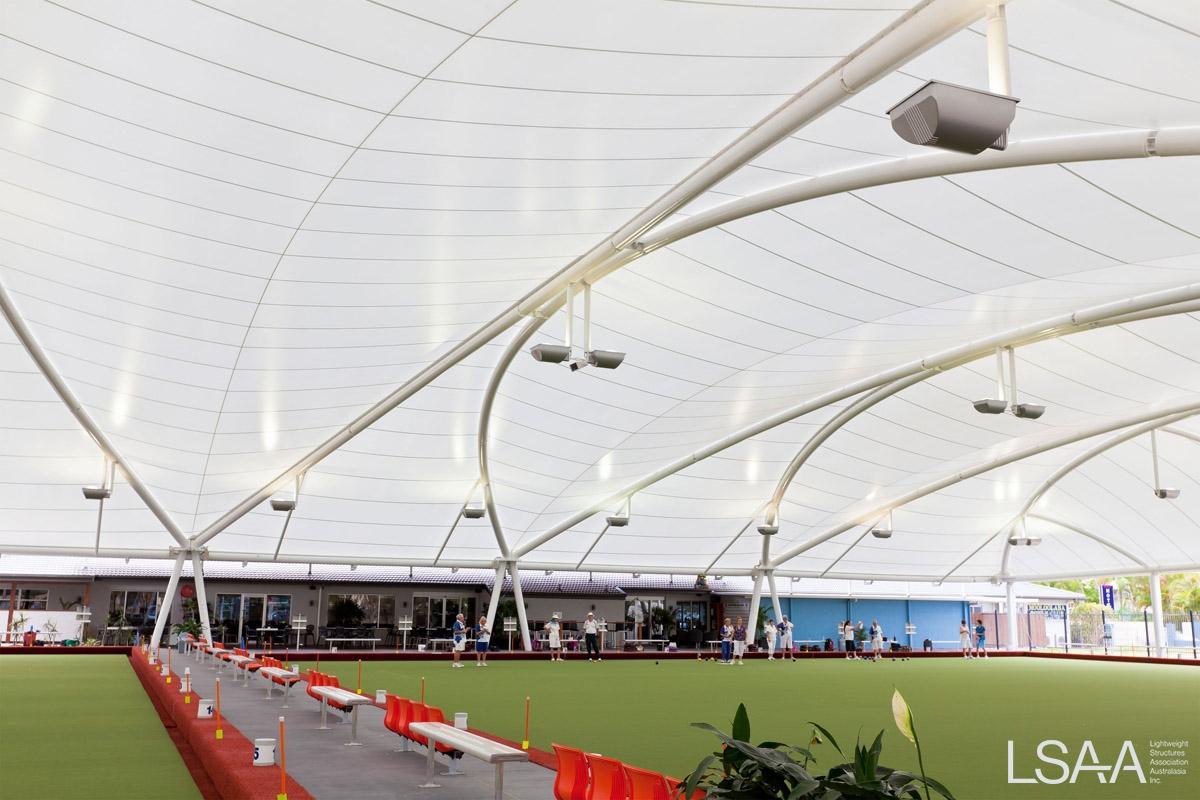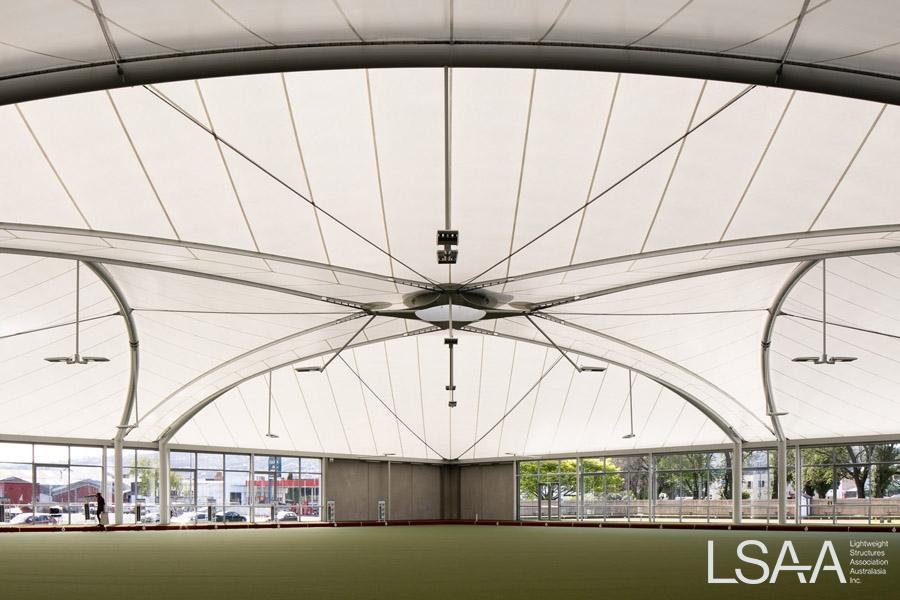 Award of Excellence LSAA 2018 Design Awards Large Structures (Cat 4, 4101)
Application: Bowling green tensile membrane roof
PROJECT DESCRIPTION:
The overall project was specifically conceived and designed to provide a community meeting point to focus and reinvigorate the residents of a depressed suburb which had been in steady decline for more than 30 years. Many residents of this suburb are elderly and due to transportation access and costs seldom left their homes, hence social integration and community interaction was poor. The additional aim of the project was to have the elderly and young be involved in community based sports and activities to invigorate, inspire and bond fellow citizens.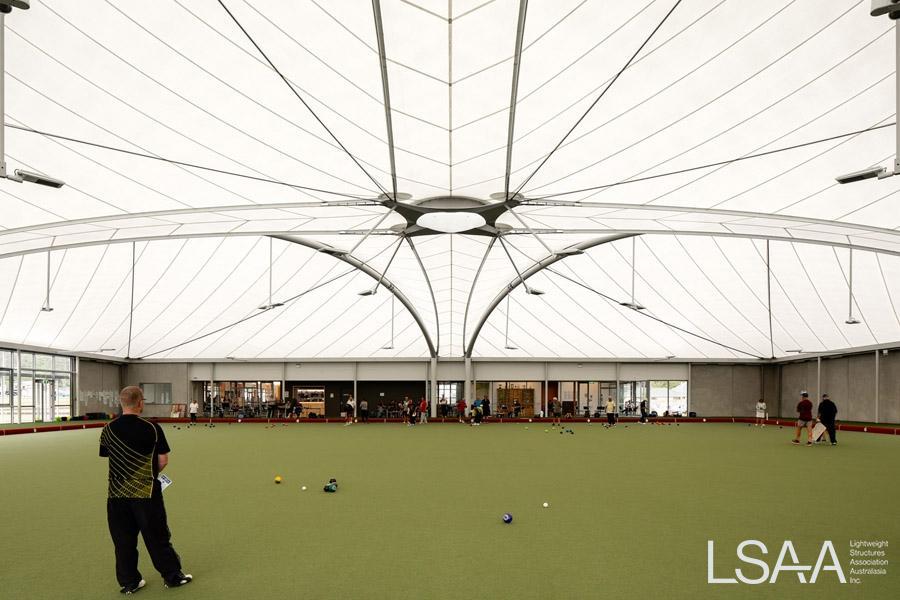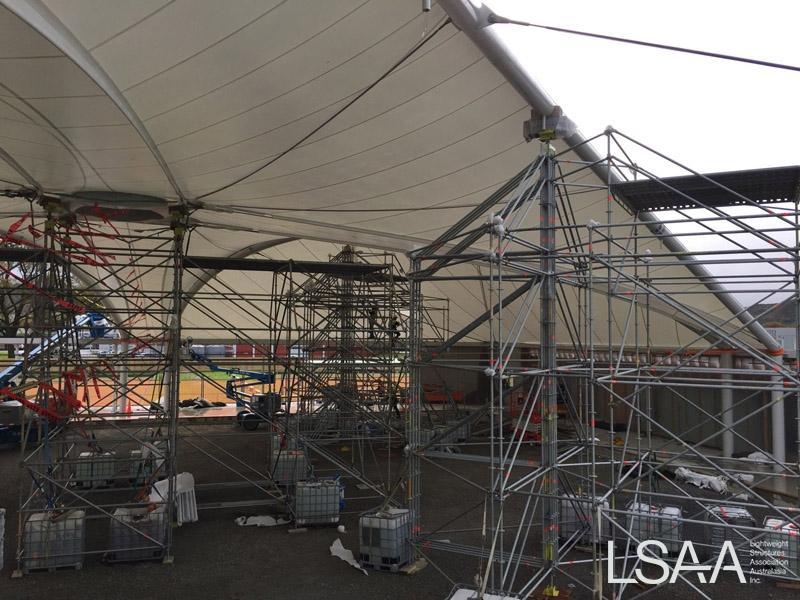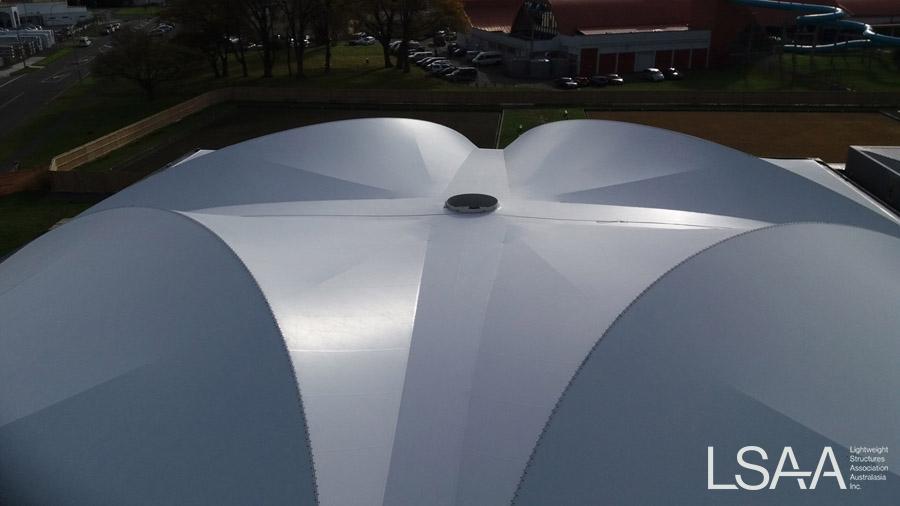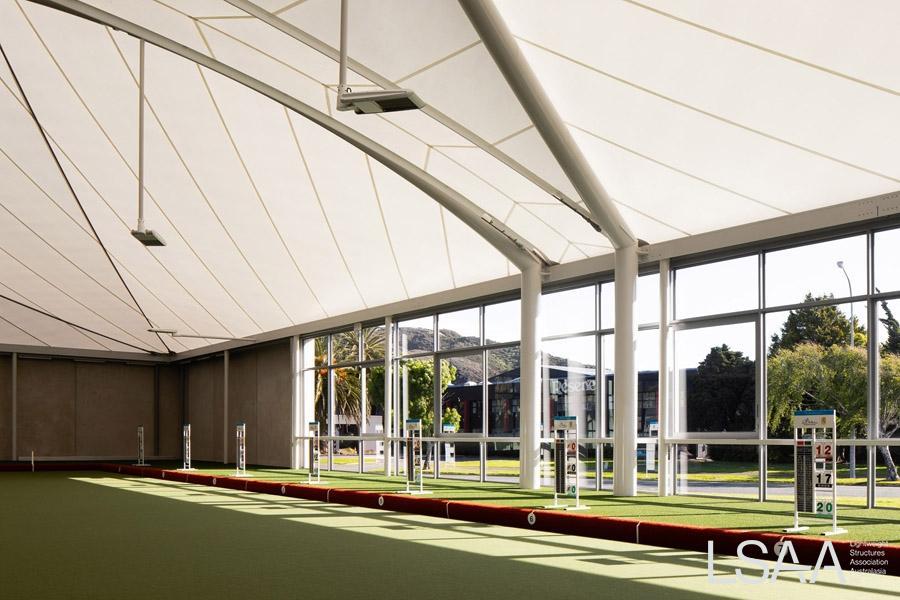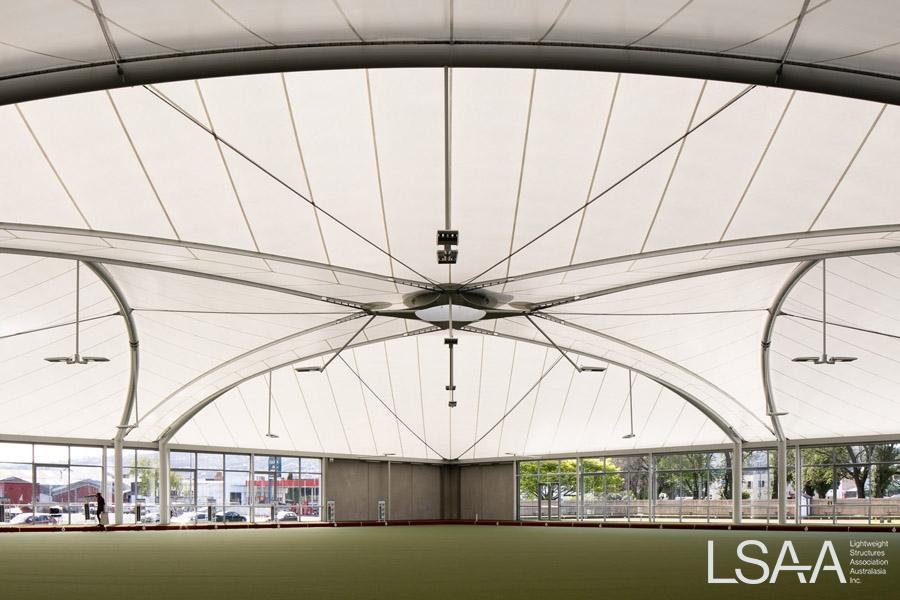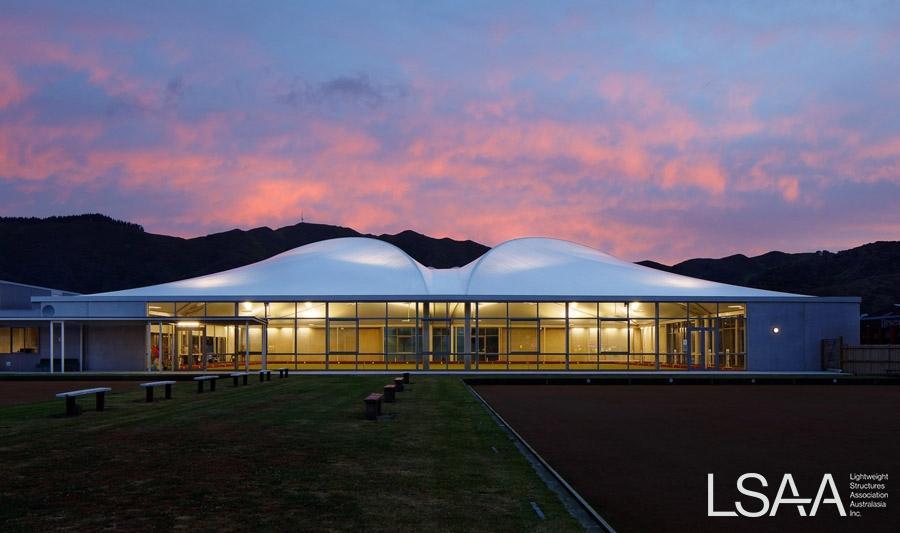 Read more: Wellington Bowling Club Greens Cover Project (2018)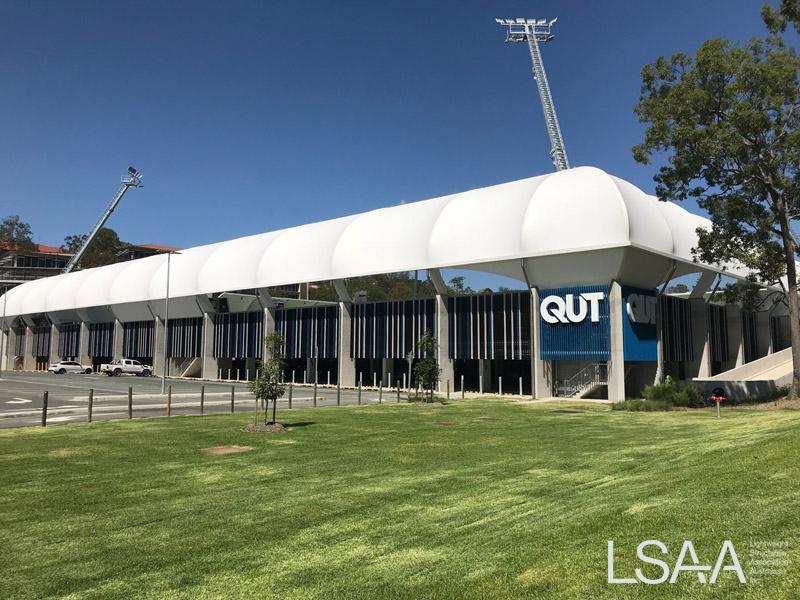 Application: Sports stadium on top of a multi-level car park
This project was entered in the LSAA 2018 Design Awards (Cat 4 Large Fabric Structures, #4066)
PROJECT DESCRIPTION:
The Queensland University of Technology (QUT) Sportsfield Car Park project was part of the construction of a $27 million multi-story car park at the QUT Kelvin Grove campus in Brisbane. The roof-level is home to a FIFA accredited sports field, developed as part of the long-term expansion plans for the University.
The Queensland University of Technology (QUT) Sportsfield Car Park features a FIFA-accredited sports field on the roof of the AUD$27 million multi-level car park. This unique project included the design and construction of the steel, PTFE fabric membrane, fall arrest mesh, static line and score board.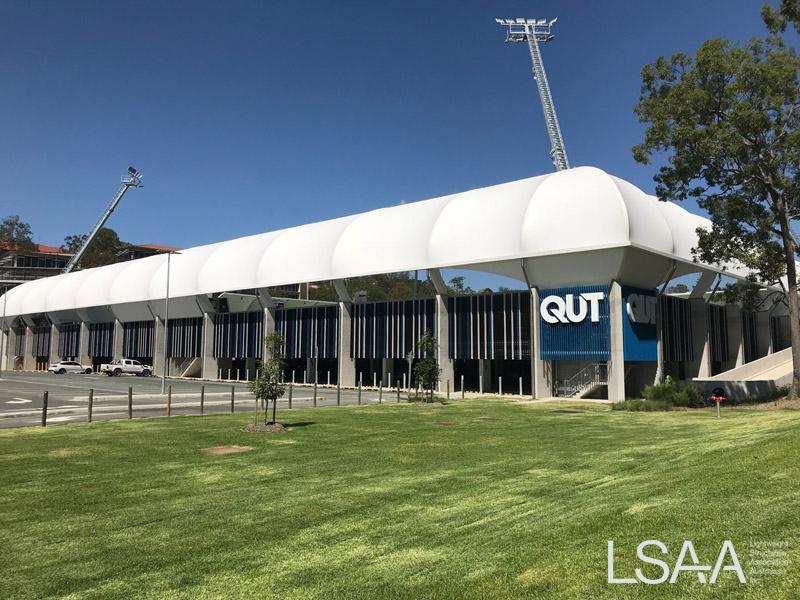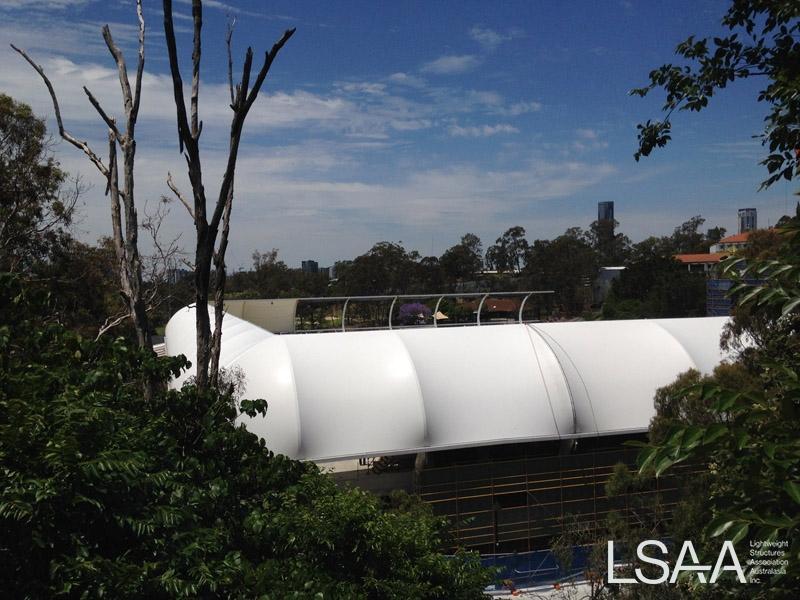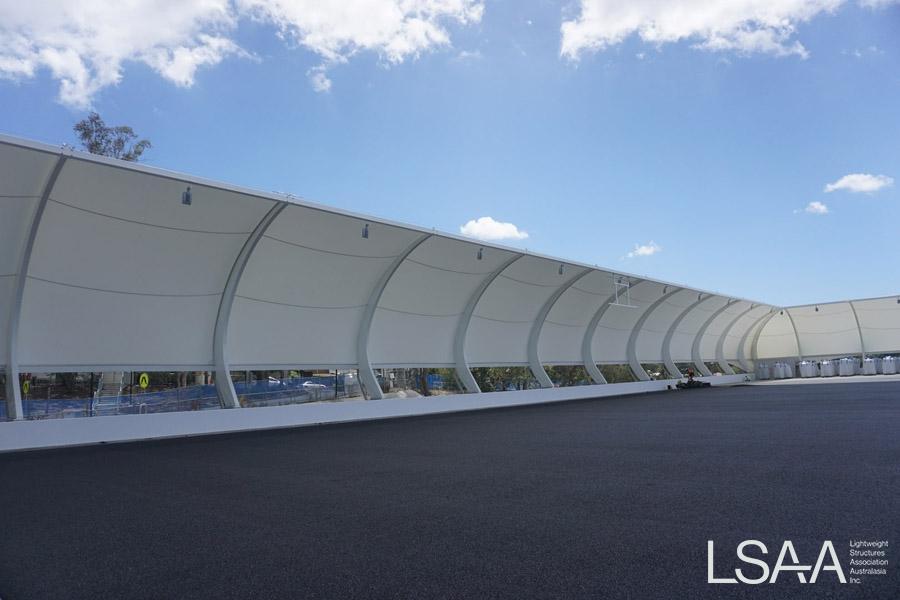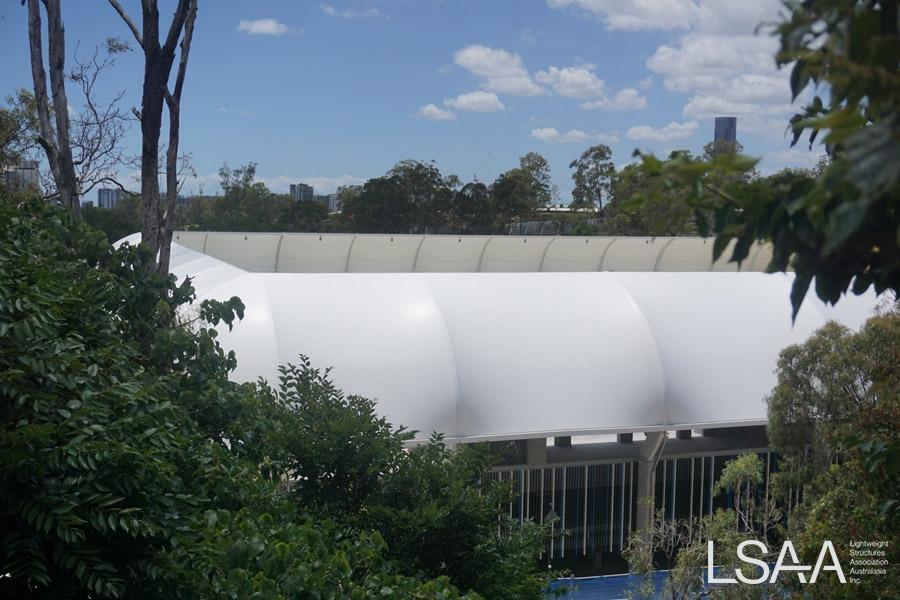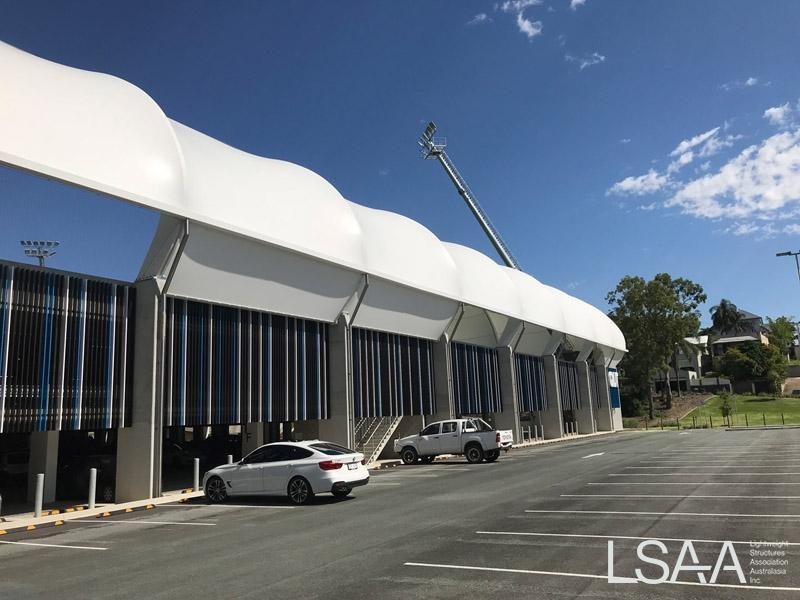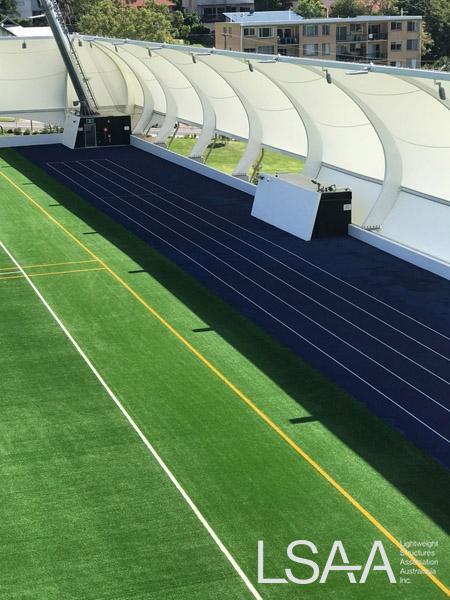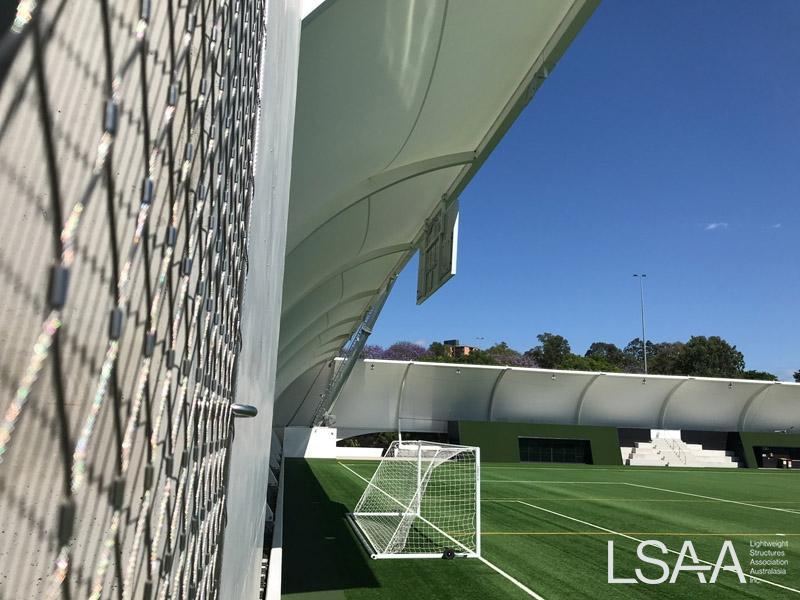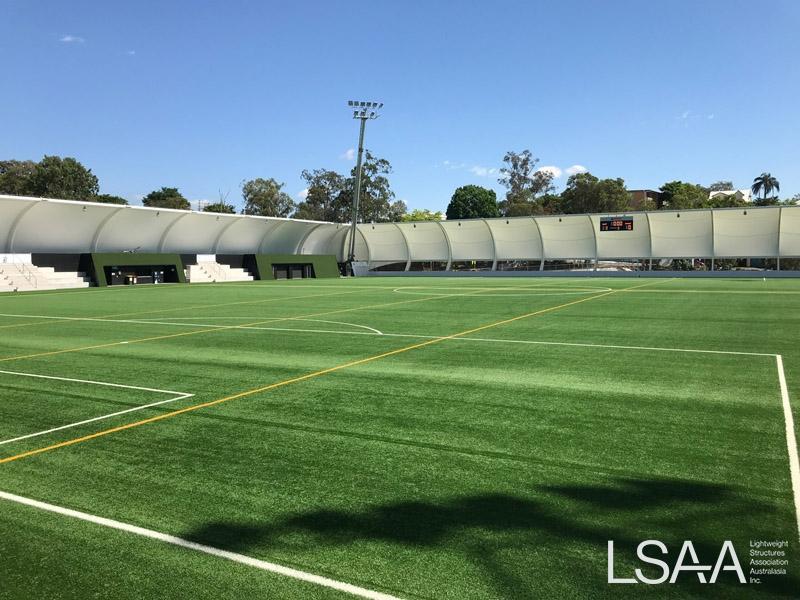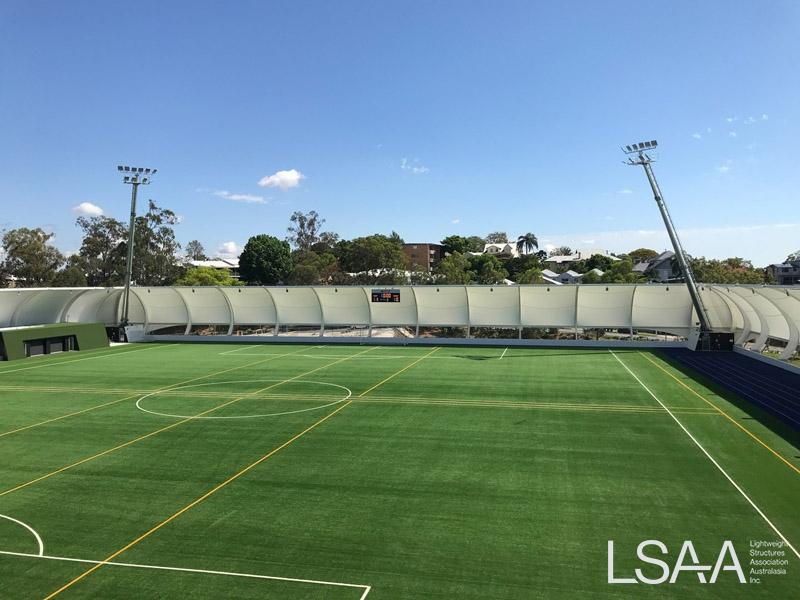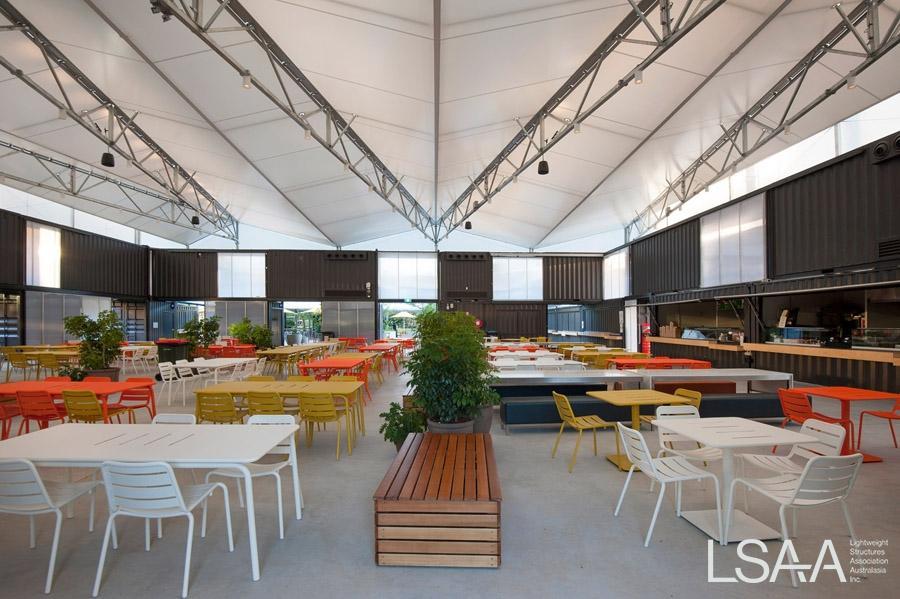 Application: Container-mounted architectural structures for university dining hall.
This project was entered in the LSAA 2018 Design Awards (Cat 4, 4001)
PROJECT DESCRIPTION:
The Macquarie University Campus Common project comprised of the design & construction of a series of 11 container-mounted architectural awnings to cover a new temporary dining area for students. The design involved 6 market structures, 1 larger 30m x 30m 'main' structure, and 4 awning structures. The main structure was required to have an internal environmental control system for temperature regulation inside.
The intention of the temporary solution meant that the design allows for the structures to be easily dismantled and relocated in 5 years.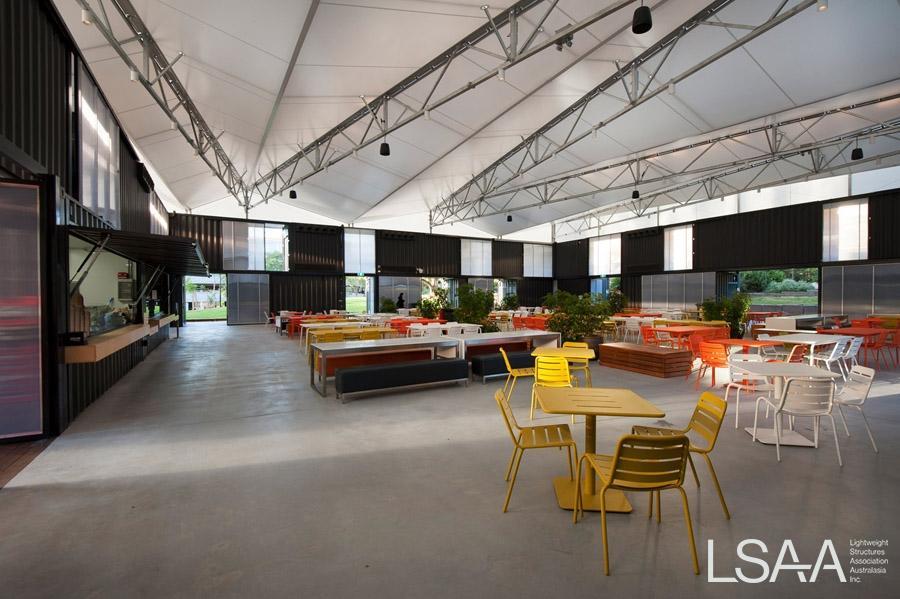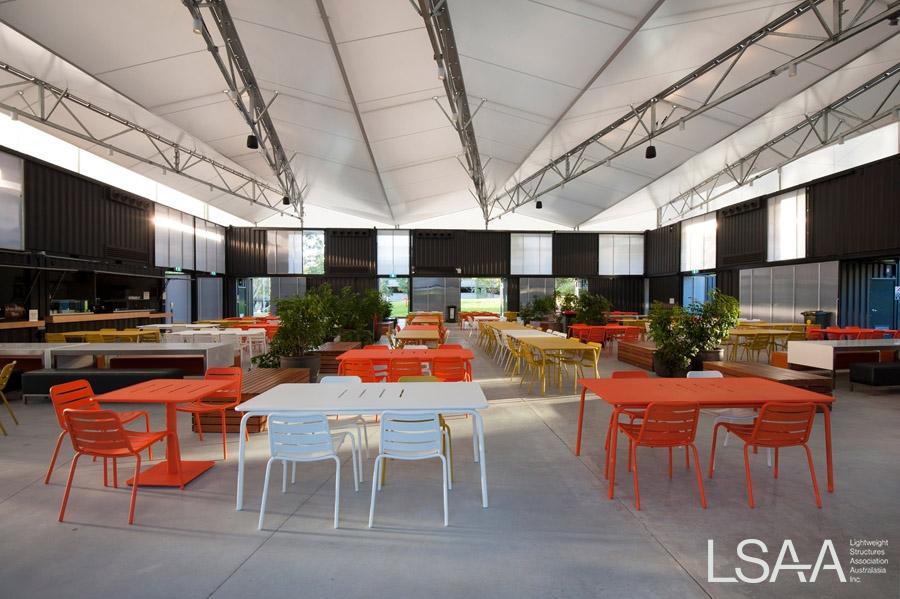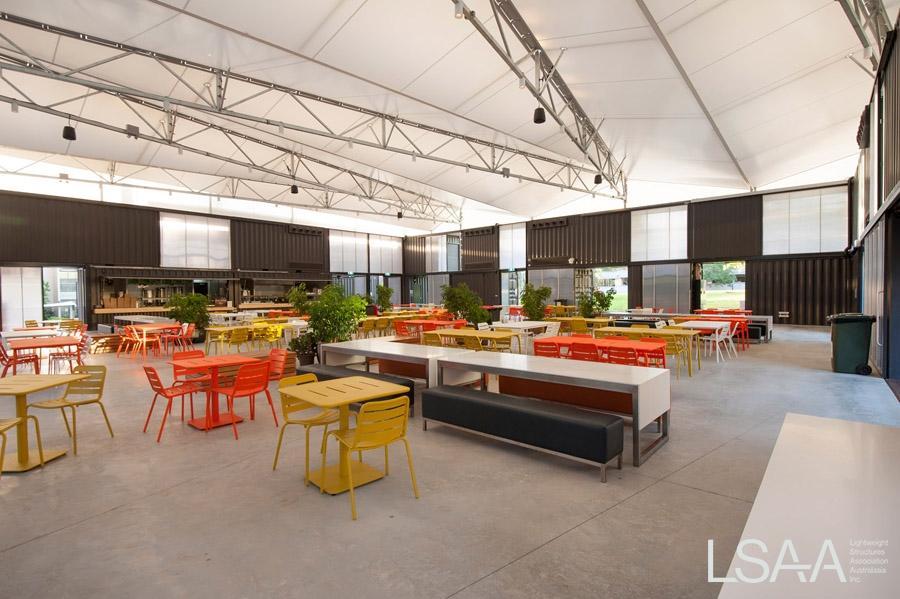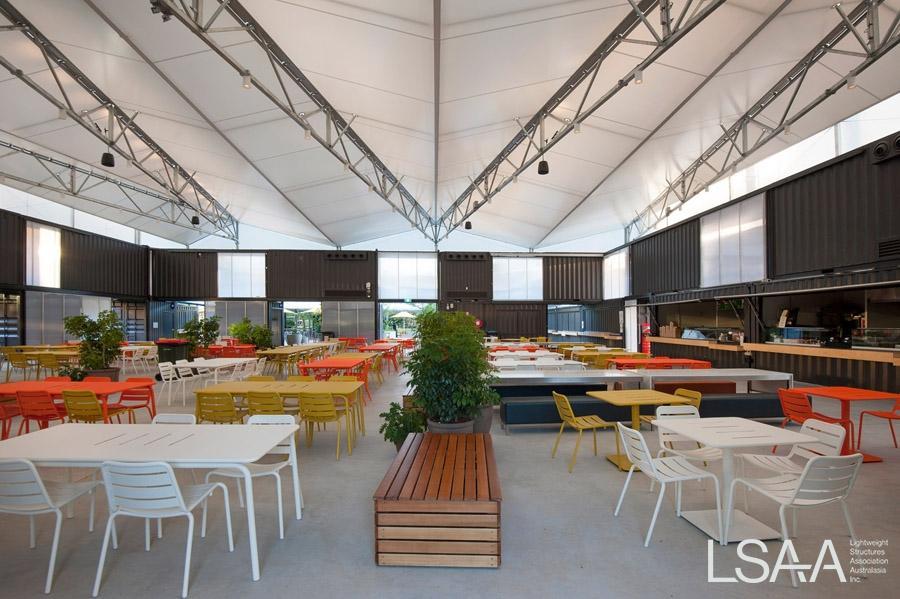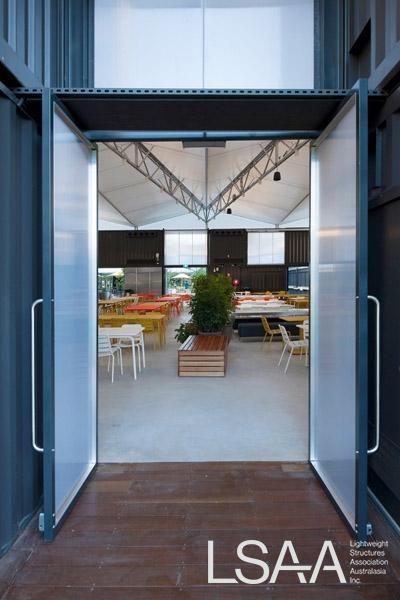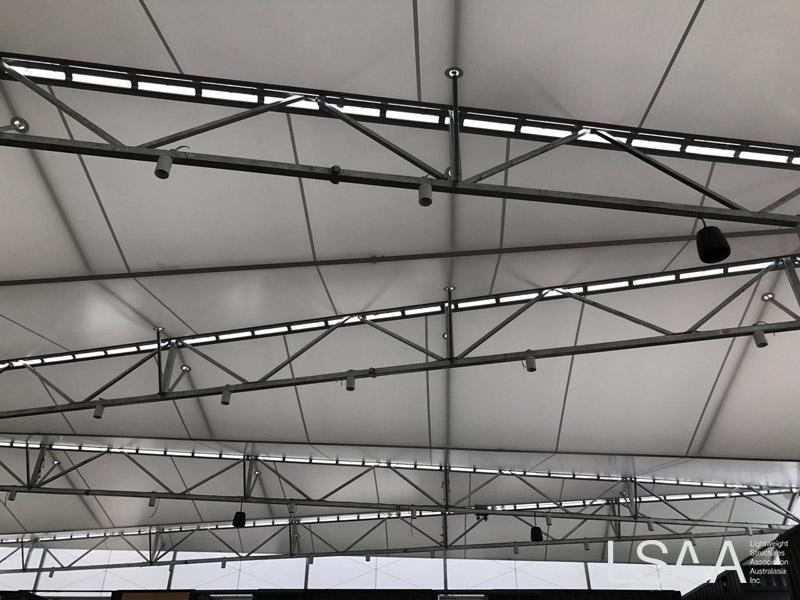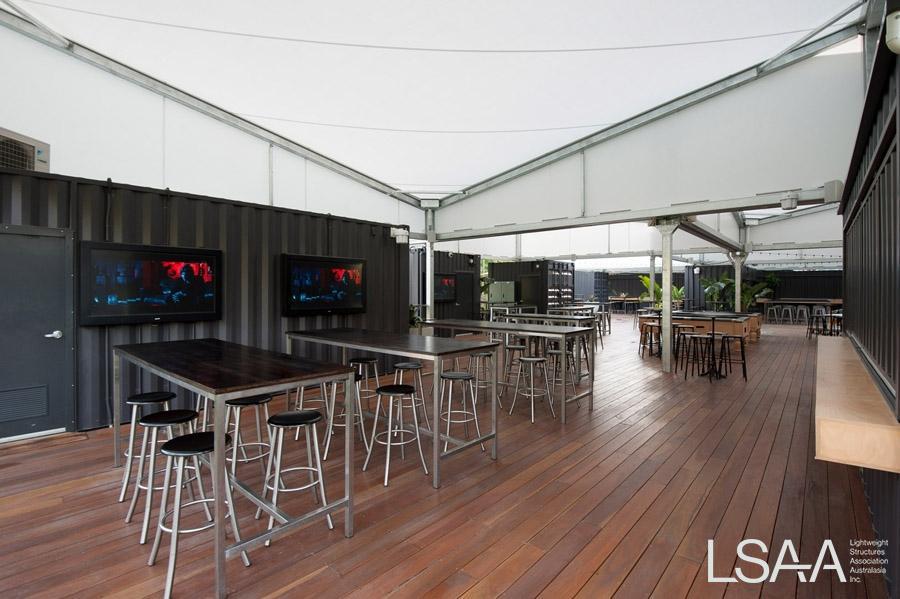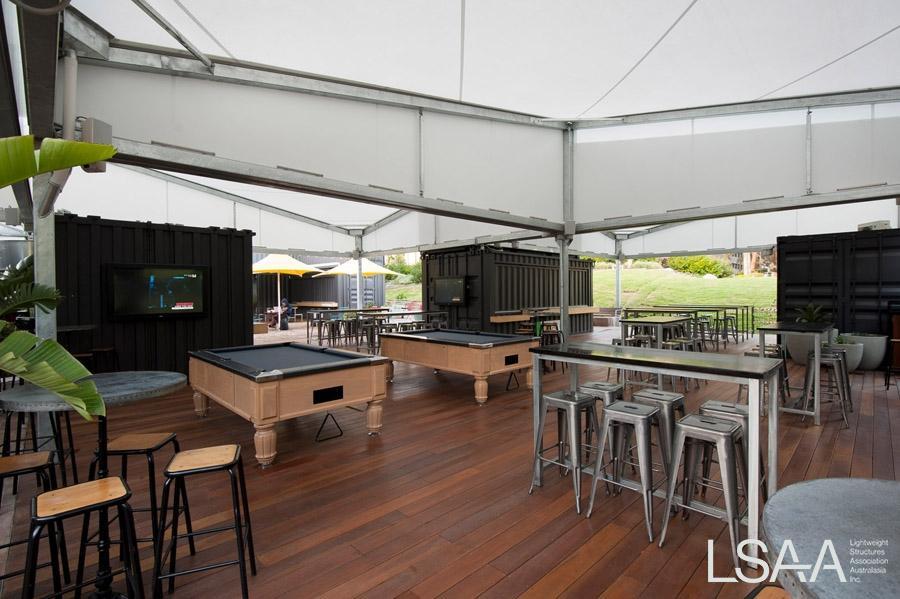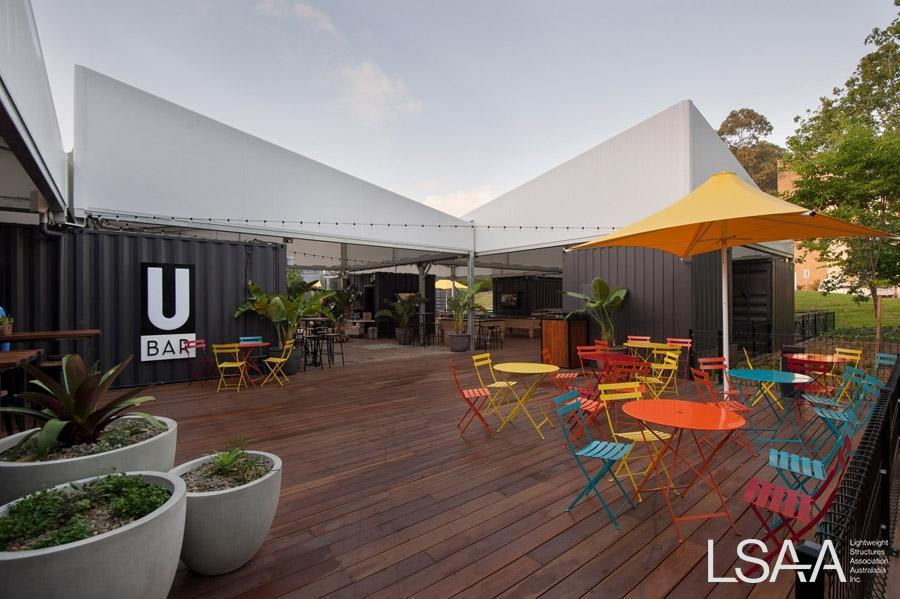 Photo Credit: Michael Anderson, Paramount Studios
Read more: Macquarie University Campus Dining Room Project (2018)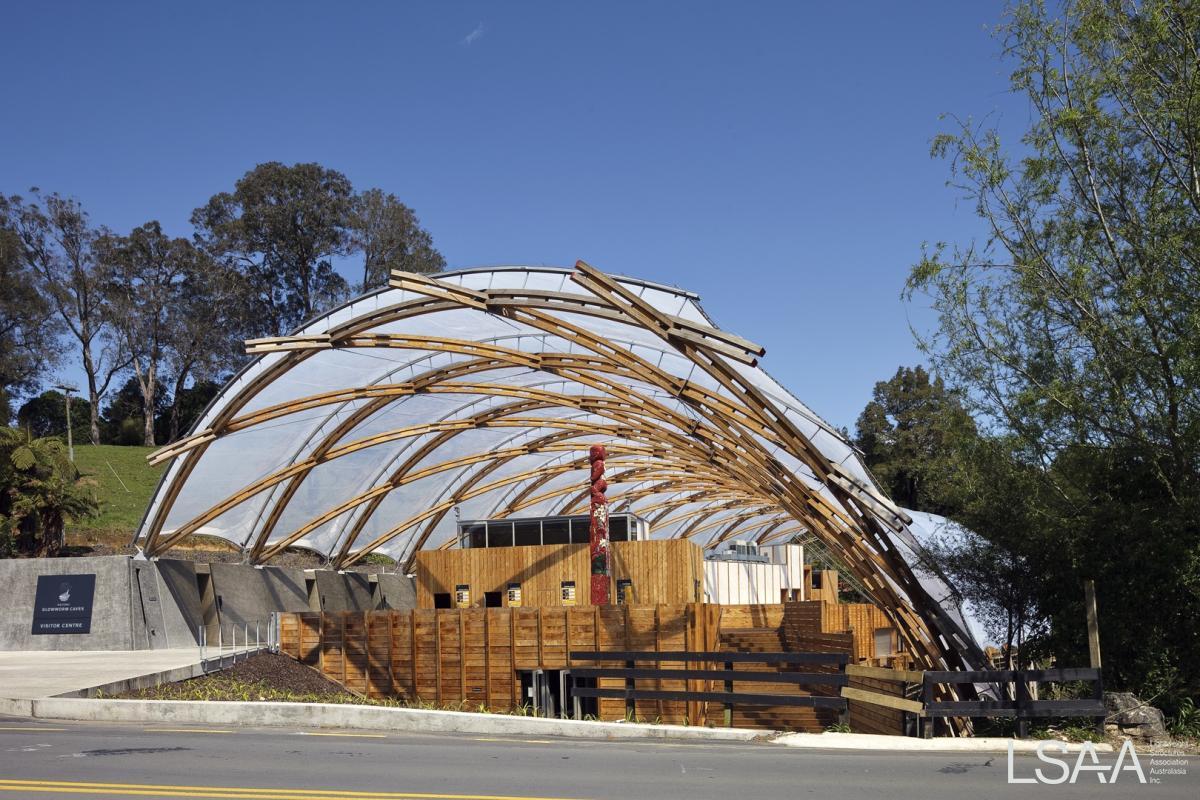 Entered into the LSAA 2011 Awards (Cat 4, 4610)
PROJECT DESCRIPTION
Sheltered below an innovative woven timber canopy, new amenities for visitors to the Waitomo Caves includes tourist gathering areas, 250-seat dining, retail, seminar and exhibition areas as well as a café and theatre for Tourism Holdings Ltd (Fig.1). (Note: These Figures / drawings are not available)
The cave entrance is accessed from the car park on the upper path while a lower path returns the visitors back alongside the stream exit (Fig. 2). Between these paths the amenities were accommodated within a simple base structure that extended the contours of the land (Fig. 3). The form of the base is distinguished and separate from the curved geometry of the overhead canopy.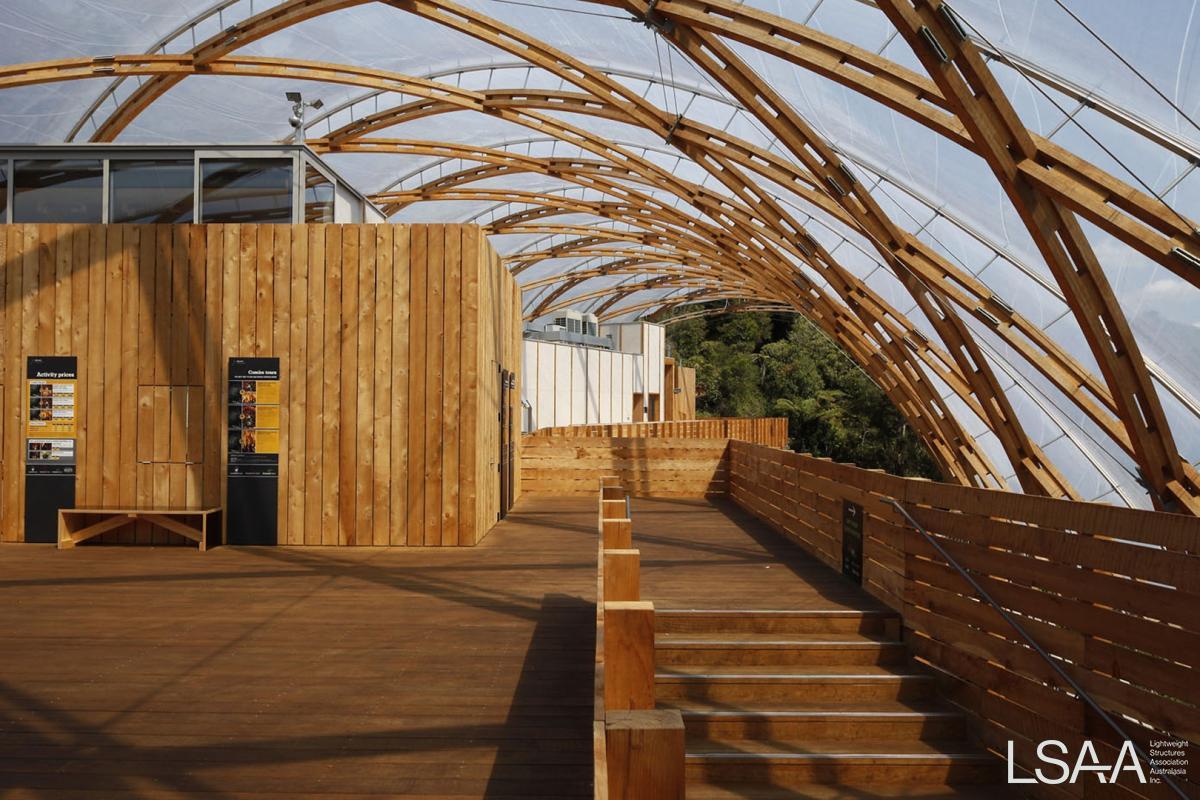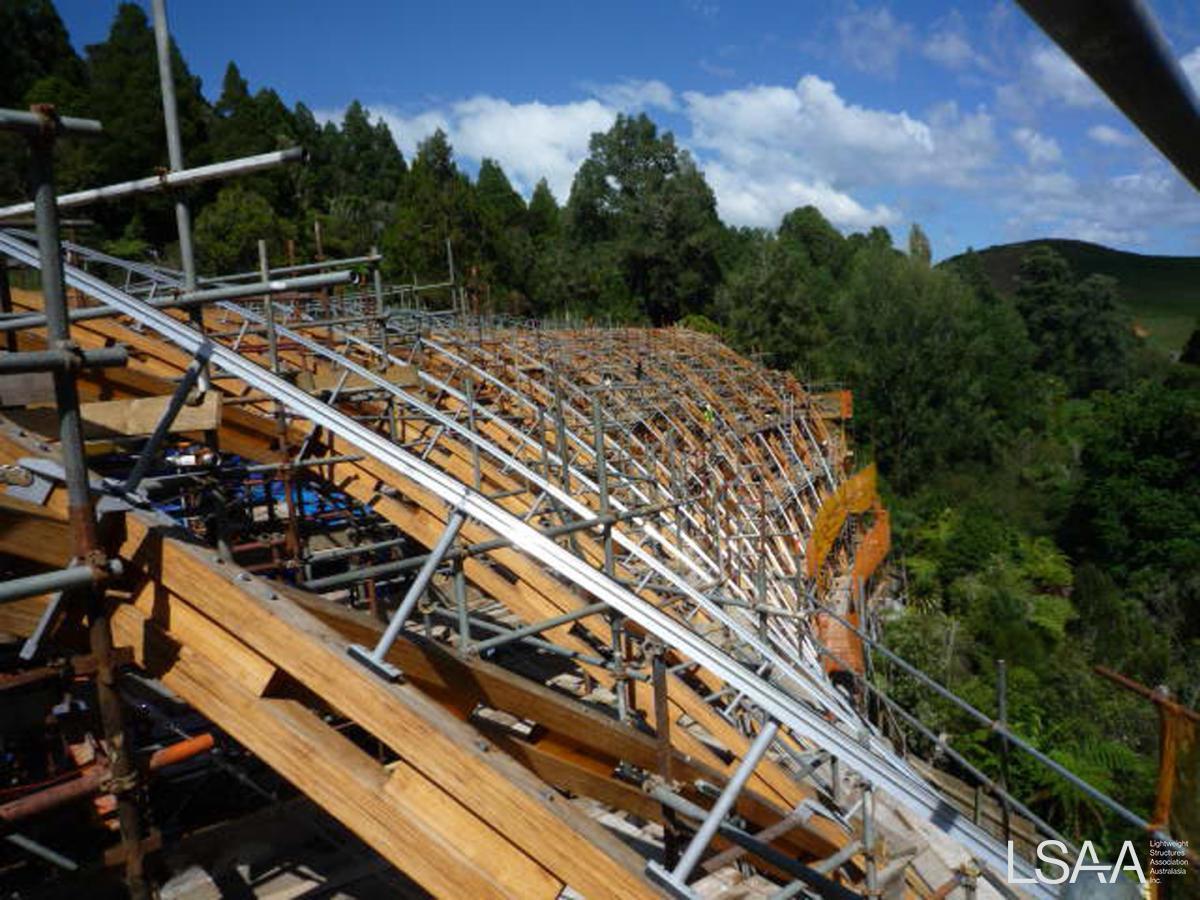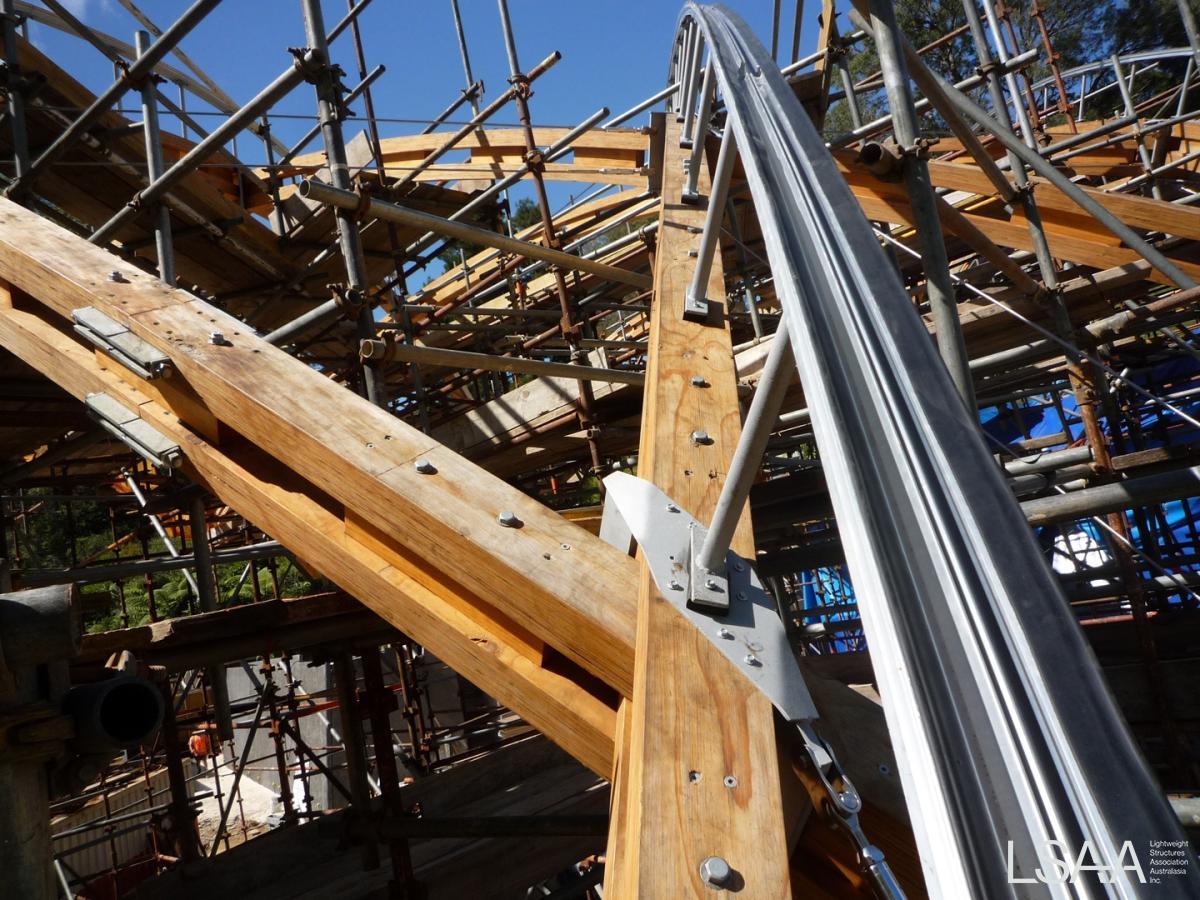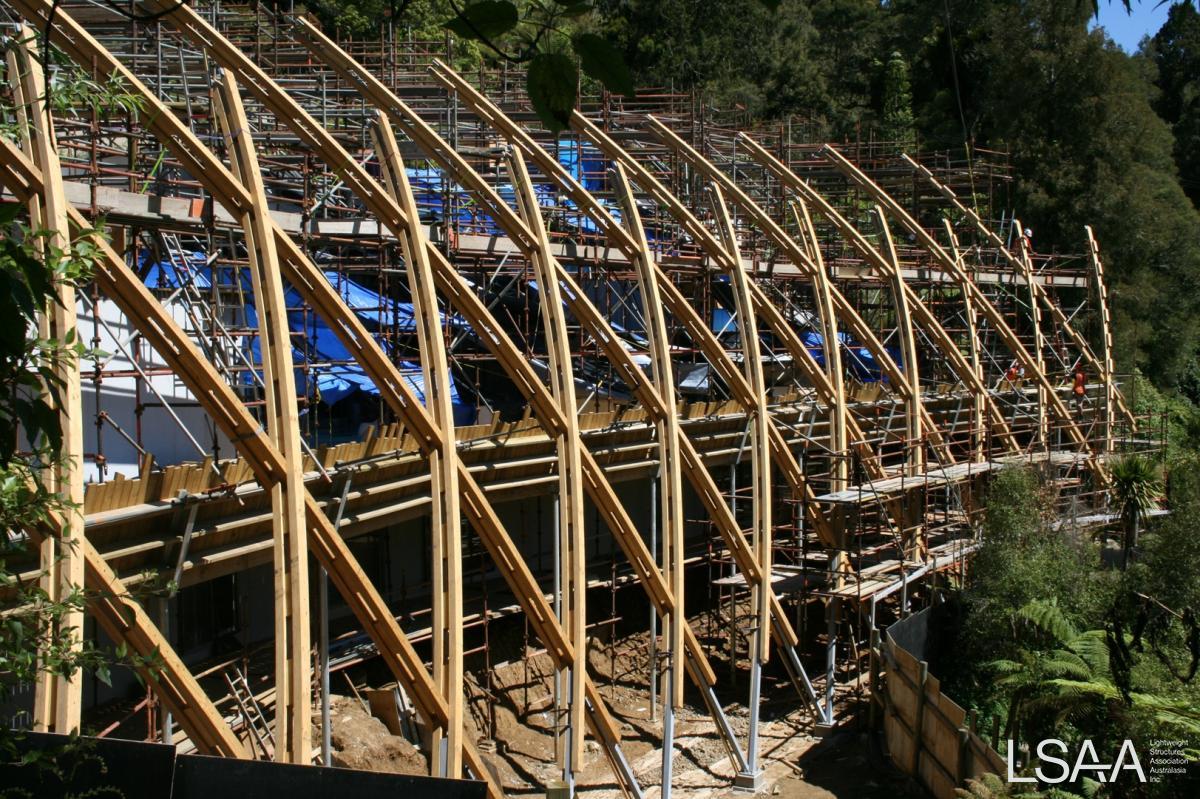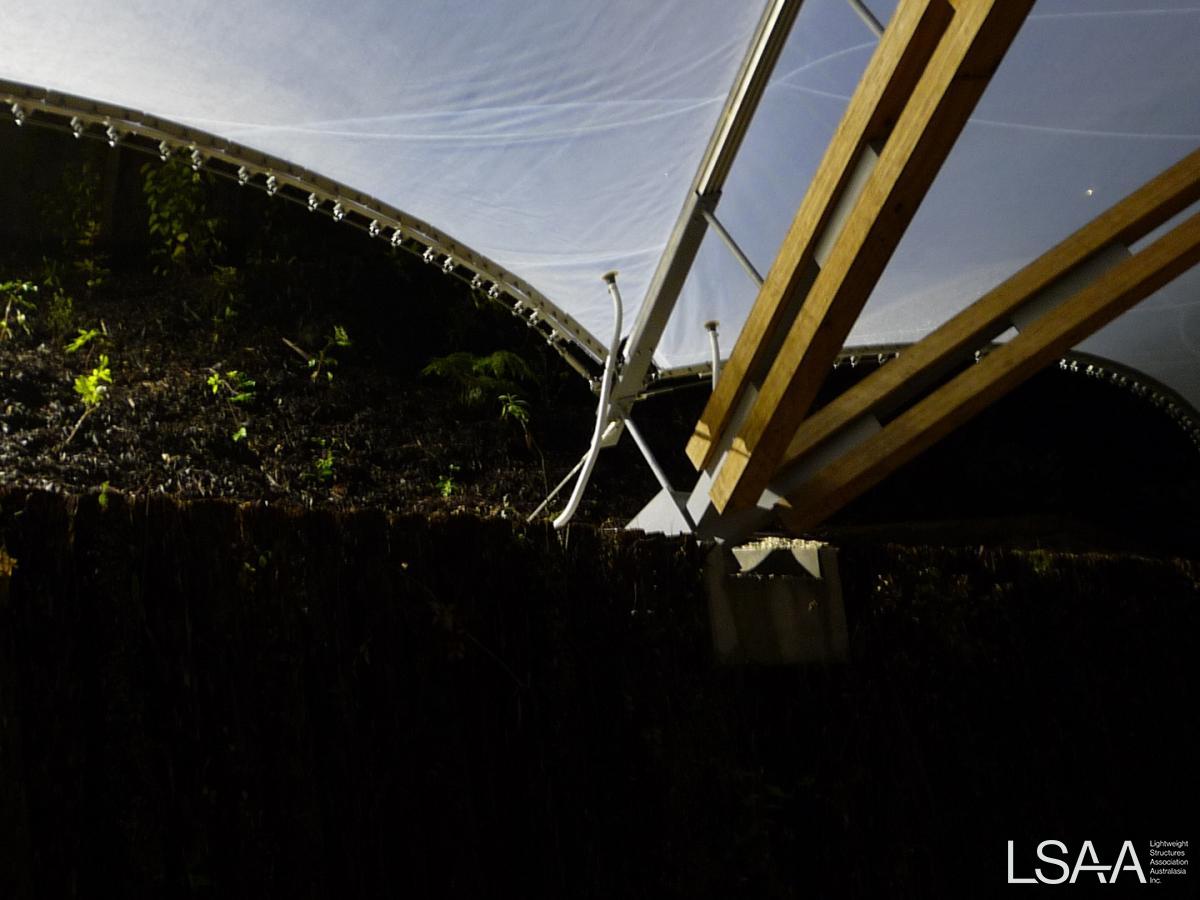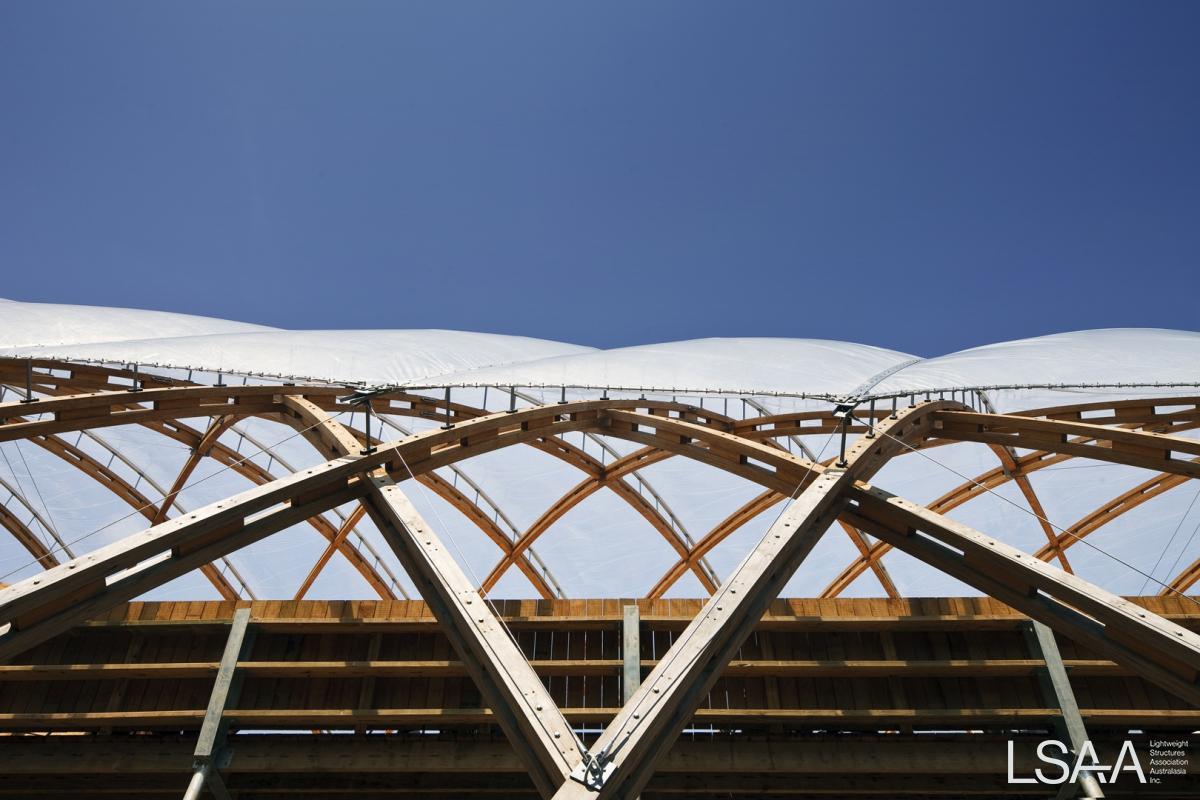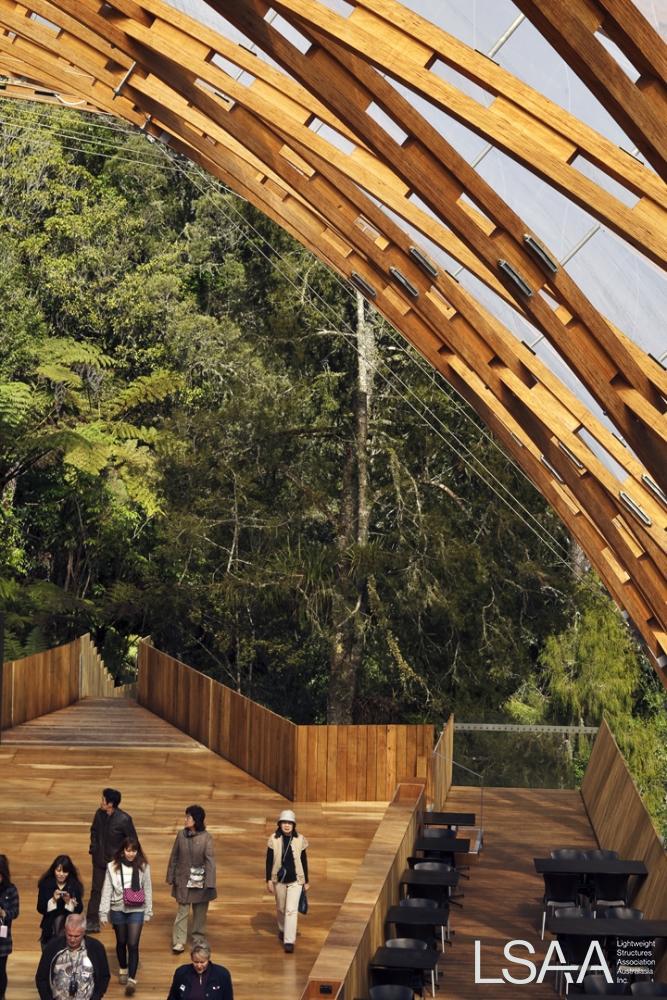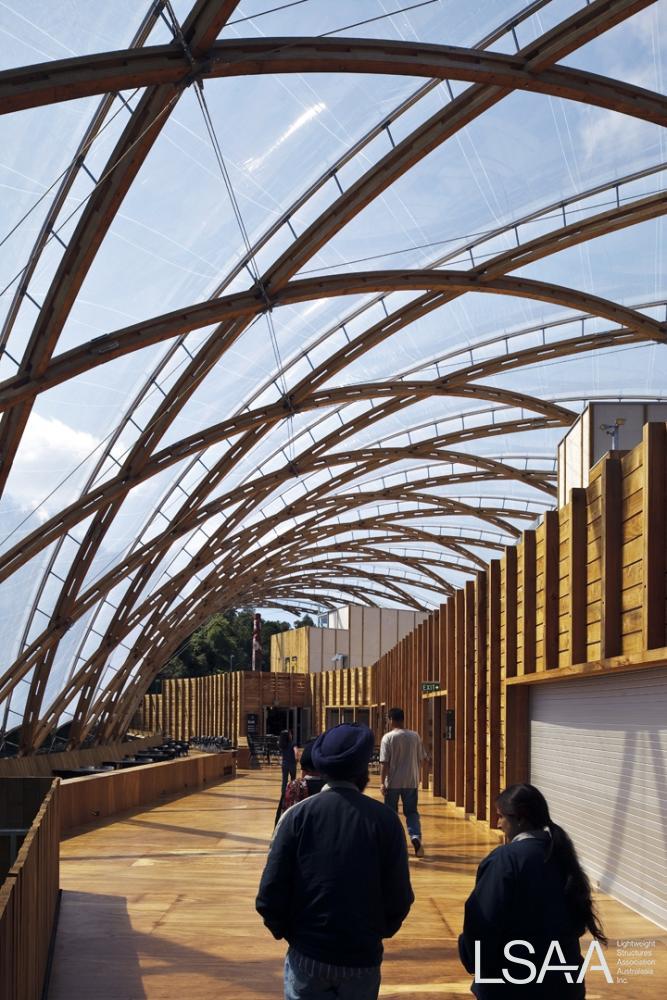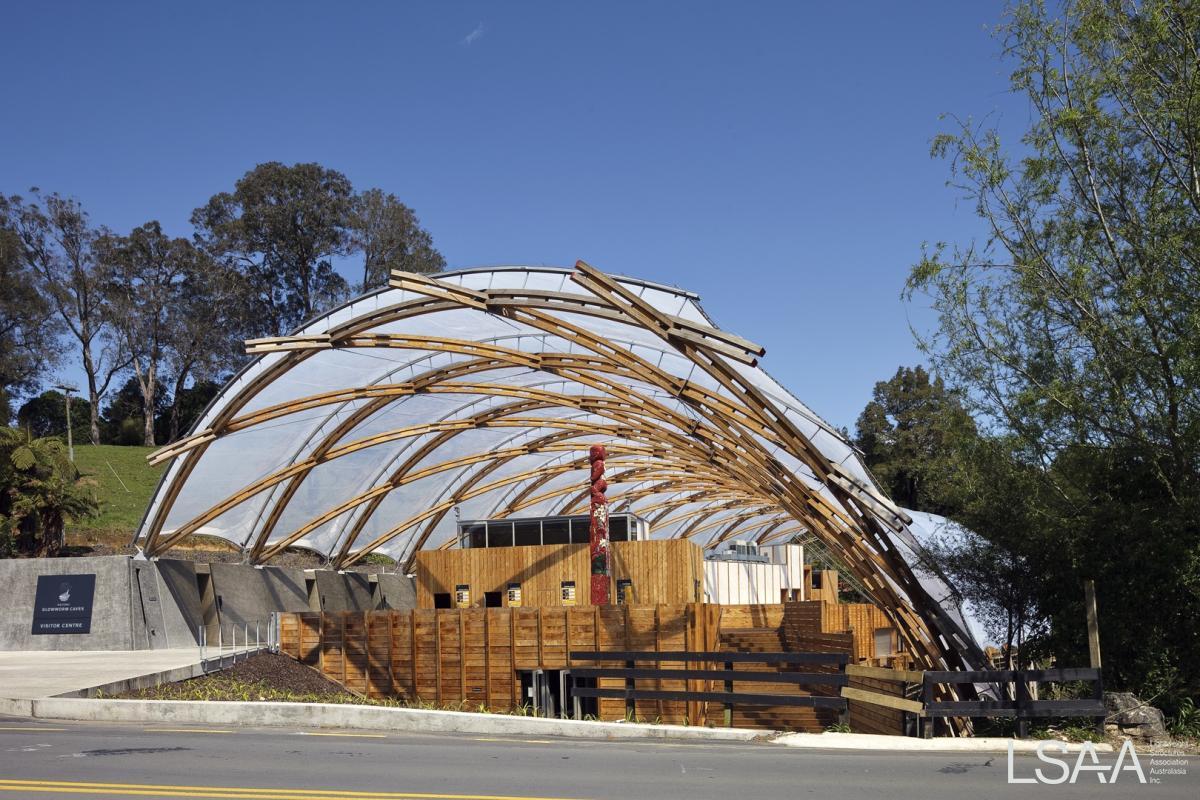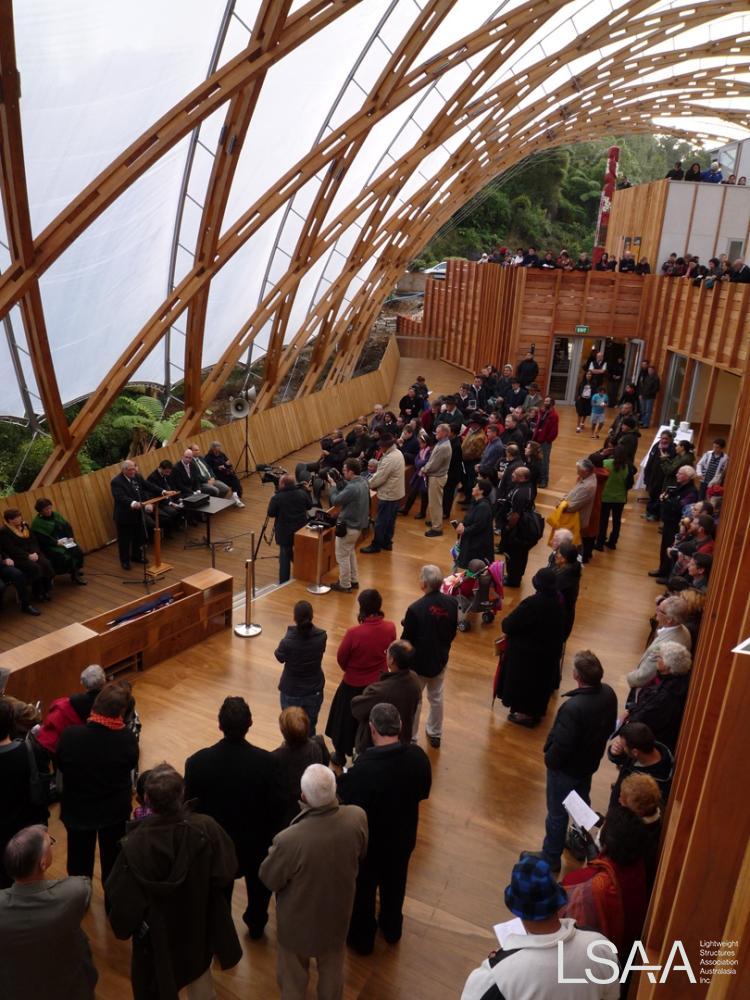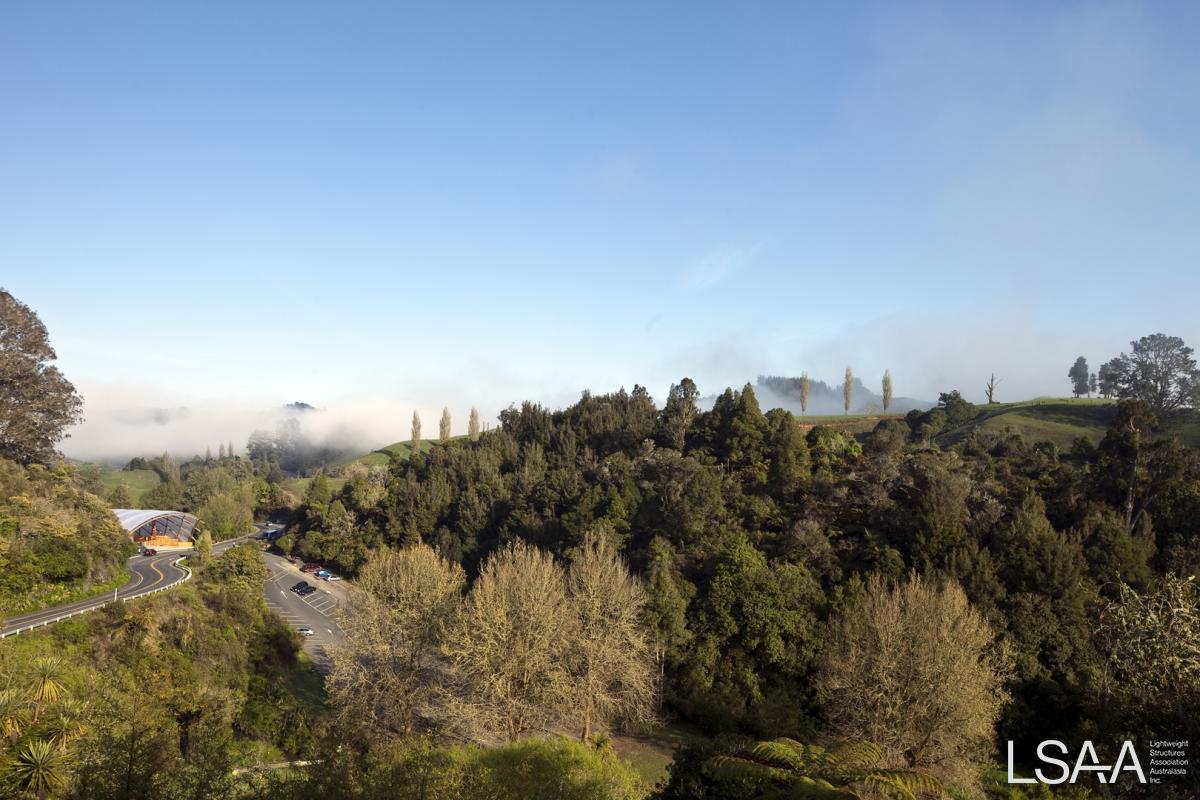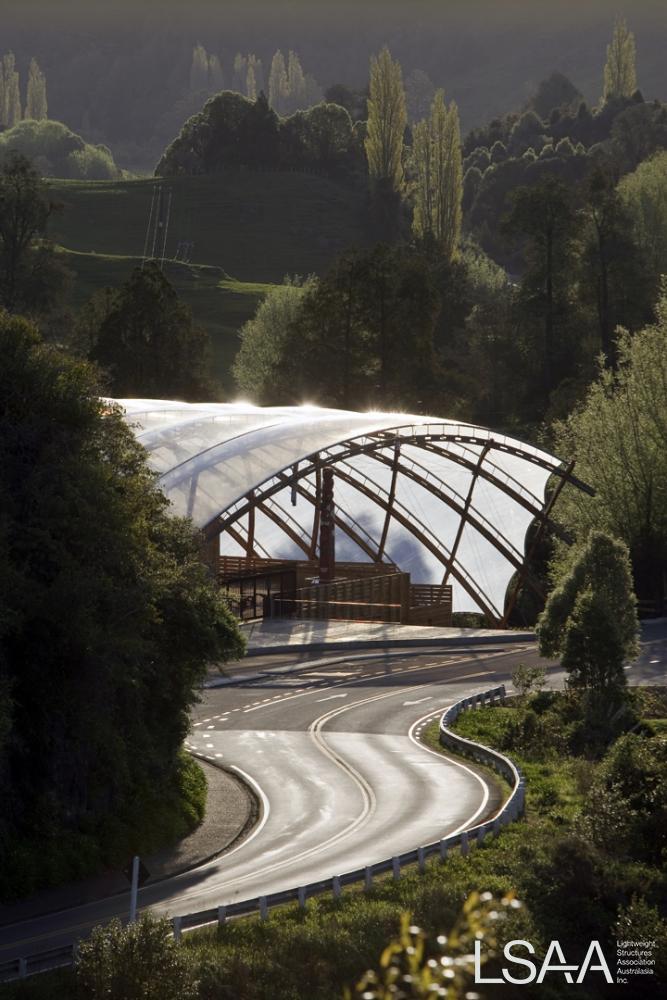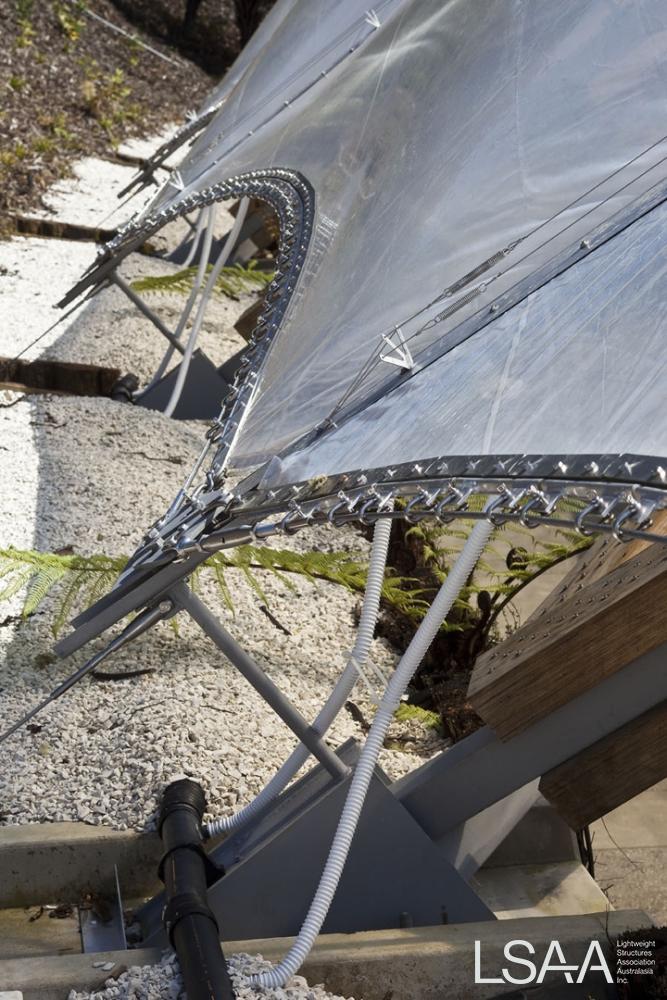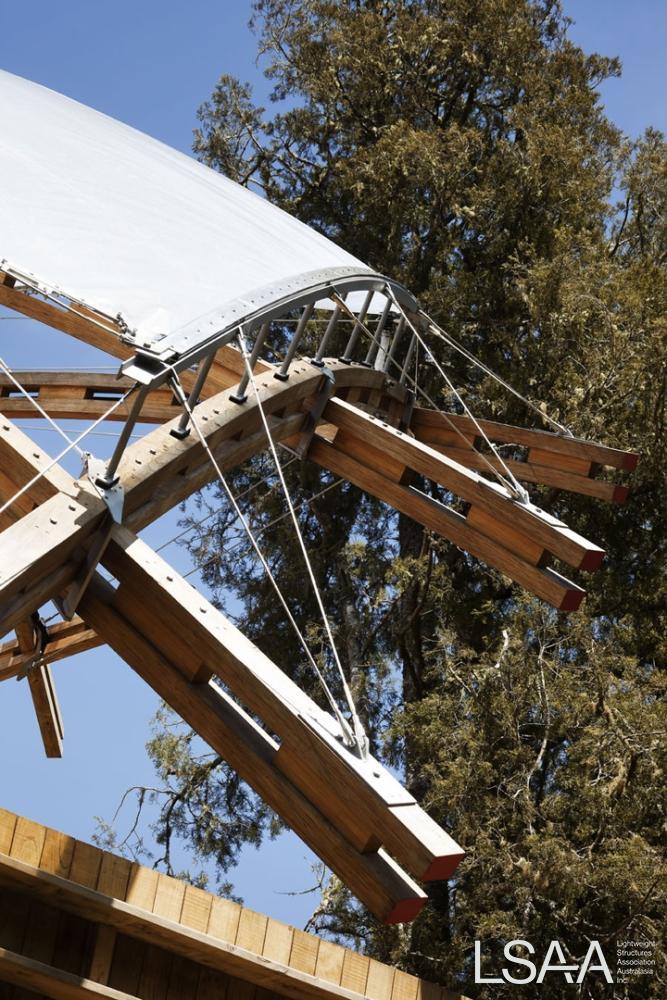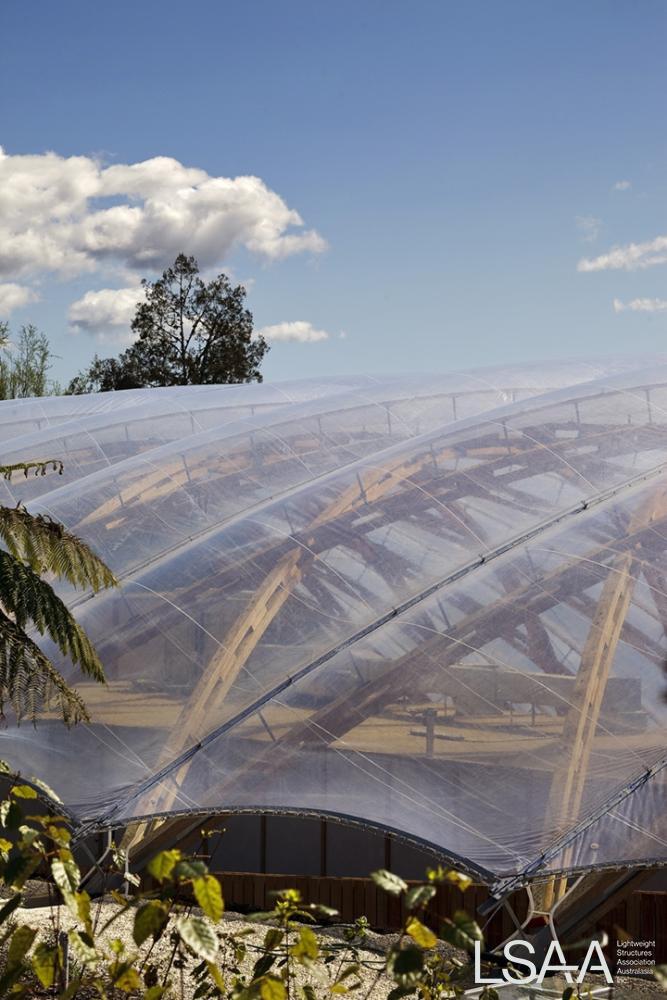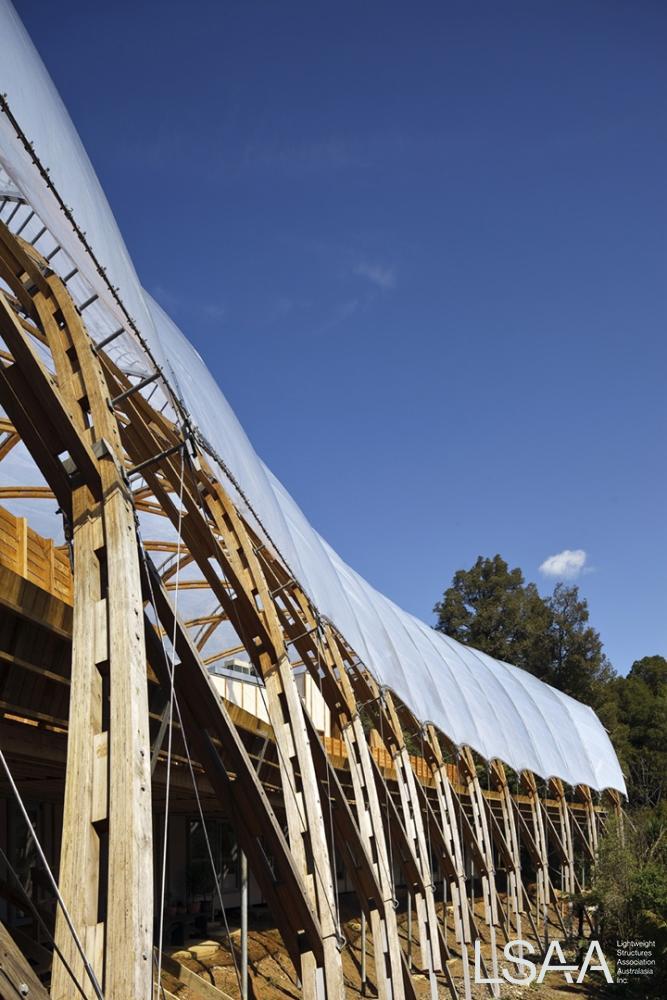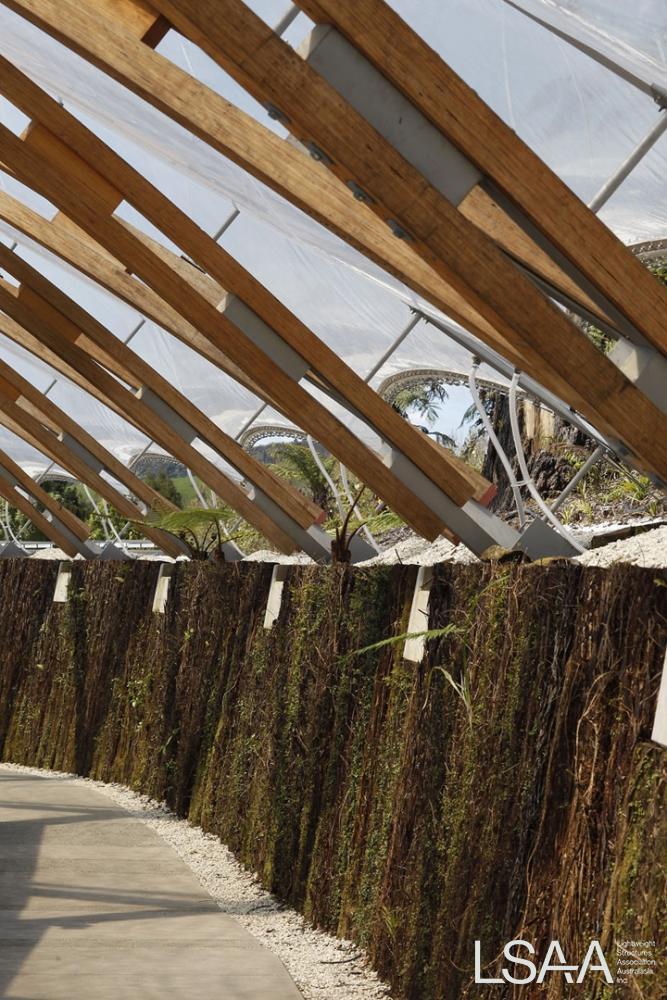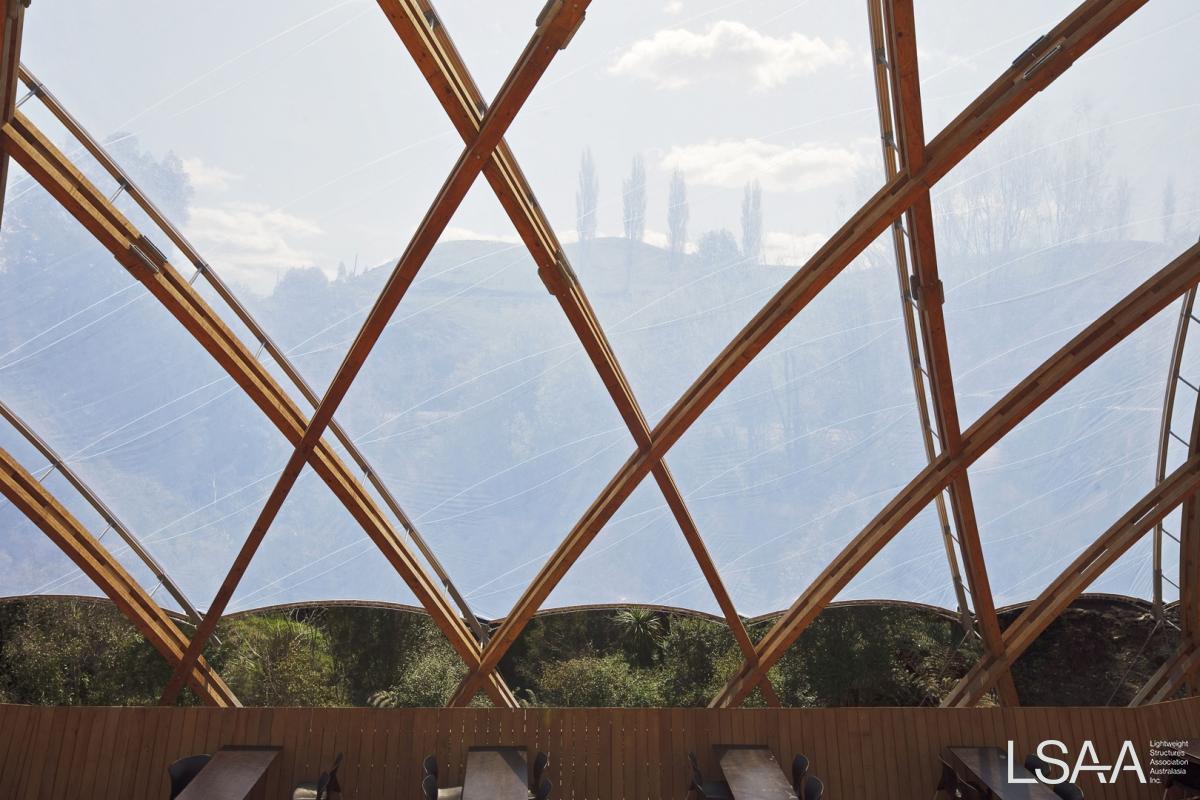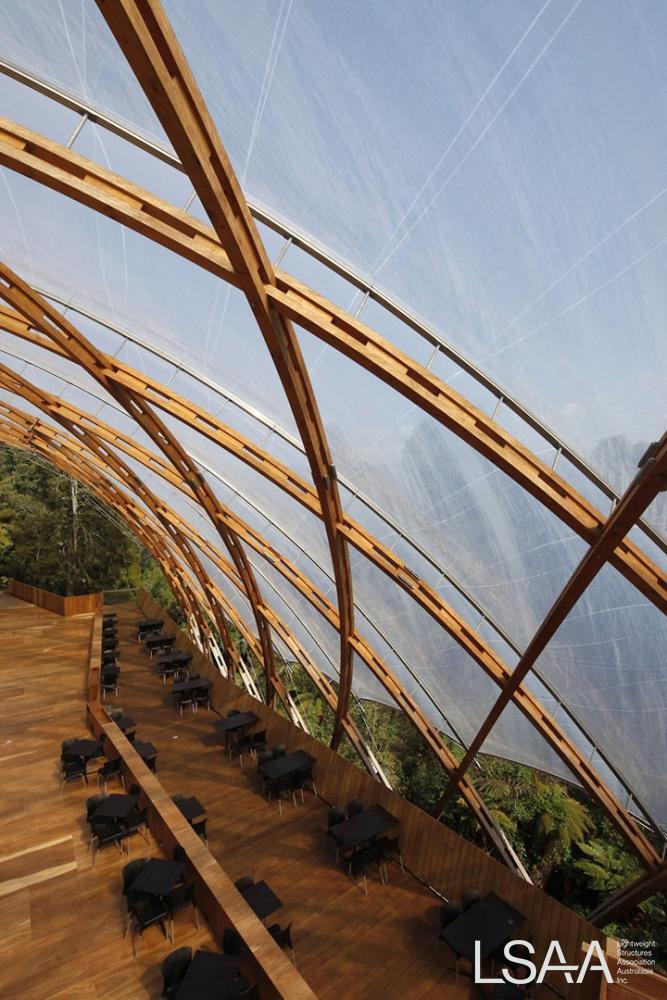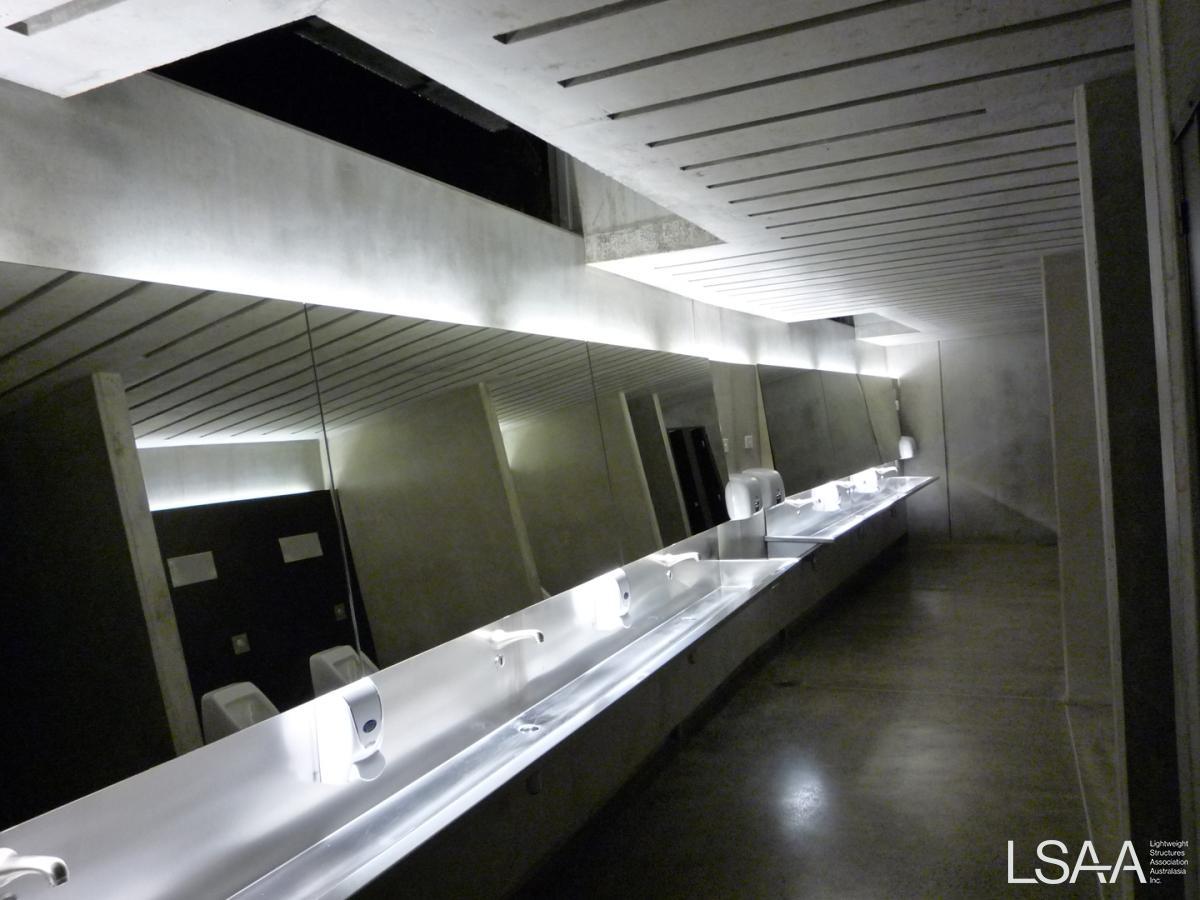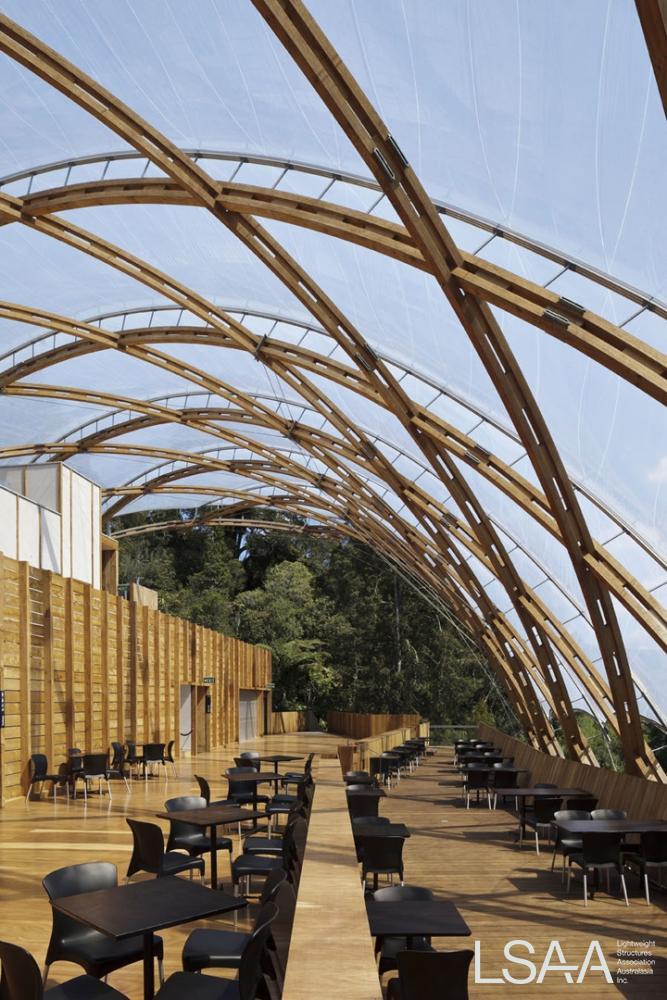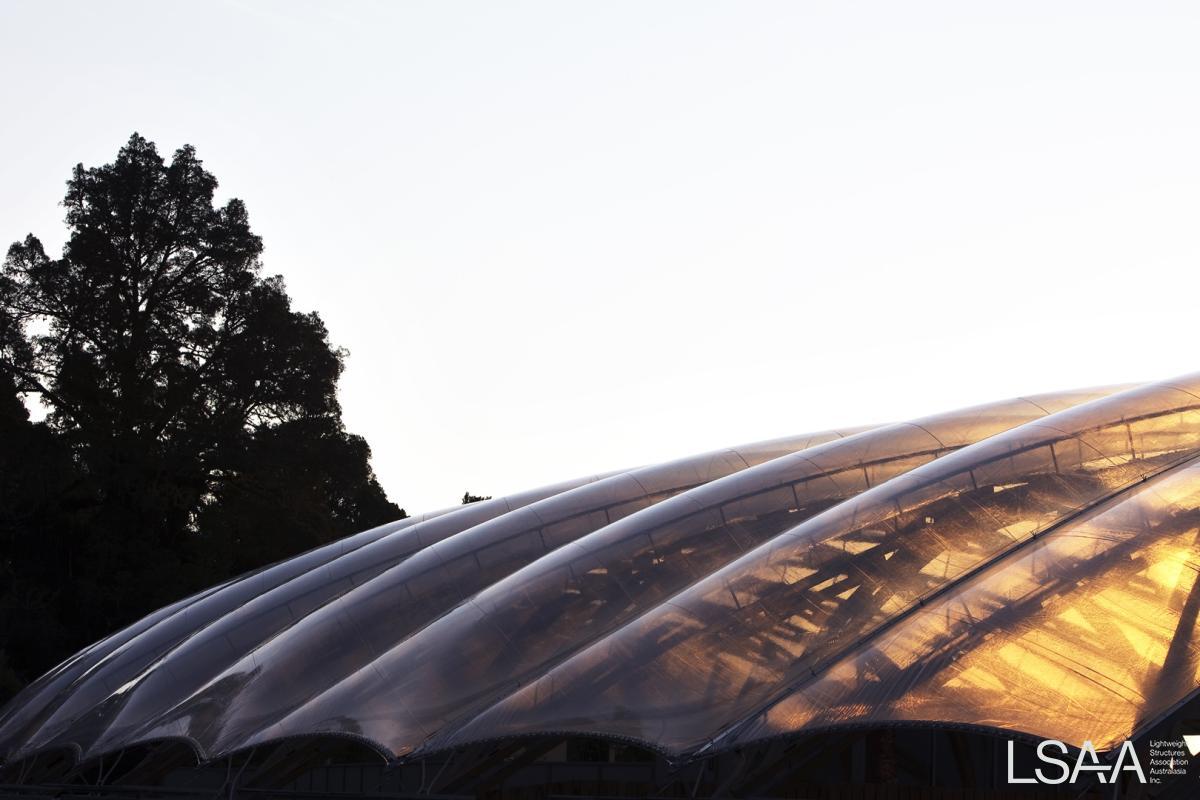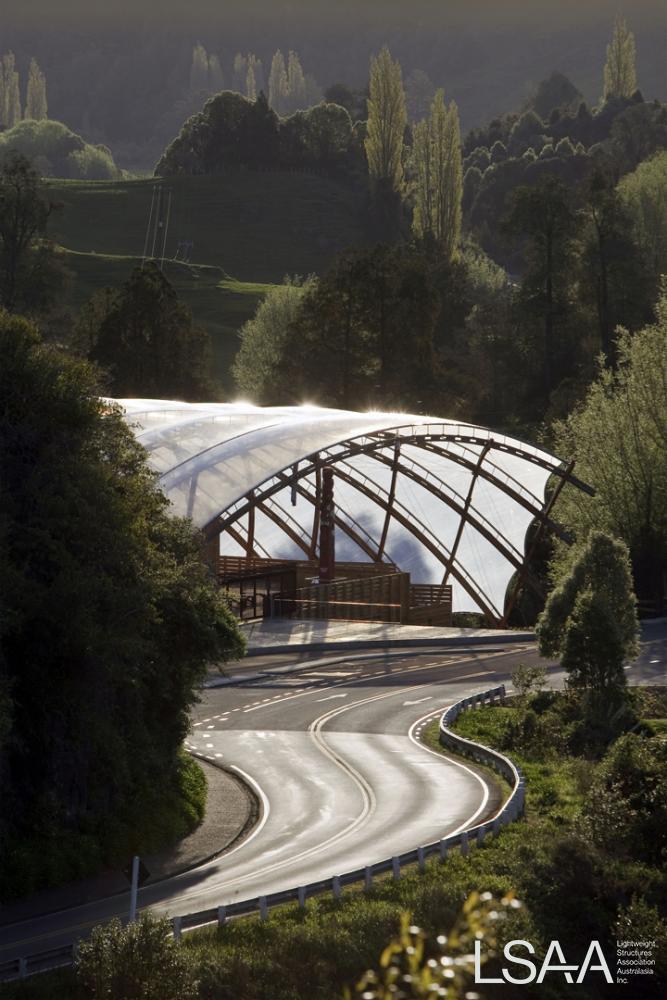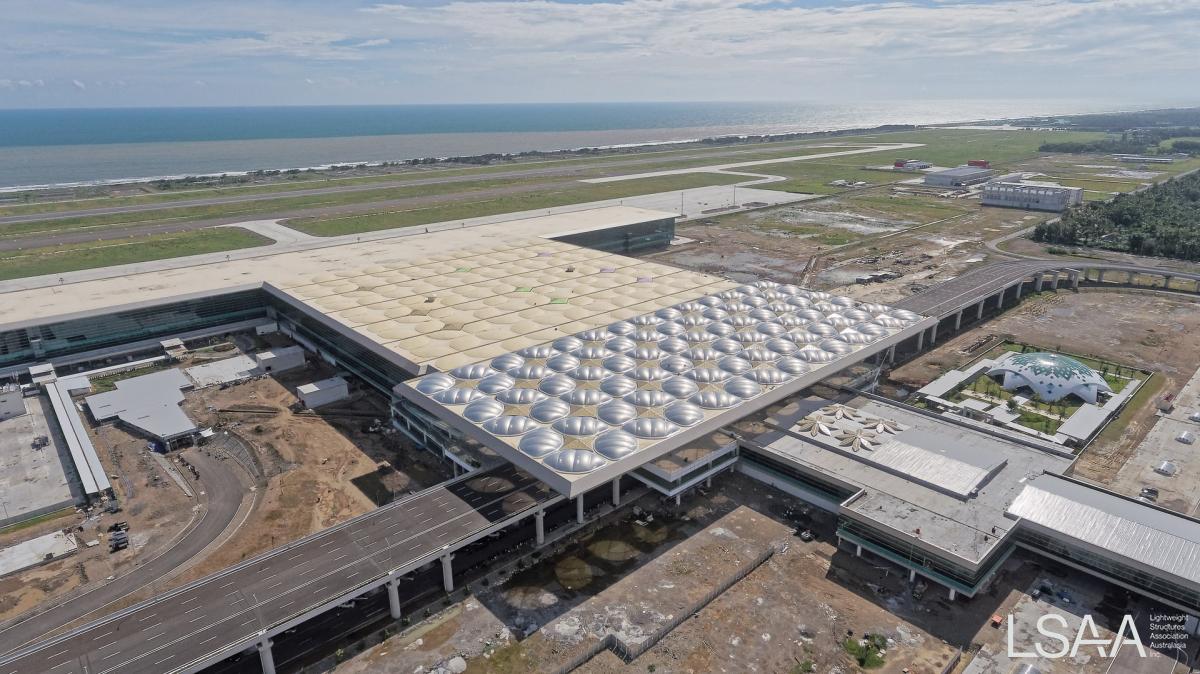 APPLICATION OF PROJECT
Airport terminal drop off area roof
PROJECT DESCRIPTION
The new Yogyakarta International Airport (NYIA) at Kulon Progo Regency, serves the Yogyakarta Special Region, Indonesia, and is operated by Ankasa Pura. As part of the airport development, Fabritecture was contracted for the design & supply of ETFE pneumatic roofing as well as supply system and ducting.
The ETFE component of the roof comprises 84 2-layer cushions covers a plan area of approximately 14,314m2 and is part of an overall canopy integrating polycarbonate elements also, overall providing 18,900m2 of weather cover the exterior drop-off area.
Read more: Yogyakarta International Airport, Indonesia (2021 DA)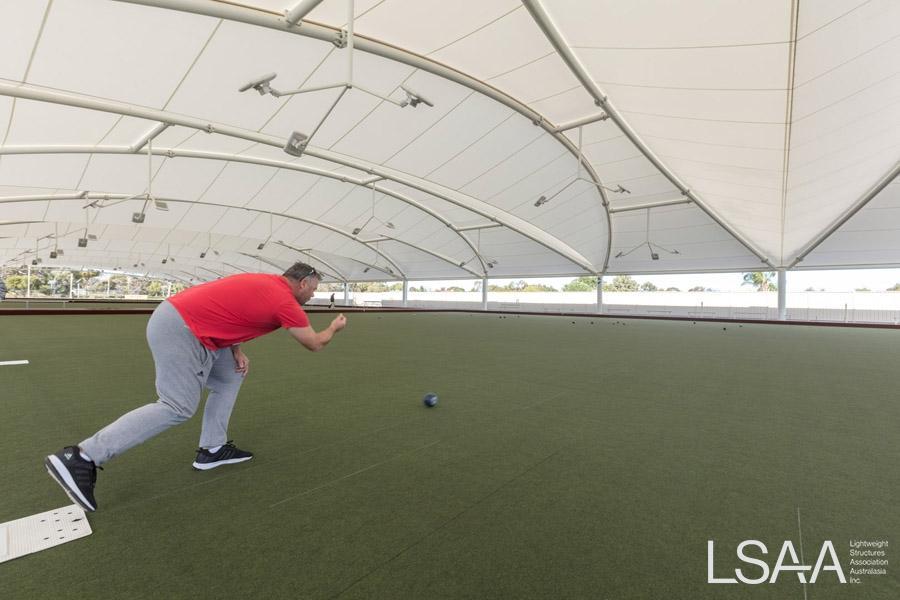 This project was entered in the LSAA 2018 Design Awards (Cat 4 Large Fabric Structures, #4432) by MakMax
Application: Cover over 3 adjacent bowling greens at the Playford City Bowls club, South Australia.
PROJECT DESCRIPTION:
The design, fabrication and installation of the largest tensile membrane canopy structure over a bowling green in the Southern Hemisphere. The 5300m2 PVC (Mehler FR900N) structure covers a total of 21 rinks (120m length), lit with state of the art LED sports lighting, allowing year round utilization of the bowling green's irrespective of the weather conditions. In addition to bowls, the venue is also used to host corporate and social events.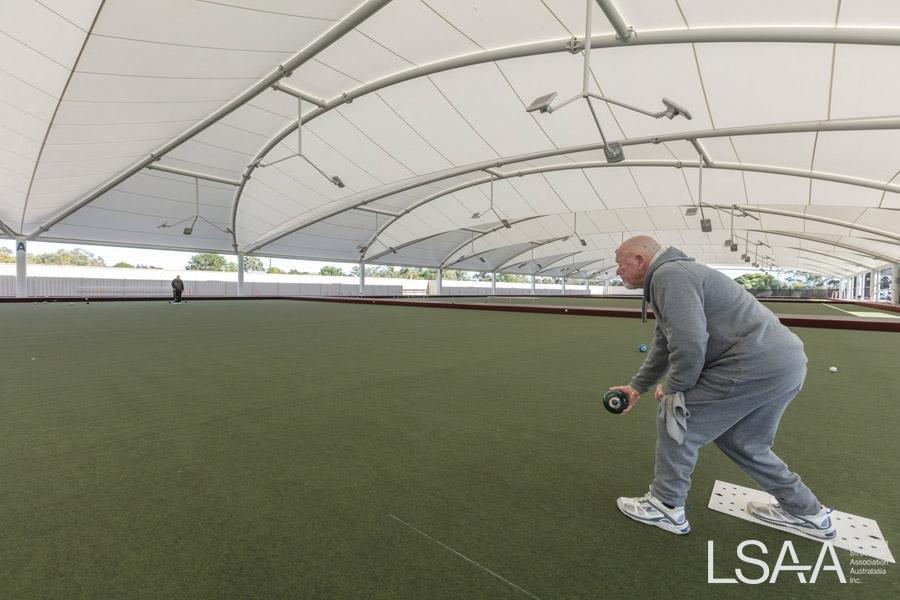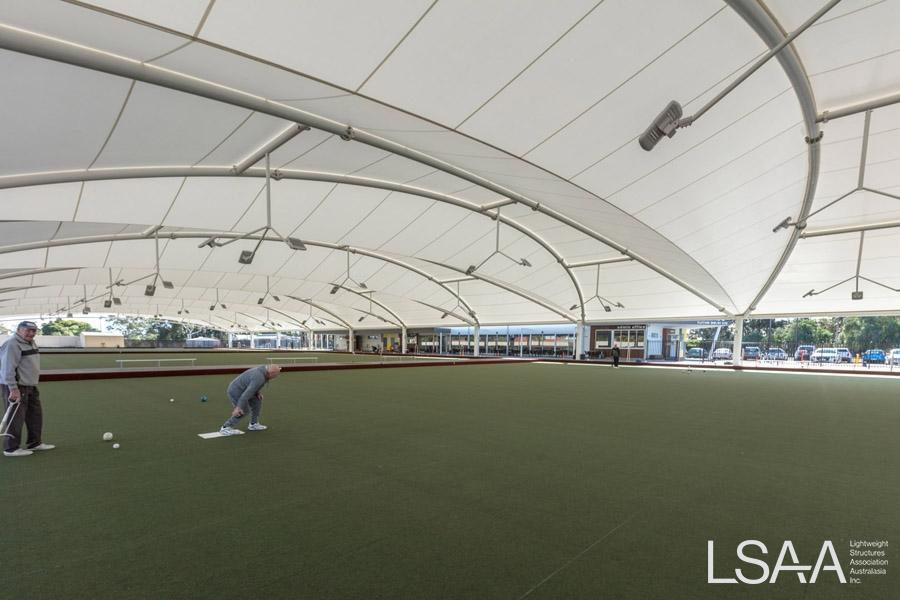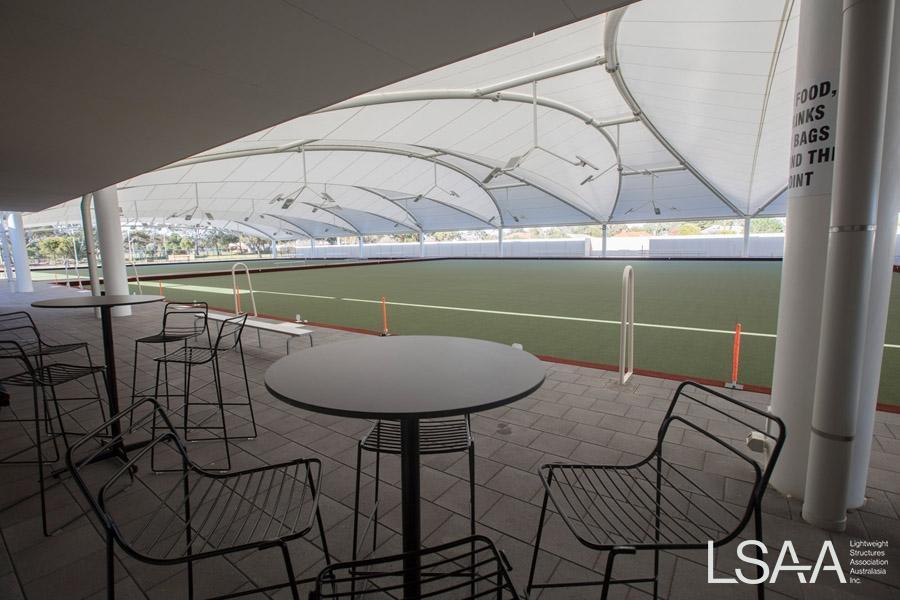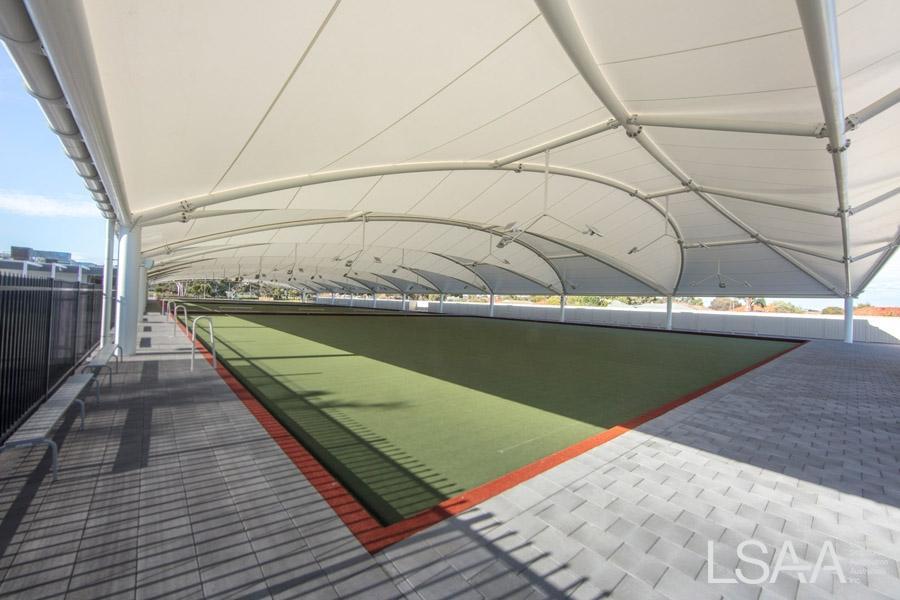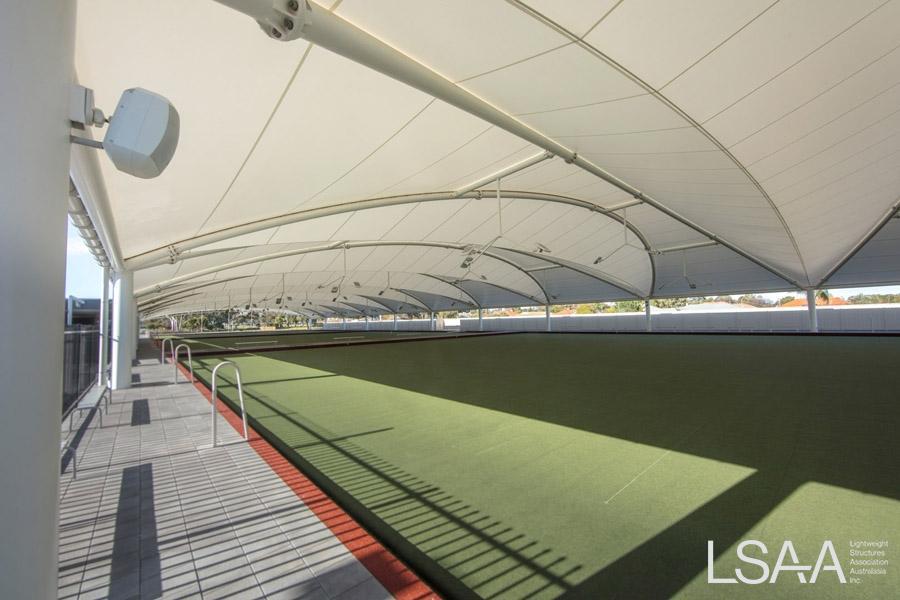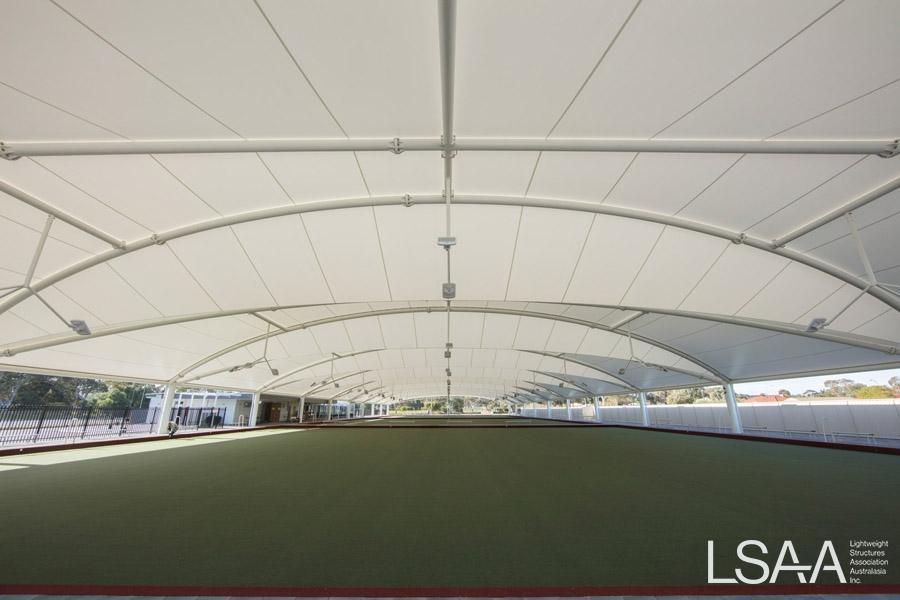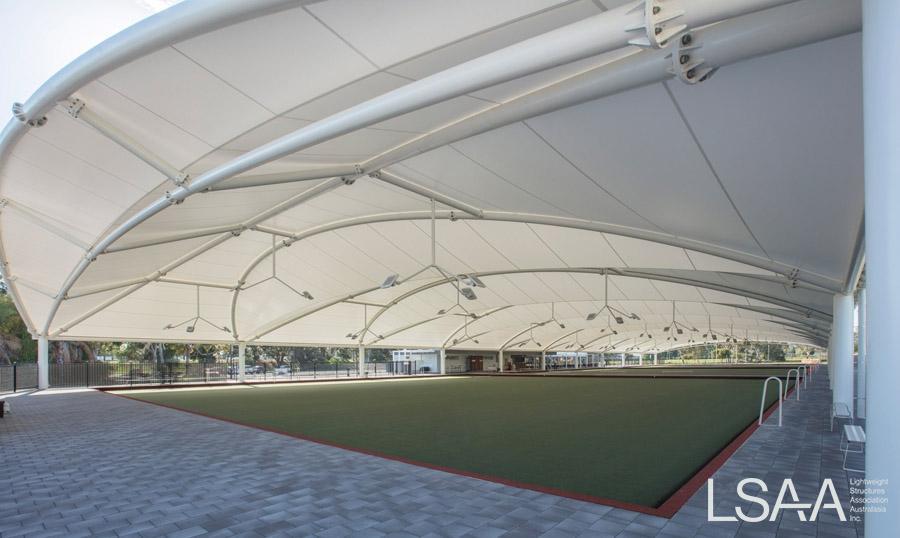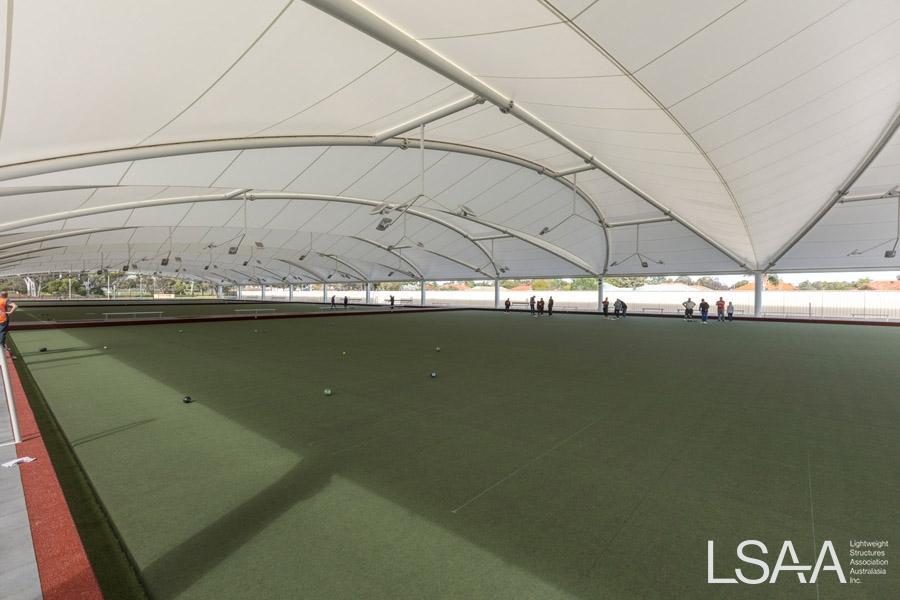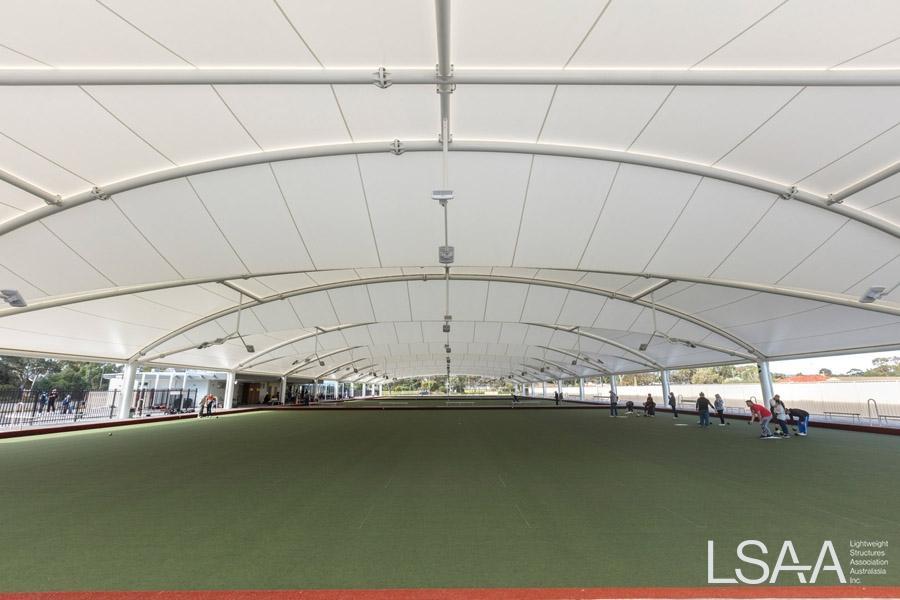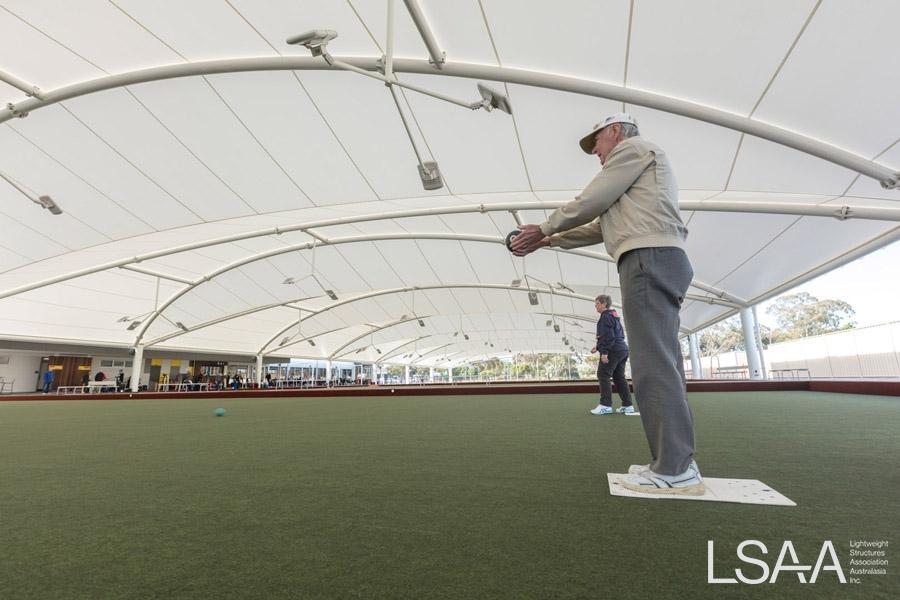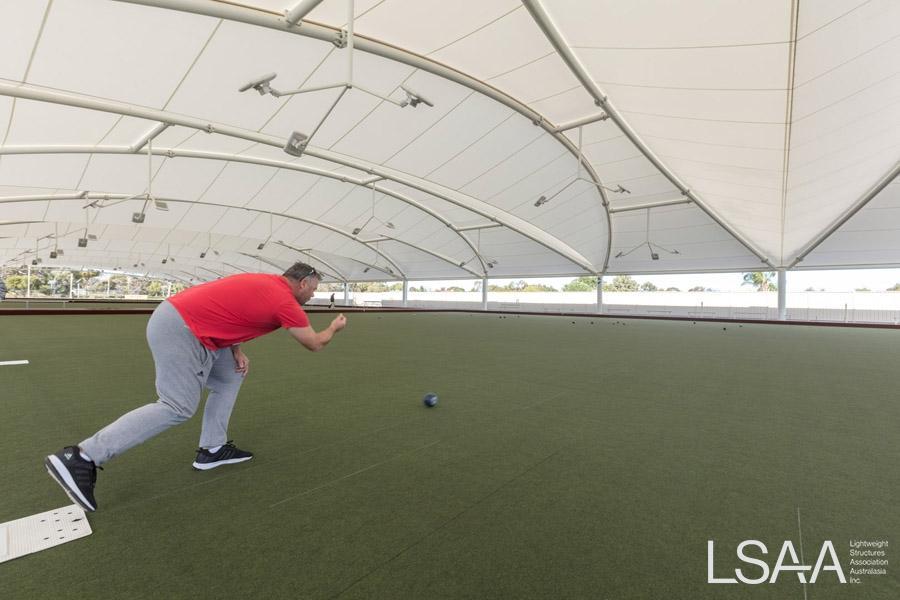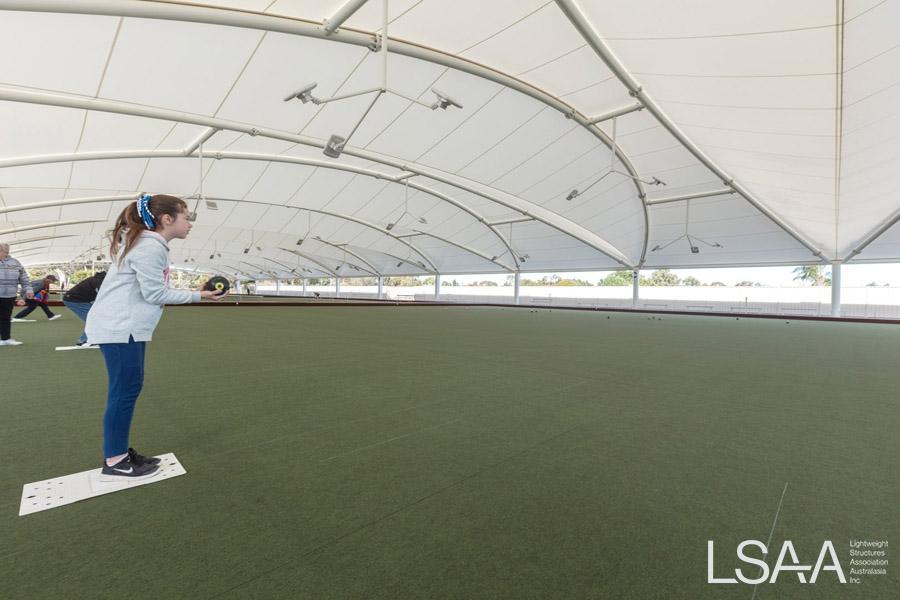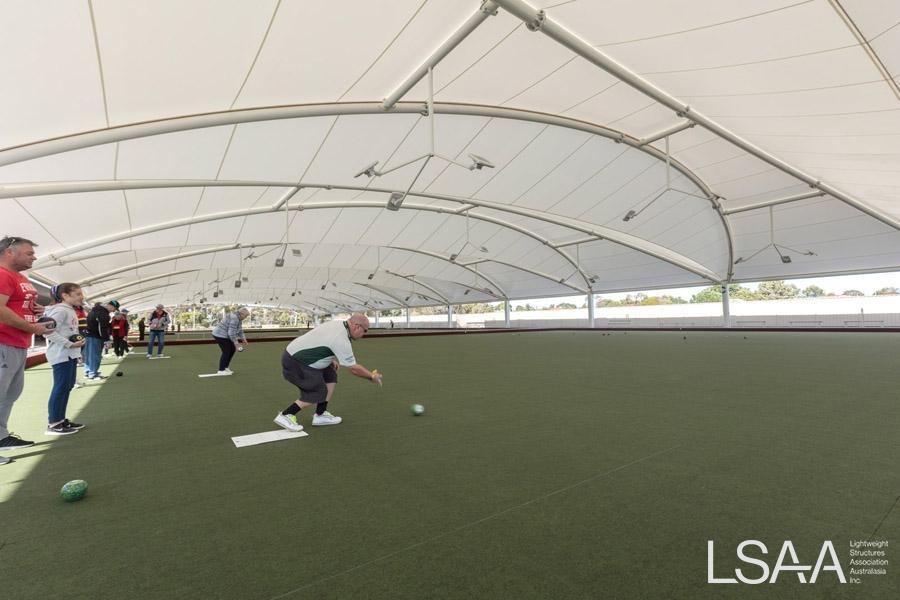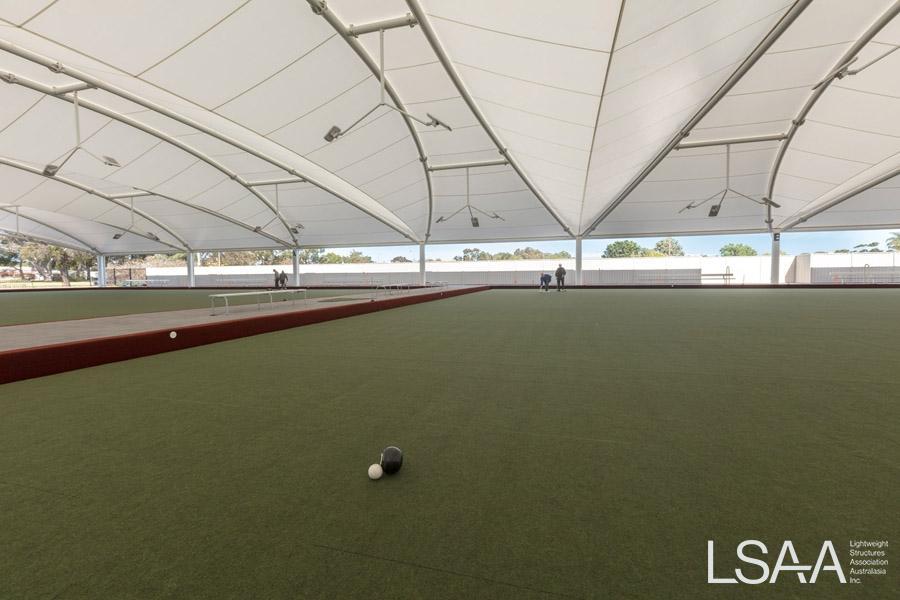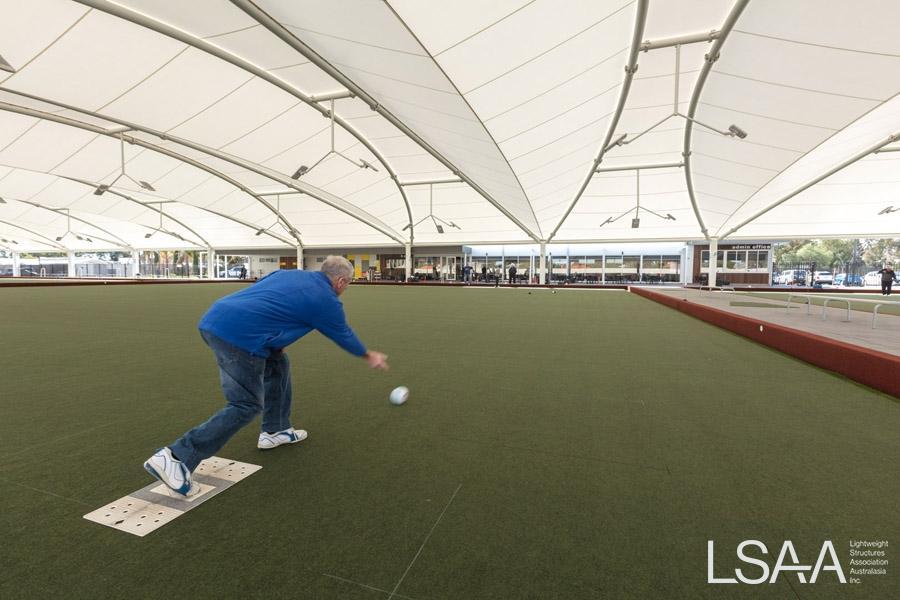 Read more: Playford Bowls Club Triple Green Roof Cover Project (2018)
The following Large Structure Projects were entered into the 2018 LSAA Design Awards in Category 4
Category 4 "Large Structures > 1000 sqm"
4001 Macquarie University Campus Common.
4066 QUT Sports Field Car Park.
4100 Sumartran Tiger Adventure.
4101 Wellington Regional Bowling Club.
4432 Playford Bowls Club Triple Bowls Green Cover.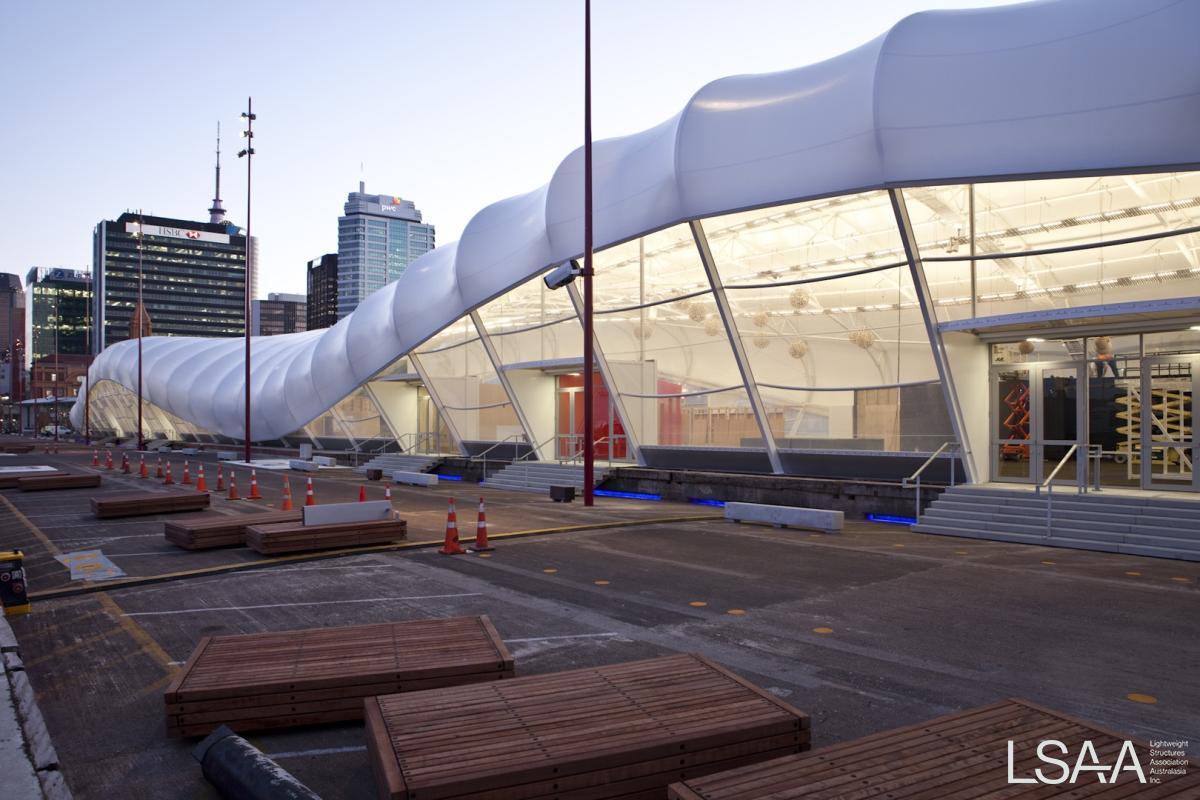 LSAA 2011 Design Award Entry: Cat 4 (4321) Auckland, New Zealand
APPLICATION OF PROJECT:
The Cloud is a semi permanent multi purpose event & exhibition structure, initially developed for the Rugby World Cup
PROJECT DESCRIPTION
The Cloud is a semi permanent structure erected on the western edge of Queens Wharf to accommodate the city's commitment to hosting an inner-city fanzone, festival and showcase event during the Rugby World Cup 2011. Installed as part of the recent 18 month redevelopment of Queens Wharf, The Cloud will be utilised by NZ2011 to showcase the best of New Zealand innovation and creativity during the REAL New Zealand Showcase. At almost 180m long, The Cloud can accommodate up to 6,000 people.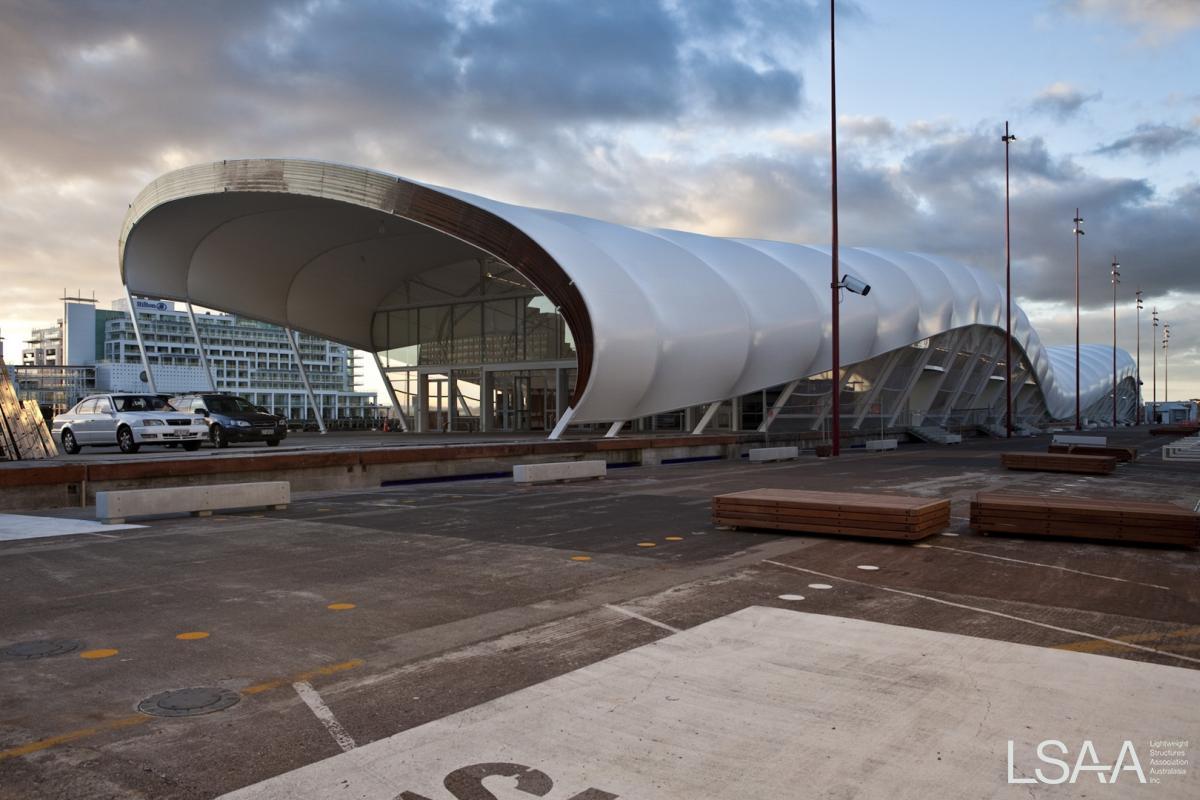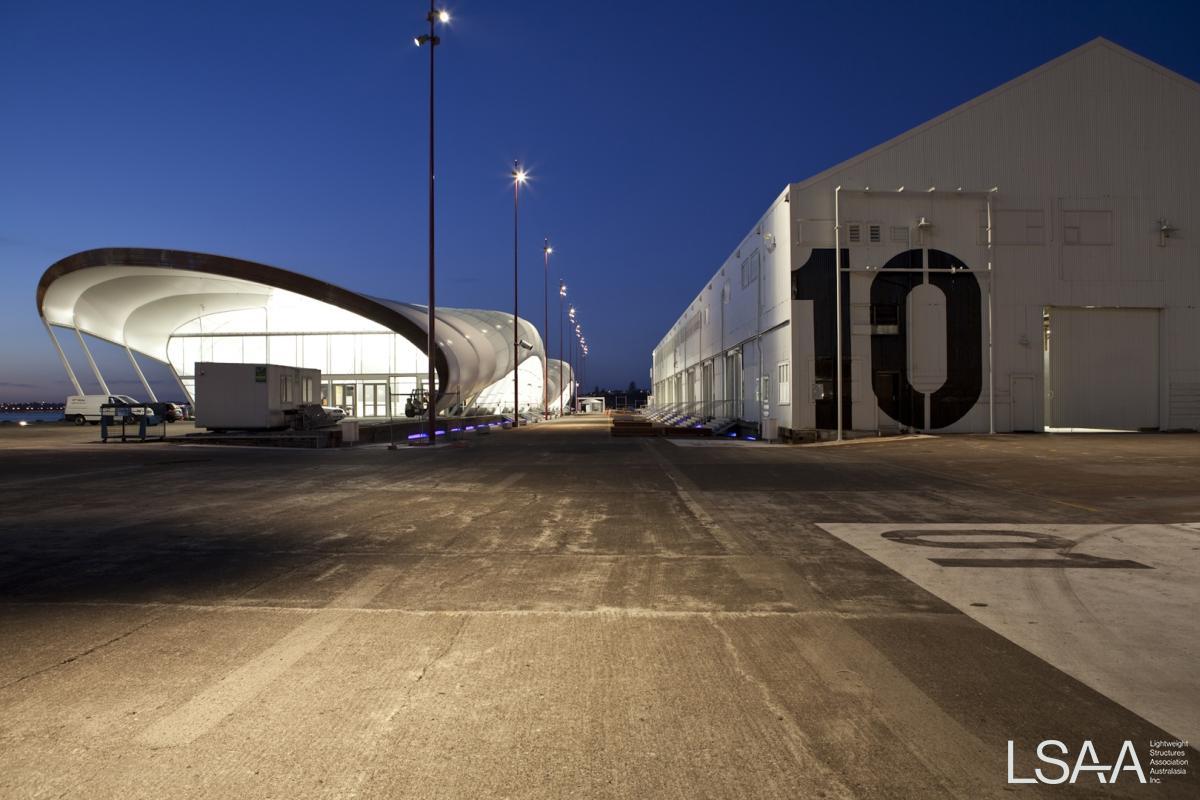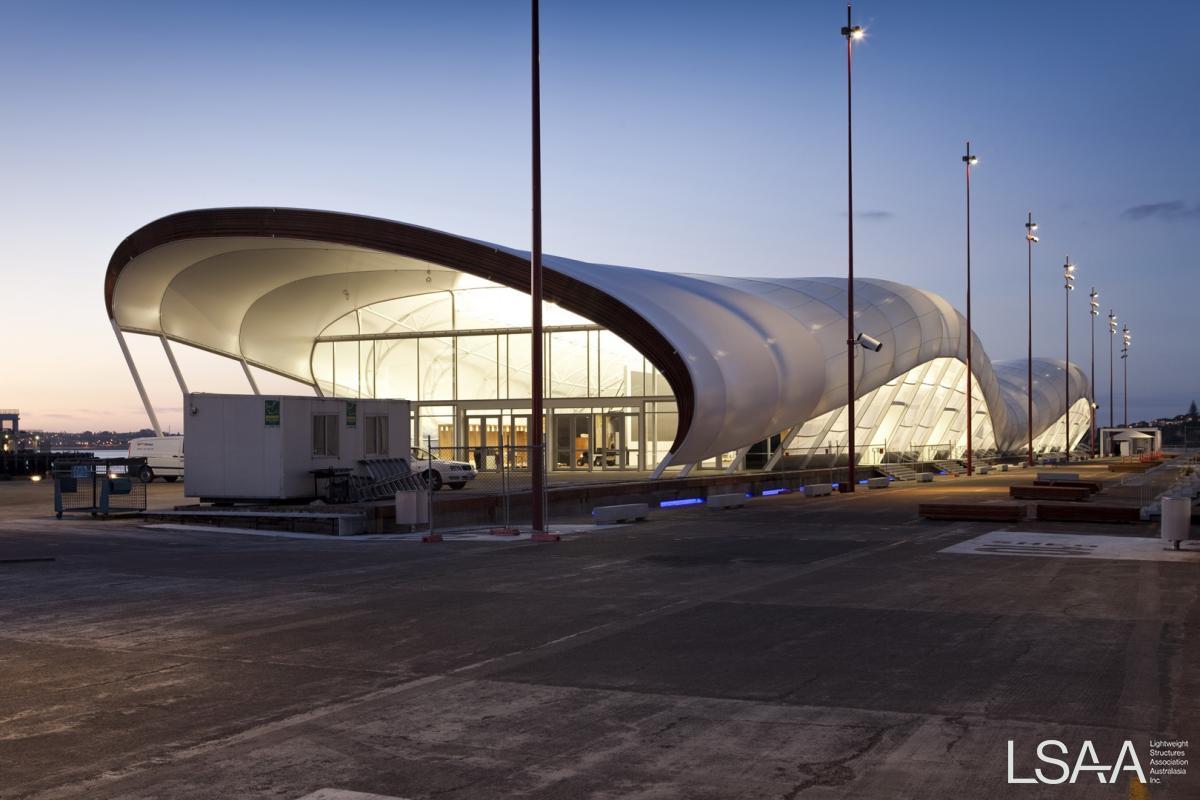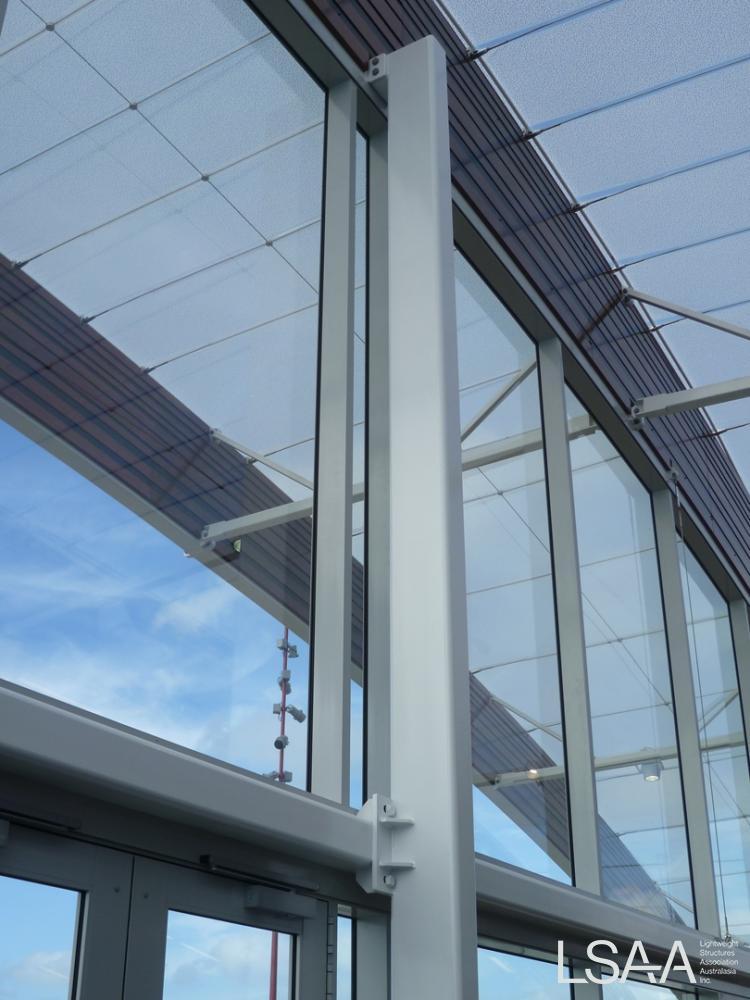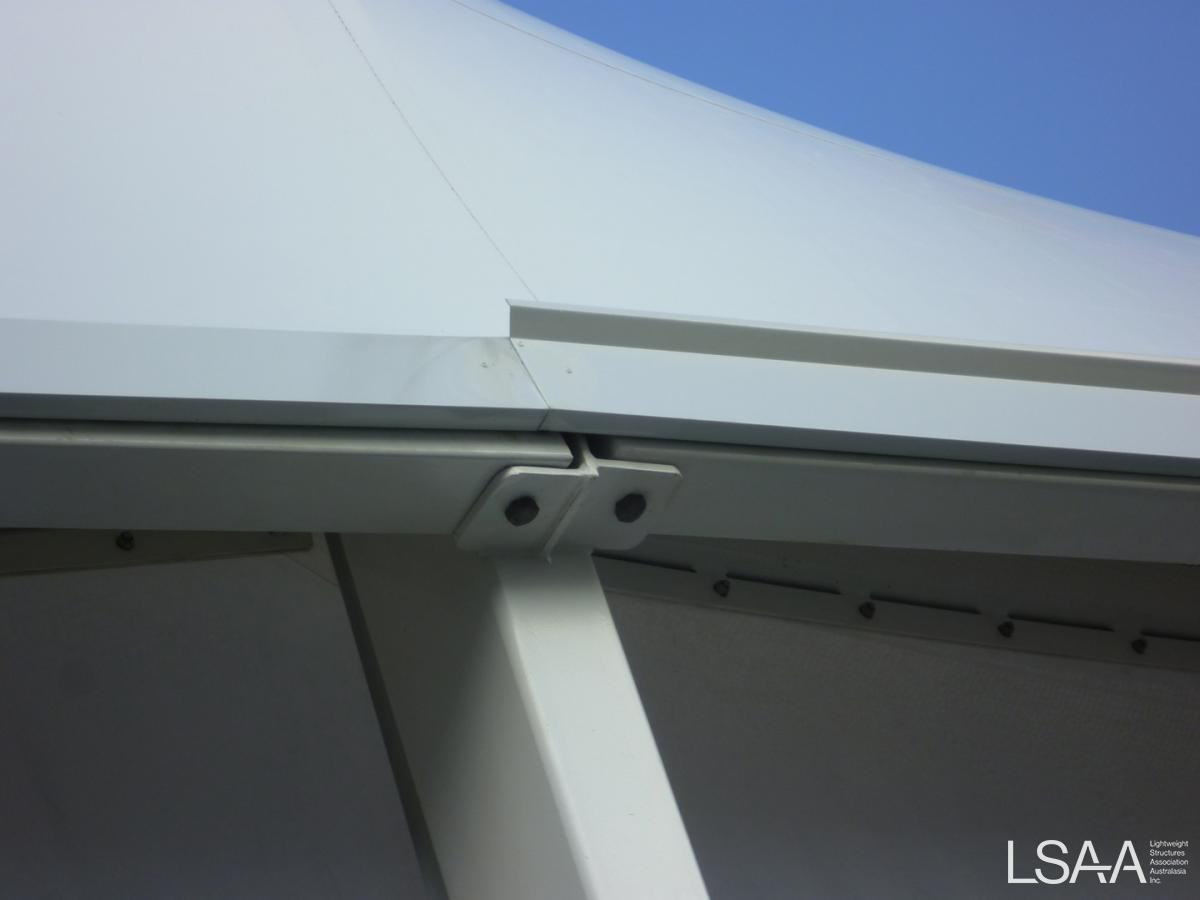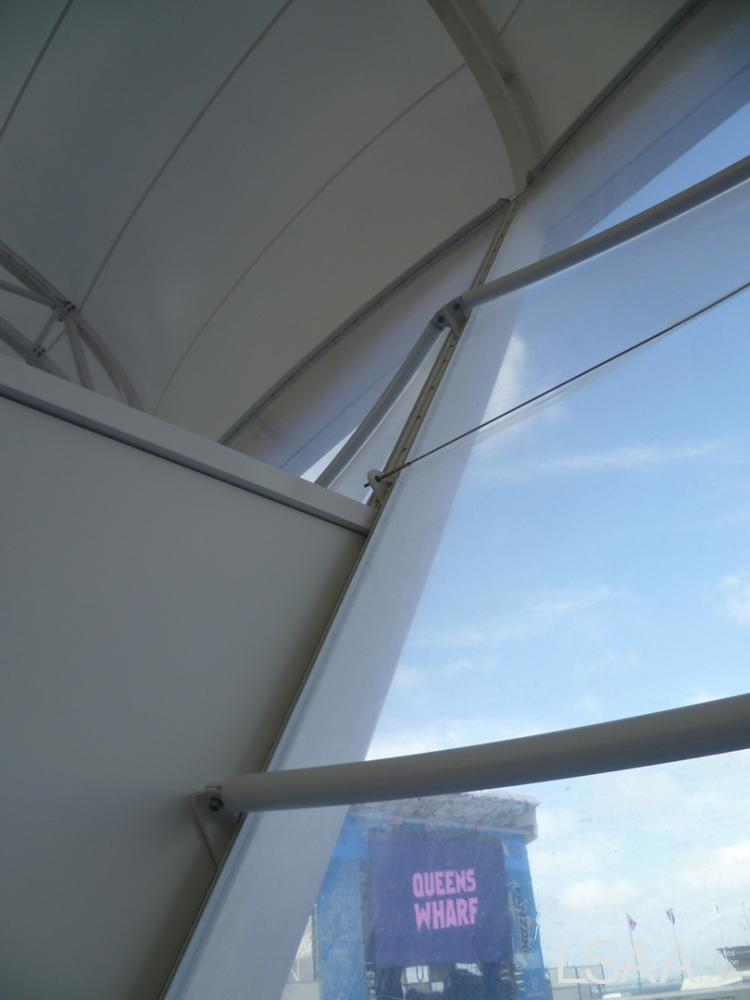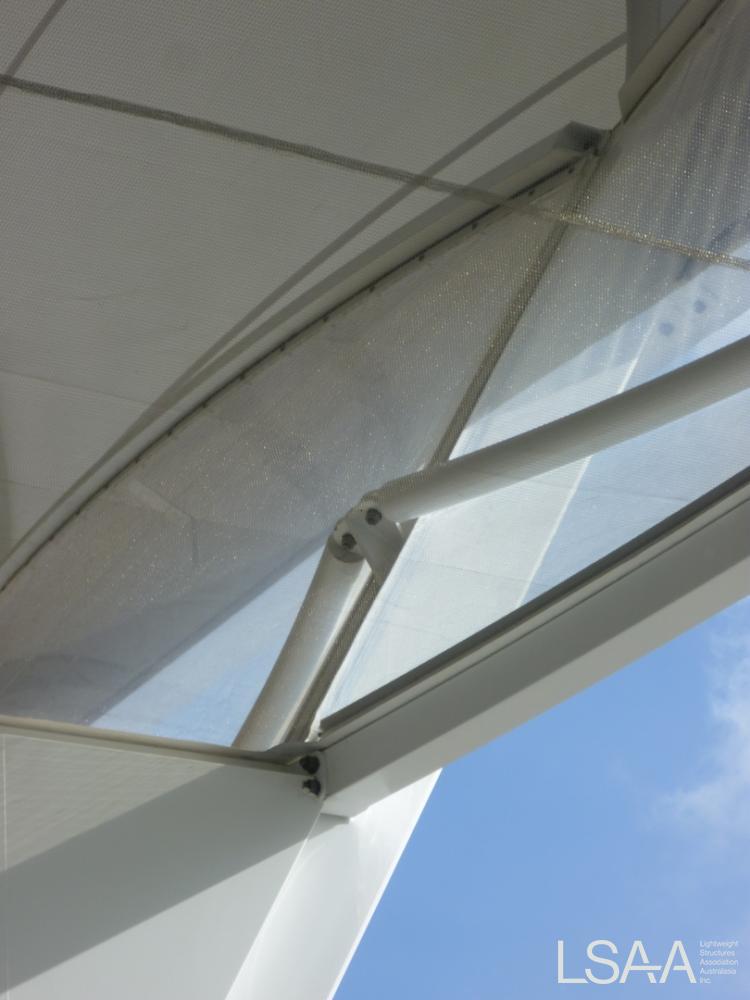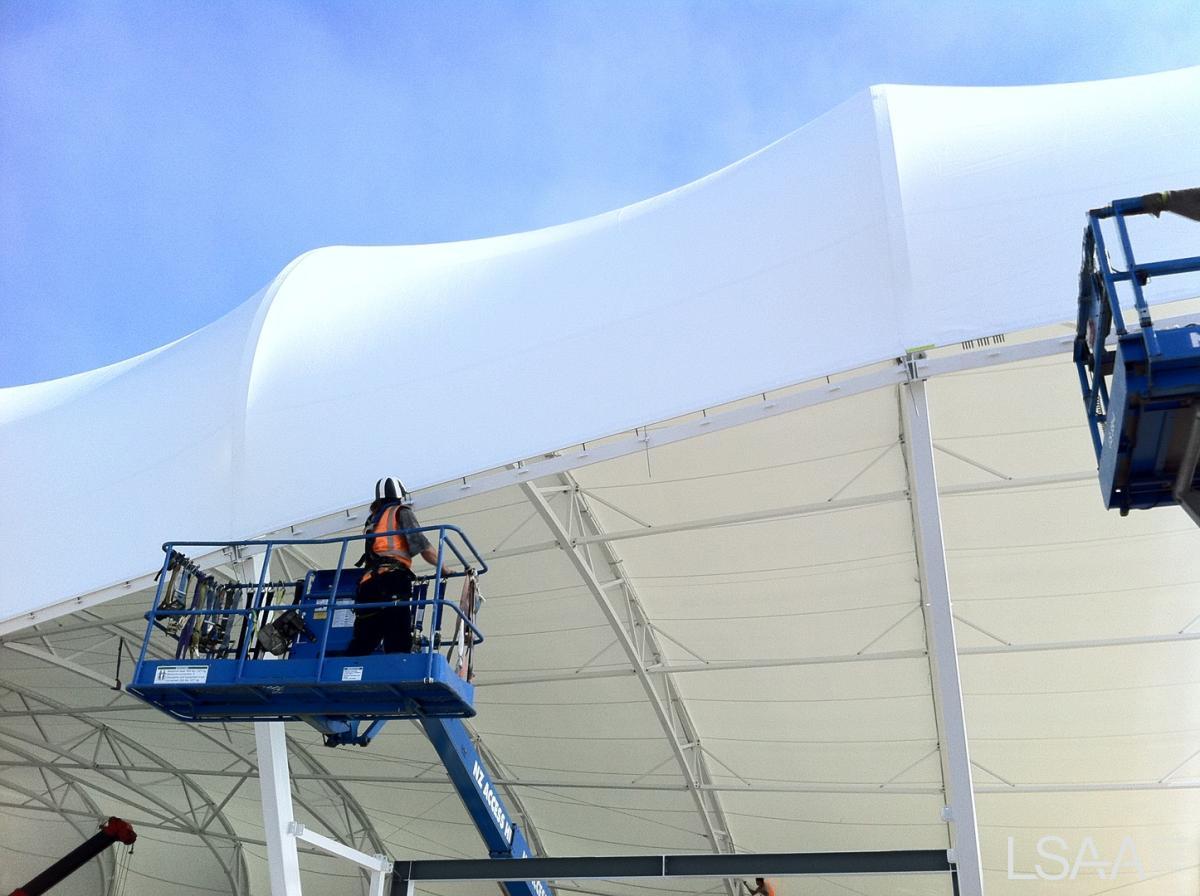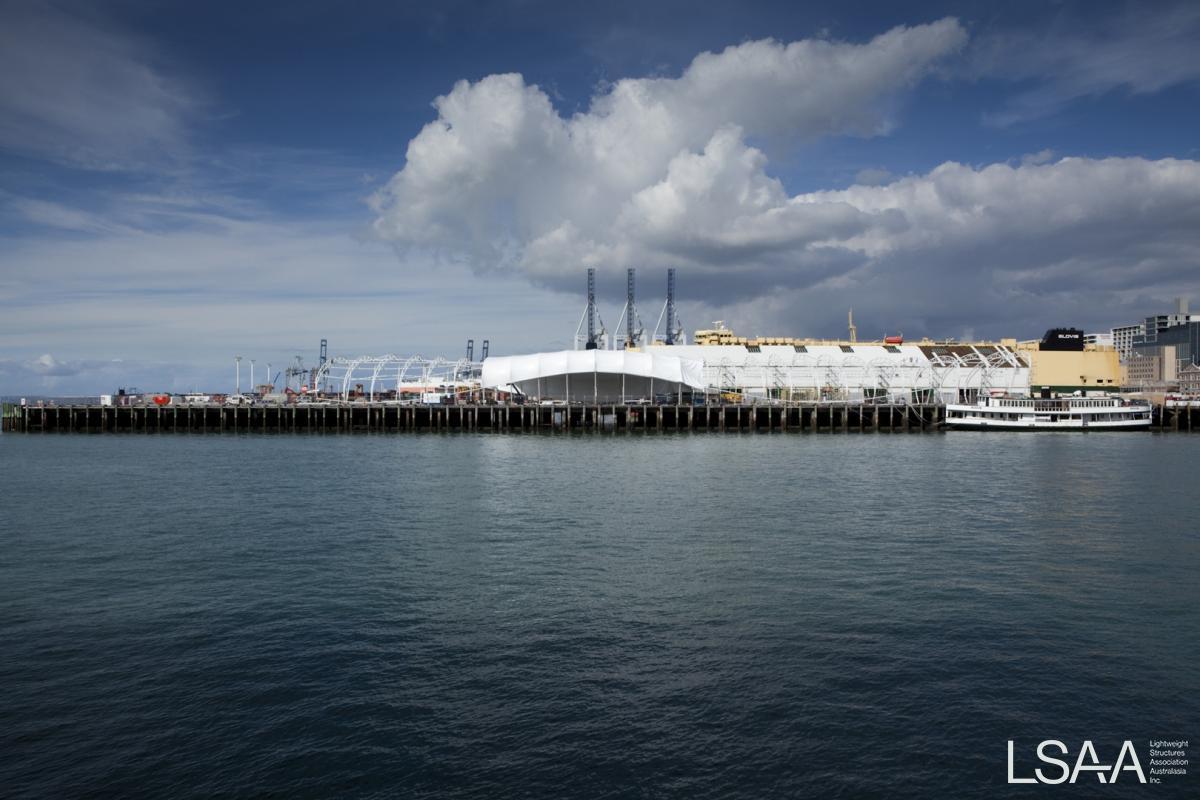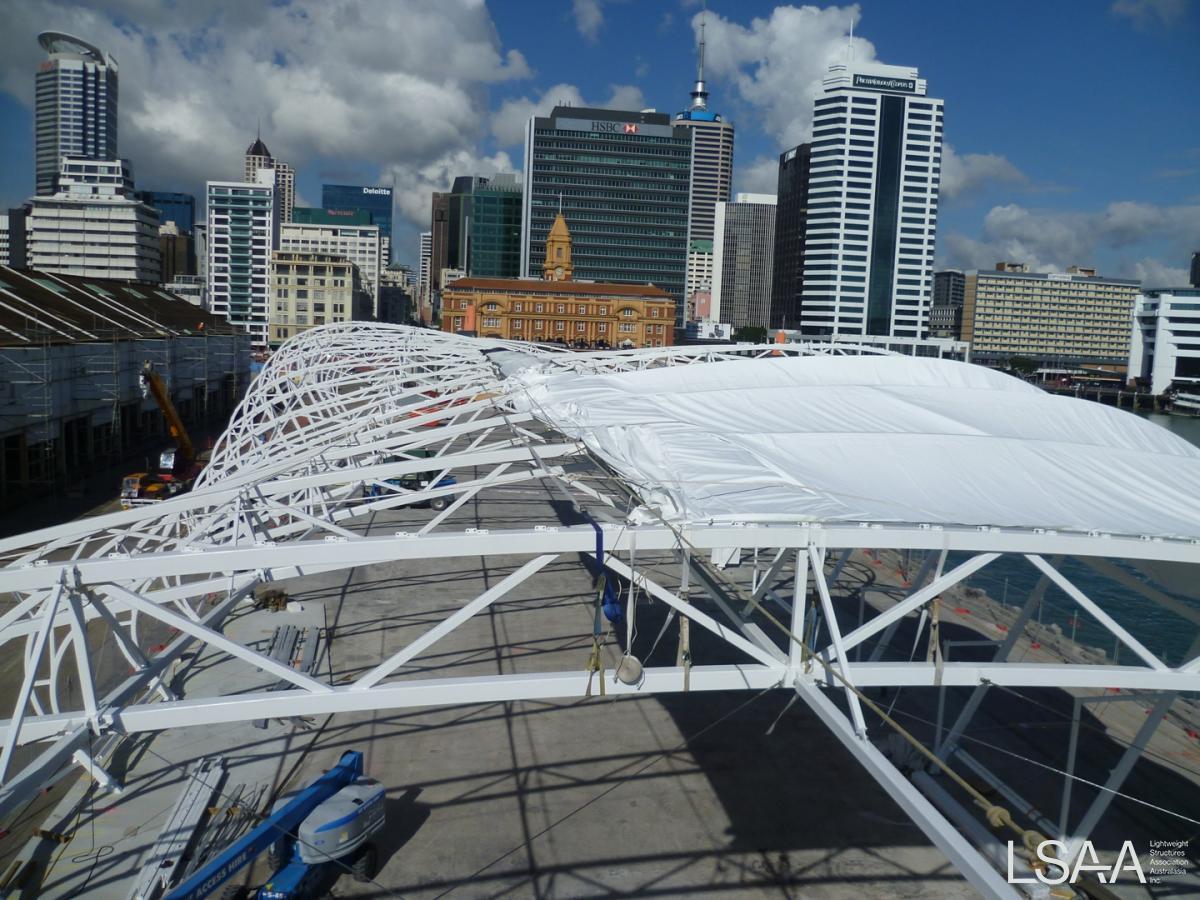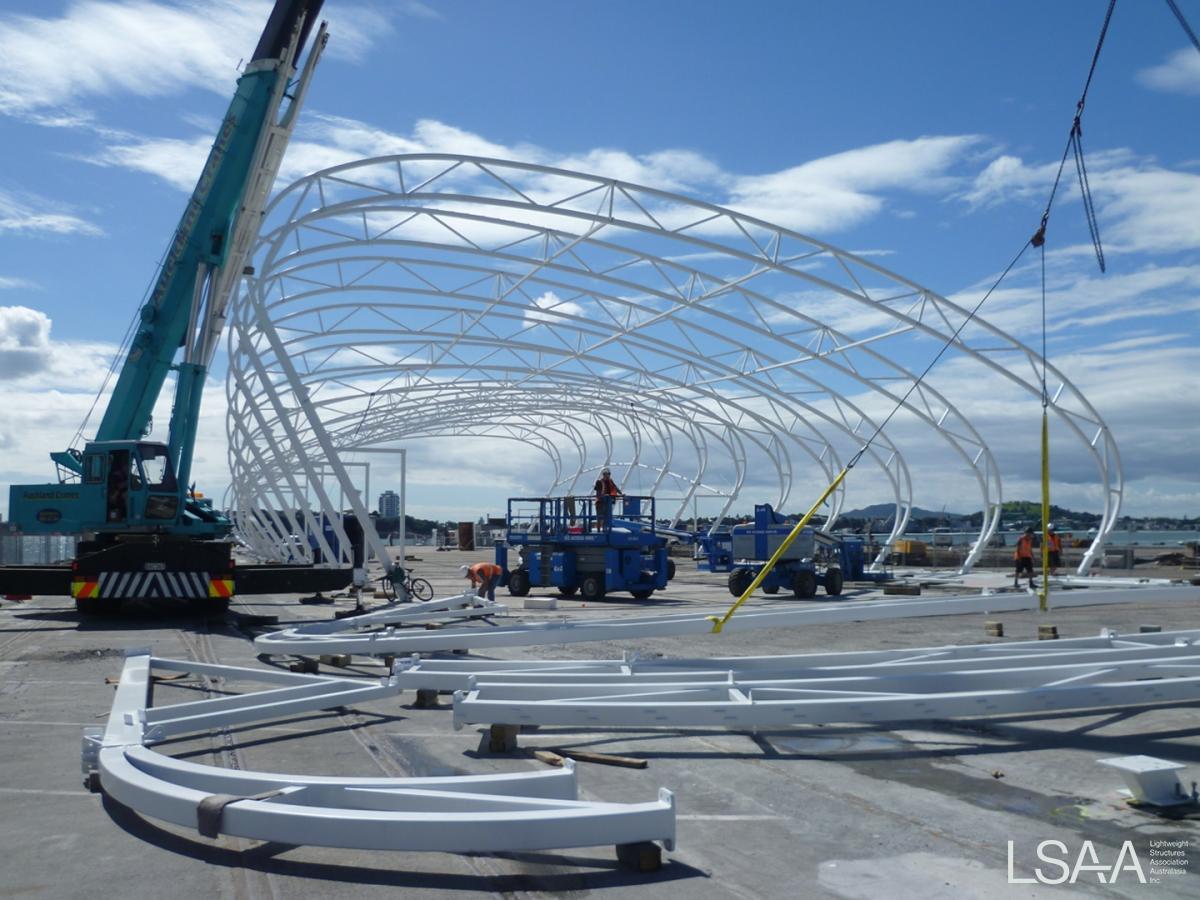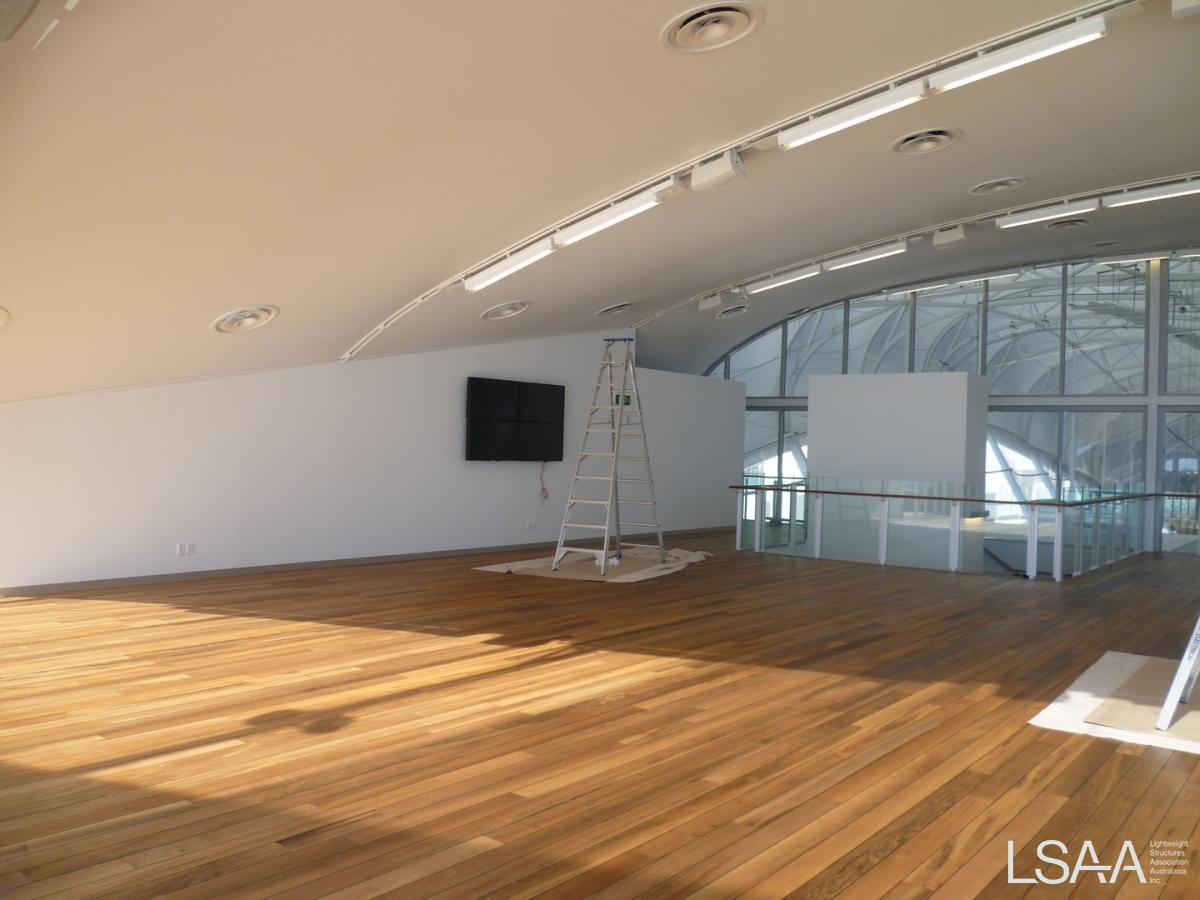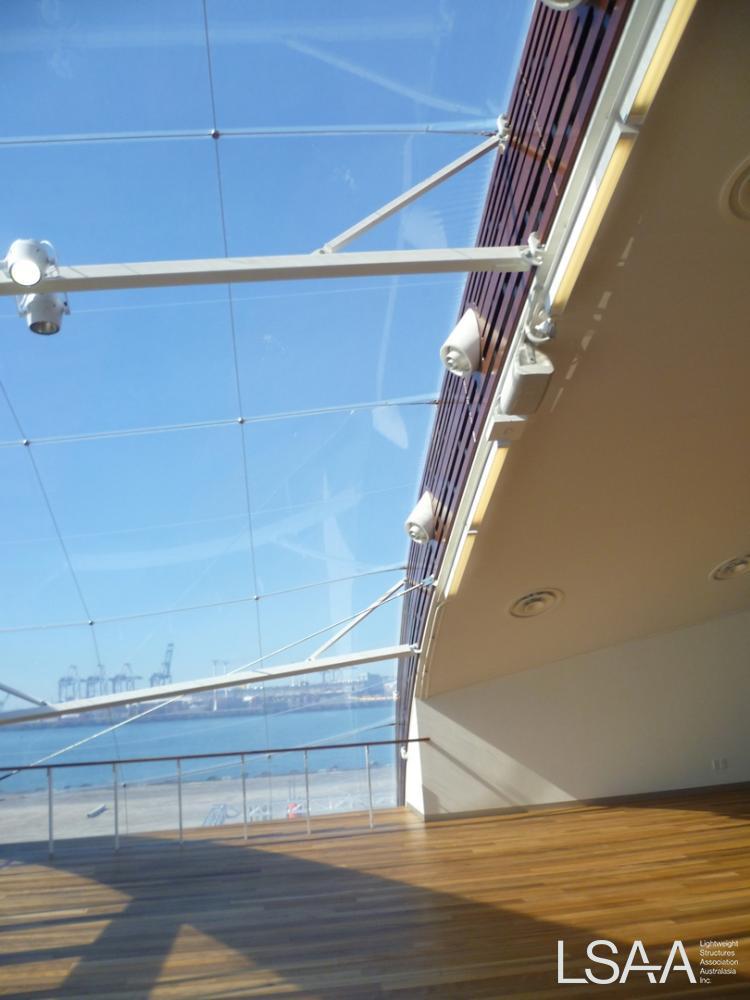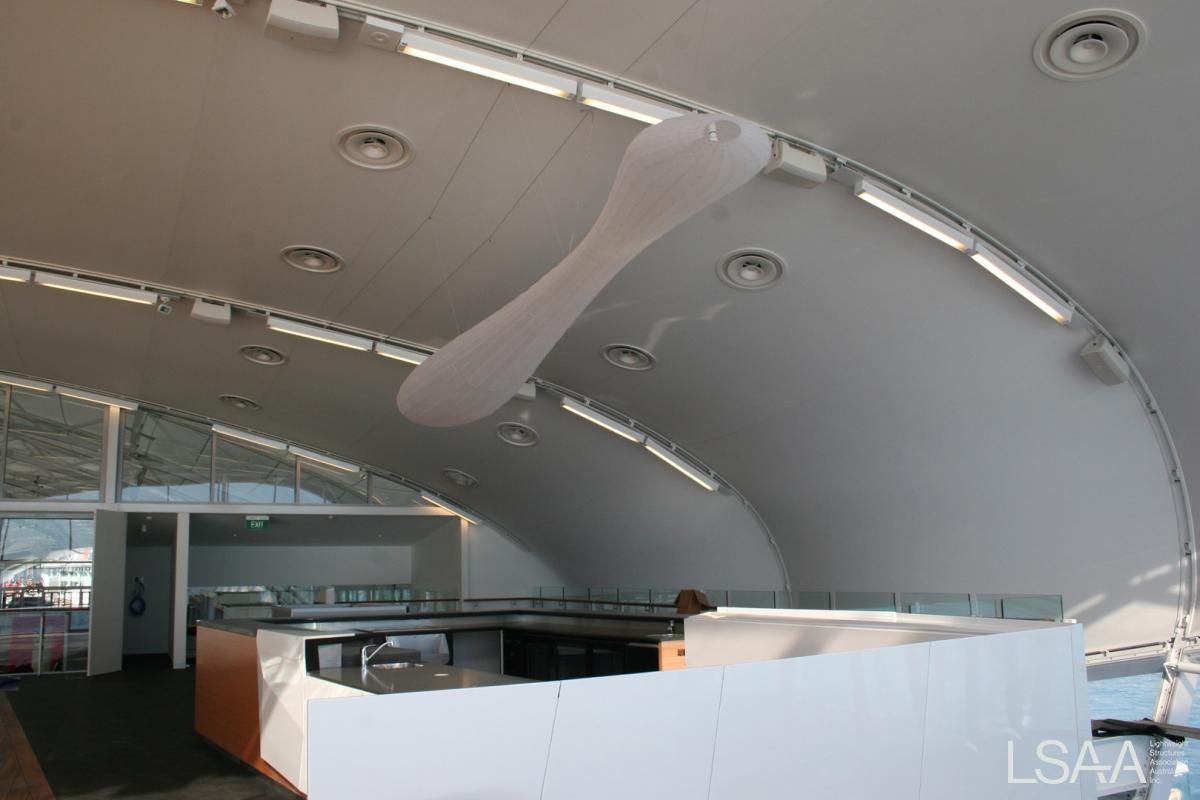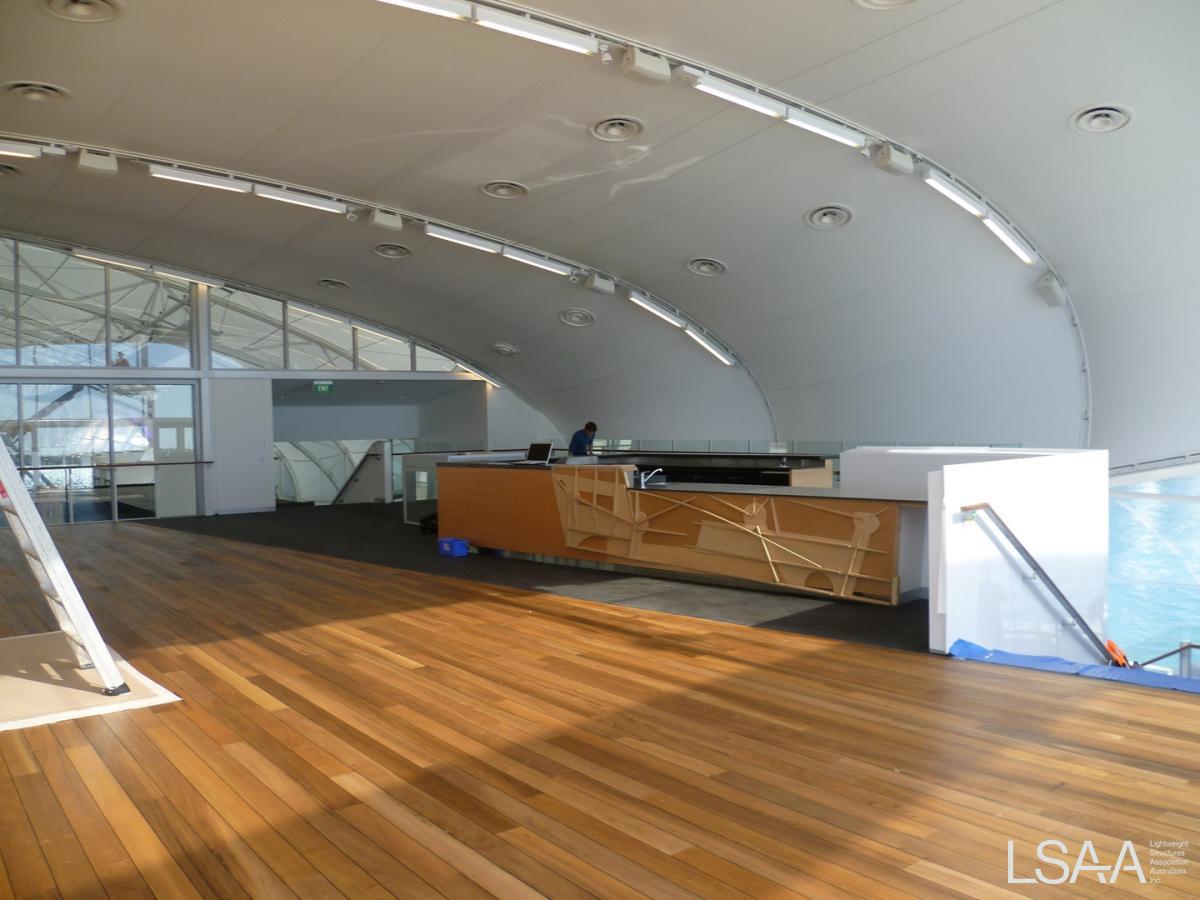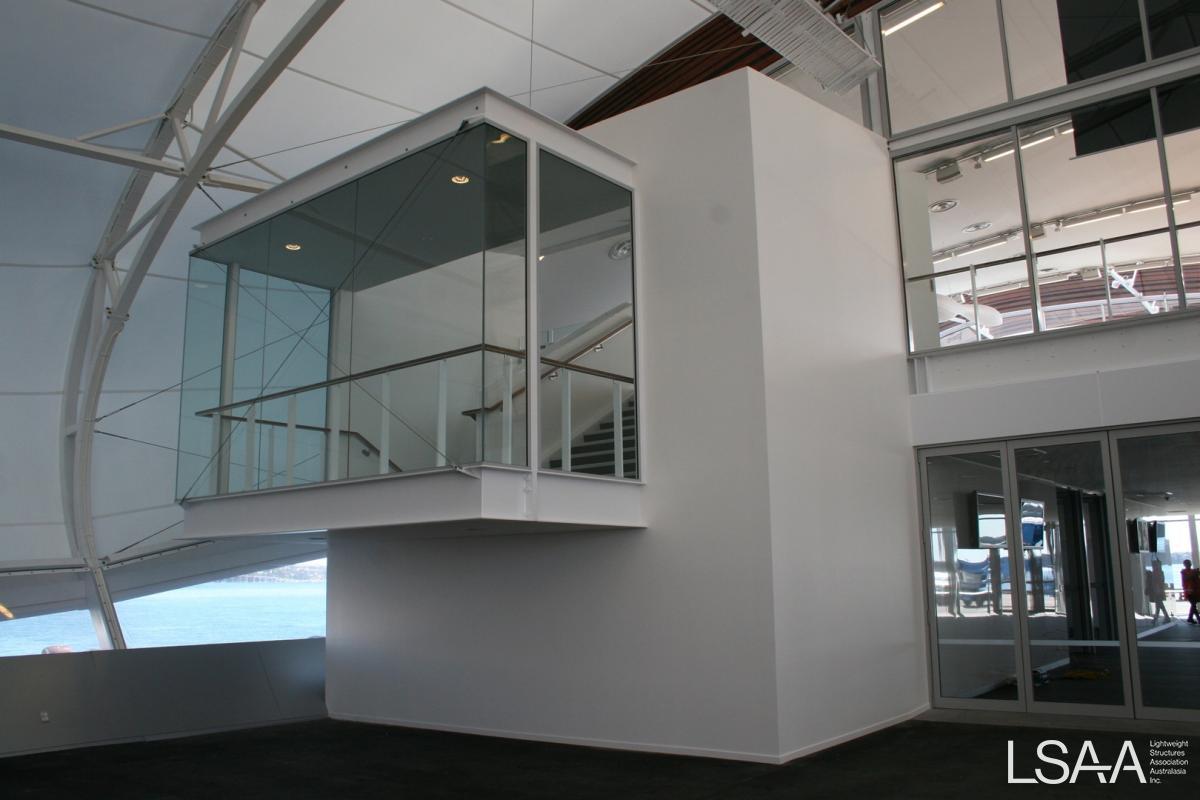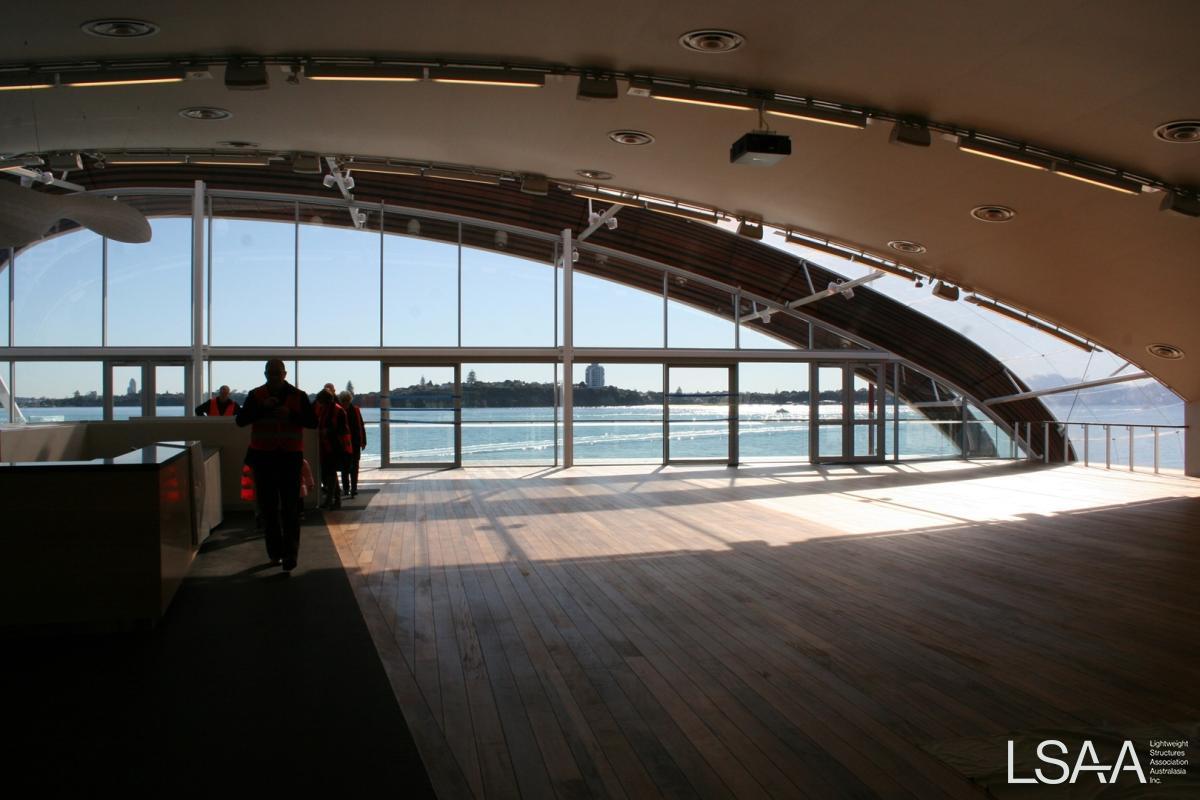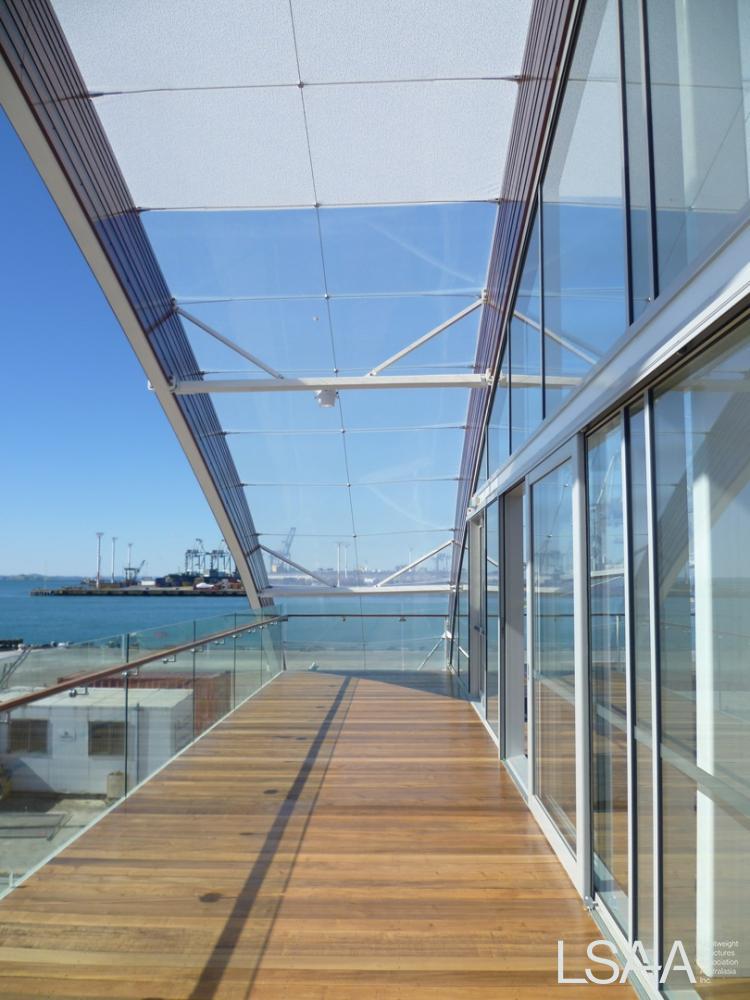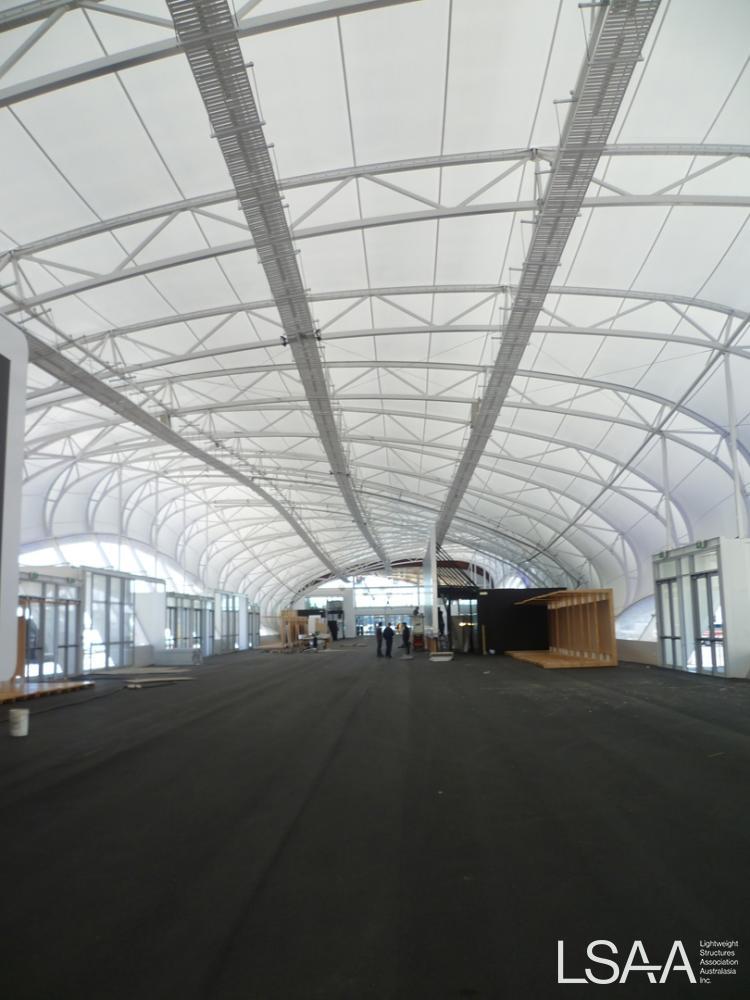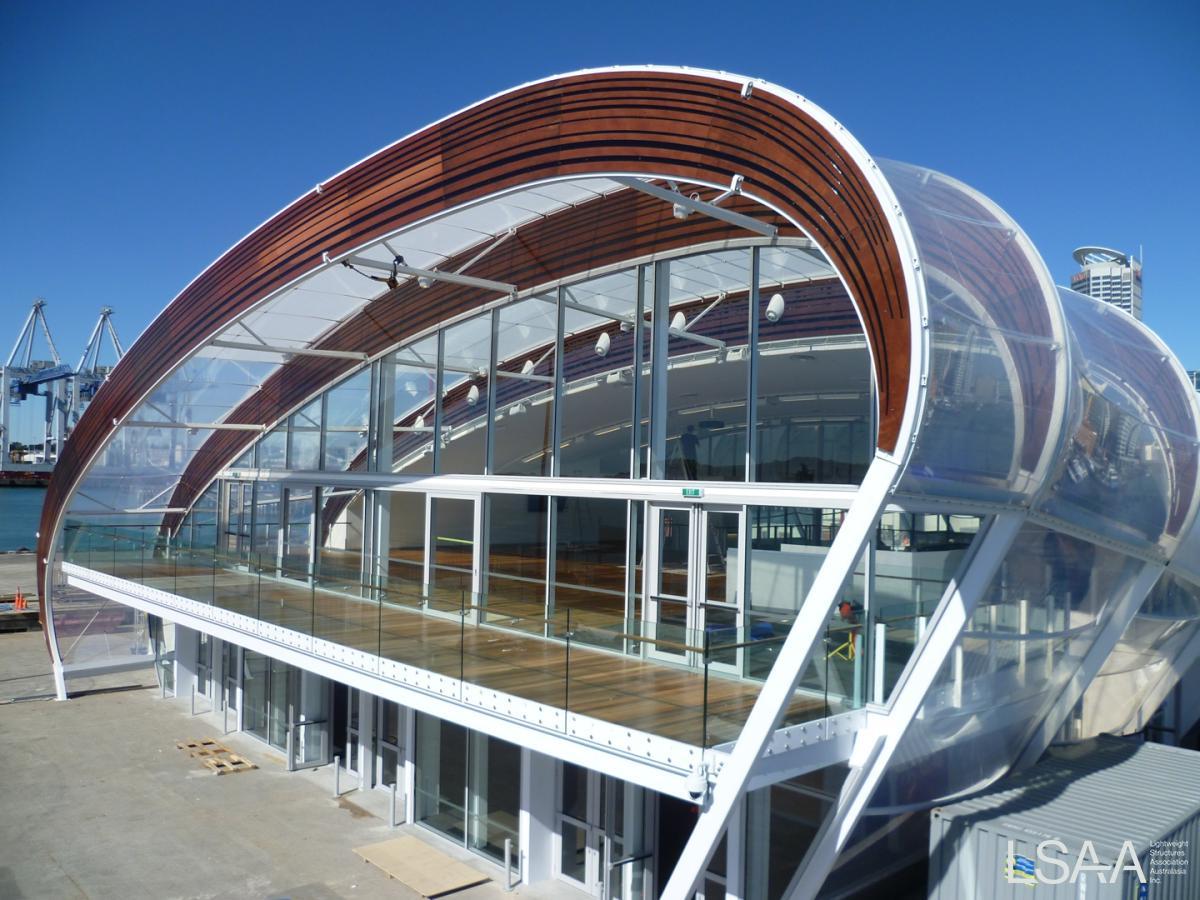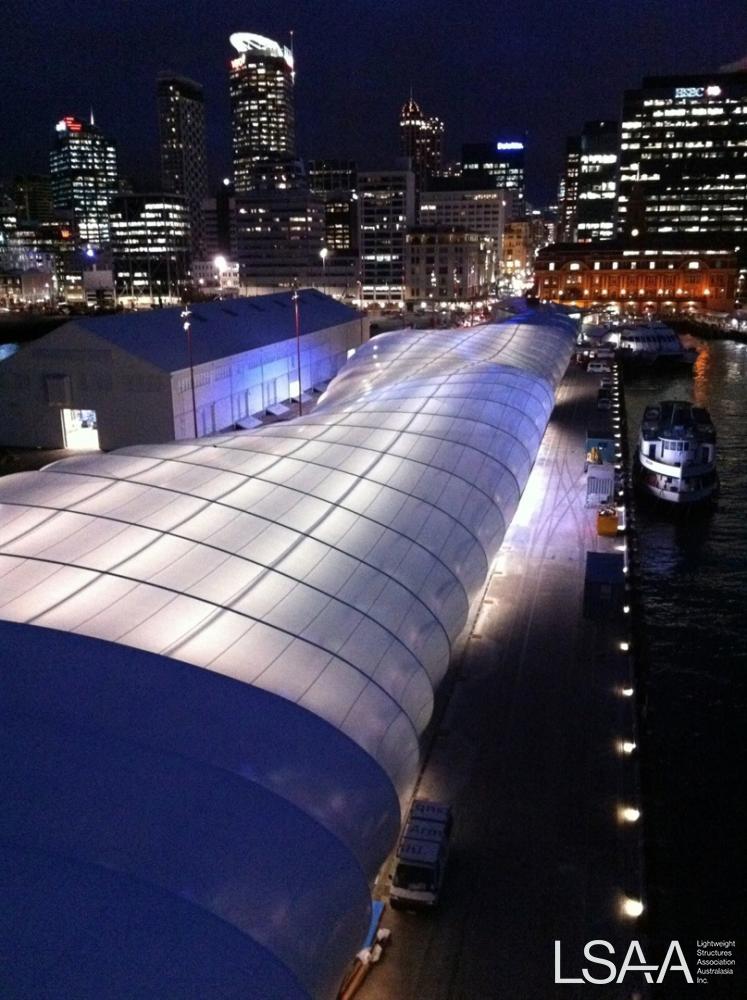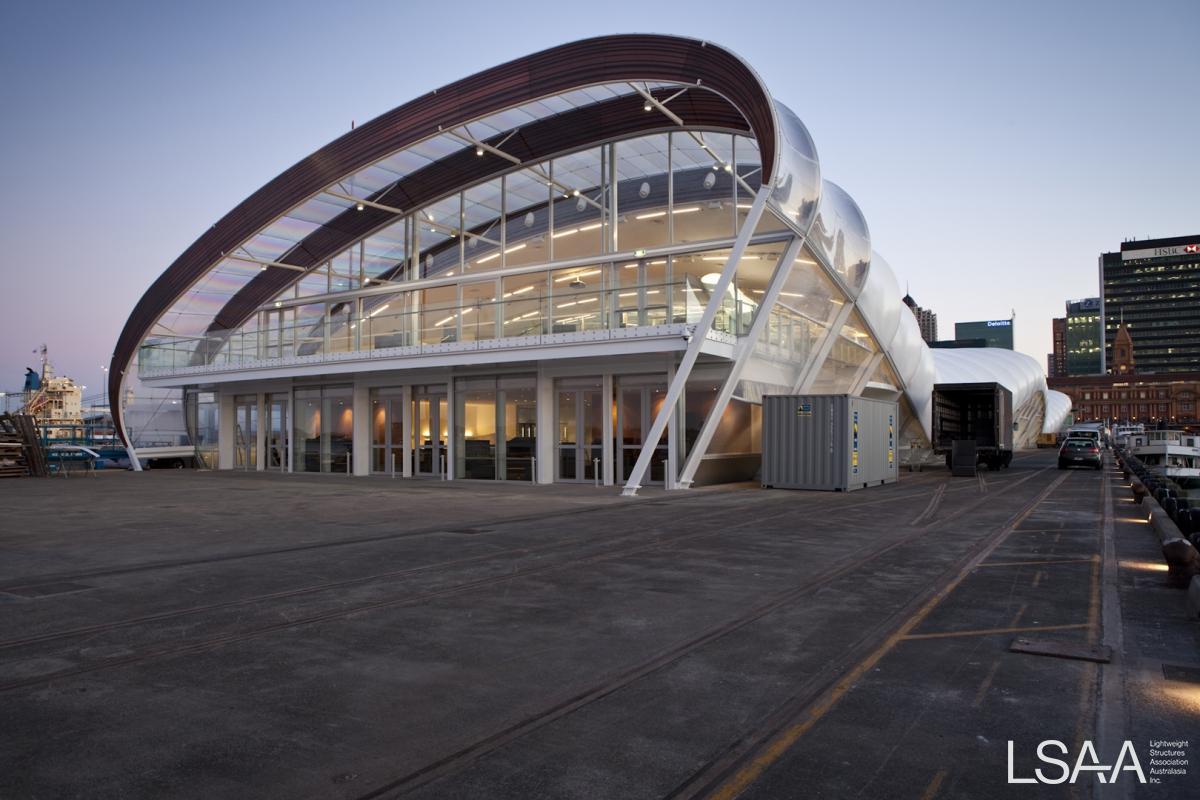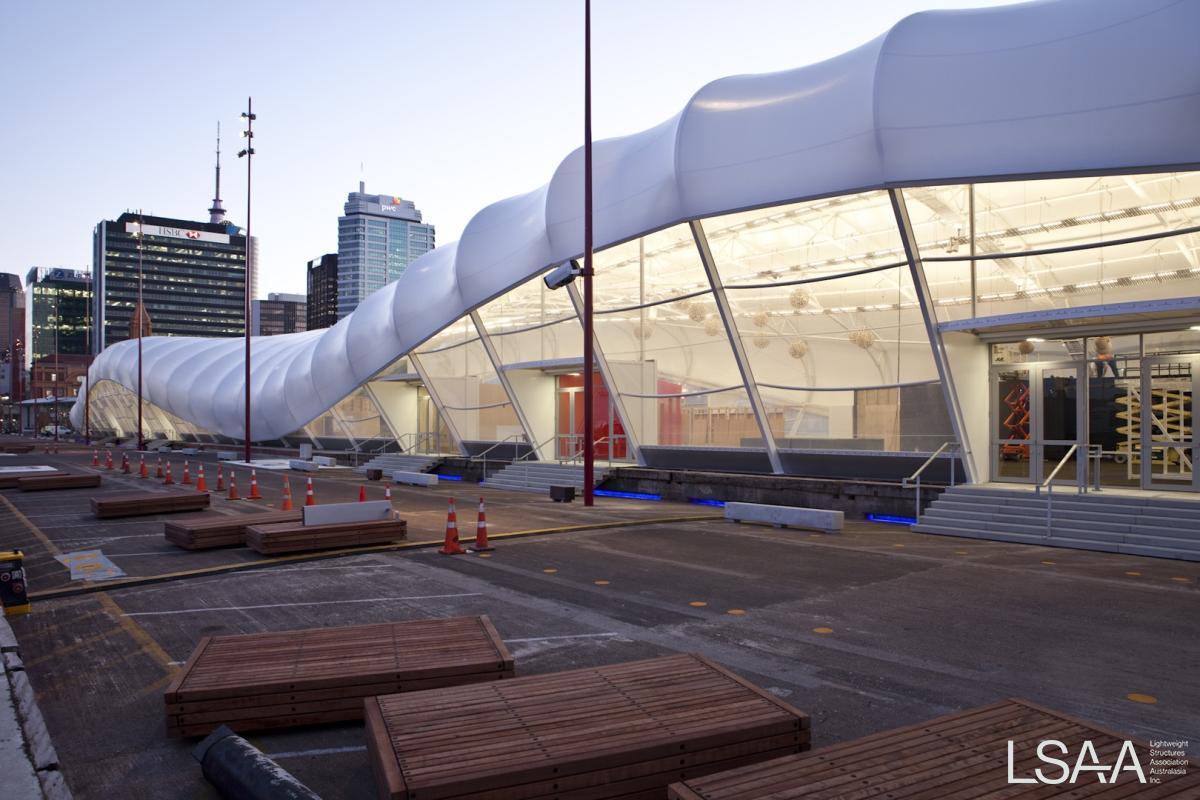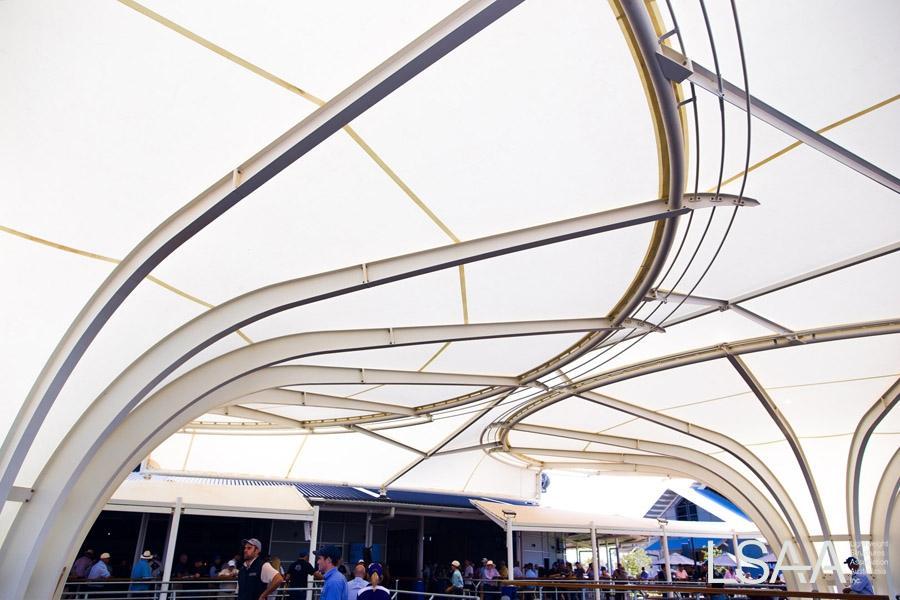 Commendation LSAA 2018 Design Awards Large Structures (Cat 4, 4433)
Application: Large canopies with a fabric surface area over 2800m2 to cover multiple areas at the Inglis Selling Centre Warwick Farm Racecourse
PROJECT DESCRIPTION:
The project was the design, fabrication and installation of multiple decorative and functional canopies for the Inglis Selling Centre at Warwick Farm Racecourse. With an overall Chukoh FGT800 PTFE fabric area of approximately 3060m2, the project covered multiple areas and structure types - "Trees" to cover the horse parade ring; a shelter canopy for the patron walkway for the pre-parade ring; a canopy for the wedding pavilion, and awnings for the hotel.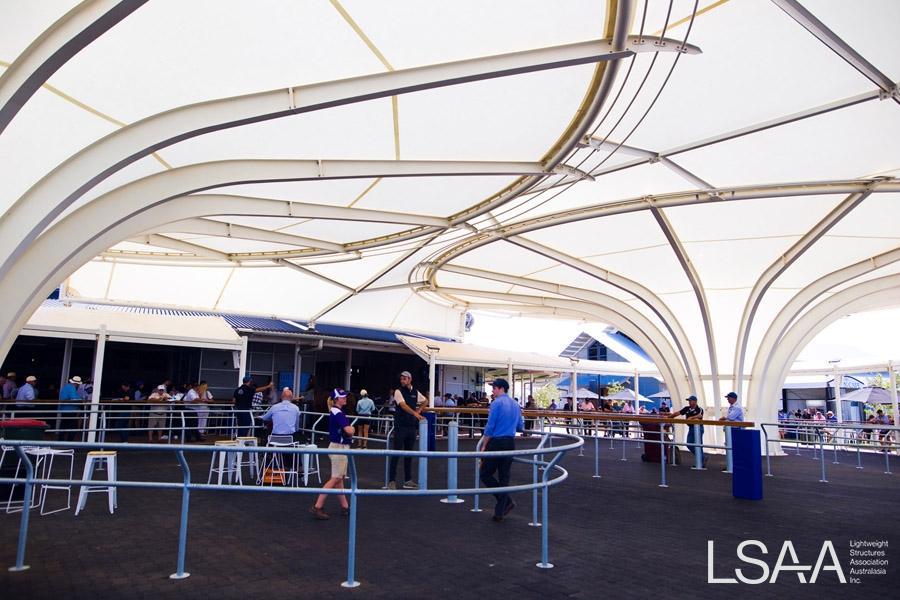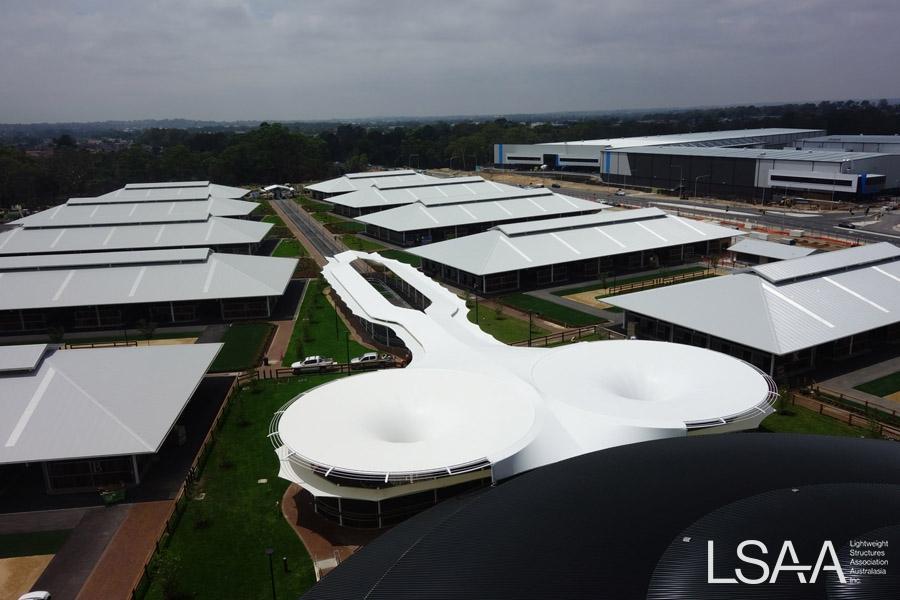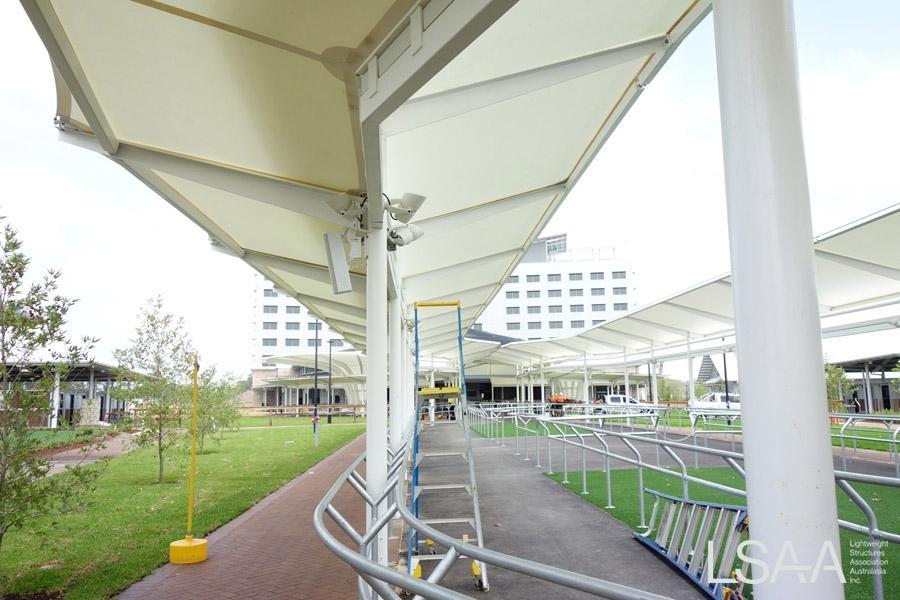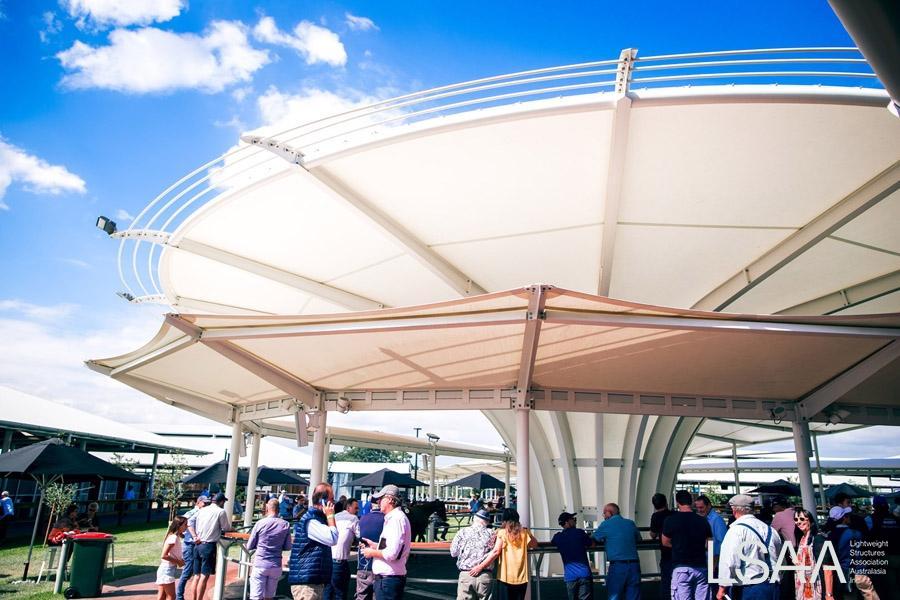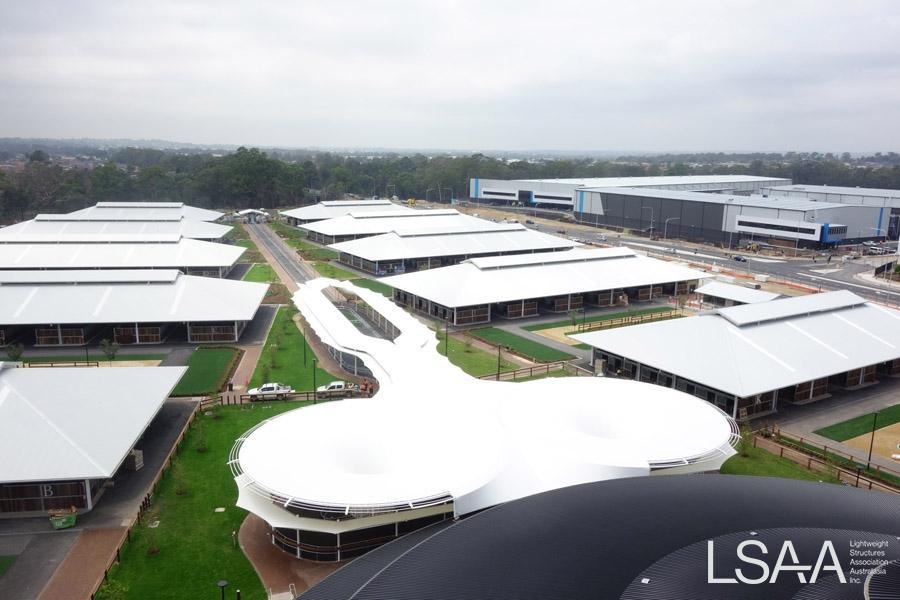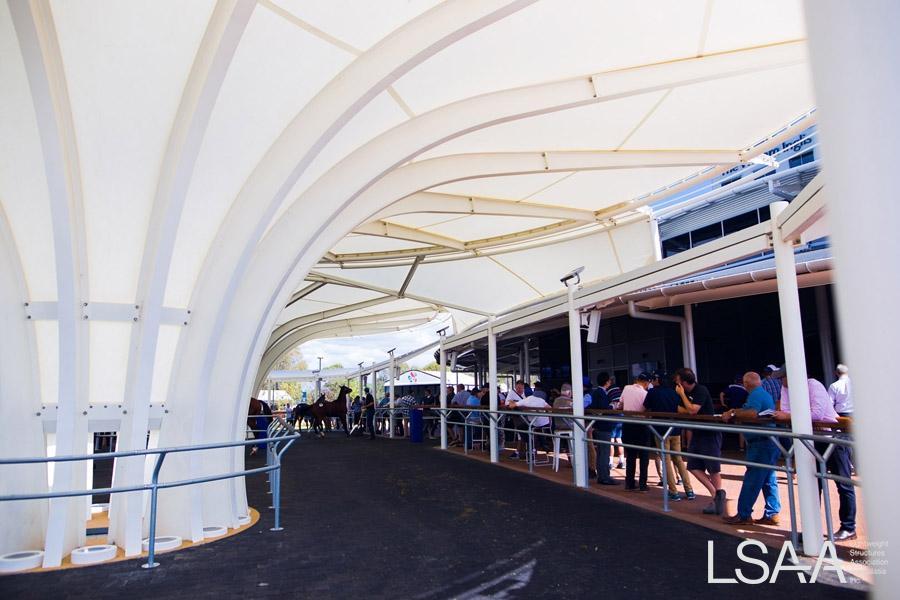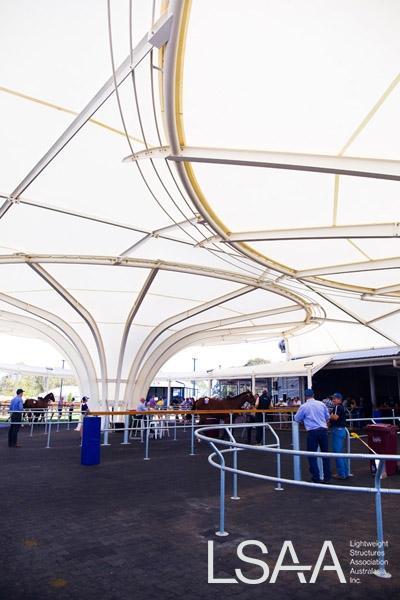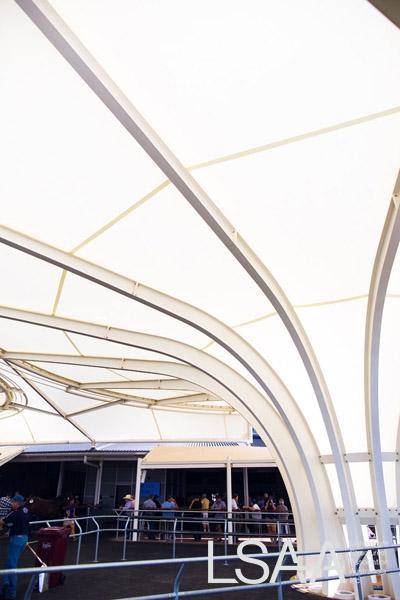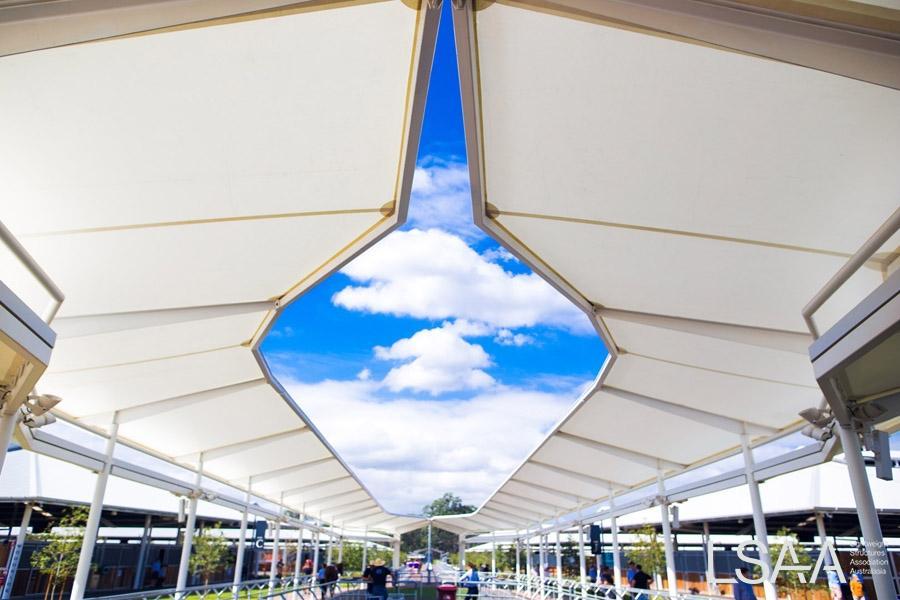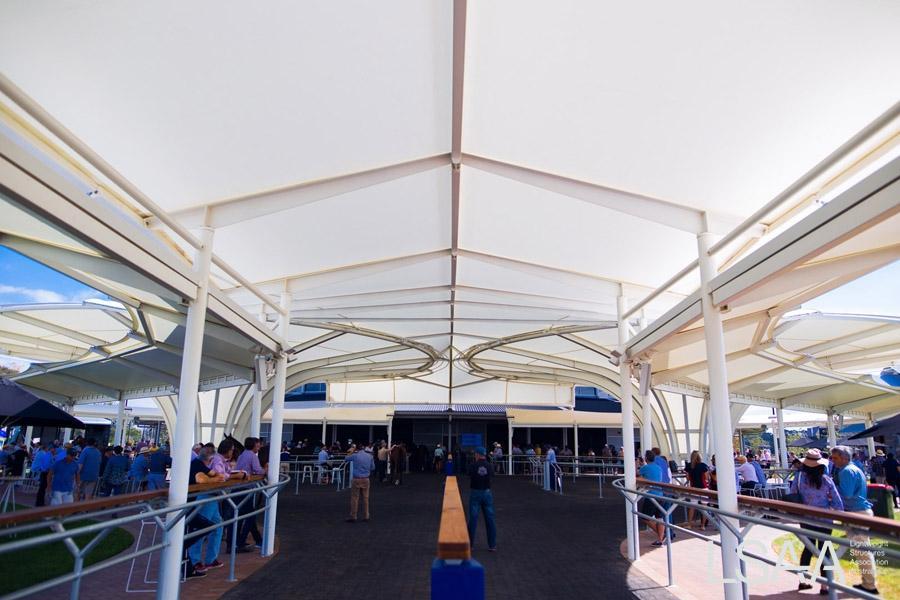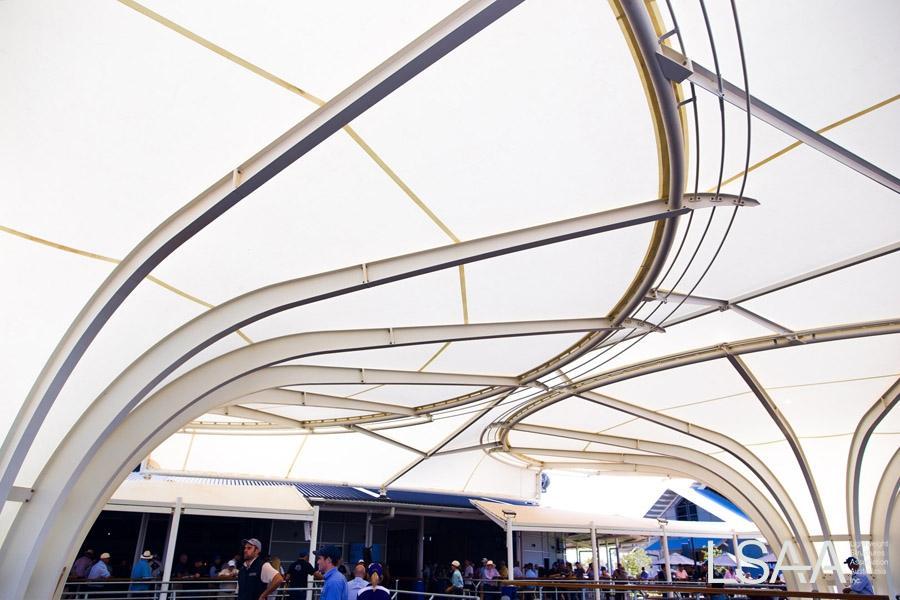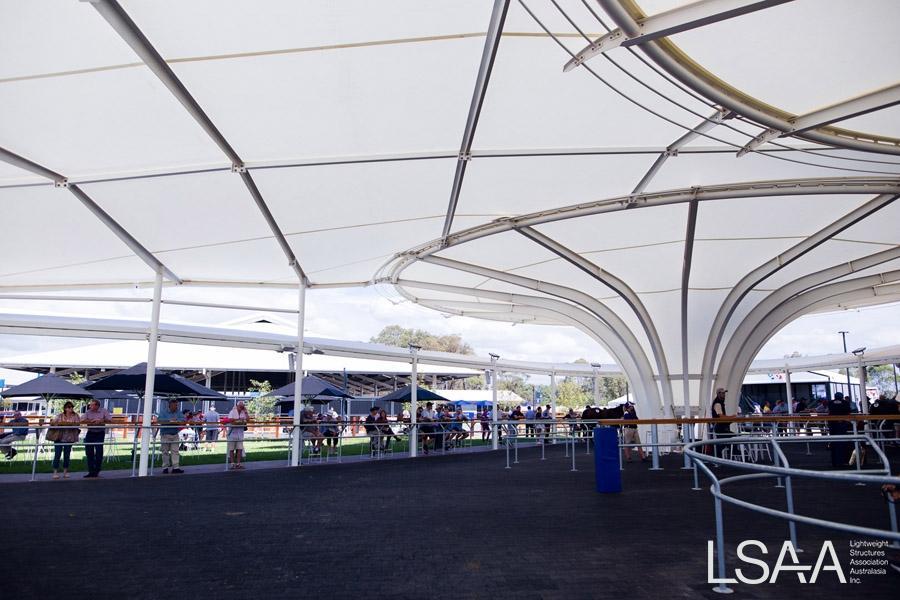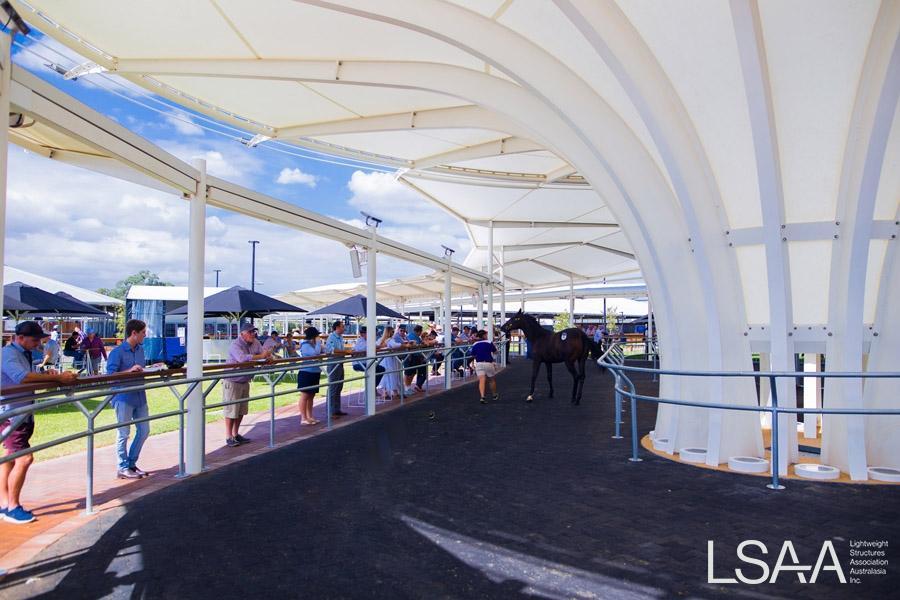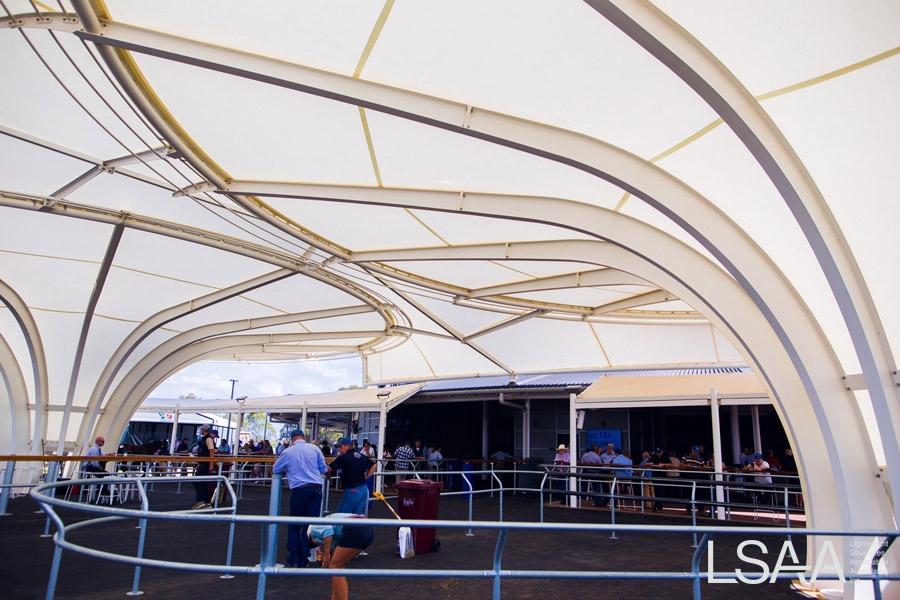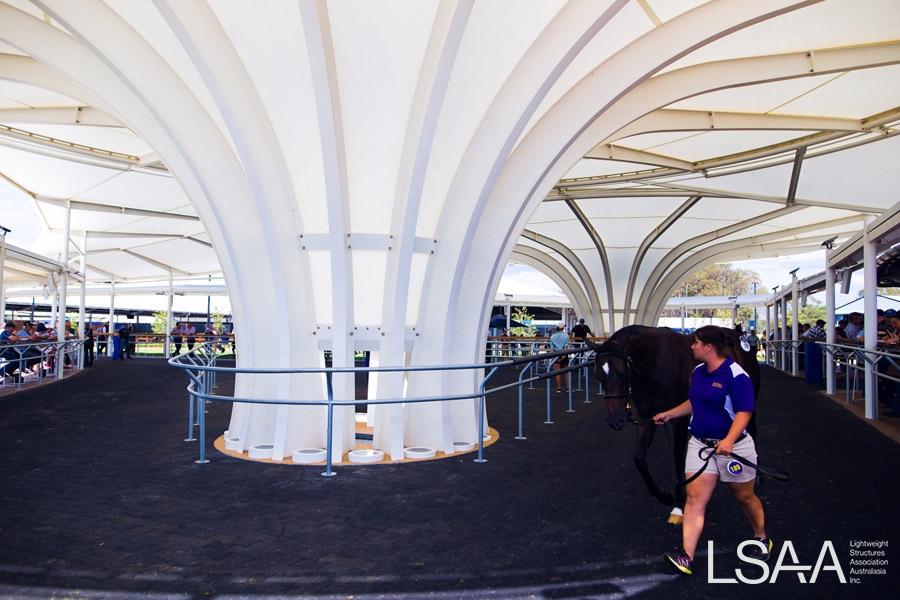 Read more: Inglis Selling Centre Fabric Roofs at Warwick Farm Racecourse (2018)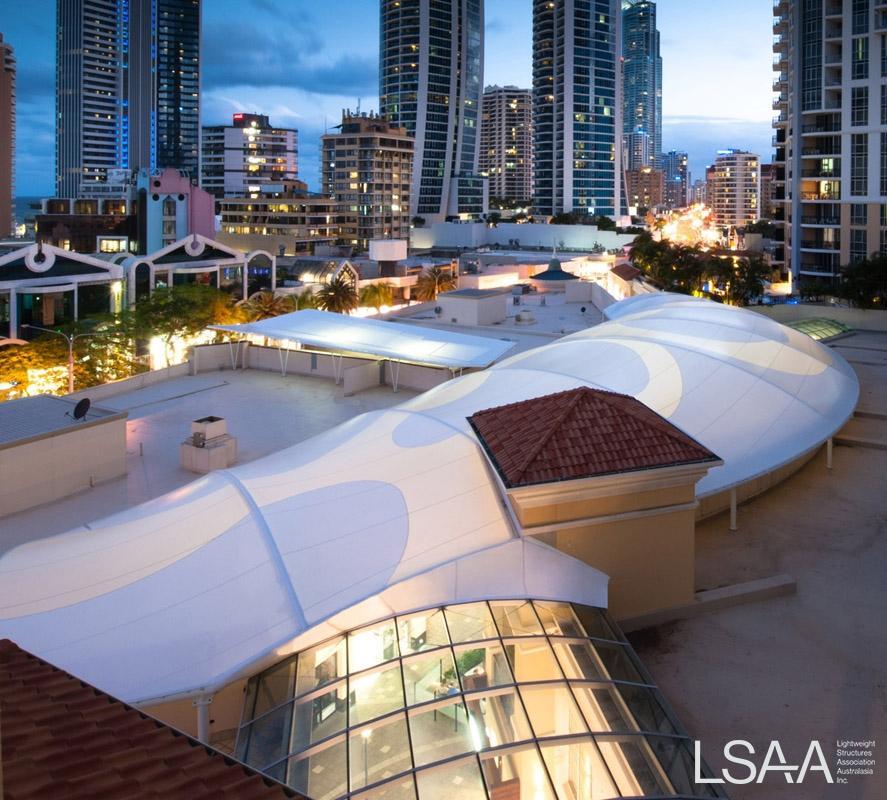 Entered into the LSAA 2016 Design Awards (Cat 4 Large Fabric Structures, #4773)
Entrant: MakMax Australia (Engineer, Fabricator, Installer)
Location: Gold Coast, QLD. Team: MakMax Australia
Application: Retail Shopping Centre