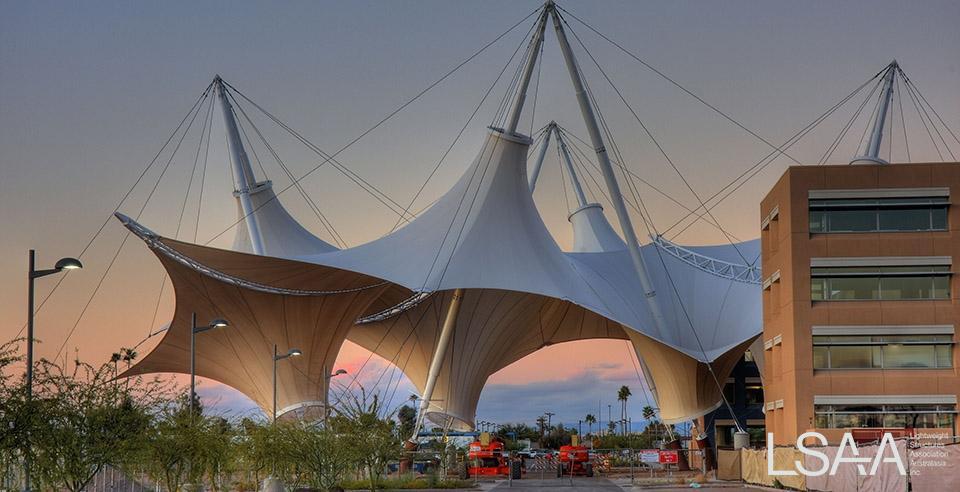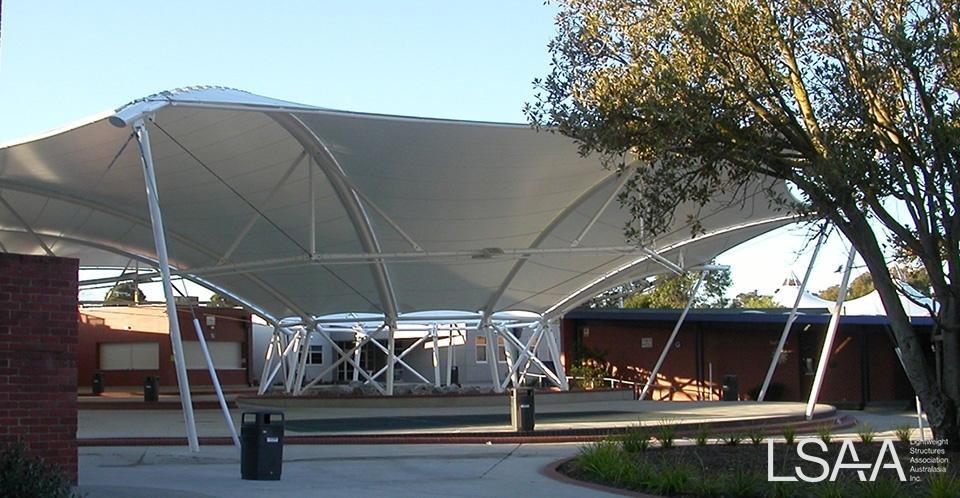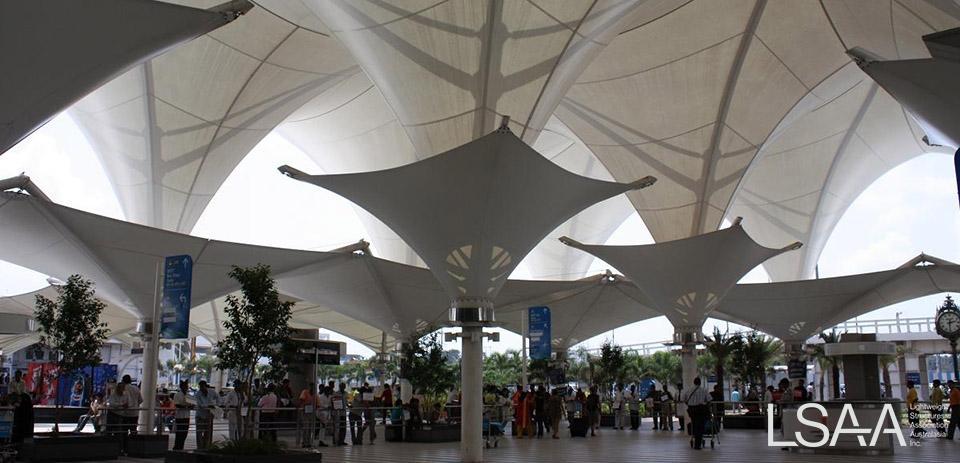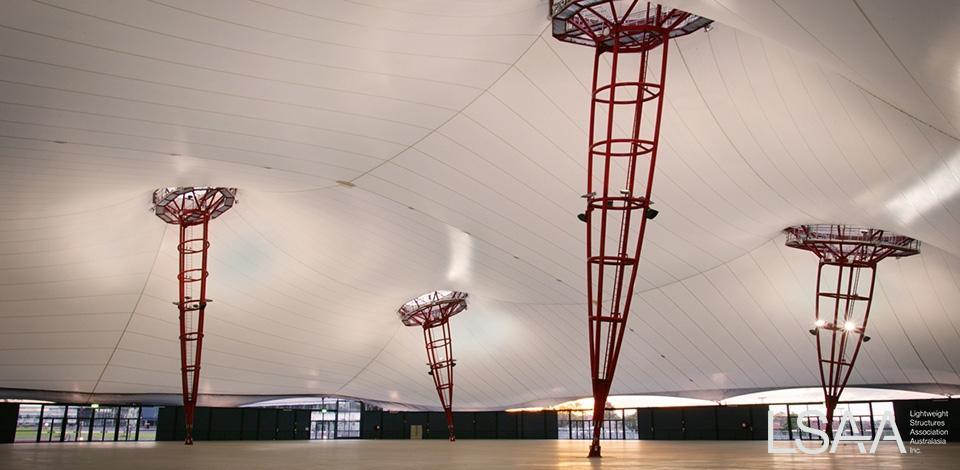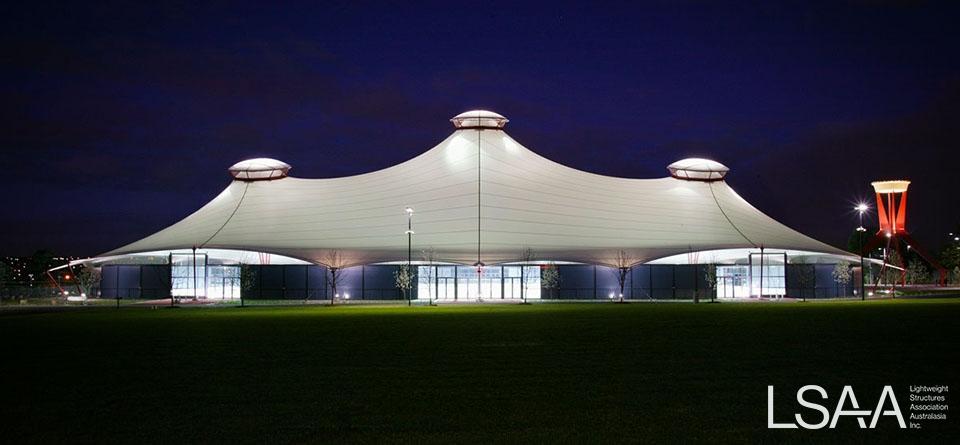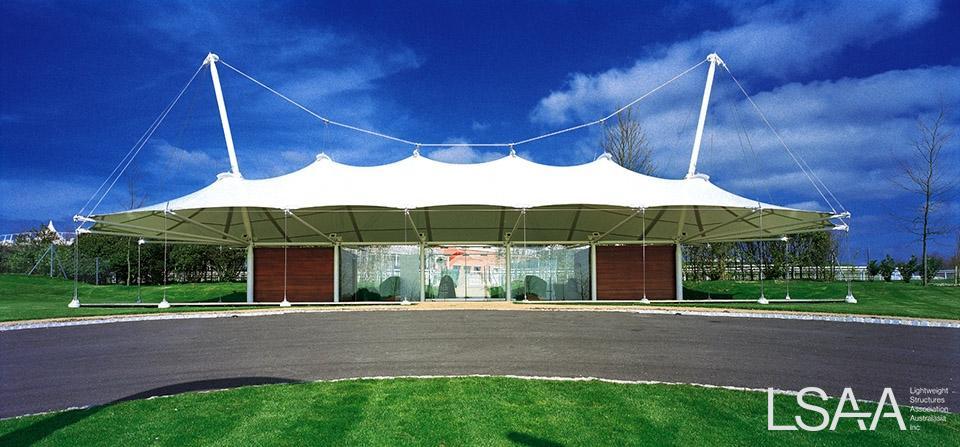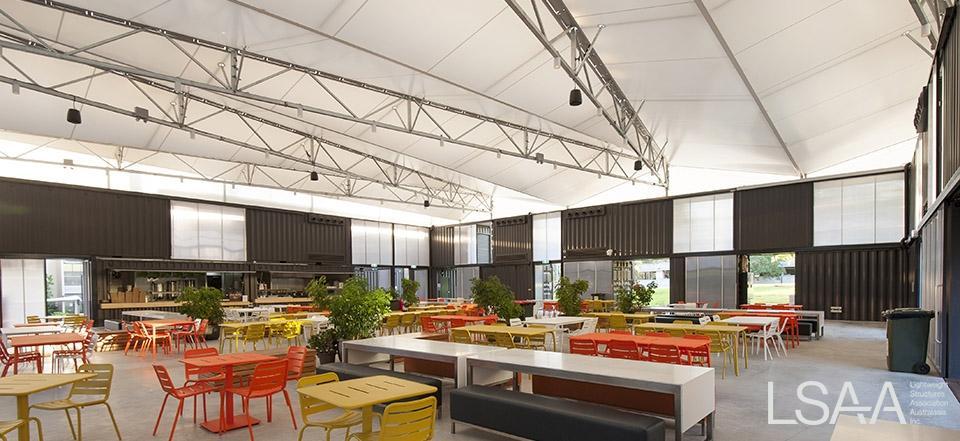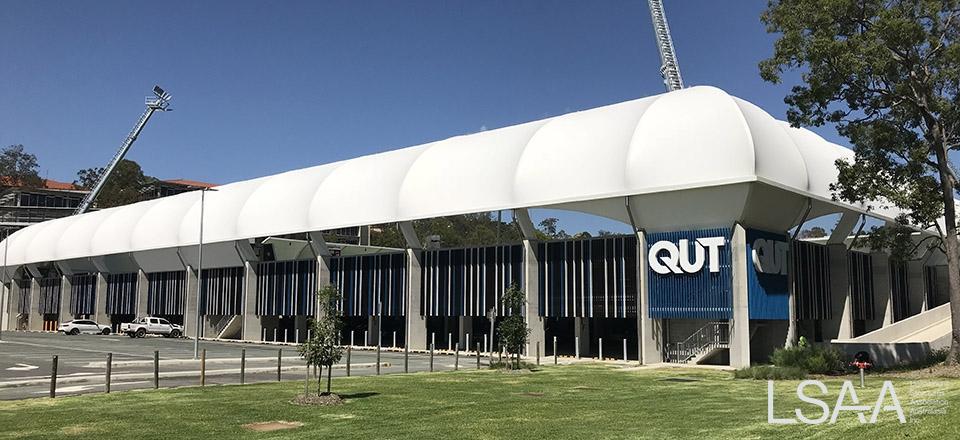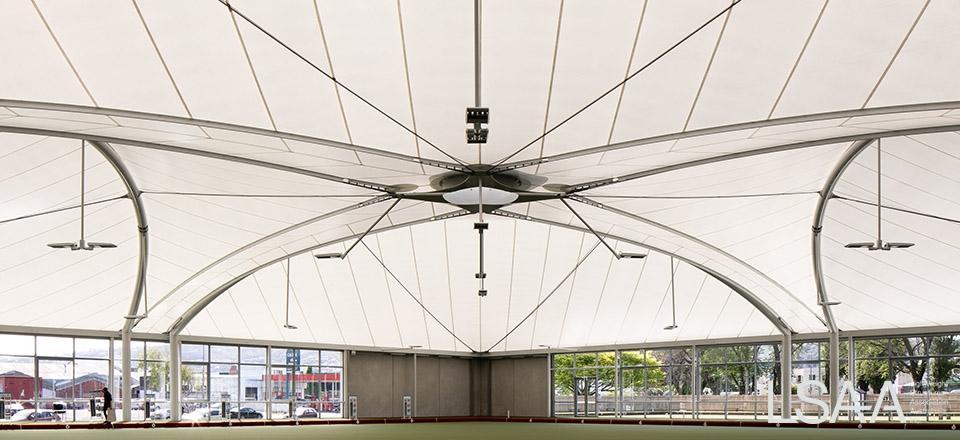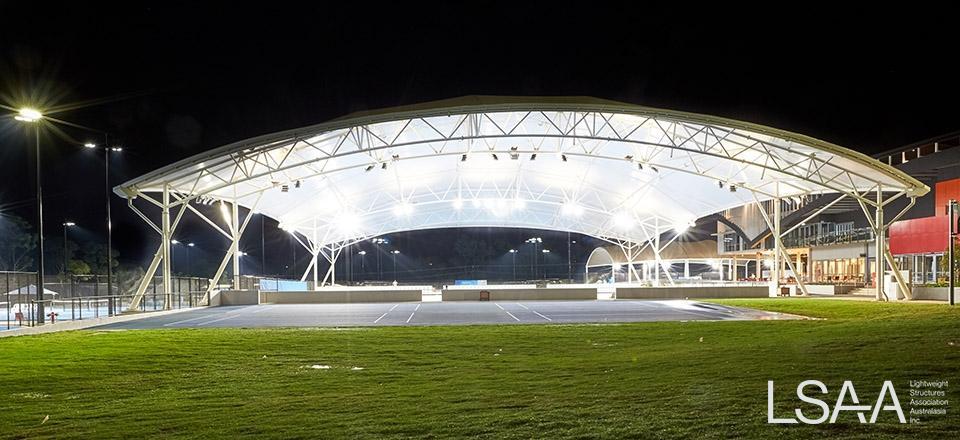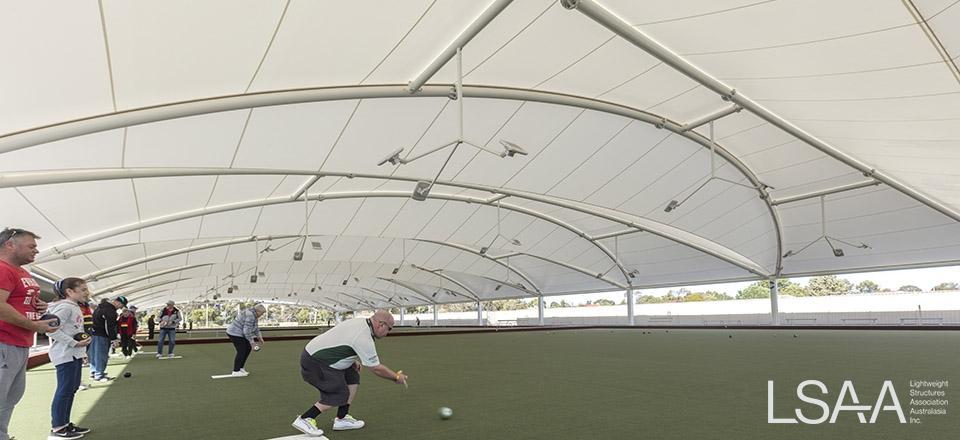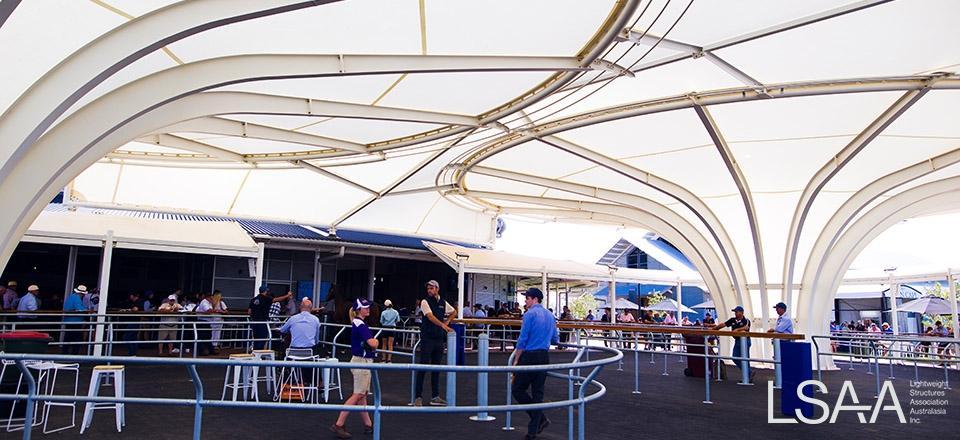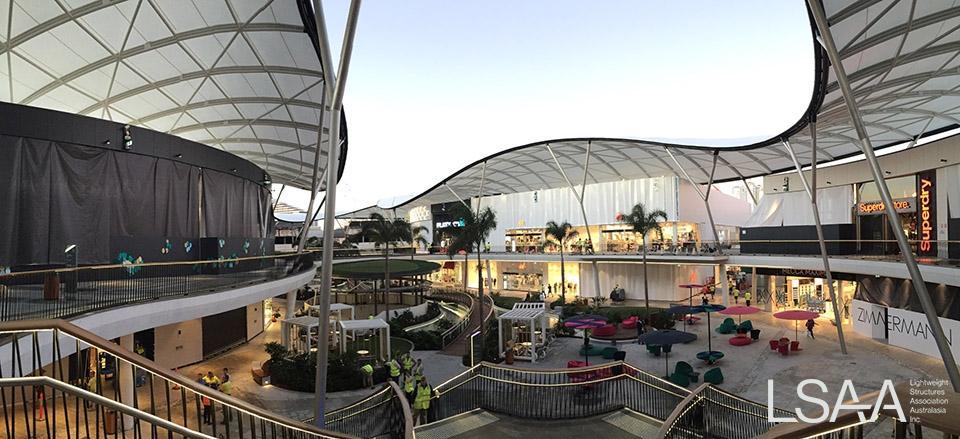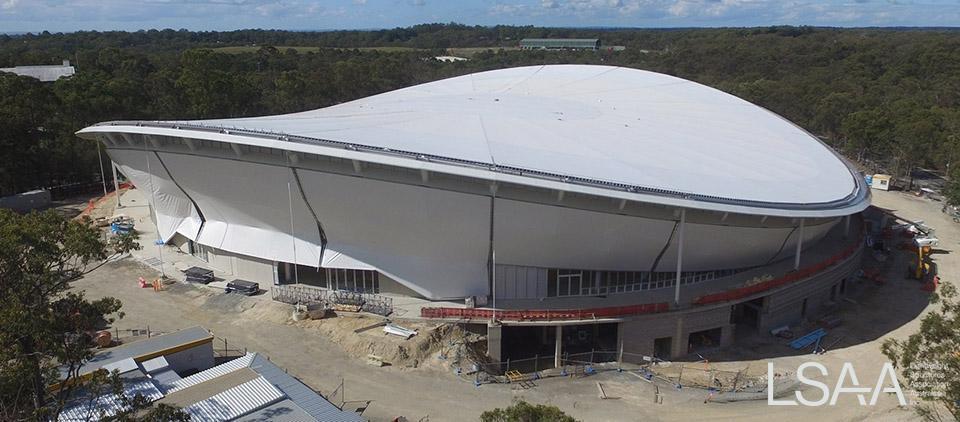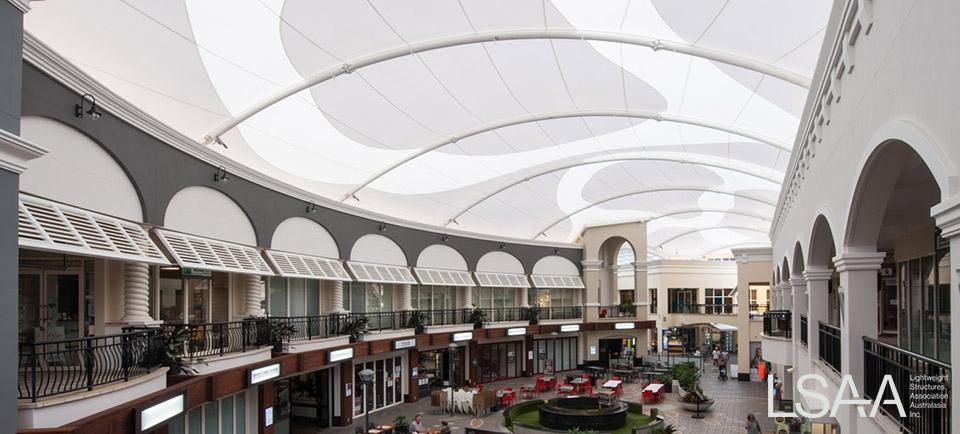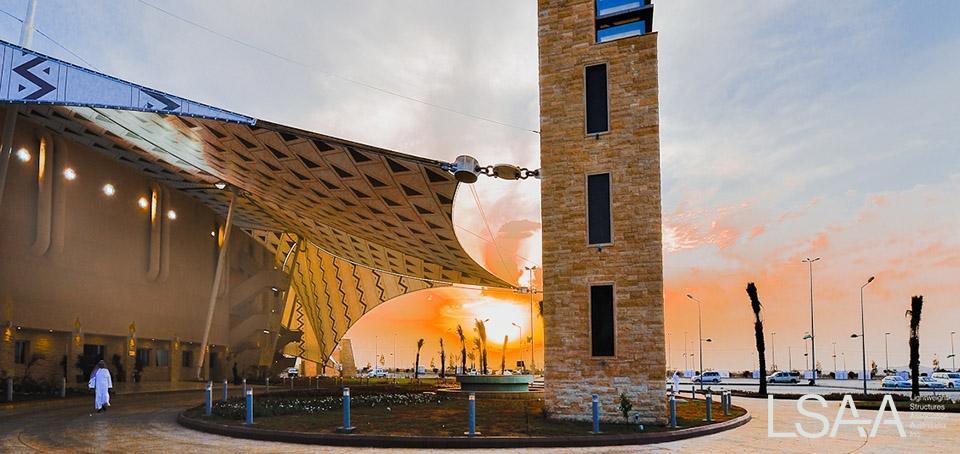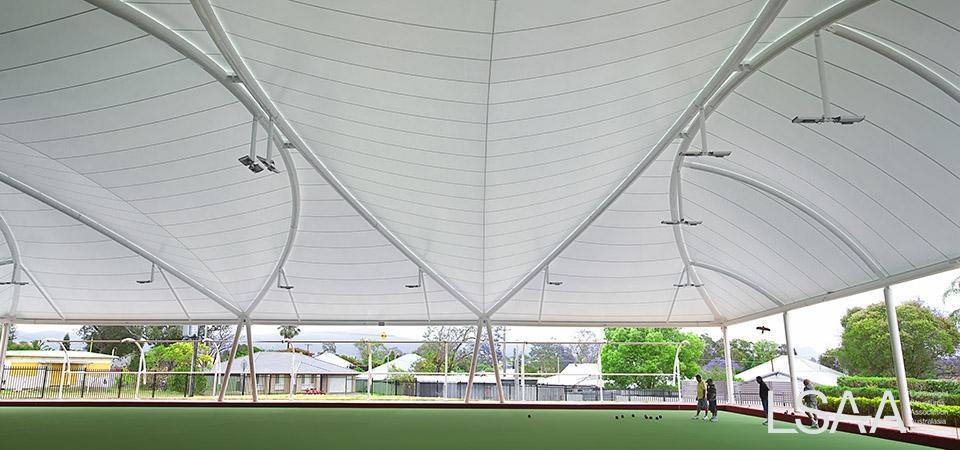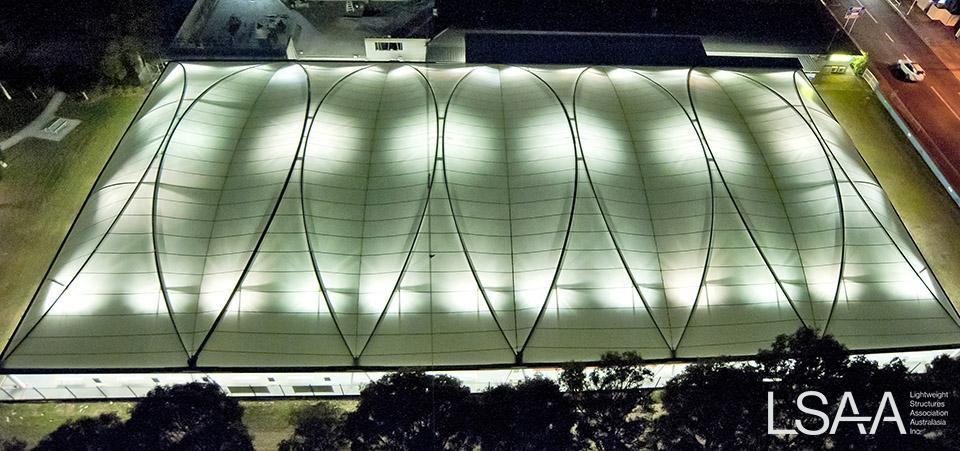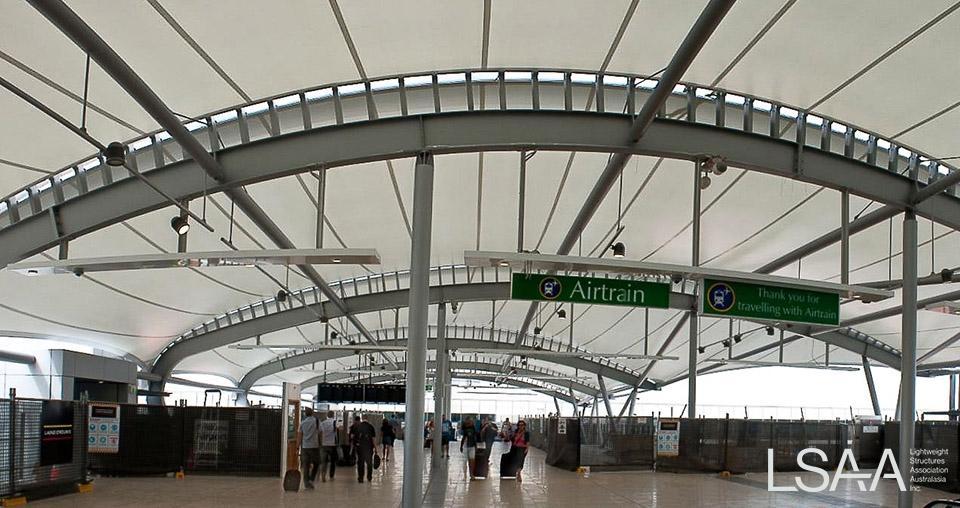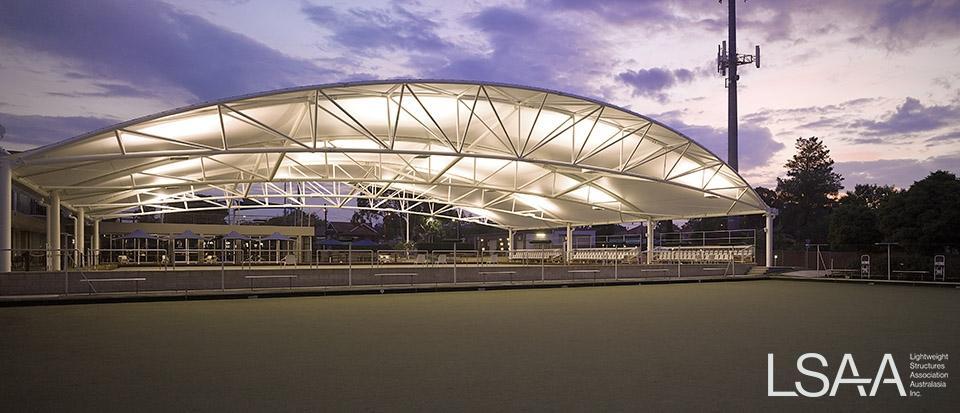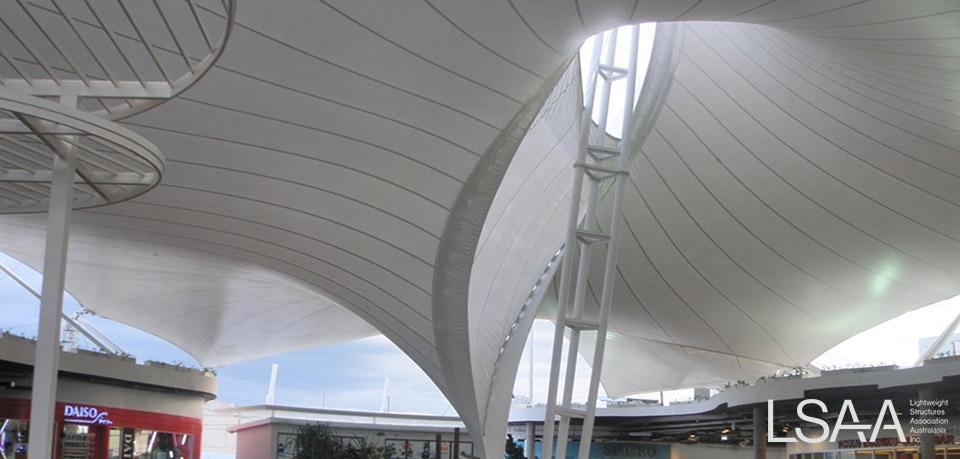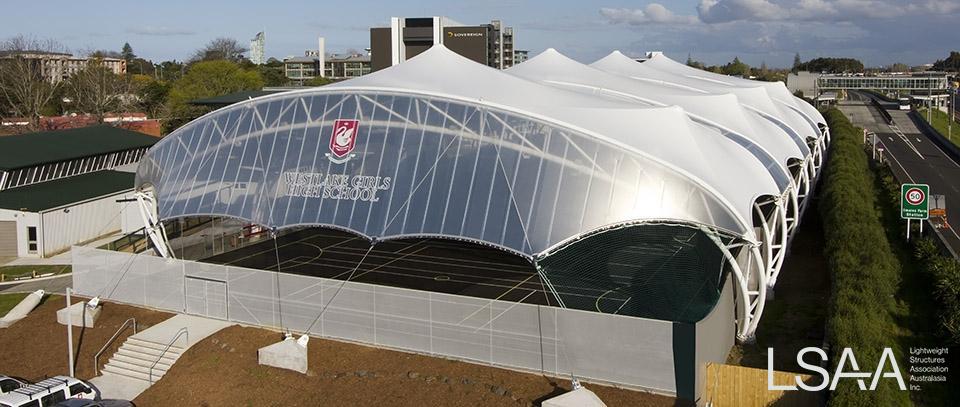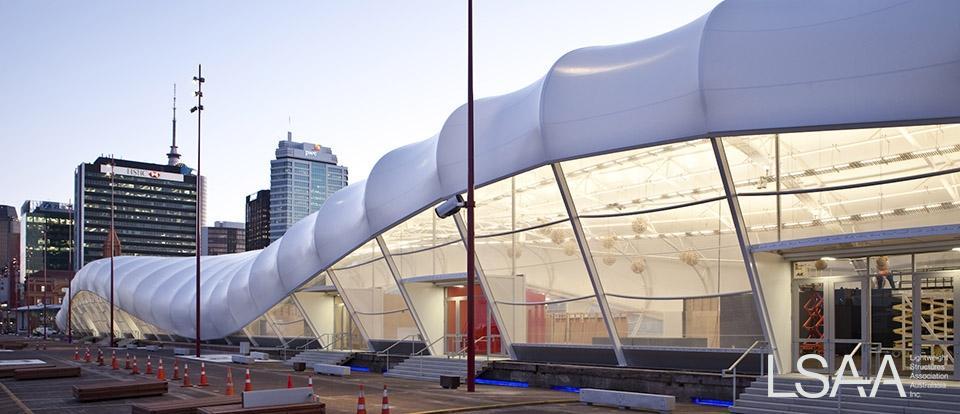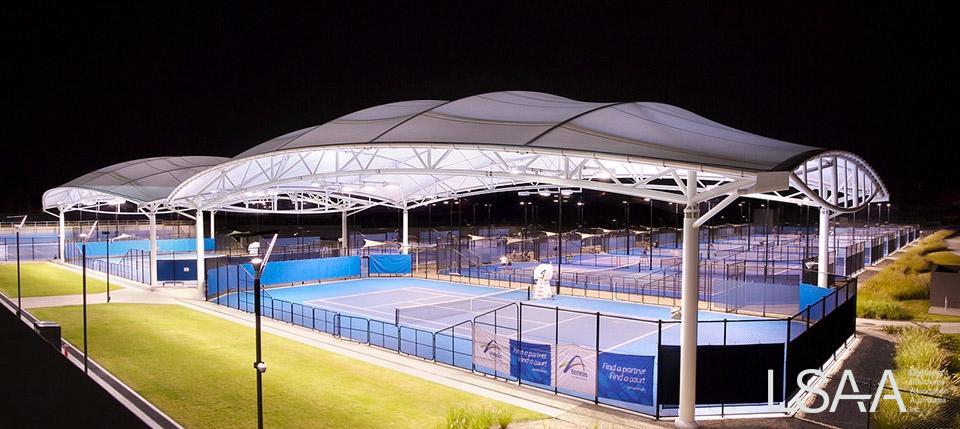 Large fabric structures have generally been thought of as those that have a fabric surface area greater than 1000 square metres. These structures may be described as single surfaces or panels in the form of one of the classic hypars, barrel vaults, cones, panels with single or crossing arches - or a combination.
Larger fabric structures can also be made from several modules or panels of similar forms to build up a substantial sized structure. The multiple panels might be arranged in a linear layout, or in a circular or oval pattern commonly found in stadia roofs. The boundaries are defined structurally and geometrically by straight or curved elements such as arches, edge beams and cables. The prestress forces from adjacent panels often counterbalance and the more efficient structures have a larger degree of symmetry and continuity such as a complete "bicycle wheel" for the roof a major sports stadium. Stadiums are grouped in a separate menu item.
The following articles are in random order: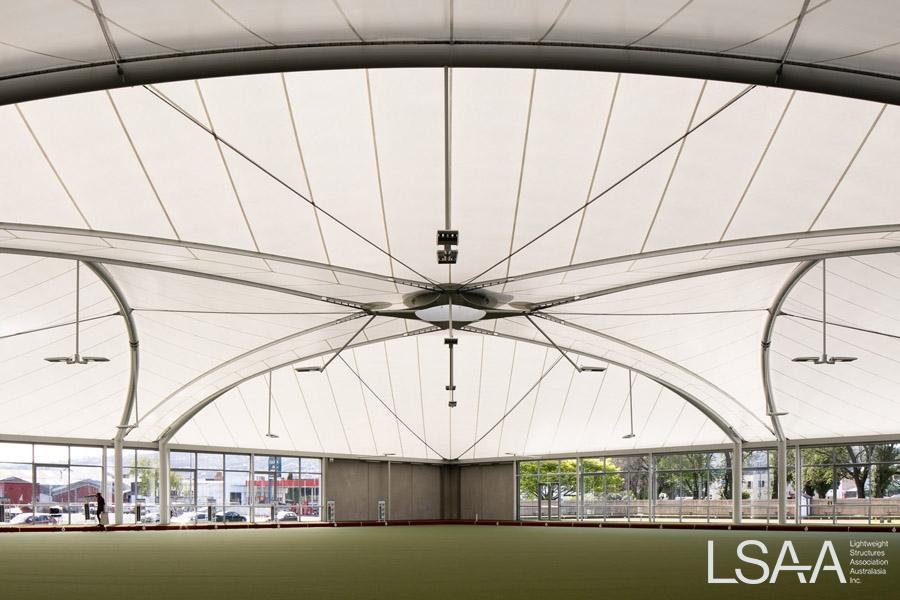 Award of Excellence LSAA 2018 Design Awards Large Structures (Cat 4, 4101)
Application: Bowling green tensile membrane roof
PROJECT DESCRIPTION:
The overall project was specifically conceived and designed to provide a community meeting point to focus and reinvigorate the residents of a depressed suburb which had been in steady decline for more than 30 years. Many residents of this suburb are elderly and due to transportation access and costs seldom left their homes, hence social integration and community interaction was poor. The additional aim of the project was to have the elderly and young be involved in community based sports and activities to invigorate, inspire and bond fellow citizens.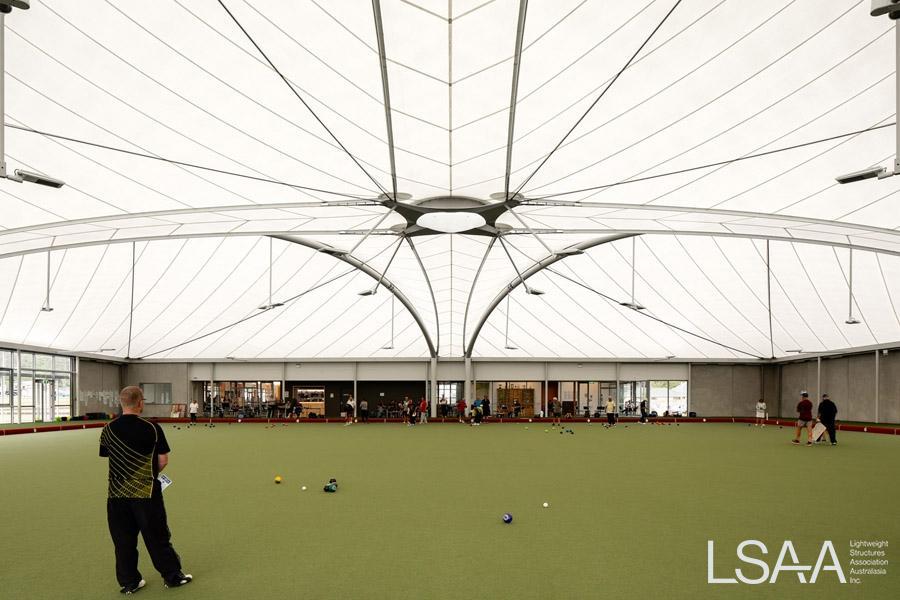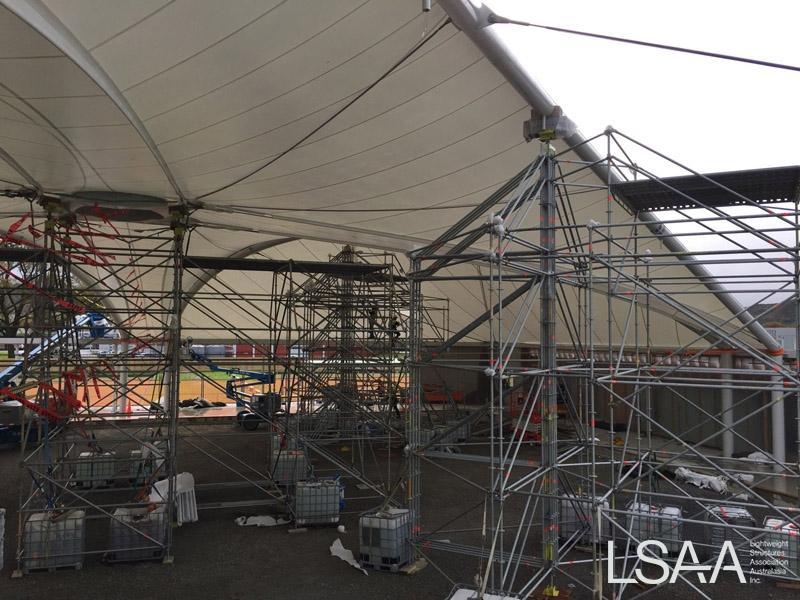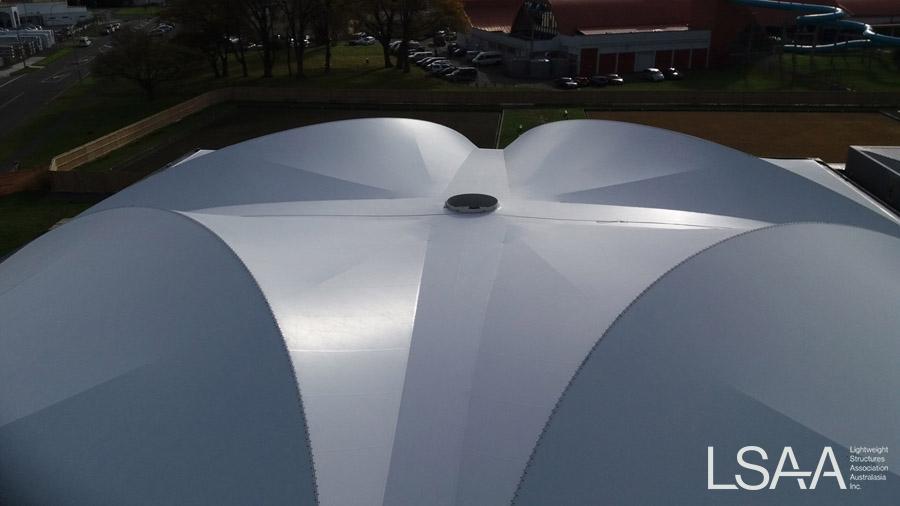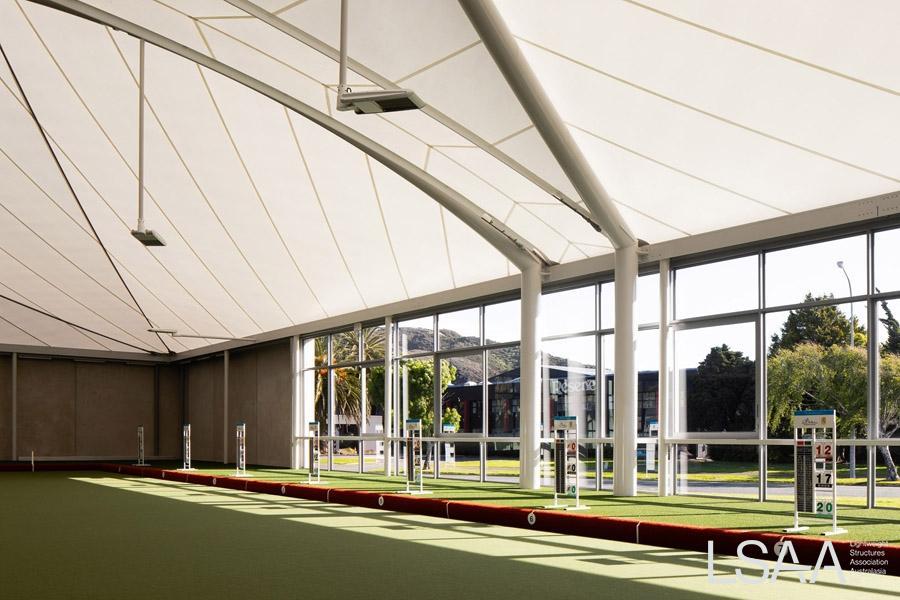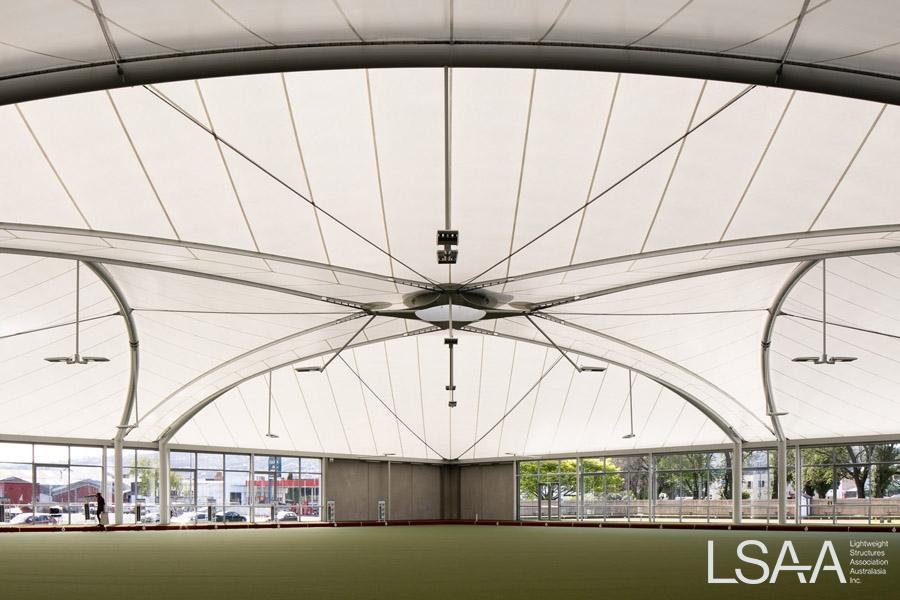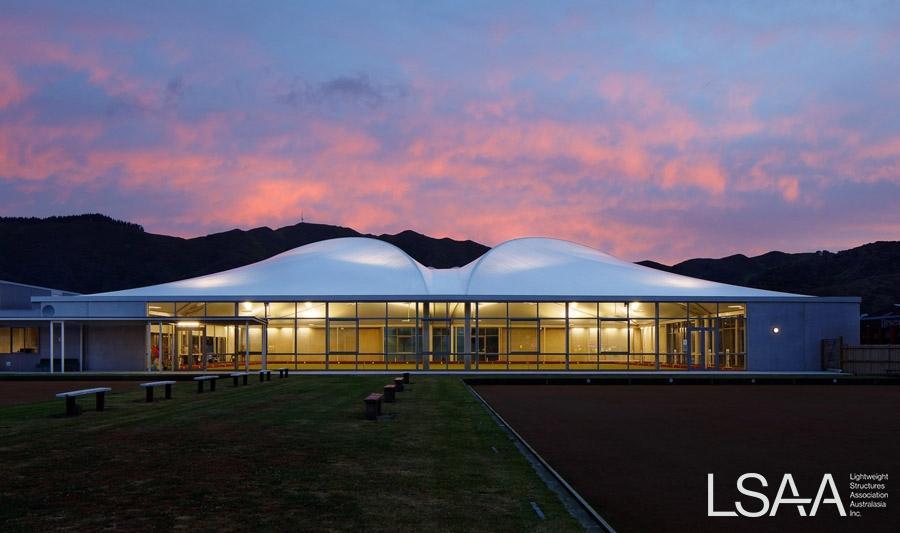 Read more: Wellington Bowling Club Greens Cover Project (2018)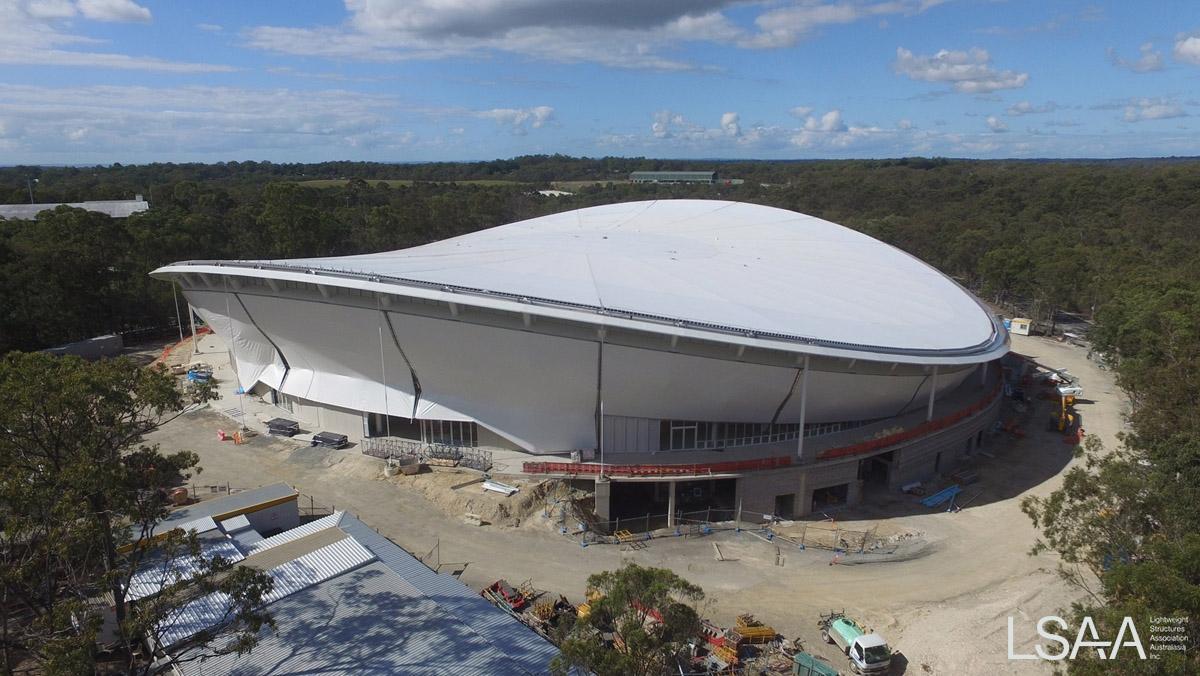 Entered in the LSAA 2016 Design Awards (Cat 4 Large Fabric Structures, 4771)
Entrant: MakMax Australia (Engineer, Fabricator, Installer)
Location: Sleeman Sports Complex, Brisbane. Completed: August 2016 Client: Watpac
Team: Cox Rayner Architects, Tensys, Arup, MakMax Australia
Application: Cycling Velodrome / indoor stadium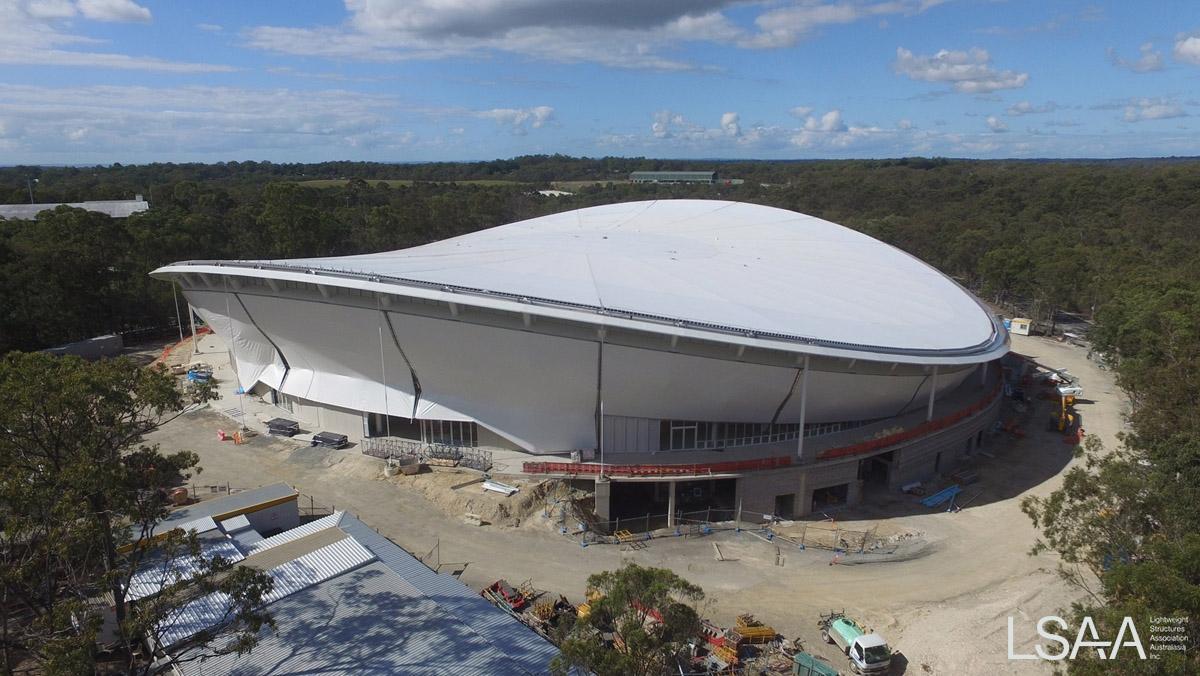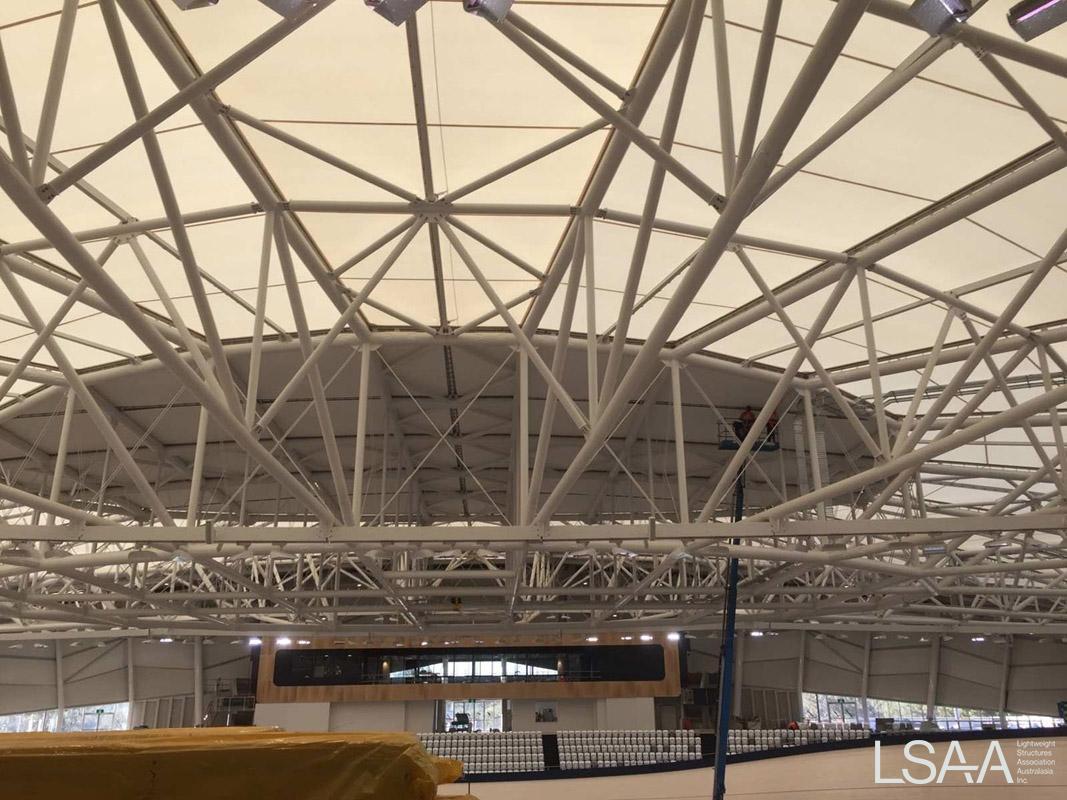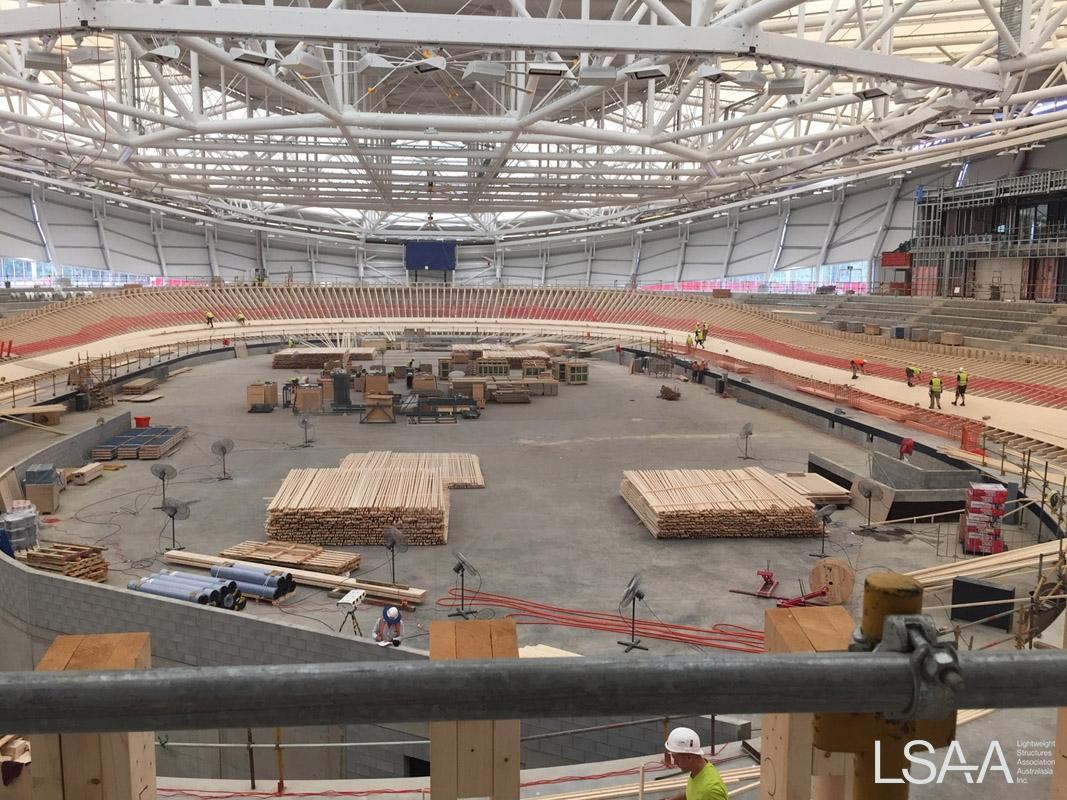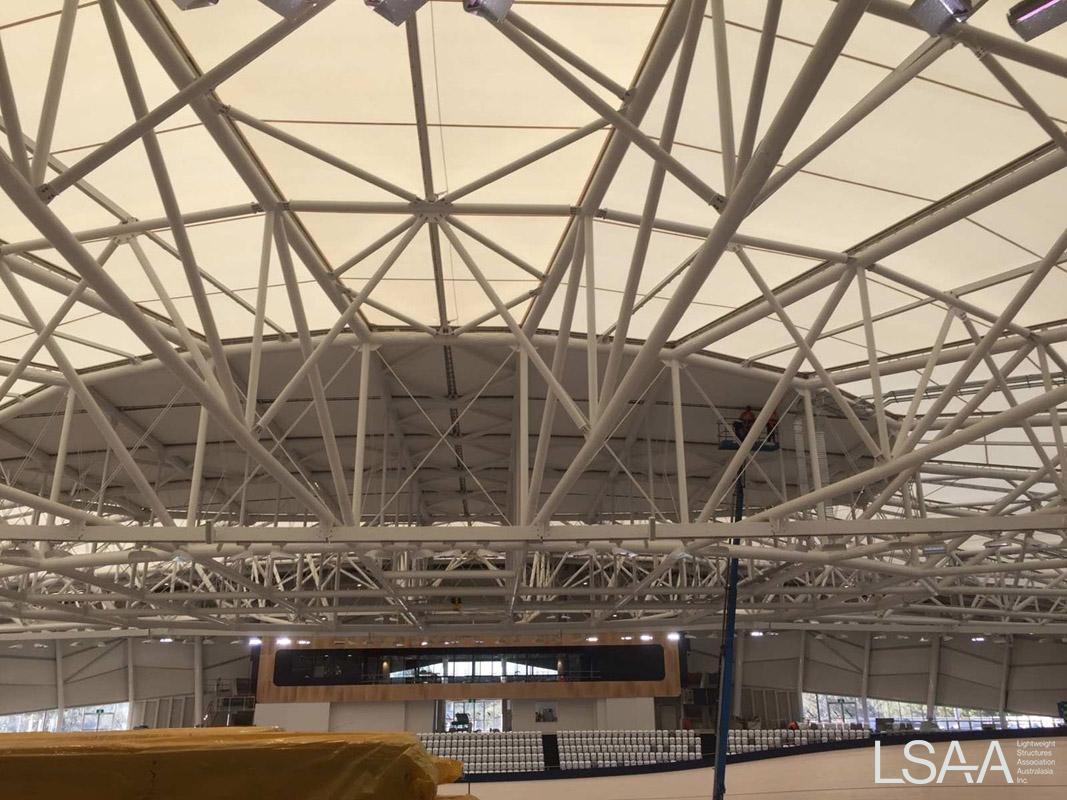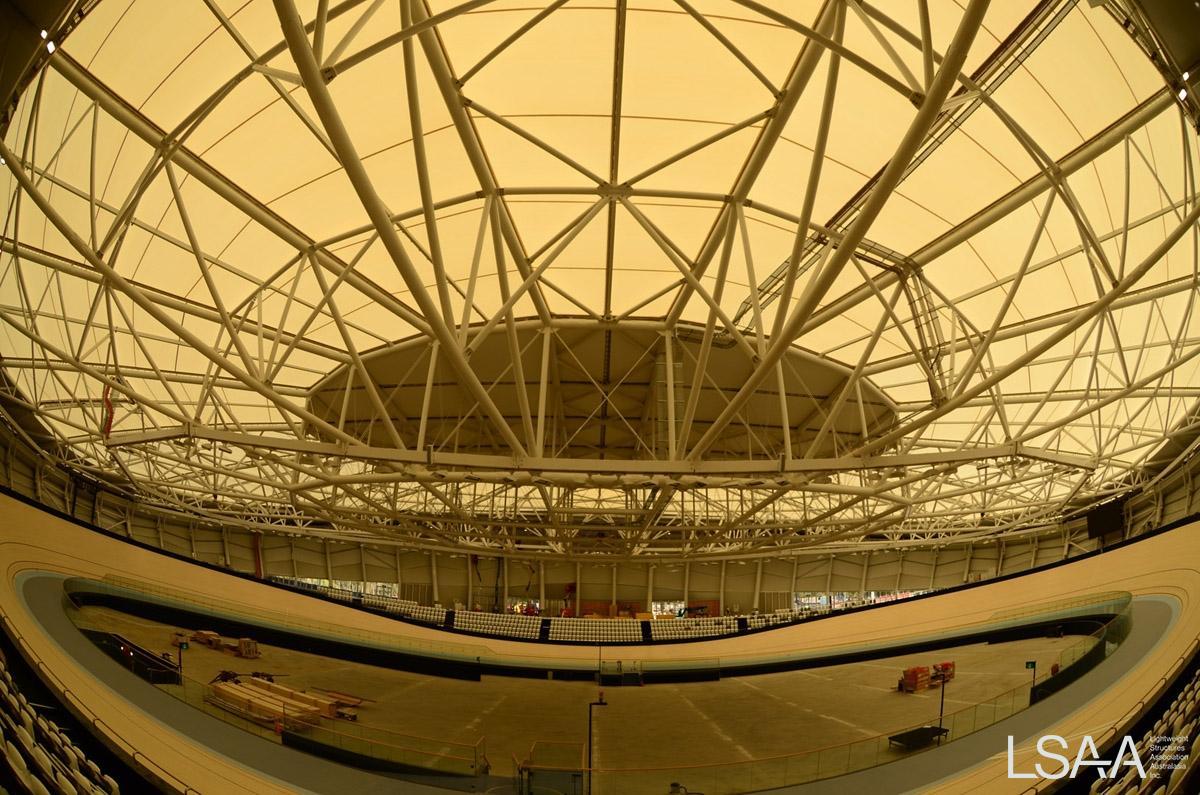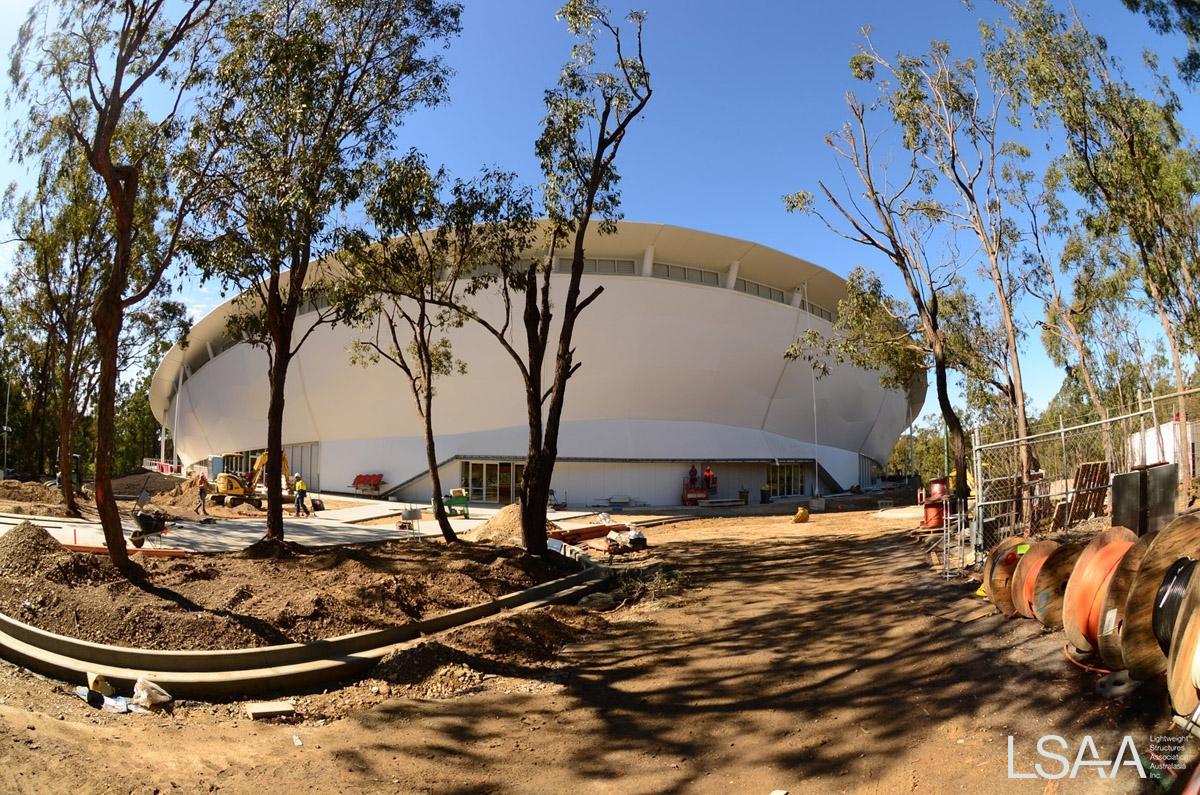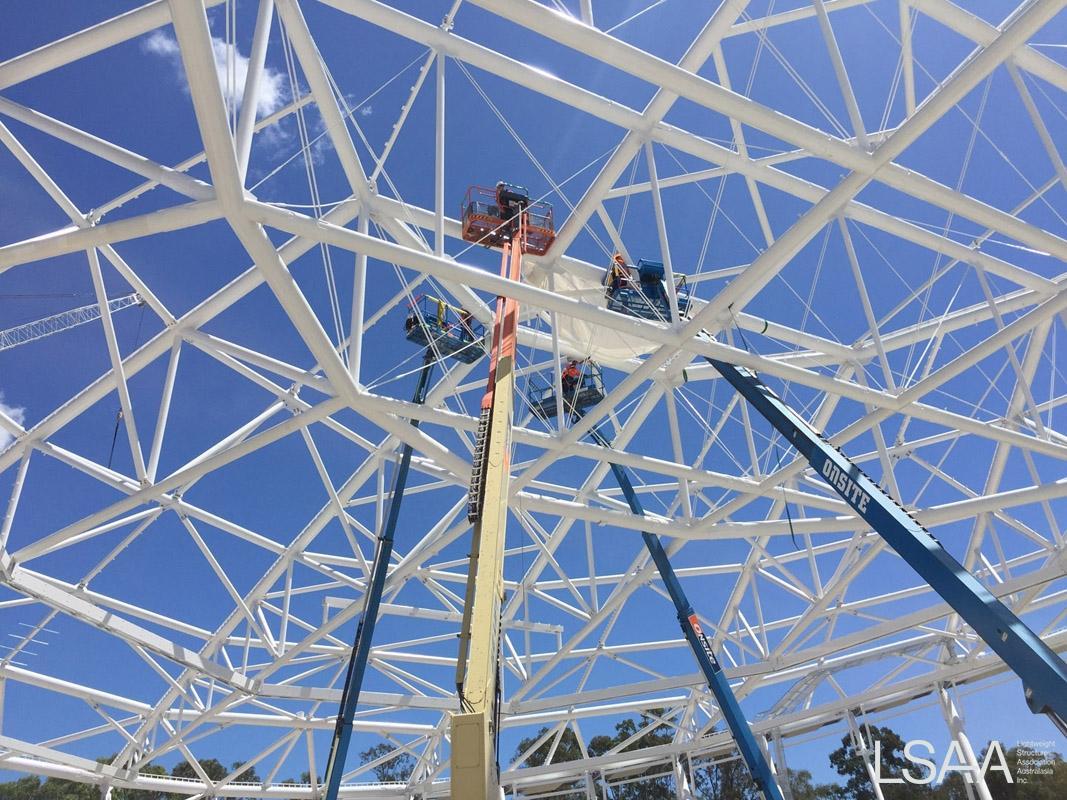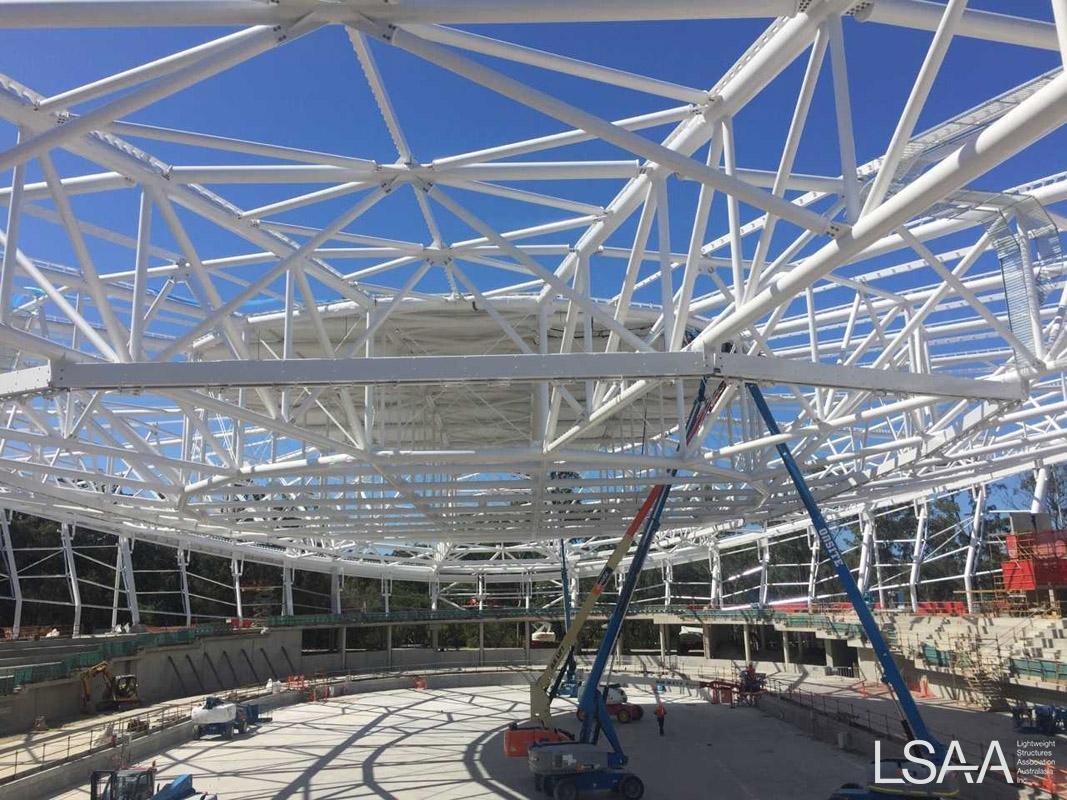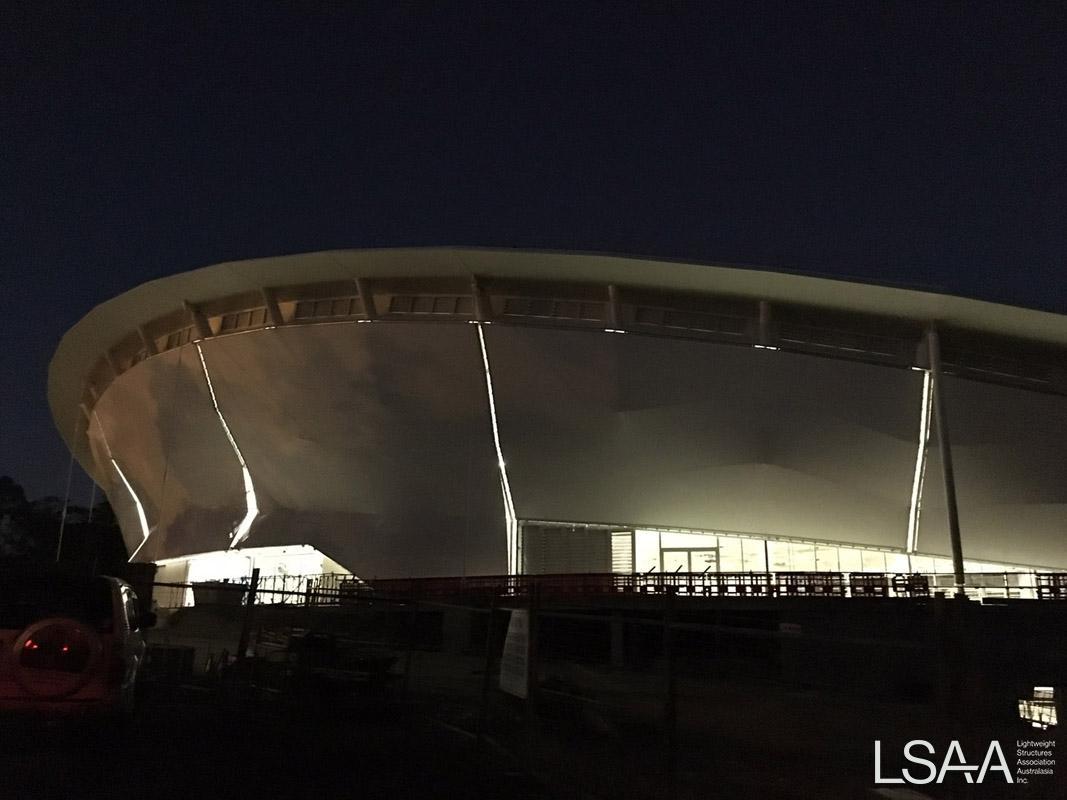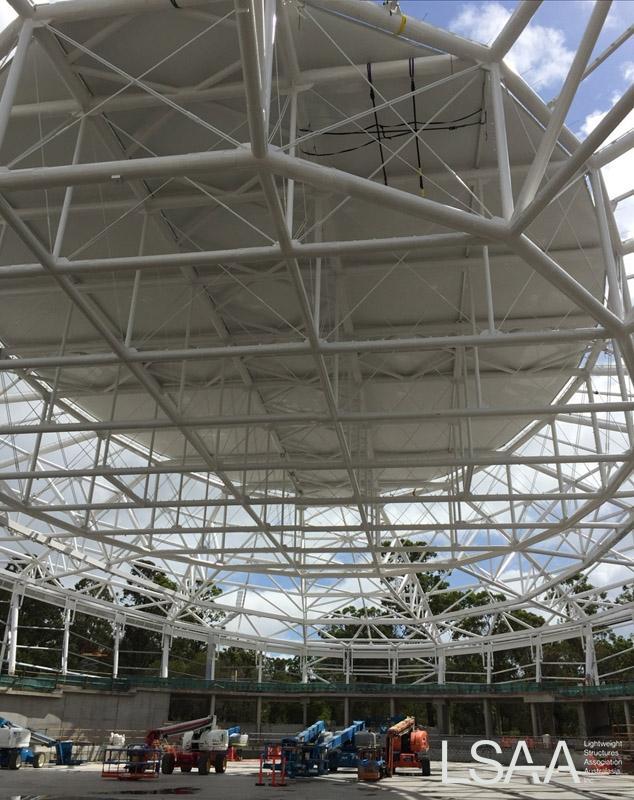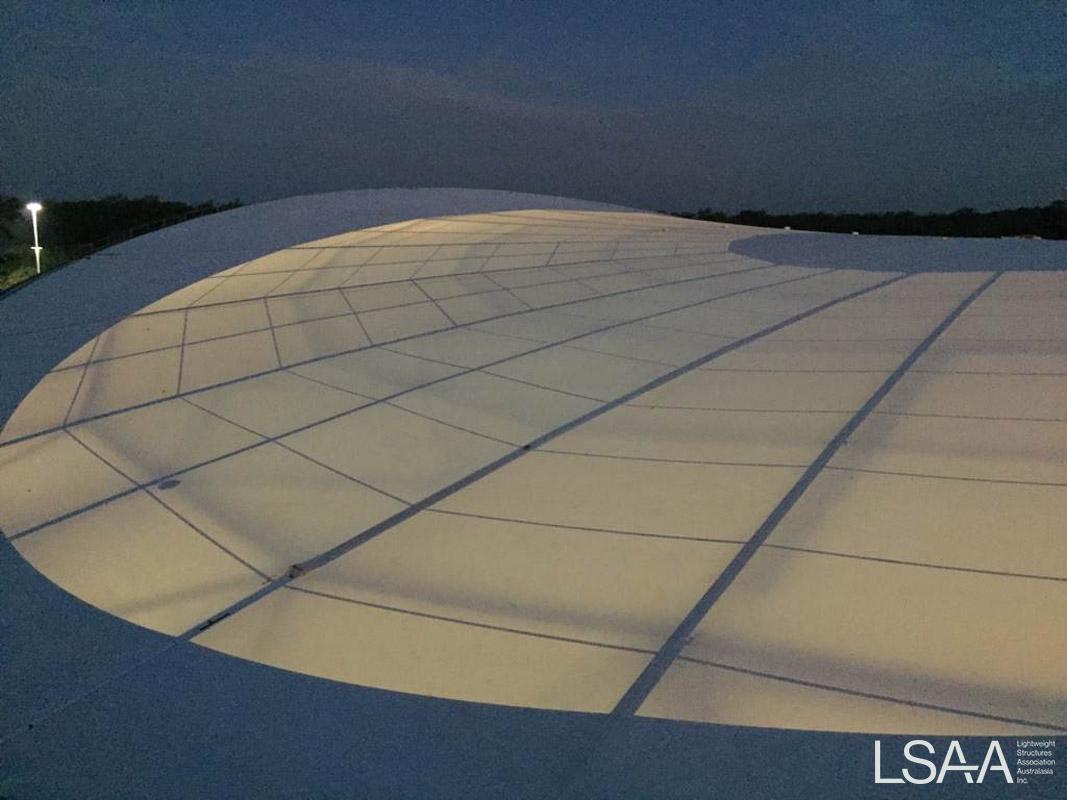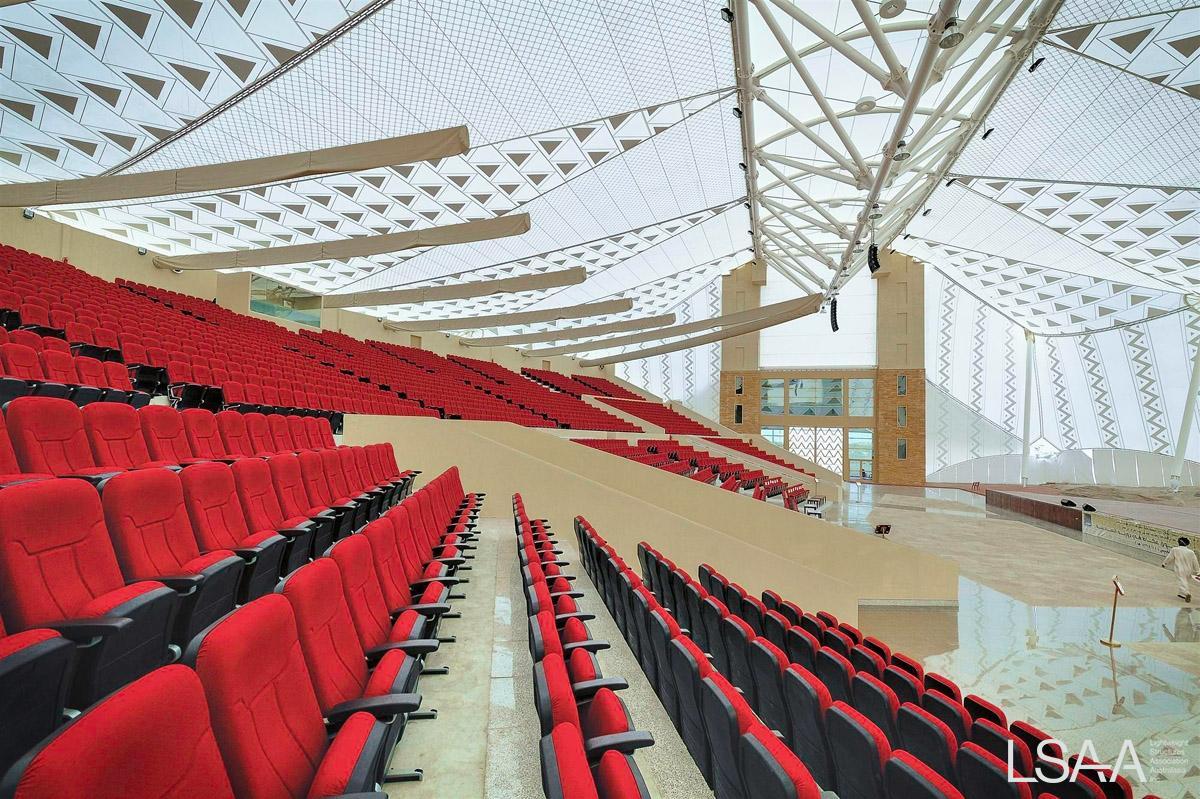 LSAA Design Awards 2013 Award of Excellence (Cat 6, ID 4303)
Souk Okaz Public Theatre
Entrant: MakMax Australia
Location: Taif City, Kingdom of Audi Arabia

Client: Taif City

Completion Date: March 2013
Judges Comments:
"Well integrated and designed perfectly for its place."
"This looks to be very successful integration of lightweight elements with solid architecture. There's no sense that the roof has been conceived independently of the rest of the theatre. Lovely tent-like effect; very effective use of pattern on the 'fly sheet'."
PROJECT DESCRIPTION: Decorative roof, culturally significant
The purpose of Souk Okaz Public Theatre was to deliver both a functional public space for cultural activities and evocative ambience reminiscent of the ancient pre-Islamic era of a bustling Bedouin market place.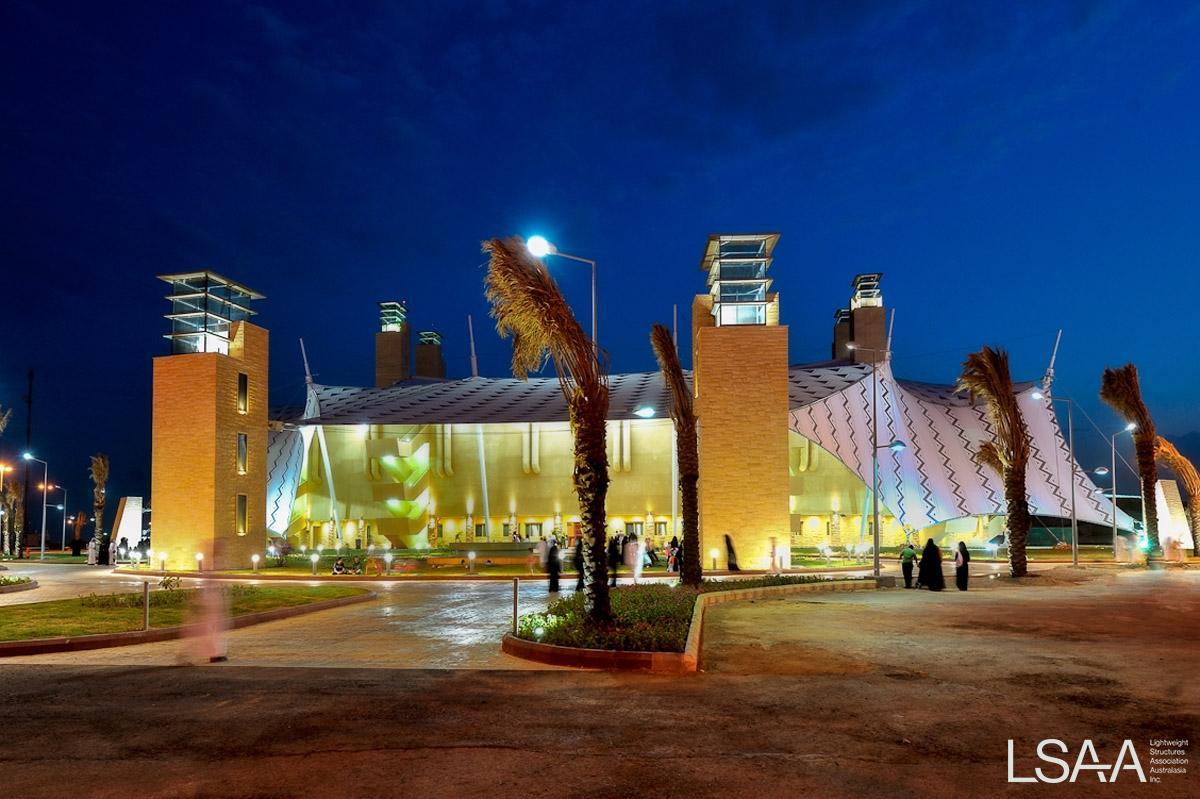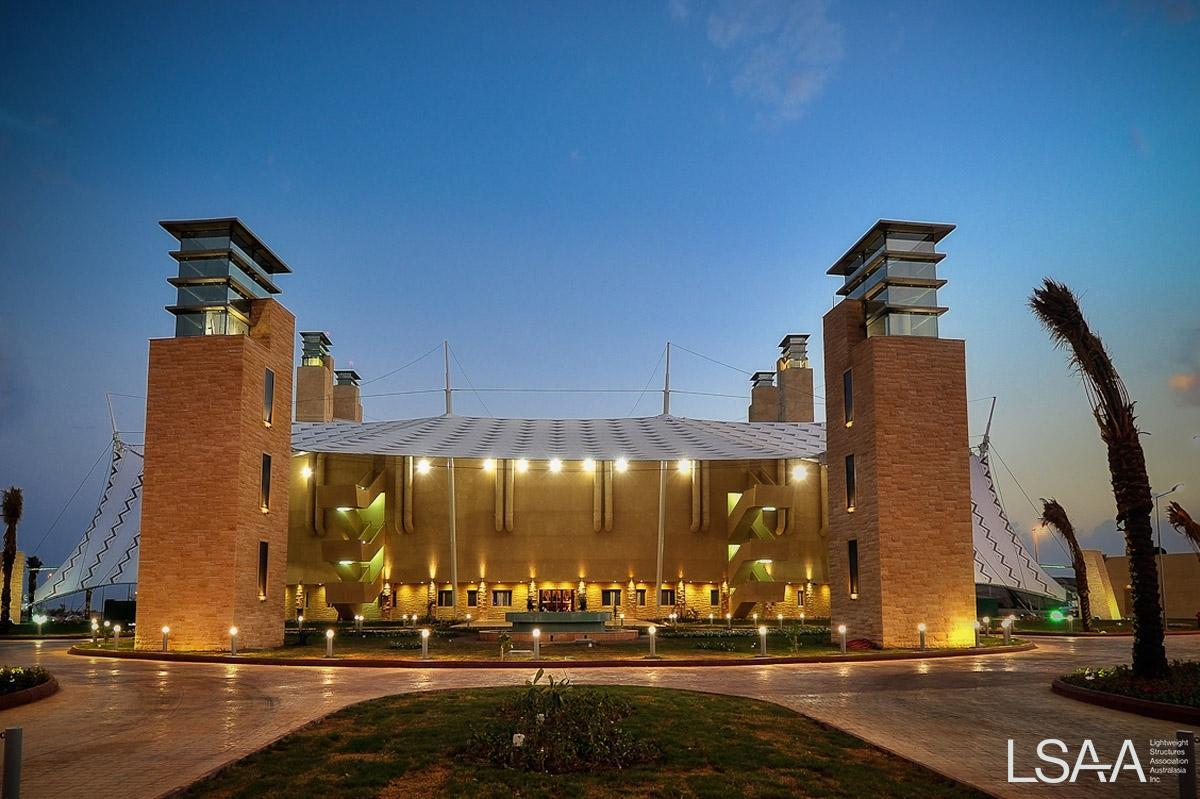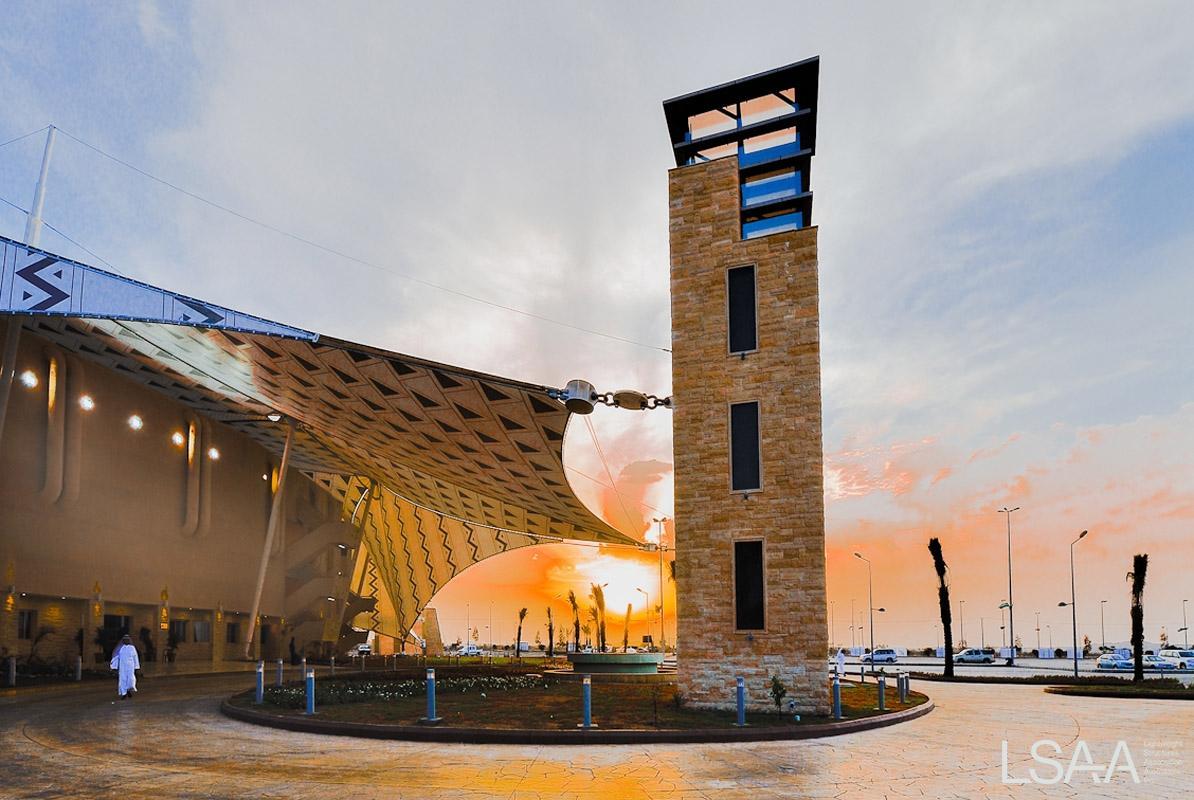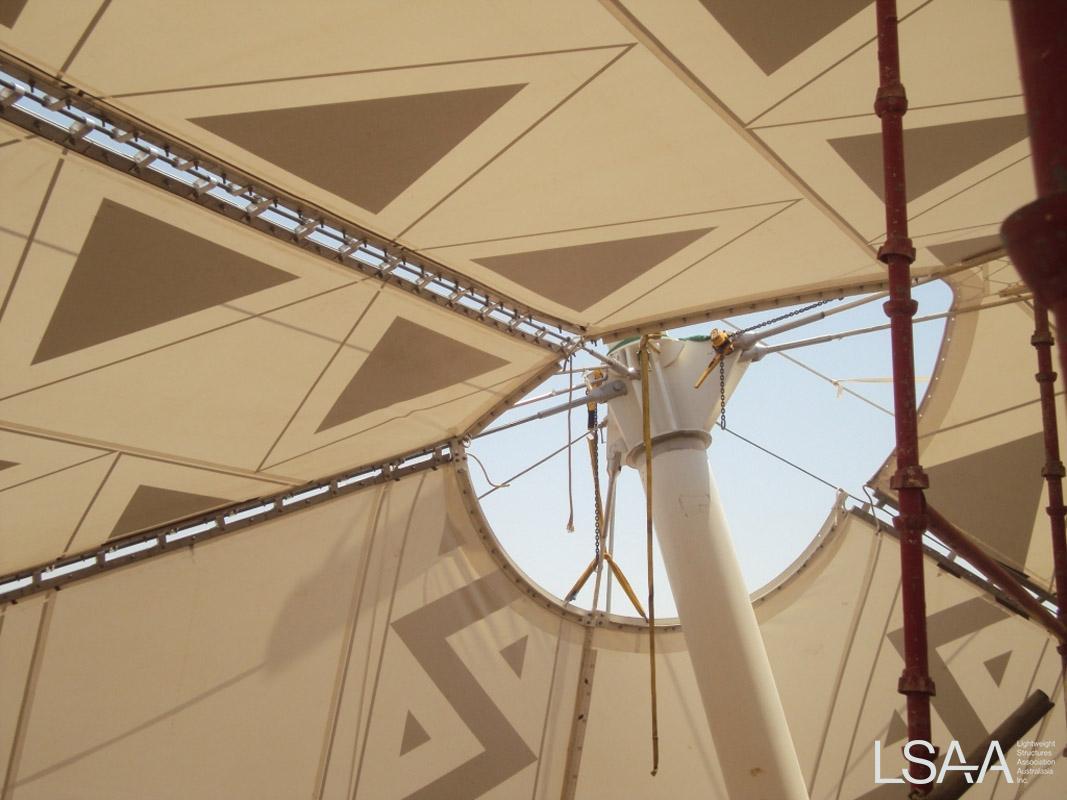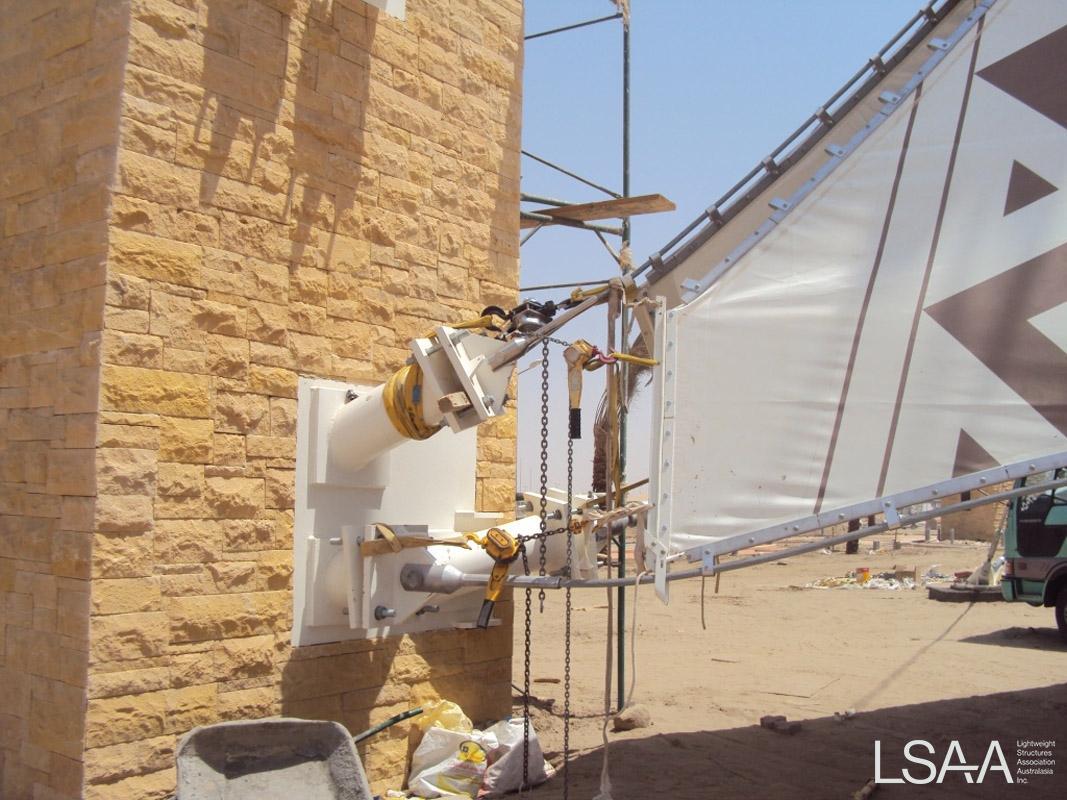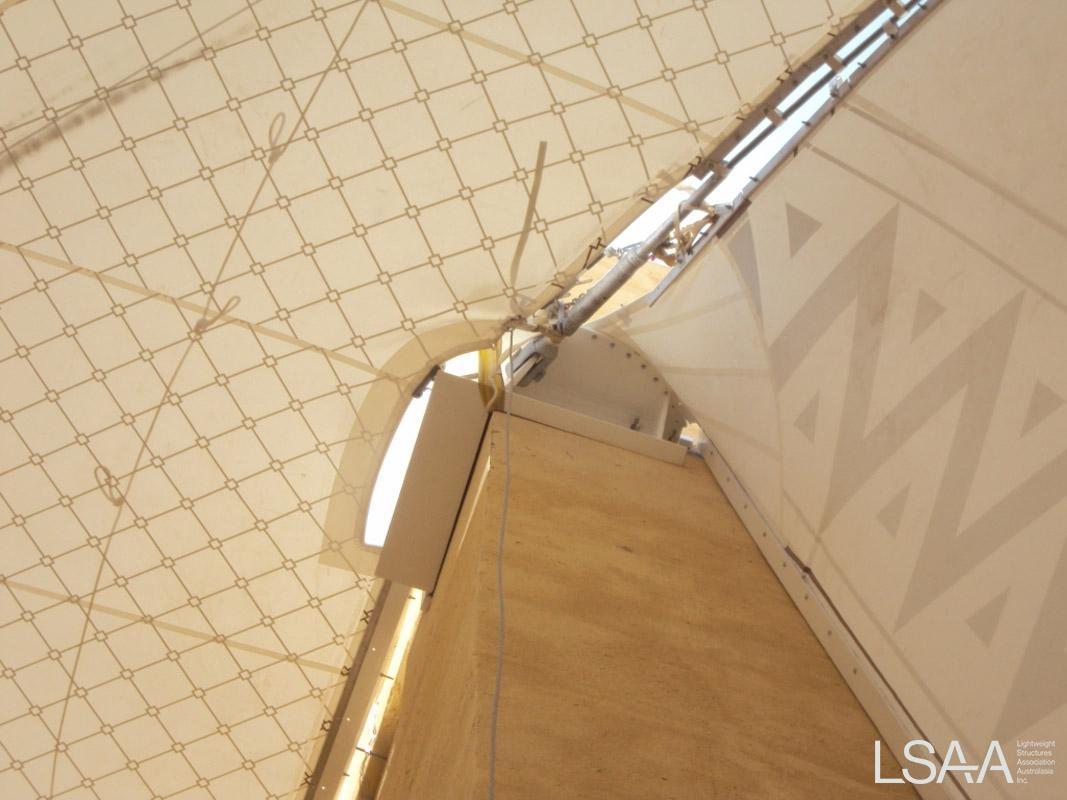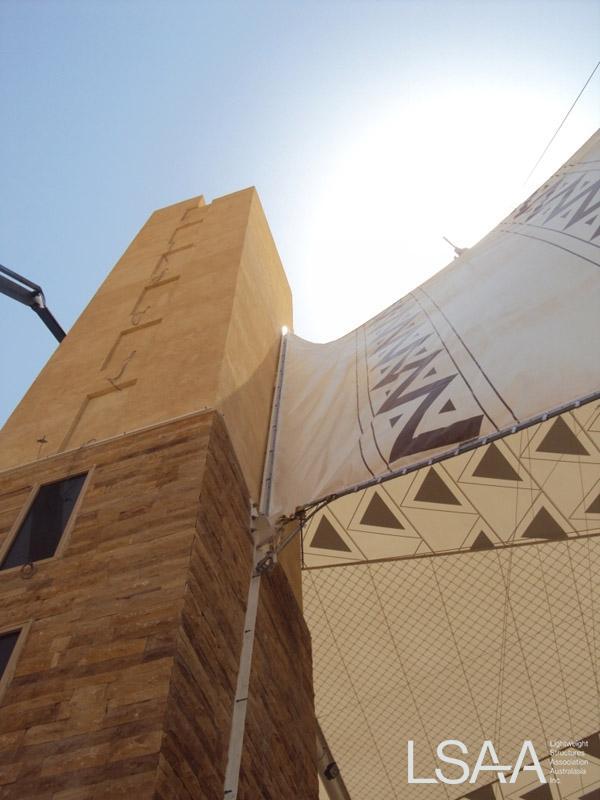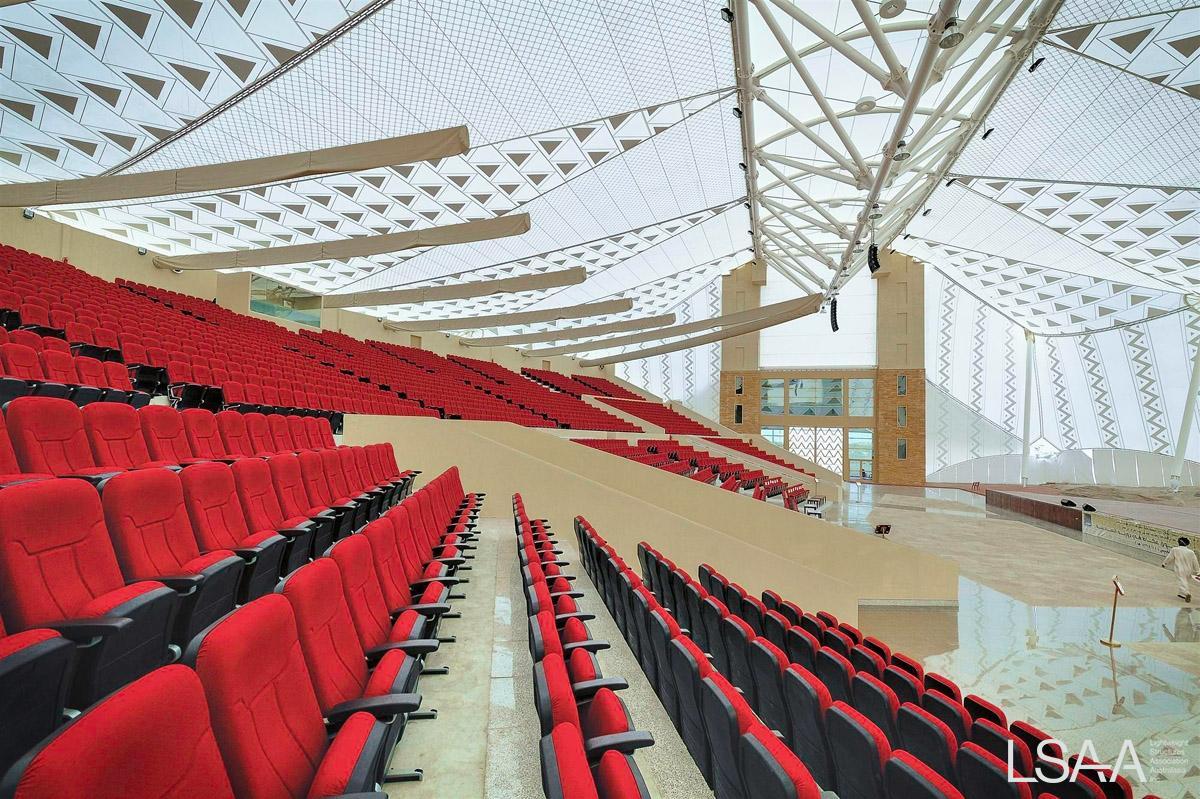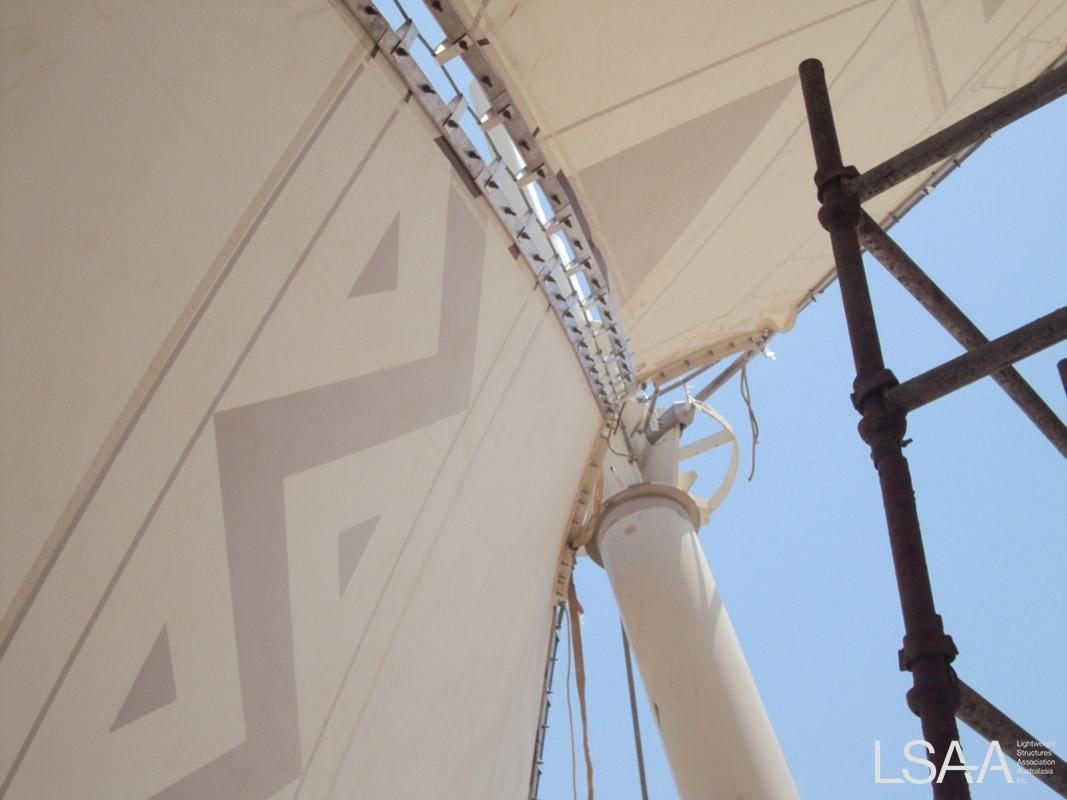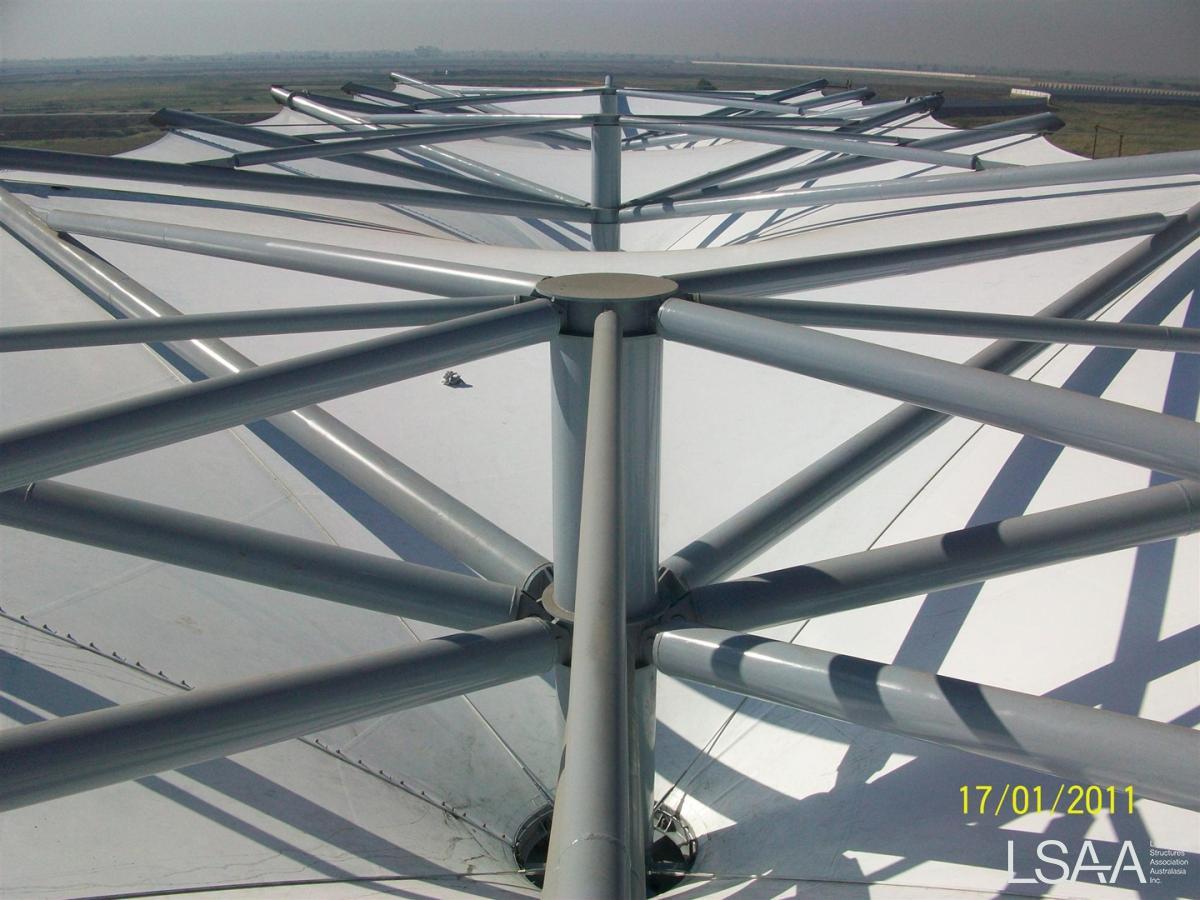 LSAA 2011 Design Award Entry: Cat 4, (7008) Panoli Gate - India
PROJECT DESCRIPTION
As a flagship development in the area Panoli needed a striking and unique entrance. MakMax's Indian office was able to provide a prominent entrance structure to suit. The project, Panoli Gate House presented a new challenge for MakMax engineers. The large 1,300 sqm area required shade, weather protection, as well as a plan for collecting run off. Inspired by the design and functionality of the St Tropez products MakMax already produces as standard products, engineers decided to replicate this shape and function on a grand scale.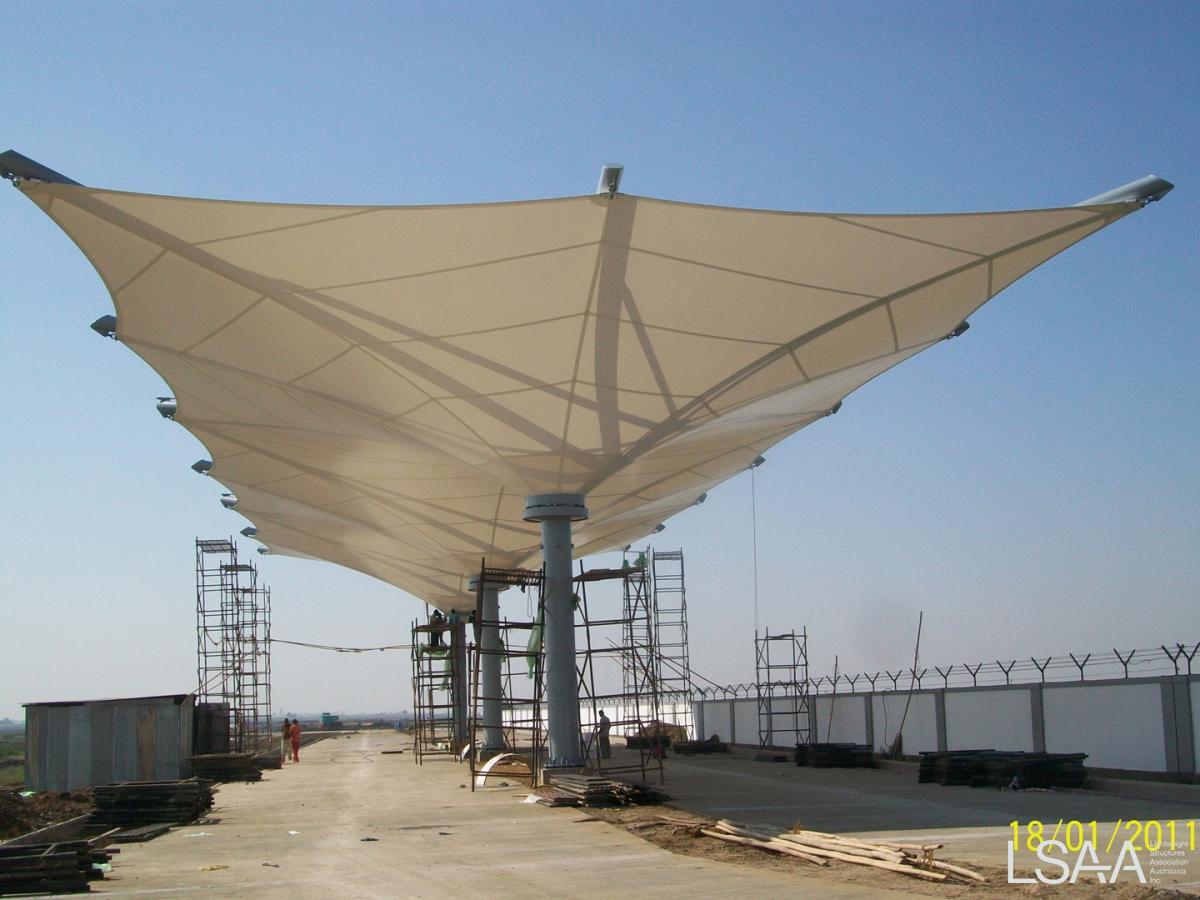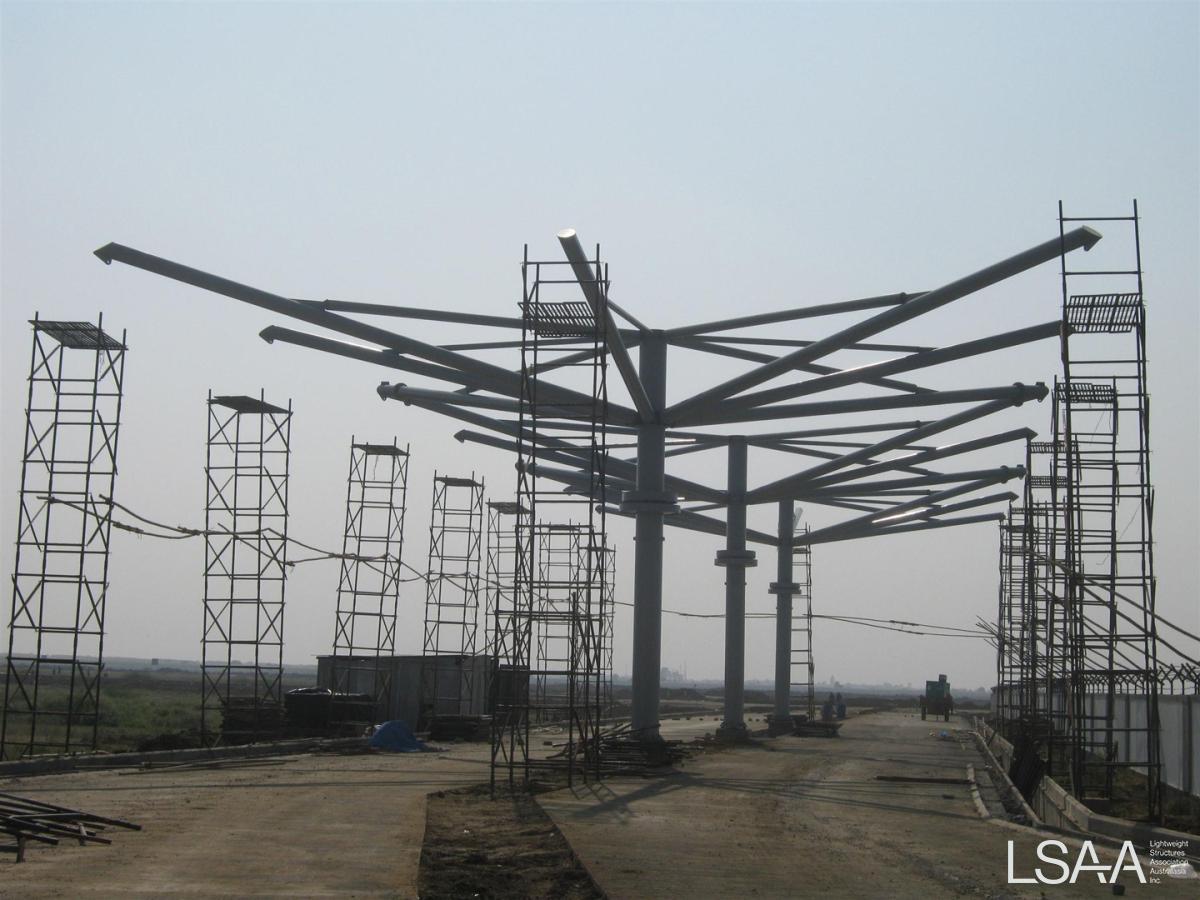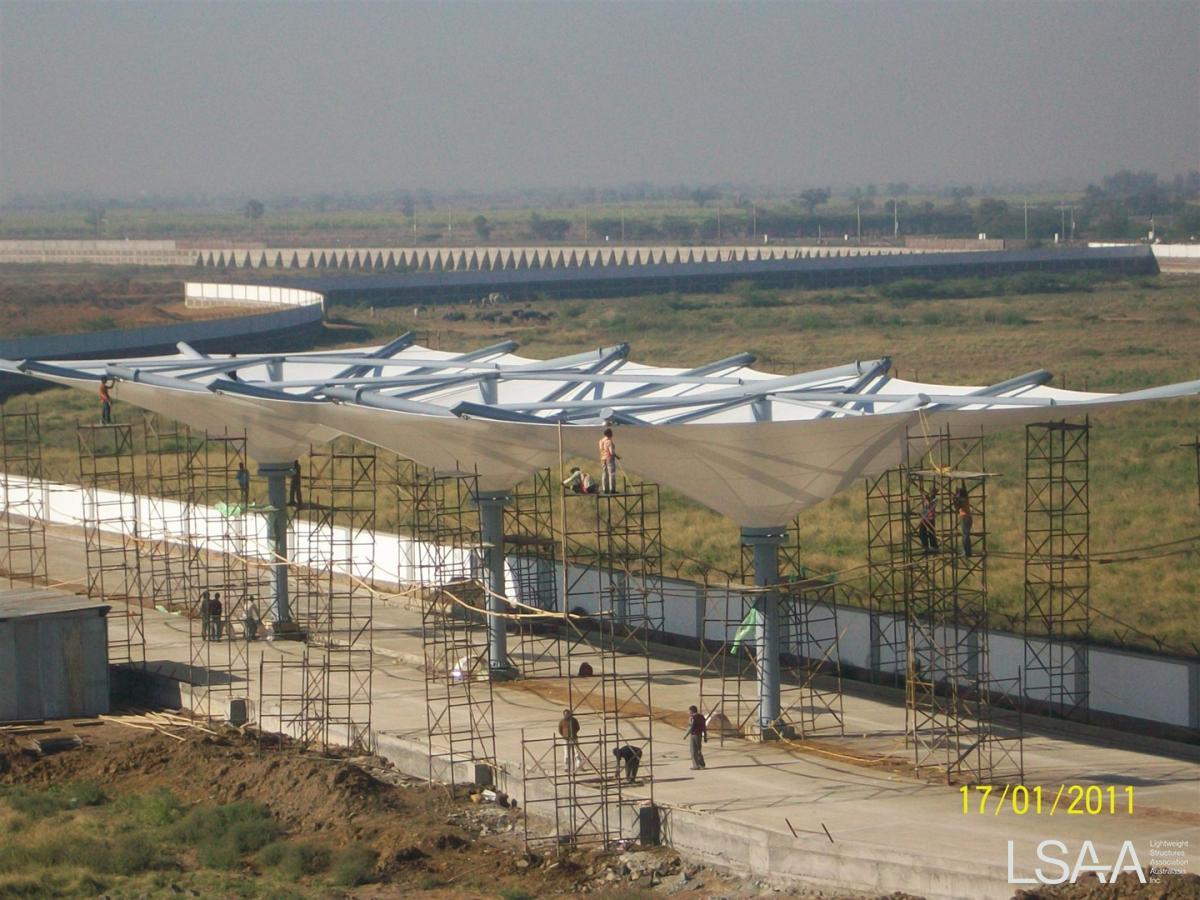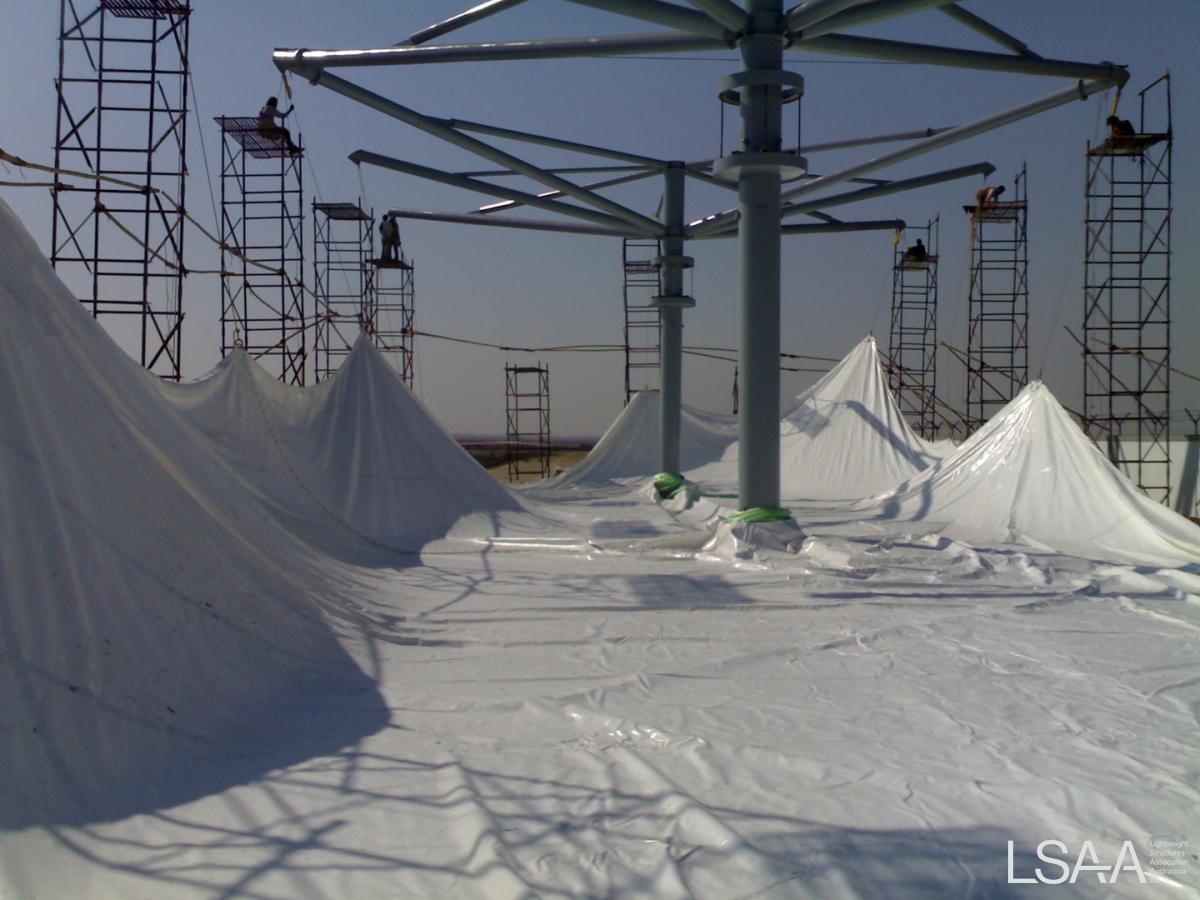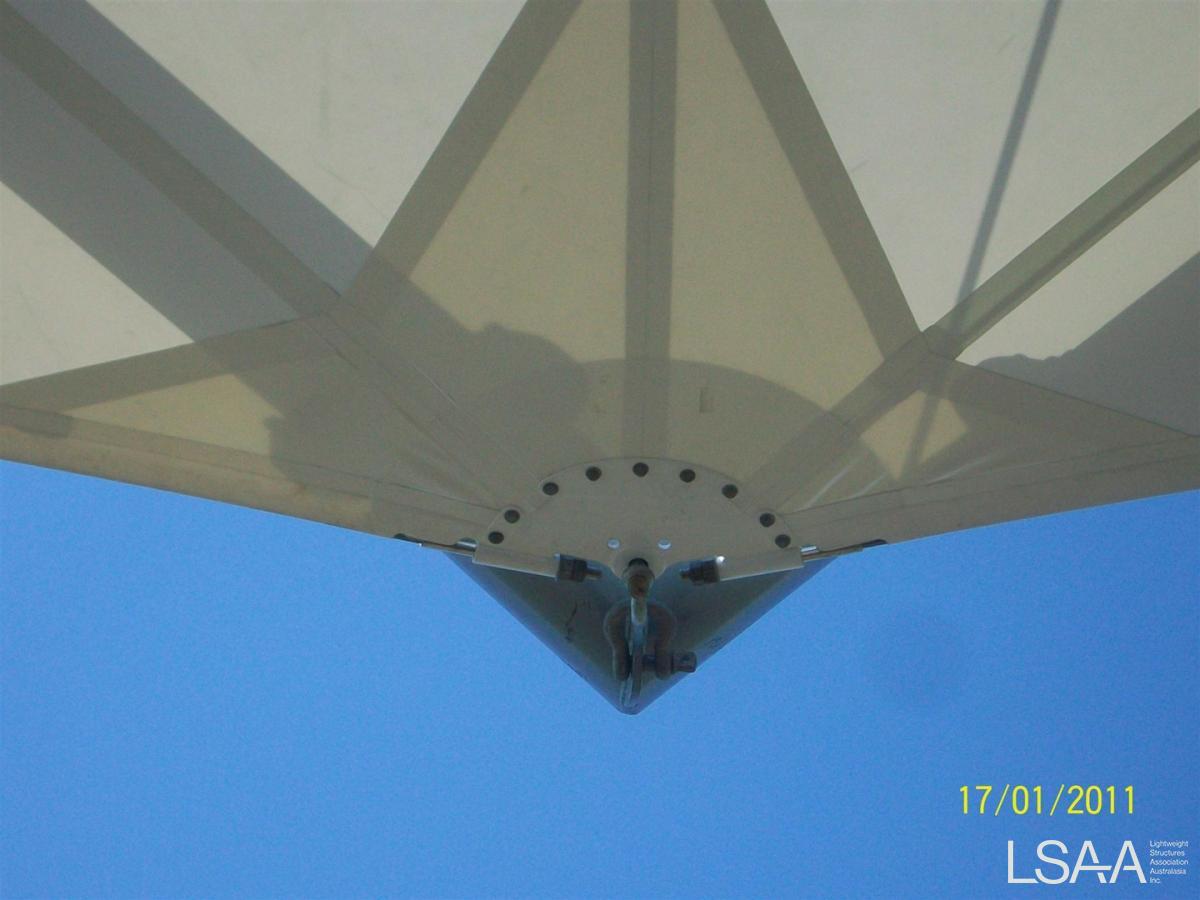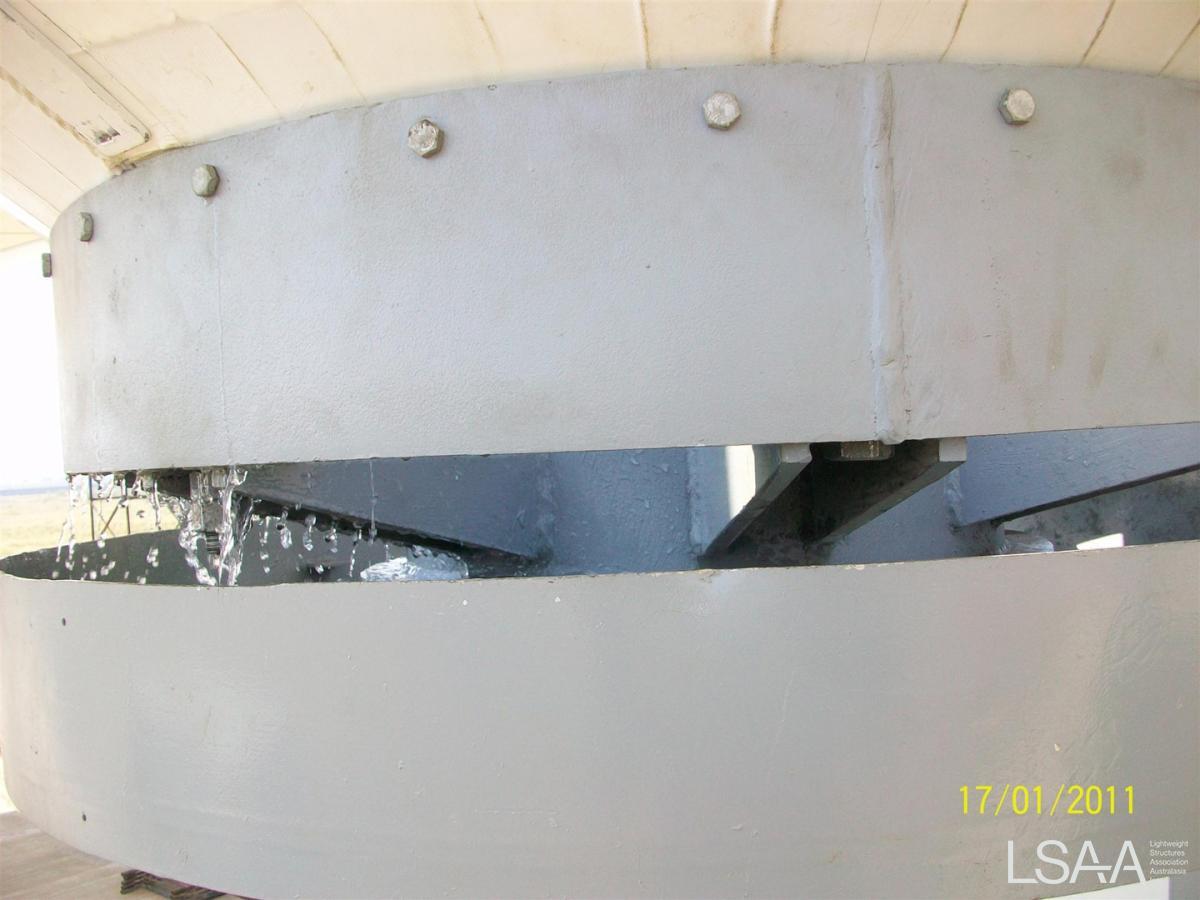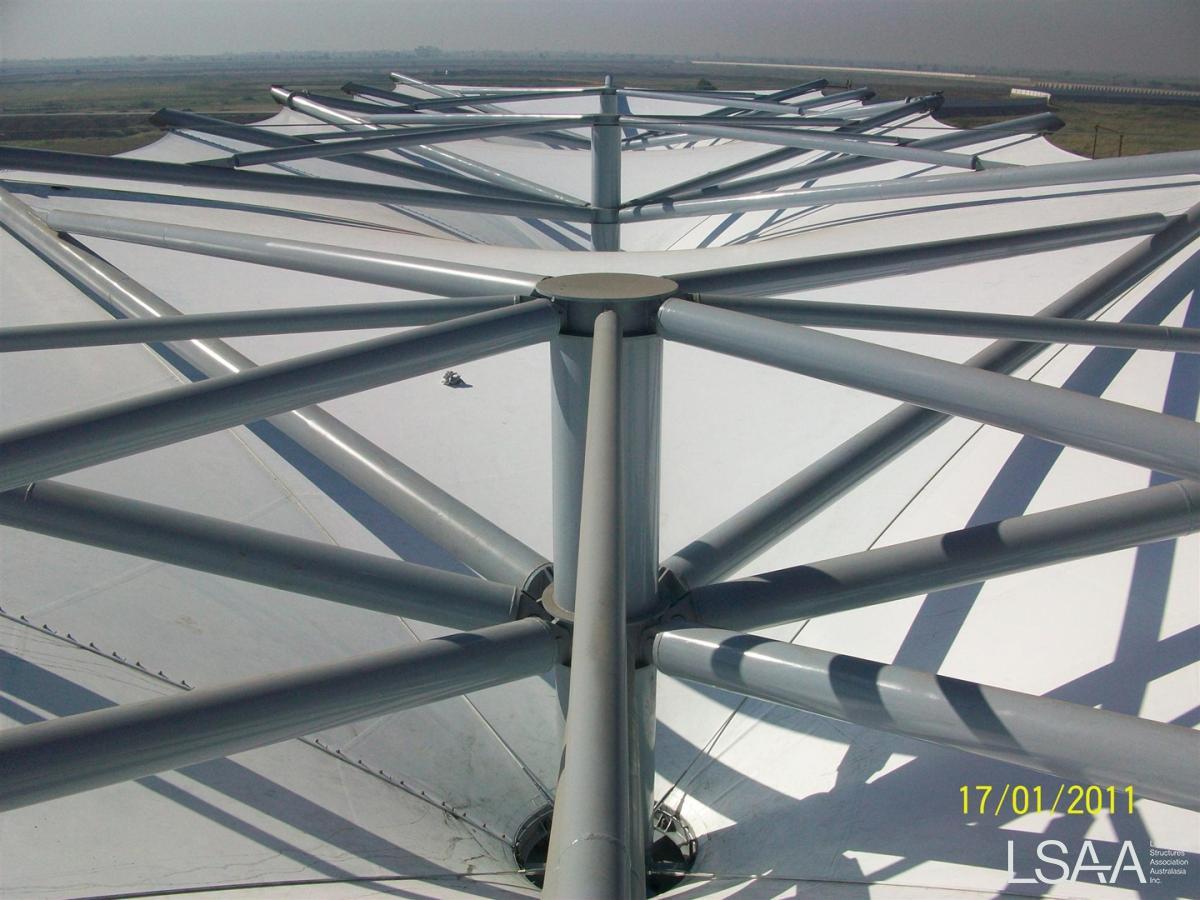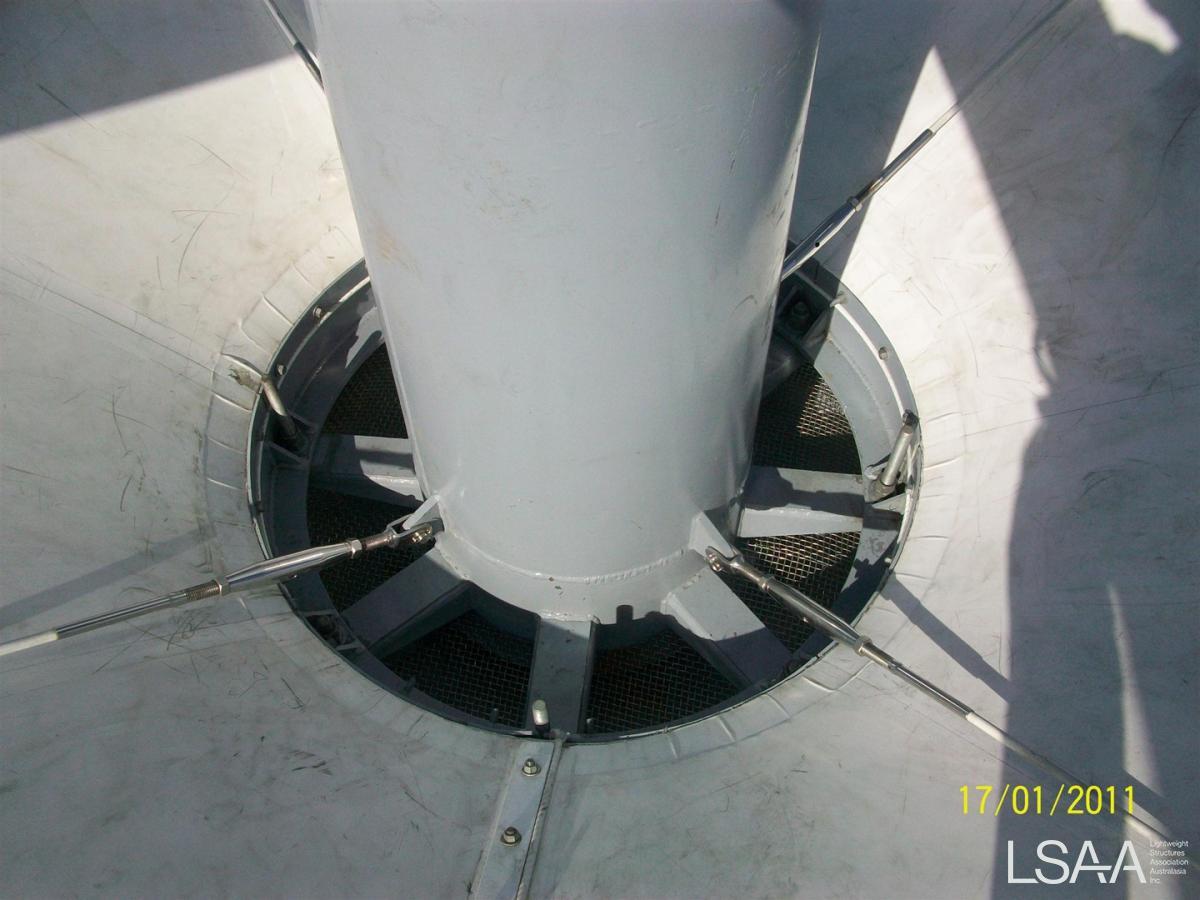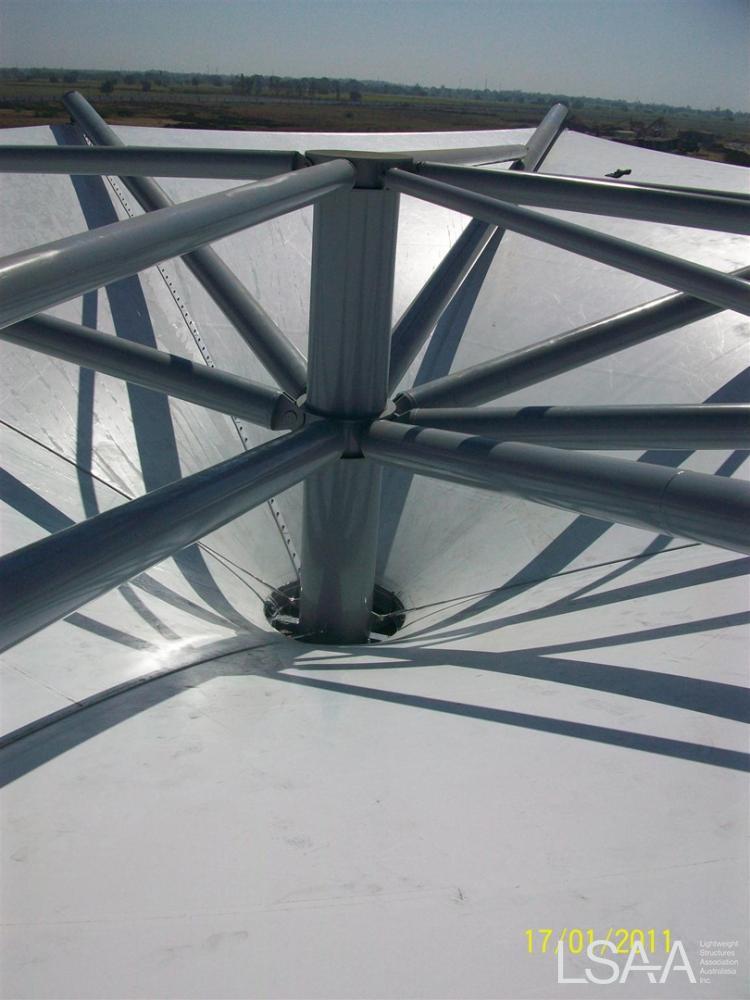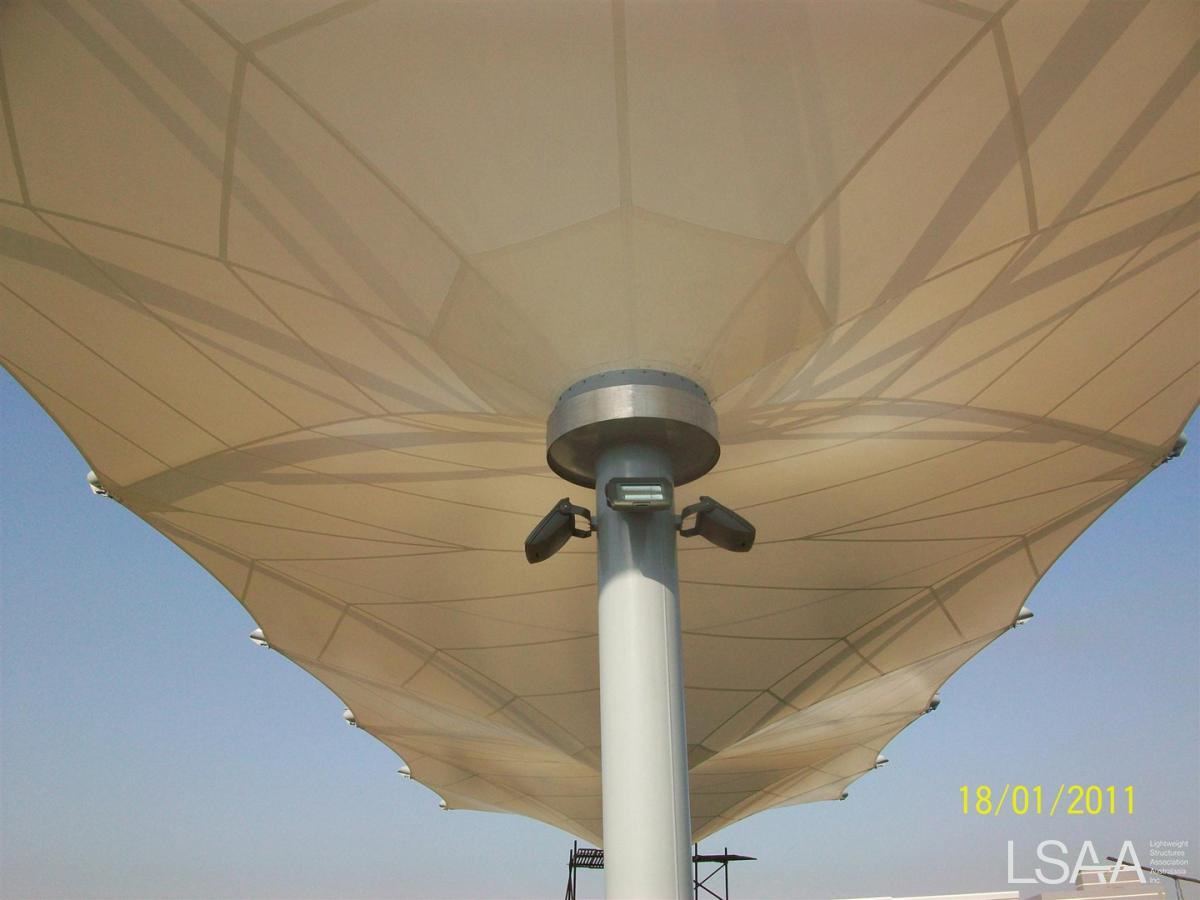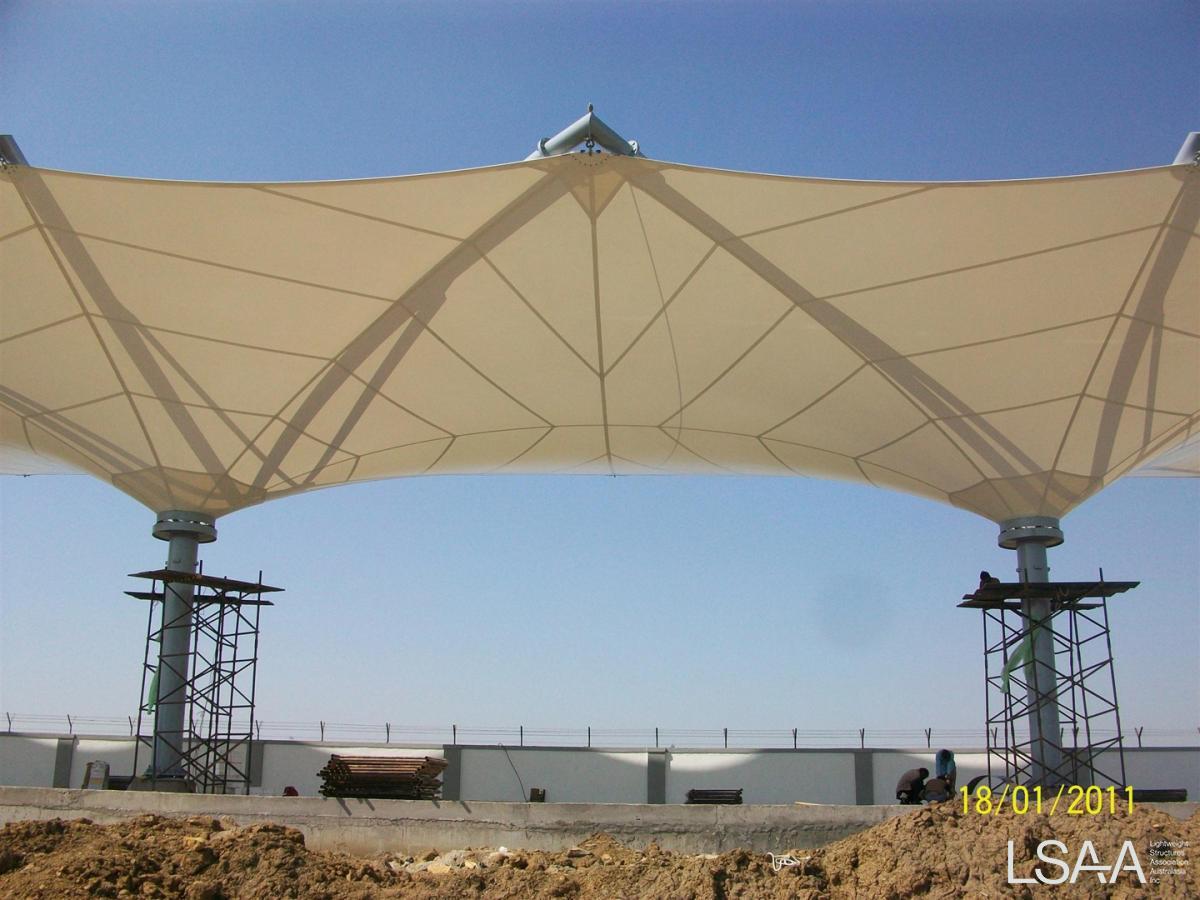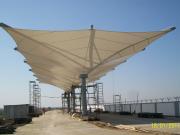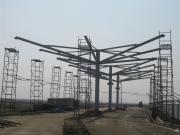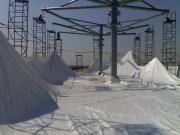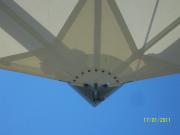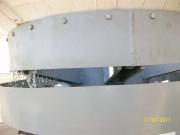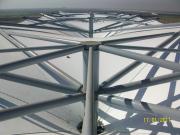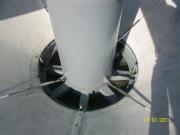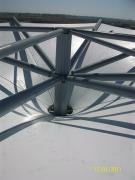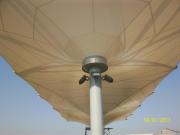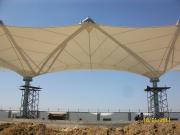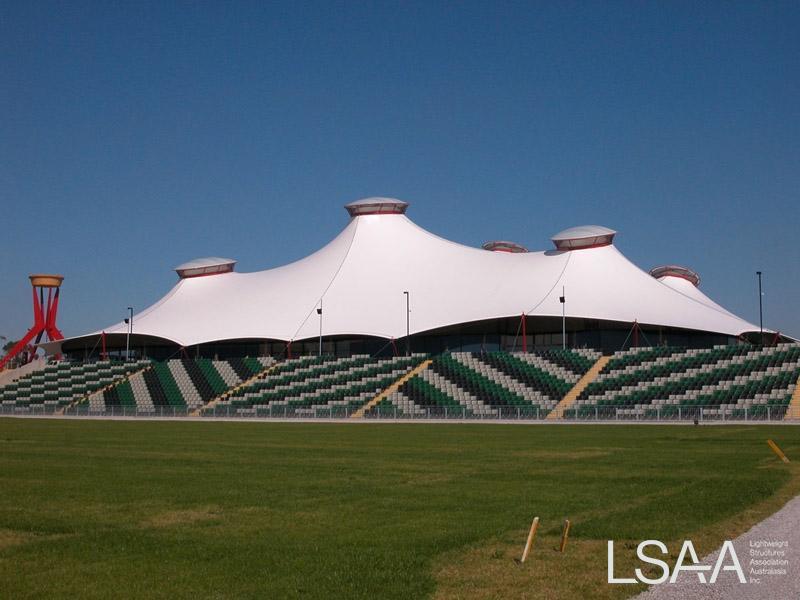 Entered into the LSAA Design Awards 2007 (Large Structures, 3195)
Entrant: Oasis Tension Structures
Client: Multiplex Constructions (Vic) Pty Ltd
Architect: Darryl Jackson Pty Ltd
Structural Engineer: Tensys
Specialist Consultant(s): Drafting Steel One
Builder: Oasis Tension Structures (Australia) Pty Ltd
Fabricator(s): Atkins Fabrications Pty Ltd Structurflex NZ,
Geelong Fabrications, Ronstan
Aside from the images below, no other details have been entered for this project.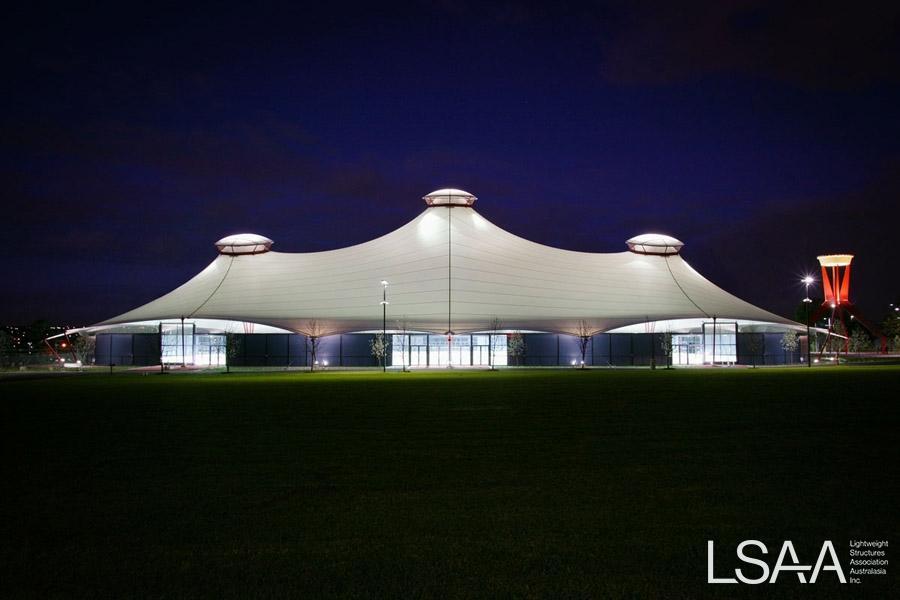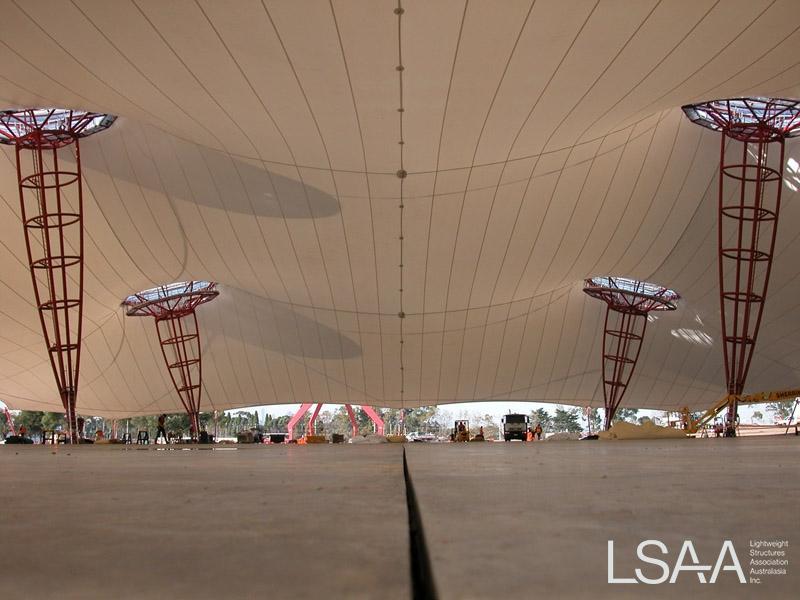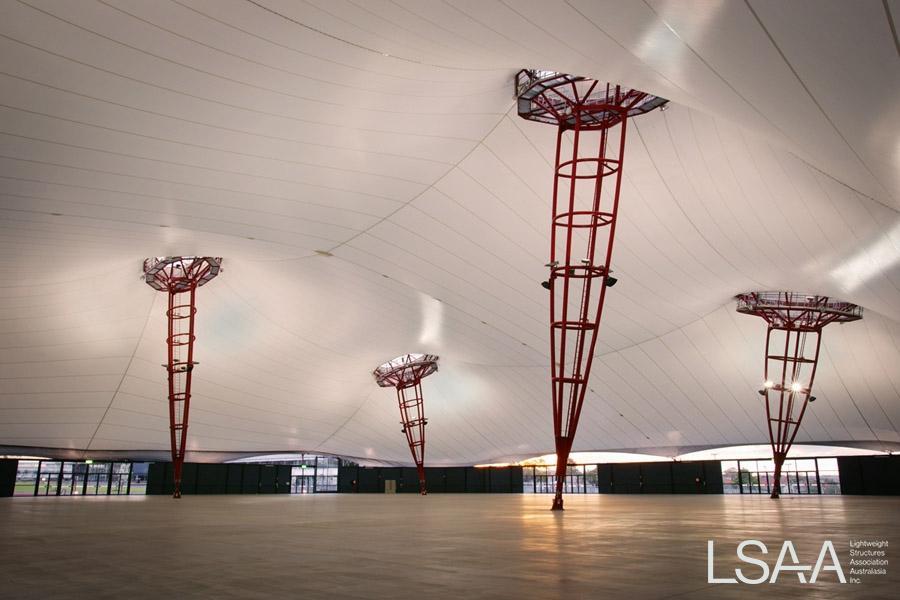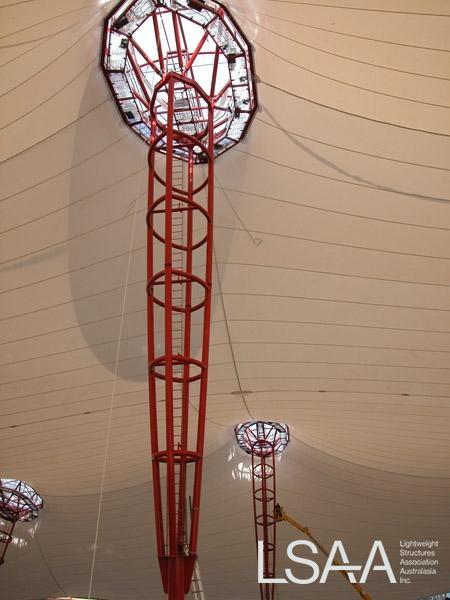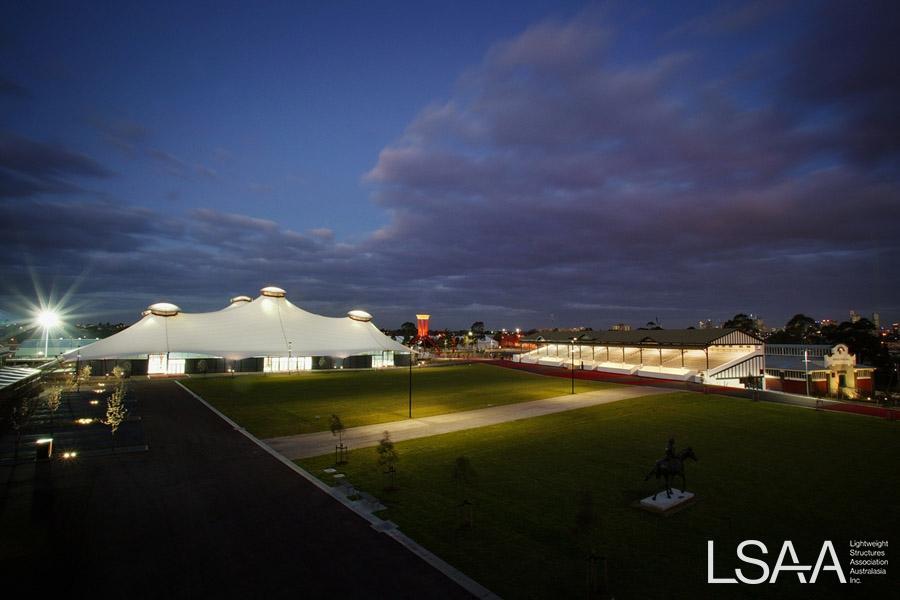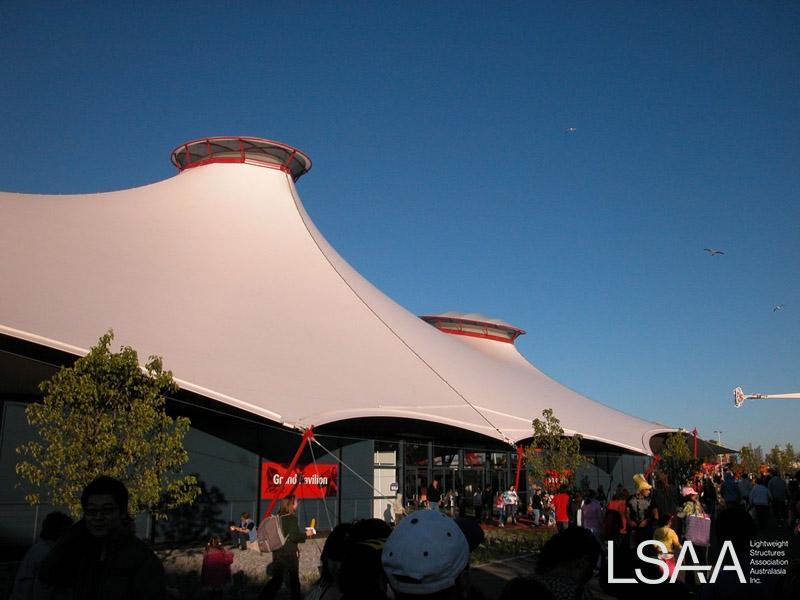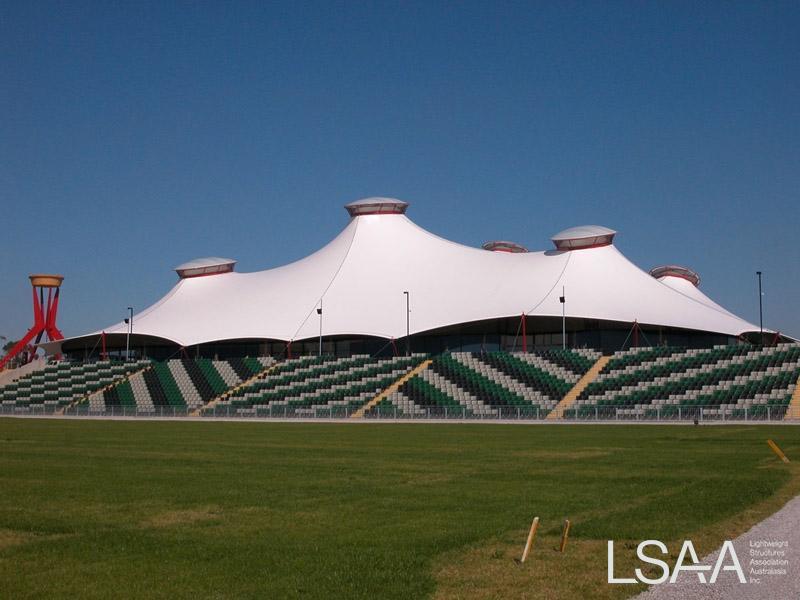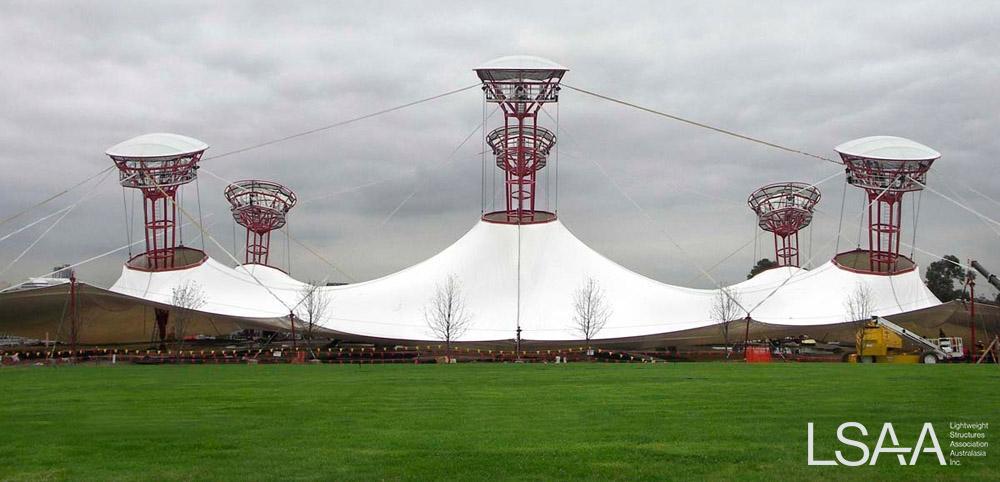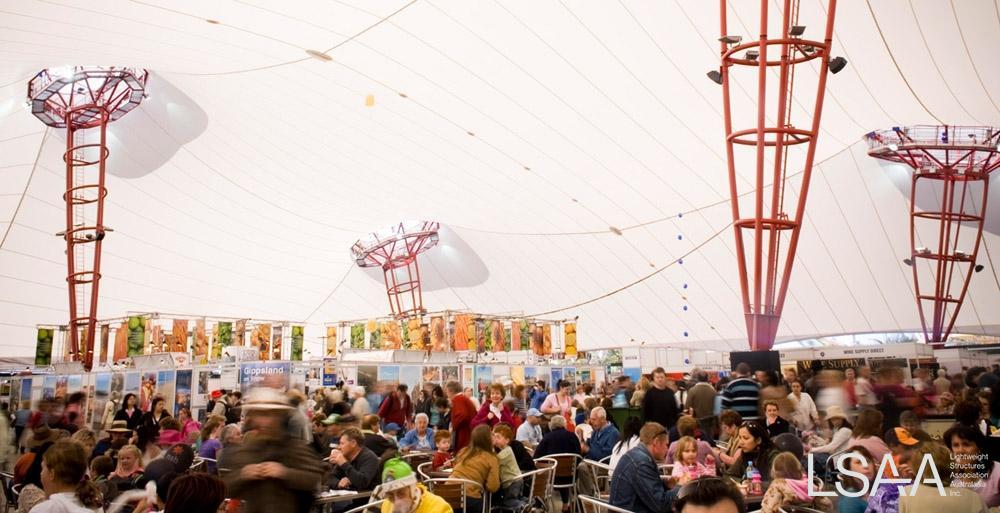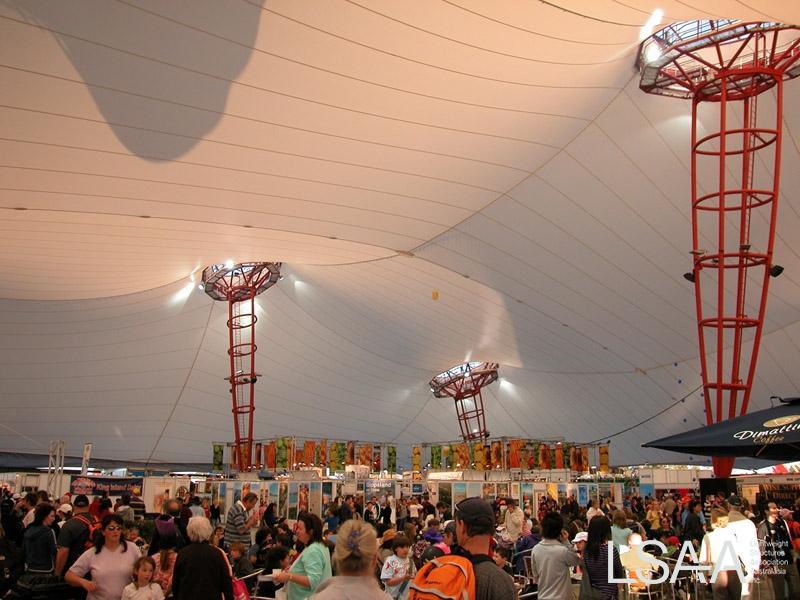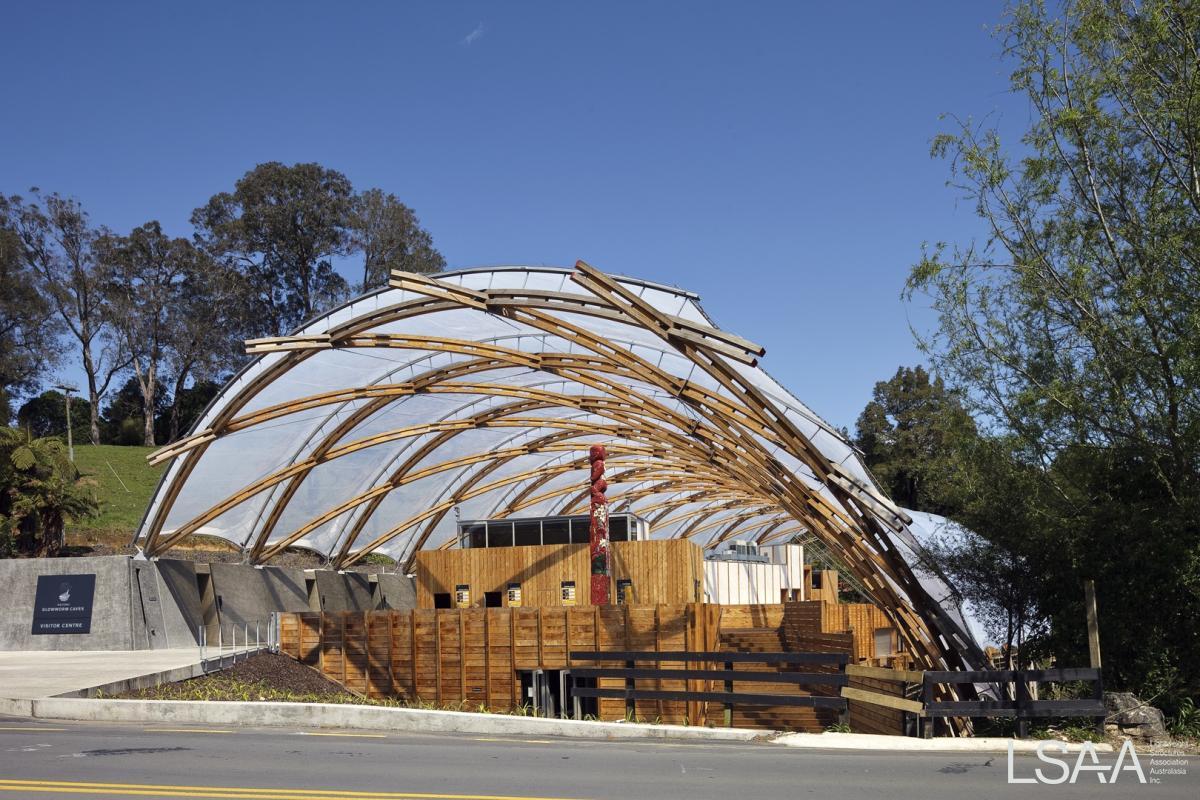 Entered into the LSAA 2011 Awards (Cat 4, 4610)
PROJECT DESCRIPTION
Sheltered below an innovative woven timber canopy, new amenities for visitors to the Waitomo Caves includes tourist gathering areas, 250-seat dining, retail, seminar and exhibition areas as well as a café and theatre for Tourism Holdings Ltd (Fig.1). (Note: These Figures / drawings are not available)
The cave entrance is accessed from the car park on the upper path while a lower path returns the visitors back alongside the stream exit (Fig. 2). Between these paths the amenities were accommodated within a simple base structure that extended the contours of the land (Fig. 3). The form of the base is distinguished and separate from the curved geometry of the overhead canopy.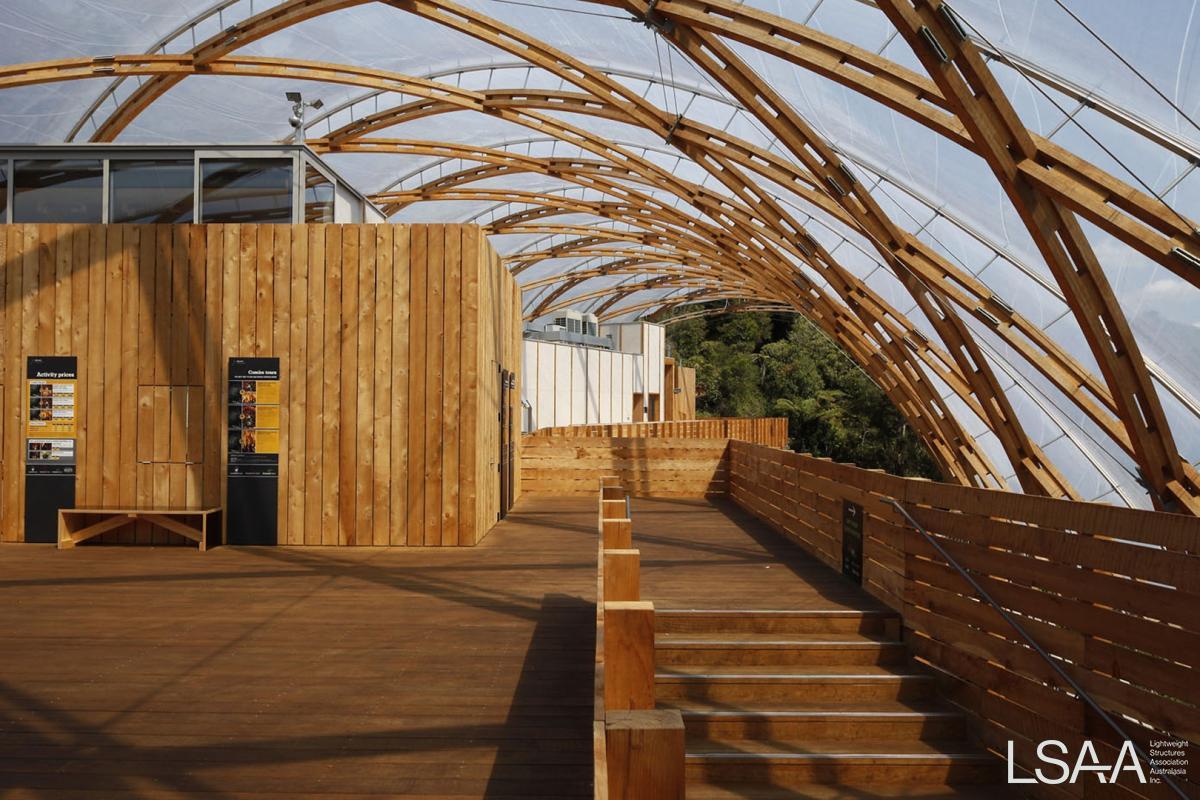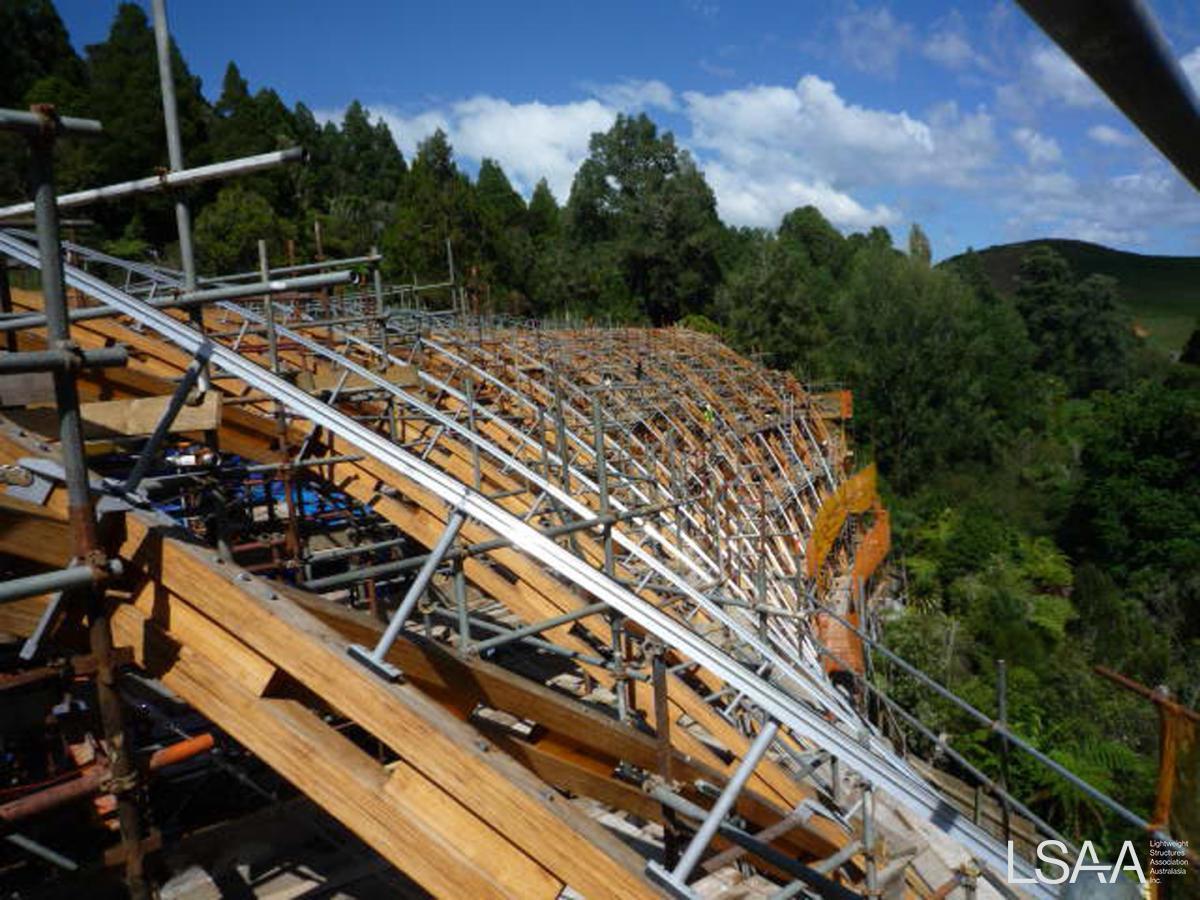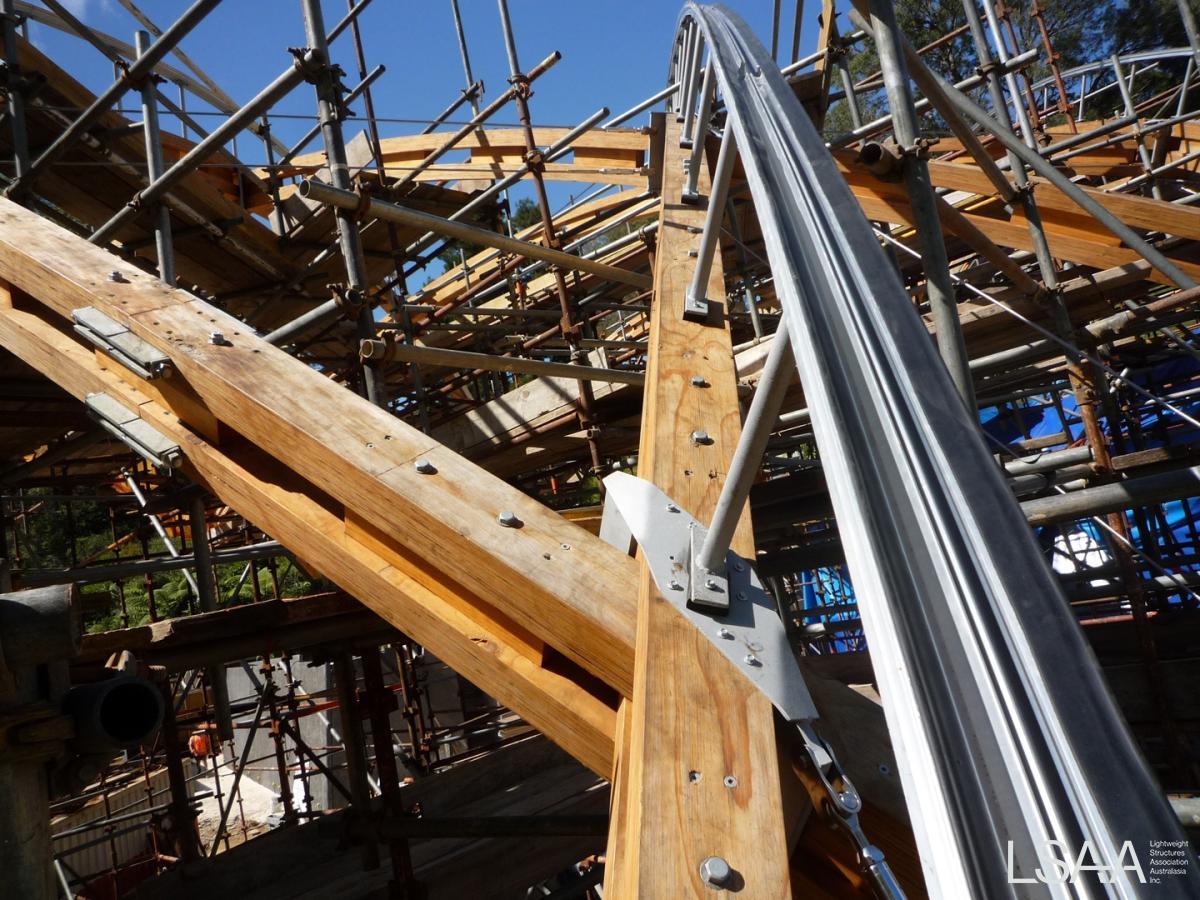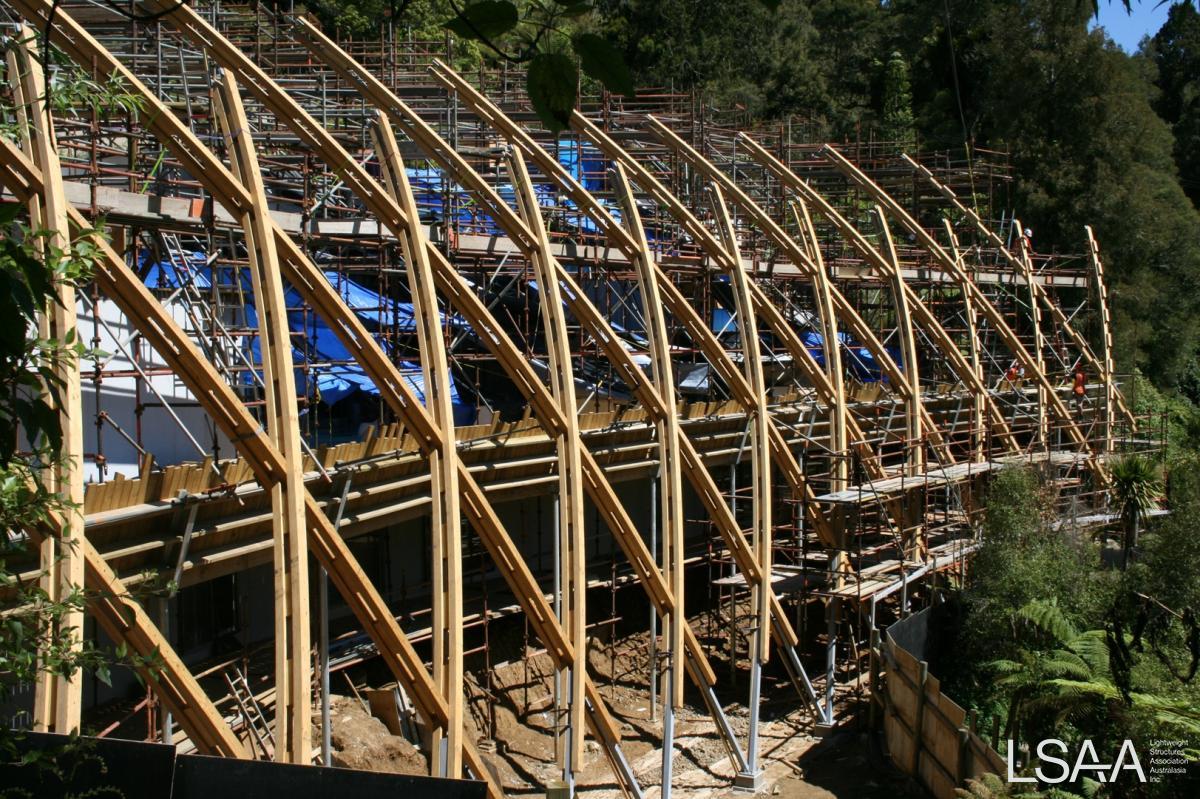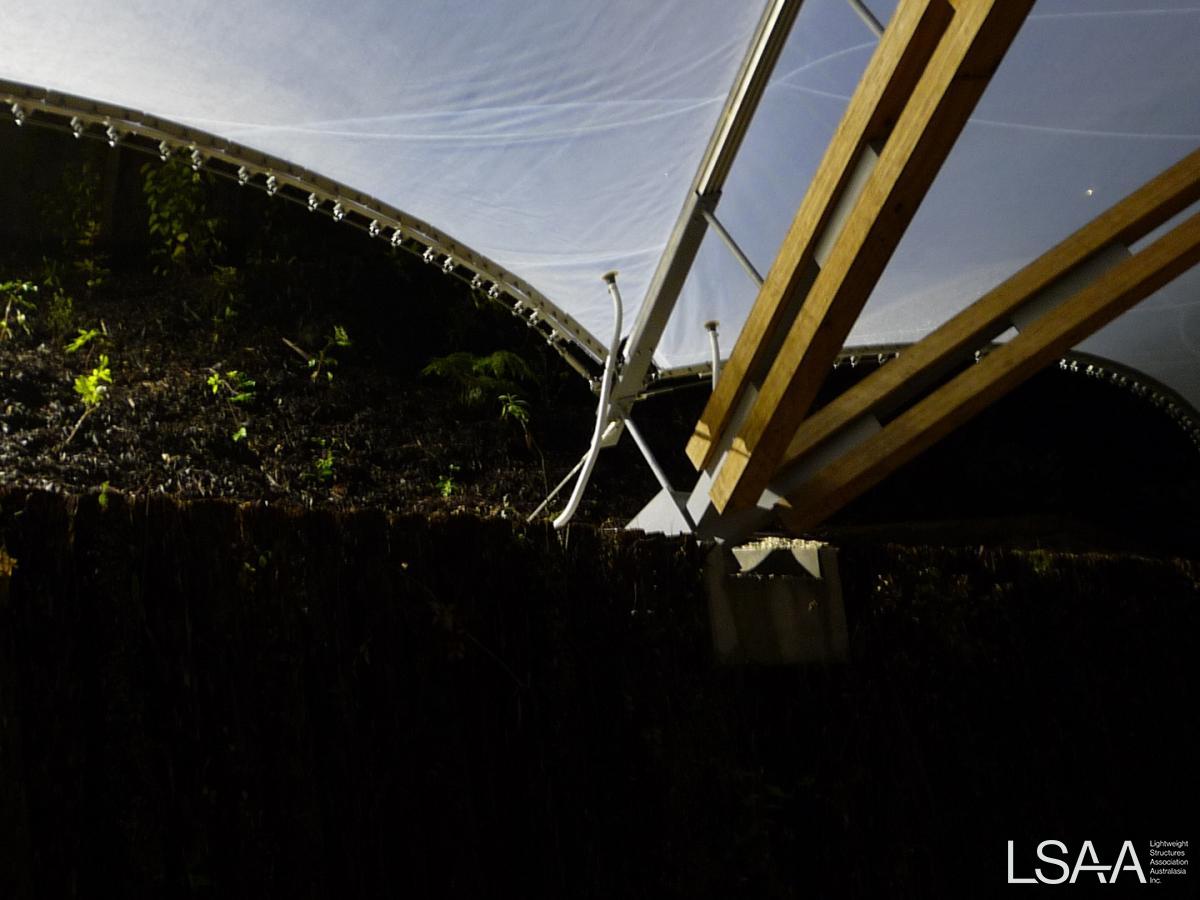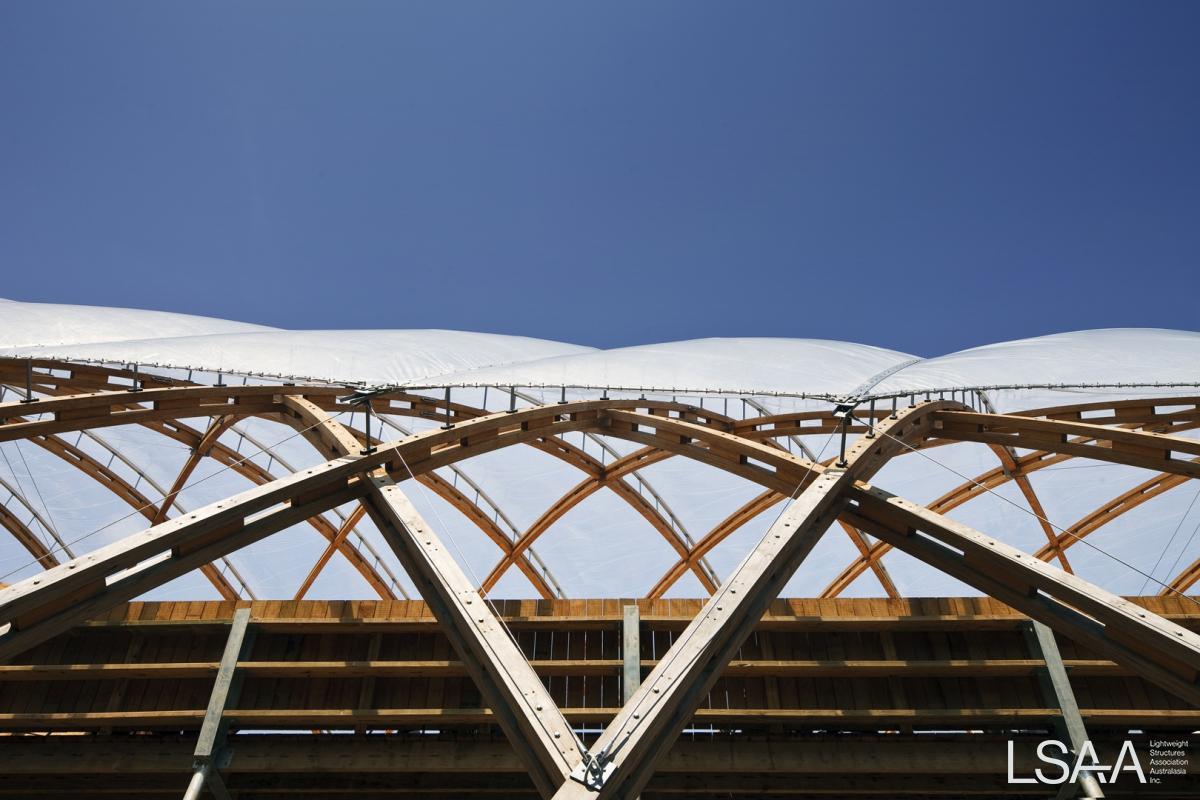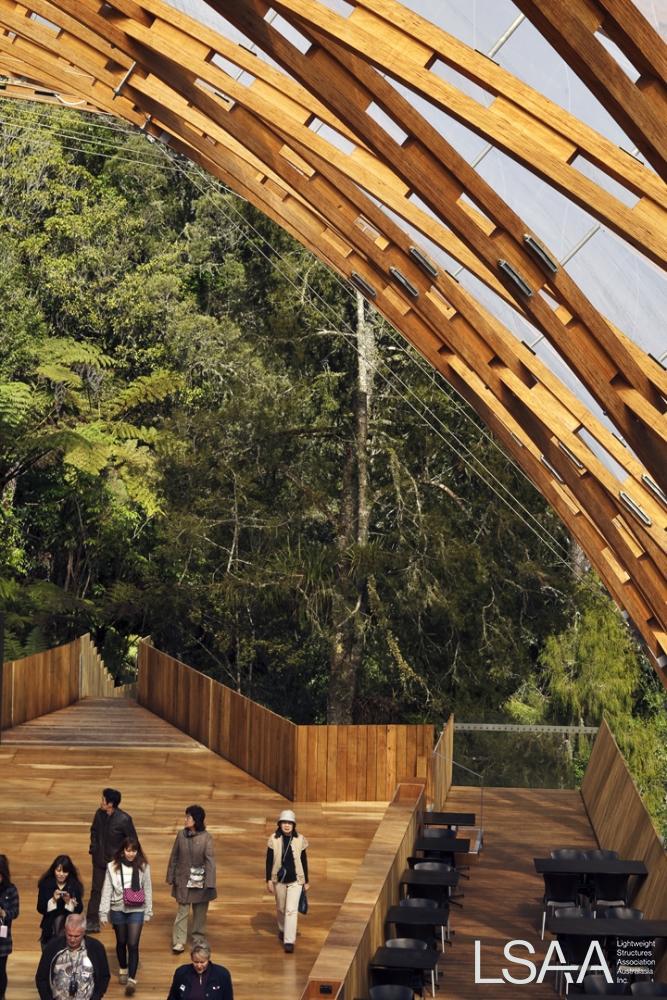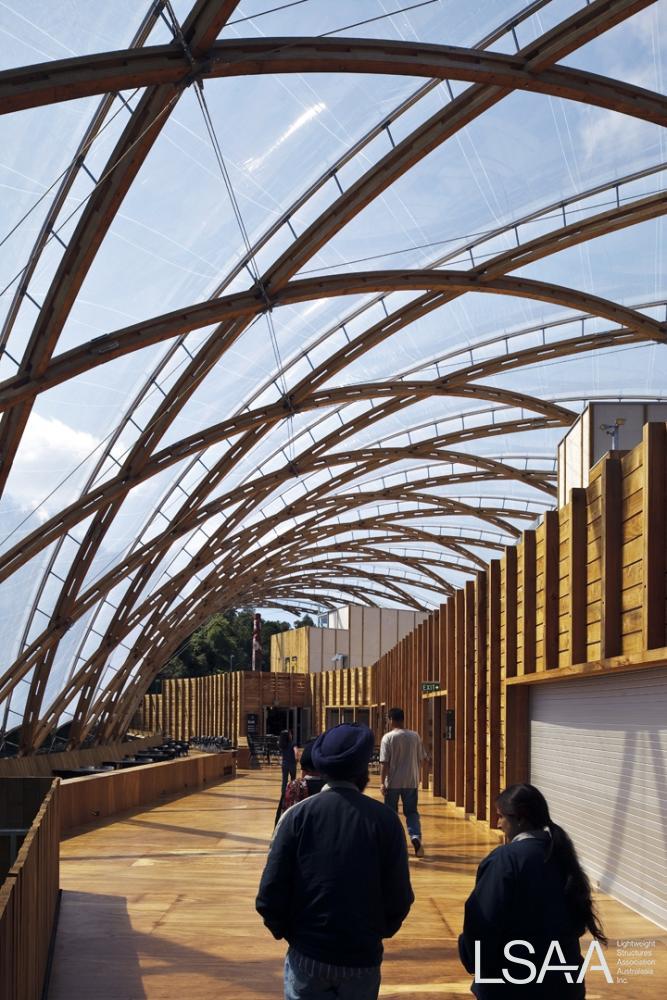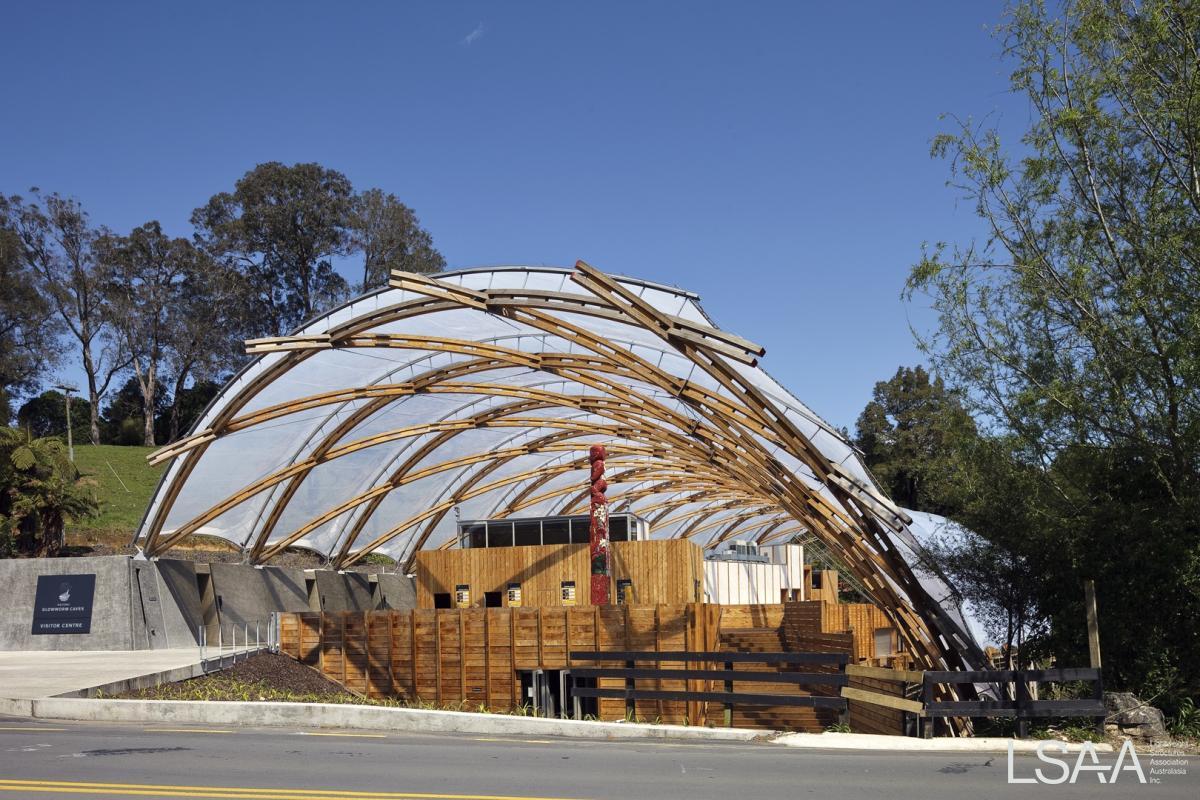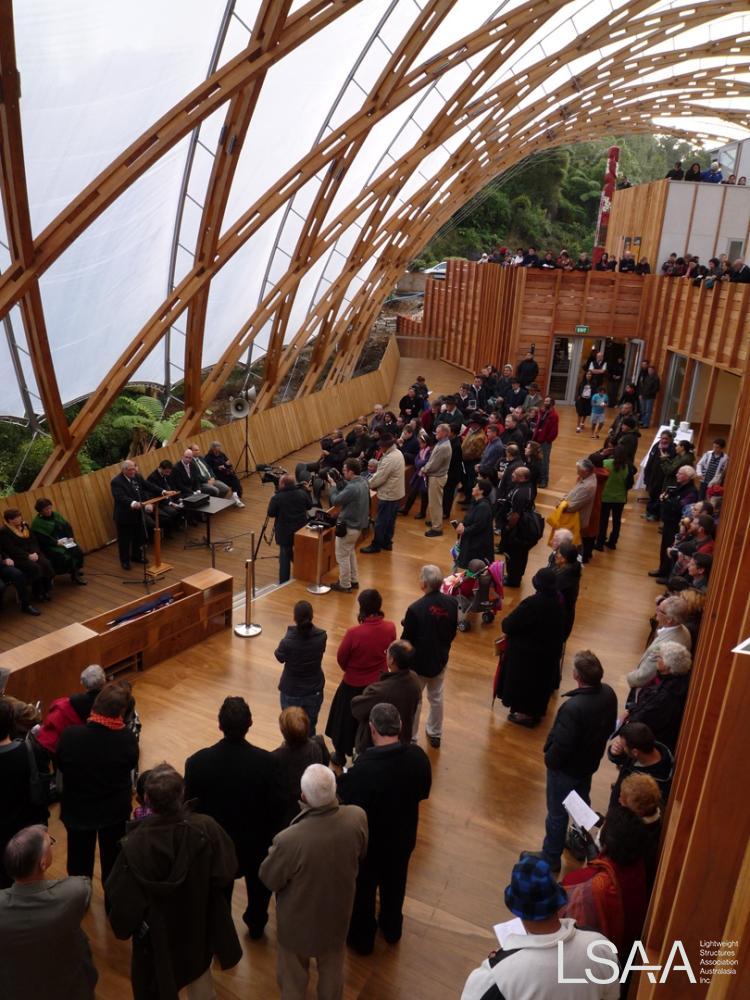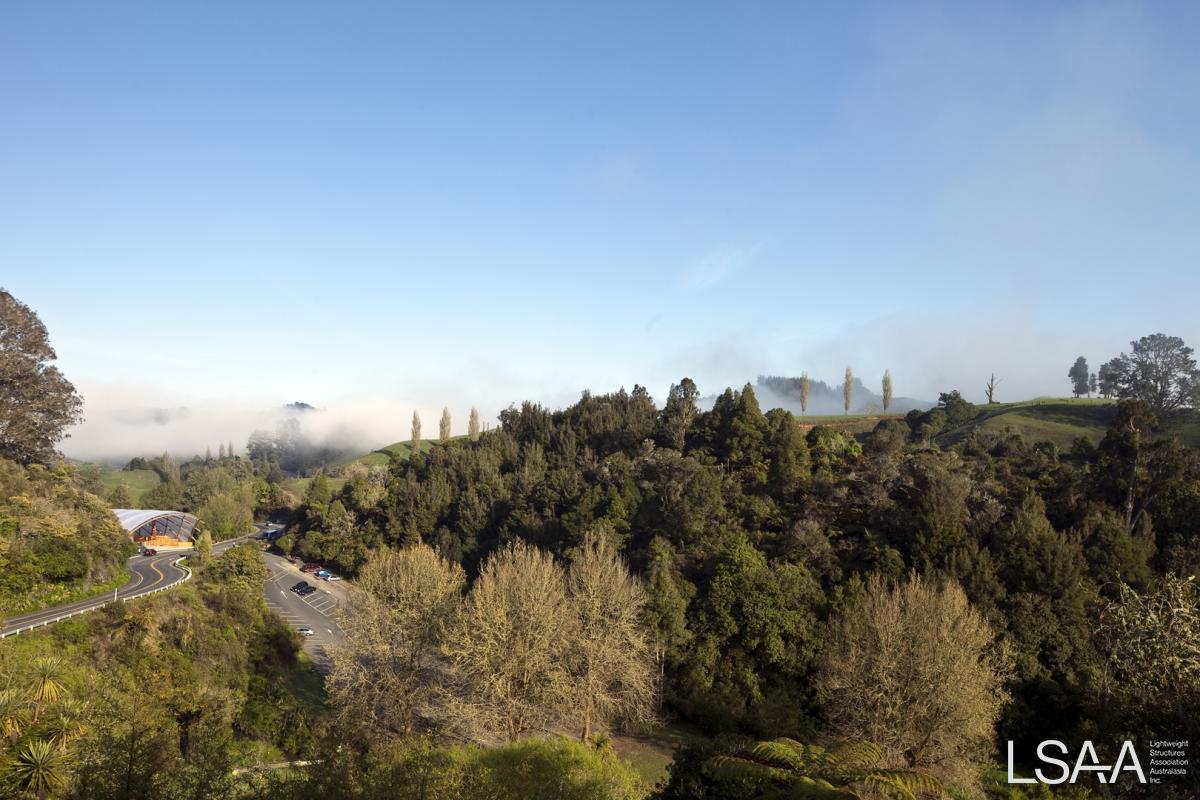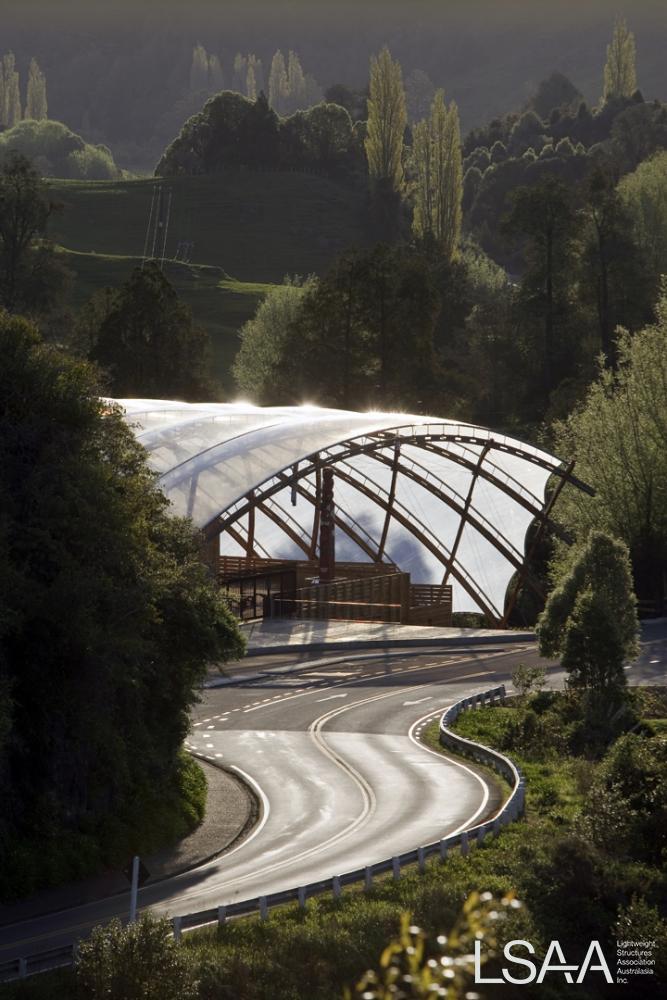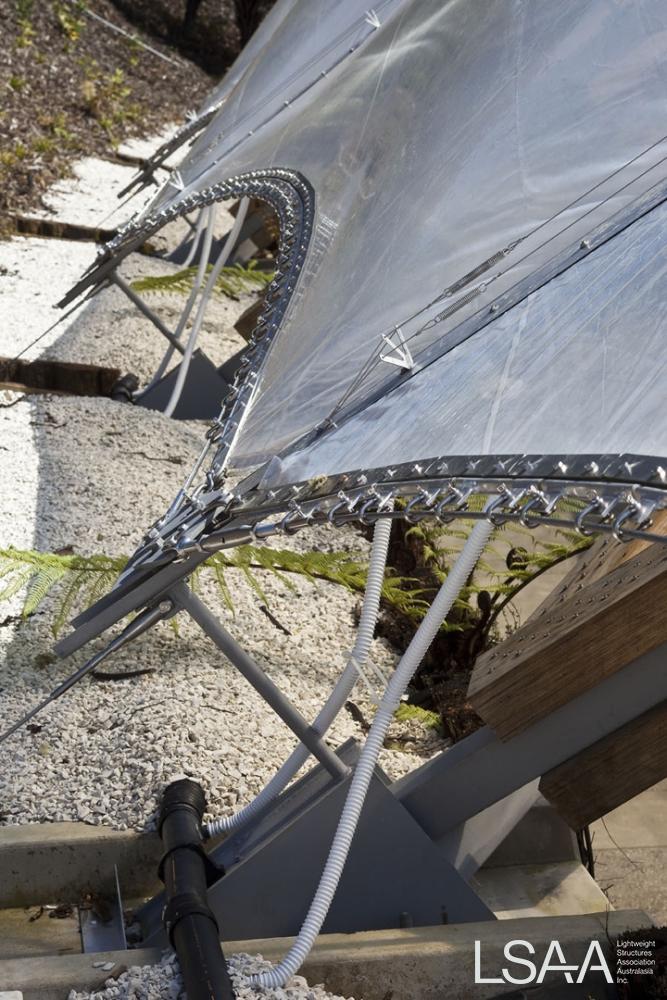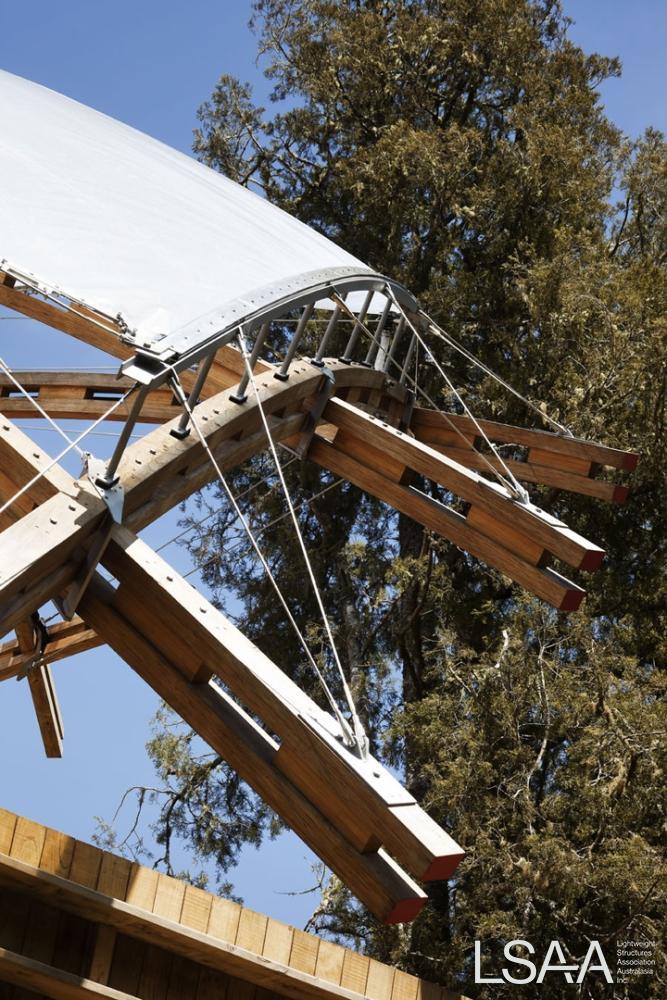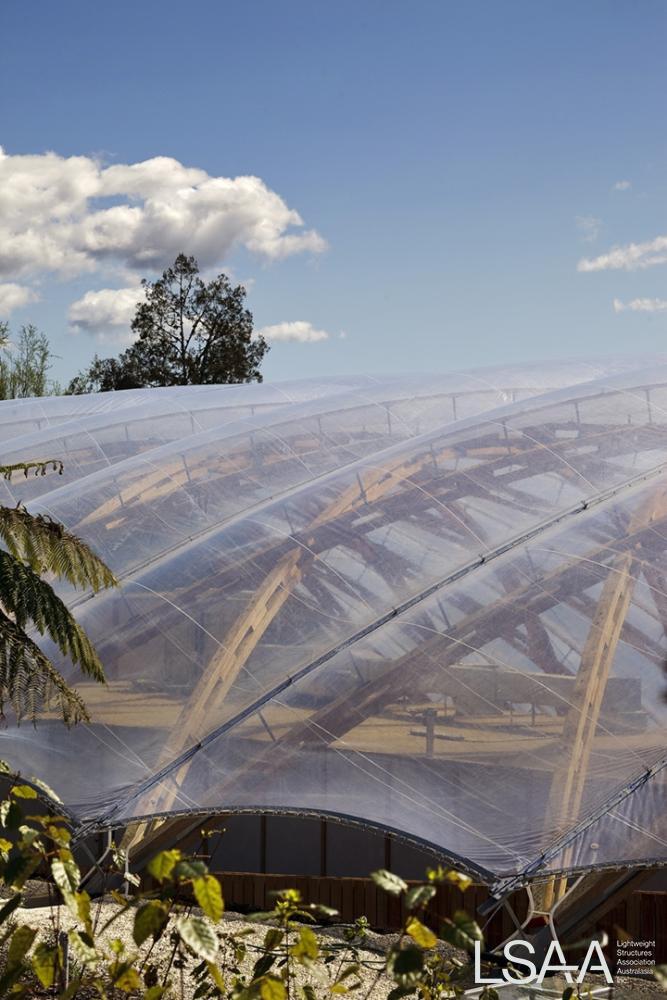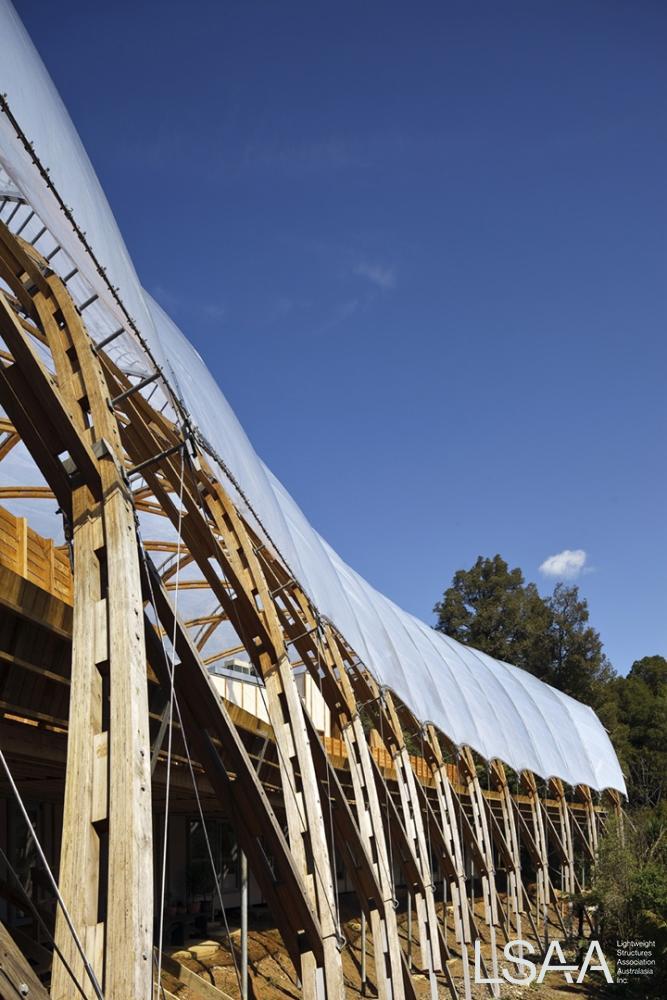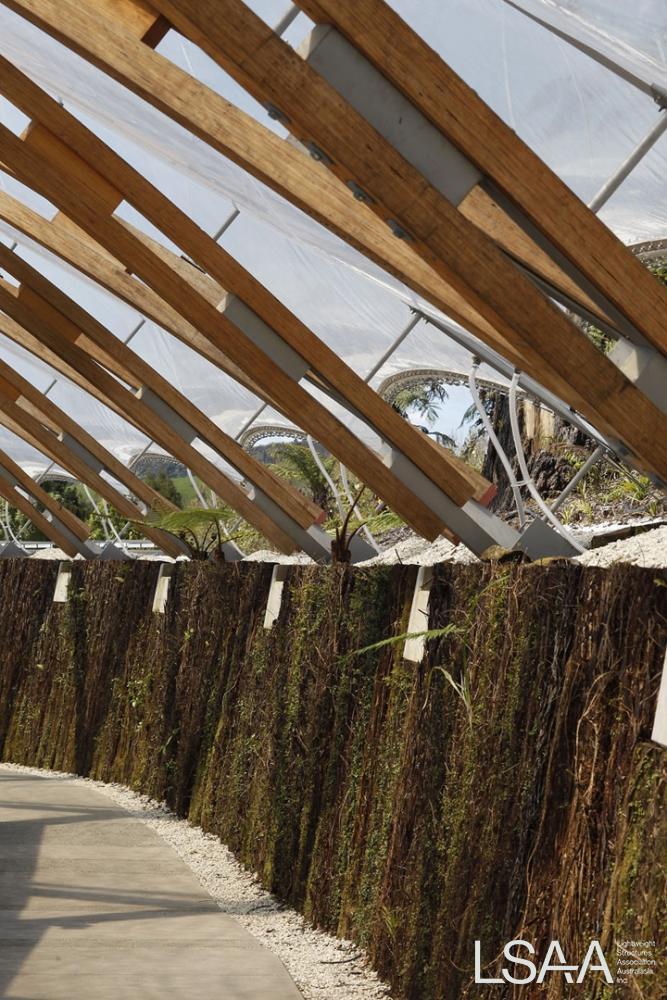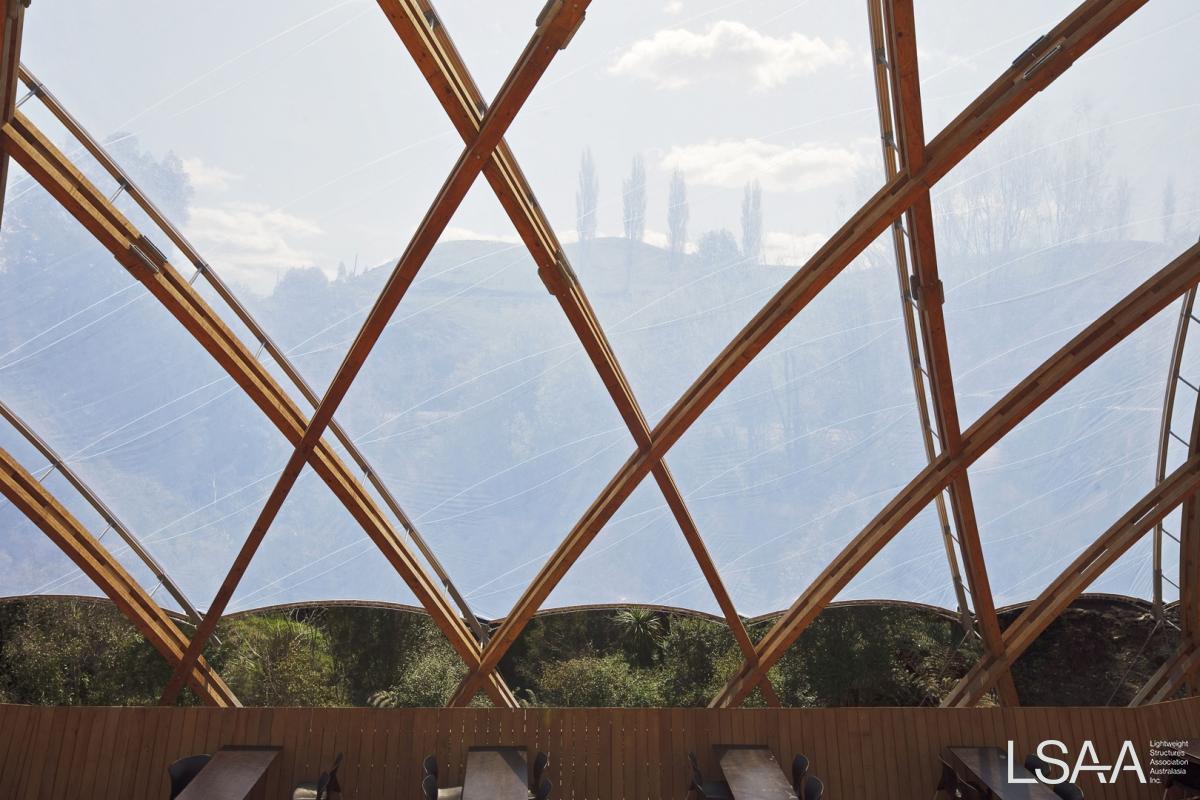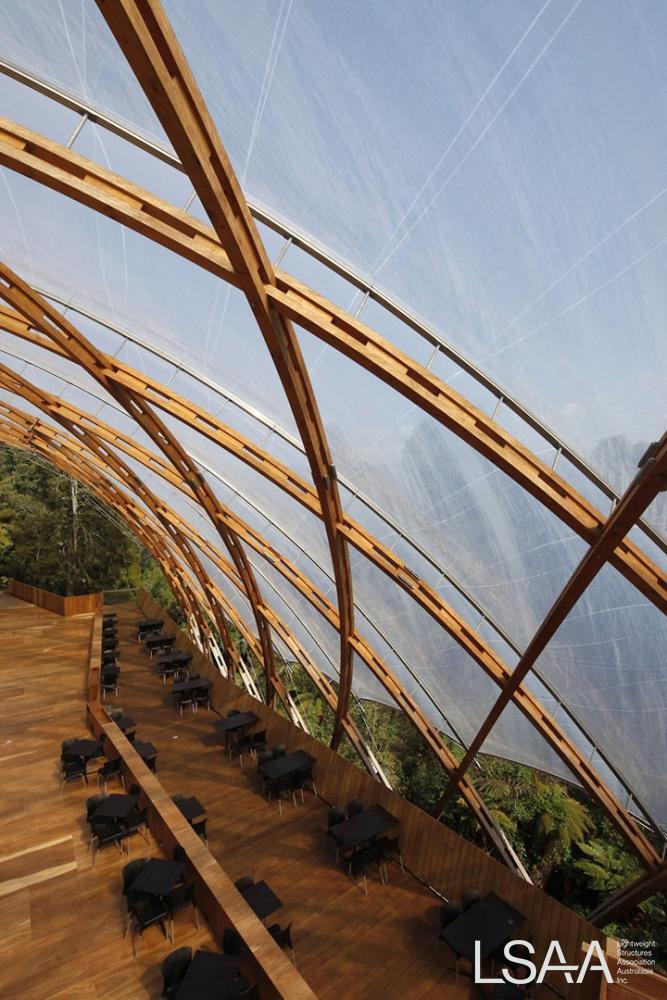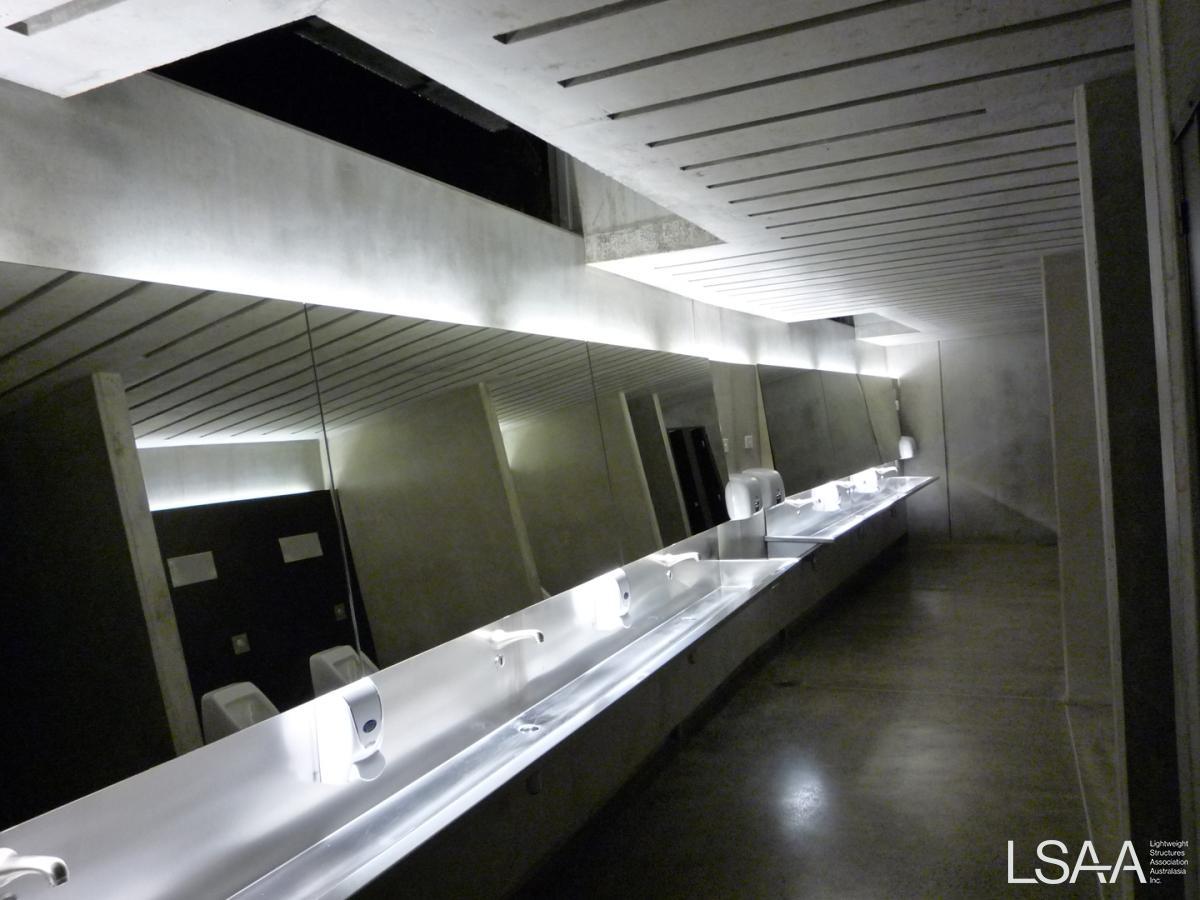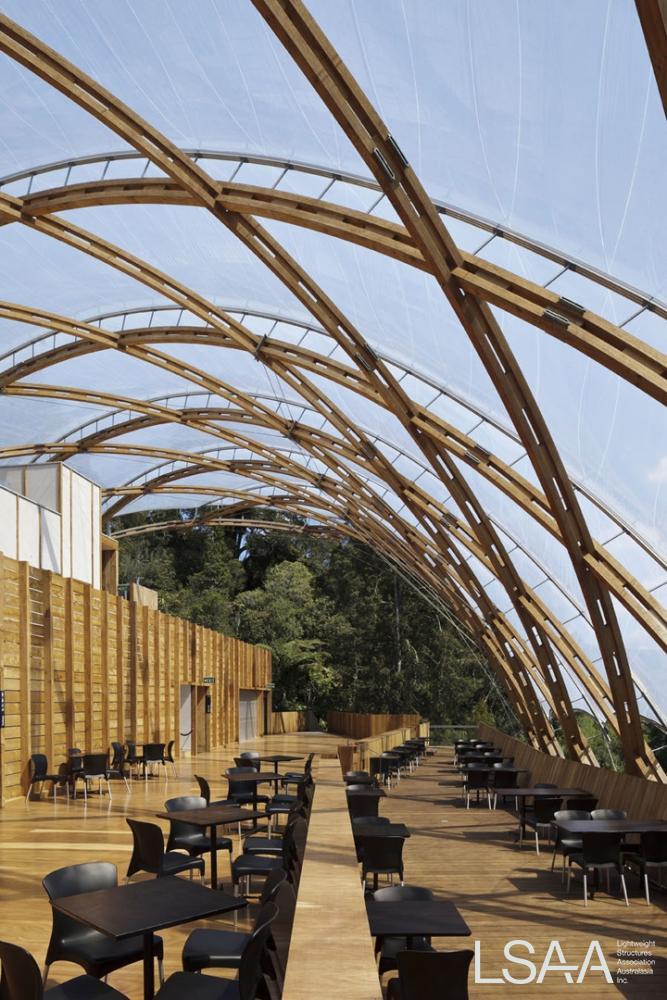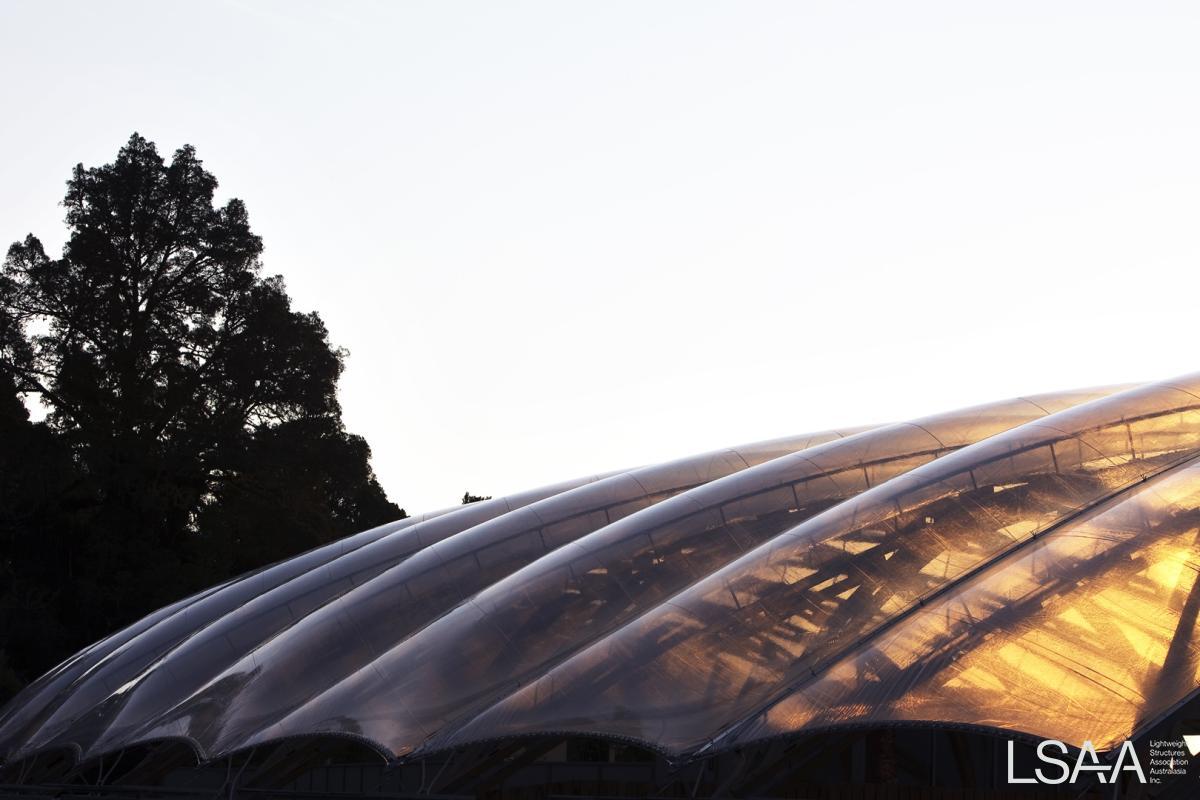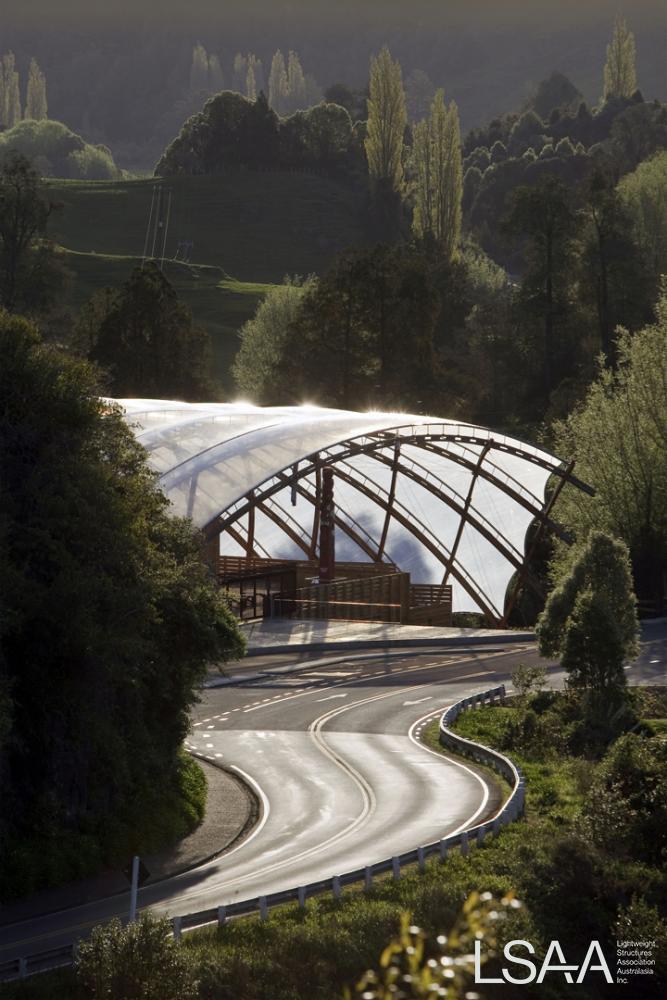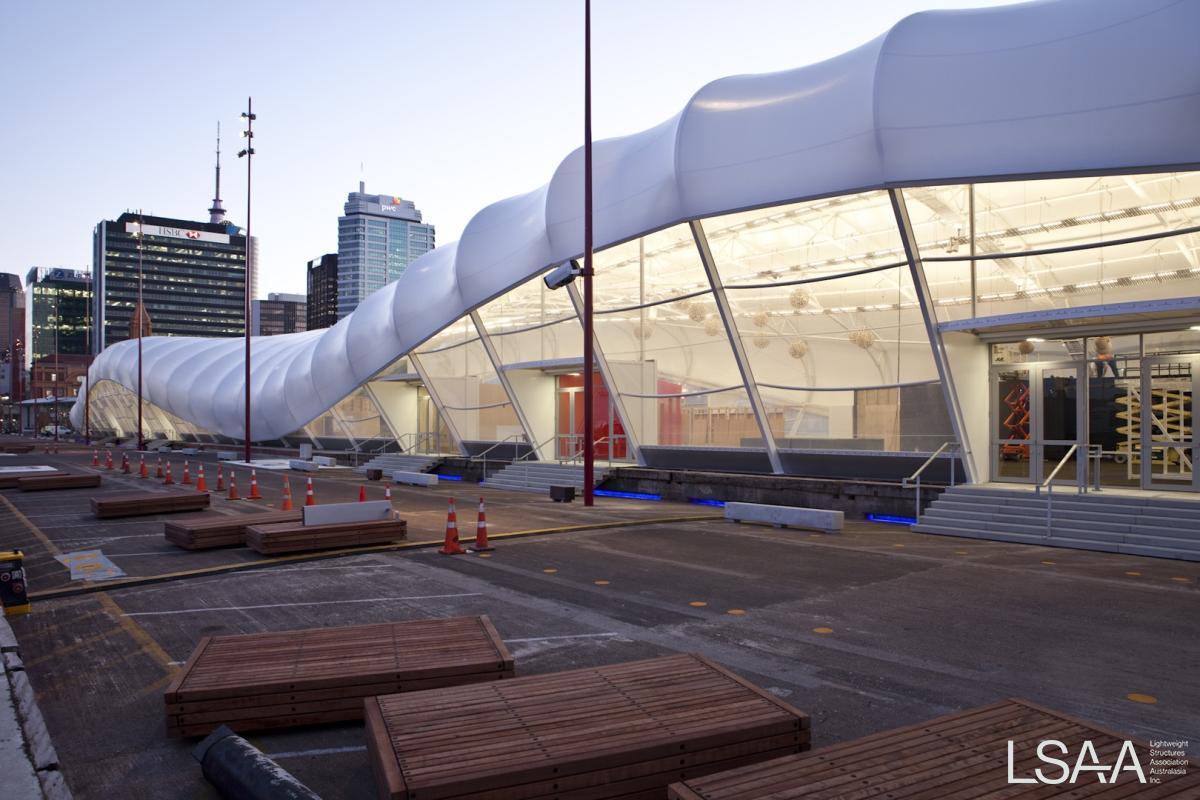 LSAA 2011 Design Award Entry: Cat 4 (4321) Auckland, New Zealand
APPLICATION OF PROJECT:
The Cloud is a semi permanent multi purpose event & exhibition structure, initially developed for the Rugby World Cup
PROJECT DESCRIPTION
The Cloud is a semi permanent structure erected on the western edge of Queens Wharf to accommodate the city's commitment to hosting an inner-city fanzone, festival and showcase event during the Rugby World Cup 2011. Installed as part of the recent 18 month redevelopment of Queens Wharf, The Cloud will be utilised by NZ2011 to showcase the best of New Zealand innovation and creativity during the REAL New Zealand Showcase. At almost 180m long, The Cloud can accommodate up to 6,000 people.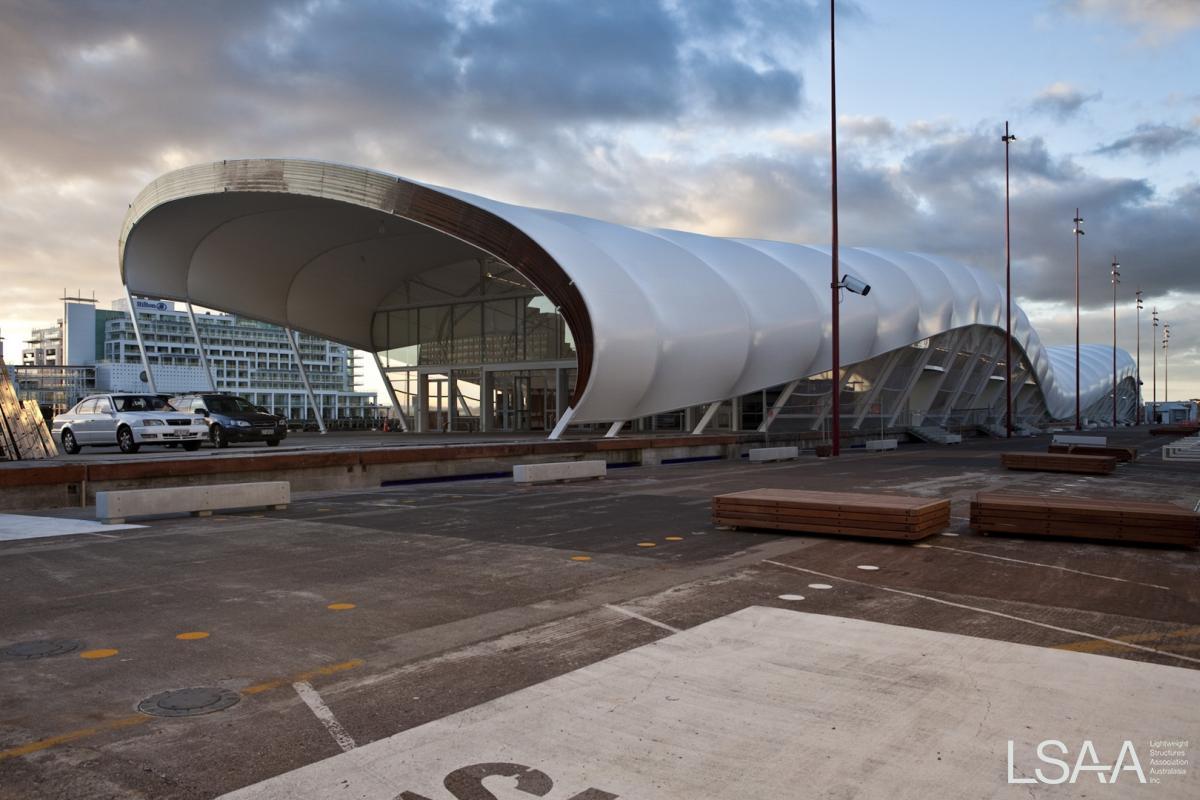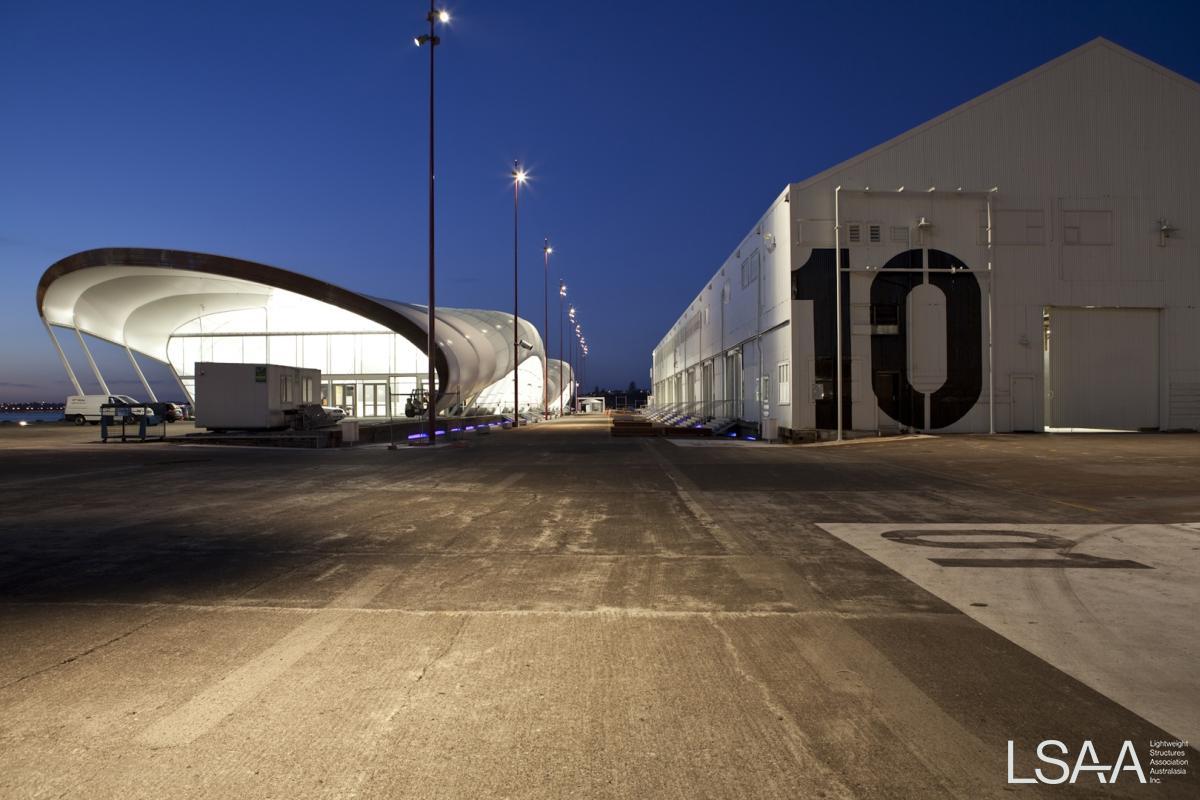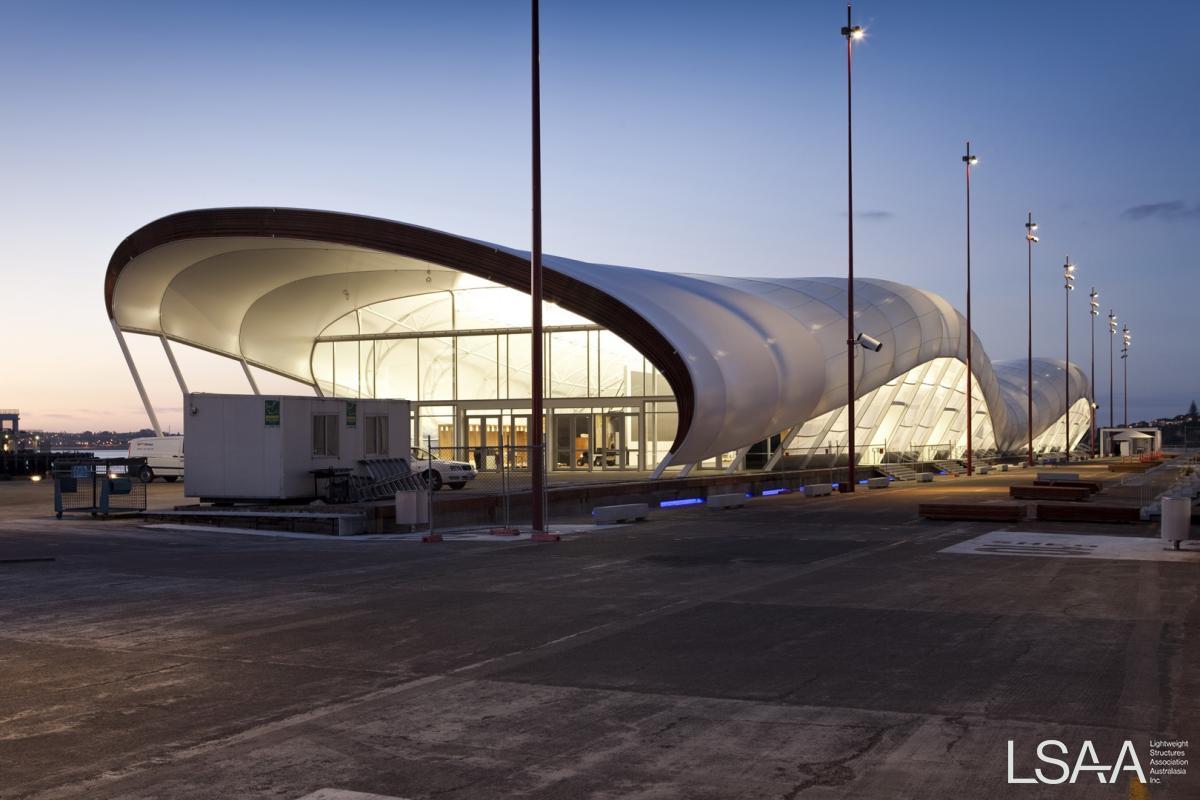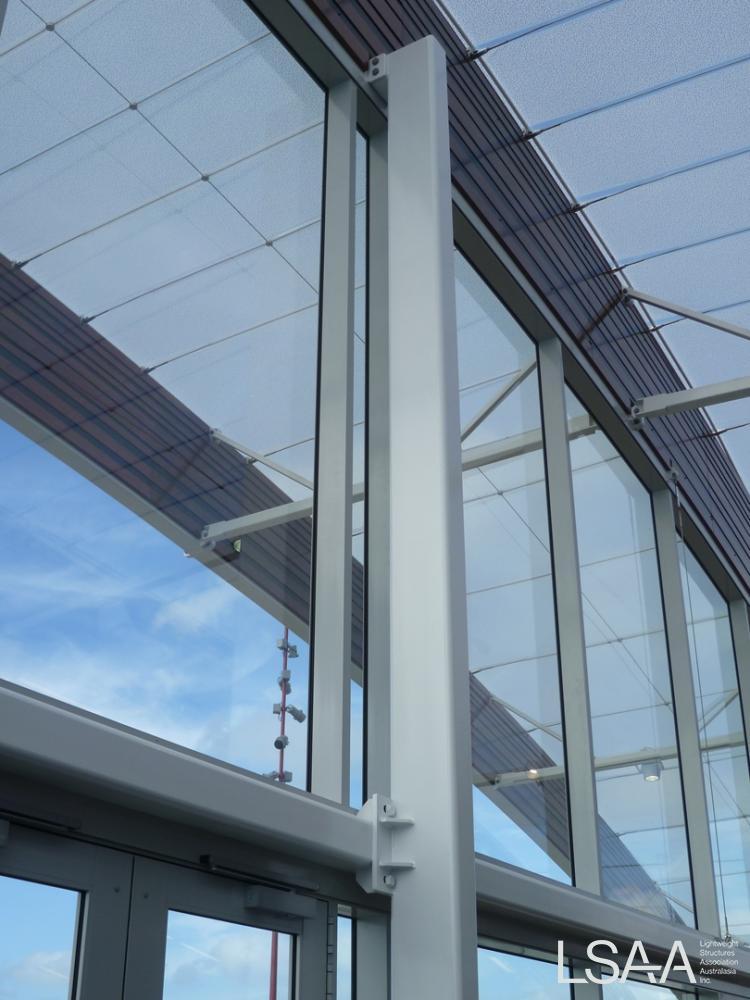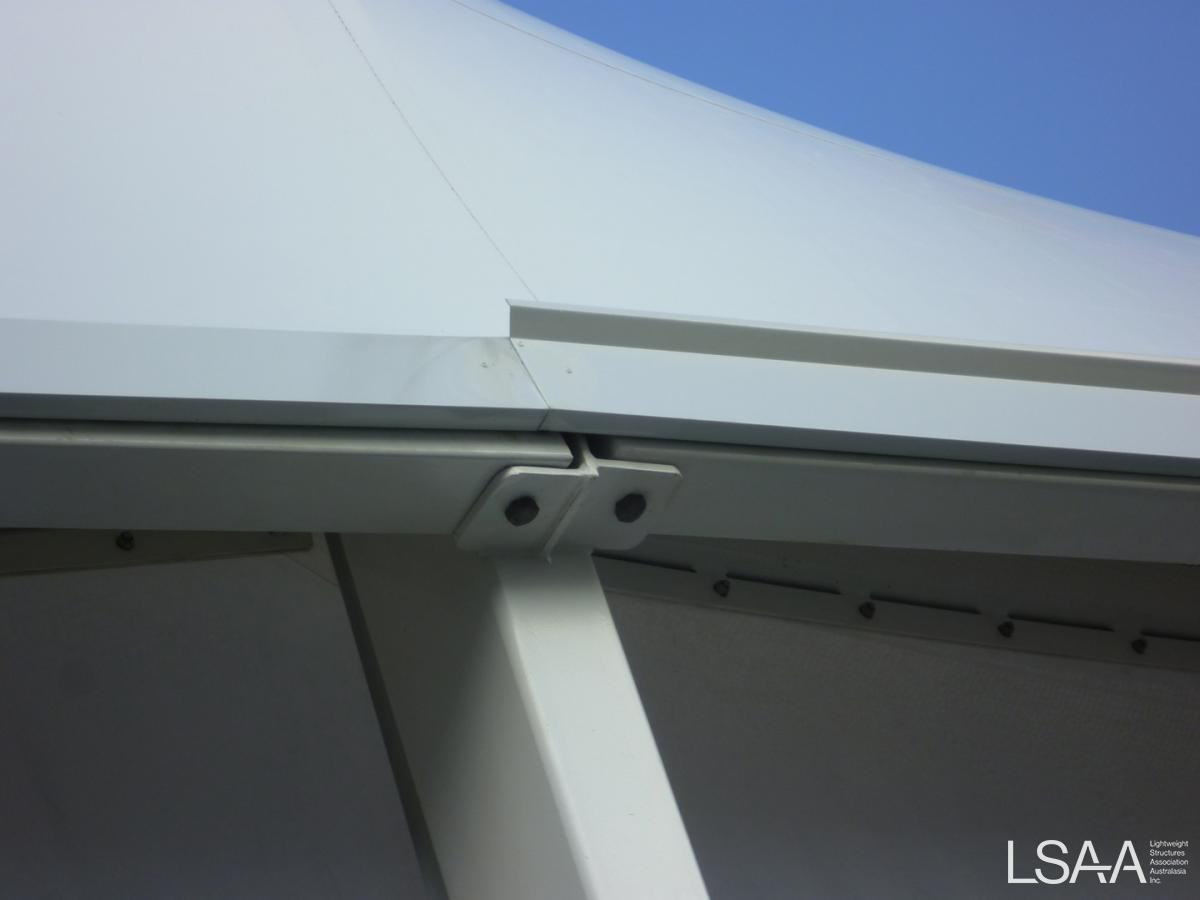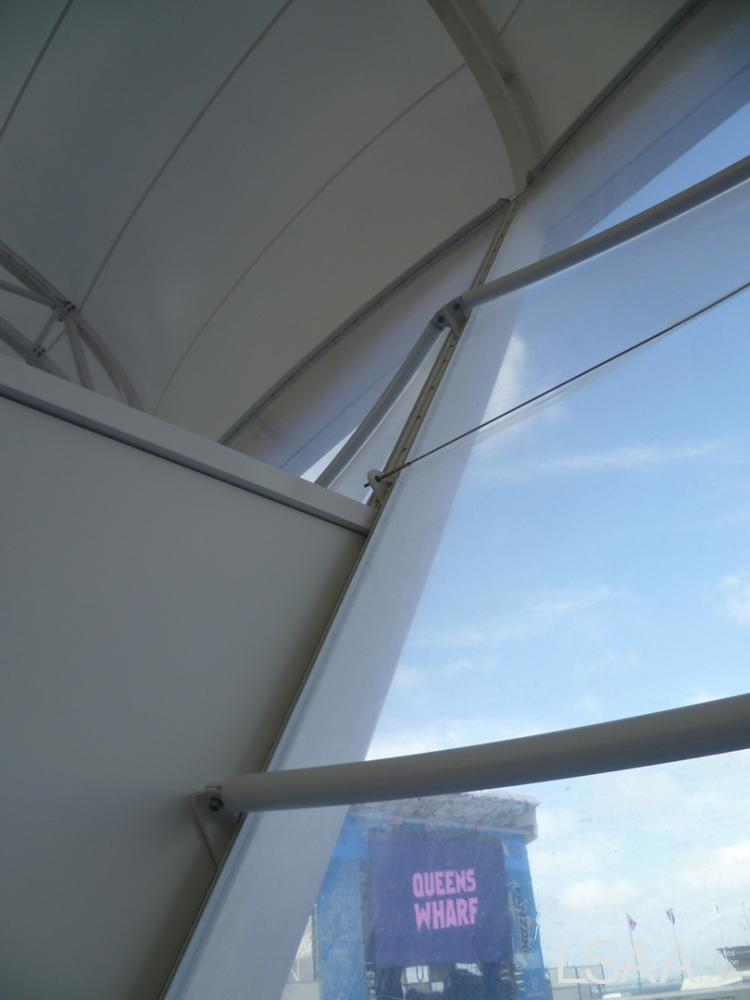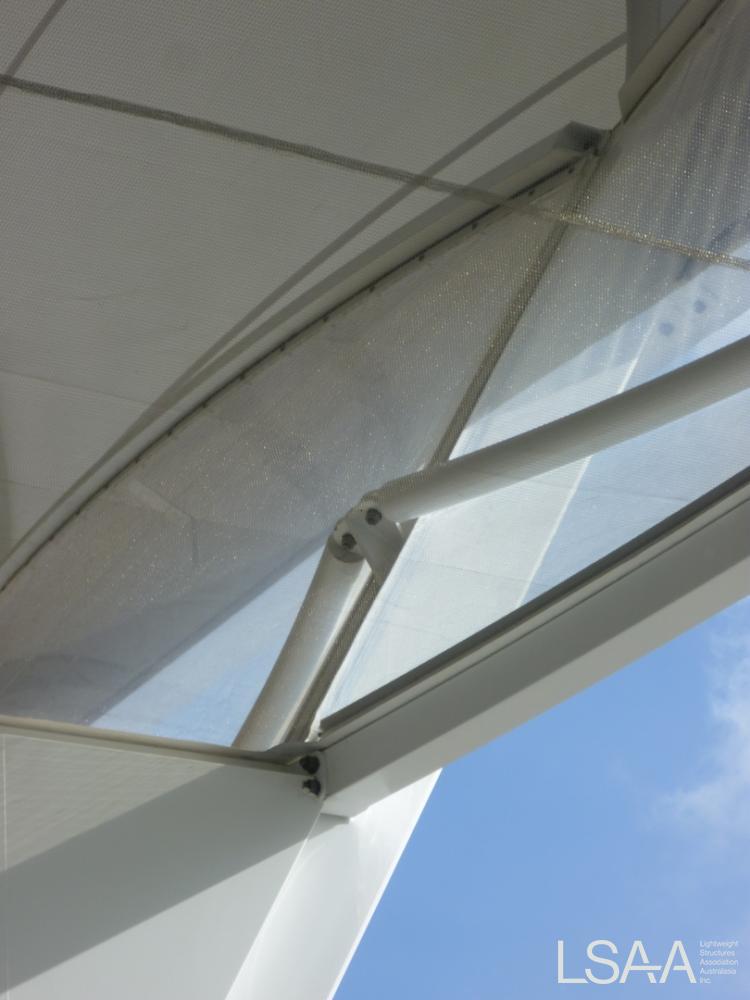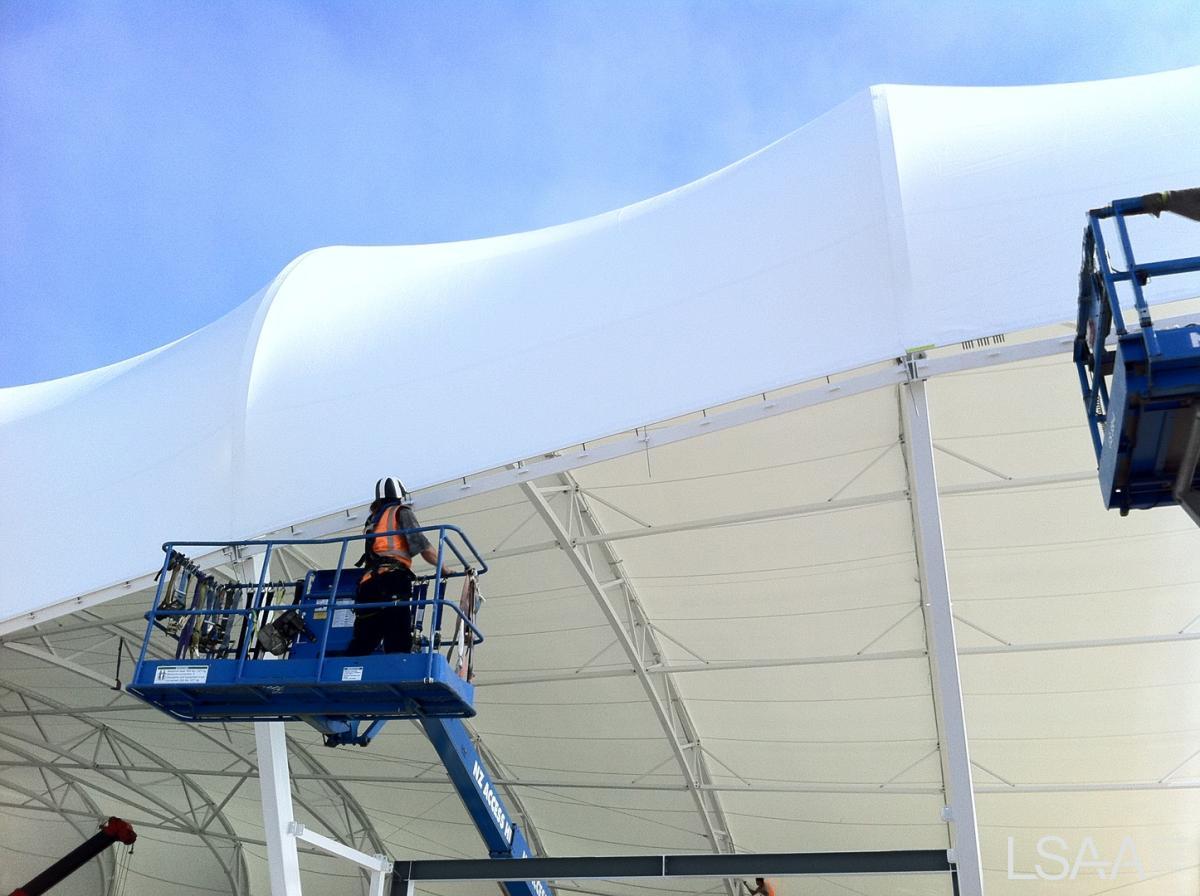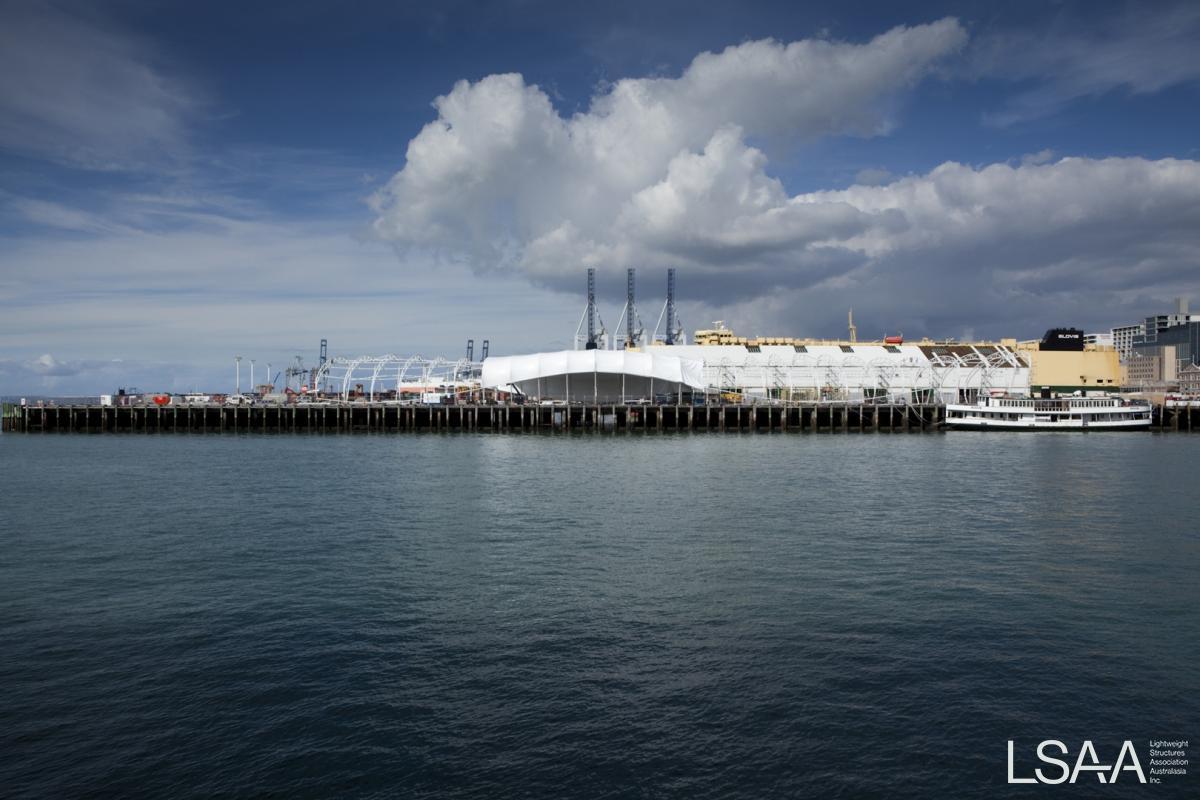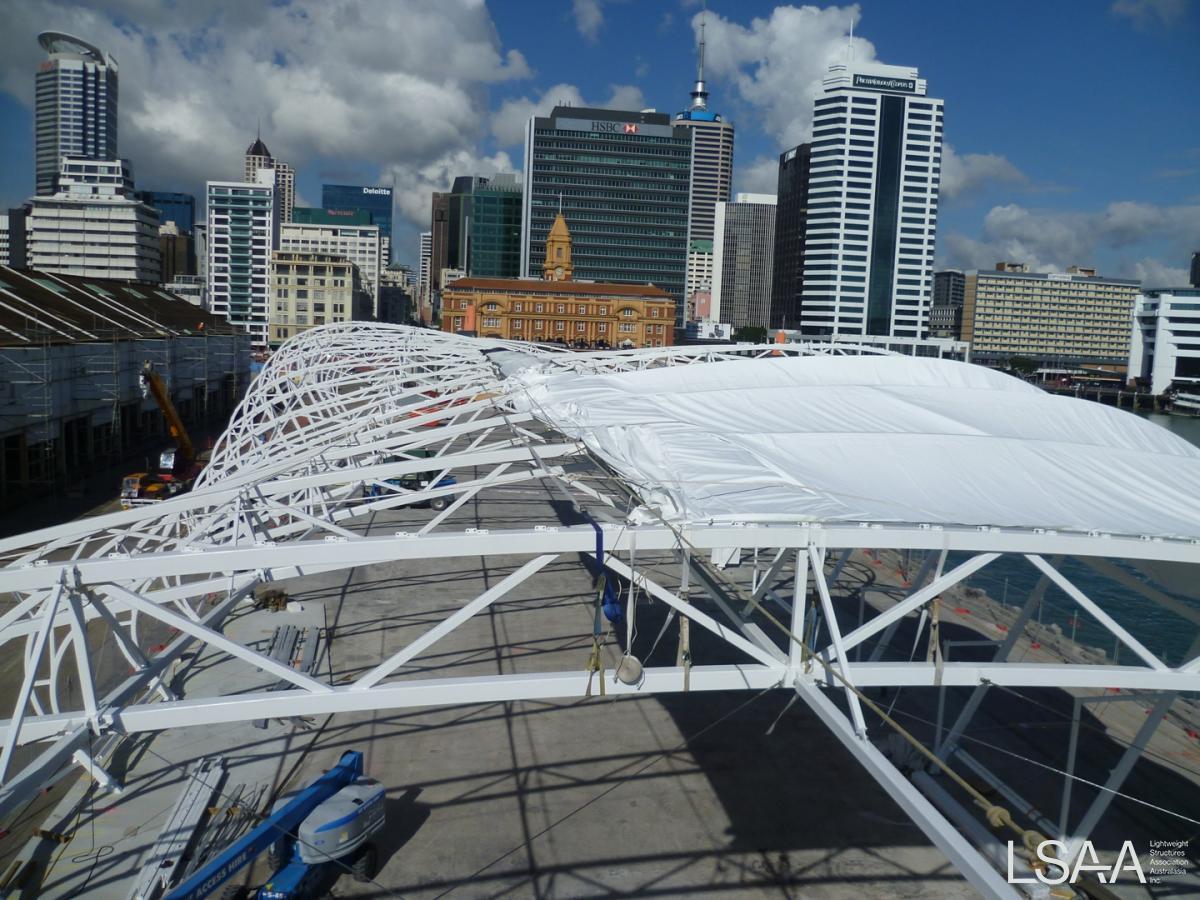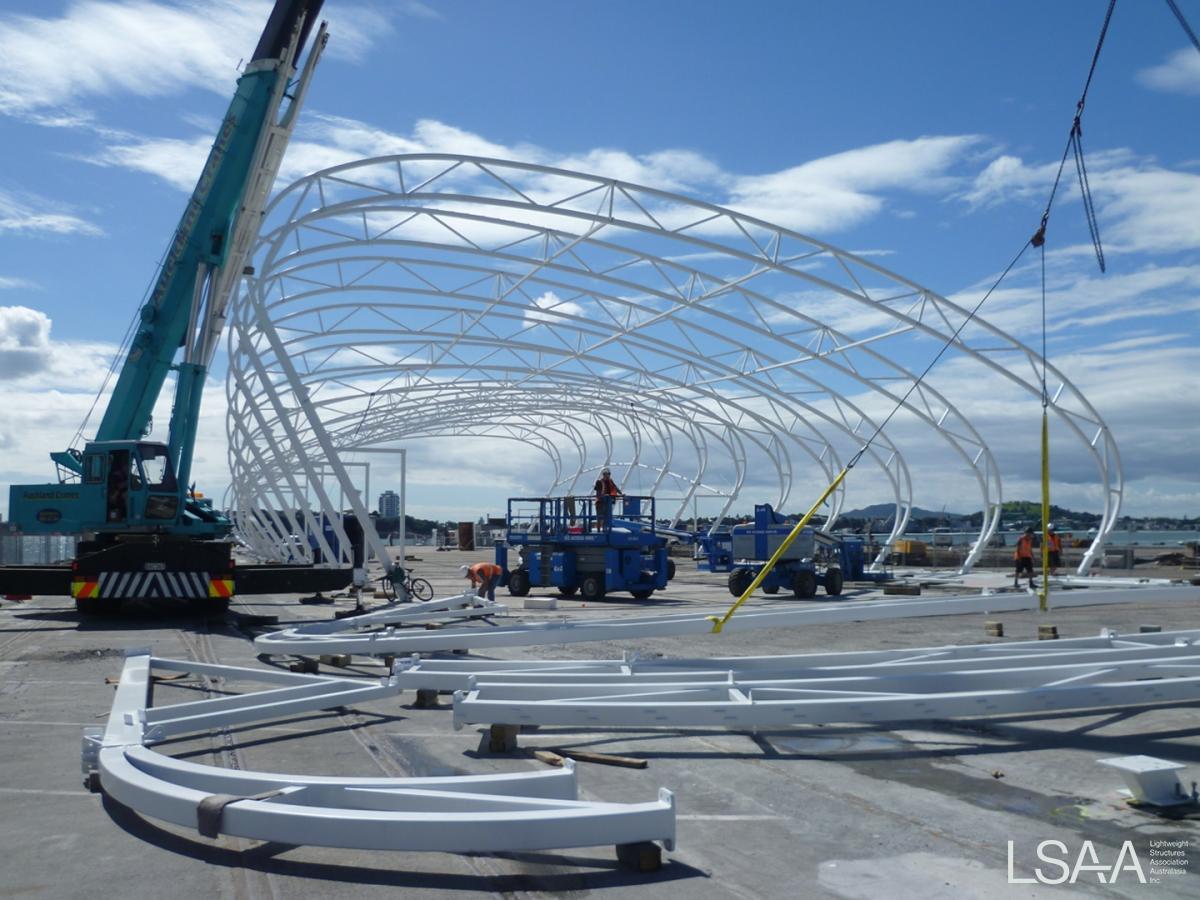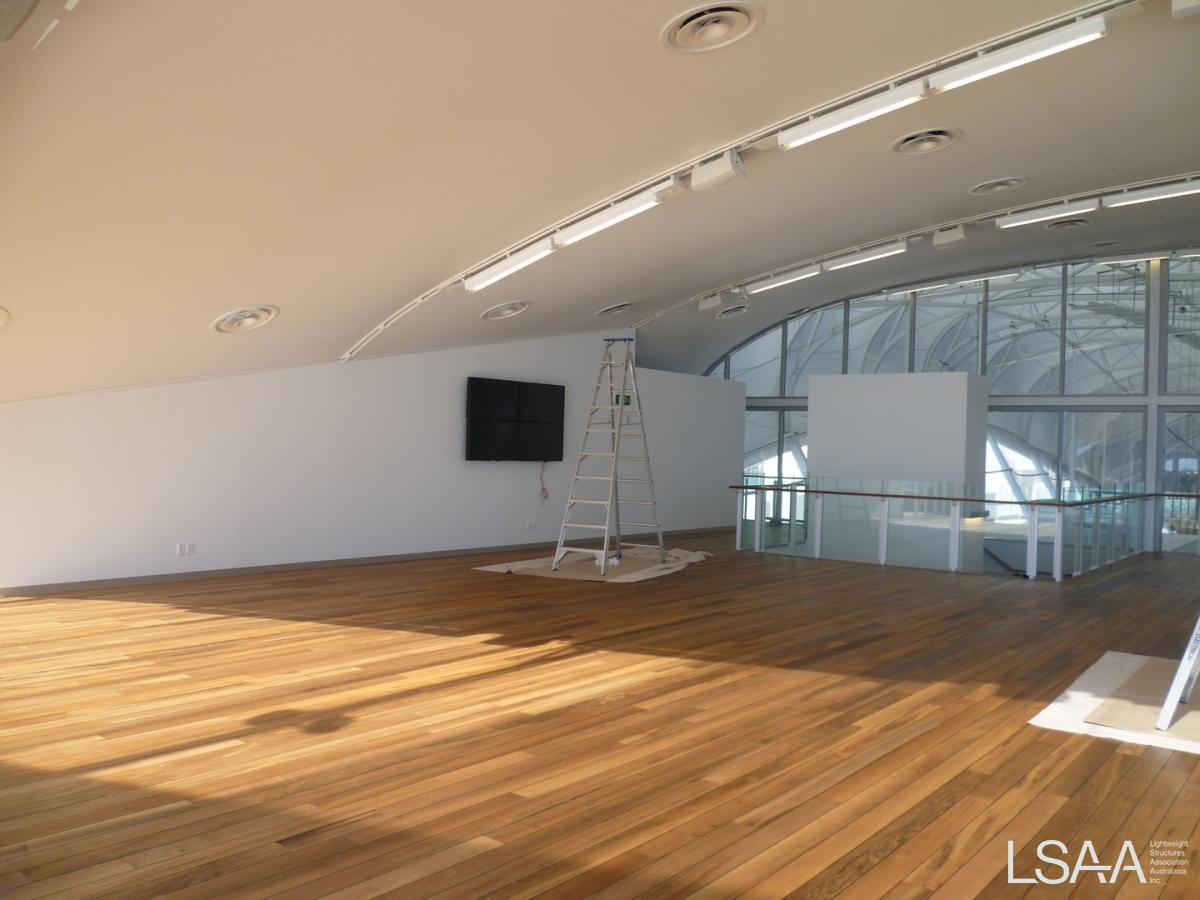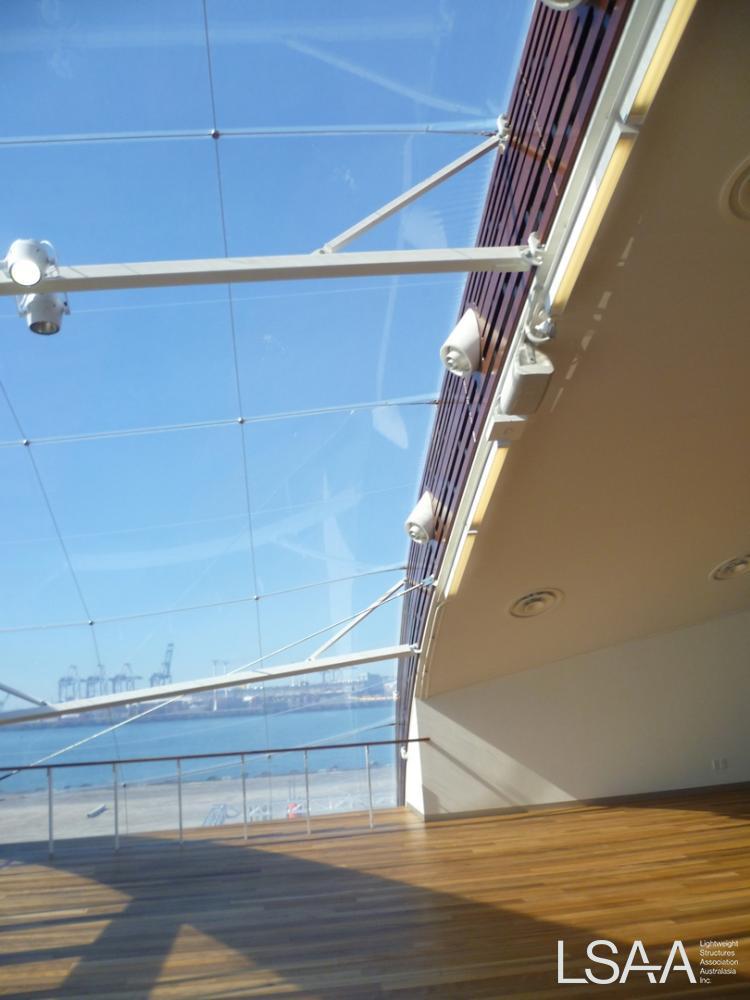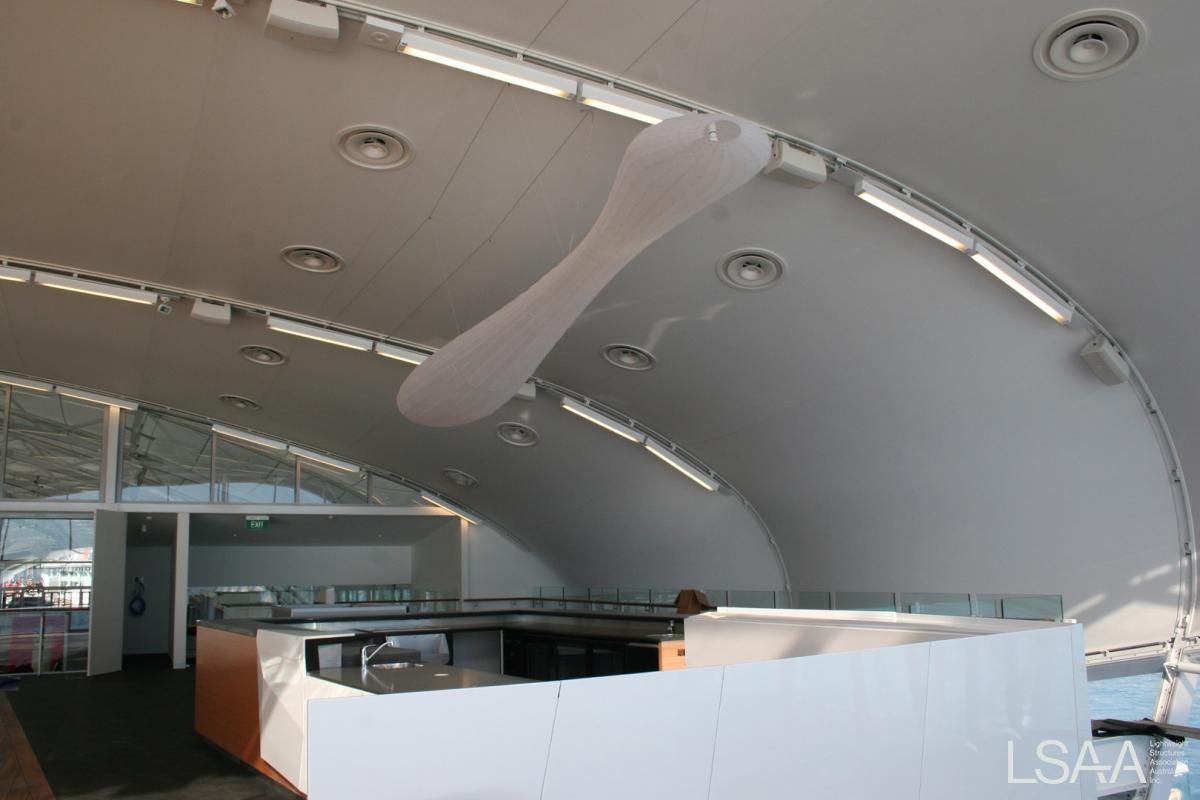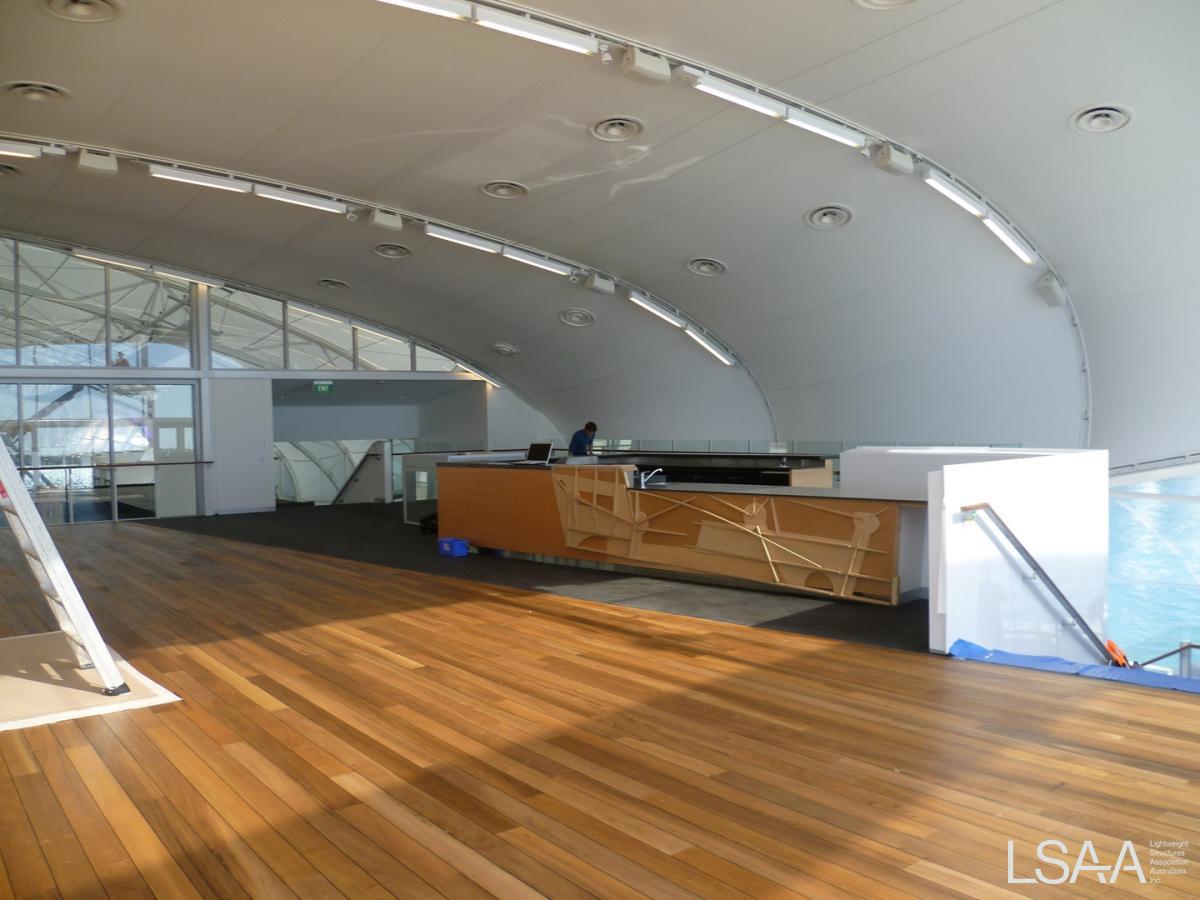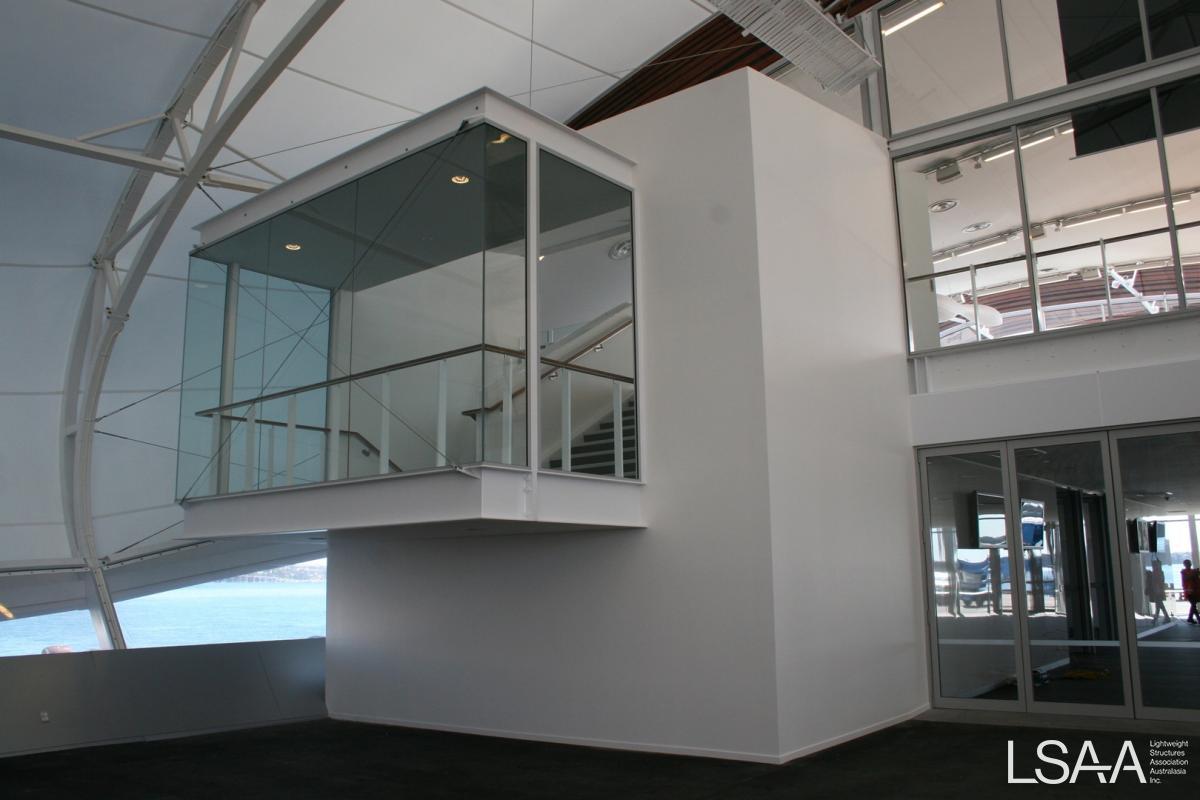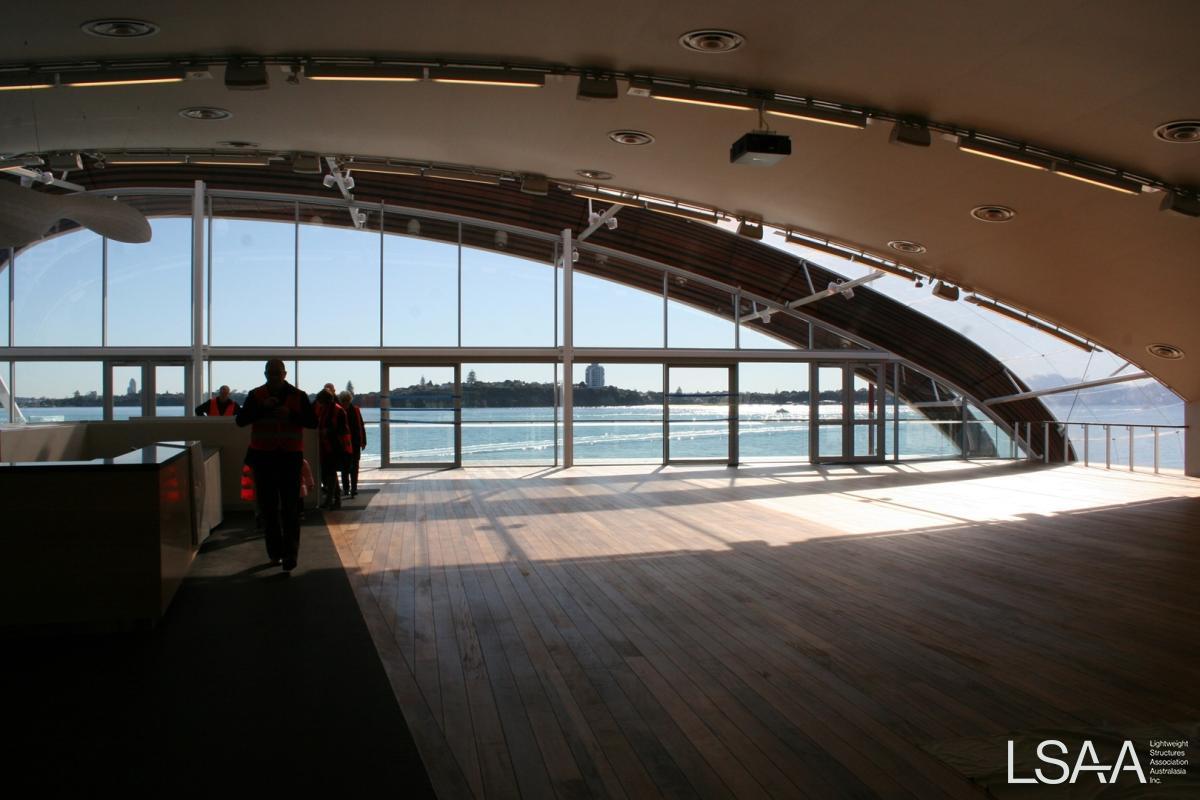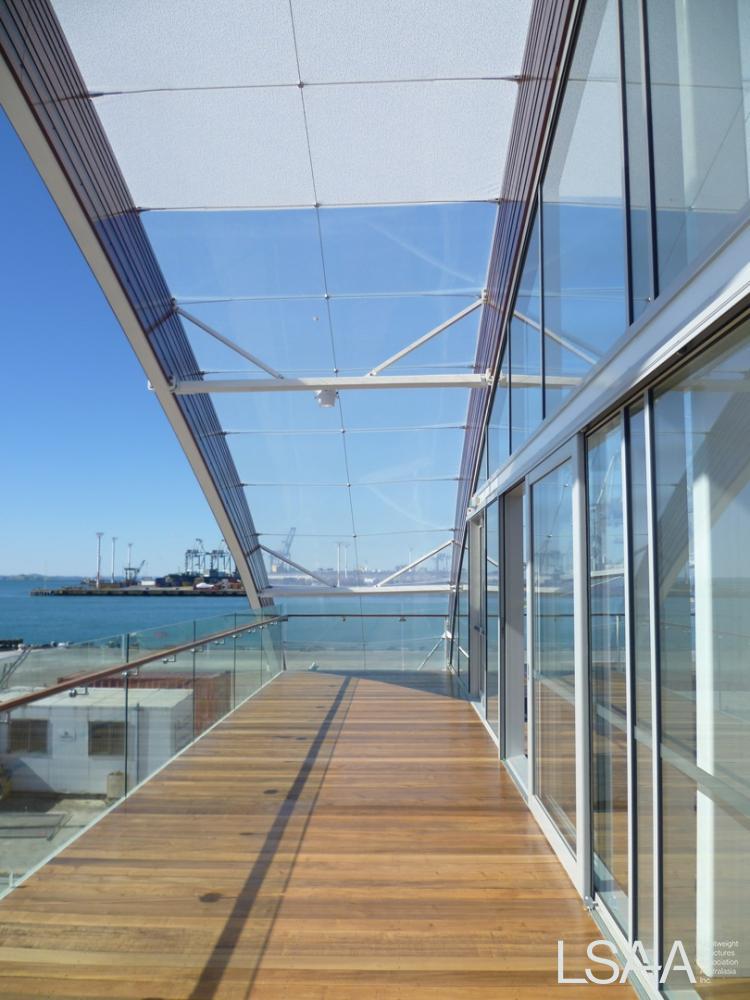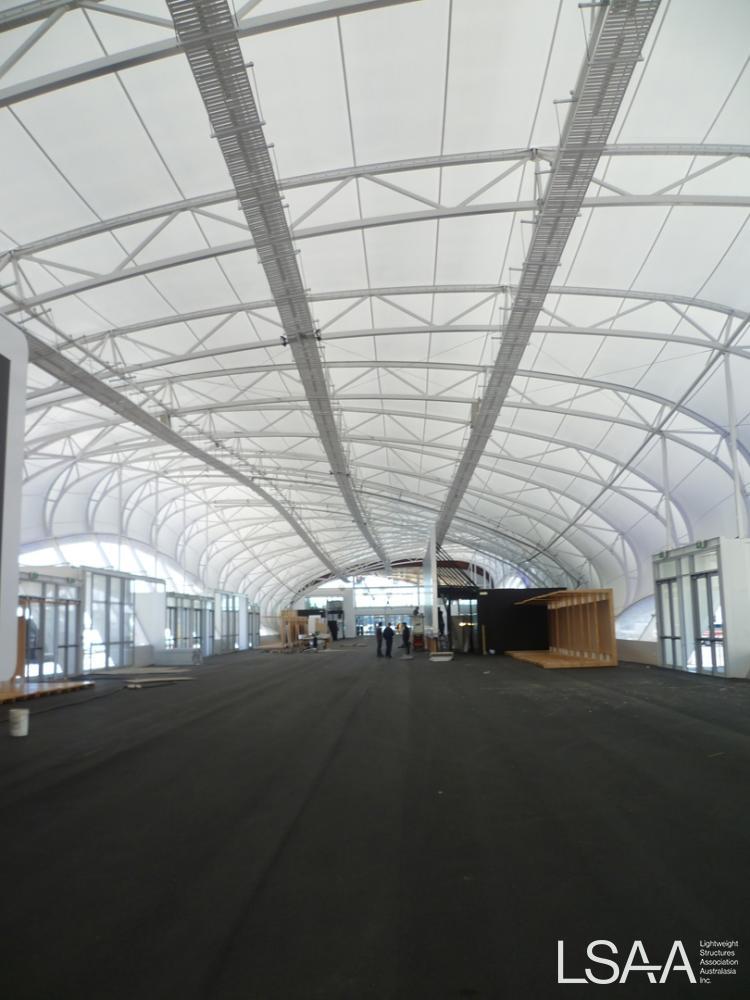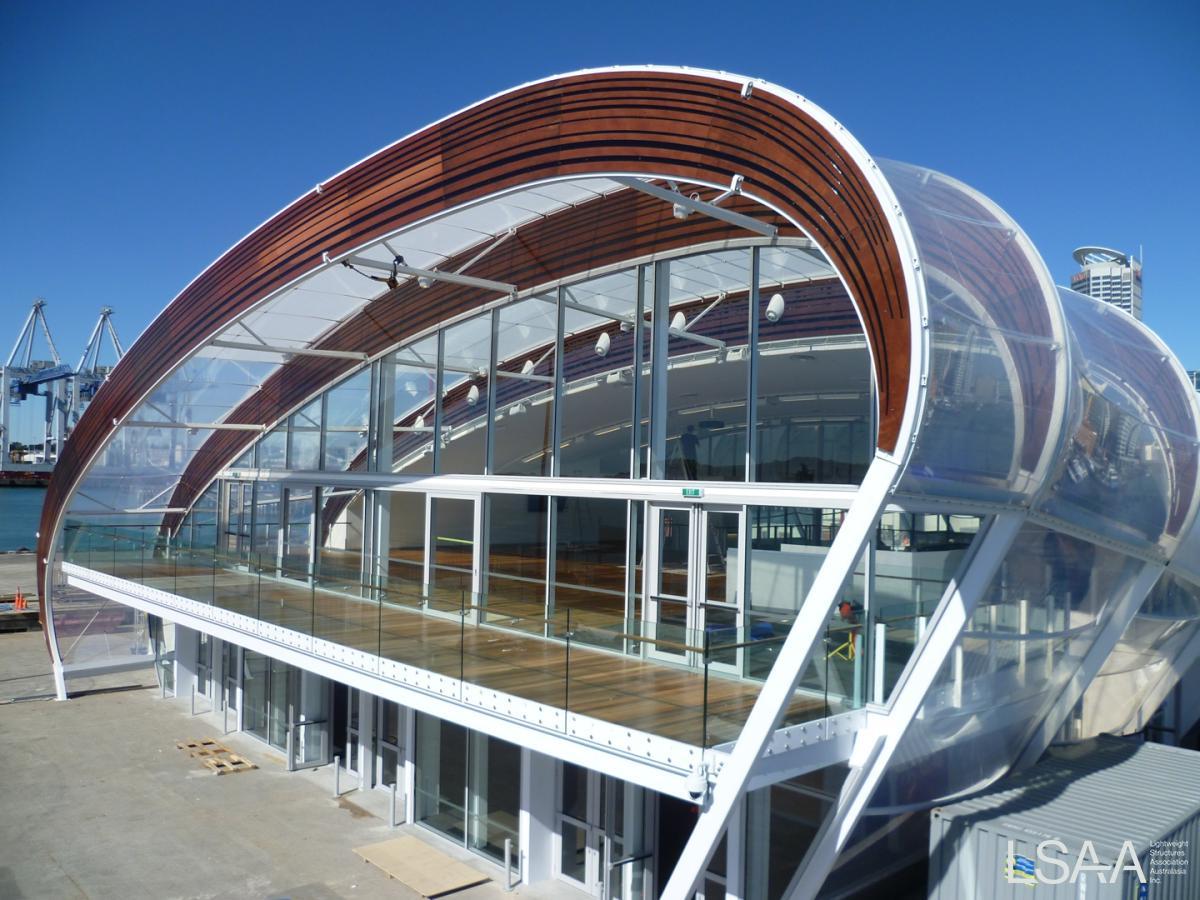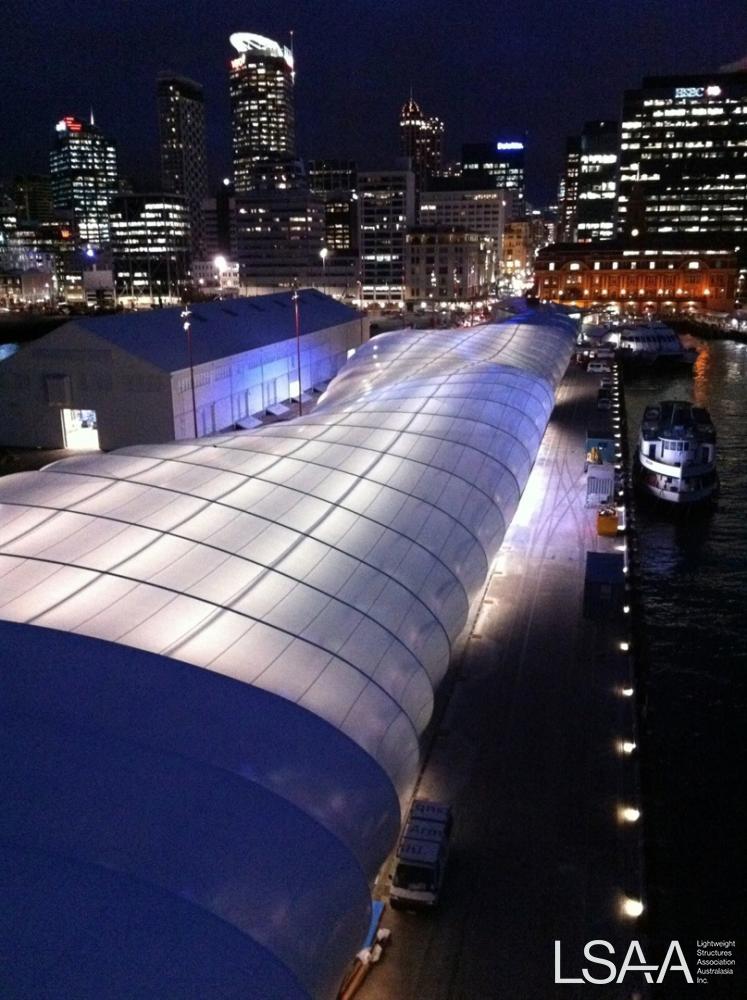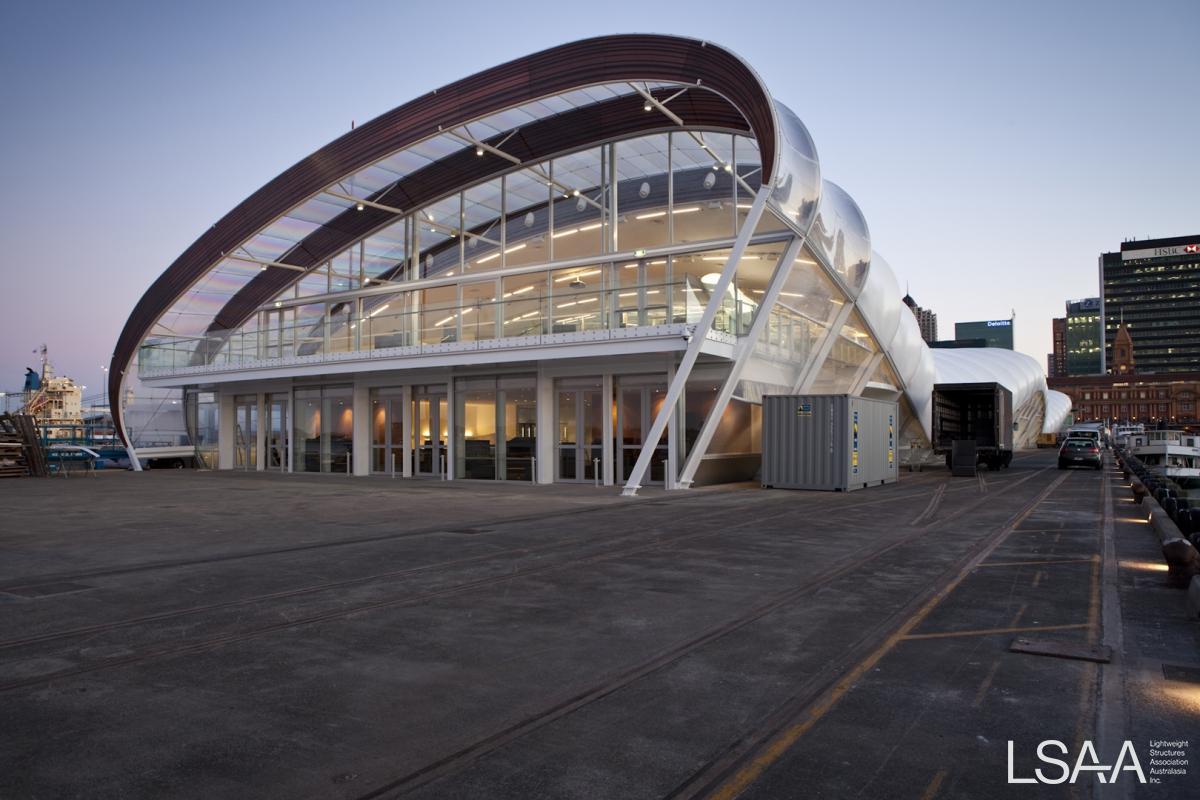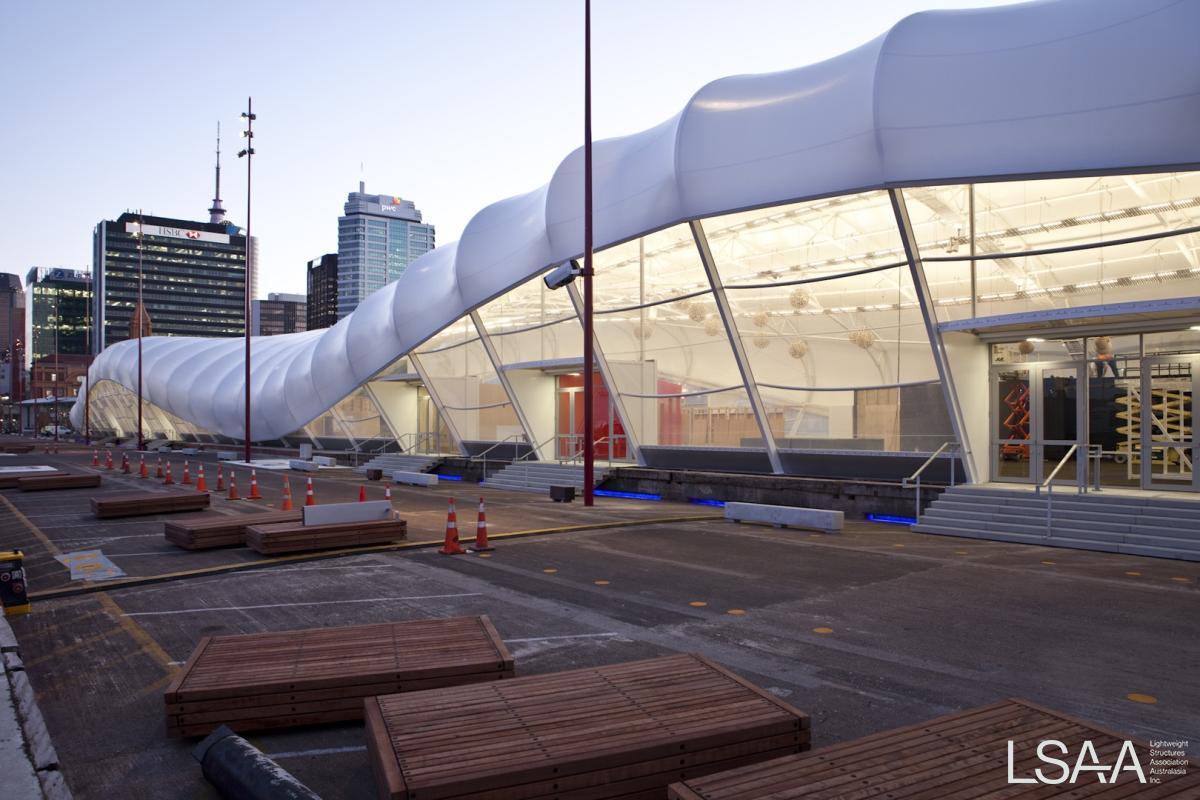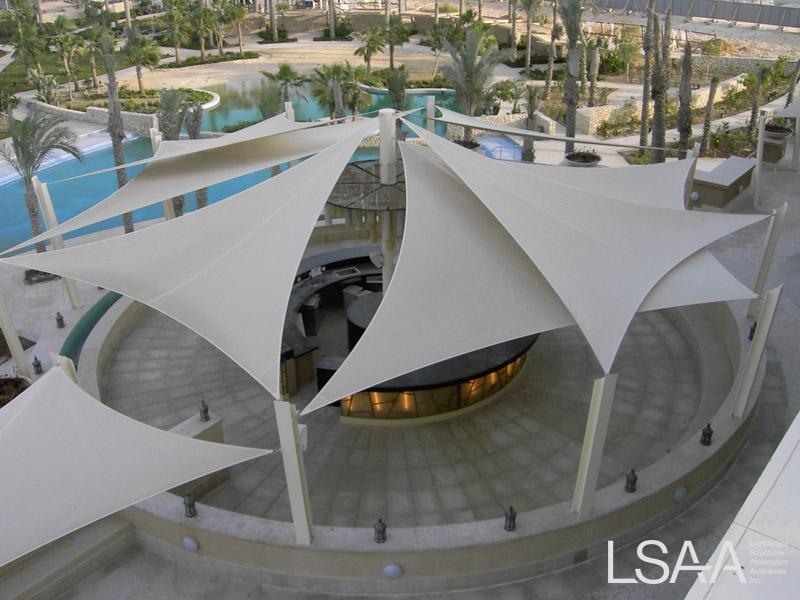 LSAA 2011 Design Award Entry (3185)
APPLICATION OF PROJECT:
Shading systems: The Marassi beach Clubhouse, resort villas, and spas required a large range of shading systems.
PROJECT DESCRIPTION
Marassi is a Mediterranean‐styled resort development sprawling across 1,544 acres of pristine waterfront. Situated along the magical shores of Sidi Abdul Rahman bay, the resort is close to Alexandria and a few miles away from the historic city of El Alamein.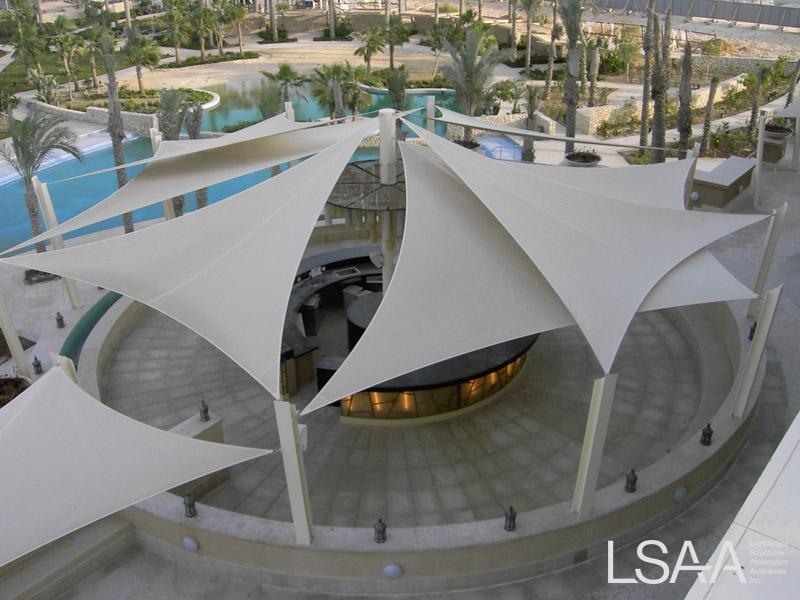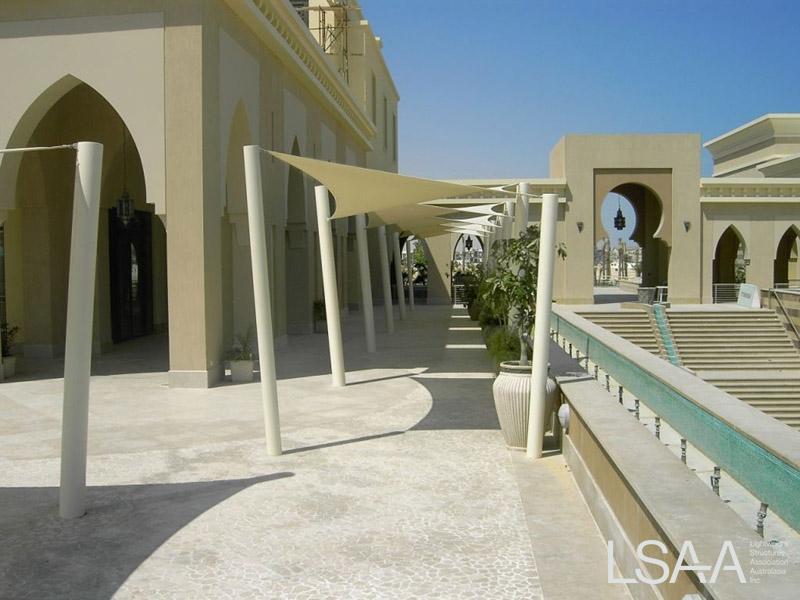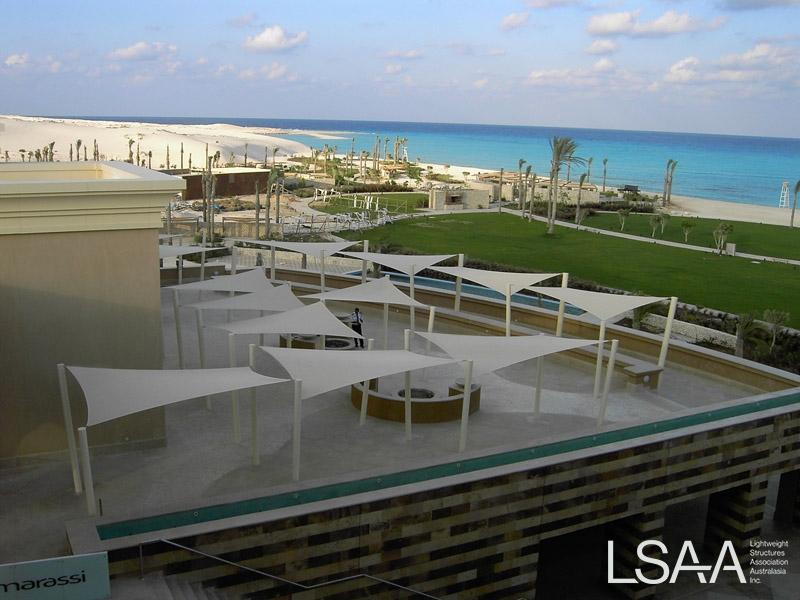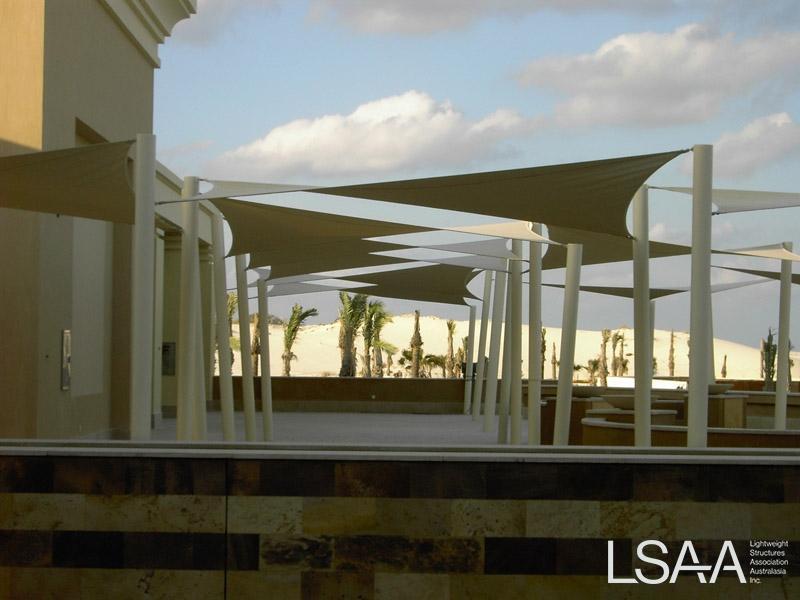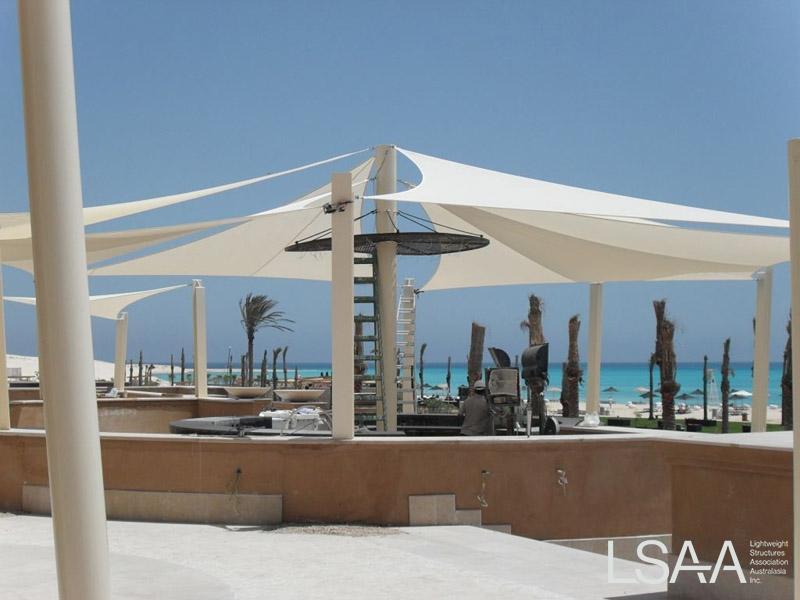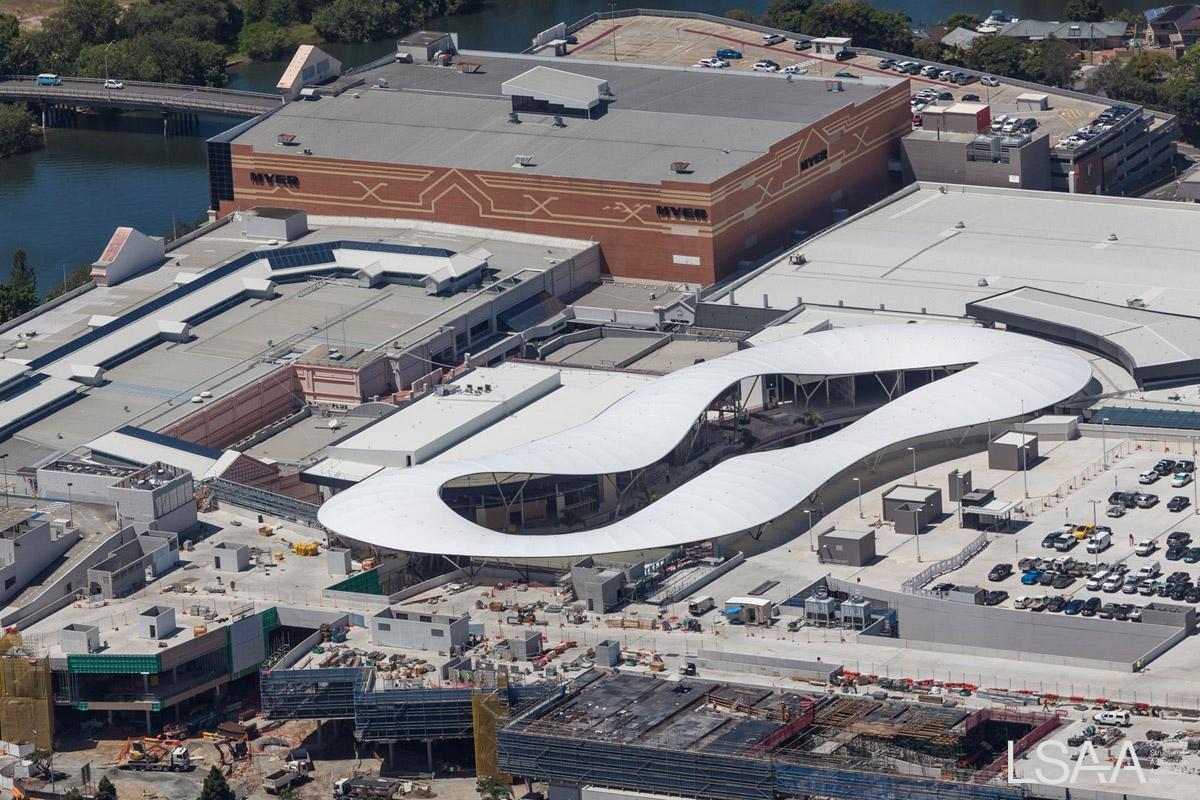 Entered into the LSAA 2016 Design Awards (Cat 4, Large Fabric Structures #4114)
Entrant: Fabritecture (Designer and Installer)
Location: The Esplanade. Completed: 2016
Client: Scentre Group (Westfield)
Team: Scentre Group (Westfield), Wade Design, Textile Fabrication Services, Fabritecture
Application
Statement architectural fabric structure with complex steel geometry and state-of-the-art LED lighting system as part of a $670 million redevelopment of Pacific Fair Shopping Centre on the Gold Coast.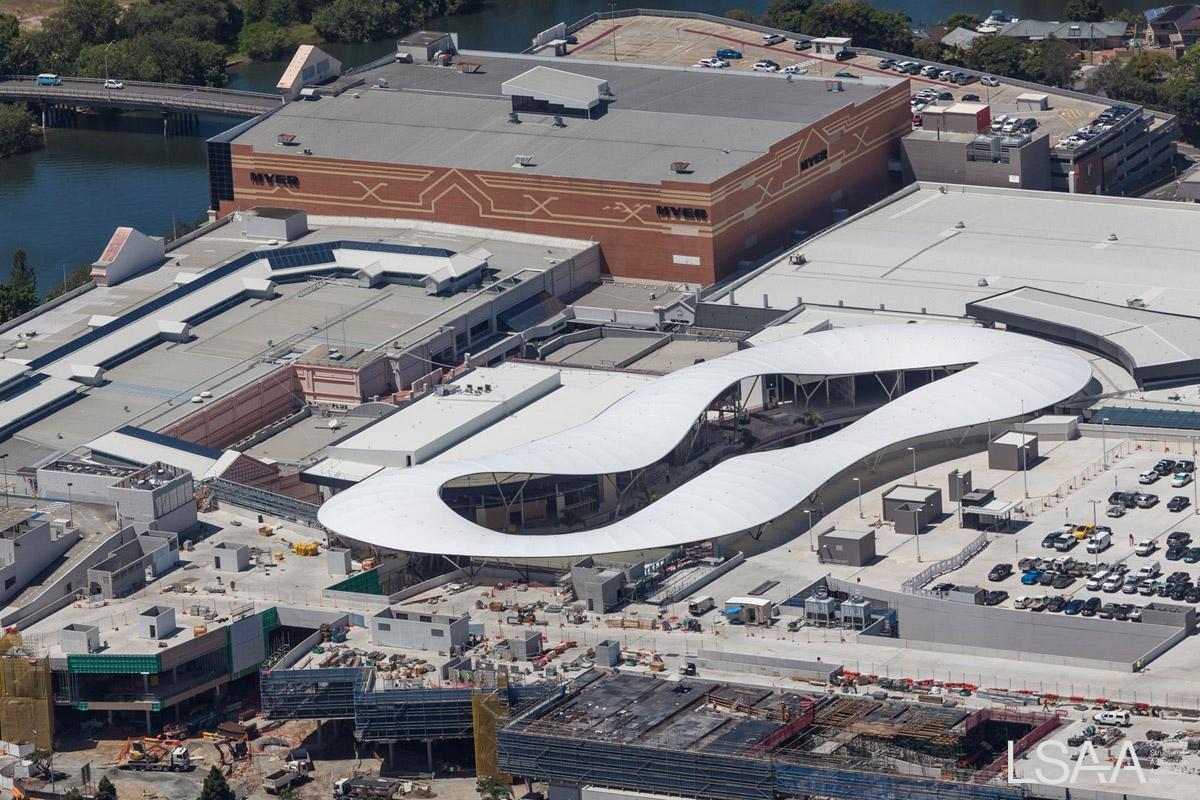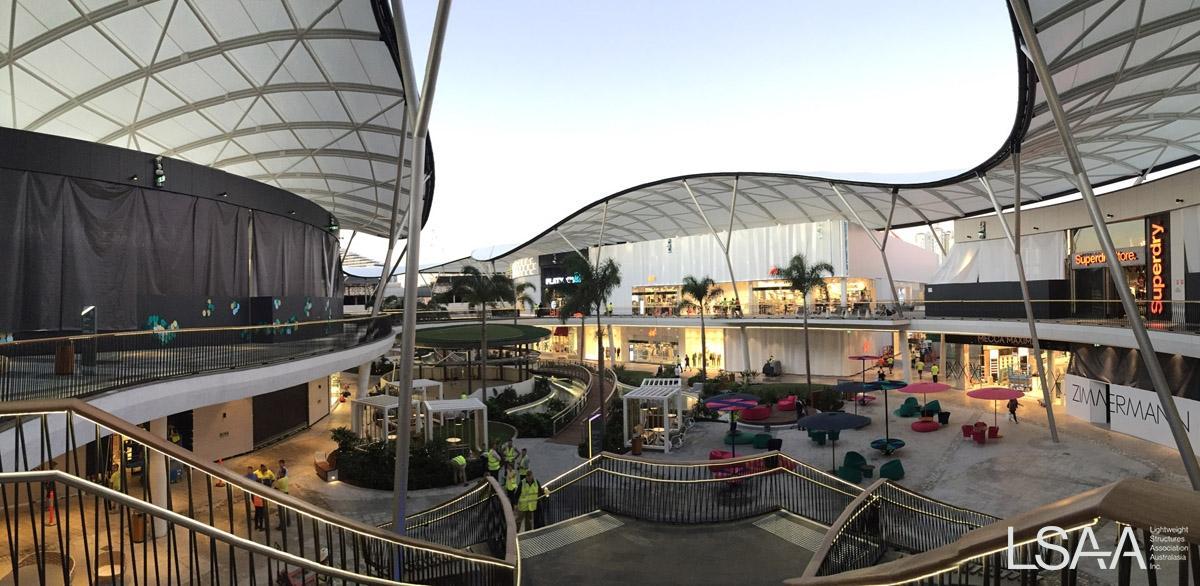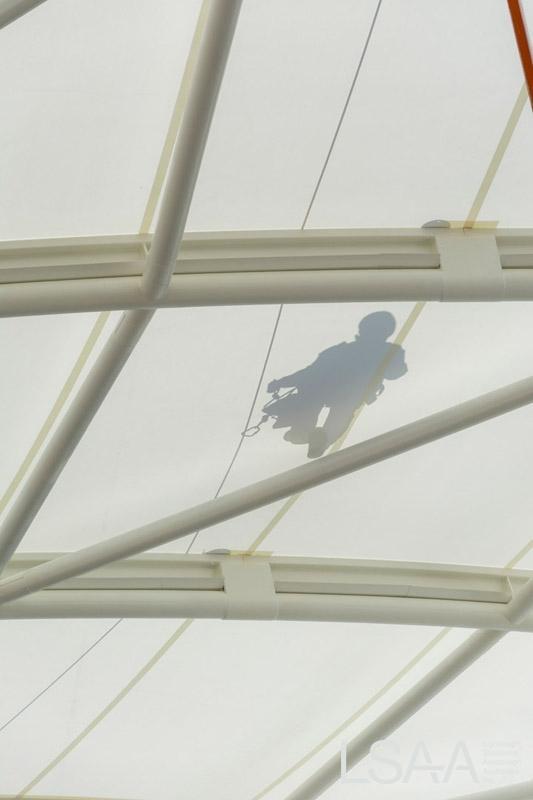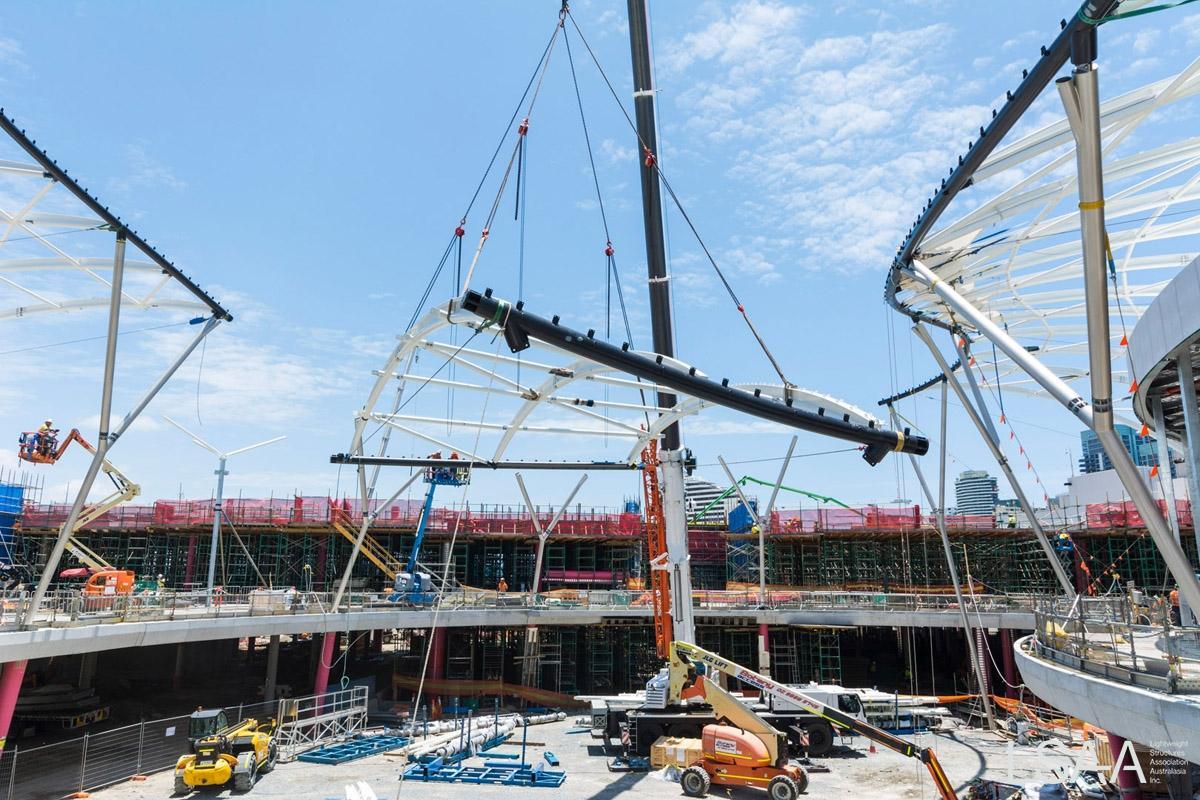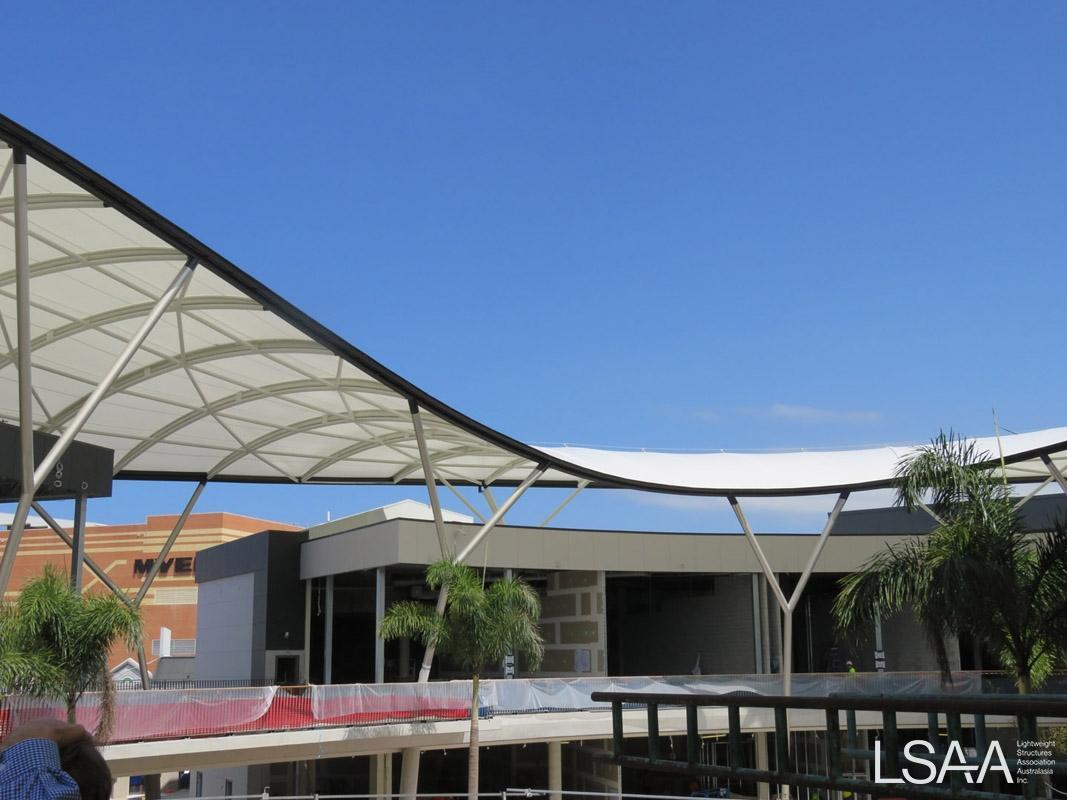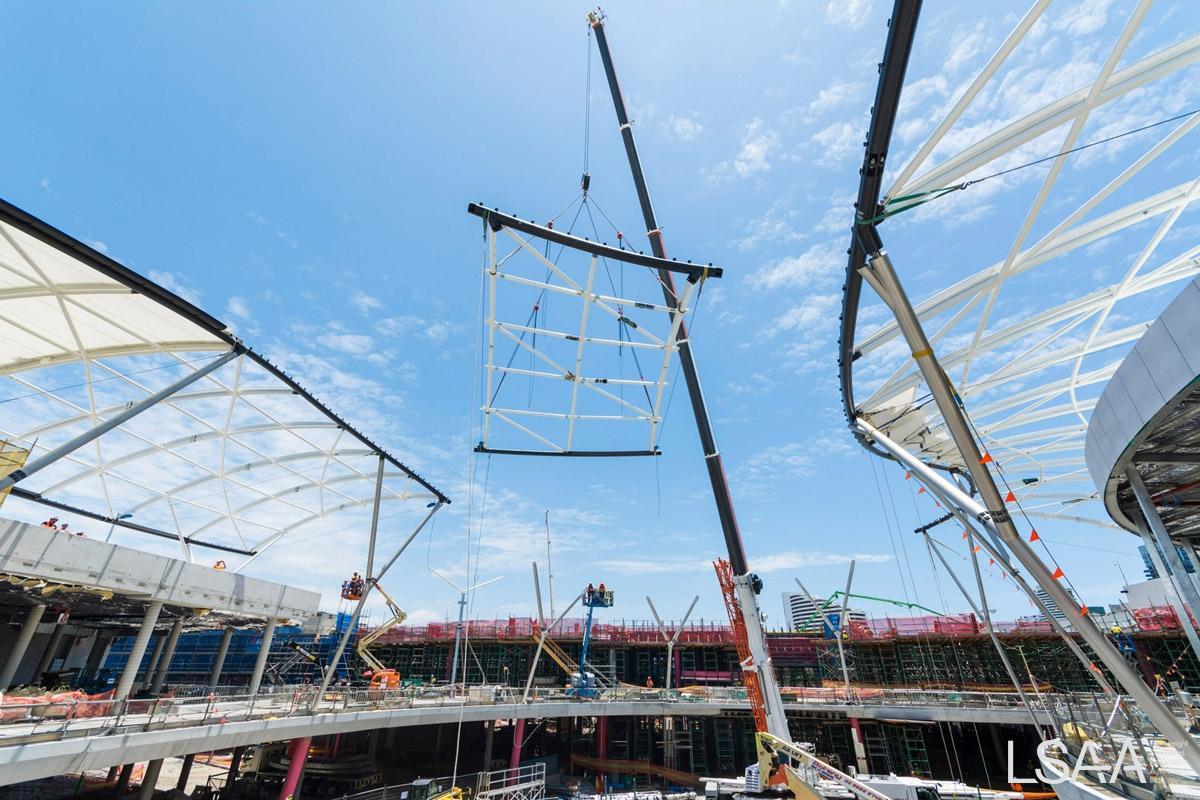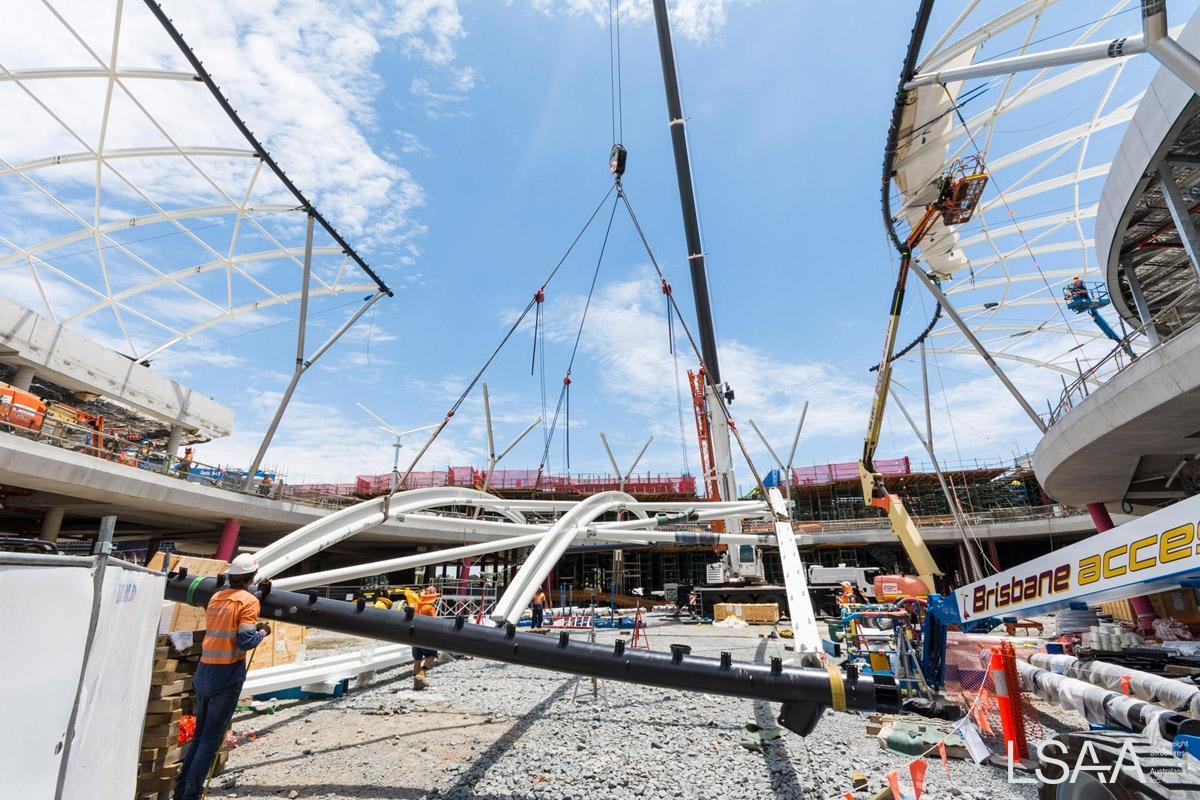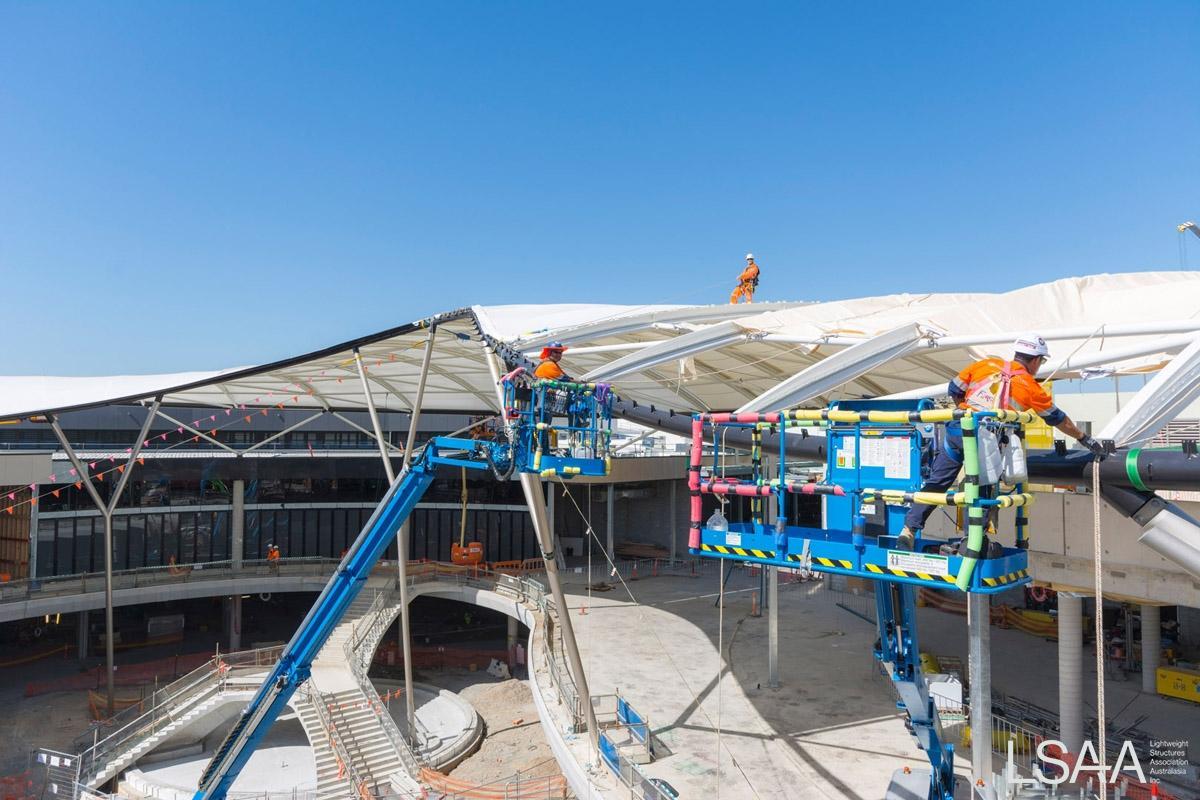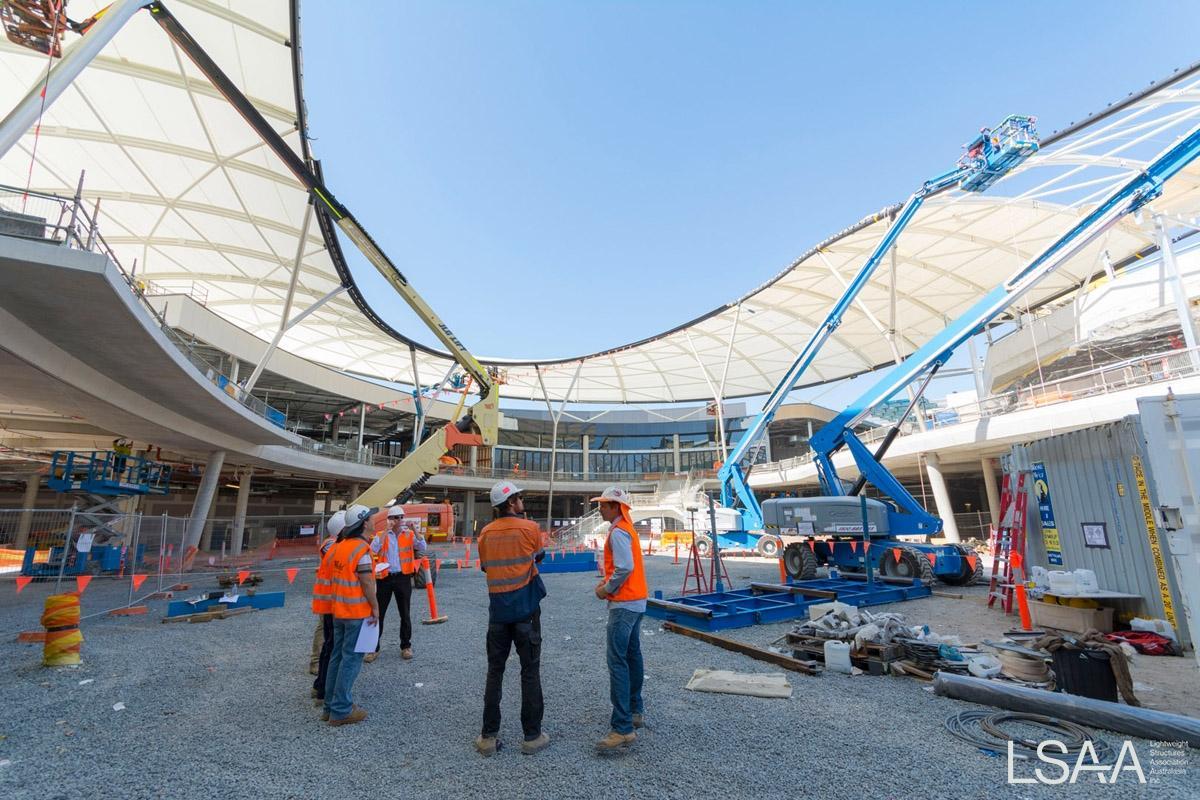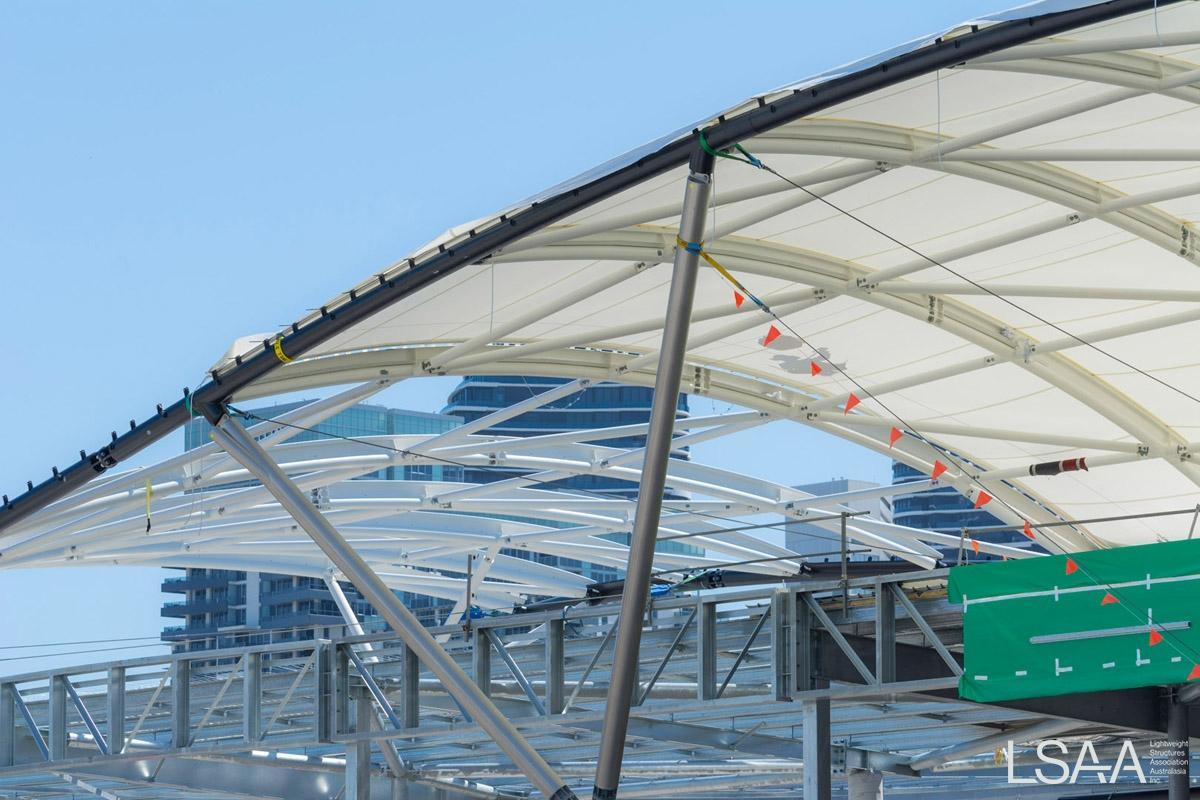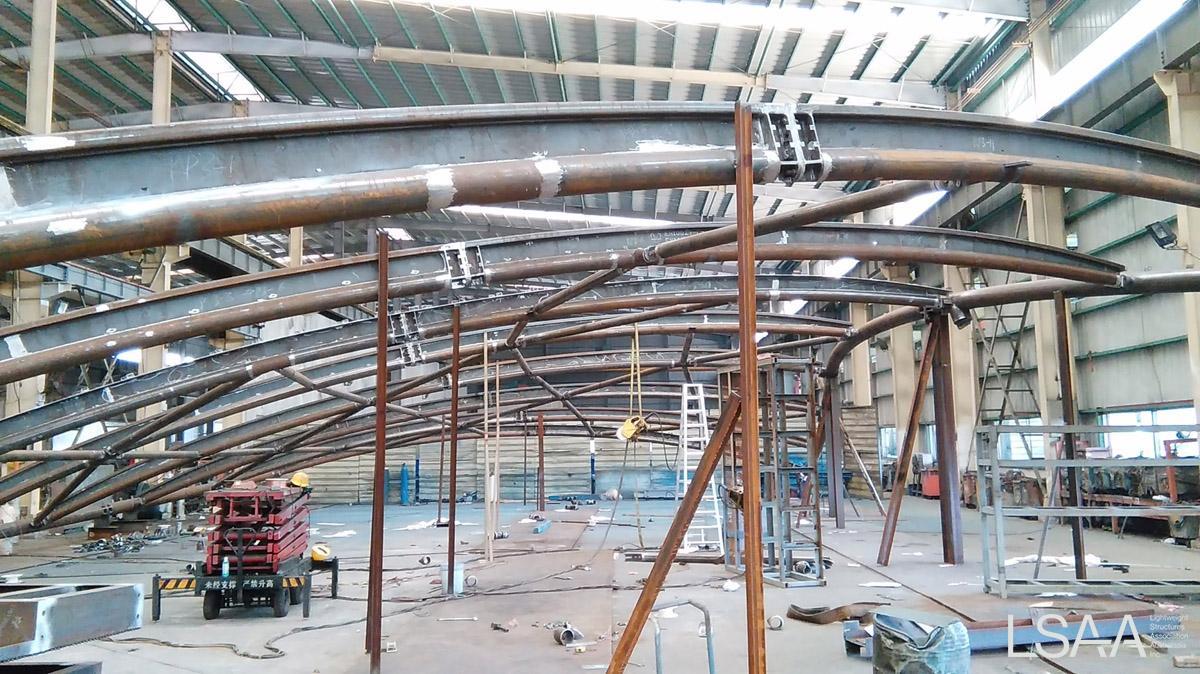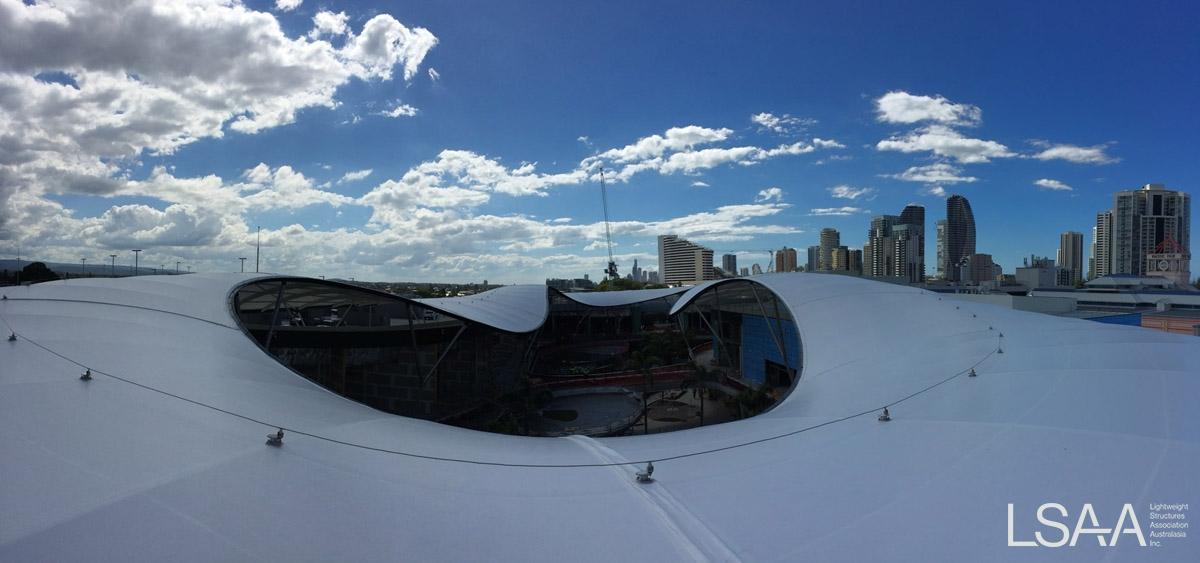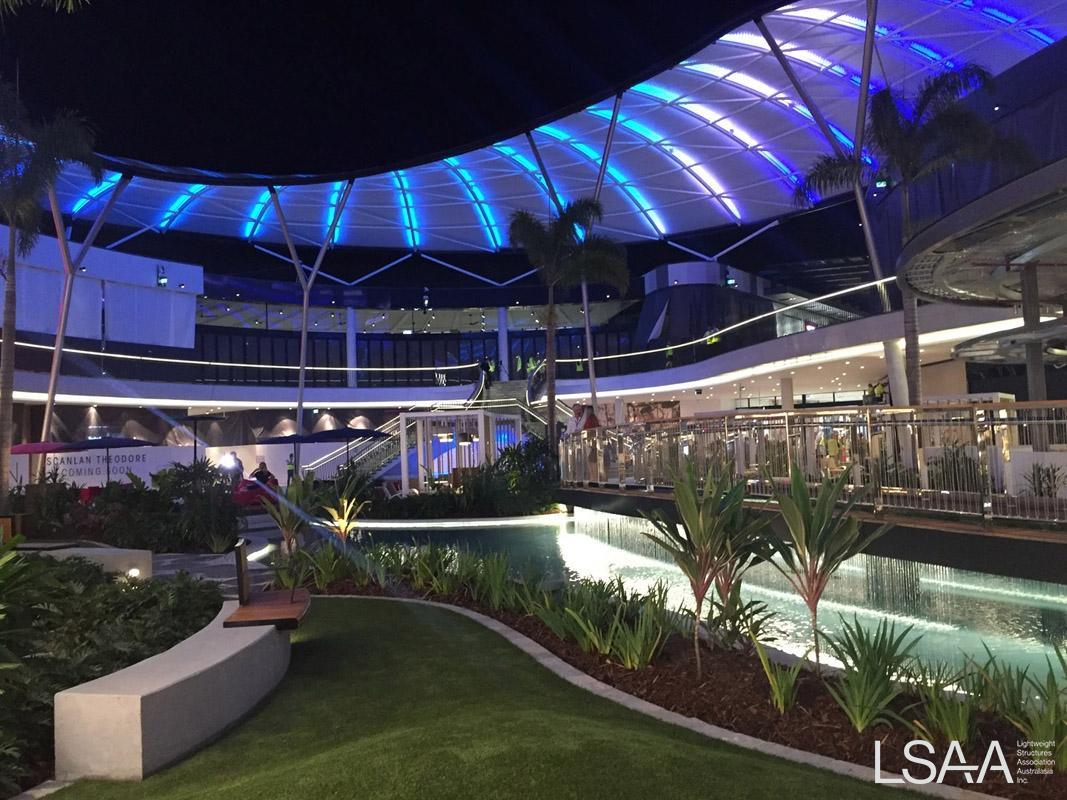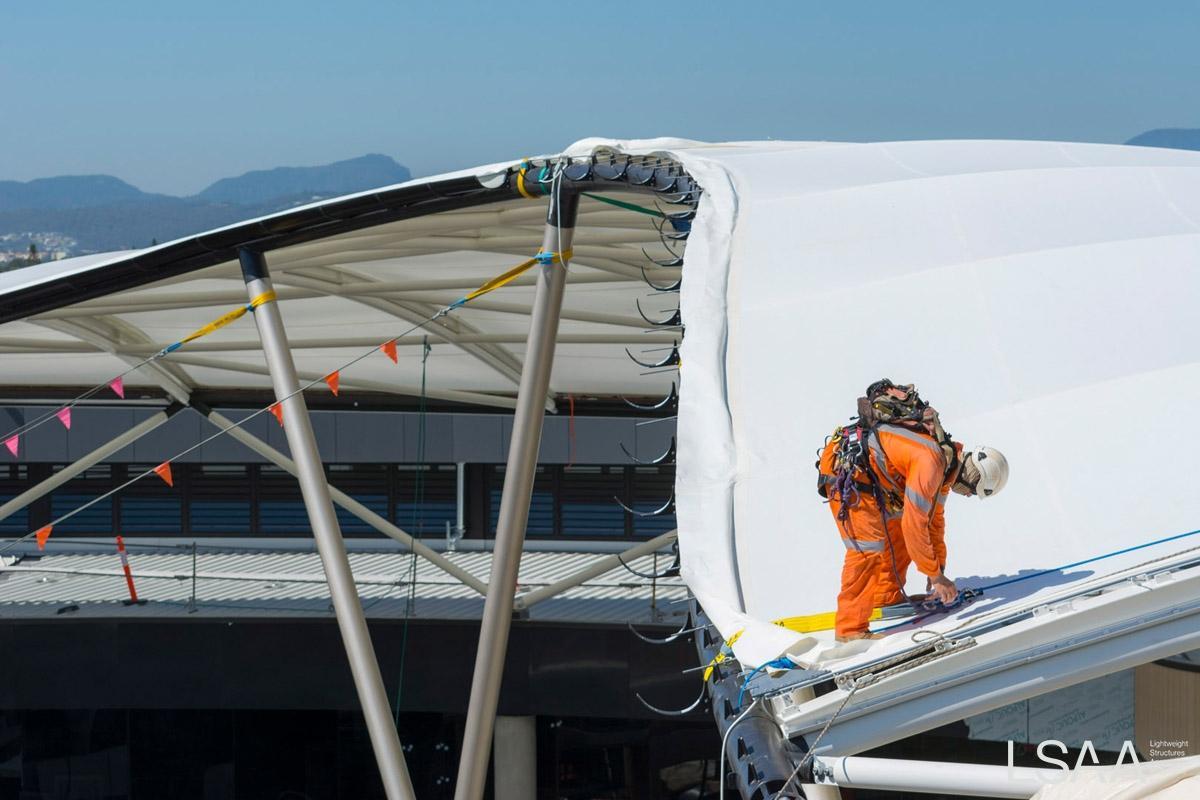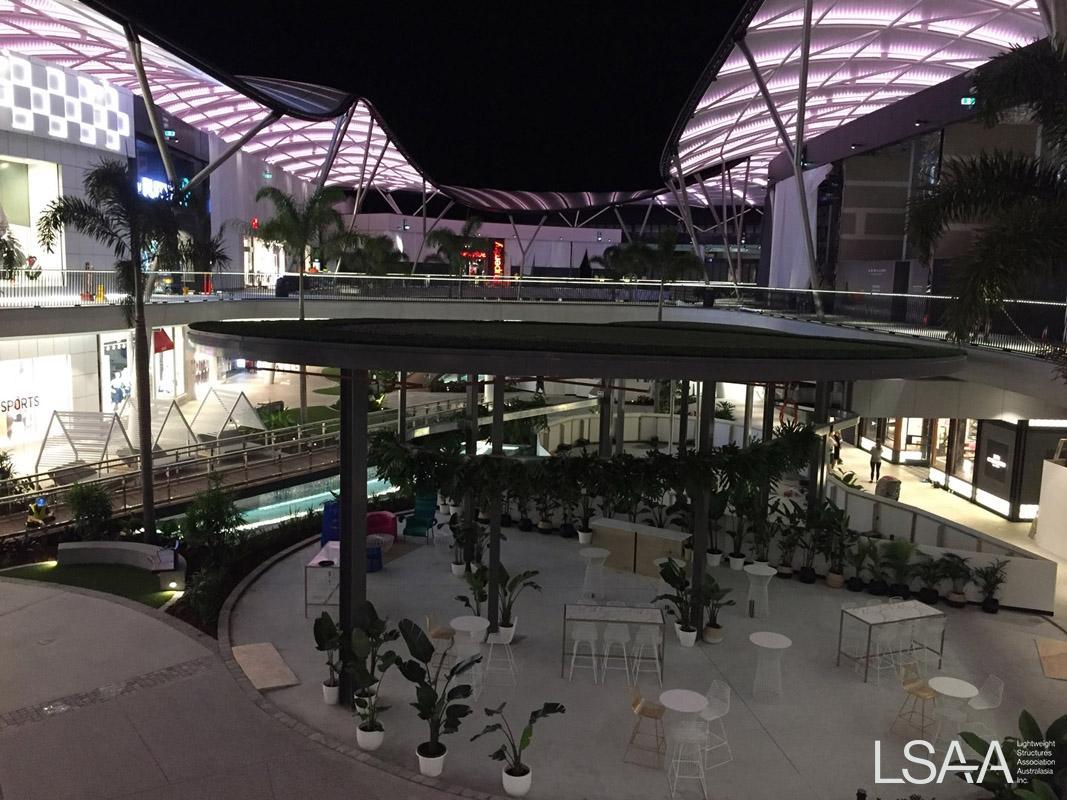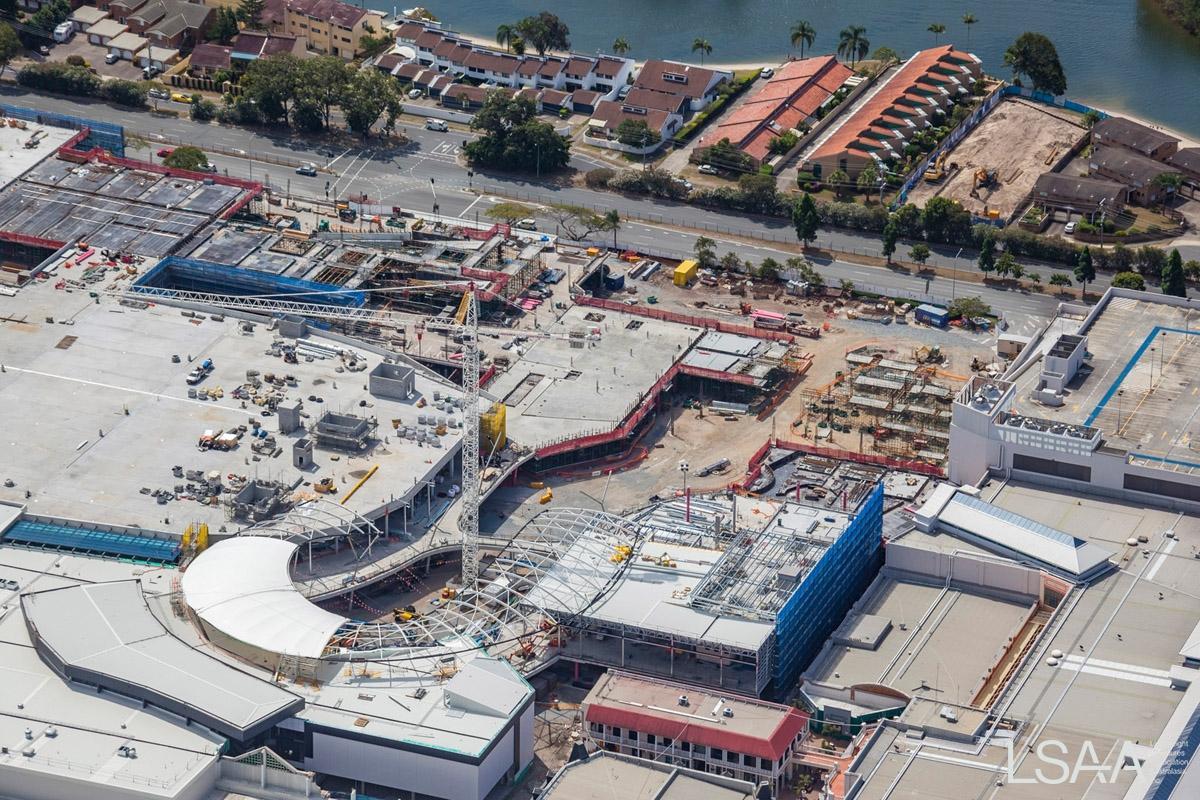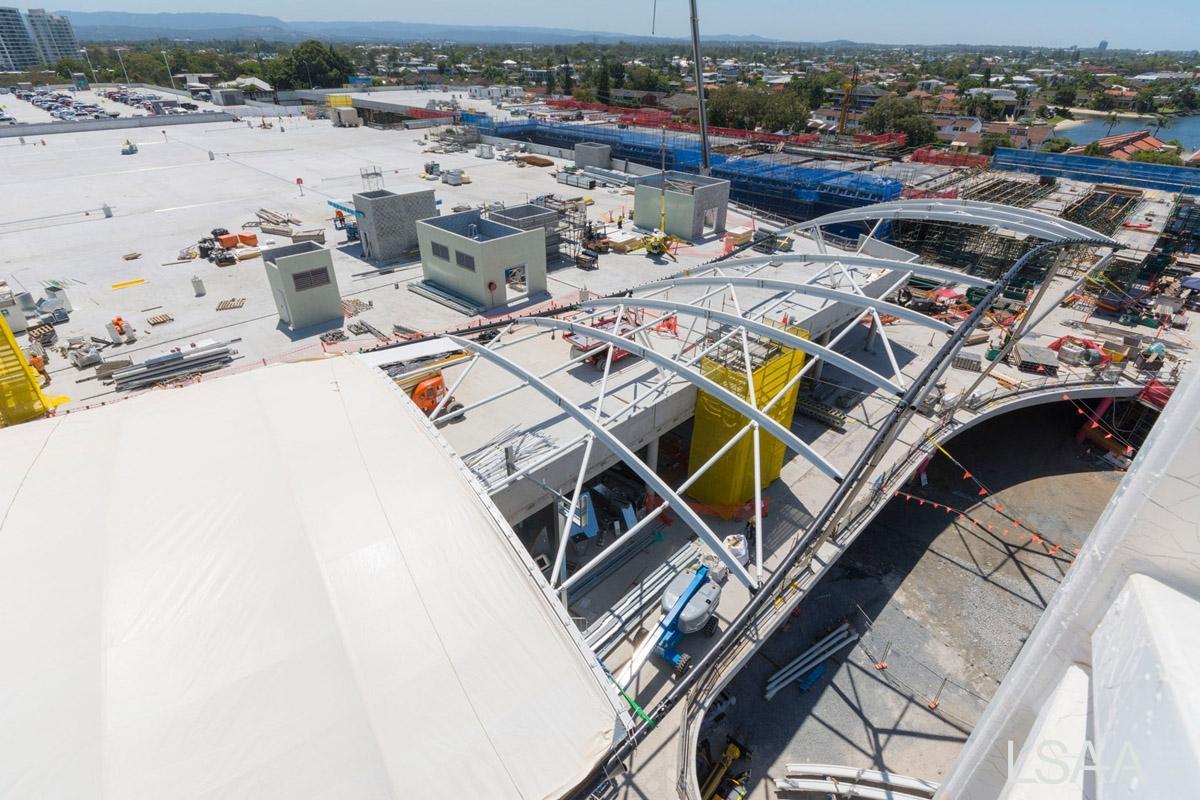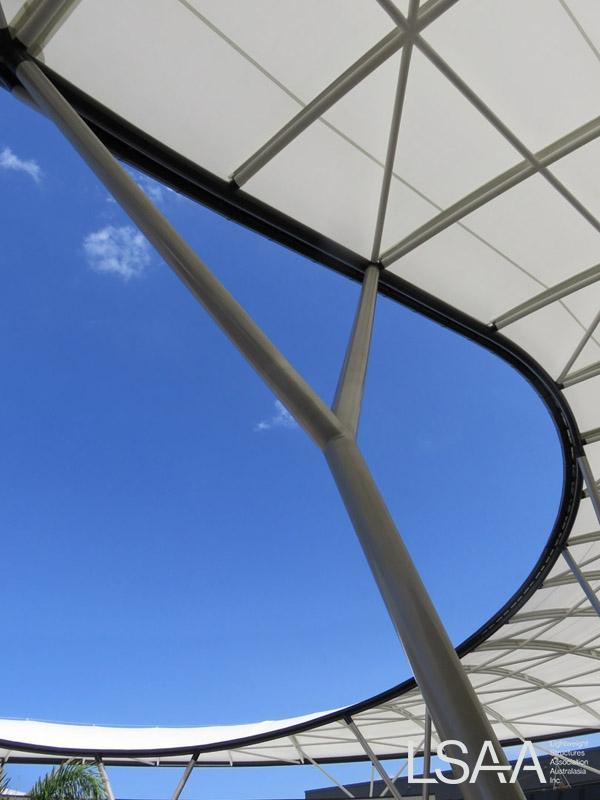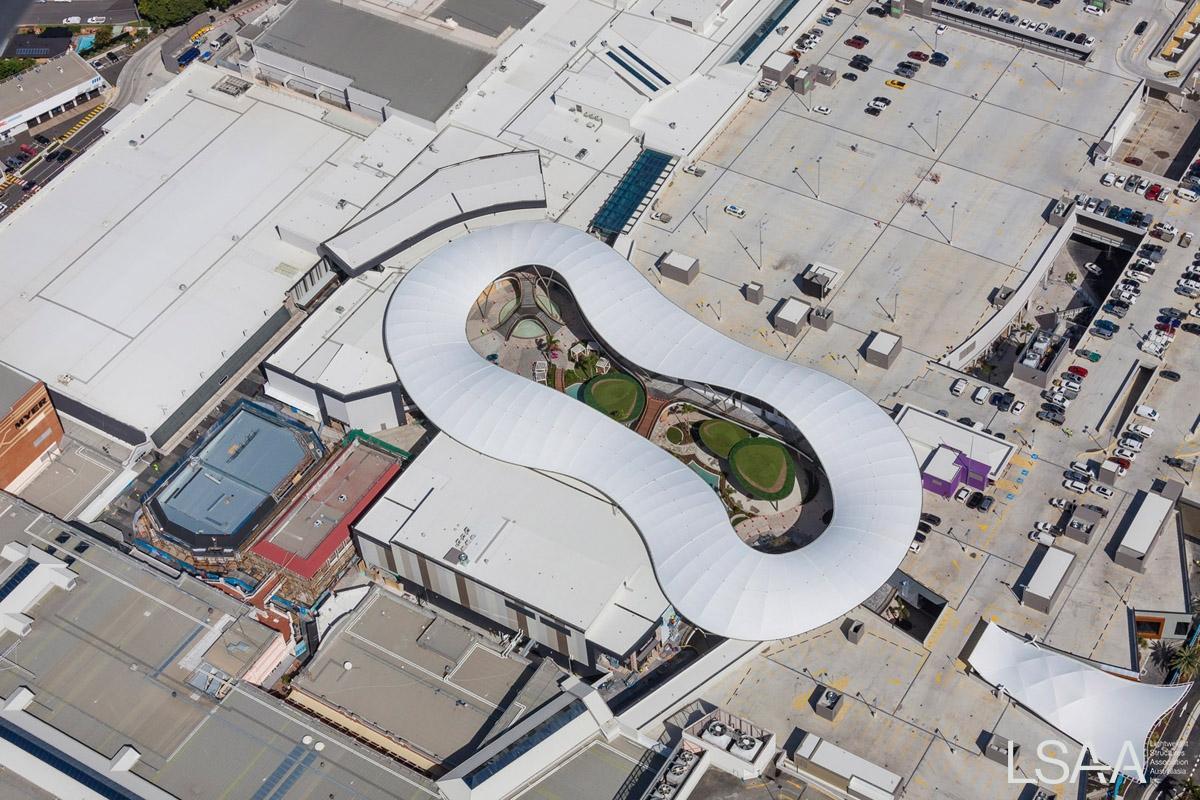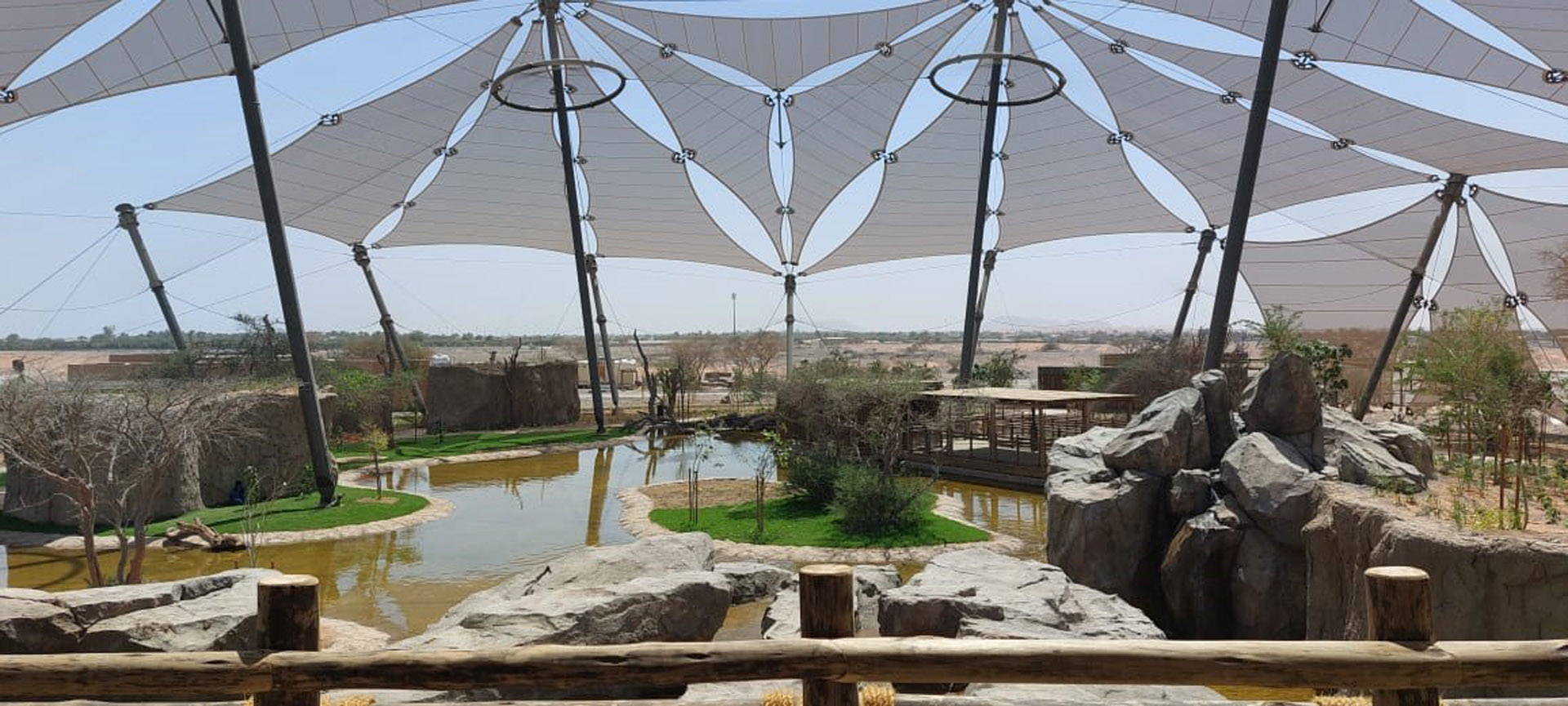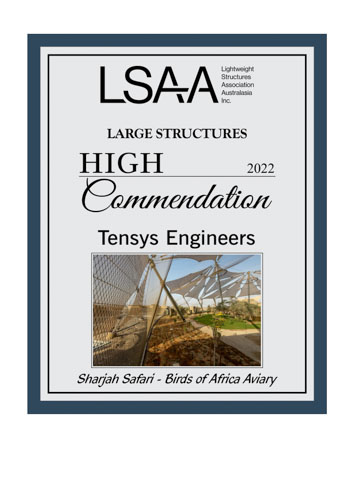 APPLICATION OF PROJECT:
This project was one spearheaded by HRH Dr Sheik Sultan Bin Mohammed Al Qasimi (Ruler of Shajah) and was kept under wraps for the past 4 years. The Birds of Africa Aviary forms the centre piece of the Safari and highlights the flamingo habitat.
PROJECT DESCRIPTION:

A bird aviary comprising 10,000 sqm of stainless steel woven cable mesh together with shading panels.
DESIGN / FABRICATION / INSTALLATION BRIEF
The function requirement was to create a stainless steel mesh bird aviary to both keep the birds in, as well as keep out unwanted pests. Due to the hot summer months in the Middle East an additional shading element was required. This has both a functional brief as well as providing both texture and difference in translucency to the aviary structure
STRUCTURAL SYSTEMS
A tensile anticlastic form created with structural steel and cable system. The tension element is in the form of stainless steel cables and mesh together with PVC/PES shading elements.
MATERIALS
Structural architectural steel
Stainless woven cable mesh
PVC/PES fabric
Read more: Sharjah Safari - Birds of Africa Aviary (DA 2021 Entry 4657)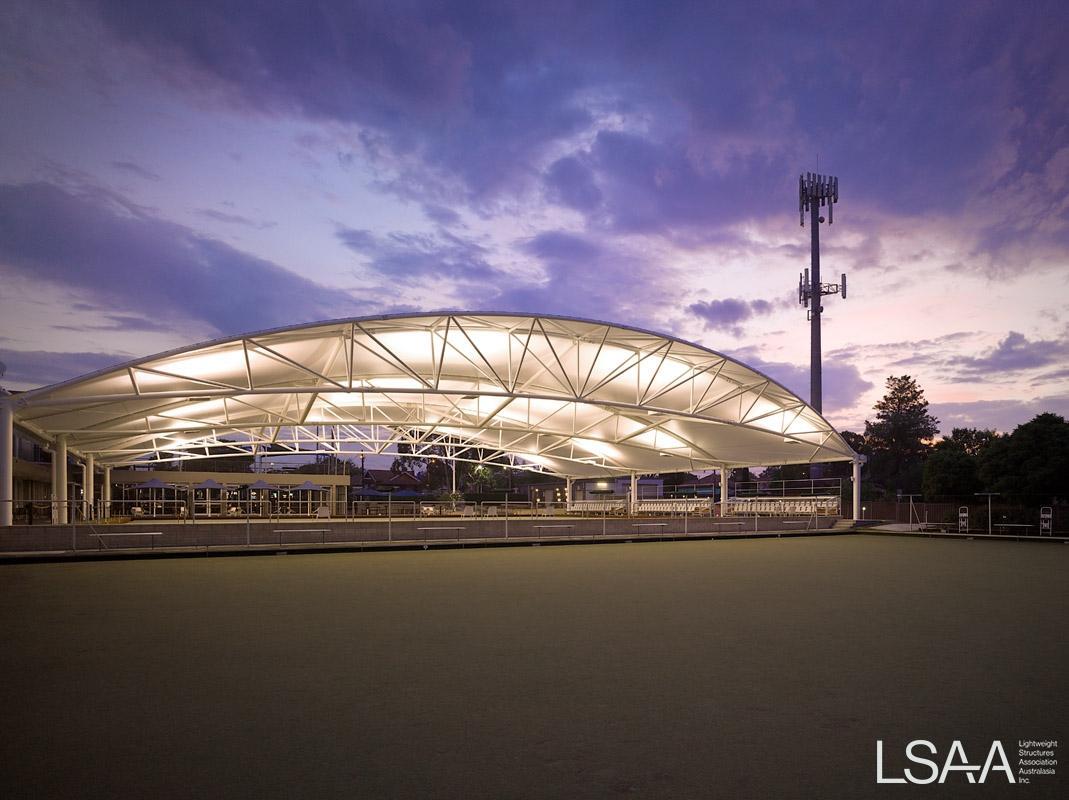 LSAA 2013 Design Award Entry (#4301): Cabramatta Bowls Club
Entrant: MakMax Australia
Category: 4 ID Number: 4301

Location: Fairfield Rd, Cabramatta NSW

Client: Paynter Dixon Constructions Pty Ltd

Completion Date: October 2011
APPLICATION OF PROJECT: Long span sporting arena roof.
PROJECT DESCRIPTION:
Sun safety in sport is a growing concern across all sectors of our community. Providing a playing surface protected from harmful sun is vital to the continuity of some sports. The sport of lawn bowls in particular have realised this is especially true for their aging demographic and shrinking membership.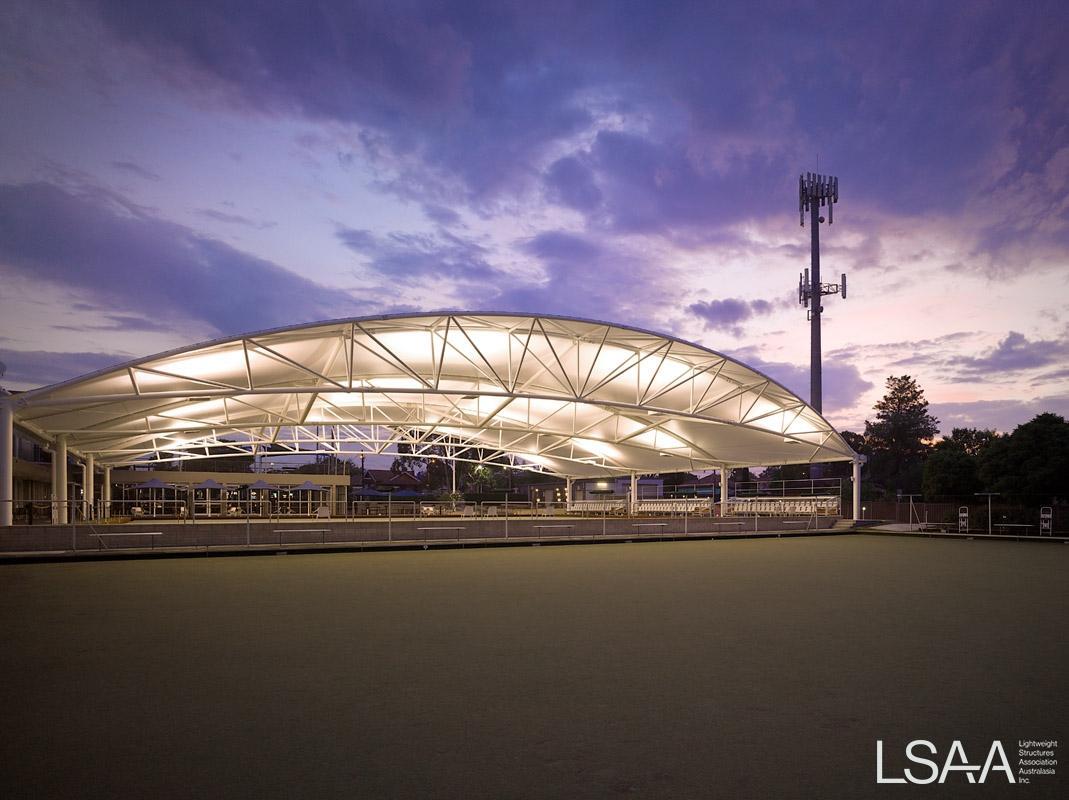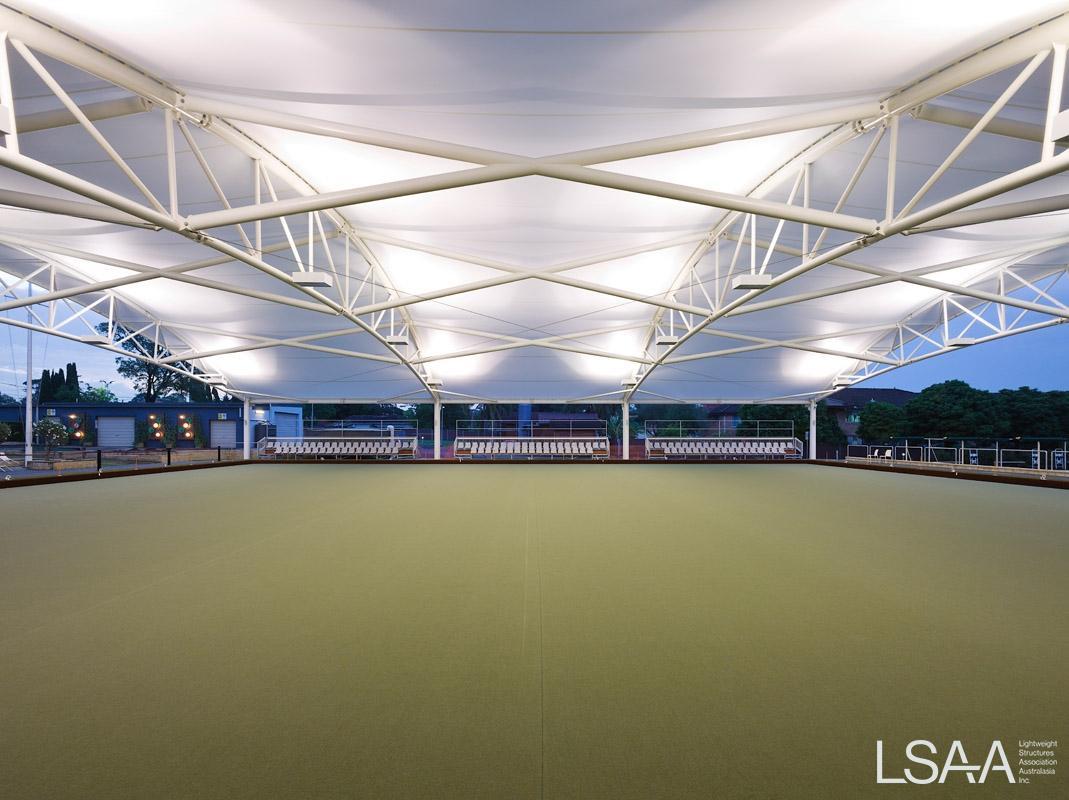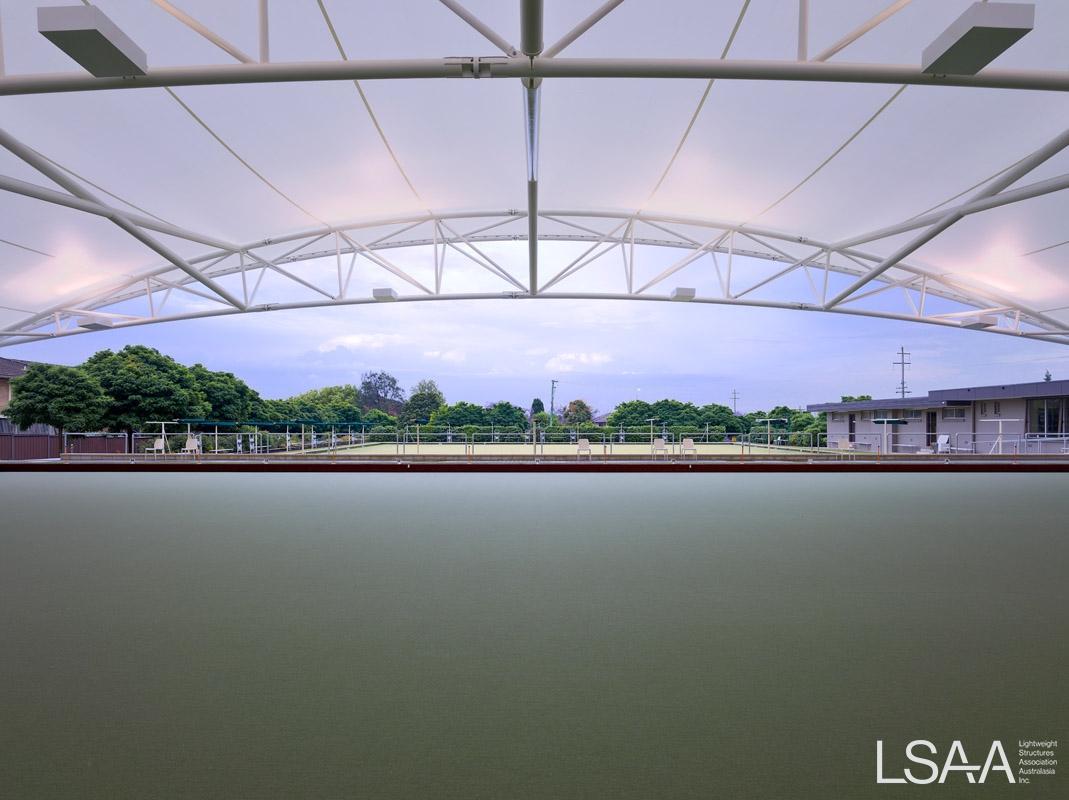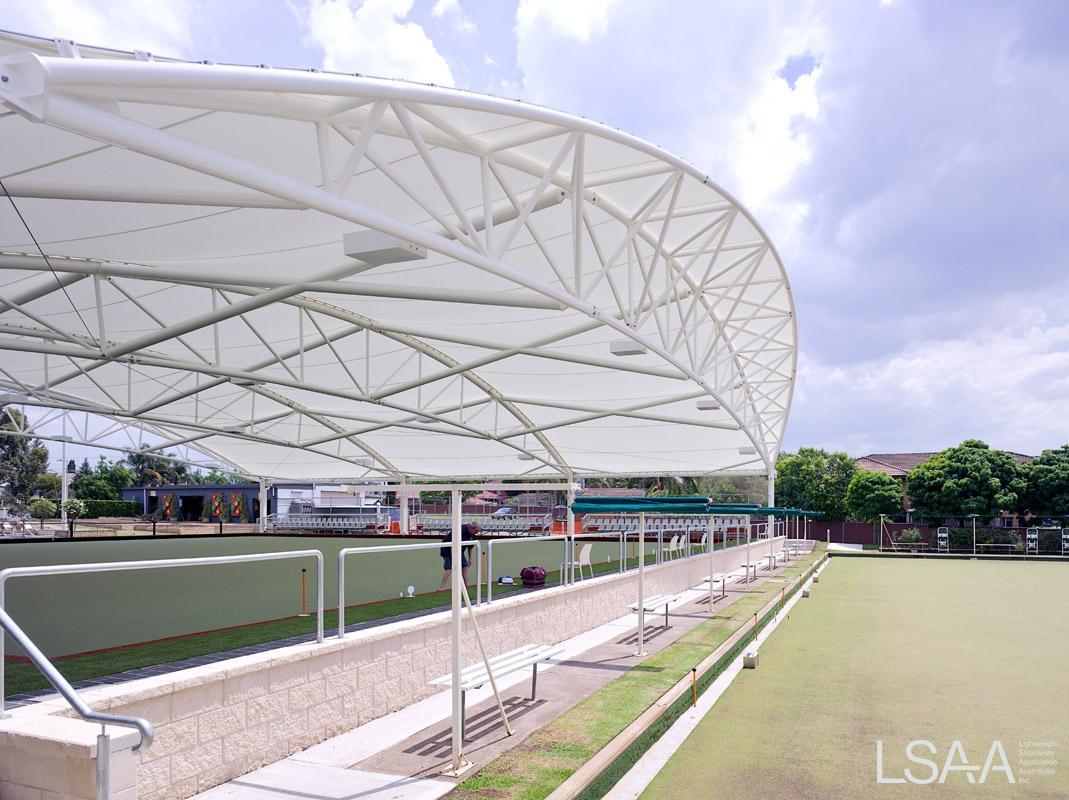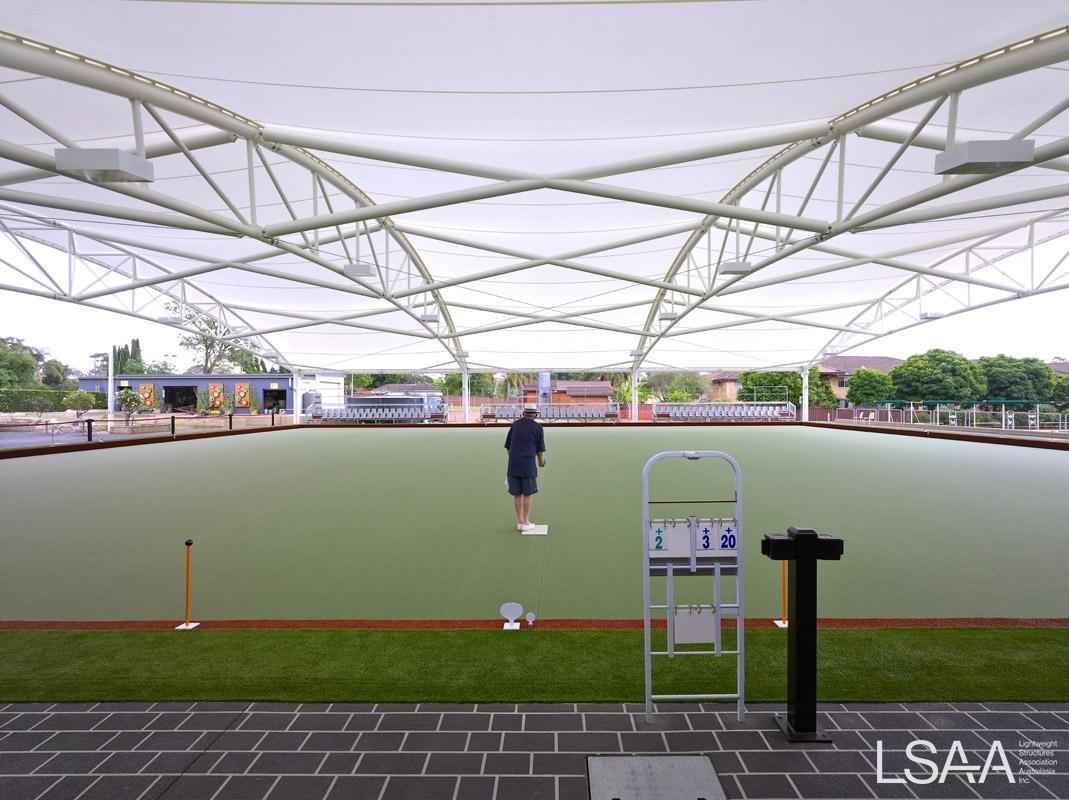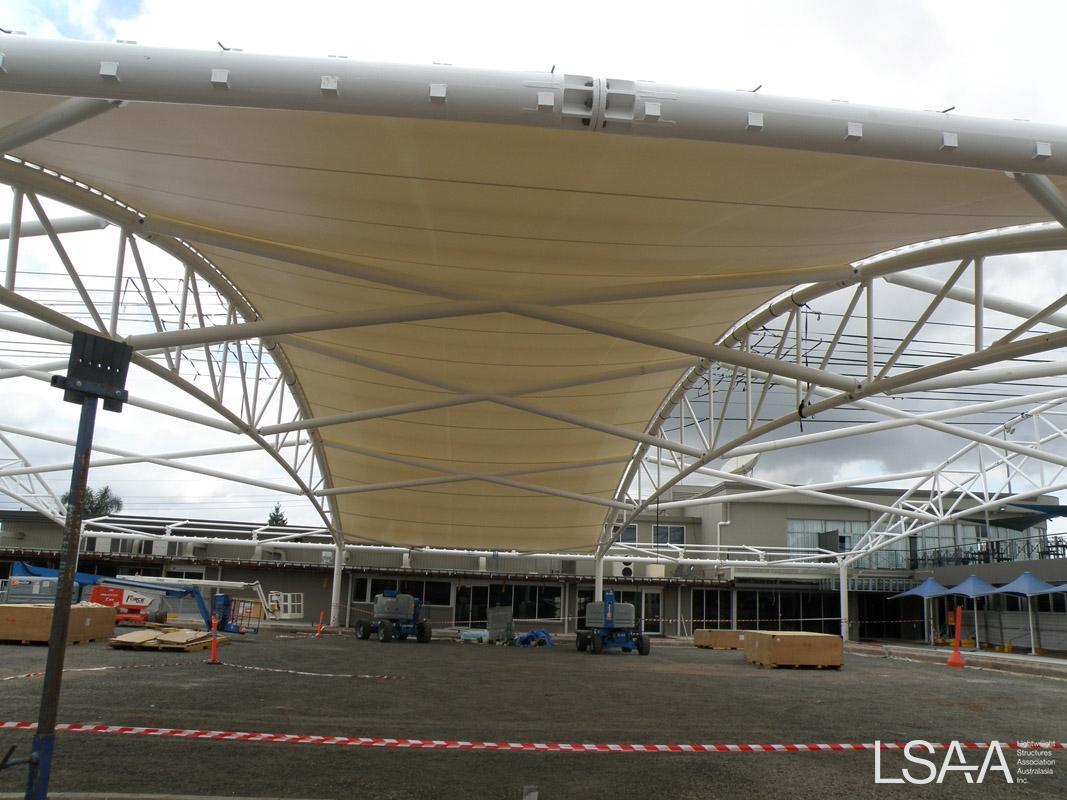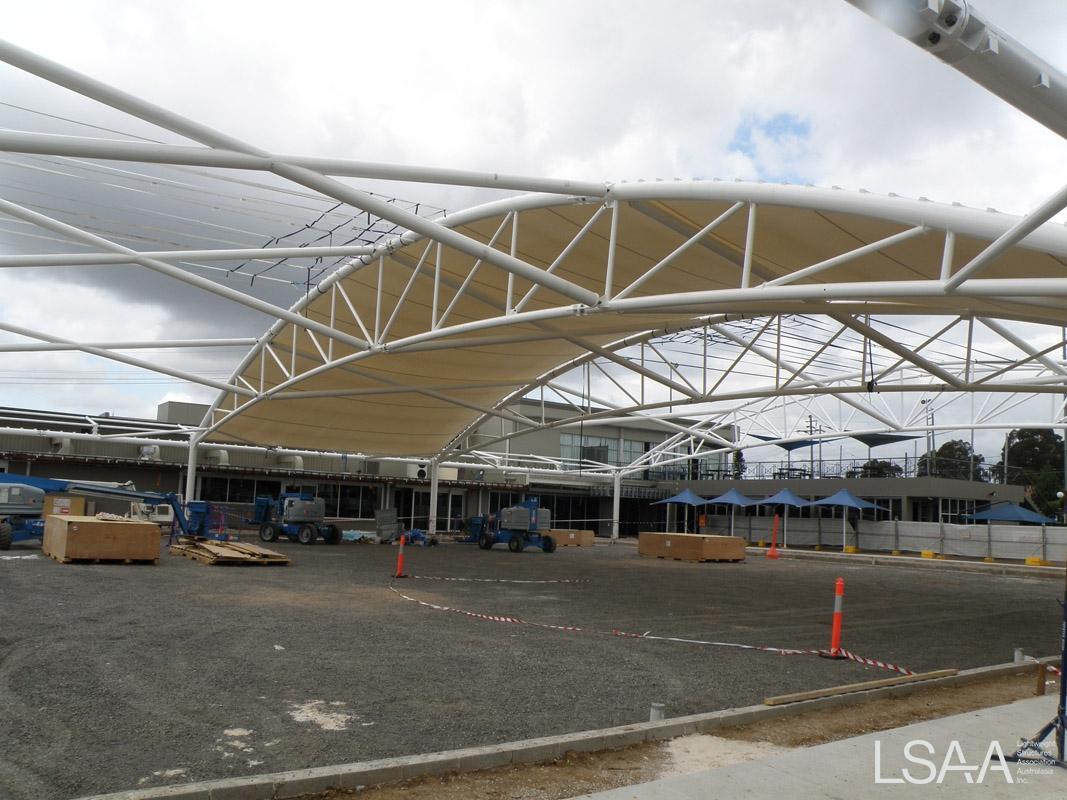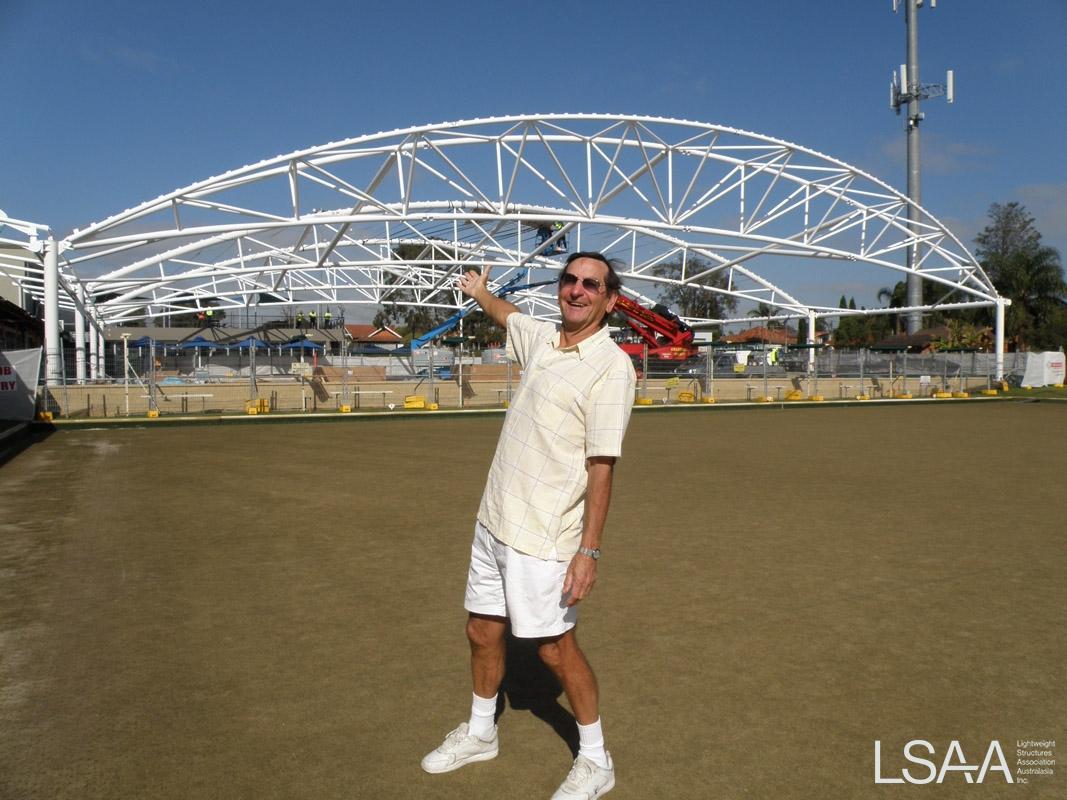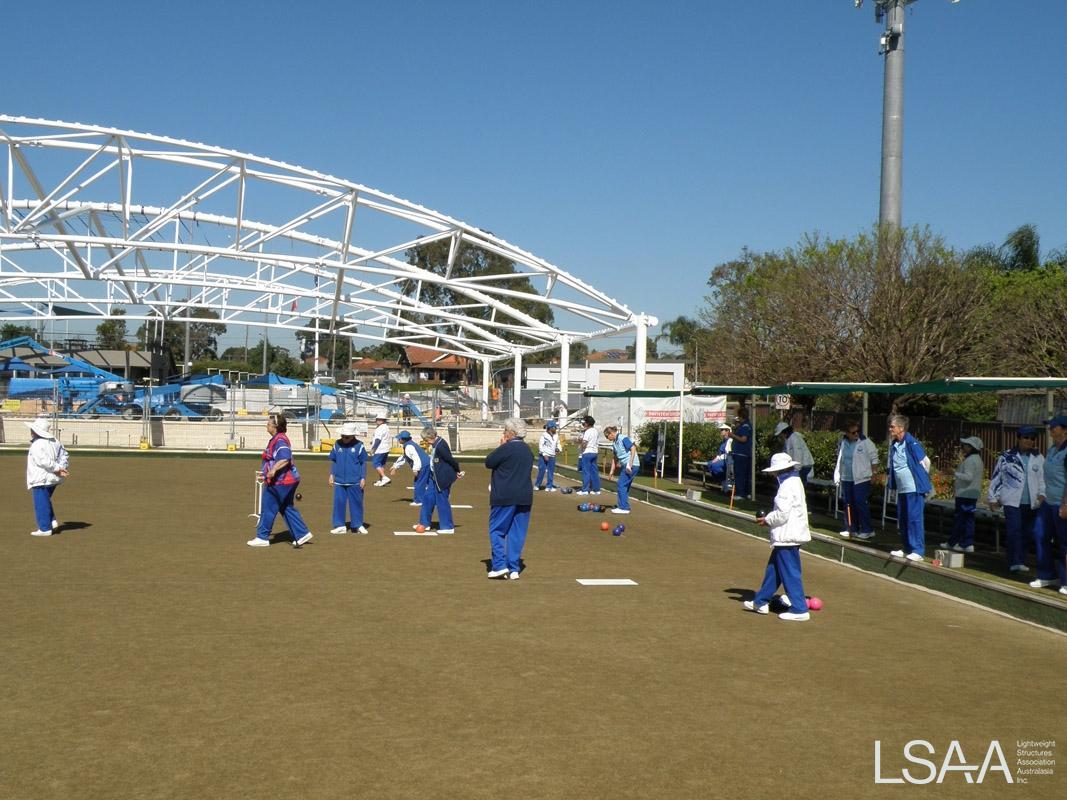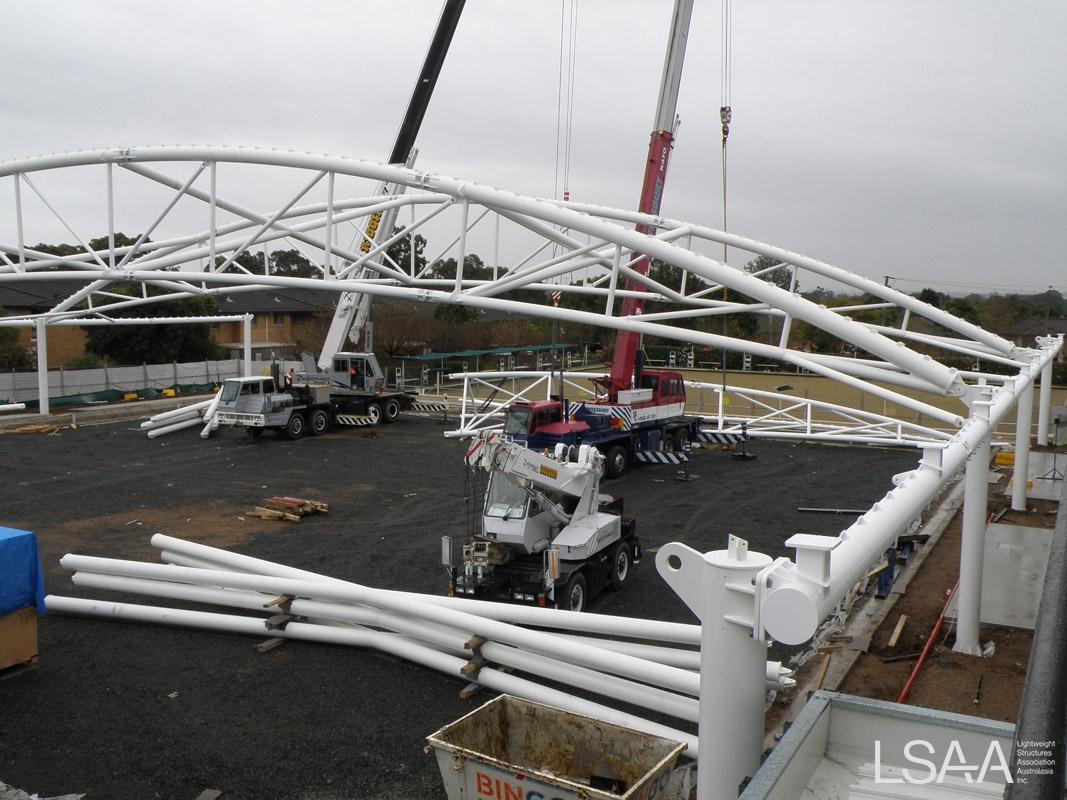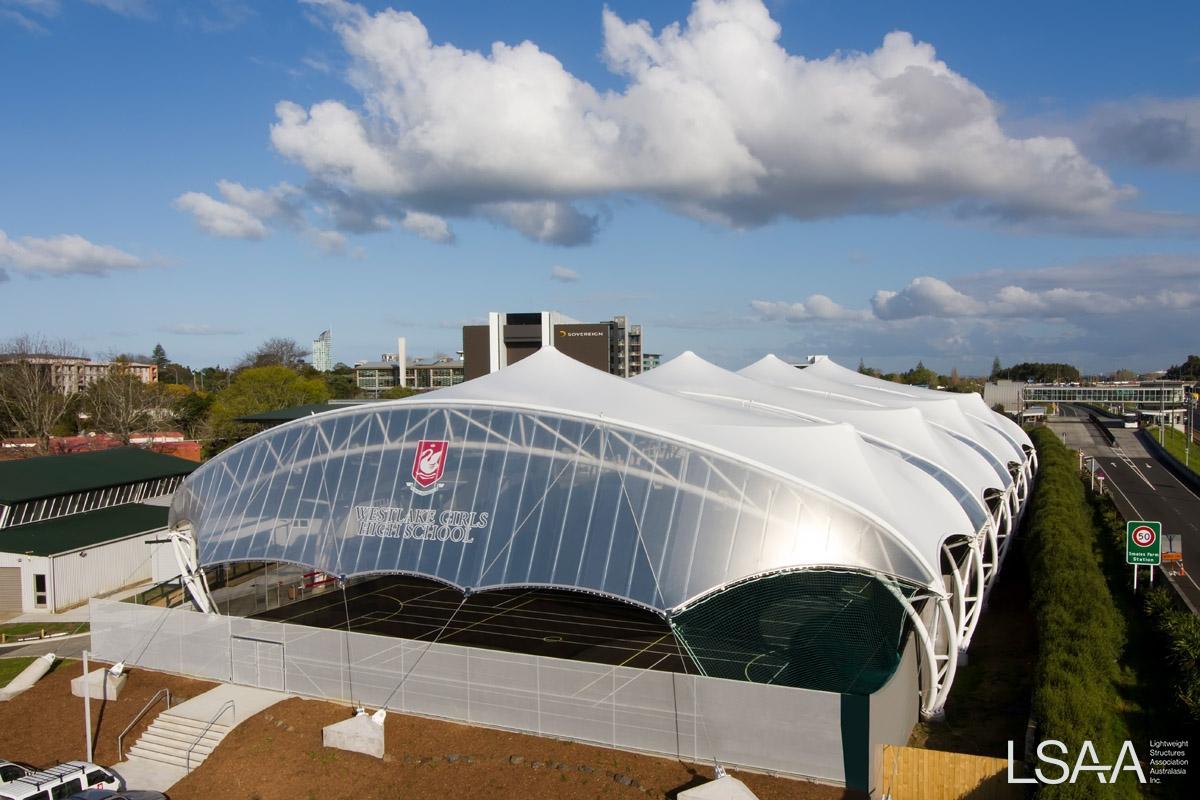 LSAA Design Awards 2013 High Commendation
Entrant:Structurflex Limited
Category: 4 ID Number: 4101

Location: Auckland, NZ

Client: Westlake Girls High School

Completion Date: May 2012
Judges Comments:
"Well executed variant of a "Standard" structure for sports."
"A tough site by the side of a motorway. Fine integration of structure and membrane to make the most of the potential of lightweight materials. A generous span provides uncluttered space; a sense of levity throughout."