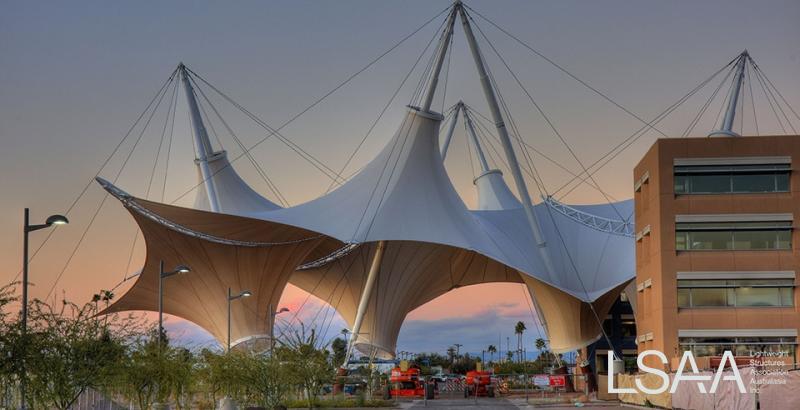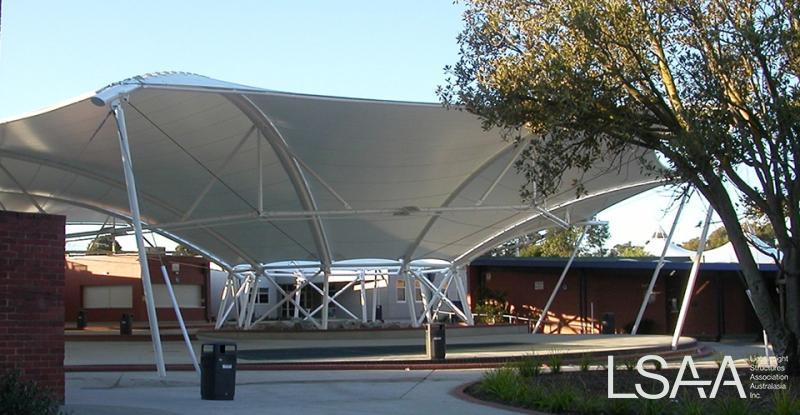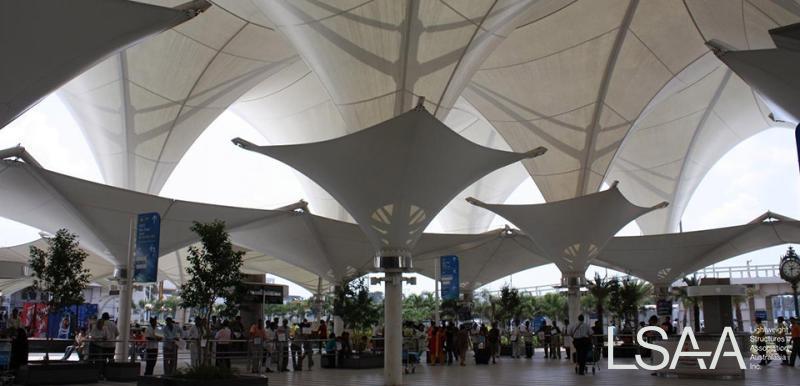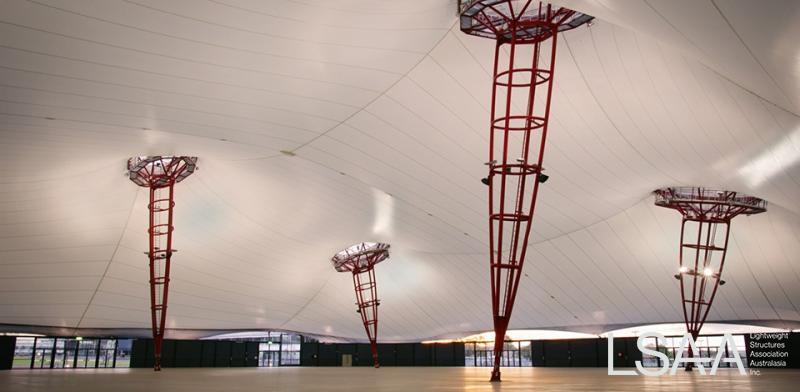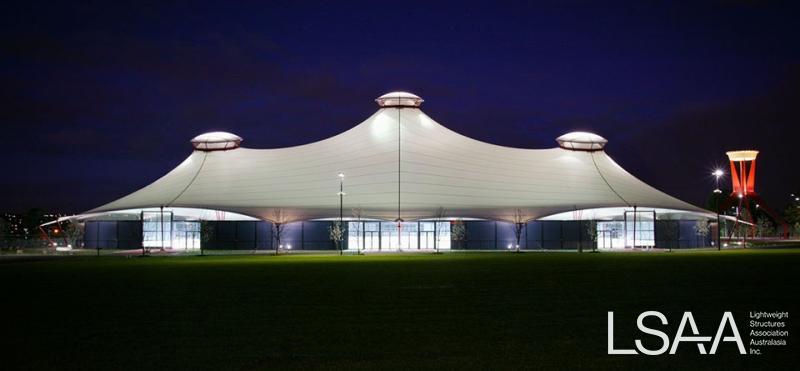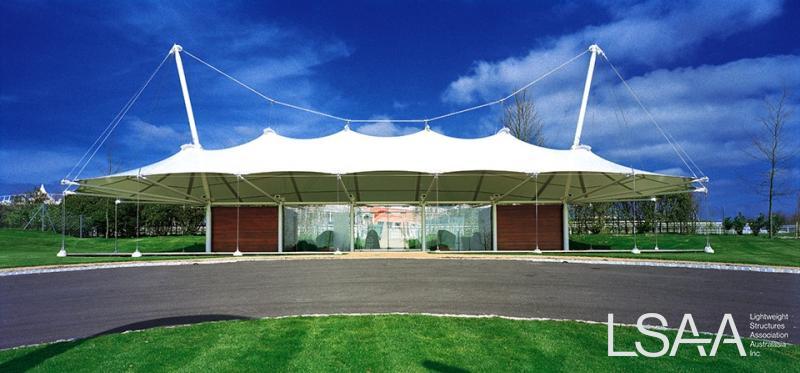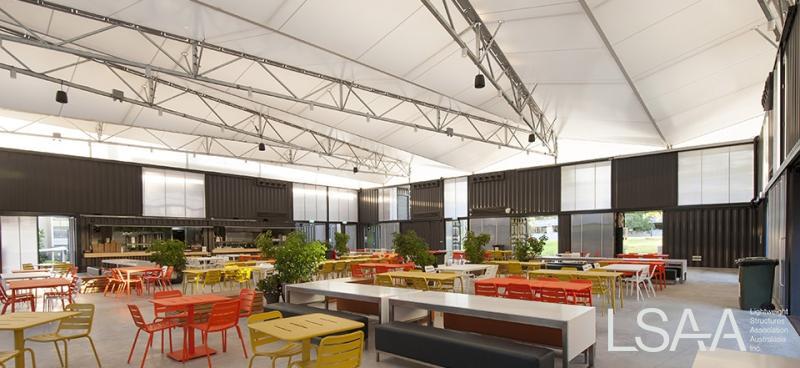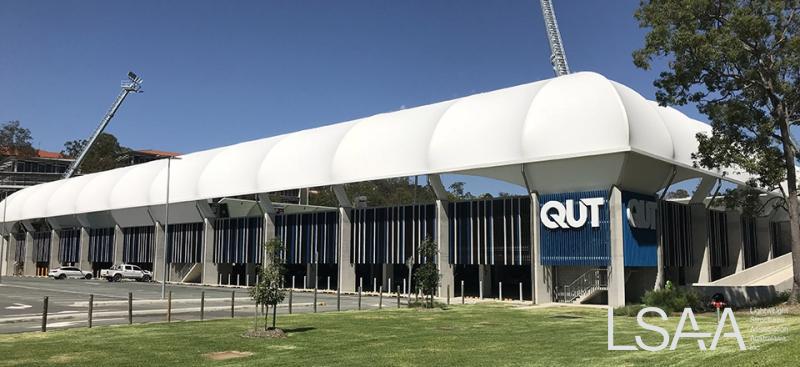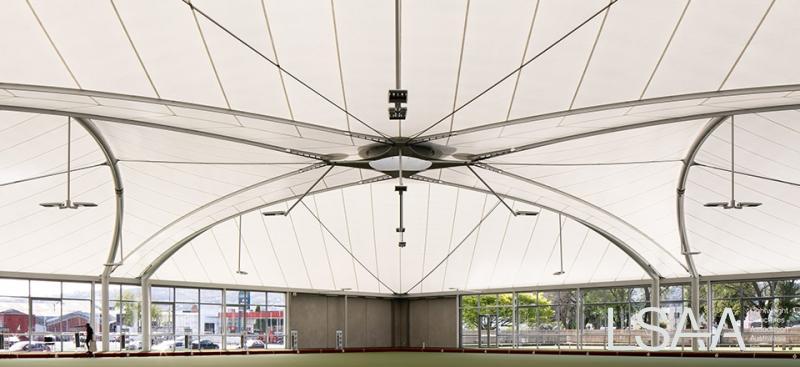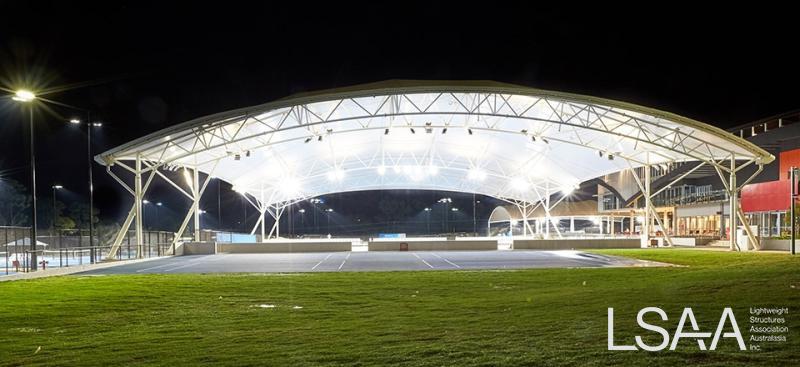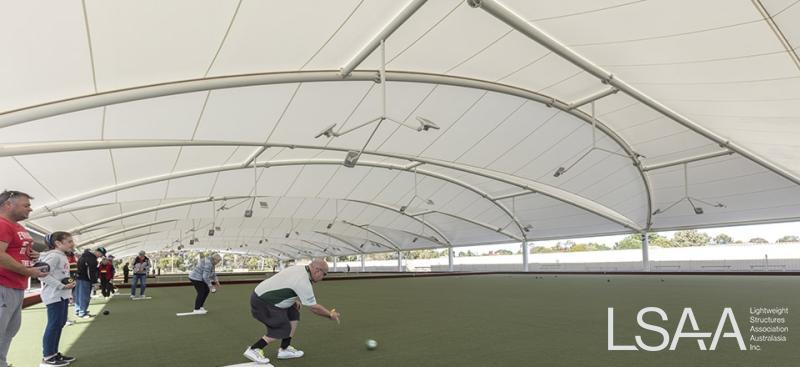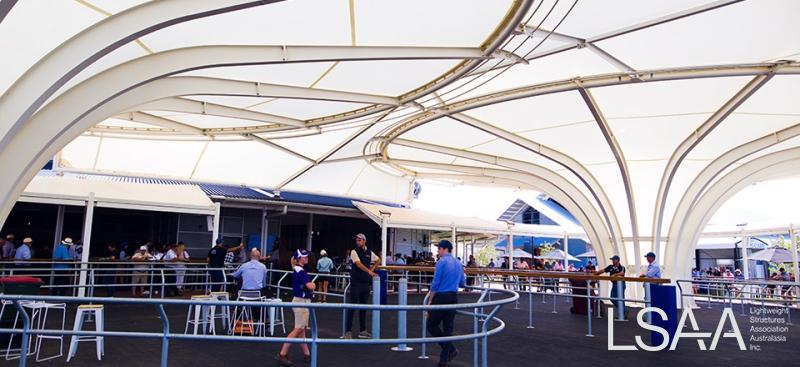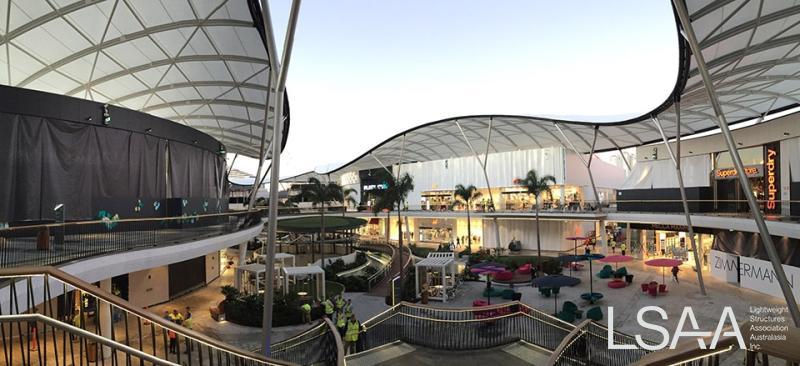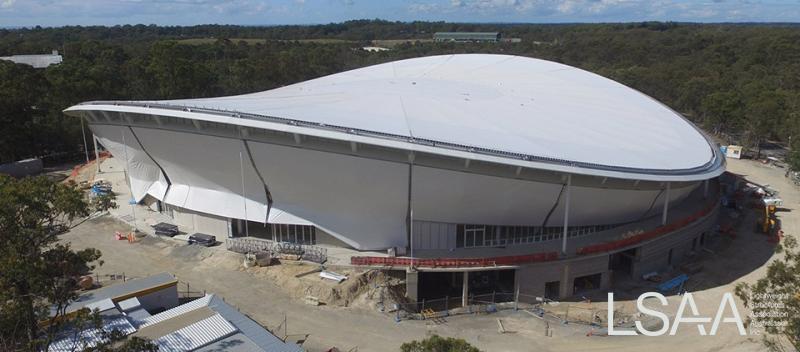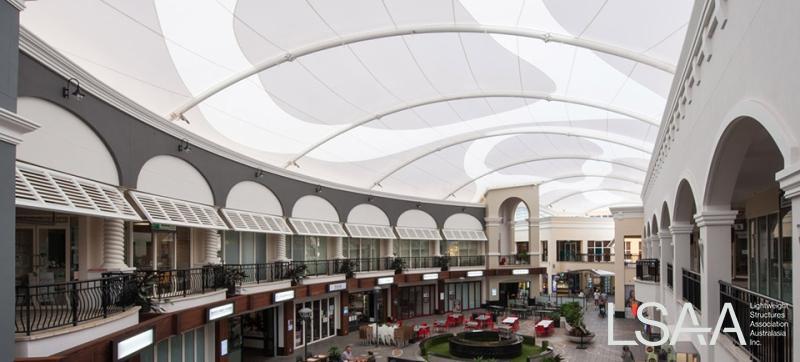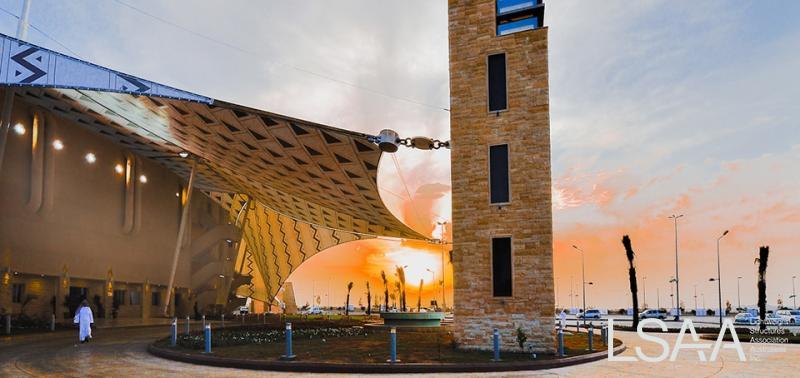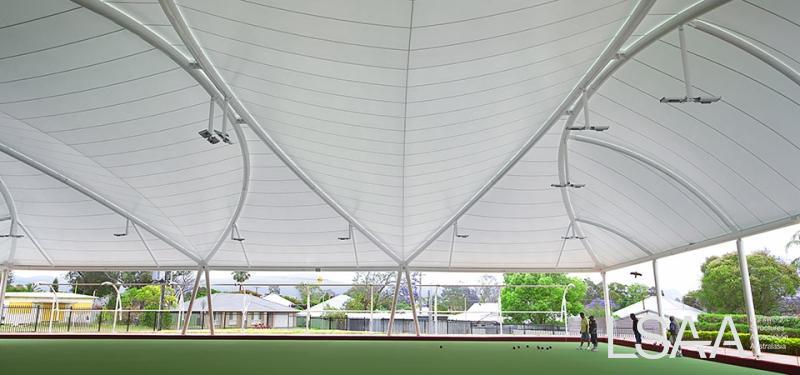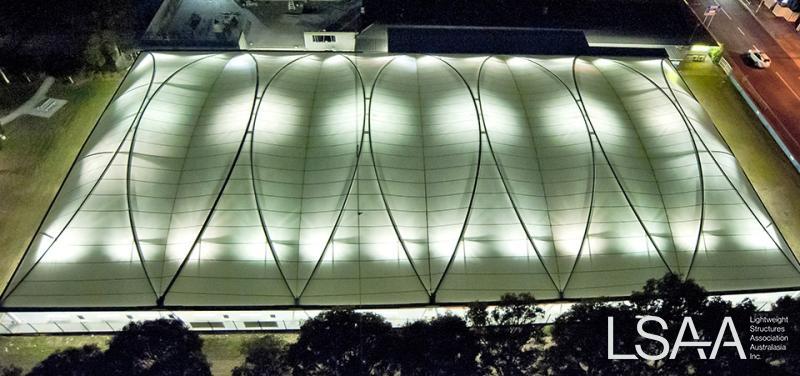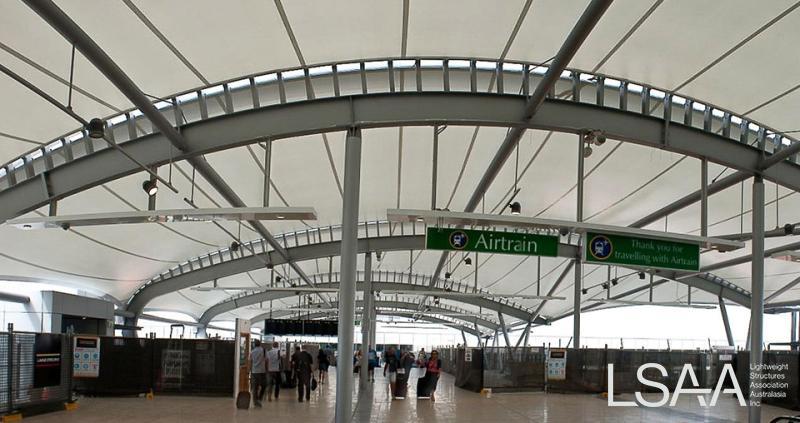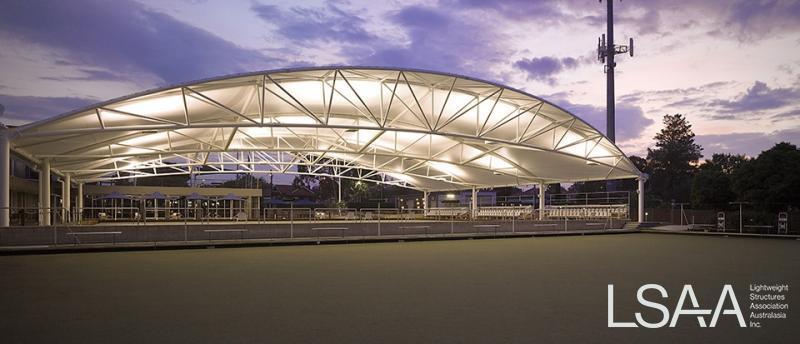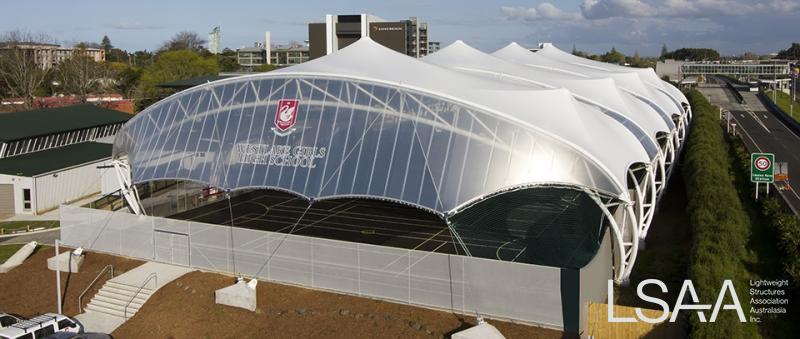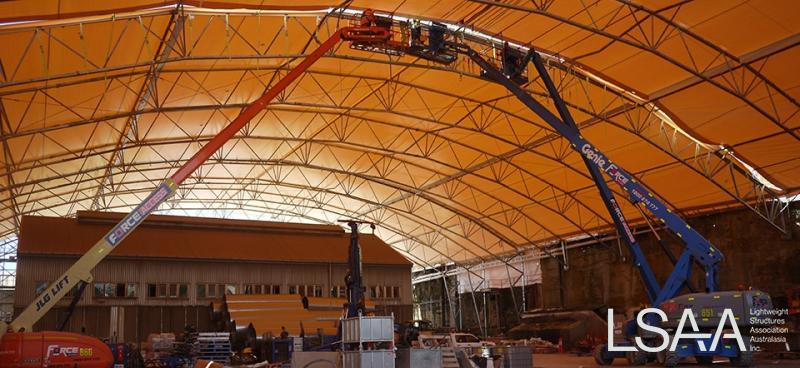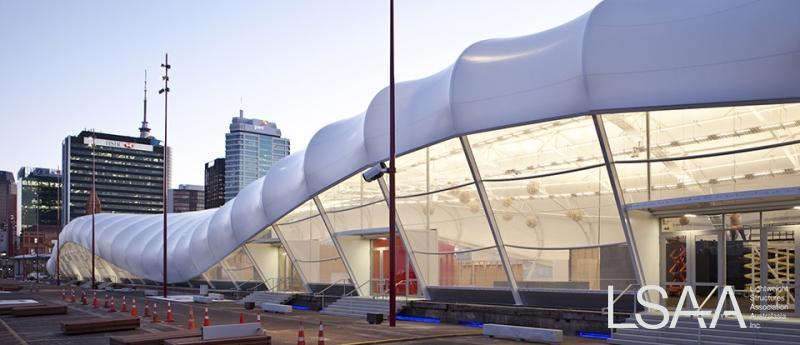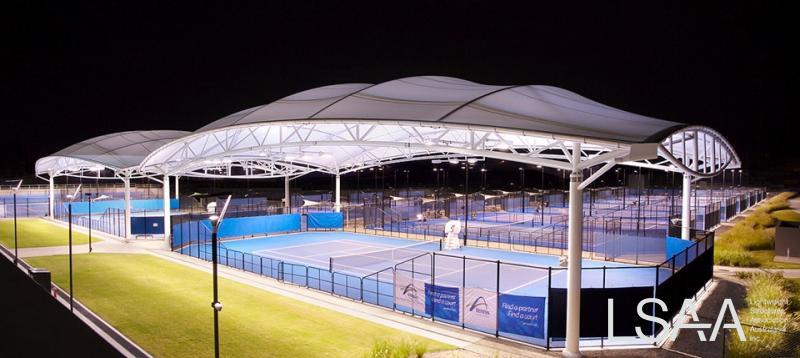 Large fabric structures have generally been thought of as those that have a fabric surface area greater than 1000 square metres. These structures may be described as single surfaces or panels in the form of one of the classic hypars, barrel vaults, cones, panels with single or crossing arches - or a combination.
Larger fabric structures can also be made from several modules or panels of similar forms to build up a substantial sized structure. The multiple panels might be arranged in a linear layout, or in a circular or oval pattern commonly found in stadia roofs. The boundaries are defined structurally and geometrically by straight or curved elements such as arches, edge beams and cables. The prestress forces from adjacent panels often counterbalance and the more efficient structures have a larger degree of symmetry and continuity such as a complete "bicycle wheel" for the roof a major sports stadium. Stadiums are grouped in a separate menu item.
The following articles are in random order: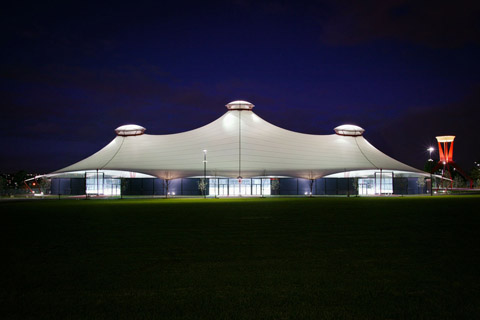 Entered into the LSAA Design Awards 2007
Entrant: Oasis Tension Structures
Client: Multiplex Constructions (Vic) Pty Ltd
Architect: Darryl Jackson Pty Ltd
Structural Engineer: Tensys
Specialist Consultant(s): Drafting Steel One
Builder: Oasis Tension Structures (Australia) Pty Ltd
Fabricator(s): Atkins Fabrications Pty Ltd Structurflex NZ,
Geelong Fabrications, Ronstan
No other details have been entered for this project.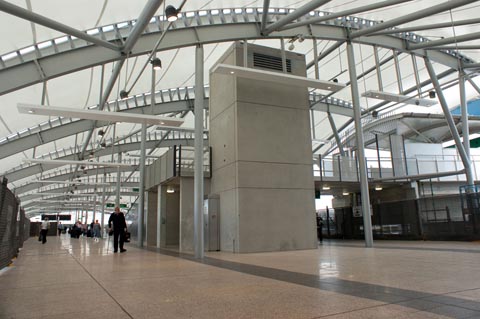 This project was entered in the 2013 LSAA Design Awards
Entrant: MakMax Australia
Category: 4 ID Number: 4302

Location: Brisbane Domestic Airport

Client: Brisbane Airport Corporation

Completion Date: June 2012
Credits:
Architect: Hassell

Others: Custom Cables

Builder: Liang O'Rourke Pty Ltd

Fabricator: MakMax Australia

Installer: OzRig

Steelwork: Steelman
APPLICATION OF PROJECT: Pedestrian bridge roof, open air.
PROJECT DESCRIPTION:
This airport terminal access project involves the construction of a major pedestrian bridge linking a new multi-level car park and train platforms to the terminal building one of the country's business airports.
This covered walkway project is part of a larger group of construction projects which serve to improve all pedestrian and vehicular traffic at the airport.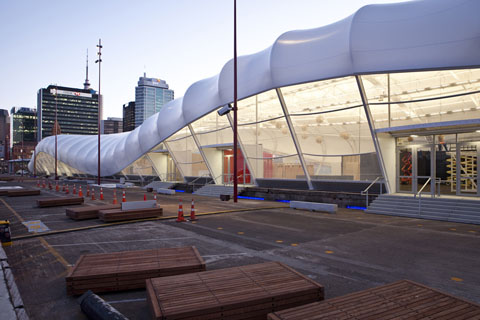 LSAA 2011 Design Award Entry: The Cloud - Auckland, New Zealand
APPLICATION OF PROJECT:
The Cloud is a semi permanent multi purpose event & exhibition structure, initially developed for the Rugby World Cup
PROJECT DESCRIPTION
The Cloud is a semi permanent structure erected on the western edge of Queens Wharf to accommodate the city's commitment to hosting an inner-city fanzone, festival and showcase event during the Rugby World Cup 2011. 
Installed as part of the recent 18 month redevelopment of Queens Wharf, The Cloud will be utilised by NZ2011 to showcase the best of New Zealand innovation and creativity during the REAL New Zealand Showcase. At almost 180m long, The Cloud can accommodate up to 6,000 people.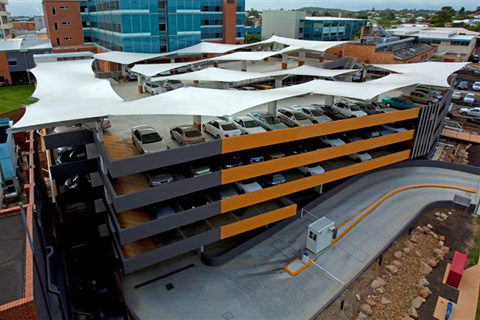 LSAA 2009 Design Award Entry (3120): Car Park Canopies

Entrant: Architectural Sails (Qld) Pty Ltd - Contractor
Location: Lot 108 Nicholson St - Greenslopes Qld 4120
Client: Ramsey Health Care
Architect: Phillips Smith Conwell Architects Pty Ltd
Struct. Eng.: Bligh Tanner & Wade Design Engineers
Others: Ozrig Pty Ltd (Installation)
Builder: John Holland Pty Ltd
Fabricator: Ruffles Engineering & Atkins Fabrication
No further details have been entered for this project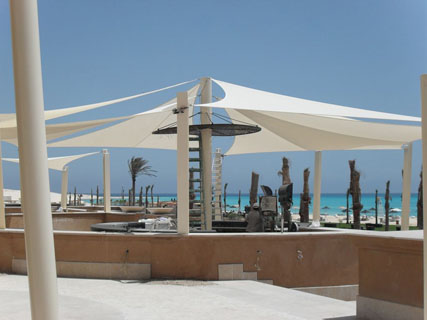 LSAA 2011 Design Award Entry (3185)
APPLICATION OF PROJECT:
Shading systems: The Marassi beach Clubhouse, resort villas, and spas required a large range of shading systems.
PROJECT DESCRIPTION
Marassi is a Mediterranean‐styled resort development sprawling across 1,544 acres of pristine waterfront. Situated along the magical shores of Sidi Abdul Rahman bay, the resort is close to Alexandria and a few miles away from the historic city of El Alamein.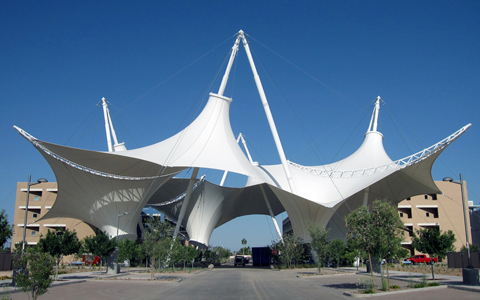 LSAA 2009 Design Award Entry (3958): ASU – Skysong
Entrant: Atkins Fabrication (Aust) Pty Ltd – Fabricator
Location: Arizona State University – USA
Client: USA Shade & Fabric Structures Inc.
Struct. Eng.: Wade Engineers
Fabricator: Atkins Fabrication (Australia) Pty Ltd
No further details have been entered for this project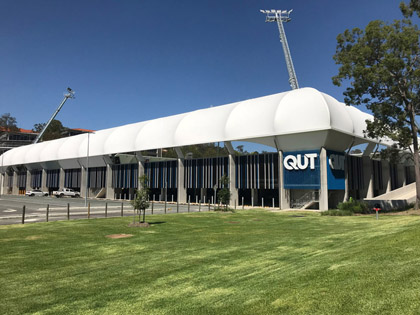 APPLICATION OF PROJECT:
Sports stadium on top of a multi-level car park
PROJECT DESCRIPTION:
The Queensland University of Technology (QUT) Sportsfield Car Park project was part of the construction of a $27 million multi-story car park at the QUT Kelvin Grove campus in Brisbane. The roof-level is home to a FIFA accredited sports field, developed as part of the long-term expansion plans for the University.
The Queensland University of Technology (QUT) Sportsfield Car Park features a FIFA-accredited sports field on the roof of the AUD$27 million multi-level car park. This unique project included the design and construction of the steel, PTFE fabric membrane, fall arrest mesh, static line and score board.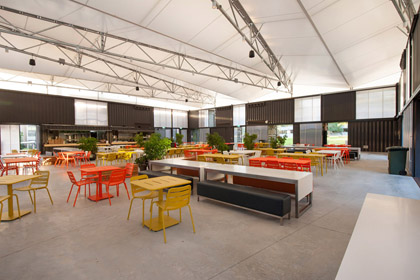 APPLICATION OF PROJECT:
Container-mounted architectural structures for university dining hall.
PROJECT DESCRIPTION:
The Macquarie University Campus Common project comprised of the design & construction of a series of 11 container-mounted architectural awnings to cover a new temporary dining area for students. The design involved 6 market structures, 1 larger 30m x 30m 'main' structure, and 4 awning structures. The main structure was required to have an internal environmental control system for temperature regulation inside.
The intention of the temporary solution meant that the design allows for the structures to be easily dismantled and relocated in 5 years.
Read more: Macquarie University Campus Dining Room Project (2018)
The following Large Structure Projects were entered into the 2018 LSAA Design Awards in Category 4
Category 4 "Large Structures > 1000 sqm"
4001 Macquarie University Campus Common.
4066 QUT Sports Field Car Park.
4100 Sumartran Tiger Adventure.
4101 Wellington Regional Bowling Club.
4432 Playford Bowls Club Triple Bowls Green Cover.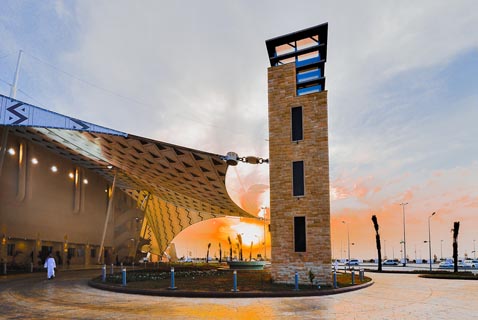 LSAA Design Awards 2013 Award of Excellence
Souk Okaz Public Theatre
Entrant: MakMax Australia
Category: 6 ID Number: 4303

Location: Taif City, Kingdom of Audi Arabia

Client: Taif City

Completion Date: March 2013
Credits:
Architect: Diyar Consultants

Structural Engineer: MakMax Australia

Specialists: MakMax (Designer)

Builder: Abdullah Hassan Al Shihry Contractors

Fabricator: Shanghai Taiyo Kogyo, Taiyo Middle East
---
Judges Comments:
"Well integrated and designed perfectly for its place."
"This looks to be very successful integration of lightweight elements with solid architecture. There's no sense that the roof has been conceived independently of the rest of the theatre. Lovely tent-like effect; very effective use of pattern on the 'fly sheet'."
PROJECT DESCRIPTION: Decorative roof, culturally significant
The purpose of Souk Okaz Public Theatre was to deliver both a functional public space for cultural activities and evocative ambience reminiscent of the ancient pre-Islamic era of a bustling Bedouin market place.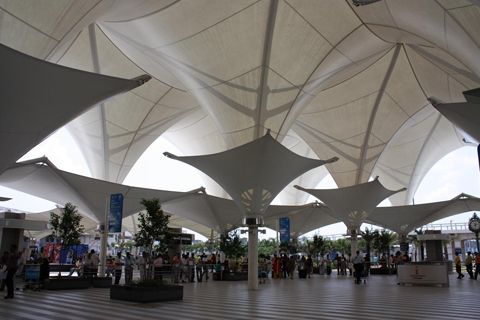 LSAA 2009 Design Award Entry (3832)
Entrant: MakMax Australia – Designer
Location: Mumbai International Airport – India
Client: Mumbai International Airport Limited
Architect: Designcell
Struct. Eng.: MakMax Australia
Others: Mahimtura Consultants
Builder: Mumbai International Airport Limited
Fabricator: MakMax Australia
No further details have been entered for this project
Clarke Quay Redevelopment - Singapore
Entrant: Tensys
Client: Capital and Commercial Ltd
Architect: SMC Alsops & RSP Architects
Structural Engineer: Tensys
Specialist Consultant(s): Arup (Environmental)
Builder: Kajima Overseas Asia Pte Ltd
Fabricator(s): Skyspan (Asia) Pvt Ltd – Riverside/Bluebell
canopies HIghtex GmbH – Street/Angel Canopies