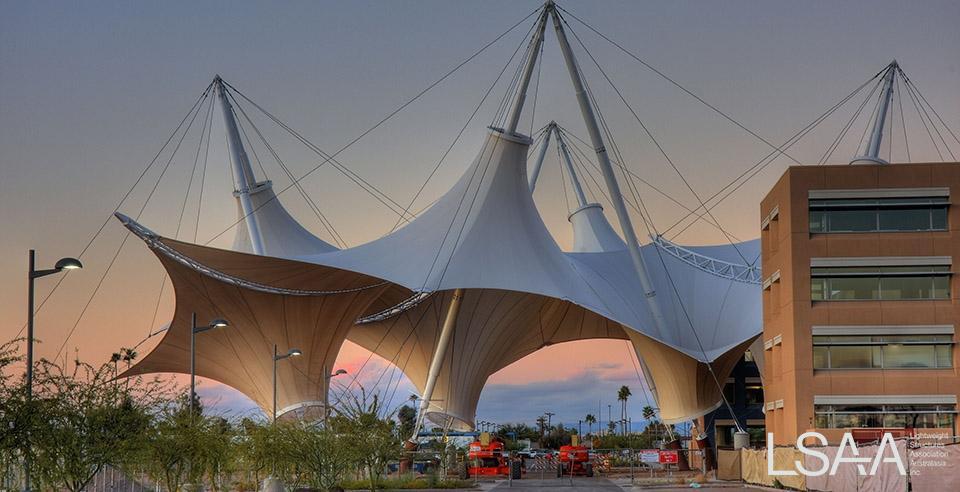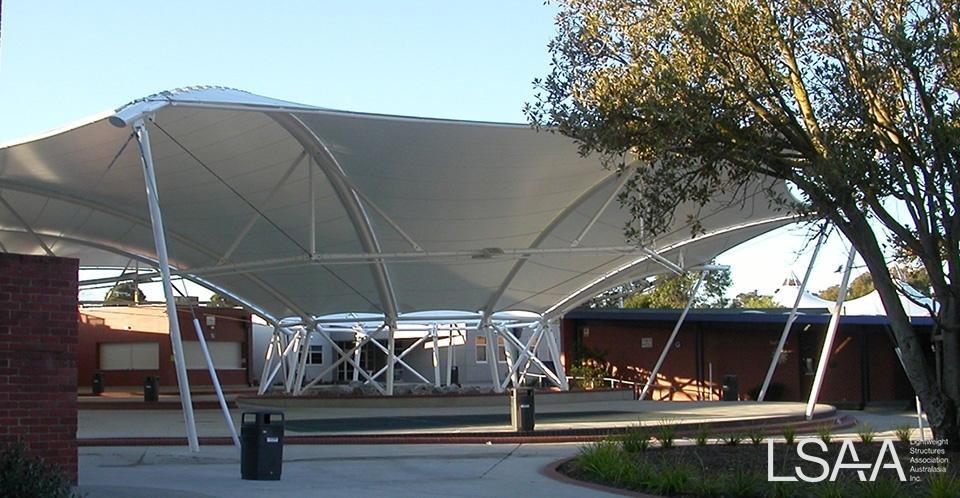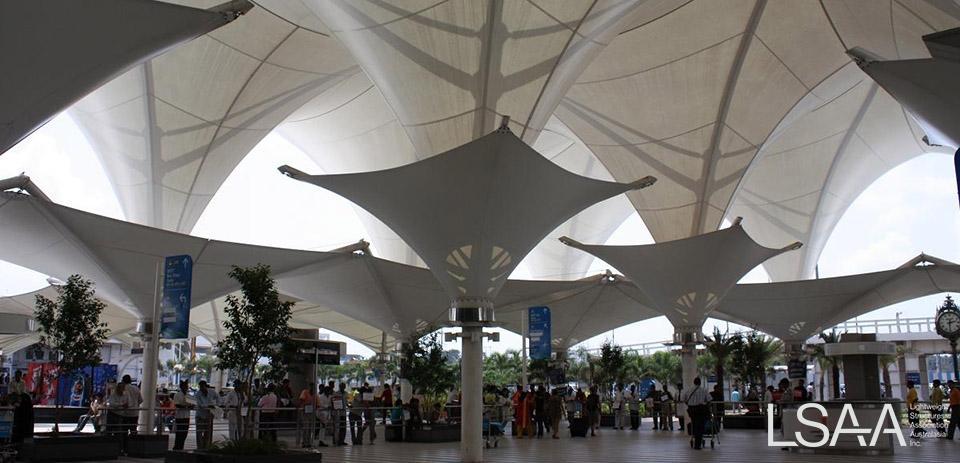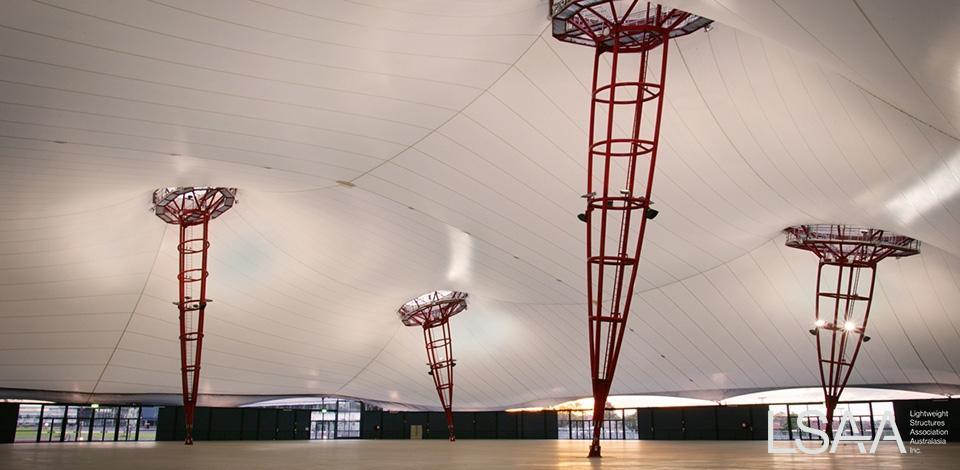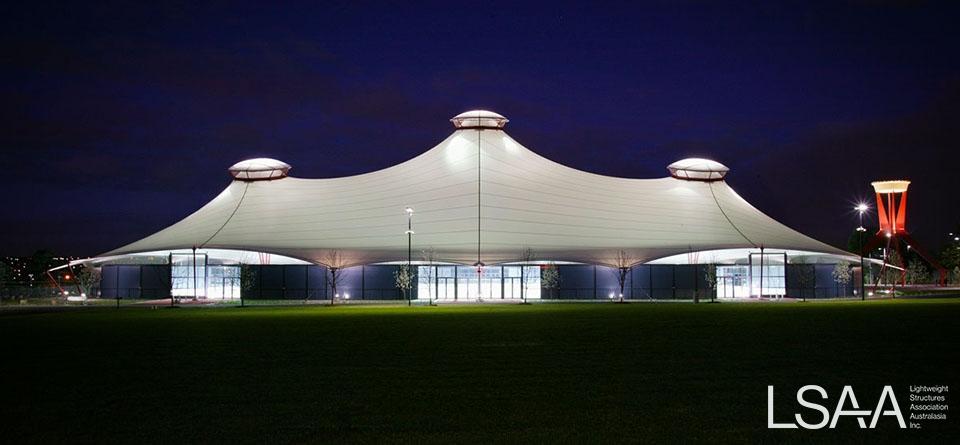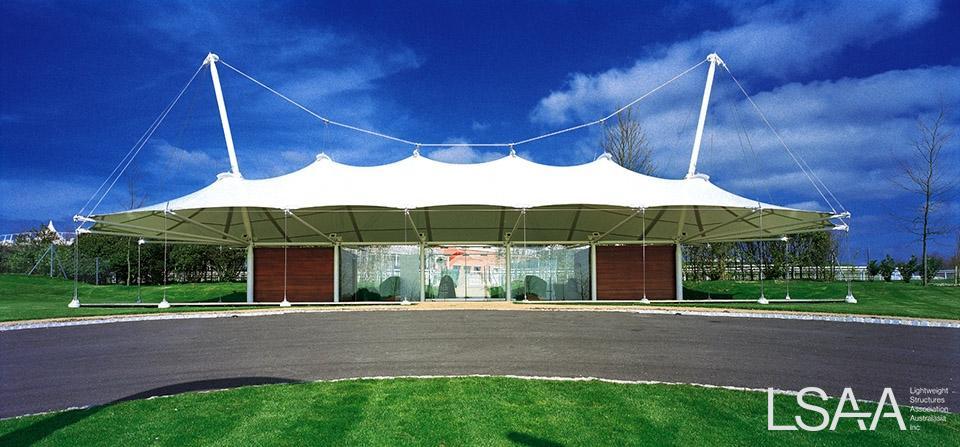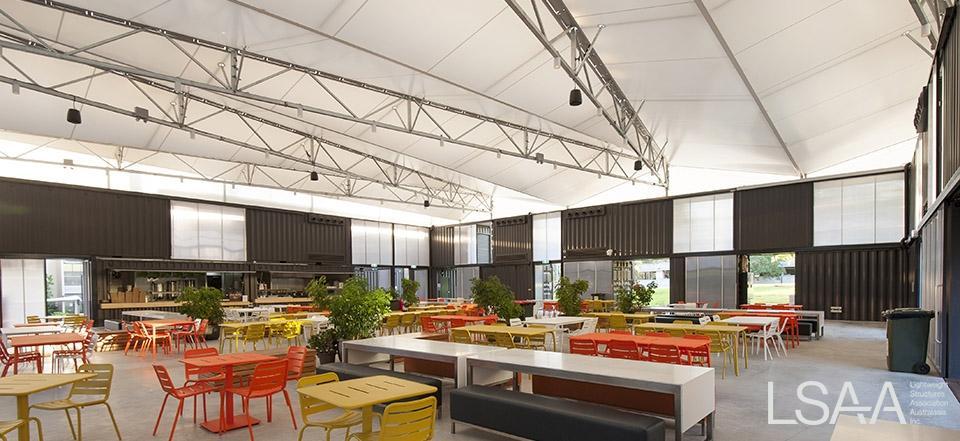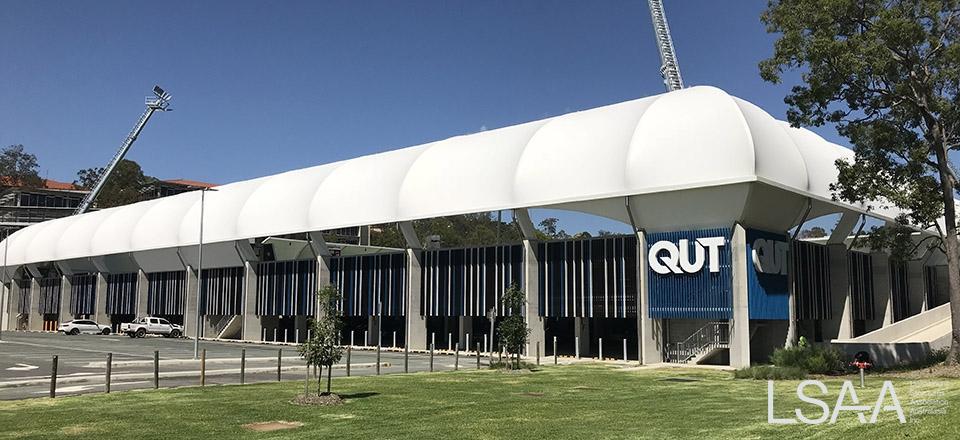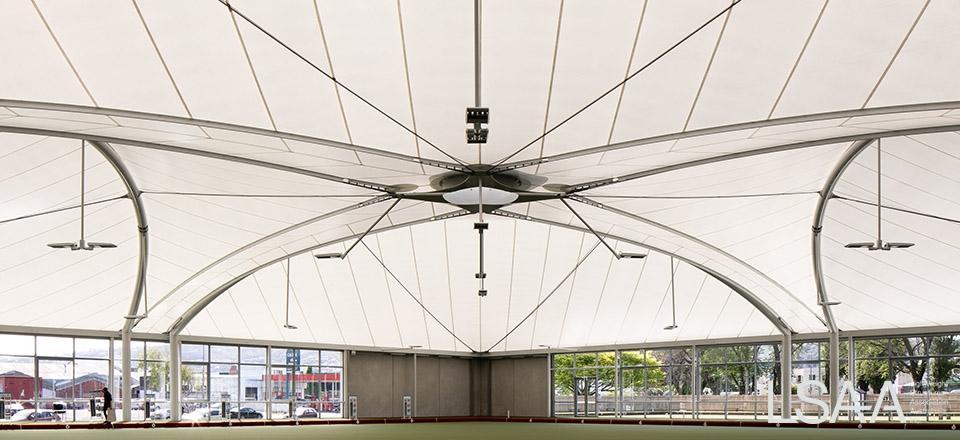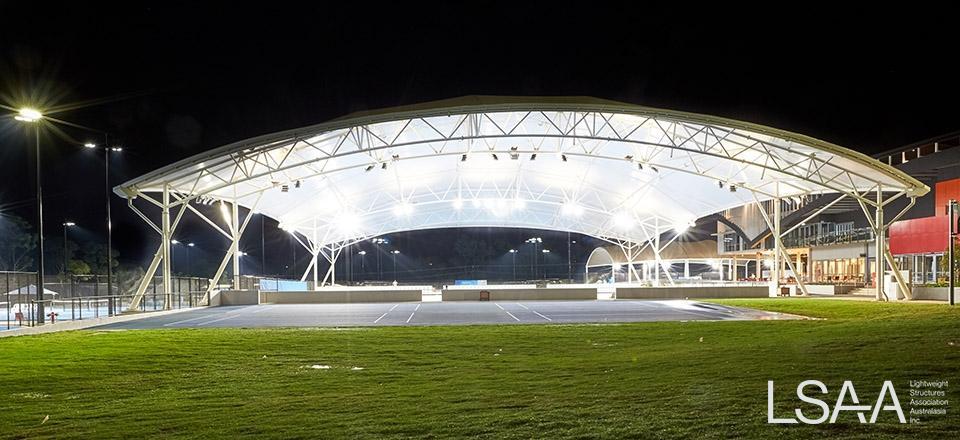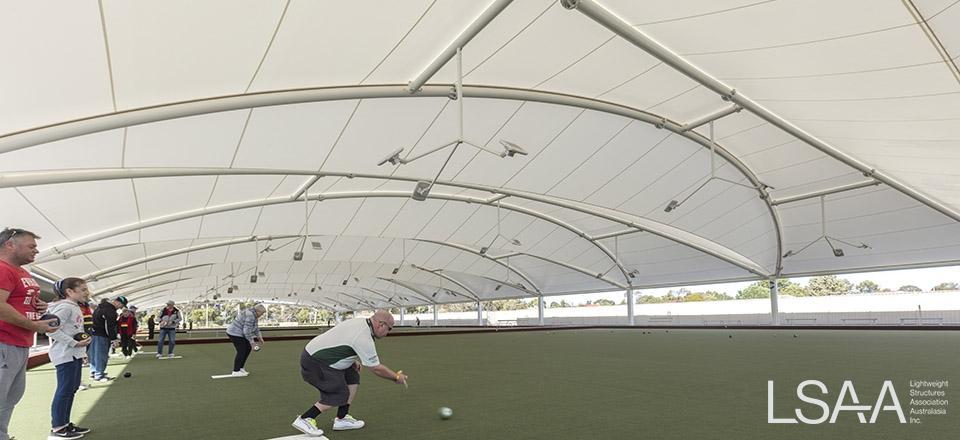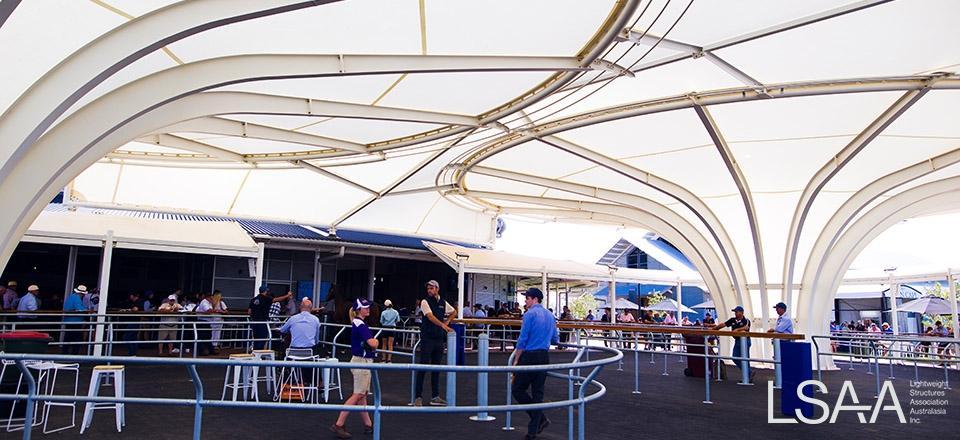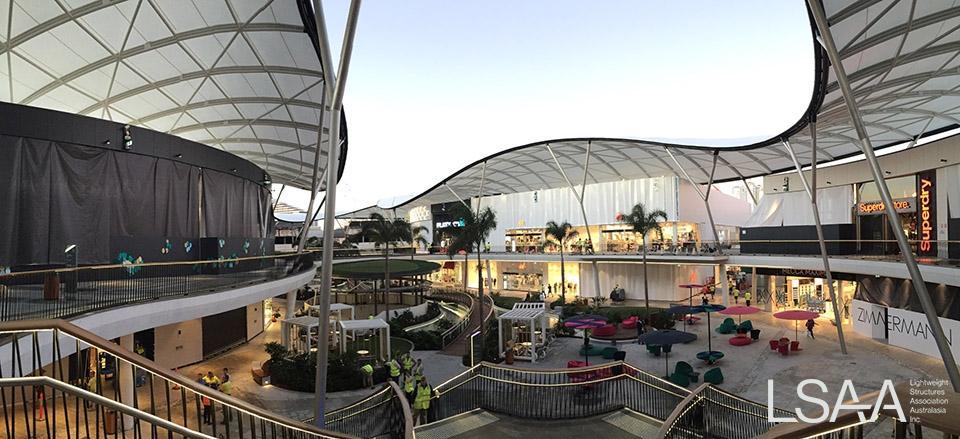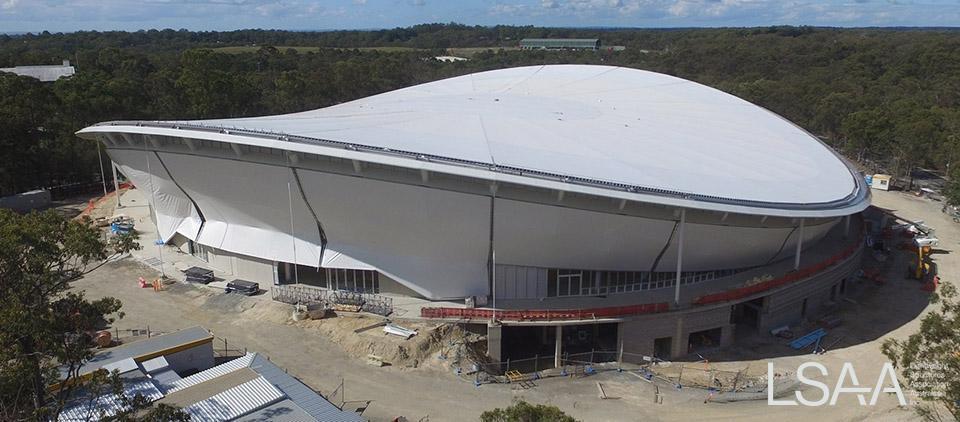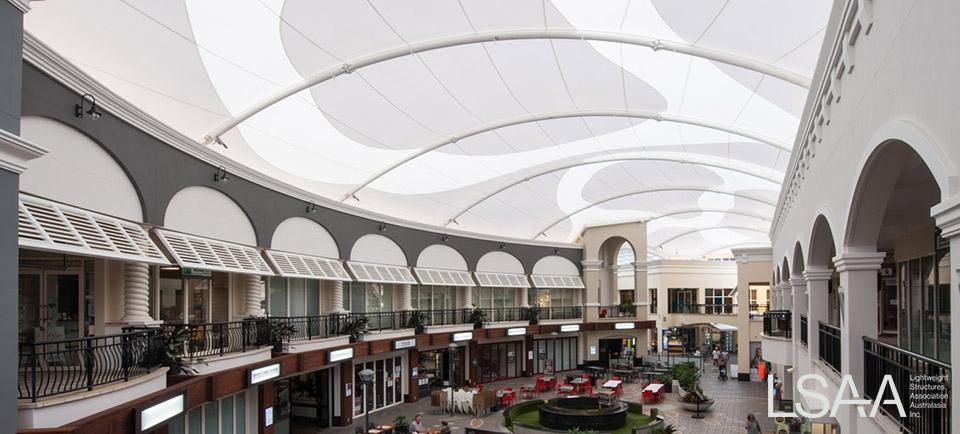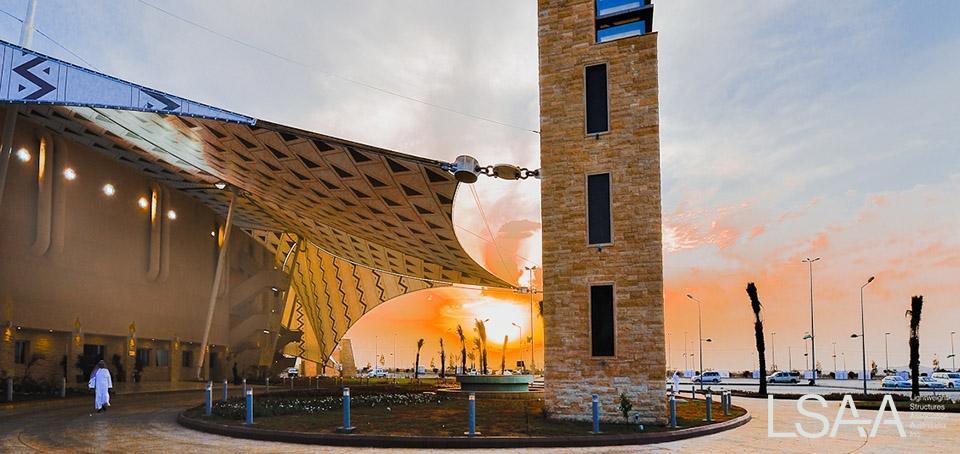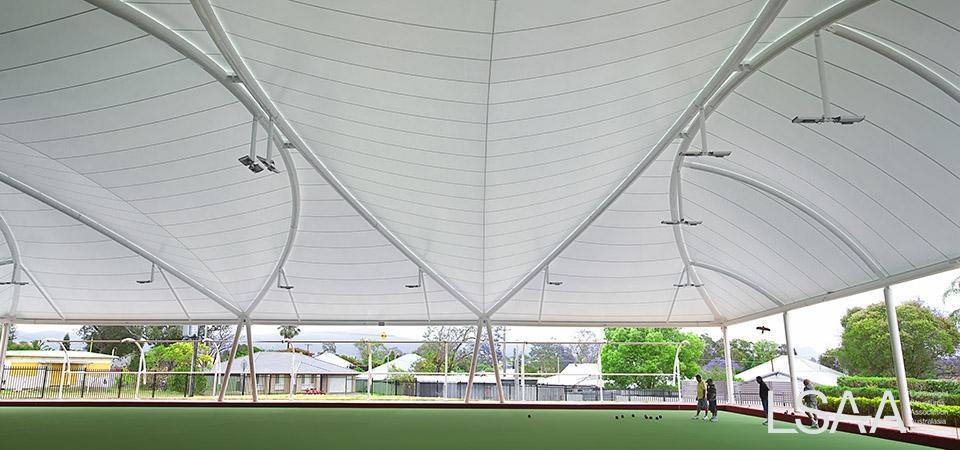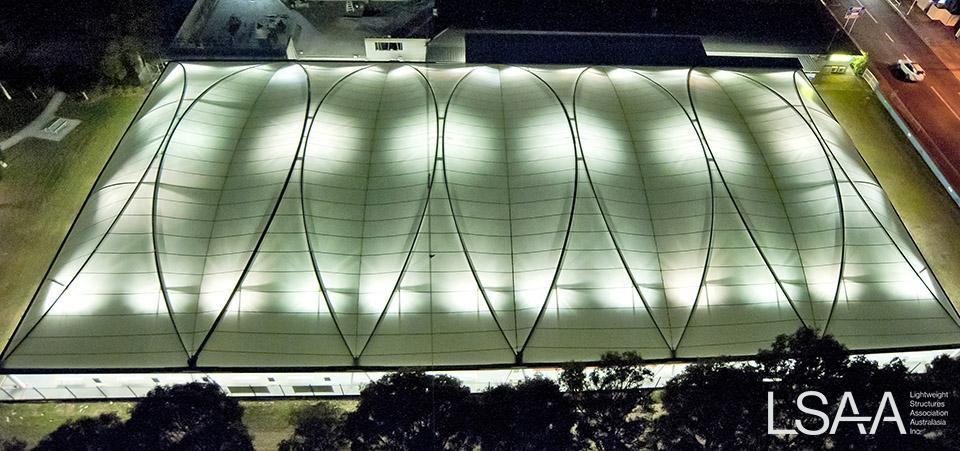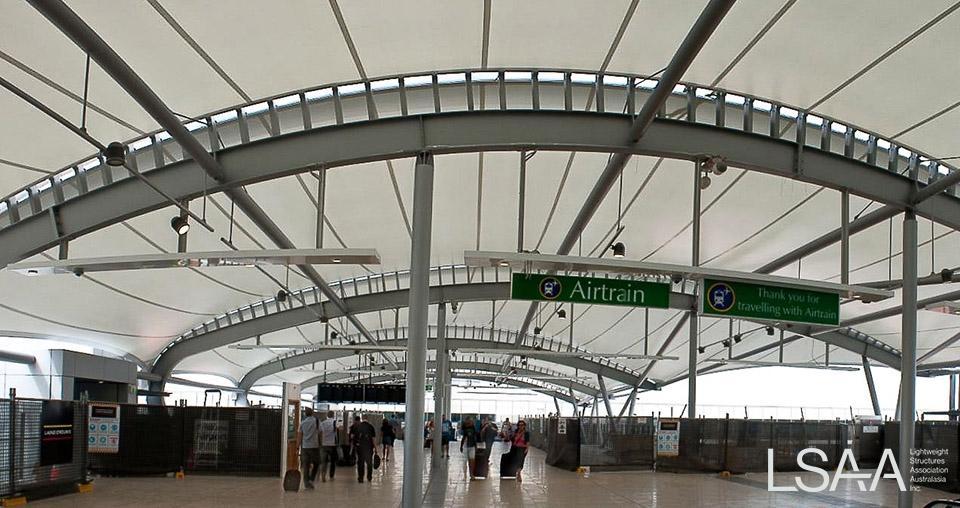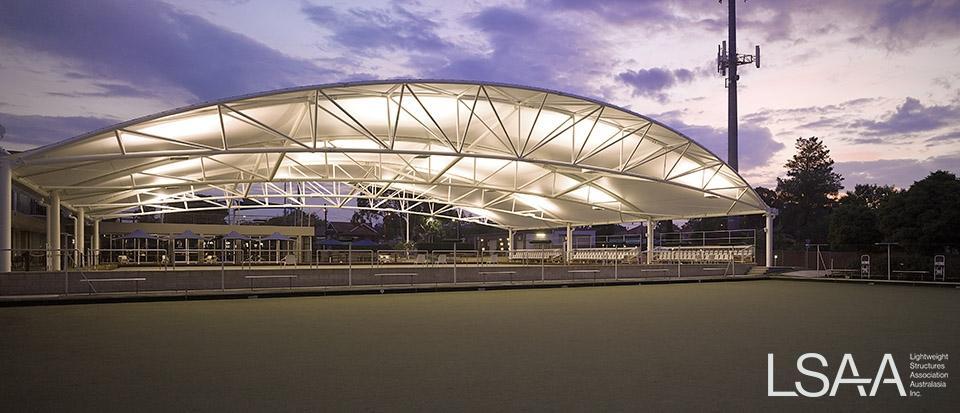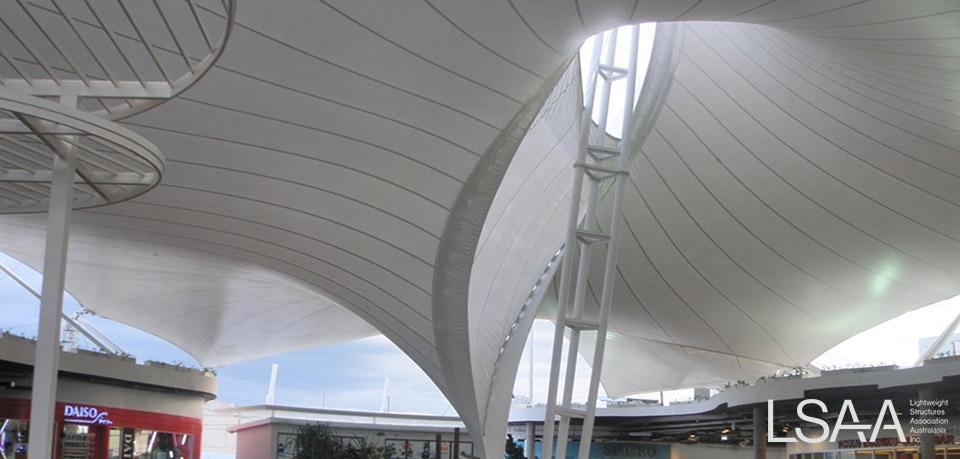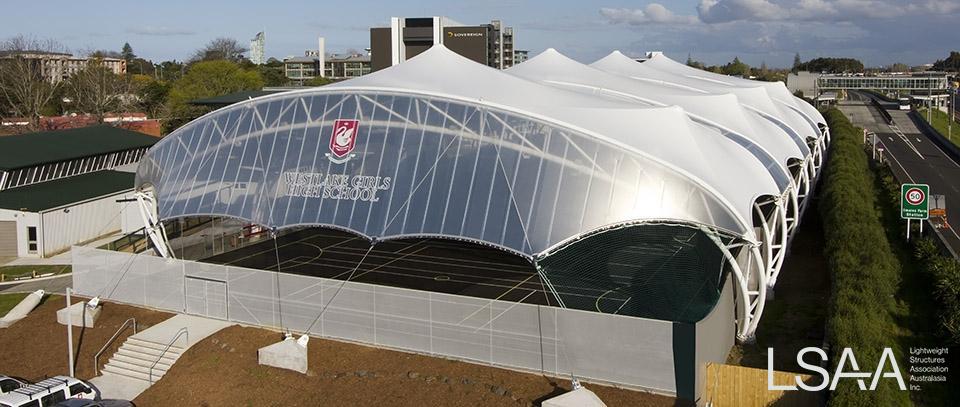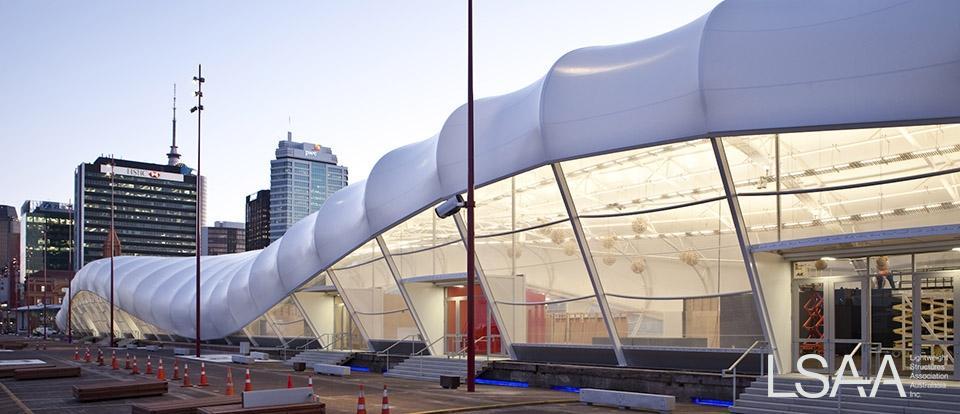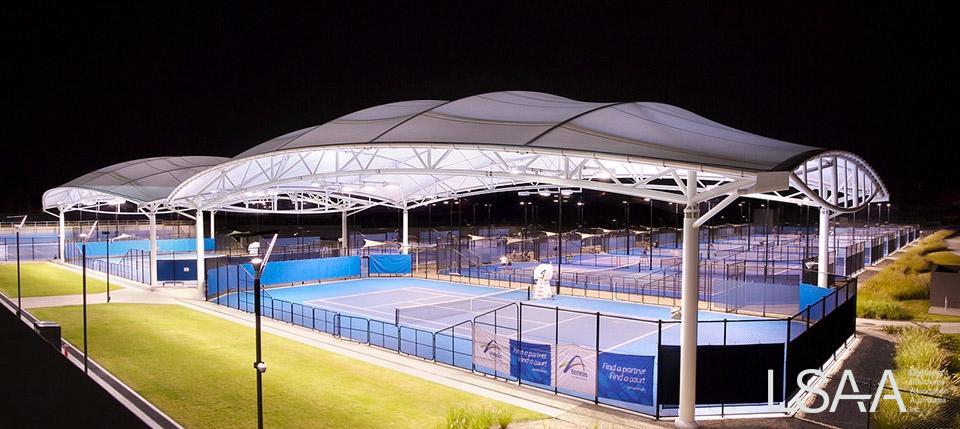 Large fabric structures have generally been thought of as those that have a fabric surface area greater than 1000 square metres. These structures may be described as single surfaces or panels in the form of one of the classic hypars, barrel vaults, cones, panels with single or crossing arches - or a combination.
Larger fabric structures can also be made from several modules or panels of similar forms to build up a substantial sized structure. The multiple panels might be arranged in a linear layout, or in a circular or oval pattern commonly found in stadia roofs. The boundaries are defined structurally and geometrically by straight or curved elements such as arches, edge beams and cables. The prestress forces from adjacent panels often counterbalance and the more efficient structures have a larger degree of symmetry and continuity such as a complete "bicycle wheel" for the roof a major sports stadium. Stadiums are grouped in a separate menu item.
The following articles are in random order: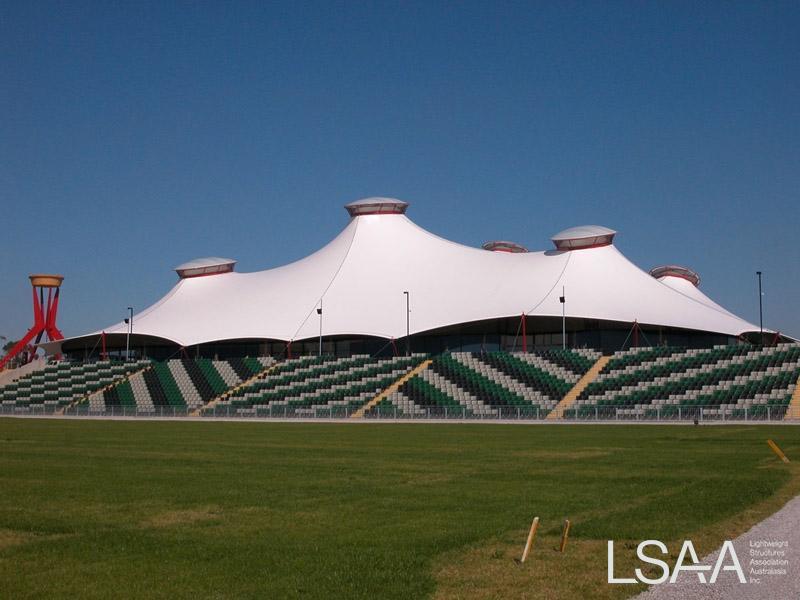 Entered into the LSAA Design Awards 2007 (Large Structures, 3195)
Entrant: Oasis Tension Structures
Client: Multiplex Constructions (Vic) Pty Ltd
Architect: Darryl Jackson Pty Ltd
Structural Engineer: Tensys
Specialist Consultant(s): Drafting Steel One
Builder: Oasis Tension Structures (Australia) Pty Ltd
Fabricator(s): Atkins Fabrications Pty Ltd Structurflex NZ,
Geelong Fabrications, Ronstan
Aside from the images below, no other details have been entered for this project.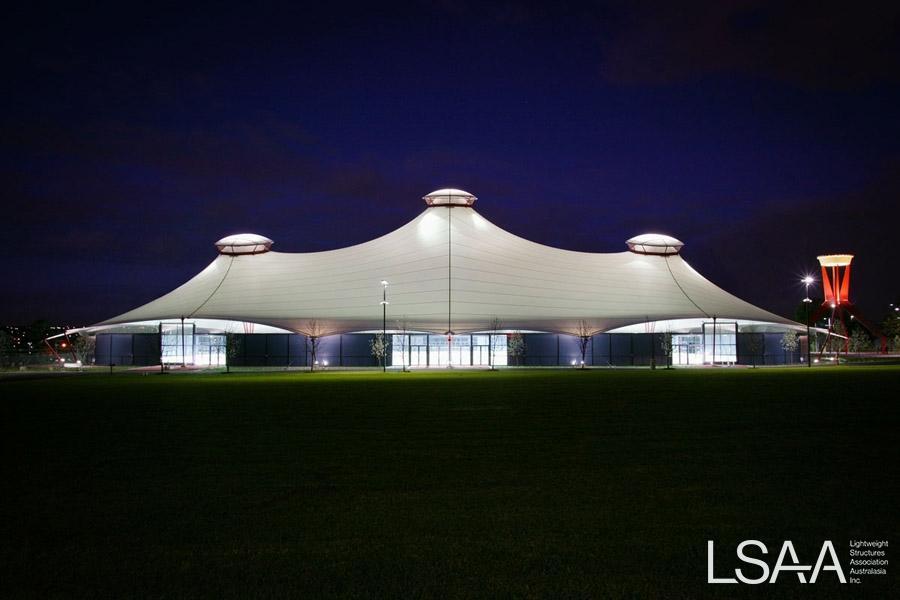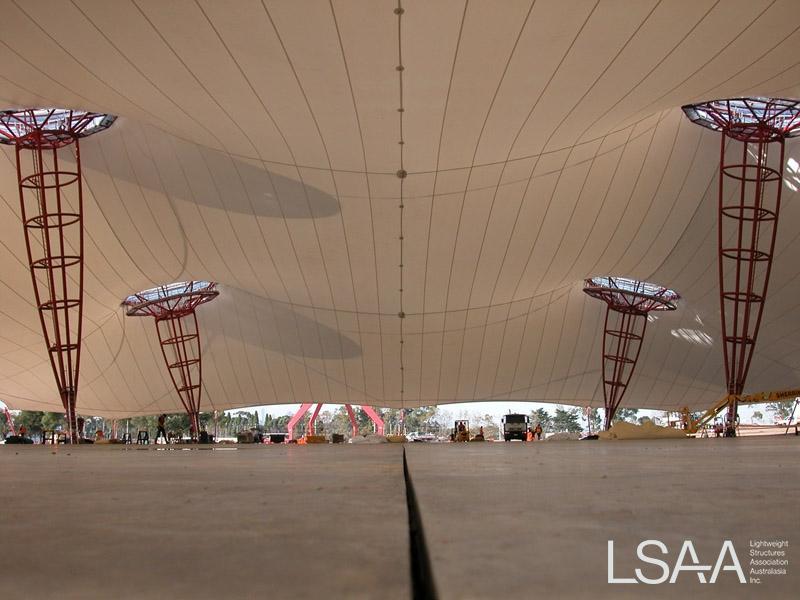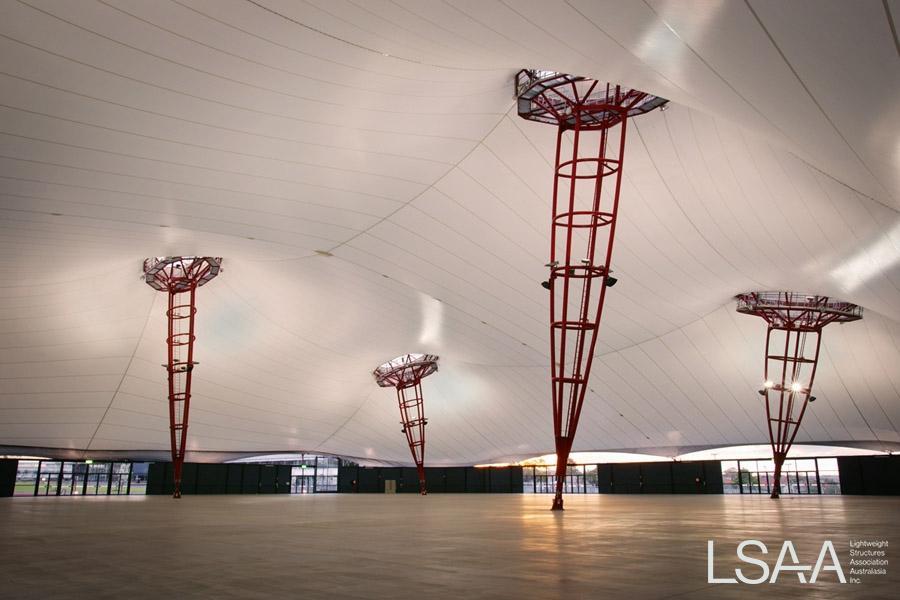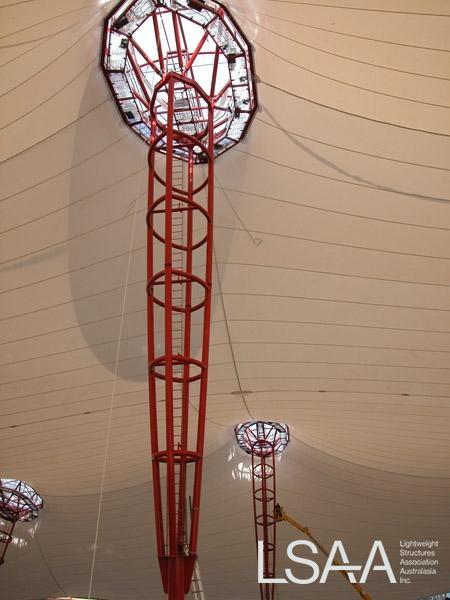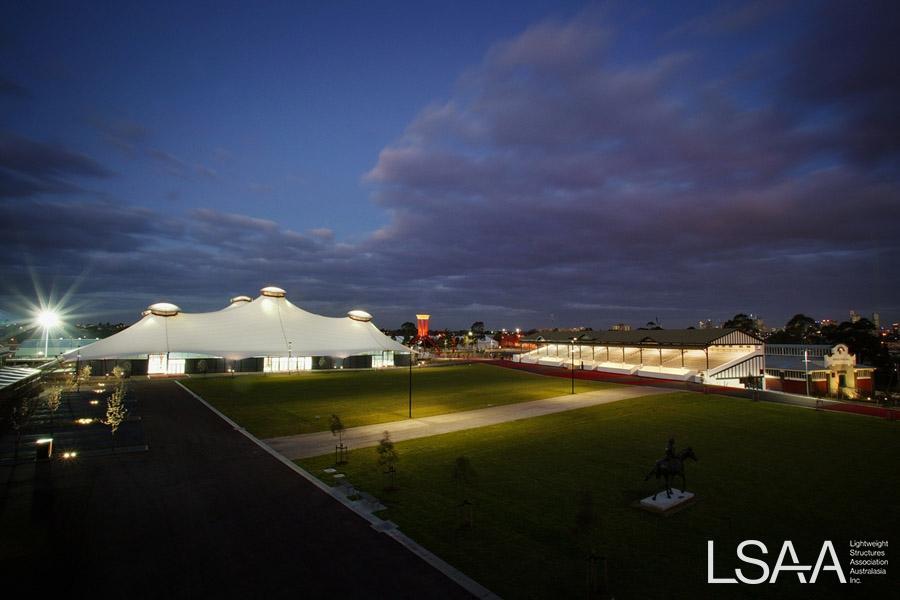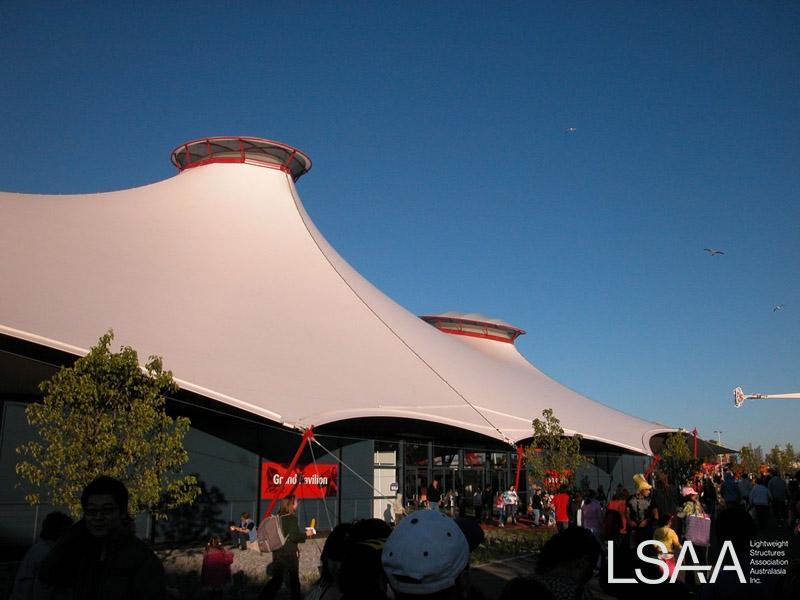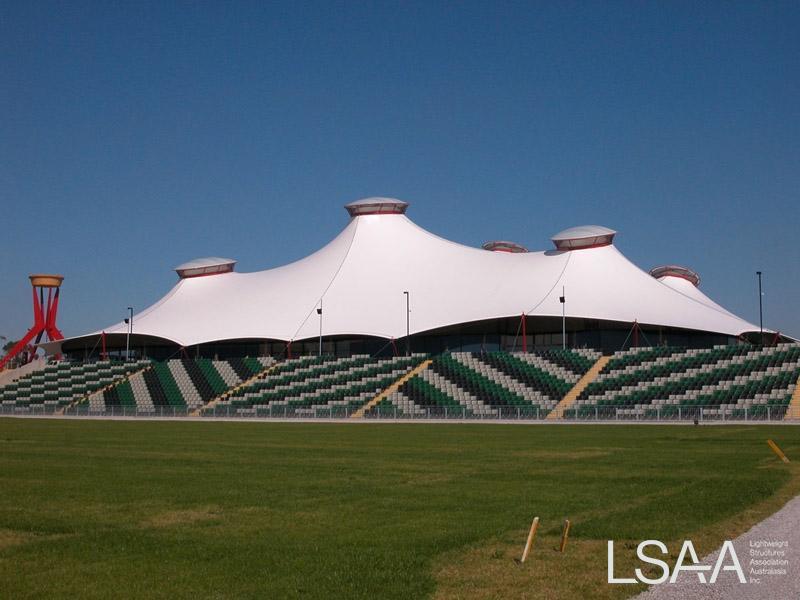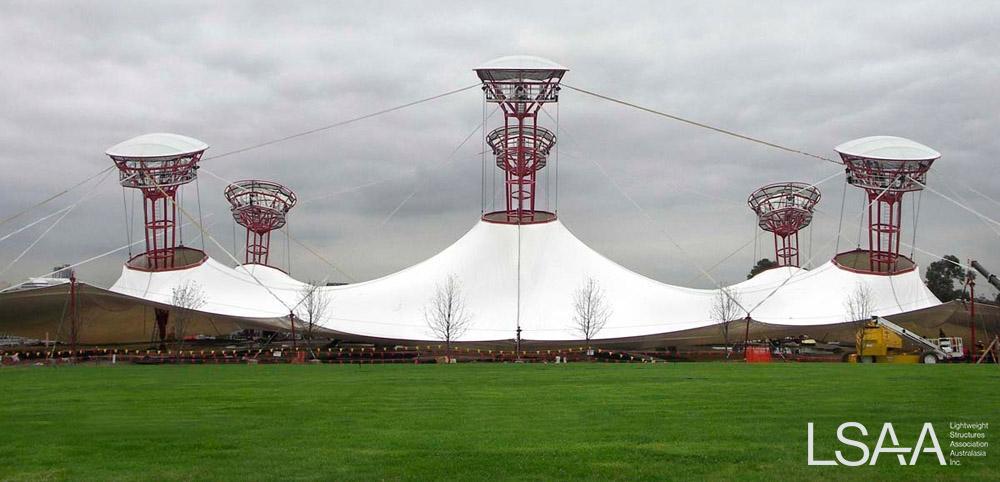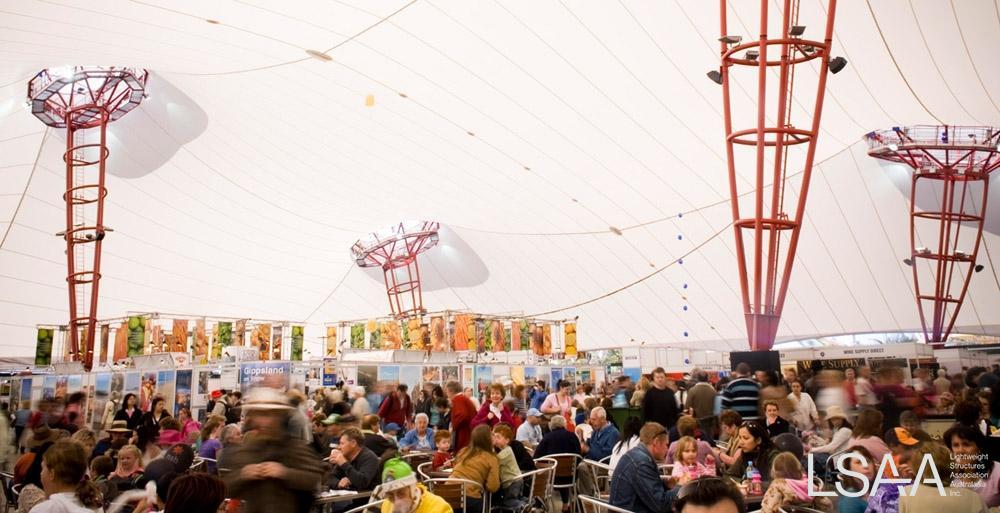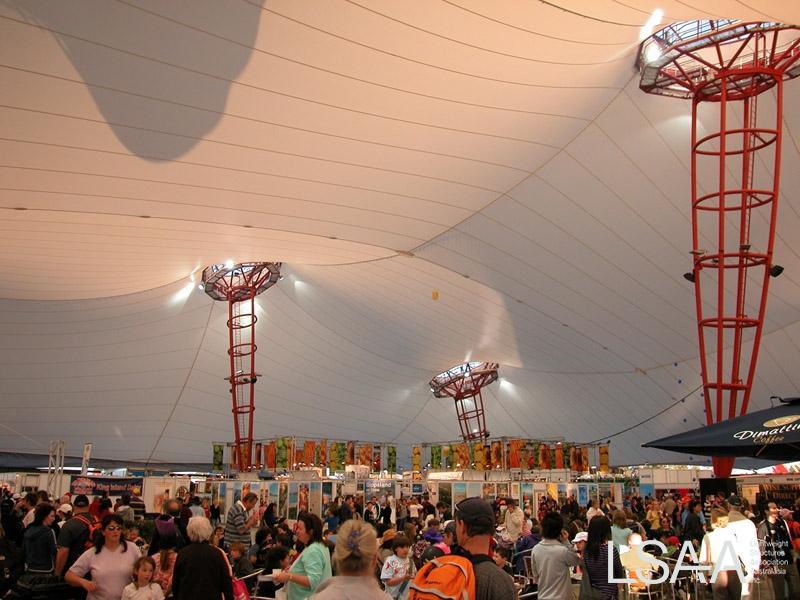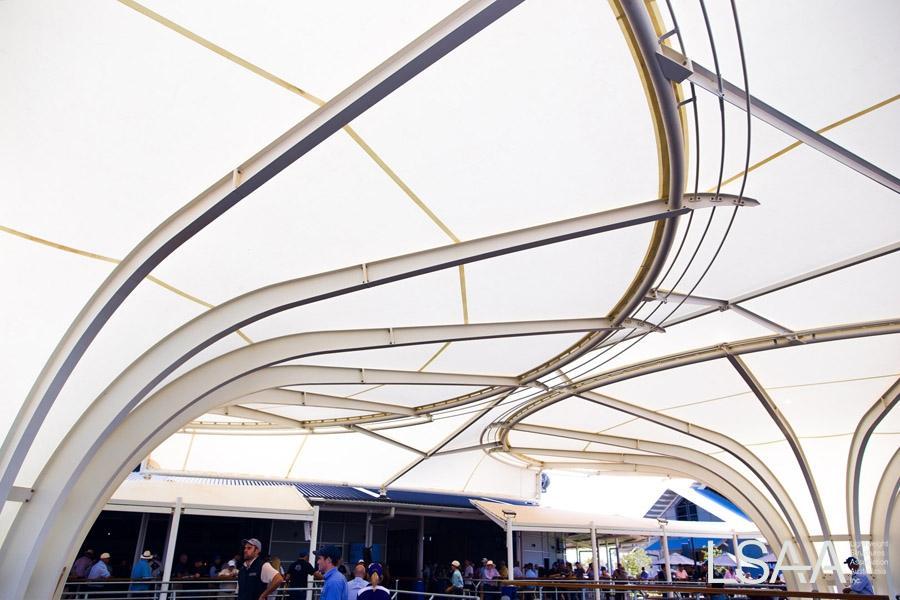 Commendation LSAA 2018 Design Awards Large Structures (Cat 4, 4433)
Application: Large canopies with a fabric surface area over 2800m2 to cover multiple areas at the Inglis Selling Centre Warwick Farm Racecourse
PROJECT DESCRIPTION:
The project was the design, fabrication and installation of multiple decorative and functional canopies for the Inglis Selling Centre at Warwick Farm Racecourse. With an overall Chukoh FGT800 PTFE fabric area of approximately 3060m2, the project covered multiple areas and structure types - "Trees" to cover the horse parade ring; a shelter canopy for the patron walkway for the pre-parade ring; a canopy for the wedding pavilion, and awnings for the hotel.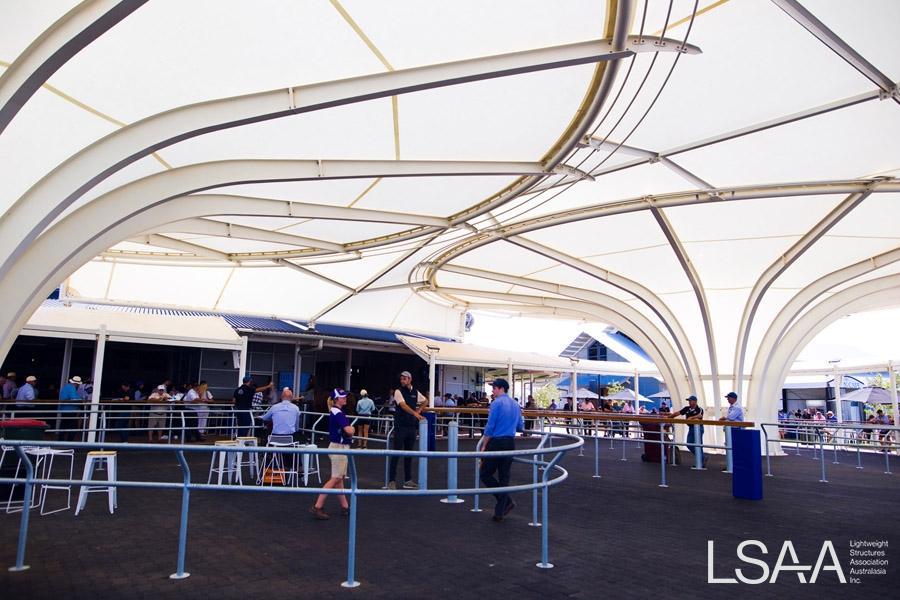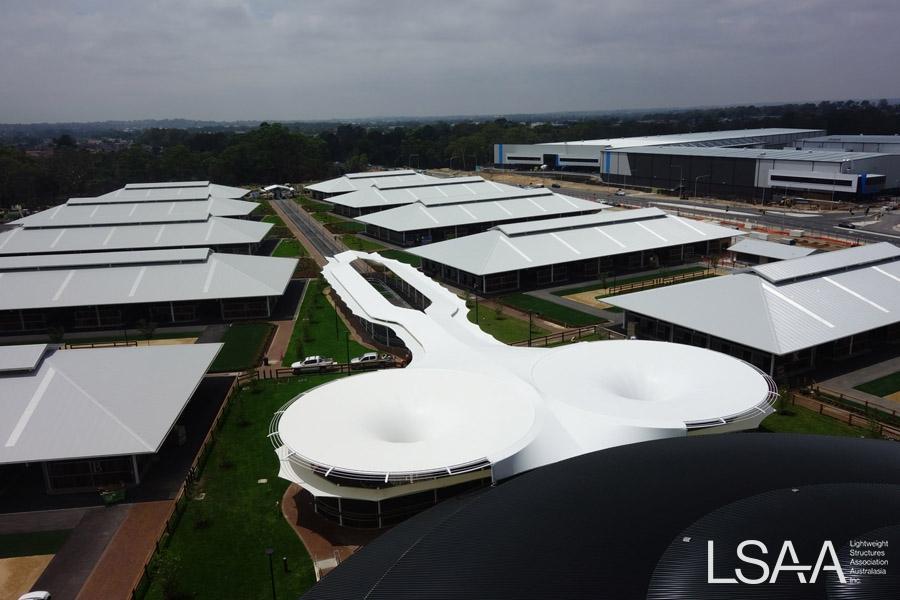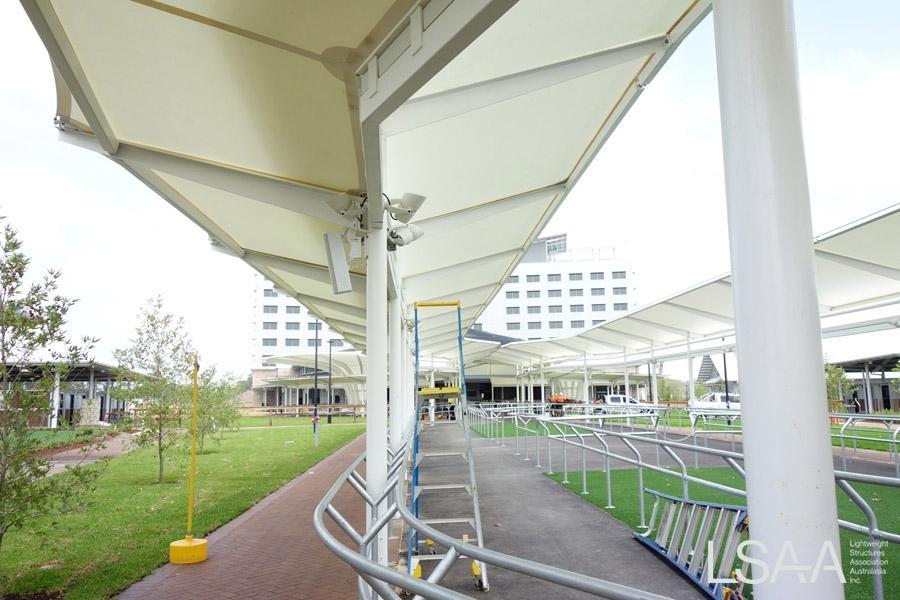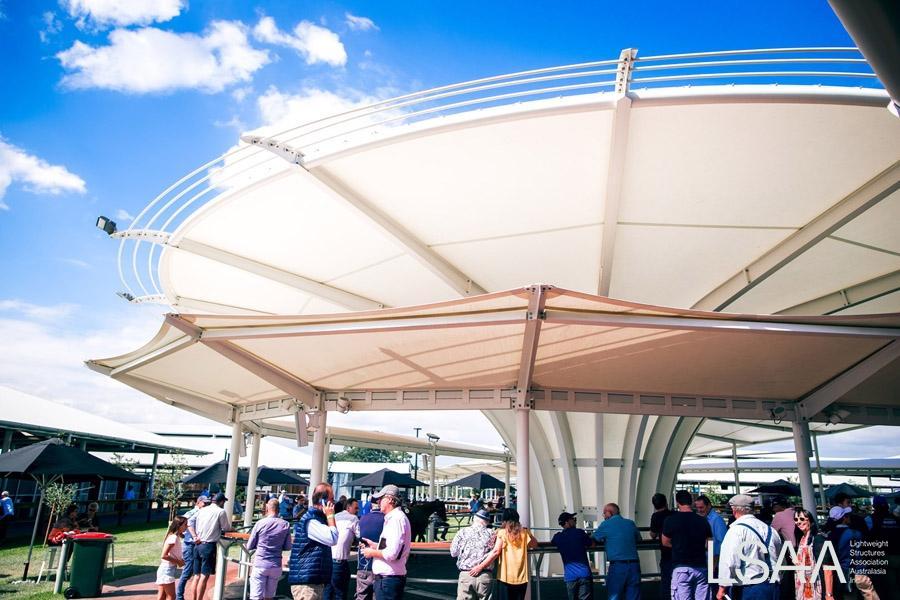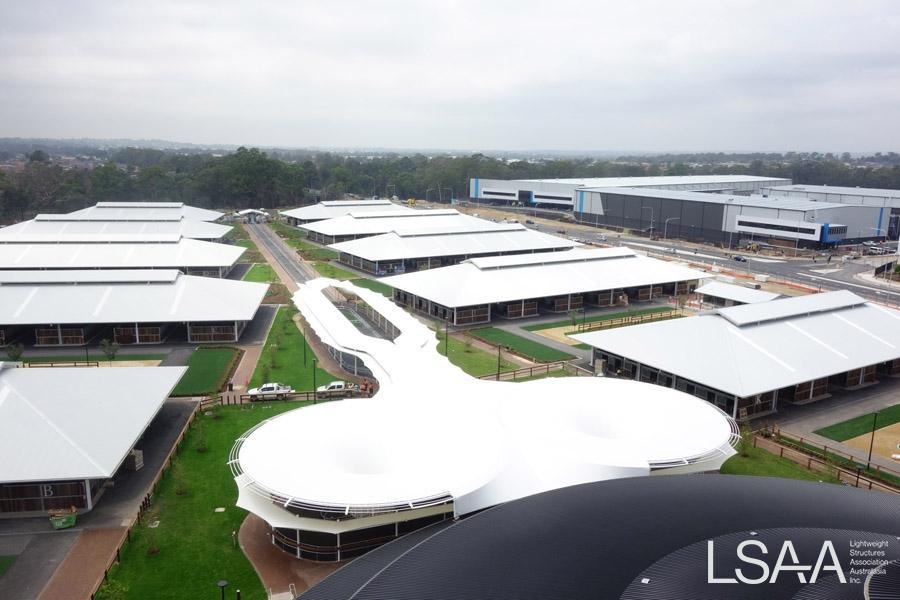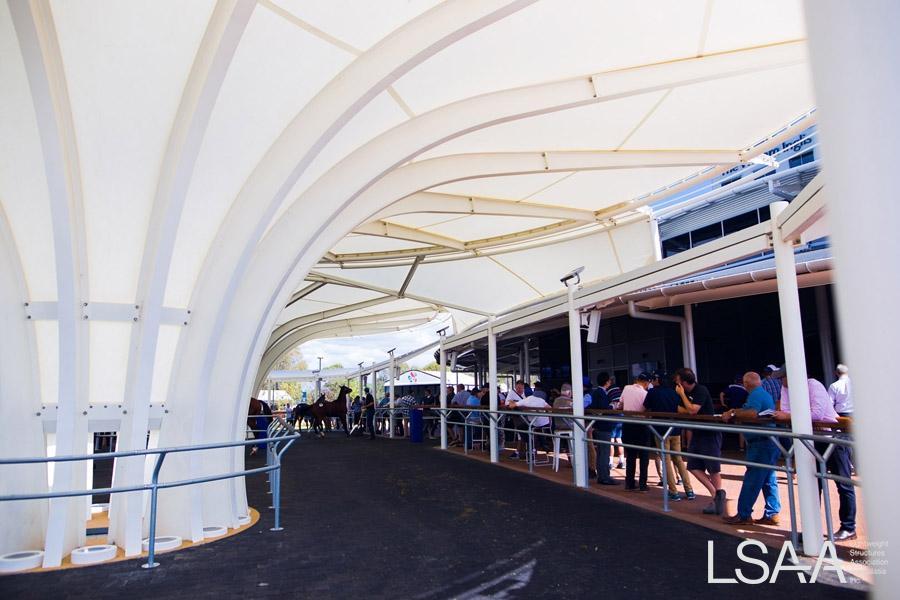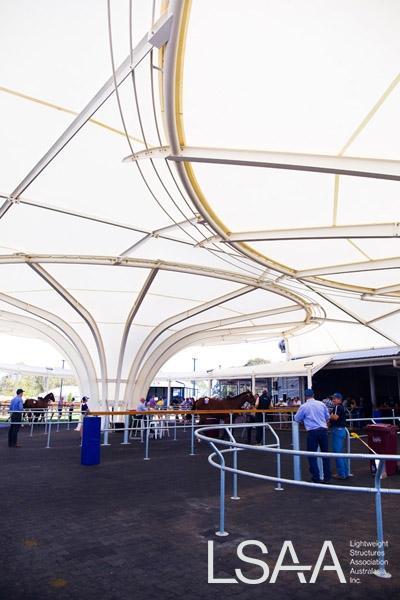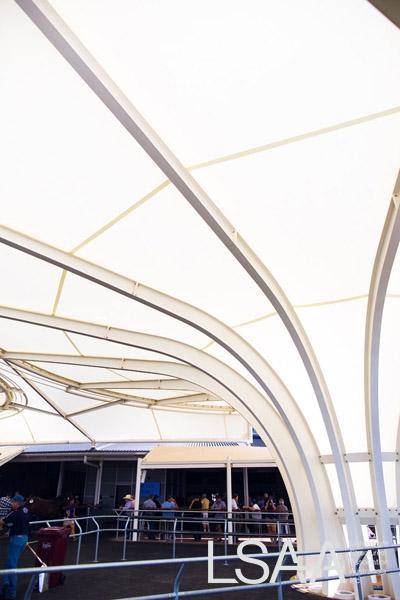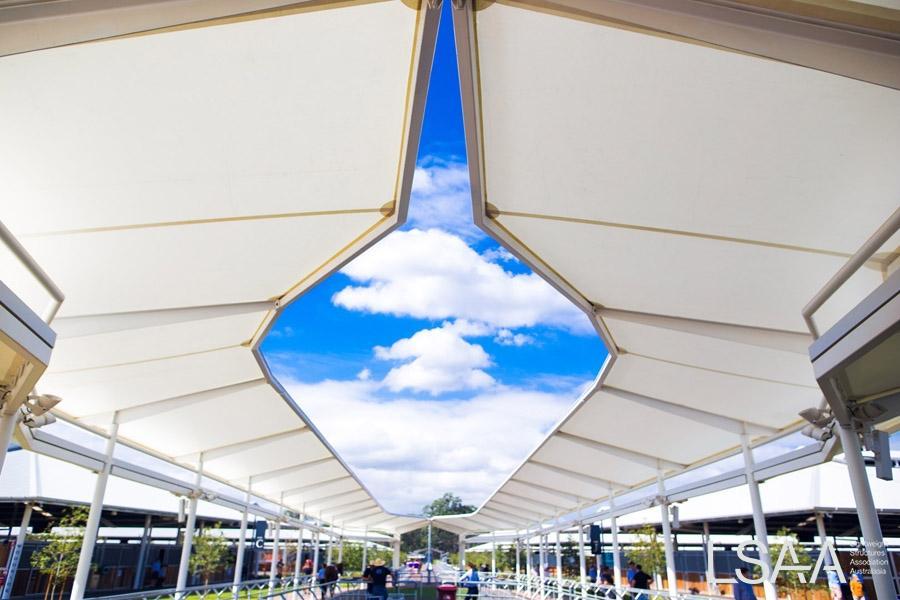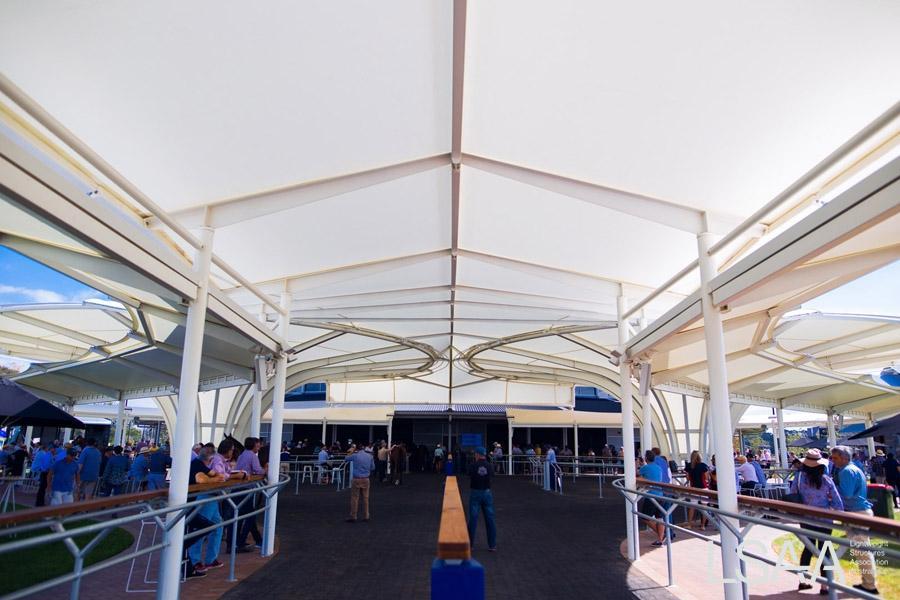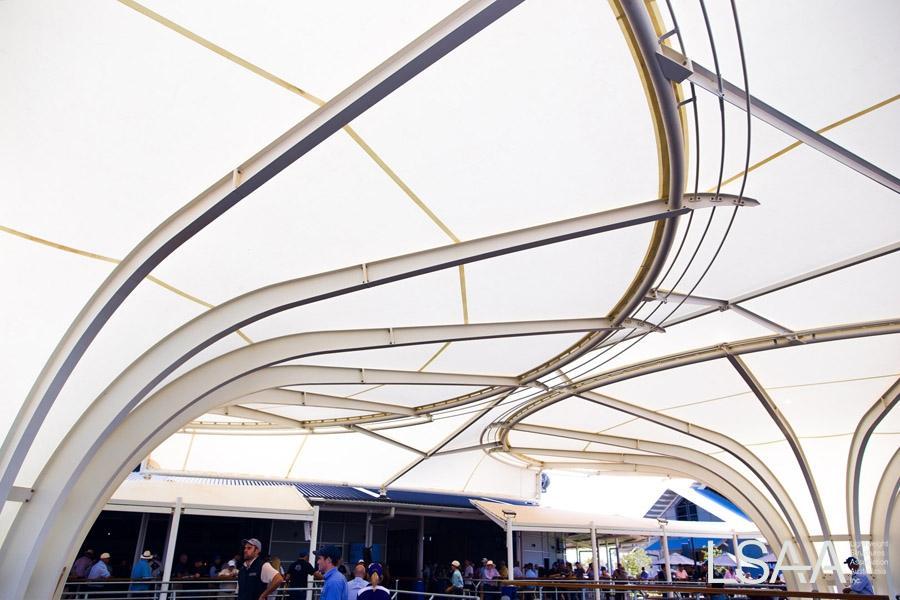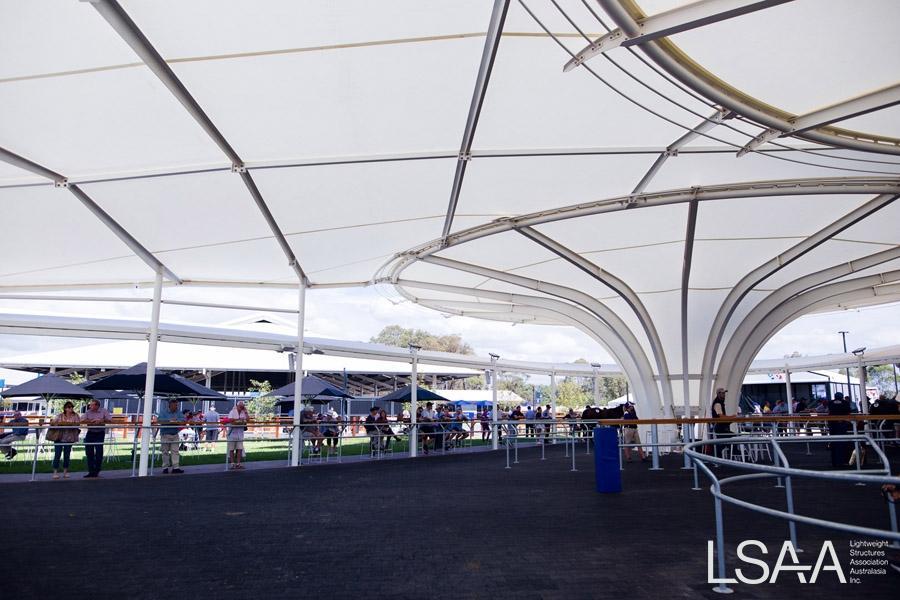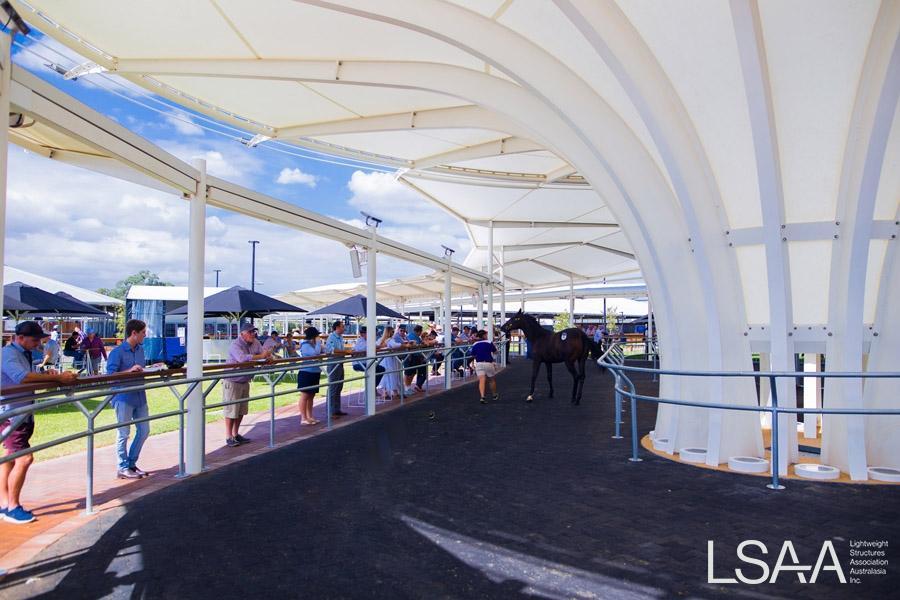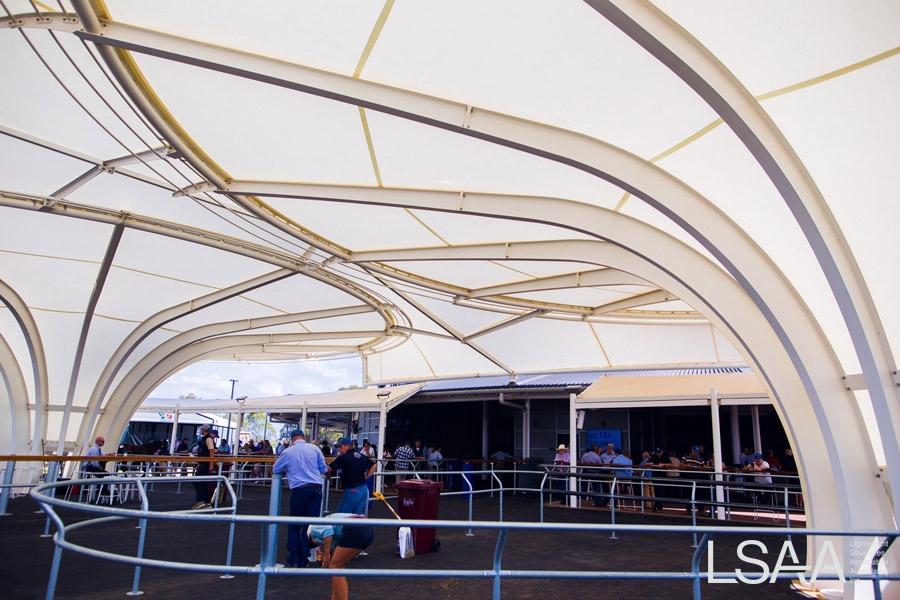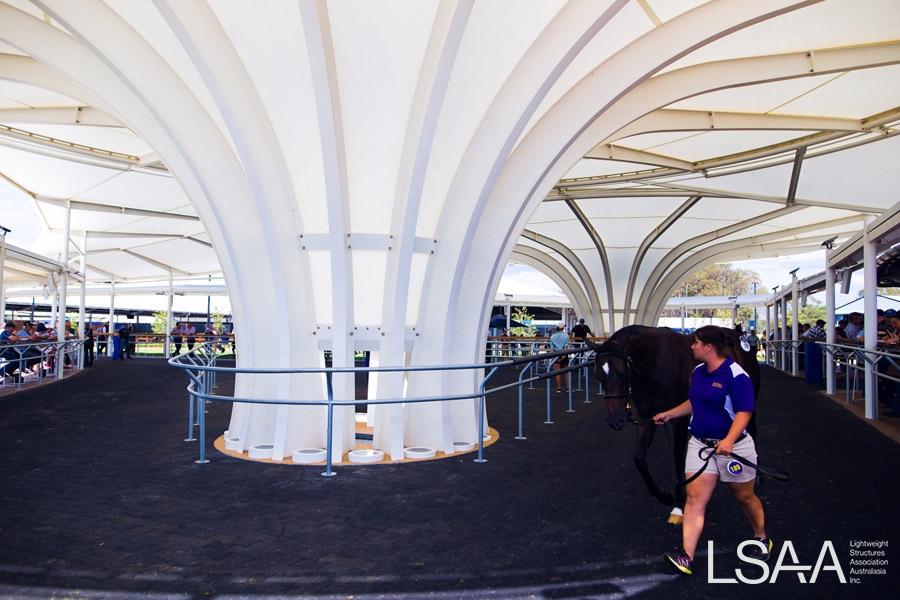 Read more: Inglis Selling Centre Fabric Roofs at Warwick Farm Racecourse (2018)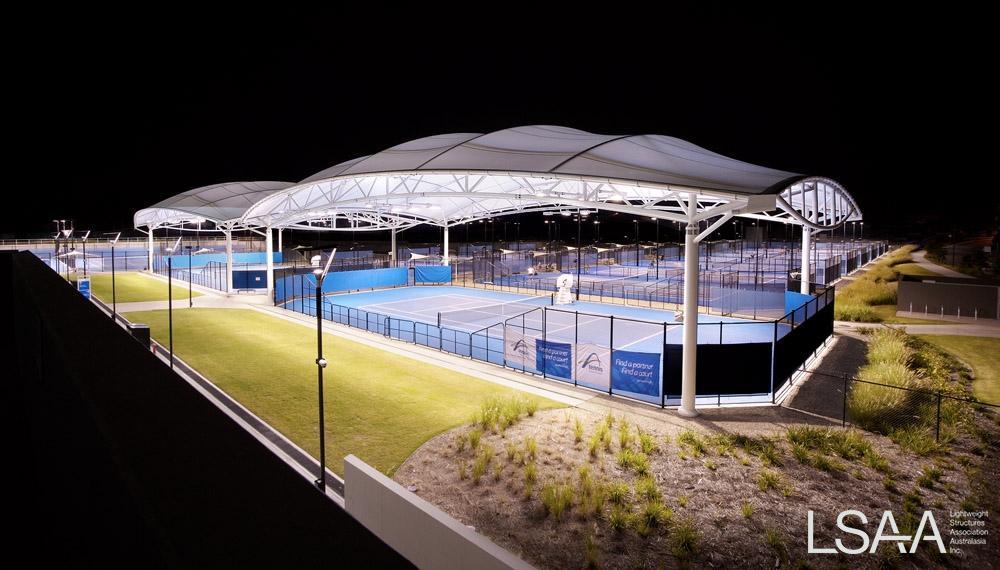 Entrant: UFS Australasia Pty Ltd - Designer / Fabricator
Location: 190 King Arthur Terrace - Tennyson Qld 4105
Client: Mirvac Architect: Mirvac Design Struct. Eng.: Wade Engineering
Specialist: Steel Structures Australia
Builder: Universal Fabric Structures / Ozrig
Fabricator: Skyspan Asia
This project was entered in the LSAA 2009 Design Awards, Category 3 (#37008)
Description
The Queensland State Government approved and funded the development of a first class international tennis facility for Queensland to be located in the Brisbane CBD at Tennyson. The facility offers all tennis playing surfaces, a covered main court stadium and two covered outdoor championship size show courts. The State Tennis Centre was completed in time for the Adidas international in January 2009.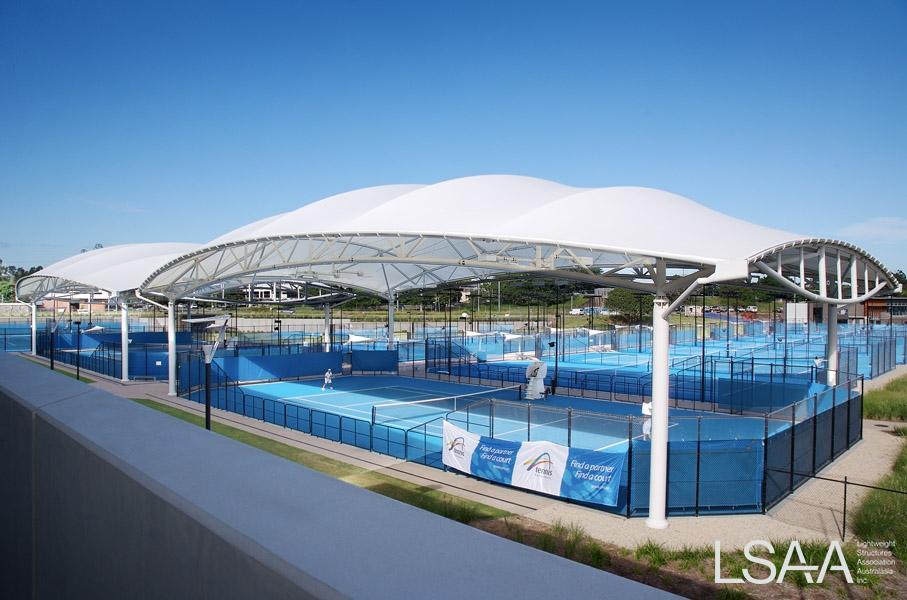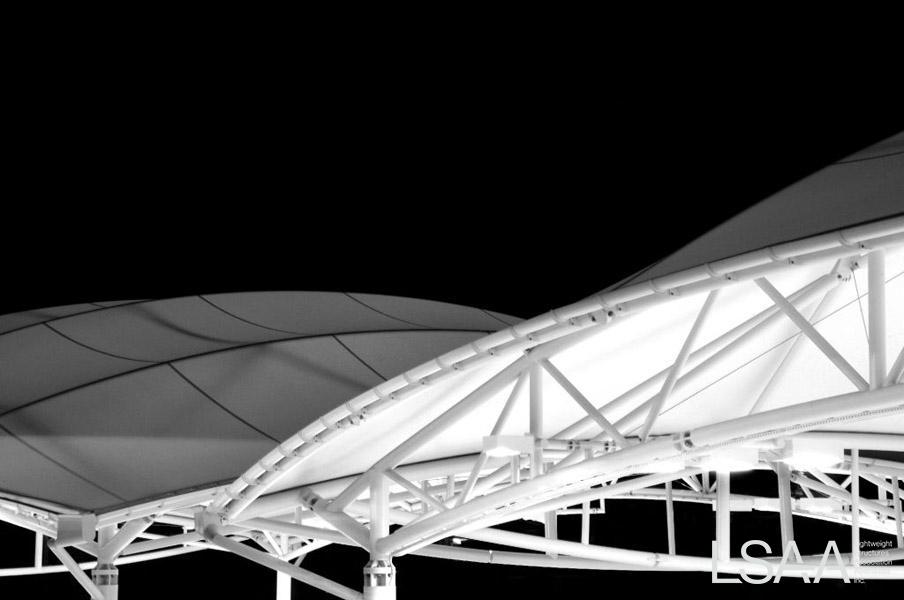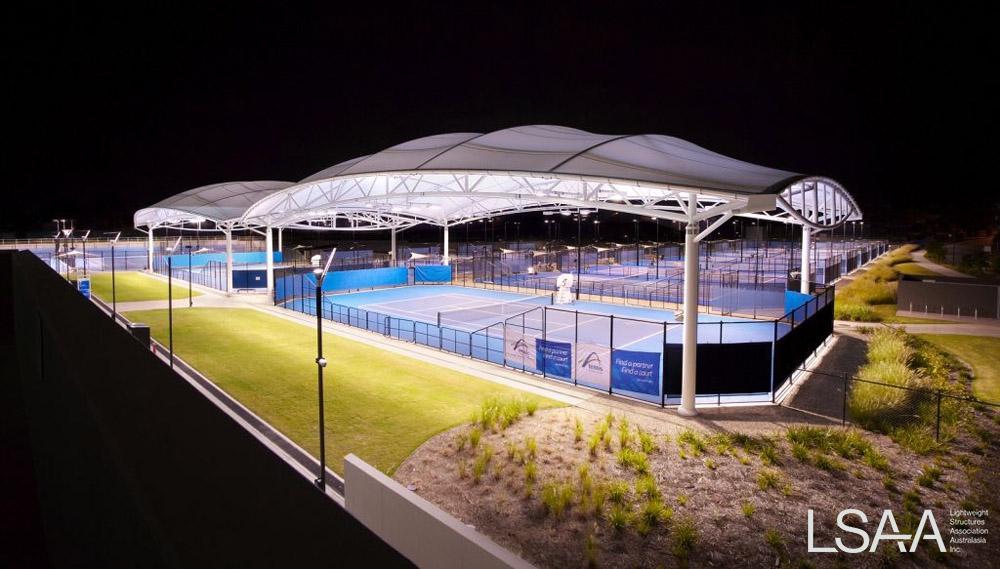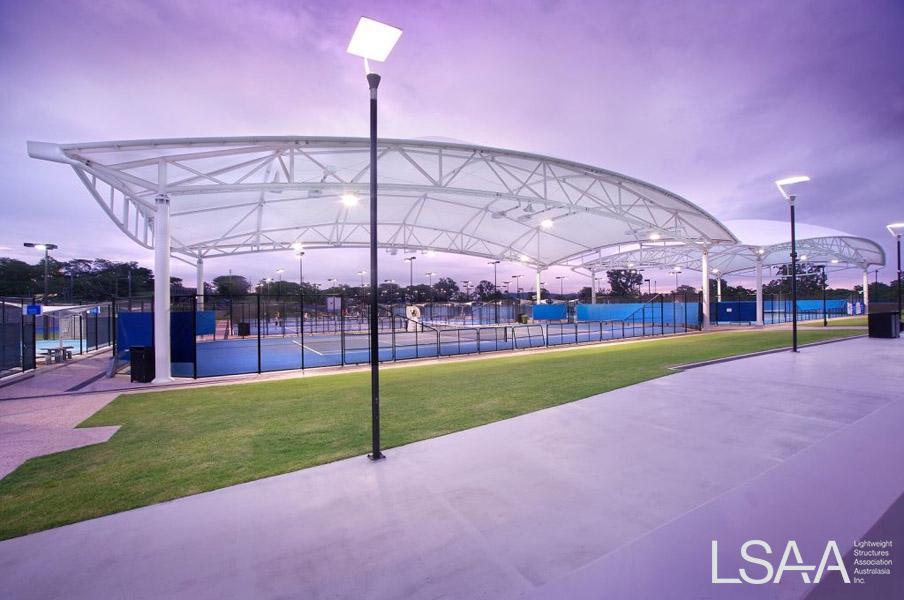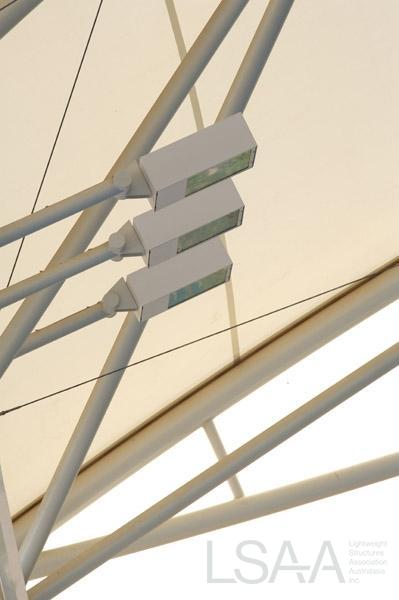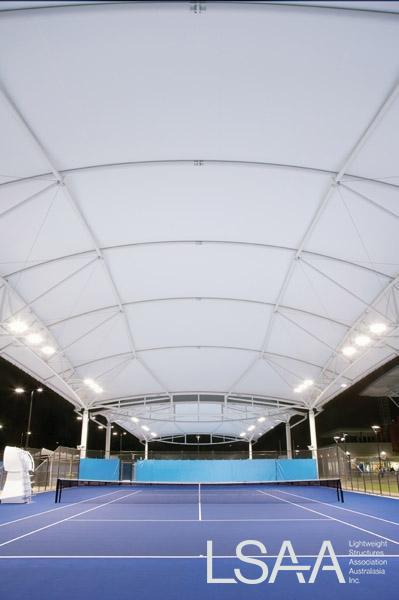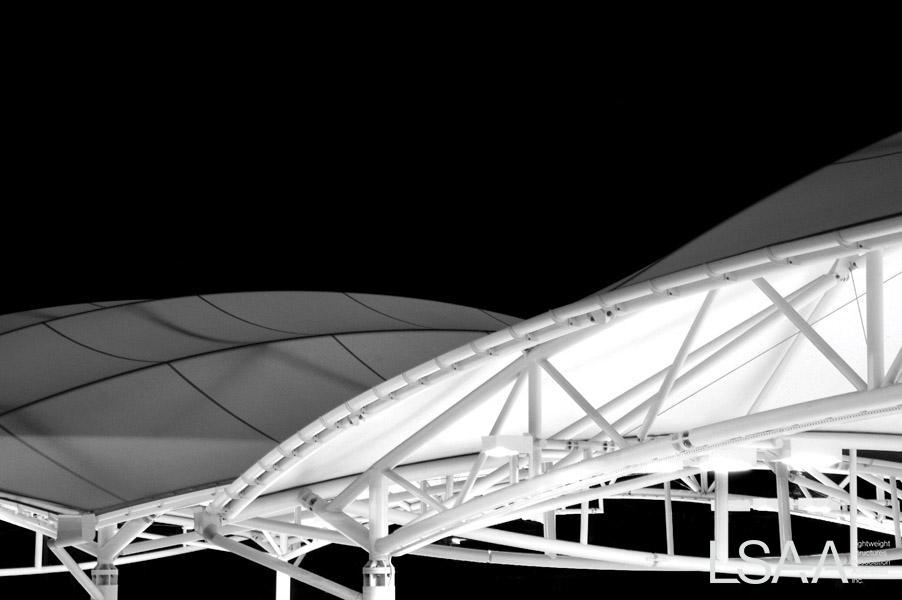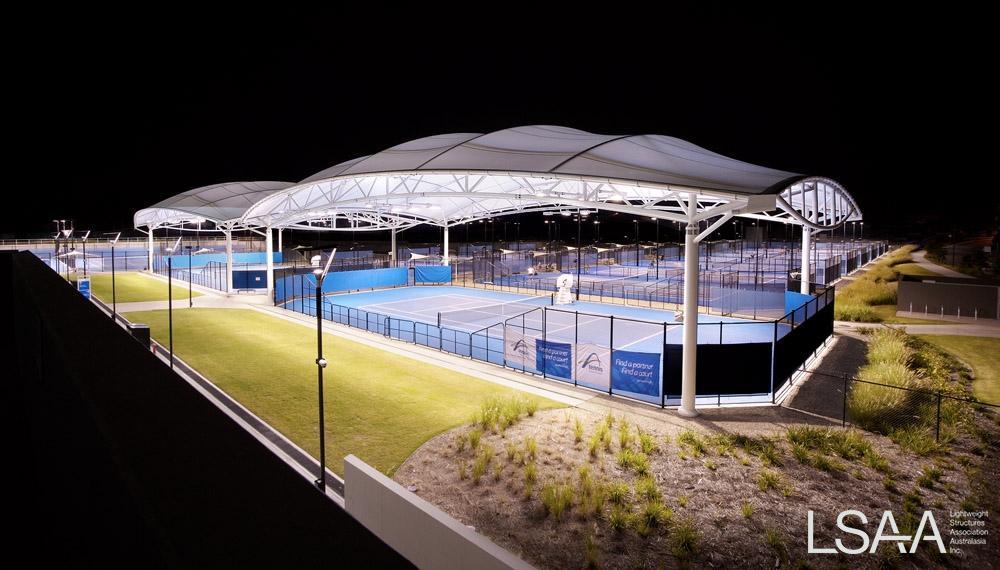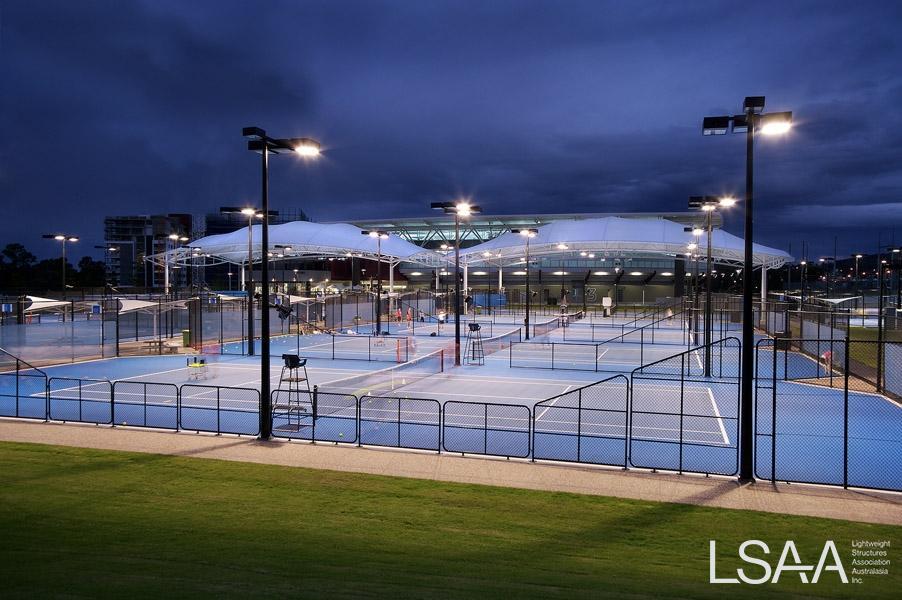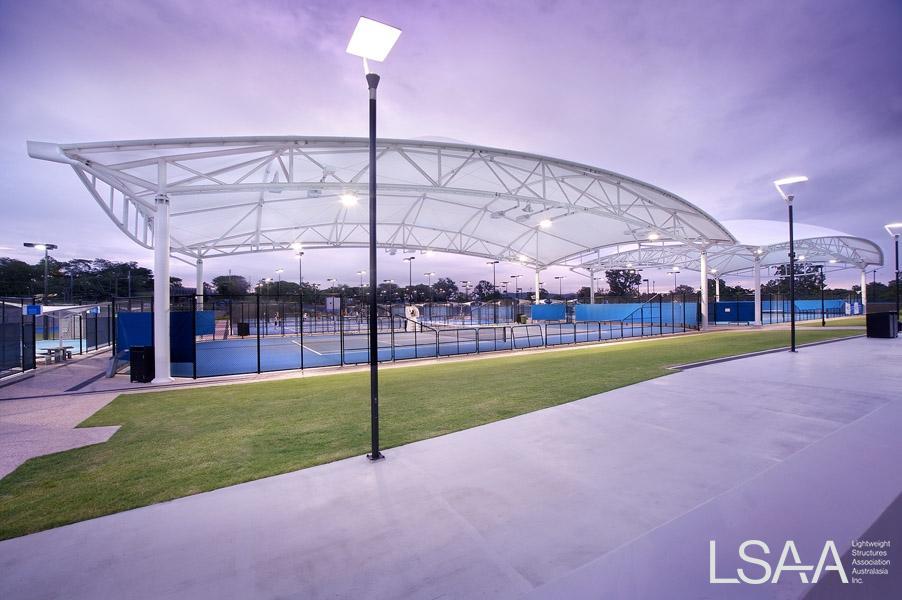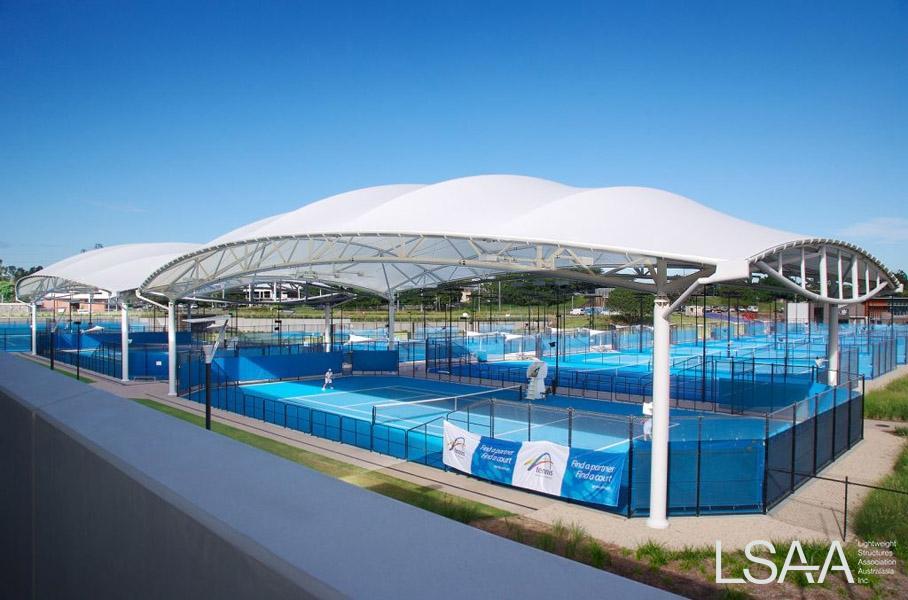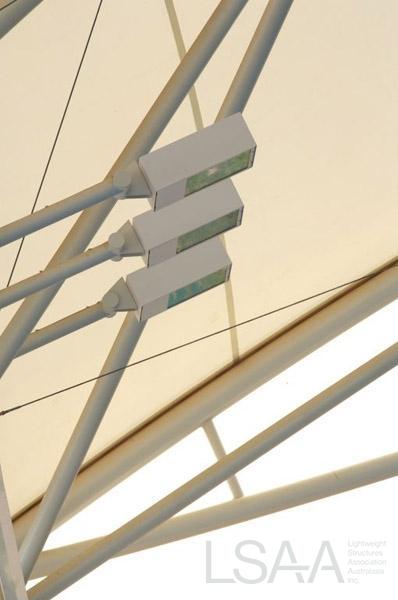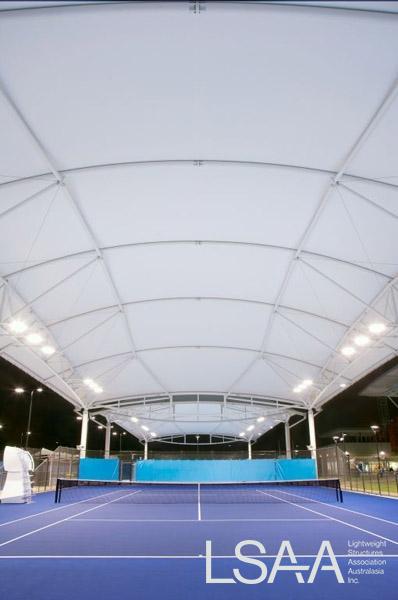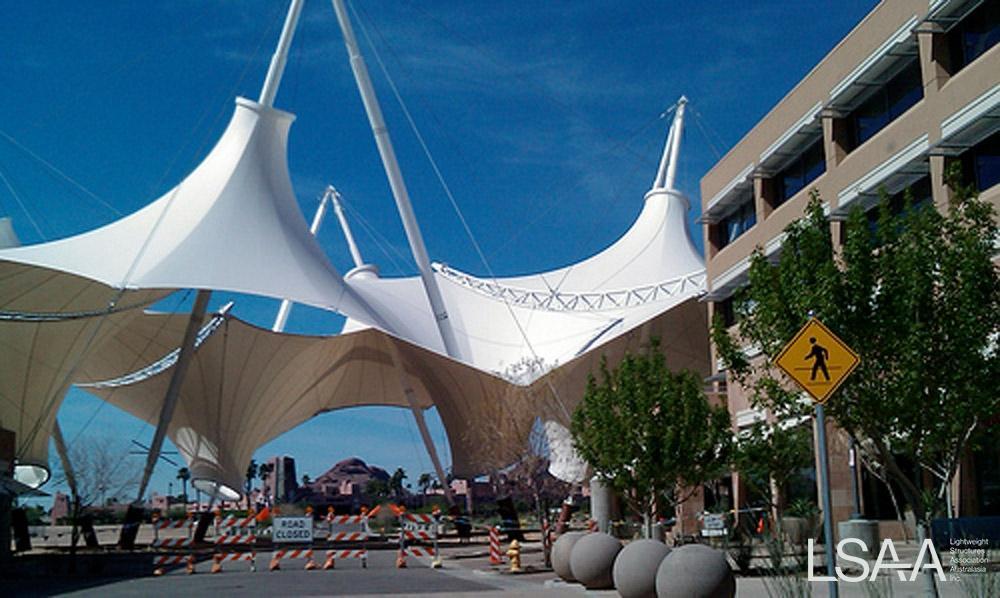 LSAA 2009 Design Award Entry (#3958): ASU – Skysong
Entrant: Atkins Fabrication (Aust) Pty Ltd – Fabricator
Location: Arizona State University – USA
Client: USA Shade & Fabric Structures Inc.
Struct. Eng.: Wade Engineering
Fabricator: Atkins Fabrication (Australia) Pty Ltd
This project was entered in the LSAA 2009 Design Awards, Category 3.
No further details have been entered for this project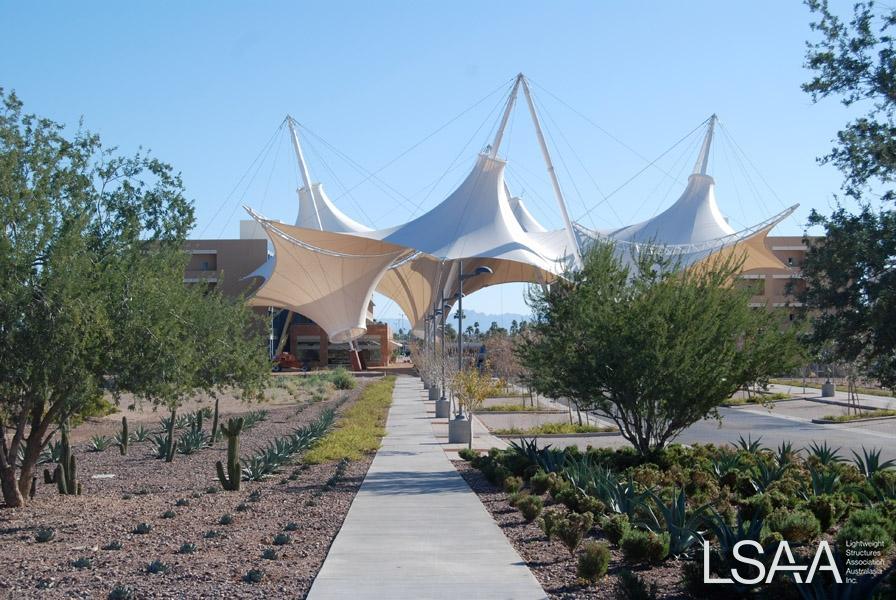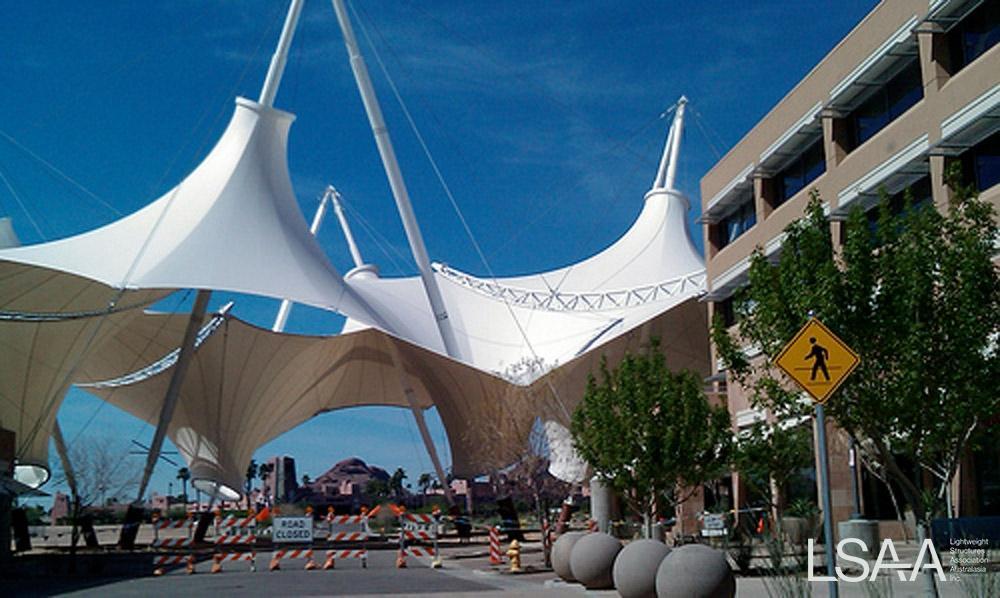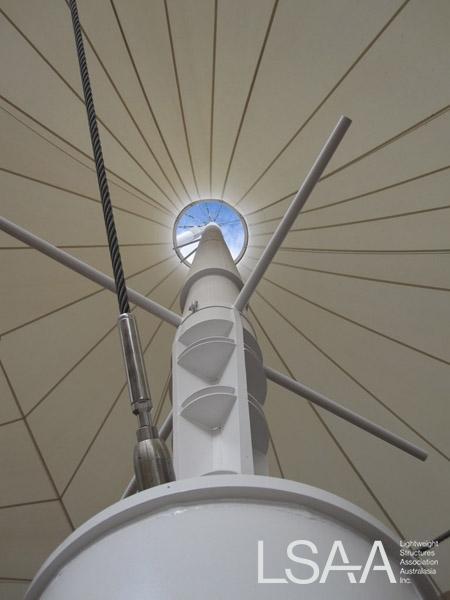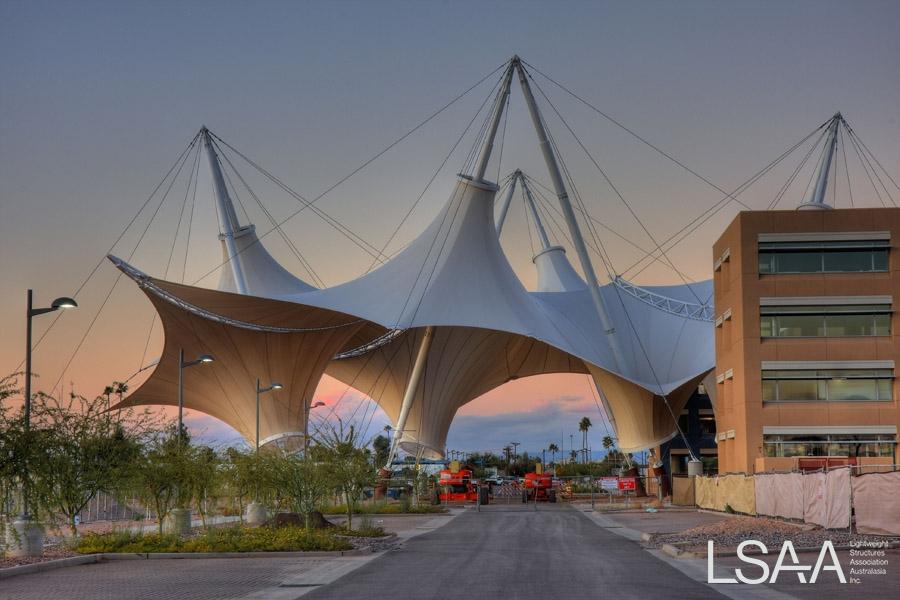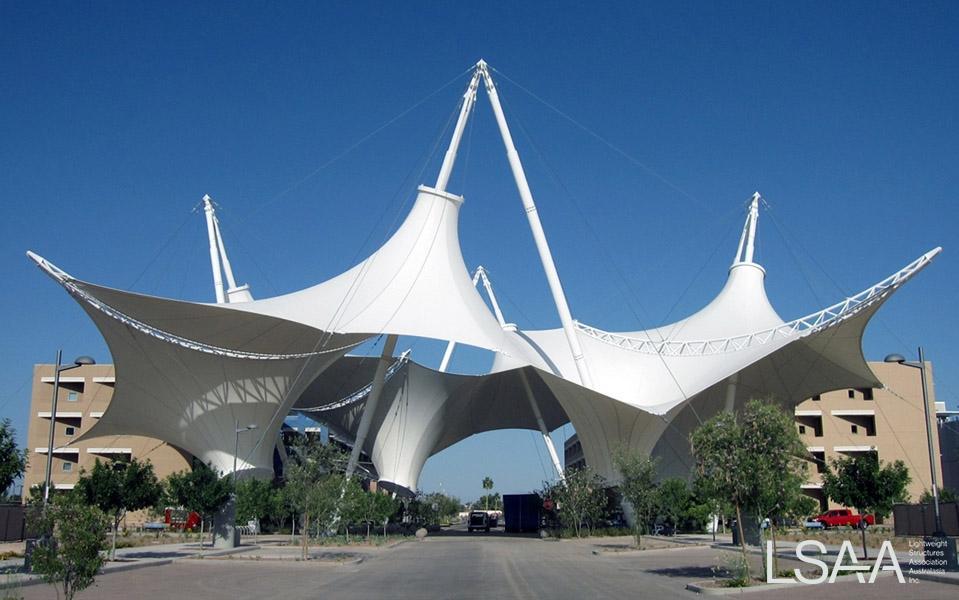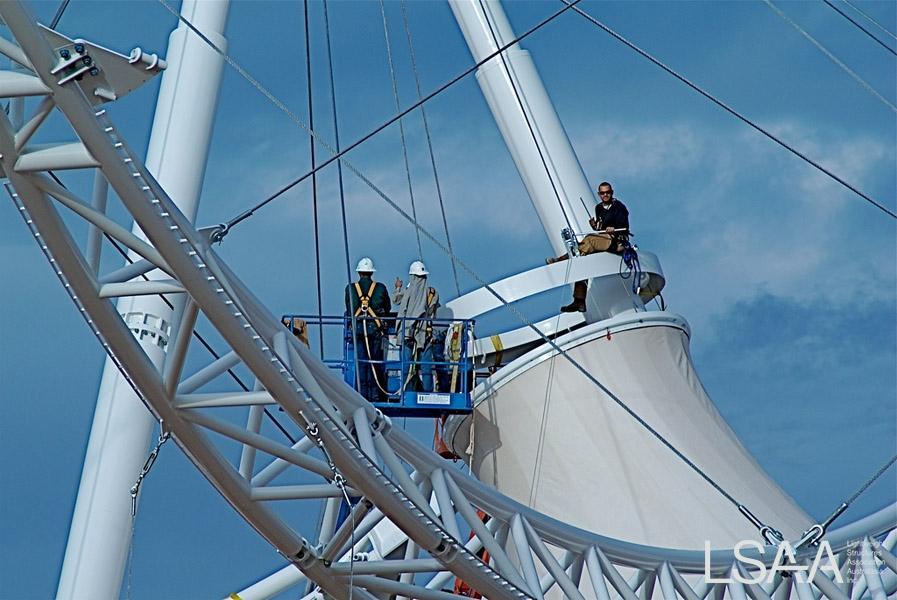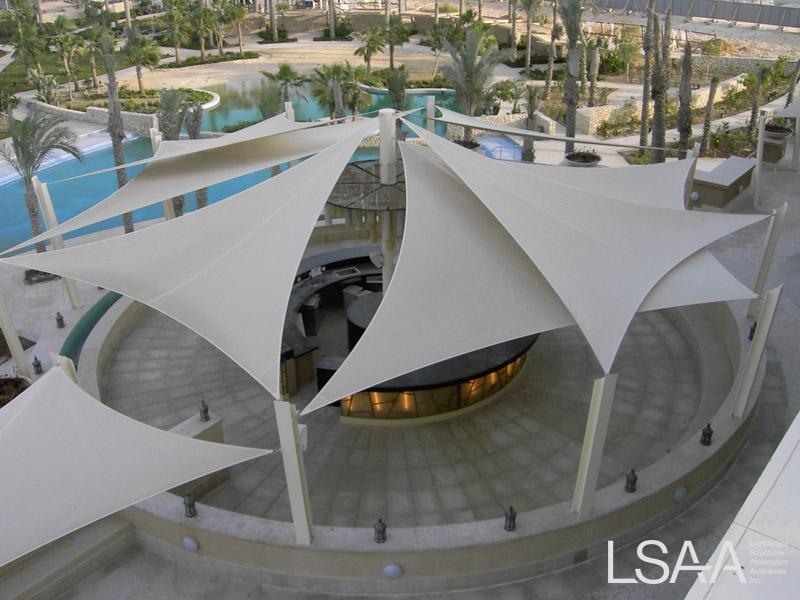 LSAA 2011 Design Award Entry (3185)
APPLICATION OF PROJECT:
Shading systems: The Marassi beach Clubhouse, resort villas, and spas required a large range of shading systems.
PROJECT DESCRIPTION
Marassi is a Mediterranean‐styled resort development sprawling across 1,544 acres of pristine waterfront. Situated along the magical shores of Sidi Abdul Rahman bay, the resort is close to Alexandria and a few miles away from the historic city of El Alamein.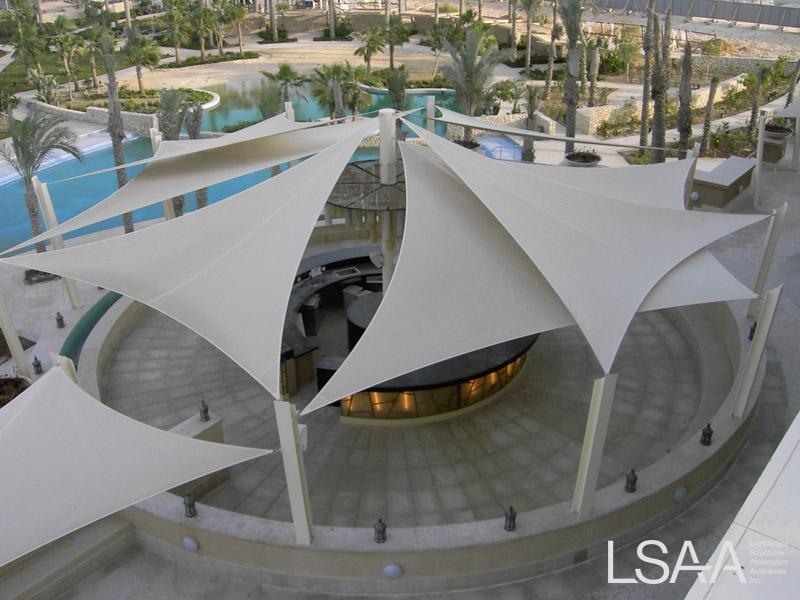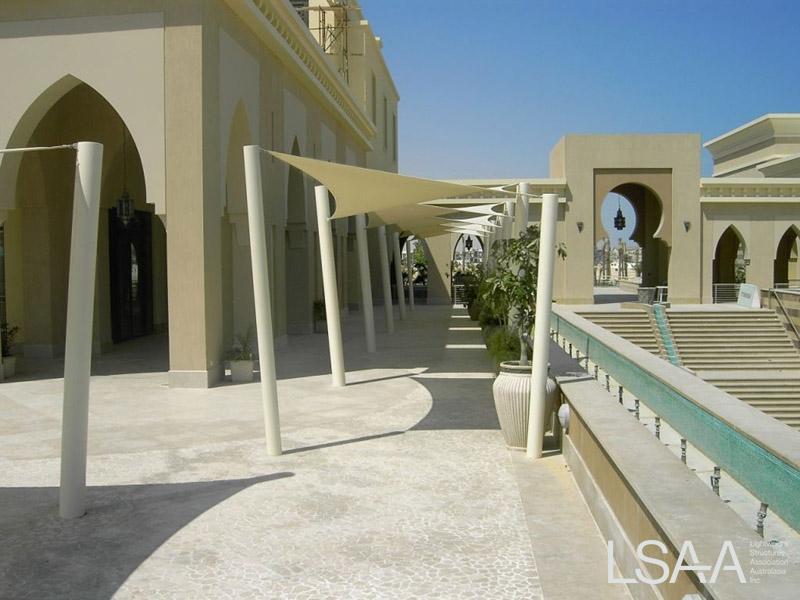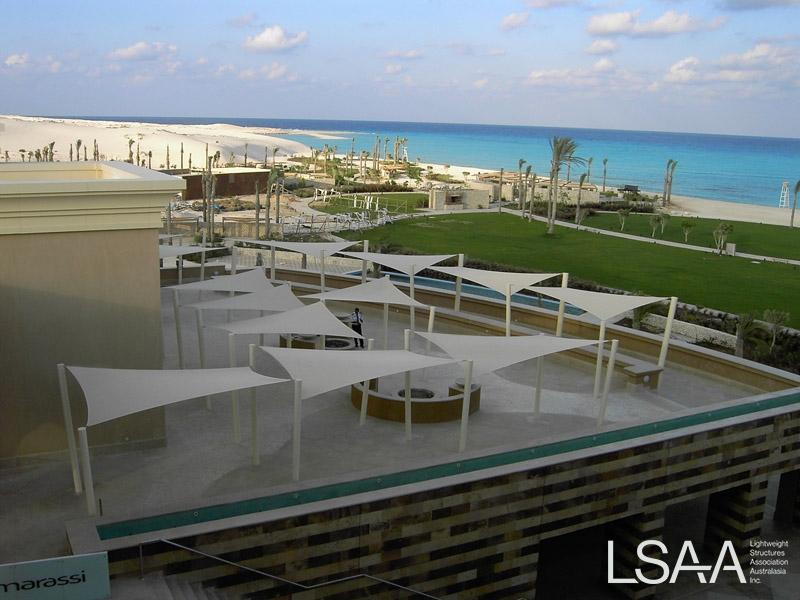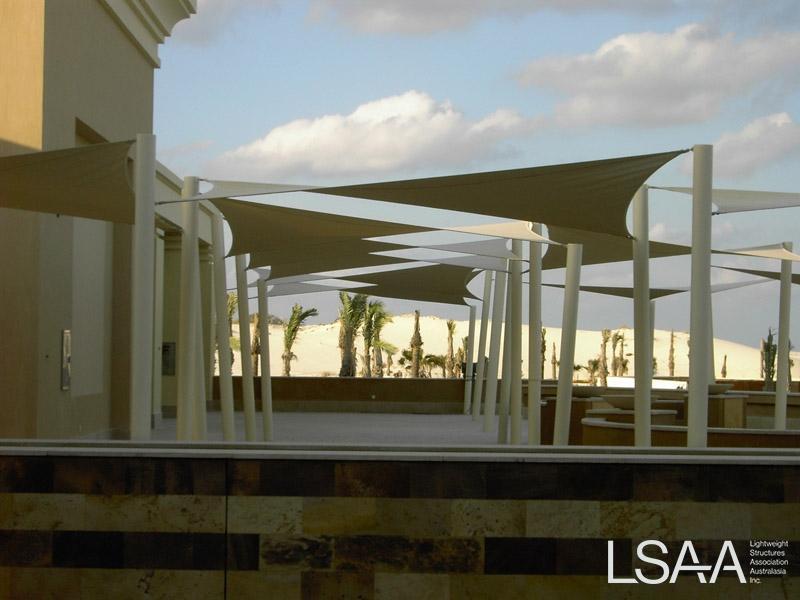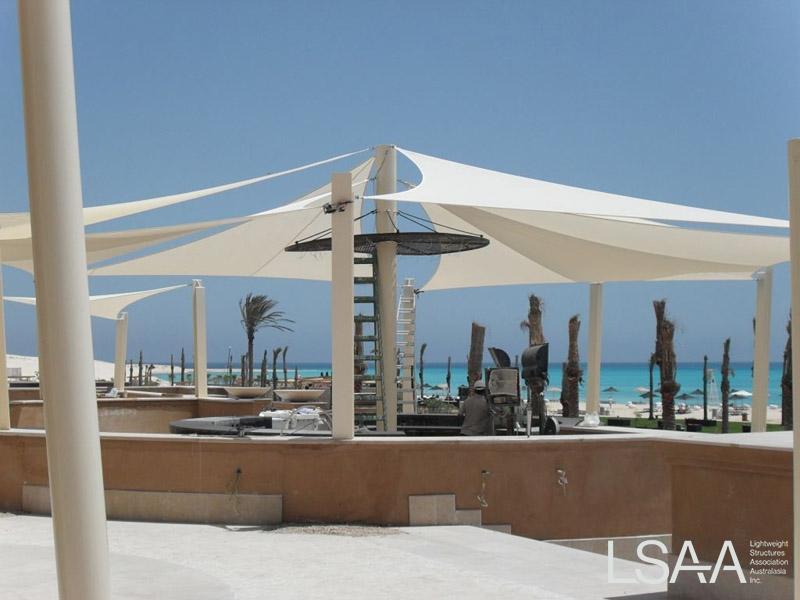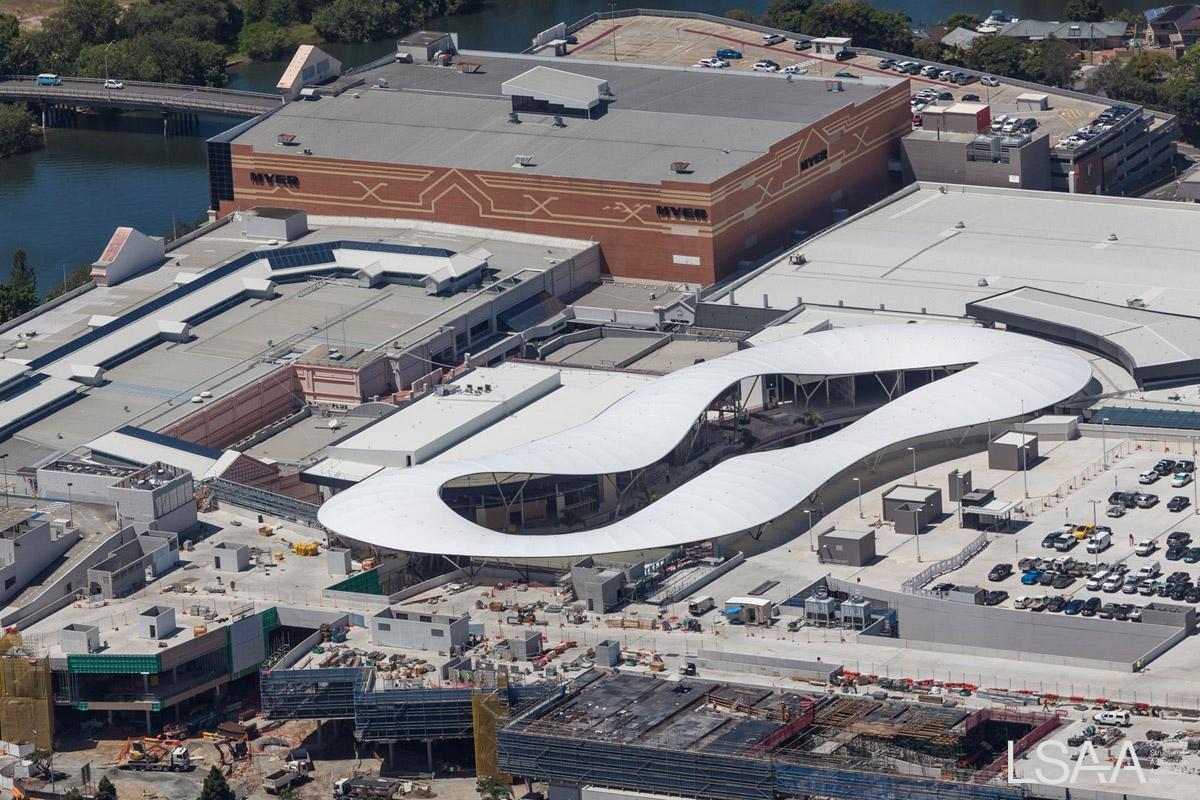 Entered into the LSAA 2016 Design Awards (Cat 4, Large Fabric Structures #4114)
Entrant: Fabritecture (Designer and Installer)
Location: The Esplanade. Completed: 2016
Client: Scentre Group (Westfield)
Team: Scentre Group (Westfield), Wade Design, Textile Fabrication Services, Fabritecture
Application
Statement architectural fabric structure with complex steel geometry and state-of-the-art LED lighting system as part of a $670 million redevelopment of Pacific Fair Shopping Centre on the Gold Coast.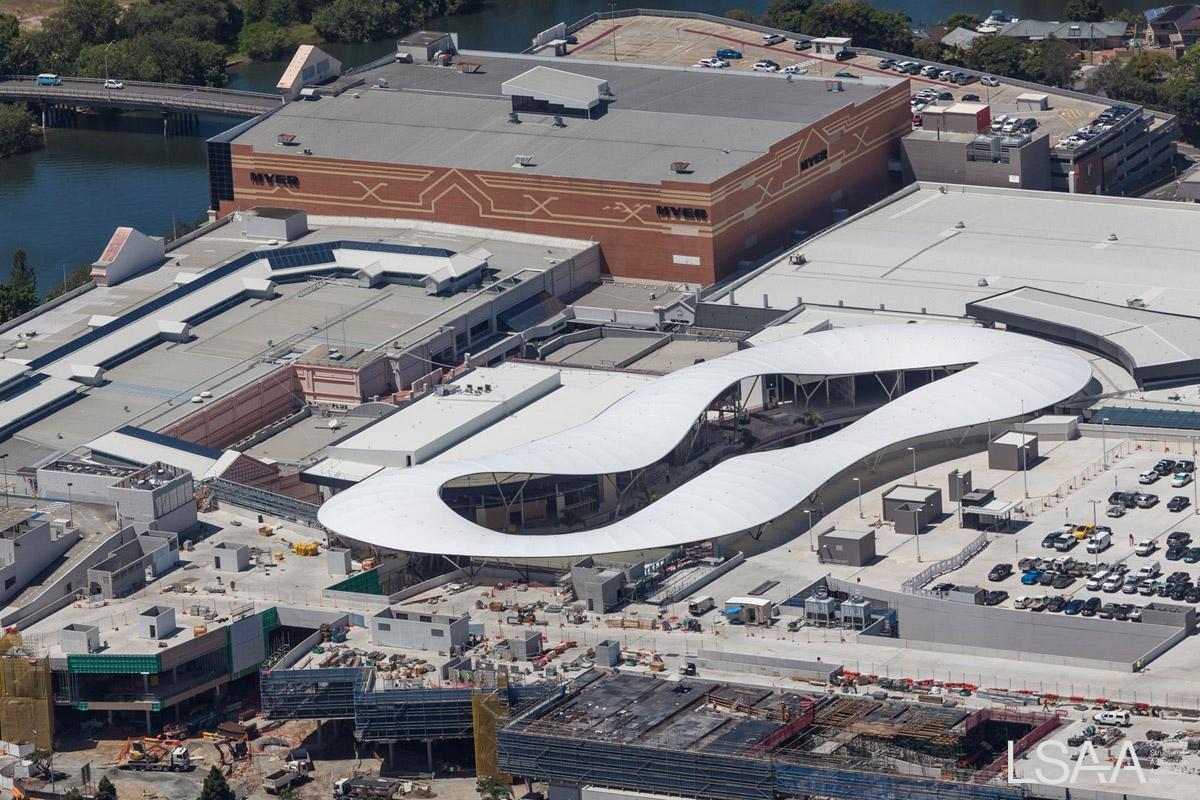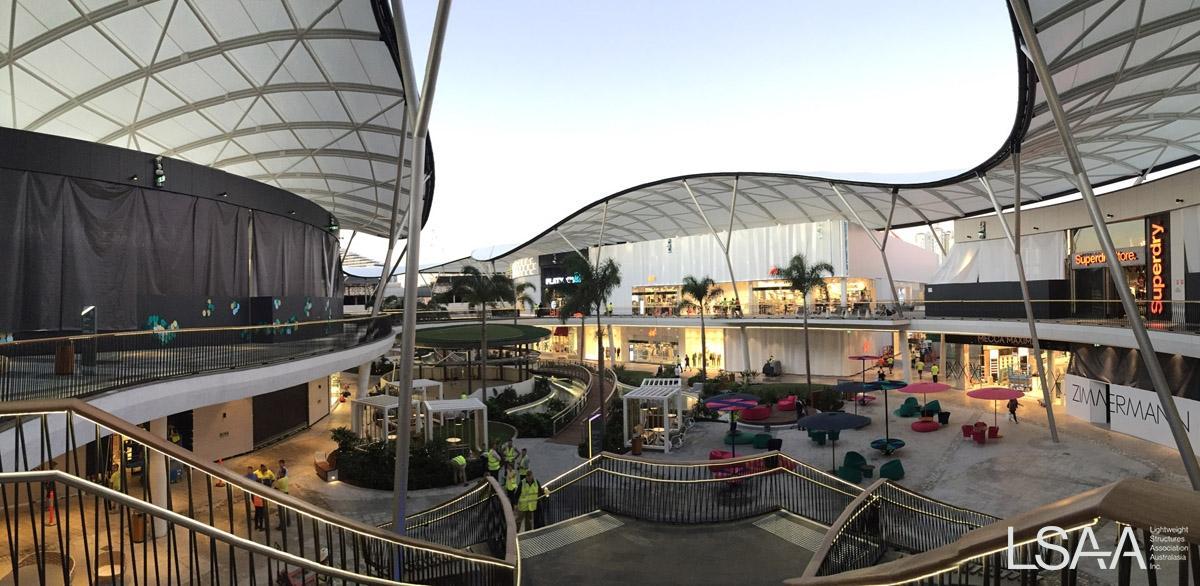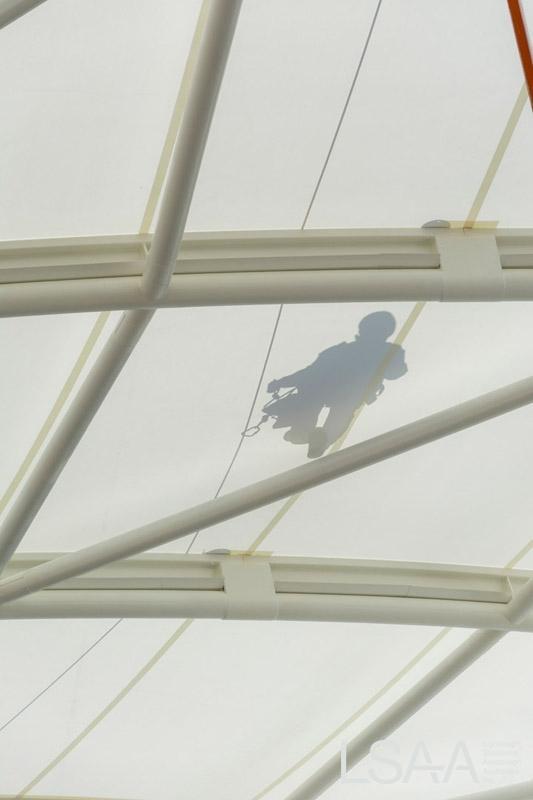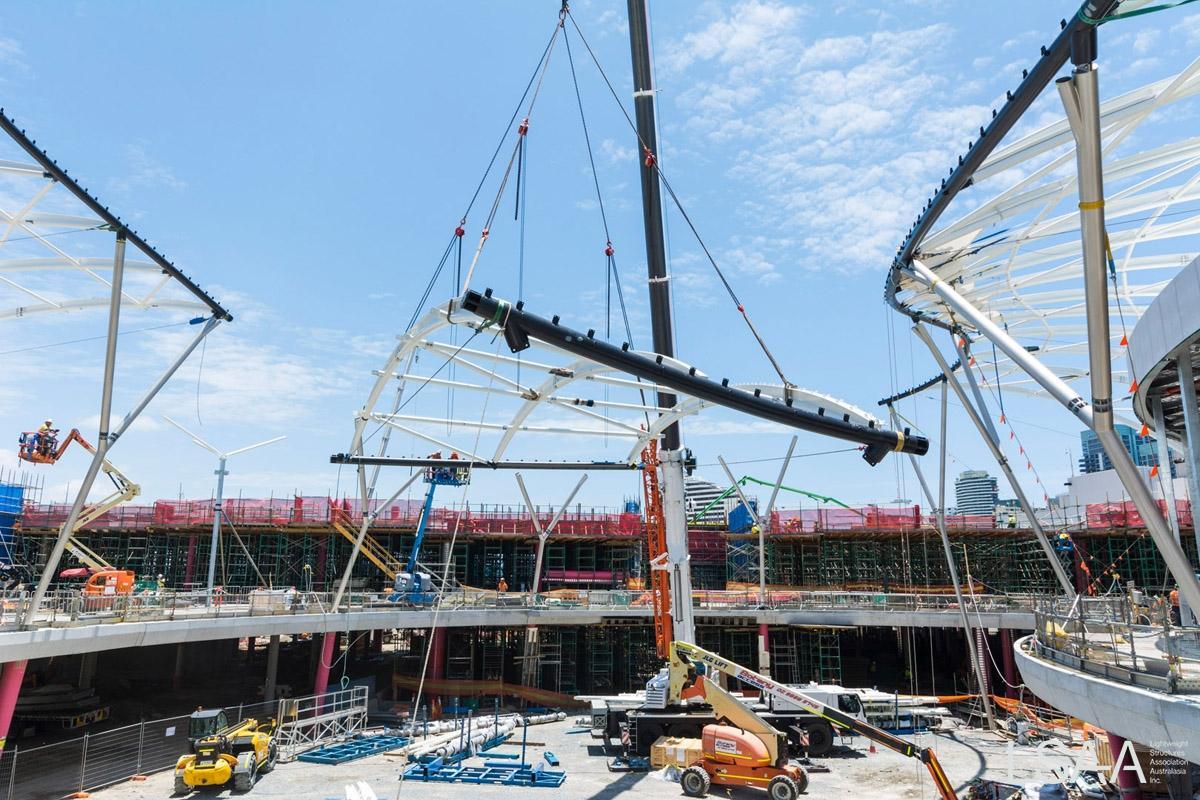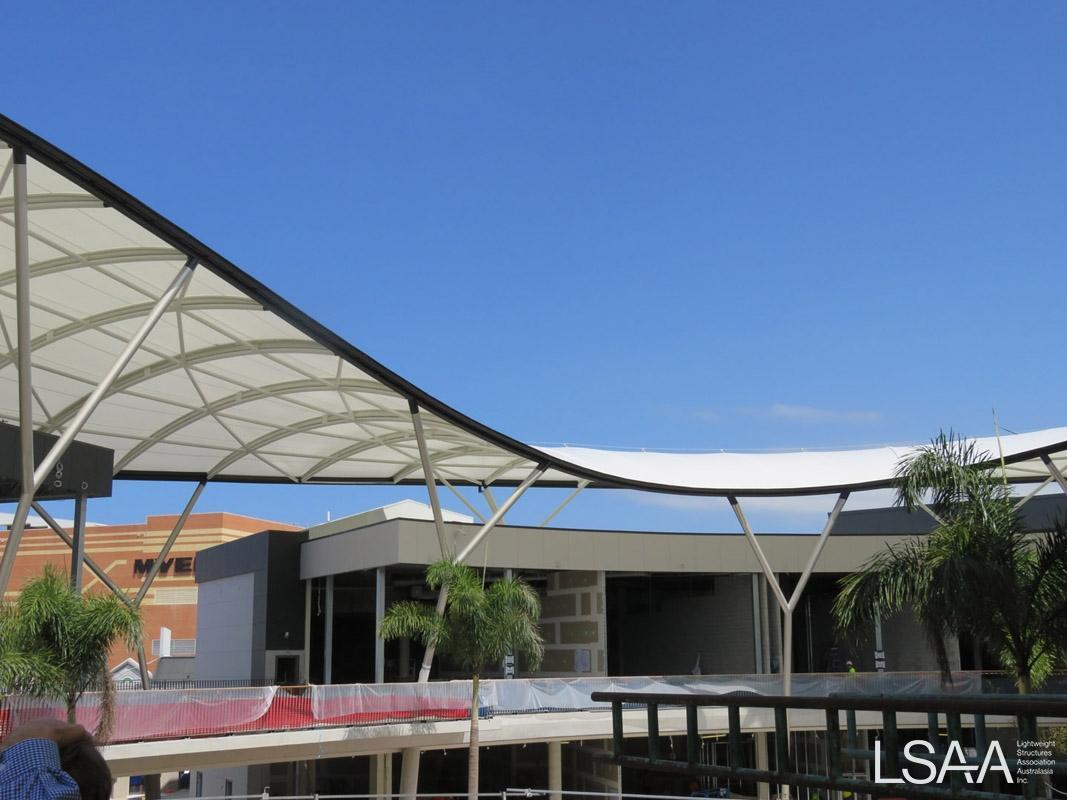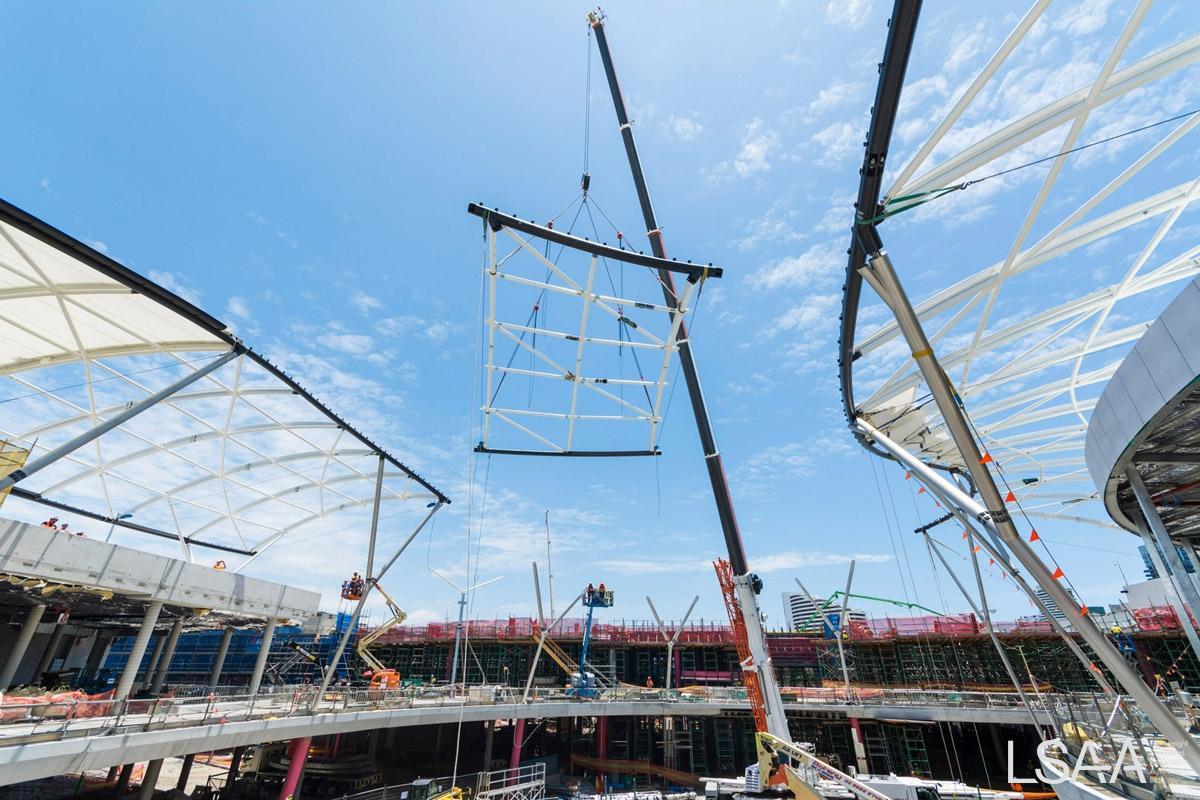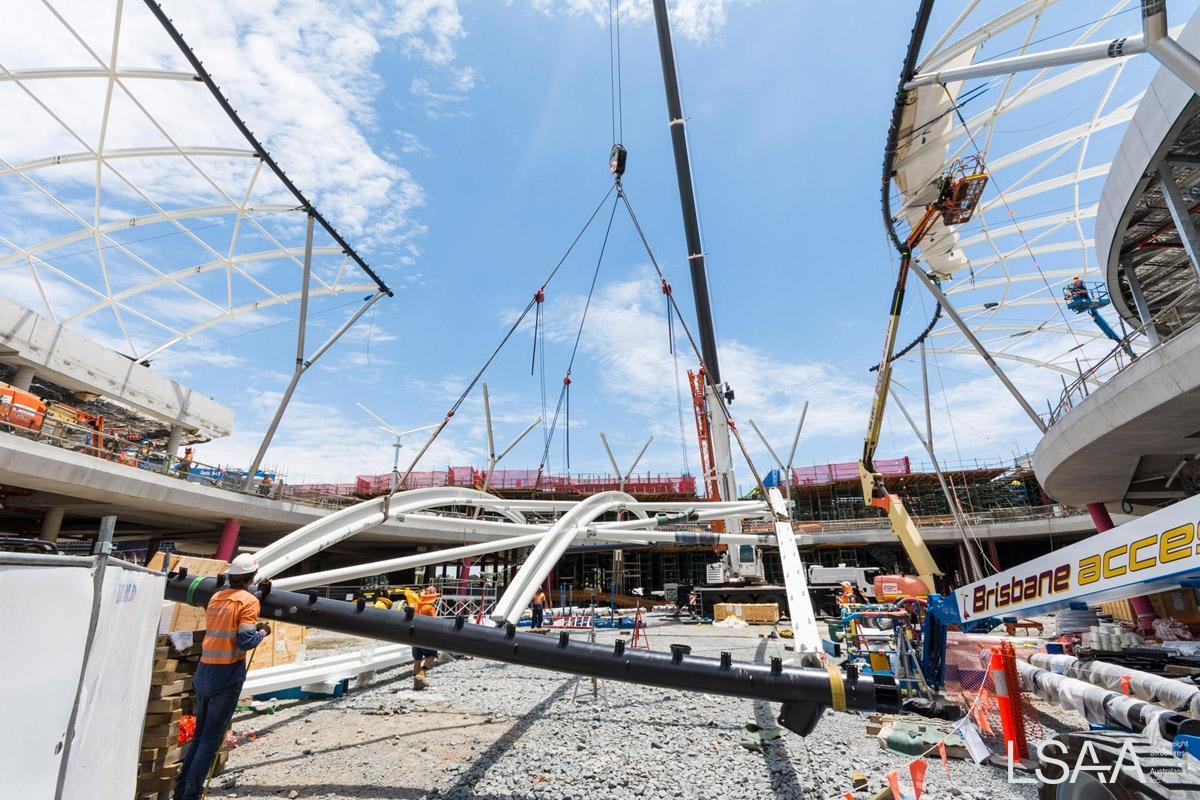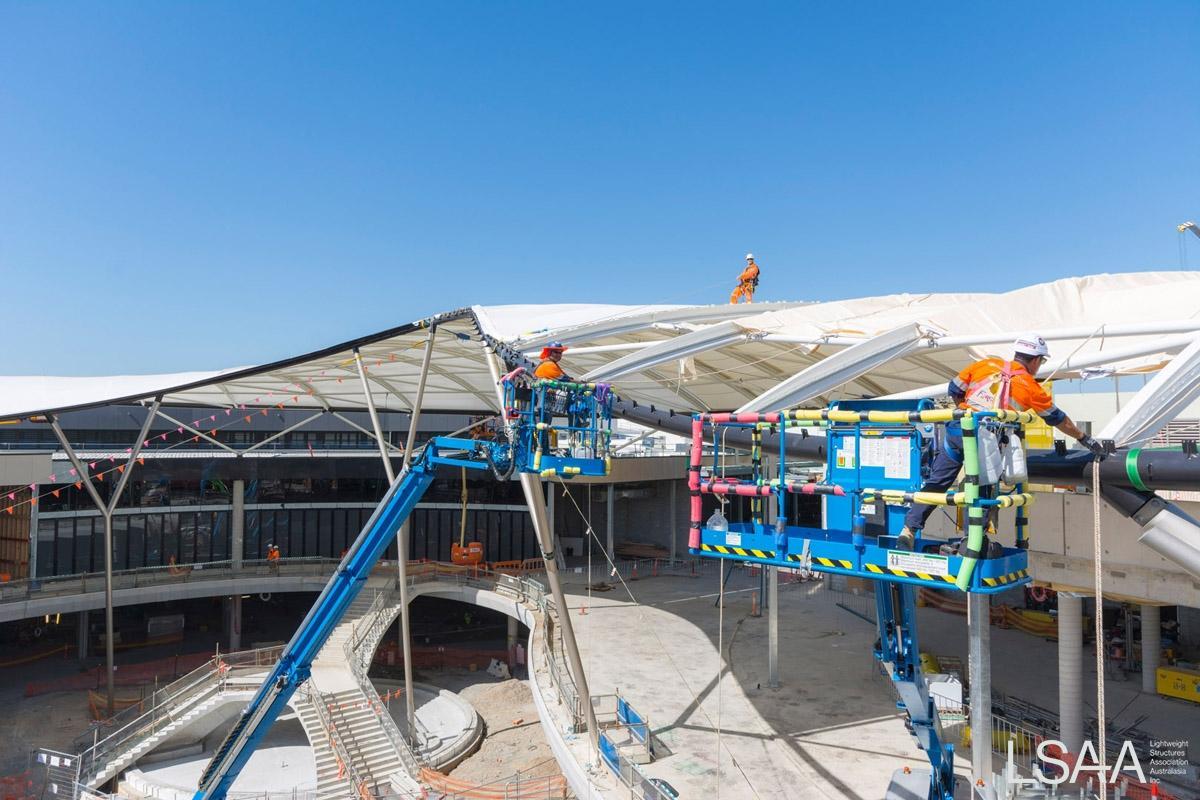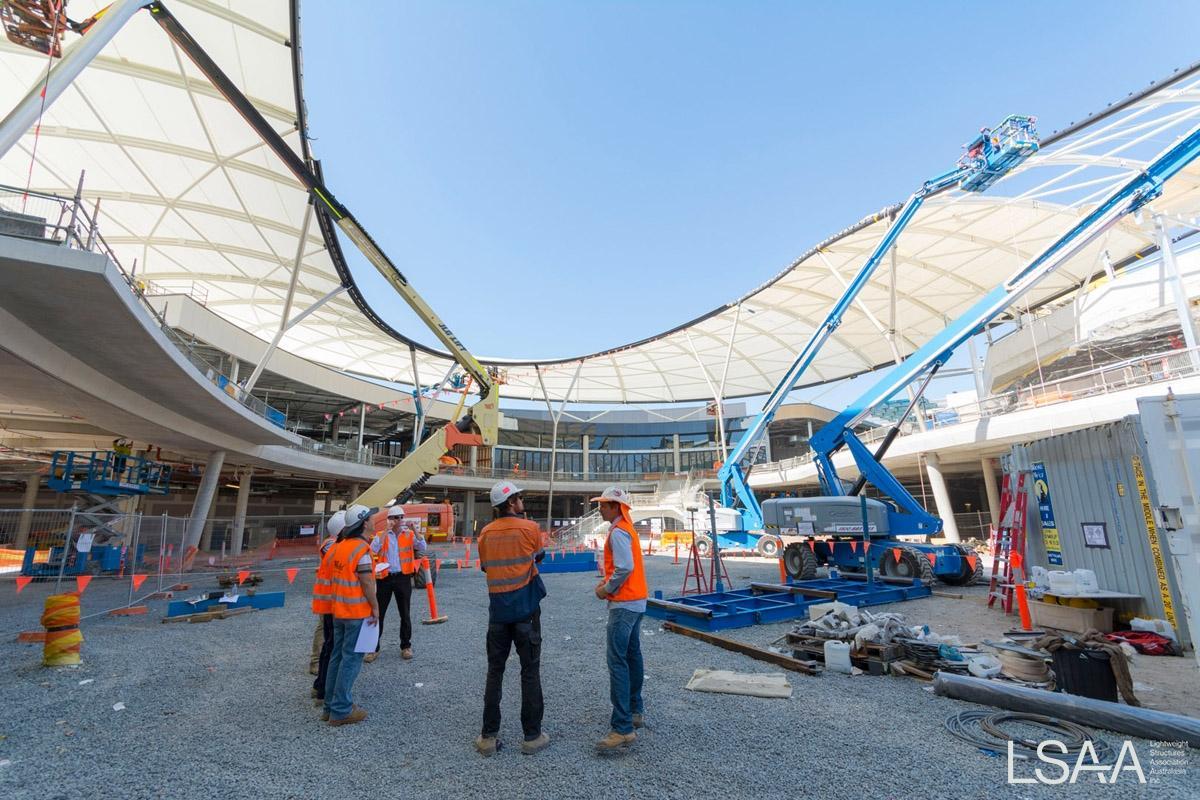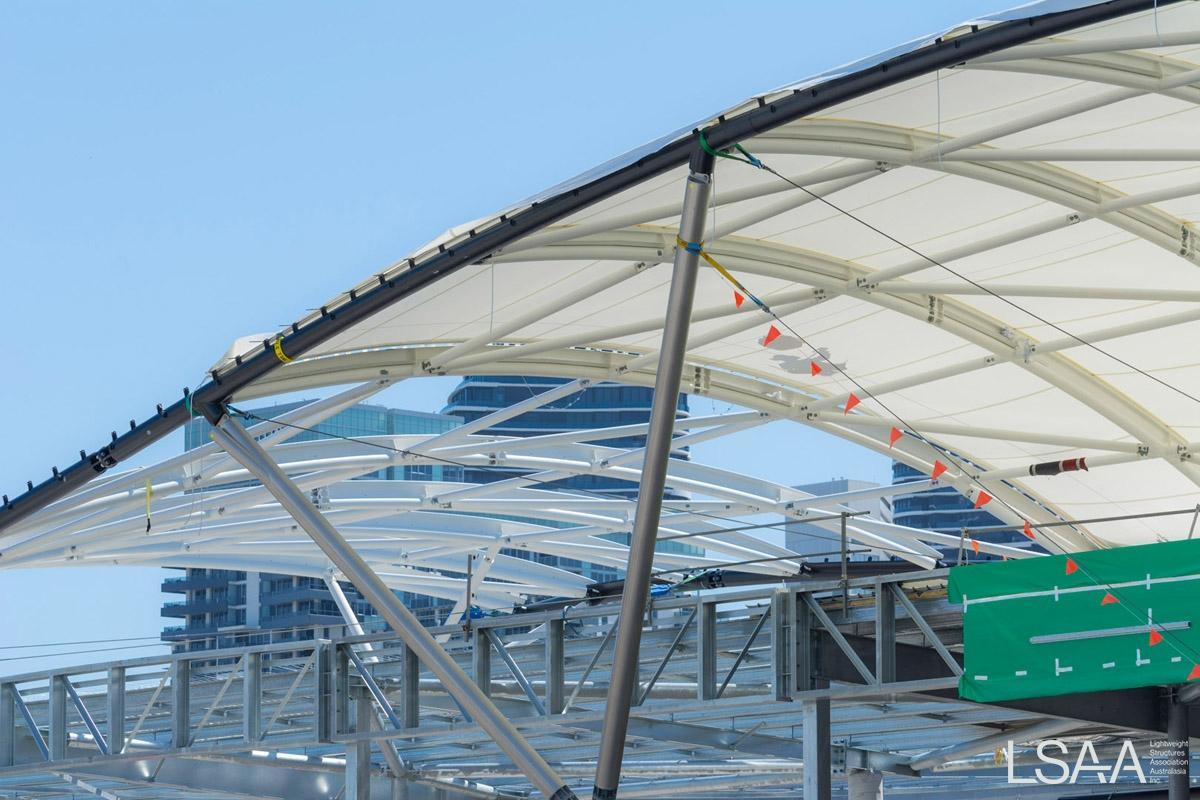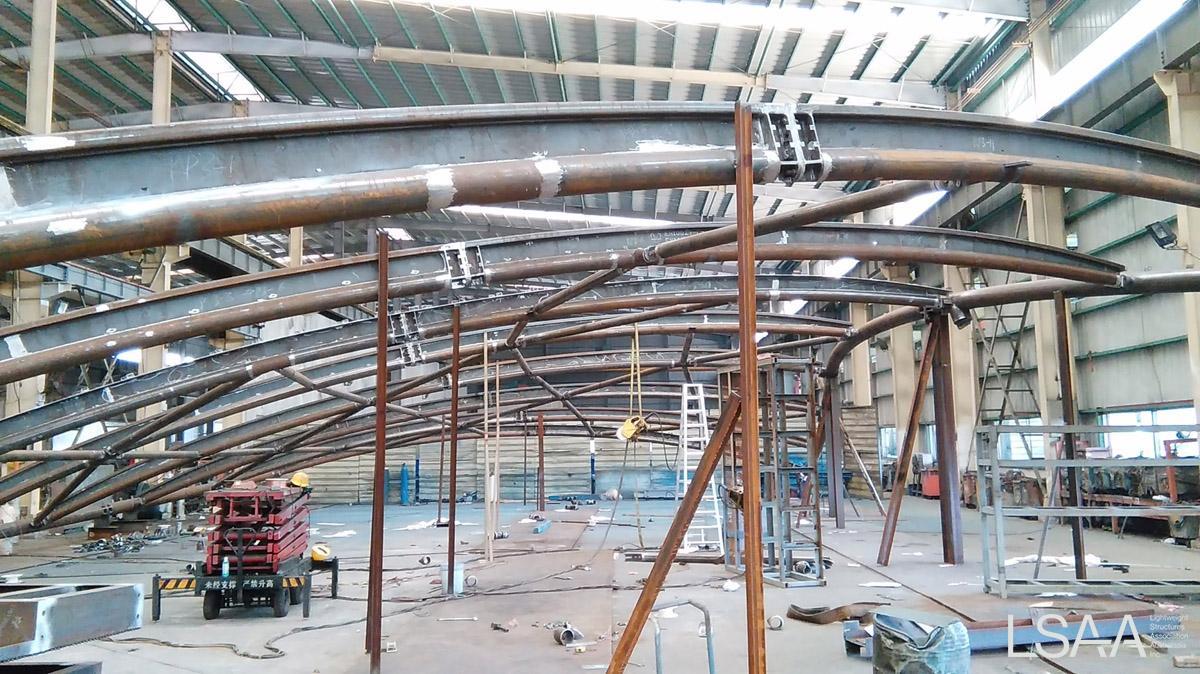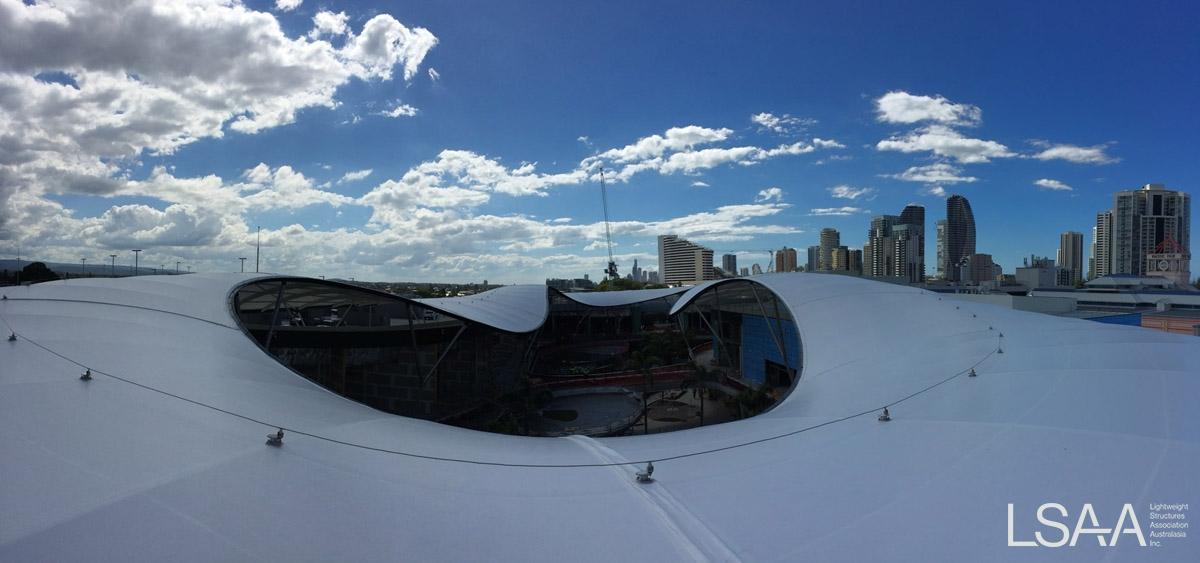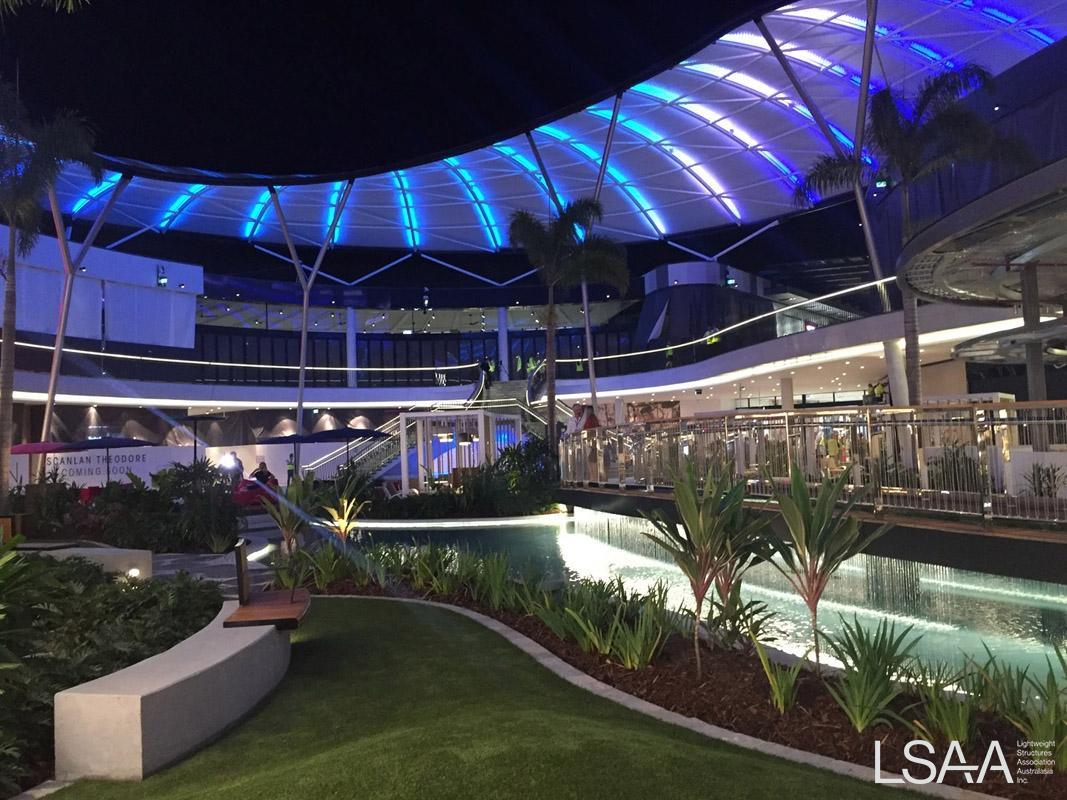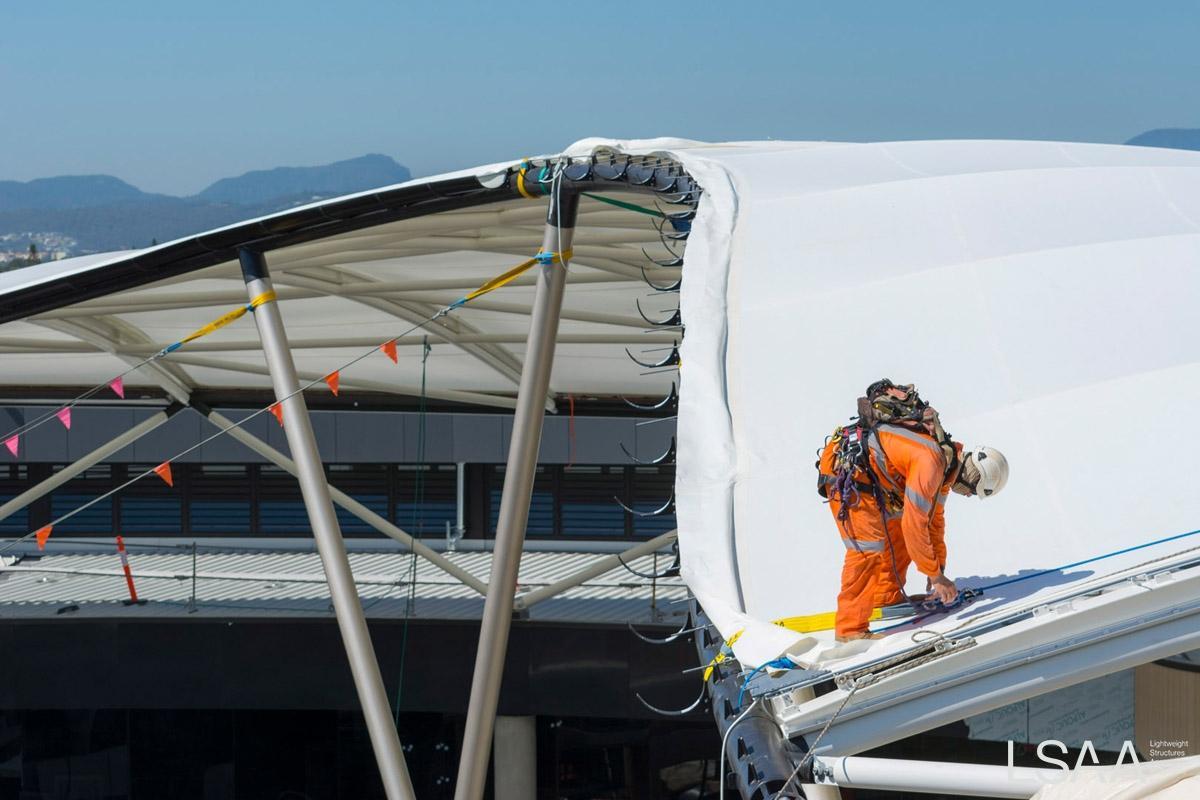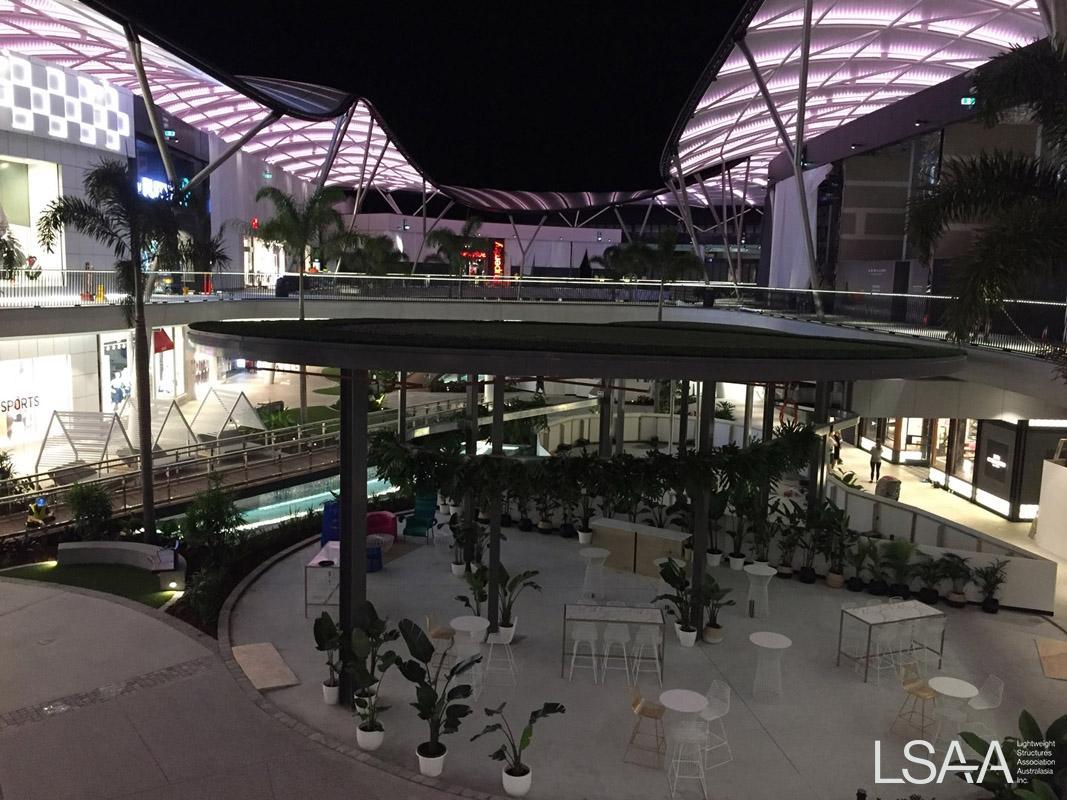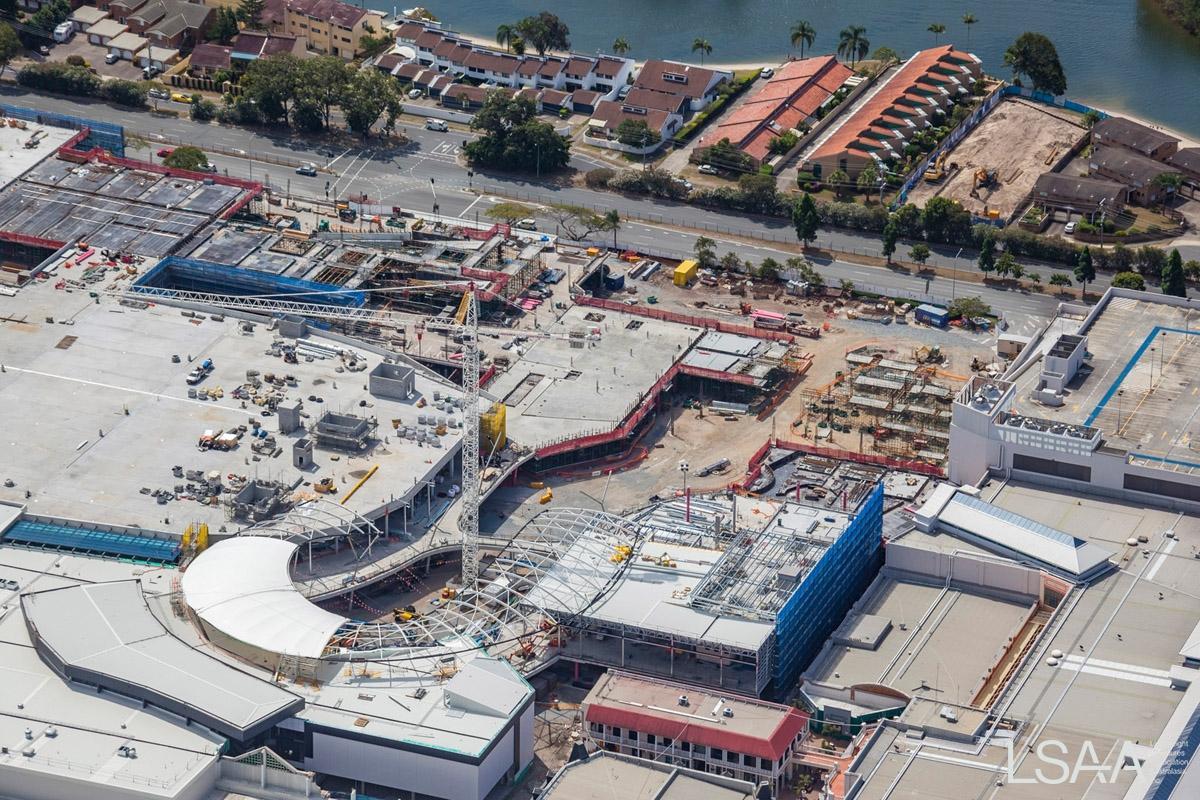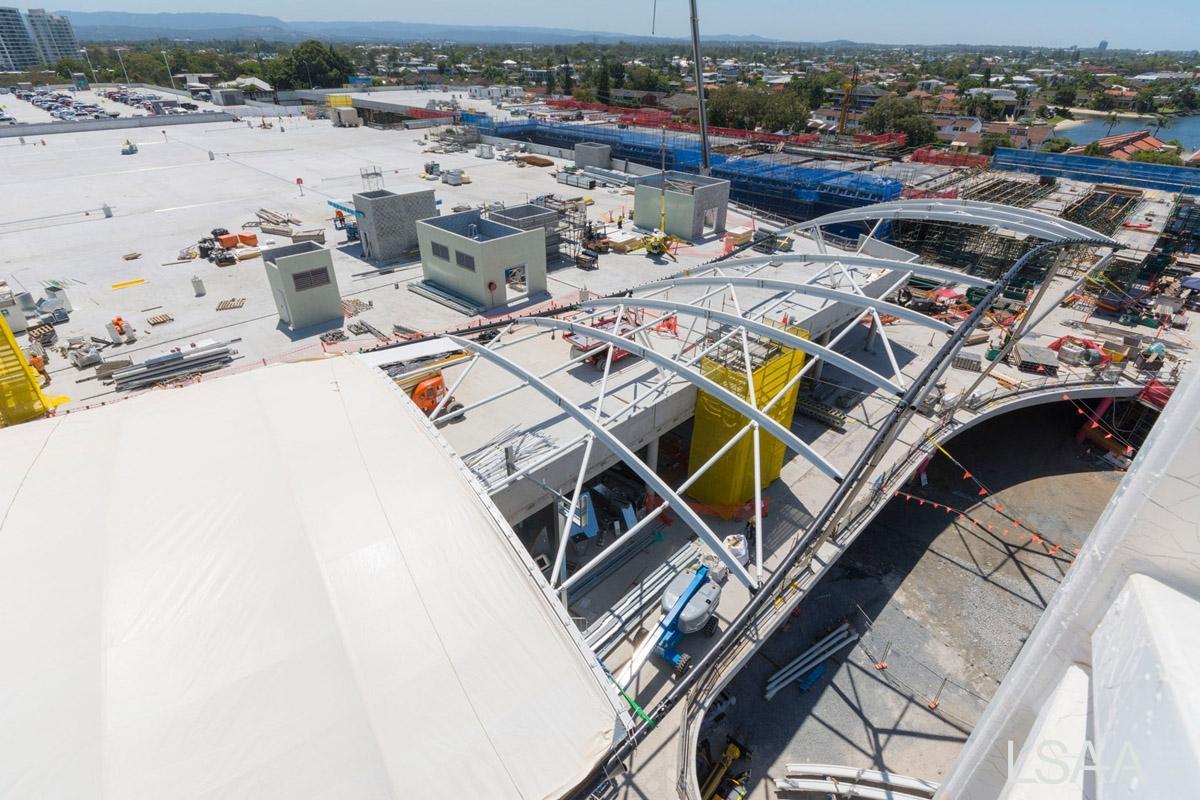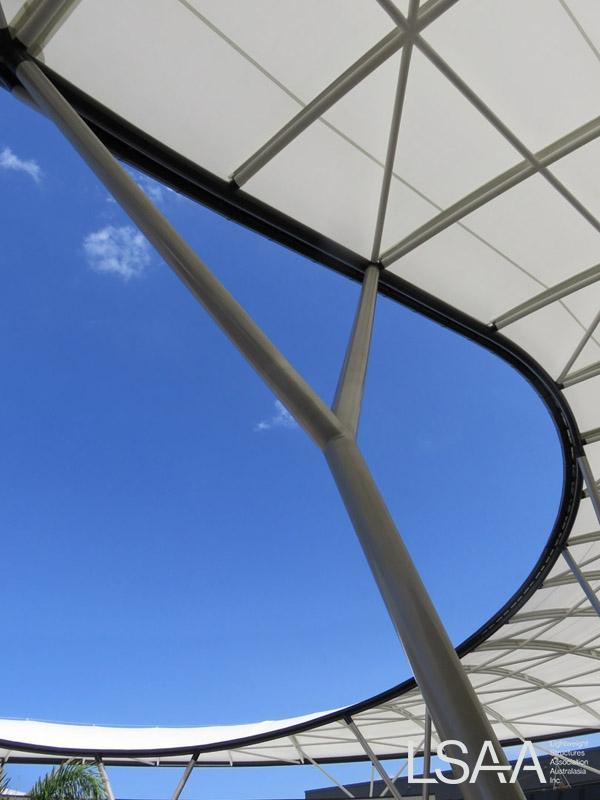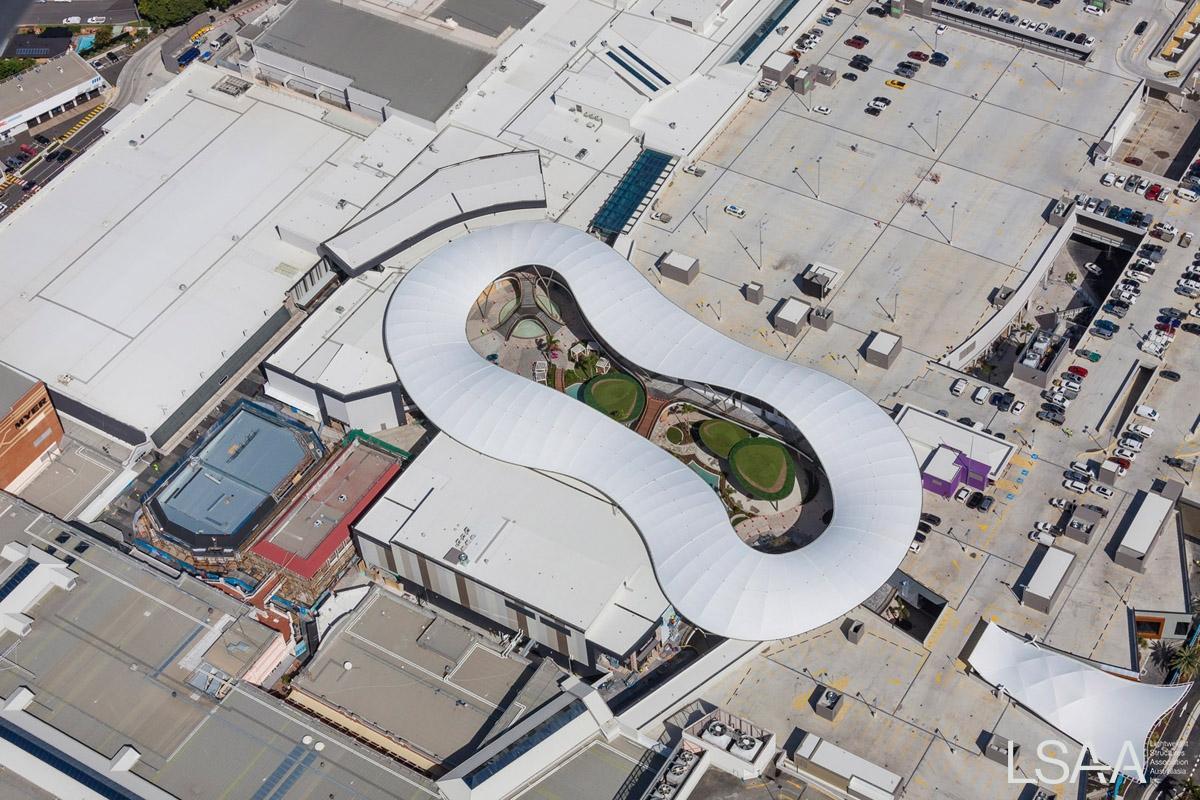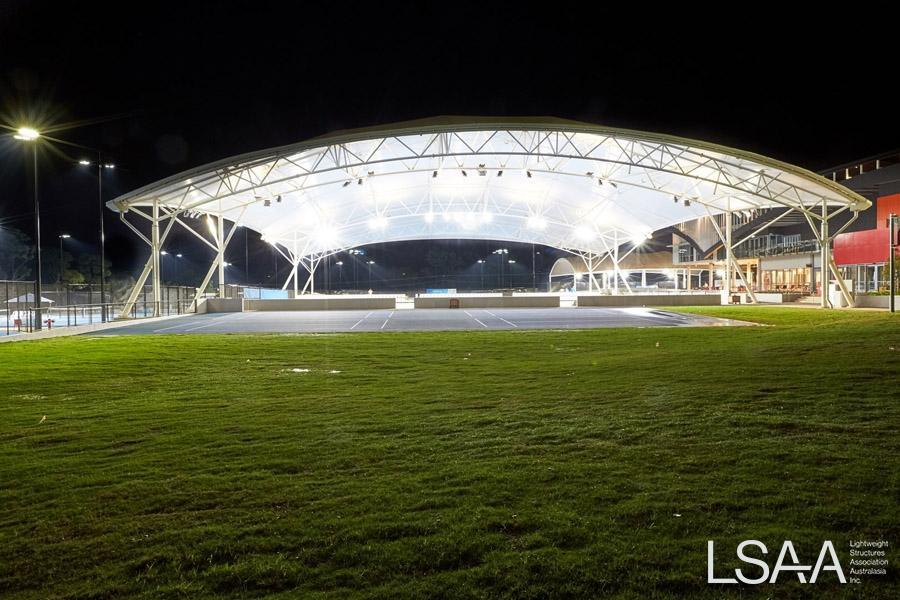 This project was entered in the LSAA 2018 Design Awards (Cat 4 Large Fabric Structures, #4431)
Application: 2 roof canopies for tennis courts – one to cover the synthetic show court and stadium seating; and one to cover another synthetic multipurpose court.
PROJECT DESCRIPTION:
The project involved design, fabrication and installation of 2 fabric roof structures at the Marrara Tennis Centre (now Darwin International Tennis Centre) – one weatherproof shelter to cover the Main Show Court and its associated seating; and another protective shade shelter over a multi-purpose court. The project had a total plan covered area of over 3,750m2 with Mehler FR1000N being used on the Main Court and Gale Commercial Heavy 430 on the Multipurpose Court.
The main show court is a long spanning roof, covering a 60m x 50m space. Given the cyclonic location, this presented additional design challenges throughout the project.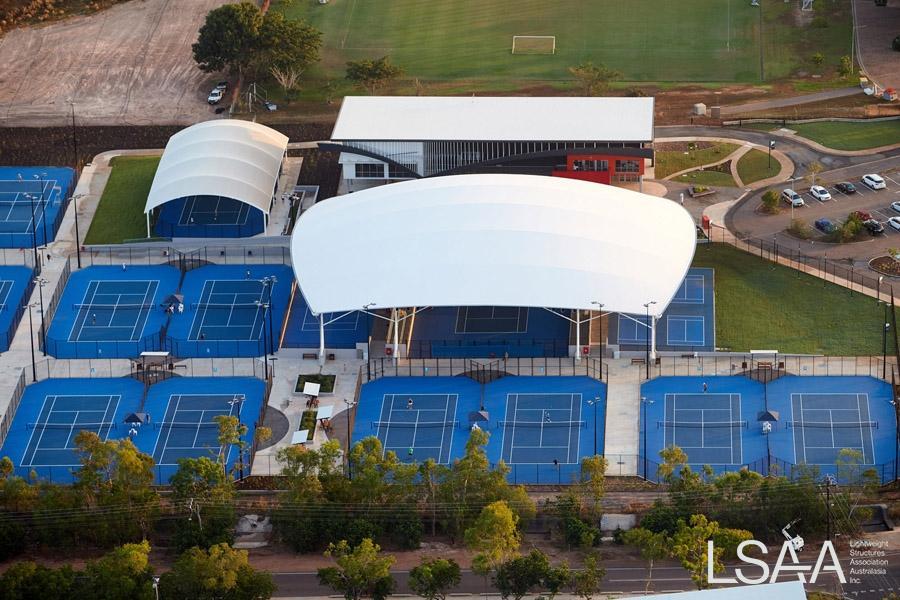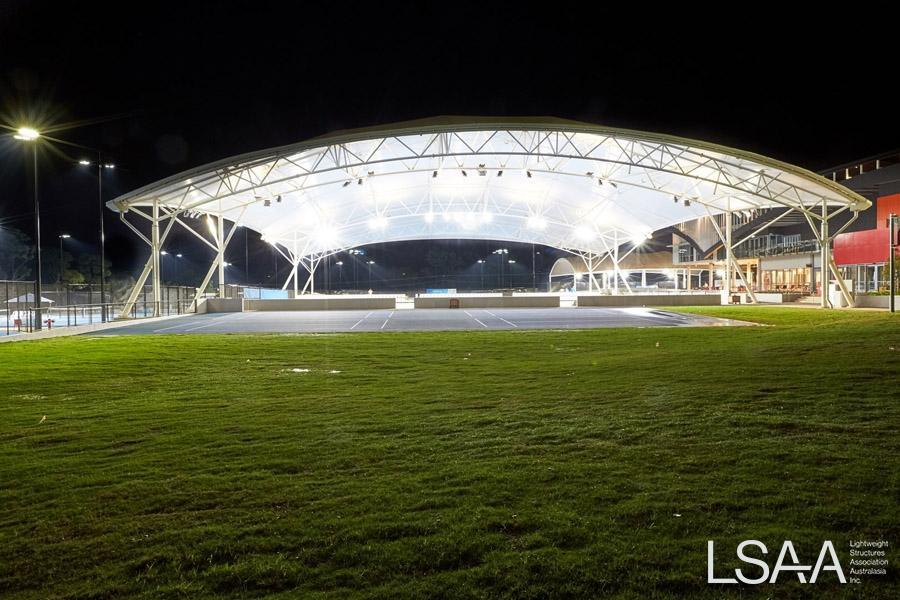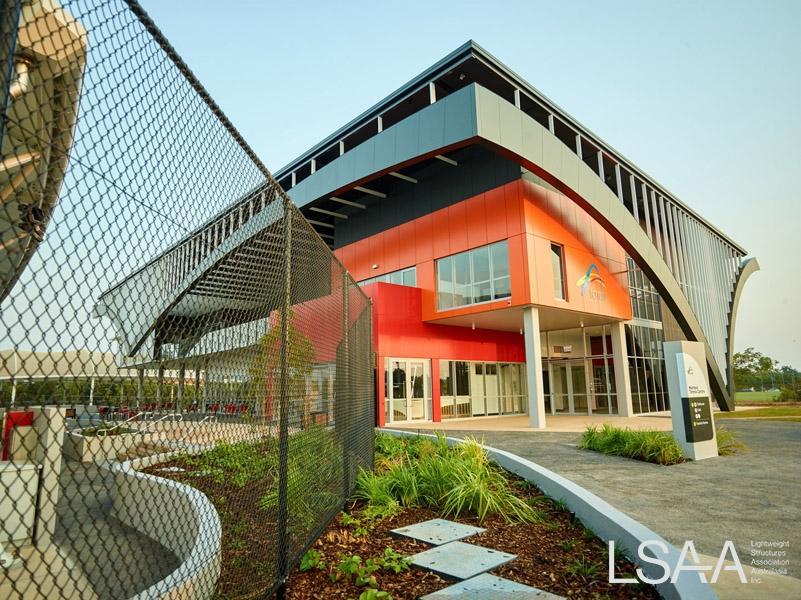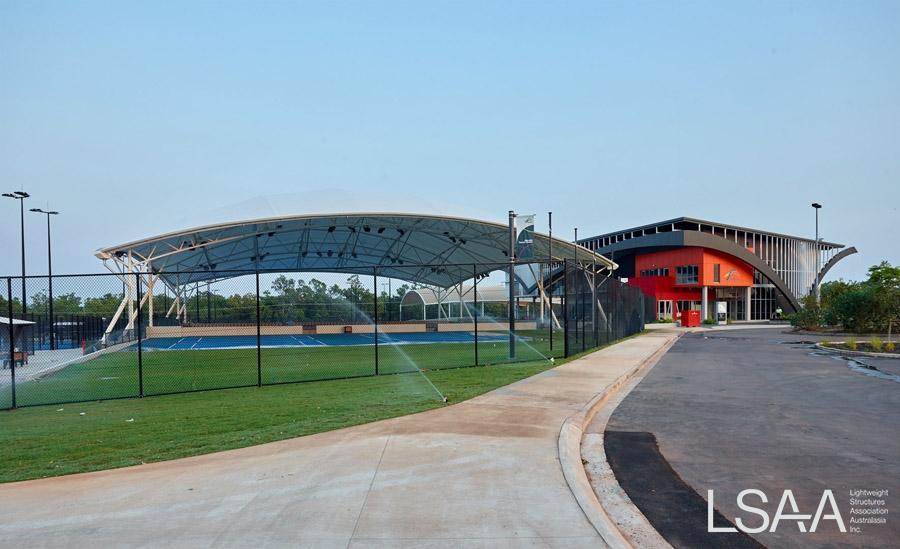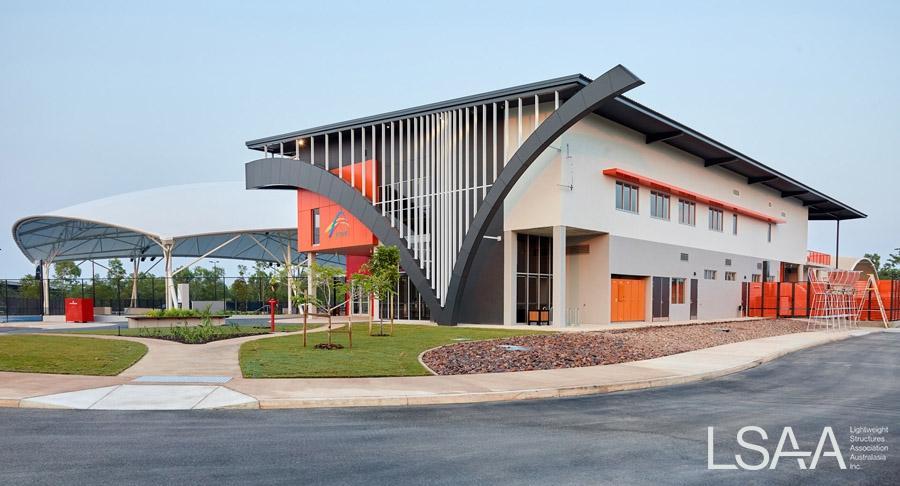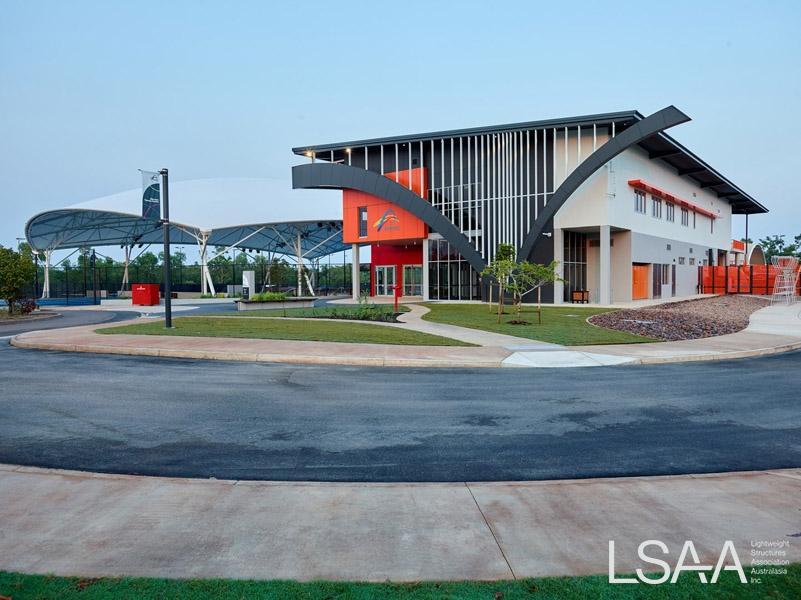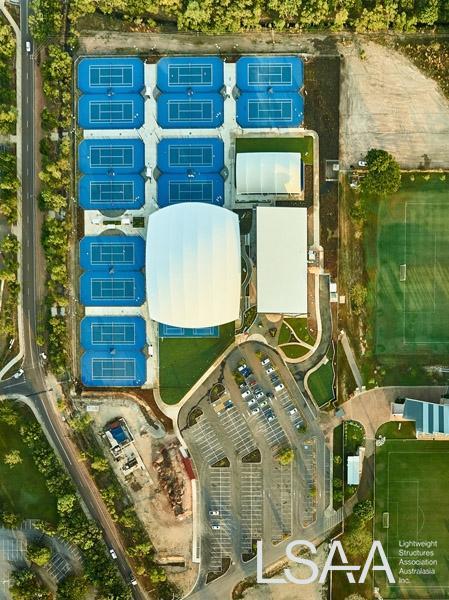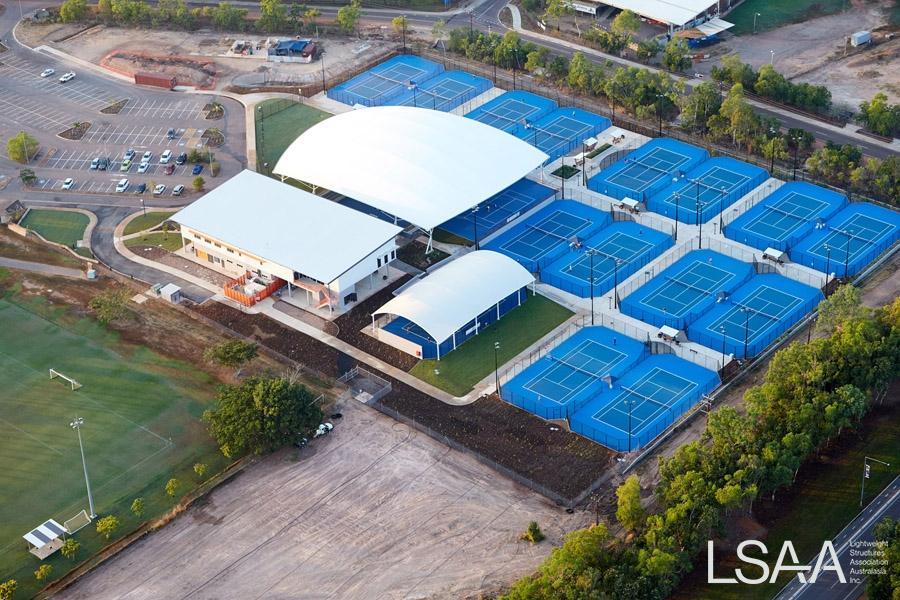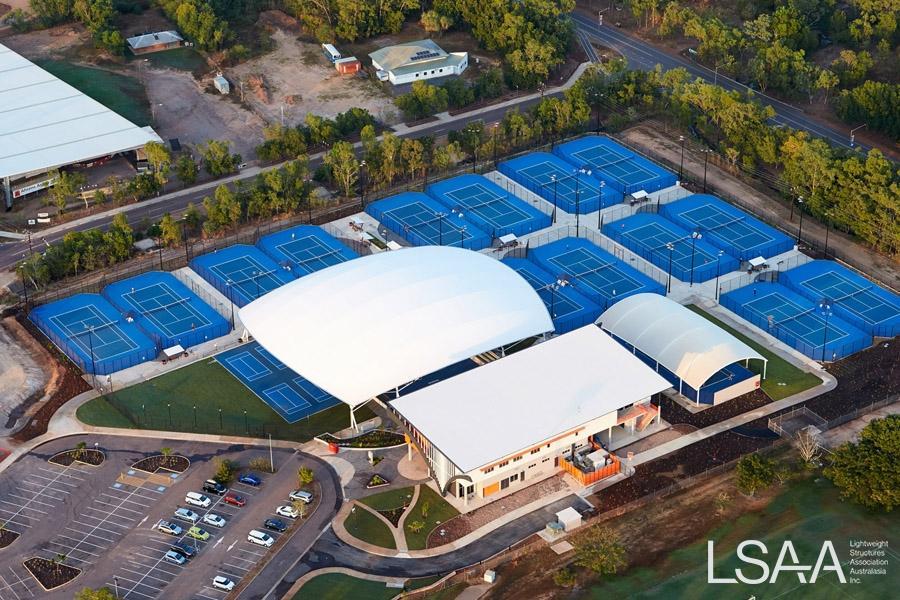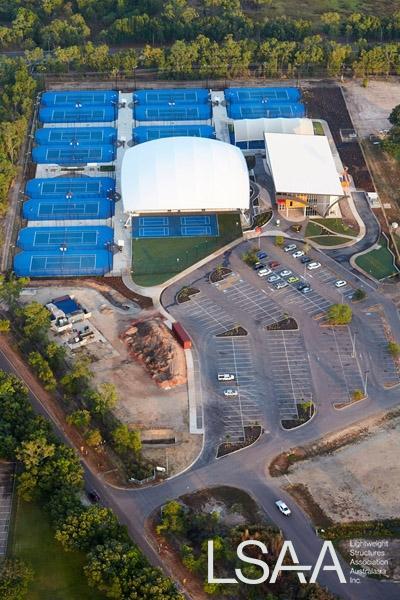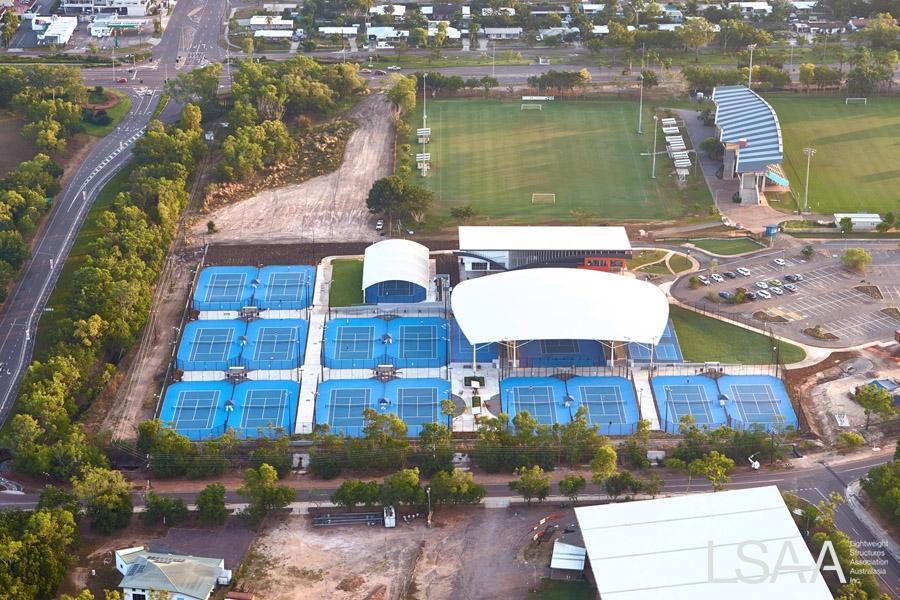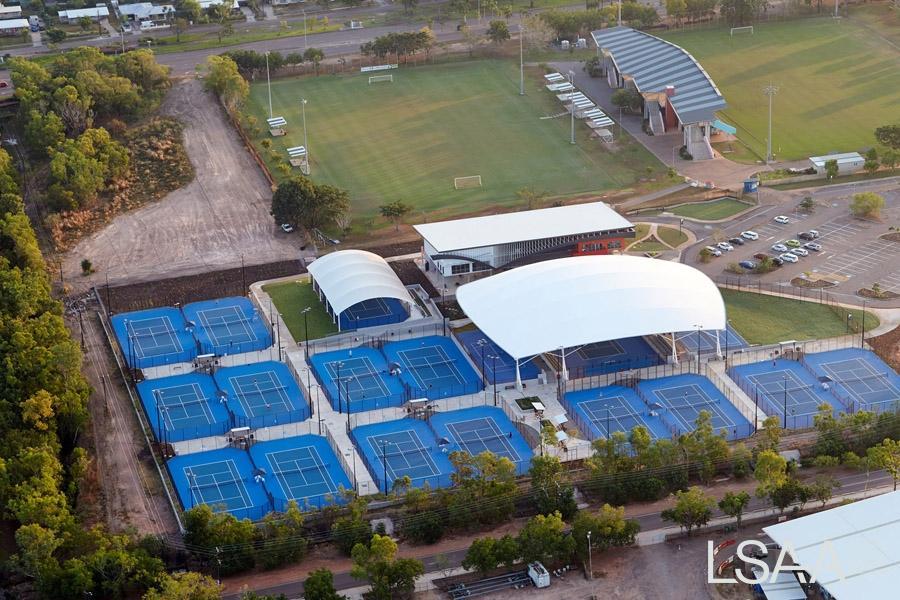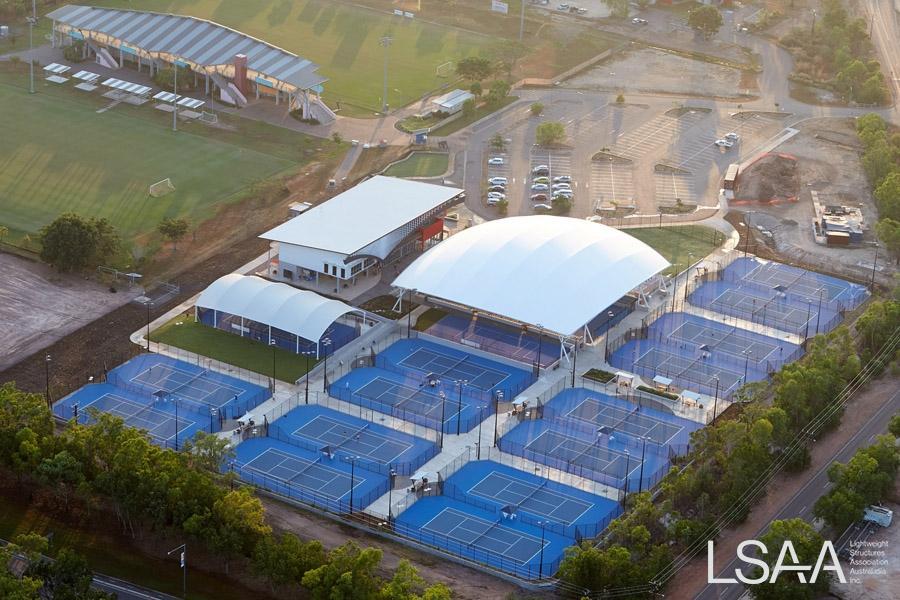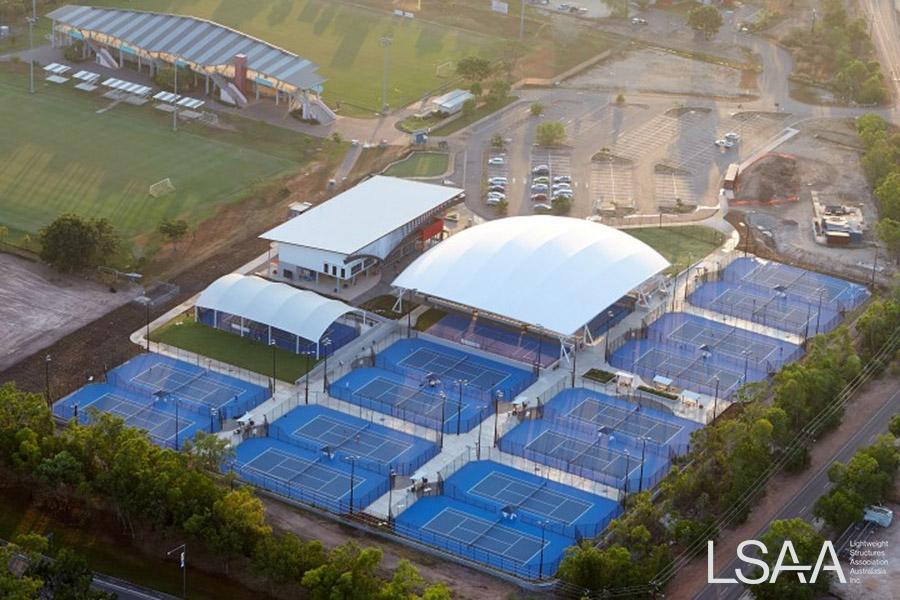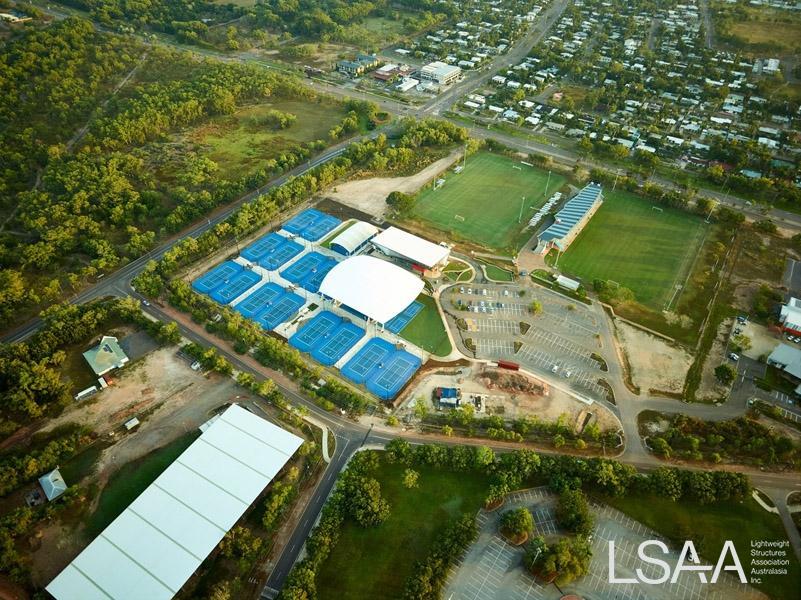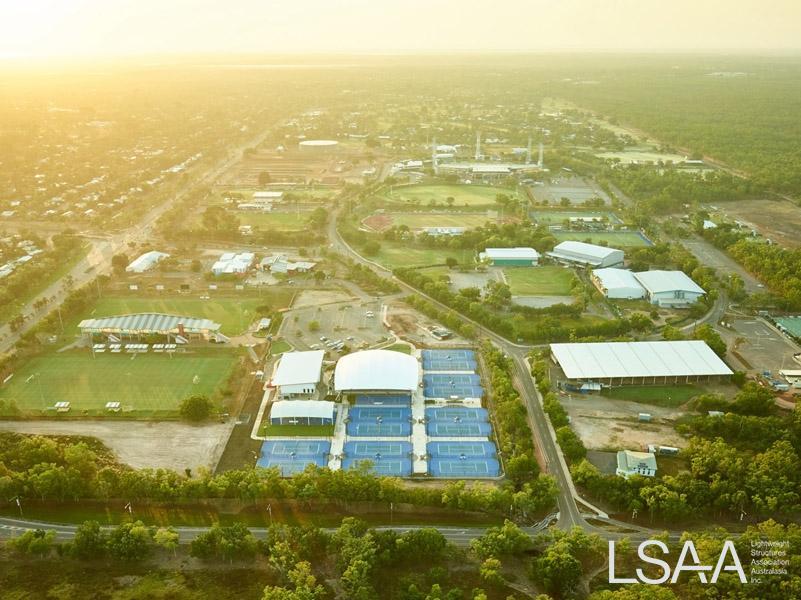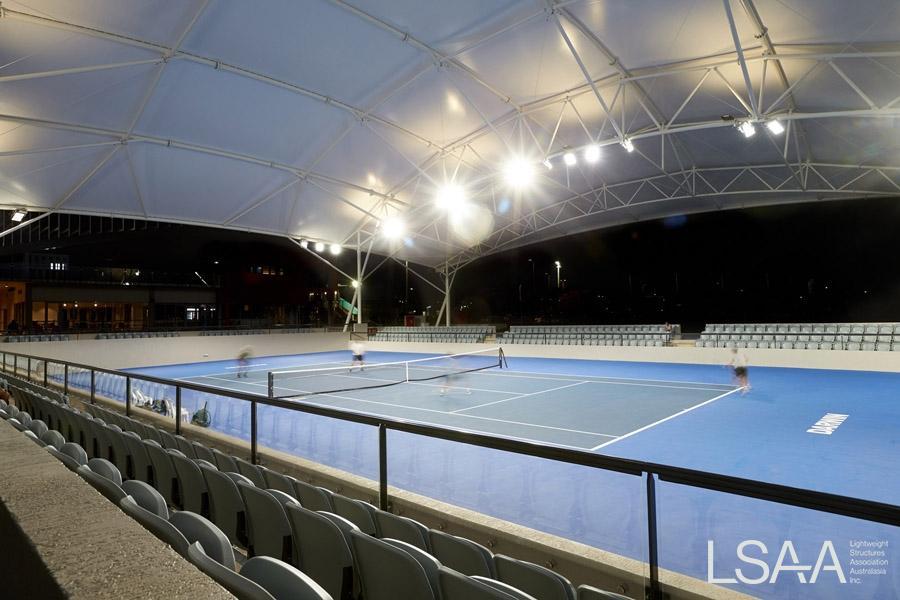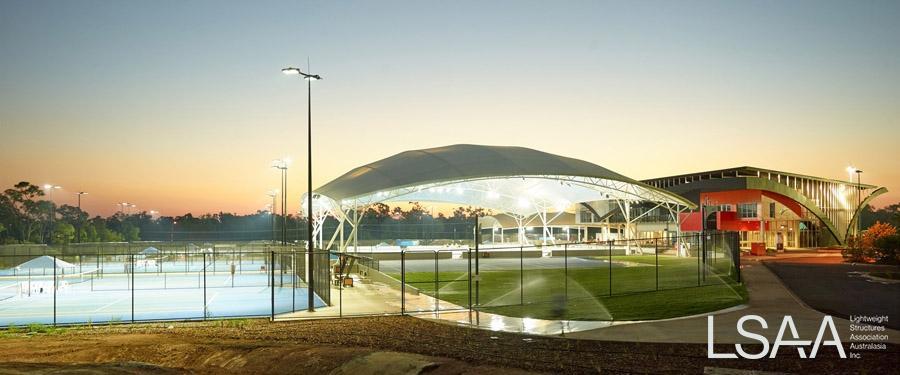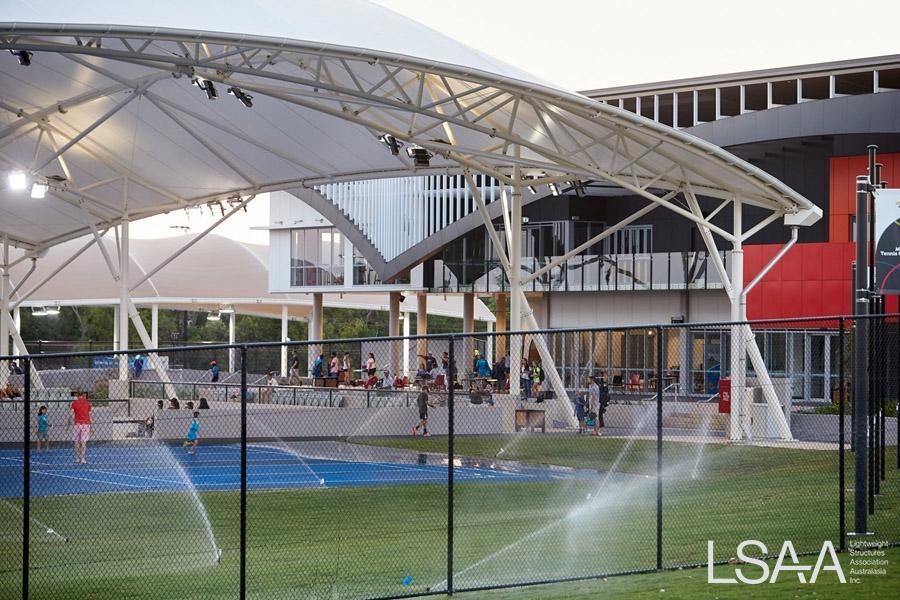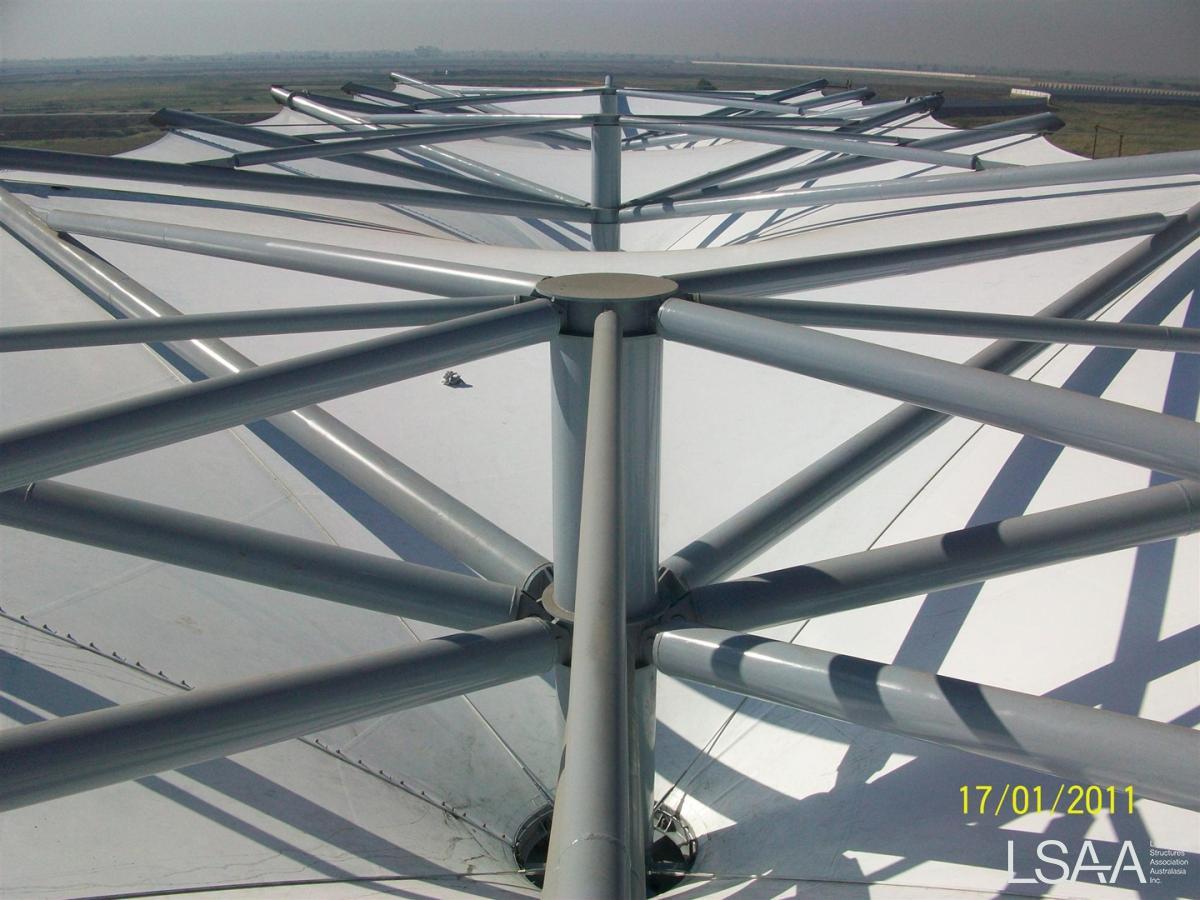 LSAA 2011 Design Award Entry: Cat 4, (7008) Panoli Gate - India
PROJECT DESCRIPTION
As a flagship development in the area Panoli needed a striking and unique entrance. MakMax's Indian office was able to provide a prominent entrance structure to suit. The project, Panoli Gate House presented a new challenge for MakMax engineers. The large 1,300 sqm area required shade, weather protection, as well as a plan for collecting run off. Inspired by the design and functionality of the St Tropez products MakMax already produces as standard products, engineers decided to replicate this shape and function on a grand scale.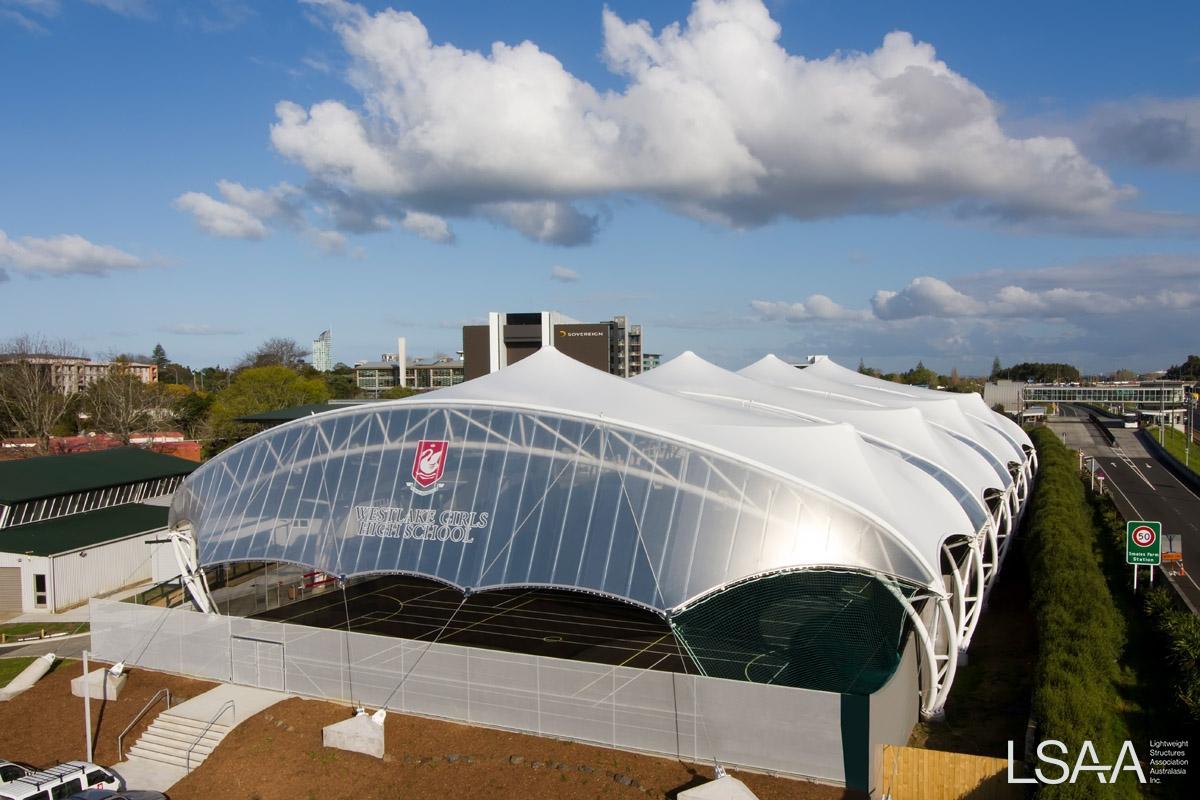 LSAA Design Awards 2013 High Commendation
Entrant:Structurflex Limited
Category: 4 ID Number: 4101

Location: Auckland, NZ

Client: Westlake Girls High School

Completion Date: May 2012
Judges Comments:
"Well executed variant of a "Standard" structure for sports."
"A tough site by the side of a motorway. Fine integration of structure and membrane to make the most of the potential of lightweight materials. A generous span provides uncluttered space; a sense of levity throughout."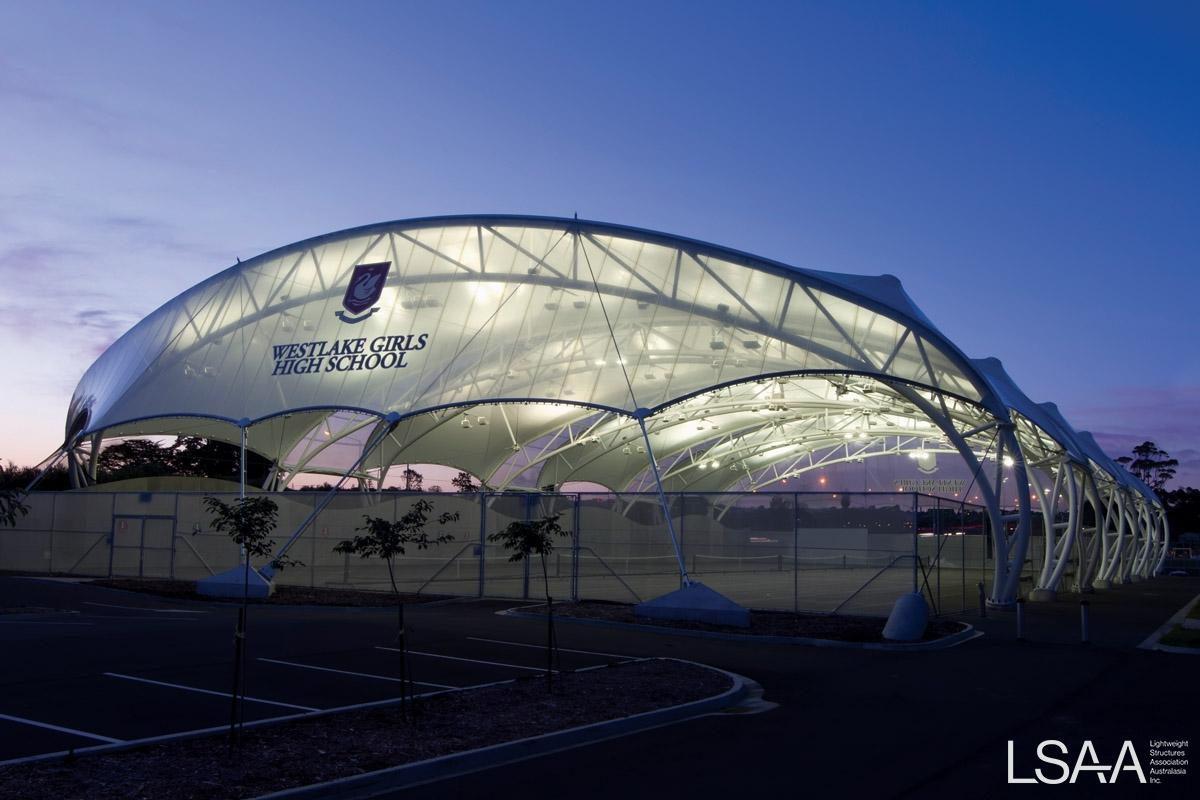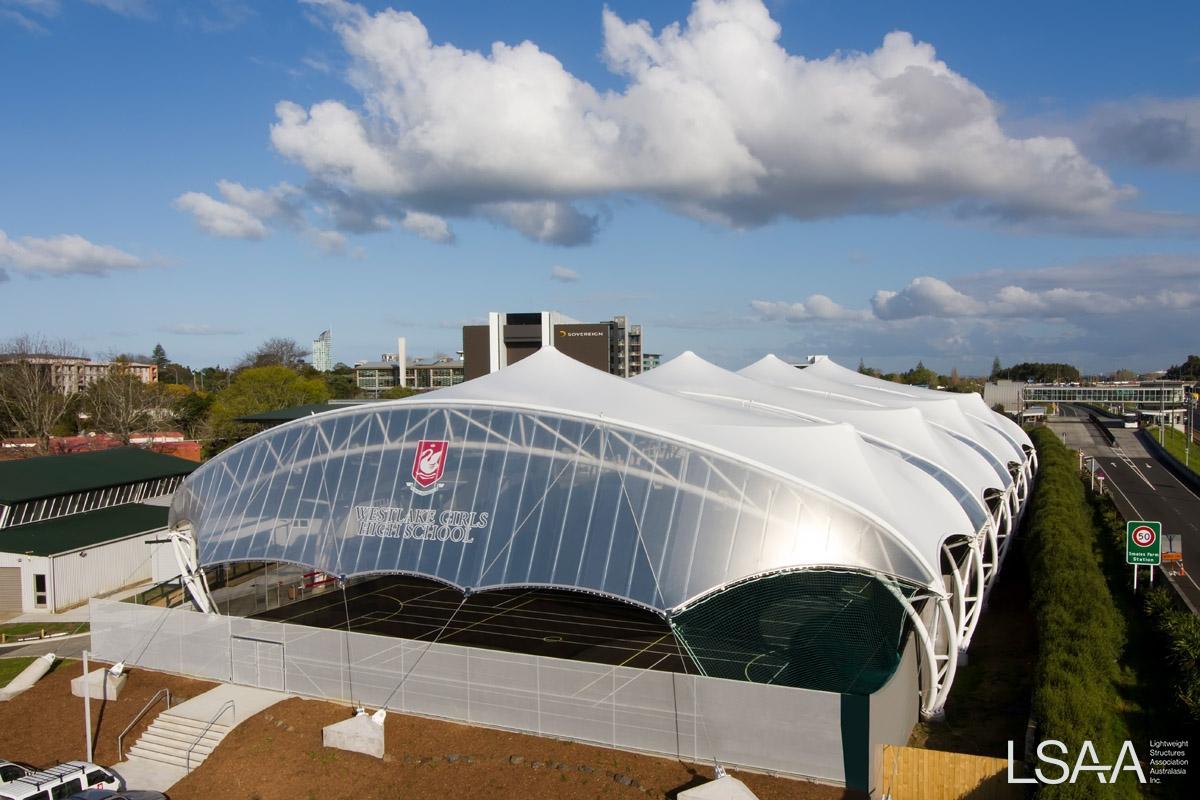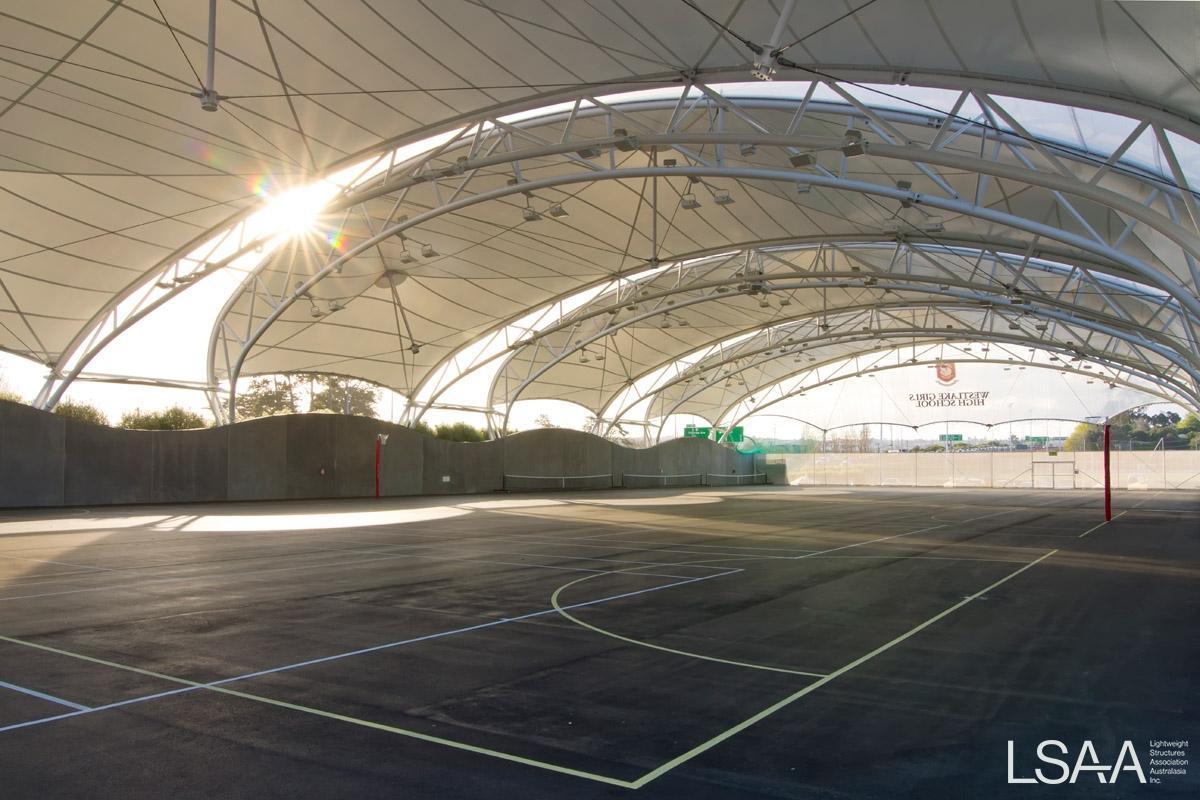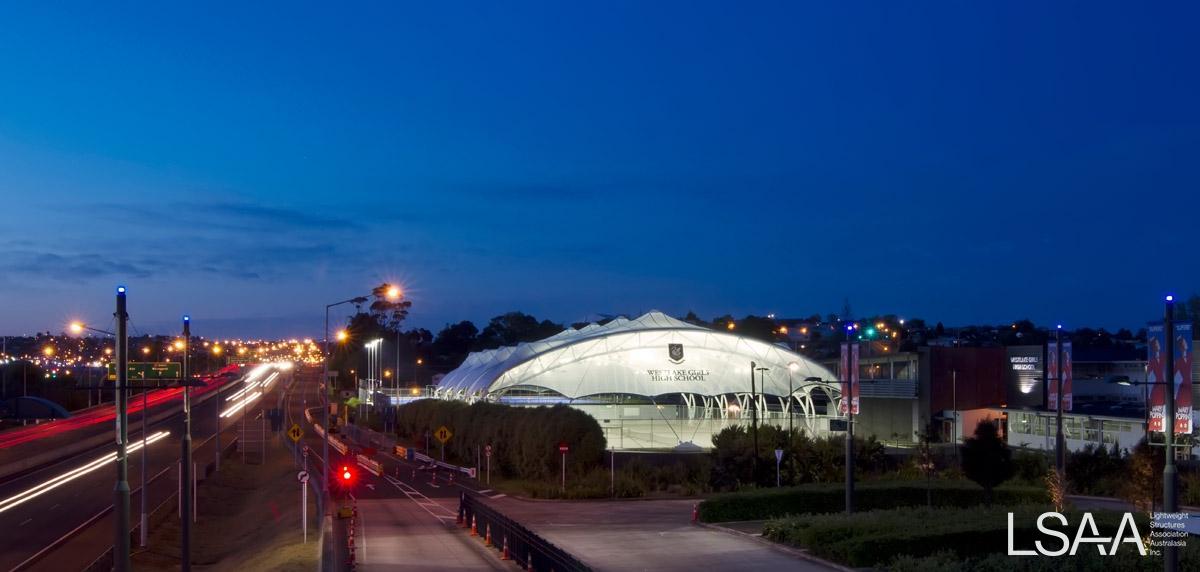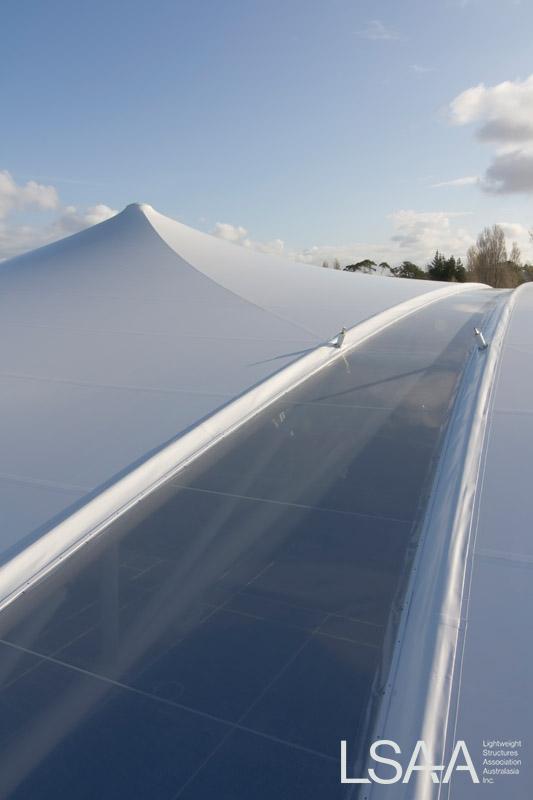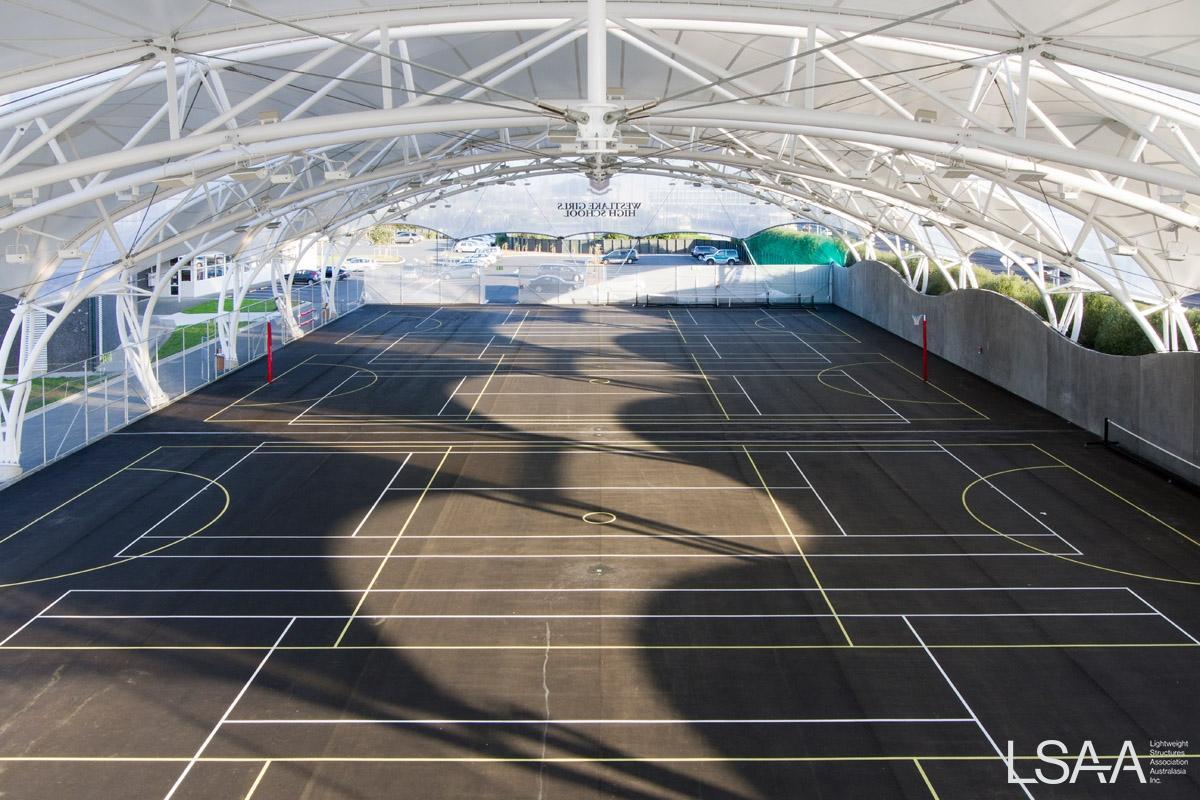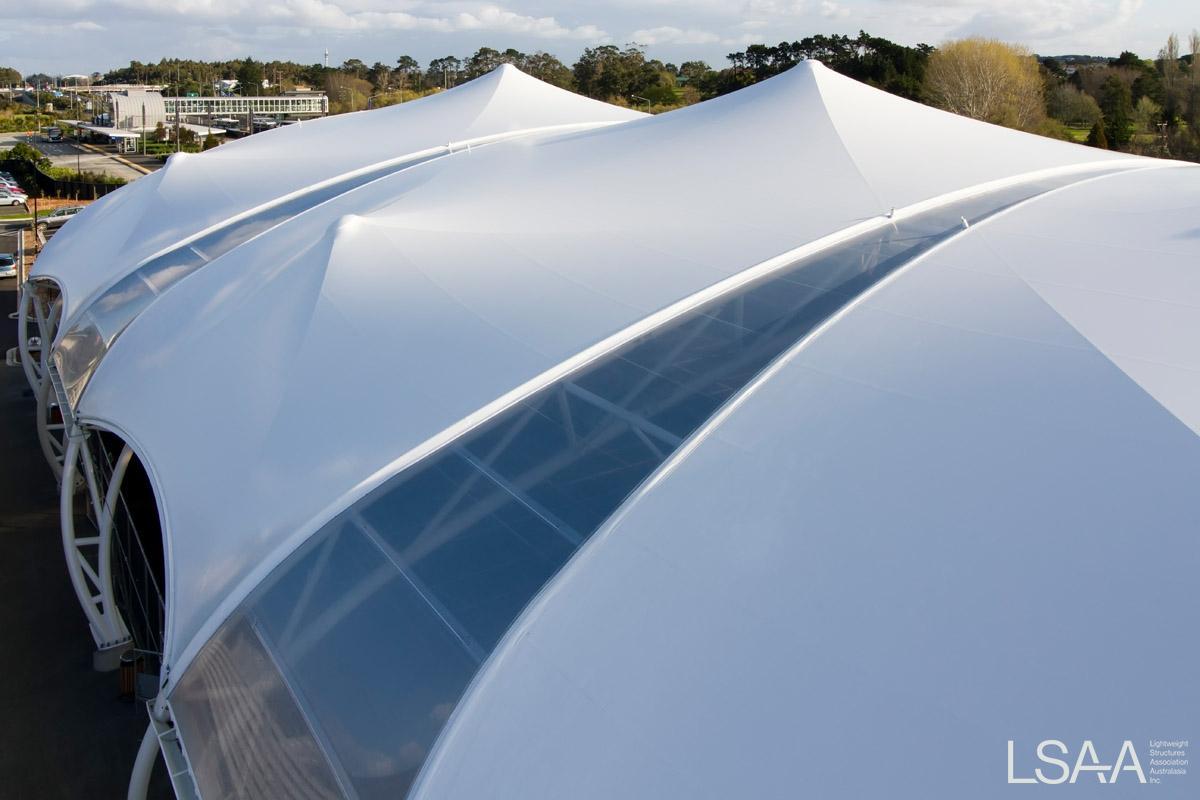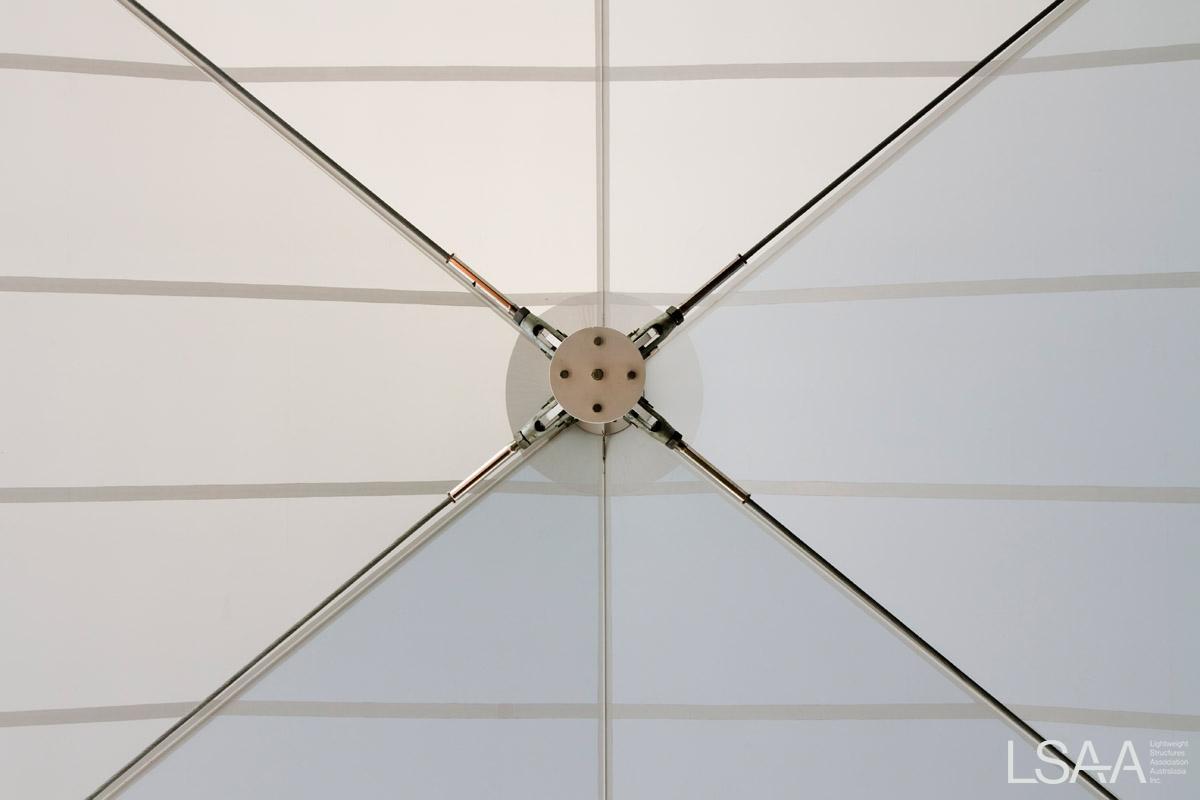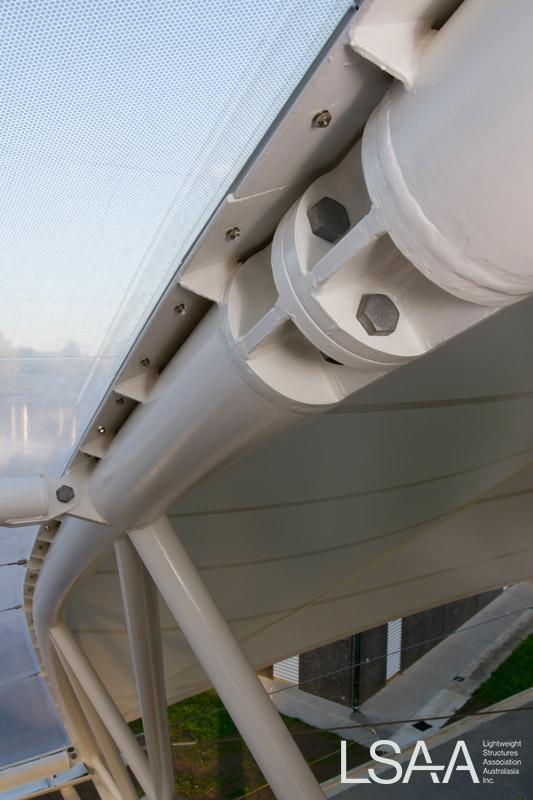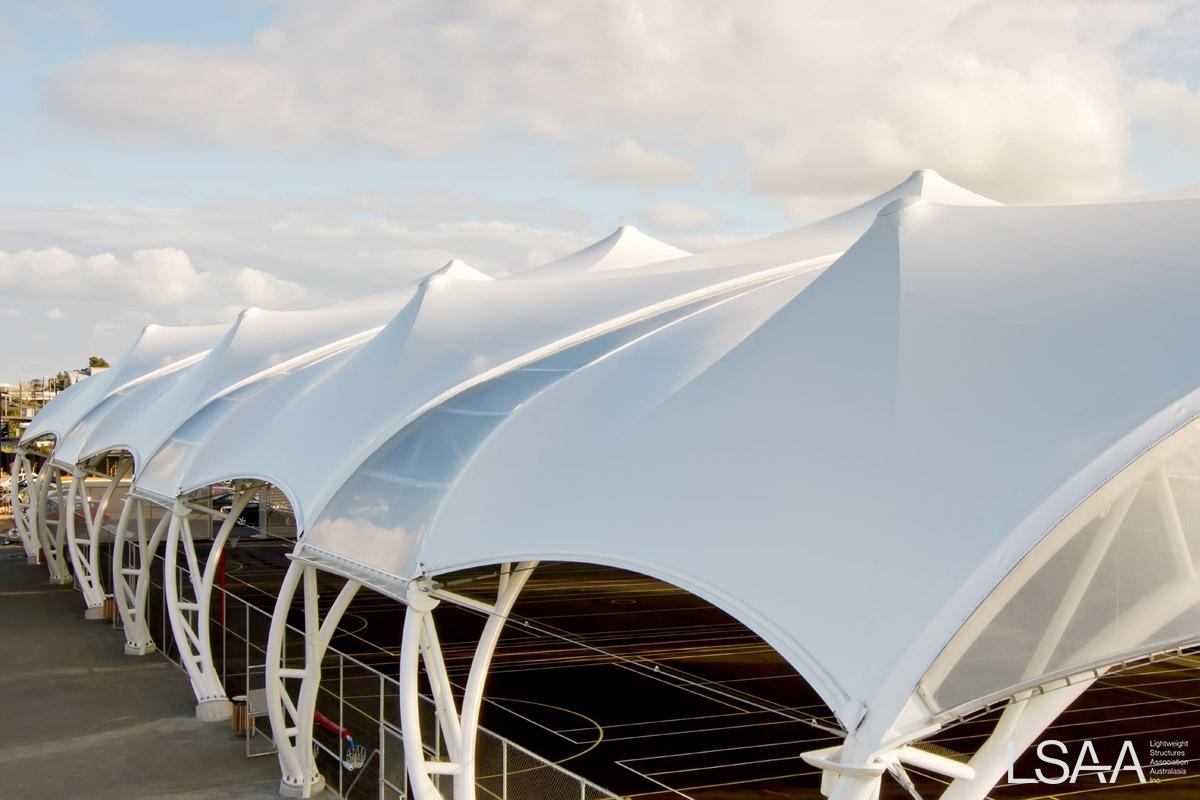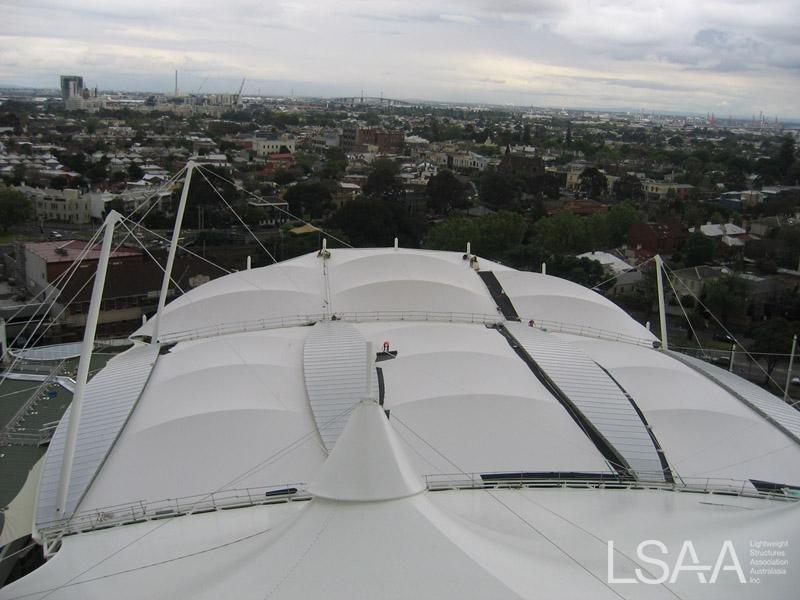 LSAA 2007 Design Award Entry (Cat 3, 3002)
Entrant: Taiyo Membrane Corp (Later as MakMax in Australia)
Client: Major Projects Australia Architect: Peddle Thorpe Architects
Structural Engineer: Xiang Du (TMC) & Connell Mott McDonald
Specialist Consultant(s): Connell Wagner (steel design)
Builder: John Holland Pty Ltd
Application and Function:
Designed to be suitable both during and after major events, the roof has been designed in two sections.
Section one is a permanent roof made from PTFE fabric. This roof covers the pool as well as stadium seating for 3,000 spectators. Section two extends the roof for "Commonwealth Games" mode.
Two temporary PVC roofs are erected either side of the permanent roof to cover a further 8,000 seats. The temporary structures create a festive effect with their high pitches and large sloping support columns.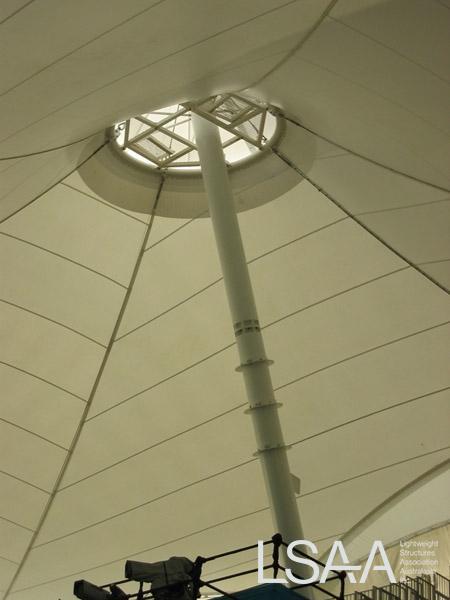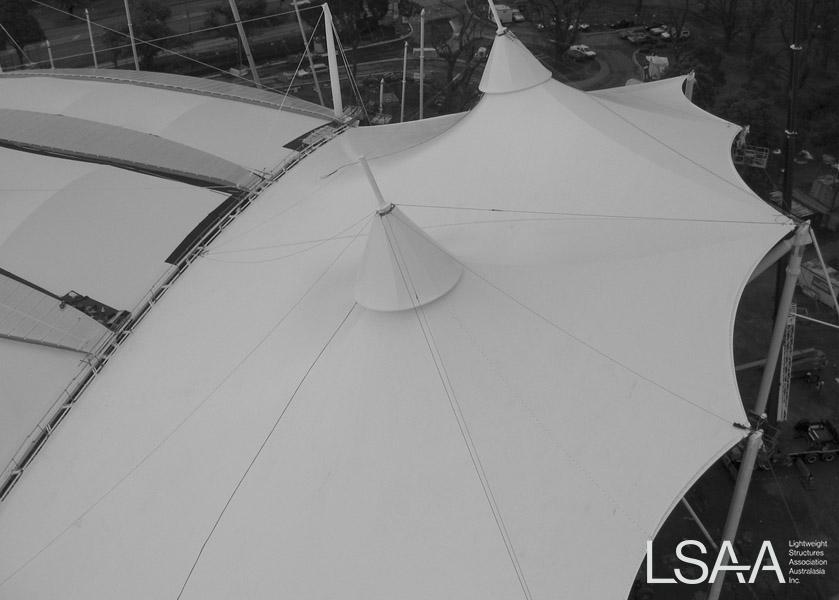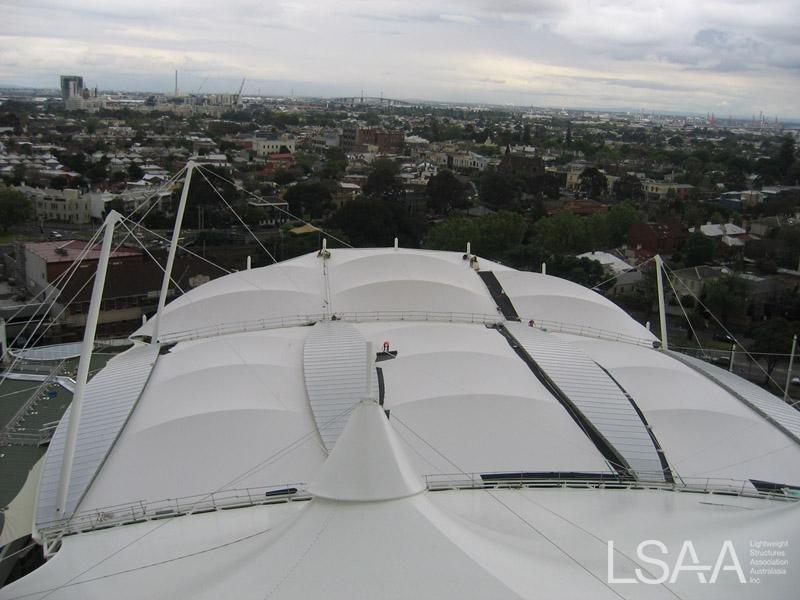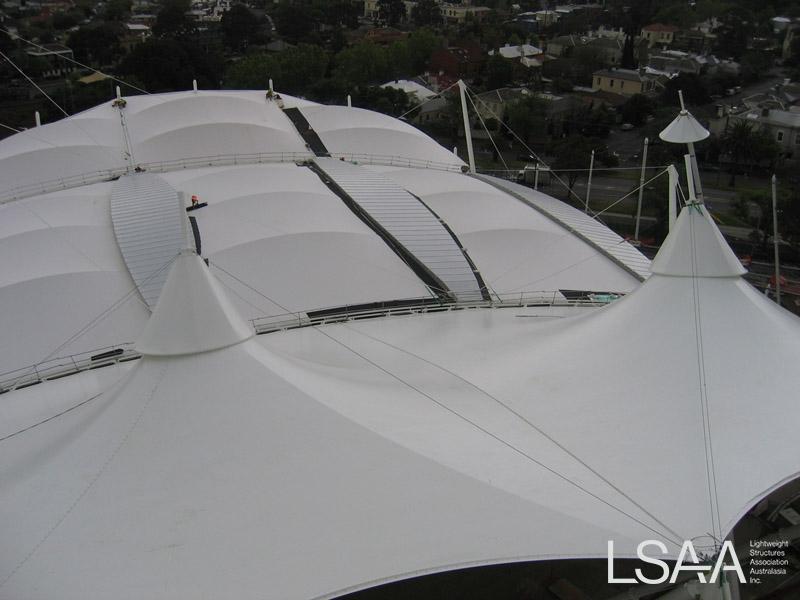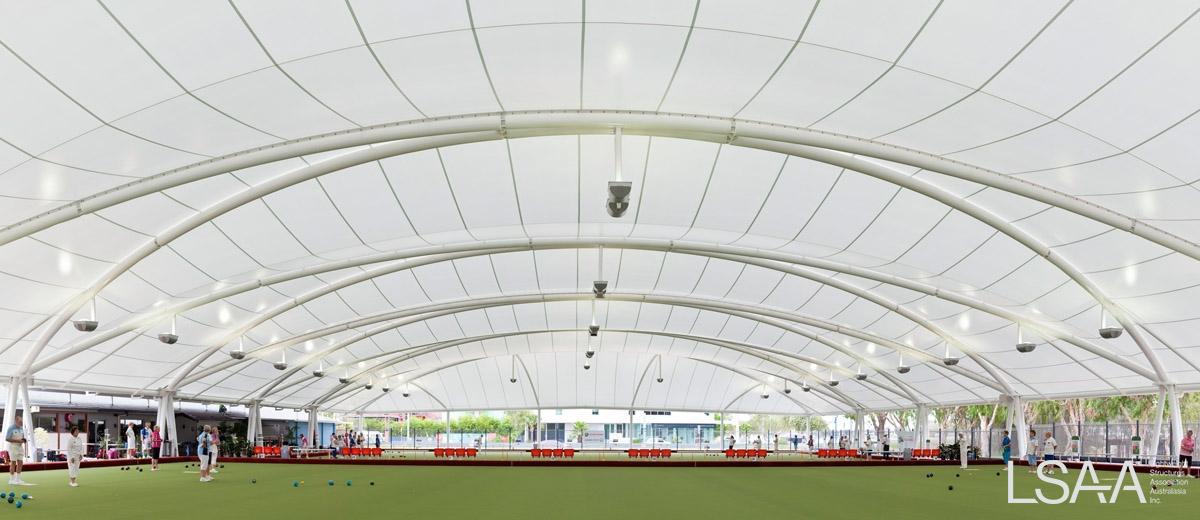 LSAA Design Awards 2013 High Commendation (Large Structures, 4351)
Entrant: Light Weight Structures
Location: Mooloolaba

Client: Mooloolaba Bowls Club

Completion Date: November 2011
Judges Comments:
"An elegant project - the best of the bowling club offerings. As well as taking care of core business, the structure lends some design distinction to a town not oversupplied with architectural gems."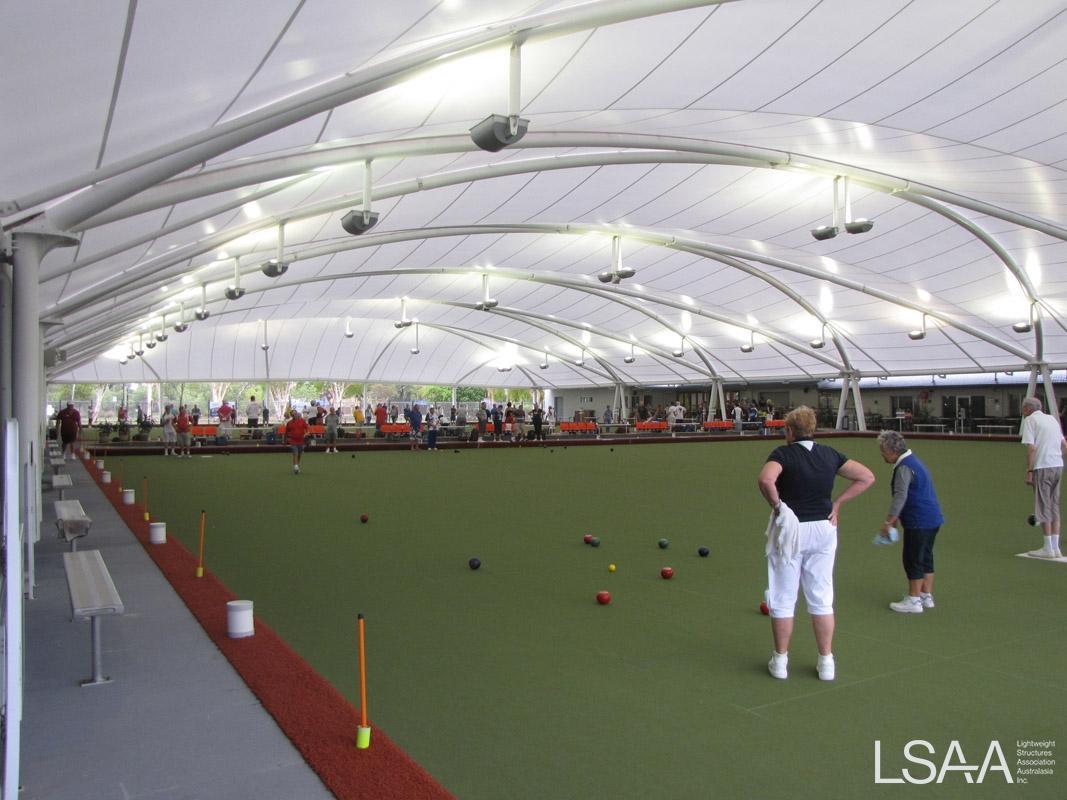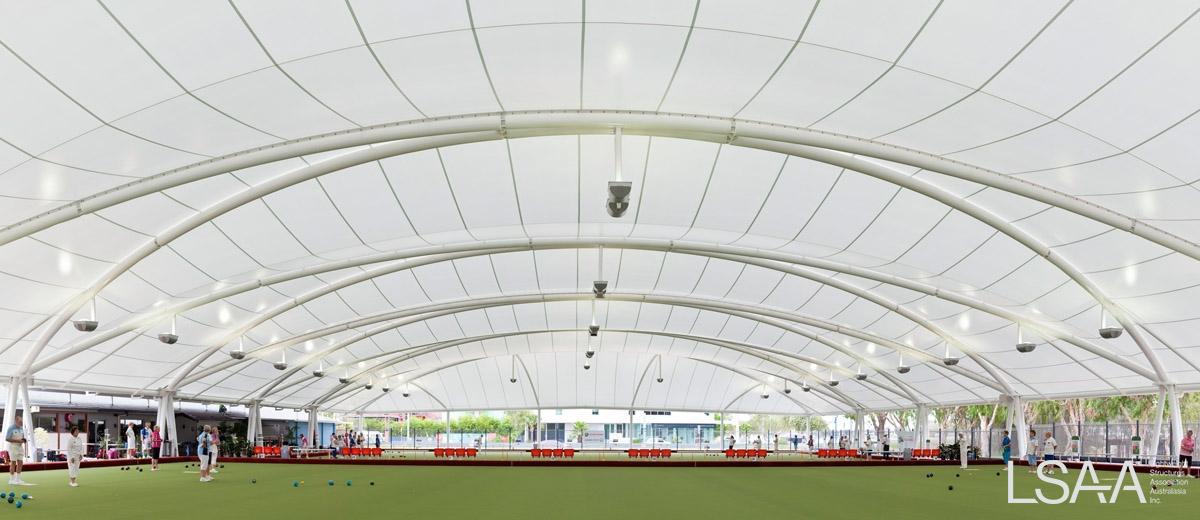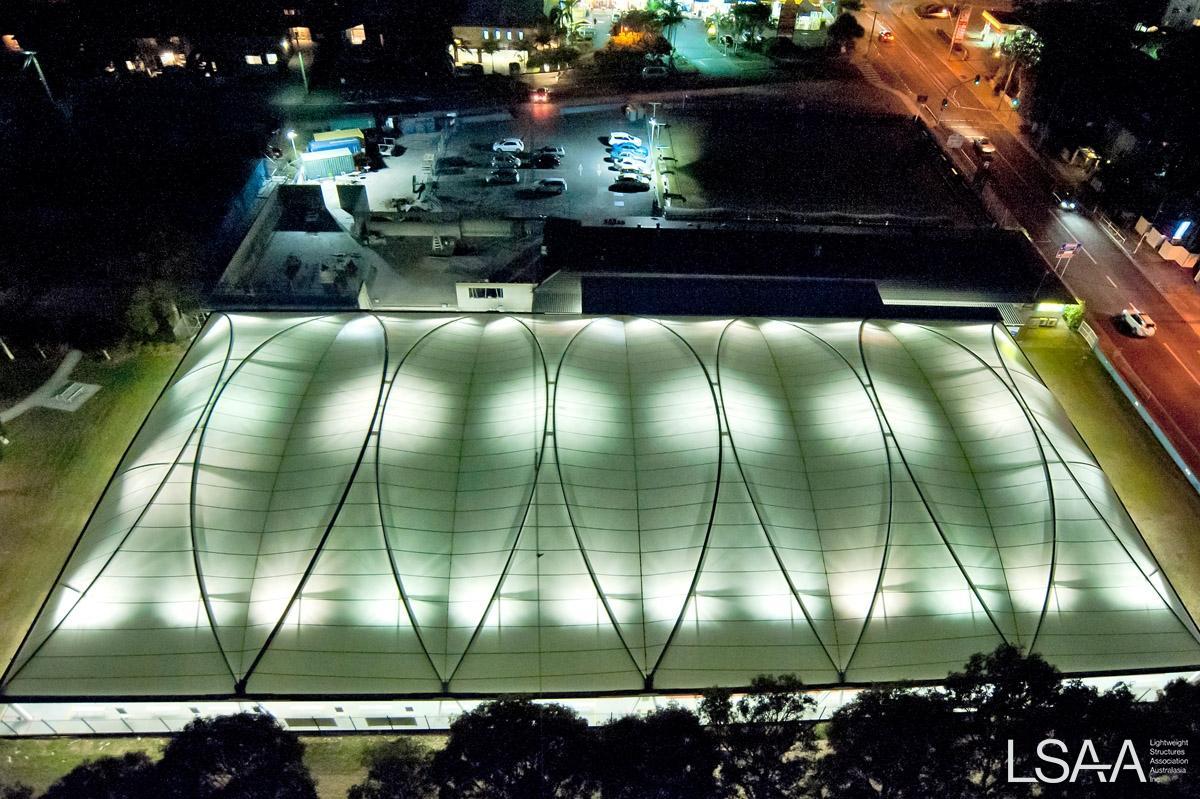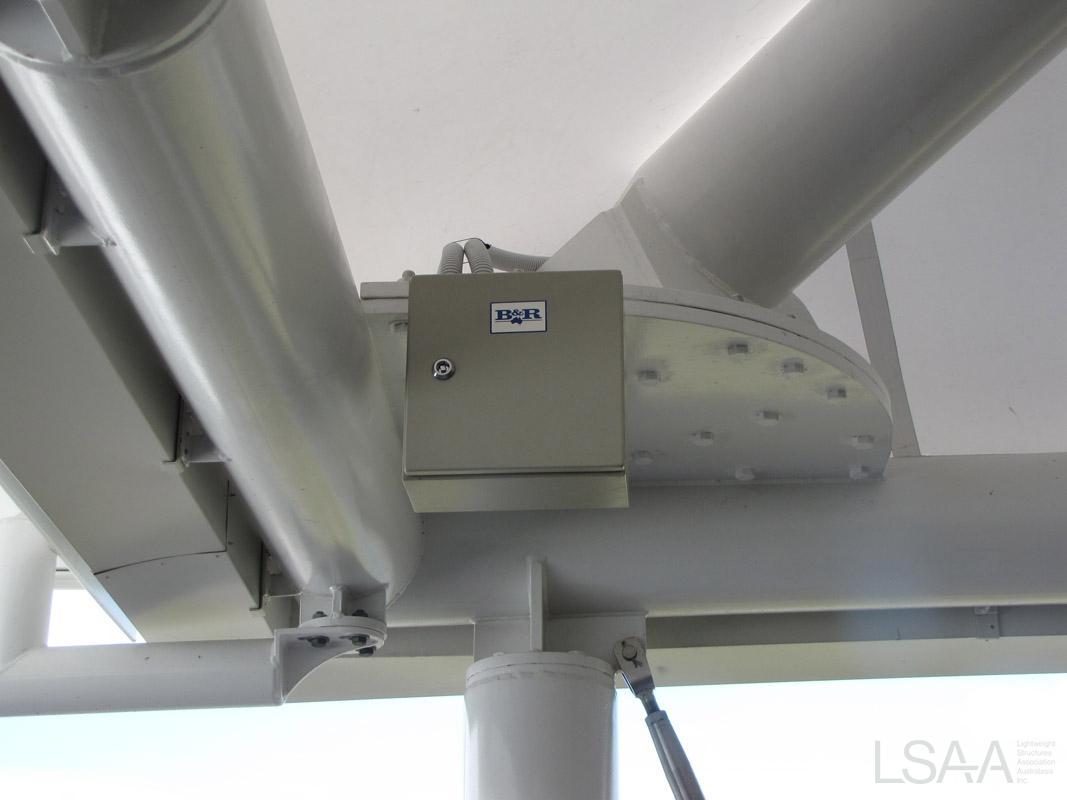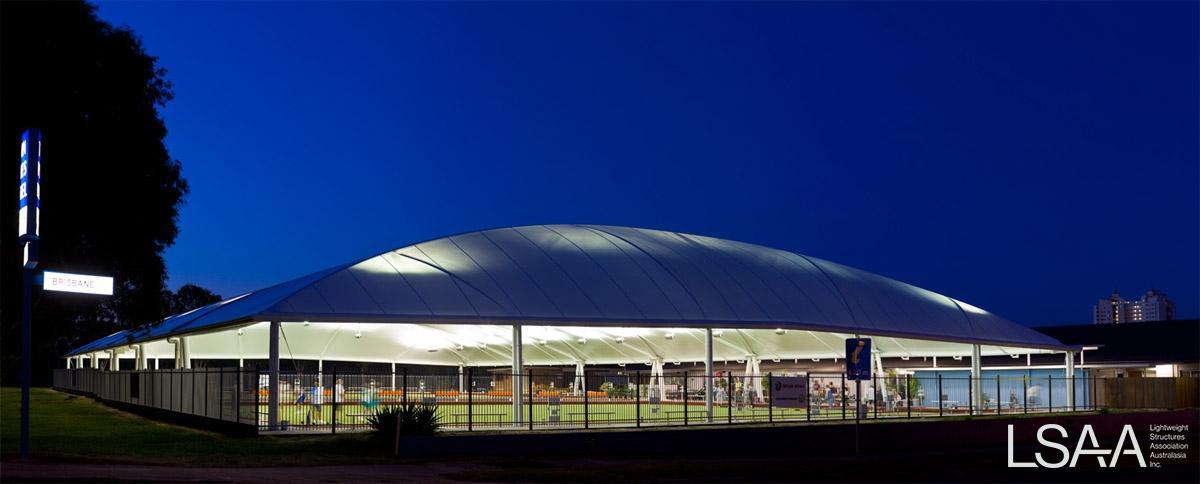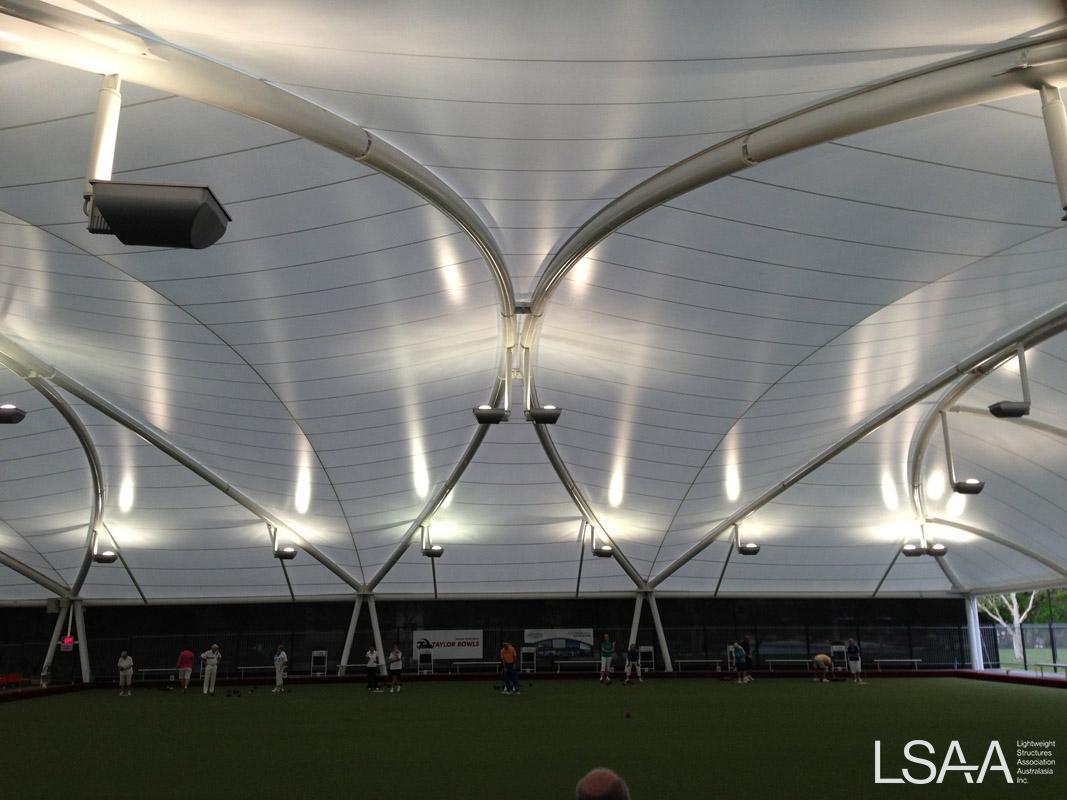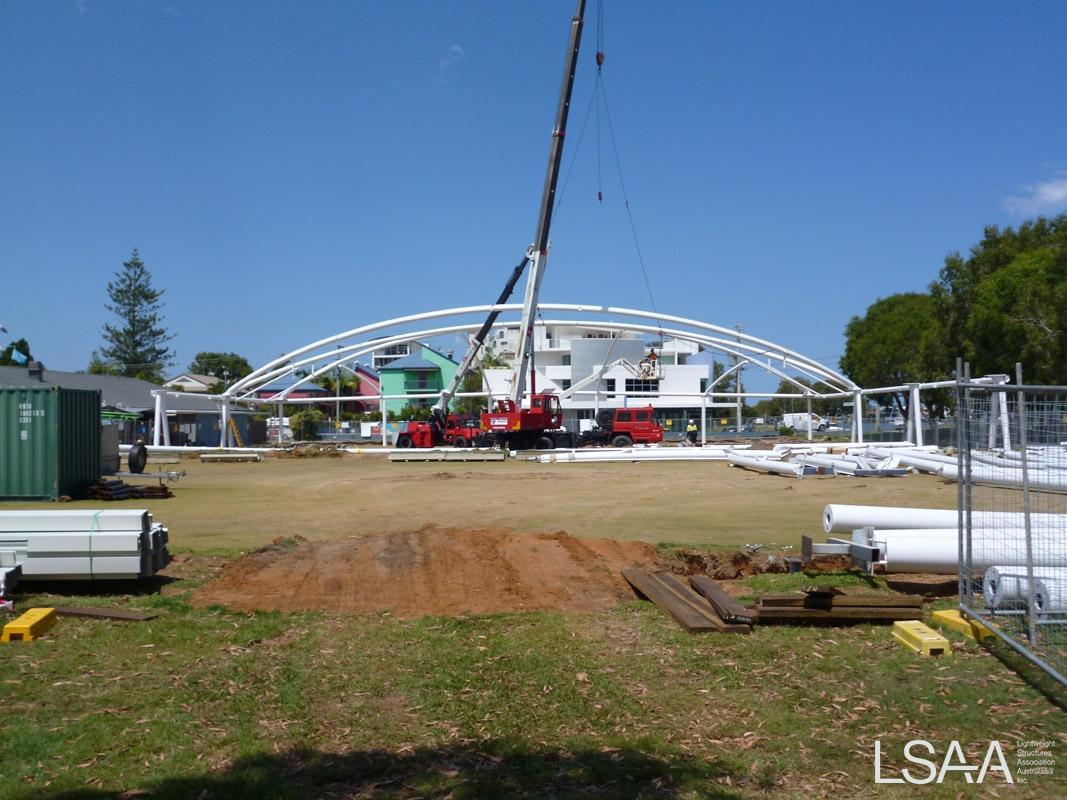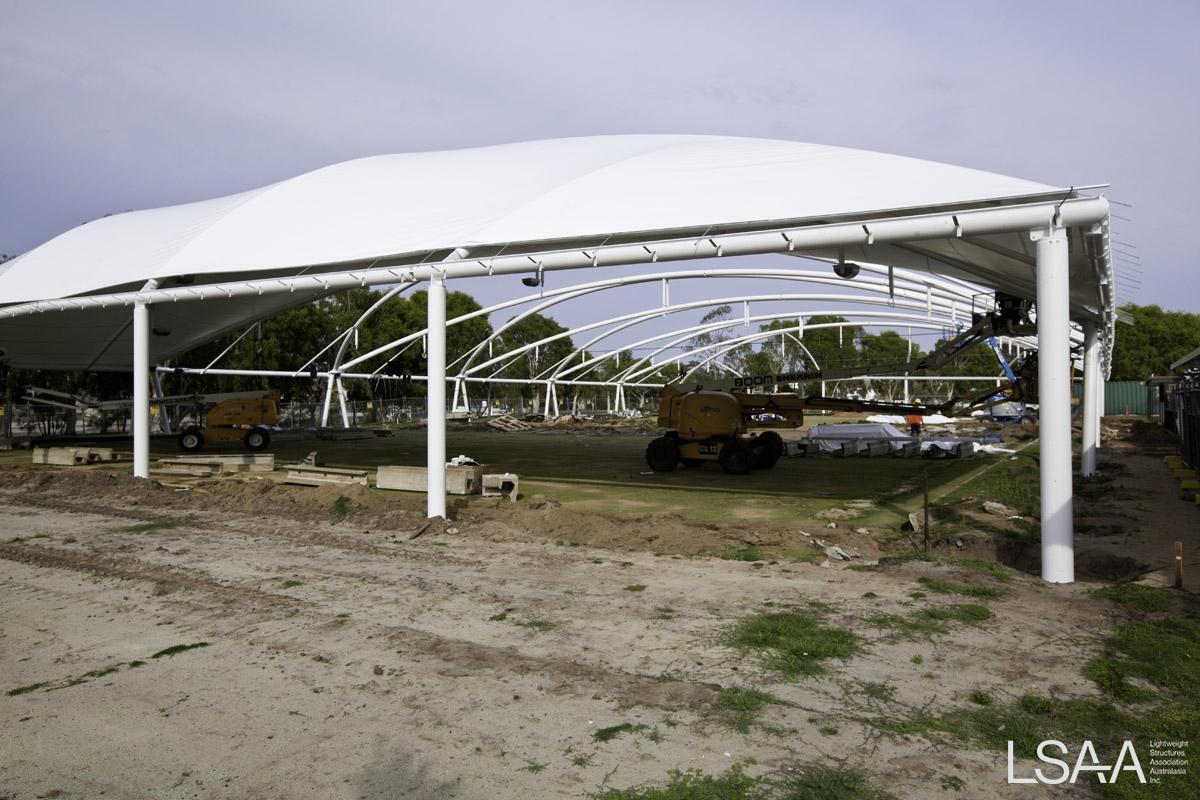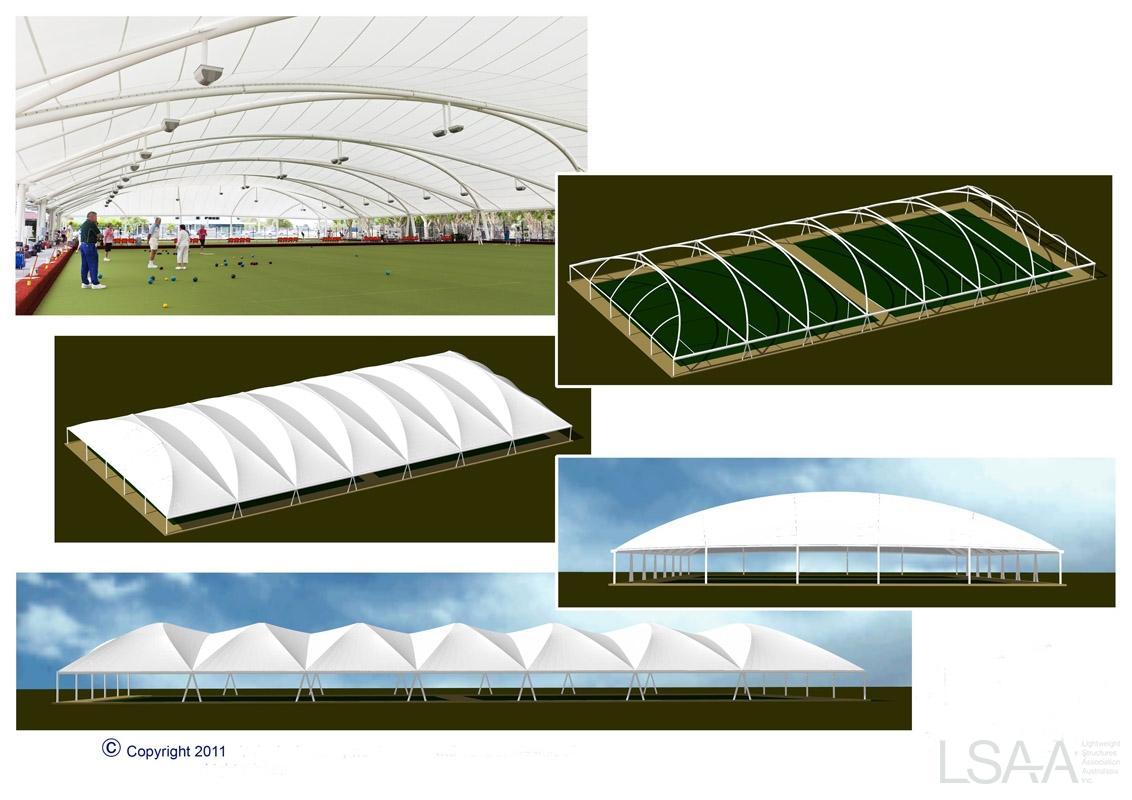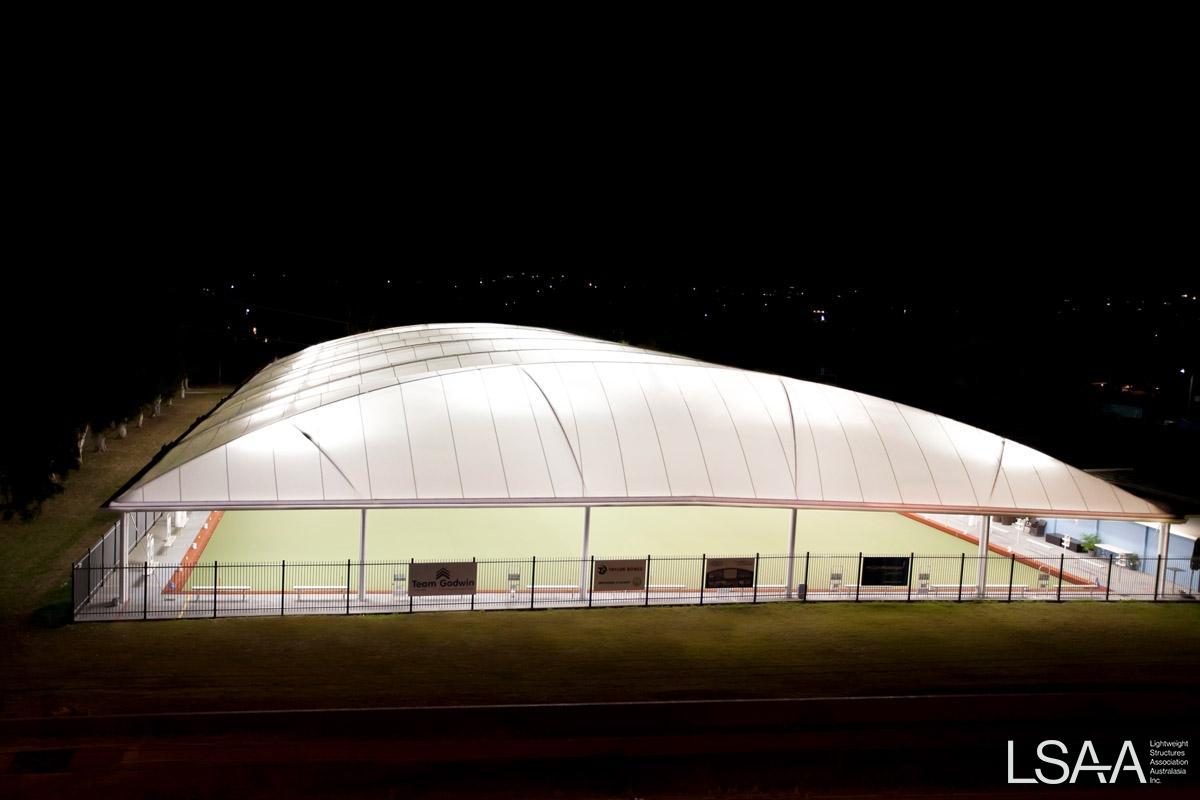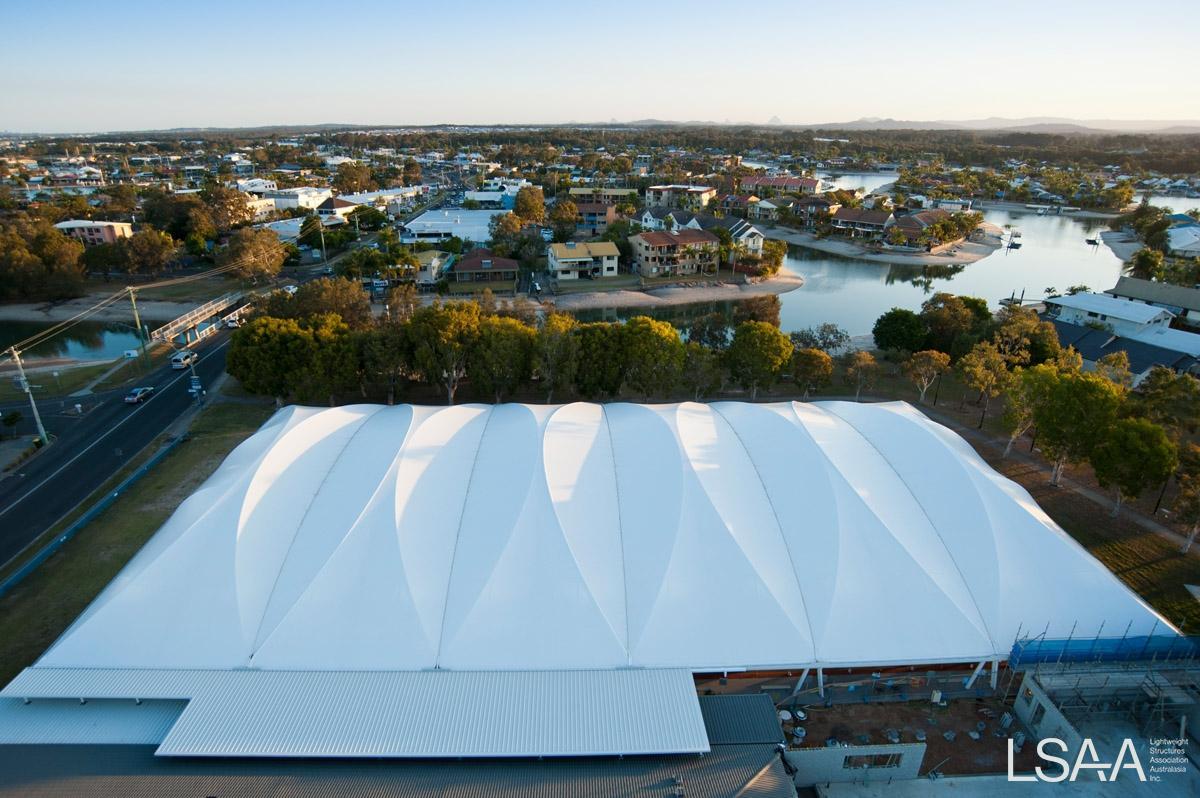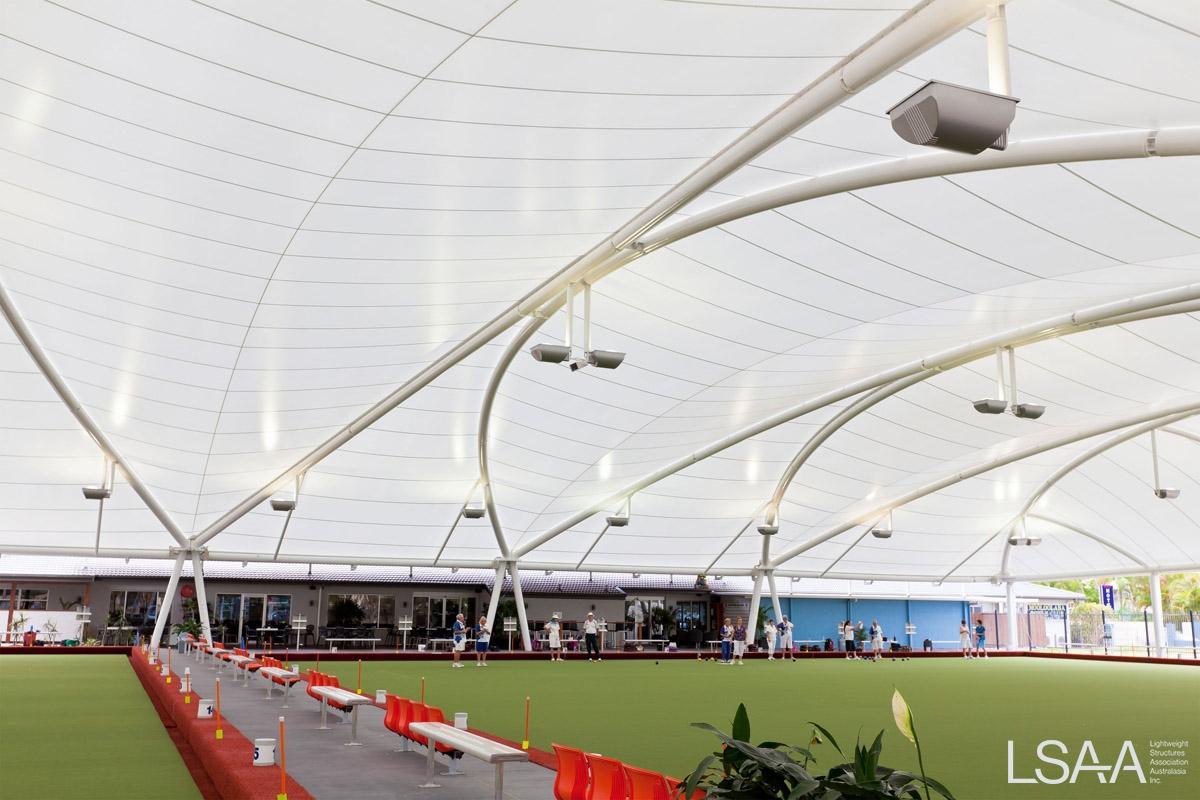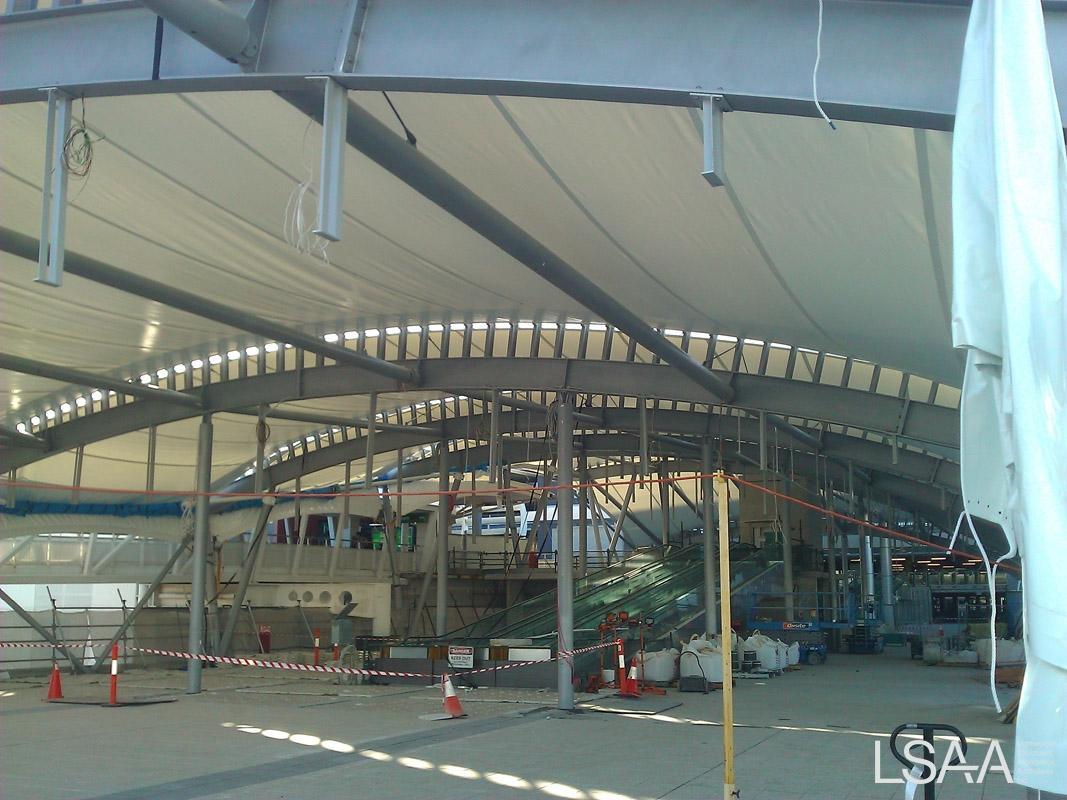 This project was entered in the 2013 LSAA Design Awards
Entrant: MakMax Australia
Category: 4 ID Number: #4302

Location: Brisbane Domestic Airport

Client: Brisbane Airport Corporation

Completion Date: June 2012
APPLICATION OF PROJECT: Pedestrian bridge roof, open air.
PROJECT DESCRIPTION:
This airport terminal access project involves the construction of a major pedestrian bridge linking a new multi-level car park and train platforms to the terminal building one of the country's business airports.
This covered walkway project is part of a larger group of construction projects which serve to improve all pedestrian and vehicular traffic at the airport.
Our client requested design, fabrication and installation of the tensioned membrane roof system. The purpose was purely weather protection for pedestrian traffic on new pedestrian access bridge.