These structures may be described as single surfaces or panels in the form of one of the classic hypars, barrel vaults, cones, panels with single or crossing arches - or a combination.
Larger fabric structures can also be made from several modules or panels of similar forms to build up a substantial sized structure. The multiple panels might be arranged in a linear layout, or in a circular or oval pattern commonly found in stadia roofs.
The LSAA has a Design Award Category for Large Structures which has been defined as being greater than 1000 sqm.
The following articles are in random order:
Large fabric structures have generally been thought of as those that have a fabric surface area greater than 1000 square metres.
Often large projects will be made up of multiple panels of fabric whose boundaries are defined structurally and geometrically by straight or curved elements such as arches, edge beams and cables. The prestress forces from adjacent panels often counterbalance and the more efficient structures have a larger degree of symmetry and continuity such as a complete "bicycle wheel" for the roof a major sports stadium.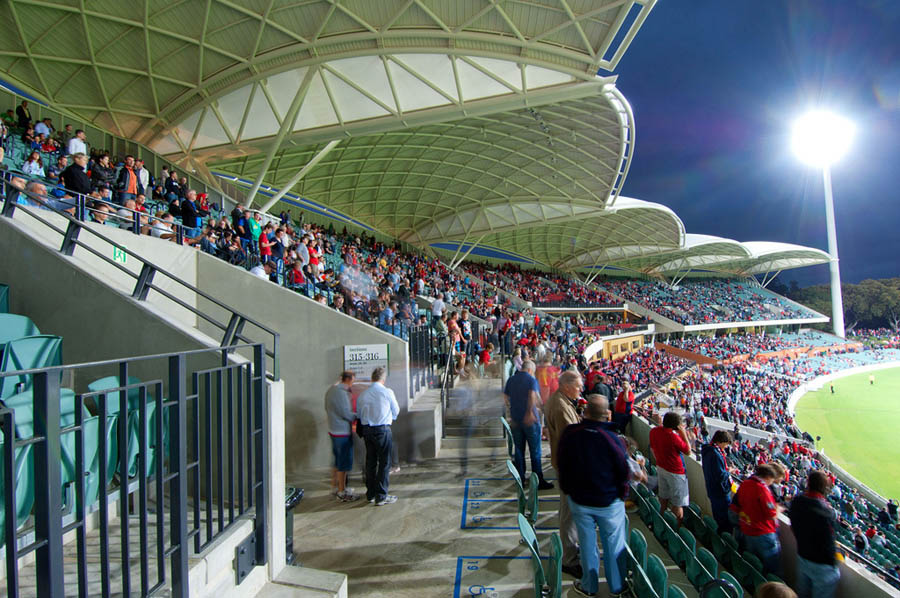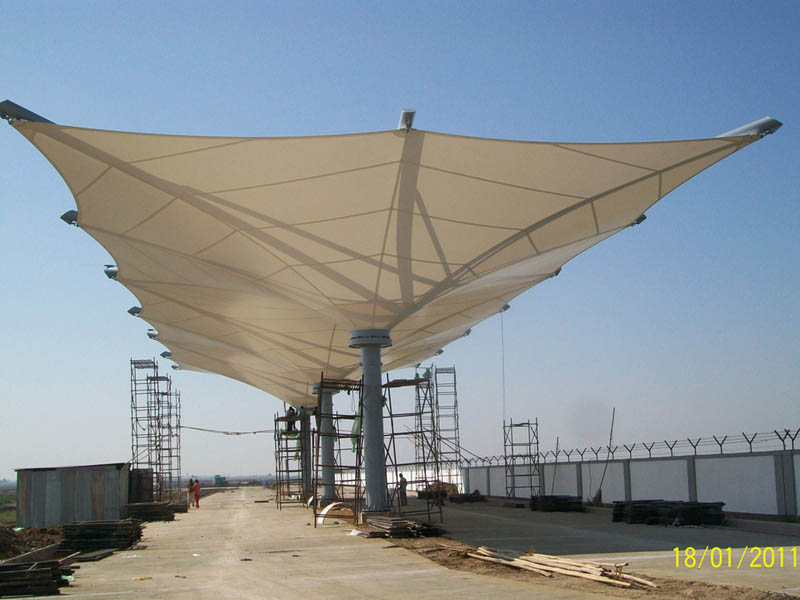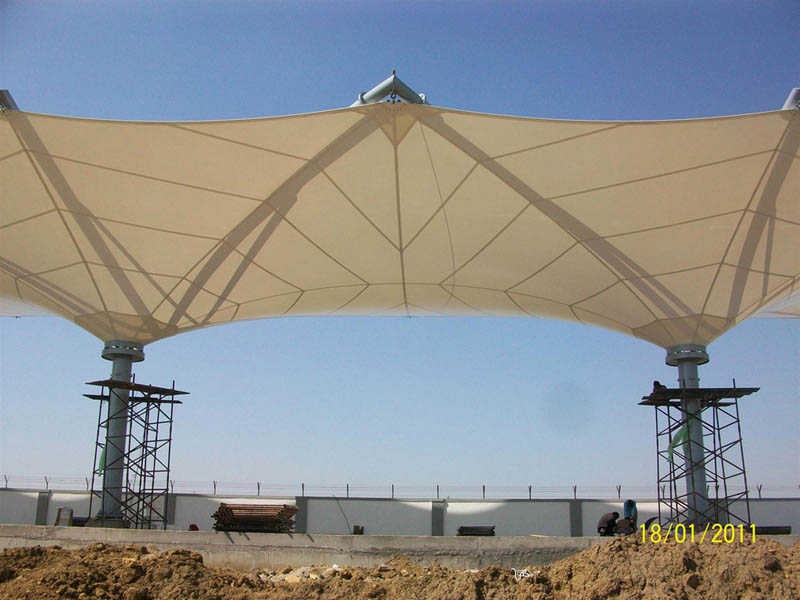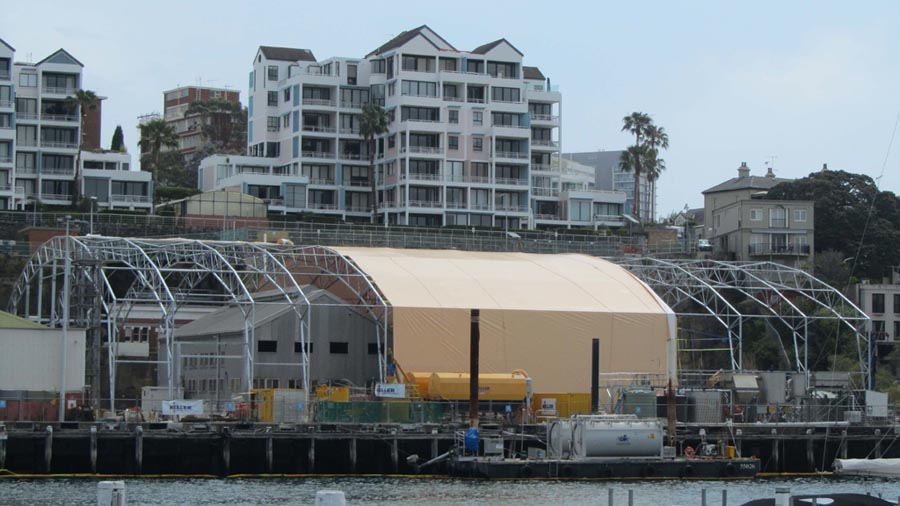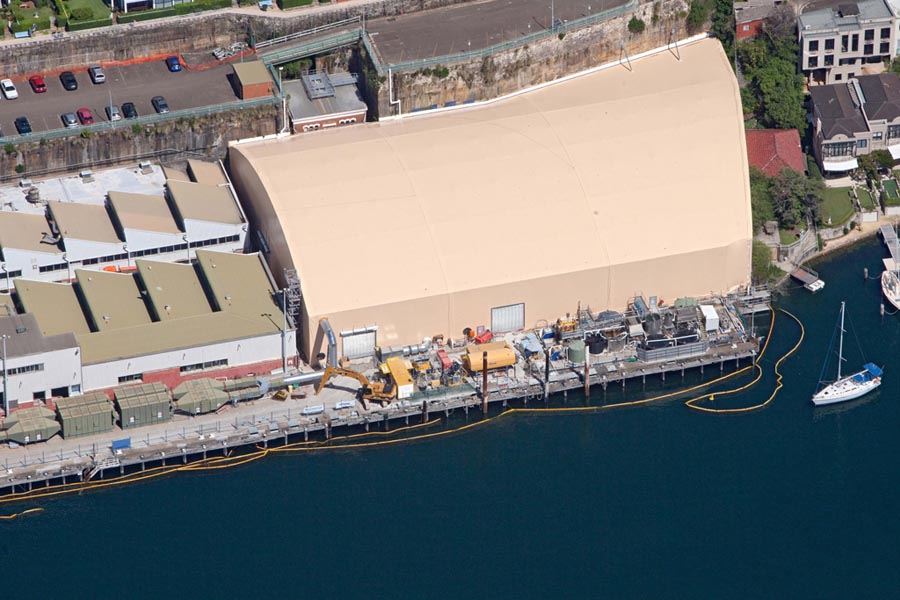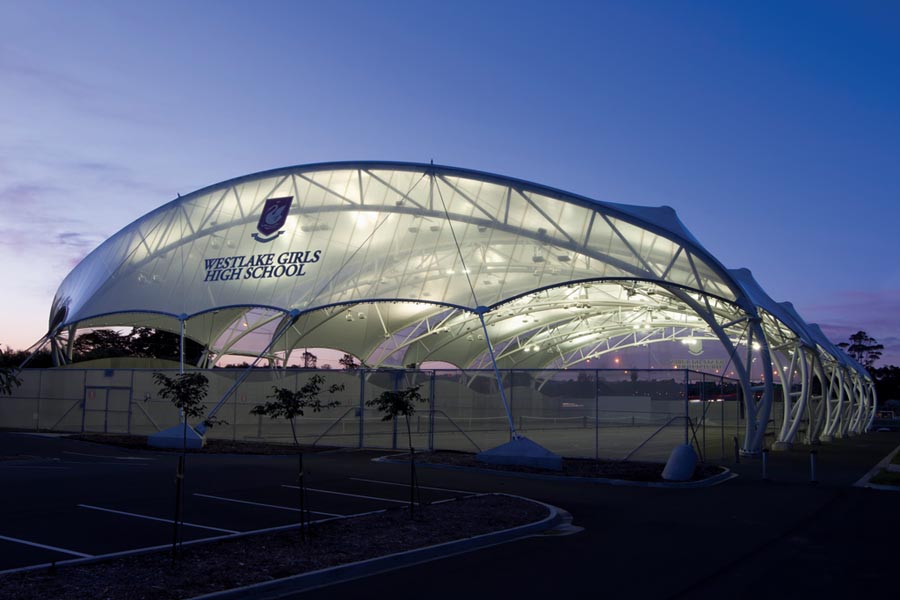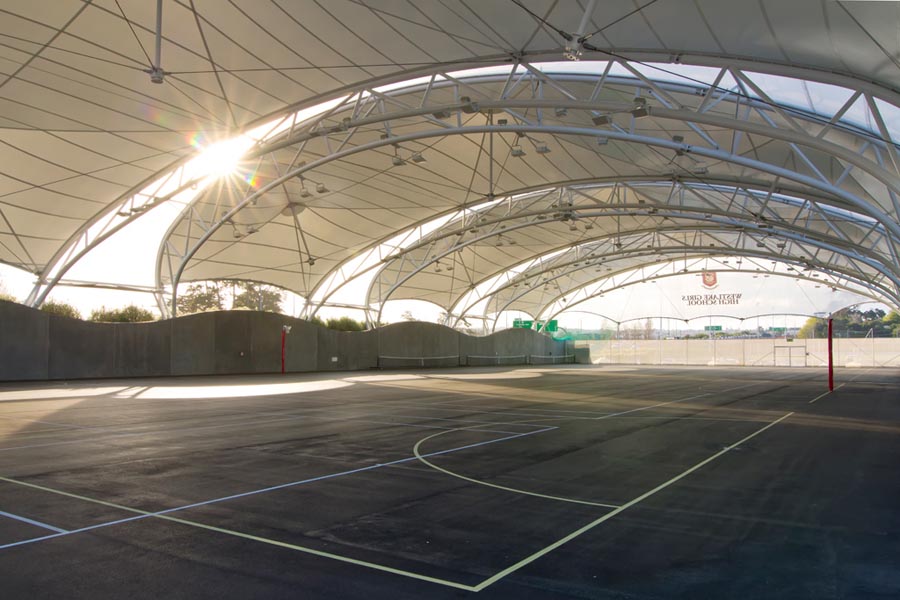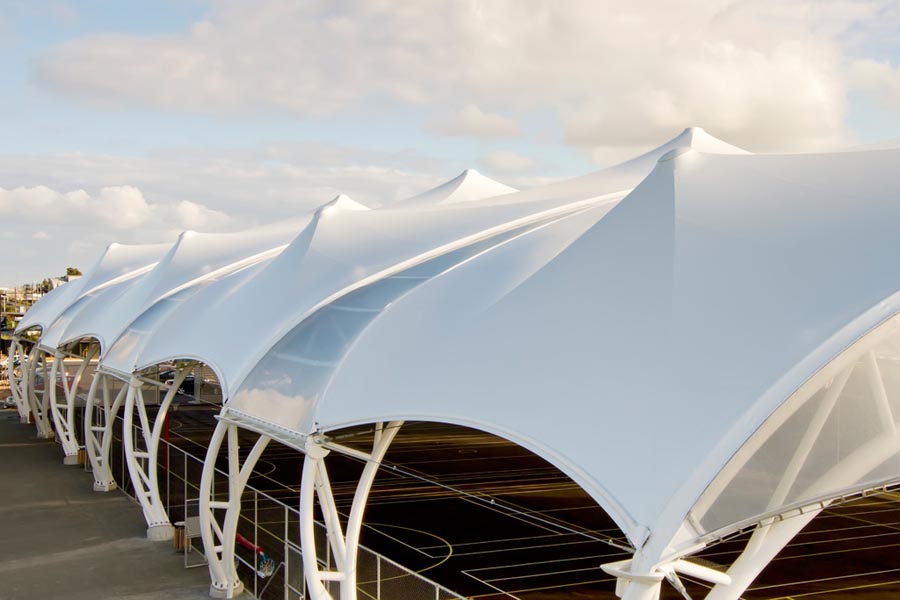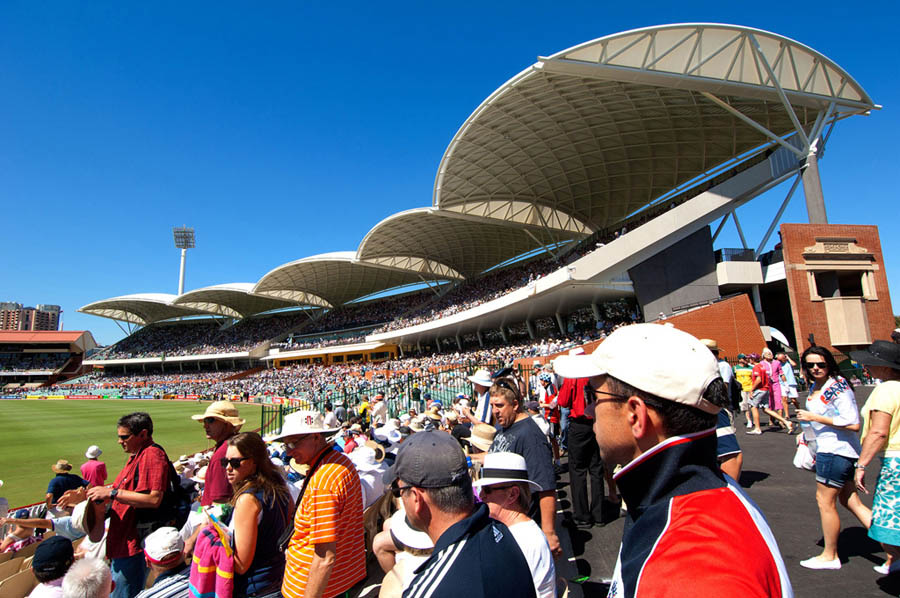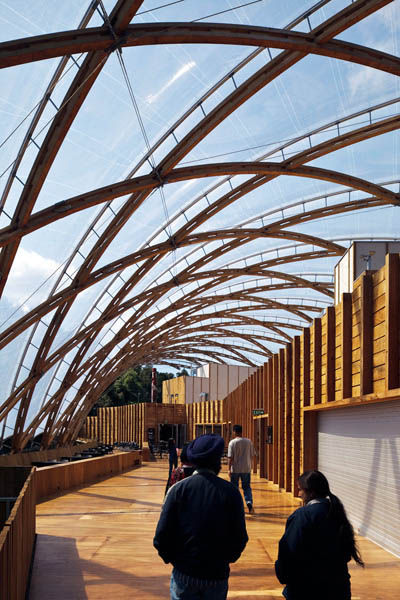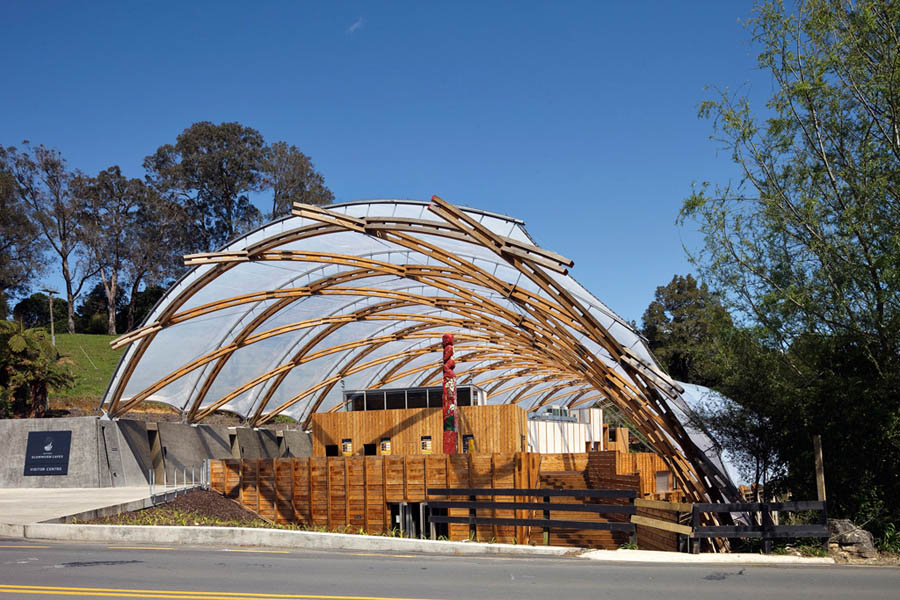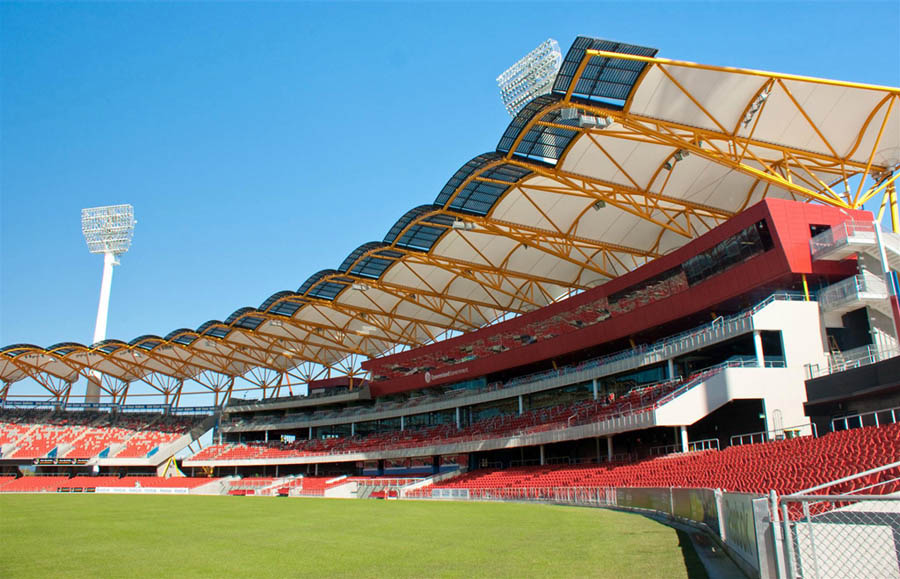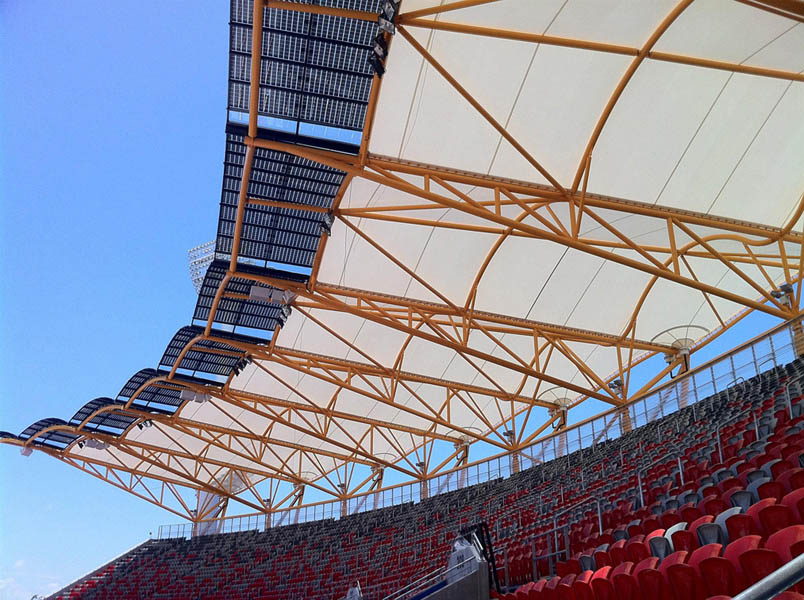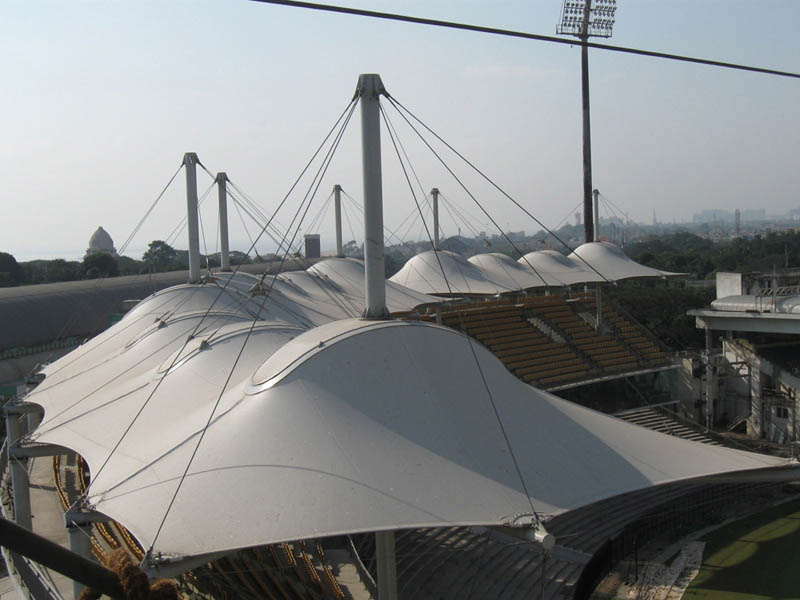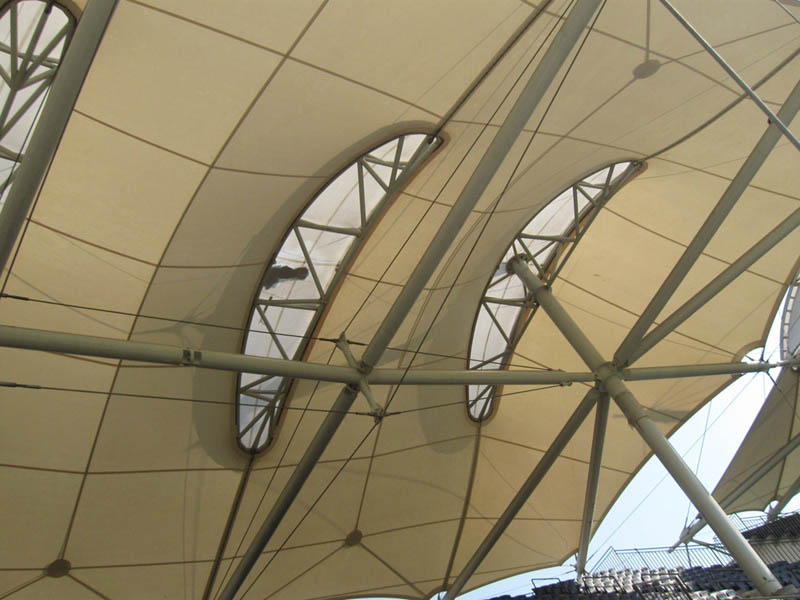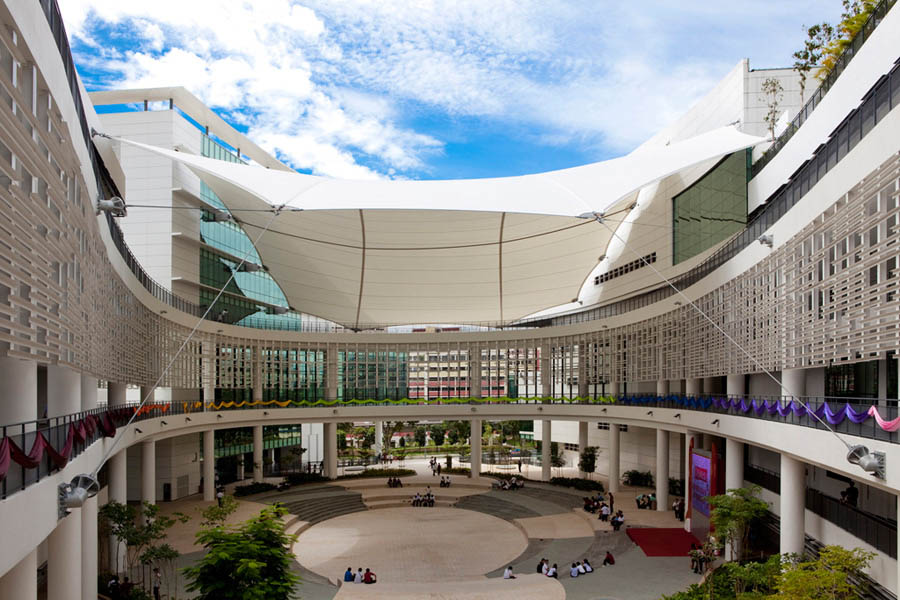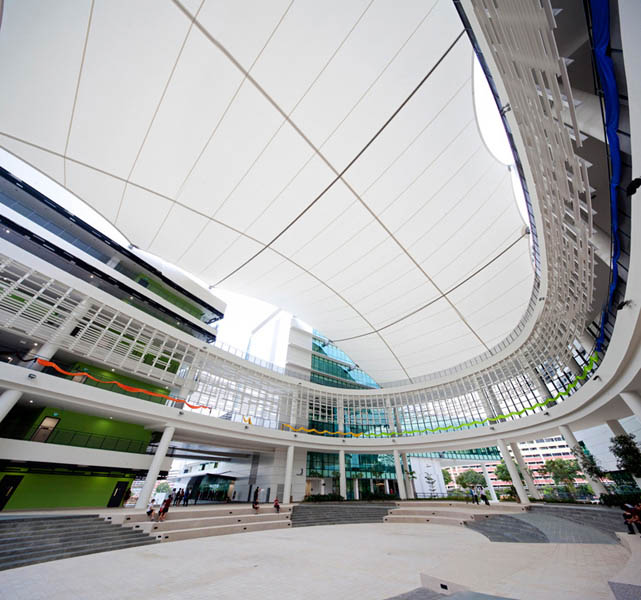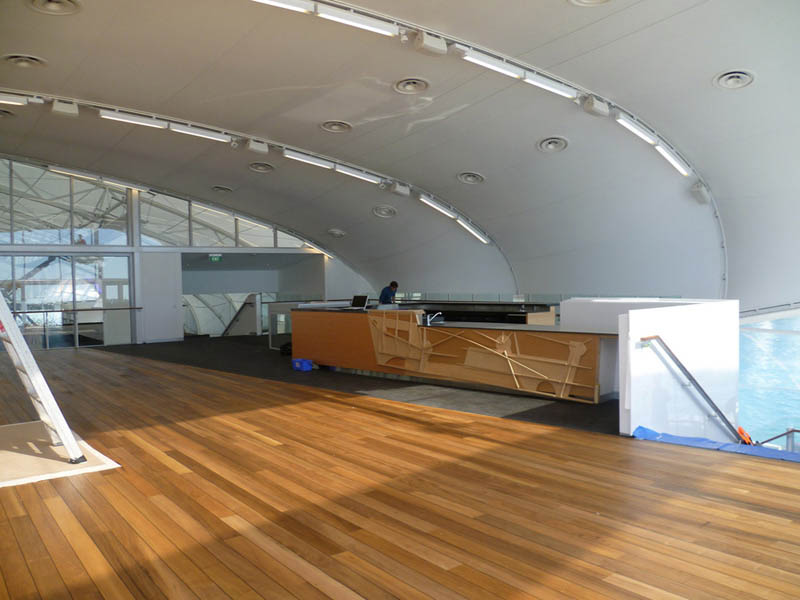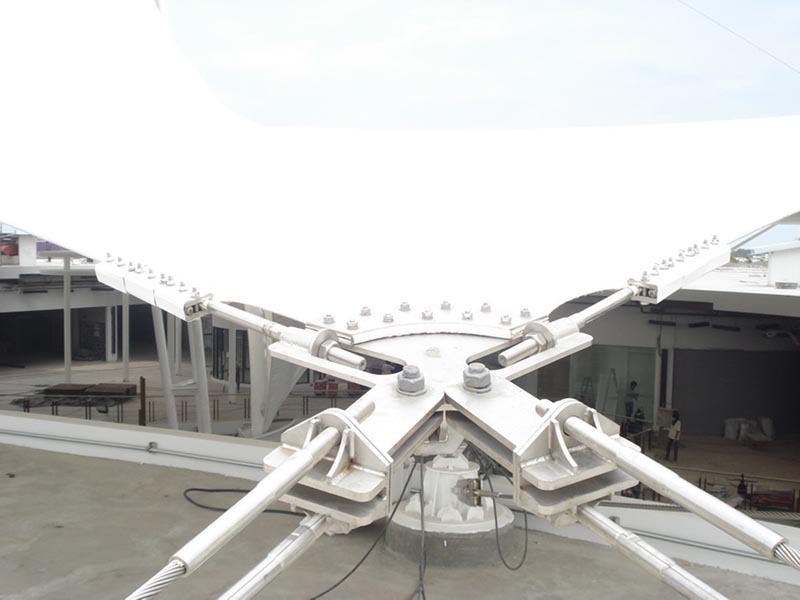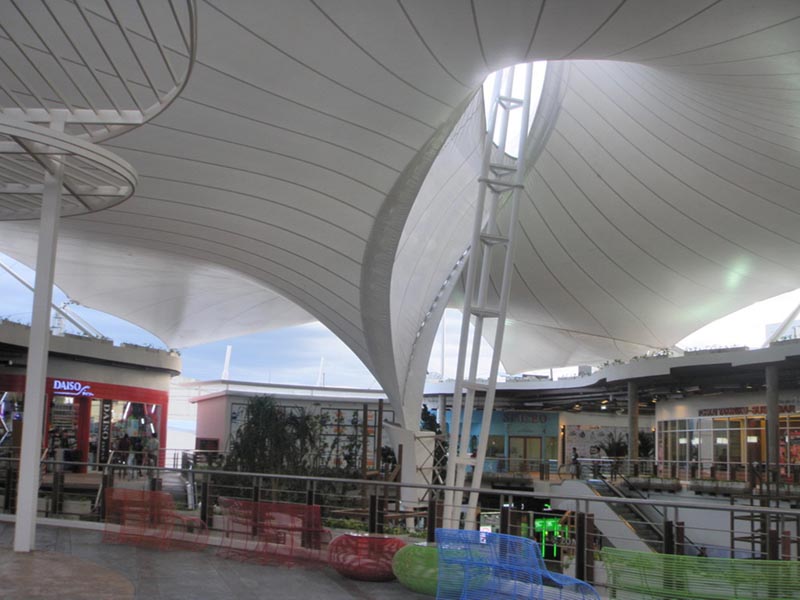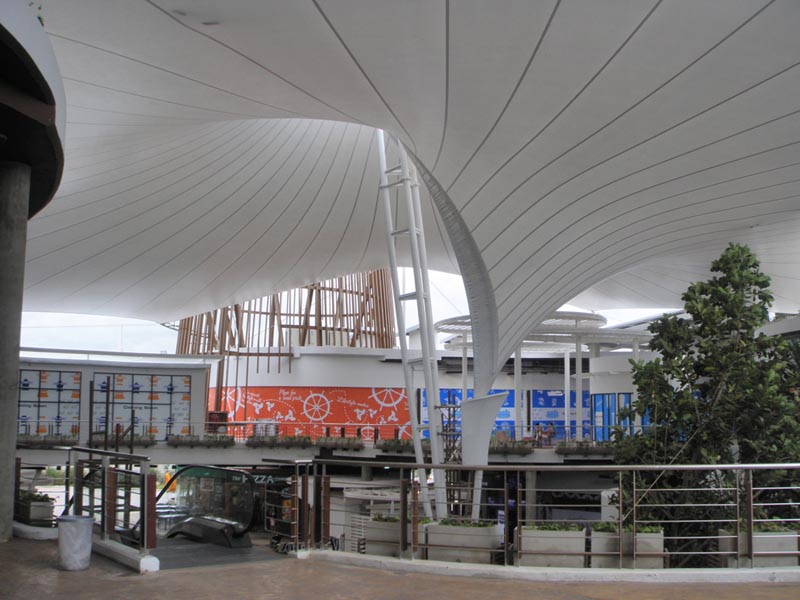 and some more projects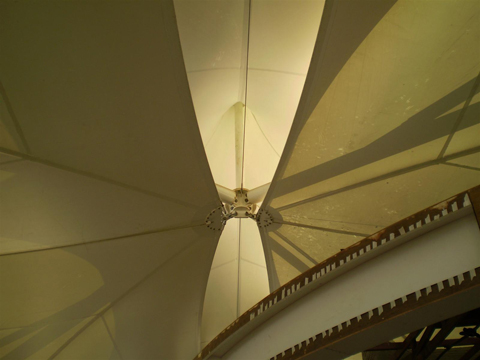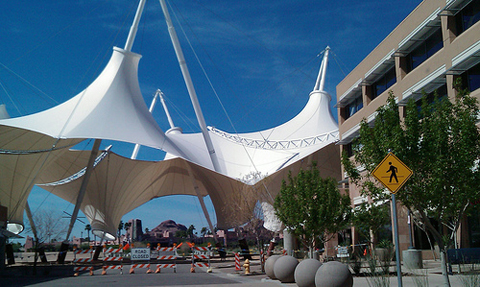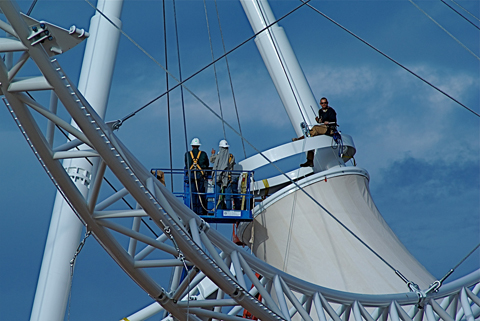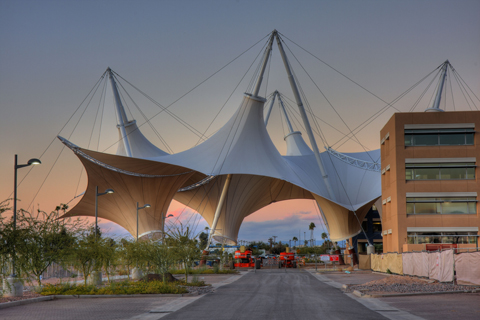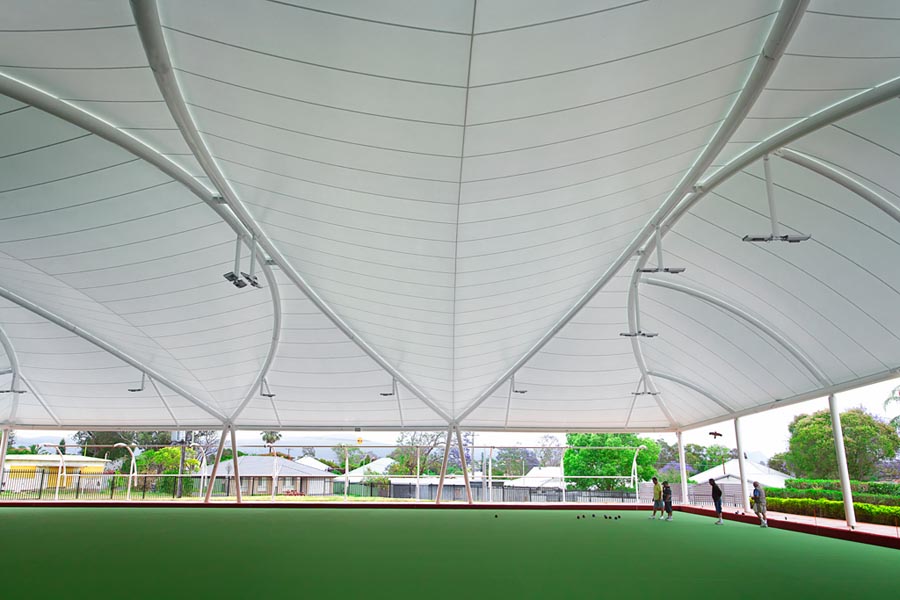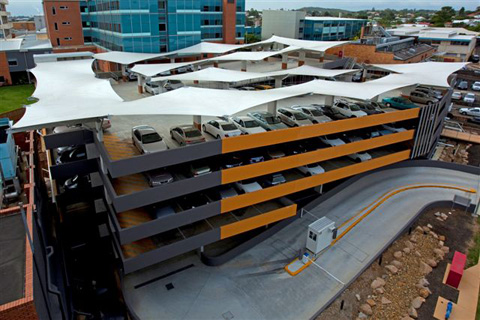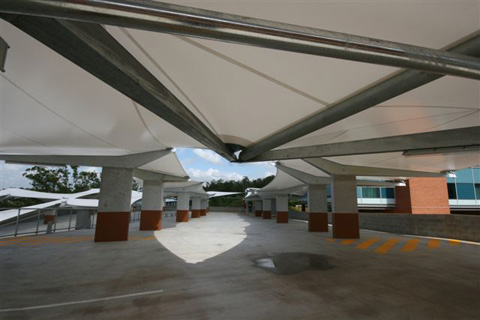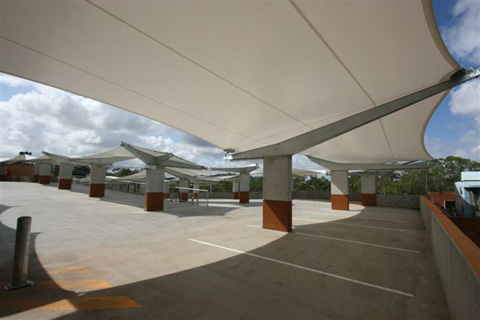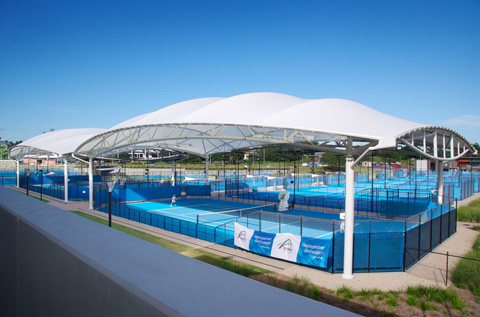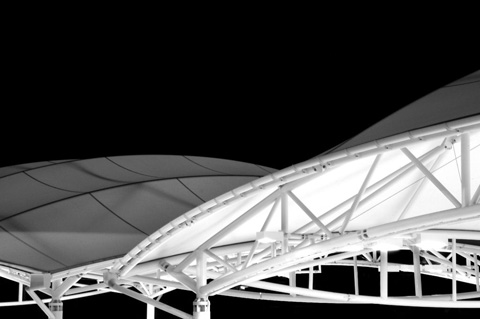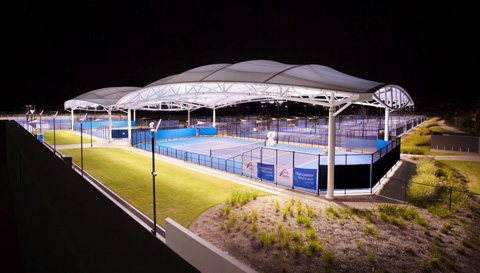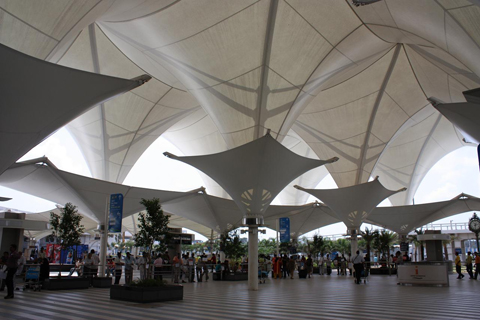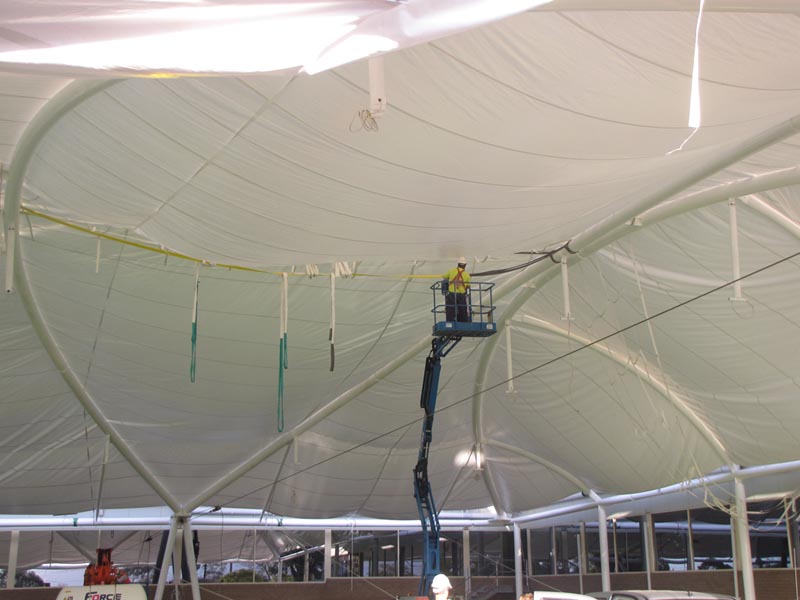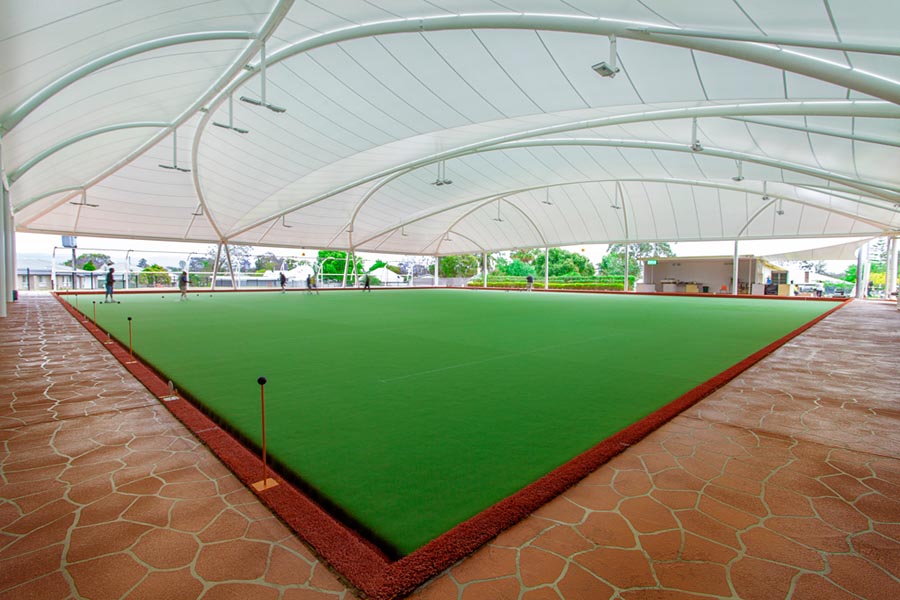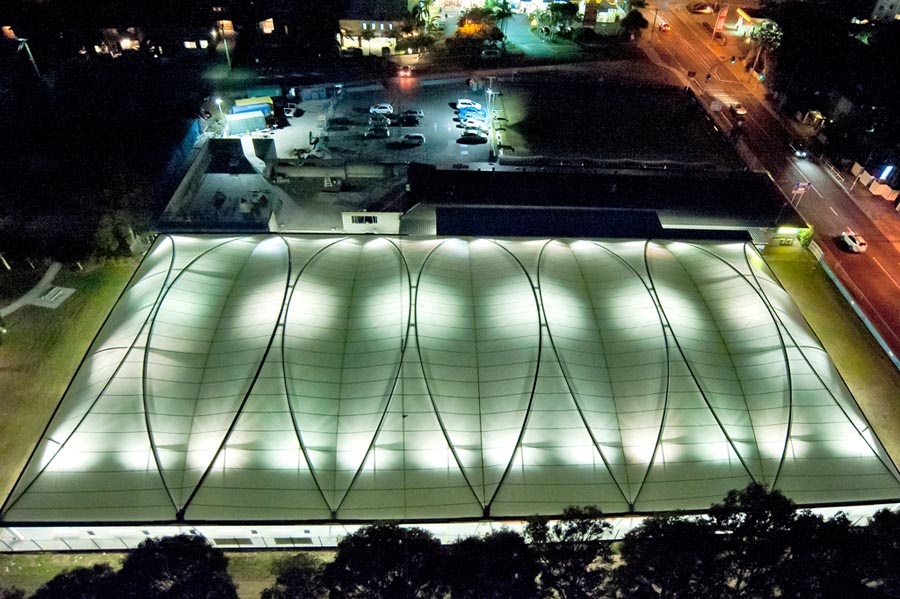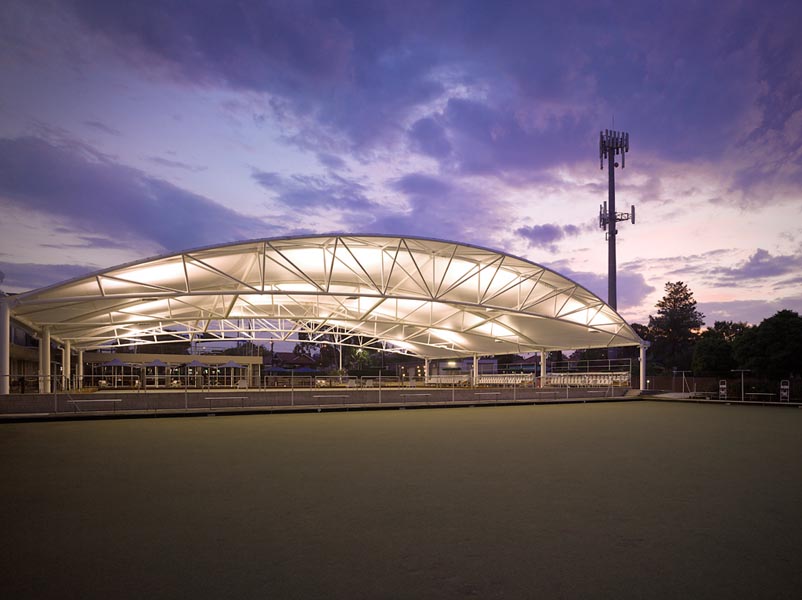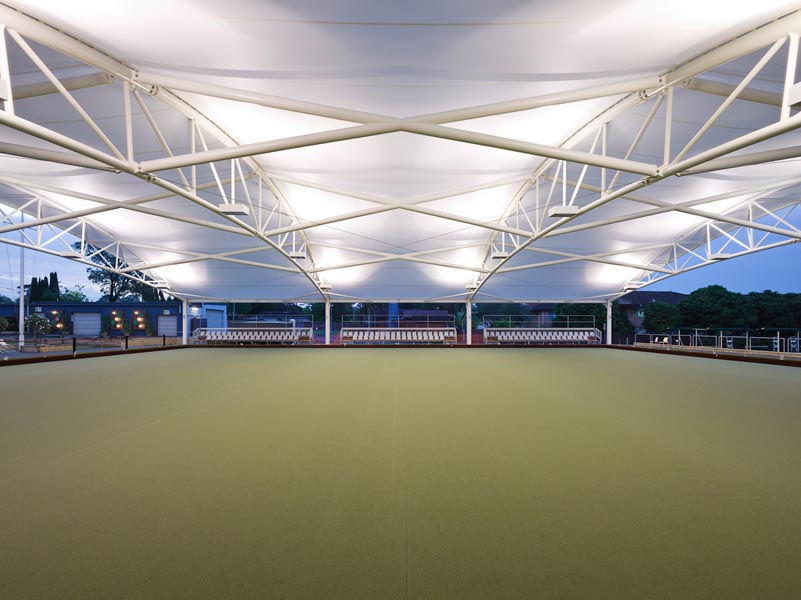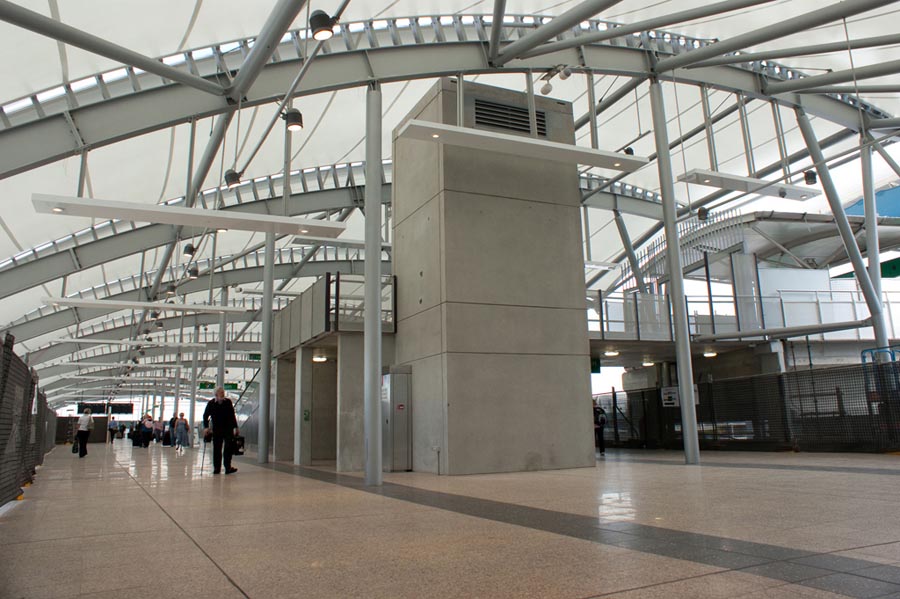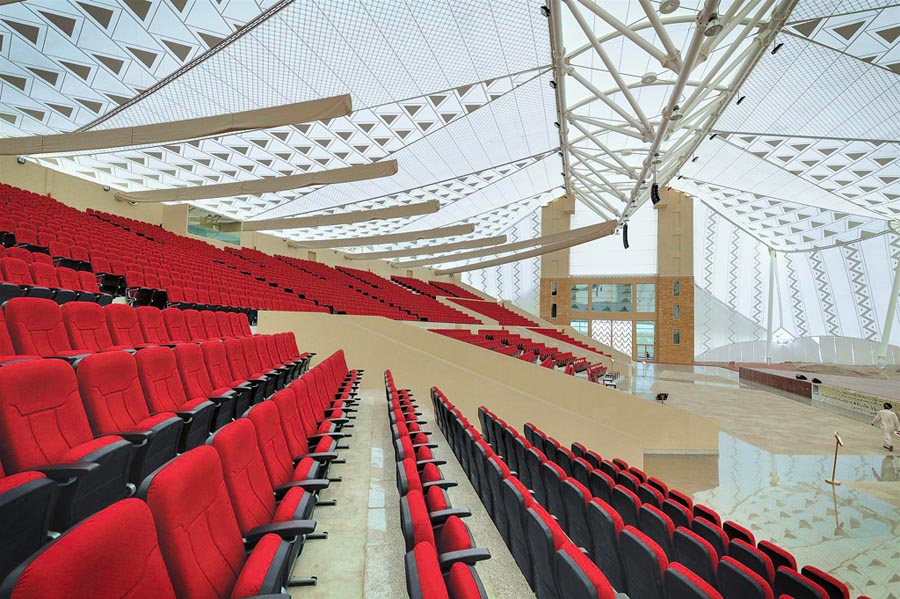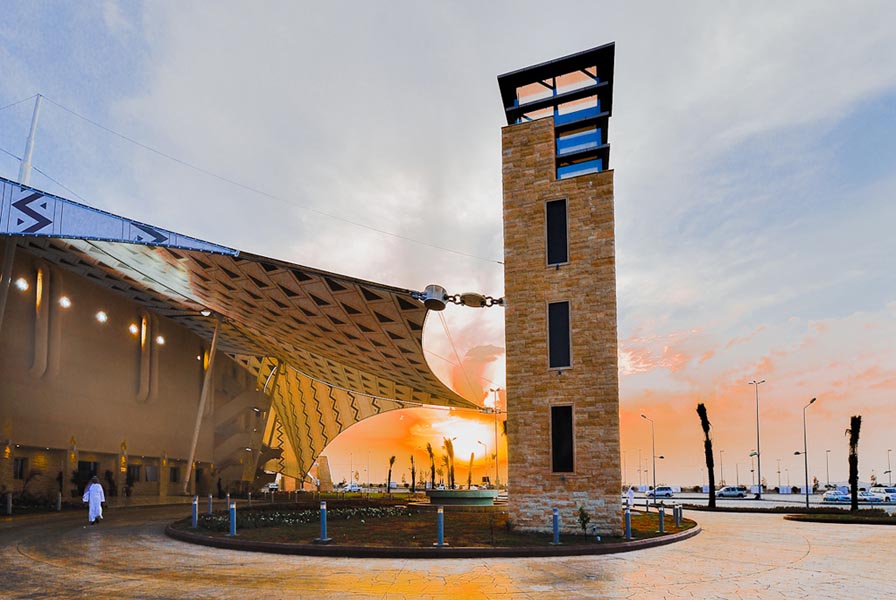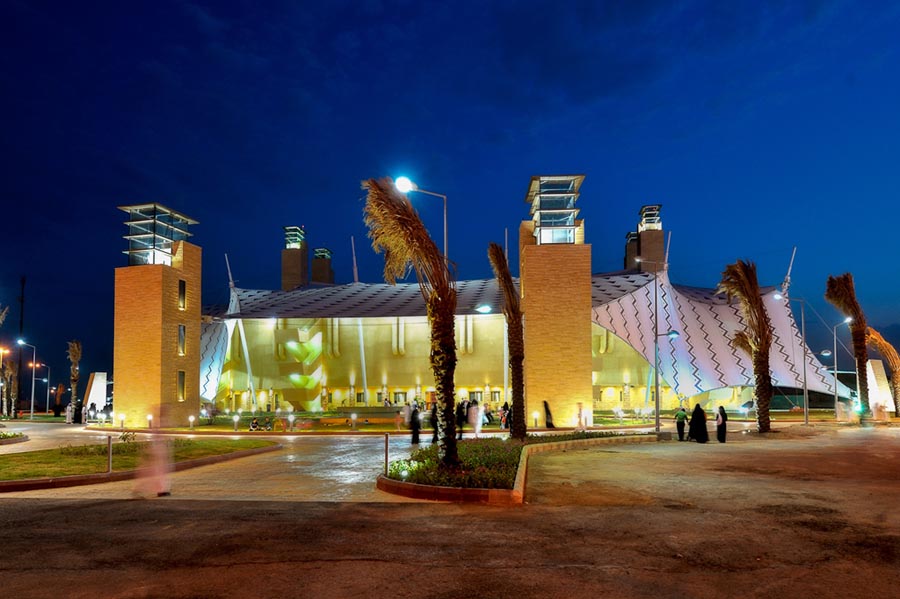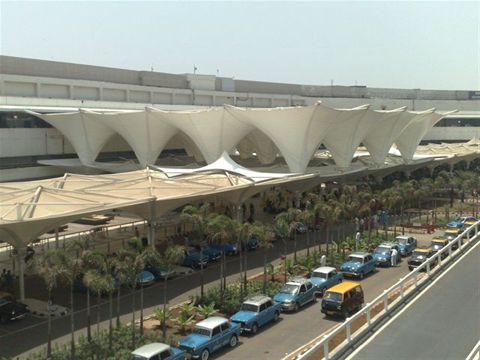 Nelson Mandela Bay Multipurpose Stadium

Entrant: MakMax Australia - Designer
Location: Prince Alfred Park - North End Lake - Port Elizabeth South Africa
Client: Nelson Mandela Metropolitan Municipality
Architect: GMP Architects
Struct. Eng.: MakMax Australia
Others: MakMax (Installation)
Builder: Grinaker / Interbeton JV
Fabricator: MakMax Australia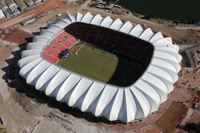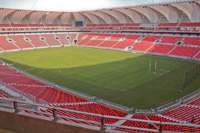 The Cloud - Auckland, New Zealand
APPLICATION OF PROJECT:
The Cloud is a semi permanent multi purpose event & exhibition structure, initially developed for the Rugby World Cup
PROJECT DESCRIPTION
The Cloud is a semi permanent structure erected on the western edge of Queens Wharf to accommodate the city's commitment to hosting an inner-city fanzone, festival and showcase event during the Rugby World Cup 2011. 
Installed as part of the recent 18 month redevelopment of Queens Wharf, The Cloud will be utilised by NZ2011 to showcase the best of New Zealand innovation and creativity during the REAL New Zealand Showcase. At almost 180m long, The Cloud can accommodate up to 6,000 people. Its' ground floor area can be split into four segments, which means the building is able to cater for a range of showcase and festival events occurring at the same time. It also provides the ability for the fanzone to be scaled up or down according to demand. The mezzanine floor at the northern end of The Cloud is designed for VIP hosting.
Mumbai Arrival Plaza
Entrant: MakMax Australia – Designer
Location: Mumbai International Airport – India
Client: Mumbai International Airport Limited
Architect: Designcell
Struct. Eng.: MakMax Australia
Others: Mahimtura Consultants
Builder: Mumbai International Airport Limited
Fabricator: MakMax Australia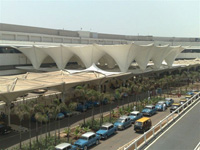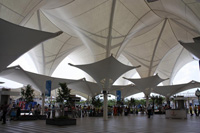 East Cessnock Bowling Club
Entrant: Light Weight Structures
Category: 4 ID Number: 4352

Location: Neath Street Cessnock NSW

Client: East Cessnock Bowls Club

Completion Date: September 2012
Credits:
Structural Engineer: Jeremy Hunter

Specialists: Trevor Scott Building Designer

Builder: Light Weight Structures

Fabricator: Stanfast

Installer: Light Weight Structures
---
APPLICATION OF PROJECT:
The project covered one Bowling Green measuring 1820 sqmts. The project was designed to offer weather protection to bowlers, including night time use of the Bowling Green (in a residential setting) and minimal cleaning maintenance over the life of the structure.
The client requested that the project offered weather protection to bowlers and require low levels of cleaning maintenance. The club building was elevated and adjacent to the bowling green. Floor to ceiling glass in the Sportsman's Bar and Restaurant offered panoramic views of the bowling green. The club requested these views not be impeded. The Wide Span Structure was to integrate into the existing club building offering a weatherproof seal between the club building and the Wide Span Structure. Importantly, the club wanted to increase revenue by offering night time bowling to stimulate other income streams. As the club was positioned in a residential area complaints from neighbours had prevented the operation of night time lighting of the green. The structure was to encapsulate the artificial lighting so the greens could be used at night.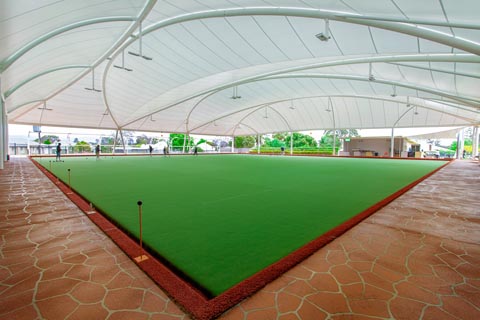 Rio Tinto Stadium

Entrant: Structurflex Ltd - Engineering Fabrication Installation
Location: Sandy - Salt Lake City Utah USA
Client: Salt Lake County - Utah & Real Salt Lake
Architect: Rossetti Architects
Struct. Eng.: Wade Design Engineers & Wayne Rendely PE
Builder: Turner Construction
Fabricator: Structurflex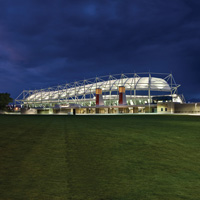 Cabramatta Bowls Club
Entrant: MakMax Australia
Category: 4 ID Number: 4301

Location: Fairfield Rd, Cabramatta NSW

Client: Paynter Dixon Constructions Pty Ltd

Completion Date: October 2011
Credits:
Structural Engineer: Xiang Du, Fabspan

Builder: Paynter Dixon Constructions Pty Ltd

Fabricator: MakMax Australia

Installer: SydRig

Steelwork: Steelman
APPLICATION OF PROJECT: long span sporting arena roof.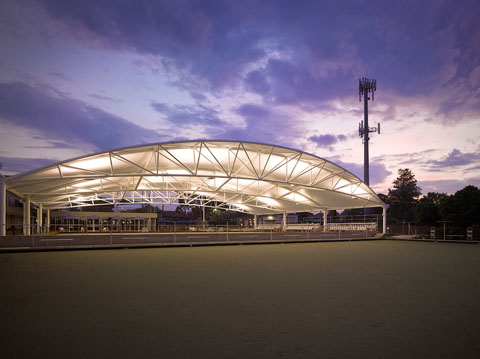 PROJECT DESCRIPTION:
Sun safety in sport is a growing concern across all sectors of our community. Providing a playing surface protected from harmful sun is vital to the continuity of some sports. The sport of lawn bowls in particular have realised this is especially true for their aging demographic and shrinking membership.
DESIGN / FABRICATION / INSTALLATION BRIEF
Our client requested a sustainable solution to a host of issues threatening membership and revenue at their bowling club. The Sydney based club like many other lawn bowls clubs faced dwindling membership due to sun exposure and the reliance on games only being played during the day, rained out games, high cost of green maintenance and the inability to host night events.
Melbourne Sports & Aquatic Centre
Entrant: Taiyo Membrane Corp
Client: Major Projects Australia
Architect: Peddle Thorpe Architects
Structural Engineer: Xiang Du (TMC) & Connell Mott McDonald
Specialist Consultant(s): Connell Wagner (steel design)
Builder: John Holland Pty Ltd